Looking for the right supplier has to be one of the most tedious tasks in dropshipping. In countries like the US, it might be easier to find a fitting supplier. But how to find Italian dropship companies?
According to a recent report on Italian eCommerce, 63% of Italian internet users engage in purchasing goods online. With this in mind, it's not surprising that so many people start dropshipping in Italy.
So, do you also want to sell to Italy? Are you an Italian dropshipper who wants to sell locally? Or a foreigner interested in dropshipping to Italian customers? In both cases, you'll need to find some suitable Italian dropshipping suppliers.
Let's see how to do that!
16 Best Italian Dropship Companies
Several great Italian dropshipping suppliers stick out the most among all others and enjoy the best user reviews. Here are some of the best Italian dropshipping suppliers, according to our research!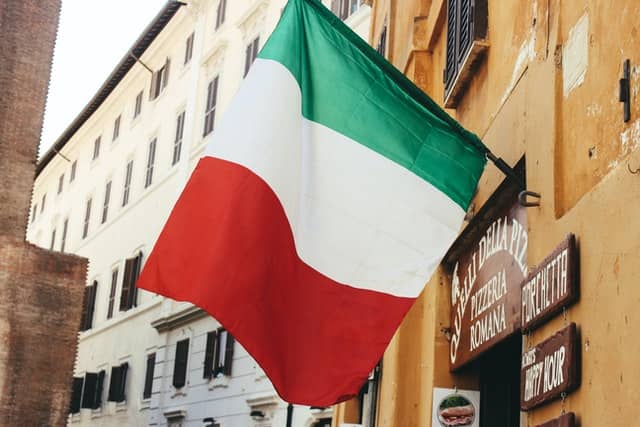 Bazarissimo
Bazarissimo is one of the largest and most well-known Italian dropship companies explicitly oriented towards dropshippers.
To use Bazarissimo's dropshipping program, you can choose between two different monthly subscriptions:
Lite – EUR 10.99
PRO – EUR 49.99
Both plans give you access to all products, and you can integrate them with Shopify, WooCommerce, Prestashop, SellRapido, GarageSale, Storeden, and Dropsheep.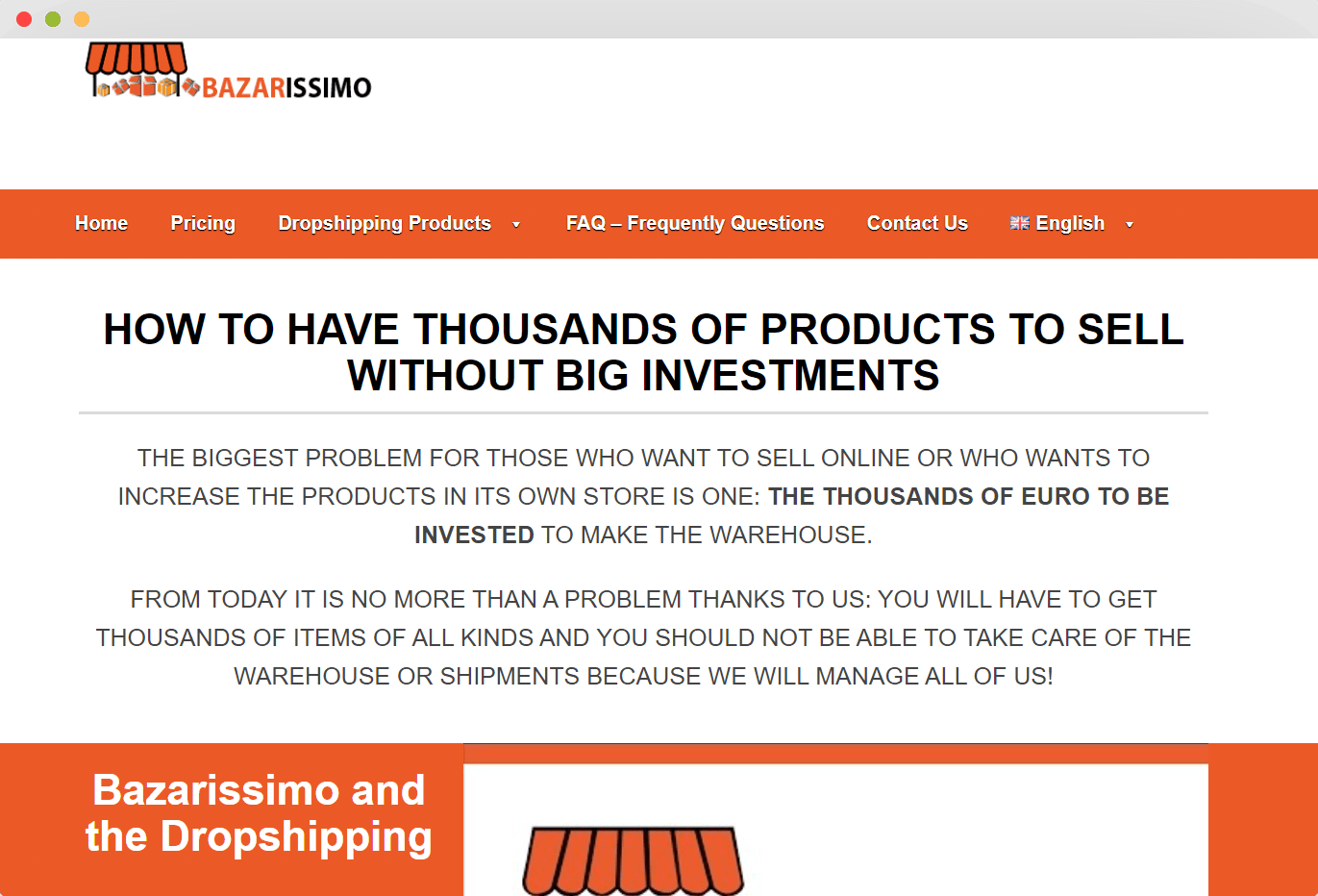 However, with the PRO plan, you'll get guaranteed shipping within two days and a 5% discount on all of Bazarissimo's products.
CJDropshipping
Although they're not Italian dropshipping suppliers, CJDropshipping is an excellent dropshipping agent with warehouses in Italy and many other countries worldwide.
To start using CJDropshipping is entirely free. They're a full-service supplier, so they'll also take care of warehousing, handling, shipping, and even white labeling and private labeling products.
CJDropshipping integrates with many different eCommerce store builders such as Shopify, WooCommerce, Lazada, Shopee, eBay, and ShipStation.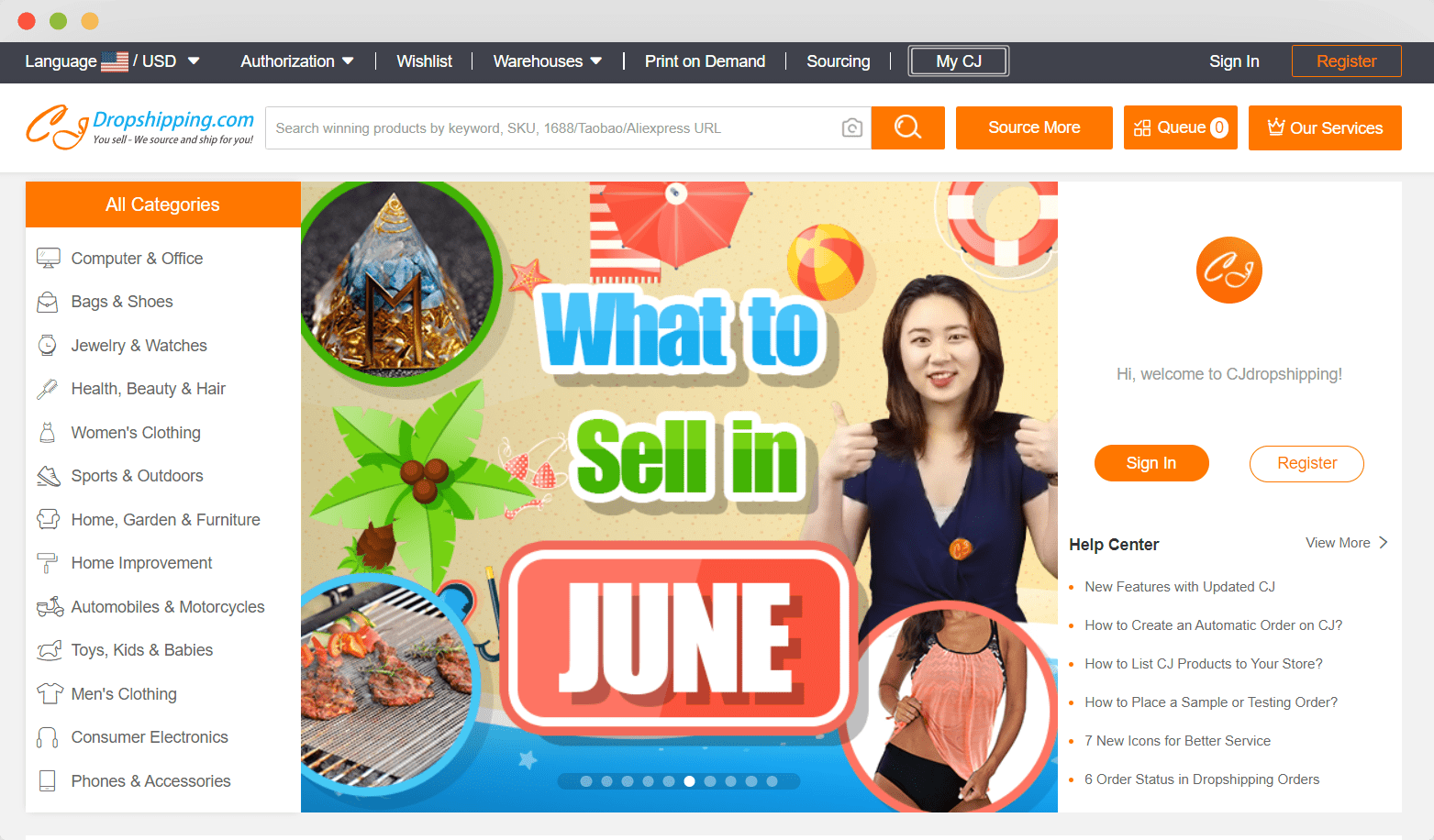 And finally, the thing that makes CJDropshipping so desirable to dropshippers – the wide product selection they offer! On the CJDropshipping marketplace, you can find clothing, phones and accessories, electronics and gadgets, health and beauty, toys, etc.
Mediatoys SRL
For dropshippers who want to bring smiles to children's faces, Mediatoys SRL is a toy paradise! On Mediatoys SRL, you can find different brand toys such as Lego, Playmobil, PeppaPig, Corollas, Teletubbies, Thomas & Friends, and many others.
With Mediatoys SRL as your Italian dropship company, you can sell to your Italian customers without worrying about inventory. Mediatoys will fulfill all your orders, from packaging to shipping.
Mediatoys SRL integrates with different eCommerce builders and marketplaces like eBay or Amazon.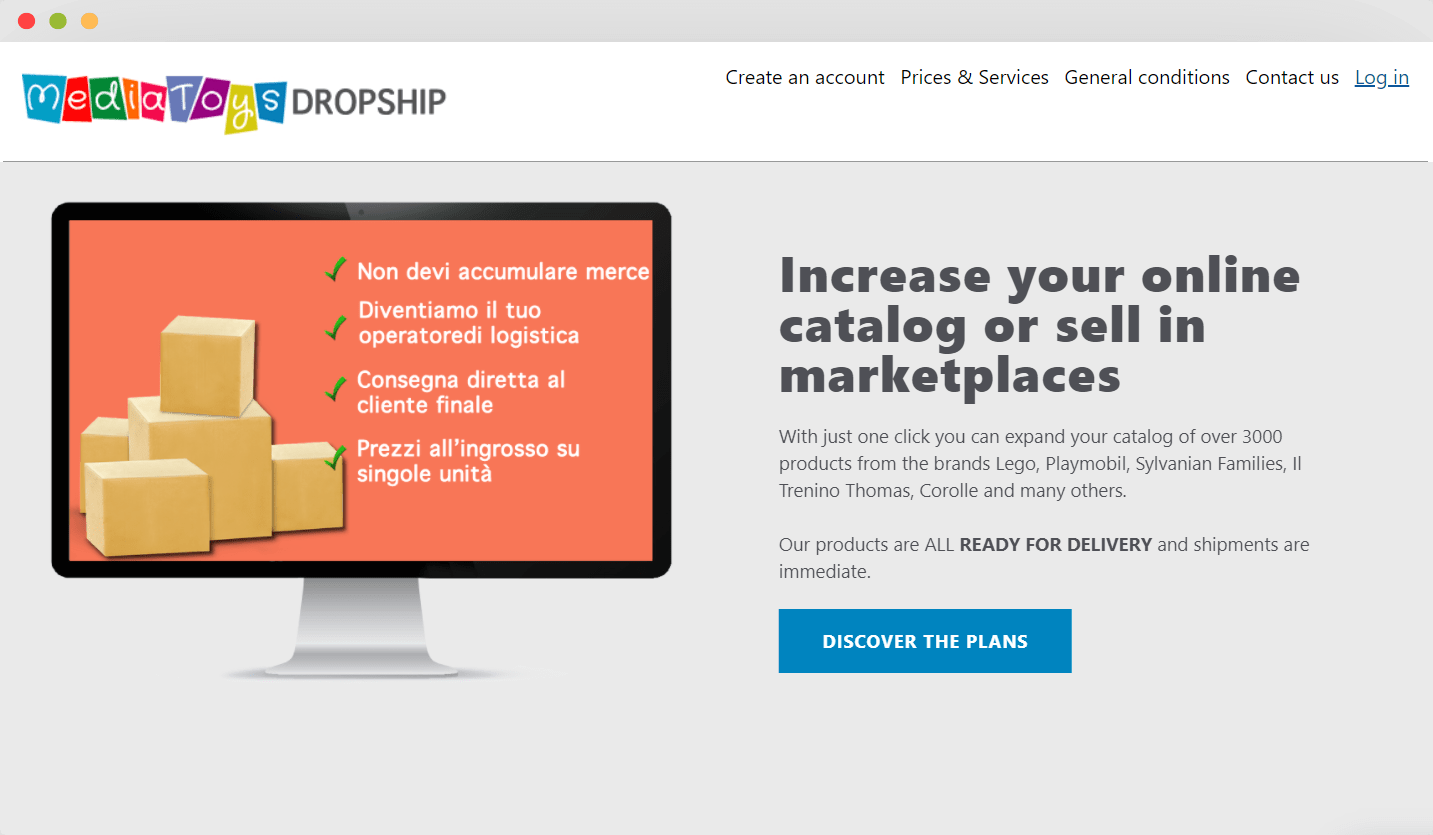 To use Mediatoys as an Italian dropshipping supplier, you'll need to pay EUR 19.90/month for their Basic plan and EUR 49.90/month for their Top plan.
Chinabrands
Although Chinabrands is not an Italian dropshipping supplier, but Chinese, there's a good reason why they're on this list.
Chinabrands has suppliers that deliver worldwide. Plus, they have warehouses in France and the UK from which you can dropship throughout Europe.
With Chinabrands as a supplier in Italy, you can dropship with Shopify, Wish, eBay, and Amazon.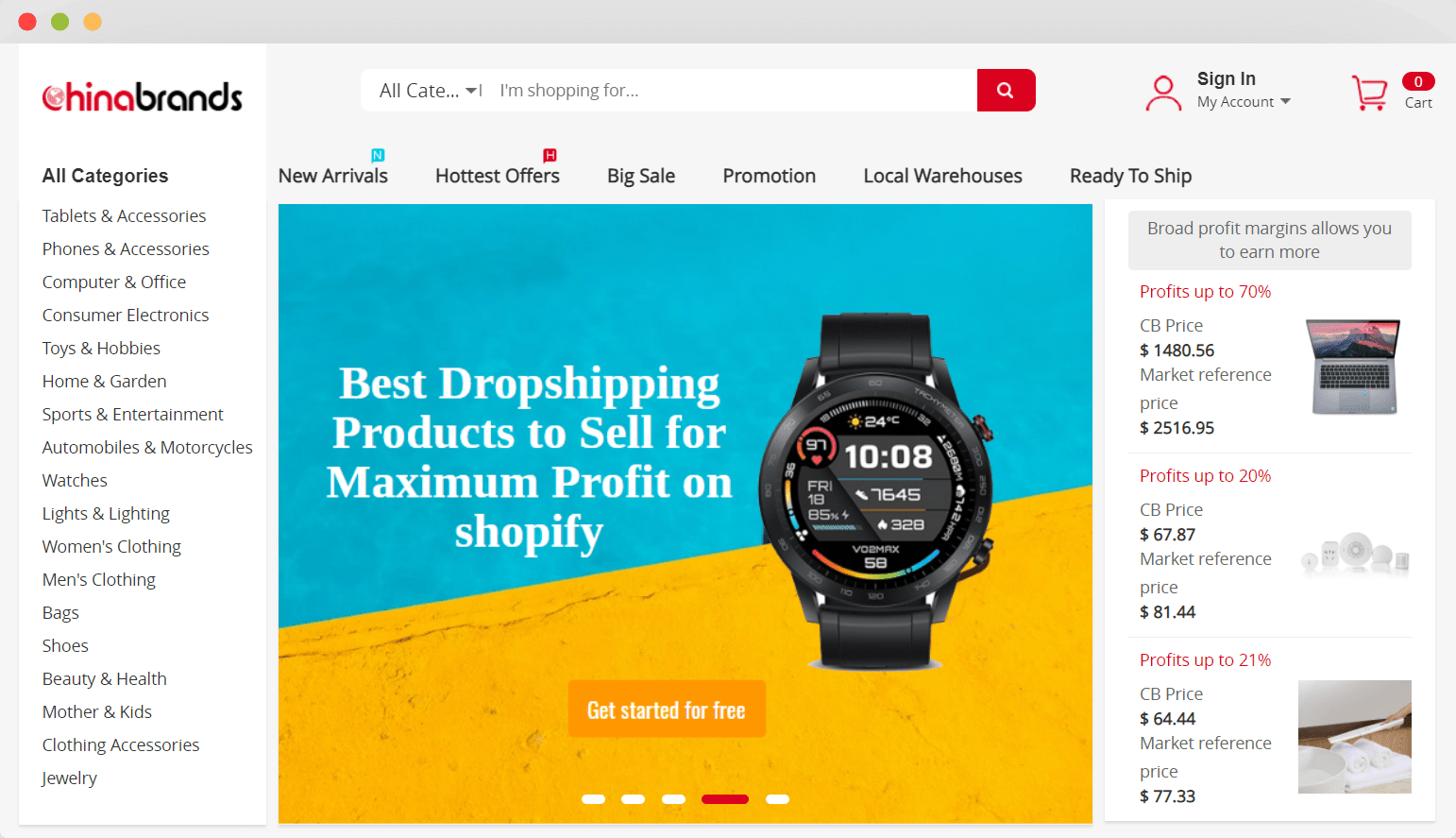 Chinabrands offers a wide range of product categories such as consumer electronics, gadgets, accessories, clothing, sports and outdoors, bags, toys, shoes, and many more. They have over 5000 suppliers offering products within the above categories.
And last but not least, Chinabrands orders dispatch within 24 hours, which is yet another plus.
B2B Griffati
One of the most well-known Italian dropship companies, Griffati, has over 400 high-fashion brands to offer at your disposal.
B2B Griffati has two business models – wholesale and dropshipping. With their dropshipping model, you'll enjoy profit margins from 75% to 100%, as well as no MOQs. Furthermore, they take care of shipment, sizing issues, and product returns.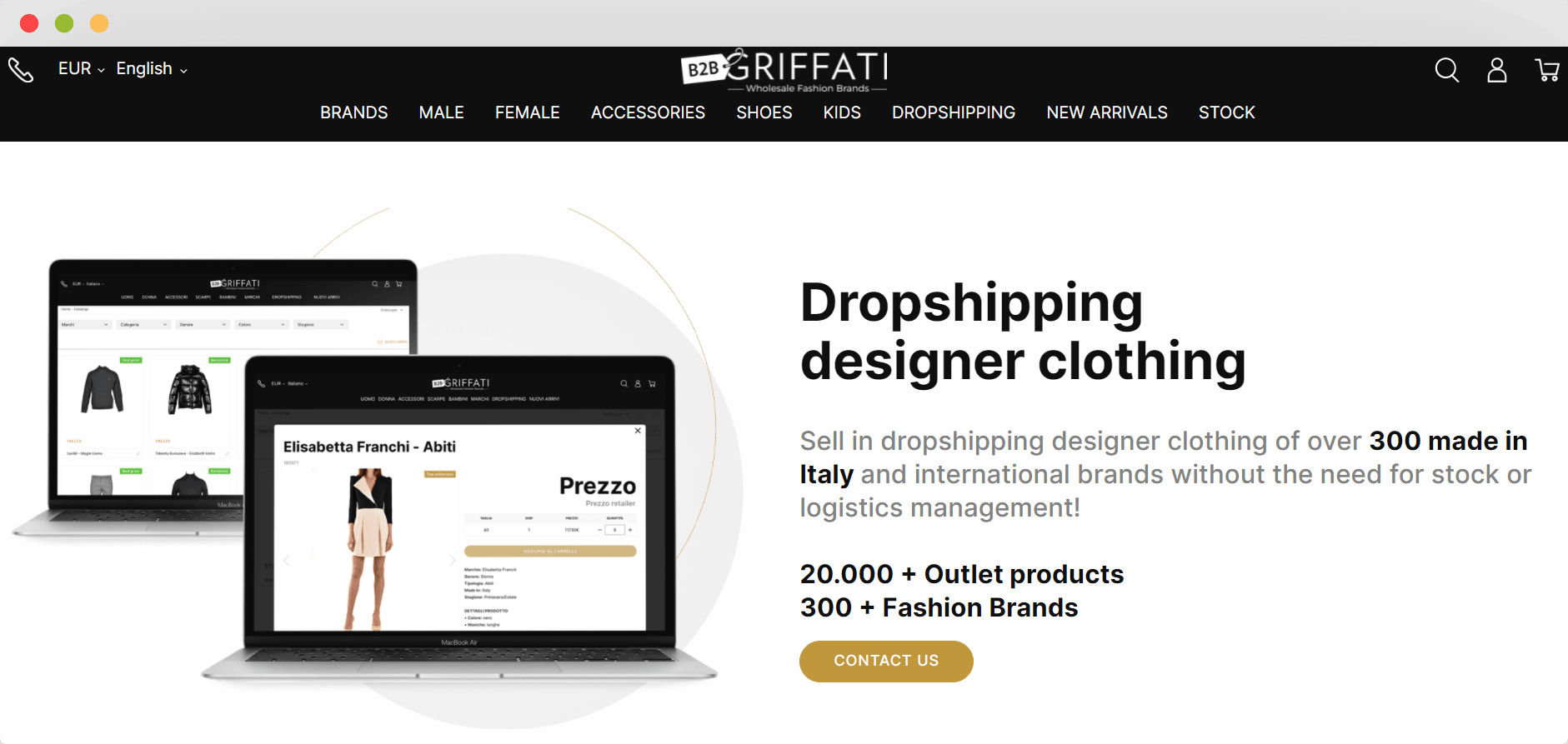 To use B2B Griffati for dropshipping, you'll need to have a Shopify, Prestashop, or WooCommerce online store. The Griffati team ships the orders to your customers in unbranded packages, so your customers will not know that the orders came from them.
AliExpress
Being one of the most well-known B2C marketplaces, AliExpress suppliers are mainly from China. However, the majority of them ship worldwide, including European countries like Italy.
Dropshipping in Italy with AliExpress suppliers is possible. However, before placing an order, ask the supplier about their shipping options in Italy, delivery times, etc. If you get a satisfying answer, go ahead and ask them if they could drop ship for you.
Don't forget to ask your AliExpress supplier to remove their branded packaging or receipt. Some suppliers will even white-label products and send them with your brand label.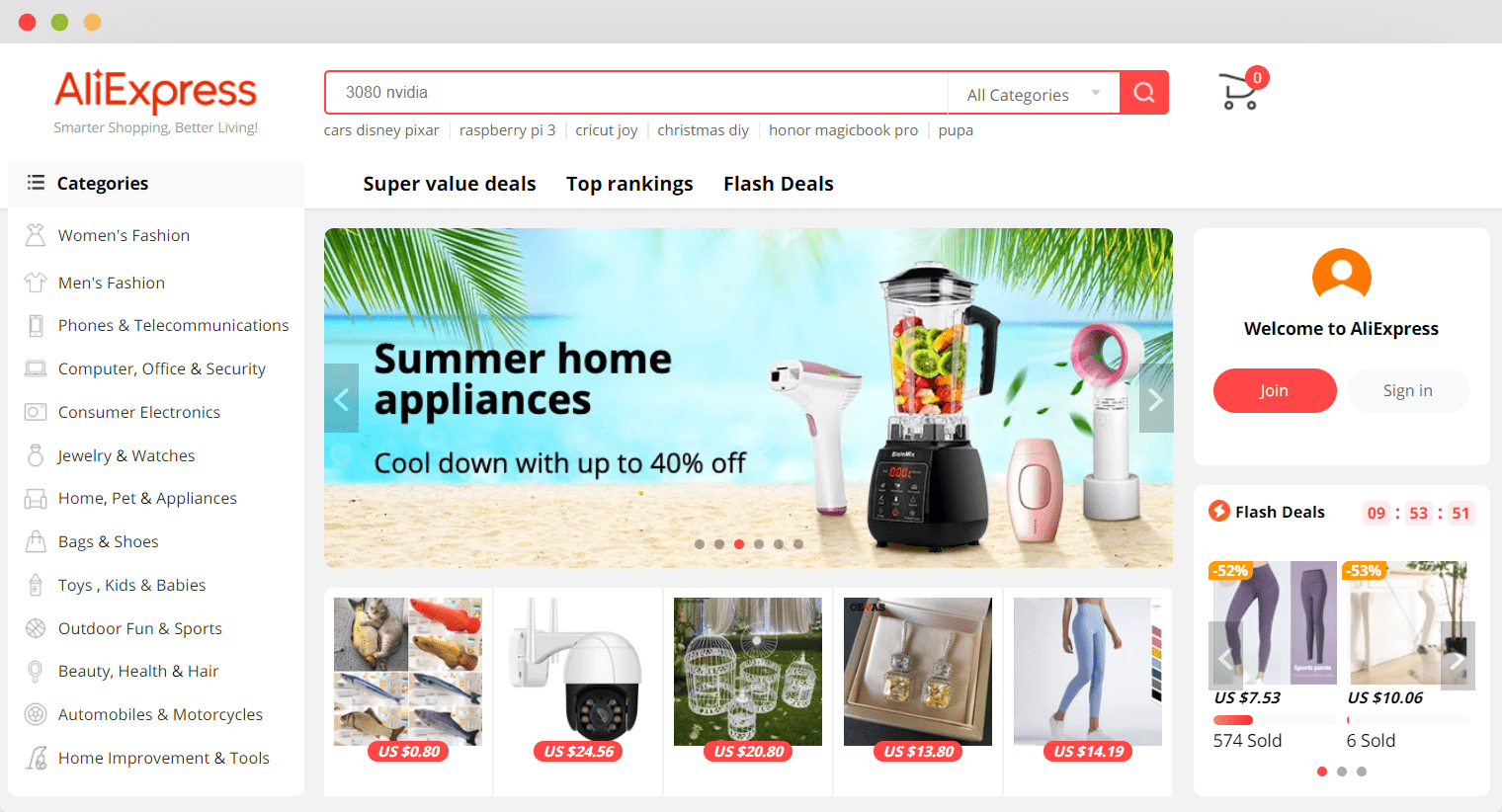 AliExpress has one of the largest product selections out there. However, to stay on the safe side, always check the reviews and user photos. You could order a sample of the product you want to dropship to check the quality and delivery time.
Alibaba
With the world's largest network of B2B suppliers, there's nobody that hasn't heard of Alibaba. On the Alibaba marketplace, you can find all types of products at wholesale prices.
The drawback of dropshipping with Alibaba is the fact that you'll probably have to buy in bulk. If you're interested in private labeling your own product line and you plan to buy wholesale, then Alibaba could be your dropshipping paradise!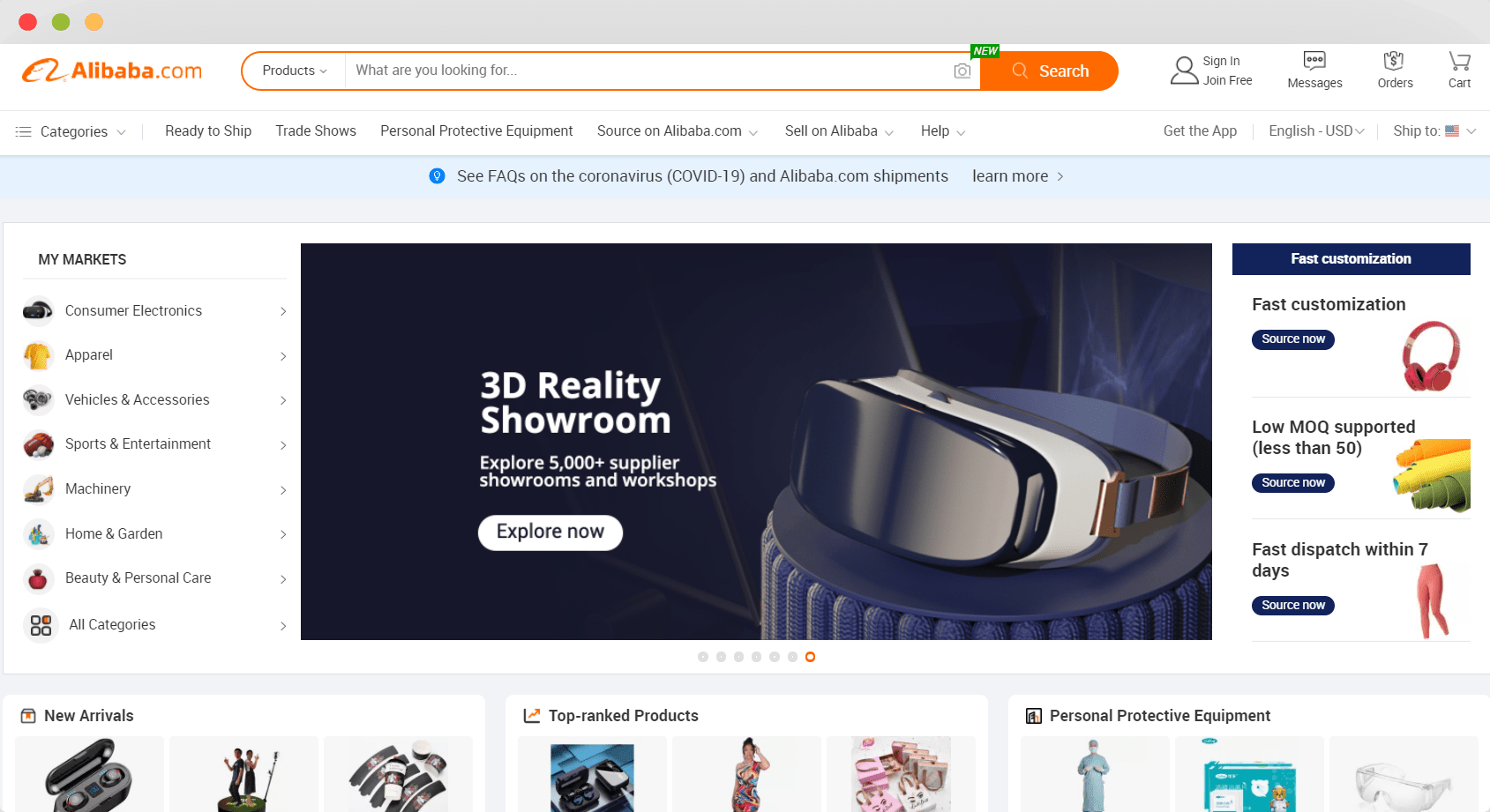 Although we said Alibaba is a wholesale marketplace, you'll still be able to find suppliers who agree to drop ship to Italy for you. And finally, many Alibaba suppliers have warehouses in Europe, so delivery times for such products will be shorter.
Spocket
Did you know that over 80% of Spocket's suppliers are from the EU or the USA? That means one thing – your Italian customers will enjoy short delivery times!
To take a look at their products and see if you'd be interested in dropshipping them, you can go ahead and look at their catalog for free. However, to start listing their products and using them as a service, you have to subscribe to one of their paid plans.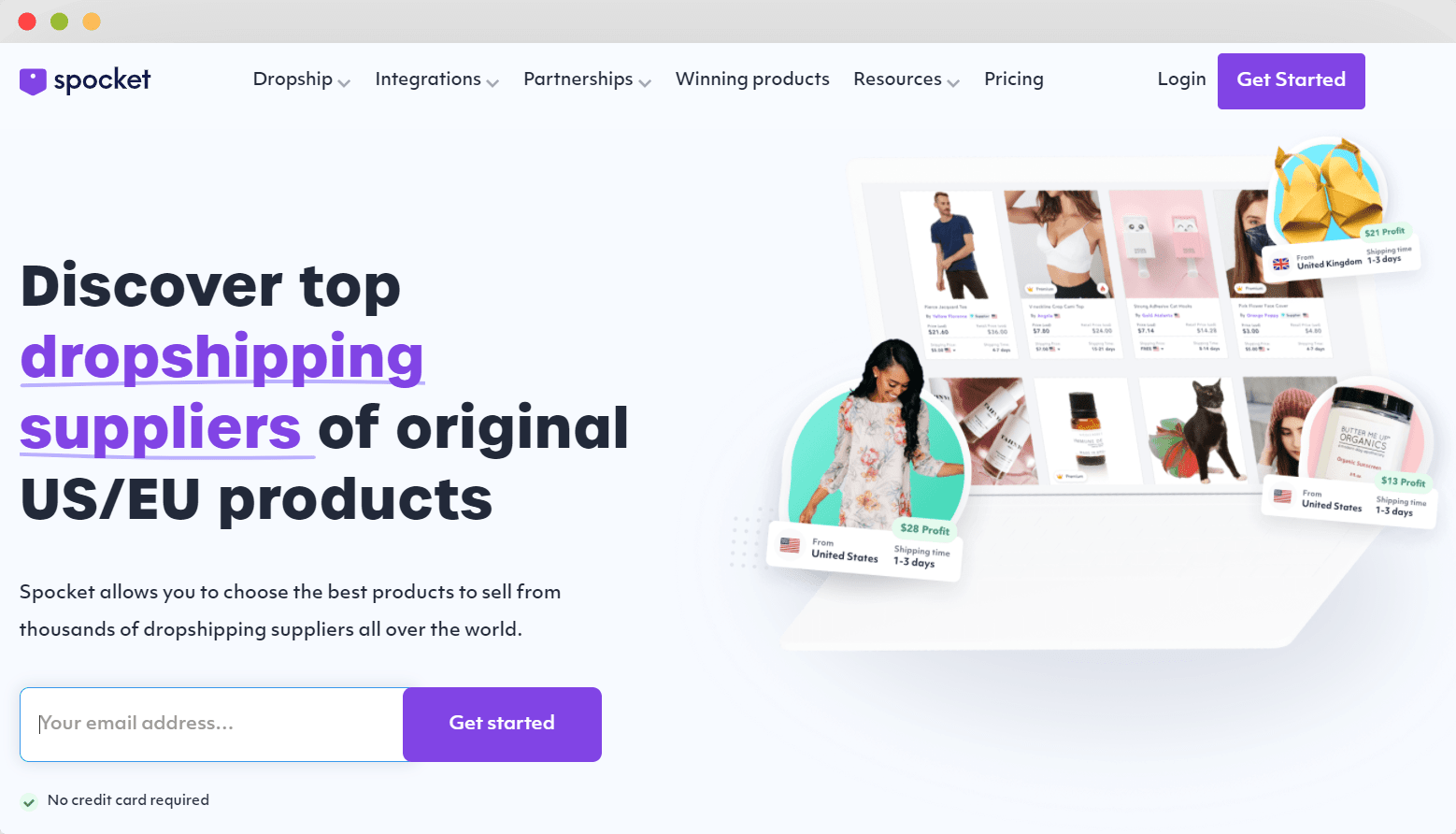 Spocket's most basic monthly subscription costs $24/month, allowing you to sell up to 25 different products from their catalog.
If you want to start using Spocket, you'll need an online store based on one of these platforms: Shopify, WooCommerce, Wix, or BigCommerce.
SaleHoo
Another great Italian dropshipping supplier (well, worldwide, actually) is SaleHoo. SaleHoo is an exclusive network of vetted and verified AliExpress suppliers. That gives you the insurance you need to stay calm, knowing you'll sell quality products.
SaleHoo has over 8000 suppliers, 80% of which dropship worldwide! And of course, this includes Italy.
Unfortunately, SaleHoo is unsuitable for those looking to dropship for free since it doesn't offer an unpaid version. The SaleHoo Directory access costs $67/annually or $127 for a lifetime.
There are two other dropshipping resources that SaleHoo offers – SaleHoo Dropship and SaleHoo Educate.
Tuscany Leather
Are you interested in dropshipping Italian leather goods with your brand? If your answer is yes, Tuscany Leather is the perfect supplier for your needs. From luggage to bags, purses, and wallets, Tuscany Leather has it all!
With Tuscany Leather as one of the best Italian drop ship companies, you can sell throughout Europe without caring for any warehousing or inventory. You can focus on marketing and let Tuscany Leather take care of your entire order fulfillment process.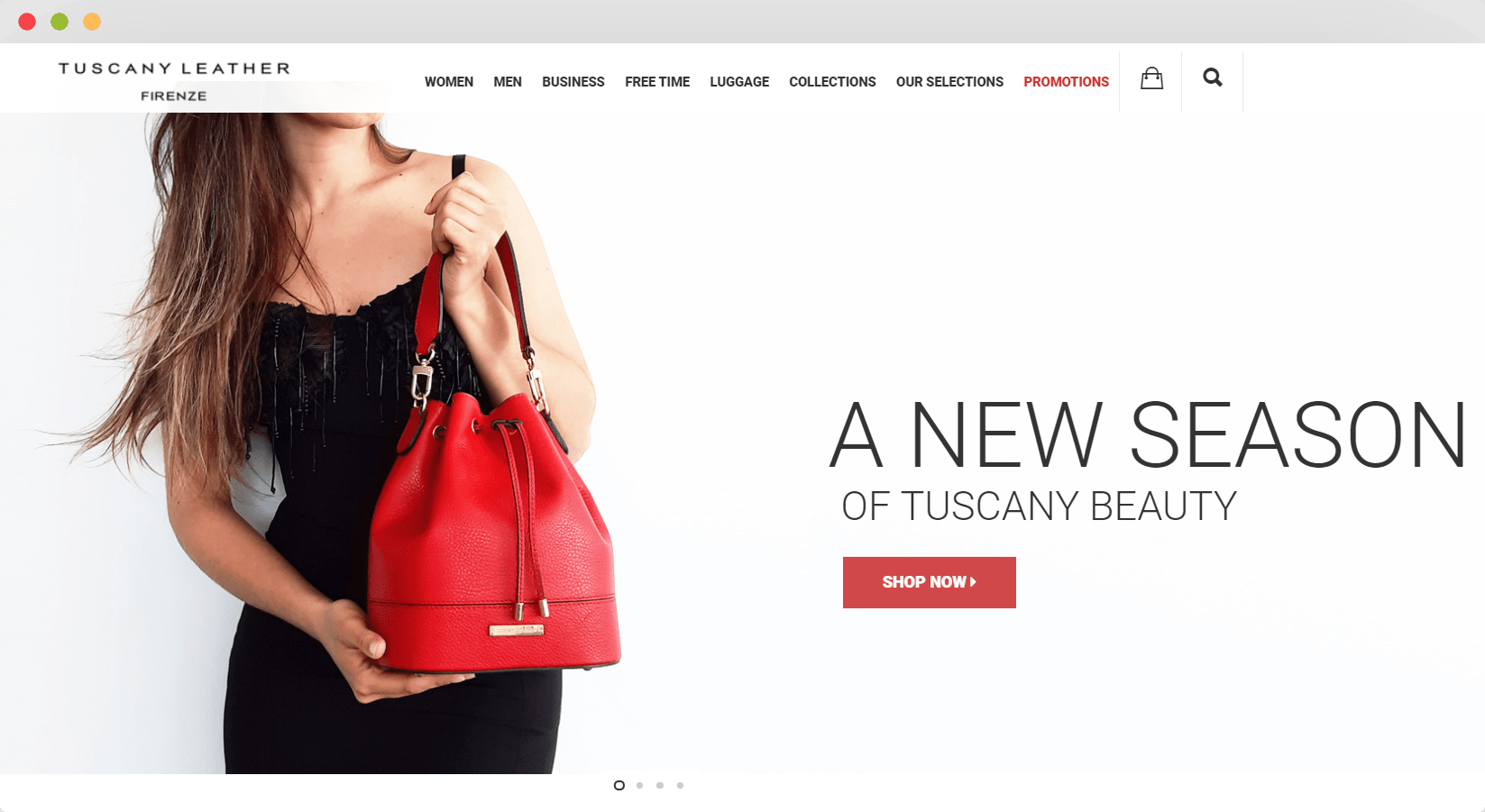 Once you register as a dropshipper for Tuscany Leather, you'll get a personal account manager who will guide you through the process of reselling. Plus, as a dropshipper, you'll enjoy discounted prices on all of their products.
Printsome
Yes, we know Printsome is in the UK. But, did you know they drop ship to all European countries? Italy included. Your Italian customers can enjoy their custom-printed hoodie or T-shirt in just 8 to 12 days, regardless of where they live in Europe.
As a print-on-demand service (PoD), Printsome integrates with all online stores built with Shopify. With Printsome, you can sell T-shirts, vest tops, or hoodies.
To register as a dropshipper on Printsome is entirely free. And, of course, they take care of the entire dropshipping process – packaging, order fulfillment, shipping, etc.
Printful
While we're on the topic of PoD, Printful is another supplier that isn't Italian but dropships to Italy. One of Printful's warehouses is in Spain and the other one in Latvia. From these two warehouses, they ship throughout Europe.
Printful integrates with many different eCommerce builders: Shopify, WooCommerce, Etsy, Amazon, eBay, BigCommerce, Wish, Weebly, PrestaShop, etc.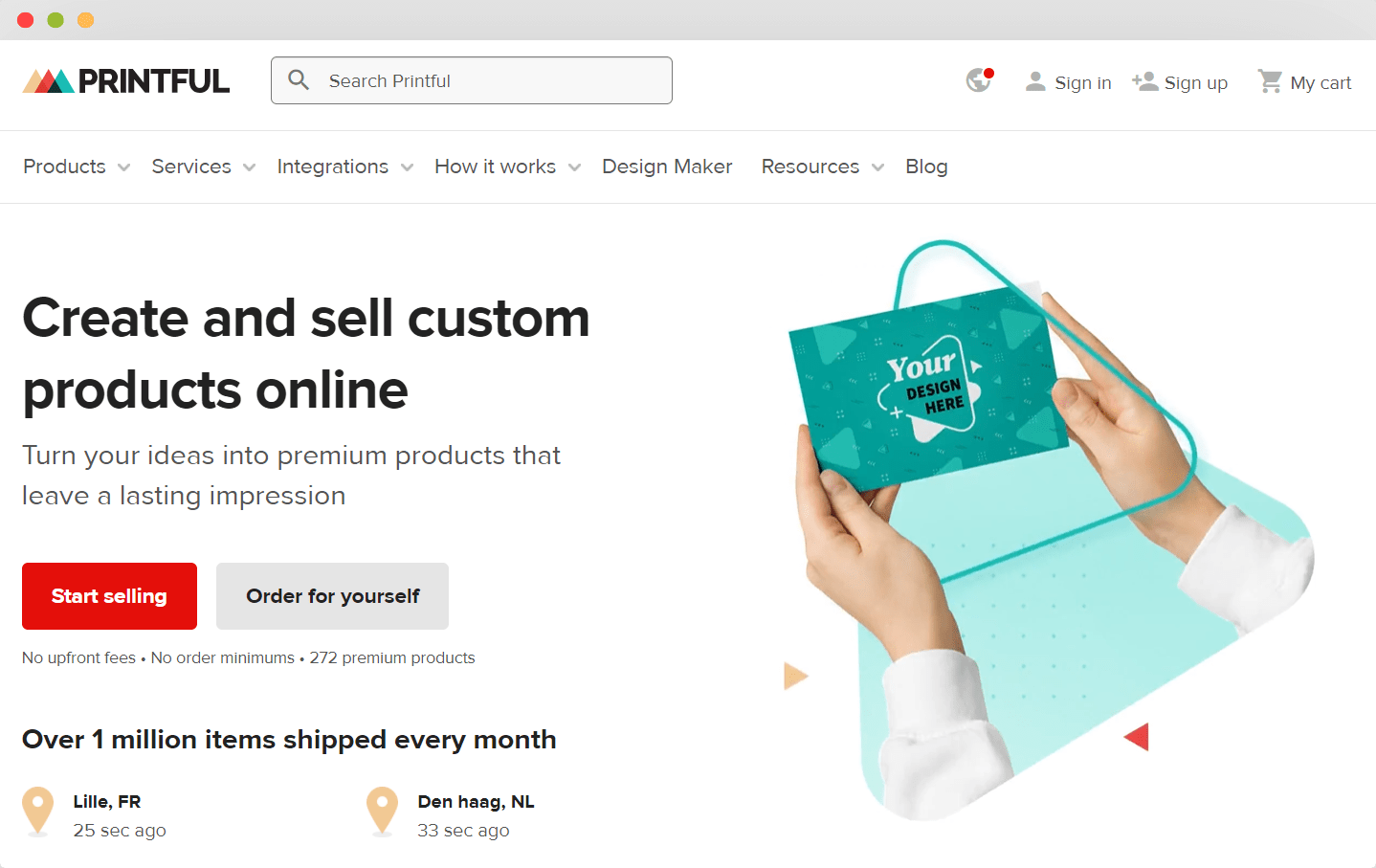 To register for Printful and start drop shipping to Italy is entirely free, which is excellent. And of course, perhaps the best Printful feature is their white labeling service that allows you to deliver the order with your own branded package, slip, or branded invoice.
BDroppy
With BDroppy as your Italian dropshipping supplier, you can sell not just within Italy but to 50+ countries worldwide. BDroppy is a product of Brand Distribution – a well-known Italian wholesale supplier.
BDroppy has an impressive collection of over 100 different brand suppliers you can choose from, such as Adidas, Dior, Fendi, Fila, Converse, Reebok, Vans, Armani, Calvin Klein, Lacoste, Guess, Gucci, and many others.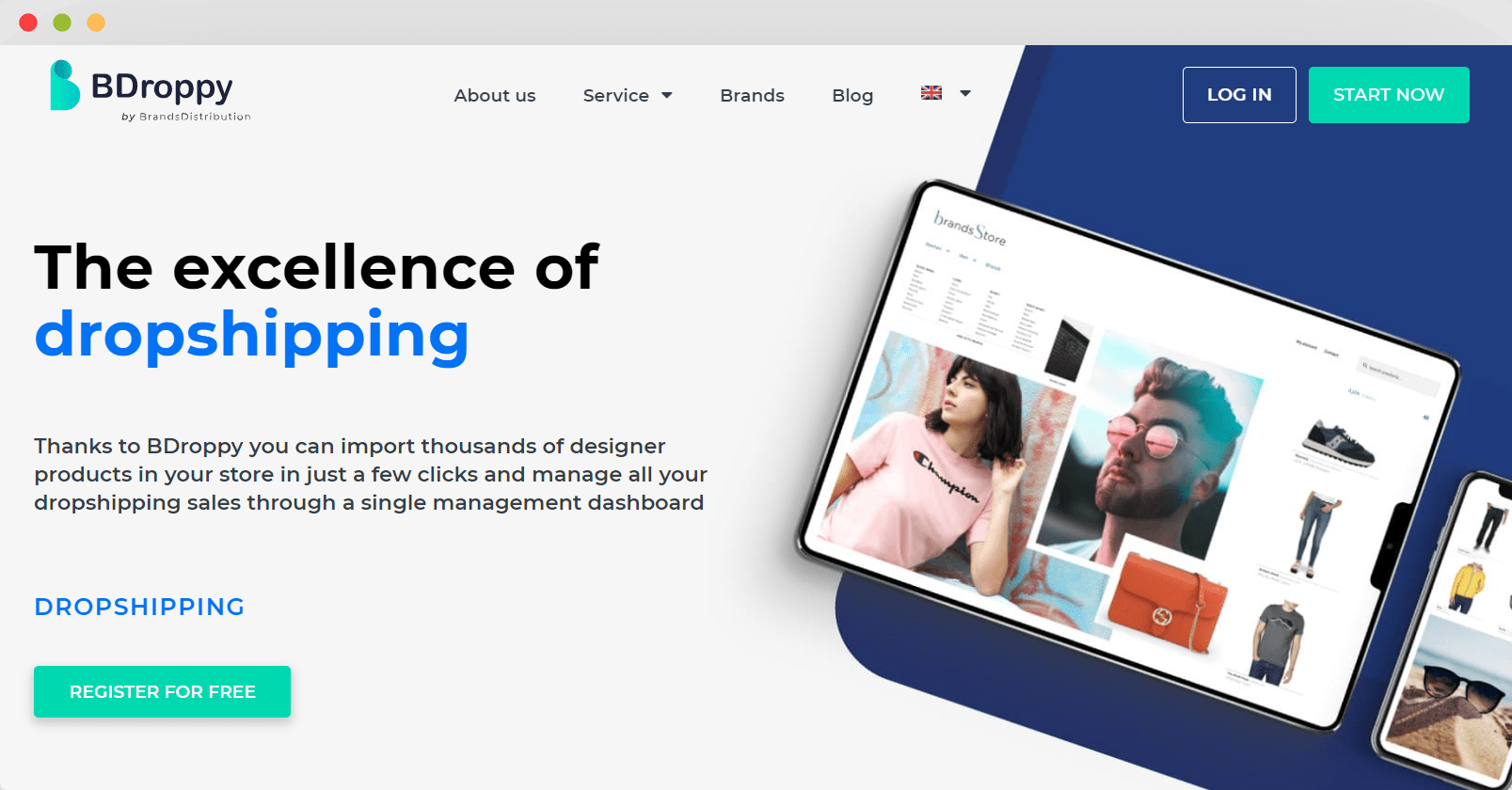 To use BDroppy as an Italian dropshipping supplier, you'll need a Shopify, WooCommerce, or PrestaShop. Alternatively, you can sell on marketplaces like eBay or Amazon.
ItalianModa
If you're looking for Italian suppliers for dropshipping and wholesale combined, ItalianModa could be what you need.
Regardless if you want to buy in bulk or drop ship to Italian customers, on ItalianModa, you'll be able to purchase high-quality, authentic made in Italy products. Generally speaking, you can find branded clothing, handbags, jewels, leather goods, shoes, etc.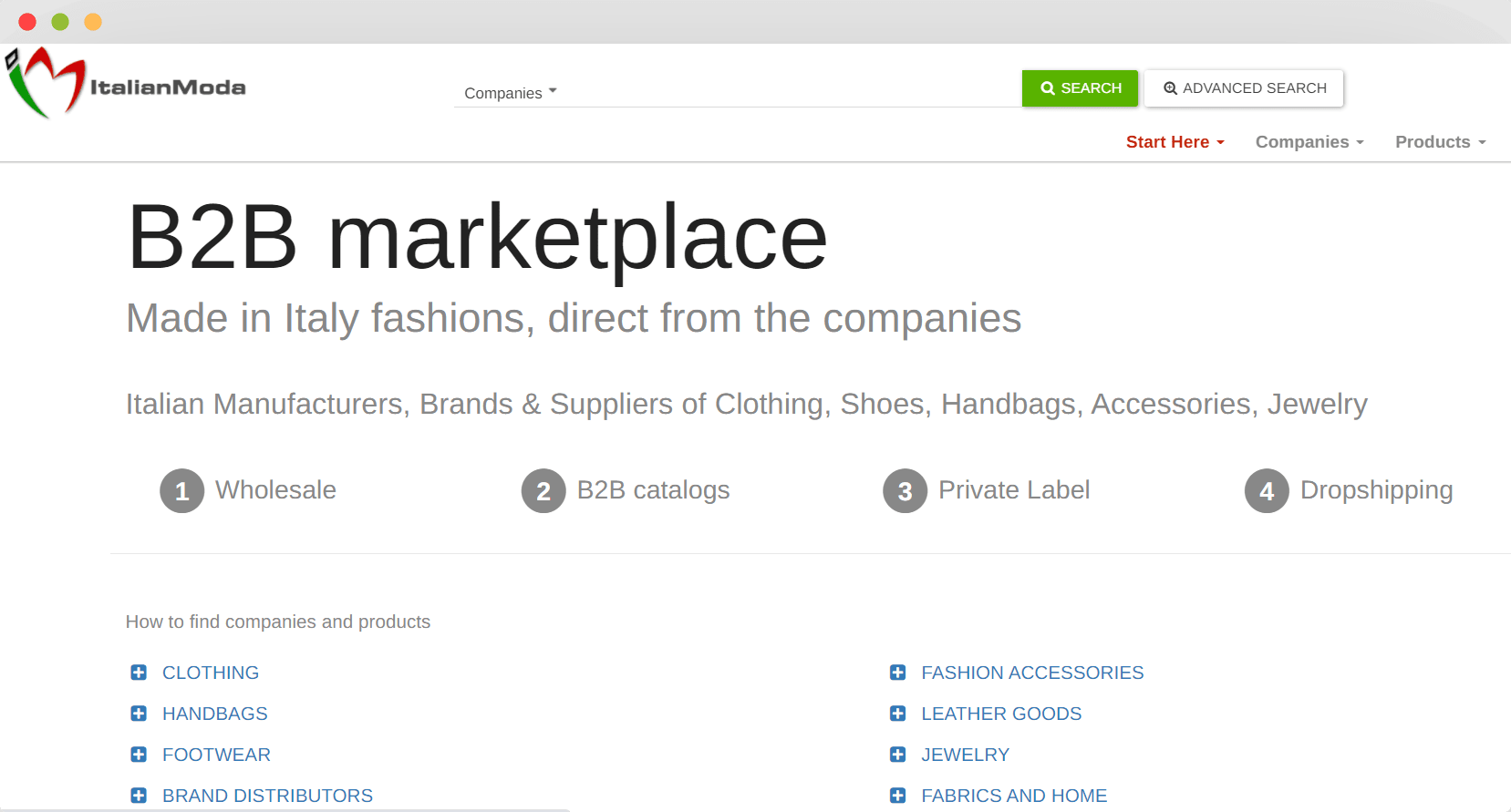 On ItalianModa, you can see an entire directory of Italian suppliers specialized in B2B or dropshipping purchases. All you need to do to start working is choosing a product and getting in touch with a supplier to discuss the exact agreement.
eSources
Although eSources is a UK company, it has an extensive collection of wholesalers and dropshippers.
eSources has a free and a paid version. However, don't expect any drop shipping services out of it. eSources is sort of like a "yellow book" for eCommerce sellers. You can find many fantastic worldwide suppliers listed on eSources. Many of them ship to all European countries, including Italy.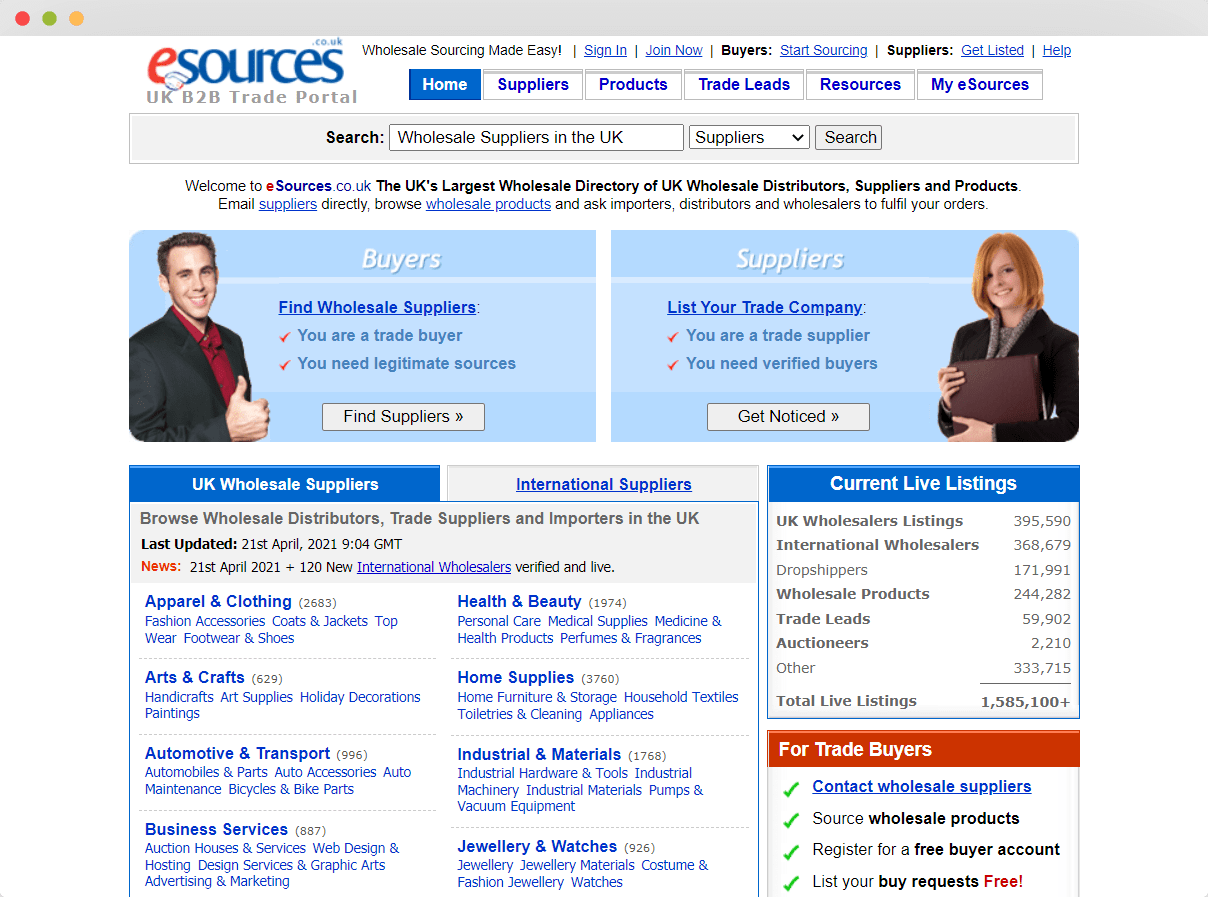 So, if you ever need an Italian supplier and have nowhere else to look, keep eSources in mind.
Worldwide Brands
If you're able to spare $224, you can gain lifetime access to Worldwide Brands – one of the most well-known supplier directories out there. On Worldwide Brands, you can find countless suppliers not just in Italy but worldwide.
Worldwide Brands are not a supplier or fulfillment center themselves, only a directory of vetted and trustworthy suppliers.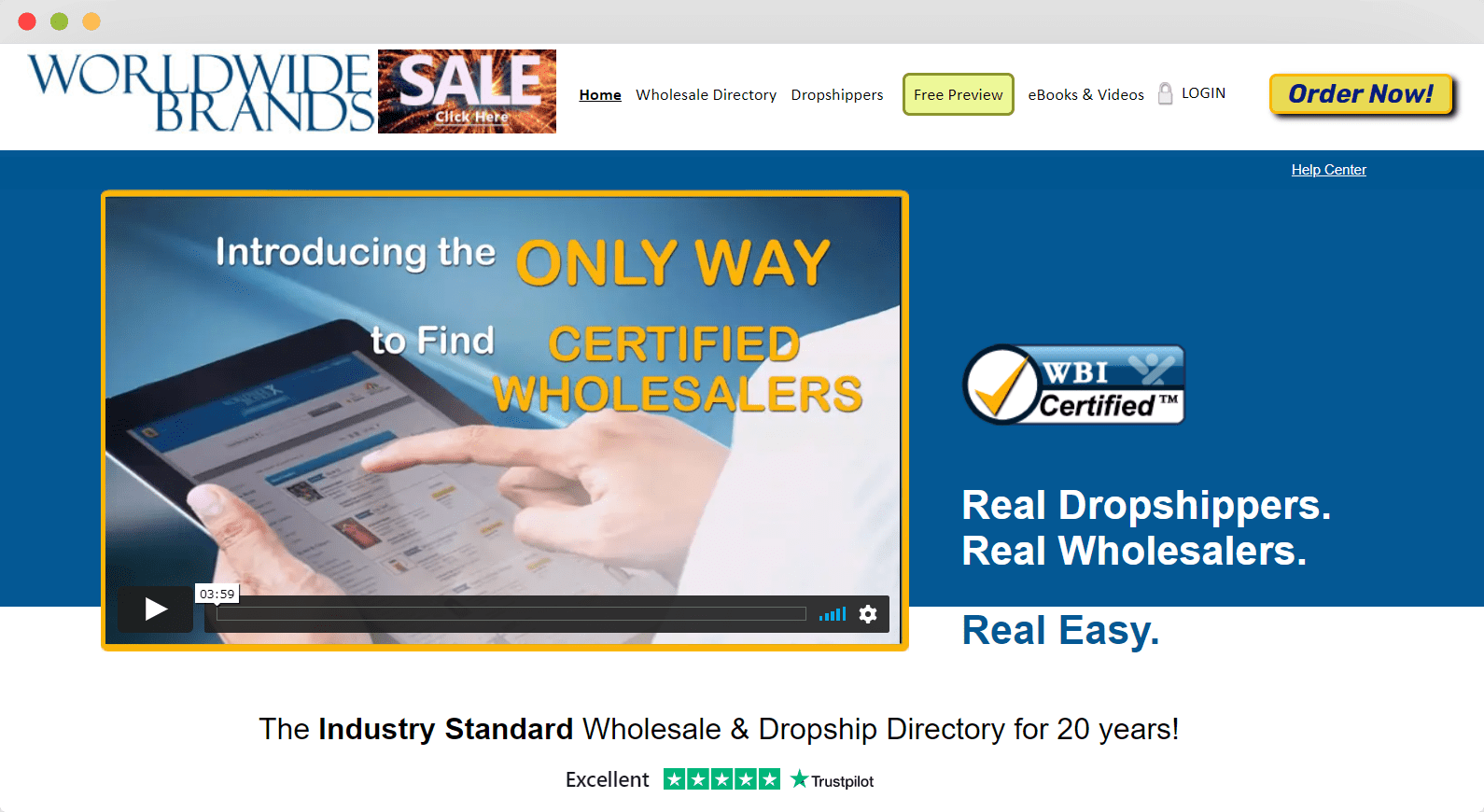 To get listed in the Worldwide Brands directory, suppliers have to pass quality inspections and get WBI certified. With this, you'll avoid scams and ensure your dropshipping in Italy goes smoothly.
FAQs on Italian Dropship Companies
And, of course, we're here to clear out any questions you still might have regarding Italian dropshipping suppliers. Let's check out some of the most frequently asked questions on this topic.
Is Italy Good for Dropshipping?
Yes. Italy's eCommerce revenue growth rate and market penetration grow significantly with each passing year.
Dropshipping in Italy is profitable, especially if you're in the fashion niche since that's their largest eCommerce market segment.
And let's not forget that Italy is part of the EU, which means an open market, and a simplified business operation. Plus, Italian dropshippers have many eCommerce services available – store builders, payment gateways, and other great dropshipping tools.
Is Dropshipping Legal in Italy?
Yes! Dropshipping is a genuine business model practiced throughout the world. With dropshipping, you aren't lying to anyone or trying to scam people.
To lead a wholly legit and transparent eCommerce business, we recommend following local Italian and EU rules and regulations on taxes and VAT. As long as you follow the laws, you can drop ship to Italy from any country in the world.
What Are the Best Italian Dropship Companies?
All of the above Italian dropshipping suppliers are great at what they do. Which supplier you choose depends on your personal needs.
For the sake of quick delivery, we recommend choosing a dropshipping supplier with a worldwide fulfillment center and warehouses in the EU. For example, take a look at CJDropshipping, Bazarissimo, Spocket, Chinabrands, etc.
Ultimately, it all depends on your business model. For instance, if you're looking for a private label dropshipping supplier, Tuscany Leather might be better for you.
What Product Niche Should I Sell in Italy?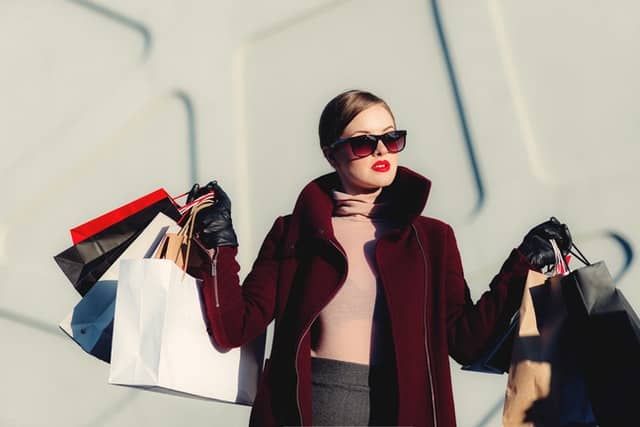 According to a recent Statista report, Italy's largest eCommerce market segment comes from leisure products/services with a total eCommerce turnover of 48%.
However, the fact that leisure products are the most sought-after niche means that there will be more competition. So, why not choose a less saturated but more narrow niche? Your success depends on placing the right product in front of the right target group.
When choosing a product niche, we recommend doing a fair amount of keyword research and analysis. An informed decision is always the most thoughtful way to go – remember that! Check what's trending, what people are searching for, see what's most popular out there.
And finally, always check the financial side of every product you choose. What's the profit margin you can put on the product when you resell it? Are there shipping costs? Basically – is it worth dropshipping that product?
Do I Need to Charge VAT when Dropshipping to Italy?
Yes. Everyone that sells goods or services to any EU country, including Italy, has to charge VAT.
From the 1st of July, 2021, the new EU VAT rules will begin, and VAT will be applicable on all purchases, no matter how small. If you're a non-EU dropshipper, you can get a VAT number in any EU country and start charging VAT at each customer's native VAT rate.
What's the VAT Rate in Italy?
The regular VAT rate in Italy is 22%. Some essential products such as food or drinks will have a reduced rate of 4%. However, the majority of dropshipping products fall under the 22% VAT rate.
Can I Dropship to Italy If I Don't Live There?
The short answer is yes. The long answer is – that's the beauty of dropshipping! The ability to live and sell anywhere worldwide without caring about inventory and warehousing – this is what makes dropshipping as a business model so alluring.
As long as you charge and file VAT and respect other Italian or EU rules and regulations regarding dropshipping, you can dropship to Italy from anywhere in the world.
Can I Live in Italy and Dropship to Other Countries?
Absolutely! Your business can operate in Italy, and you can also live there and drop ship to almost any country worldwide.
If you plan to dropship outside of the EU, do a fair amount of research on the subject of shipping costs and delivery times.
What Are the Best Private Label Italian Dropship Companies?
The most well-known private label Italian dropship company is Tuscany Leather. You can also use Alibaba, but you'll have to buy in bulk.
Is Dropshipping Better than Wholesale in Italy?
If by "better," you mean easier to start and scale, then yes – not just in Italy, but anywhere globally – dropshipping as a business model has many advantages over wholesale.
First and foremost, you won't have to deal with renting a physical storage space or a warehouse solution. Then, imagine having to pack and personally organize the shipping of all of your orders? Sounds like a mess?
Dropshipping is a great "one-man show" business precisely because you can let someone else do the heavy lifting while you do what you enjoy doing – sales, marketing, branding, and scaling!
In short, if you're new to eCommerce, we recommend choosing one of the above Italian dropship companies and starting as a dropshipper in Italy.
What Are the Best Italian Wholesalers?
Although we recommend dropshipping over wholesale, many eCommerce pros feel ready to start buying in bulk.
Some of the best Italian wholesale suppliers are Italjapan S.R.L., Alibaba, Chinabrands, ItalianModa, Brands Distribution, etc.
Can I Find Italian Dropshipping Suppliers on Oberlo?
Oberlo suppliers are, in fact, AliExpress suppliers. As such, you'll usually find the same AliExpress suppliers that agree to ship to Italy also on Oberlo.
Can a Dropshipping Agent Help Me Sell to Italy?
Of course! If you're serious about dropshipping, collaborating with a full-service dropshipping agent is the best decision you'll make.
A dropshipping company can help you source quality products and take care of the entire order fulfillment process.
When choosing a dropshipping agent, one important thing to look for is that they have a worldwide fulfillment center and strategically placed warehouses. With this, you'll know that they can drop ship to your Italian customers.
Which Payment Gateways Are Available in Italy?
Dropshipping in Italy is accessible in regards to setting up an online store with different payment gateways.
These are the available payment gateways in Italy: 2Checkout, BitPay, Coinbase, GoCoin, Stripe, Skrill, Amazon Pay, Alipay Global, Checkout, NETbilling, IATS Payments, QuickPay, PAYMILL, WorldPay, GestPay, ePay, and others.
Summary
Once you find a reliable and trustworthy Italian dropshipping supplier, your eCommerce business will become a breeze. Always remember that a quality dropshipping supplier should offer a full range of services, from packaging to warehousing and shipping.
Hopefully, our list of best Italian dropship companies will help you find the supplier you need for your eCommerce business to grow.
If you feel like you still need help choosing Italian dropshipping suppliers, we're at your disposal. With our worldwide fulfillment center, we help our dropshippers source quality products and sell in any country worldwide!