Shopify is unarguably one of the largest eCommerce platforms in the world.
It's a website builder that offers entrepreneurs a simple solution to start an online business and streamline its operations.
With the help of Shopify, you can build an online store without writing a single line of code.
But despite the convenience it offers, it has some drawbacks and may not be everyone's cup of tea.
Fortunately, Shopify isn't the only name in the game.
Many other Shopify alternatives have emerged over the years, and we've prepared a comprehensive list to help you explore your options.
So scroll down to learn which platform suits you the best!
1. WooCommerce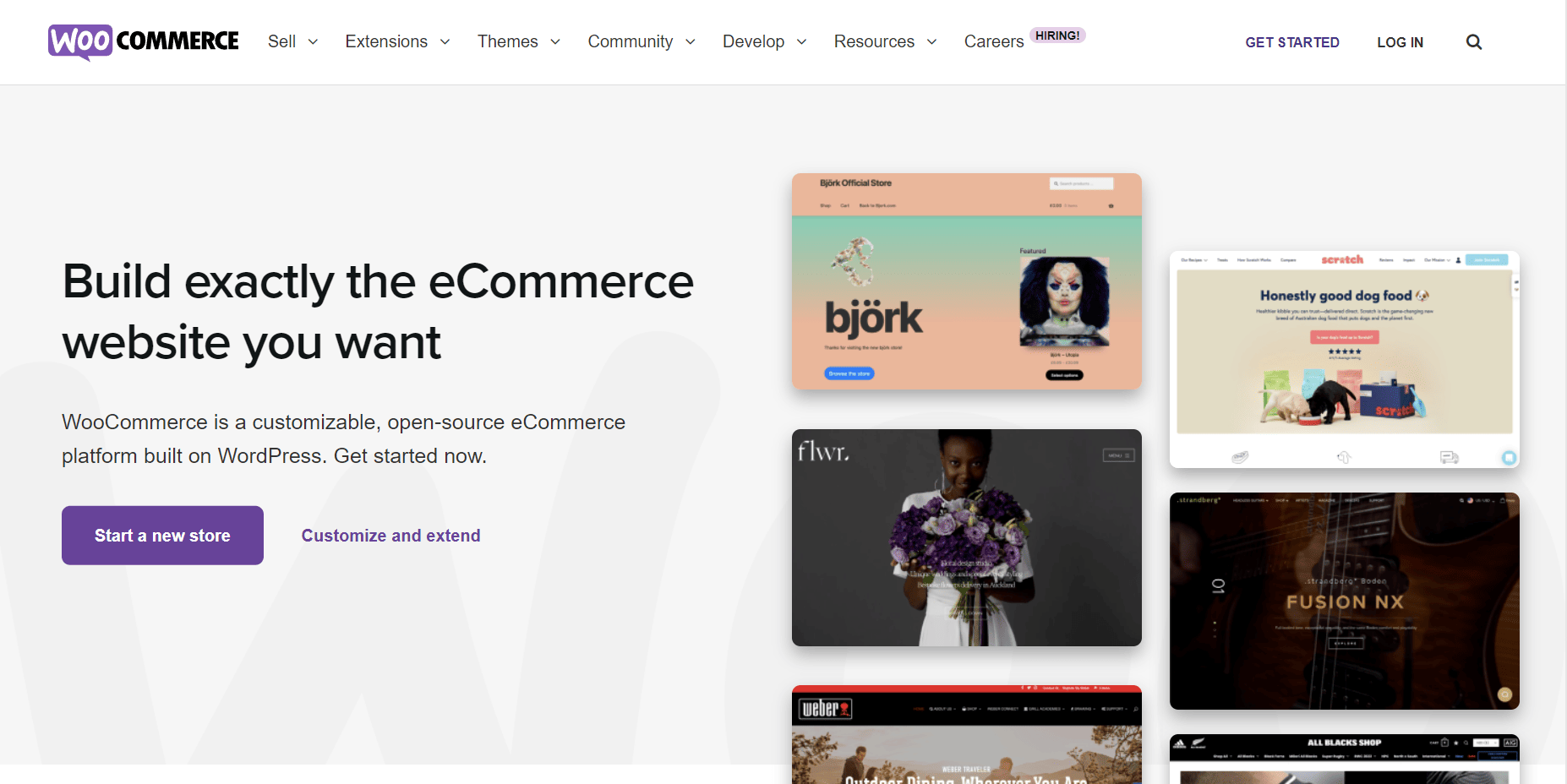 WooCommerce is an open-source WordPress plugin that adds eCommerce functionality to your site.
It has become significantly popular over the years, mainly due to how quick and easy it's to install.
The downside is that creating a WooCommerce store requires some knowledge about hosting, basic web design, and domain names.
But with more than 6,000 third-party plugins, you can customize your store to the fullest by adding any feature you want.
Plus, you can create a WordPress site and install the WooCommerce plugin for free.
However, you'd still have to pay for hosting along with some of the plugins and extensions.
Note: If you want to start a low-investment business on WooCommerce, then you can try doing WooCommerce dropshipping.
Pros
Plenty of useful plugins and extensions
Fully customizable if you have coding knowledge
Huge communities of WooCommerce users and online tutorials
Free and easy to install on your WordPress site
Sell unlimited products in your store
Being built on WordPress, it is more seo-friendly
Cons
You might need to hire a web designing service
Technical knowledge is required to keep the site safe
Key Features
Any functionality can be added to your site
The content management system of WordPress
Multiple payment gateways including PayPal, debit and credit cards
Easy integration with social media platforms like Instagram and Facebook
2. Magento

Magento (now known as Adobe Commerce) is another open-source platform that is used to build medium to large-scale eCommerce websites.
It lets you cater to a huge amount of traffic and offers you complete control over the functionality of your site.
However, the problem is that the platform isn't beginner-friendly and requires a high level of tech knowledge.
But if you can get past that, then you can reap the benefits by enjoying its advanced customization features.
It's ideal for entrepreneurs who plan on expanding their business over time.
In fact, Magento also provides a wide selection of reports to track your customer activities and marketing efforts.
The community version of Magento is free, but you'd still have to purchase hosting and most likely pay for developmental resources.
Pros
The community version is free to use.
Advanced customizations if you have coding experience
Highly scalable
Flexible content management
Power marketing tools
Cons
Hosting needs to be purchased.
Requires advanced coding knowledge
No built-in payment processing
Key Features
Unrivaled SEO features
Mobile friendly
API for web services
3. BigCommerce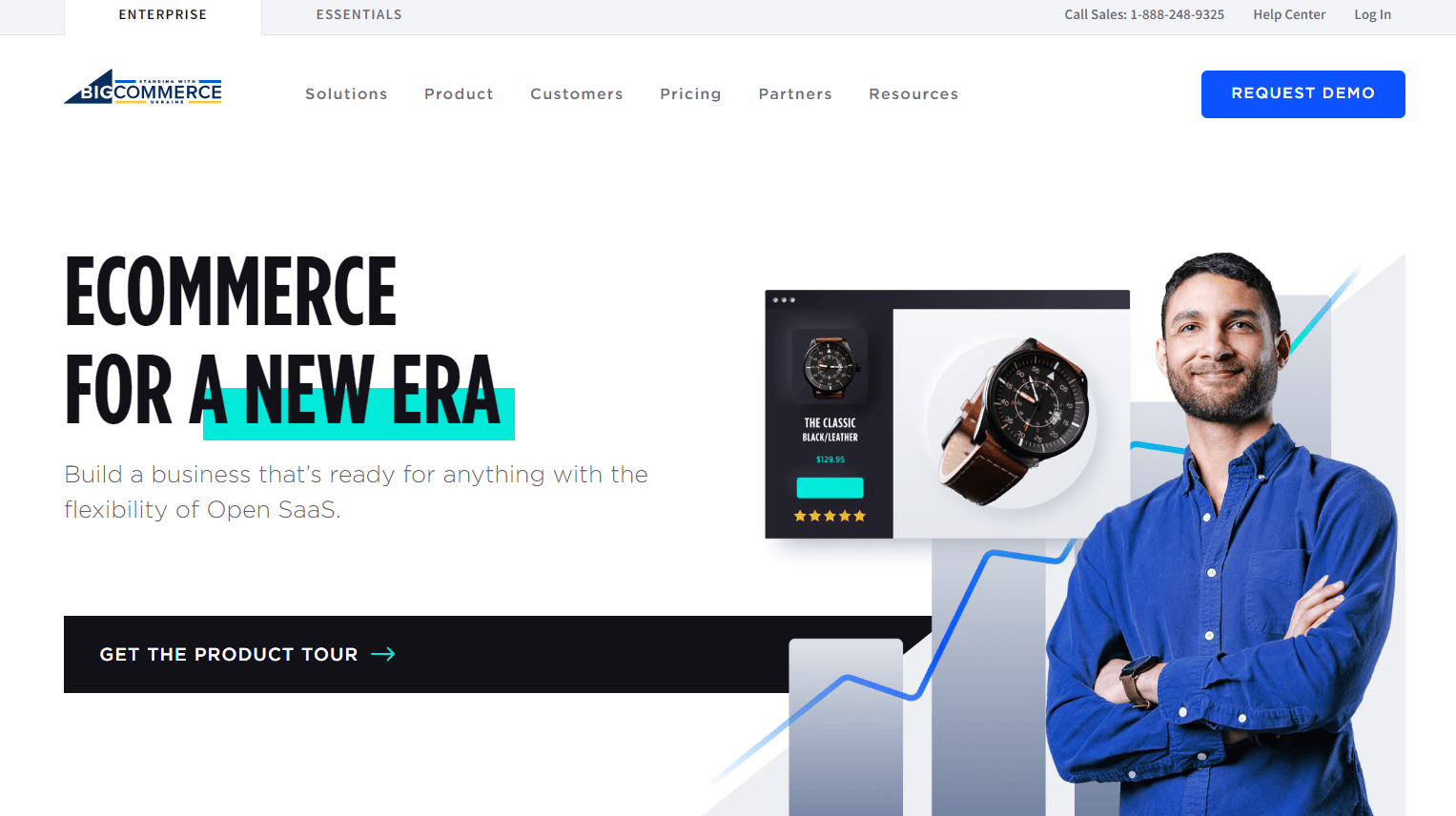 BigCommerce is unarguably one of the best Shopify alternatives on this list.
Similar to its competitor, it allows you to set up an eCommerce store without coding experience.
Its drag and drop editor gives you the flexibility to customize your eCommerce site according to your preferences.
Not only that, but you can also find a wide selection of readymade themes – although obviously, most of them are paid.
BigCommerce offers plenty of built-in features so you won't have to always rely on third-party apps.
And it also has a long list of SEO tools to complement your marketing efforts.
One major drawback of BigCommerce, however, is its inconsistent site loading speed.
This usually happens when you add too many apps to your site, but fortunately, it can be optimized.
The platform is also quite similar to Shopify in terms of pricing.
Its Standard plan costs $29.95/month, while the Plus and Pro Plan set you back $79.95 and $299.95 respectively.
Pros
Coding knowledge isn't required.
Drag and drop tools for store design
Powerful SEO tools
Plenty of built-in features
More than 10 free themes
Cons
Monthly subscription fee
Customer support needs improvement.
Inconsistent site speed
Key Features
No transaction fee and 50+ payment gateways
Allows multi-channel selling
Responsive and mobile-friendly
4. PrestaShop

PrestaShop is an open-source eCommerce solution often used by entrepreneurs on a tight budget.
Although the platform is free to download, you still need to look for a domain and hosting.
What we like most about PrestaShop is its customizability.
Since you have access to its code, you can optimize every aspect of your site.
It wouldn't be an overstatement to say that PrestaShop is more flexible than Shopify.
Plus, coding knowledge isn't really required while setting up a basic store on PrestaShop.
But obviously, advanced customizations do require a certain level of technical understanding.
The platform also supports up to 25 languages and multiple currencies.
And if you think it can't get any better, then PrestaShop doesn't charge a transaction fee on sales either!
Pros
Free and no additional transaction fee
Supports multiple languages
Reliable and convenient payment gateways
Maximum customizability
Easy to install
Cons
Advanced customizations require coding knowledge.
Limited scalability
No official support team
Key Features
Unlimited listings
Advanced SEO tools
Inventory management tools
Multiple payment gateways
5. Squarespace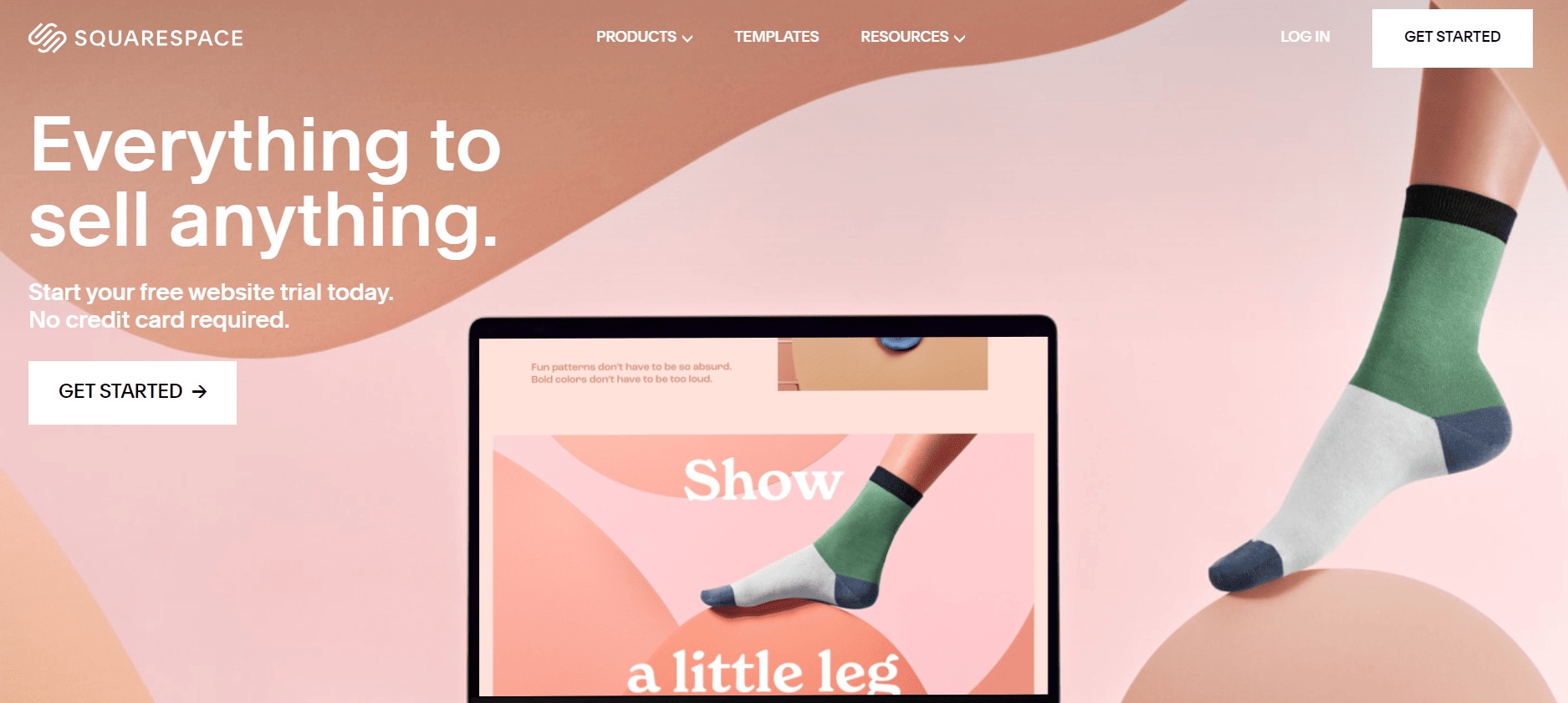 Squarespace is a SaaS-based system primarily famous for the design flexibility it offers to its users.
The Basic Plan of Squarespace comes at $26/month which includes hosting.
It offers some of the most stunning eCommerce themes and templates.
The drag and drop functionality of Squarespace also makes it pretty easy to set up a store.
And while it's considered to be the "King of Design", we wouldn't call it the "King of Features".
The sales tools of the platform aren't as advanced as the ones on other eCommerce platforms.
Similarly, their UI and dashboard are also a bit clunky and could use some improvement.
Another major drawback is that SquareSpace also has limited payment gateways as it only supports PayPal and Stripe.
In short, if your main goal is to create a unique store with a designer look, then you can't go wrong with PrestaShop.
However, if you're looking for advanced features, it may not be the best option.
Pros
Create stunning sites without any hassle
Hosting is included in the plan.
Coding knowledge isn't required.
A vast selection of designer themes
Great technical support
Cons
Clunky UI and dashboard
Lacks features
Limited payment gateways
Key Features
Integrates with MailChimp
Sites look great on mobile.
Up to 80 high-quality templates
Sell unlimited products
6. Volusion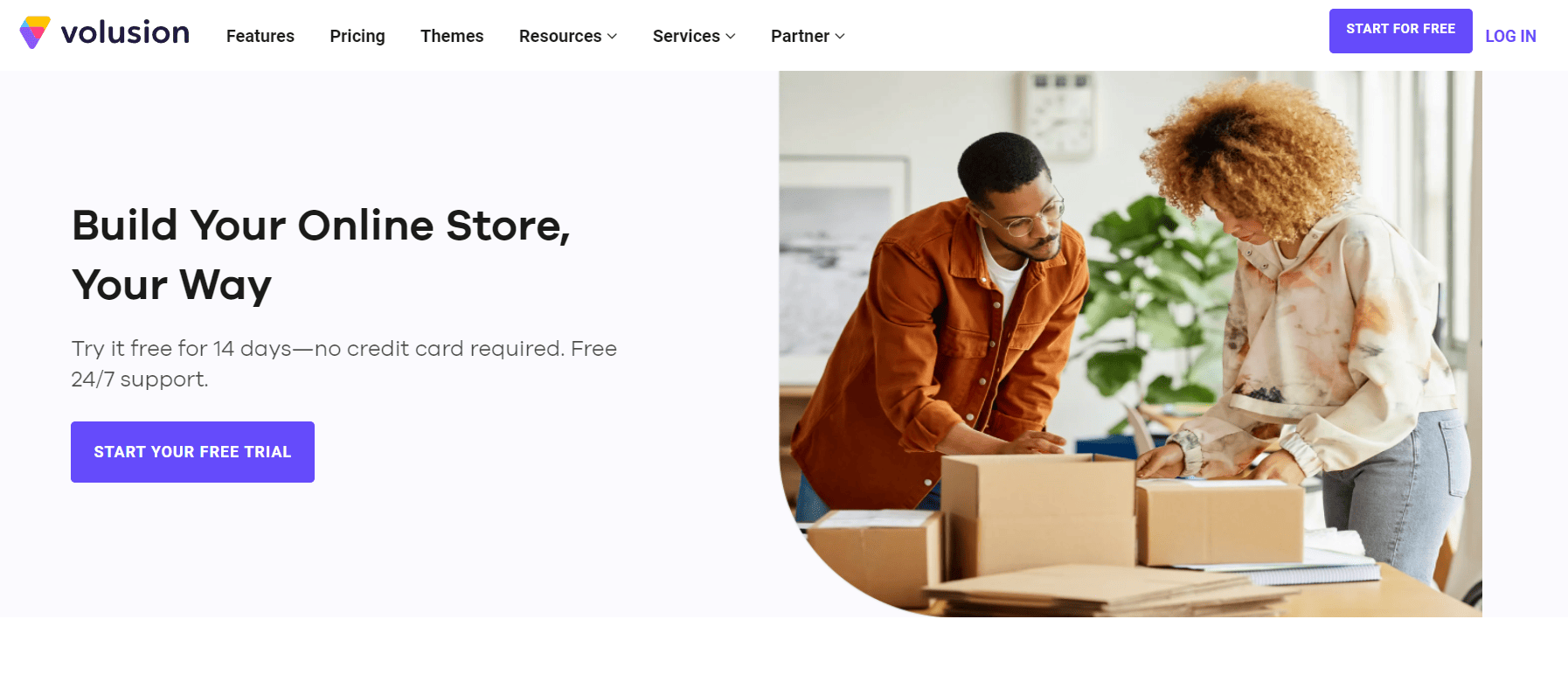 Volusion is a cloud-based shopping cart trusted by more than 100,000 merchants worldwide.
It's the ideal platform for small-business owners who aren't planning to sell hundreds of products.
While you do have to pay a $29/month subscription fee, it doesn't charge a transaction fee on sales.
The biggest highlight of Volusion is its features. Its vast range of plugins and extensions saves you from paying additional money for purchasing third-party apps.
Its intuitive UI can help you do most of the work while setting up a store but some coding skills might still be necessary.
Then again, if you're stuck somewhere, you can simply follow an online tutorial to get your store up and running.
The biggest drawback of Volusion is its metered bandwidth. Crossing the limit can cost you $7 extra per GB.
This is the reason we don't recommend this platform for medium to large-scale businesses.
Pros
Wide selection of plugins and extensions
Easy to use
A quick calculation of tax and shipping rates
Hosting included in the plans
No additional transaction fee
Cons
Limited bandwidth
Monthly subscription fee
Poor template variety
Key Features
Mobile app
Supports multiple payment gateways
Free analytics and SEO tools
7. Wix
Wix has significantly grown in popularity over the years. The credit for that goes to its drag and drop tools allowing even newbies to easily create a site.
Its vast selection of beautiful templates and customizable themes makes it the go-to choice for many beginner and advanced users.
There are two ways to set up a site on Wix – one is to use its automated assistant that configures your site based on your answers to a questionnaire.
The other way is by directly using the drag and drop Wix editor, which gives you more customization control.
There are more than 250 apps on the Wix store and it also allows multichannel selling.
The Basic Plan of Wix costs $5/month which includes 500MB storage and 1GB bandwidth.
Digital entrepreneurs usually go for its eCommerce Plan which costs $16.50/month. It has 20GB storage and 10GB bandwidth along with free domain name and hosting.
Lastly, it also has a VIP Plan that comes at $24.50/month – which is still cheaper than Shopify.
Pros
Convenient drag and drop editor
A huge selection of themes and templates
Affordable plans with hosting included
Easy to learn for beginners
A ton of features
Cons
Limited bandwidth and traffic
The starter plan has ads.
Lacks SEO tools
Key Features
The sites are secure.
All Wix sites are mobile-friendly
Allows multichannel selling
Recommended reading: Wix vs. Shopify: Where to Build an Online Store?
8. Weebly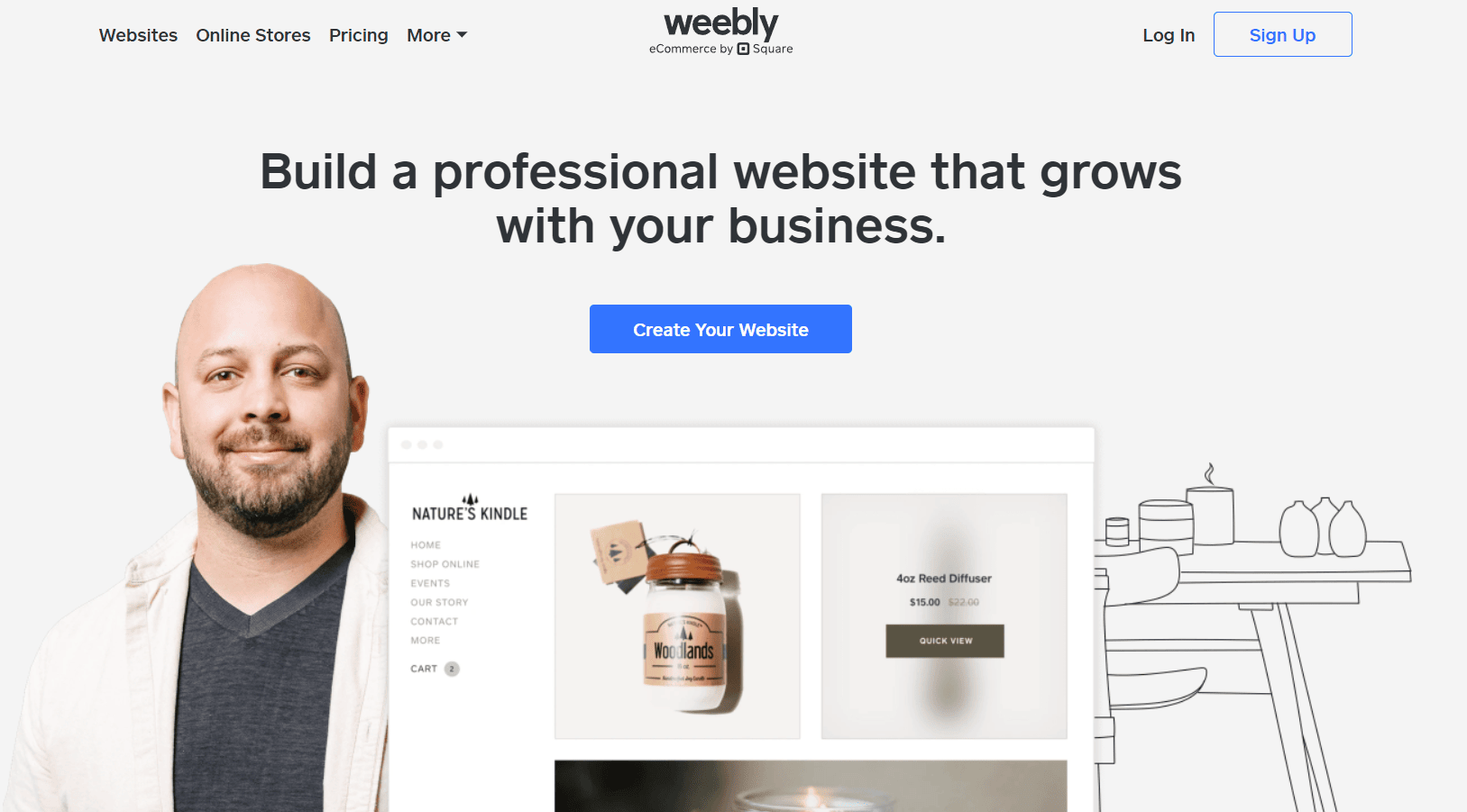 Weebly has also grown in popularity recently as it aims to provide an all-in-one solution to its users.
To begin with, Weebly comes with a decent set of features and also has a drag and drop functionality for easy site-building.
The Basic Plan of Weebly comes at $10/month, and the Business Plan costs $30/month. We recommend small business owners go for the latter.
In terms of design, Weebly has a ton of themes that, unfortunately, cannot be customized.
You can't even change the color palette of your site, which is a huge letdown.
Overall, Weebly isn't the right choice for medium to large-scale businesses due to its design restrictions.
However, it's great for beginners who want to quickly create a site and start selling.
Pros
More than 70 templates
UI is easy to navigate.
A diverse range of features
Plenty of useful plugins and add-ons
Includes hosting in its plans
Cons
Limited customization options
You can only sell digital products with the Business Plans.
The drag and drop tools can use some improvement.
Doesn't have a free trial
Key Features
A well-designed mobile app
Multiple payment gateways including debit and credit cards
Allows multichannel selling
Comes with the option for a blog
9. OpenCart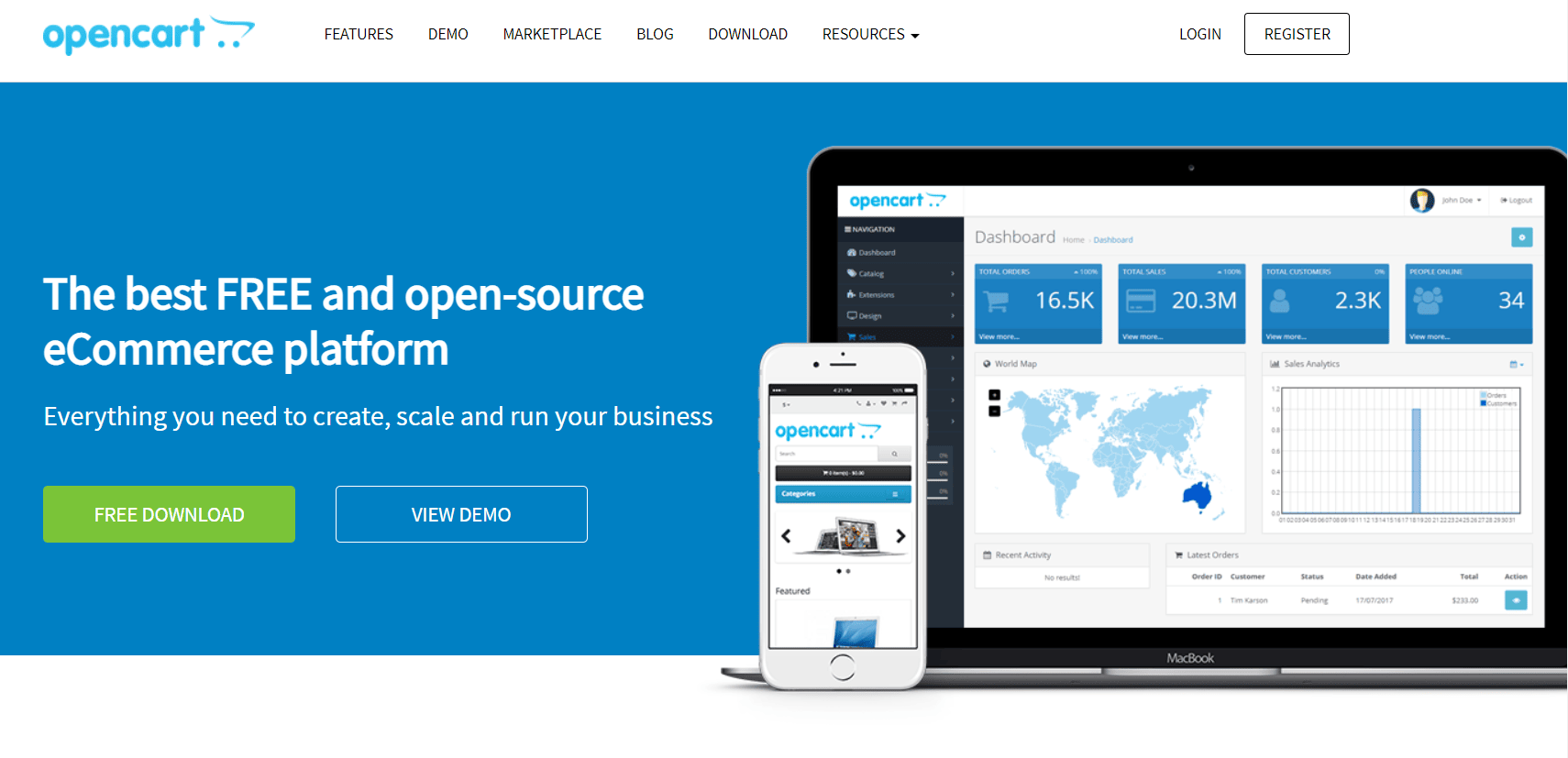 OpenCart has also been rapidly growing in terms of popularity.
It's an open-source eCommerce platform that allows you to create professional sites.
OpenCart has a huge selection of plugins, add-ons, and themes for you to make your site work and look exactly the way you want it to.
But we must say that OpenCart isn't the ideal platform for users who lack technical knowledge.
It shines best when you know how to make use of its flexibility – which is only possible for experienced developers.
Fortunately, OpenCart has strong documentation and a huge community to help you get started.
Pros
Completely free to use
Thousands of plugins and extensions
Fully customizable
Multiple payment gateways
Cons
Requires a high level of coding experience
Not the ideal platform for beginners
No customer support
Key Features
Can be used in 12 different languages
Allows multichannel selling
Highly scalable
Open-source
PCI compliant
10. Sellfy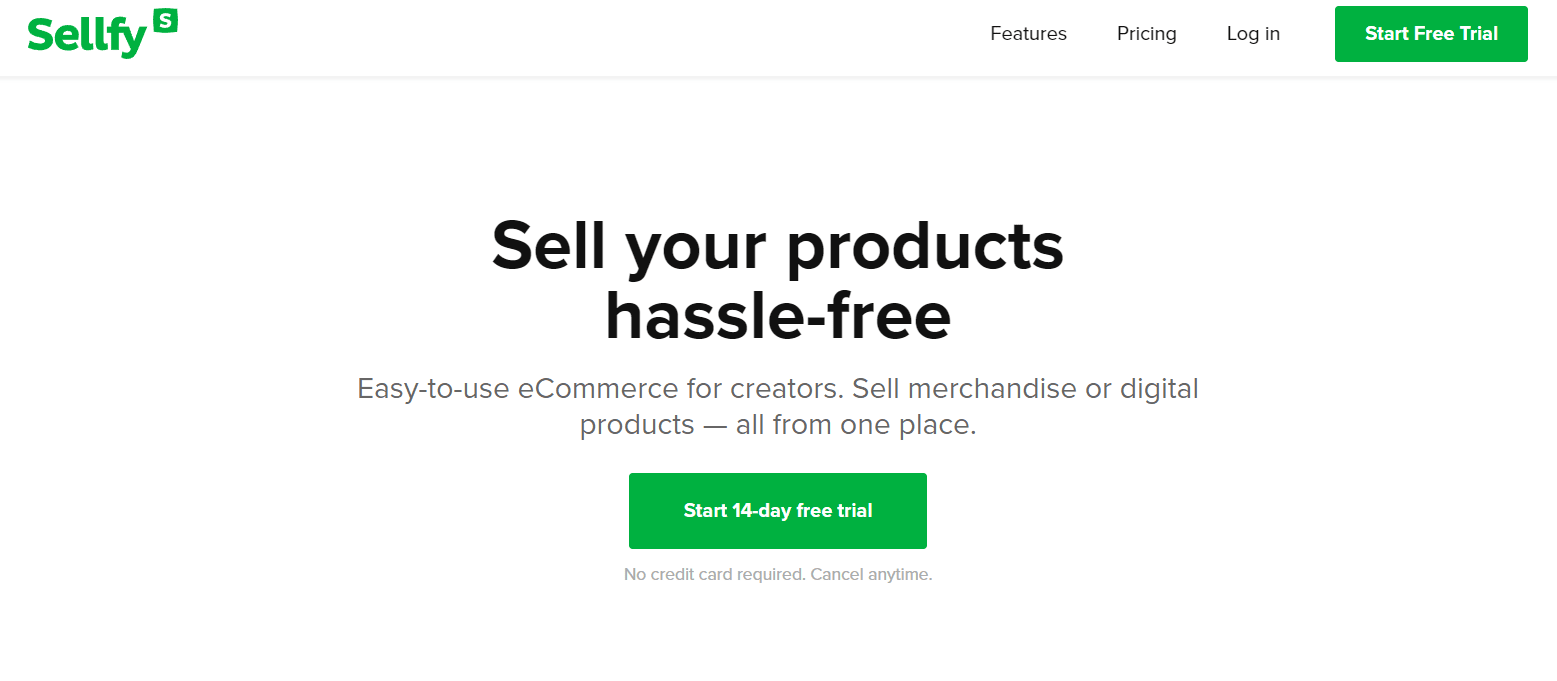 Sellfy is an easy-to-use eCommerce platform that mainly targets users selling digital products.
That means it is ideal for people who want to sell digital illustrations, video courses, and even music.
However, that doesn't mean you can't sell physical products on the platform.
Sellfy charges a monthly subscription fee which starts at $29 and goes all the way up to $129/month.
It also has a 14-day free trial period that you can use to determine whether the platform is a good choice for your business or not.
The intuitive UI of Sellfy makes it pretty easy to create a store on the platform.
You can find a variety of useful built-in features on the platform, which also include marketing tools.
Overall, Sellfy is a solid platform, especially if you're planning to sell digital products.
Pros
Easy to set up for beginners
Plenty of features to help with marketing
Great for beginners
Allows you to sell unlimited products
Fast checkouts
Cons
Limited integrations
Lacks customizability
Only two payment processors (Stripe and PayPal)
Key Features
Mobile app
Neat and intuitive user interface
Built-in email marketing
11. BigCartel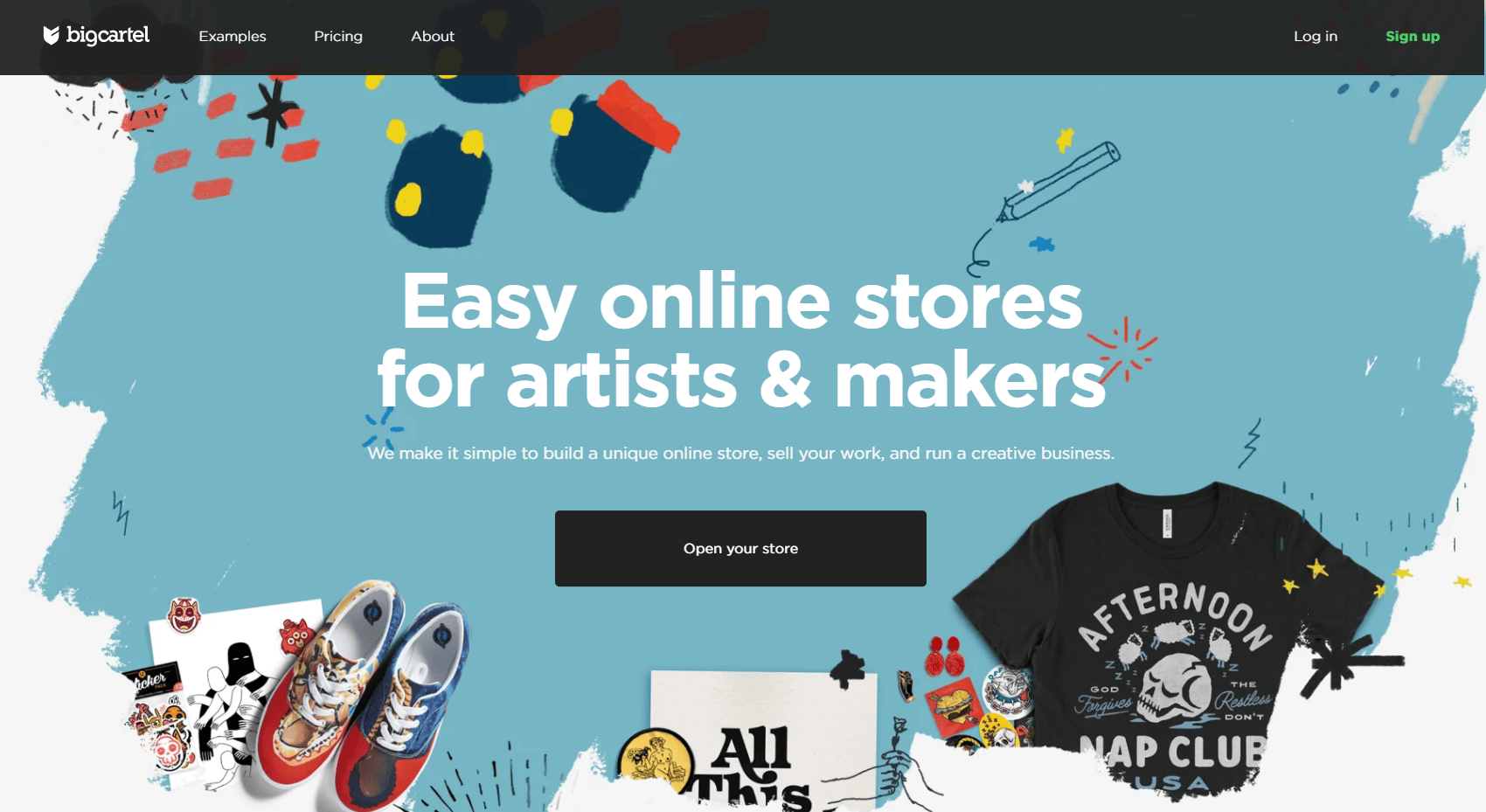 BigCartel is quite similar to Sellfy as it primarily focuses on helping artists sell their work online.
The platform doesn't offer anything too fancy in terms of features, but it's more than enough to help you operate a small online business.
You can use BigCartel without paying a dime, but it limits the number of products you can sell to 5.
Which still isn't too bad, especially if you don't have any plans for expanding your business.
If you want to sell more products, then you can purchase its Platinum or Diamond Plans which cost $9.99 to $19.99 respectively but they also come with more features.
The biggest drawback of the platform is its lack of chat and phone customer support.
BigCartel doesn't have an inventory search feature either, so as we mentioned – it's a decent platform to start a small store but not the ideal choice for larger businesses.
Pros
A free plan that allows you to sell 5 products
Easy to use and set up
Paid plans are also affordable.
No transaction fees
Cons
Not the best choice for larger stores
Doesn't have too many features
Customer support needs improvement.
The free plan doesn't have inventory management.
Limited themes and customization options
Key Features
Easily integrates with Google Analytics
SSL encrypted
The store can be managed from your mobile.
12. Zyro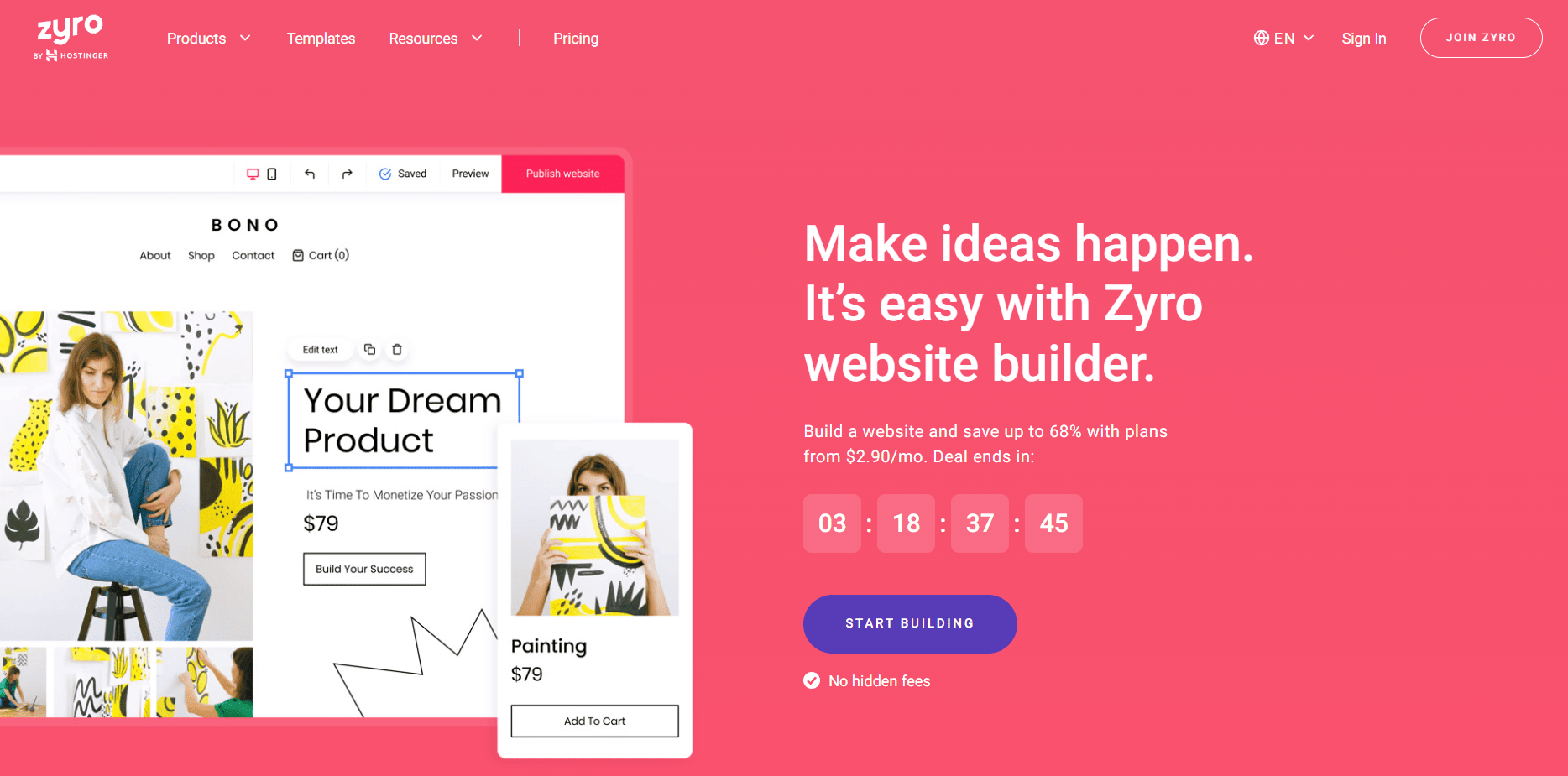 Zyro is one of the newer platforms in this list as it was founded in 2019.
The platform has gained traction because it offers features similar to Shopify at a fraction of its cost.
You can purchase the Basic Plan of Zyro for only $5/month while its top-tier plan also only costs $15.90/month.
Zyro also has easy-to-use drag and drop page builders, offering a ton of creative freedom.
It also has a marketplace full of apps that you can use to add your desired functionality to the site.
Plus, you can also find apps that support dropshipping on the Zyro marketplace.
With that said, Zyro is still a relatively new platform so its use isn't as big as other platforms.
But in the upcoming years, we're certain that Zyro will become a close competitor of Shopify.
Pros
30 days money-back guarantee
Easy to customize with drag and drop tools
More than 70 payment methods
Supports multiple languages
Works with all types of eCommerce businesses
Cons
Only the advanced plan allows multichannel selling.
The site is a bit slow on mobile.
Key Features
AI tools to design logos and craft content
Blogging and post scheduling features
All Zyro websites are mobile optimized.
13. Square Online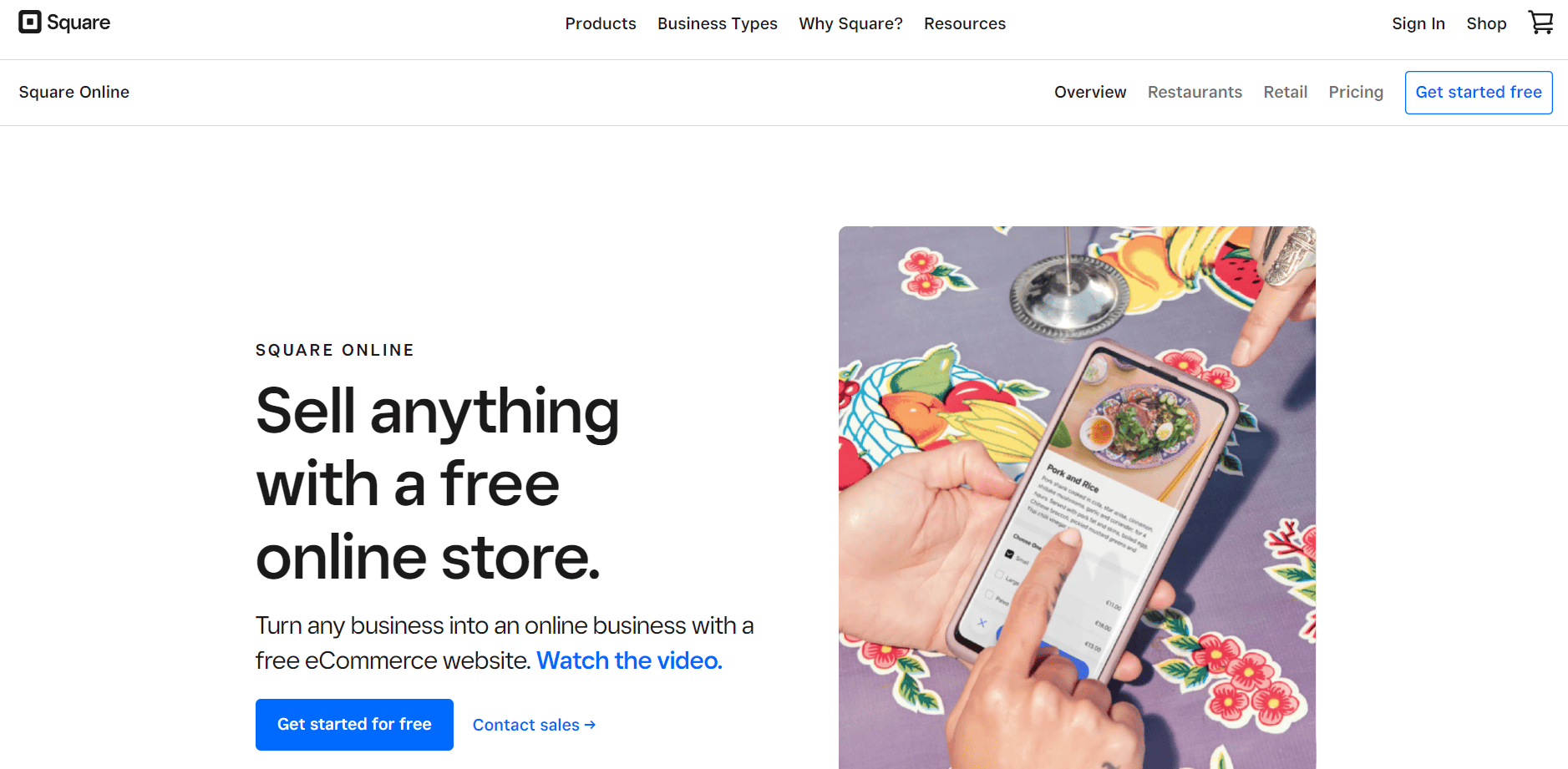 Square Online was originally famous for its POS system but recently, they've also transitioned towards providing an all-in-one eCommerce solution.
You can use Square Online even without having coding experience as they offer an easy onboarding experience.
The platform's intuitive UI can guide you through each step to make sure that you're able to set up your store with minimum effort.
Square Online is one of the more budget-friendly alternatives to Shopify. You can build a store for free but you pay a processing fee for each transaction.
But overall, it's a decent platform, especially for beginners who don't want to pay too many upfront costs.
Pros
You can create a site for free.
Checkout pages can be used to add eCommerce features without creating a full store.
Easy to set up
Cons
Square is the only payment method unless you pay to unlock PayPal.
Scaling your business can be challenging.
Key Features
You can list unlimited products.
Easily integrates with Instagram and Facebook
Sends text updates to customers
SSL encryption
14. Shift4Shop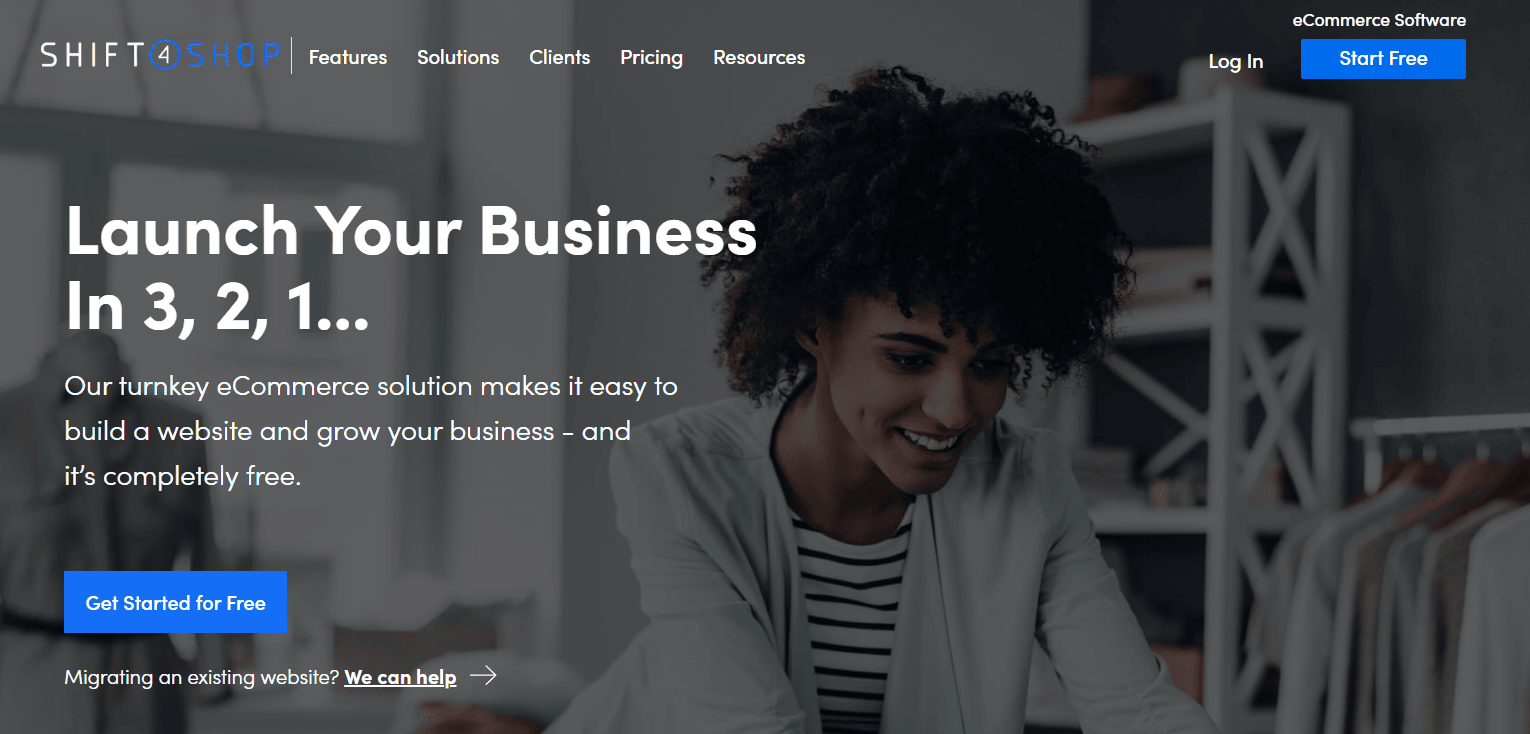 Shift4Shop is a shopping cart platform that brings a ton of features to the table.
You may not have heard the name before, but the platform was founded in 1997 and was previously named 3D cart.
Those who have used it know that it can easily be compared with modern-day eCommerce solutions.
Shift4Shop can be used even for large businesses as it offers unlimited storage.
The starting price of the platform is $19/month which goes up to $229/month – depending on the plan you choose.
Advanced plans also include powerful SEO tools along with other features like abandoned cart email.
To top it off, Shift4Shop also provides top-notch security to its users.
Pros
Offers a vast variety of features
No hidden costs or additional transaction fee
Clean UI
Plenty of marketing tools
A free plan
Cons
The UI can be more intuitive.
No multilingual support
Customer service needs improvement.
Might be difficult to use
Key Features
More than 70+ payment gateways
PCI certified security
Multichannel selling
15. X-Cart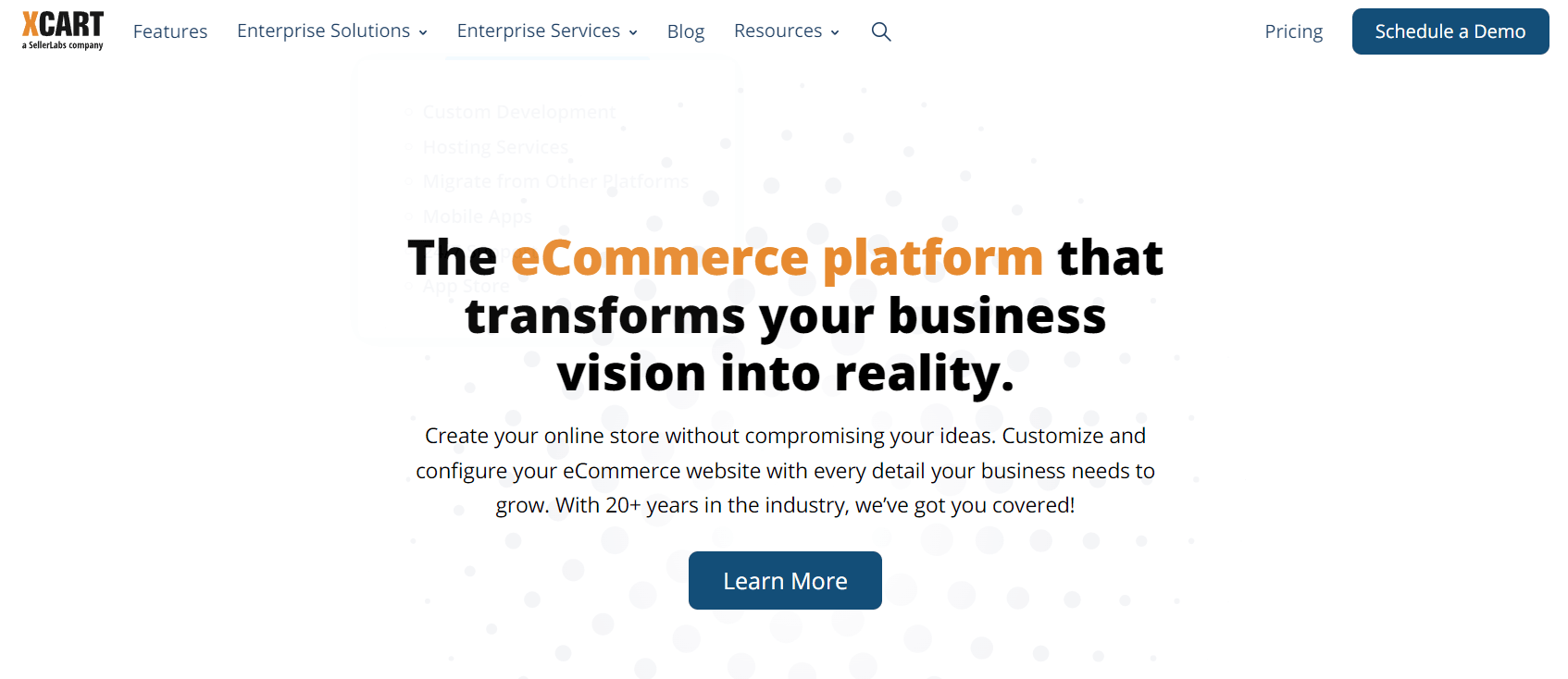 X-Cart also aims to provide a one-stop solution to all your eCommerce needs.
It comes jam-packed with a ton of different features and also allows maximum customization of your site.
But you do need some development experience to exploit the flexibility it offers.
Overall, X-Cart gives you enough creative freedom to design a unique and attractive website.
The only major issue with the platform is its unresponsive customer service.
They might not be too helpful if you face a problem, which is frankly disappointing due to the platform's potential.
So you'll love X-Cart, especially if you're technically equipped enough to deal with such issues.
Pros
Comes packed with SEO tools and other features
Extensions and plugins can easily be installed.
Easy to set up
Rich UX
Order management through mobile
Cons
It's difficult to find X-Cart developers.
The customer service needs improvement.
Key Features
All X-Cart sites are mobile-friendly.
SSL certified and PCI compliant
Integration support with MailChimp and other platforms
FAQs about Shopify Alternatives
What Are Things to Consider When Choosing an eCommerce Platform?
Before you choose an eCommerce platform for your business, here are some things you need to look out for:
1. Platform Price
This might seem obvious but when we say "price", we aren't just talking about the upfront costs.
You have to consider a variety of other things such as the transaction fee and features.
For example, some platforms may have a lower base rate, but they might not have the features that you're looking for.
Similarly, creating a site on WordPress and WooCommerce is free – but you still have to purchase hosting which can add up the costs.
On the other hand, Shopify is fully hosted but it requires a monthly subscription.
Aside from that, its tools and plugins are also considered to be quite expensive.
So your goal here is to assess what features a platform includes in its base rate, along with other additional costs that you would have to bear.
2. Technical Knowledge
Some platforms require more technical knowledge than others.
An example of that is if your site is built on Magento, you would require advanced coding experience or maybe even a whole team to help you build and maintain the site.
But if you're using a platform like Shopify or BigCommerce then things become much more simplified.
You can use their drag and drop page builders to make your site look exactly the way you want.
Similarly, with the help of their third-party apps, adding your desired functionality to the site is also quite straightforward.
So before picking an eCommerce platform, always evaluate the level of technical expertise it requires.
3. Technical Support
If you aren't tech-savvy, then a platform's dedicated technical support can make a ton of difference.
While they wouldn't obviously help you add new features to your site, they can resolve bugs and some basic issues.
Some platforms offer 24/7 technical support while others only operate on business days.
Similarly, the medium of support they offer is another thing to consider.
Find out if they are easily accessible via live chat or phone, or do you have to email them and wait days to get a response?
Larger platforms also have forums where you can post your questions to get a quick answer from other users, which is a major plus point.
Overall, timely technical support is an essential part of running an eCommerce business.
4. Features
Each platform comes with its own unique features.
The right features not only make your day-to-day operations easier but can also play a detrimental role in the success of your business.
For instance, aside from basic functionality, some platforms also come with built-in marketing tools and integrations to help you promote your business.
In case the platform doesn't have such features, you should at least have the option to install third-party apps.
5. Security
The growing number of online attacks has made it essential for entrepreneurs to take cybersecurity seriously.
As an eCommerce store owner, it's your responsibility to protect the data of your customers.
If you don't know how to take the necessary security measures, then make sure to choose a platform that does this job for you.
At the very least, the platform should offer SSL, PCI compliance, data backups, and fraud prevention.
What Ecommerce Platforms are Good for Beginners?
Following are some of the best eCommerce platforms for beginners:
Shopify
WordPress + WooCommerce (with page builder plugin)
Shift4Shop
Wix
Zyro
All of these platforms have one thing in common: their drag and drop page editors.
That allows you to easily customize your site without having to write a single line of code.
Which Shopify Alternatives are Good for Dropshipping?
WooCommerce is unarguably one of the best Shopify alternatives for dropshipping.
The reason being is that it is easy to install and comes with a ton of different third-party apps to make your day-to-day business operations smoother.
If you want to learn more, then you can also read our detailed Shopify vs. WooCommerce comparison.
Other platforms like Magento and BigCommerce are also good but they require a high level of coding knowledge.
Is There a Free Shopify Alternative?
Shopify doesn't have a completely free alternative. Platforms like WooCommerce, and Magento can be used for free, but you'd still have to pay for hosting and third-party apps.
Similarly, Wix provides a free starting plan and also hosting but it isn't suitable for eCommerce businesses because the free version comes with ads.
Who Are the Top Shopify Competitors?
The top Shopify competitors are:
Magento – Great for all types of eCommerce businesses.
WooCommerce – Perfect for dropshipping.
Squarespace – Ideal for creating attractive storefronts.
Wix – Good for small businesses.
BigCommerce – Best for scaling your business.
Final Thoughts
Shopify is considered to be a standard eCommerce solution, but that's hardly the case nowadays.
There are plenty of Shopify alternatives that come packed with features.
The key difference between these platforms is the level of technical expertise they require.
Some offer convenient drag and drop functionalities to help you build an attractive store.
Others require a deeper technical understanding and coding experience.
And then there's also the choice between hosted vs. self-hosted that you have to look out for.
Overall, your final decision depends on your budget, technical knowledge and business goals.
If you've already picked a platform and are now planning to start dropshipping, then NicheDropshipping is here to help you.
We offer an array of services including product sourcing, private labeling, and warehousing.
So just give us a call and our dedicated agents will guide you!