Many might think that finding a winning product is enough to get a dropshipping store going. What they don't know is that having the right supplier makes all the difference.
This is why expert dropshippers go through countless wholesale dropshipping directories until they find reliable ones.
One of these directories is SaleHoo. SaleHoo's quite popular because it has gathered more than 10,000 wholesalers and dropshipping businesses.
But SaleHoo is not the only directory you can find on the internet. There are actually a couple more that offer the same benefits as SaleHoo, you may not just know them yet.
In this article, we've gathered a list of SaleHoo alternatives you can use to find the right supplier—or suppliers—for your dropshipping business.
If you don't want to go for the mainstream option, you will find this list of sites like SaleHoo absolutely useful.
Let's get started.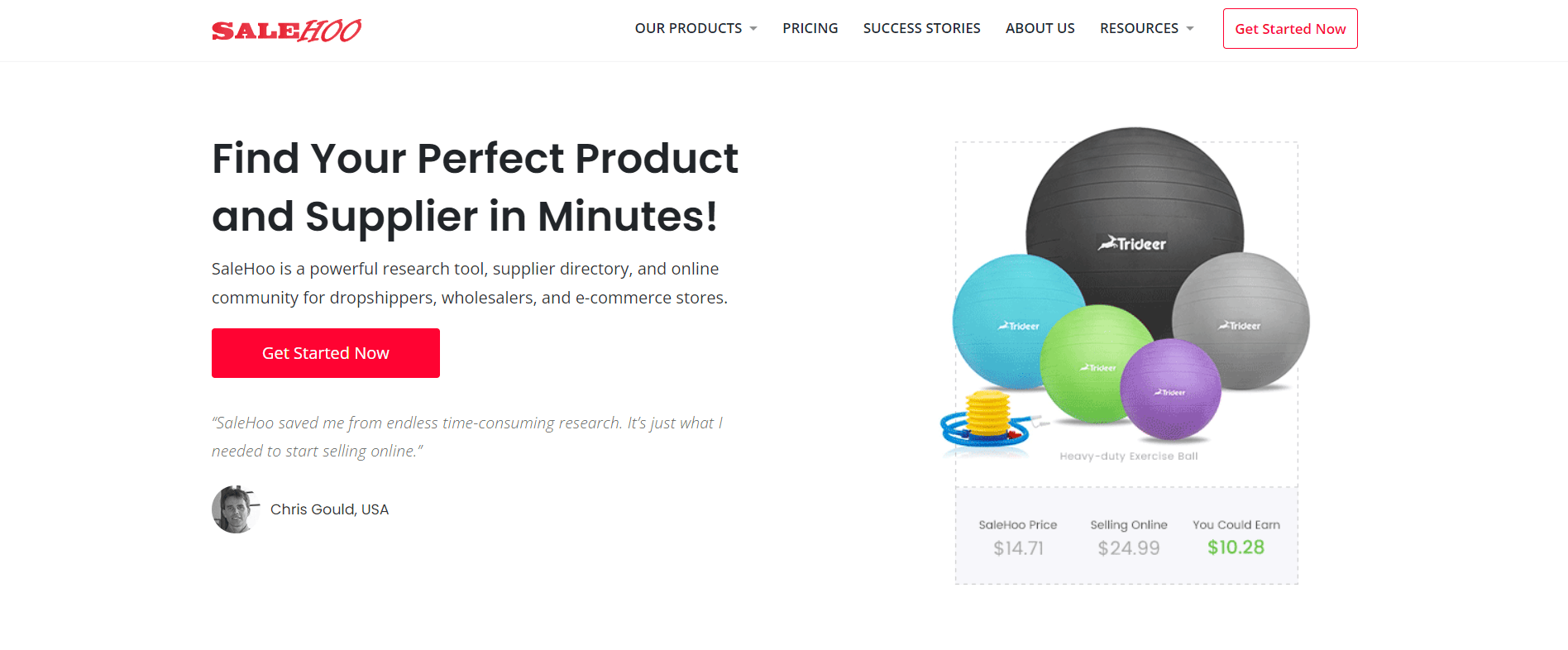 8 Best Sites Like SaleHoo in 2023
As mentioned, SaleHoo is not the only directory you can use to find trusted suppliers for your online store. There are a couple of worthy alternatives that deserve your visit.
Some of the companies below are also tools and solutions for dropshipping. These companies come at different price points—from free to a couple of dollars or pounds each month.
Nevertheless, if you want to make product sourcing a lot easier, read through each brand carefully.
Without further ado, here's the list:
Worldwide Brands
You might have heard of Worldwide Brands before. It's been here since 1999, which probably makes it the foundation of all wholesale directories.
It's also considered one of the best directories for value.
It was established by an eBay seller, Chris Malta, to collate all the best suppliers for businesses. These suppliers were prescreened so you know they're legitimate.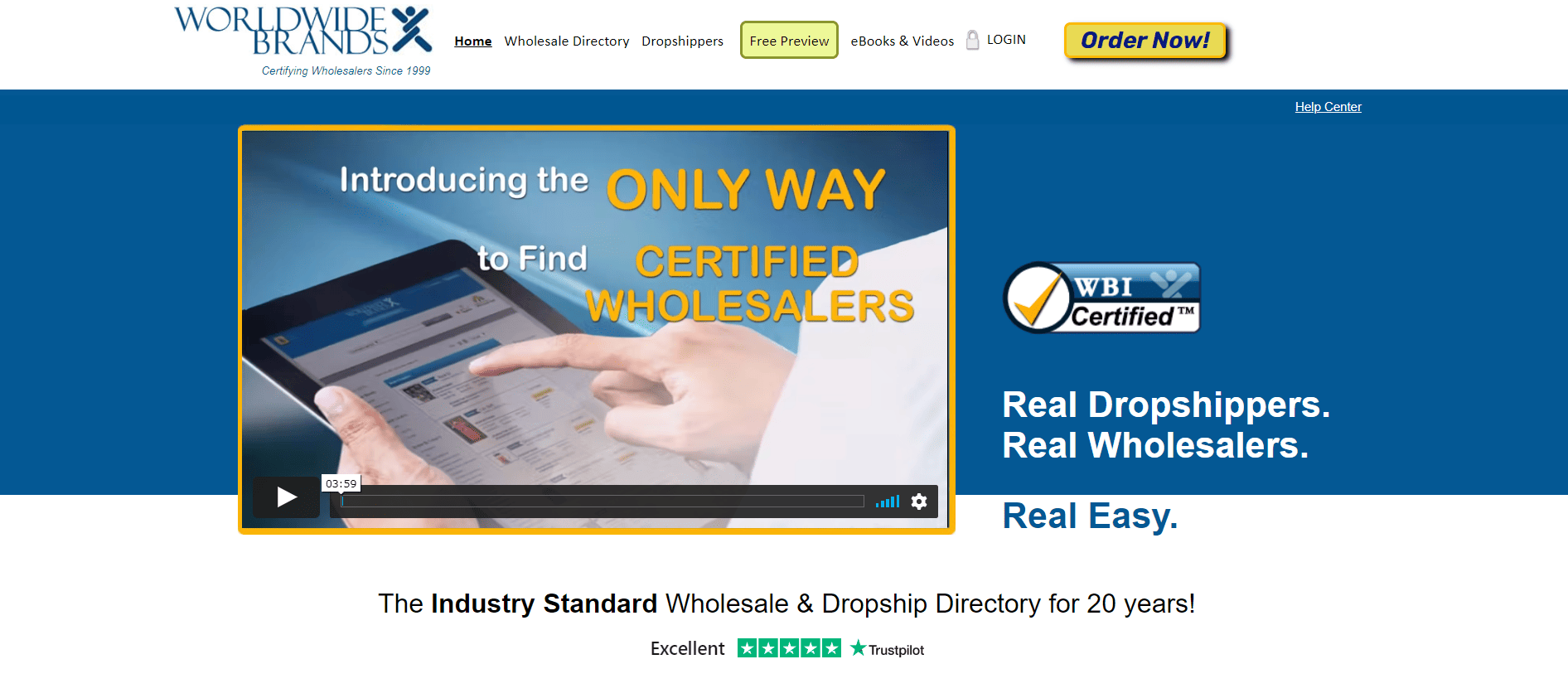 Worldwide Brands has more than 10 million products. Its current selling point is that it lists suppliers that offer affordable items, a key factor that's not so common in SaleHoo.
Contact details are also readily given, giving you a chance to negotiate your prices as soon as you go into business.
The directory offers 24/7 customer support which comes at a steep initial payment. For $299, you gain lifetime access to suppliers along with their other services.
Spocket
Although many people consider it a tool, Spocket is also a popular wholesale directory among dropshippers and retailers.
What makes Spocket a top option is that users can integrate it into Shopify or WooCommerce. A Chrome extension, AliScraper, also works to import products right from AliExpress to your store, bringing everything from product images to descriptions.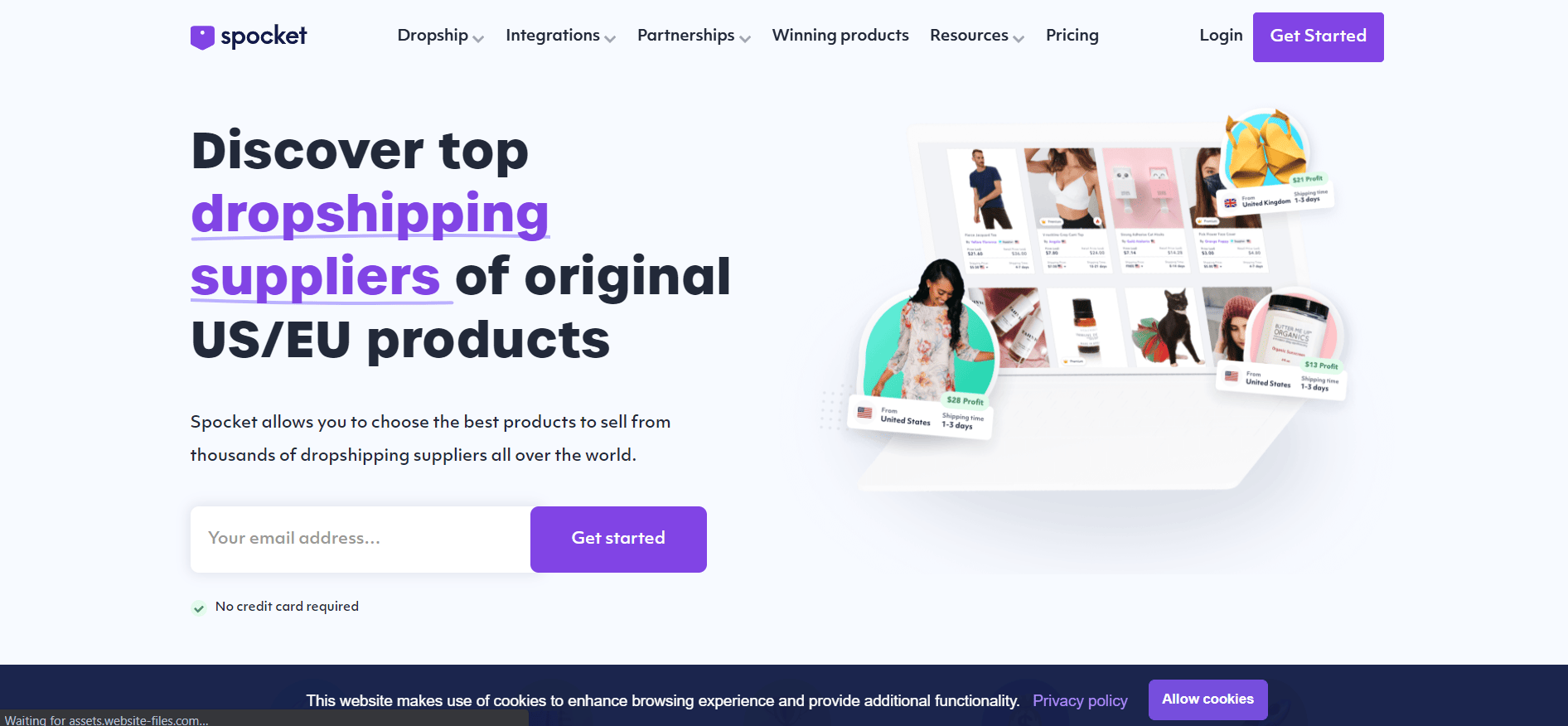 Once you find a reliable product from a supplier, you can easily add it to your store and let the supplier do the shipping.
The suppliers on Spocket are mostly from the United States and the United Kingdom, but these suppliers can ship products to different parts of the globe.
This is a great option for those who want the ease of integration and dropshipping products.
Do take note, however, that Spocket uses Stripe which limits payment options to credit cards alone.
Starting at $24 per month, you can already enjoy email support and have access to 25 unique products. You can start with a 14-day trial to see if this tool works for you.
AliDropship
Commonly known as a WordPress plugin, AliDropship deserves a spot on our list.
AliDropship works by pulling different products from AliExpress, the ecommerce arm of Alibaba. Because it is a plugin, orders are easily shipped to customers through AliDropship's one-click method.
So, instead of it being just a mere directory, it's also a great dropshipping tool.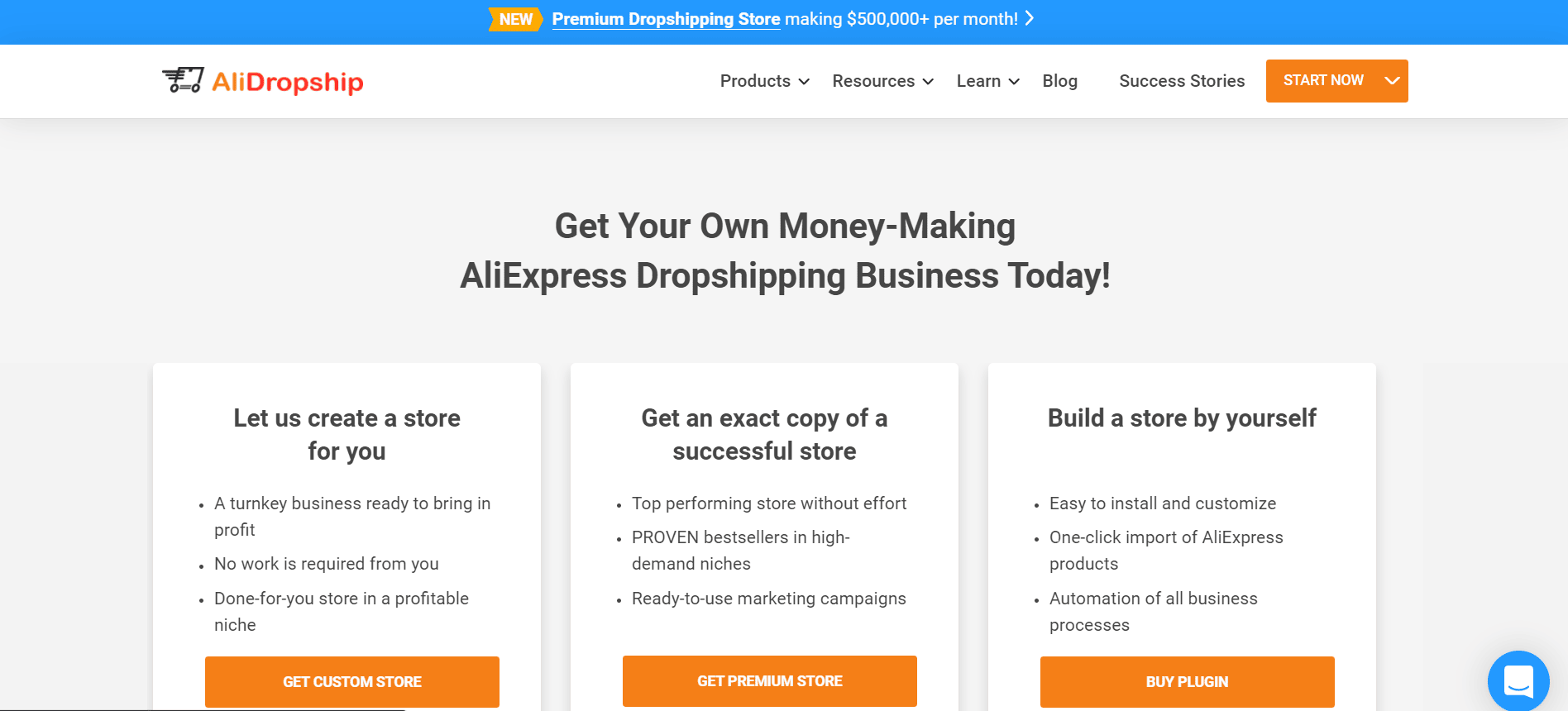 You can use filters to single out products and suppliers that meet your standards. To help retailers, AliDropship has a Testimonials tab where you can see reviews done by customers.
From these reviews, you can deduce whether the supplier and their products are worth adding or not.
This option is ideal for those who don't mind paying a small fee for convenience. For $89, you can already integrate it into your WordPress or WooCommerce online store.
Doba
Doba is one of the more interesting wholesale directories you can find today. Shopify also considers this as the best droshipping supplier directory for eBay.
On its website, the company mentions that it constantly looks for suppliers for a certain set of products. This can only mean that you may find new and unique products before anybody else does.
But the company doesn't stop there.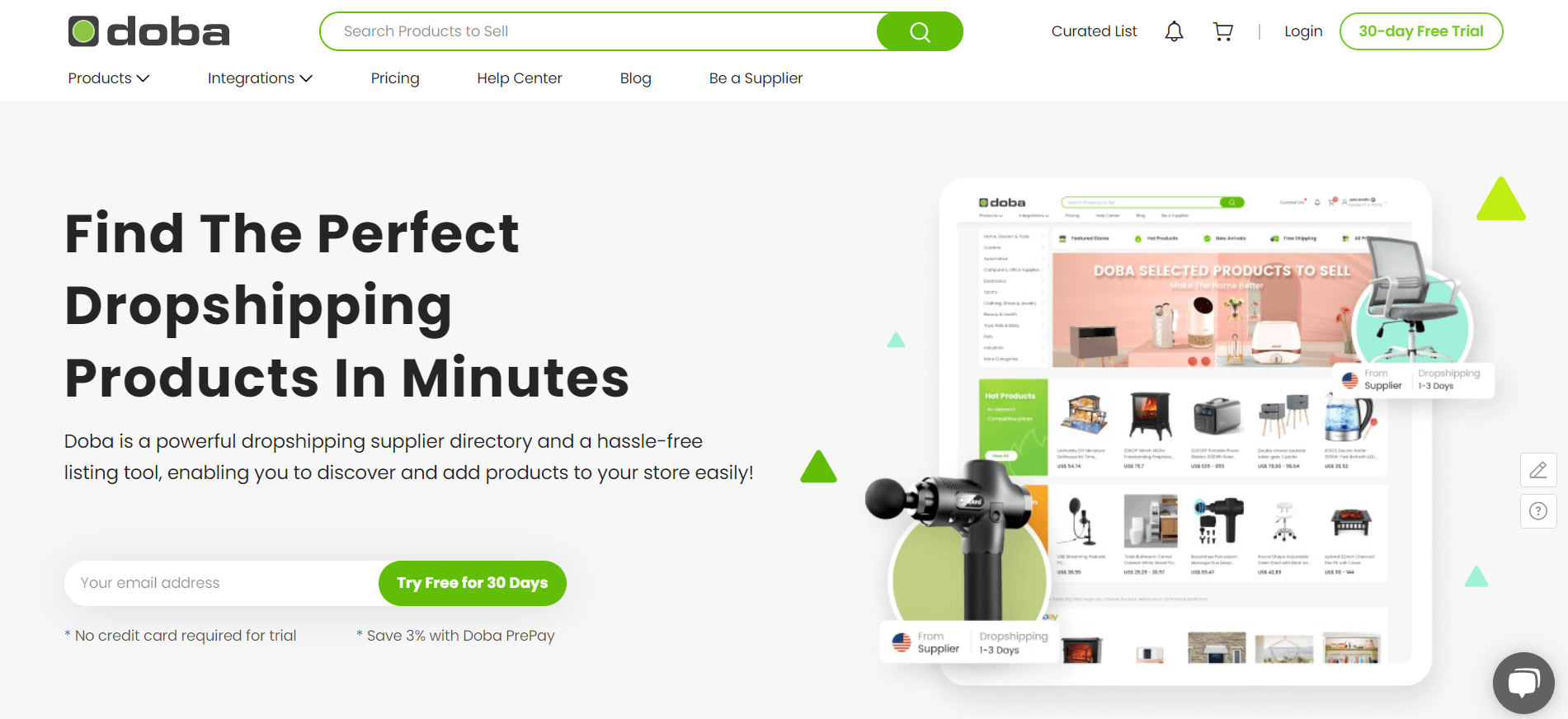 It's a leading dropshipping platform with more than 1 million products to choose from. With that many suppliers and products, they've also managed to streamline processes like data management and order fulfillment.
So, it's not just a wholesale directory—it's a powerhouse.
Don't be intimidated though, Doba has a free plan that already provides everything you need.
If you do have a bit more in your budget, you can opt for their Business plan which lets you have 2,000 storefront product listings and a 100,000 inventory list.
Inventory Source
Another strong contender on our list is Inventory Source. This is both a product sourcing tool and a dropship supplier directory.
Inventory Source hosts a myriad of suppliers that sell unique products. From outdoor camping essentials to basic electronic products, this company seems to have it all.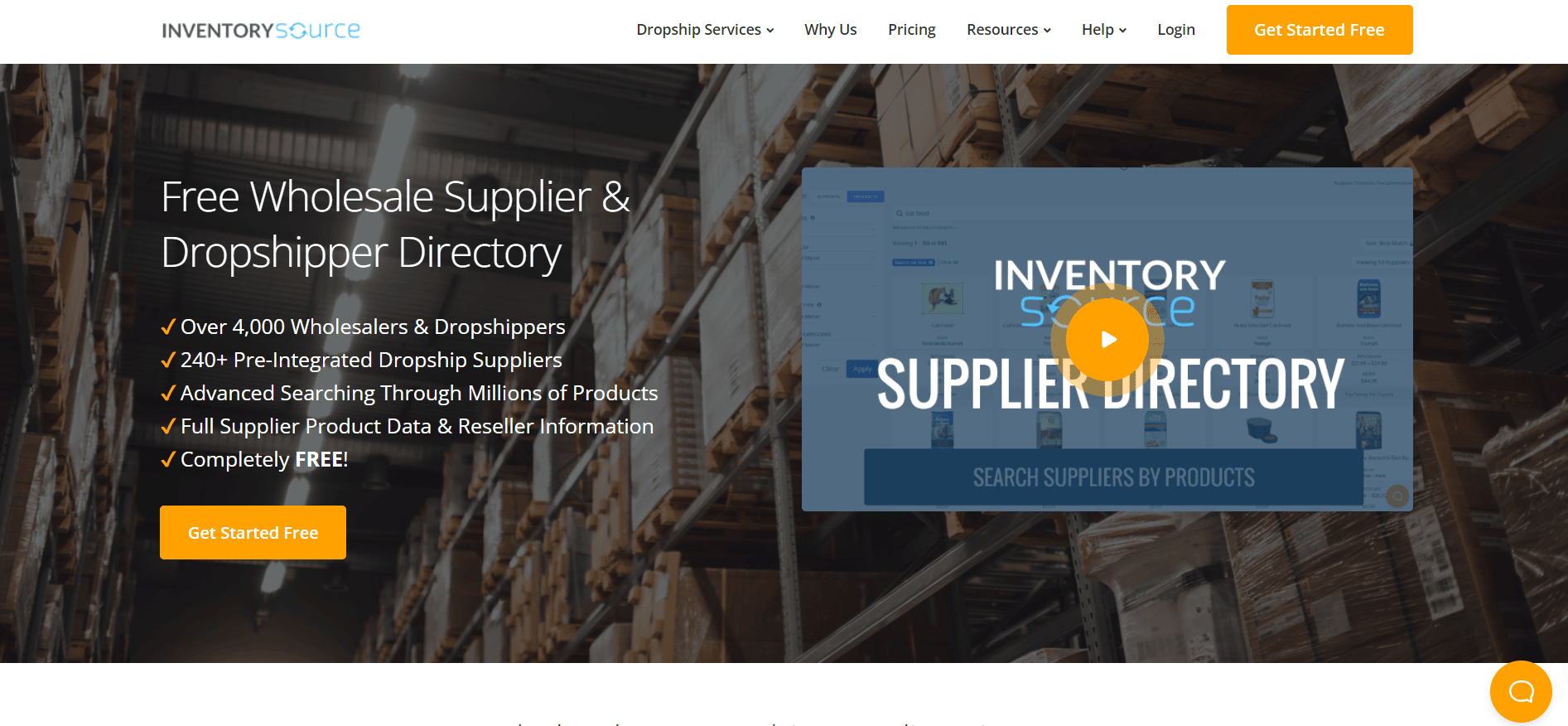 Although there are only about 180 suppliers in their catalog, you can trust that these are reliable partners for your business.
It's best to register on the website to gain access to crucial information like supplier fees, contact information, and important policies.
Should you be on the lookout for a website builder, consider letting them build yours instead. You might also want to check out their integration to enjoy features like current stock levels and product details on your website.
Wholesale Central
Don't have much room in your budget? Then definitely consider Wholesale Central.
This wholesale directory is free for all to use, without the need to create an account.
A bit older than Worldwide Brands, Wholesale Central was established in 1996 and currently has more than 400,000 products and 1,000 suppliers.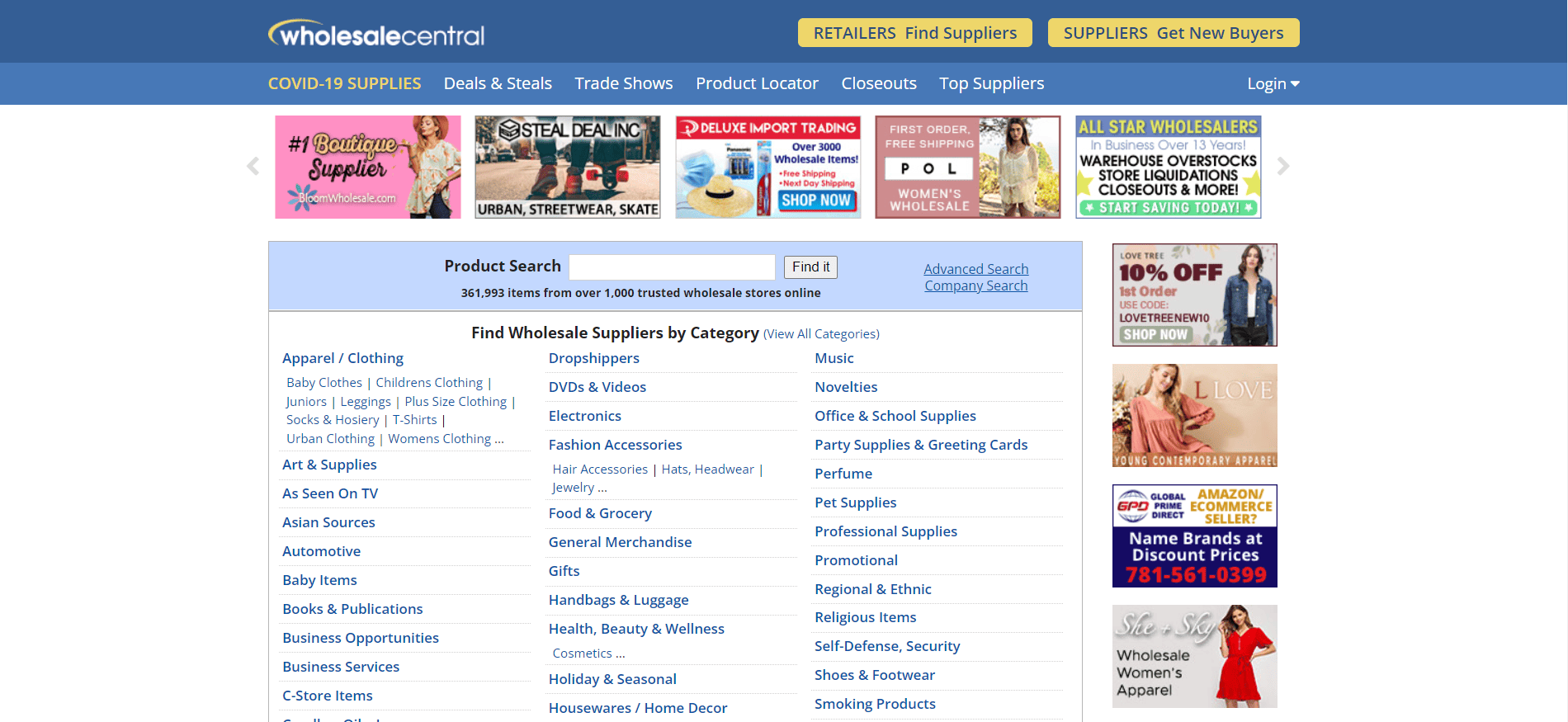 Even though you don't need an account to enjoy all the features on the website, you do get regular newsletters if you create one.
A product locator service also comes with your registration. With this feature, suppliers can respond to your specific product request.
One major catch with this affordable alternative is that the entire website is populated with ads. Small price to pay though, if you're looking for a great tool that doesn't break the bank.
eSources
If you're one of the people who prefer forums and old-fashioned websites, eSources would be the best option for you.
On top of that, it's also the United Kingdom's largest wholesale directory.
To younger generations, eSources would simply look like a forum. It might not appeal to those who like the modern finish, but it's still one of the best places to find suppliers and winning products.
But we do acknowledge that you need to get used to navigating on the website.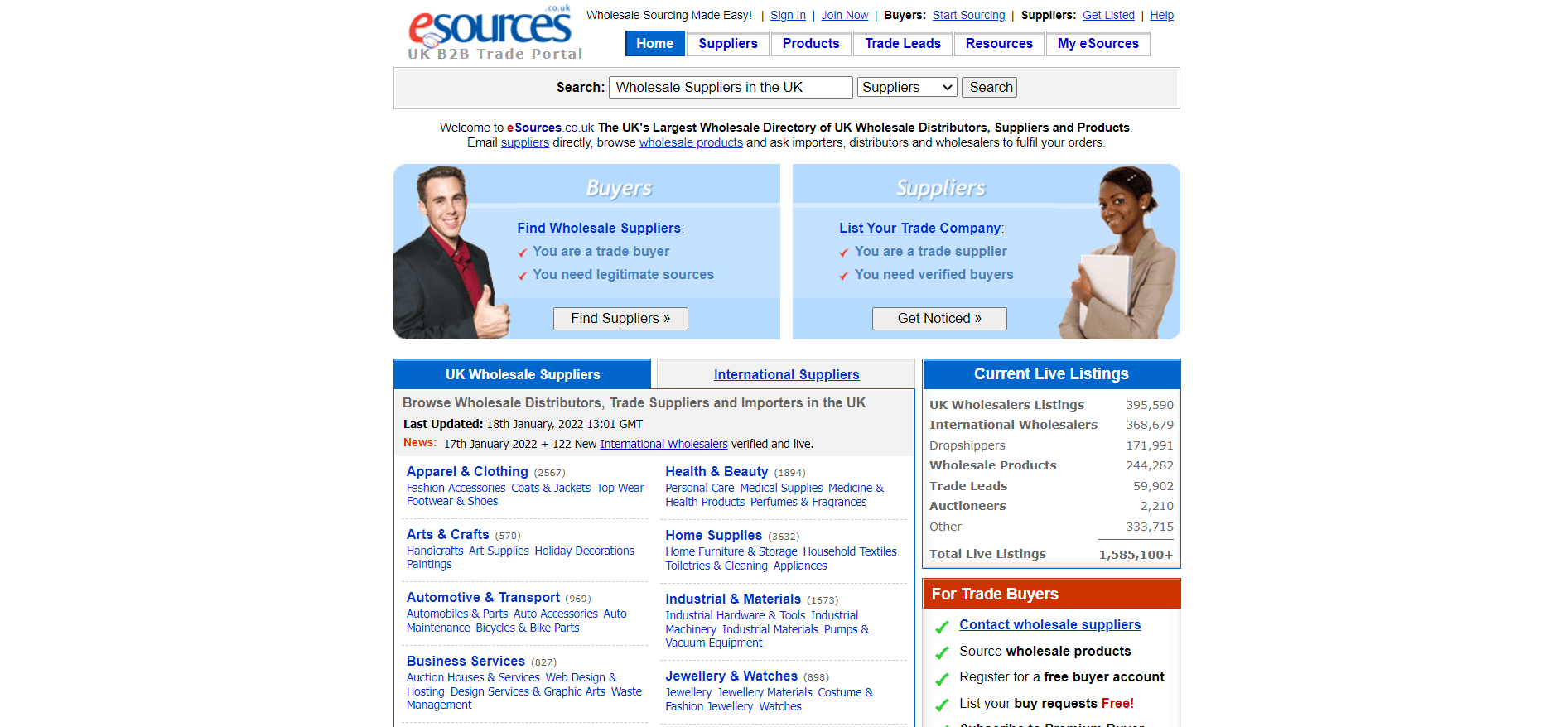 Not minding the entire interface, eSources connects retailers to suppliers for free.
Those who are looking to source wholesale products, stock lots, or clearance lines should sign up for Trade Buyers—which is free. This plan provides access to wholesale offers, gives quotes from relevant suppliers, and contacts UK trade suppliers directly.
Should you be willing to spare £75, you can already enjoy a year's worth of access to the directory along with unlimited fully functional ecommerce websites with free hosting for a lifetime.
Wholesale2B
Wholesale2B is easily regarded as one of the best solutions to dropshipping.
First of all, its supplier directory has been guaranteed to meet any company's standard. Essentially, you're looking at a list of some of the best suppliers in the market.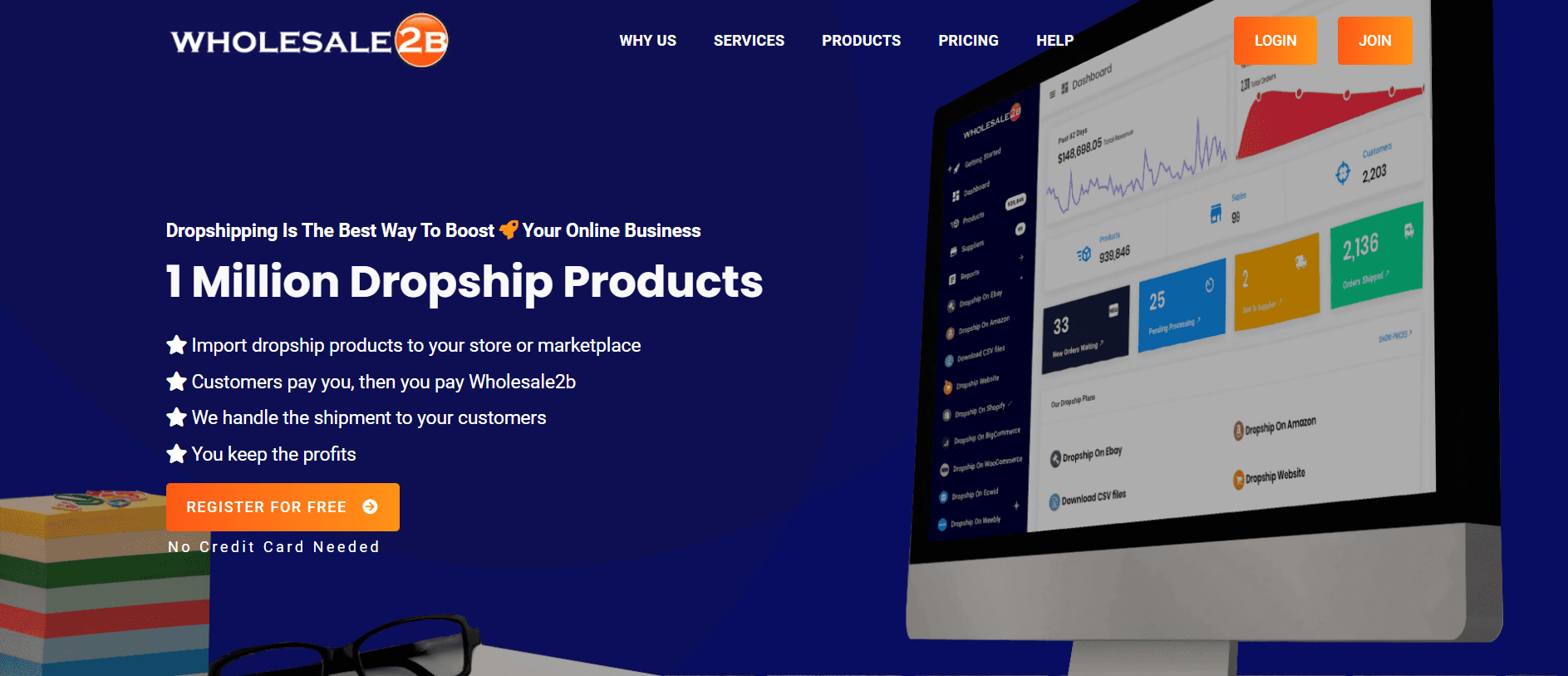 Second, this tool can be integrated into a number of platforms which includes the following:
Shopify
BigCommerce
eBay
Amazon
WooCommerce
The third service worth mentioning is that you can create your own ecommerce store at an affordable rate.
The fees won't hurt your business, too. You only need to pay for the payment process fee and monthly subscription fees based on the plan you choose.
The services may sound too premium but you can already enjoy these services for as low as $30 per month for Shopify, BigCommerce, and WooCommerce users.
Those on Amazon and eBay can enjoy these features at $38 per month.
FAQs about SaleHoo Alternatives
What Is SaleHoo?
SaleHoo, is a wholesale and dropshipping directory based in New Zealand. It's currently one of the largest directories being used by retailers.
It also has an online community for ecommerce business owners, wholesalers, and dropshippers.
What makes SaleHoo popular is its rigorous method of screening suppliers. This helps retailers know that the suppliers they're looking to partner with are reliable.
What Is a Wholesale Directory?
A wholesale directory is an online catalog of wholesale suppliers which also contain important details such as their terms, contact numbers, and top products.
The purpose of wholesale directories is to help retailers, or ecommerce businesses, easily find suppliers for their stores. Some of them even help you filter ones that offer the very products you want to sell.
However, these directories may not always filter out reliable ones from fraudulent ones. You still have to exercise caution when going through catalogs and conducting business with them.
At the end of the day, these serve their purpose as a convenient one-stop-shop for retailers to find relevant suppliers for their business.
How to Choose the Best Dropshipping Directory?
Choosing the best dropshipping directory includes the following steps:
Identify your business needs
Check a company's features
Choose appropriate inventory
The first step you need to take is to identify your business needs. By identifying these, you now have criteria that will help you single out the most relevant directories for your business.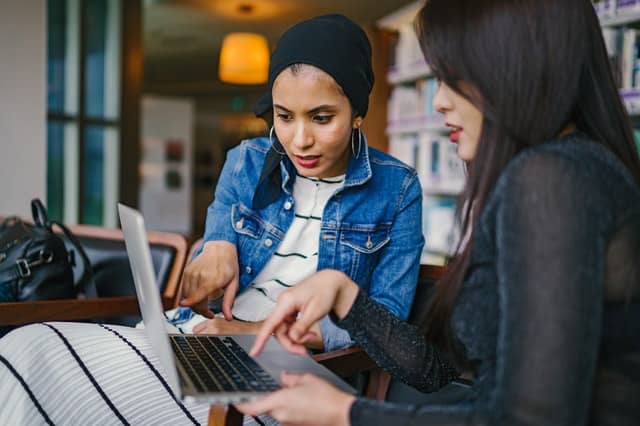 Some points to consider are the following:
Budget
Type of Products
Payment Terms
Shipping Terms
Location
Having specific responses to the points above will lead you to the right supplier directory, and ultimately a supplier.
The next step you need to take is to check which among these directories host trusted suppliers that meet the answers to your points above.
Take your time and go through the list above. Most of the brands above may feature reliable suppliers, but may not be compatible with your current business needs.
Given that your answers to the points above are specific, you shouldn't have a hard time choosing the ideal directory for your business.
Don't forget to check out the features and see if you can find everything you need on the site. Nothing's worse than having loose ends to start your business.
Closing Thoughts
SaleHoo shouldn't be the only option you have on the table. The list above gives you a chance to explore top alternatives that ultimately provide the same benefits.
Some of the directories above also work as tools you can integrate into your dropshipping store. However, do exercise caution when going through these directories as they may contain suppliers that do not meet your standards.
Finding the right suppliers doesn't have to be a challenging task, though. Send us a message if you want a helping hand in sourcing your products.