Dropshipping has become a buzzword in the ecommerce industry over the past few years for all the right reasons.
Dropshipping enables drop shippers to find products from the manufacturers at lower prices and sell them for a more profitable margin to the retail customers, without the hassle of managing inventory or shipping products.
Since the suppliers are the ones who handle the shipping and the returns of the products to the customers, choosing an excellent dropshipping supplier is a critical factor in the success of any dropshipping business.
Are you thinking, who are the best dropshipping suppliers? How do I find which one suits me the best? Worry not! We have done extensive market research and listed down the top 11 dropshipping suppliers of 2023.
Let's dive into it!
The best dropshipping suppliers to consider for your business are:
1. CJDropshipping – The Best Dropshipping Company With Global Fulfillment Services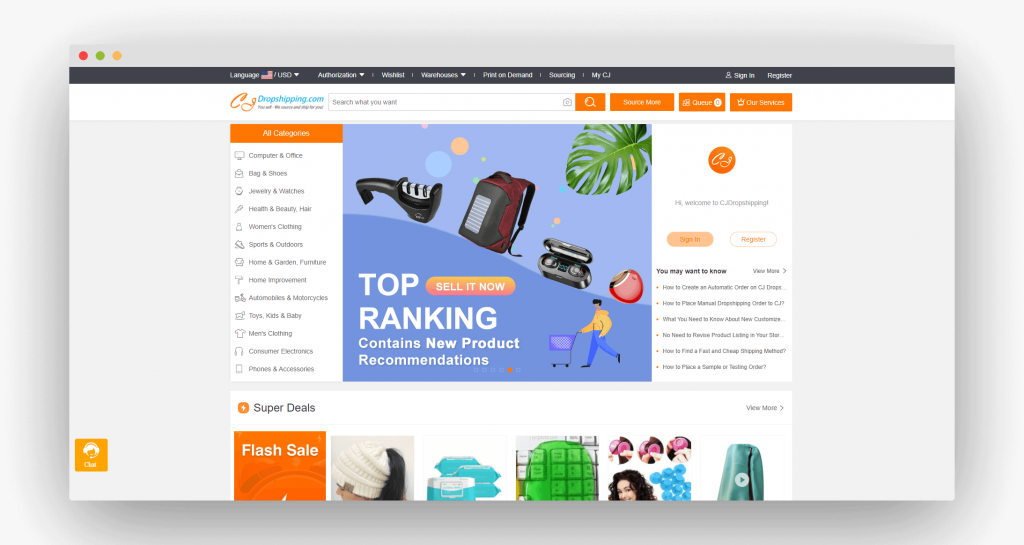 CJDropshipping is one of the most well-known dropshipping companies in China. They have a well-developed platform, allowing you to automate the order fulfillment process to the utmost.
You can list their products to your store, post sourcing requests for new products, sync orders from your store to CJ's platform, upload CSV orders, design your custom boxes or insert cards, and more in a few clicks.
If you place a high priority on the customer experience, you can take advantage of CJ's global warehouses. Get your orders shipped from the US, Germany, Thailand or Indonesia. You can offer your customers ultra-fast delivery like never before.
Features
Integration with popular ecommerce platforms like Shopify, WooCommerce, Amazon, etc.
Print-on-demand products available
Check product quality before shipping
24/7 online customer support
2. NicheDropshipping – The Best Dropshipping Solution for Any Business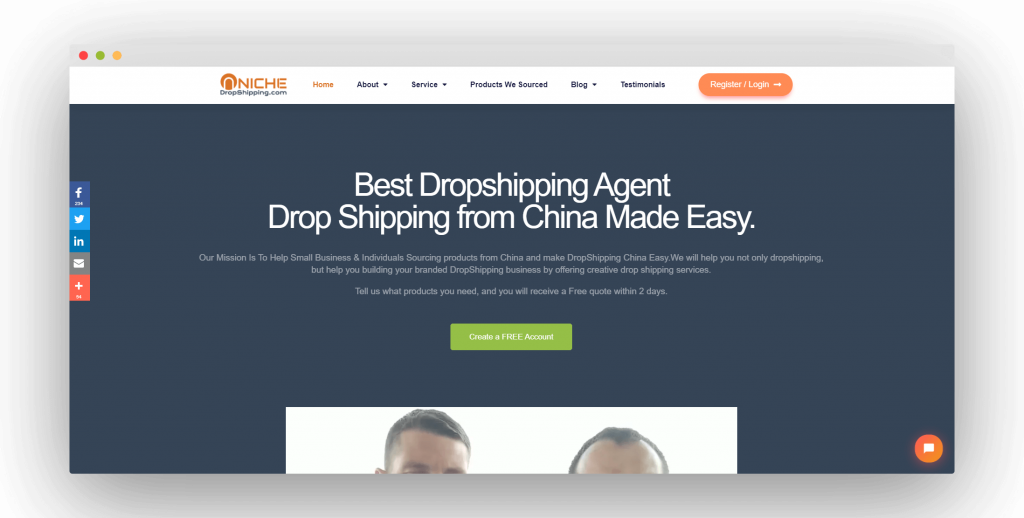 NicheDropshipping, a dropshipping & sourcing agent in China, has gained massive trust among its clients over the past few years. NicheDropshipping provides different solutions for all your dropshipping needs based on your requirements, making it an affordable option for small and medium businesses.
This Dropshipping sourcing agent addresses and solves most of the concerns dropshippers have – such as customized branding package, private labeling for the dropshippers that want their logo on the products, photography, and video samples to upload on the website
It helps businesses ship various products such as electronic products, including magnetic products, sharp objects, liquid products such as cosmetics, etc.
NicheDropshipping has four plans from which you can choose according to the needs – Beginner, Startup, Go Big and Grow Brand.
Features
Accepts PayPal, Wire transfer, Stripe, Credit cards, supporting quick and easy payments.
Quality Inspection.
Fast shipping times and delivery speed when compared to the other suppliers such as AliExpress.
Sources better products at lower prices.
Quicker response time and efficient customer support.
Facilitates worldwide shipping.
Integration with Shopify and WooCommerce.
3. AliExpress – The Best Dropshipping Option for a Range of Products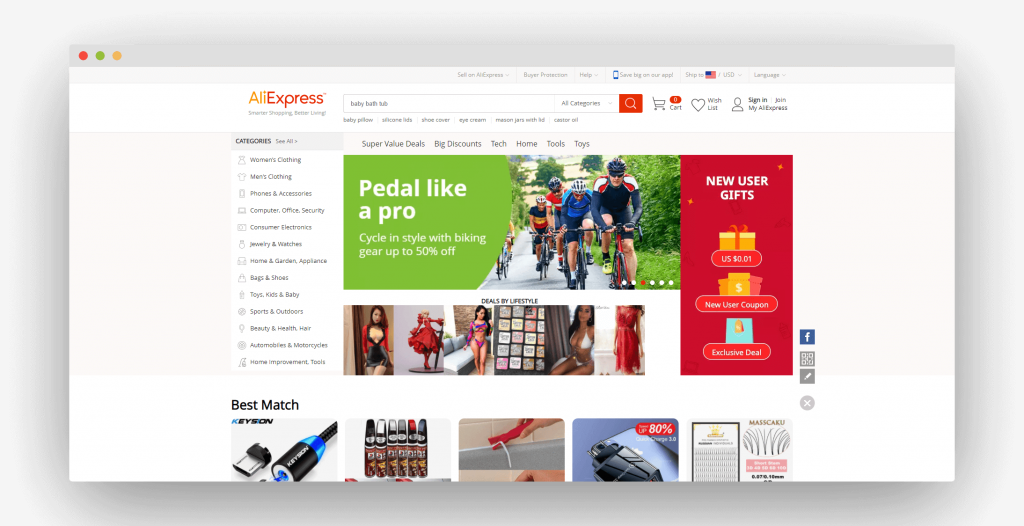 AliExpress, owned by Alibaba Group, based in China, is one of the most renowned websites that offer a wide range of products for Shopify stores and online sellers. It facilitates worldwide shipping, and the translation is available in five languages.
There are many suppliers who post their products, but there is minimal information available. So, You have to rely on the store ratings and reviews of the other customers who bought the product.
Features
Over 100 million products are available.
Facilitates worldwide delivery.
Offers 24/7 customer support.
Supports most payment methods such as Visa, MasterCard, but PayPal has been restricted to only some countries.
Delivery time may vary depending on the location to be delivered.
Offers money-back guarantee if the product is not as described.
4. Oberlo – Easy to Use Dropshipping Supplier Option With Shopify (Shut Down since June 30, 2022)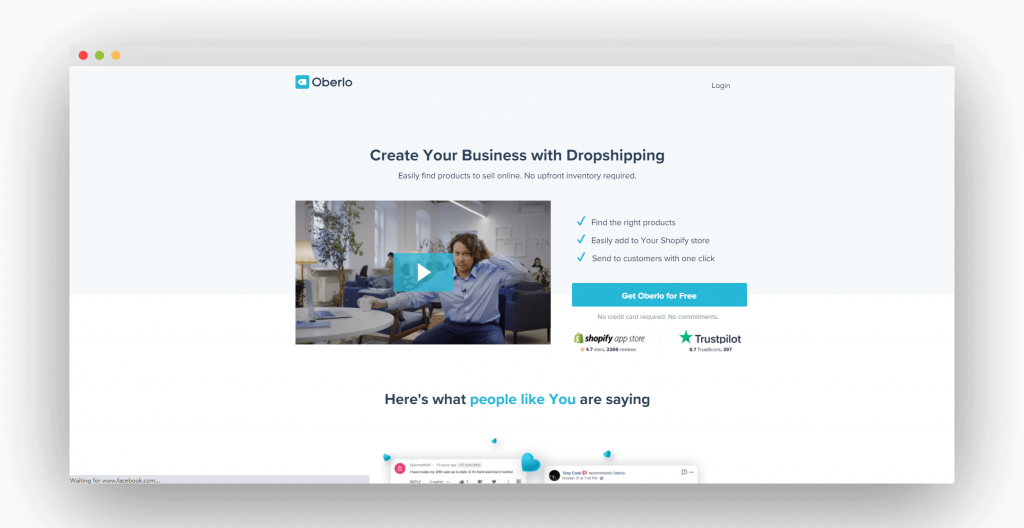 Oberlo is a dropshipping tool that can be used in conjunction with Shopify. It facilitates users with an extensive catalog of products to add.
Oberlo comes with three kinds of plans – Starter plan (which is free) and the businesses can switch to the other two plans as the business grows. Oberlo facilitates worldwide shipping, provided the suppliers of the product ship it to the desired delivery location.
Although Oberlo can't be used for any other E-Commerce platform except Shopify, the features that Oberlo offers for dropshipping on Shopify almost make up for it.
Features
Wide-range of products to choose from.
Very easy to use. Suitable even for beginners.
Supports Debit cards, Credit cards, and Paypal for payment.
Order tracking available.
Easy to choose products from the catalog as there are in-depth product statistics.
Oberlo has three plans – a free starter plan, a basic plan (29.90$/month), and a pro plan (79.90$/month).
Oberlo is no longer available since June 30, 2022. Luckily, there are a bunch of Oberlo alternatives that can help with your business.
5. Salehoo – The Best Dropshipping Supplier Directory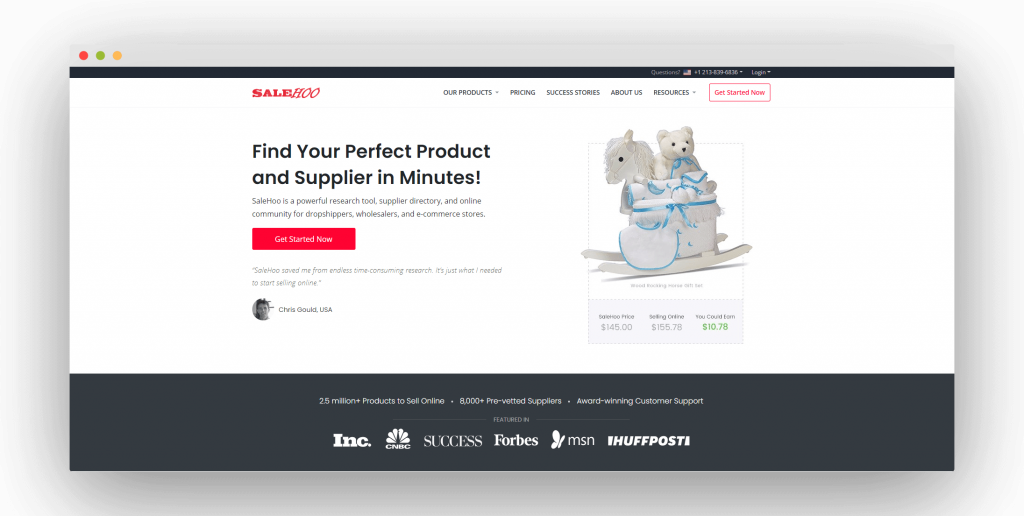 Salehoo is not a dropshipping supplier. It is more of a dropshipping supplier directory that has worked with over 137,000 sellers since 2005.
Suppose you are a beginner thinking of starting a dropshipping business. In that case, Salehoo has features like Market Research Labs to research what kind of products are trending and what percentage of profit margin you will get after selling the product.
Salehoo also has online training programs and video tutorials to facilitate learning for dropshipping businesses.
Features
Lists over 8,000 local and global suppliers.
Offers one-on-one support via e-mail, chat, phone, and Facebook.
Promises a 60-day money-back guarantee.
Provides a 7-day trial period.
6. Spocket – The Best Dropshipping Option With Simple User Interface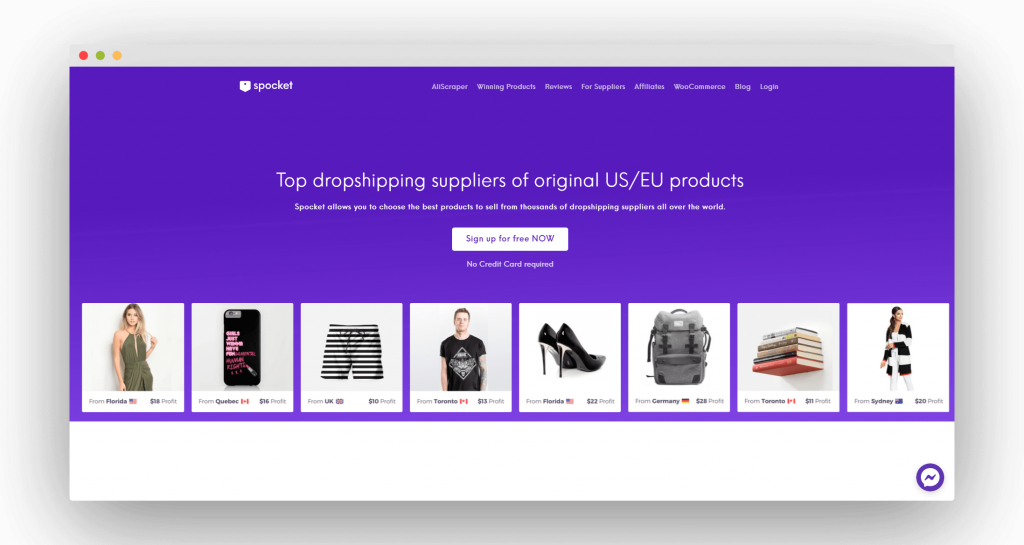 Spocket, founded in 2017, houses over 60% of the suppliers from the US/Europe. For the businesses located in US/Europe, Spocket is a good choice as the delivery speeds are faster than the other dropshipping supplier options. You can register on Spocket free of cost without any credit card details or registration fees.
Features
No upfront registration fee.
Businesses can get product samples to assess product quality.
Branded packaging for dropshippers that would like the packaging to reflect their brand.
Reliable delivery speeds.
Promises high-quality products.
7. Doba – The Best Dropshipping Company With Supplier Screening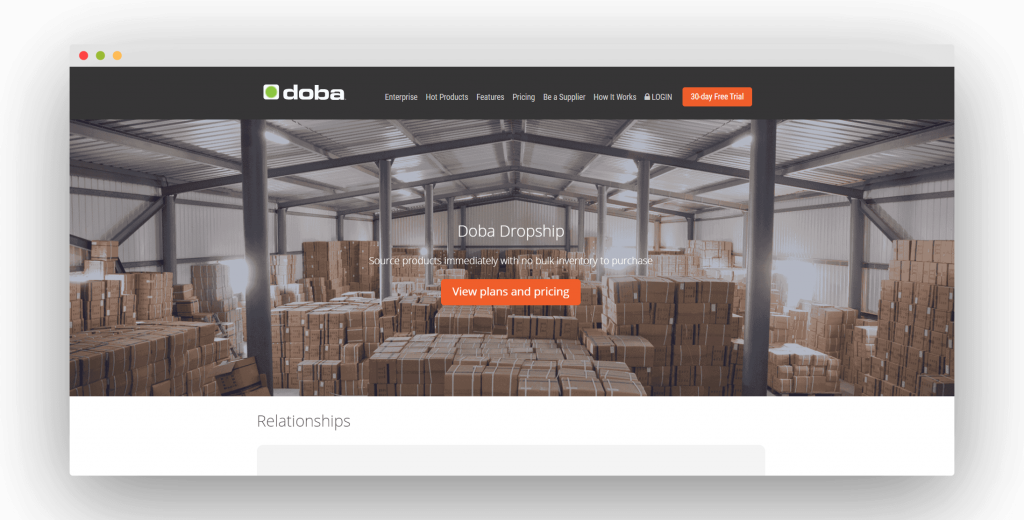 Doba is a US-based dropshipping company with over 1.6 million products listed on the website. It boasts of offering the business a 30-day trial period to get the hang of the dropshipping business.
Doba reviews the suppliers listed on the website. They go through a rigorous screening process, and every supplier is given a scorecard based on fulfillment rates, average processing time, shipping time, etc. This makes it easier for you to choose the products from the listings.
Features
A wide variety of products are available.
Supplier Scorecard is a definite plus.
Facilitates uploading multiple orders at a time.
Offers a 30-day Trial period and an added one-month trial period on buying an annual subscription.
8. Lightinthebox – The Best Dropshipping Supplier Facilitating Direct Contact With Manufacturer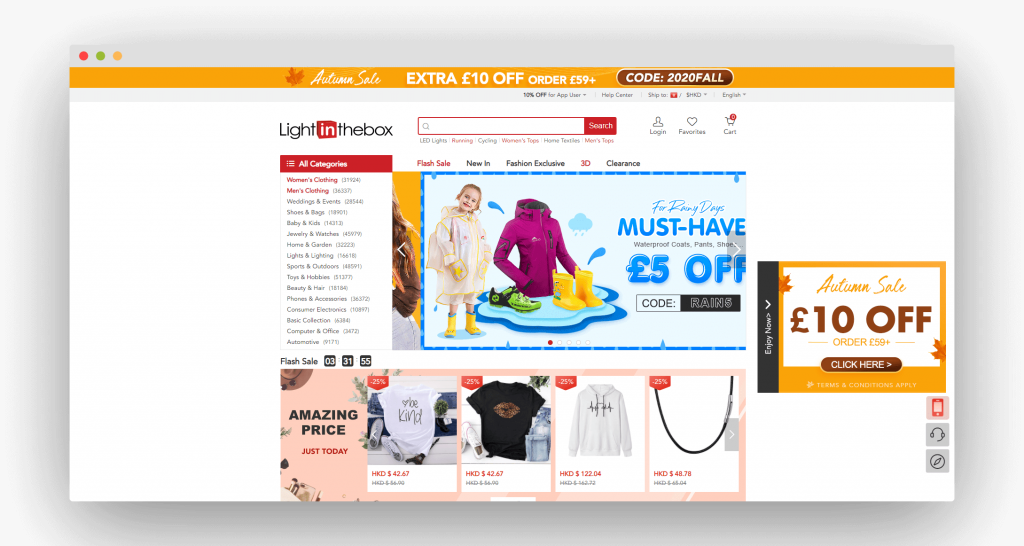 Lightinthebox, founded in 2007, with the headquarters in Beijing, is a New York Stock Exchange-listed company. Listing over 2 million products, Lightinthebox has various products for sale, such as apparel, accessories, and gadgets. It allows you to contact the manufacturer directly.
Features
A wide range of products available, including customized dresses for weddings and proms.
Supports all kinds of payments.
Ships worldwide, almost to every country.
Provides additional discounts for the businesses that place bulk orders.
9. WHOLESALE2B – The One-Stop Dropshipping Portal for Products, Tools, and Services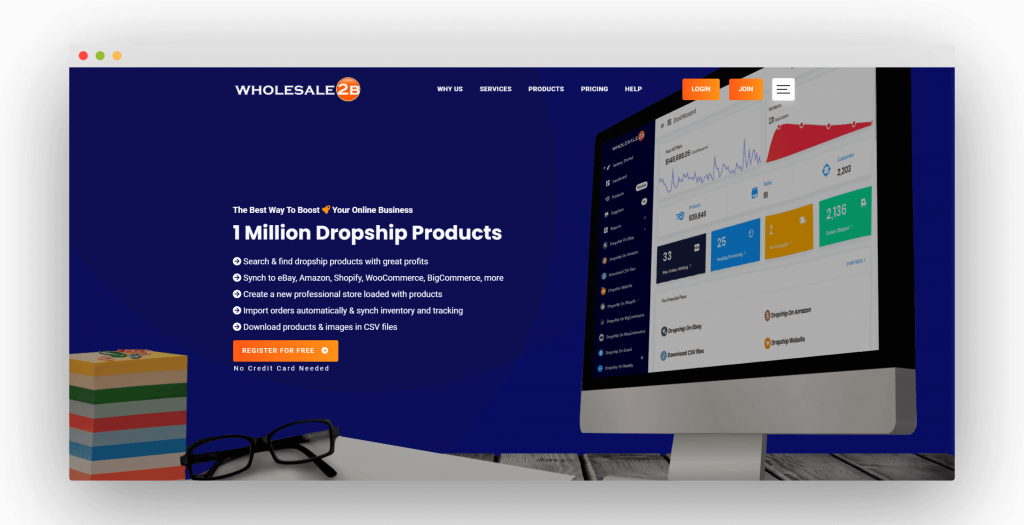 Wholesale2B, with 1.5 million products on the catalog, is an easy-to-use dropshipping supplier directory. You can add the products to their E-Commerce website without any difficulty.
Wholesale2b lets you import the product listings to any online store such as eBay, Amazon, Weebly, or a personal E-Commerce website.
Features
Provision to add unlimited orders.
Wholesale2b handles each order within one business day.
Order tracking and returns available as per the policies of the suppliers.
For beginners, there is a lifetime free account without adding any credit card details.
For the businesses which do not have a website, wholesale2b offers dropship website creation services too.
Easy to import product files in CSV format and provides automated inventory updates.
10. Dhgate – The Best Dropshipping Supplier With Buyer Protection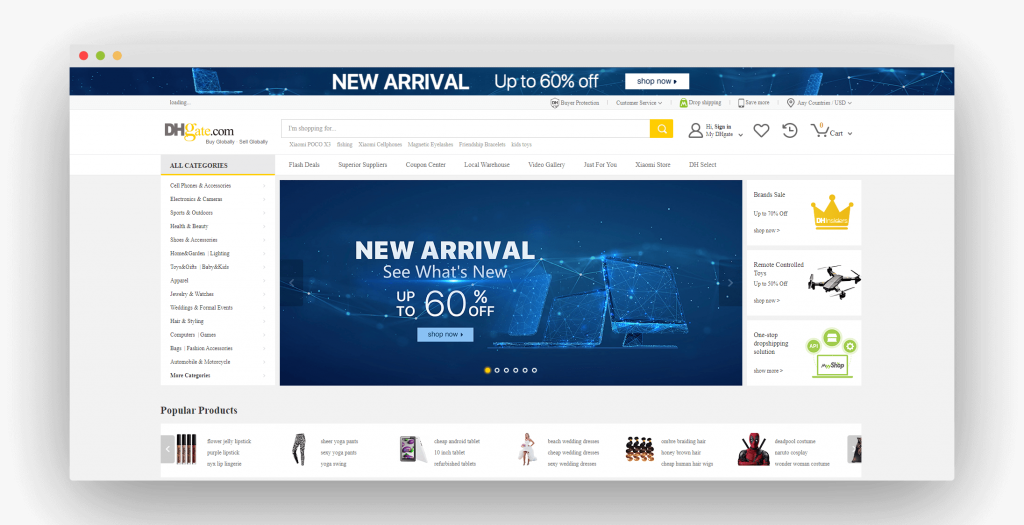 DHGate is a dropshipping supplier based in Beijing, provides products manufactured in China for B2B trading. DHGate offers buyer protection by guaranteeing secure payments or if the refund in case the item isn't delivered or if it is not according to the description.
DHGate follows the escrow system for payments. So, the supplier gets paid only when the customer receives the product. The dispute process takes a long time to get resolved if there is an issue with the order. That's the only downside.
Features
Millions of products are listed on the website.
Provides buyer protection.
Offers discounts and offers for recurring users and bulk orders.
24/7 Customer service.
11. Printify – The Best Dropshipping Supplier for Customised Print Products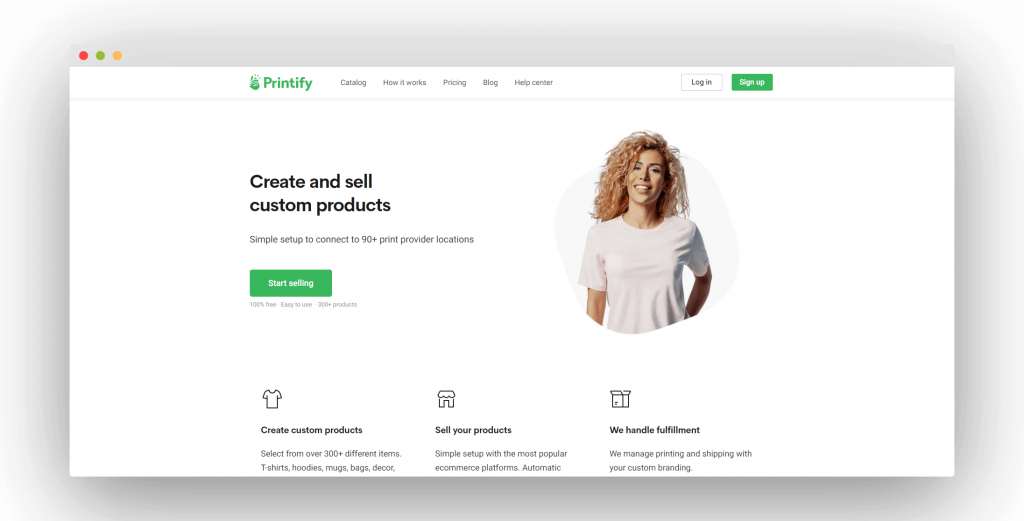 Printify is a print-on-demand dropshipping supplier for all the customized product needs. It has over 90 printing locations, mainly in China, the US, UK.
Printify provides a tool called a mock-up generator to customize the product according to our needs. Printify has a feature to add the flat shipping rates to the customers' orders.
Features
Provides over 250+ unique products such as Tee shirts, mugs, hoodies, shoes, bags, etc.
Offers 24/7 customer support.
Can be integrated with Shopify, WooCommerce, BigCommerce, Etsy, eBay, etc.
Offers merchant protection – with strict image quality control over the print, sound refund policy, and reprint facilities for improperly printed items.
Provides three pricing plans – free for access to five stores, premium (29$/month) for ten stores, and a customizable enterprise plan for unlimited store access.
How to Choose the Best Dropshipping Supplier?
Dropshipping is an evolving and very profitable online trading trend if we proceed with caution and care. The dropshipping suppliers play a pivotal role in the success of any dropshipping business.
Customers build trust based on the processing time of the orders, the shipping time, the delivery time, the quality of the products delivered, the return and refund policy, and the products' overall cost. So, it is very crucial to select the best dropshipping supplier in the market.
While choosing the supplier, there is no 'One size fits all' solution. As a dropshipping business owner, it is your responsibility to make a wise decision to choose the best dropshipping supplier according to your business's needs.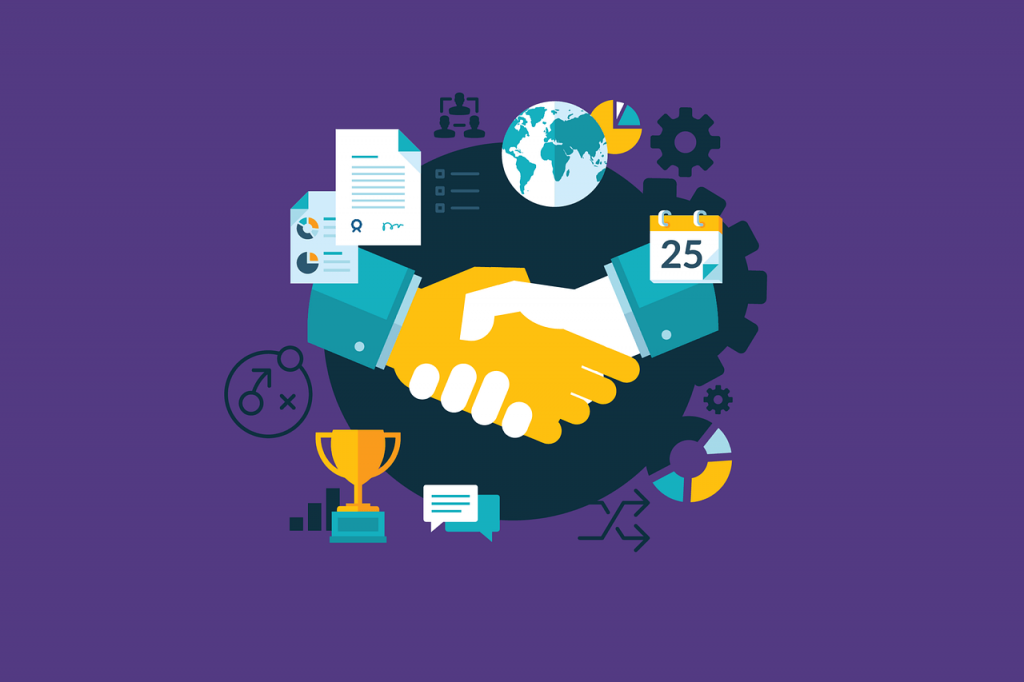 For example, suppose you are looking for a beginner plan. In that case, you can choose a supplier who provides free of cost registration and trial period to see what kind of products you would like to sell.
If you are an evolving brand that requires a good plan to expand the business, choose a plan that fits the need for your bulk orders.
If you are looking for help with product sourcing, go for the best dropshipping sourcing agent capable of sourcing the right products at reasonable prices.
Likewise, it depends on the products that you would like to sell. Choose the dropshipping supplier according to the product ratings and the supplier ratings.
A few questions to ask yourself before choosing the dropshipping supplier suitable for your business:
Does the supplier have products that are suitable for niche?
Is the product pricing reasonable?
Do they offer product sampling?
Do they offer buyer protection?
What are the processing, shipping, and delivery times for the orders?
Is the order tracking available?
How is the return and refund policy?
How is customer support?
And lastly, check the reviews online.
This article reviews the best dropshipping suppliers of 2023. Hope we provided a comprehensive view of each supplier to review and assess the suppliers for your business needs.