Learning is an important part of advancing as an entrepreneur.
Whether you're a blooming entrepreneur wanting to learn about the corporate world or a veteran seeking new ideas, business blogs are here to help.
Blogs are an excellent and informative way to learn as long as you know the right avenues.
That's why we have curated this list of the best business blogs. They cover different categories in the field and are equally informative.
So let's dive straight into it!
The Best Business Strategy Blogs
Businesses are easier to establish but hard to run without the proper strategy.
The prophecy of "Time Teaches All" remains firm, but within the ever-expanding business world, there is no time for mistakes.
Here is a list of the best business strategy blogs to save time and learn from the experiences of others.
1) Strategy+Business (S+B)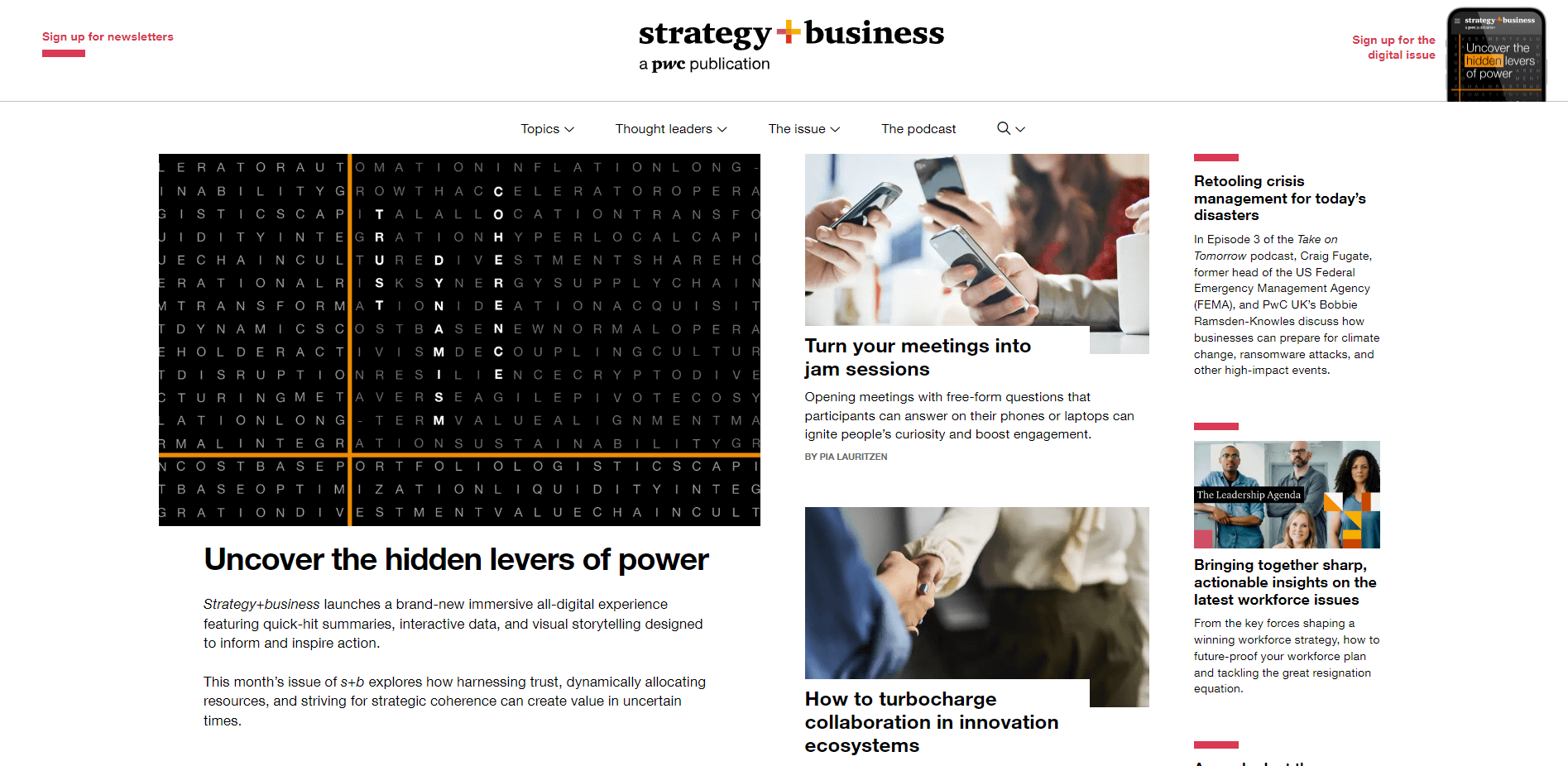 This is an award-winning management magazine, and a popular choice among leaders wanting to strategize their businesses.
Strategy+Business has extended blogs with in-depth research and breakthrough innovation techniques.
Entirely focused on business and a dedicated business strategy forum, S+B has everything you'll need from yesterday's experiences to take on tomorrow.
2) Strategyzer Blog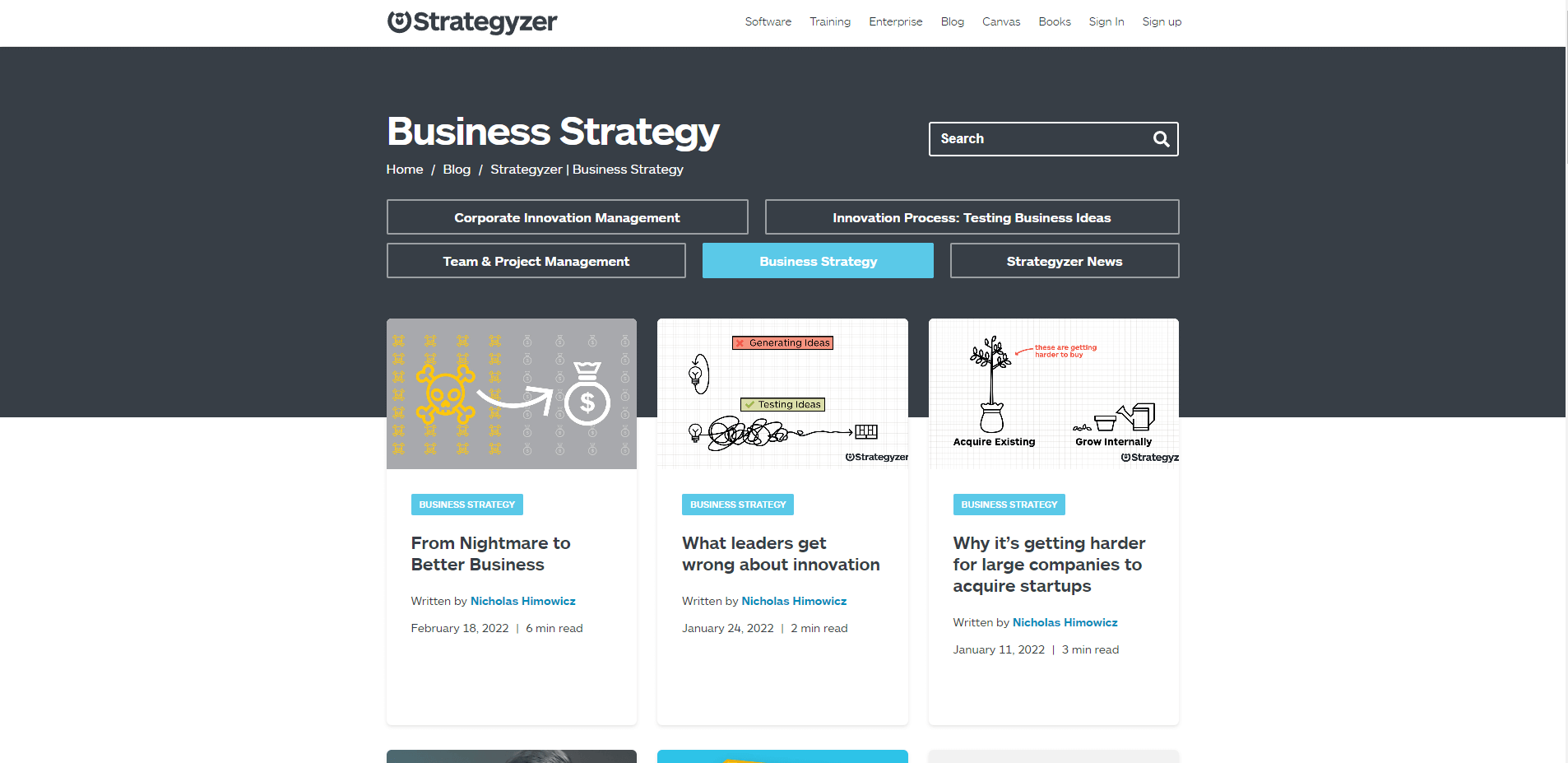 The Strategyzer Blog has all the tools to help you find the business's growth engine and to position it for the future.
Both big and small business owners extract the most from this blog site.
With its weekly update schedule and on-point blogs, Strategyzer is the optimum choice for people looking for a place to start.
Despite the slow updates, Strategyzer has a portfolio of all the relevant resources for business owners.
The blog site is up-to-date with the industry and offers its readers all the necessary recent information.
3) McKinsey Blogs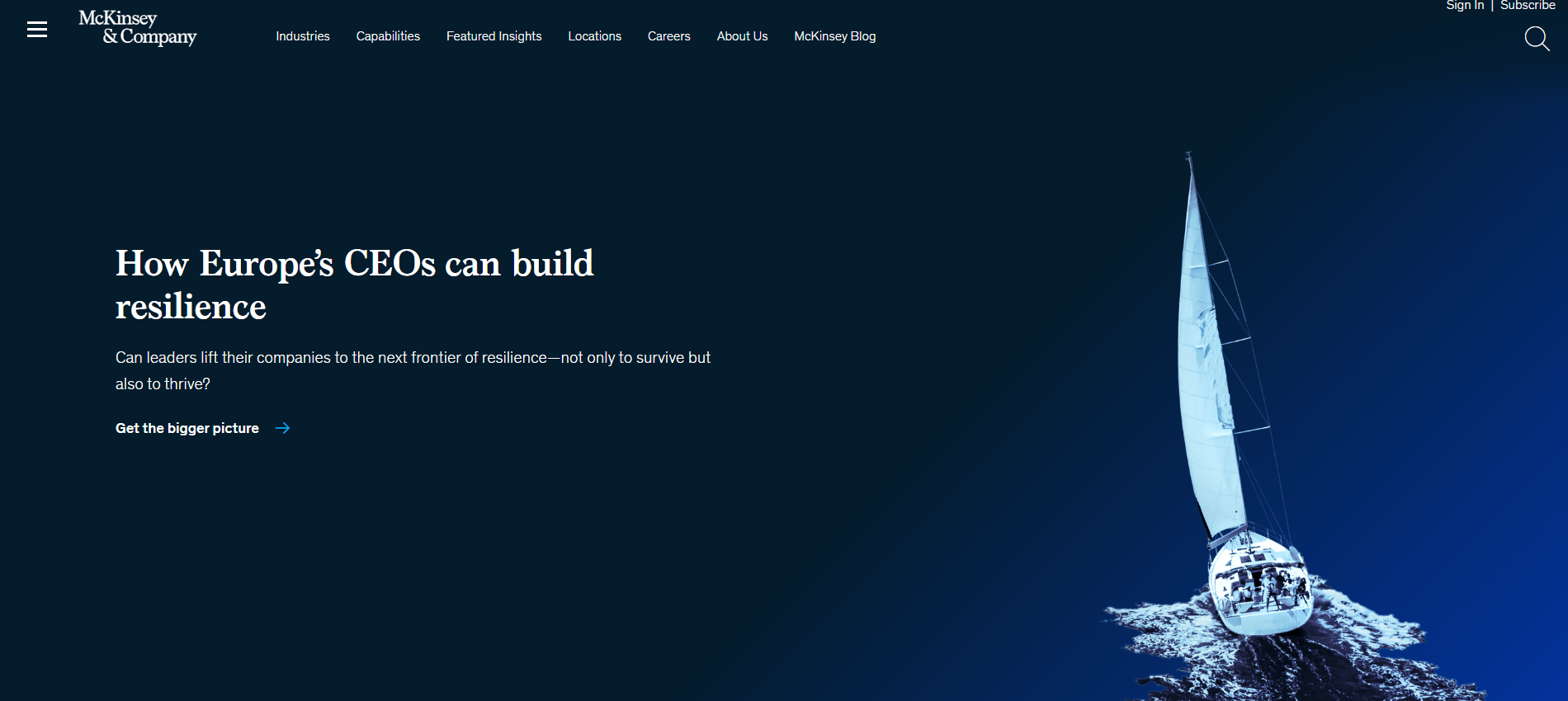 Third on our list is a big player in the market; McKinsey does everything related to business growth and sustainability.
McKinsey maintains its position as a significant market player by holding a firm strategy and an ever-growing mindset.
Fortunately, it doesn't shy away from sharing its progress and the required tips and tricks to get there.
You can find everything from employee experiences and their official decision-making reasoning on the McKinsey site.
4) Blue Ocean Strategy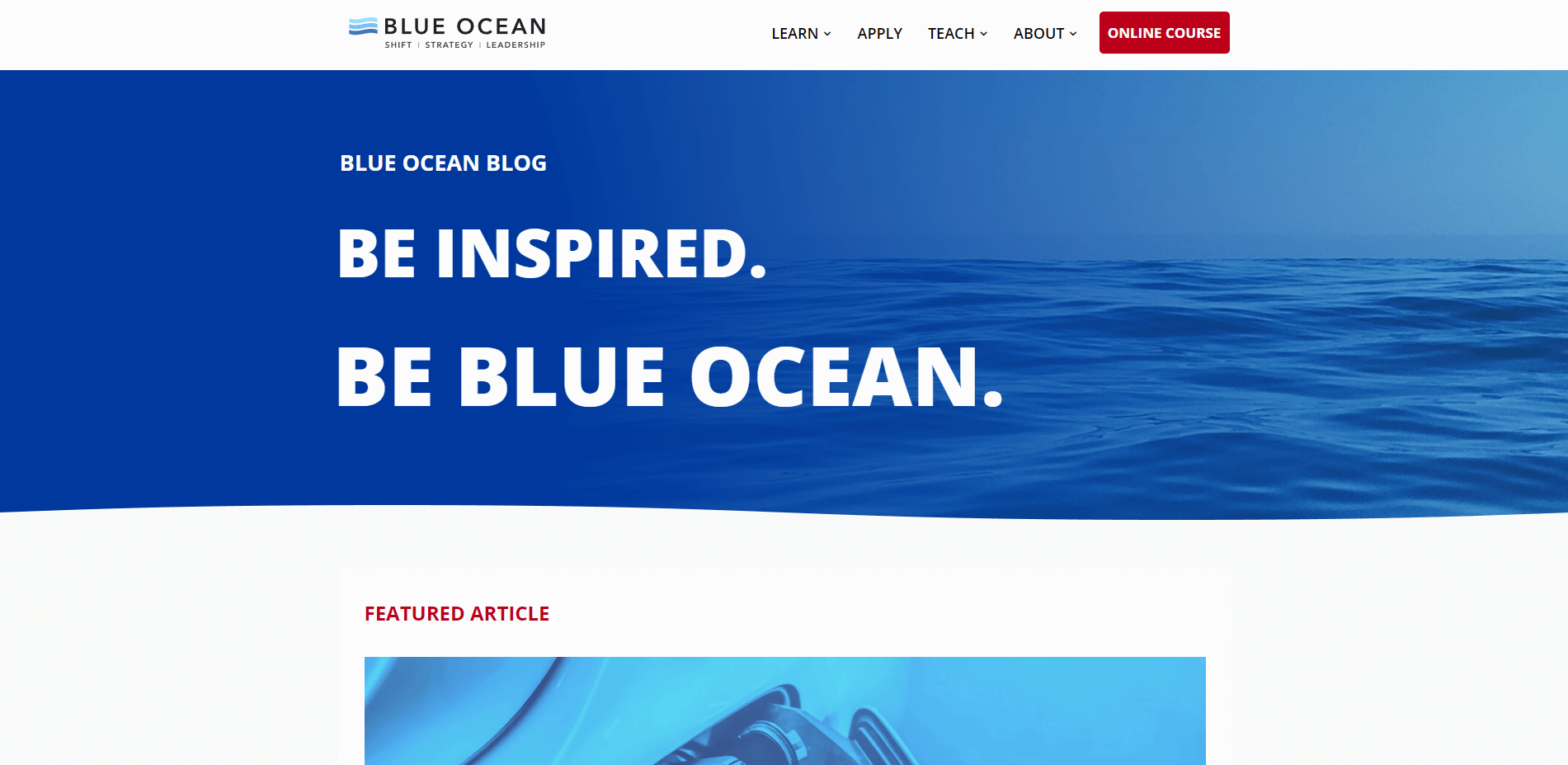 A complete guide that helps you build a road map with information-packed and friendly blogs.
Blue Ocean Strategy encourages and teaches you how to instill uniqueness.
Blue Ocean Strategy is perfect for a competitive environment as it allows you to outdo the competition.
The Best Business Development Blogs
Businesses don't grow by sitting at a desk dealing with paperwork only.
Businesses grow by thinking outside the box and encouraging employees to do the same. A business is a money machine whose progress suffers if it isn't oiled well.
Business owners can experiment with multiple techniques, but this process is inefficient.
So instead of experimenting, why not read the progress report of others who have already gone through that experience?
Here is a list of the best business development blogs to increase efficiency and grow to your full potential.
1) Seth's Blog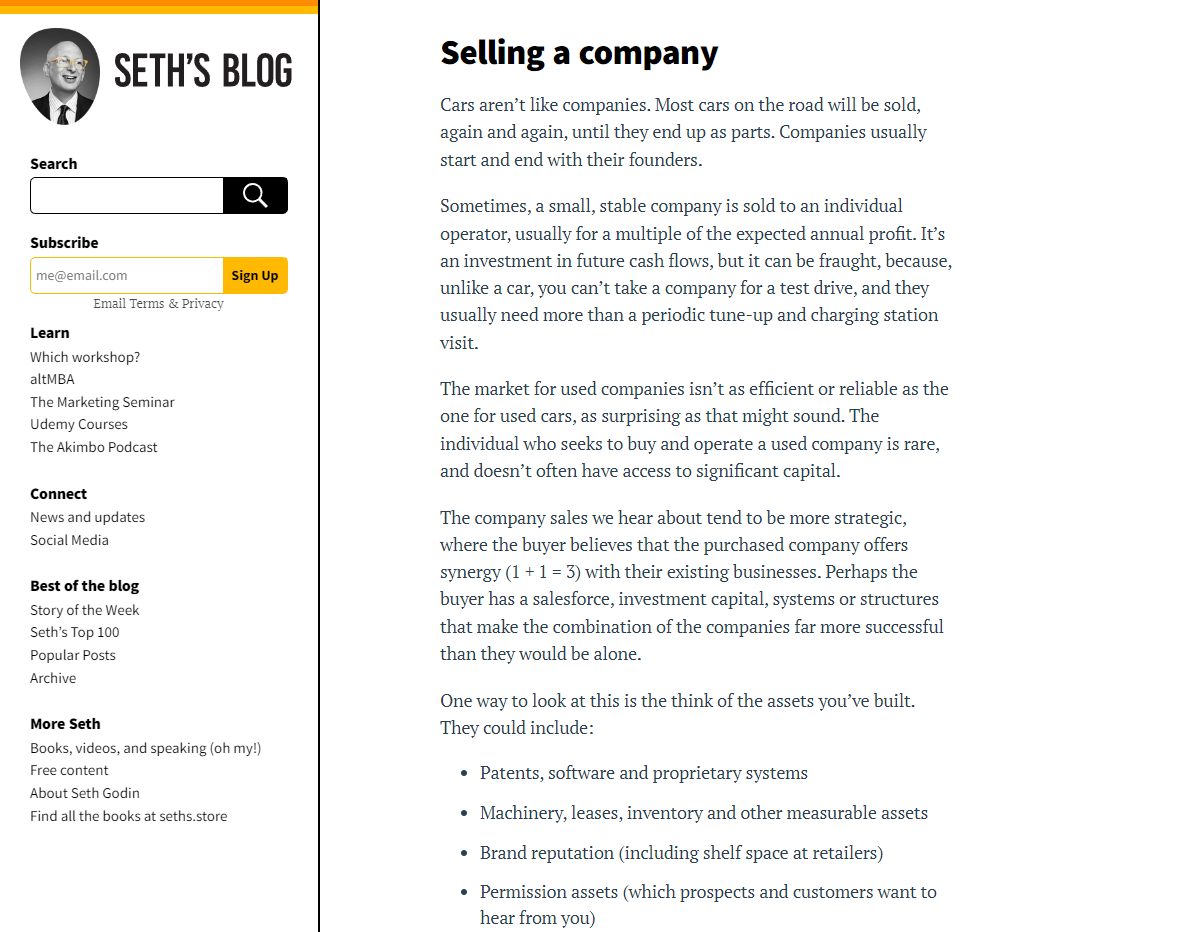 Business has been this man's life, and he has complete industry insights and solid connections.
Seth's Blog is the top choice for small-scale start-ups. His blogs are friendly without losing their professionalism and easy to understand and relate to.
It seems risky and stressful, but starting a business is much easier with the proper guidance and knowledge of an already successful businessman.
2) Small Business Trends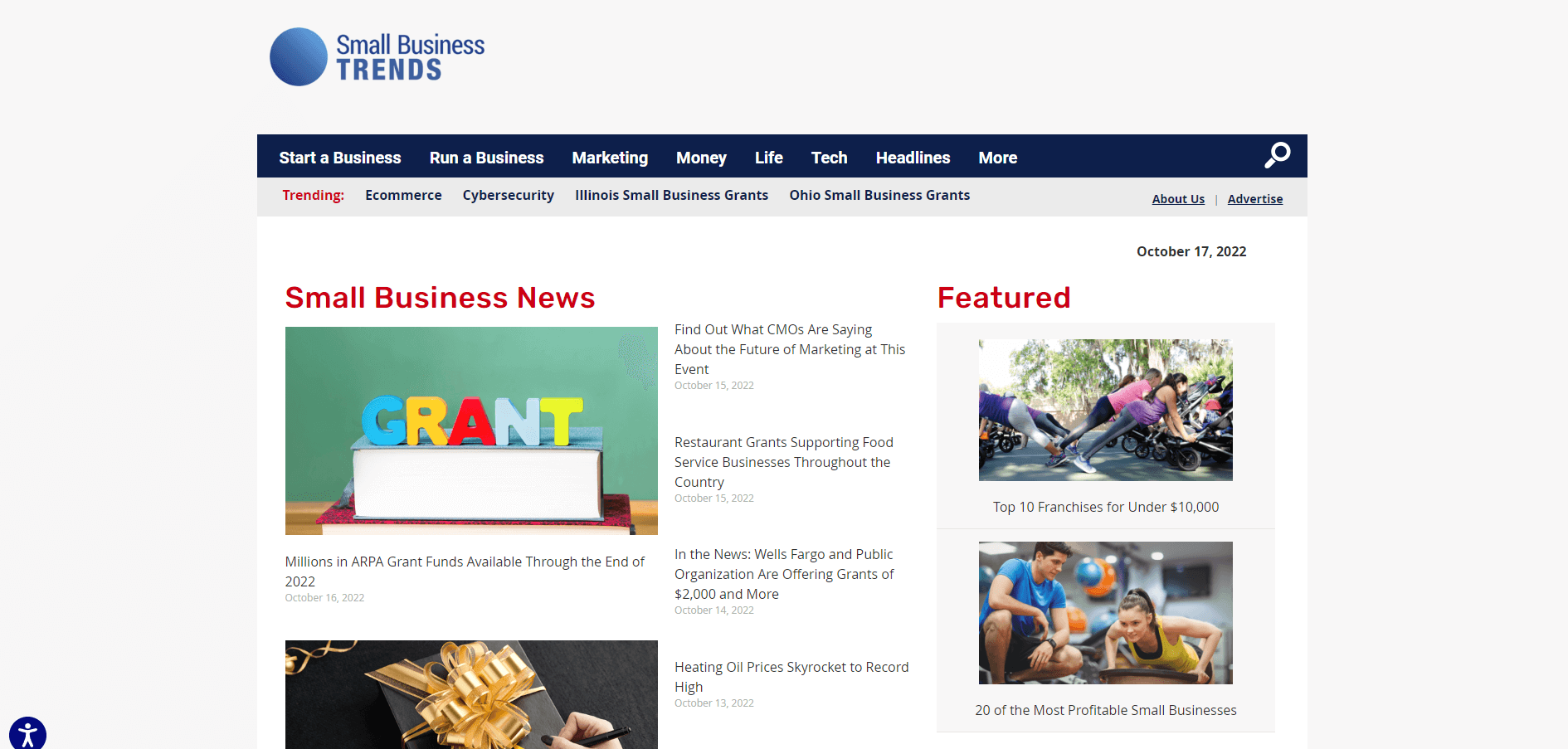 Another blog focused on small-scale businesses, Small Business Trends, is perfect for startups.
This blog site covers all of the business industry's main topics and has formed its fan following by helping millions of readers.
3) Cloudways Blogs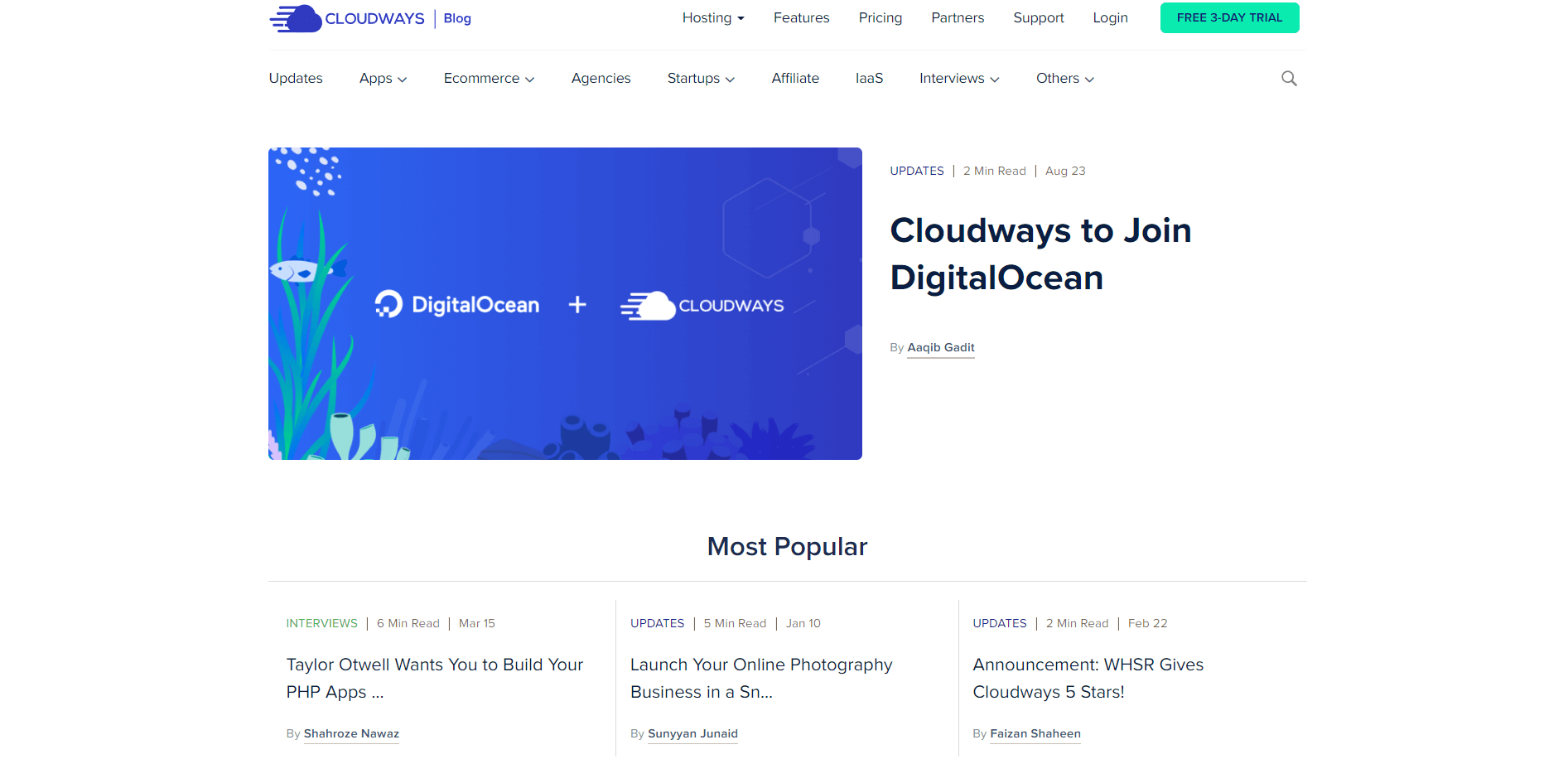 A jack-of-all-trades blog site, Cloudways blogs offers guidance for business startups and business growth for already established businesses. They have easy-to-understand, detailed blogs.
4) Under 30 CEO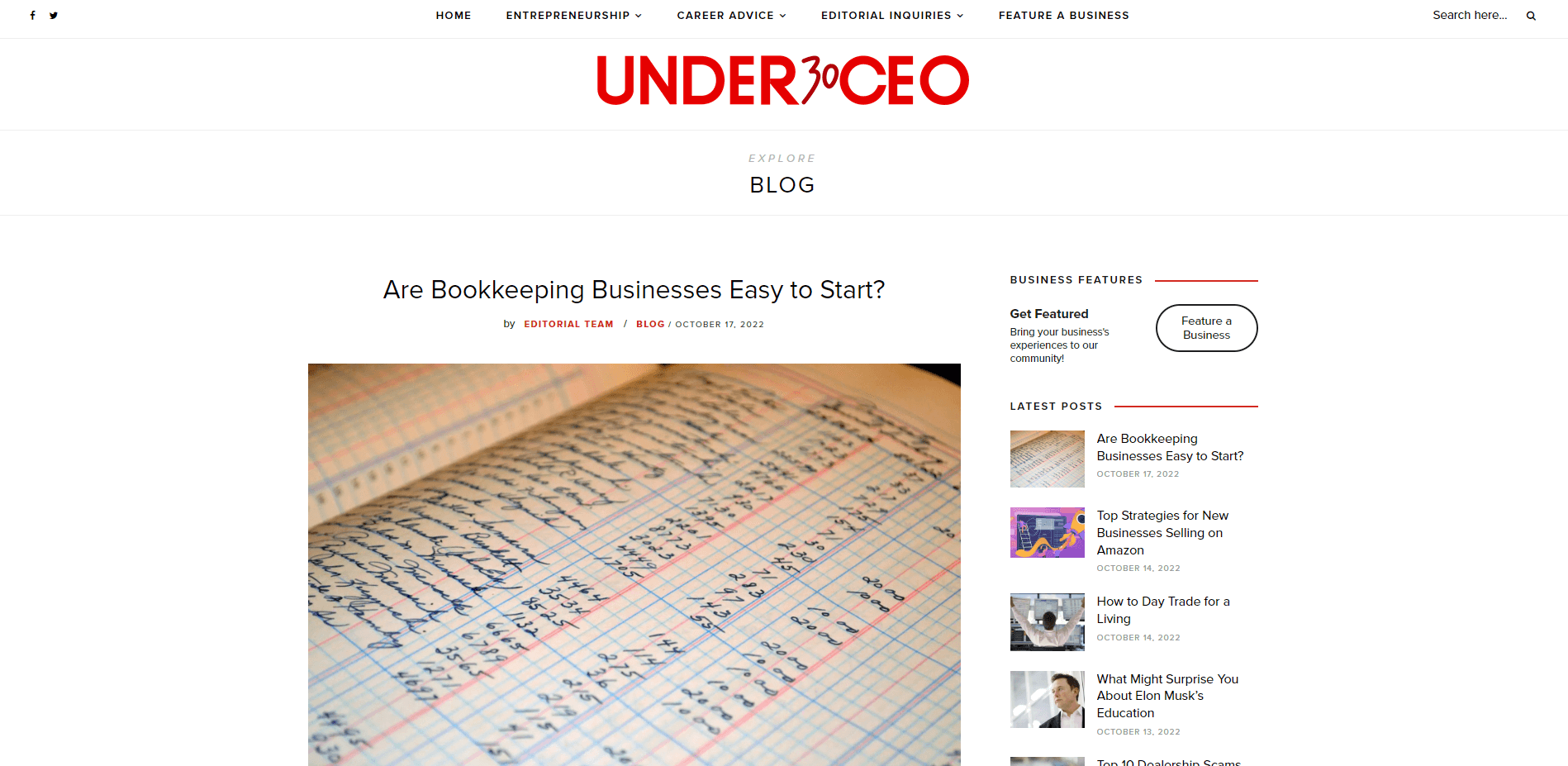 Under 30 CEO blog doesn't offer many details and statistics, but it motivates young entrepreneurs with past experiences.
Multiple under-30 CEOs talk about their mistakes and accomplishments. This allows the blog reader to reflect, improve, and learn new techniques and ideas.
This is a very diverse blog site with under 30 CEOs from all walks of life with all kinds of businesses. Not only are these blogs interesting to read, but they are also informative.
5) Startup Grind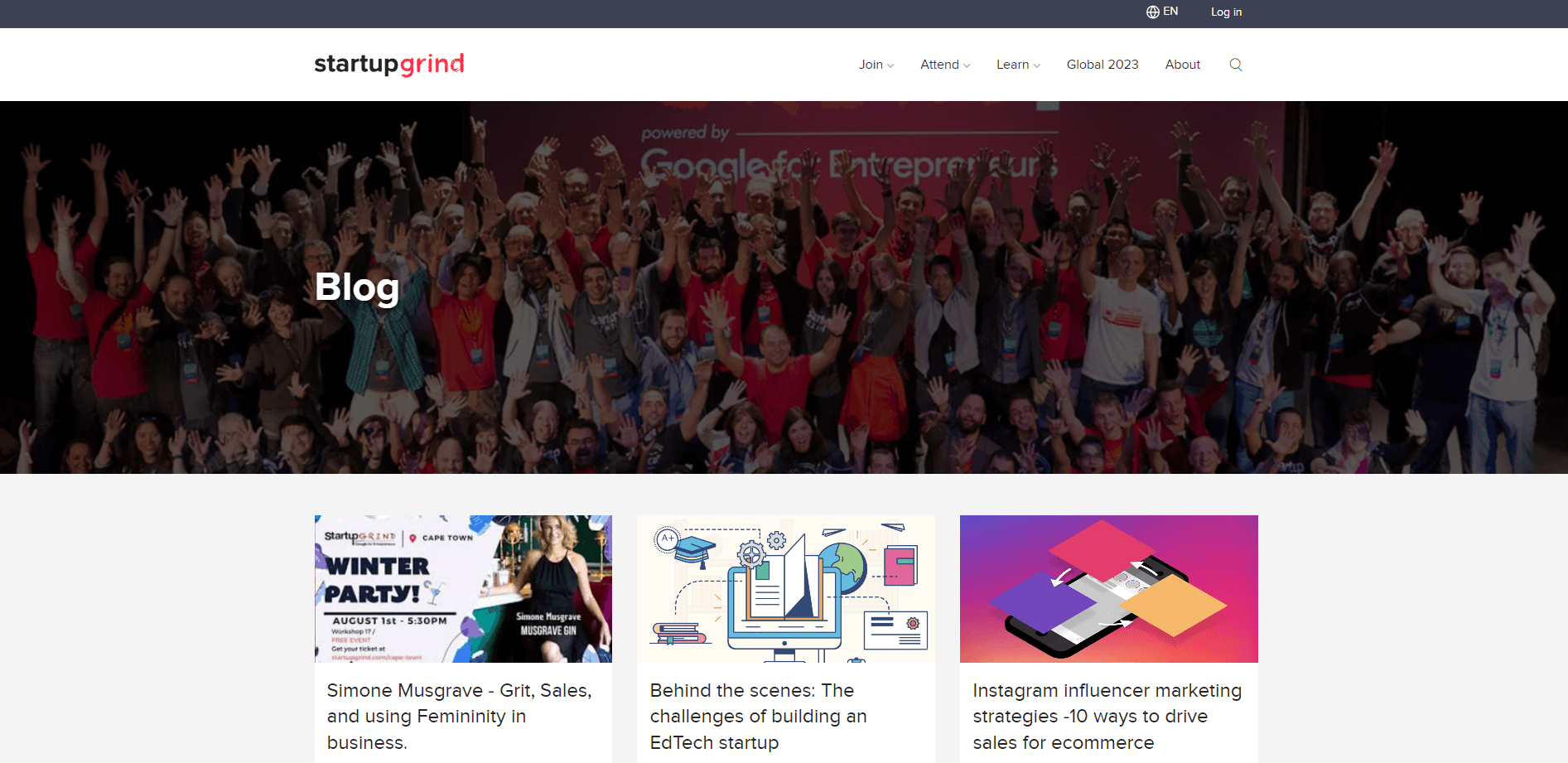 Startup Grind is a project of Google that initially shows the ceiling entrepreneurs can achieve, as a good number of posts are by top business people worldwide.
There are a lot of success stories from young entrepreneurs who, after achieving their goals, post about the mistakes they've made along the way, helping the readers to avoid them.
6) Gary Vaynerchuk's Blog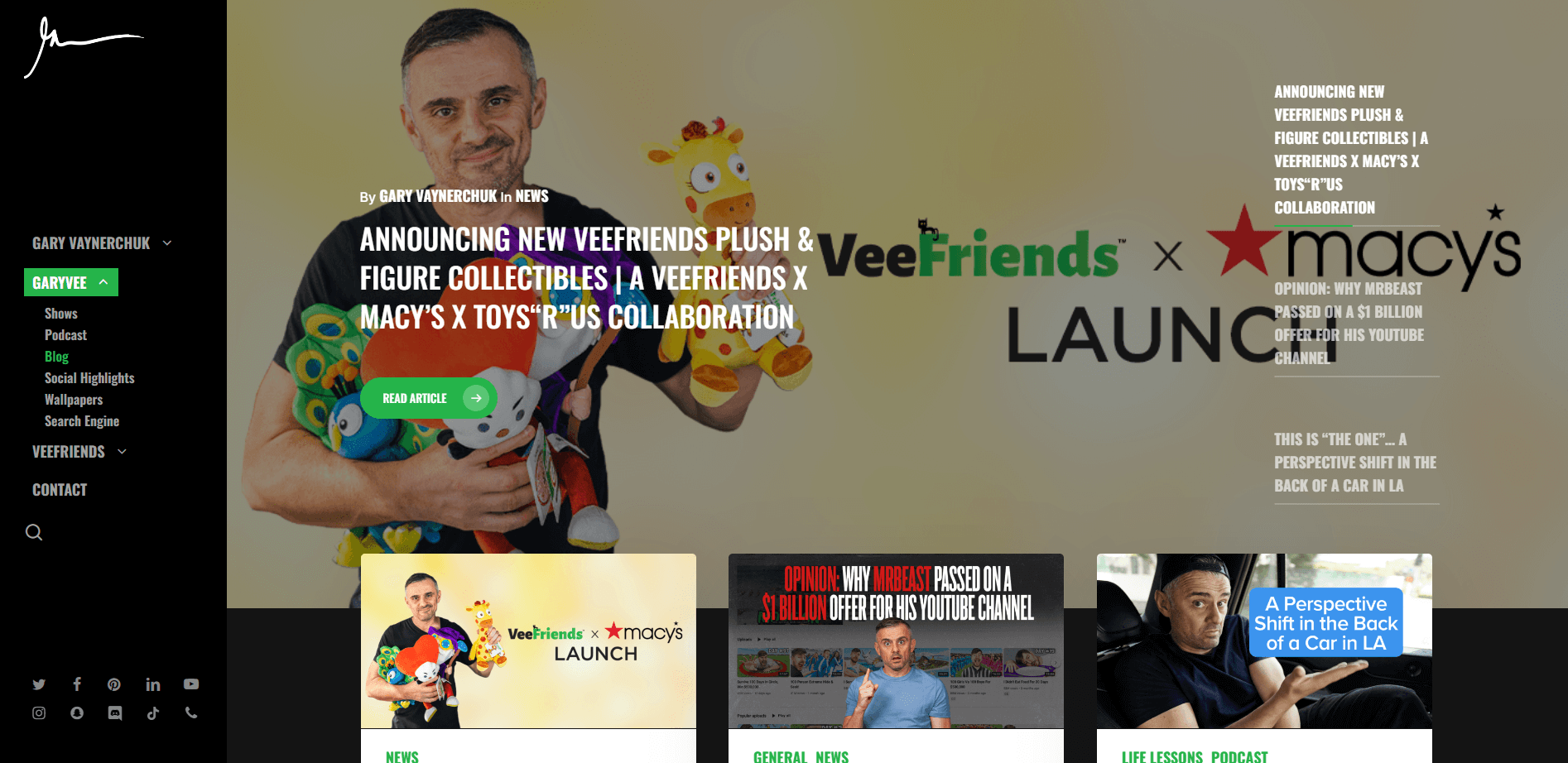 A reputable name, he would have been higher on our list, but due to lack of diversity, Gary's Blogs come sixth. Gary Vaynerchuk is a king for online start-ups and online business growth, and he can guide a rookie through all the steps to the intermediate level.
Even with his friendly and easygoing blogs, the content he produces is pretty straightforward and removes doubts. Besides online businesses, his blogs aren't very diverse or popular.
Checking him out is recommended if you want to have an online business.
The Best Digital Marketing Blogs
The digital market is ever-expanding, with unlimited vacancies with no hard and fast rules. But even with a large market and endless opportunities, the digital world can be very cutthroat.
As you market your product, you are simultaneously competing with everyone else in your profession.
Digital marketing blogs are the experiences and advice of individuals or corporations who have excelled in this market and wish to give a helping hand to others.
1) The Moz Blogs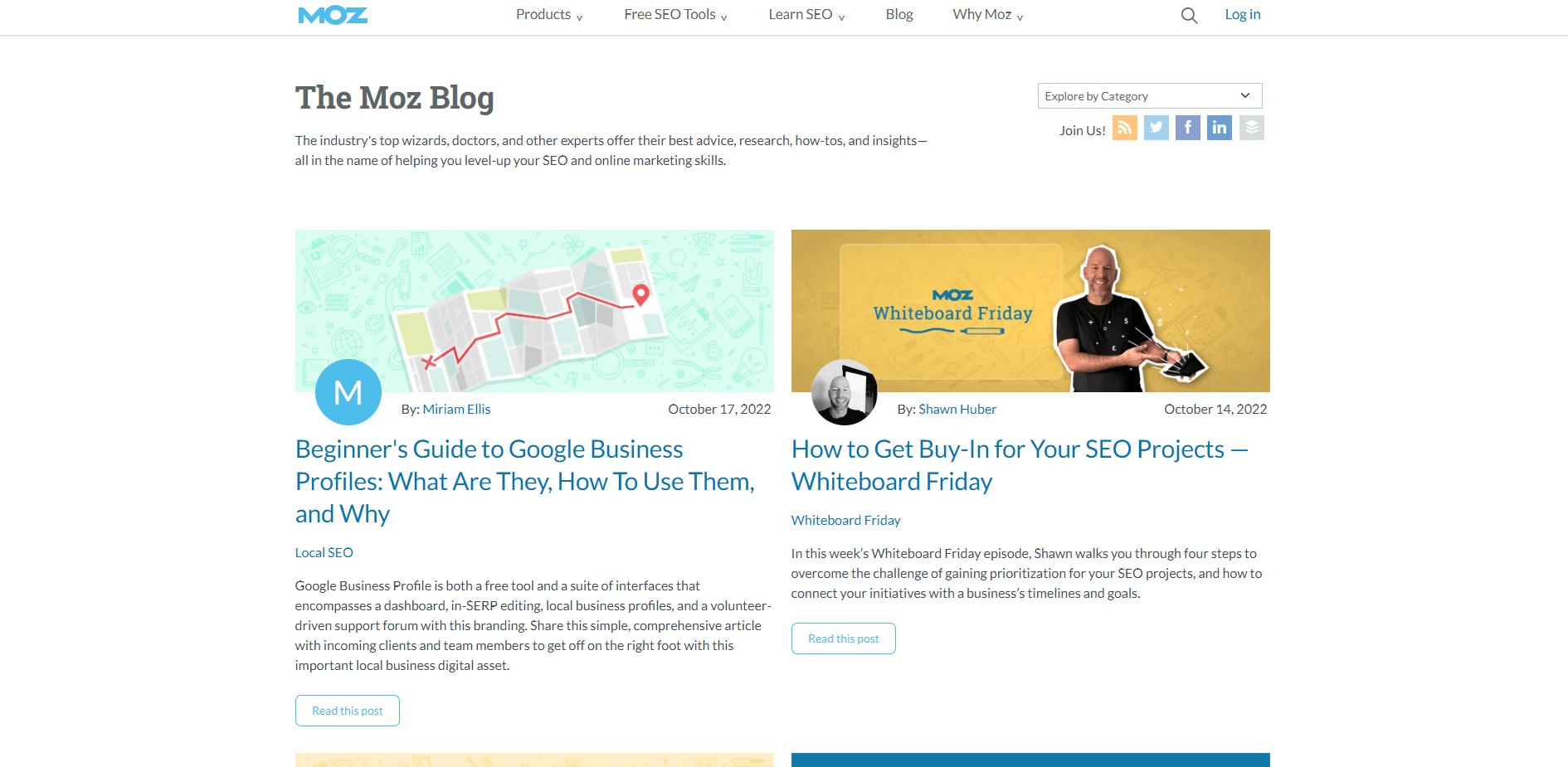 Any topic on the internet has thousands of reactions to the point that most, if not all, are considered irrelevant. Search Engine Optimization (SEO) is necessary here as humans tend to ask similar questions.
Moz has all the information and trends analysis related to SEO. The blog is a bit more robotic and less user-friendly.
But Moz outclasses its competition with specialized data, strategies, and interviews with industry experts. Along with link building, up-to-date sites, and analysis of industry-related announcements by big organizations.
2) HubSpot Marketing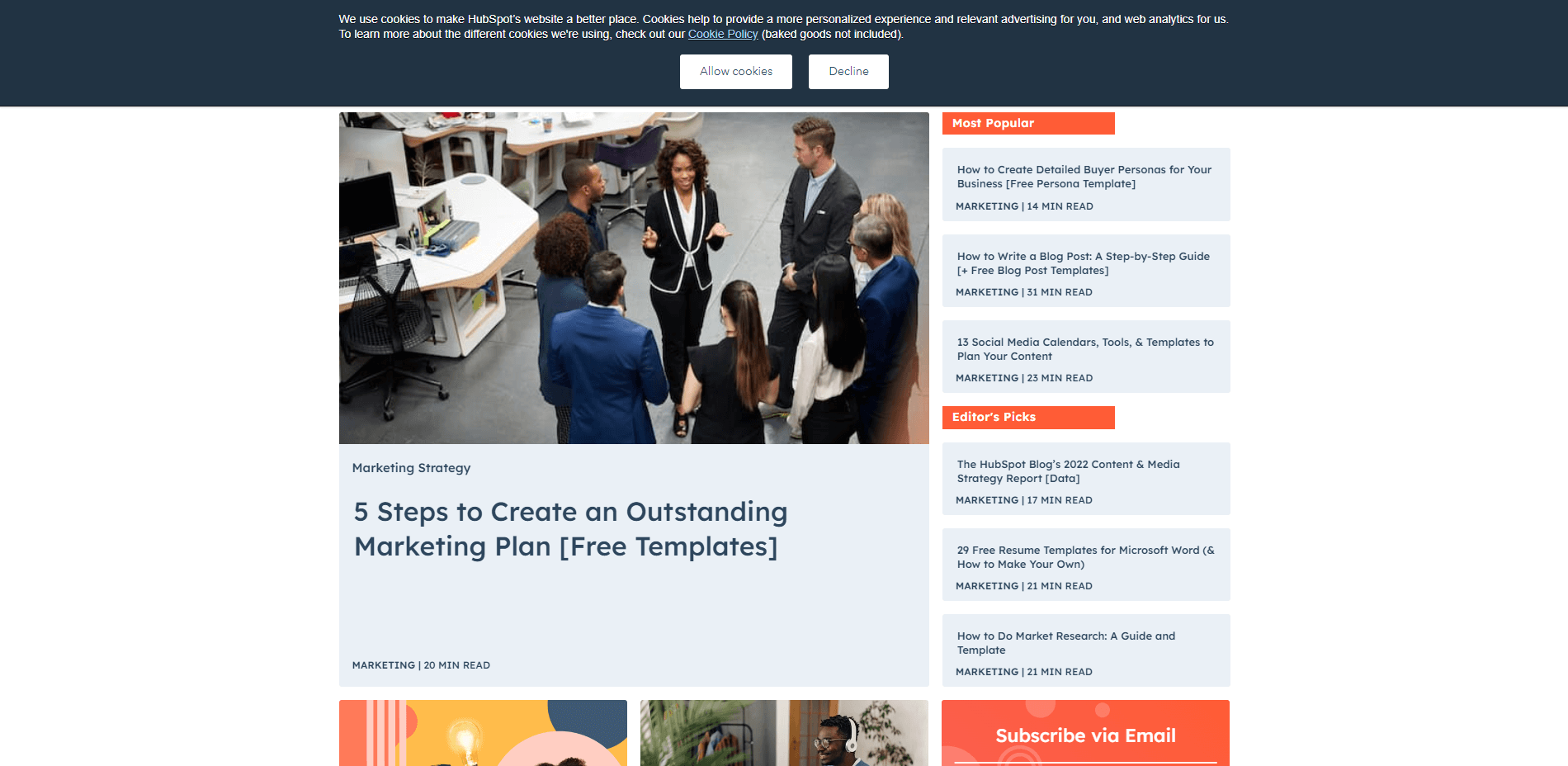 This blog is the best way to learn the basics and get in-depth knowledge on what to pursue and a solid strategy.
HubSpot Marketing attracts a wide variety of readers due to its commendable diversity and is perfect for someone who wants to build their market strategy.
HubSpot updates frequently, and with these quick updates, a lot of content further diversifies HubSpot marketing.
You'll find tons of tutorials, free customizable templates, guides, and resource material. The site even has an estimated reading time, so you can skip the very detailed ones if you're rushed.
3) Content Marketing Institute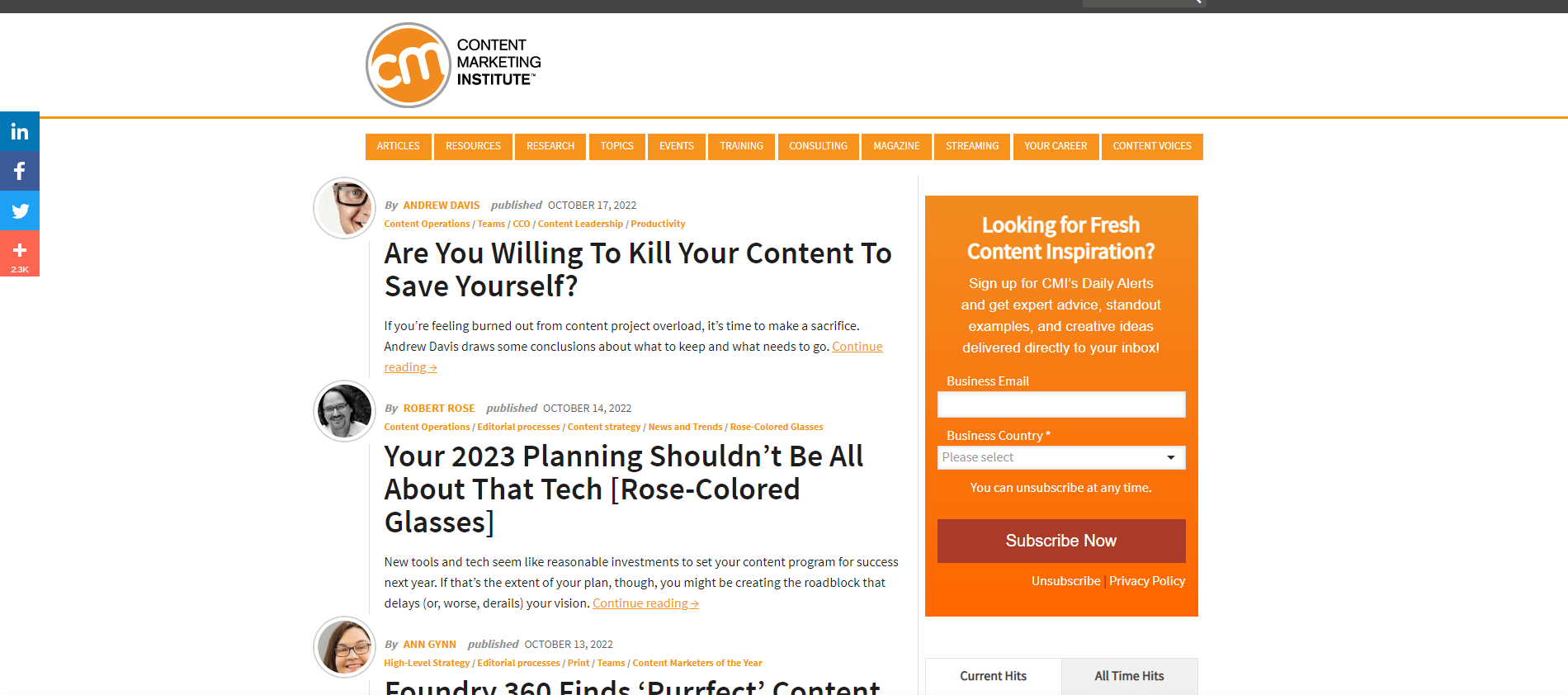 Content Marketing Institute is slightly different from the two above. It focuses on grooming and advising the reader with highly detailed and elaborate explanations and information.
Content Marketing Institute focuses on the "Content" side of marketing.
They mainly discuss a lot of research documents, online events, ebooks, and other information-gathering tools available.
4) Search Engine Lands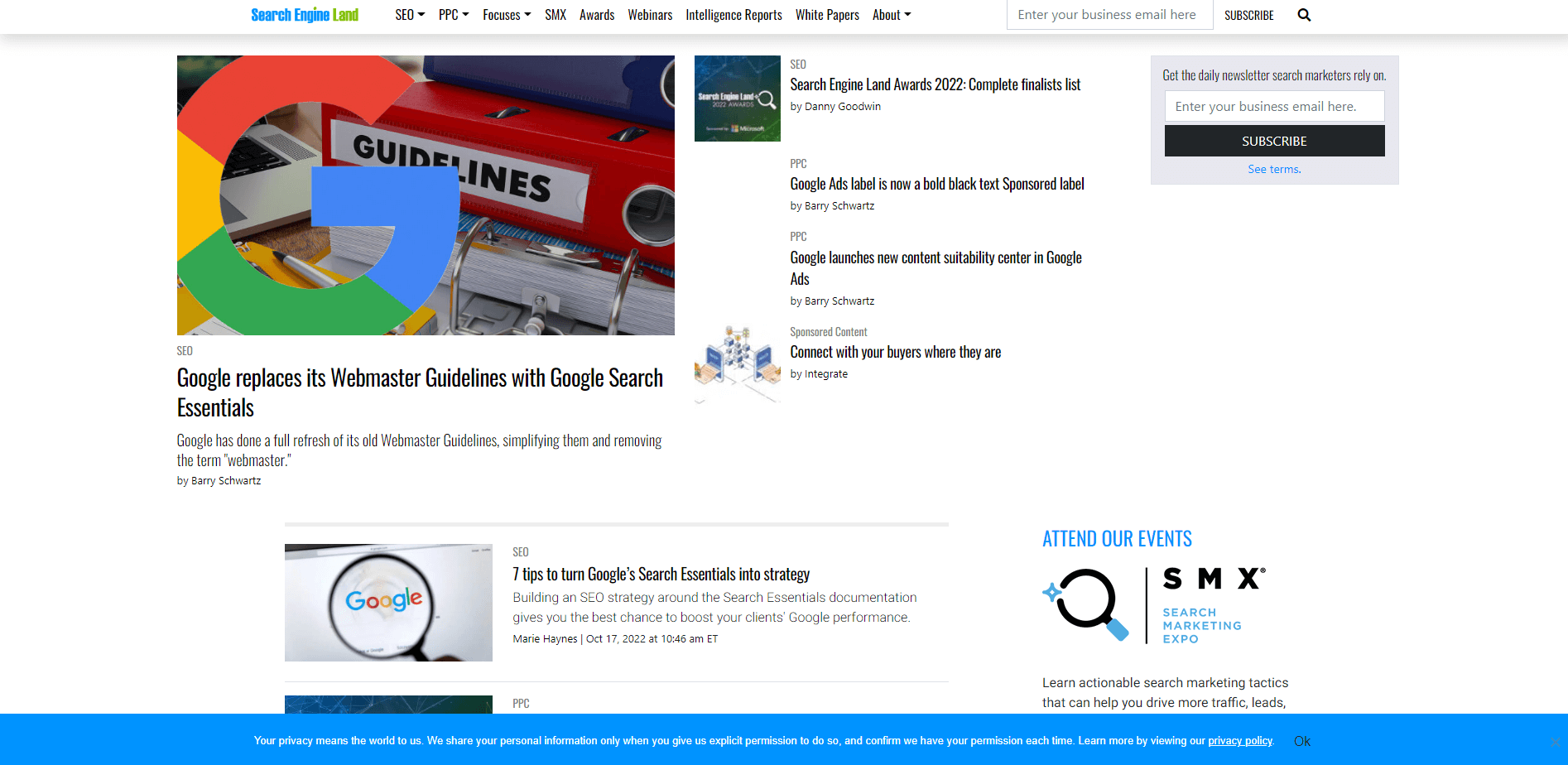 Another good blog site to stay up-to-date with the market news is offering daily notifications and updates multiple times per day. Search Engines Lands is a very diversified blog.
SEL places its emphasis on SEO, SEM, and PPC. Besides SEO, its blogs on Search engine marketing (SEM) are very well received by the audience and have helped numerous individuals grow their online businesses.
The Best Dropshipping Blogs
If you've been planning to launch a digital business, then this isn't probably the first time you're hearing about dropshipping.
It's a widely used eCommerce fulfillment method that has gained traction mainly due to its low startup costs.
But even then, dropshipping can pose some risks if it's uncharted territory for you.
That's why, here's a list of the best dropshipping blogs that can teach you all there is to know about the business.
1) NicheDropshipping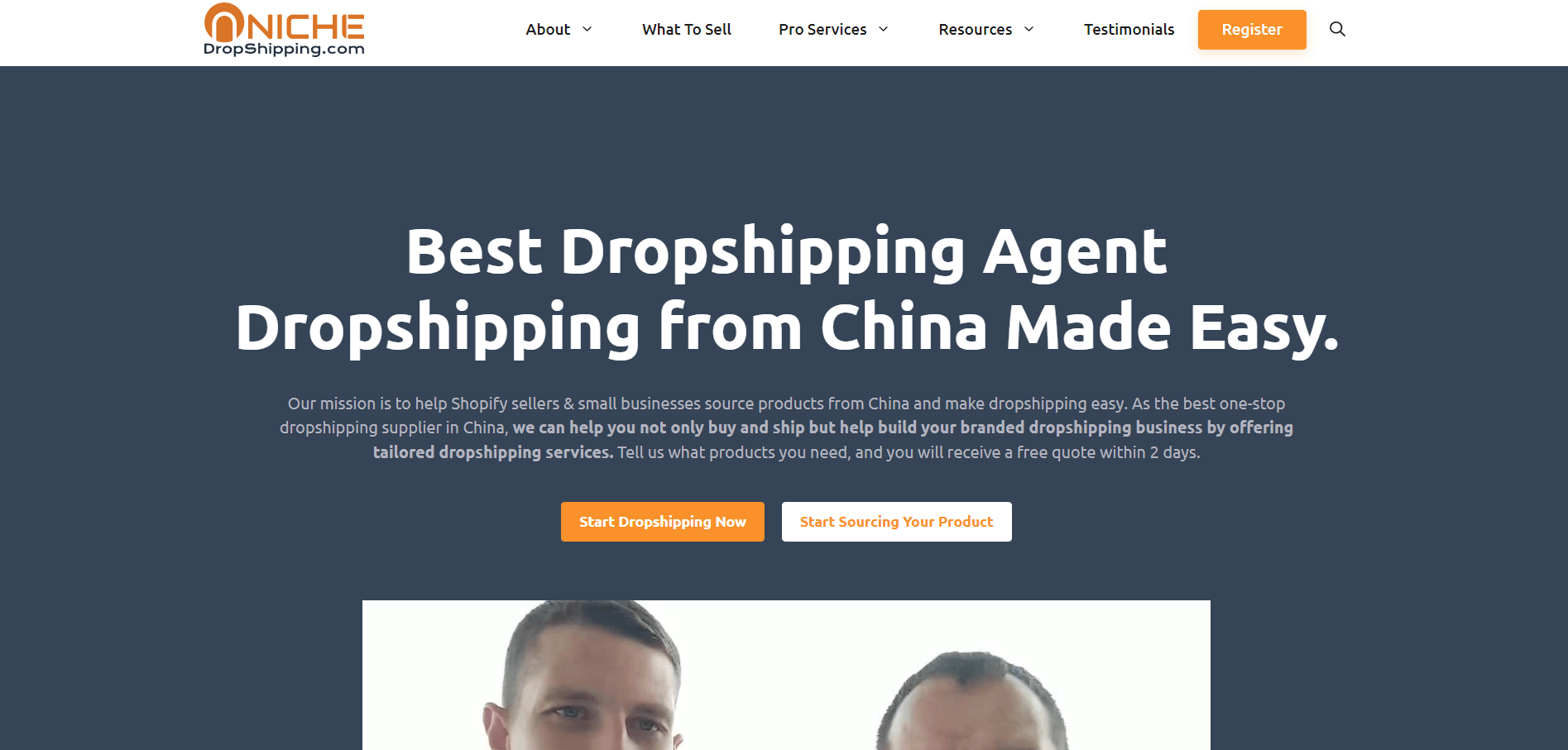 NicheDropshipping has an ever-growing portfolio of dropshipping blogs, which are very diverse and offer something for everyone.
They have dedicated blog posts for beginners, helping them enter the industry as well as veterans trying to expand their business.
You can also find interesting comparisons and analysis of different business models and market trends, as well as all the "how-tos" and guides you'll ever need.
2) Oberlo Blog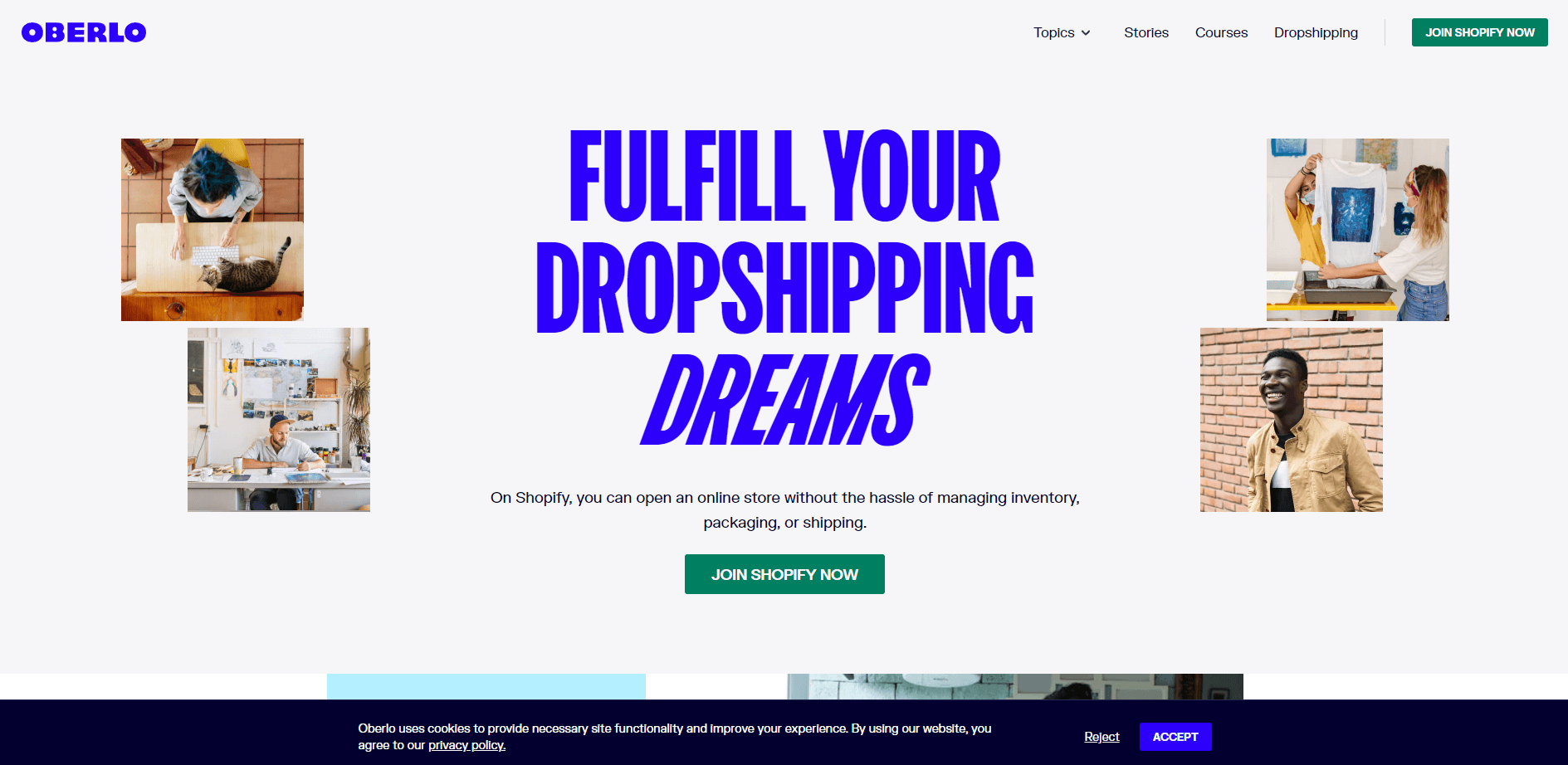 While Oberlo dropshipping app has shut down, its blog is still very much active and churns out useful dropshipping content from time to time.
The only problem is that Oberlo is not user-friendly for its new readers and tends to leave them confused.
However, the community discussion is lively so perhaps you can participate to learn the basics.
3) Shopify Blog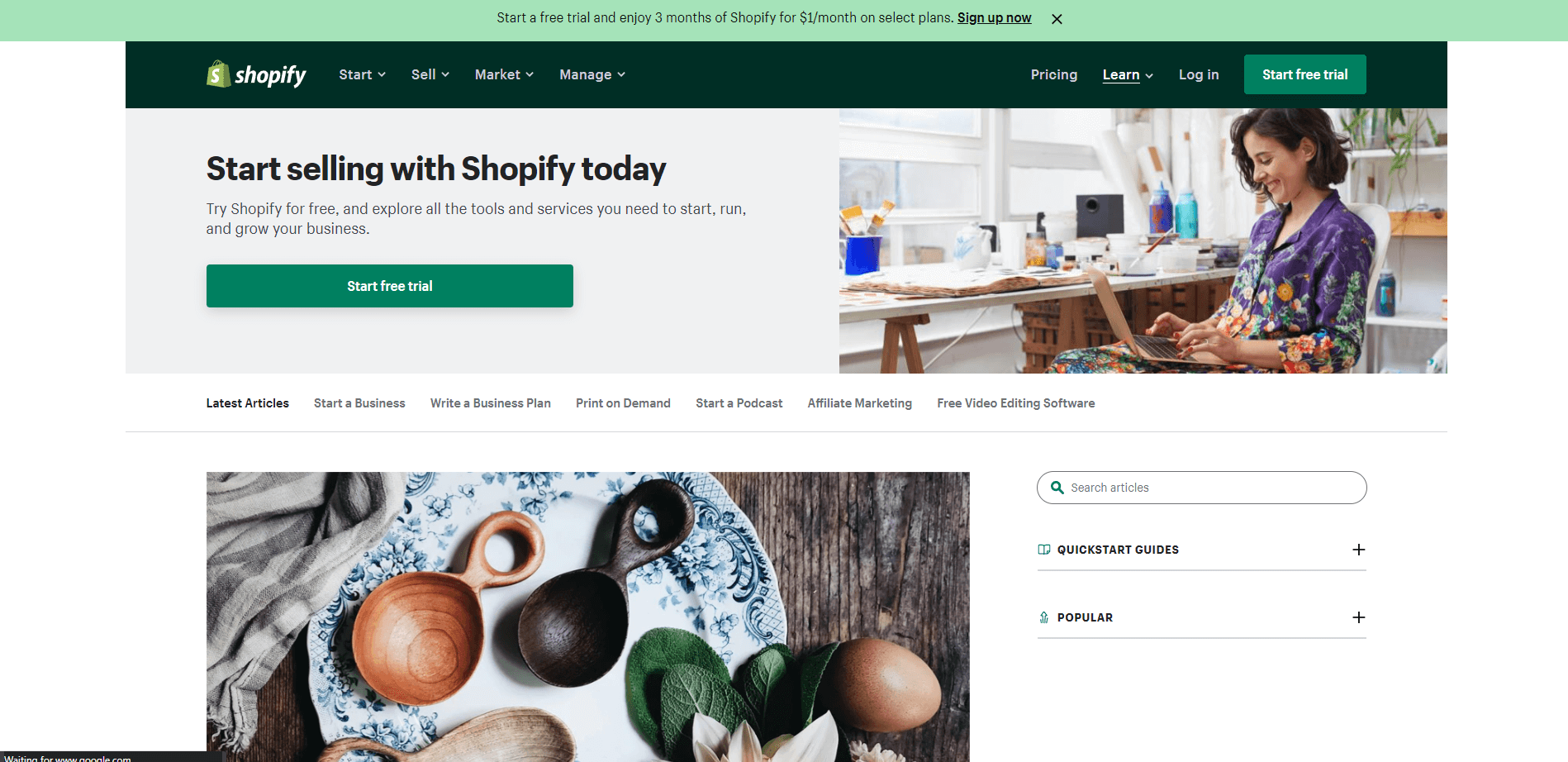 Shopify is a prominent platform in the eCommerce industry, and it's unarguably one of the most used website builders for dropshipping.
Shopify's blogs are information-packed to the point that, sometimes, the blogs feel robotic and overwhelming to read.
4) Worldwide Brands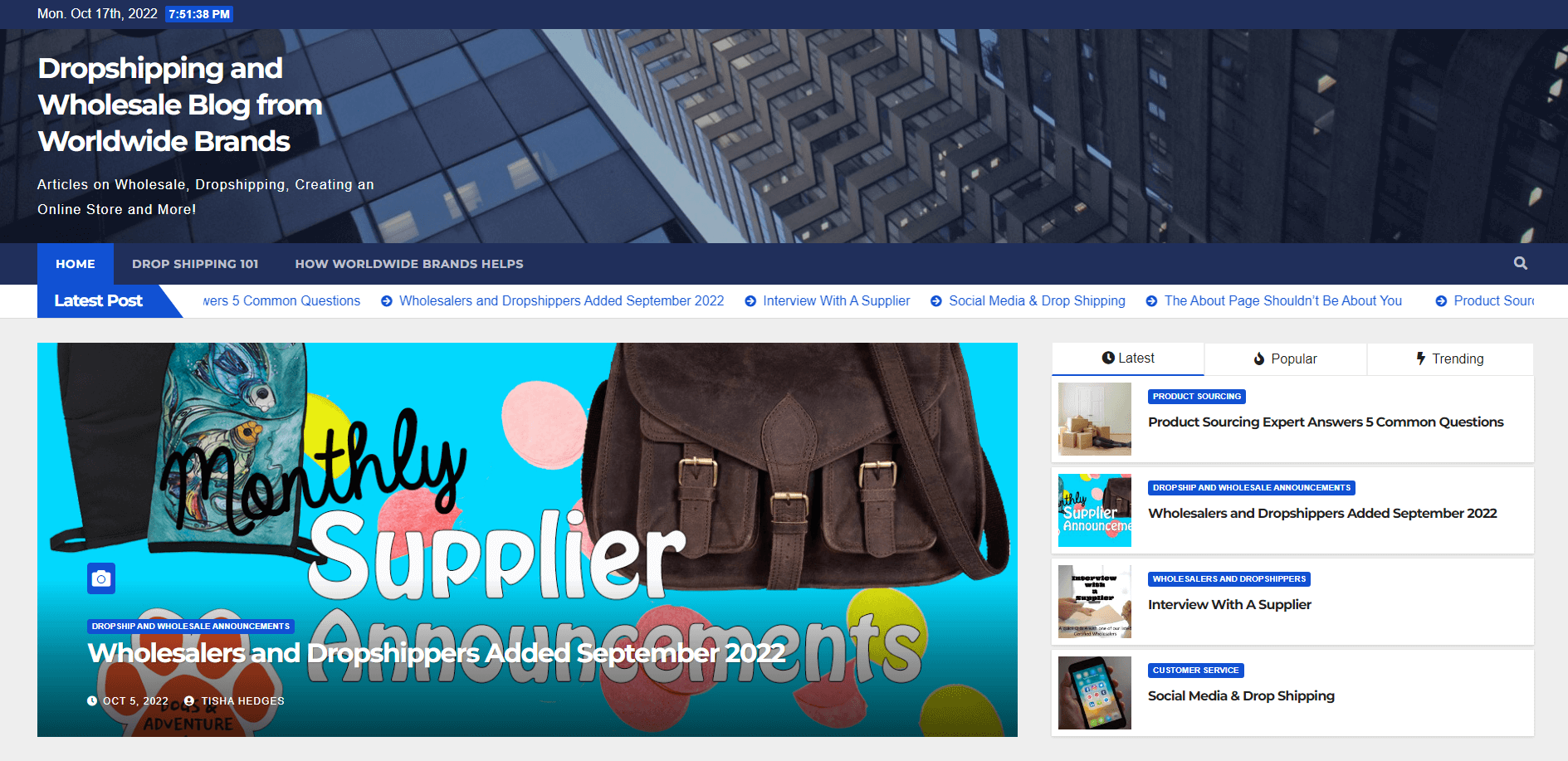 As the name suggests, Worldwide Brands is the king of diversity, and there is simply too much to talk about.
It is a much better alternative to both Oberlo and Shopify, as it offers a vast library of blogs and articles, tips and tricks, guides, tutorials, and even online sessions.
The blog posts are surprisingly friendly and informal, which makes them easy to understand for both a professional and a newbie.
The search engine and redirection on Worldwide Brand are better than the other two, and it only shows the most relevant and up-to-date blog posts.
5) Do DropShipping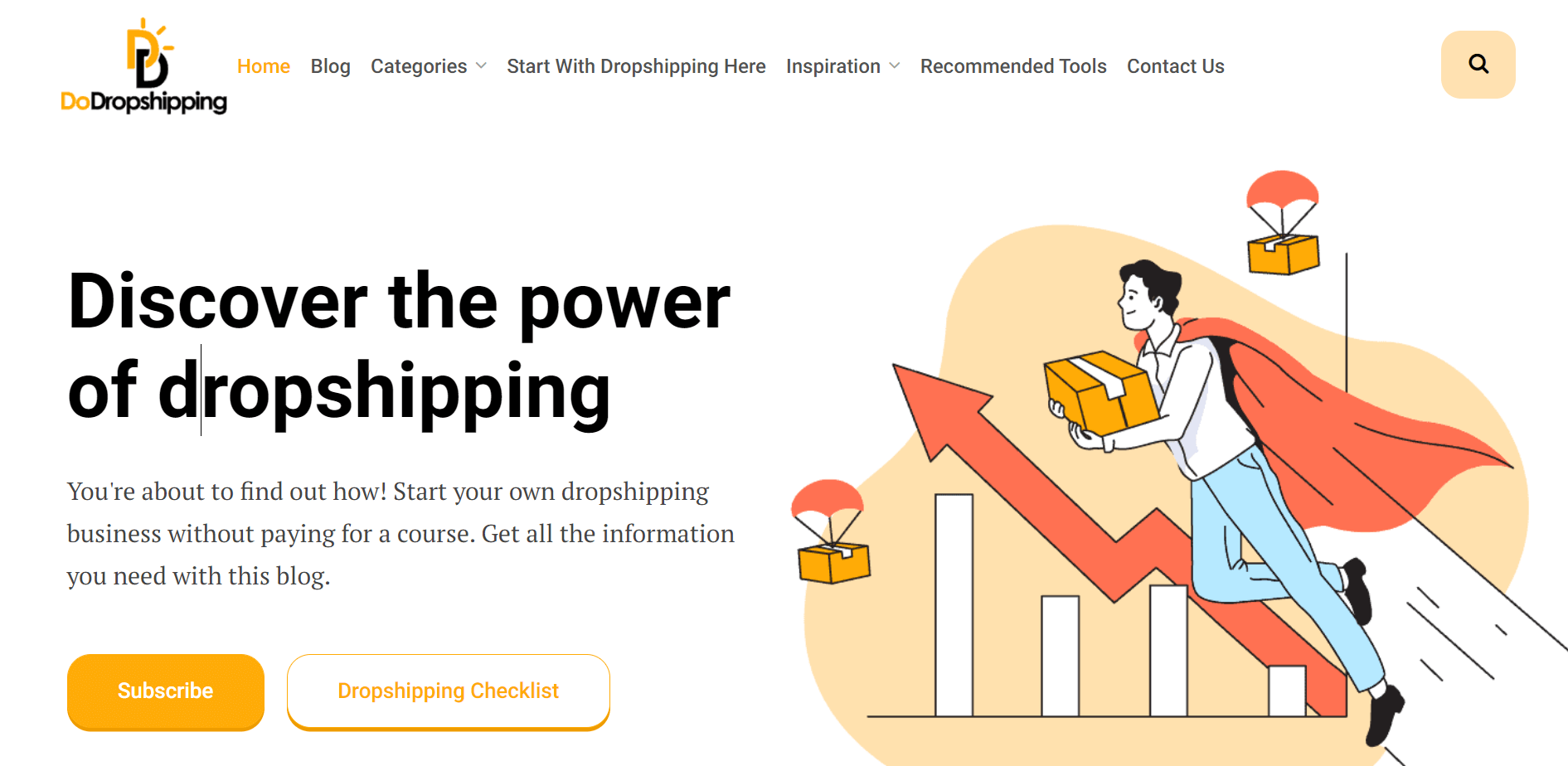 Do DropShipping is a dedicated learning site, unlike Oberlo, which focuses more on discussions.
Do DropShipping offers everything you'll need: guides, tips and tricks, market trends, deep analysis, industry scope, and statistical benefits of one dropshipping site over the other.
Overall, Do Dropshipping is another decent resource to expand your knowledge.
The Best Content Marketing Blogs
Effective content marketing is a cornerstone for the success of any business.
But despite the numerous marketing mediums nowadays, most entrepreneurs still can't get it right.
If you're also struggling, then this list of content marketing blogs shares plenty of useful info to help you step up your game. 
1) Search Engine Journal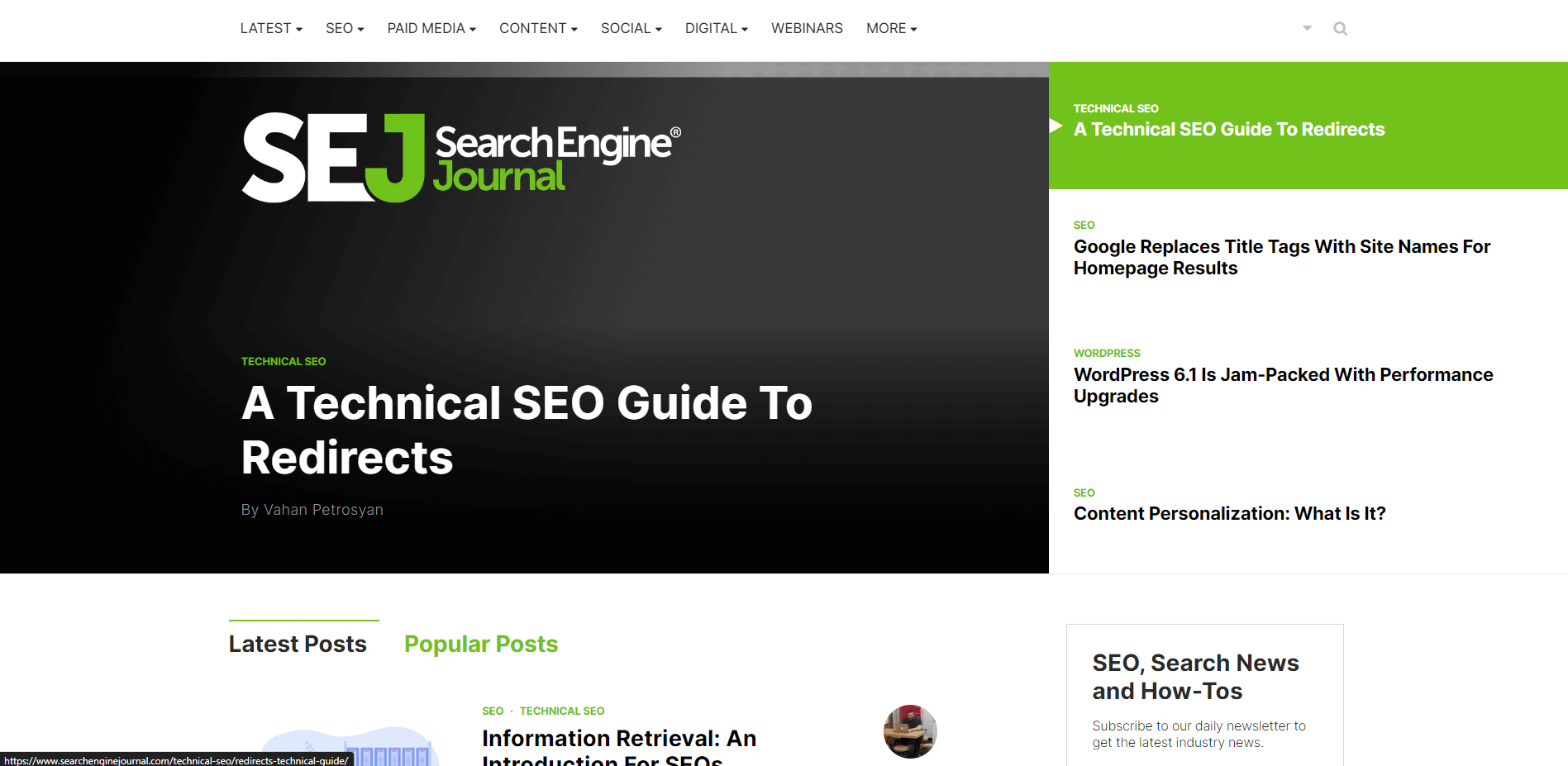 First on our list is Search Engine Journal (SEJ), and the reason for it ranking first despite not being the best is its accessibility and user-friendliness.
SEJ is easy to use and does not require the reader to search through catalogs of old and new posts to find their relevant topic.
SEJ site updates frequently and keeps up with Google's algorithms, advising its users to do the same. They offer in-depth research on a variety of topics.
2) The Tilt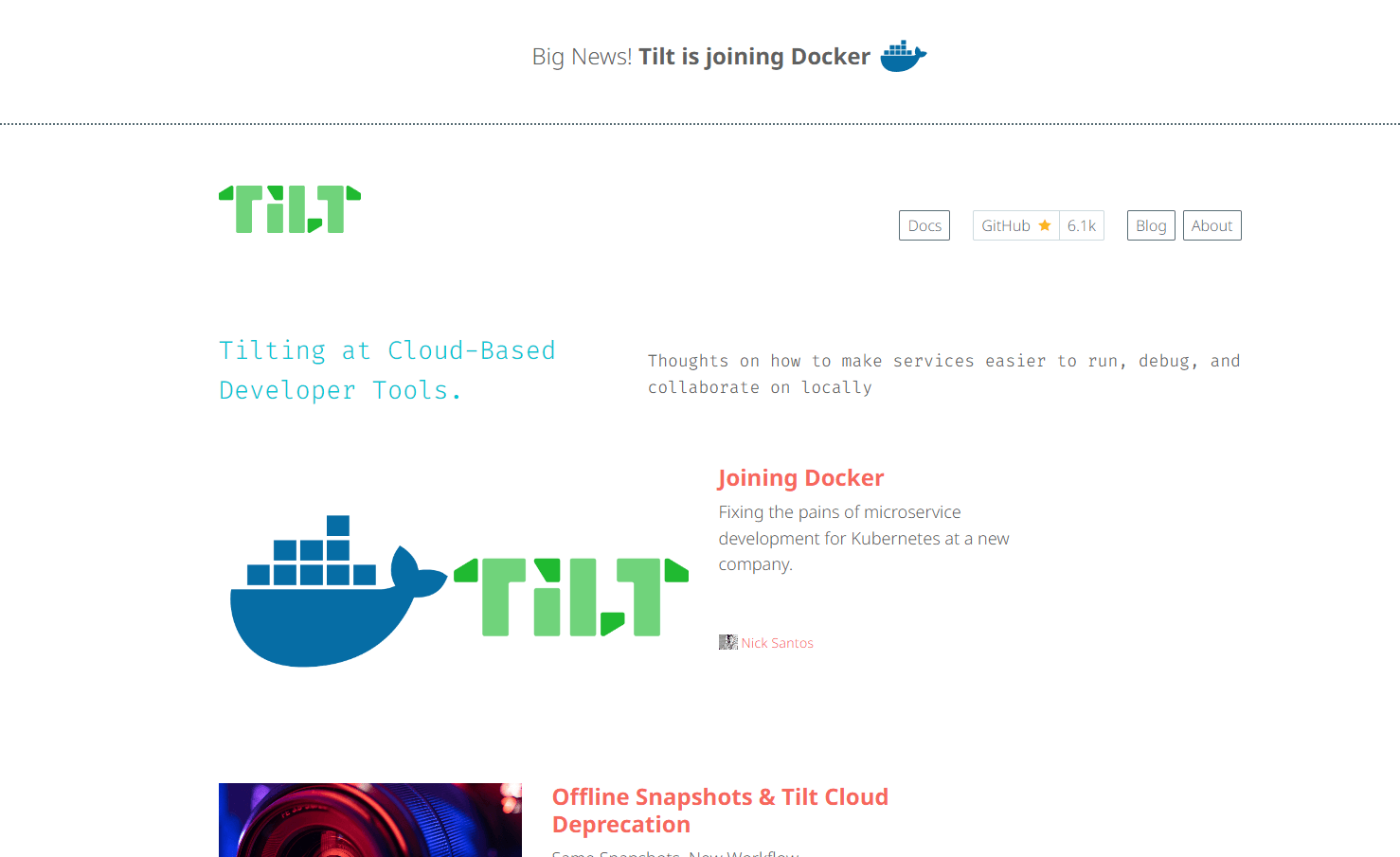 The Tilt issues a biweekly newsletter with premium information, and these newsletters contain tips and tricks and analyses made by the top experts in the industry.
Readers can also just read online blog posts, which have almost the same information, with few exceptions.
This wasn't top of the list because The Tilt is not friendly to new readers and doesn't provide as elaborate a guide as others.
3) Marketing Insider Group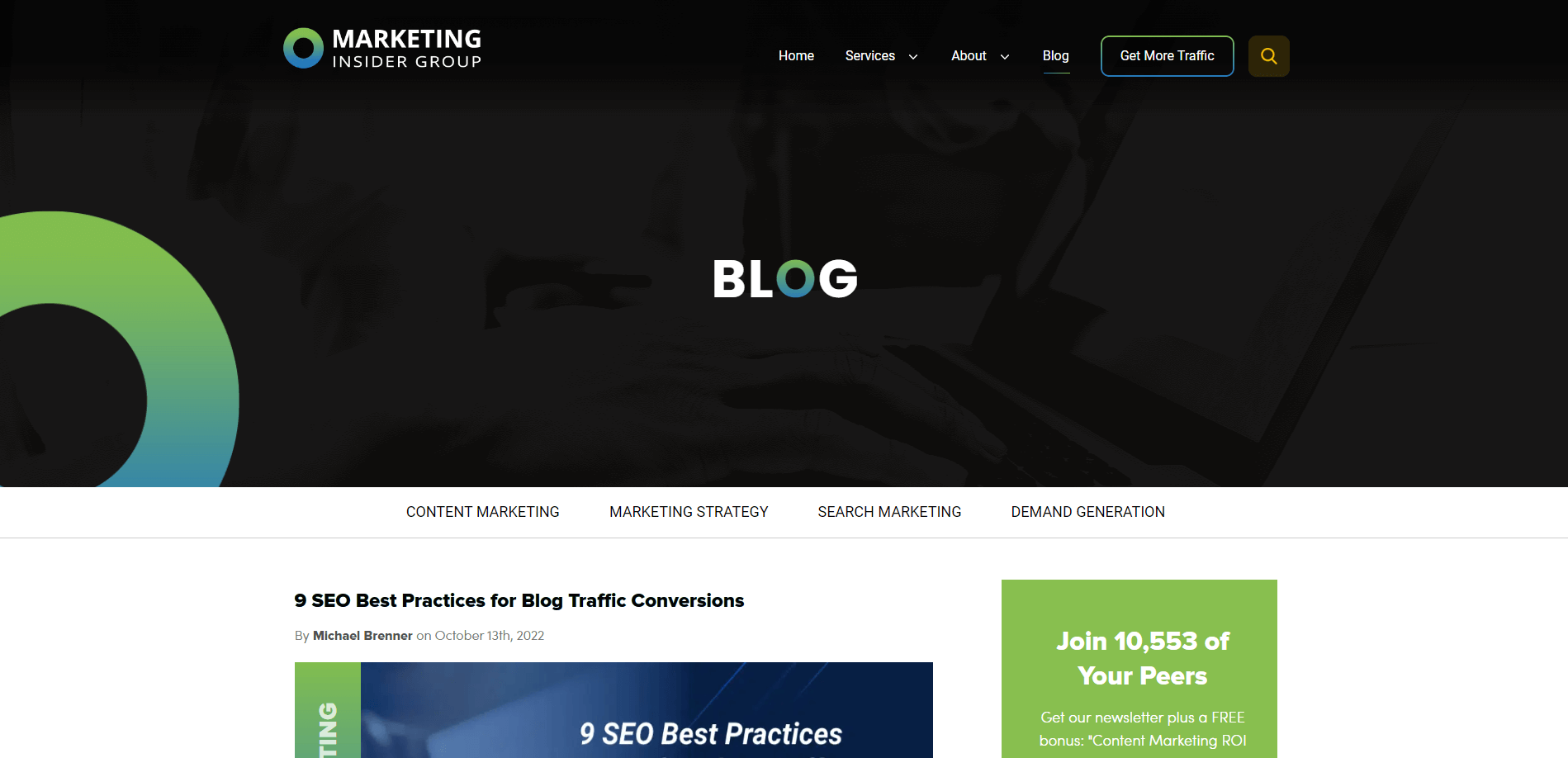 There are more popular alternatives than the Marketing Insider Group, but this group deserves a place in this list as it is one of the fastest groups in terms of updates.
The community is enthusiastic, questions are answered quickly, and due to the constant daily updates on the group, you are never behind the market.
The blogs are updated fast but not carelessly. Market trends are analyzed, and data are statistically displayed. As a reader, you get daily updates on almost every question you could ever have.
4) Marketing Examples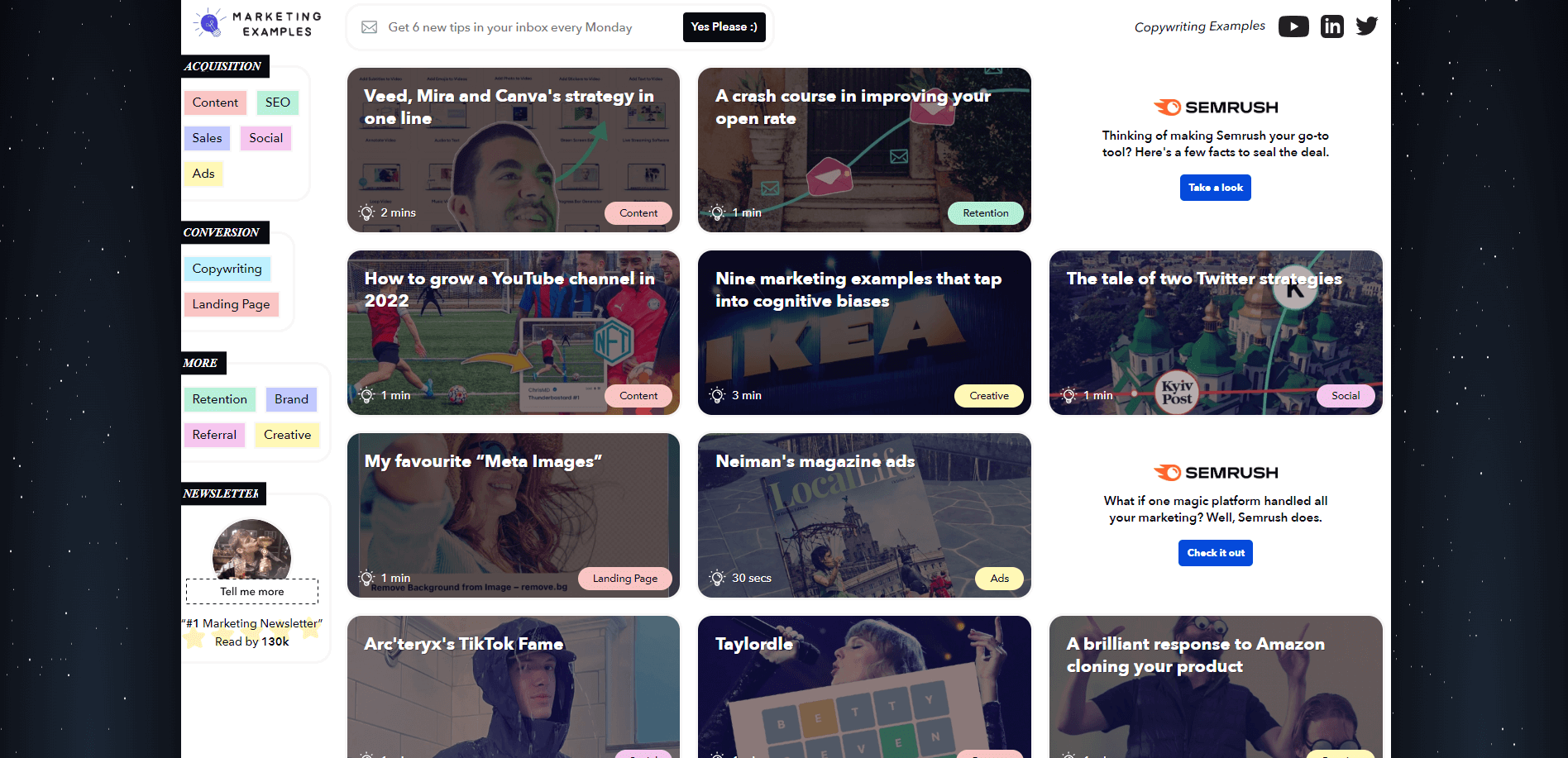 While this site does not provide in-depth analysis and elaborated theories, it serves its purpose well.
The audience in Marketing Examples is not there for information gathering and intensive research.
Marketing Examples enables its enthusiastic readers to start working quickly rather than do a lot of research.
While it does have a weaker base, the base can be reinforced later on after gaining some experience. It is perfect for newbies as it offers one of the fastest initiations.
Marketing Examples also has a colorful theme, eye-catching font colors, and on-point necessary images. All of this makes their information easy to read and remember.
The Best Product Sourcing Blogs
As an eCommerce entrepreneur, your store is only as good as your supplier.
You can spend all the money you want on marketing, but if the product quality isn't up to the mark, all your efforts are in vain.
So let's go through a list of the best product sourcing blogs to help you find a trustworthy partner.
1) NicheDropshipping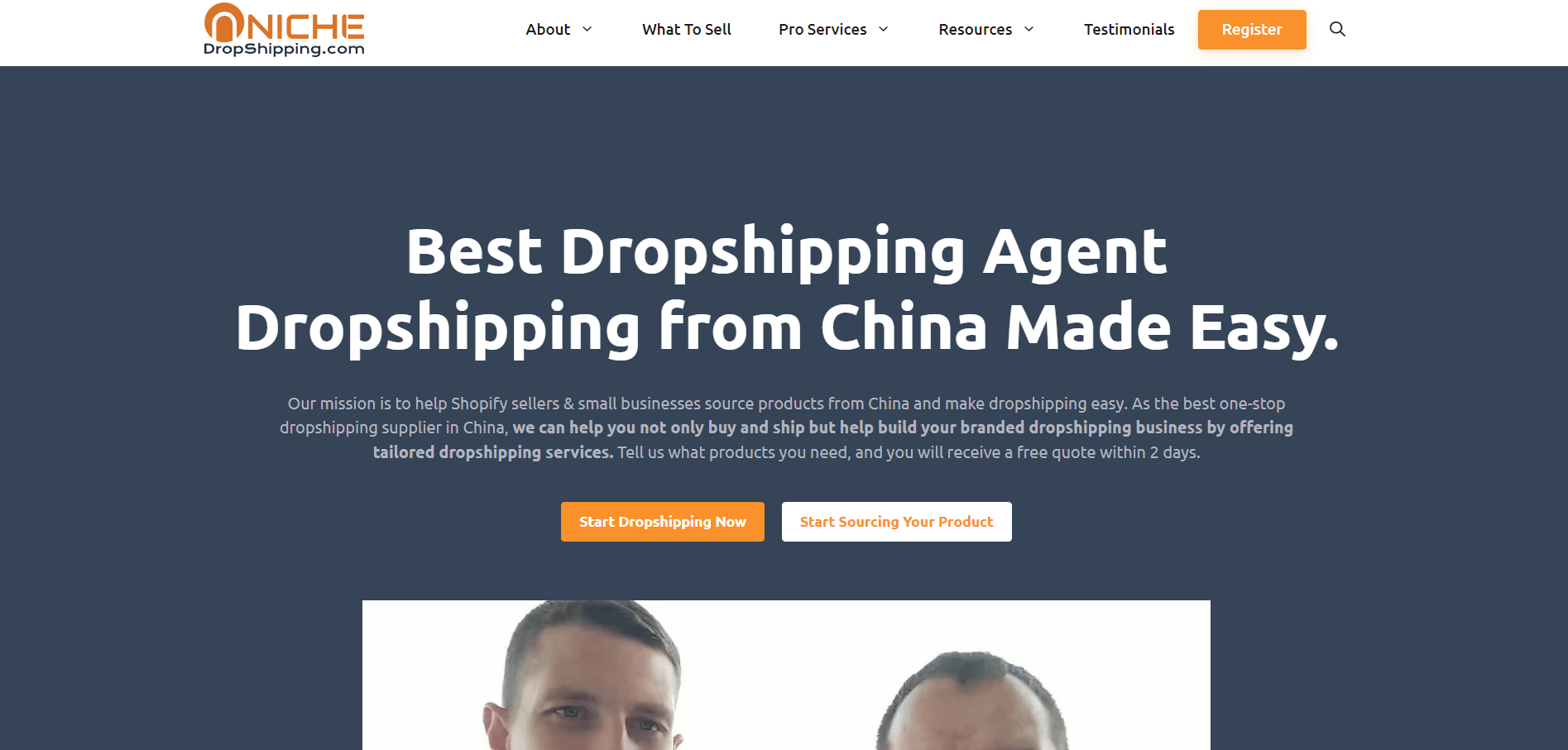 Once again, NicheDropshipping is back on the list as they share plenty of guides on product sourcing and finding reputable suppliers.
Aside from that, they also provide efficient product sourcing and private labeling solutions.
You can pitch the requirements for your desired products and their dedicated agents will ensure all your expectations are met.
Each product is also carefully inspected, so quality would also be the least of your concerns.
2) Spend Matters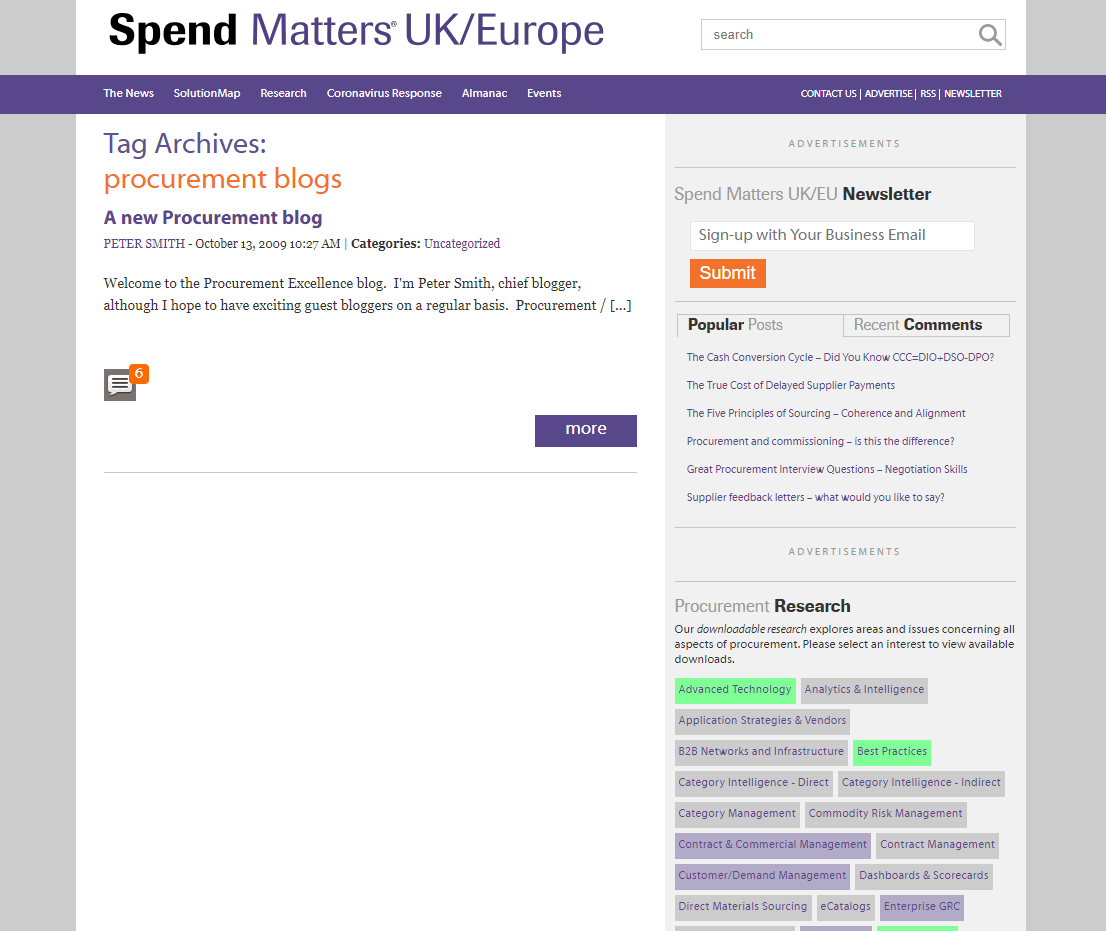 Spend Matters brings you well-researched information and one of the most trained and experienced teams of experts.
Spend Matters was one of the pioneers, if not "the" pioneer, for procurement blogs and social media in the supply chain sector. As it's a global brand, its blogs are relatable to almost everyone.
They're the most trustable and reliable information provider in the market, thus making them a great choice.
3) Zycus Procurement Blog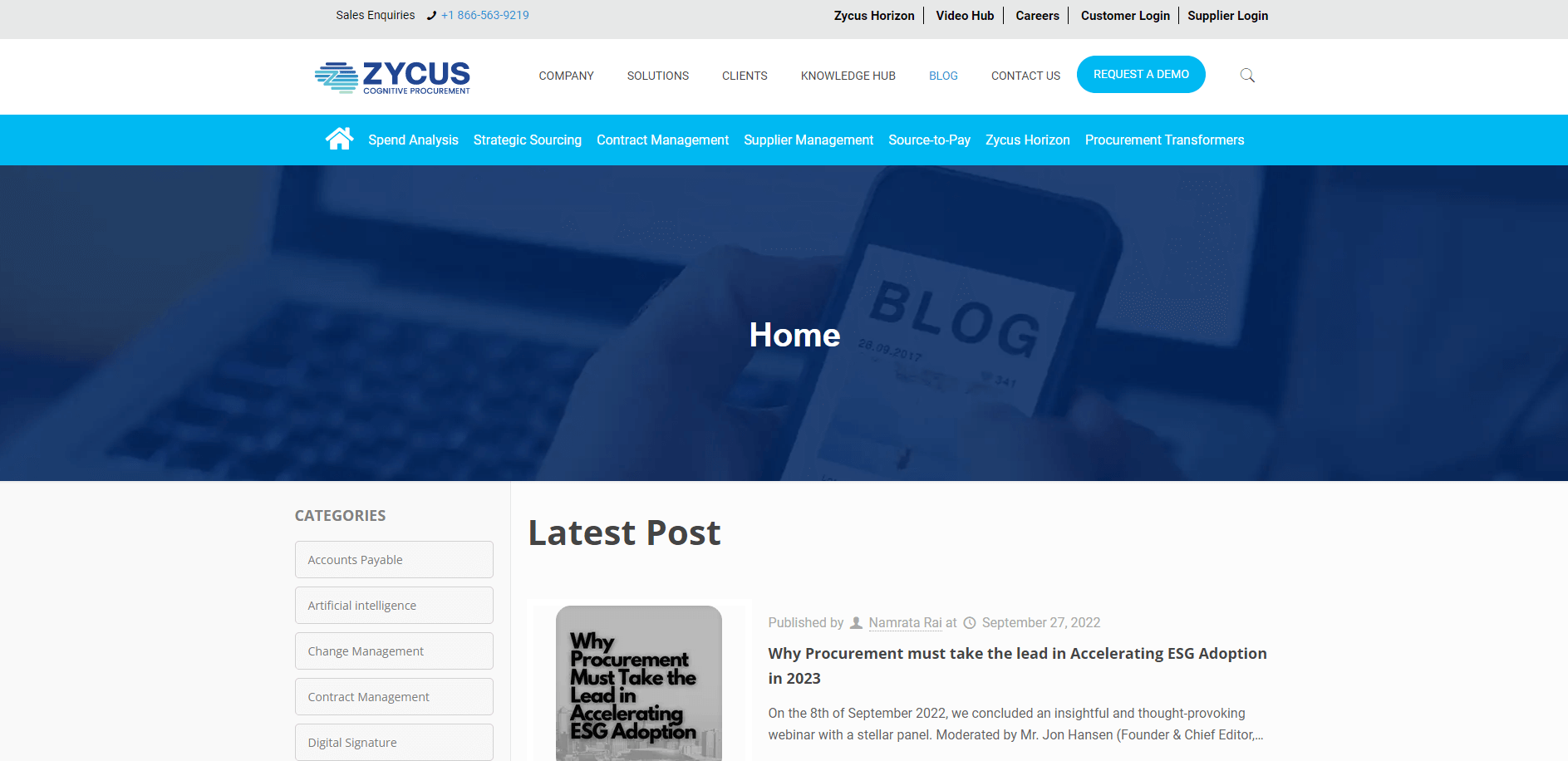 Zycus is a professional blog site that contains globally collected research and statistical data.
The blog doesn't update much, but the professional world highly awaits the posts due to their nature of being accurate, informative, and helpful.
4) Procurement Heads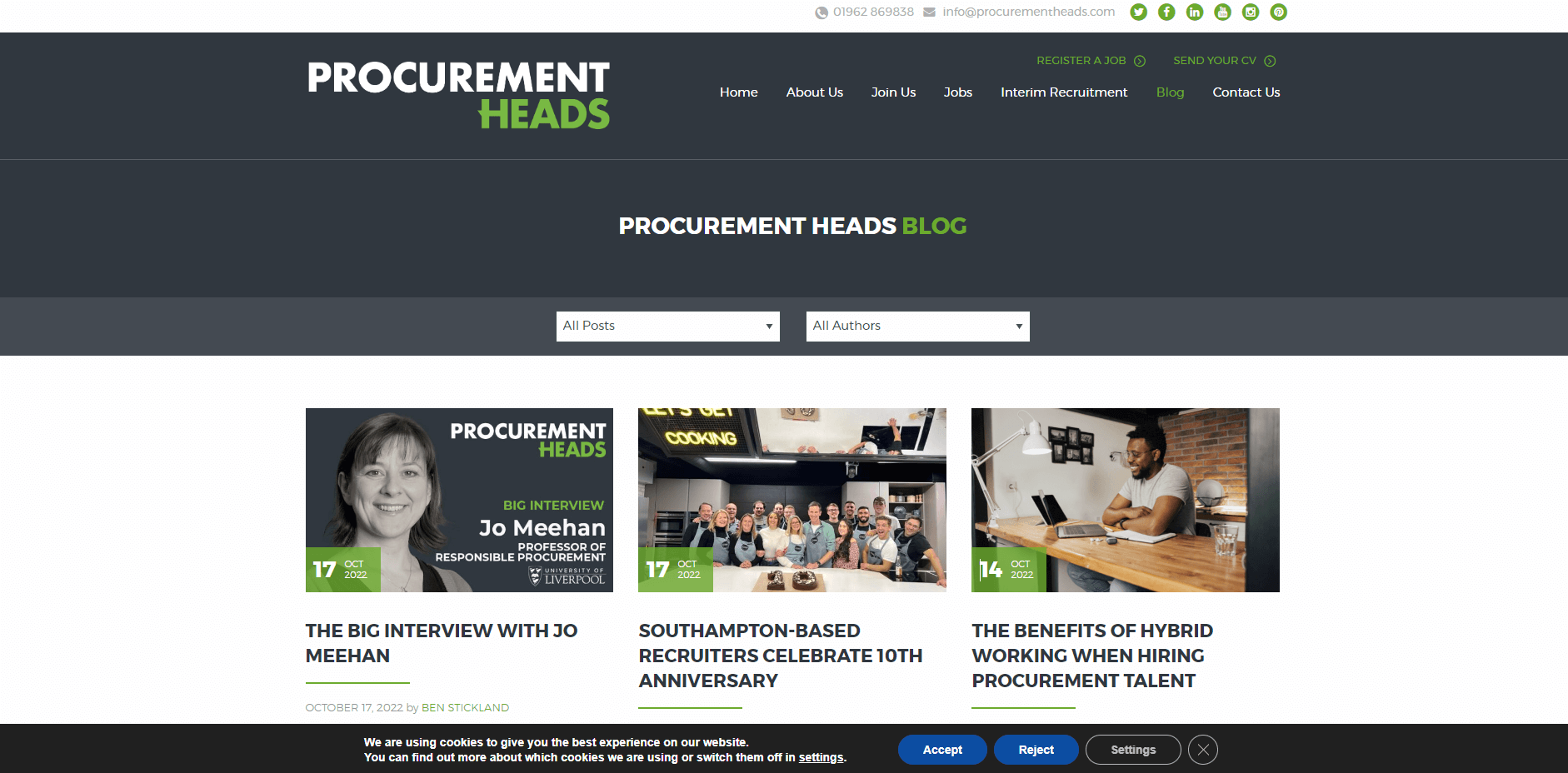 Procurement Heads' purpose is to keep you up-to-date on the business world's trends and the latest news. Their blog always has the latest issues at the front head.
Despite not having much research data, Procurement Heads gets your head thinking with new and exciting information every post.
FAQs about Business Blogs
What Is a Business Blog?
A business blog is made for readers that are in the corporate field. They can have a ton of niches and advice from professionals and discussions on recent market trends. Businesses also create blogs to build a consumer base in the market.
What Makes a Good Business Blog?
Business blogs, like all other blogs, need good content. It would be best to have engaging writing and a fresh take on previously used topics.
It is also imperative that the blog provides information that is easy to read and has a ton of sources of statistical data.
The blog should also have a solid team of expert writers who write well and understand the corporate field.
What Types of Blogs Are Most Successful?
Food and Travel blogs are the most successful, providing information on locations and foods previously unknown to the reader.
With so many new places and cuisines to explore, there is no end to these blogs.
Are Blogs Useful for a Business?
Absolutely, they increase traffic by almost 50%! Blog links can be posted on social media to redirect traffic to a business's website.
Final Thoughts
Business blogs are an excellent resource for learning from experts in the field.
They allow you access to information that would otherwise be impossible to attain.
These blogs can provide valuable insight for people new to the corporate world.
For seasoned corporate workers, these blogs can help generate new ideas.
If you're interested in reading business blogs, our list includes the best.
And if you're ready to practically apply that knowledge then you can start with dropshipping.
From product sourcing to warehousing – our dedicated team can support you through every step of the process.
All you have to do is give us a call and communicate your requirements!