If you're planning to launch an online store, then you've probably come across the DHgate vs Alibaba debate.
They are two of the largest China-based B2B marketplaces in the world with each offering a ton of eye-catching products at wholesale prices.
However, both platforms also come with their respective pros and cons – which can make it difficult for you to decide where to invest your money.
The biggest difference between the two is that DHgate doesn't usually have a MOQ so it's more favorable for the dropshipping business model.
On the other hand, Alibaba manufacturers often have a high MOQ which is counterproductive for dropshippers.
But it has a trade assurance option which is great if you're running a traditional eCommerce store and buying in bulk.
With that said, there are plenty more differences between the two giants which makes them outshine one another and that's exactly what we'll explore in this article.
So without further ado, let's dive straight into it!
Overview of DHgate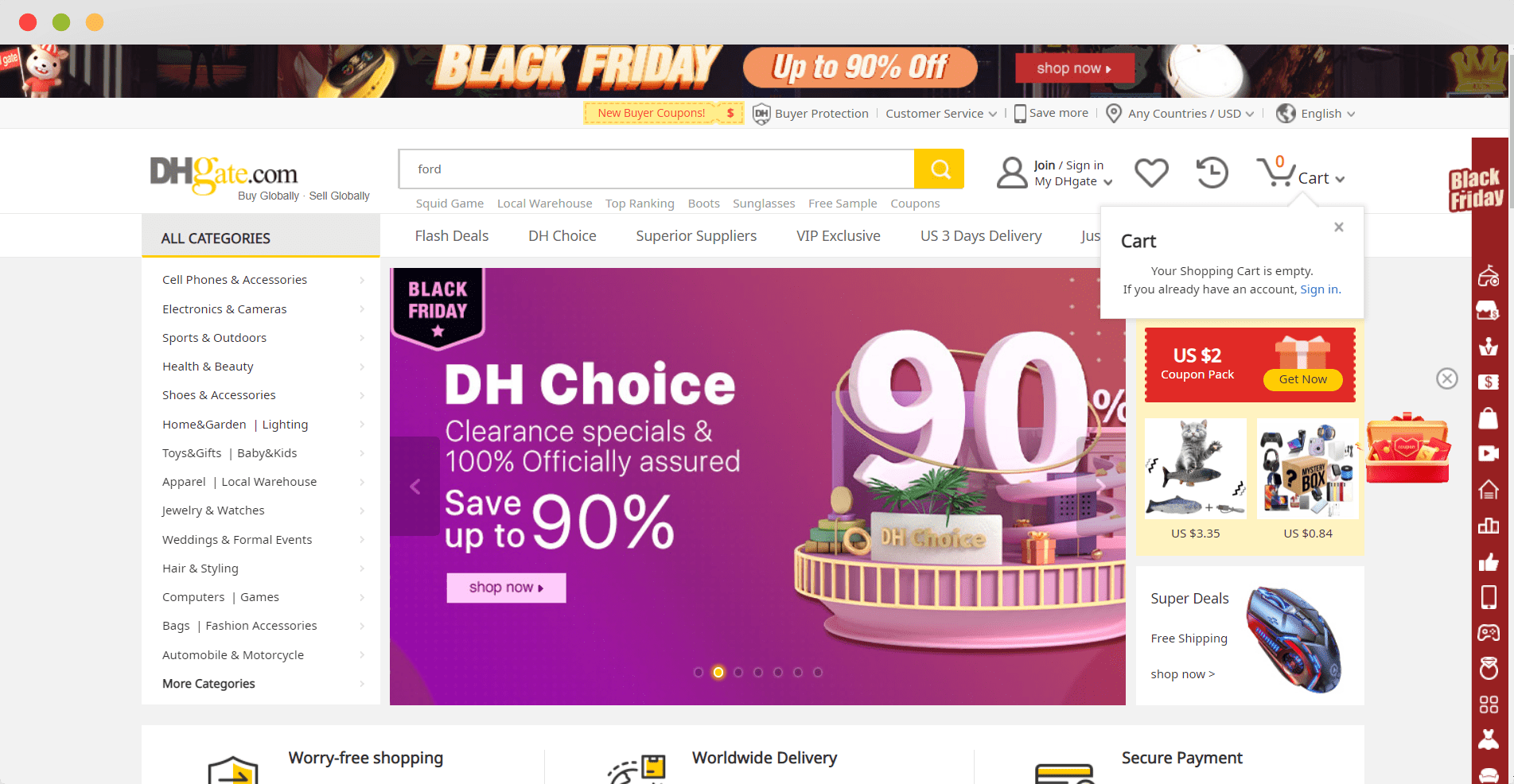 Founded in 2004 by Diane Wang, DHgate is a company that specializes in transactional eCommerce and cross-border trade.
DHgate facilitates buyers and suppliers from over 200 countries in the world and they promise quick fulfillment to their customers.
The biggest advantage of using DHgate is that the suppliers there don't usually have a minimum order quantity (MOQ).
This can make it a sound option for dropshippers or general eCommerce stores that are starting with a low budget.
DHgate also offers all the features that you'd expect from a modern eCommerce site such as escrow payment protection, logistical services and reviews to check the credibility of sellers.
In addition, the UI of the site is also clean and easy to use with products sorted according to their respective categories.
There's also a dispute resolution feature on DHgate where they serve as a mediator to resolve conflicts between buyers and sellers.
But bear in mind that there are many suppliers on DHgate that sell counterfeit products. So be careful before you make any purchases and always double-check the reviews.
If a product looks too good to be true in its price, then it probably is.
The Pros of DHgate
Low product prices that are even lower upon bulk purchase.
There's usually no minimum order quantity (MOQ).
Escrow payment protection to ensure buyers receive their products.
Products are sorted according to their categories.
There are multiple payment methods.
The Cons of DHgate
The majority of the merchants are situated in China. So shipping may be slow for Europe, U.S, Canada and other Western countries.
Many questionable suppliers so product quality may be poor or inconsistent, especially during dropshipping.
Overview of Alibaba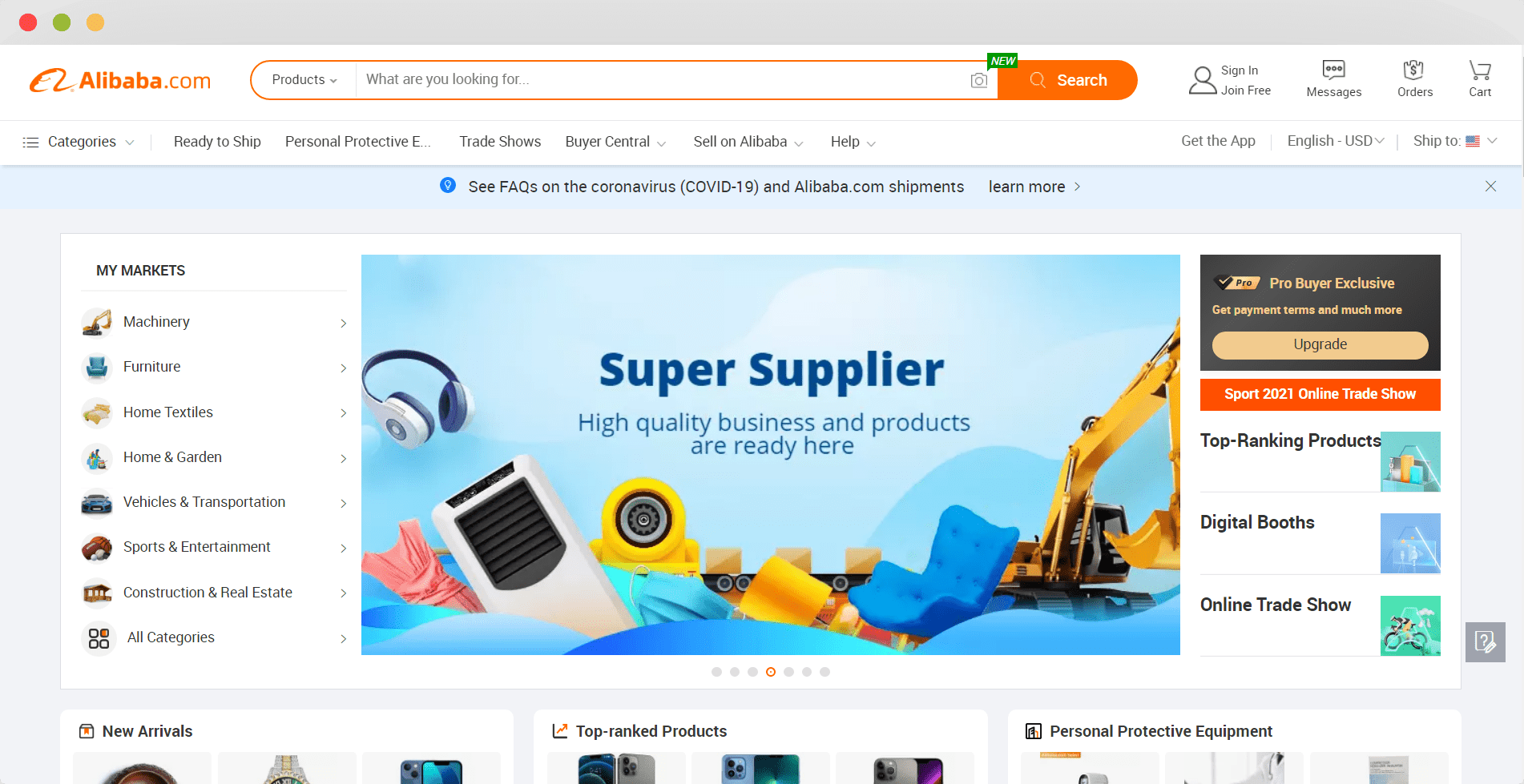 Founded by Jack Ma in 1999, if you follow eCommerce trends, then this isn't probably the first time you're hearing about Alibaba.
It's the largest B2B marketplace in the world where you can find all sorts of products at wholesale prices.
It connects businesses all across the globe and popular Chinese retail sites like Taobao, Tmall and 1688 are also subsidiaries of Alibaba.
Most of the manufacturers and suppliers on Alibaba have a high minimum order quantity (MOQ), so an average person doesn't usually buy from the platform.
Due to the high MOQ, Alibaba is not a feasible option for beginner dropshippers either. You would have to pay a huge upfront cost without even testing the product.
However, if your store is already receiving a high number of orders every day, or you're planning to launch a private label brand, then Alibaba is a great option.
The biggest benefit of Alibaba is that it offers Trade Assurance. That covers you in the event of shipping of quality or shipping-related disputes.
In terms of features, you can of course find reviews of buyers to assess their credibility, and pay through popular payment methods like Paypal, Debit/Credit Card and Wire Transfer.
But the UI of Alibaba is often criticized for being clunky and difficult to navigate. However, the company seems to be unfazed by the feedback.
The Pros of Alibaba
You can find wholesale prices and maximize your profit margins.
Trade Assurance features can cover you in the event of quality of shipping-related issues.
Multiple payment methods including Paypal, Wire Transfer and Debit/Credit Cards.
Some manufacturers allow you to track orders.
You can customize products and packaging to create a unique brand identity.
The Cons of Alibaba
High minimum order quantity (MOQ), making it unsuitable for dropshipping and low-budget eCommerce businesses.
It's also common to run into counterfeit products on Alibaba. Selling them can potentially get you in legal trouble.
DHgate vs Alibaba – Side by Side Comparison
Now that you're aware of the basics and understand what DHgate and Alibaba specialize in, it's time for a side-by-side comparison of both platforms: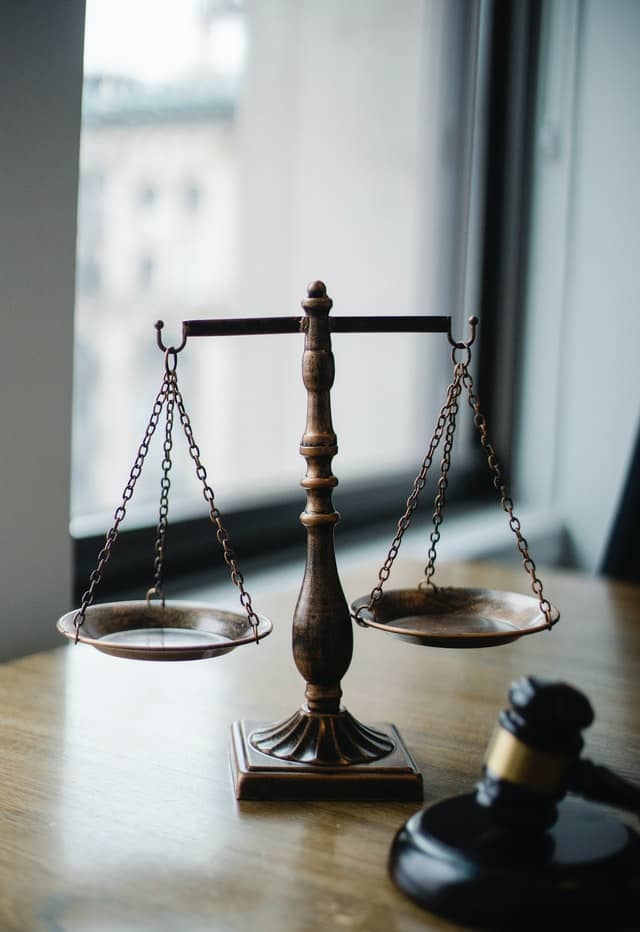 User Experience
If we talk about the interface, then both Alibaba and DHgate have sorted products according to their category. However, as we mentioned earlier, the UI of DHgate is clean and easy to navigate.
On the other hand, Alibaba feels clunky and a bit overwhelming. There are so many different options thrown to your face that it can be difficult for you to navigate on the site, especially if you aren't used to it.
Features and Payment Security
Both Alibaba and DHgate offer a variety of payment methods which include Wire Transfer, Paypal, Western Union and even Debit/Credit Cards.
However, Alibaba has partnered with Alipay, an independent payment provider to further diversify the options.
You can also check reviews of buyers on both platforms to assess their credibility. But the biggest difference between the two is the Trade Assurance feature that Alibaba offers.
Alternatively, DHgate does offer escrow payment protection. But we can't promise that you'd get a full refund in case the quality standards of the product aren't met or the shipment is delayed.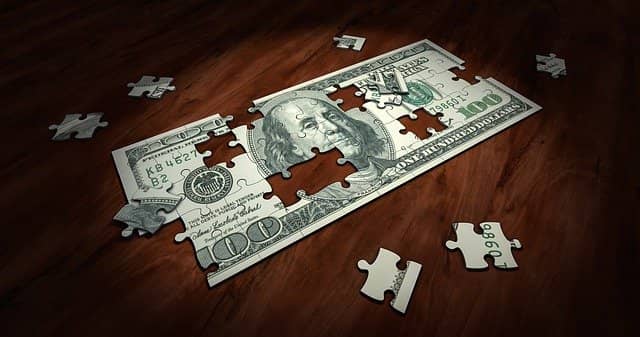 Product Variety and Price
If we talk about variety, then there's no denying that from clothes, cosmetics to fitness – DHgate has a ton of different products.
However, you can find the same products on Alibaba as well and potentially even more, simply because the platform is much larger.
It has suppliers from all around the globe so if you can think of it, then you can probably source it from Alibaba.
And since the suppliers on Alibaba usually sell products in bulk, you're likely to get better prices there as well.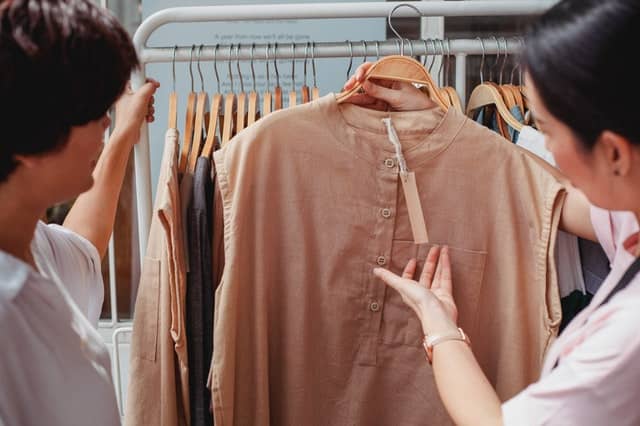 Product Quality
Both Alibaba and DHgate are marketplaces with thousands of different suppliers. And not every supplier would deliver the high product quality that they promote.
You can get low quality, or counterfeit products from both platforms, so at the end of the day, it all depends on your assessment.
Make sure to check the reviews before you trust a supplier, especially if you're ordering for your dropshipping store.
But on a general note, DHgate is mostly famous for selling replicas. Some suppliers may mention that in their product listings, while others won't.
So you have to make sure that you tread with caution.
Sourcing Restrictions (MOQ)
The key difference between Alibaba and DHgate is the minimum order quantity (MOQ). Sourcing products from Alibaba can be a bit difficult (but not impossible) for your dropshipping store.
The platform is tailored towards businesses that order in bulk so most suppliers there have a high MOQ. If you're interested, then we've also covered how to start Alibaba Dropshipping in detail.
On the other hand, you can easily find suppliers on DHgate that don't have any MOQ and can directly fulfill the order for dropshipping stores.
So if you're launching a small-scale business, then this vote shall go to DHgate.
Customer Support
There are two ways to reach the customer support team of DHgate. One is through live chat while the other is via email.
But in general, it can be difficult to connect with them and many customers have had a sloppy experience according to the reviews they have shared online. So we wouldn't ask you to depend on it.
On the other hand, since Alibaba offers Trade Assurance, the platform is bound to resolve your problems in case of a dispute.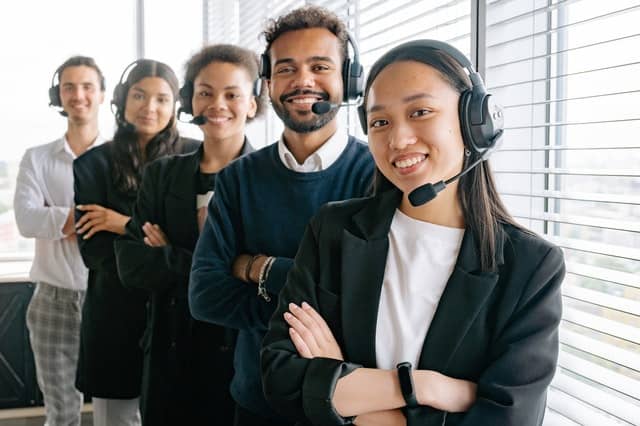 FAQs about DHgate vs. Alibaba
What's Better Between DHgate vs. AliExpress vs. Alibaba?
Similar to DHgate, AliExpress also doesn't have a MOQ, but the problem of replicas and fake products can be found on both sites.
On the other hand, as we've already discussed, Alibaba is mainly used for bulk purchases.
So at the end of the day, your choice mainly depends on your requirements. But it's worth mentioning that AliExpress is a B2C platform.
If you're considering AliExpress for your dropshipping business then you can read more about it in our AliExpress Dropshipping Guide.
Can You Buy Fake Products on DHgate?
Yes, there are many sellers on DHgate that sell counterfeit products. However, they're usually easy to identify. If a product is cheap and looks too good to be true, then it's probably a replica.
This is why, before placing an order, always check the reviews of the product and the seller rating.
Can You Buy High-Quality Products on DHgate?
Similar to other eCommerce sites, if you are careful with your purchase and check seller reviews beforehand, then it's very much possible to purchase high-quality products on DHgate.
What are the Alternatives of DHgate?
AliExpress is one of the best alternatives to DHgate. Both of the platforms are quite similar in terms of product variety and pricing. In addition, just like DHgate, AliExpress also has a number of different payment options.
Why are Products on Alibaba Cheap?
Most of the Alibaba products are manufactured in China, where the cost of labor and electricity are quite cheap. In addition, the suppliers on Alibaba sell products in bulk, so this further allows them to offer a low price to their customers.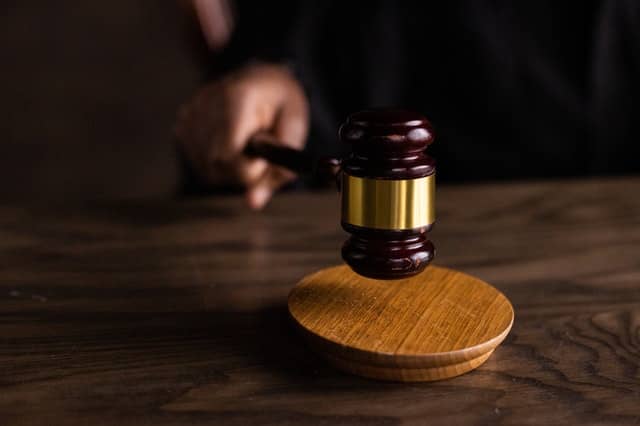 Tips to Improve Your Experience While Ordering from DHgate or Alibaba
Whether you're ordering from DHgate or Alibaba, keep the following tips in mind to make your experience pleasant:
Use a Secure Payment Method
Do not ever use Wire Transfer to directly pay the seller. Doing so would get you scammed the majority of the time. And you wouldn't be able to use payment protection or file a dispute either.
Check the Reviews
We all want to get the best value for our money. However, it's necessary to check the reviews before placing an order from the seller. In general, if the seller rating is below 4.5 then you need to learn where they're lacking.
Communicate with the Seller
Even if you're satisfied with the reviews, it's still important to be on the same page with the seller. Communicate your expectations about the delivery time upfront.
This is especially necessary if you're purchasing from DHgate as they often ship late to Western countries.
Negotiate the Price on Bulk Purchase
If you're purchasing in bulk, then there's always plenty of room for negotiations. Don't directly settle with the initial price, even if it's easily within your budget.
This negotiation will also help you understand more about the seller and how friendly they're while dealing with customers.
DHGate vs. Alibaba – The Final Verdict
Both DHgate and Alibaba serve different purposes and come with their own benefits and drawbacks.
If you have a high budget and can afford to purchase in bulk, then hands down, Alibaba is the better option.
However, if you don't want to be restricted by a MOQ, then DHgate is a viable alternative.
At the end of the day, in terms of product quality, both platforms come with a slight risk.
This is why if you want quality to be the least of your worries, then NicheDropshipping has got you covered.
With the help of our holistic supply chain network, we can help you source and private label products of your choice. So contact us today to learn more about how you can benefit from our services!