This is a detailed article on one of the hottest topics for the new and old dropshippers: websites like DHgate for dropshipping.
This article includes the list of DHgate alternatives along with all the necessary information and analysis that a dropshipper should be interested in.
Stay tuned till the end of this article, as you may be surprised with some of the exciting pieces of information that may kickstart and skyrocket your dropshipping business.
Let's jump in.
If you are a dropshipper or have been learning or practicing the processes of dropshipping, you would agree to place Alibaba as the topmost alternative to DHgate.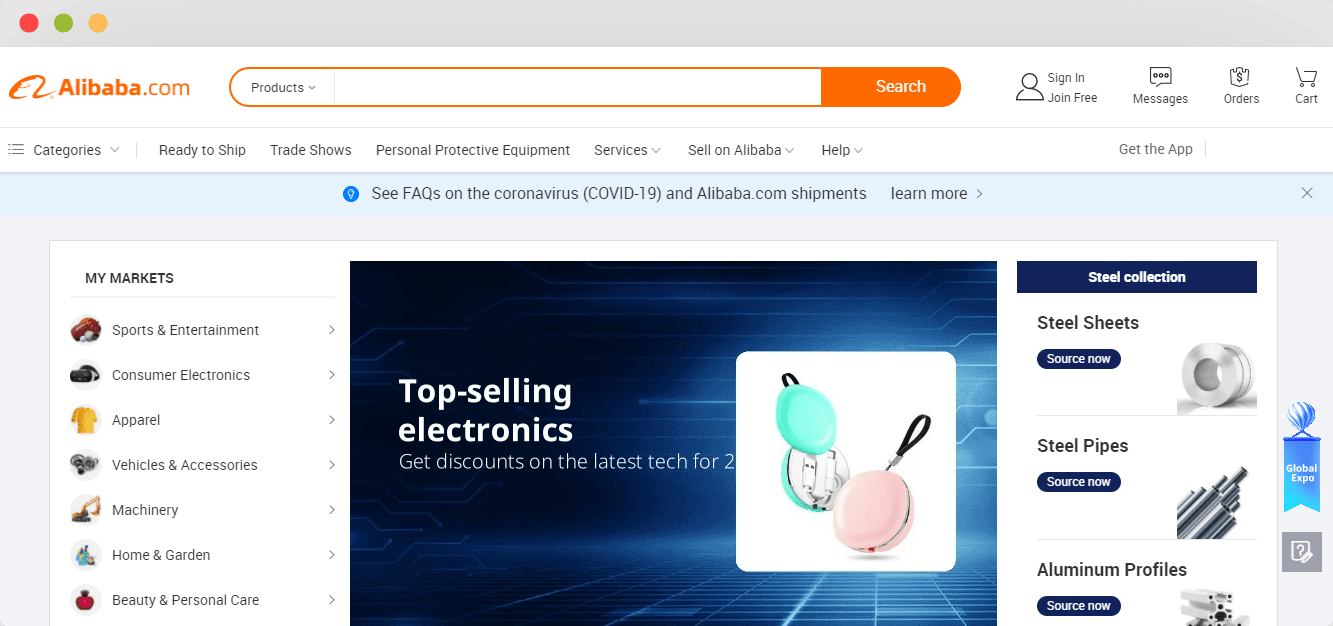 Launched in 1999, Alibaba is the leading e-commerce giant that offers its platform to connect the Chinese manufacturers, wholesalers, and buyers in one online place.
The main highlights of Alibaba that make it stand out are listed below.
A dedicated p for OEM Factories.
Option to look for the new arrivals.
You can check for the products with MOQs as low as 1 piece per product.
Filter out the products with private labeling ideas.
Check for the trending product ideas and inspirations for online retailers and resellers.
A special p for the products with videos.
So, Alibaba has everything that it takes to be a full-package of dropshipping platform, especially if you want to buy the products in bulk quantities.
You can pay for your orders via multiple payment options, but the best one for international buyers is via Credit/Debit Cards.
If you have a plan to start a dropshipping business by selling unique things that are tailored-made on your request, or you are interested in white label dropshipping and private label dropshipping, Alibaba is the right online marketplace to join.
Pros of Alibaba
Topmost B2B platform especially for the wholesale business.
Millions of products available to choose from to start selling via your dropshipping stores.
Maximum presence of Chinese manufacturers.
You can dominate your competition by a little or complete product customization.
Verified sellers are marked by Alibaba itself.
Products are smartly grouped in 36 main categories so that you can easily find products of your choice.
A great and easy-to-use mobile application.
Opportunities to bring your product ideas to life by asking the manufacturers to design a special product for your business.
Great overview of seller statistics.
Most wholesale suppliers also accommodate buyers with sampling facilities.
All the major fast and reliable shipping sources are available at Alibaba.
Cons of Alibaba
Not a suitable platform for hardcore B2C business models.
No option to sort results by the number of orders.
A very few suppliers sell on a low MOQ.
You may encounter some non-professional sellers.
You can expect the arrival of some fake products too.
Dropshipping and AliExpress go hand-in-hand. Some dropshippers even think of AliExpress as the first or a single source to start a dropshipping business.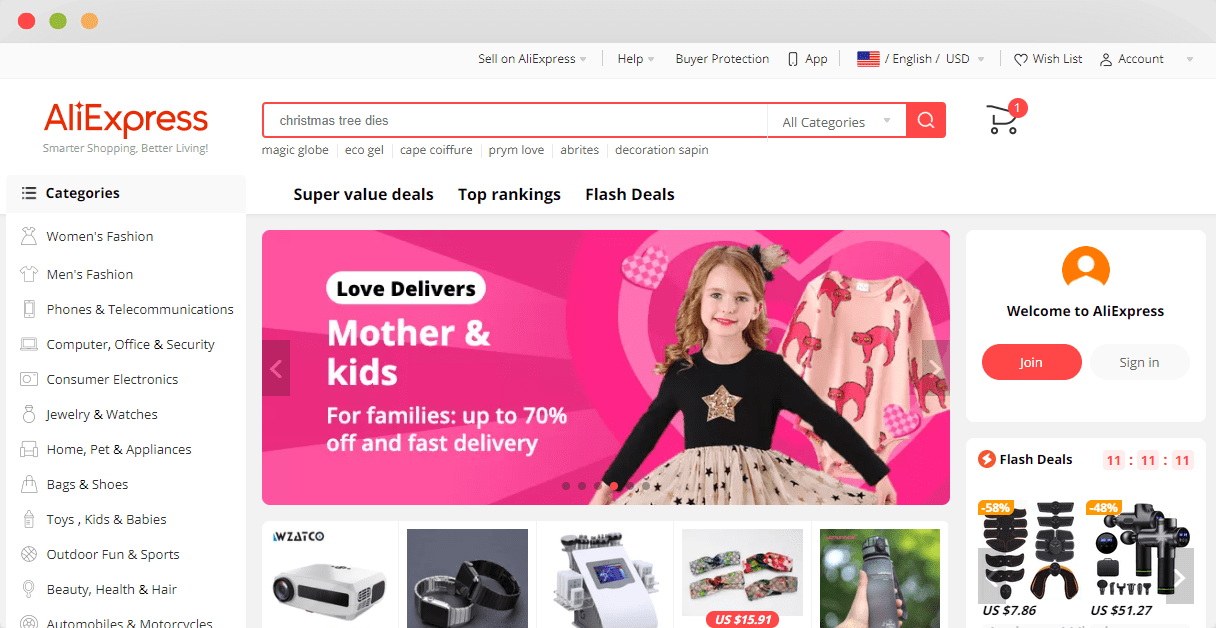 It is a subsidiary of Alibaba Group and is specialized in offering B2C services. As most dropshippers generally start with a B2C model, AliExpress is the no.1 choice for them due to a number of reasons.
Although you will find many similarities while carrying out AliExpress or DHgate online shopping, some of the key differentiators of AliExpress dropshipping are mentioned below:
Pros of AliExpress Dropshipping
More than 100 million products with a new influx of fresh and innovative products every day.
The same product is offered by multiple sellers to increase internal competition at AliExpress ultimately benefiting the buyers.
Products are finely divided into 13 main categories and multiple sub-categories for easy search of the products.
A dedicated p on the website known as the dropshipping center to carry out your analysis before selecting a product.
Worldwide delivery to over 200 countries with multiple cheapest and fastest shipping services.
Dedicated Shopify and Woocommerce integration apps for initiating the concept of automated dropshipping.
Most suppliers offer discounts on bulk quantities.
Excellent buyer protection services and safe payments are guaranteed.
Cons of AliExpress Dropshipping
Longer shipping times may be expected.
You may experience poor communication with some suppliers.
You can also expect a frequent price fluctuation with some sellers.
Products can become out of stock in no time.
Actual products that you receive may vary as per description sometimes.
With all the sparkling features of AliExpress mentioned above, you can very well understand why AliExpress is considered as the pioneer and a true heaven for sourcing products for dropshipping.
1688 is yet another entry into the list of sites similar to DHgate. It is also a subsidiary of Alibaba and operates on the B2B model.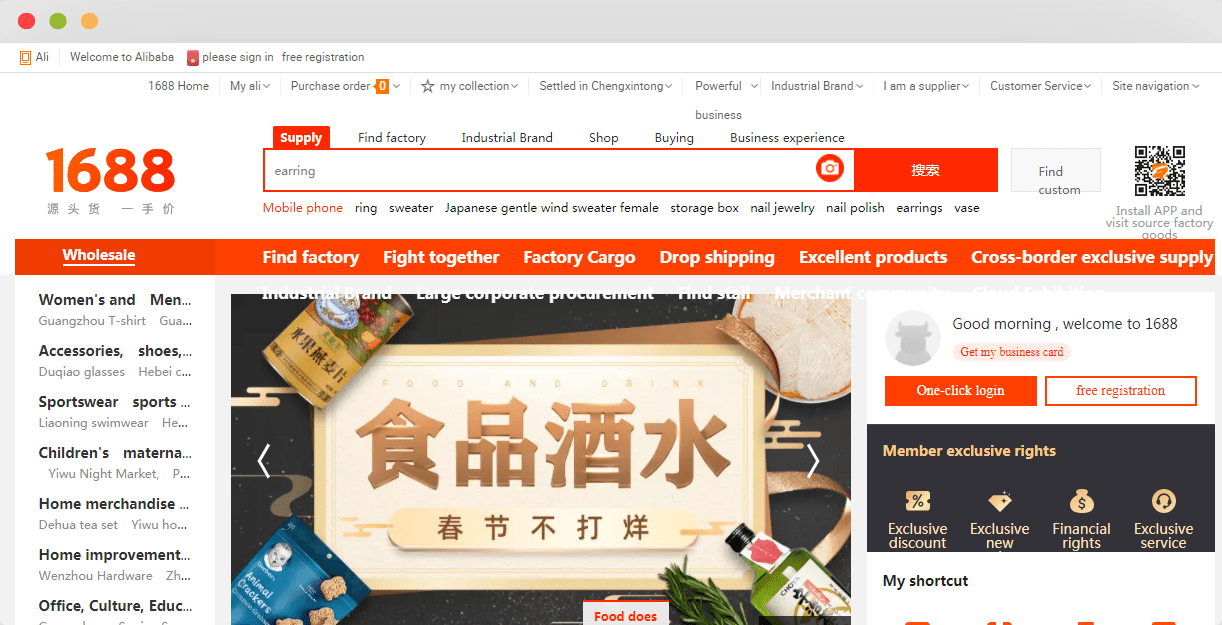 You may think why the need of creating 1688 arose when Alibaba is itself working on the same model with its own name. This is a logical thought and the answer to it is very simple.
Alibaba is primarily meant for international B2B e-commerce while 1688 is meant for local Chinese businesses. That is the reason this website is operated in the Chinese language only and is not offered in other languages.
Did you ask how this website is beneficial for an international dropshipper who does not know Chinese? Good question.
We have a detailed article on 1688 dropshipping but to reiterate, you can access this website through multiple tricks that are mentioned below.
You can translate the whole website via Google Translate.
You can hire a Chinese speaker and translator via freelancing websites i.e. Upwork, Fiverr, and Freelancer, etc.
You can take help from the services of an agent in China to source your products from 1688.
But the better question would be why should an international dropshipper take all the hassle to source products from 1688 when there are options to access Chinese sites like DHgate and Alibaba?
The simple answer to this question is to maximize your profit margins because the products offered at 1688 are way cheaper than the products offered on other websites.
Some of the pros and cons of 1688 are mentioned below:
Pros of 1688 Dropshipping
Minimum possible prices of the products offered at 1688 because they are meant for Chinese local businesses.
Wider range of products as compared to DHgate.
The benefit of working directly with the factories and real manufacturers.
Eliminates the monopoly of middle-men and traders.
You can also find some products at 1688 that are not yet available to be sold at other sites like DHgate and AliExpress.
You can order different products and get them shipped in one package at 1688. This option is not available at DHgate and AliExpress.
Cons of 1688 Dropshipping
Language remains the main barrier that hinders international dropshippers from using 1688.
Google translate does not fully translate all the content sometimes.
Using an agent will incur extra costs.
Payment options are limited at 1688.
No official mobile application.
Limited options for Shopify and Woocommerce integrations.
So, 1688 is a good choice for sourcing cheaper products but you have to act smart and do all the calculations before going to start working with 1688 so that your dropshipping business remains profitable and hassle-free.
As we are looking into the subsidiaries of Alibaba, Taobao deserves to be on the list as well for multiple reasons. It is the last entry from Alibaba Group of companies and it works on a B2C model.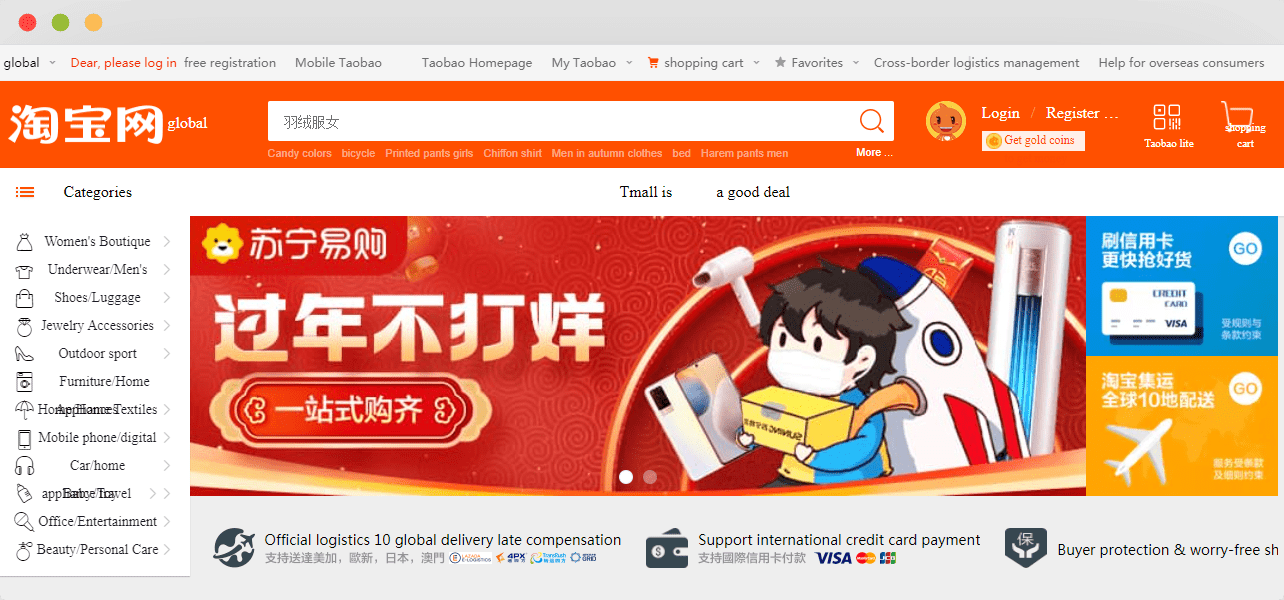 It is also operated in the Chinese language so you can think of it as the Chinese version of AliExpress. Taobao has similar benefits as that of 1688 in the B2C category.
The benefits and downsides of Taobao have been listed below for your convenience.
Pros of Taobao Dropshipping
Taobao ranks among the top 10 most visited online platforms in the world.
Wider range of products as compared to DHgate.
Almost all the Chinese suppliers on DHgate are present on Taobao as well.
Insanely cheaper prices of the products. You can compare the prices of the same products on DHgate and Taobao for a better clarity.
A great mobile app to use on the go.
Extremely wide range of products available at the website.
Cons of Taobao Dropshipping
Some parts of the website are not properly translated by the Google translator.
Not all suppliers offer international shipping.
Not many apps to integrate with Shopify and Woocommerce.
eWorldTrade has now emerged as a top name in the eCommerce selling and buying community where sellers and buyers are linked with each other to avail the biggest opportunities. This vast eCommerce website proposes a consistent and protected practice to the sellers where they simply run their trade operations.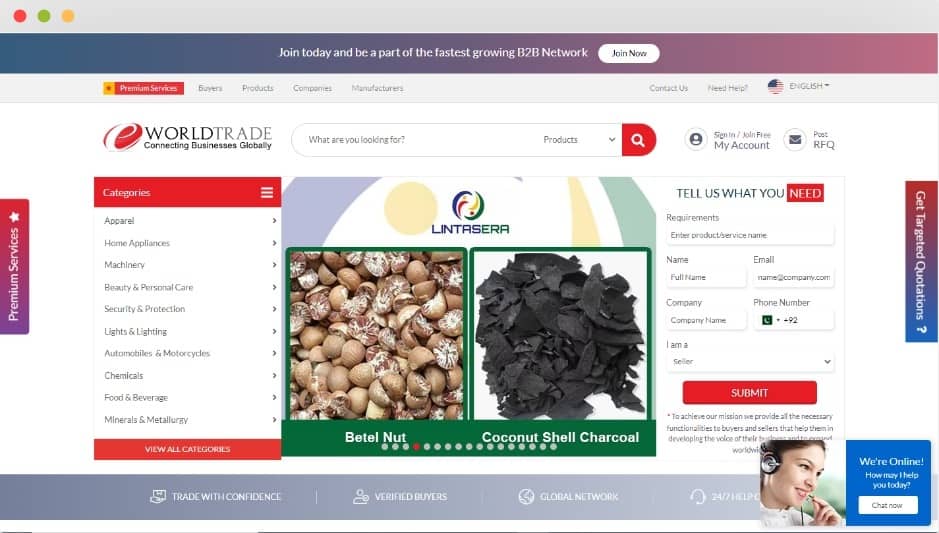 Since its launch, this platform is endlessly rising in skills, knowledge, and experience that is making every industrialist digitalize its business. Moreover, eWorldTrade is also eminent for lead generation.
One can discover many achievement stories on the Internet that are telling about their experience with eWorldTrade and why you should opt for this platform for your business. Some notable features are as below:
On this platform, you can sell products related to photography and can also promote photo services.
eWorldTrade also offers support in advertising. You can pick any advertising agency from the ones available on the platform.
eWorldTrade also provides professional software developers for creative business owners.
Pros of eWorldTrade
You can sell a diverse range of products and services ranging from cosmetics, apparel, home appliances, automobiles, to graphic designing, photography services, and many more.
You can pick from the retail and wholesale options to sell your product.
Appropriate for selling goods and services.
A prolonged catalog exists, which splits categories and subcategories for your suitability.
Searching procedure is shortened due to the search parameters and rates.
Cons of eWorldTrade
The limitation in the website of eWorldTrade is, it does not provide distinct categories for photography services.
Operating in a maximum of two languages
The premium package is moderately expensive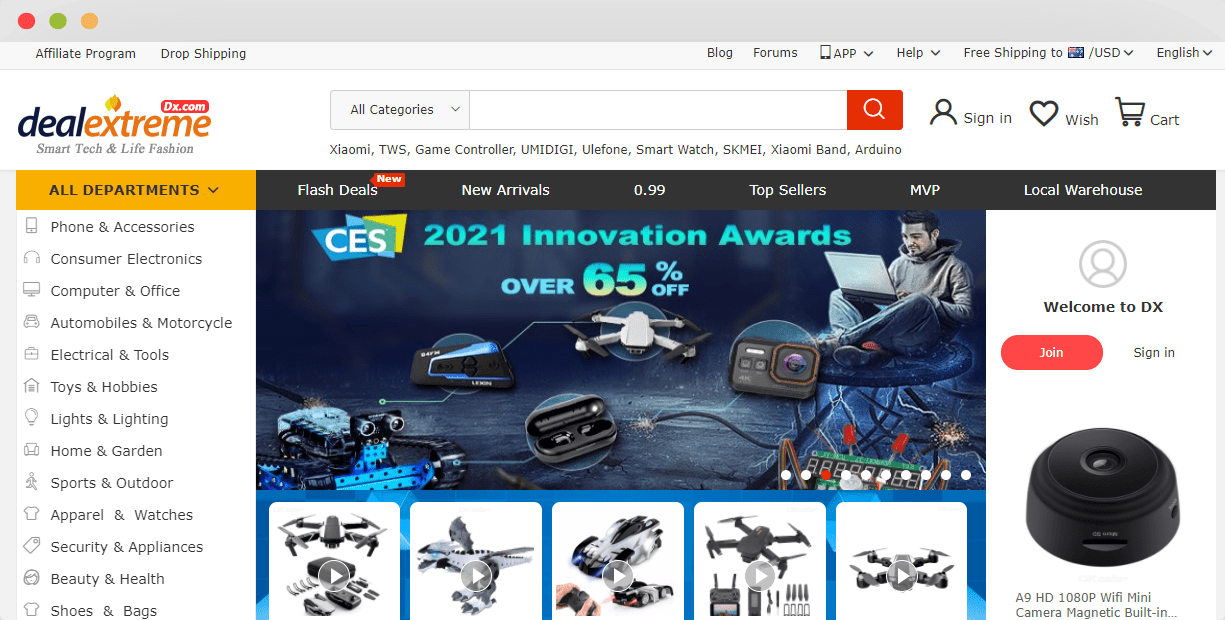 DealExtreme, more popularly known as Dx is another Chinese online platform that deals in the B2C e-commerce category. Started in 2005 as a gadget selling website, Dx has grown into supplying products from nearly every niche and category.
Out of all the sparkling features offered by Dx, its exclusive buyer protection facility takes a lead among its competitors.
You can offer your dropshipping customers awesome features like the 5-day dead warranty of electronic items, 90-day free replacement for items not as described, and a 150-day free repair warranty for most of the items.
Pros of Dx Dropshipping
Hundreds of thousands of products are carefully distributed among 24 main categories. The numerous subcategories also facilitate you in refining your product research.
Great options to filter your search results by different preferences including number of orders, price, and average reviews, etc.
Extremely simple and easy-to-use website layout.
All the popular dropshipping items are mostly available on Dx.
Multiple payment options including Mastercard and Visa card.
Suppliers are optimistic and ready to scale their business by working with international clients.
You can term Dx as one of the top rated sites like DHgate with PayPal.
Cons of Dx Dropshipping
Number of orders are not clearly mentioned against products.
Customer support is not offered 24/7 at Dx. You have to wait for a customer service representative to contact you at a certain timetable.
Late deliveries are often complained by the customers.
More specialized in the field of gadgets.
Although GearBest is generally considered to be a specialist in electronic devices and gadgets as the name suggests, it has moved on to become a general store that offers everything from clothes to accessories.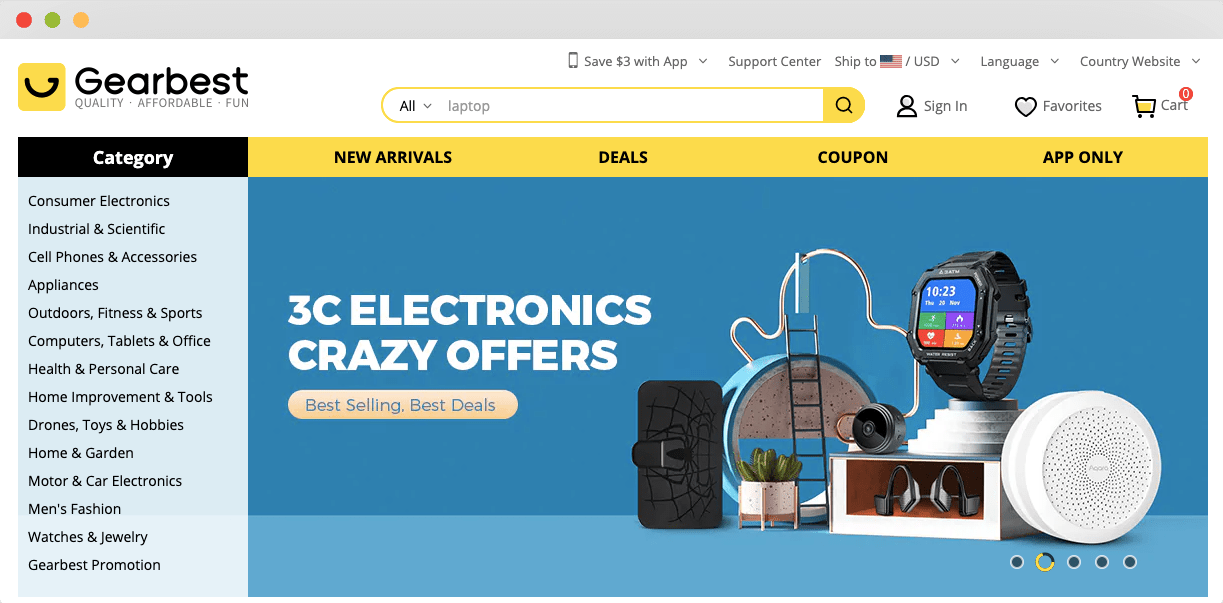 Just like Dx, this platform is also one of the best choices for the gears, gadgets, and electronics fashion.
Pros of GearBest Dropshipping
GearBest is very conscious of the quality of the products that are offered via its platform.
Products are divided into 13 main categories for a better search of the required products.
Ideal platform for items like phones accessories and electronic gadgets, etc.
Low chances of having fake products.
Multiple safe payment channels supported including PayPal.
Faster shipping with global warehousing in 5 different countries including USA, Spain, England, and Poland.
Cons of GearBest Dropshipping
Relatively limited number of products and variety.
No option to sort your results by the number of orders.
Relatively costlier products as compared to other Chinese B2C online platforms.
Not suitable for B2B e-commerce.
Made-in-China is a very catchy name in the field of sourcing Chinese products online. It started its operations in 1998 to bridge the gaps between international buyers and suppliers in China.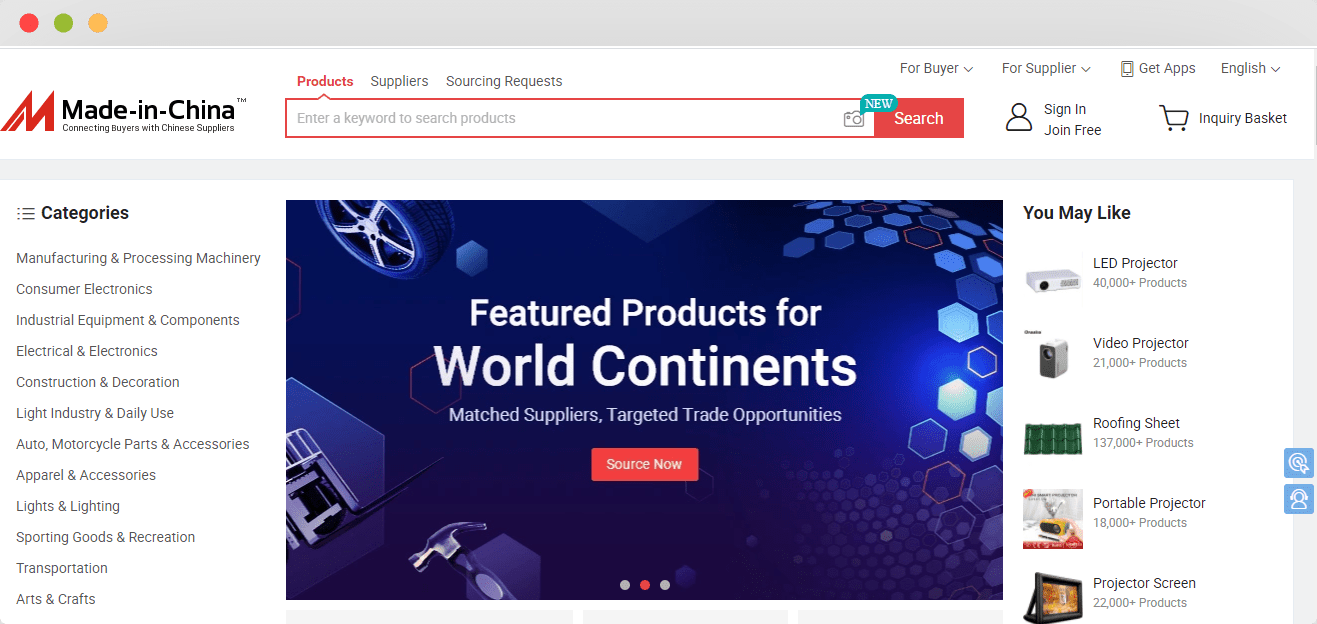 The name itself suggests that it prefers to showcase the products from the Chinese suppliers only but it has made an exception by accommodating a few suppliers from other countries as well.
Made-in-China is an online B2B platform that focuses solely on dealing with bigger customers including factories and offices rather than individual consumers.
You will find the product categories like metallurgy and minerals along with many industrial products like compressor machines which you don't usually find on general B2C platforms like DHgate and AliExpress.
Pros of Made-in-China Dropshipping
Millions of visitors surf this website every single day to buy products of their choice.
Excellent option to start selling to the industries with cost-effective and reliable products.
Although being a B2B platform, you can also find the products with an MOQ of a single piece.
Operated in 10 different languages to accommodate different parts of the world.
Convenient mobile application for the easy access of products on the go.
Dedicated ps on the websites indicating hot selling and lowest priced products.
Opportunity to work directly with manufacturers.
Special sourcing requests can also be posted to get quotes from the Chinese suppliers.
Cons of Made-in-China Dropshipping
Limited number of filters to narrow down your search.
Product descriptions are not well-written for some products.
Communicating with suppliers on Made-in-China can be tough with some Chinese suppliers.
No dedicated app for integration on platforms like Shopify and Woocommerce.
ChinaBrands is the website that aggressively promotes the dropshipping business. That is why they have a special striking option on their homepage that says, "start dropshipping".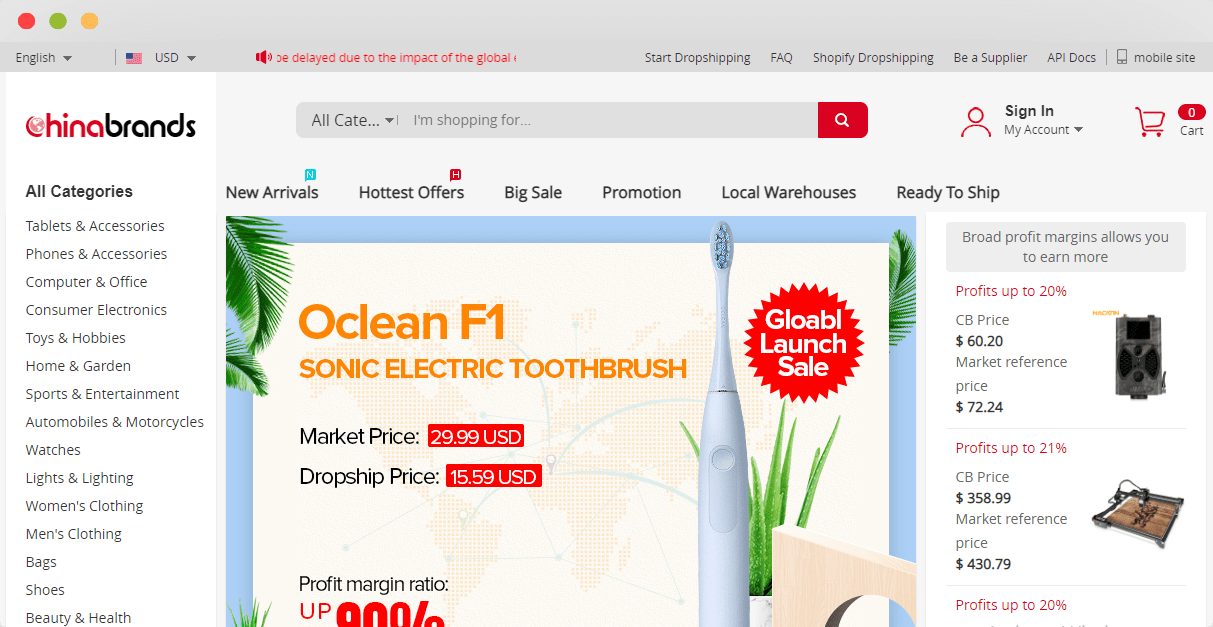 Although being one of the recently launched dropshipping platforms, this is the website that seems to have high aims towards working with the dropshippers.
It is a B2C platform and has been serving the online world for the last 14 years since 2007.
Pros of ChinaBrands Dropshipping
This online dropshipping platform has a little less than a million unique visitors per month.
Shows a special care towards ensuring that the delivery of quality products are just as described at the website.
You can enjoy the wholesale prices of the products with no MOQs.
It has a dedicated app on Shopify to be integrated for automated dropshipping.
You can enjoy a 14-days free VIP access for exclusive discounts when you log in first.
It suggests retail prices and costs of the products to calculate your profit margins on the selected range of products.
Also suggests products to be dropshipped on sites like amazon and eBay etc.
Convenient payment options including PayPal and Payoneer.
Cons of ChinaBrands Dropshipping
Limited number of products. Lacks in product variety and diversity as well.
There is an option to sort results by order but the number of orders are not mentioned against the products.
No option to import products directly to your Shopify store.
Chinavasion is another China-based e-commerce platform that has been up and running with a variety of its products for online shopping.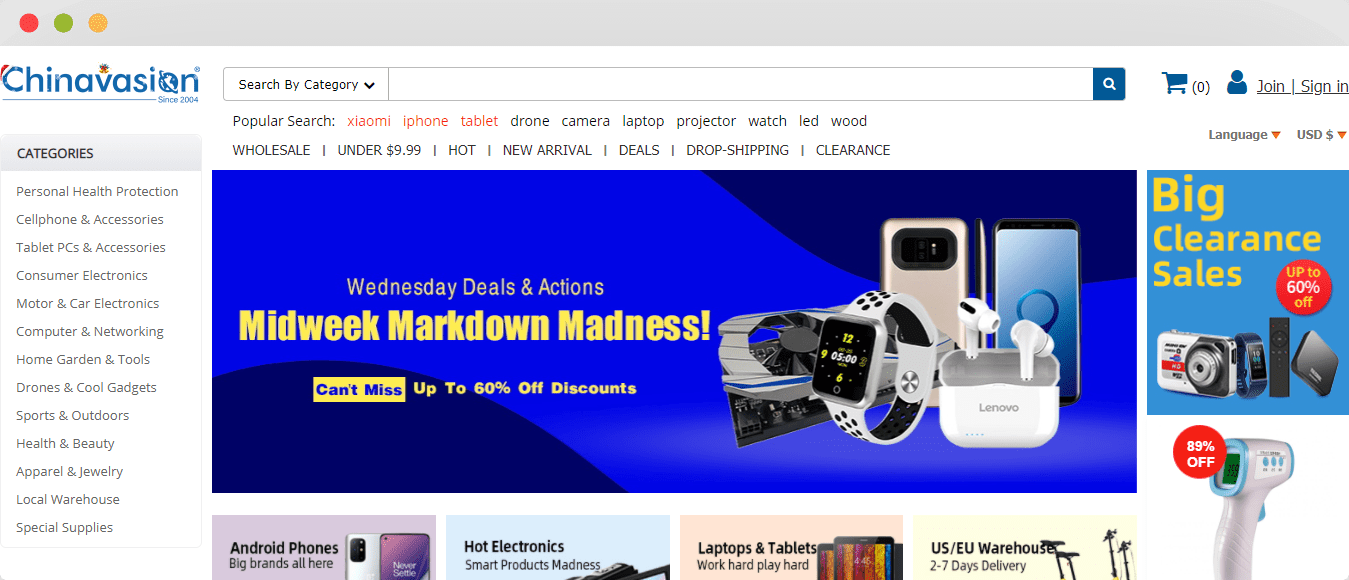 It is the platform that has a dedicated p of "dropshipping" that takes you through step-by-step processes involved in dropshipping. It has been around for almost 17 years since 2004 and serving cross-border customers in a B2C industry.
API facilitation to connect your online stores with Chinavasion.
A great variety of products in a general category.
Dedicated p for dropshipping.
Same products are offered by multiple suppliers at cheaper prices to oust each other.
Good product descriptions to benefit dropshippers.
Excellent and convenient payment options offered by Chinavasion including PayPal, Credit Card, and MasterCard, etc.
No option to sort your results by the number of orders.
Not much suitable for the B2B sector as you will seldom get discounts on products for a greater quantity.
No dedicated application for Shopify and Woocommerce.
No mobile application for android and iOS.
Banggood is the last but not the least recommended entry in the list of DHgate alternatives. It is an online B2C platform that works great for dropshipping services.
They have a huge collection of products and also provide worry-free buyer protection with an awesome 30-days of "no reason exchange/return policy" and 180-days "quality guarantee" for most of the items sold via their platform.
By the way, don't get swayed by the free products offered by Banggood. They most probably cover the cost of the item and their margins in the shipping fee (Free + Shipping strategy).
That is why you will never find a free product that comes with free shipping too.
Pros of Banggood Dropshipping
18 different categories of products to make your product hunt easier for you.
They have dedicated ps for dropshipping and wholesale programs.
You can bag on a little higher margins by making use of their special p of "1-week delivery" by offering fast shipping to your dropshipping customers.
37 overseas warehousing facilities to accommodate faster shipping of the products.
Better and different pictures of the products.
Dedicated Shopify app to facilitate automated dropshipping and synchronizing.
Excellent and professional mobile app for easier access to the products.
Around 27 payment methods are accepted including PayPal.
Cons of Banggood Dropshipping
No option of sorting by orders. You can only sort the results by reviews.
No discounts for higher quantities.
Not a suitable platform for the B2B sector.
Top 3 FAQs about DHgate
DHgate has been in the news for many years now. When people start inquiring about something, it means that it is gaining importance. That is why we thought to include the top 3 FAQs about DHgate that relate to the topic of our article.
Before jumping into these questions, here is a video for you to have a review of DHgate:
1. What Is Better than DHgate?
Choosing a better dropshipping platform than DHgate depends on the type of business you run and your personal preferences.
As per the overall experience of most dropshippers, AliExpress remains the best choice for sourcing dropshipping products in terms of pricing, services, and range of products.
2. Is DHgate a Legit Site?
Yes. DHgate is absolutely a legit site and it takes special care in protecting the personal and financial information of their customers.
As DHgate mediates between buyers and suppliers, there is a very low chance of getting scammed at DHgate so that you can shop with ultimate confidence.
3. Does DHgate Sell Fake Products?
DHgate itself does not sell or promote selling fake products. It is the suppliers on the DHgate or any other platform who sell fake products. It is not a common practice with best DHgate sellers.
Selling counterfeits is not new when it comes to shopping from Chinese e-commerce platforms. So, you can expect some fake or counterfeit products from such sites.
But if the sellers have claimed the products to be genuine and authentic and still you receive the fake products, you must contact the support team to raise your complaint.
Summary
We have analyzed the top 11 other websites like DHgate with every factor that is important to any dropshipper. This analysis has been presented to you with no bias towards any website.
Whether or not you are using DHgate to source your dropshipping products, this article will always serve you to suggest the top 11 dropshipping platforms to source your products.
There are a few other online platforms like MiniintheBox, GeekBuying, and Lightinthebox Holding DHgate that can be replaced with but we have not included them in our list due to their limited scope to cater to the massive needs of dropshipping.
If you have any questions or suggestions especially regarding dropshipping or wholesale websites like DHgate, you must refer to the comment ps or contact us directly with your queries.
We love to respond to the queries of our readers and come up with the latest information and to-the-point answers.