Dropshipping women's clothes is quite a profitable business idea, given that it's projected to grow to $712.9 billion in 2022.
However, there's no denying that this is a highly competitive niche with trends that come and go, which is why it's crucial to find women's fashion dropshippers that know just what to offer.
To help you find the best ones, we've compiled ten women's clothing dropshippers that are reliable and always in the know.
Let's get started.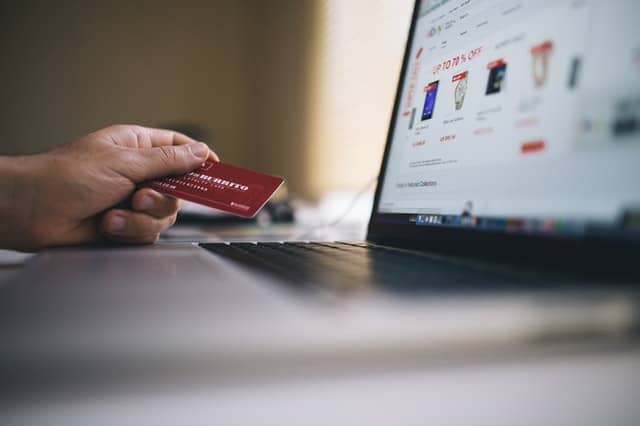 Spocket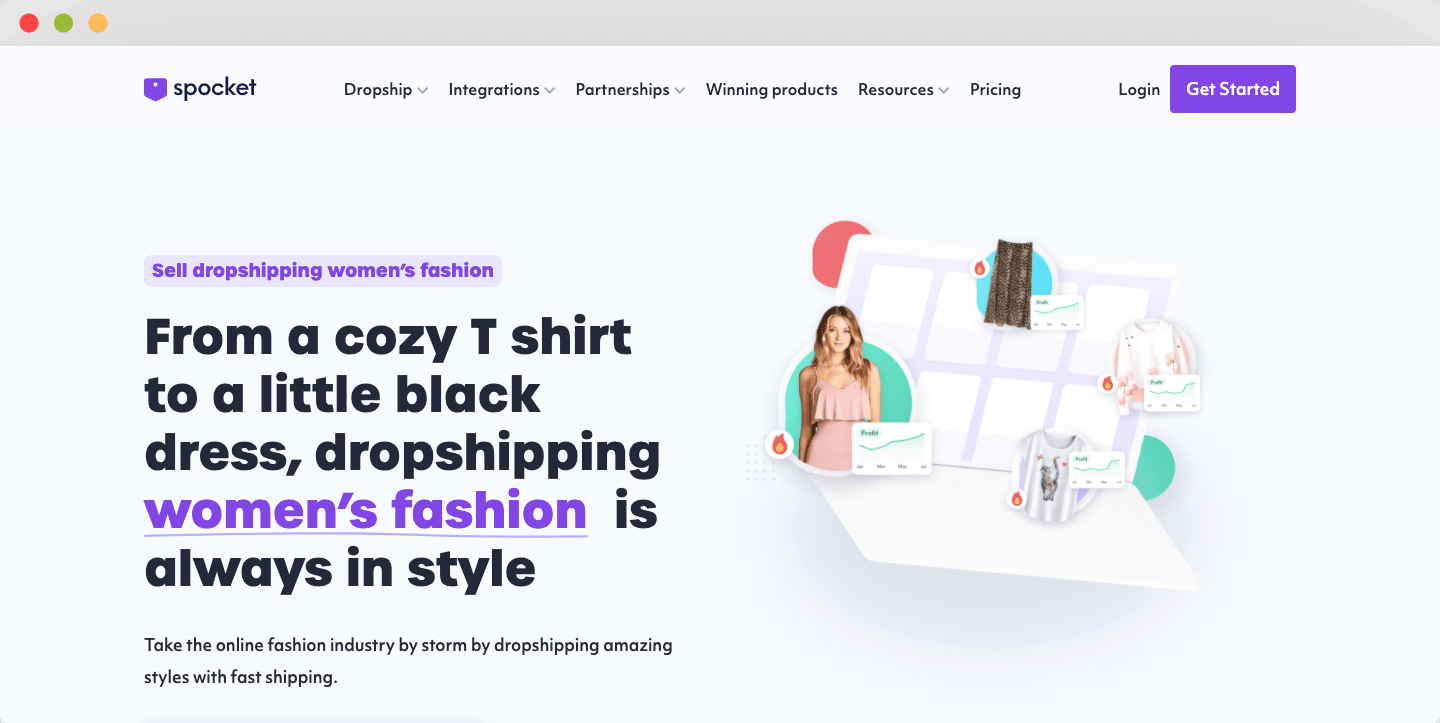 Spocket features thousands of dropshipping suppliers from all over the world.
You can find everything you want here, especially trendy women's clothing. Spocket makes sure dropshippers get the best and latest fashionable clothes in the market, from oversized shirts to formal black dresses.
Items are guaranteed to be high-quality and can be branded with your online boutique details and logo.
This online platform can also be integrated into multiple ecommerce stores for easy access—Shopify, Wix, and Alibaba, among others.
Currently, Spocket offers several packages depending on the frequency of your payments. Monthly payments start at $24 per month, while yearly fees come with five months off and start at $29 per month.
Most packages include the following:
Access to unique and premium products
Branded Invoicing
Chat Support
You can get started for free by browsing through the platform's catalog.
TPOP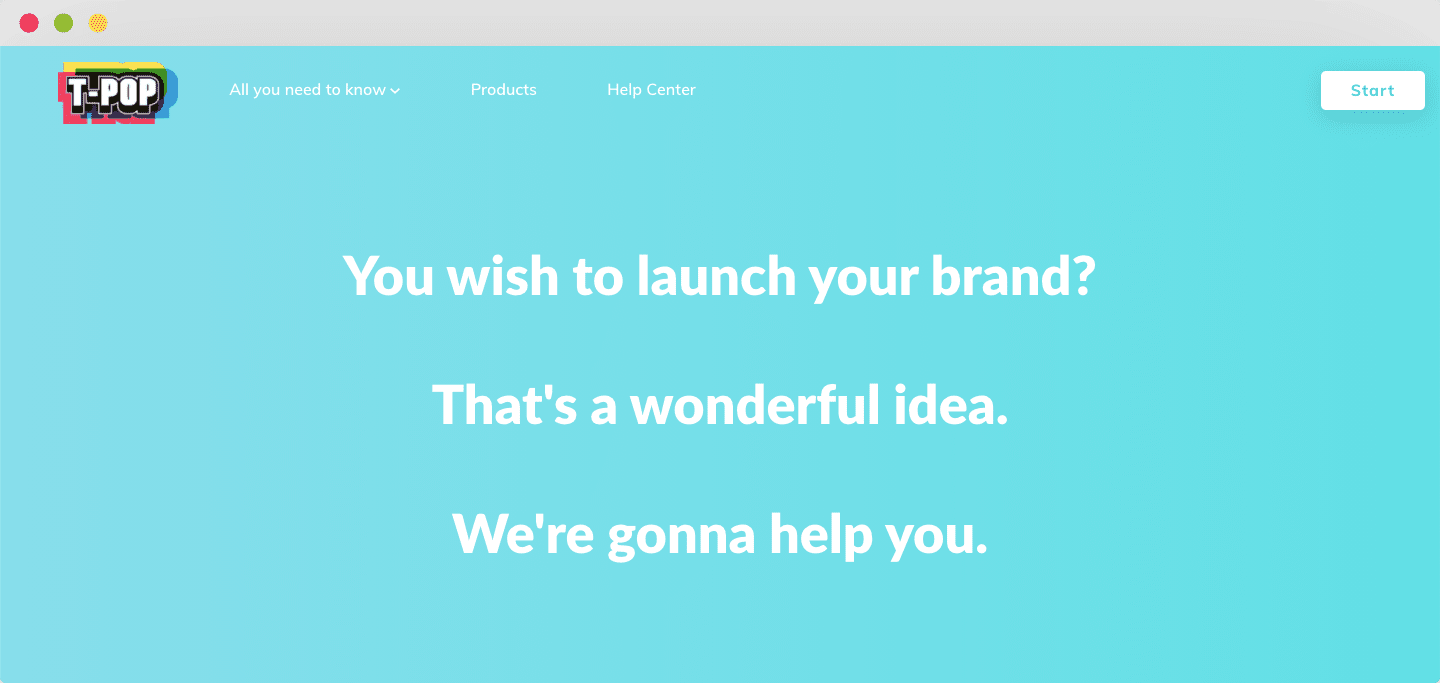 As one of the few dropshippers that sell organic clothing, TPOP is a unique print-on-demand dropshipping business based in South France. Everything is done in-house—storage, printing, shipping, and application development.
This European-based dropshipper sells 100 France-based, eco-friendly products that you can fully customize. Not only that, but fast shipping is also one of their strengths, minus all the plastic packaging.
TPOP can also be integrated into Shopify, WooCommerce, and Etsy.
The company is fully automated, only needing your designs to get started. In addition, their current packages include the following perks:
Logo on package and packaging slip
Social networks
Translated slips
Package inserts (e.g., flyers, thank-you cards, etc.)
What's even more fascinating is that you can get started for free with this dropshipping supplier.
Modlily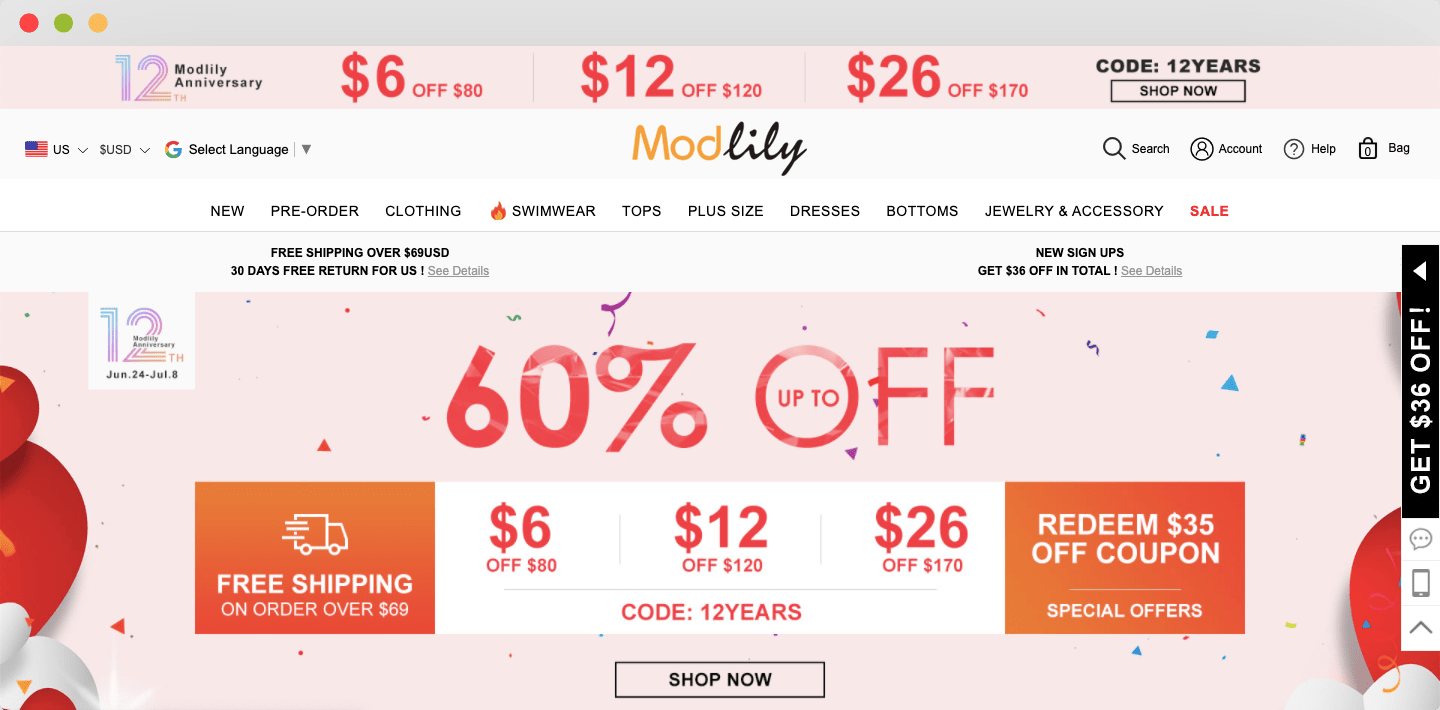 Modlily is one of the most popular fashion clothing boutique stores in the market. This website is a go-to for women's fashion, like women's swimwear and jewelry.
The website also offers discounts throughout the year and free shipping, with a minimum order.
Anybody who regularly buys from the website can join Modlily's dropshipping program. However, becoming a website member grants you access to a higher level of service than others.
Moreover, Modlily has a point system that grants you different ranges of discounts once you earn more points. The more points you have, the cheaper the products will be.
The store's dropshipping services are currently free of use and only require regular purchases or a membership to avail themselves.
Here is a step-by-step process on how you can join Modlily's dropshipping program:
Send a request to Modlily that you want to become a dropshipper.
Once approved, you can place orders on behalf of your customers. Simply put their names and addresses.
Wait for shipment and delivery.
AliExpress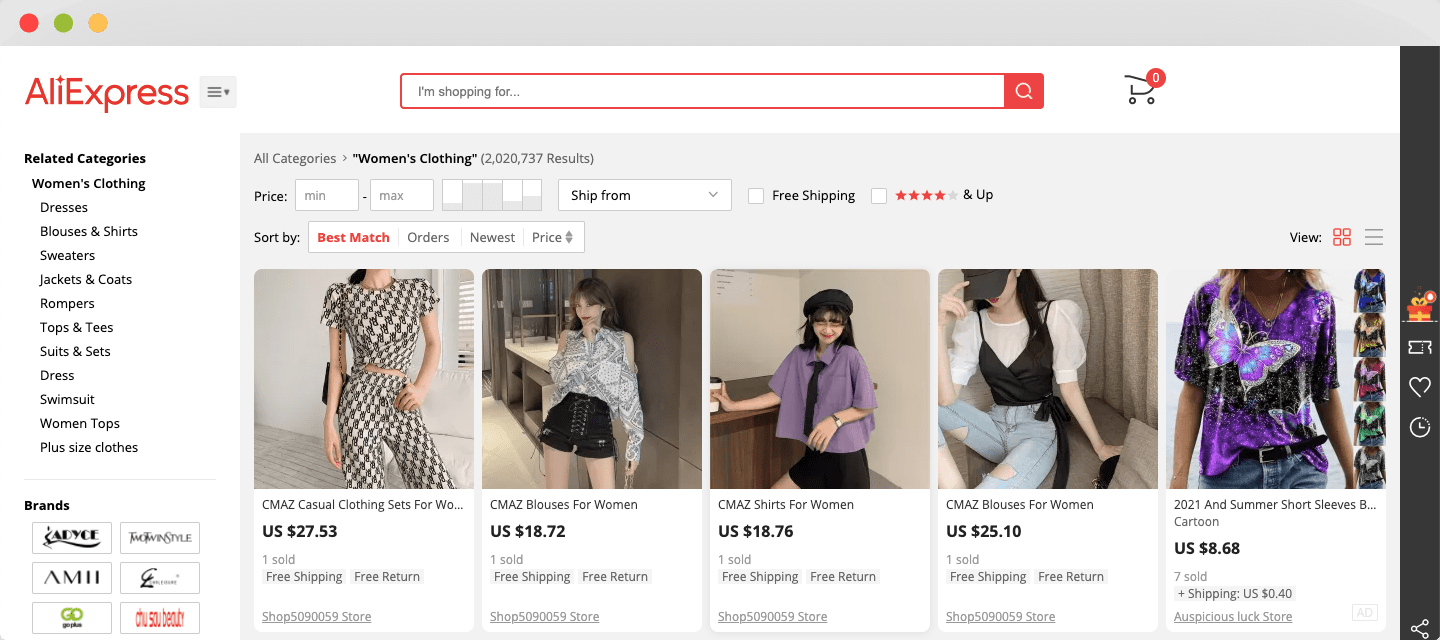 Launched in 2010 by Alibaba, AliExpress is one of the leading marketplaces in the global field. Customers and dropshippers can purchase from Chinese manufacturers and distributors directly.
This platform offers everything you can think of, especially women's clothing. Not only that, but they also have an AliExpress Dropshipping Center that you can use for product research.
It's also a top choice because there are no upfront fees you need to pay to test out products for your store.
To start dropshipping on AliExpress, register to become a member and browse through thousands of women's clothing products.
Find products that you want to dropship and choose suppliers for these items. Then quickly add these into your store so that you can start selling.
My Online Fashion Store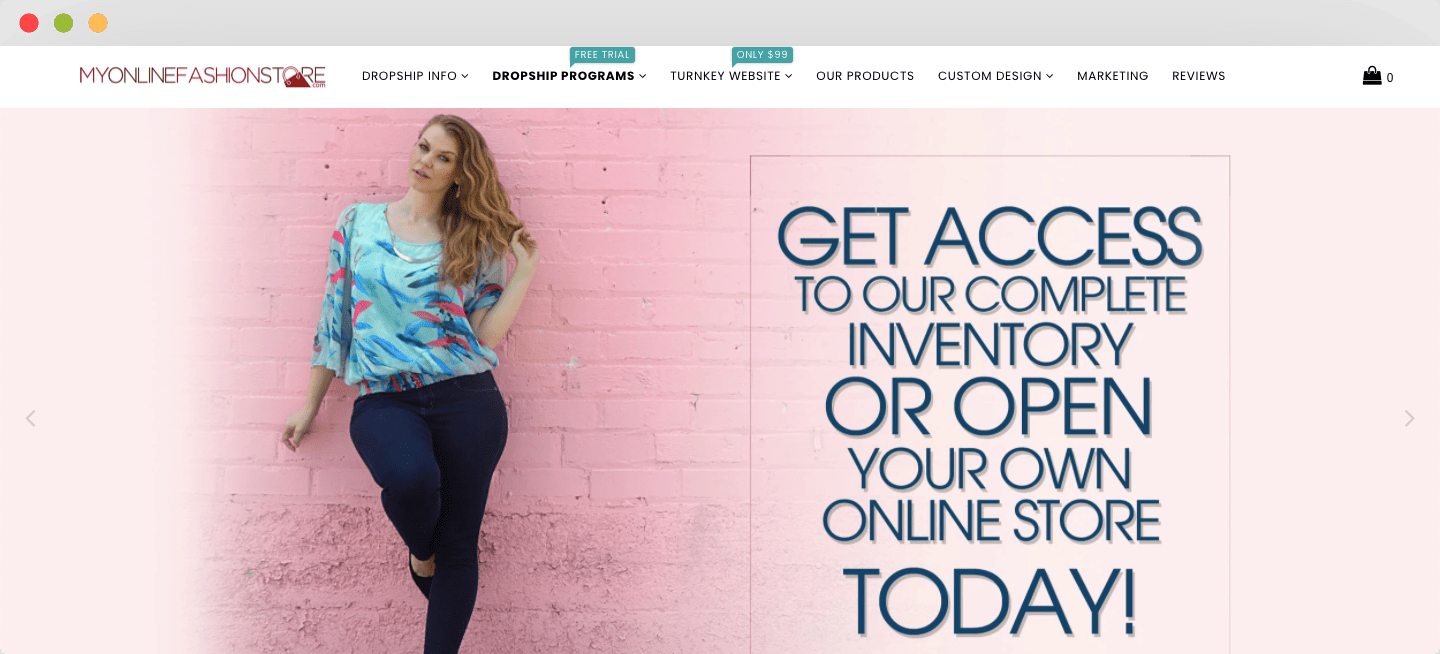 My Online Fashion Store is the sister company of CCWholesaleclothing, a top women's clothing dropshipper.
This platform is based in the USA and provides similar products found on websites like Zaful and Romwe. Here, you can order quality wholesale women's clothing at reasonable prices to give you significant profit margins.
The platform offers several options for dropshipping programs, depending on your platform of choice.
Here's a step-by-step guide for Shopify users:
First, get the app and start your 14-day free trial.
Log into your Shopify account.
Proceed to the apps p and open My Online Fashion Store.
Add products to your store.
If you don't have a store, you can opt to buy an established dropshipping website from them. This website is ready to launch and already has items that will start selling as soon as you market them.
BrandsGateway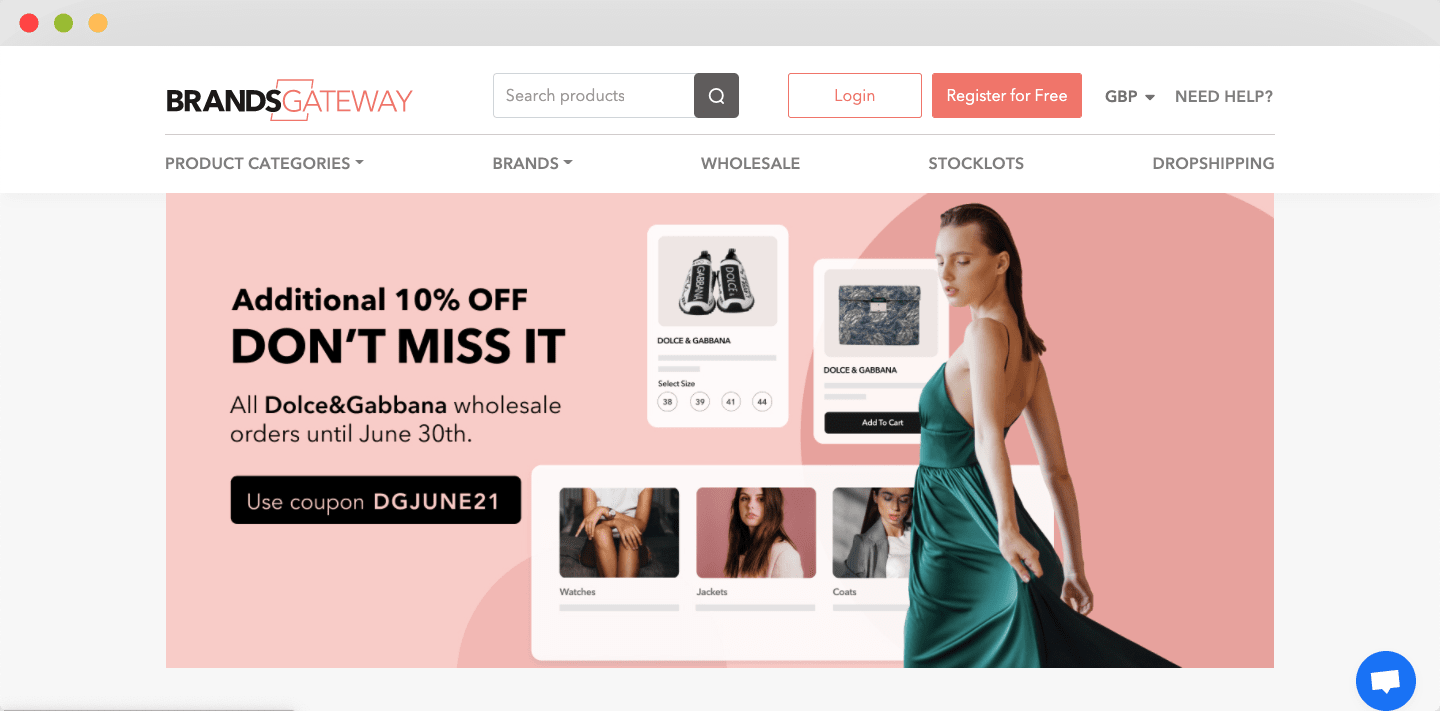 With dropshipping being a profitable business, it's no wonder that high-fashion brands also want to get a portion of the profit.
BrandsGateway is a top-rated, high-end clothing platform that sells big names such as Dolce & Gabbana, Jimmy Choo, Calvin Klein, and Versace Jeans.
Don't get intimidated though, BrandsGateway offers discounts and sells products at reasonable prices.
They're also recognized as a trusted supplier by TrustPilot and SiteJabber, which guarantees that their products are authentic.
To become a dropshipper for this platform, you have to subscribe to their program, which starts at $357 per month.
The platform's subscription fee is relatively high, but it comes with the following privileges:
5-day delivery window worldwide for more than 90,000 products.
Automated integration in Shopify and WooComerce.
Currency converter and dedicated account manager worldwide.
Access to more than 70 luxury brands.
Daring Diva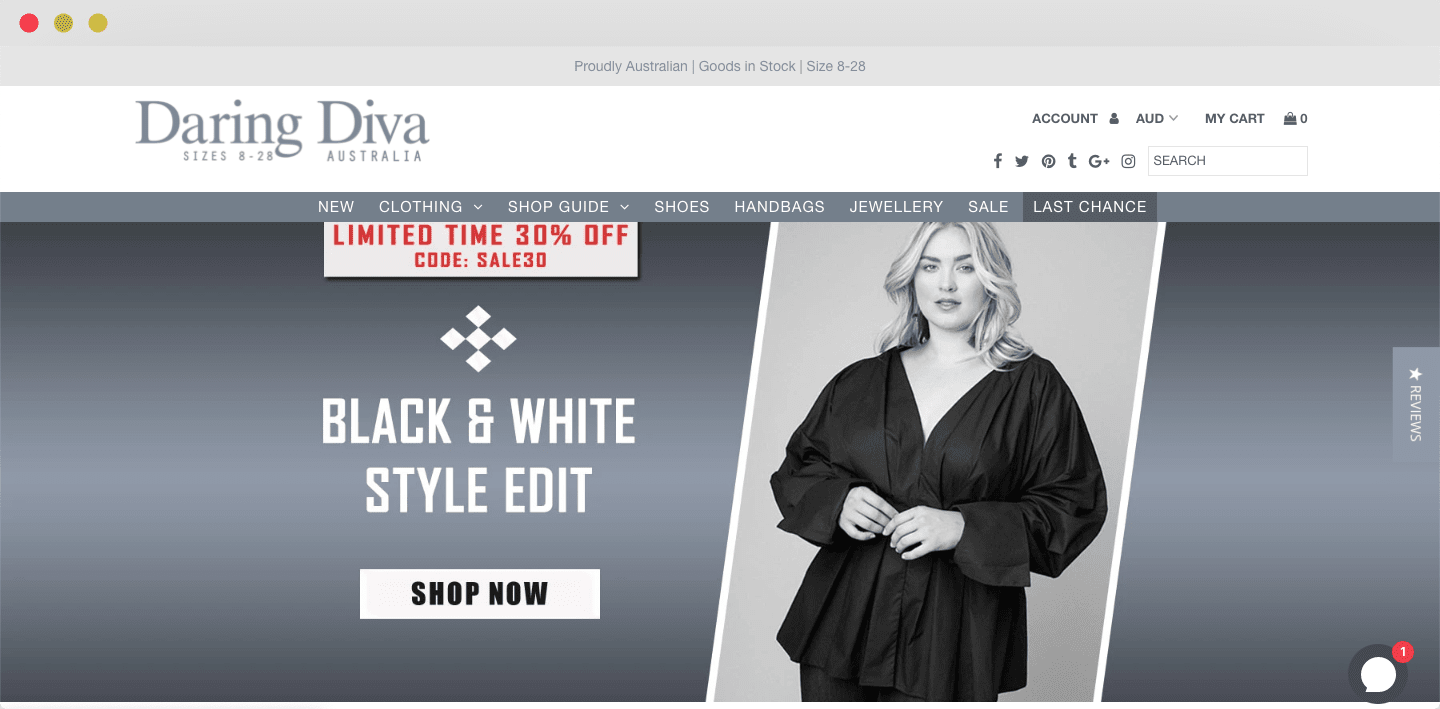 Remona Ayuob started Daring Diva in 2015, intending to offer quality clothes for plus-size women. You can also find
This Sydney-based platform caters to sizes 14 to 28 and sources products from clothing, shoes, and jewelry from the United States and handbags from the United Kingdom.
The process of dropshipping through this platform is as follows:
First, customers order from your store.
You place their orders on the Daring Diva website.
Daring Diva arranges the order and gives you a tracking number once the order is shipped.
Your customers receive their order at their doorstep.
As one of the few platforms in this niche, Daring Diva offers their dropshippers a 15% commission paid immediately. Moreover, products are available for same-day dispatch on weekdays.
SaleHoo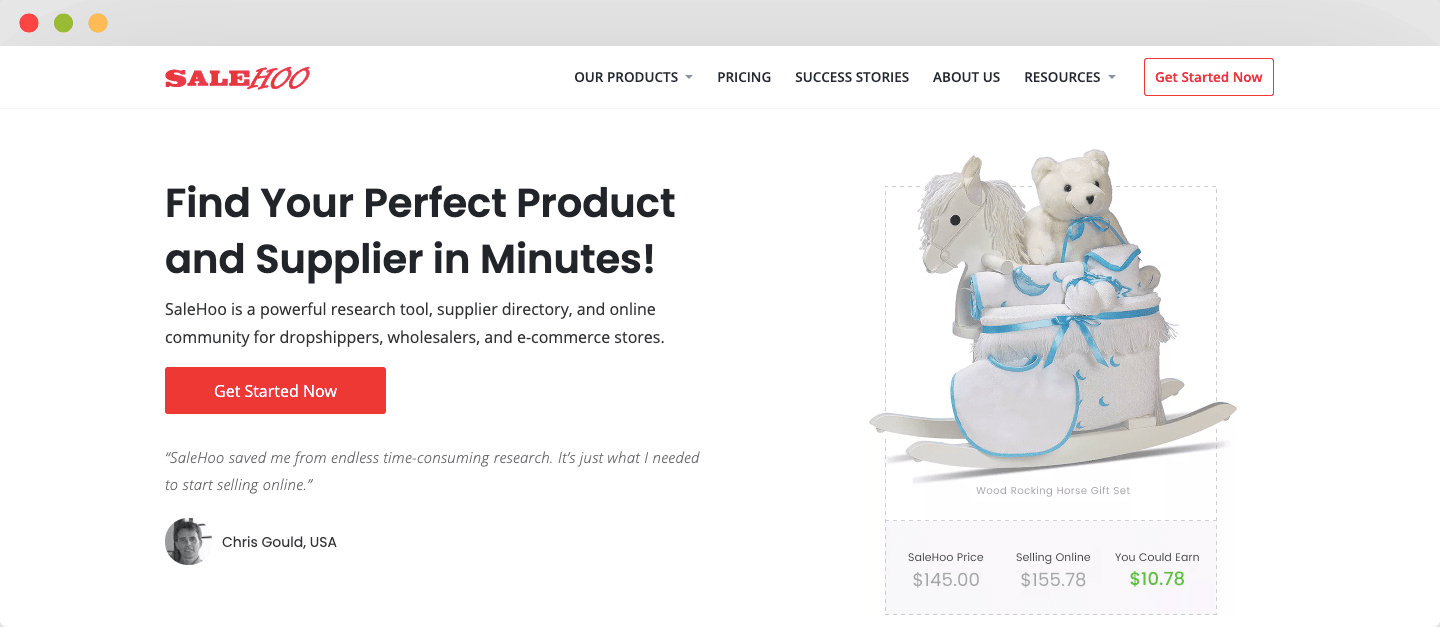 Simon Slade and Mark Ling founded SaleHoo to provide customers with wholesale and dropship suppliers at an affordable annual subscription fee.
The platform has since gained the trust of thousands of customers because they ensure they only have legitimate suppliers and high-quality products.
Currently, there are more than 8,000 trusted suppliers found on this platform that went through a thorough screening. In addition, SaleHoo also offers 24/7 support and guidance to their sellers.
SaleHoo also recently offered a dropshipping program where you can easily add products from AliExpress to your Shopify store in minutes.
The annual subscription fee starts at $270.
The fee already includes the following:
Account
Automated one dropshipping store
Permission to import high-profit AliExpress products
Personal email support
Printful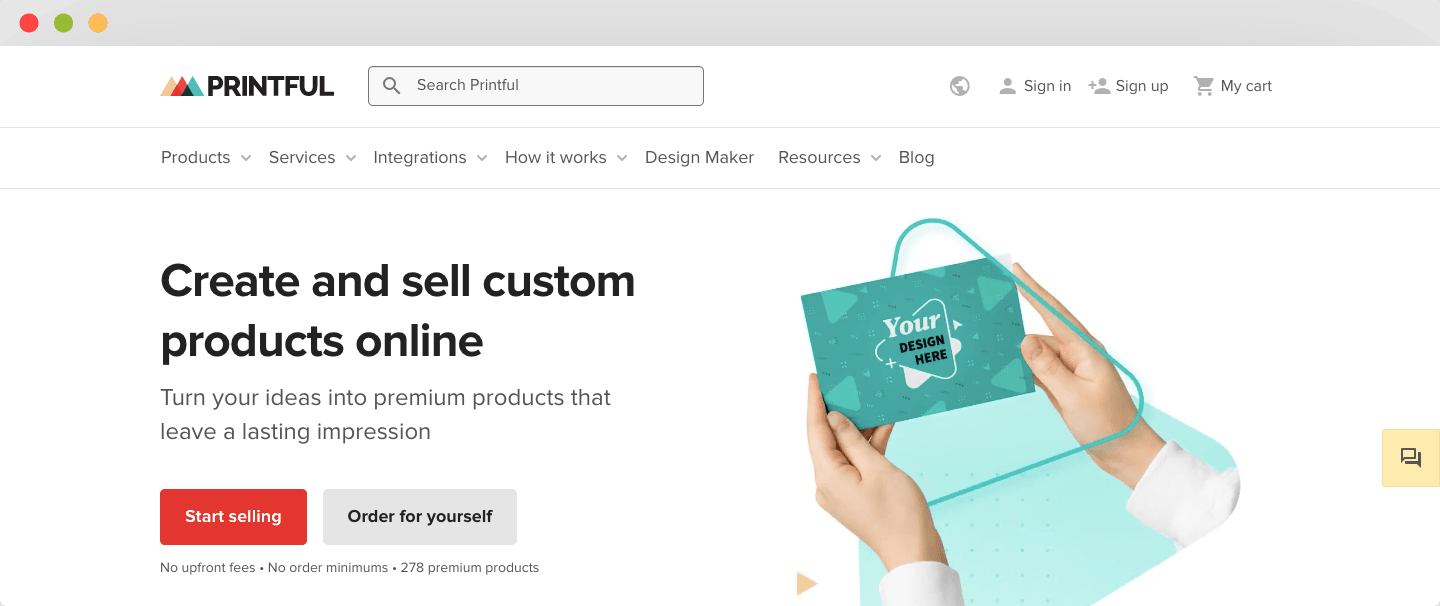 As one of the most popular print-on-demand and fulfillment companies, Printful has catered to thousands of customers and earned their first million in just a year after it was launched.
This US-based company has fulfilled more than 10M products, and the numbers will only skyrocket from here.
If you're looking to create your own women's clothing products or brand, this platform can help you. From t-shirts to tank tops, you're free to design whatever you want.
Currently, the platform has the following features:
Mock-up generator for designing custom clothing
6+ worldwide warehouse locations for fast shipping
Easy integration into eBay, Amazon Etsy, and Wish
Eco-friendly and sustainable products
Multiple printing methods
All these features can be enjoyed for free. All you need to do is sign up on their website to get started!
Buy2Bee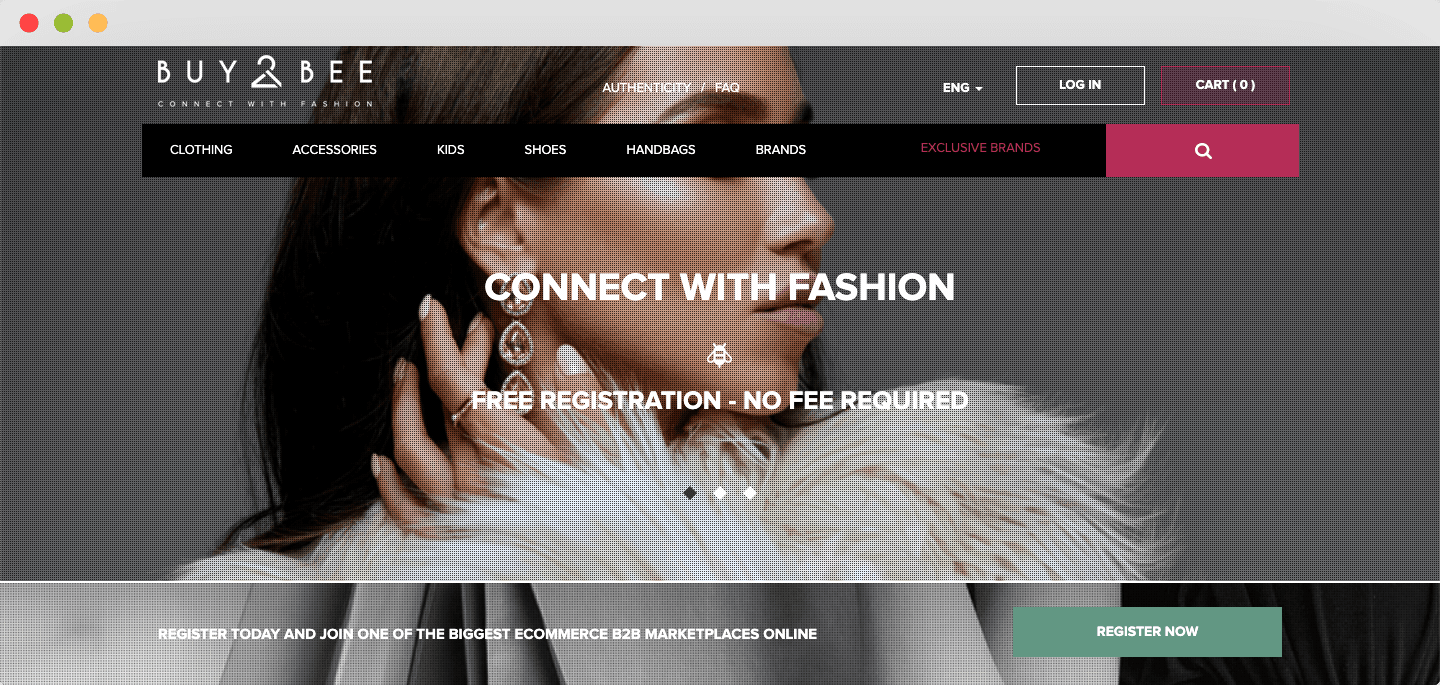 Buy2Bee is a dropshipping company based in the United States. This wholesale website has two main offices in Milan, Italy and Los Angeles, California.
It's one of the biggest ecommerce marketplaces today, which provides access to inventory, quantities, and HD pictures to its dropshippers.
Apart from women's clothes, you can also dropship clothes and accessories for men and kids. The company dropshippers worldwide, with shipping costs varying per destination and weight.
Buy2Bee's dropshipping program for Shopify is at $249 per month, where you enjoy the following:
Importing products to Shopify
Synchronizing quantities
Setting your markup
Managing your listings
Refund policy within 21 days from delivery
What sets this platform apart is that you have to request your invoice at the end of each month to be actualized.
FAQs on Women's Clothing Dropshippers
How Do I Start Dropshipping Women's Clothes?
Fashion, especially women's clothes, is a competitive niche that requires a lot of research and, sometimes, trial-and-error.
To ensure you get off the right foot, here are three steps to get started on dropshipping:
Choose a Trusted Dropshipping Supplier
Finding a reliable dropshipping supplier—or suppliers—is an essential step in starting your dropshipping business. The quality of your products and the overall customer experience are both dependent on your partner of choice.
From the list of women's clothes dropshippers above, choose one—or several—suppliers that offer products you want to sell.
You can also get NicheDropshipping as your dropshipping agent to help you source the women's clothes in the market for reasonable prices.
Build Your Store
Once you've found great sources for products, you can then build your store. But, first, choose an ecommerce platform that you're comfortable with using in the long run.
One of the top platforms among dropshippers is Shopify. It already has several tools in place to help you get started. From domain name suggestions to website themes, you can find it all here.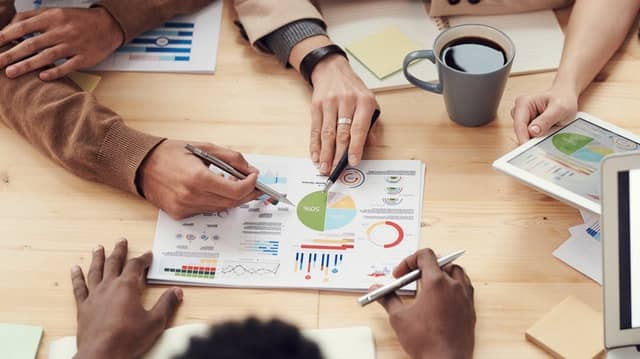 Create a Marketing Strategy
With a store in place and products ready to sell, all you need to have is a great marketing strategy to bring in customers.
It's not just all about the quality of your products or the seamlessness of your website. Most, if not all, of the time, you need to reach your customers before you can even sell.
Can I Have Multiple Dropshipping Suppliers?
Yes, you can have multiple dropshipping suppliers, and there are two ways that you can do it.
Multiple Suppliers, One Platform
First, it's a common practice for dropshippers to have multiple suppliers from the same platform, like AliExpress or Spocket.
This option is ideal for beginners who have yet to understand just what dropshipping is. It's also suitable for those who don't have much of a budget to pay fees for multiple platforms.
Multiple Suppliers, Multiple Platforms
Another option for having multiple dropshipping suppliers is to source from different platforms. However, each platform has its own sets of fees, which can get costly if not adequately budgeted for.
People choose specific clothes or items sourced from various platforms and combine them in one online store.
Just remember that your products should complement each other to have a cohesive branding for your store.
Where Do I Find Trusted Women's Clothes Dropshipping Suppliers?
The list above shows the compilation of all the reliable women's clothes dropshippers all over the world. Not only are they reliable, but they all offer products that are trendy and high-quality.
Simply choose a supplier with terms and fees you agree with, and browse through their catalog to narrow down the products you want to sell and the suppliers you partner with.
Key Takeaways
Fashion, especially women's clothes, will always be a competitive niche. But having the right supplier and right products will give you an advantage every time.
Choose from the top dropshippers above to guarantee quality and profit, or you may contact us to see what kind of options are available for your dropshipping store.