The recent sustainability movement has led to rapid growth in eco-friendly online stores.
Unfortunately, building a dropshipping brand in this niche isn't easy – mainly due to the lack of trustworthy suppliers.
On top of product quality, there are plenty of other things to look out for, such as reducing packaging waste and detailing recycling procedures.
If you are an entrepreneur looking for eco-friendly dropshipping suppliers, we have listed some options for you.
But first, let's talk about why it's a great idea to sell eco-friendly products.
Let's get into it!
Why Should You Sell Eco-friendly Products?
In the past, it was almost impossible to get genuine eco-friendly items.
But, with rising awareness of global crises like pollution and climate change, factories are becoming increasingly conscious of their products' effects on the environment.
Sustainability is becoming a more important factor for many shoppers today.
Just take a look at this data gathered by Google Trends and it will give you a clear perspective of how many people are searching for sustainable products.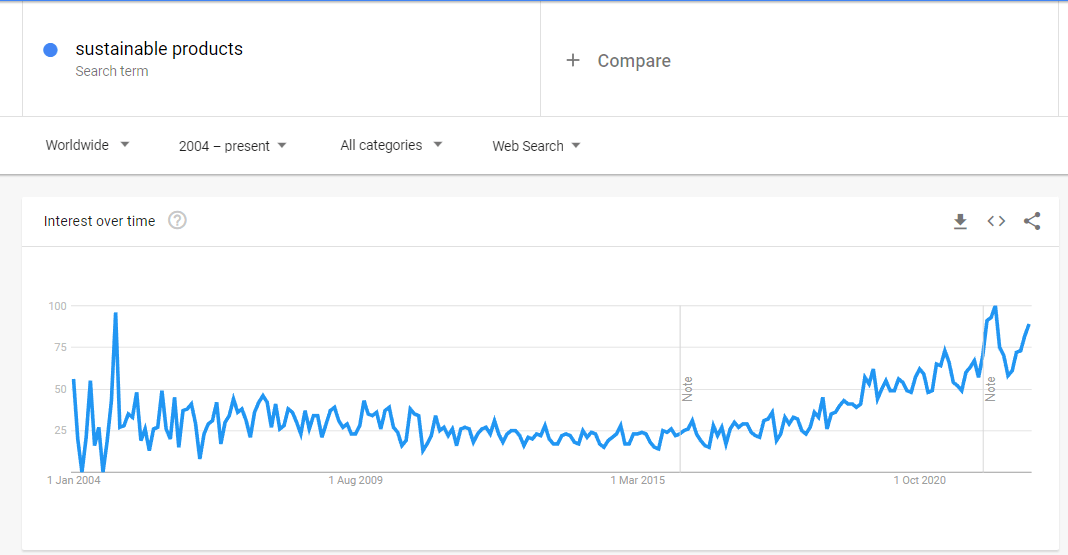 Along with that, let's also have a look at some stats.
It is estimated that 48 percent of American consumers have altered their buying patterns to reduce their environmental impact and carbon footprints.

In addition, most modern shoppers value eco-friendly products so highly that they don't mind paying more. 73% percent of millennials are now ready to pay more for products made using sustainable or environmentally friendly materials.
So, how do environmentally friendly products stack up financially?
Between 2014 and 2018, sales of eco-friendly products in the U.S. grew by 20%. The sustainable product industry was worth $128.5 billion in 2018 and 2021, its value was projected to be more than $150 billion.

Recent Sustainability and Consumer research shows that sales of sustainably promoted items have increased 2.7 times faster than conventional products, rising 7.34% since 2015.
All of this makes it clear that the sustainability movement is growing fast. However, there still aren't too many trustworthy eco-friendly stores out there.
This allows you to secure a position in the market and at the same time, reap the heavy profit potential this niche offers.
18 Best Eco-Friendly Dropshipping Suppliers
If you're planning to launch a store in the sustainability niche, you first need to find a reputable supplier. So without wasting any time, let's go through a list of the best eco-friendly dropshipping suppliers.
1) NicheDropshipping
NicheDropshipping has built a solid reputation among its clientele, including eco-conscious business owners.
They can connect you with reputable suppliers in the sustainable niche to help you source your desired products.
NicheDropshipping can also assist you with most of the problems plaguing dropshippers, such as branded packaging, private labeling, and warehousing.
Key Products
NicheDropshipping deals in various categories and can help you source your desired products with the help of its holistic supply chain network.
Coverage
The company offers worldwide shipping with warehouses located in China and the U.S. to drastically reduce shipping times.
2) Jungle Culture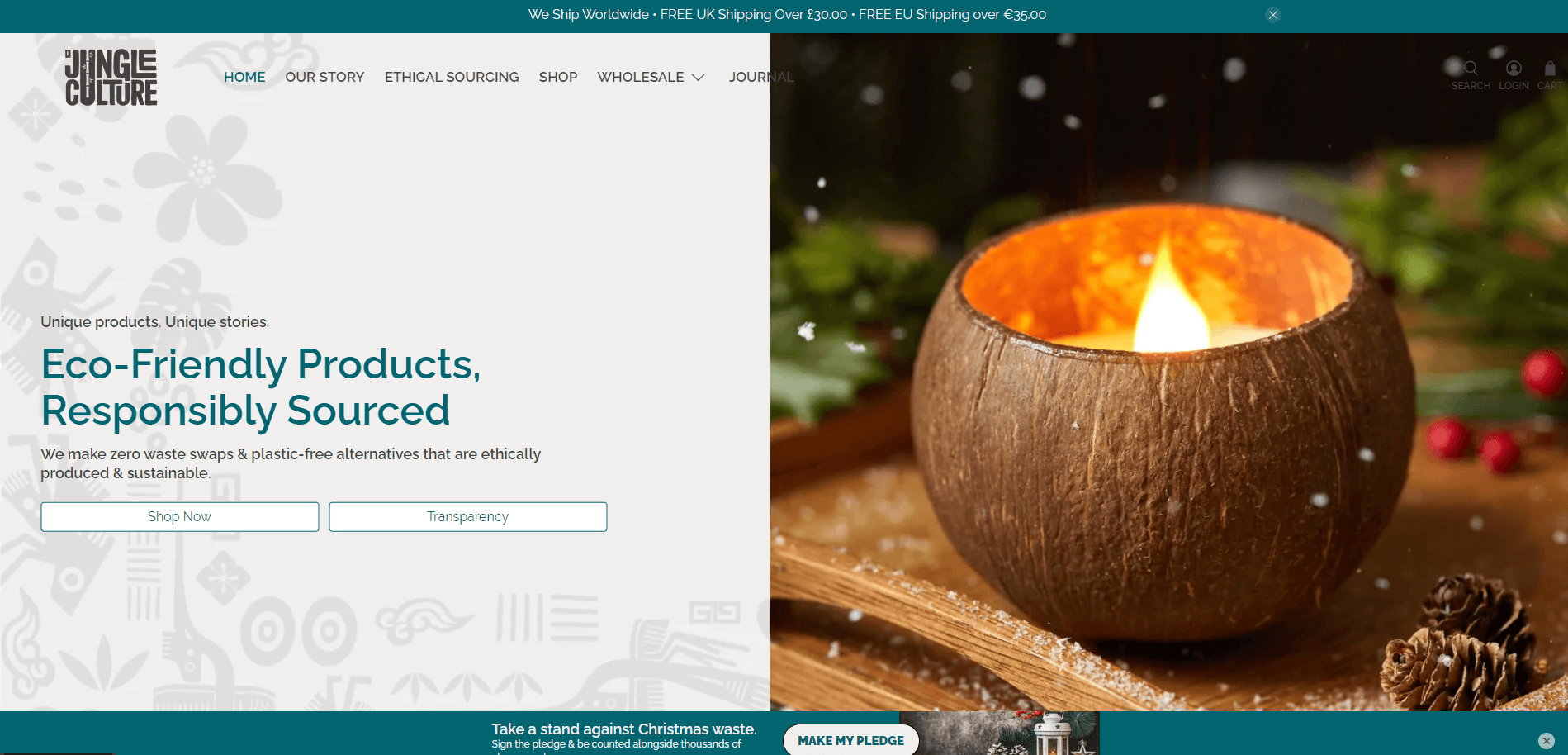 Founded in 2018, Jungle Culture is a UK-based wholesaler of eco-friendly products.
They make bamboo straws by sourcing natural materials from Vietnam.
Its founders made the decision to launch Jungle Culture after they realized the damage plastic straws were causing to the environment.
The straws are now one of the most popular products on Amazon.
They can ship products out faster because of their two fulfillment facilities in the Netherlands and the United Kingdom.
There is no membership cost to use these services. You'll only be responsible for the price of the goods and any associated shipping fees.
Key Products
Jungle Culture started from bamboo straws, but since then, they have expanded to other eco-friendly items, including homeware products, natural soaps, skin care products, and more.
Coverage
Worldwide coverage includes the UK, EU, US, and more.
3) Green Dropship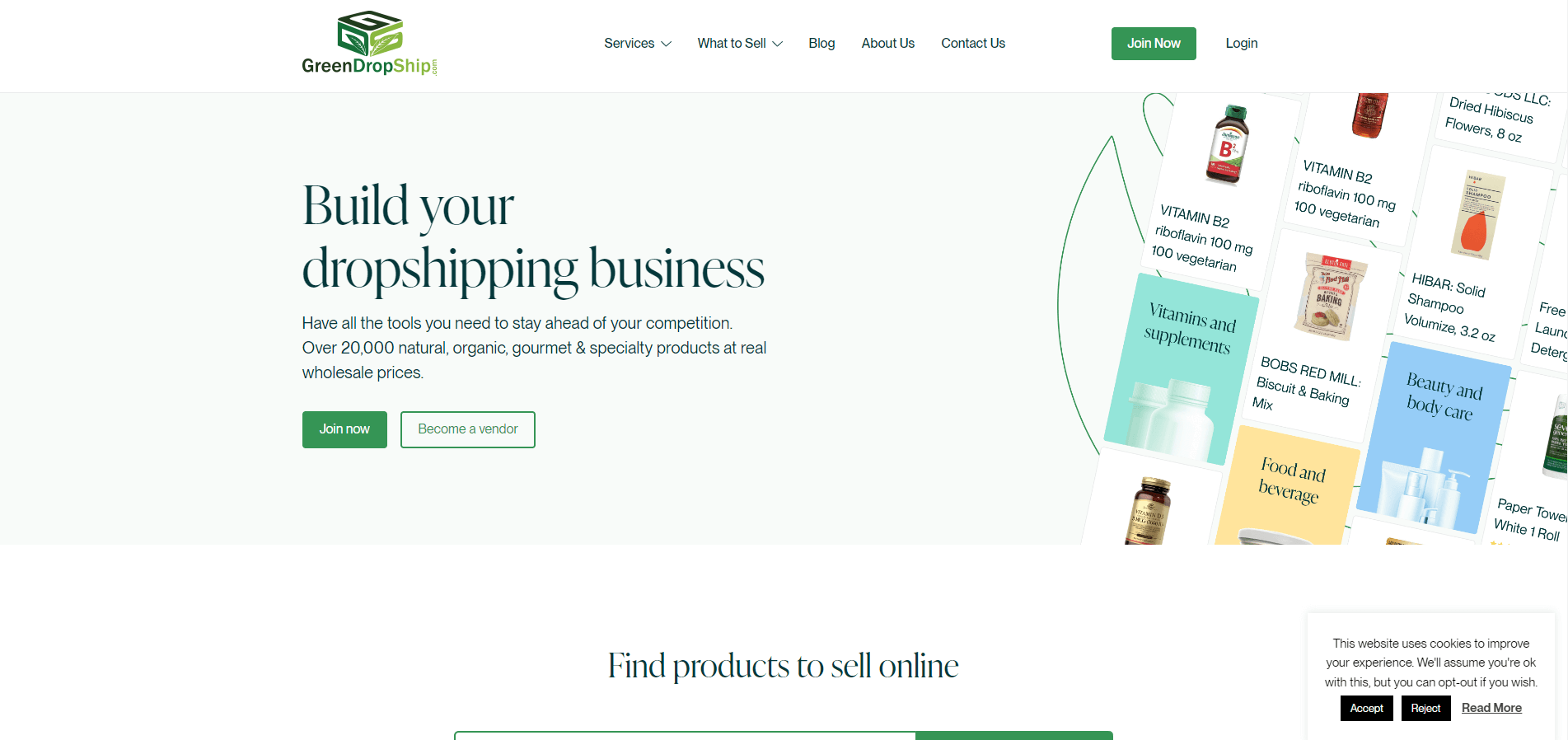 Located in the United States, Green Dropship extensively uses recycled materials to ensure that its products are environmentally beneficial.
They offer integration with eCommerce platforms such as Shopify, WooCommerce, Amazon, and others. They supply over 20,000 natural and organic products.
They have fulfillment centers in Pennsylvania, California, Illinois, and Georgia, with a delivery time of three days in the U.S.
Key Products
Green Dropship deals in organic goods that fall in the food, beauty, health, cosmetics, and household products categories.
Coverage
Currently, Green Dropship only offers to ship in the U.S.
4) Inkthreadable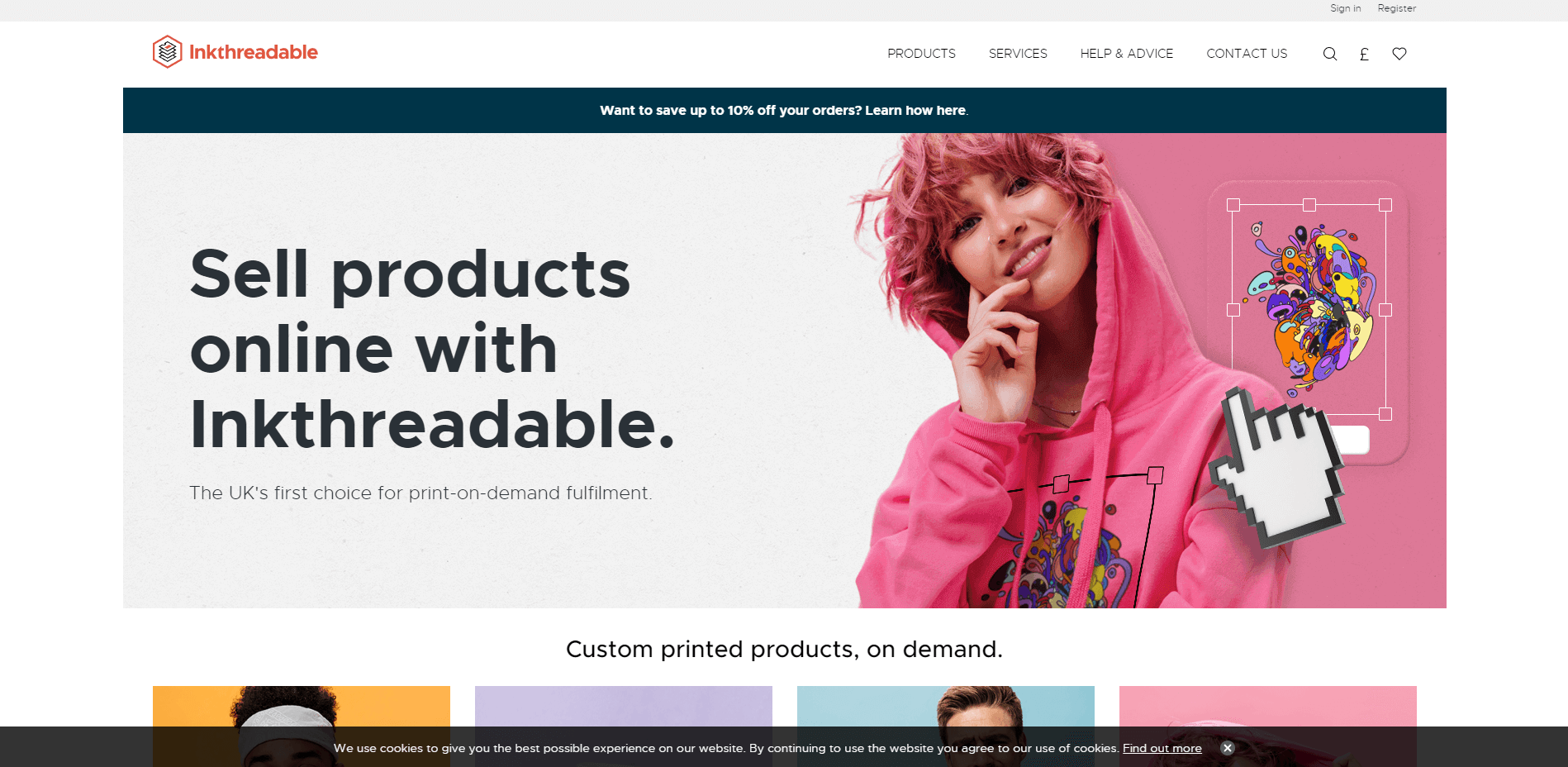 If you want to launch an eco-friendly clothing store, then Inkthreadable will not disappoint you.
They're a U.K based supplier and all their products are printed and shipped from the U.K. as well to achieve a short delivery time.
You may integrate the Inkthreadable app for order processing with Shopify, WooCommerce, or Etsy.
They handle small and large-scale orders, allowing you to come up with your designs or choose from what they offer.
You may join up for a free account on the website, which offers a straightforward tool for uploading your photographs to create a design.
Key Products
The products offered at Inkthreadable include clothing, accessories, homeware, phone cases, wall art, and more.
Additionally, they offer promotional items like hoodies, backpacks, and t-shirts that can be personalized with any design.
Coverage
Inkthreadable offers worldwide order fulfillment. Depending on the shipping destination/method, international orders are delivered either through P2P or DPD, Royal Mail, or USPS.
5) Bangalla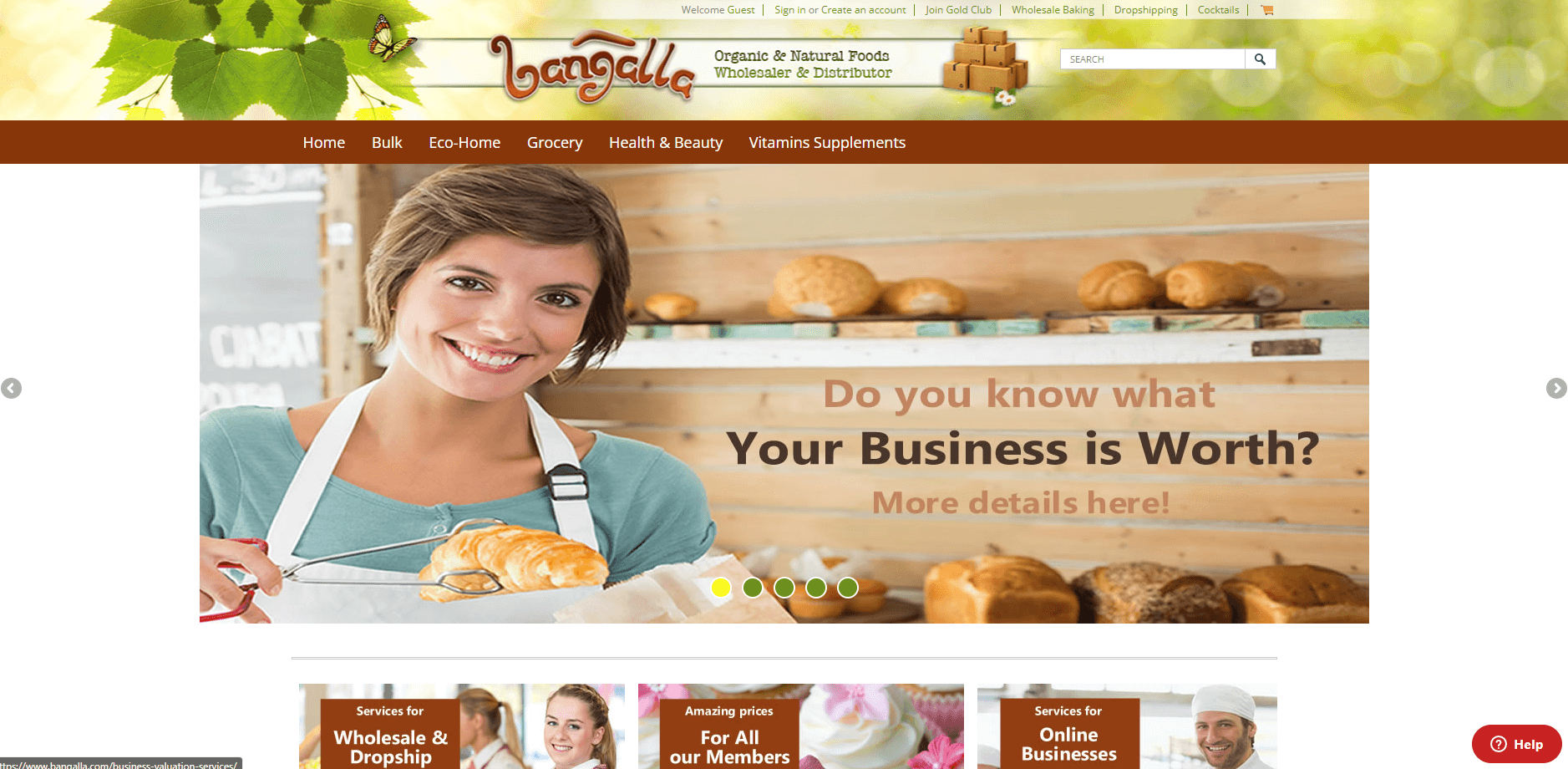 Bangalla is a dropshipping supplier and wholesaler of numerous organic and eco-friendly items.
The company is based in the U.S. and was the first to begin exporting organic products to North America.
Bangalla also creates private-label products that wholesalers or eCommerce entrepreneurs can sell to build a brand.
They also have a dropshipping program with Silver, Platinum, and Gold plans that lets you access over 700 brands from over 100 product categories.
They do not require minimum monthly orders or levy per-order administration costs. They also offer online store integrations with popular eCommerce platforms.
Key Products
Products available at Bangalla include health and beauty, vitamin supplements, and groceries.
Coverage
Primarily the United States, but they do ship internationally for particular items.
6) Green Apple Active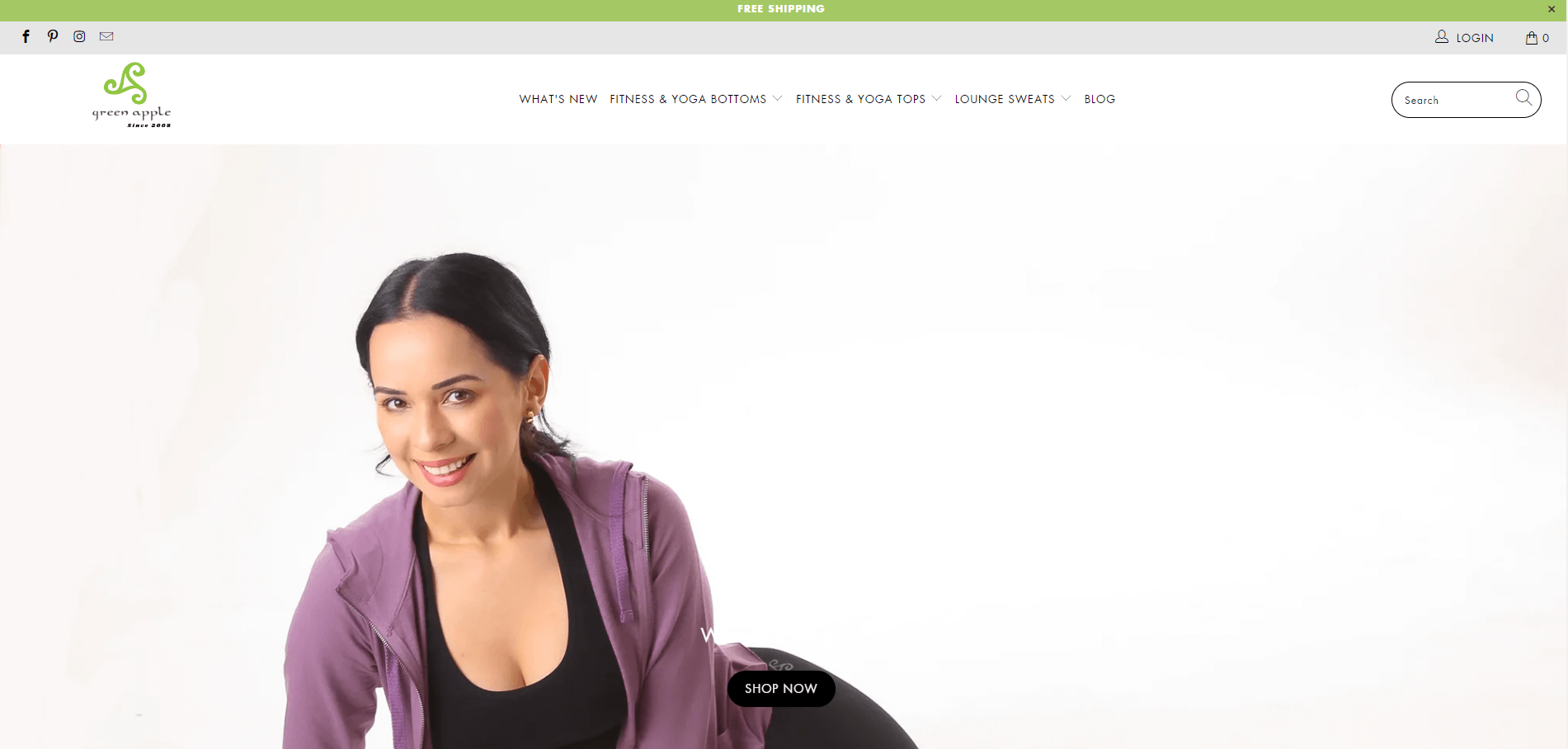 The Green Apple Active company has been in business for 14 years. It has carved out a niche in the industry by manufacturing sportswear and workout clothes free of chemicals and non-biodegradables.
Organic cotton and bamboo plants are two of their primary sources of raw materials. They also push for equitable wages and work schedules compatible with sustainable lifestyles.
They do not have a membership fee. However, there is a small delivery cost associated with each order. This organic wholesale supplier has become a significant provider for businesses such as Urban Flex, Avia, and So Sport.
Key Products
Green Apple Active offers yoga tops, bottoms, loungewear, and sports attire.
Coverage
Ships only to the U.S.
7) Green Wave Enterprise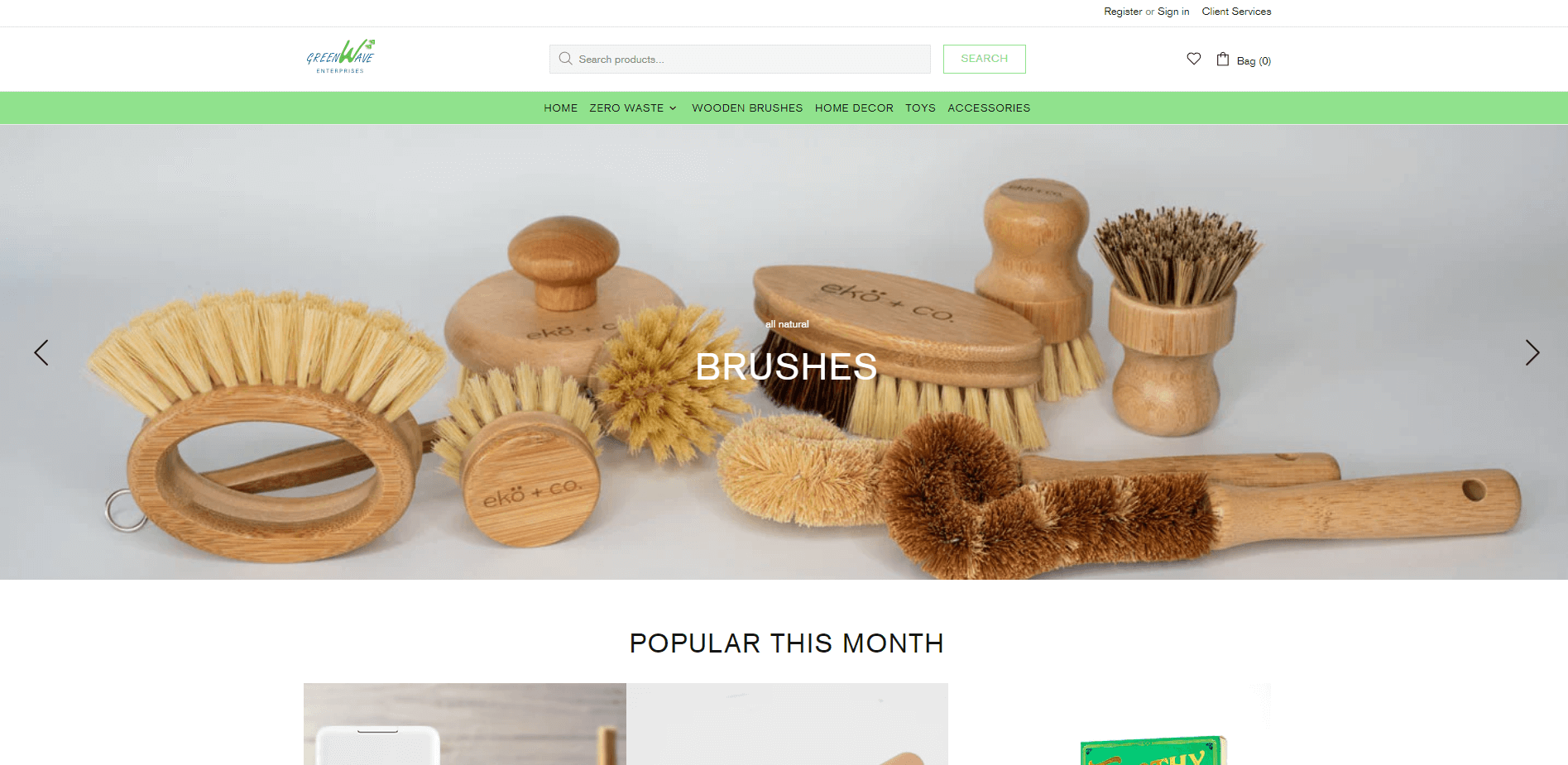 Green Wave Enterprise is a Canada-based, environmentally responsible, zero-waste, and eco-friendly wholesale brand that offers plastic-free alternatives.
The company offers sustainable and organic products from various product categories. They aim to make a difference in the environment and also offer discounts on bulk purchases.
Their products are made from biodegradable and recyclable materials. They also offer free shipping on larger orders and claim 100% customer satisfaction.
Previously known as EcoFreak, the company offers products for eco-conscious consumers who look forward to being part of a healthy and plastic-free environment.
With their corporate-buy option, businesses can also bulk-purchase eco-friendly dress shirts and other accessories for corporate wear and use. This allows B2B dropshippers to offer sustainable corporate products to their customers.
Key Products
They offer a wide range of products that help consumers go green — from bamboo toothbrushes to stainless steel lunch boxes. Also includes toys, kitchen products, home decor, and personal care products.
Coverage
The company is a wholesale distributor for Canada & USA.
8) White Lotus Home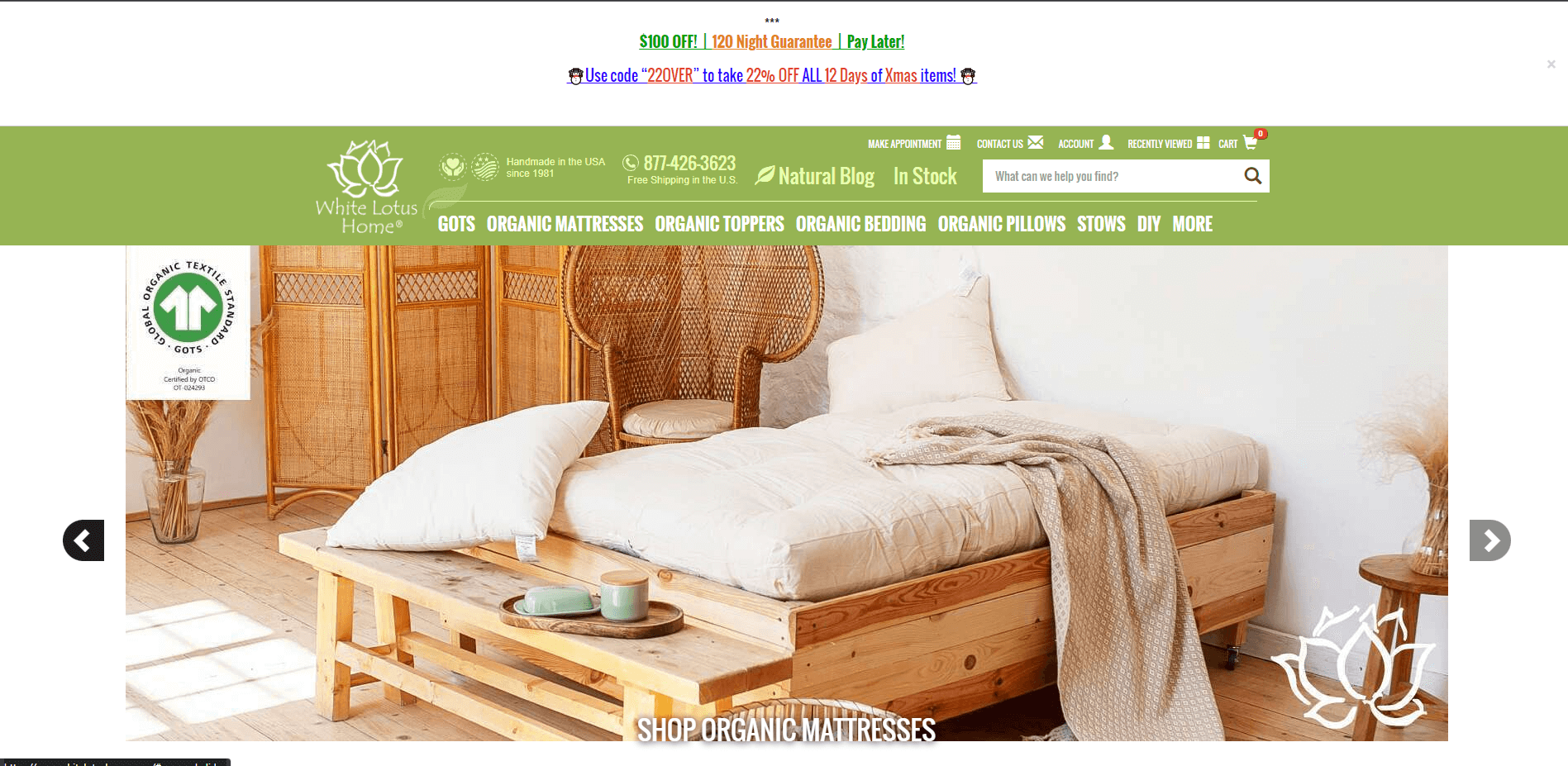 White Lotus Home stands out from the crowd with its innovative brand message. They aid the local farming communities by promoting green farming practices and also show their support for green initiatives worldwide.
White Lotus Homes help businesses keep a high profit margin by offering free shipping throughout the US.
The company also aims to take care of its customers, employees, and Mother Earth through its sustainable practices.
Key Products
White Lotus Home offers a wide range of home and bedding solutions such as pillows, duvets, mattress pads, bean bags, linen, shredded eco foam, and other products that are not only natural but also organic.
Coverage
The company ships throughout the USA.
9) Davison's Organics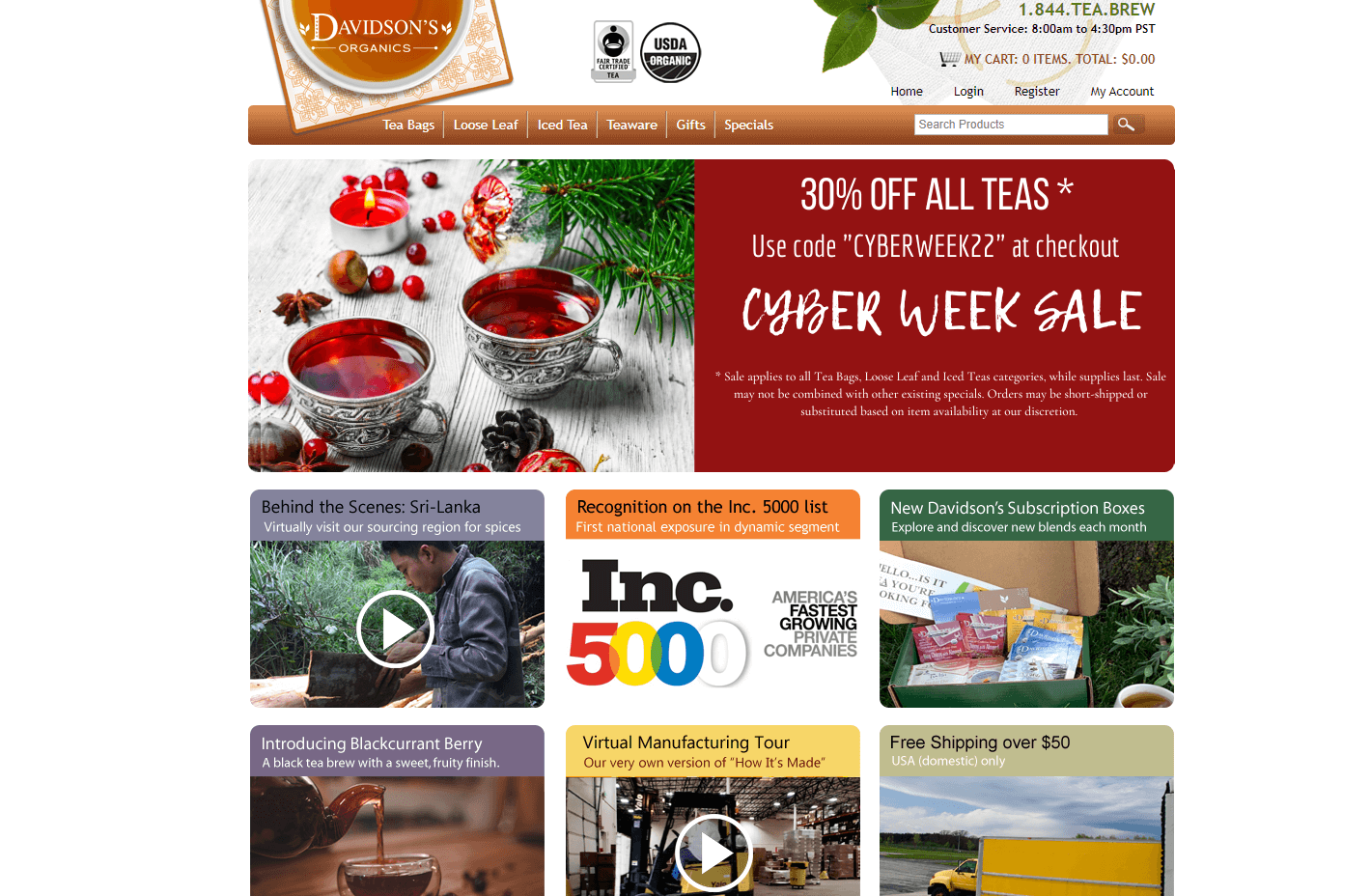 With its many recognizable awards, Davison's Organics is an eco-friendly, organic tea manufacturer. Their unique selling point is that their teas are sourced from gardens amidst the Himalayas.
The company adheres to all quality control protocols. Their recognitions and awards portray their commitment to high-quality products and environmental friendliness. Their products will lead your customers to ask for more.
The supplier also focuses on the well-being of their farmers by guiding them to grow teas and herbs through chemical-free farming methods compared to other companies where farmers are exposed to high levels of dangerously toxic insecticides and pesticides.
Their organic farming methods also protect the birds and wildlife by not exposing them to chemically contaminated environments.
Key Products
Their products include organic teas, herbs, and spices that can also be used for herbal medicines.
Coverage
The company ships to the USA, the UK, Canada, the Middle East, and Europe.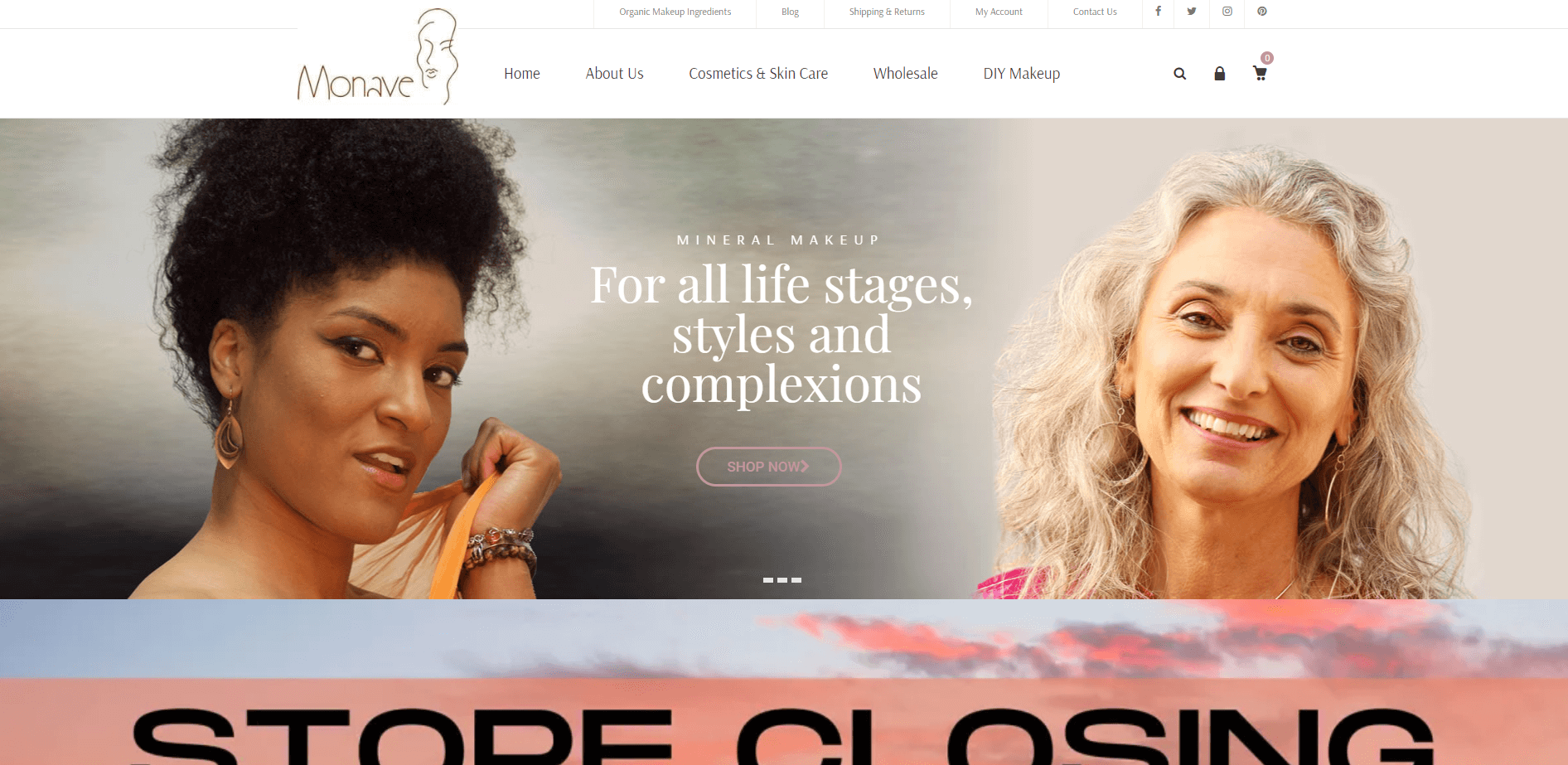 The company started with a passionate dream to improve the environment.
It is a small family-style company whose owner aims to take small steps towards a greener planet. Monave's products are carefully crafted to ensure sustainability, quality, and freshness.
They are committed to using plant-based and organic substances that support small farmers. They also focus on their mineral ingredients to be child-labor and irritant-free.
The owner is also an animal activist and celiac, which is why her products are focused on being vegan-friendly and gluten-free. Every decision the company takes is based on radical, planet-friendly standards.
Key Products
They offer diverse makeup that includes an unparalleled match of foundation shades for all skin tones.
Their products include over 100 eye-shadow shades, 40 plus shades of foundation, more than 80 shades of vegan-friendly lipsticks, moisturizers, lips, eyeliners, and so much more make-up and skincare related.
Coverage
The company ships worldwide but doesn't offer tracking off the US shores.
11) Nature's Brands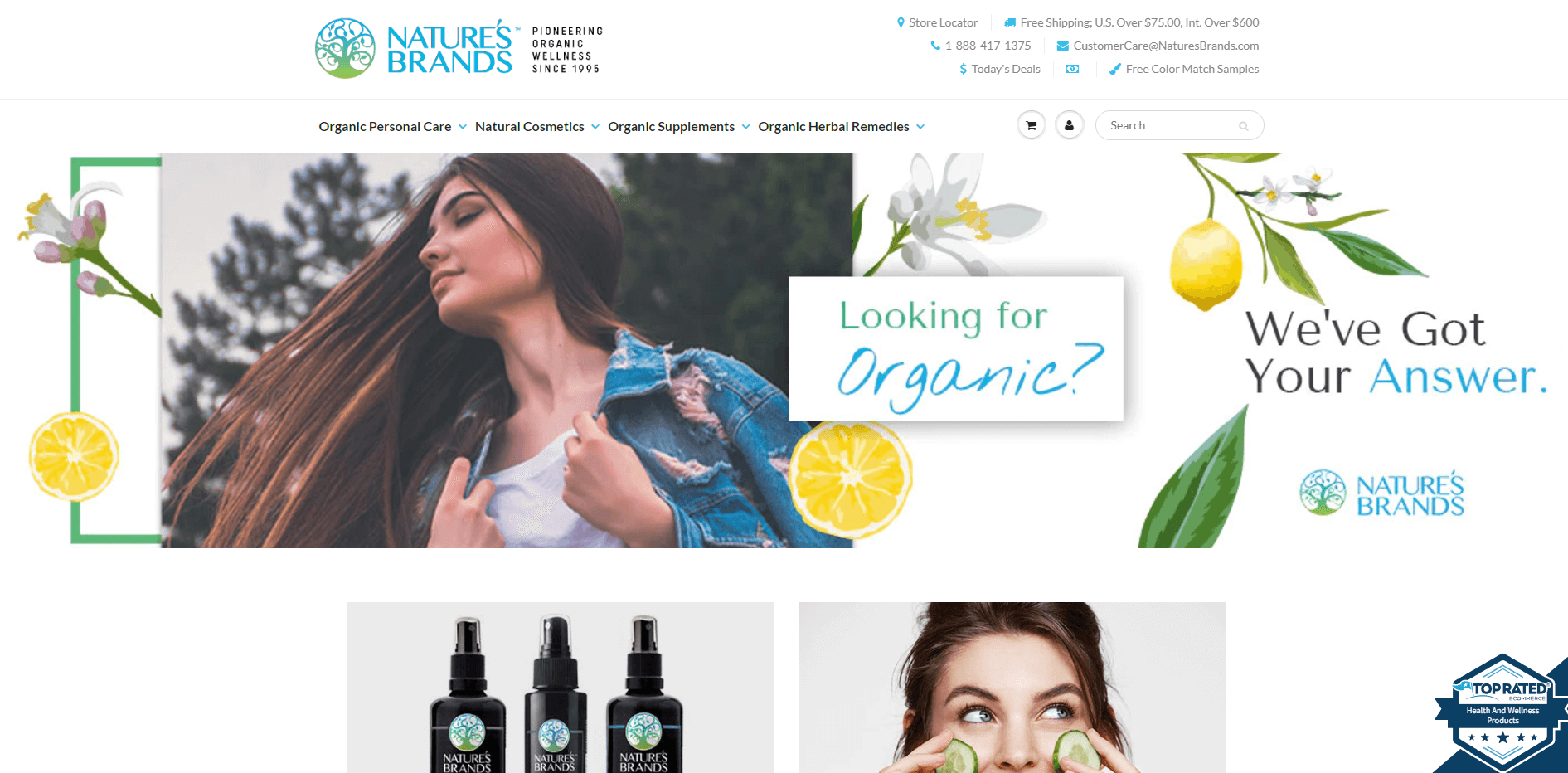 Nature's Brands makes sure it takes care of your body and Mother Earth equally with its extensive range of sustainable skin care, food vitamins, and makeup products.
This is the ideal supplier for those who want to enter the organic beauty industry.
Their mission is to exclude inhumane business practices, be chemical-free and avoid environmental hazards.
The company is a Certified USDA Organic manufacturer
Key Products
Organic skincare, makeup, food supplements, herbal remedies, and more.
Coverage
Nature's Brands ships mainly to the U.S. but also accommodates international shipping. But get ready to pay a much higher shipping price.
12) Furniture Pipeline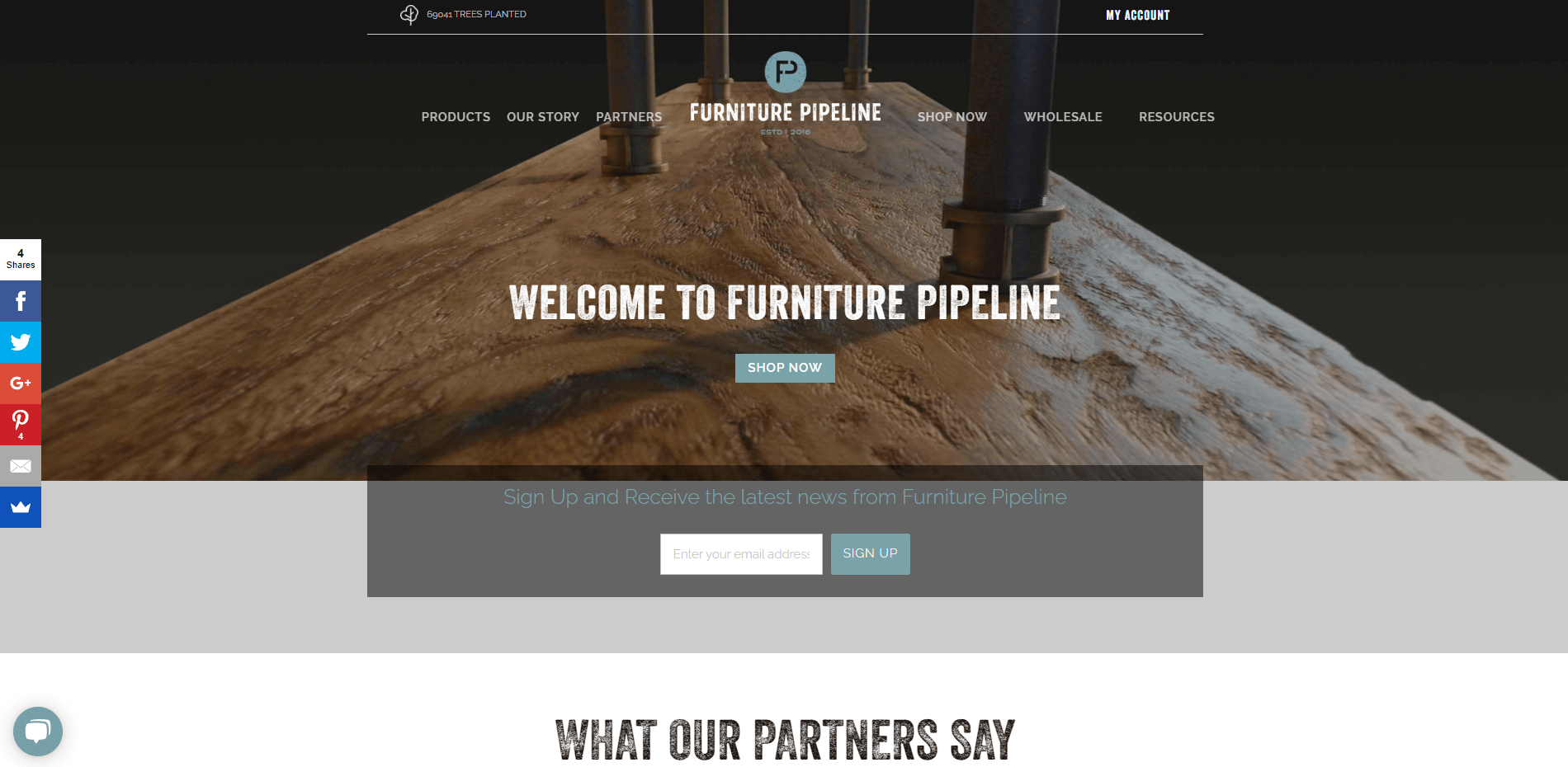 Furniture Pipeline calls itself the pioneer of the global furniture market. But that's not the only reason we've added them to this list.
They're an eco-conscious company that puts great emphasis on crafting premium-quality, yet, sustainable furniture.
They have thousands of amazing product designs to help consumers revamp their living spaces.
What's more is that, Furniture Pipeline also specializes in dropshipping.
As we know, logistics is the biggest challenge of dropshipping furniture. However, the Furniture Pipeline can help you easily take care of that.
The cherry on top is that they also offer automated dropshipping solutions, thus, making them your ideal dropshipping partner.
Key Products
Everything related to furniture and home décor produced at the highest quality, following an eco-conscious approach.
Coverage
Manufactures in the United States, but also fulfills overseas orders.
13) The Green Bear Company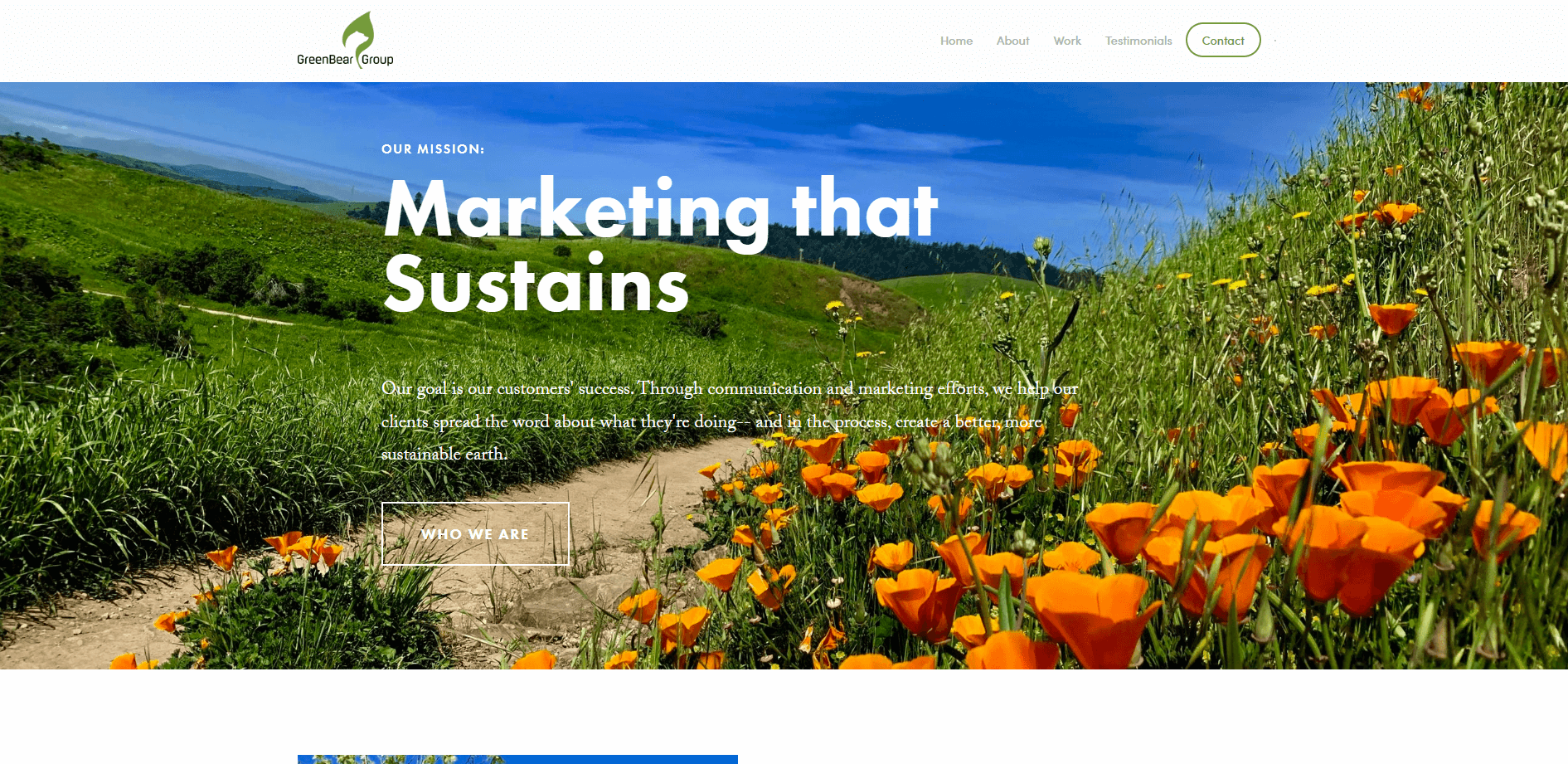 Green Bear is a leading name in the eco-friendly movement. The company was founded in 1993.
Their goal was to raise awareness about sustainability by introducing organic, natural, and biodegradable products.
They became so successful that they later opened another UK-based e-shop in 2008.
Now, Green Bear UK specializes in non-toxic cleaning products that come at an affordable price point.
To further support their cause, Green Bear also pledges 1% of its revenue to save pandas from going extinct.
Key Products
The Green Bear Company specializes in cleaning products, bamboo products, pet supplies, and more.
Coverage
Ships in the majority of the countries in Europe.
14) Honest Green eSolutions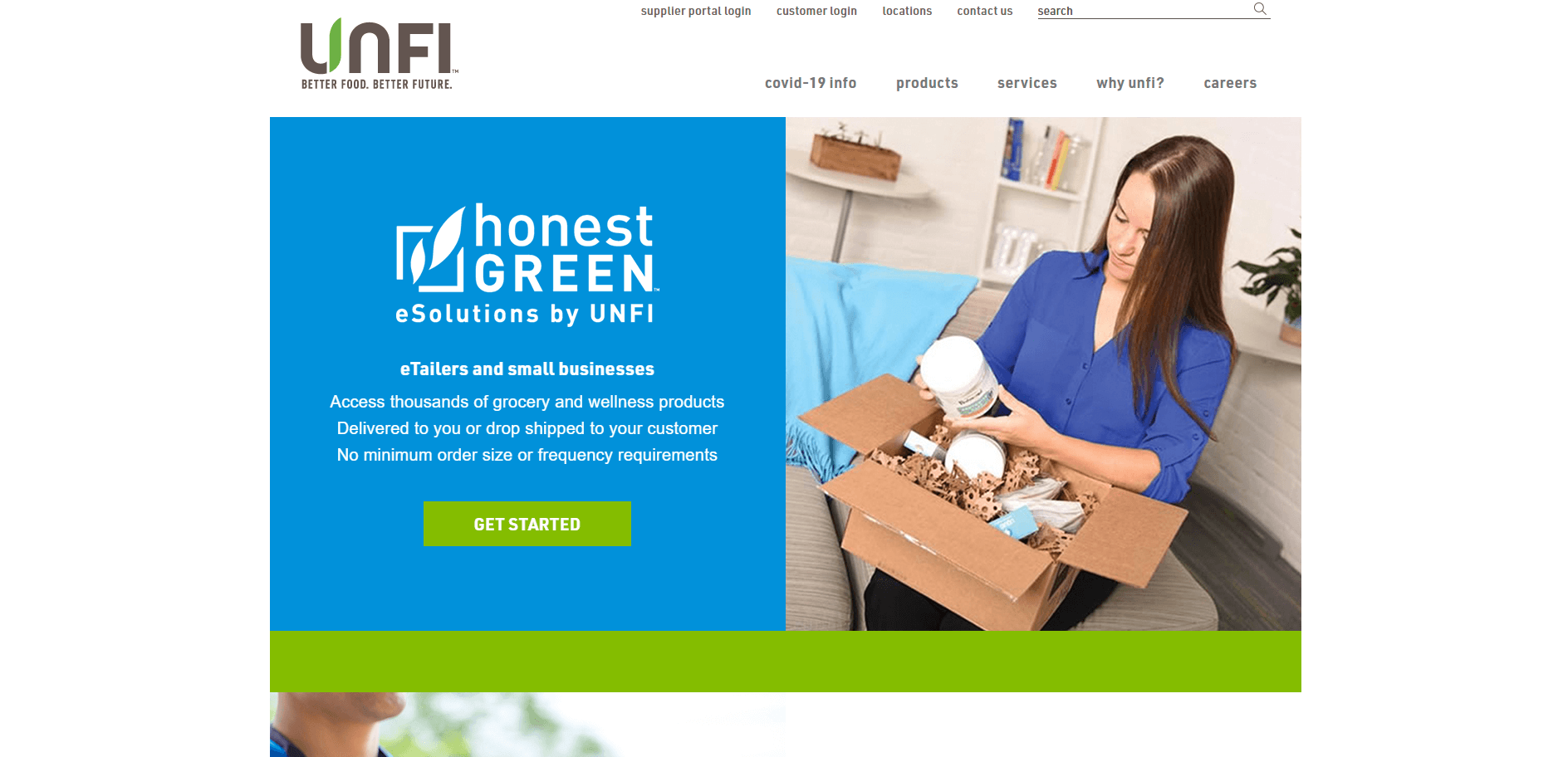 Planning to sell food online to promote a healthier lifestyle?
Well then, Honest Green eSolutions is your one-stop for wellness products and organic grocery.
The biggest benefit of choosing this company is that they do not have a minimum order quantity.
They will directly deliver the goods to the customer, as a dropshipping supplier should.
From consumer favorites to the latest trends – Honest Green eSolutions covers all bases in the food industry.
Whether you want to source from national brands or small entrepreneurs, the chances are that this company will have every food item you need for your online store.
Key Products
Food items of all kinds whether grocery, frozen, fruits, vitamins, supplements, vegetables, and pretty much everything you can think of.
Coverage
Honest Green eSolutions has around 58 distribution centers in North America. This allows them to operate all over the continent with incredibly fast shipping times.
15) Dropshipping by Natural Artist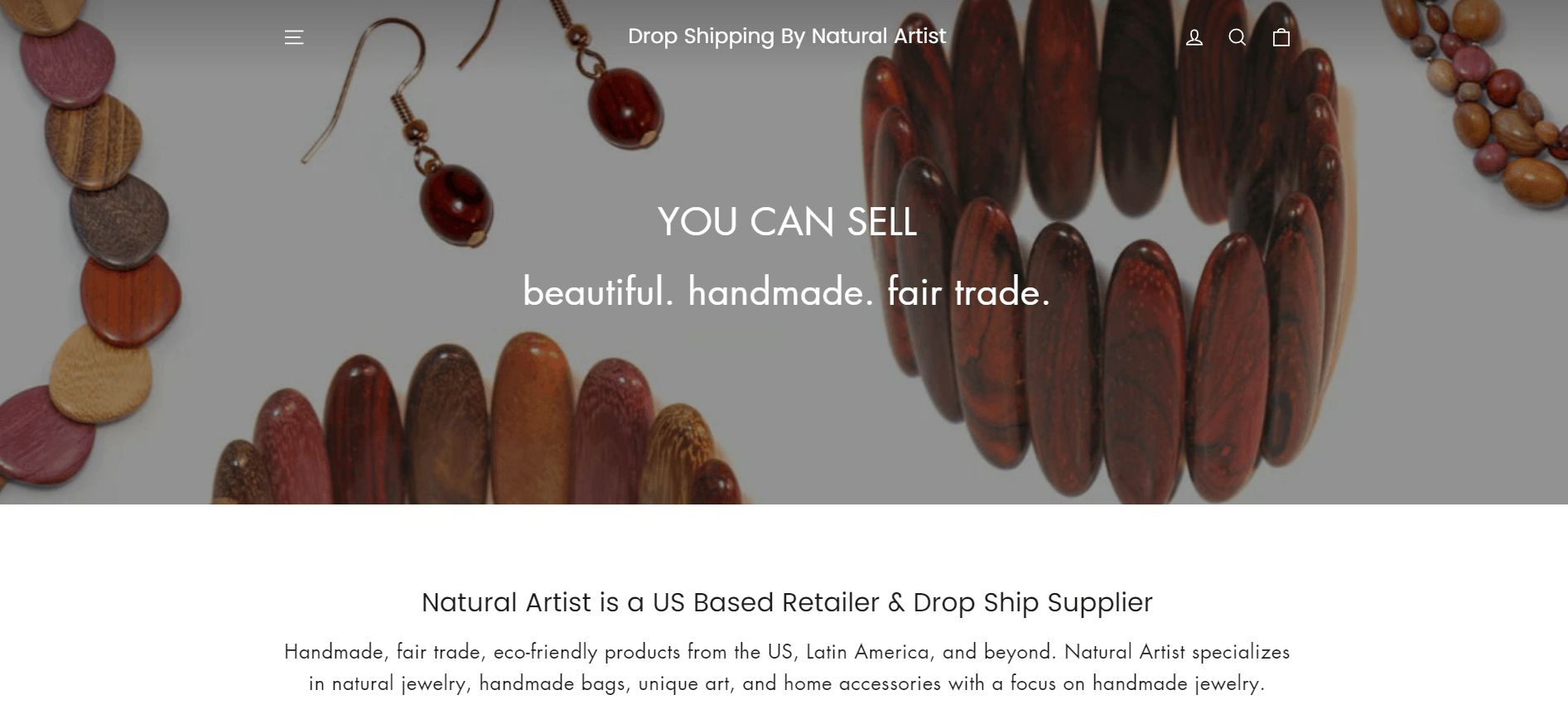 Natural Artist mainly operates in Latin America and the U.S., with their headquarters in Arizona.
Although they deal in various products, their main product is handmade jewelry.
Unfortunately, Natural Artist only has warehouses in the U.S., so they may not be a viable choice if you're planning to dropship outside the country.
As for the pricing, they offer two membership plans, with the Basic Membership costing $49/year, while the VIP membership sets you back $249/year.
The biggest perk of their VIP membership is that you get an additional discount of 15% on all orders. This is great if you're getting a high volume of daily orders.
But if you're just starting, we wouldn't advise going for it.
Key Products
Specializes in handmade natural jewelry, but you can also find handmade bags and other accessories.
Coverage
Natural Artist offers worldwide coverage but expects a long delivery time for orders outside the U.S.
16) DR.HC Cosmetic Lab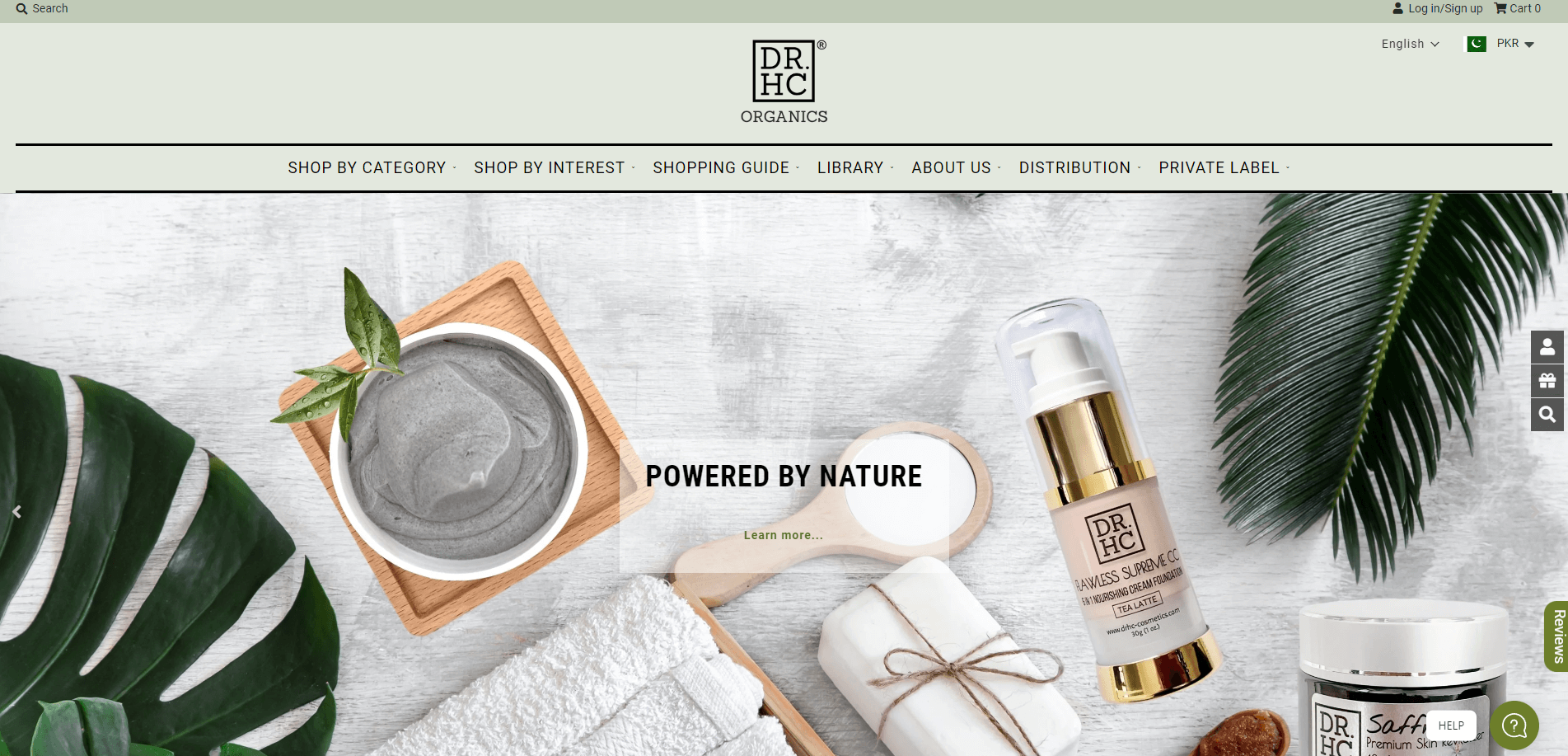 Next on our list is DR.HC Cosmetic Lab. As the name implies, this company specializes in natural and vegan cosmetic products.
The company is based in the U.S. and follows a 100% cruelty-free approach. They have a paid dropshipping program that sets you back $40-$60 a year.
That allows you to import their products to your online store plus a discount on their entire product range!
DR.HC Cosmetic Lab also offers integrations with the most popular eCommerce platforms, including Shopify and WooCommerce.
Key Products
Deals in skincare, makeup, bath, hair, and body products. All of their products are 100% cruelty-free.
Coverage
DR.HC Cosmetic Lab offers fast U.S. shipping as its main warehouse is in the U.S. But they also provide worldwide coverage. Be sure to check their delivery time, as international shipments can take 7-21 days.
17) La Palma Eco-Beachwear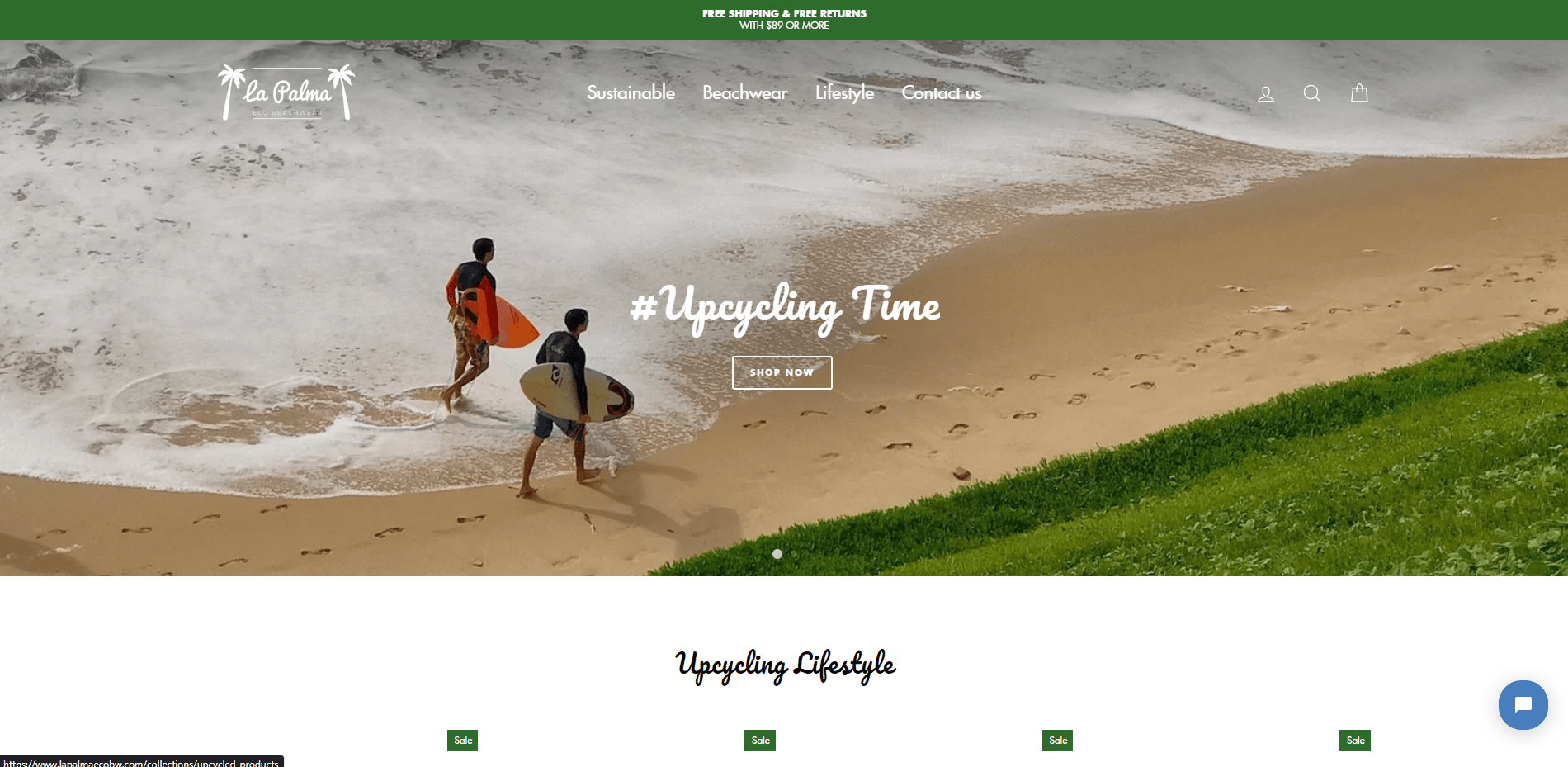 Did you know that plastic bottle waste kills 1.1 million marine creatures each year?
As devastating as it sounds, fortunately, La Palma Eco-Beachwear has taken the initiative to reduce plastic waste by using recycled plastic bottles to make board shorts.
This company charges a subscription fee for its services. However, you need to pay $5 for U.S. shipments and $10-15 for other countries.
Key Products
Mainly deals in upcycled beach shorts.
Coverage
Ships worldwide with warehouses in the U.S.
18) eSutras Organics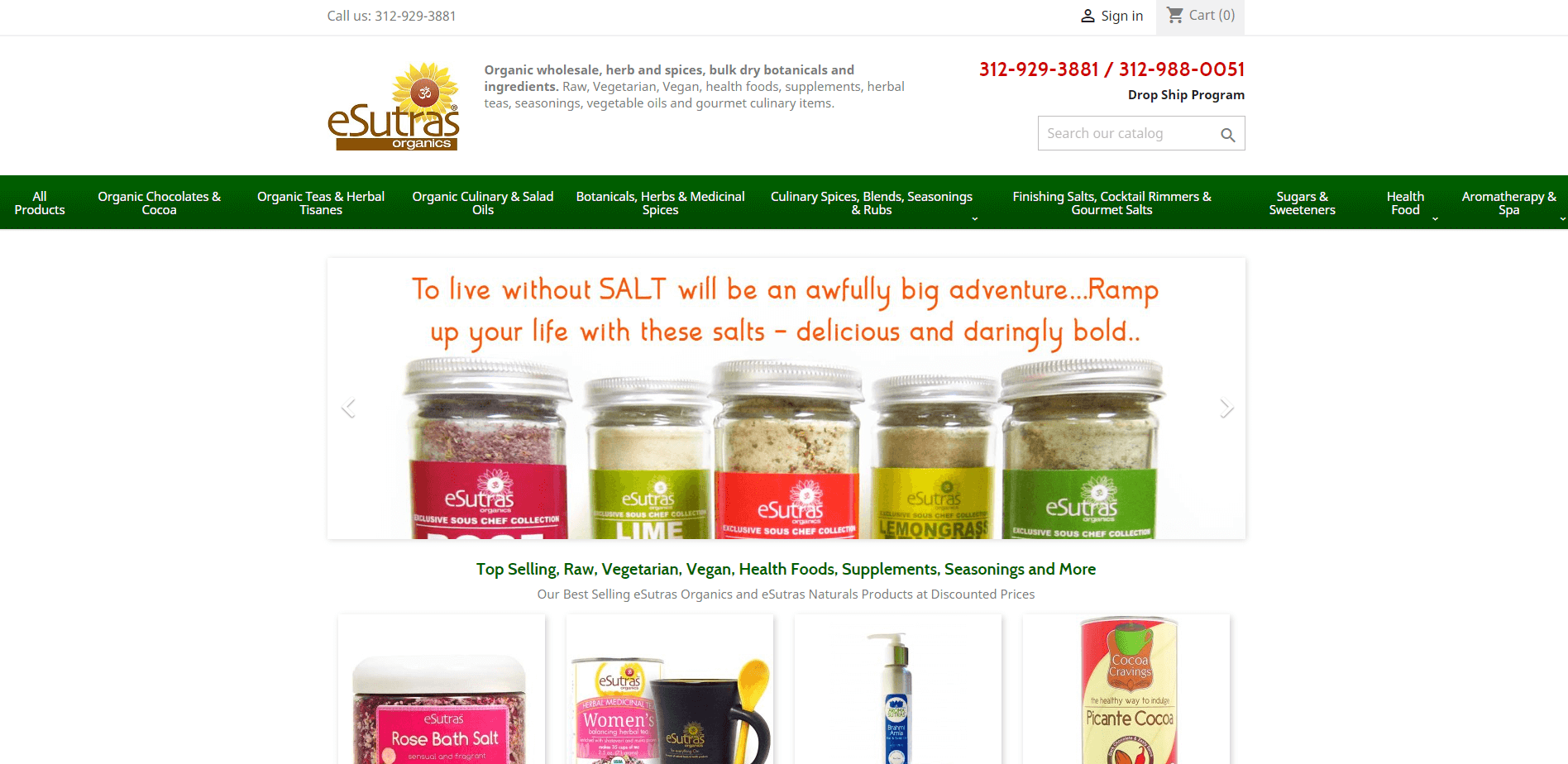 Last on our list is another Chicago-based ingredient supplier.
eSutras Organics makes all its products in the U.S. using 100% organic and natural ingredients.
Unfortunately, eSutras Organics charges a hefty one-time $300 membership for their dropshipping program.
But that gives you access to exclusive discounts, and you don't have to pay an additional fee after that.
If you're planning to build a brand in the organic spices and herbs niche, then eSutras is a great choice, as they also offer private labeling services.
However, if you're new to dropshipping, then spend more time learning and think twice before investing in the $300 membership.
Key Products
Mainly known for organic spices, and herbs but also deals in other products such as organic chocolates, sweeteners, salad oils, and more.
Coverage
Provides worldwide coverage but shipping to international countries may take significantly longer as eSutras Organics only has warehouses in the U.S.
FAQs about Eco-Friendly Products
What Are "Zero Waste" Products?
The zero waste philosophy encourages developing a lifestyle and production market where all products can be reused. The goal is for no trash to be sent to landfills, incinerators, or the ocean.
Zero waste also emphasizes waste prevention over recycling and composting. The thinking behind zero waste is that it's better to stop the flow of trash at the source than to try to clean it up afterward.
How Can I Tell if a Supplier Is Truly Eco-Friendly?
You can verify a supplier's claims by looking into whether or not they have received certification from a dedicated group like the Forest Stewardship Council or the Rainforest Alliance.
This is one method. You might also get in touch with the provider and ask them questions about the procedures they use during the production process, how they source their materials and if they use eco-friendly packaging.
Is Dropshipping Eco-Friendly Products Profitable?
Yes. dropshipping eco-friendly products shows a promising profit potential as the world is moving towards sustainability and customers are becoming more eco-conscious.
Final Thoughts
If you are an entrepreneur planning to start your dropshipping eCommerce business, you should consider the ecological impact of your services and products.
This is where you require eco-conscious dropshipping suppliers. From ethical manufacturing methods to sustainable products, they offer you everything.
If you cannot find a reliable supplier from this list, then don't worry, as NicheDropshipping has got you covered.
We can assist you in finding eco-friendly products, managing inventory, and fulfilling orders for your customers.
All you have to do is give us a call and discuss your business requirements with our agents!