Everyday, a bunch of babies are born all over the world. This automatically leads to the need to buy them clothes, strollers, and all the other items they need to make them comfortable.
Needless to say, the baby product market only grows each year. If you're a dropshipper looking for a niche, you might want to consider dropshipping baby products.
This article will enumerate all the best baby items you can start selling. It will also include reasons why you should dropship baby products, how you can start selling baby items, and how to find baby product suppliers.
If you're interested in starting your own baby product dropshipping store, you'll find this article quite helpful.
Let's get right to it.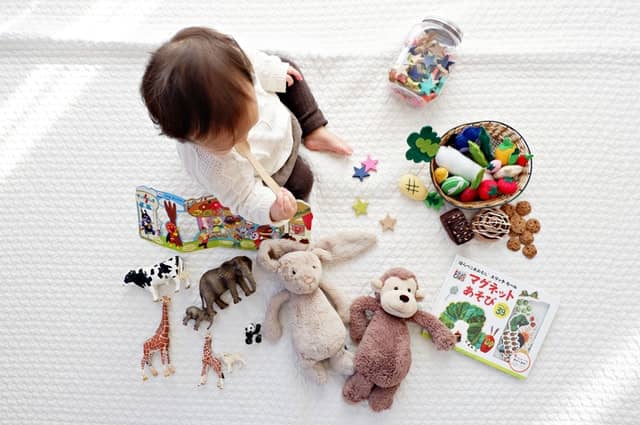 Why Dropship Baby Items?
Around 140 million babies are born each year, according to the United Nations. This number makes it easy to see why the baby products industry is worth more than 67 billion dollars.
This industry isn't just limited to baby clothing. It encompasses baby care and baby nutrition products as well. With that, you can see just how massive the entire industry is.
If you still need solid reasons to start dropshipping baby products, below are reasons to convince you to start dropshipping today.
Growing Demand
As mentioned, millions of babies are born each year. This means a growing demand for baby products that newborns definitely need in their first few months.
That growing demand automatically translates to parents looking for reliable stores to purchase baby products from. And since we're currently going through a pandemic, a lot of parents prefer to stay home for the safety of their newborns.
This should be the perfect chance to target those parents and entice them to purchase useful products online instead.
Variety of Products
If you think the only baby products to dropship are clothes and milk, then better think again. Parents look for useful items to purchase, and there are tons of these in the baby market.
True, there are a number of dropshippers within this niche but that doesn't mean you can't find your place in the market. Just find the best products to dropship and strategize on how you can target your market.
With the best products in your online store and a great strategy in place, there's no doubt you'll succeed in this niche.
Global Market
Another great reason to dropship baby products is that you have a global market. There are millions of parents all over the world looking to have products delivered to their doorstep.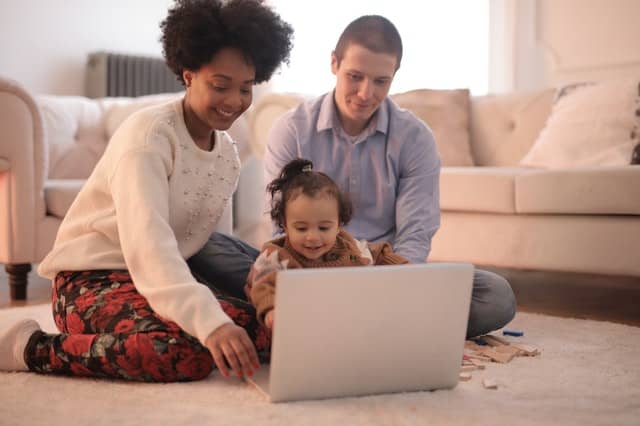 What you only need is a plan on how you can reach them. Your location is only one thing to consider. Just find the right baby products suppliers and make sure they are able to deliver to your target regions.
Product Innovation
As more and more parents look for ways to make life easier for themselves, the industry has also found ways to innovate products.
Gone are the days where parents need to manually rock their babies to sleep. Today, we have products that can do that.
This reason alone makes it all the more exciting for first-time parents to go online shopping. The fact that these products make life a little less difficult makes it a great niche for dropshipping.
Top 32 Baby Products to Dropship
Now, we've justified why you should dropship baby items, it's time we enumerate all the best products you can add to your store.
Just note that these items are not ranked according to their popularity or profitability.
Without further ado, here's the list:
Organic Baby Wipes
Organic baby wipes have gained a lot of hype over the past few years. Not only are parents looking for safer options, but they're also looking to use environmentally-friendly products.
More often than not these baby wipes are made from 100% biodegradable material and infused with organic ingredients such as aloe vera to moisturize your baby's skin while keeping it clean and sanitary.
On top of those reasons, parents need lots of wipes just to get them through an entire month. Some parents even opt to buy in bulk. So when adding this to your store, expect lots of orders all year round.
If you're looking for a top product to dropship, this item should be a top consideration.
Manual Breast Pumps
Another top product you might want to consider is manual breast pumps. True, you can opt to dropship electric ones instead but manual breast pumps have their own set of advantages.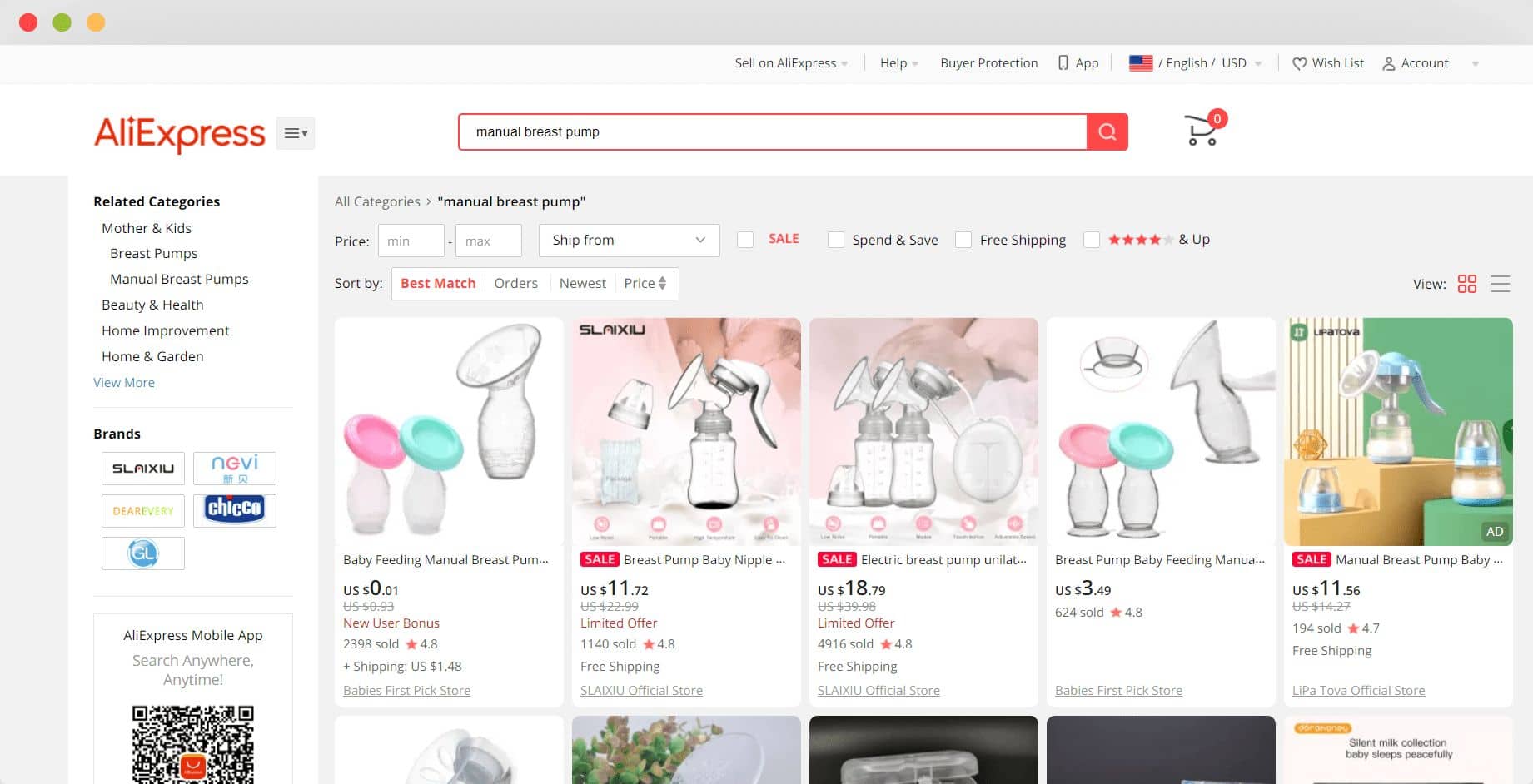 First of all, parents like this item because it's also travel-friendly and easy to set up. Compared to electric ones, this doesn't need a power source.
Another reason is that they're more affordable. The price isn't just suitable for you as a dropshipper, it's also enticing for parents as well.
Lastly, they're pretty easy to keep when not in use. So overall, not only are these a hot item since they came out, but they're also great options for parents-on-the-go.
Travel Crib and Play Yard
A lot of parents often want the convenience of multifunctional products. One of these items is a travel crib and play yard.
When you're traveling with a baby, it's already a given that you have a lot to pack. This isn't just space-consuming, it's time-consuming too.
So for parents who want to save some time and space, they opt to buy a travel crib and play yard. This is a 2-in-1 item that serves as a crib and a playpen for their baby.
It's suitable for parents who want to pack minimally and not bring so many things during the trip. It's also an ideal product to purchase if you're looking to save money on baby items.
Although these are quite big to ship, plenty of parents are still interested in purchasing useful items like this one. So, consider adding this to your online store.
Silicone Baby Teether Kits
By the time the third month hits, babies start to grow their teeth and this can be a very challenging period for parents. More often than not, kids get sick and fussy when they start teething.
To combat this, it's advisable that parents buy them baby teethers. Baby teethers help soothe babies' gums when teeth start to grow.
However, a common concern among parents is that because babies suck and chew on these teethers, they might get exposed to harmful chemicals.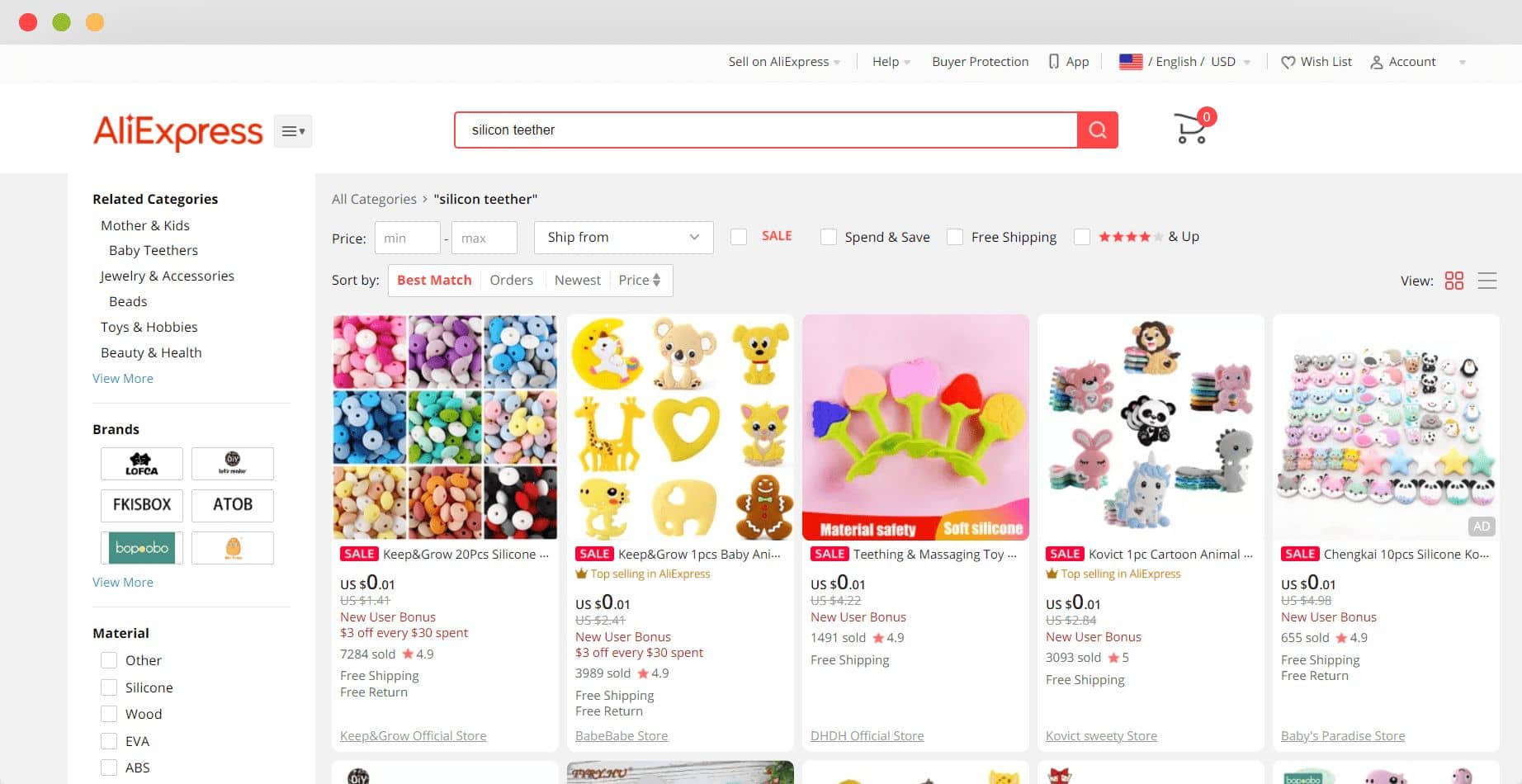 This is why silicone baby teether kits are a top option for parents these days. Silicone is a material that's safe for babies to put in their mouths, whether for an hour or 24 hours.
Just make sure to ask the supplier for more information when looking for baby teether kits to ensure their safety.
Diaper Storage Bins
If there's one thing parents hit or miss during their first few months, it's organization. A lot of things are going on and sometimes, they just don't have the time to pay attention to the small details.
This is where diaper storage bins come in handy. These bins help organize and keep track of the current diaper inventory. Whenever these are in reach, it's much easier to change a baby's diaper.
These items are pretty travel-friendly too. Diaper storage bins come in different shapes and sizes, with some holding up to 15 diapers at a time.
When they're no longer in use, they can also be stored easily in cabinets or drawers.
Seeing how useful this item is for parents, there's no reason why you shouldn't consider adding this item to your online store.
Baby Playpens
If your target market is parents who prefer staying at home, then baby playpens are an amazing item to have. These playpens are suitable for parents who just want to make sure their kids are safe but still have their toys within reach.
Compared to the 2-in-1 item mentioned earlier, the only purpose of these playpens is just to a baby's playground at home. It can be the baby's safe space, regardless of its size.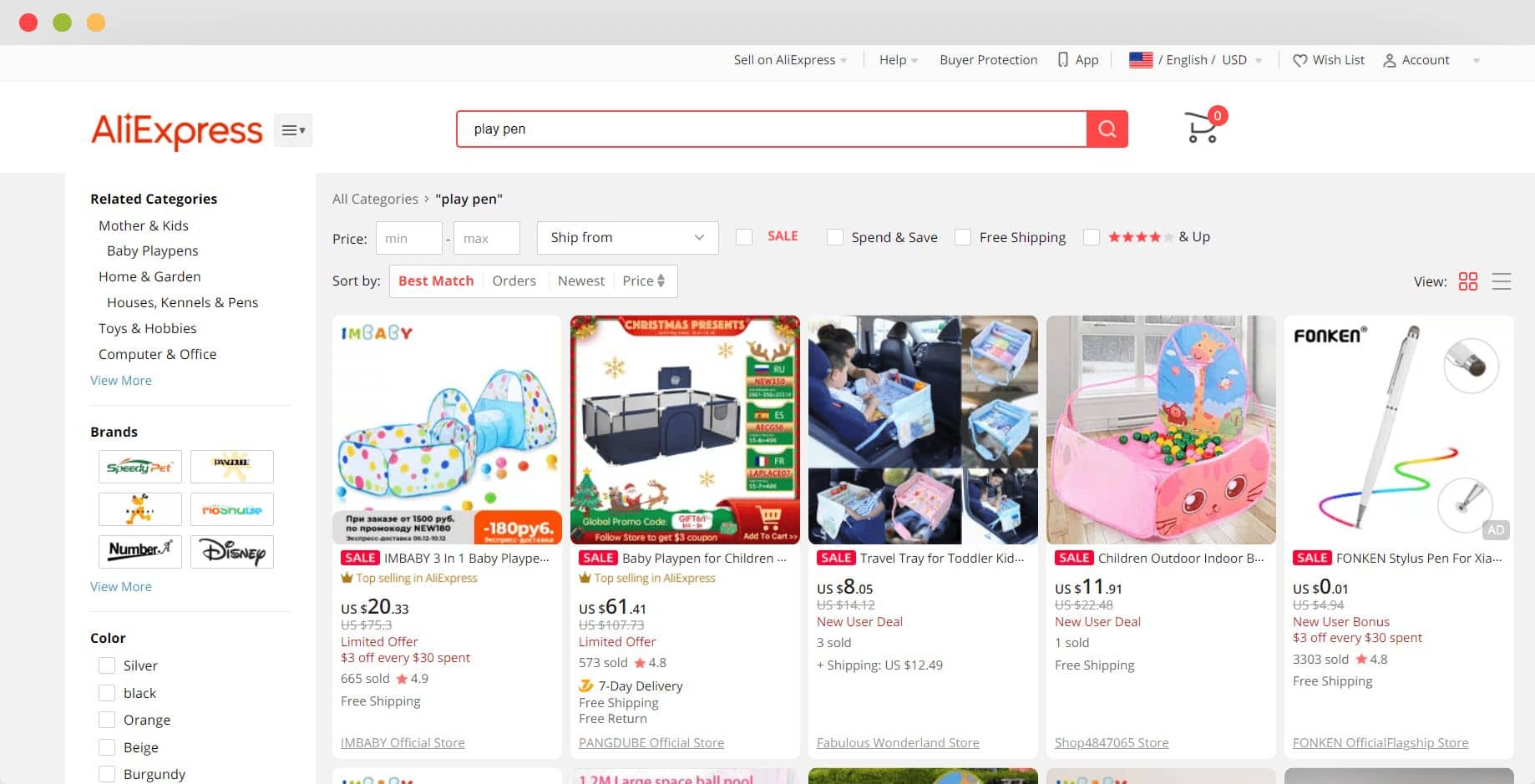 Because babies are placed in these spaces quite frequently, it's best to look for a playpen made out of non-toxic and durable materials. It's even better if they come with safety measures like safety buckles and padding on the edges.
Also, focus on playpens that are relatively easy to assemble. Once you have these boxes checked, you're ready to add them to your product catalog.
Organic Baby Food
Like organic baby wipes, organic baby food products are also becoming quite popular. Safety is always a parent's top priority and they want nothing short of best for their kids when it comes to food.
Organic baby food products are manufactured without the harsh chemicals or fertilizers often found in common products. When opting for organic food, parents lessen their baby's exposure to harsh chemicals.
So, you should consider adding organic baby food to your product catalog.
Just be mindful of your supplier. Make sure they're reliable and that they guarantee their products are safe for babies and are truly chemical- and fertilizer-free.
Baby Carrier Hip Seats
Probably one of the best inventions out there is baby carrier hip seats.
Before these came around, parents needed to carry their babies on their kids. And while this was necessary, it can get pretty exhausting and straining real quick.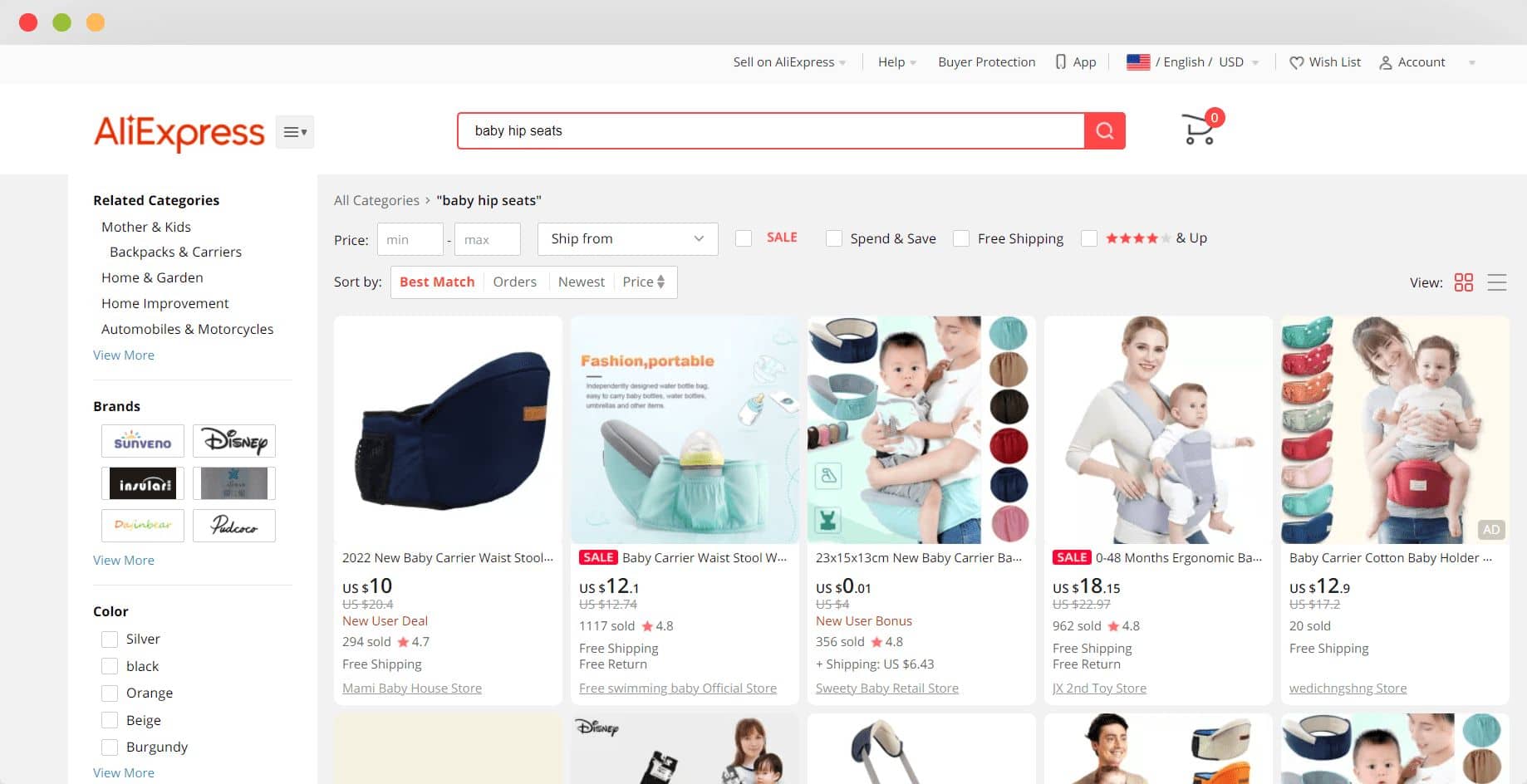 Baby carrier hip seats allow parents to carry their babies without holding them all the time. Babies sit on the seat and are strapped into place securely and safely.
This hip seat also lessens the strain on whoever's carrying the baby because it evenly distributes the weight all through the upper body.
Some baby carrier hip seats are also made with lots of pockets and other storage areas to make them a multifunctional items.
With all these benefits, it's definitely a must-have for parents who want to carry their babies without the strain.
Multifunctional Sound Machine
Putting babies to sleep is one thing, but making sure they sleep all through the night is another. You can't always guarantee they'll have a good night's rest, but at least parents can purchase something that might help.
It's a multifunctional sound machine. This machine combines nightlight, sound, and time-to-wake-up alerts in one handy item. A lot of parents even testify that this creates the ideal sleeping environment for their newborns.
You can customize these machines, from their colors to their sound and brightness. For parents, this might just be a dream come true.
A lot of suppliers carry this item so best to find the right one for your target market.
Baby Swaddle Sets
Swaddle sets are another item to help babies feel safe and calm when they sleep. These items are made with soft and comfortable materials to let them sleep through the night—most of the time.
Ideally, the best swaddle sets are made from light and stretchy materials for a more snug fit.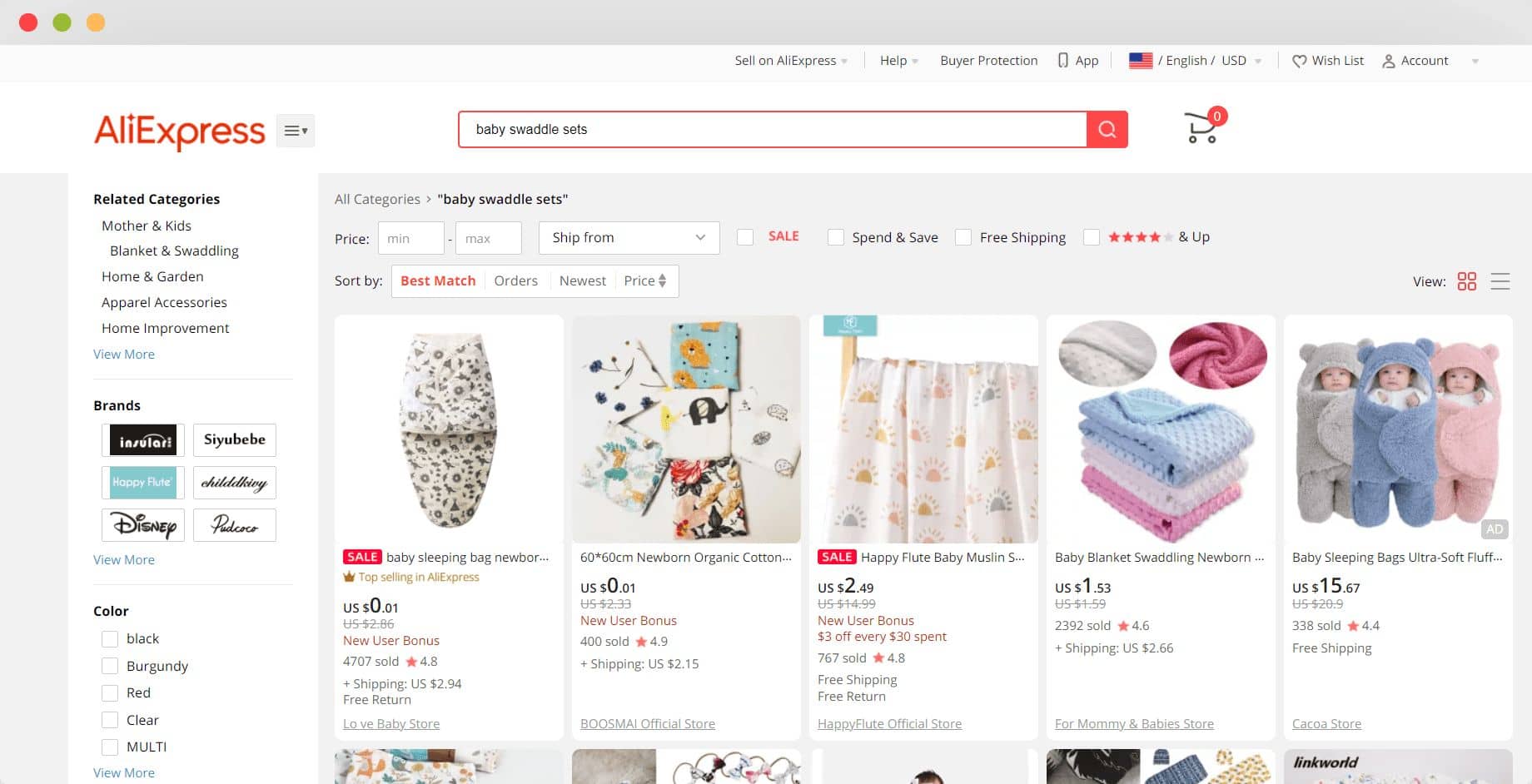 These swaddle sets are traditionally wrapped around their bodies to secure them and make them feel like they're still in their mother's womb.
Most mothers love to hoard swaddle sets because it's such a cute item to have in their nursery. Some moms even like to use cute swaddles for their newborn photoshoots.
So, if you choose to add this to your online store, be sure to provide as many options as possible. You can never have too many swaddles, after all.
Baby Monitor
It's quite common for parents to have a separate room for their newborns. They like to keep their own space and decorate the nursery with all sorts of things.
And while they make sure the entire space is safe, you can never tell what truly happens in the next room. This is how baby monitors came to be.
Baby monitors are useful for keeping an eye on babies from a distance. It's not just useful at night, but also when parents are busy doing other things in the house.
For peace of mind, this is often an item that parents have at the top of their list. This is why you should have it in your dropshipping store as well.
Baby Bouncer
If your target market is the type of parent looking for fun items to have, then baby bouncers should be a top option.
These baby bouncers are often lightweight and low to the ground. They're suitable for newborns and babies up to six months old.
Although it's not suitable for sleeping, baby bouncers are useful for fussy babies who want to be entertained by their own movement. A bit of moving around can get them bouncing safely, keeping them occupied.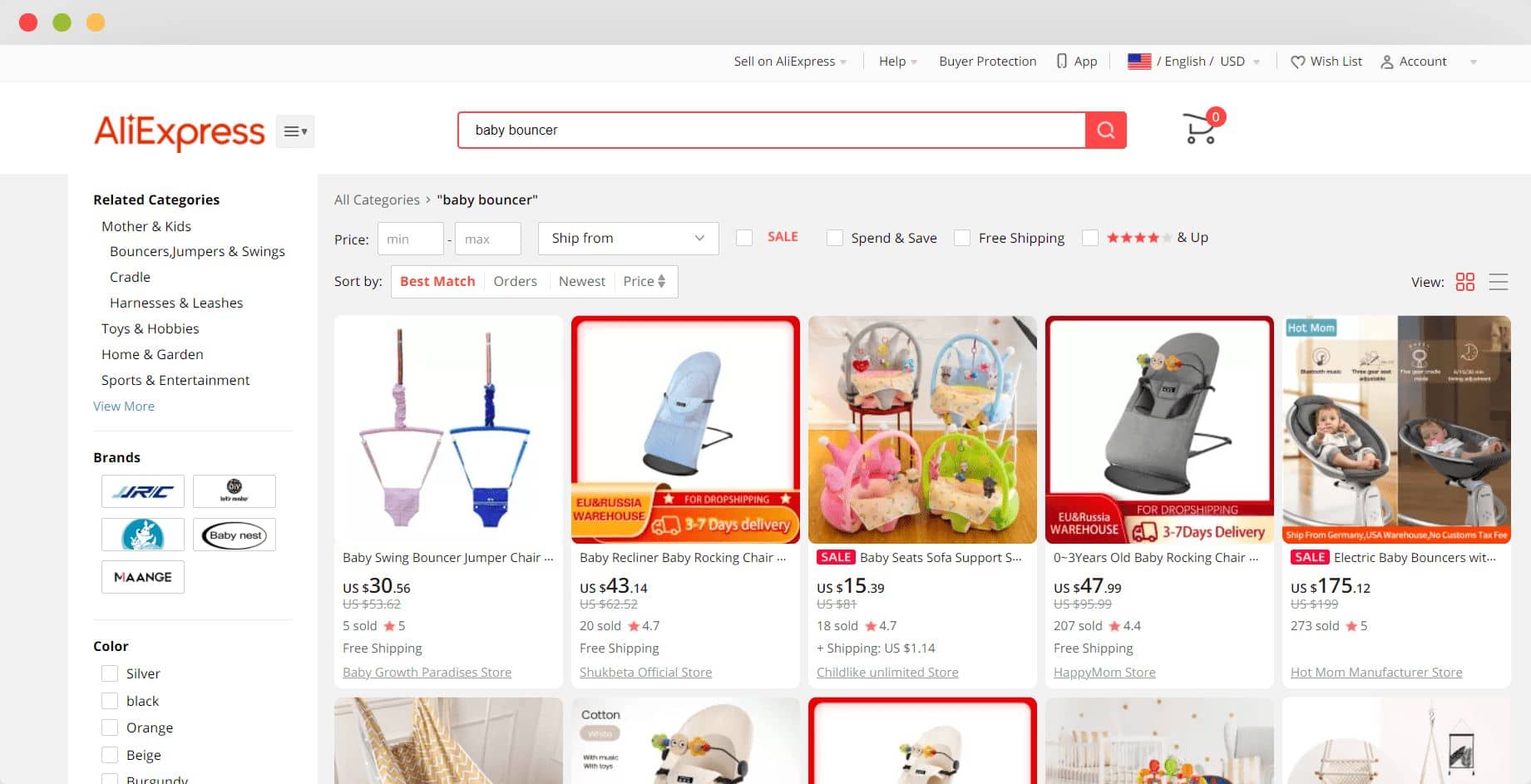 So for busy parents, this should help them finish tasks around the house.
Don't worry though, given that they're lightweight, these items are great for dropshipping. There are also lots of different designs to choose from, so make sure your catalog is varied and diverse.
Baby Romper Outfits
Baby clothes are a staple in dropshipping. Lots of dropshippers these items are just a no-brainer, especially when your target market isn't just parents. You're also looking into aunts, uncles, godfathers, godmothers, etc.
So many people buy baby clothes that you can't necessarily keep track of who the real parents are.
One popular type of baby clothes is baby rompers. These rompers come in cute designs that are suitable for both special occasions and even just casual lounging at home.
Babies are cute anyway, so why not buy them cute outfits, right?
There are plenty of baby rompers sold in the market. Check out popular trends and add items that fit in those categories. This should be a great addition to your dropshipping store.
Baby Towels
Bath time is always a staple for any baby. They make such a mess of themselves that sometimes, they even take a bath multiple times a day.
Needless to say, they need essentials like towels. But most of the time, parents prefer purchasing items manufactured specifically for babies.
Materials aren't just softer, they're also cuter in size and design. Baby towels are a great addition to your dropshipping store because they're relatively low-cost and easy to dropship.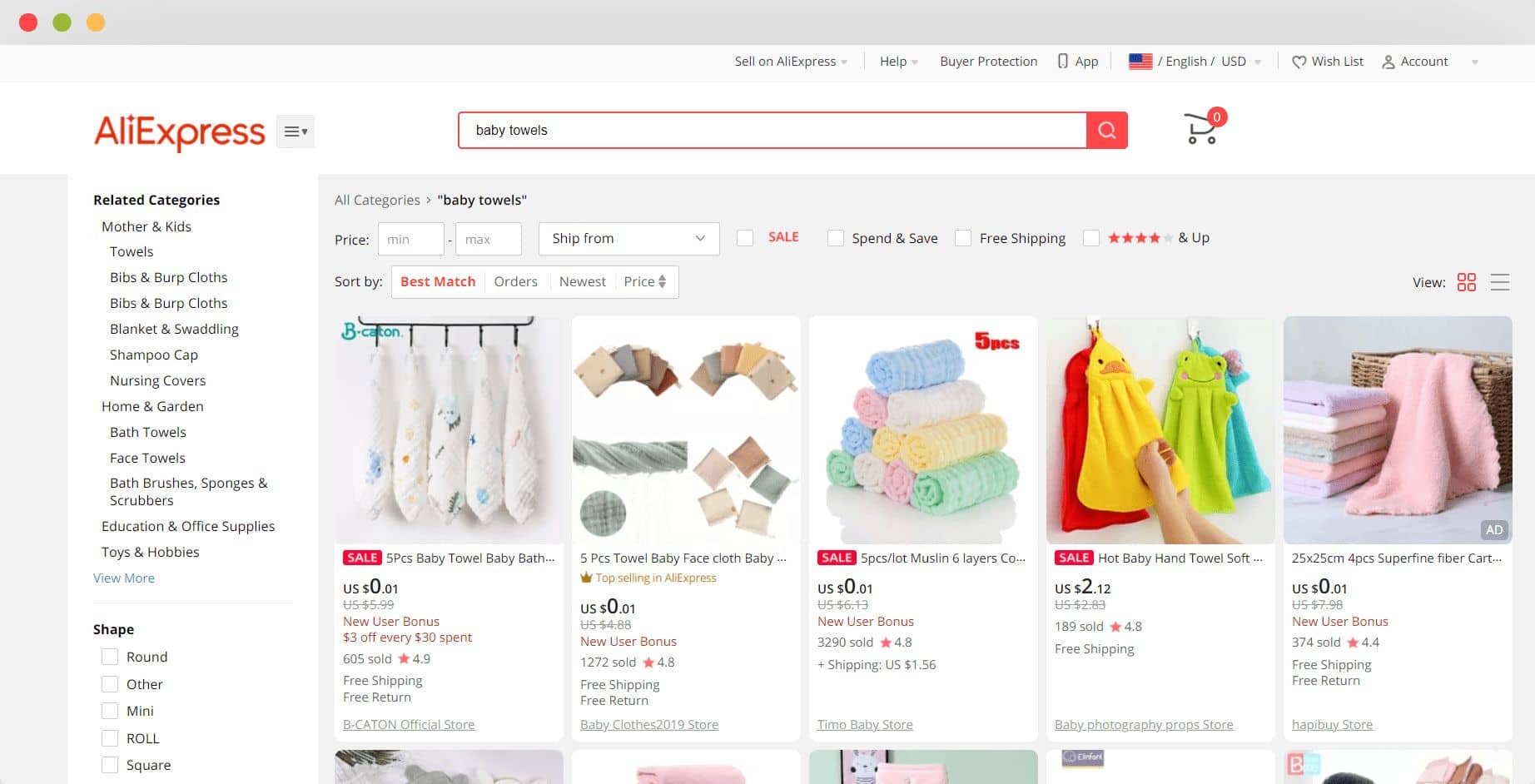 On top of that, these towels come in all shapes, sizes, and designs. The more you add to your store, the more options parents have. Truly, a win-win situation.
Be sure to find high-quality towels from reliable suppliers.
Play Gyms
There comes a time when babies want to be entertained. They become fascinated with the world that they start to explore. Most of the time, they tend to explore items not suitable for babies, like electronics and anything in plain sight.
This is where play gyms come into the picture. These play gyms take their focus away from the typical household items to things that will stimulate their minds and movement.
It helps them develop hand-eye coordination while having fun. Moreover, these are also designed to be safe and comfortable for babies.
These items are also often manufactured to be portable.
Play gyms are great items to have in a dropshipping store if your target market is parents who want to see their babies have fun safely.
Baby Sleeping Bag
According to the Pregnancy Birth Baby Organization, baby sleeping bags aid in reducing the risk of sudden deaths for babies. This unfortunate occurrence isn't rare and having something to prevent it keeps parents at ease.
Similar to swaddle sets, these sleeping bags also prevent legs and arms from being caught or trapped in cot rails.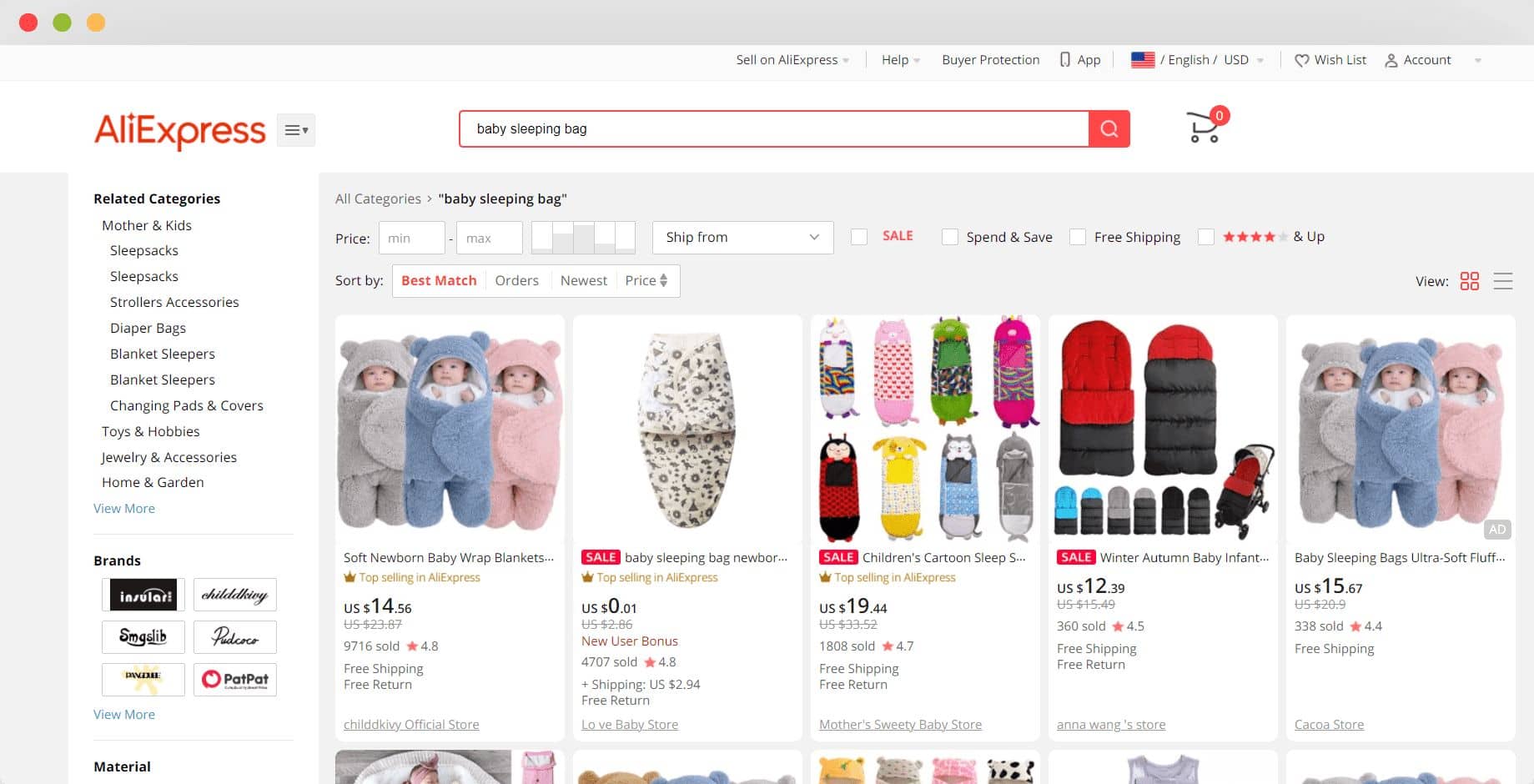 However, its main difference from swaddle sets is that it's designed to keep your baby's arms out. This is so they don't overheat and can still release their warmth through their arms and heads.
The reasons stated above should be enough to convince you why these items are the top products among parents all over the world.
Baby Bath Products
Shampoos and soap bars are also top baby products to dropship. As mentioned, bath time is essential and ultimately one of the more important things in a baby's day.
Regardless of whether you carry organic and inorganic bath products, carrying these items in your store makes it enticing for parents to visit.
Some items you might want to consider adding are hypoallergenic ones and items made for specific skin conditions like eczema. The more varied your products are, the better.
Don't forget to do your research and ensure that the products have been tested to be safe. Also, ensure you carry a lot of sizes as parents either want to try out items first or buy in bulk.
Baby Bassinets
Typically designed for newborns up to babies four months old, bassinets are the top items in any parent's list.
Bassinets provide smaller sleeping spaces for newborn babies, helping the baby feel snug. It's also suitable for parents who want more mobility as these items are much lighter compared to cribs.
On top of that, these are designed to be at the waistline which makes it easier for parents to put their babies down for nap time or sleeping time.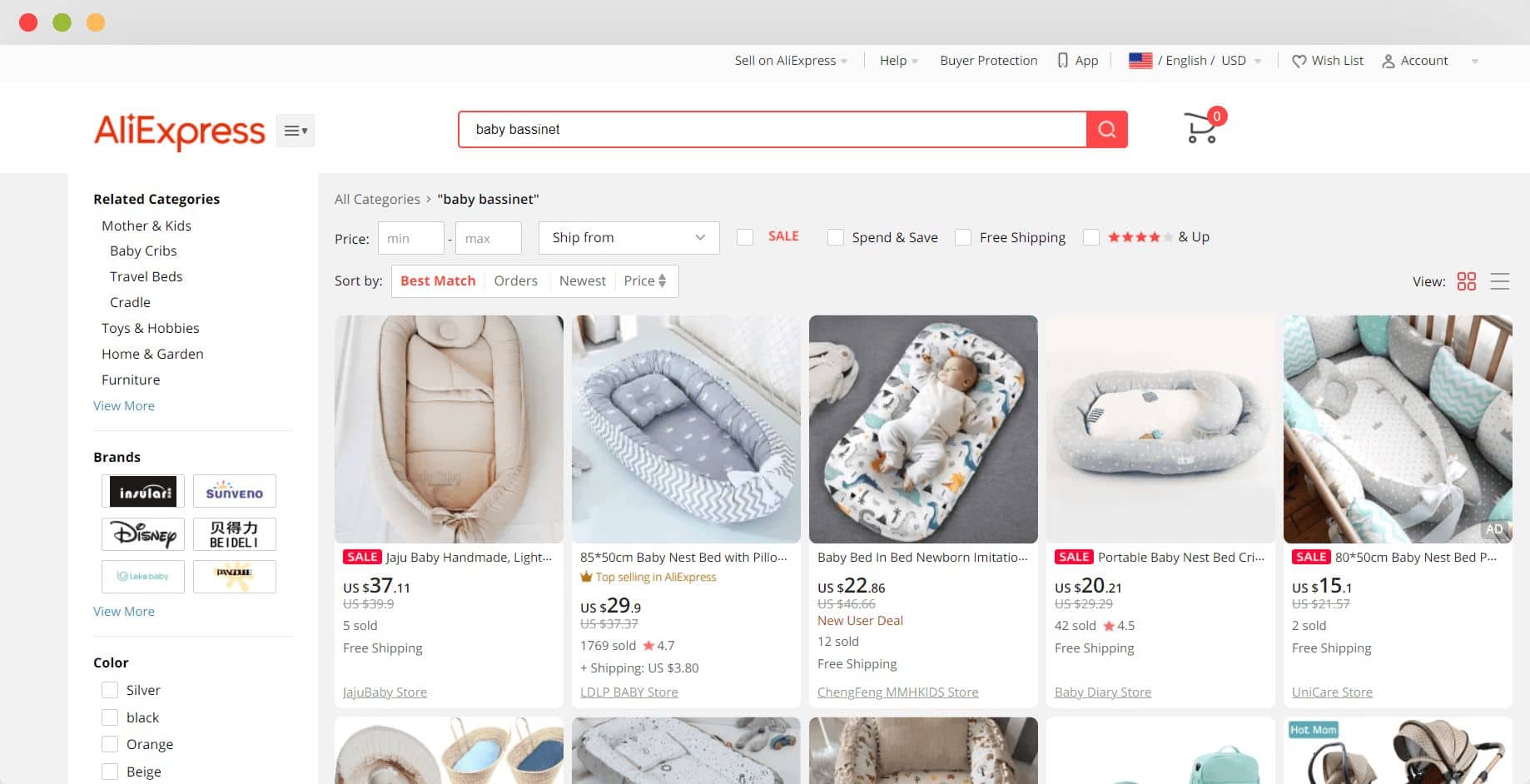 But what truly sets bassinets apart from cribs is that they often cost less than cribs. This is also a good sign for you, as a dropshipper, because then you can have good profit margins—of course, this still depends on your selling strategies.
Consider adding bassinets if you want to provide more affordable options for your customers.
Bath Toys
By now, we no longer have to repeat how important bath time is. Instead, let's focus on why bath toys are the top items to have in your store.
Even though these items aren't truly necessary, they can be useful even as babies get older. When thinking long-term, this can be used by toddlers as well.
Bath toys help keep your baby distracted during bath time. It stimulates their minds and helps them imagine what they do with toys, especially when they're in the water.
For instance, when the baby gets fussy, toys keep their tantrums at bay too. This makes it a lot easier for parents to get through bath time, particularly the one scheduled at the end of the day.
There are plenty of bath toys in the market, so go ahead and look for the ones you think will appeal to your customers.
Feeding Mats
Feeding babies less than a year old is always a messy situation. They just put whatever you put on the table and place it in their mouth.
Spills are common because they don't really care how messy it gets, all they want is to eat happily until they get full.
For parents, this starts as fun but can get exhausting to clean up. As a way to combat this, it's always useful to introduce feeding mats.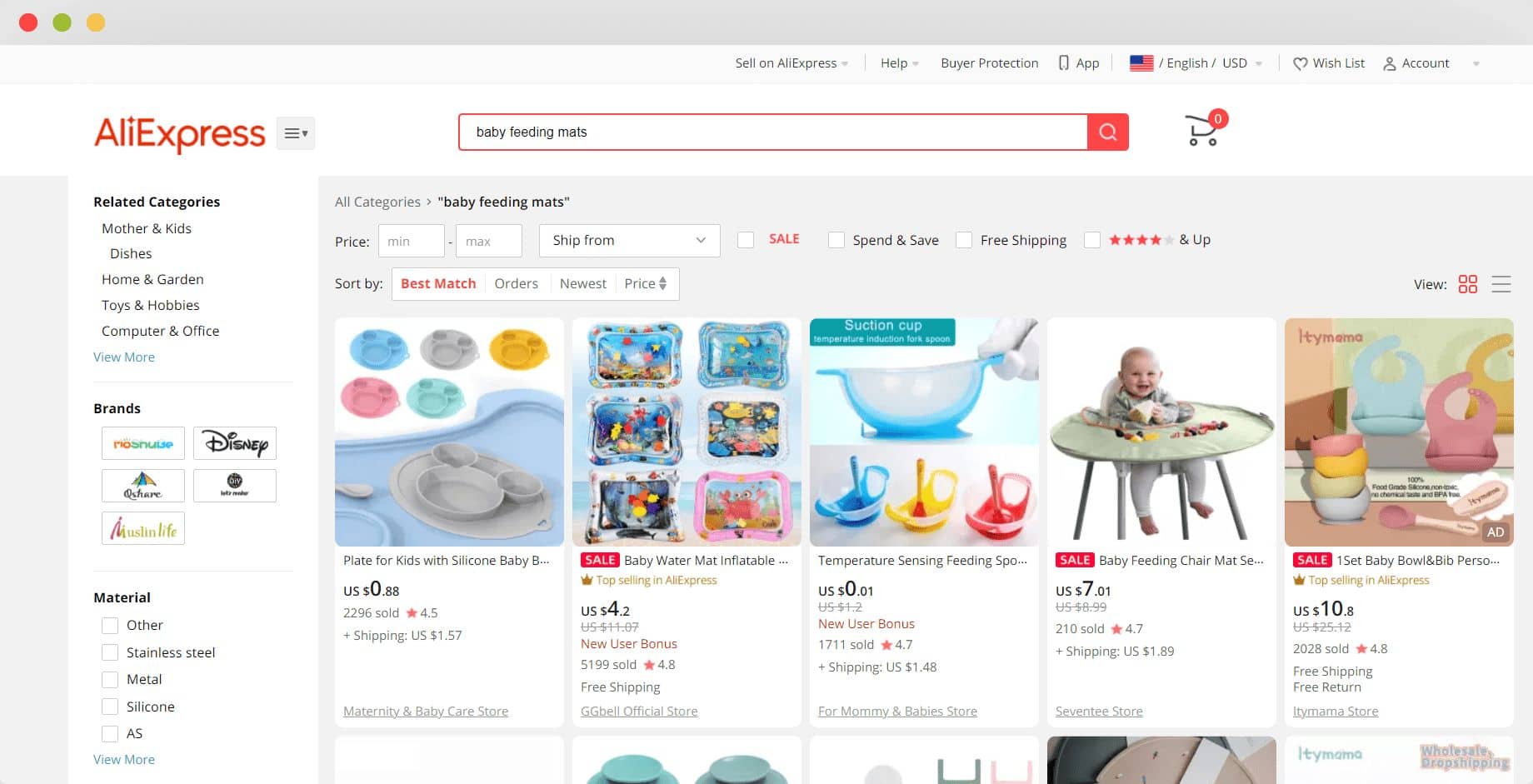 Feeding mats are often made with compartments to place different kinds of foods. These also stick to the table or the baby chair, so no worries about all the food items falling to the ground.
Given their compartments, it also lessens the need to use dishes and bowls since everything can be placed on the mat—except for liquids of course.
Adding this to your store should be a great idea since they are such useful items to have.
Eco-Friendly Diapers
Each year, over 20 billion pieces of diapers are being thrown into landfills. That's a lot of diapers, with most of them being non-biodegradable.
This creates a huge problem for the environment which is why a number of parents are also looking into eco-friendly diapers.
These diapers, as their name suggests, are biodegradable and won't add to the pollution for much longer. These diapers are designed to be compostable in municipal and industrial composting facilities.
Since these products are eco-friendly, they are also usually made from organic materials. This only means that they don't contain harsh chemicals or other irritating materials.
So, better consider adding this product to your catalog.
Baby Lotions
Babies are quite prone to dry skin, sometimes immediately after birth. This can be alarming for a few parents even though it's perfectly normal.
So if your customers happen to be that type of parent, then adding baby lotions should be profitable for your business.
These baby lotions moisturize the baby's skin, making it less prone to irritation and wounds. This also prevents them from developing rashes that—you guessed it—lead to wounds as well.
For some, lotions also act as protective barriers from diapers. Adding this product to your store should be a strategic move for your business.
Baby Milk Bottles
We all know the necessity of baby milk bottles. For the first few months, this is one of the most essential items parents must have regardless of whether they're drinking formula or breast milk.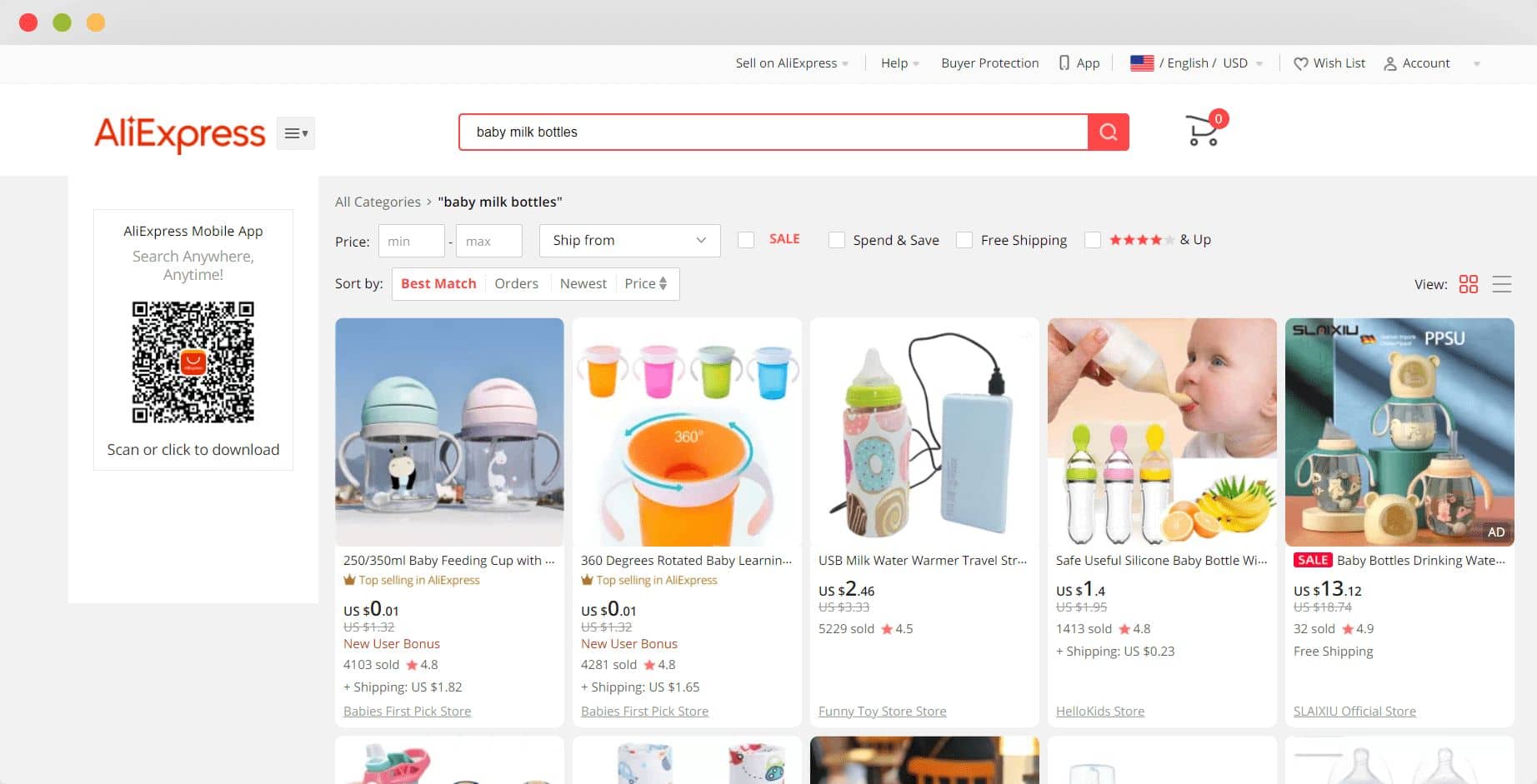 These bottles come in different shapes and sizes, depending on the age of the baby. So, just make sure you offer a wide range of bottles along with different nipple sizes.
It's also great if you add products from different brands. Don't just stick to one supplier, diversify to reach more customers.
These should be ideal items to dropship because they're lightweight. However, don't forget that they're also pretty fragile. Ensure that they are shipped in secured packaging for the peace of mind of your customers.
Baby Girl Accessories
Parents of baby girls are often prone to purchasing accessories that make a cute addition to any outfit. Whether it's a headband or a cute beanie, having an accessory just makes any baby girl much cuter.
This is why baby girl accessories are popular items to dropship. So many moms and dads just want that added touch of adorable, making them prone to hoarding lots of cute items.
So, when including this item in your catalog, don't be afraid to add unique items like scarfs, bracelets, clips, anklets, and other items you can think of.
Baby Car Seats
It's inevitable that parents will need a car seat to strap their baby safely during car trips. Both parents can't always be there during trips so having one should be a good idea.
When looking for car seats to add, look up reviews as well. You need to make sure that the product is safe to use and has a good number of reviews before adding it to your catalog.
Remember that parents want to keep their babies safe. So you need to also look for car seats that offer multiple safety features to make it an enticing product for your customers to purchase.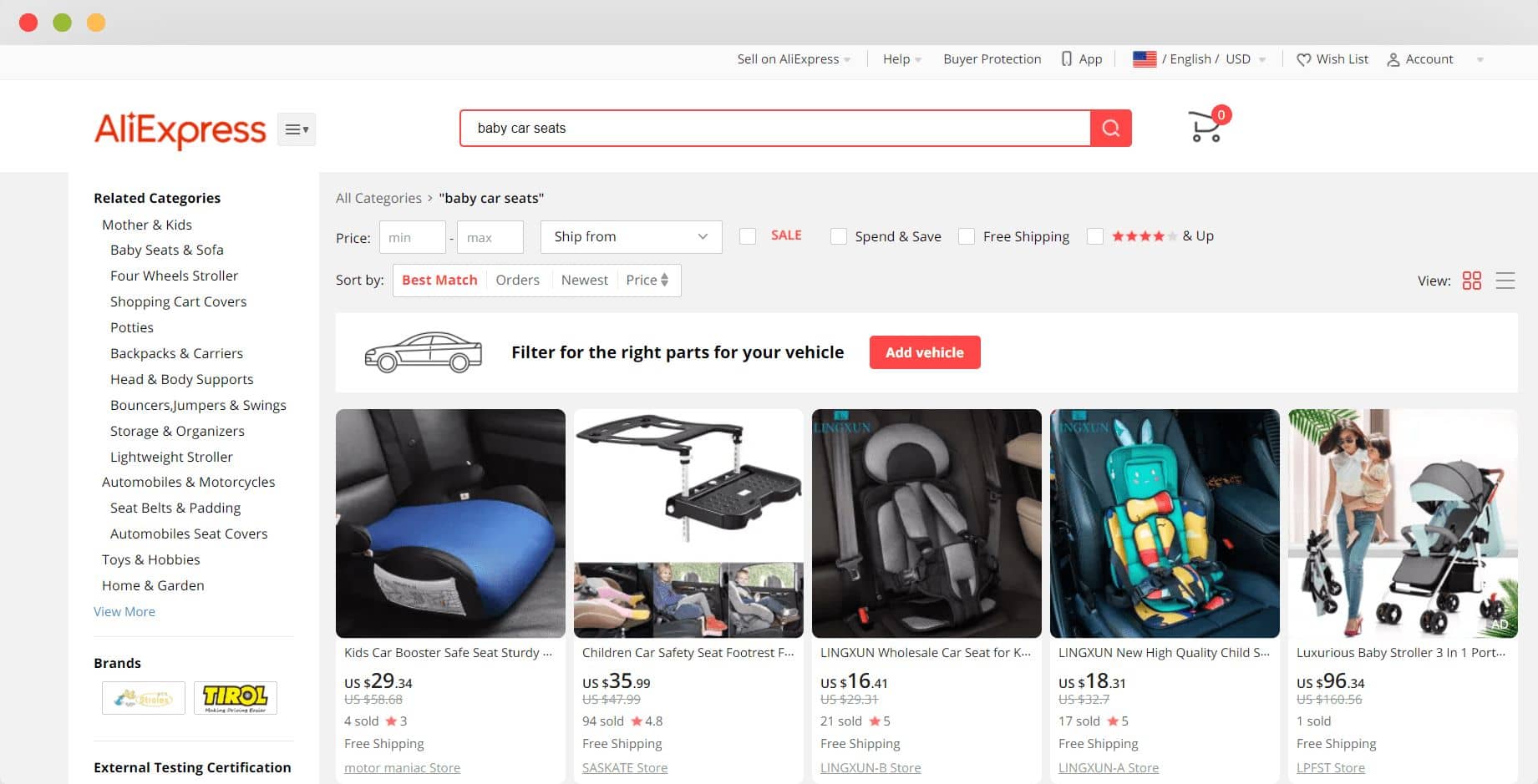 This product might come at a cost, but just look for the right suppliers and consider their location. The more strategic their location, the better it is for both you and your customers.
Baby Bathtub
We promise this is the last time we'll ever mention anything about bath time. After all the other essential items mentioned, it should be a given that we include a baby bathtub in our list.
After years of having it around, there are now different designs and types of bathtubs to choose from.
Don't be boring and just focus on the usual designs—although it's still a great product to have. It's best to explore what other bathtubs are available in the market.
You can look for multifunctional bathtubs to make life easier for parents. Look for ones that have storage bins for shampoos and other bath essentials.
You can also look for tubs that have anti-slip features for a safer bathing experience. Whatever bathtub you choose, keep it affordable and thoroughly research your chosen supplier so that you can guarantee the tubs will last as well.
Wall Decorations
One of the most exciting periods in becoming parents is the time when they get to decorate the nursery. From choosing the room color to picking what kind of crib, decorating is a fun activity for any parent.
You should consider adding wall decorations to your product list if you want to be a part of this exciting period.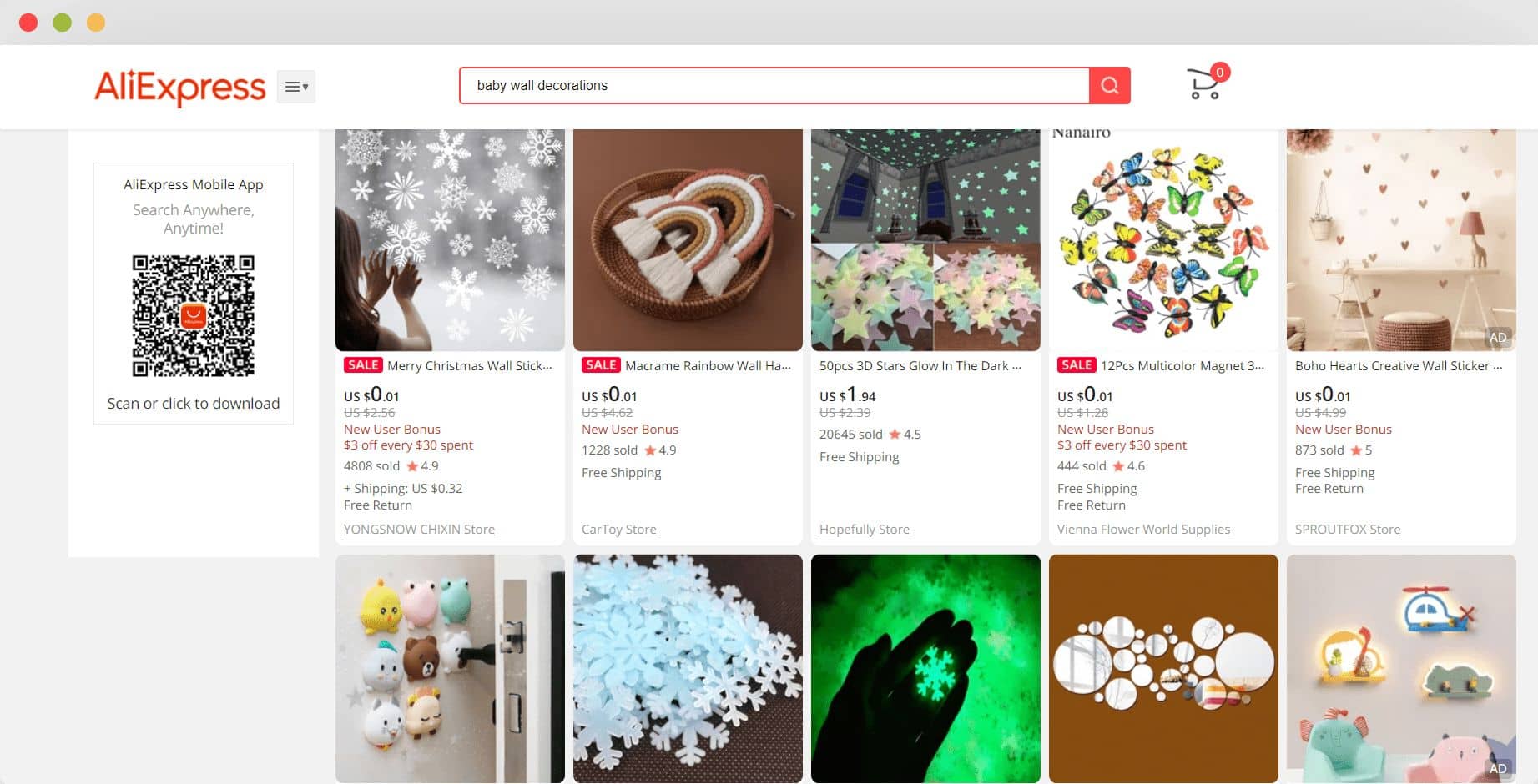 It's also good to note that parents love to experiment, so offering different products should be an ideal way to go.
Whether it's stickers or fixtures, figure out what kind of parent you would like to target. You can consider targeting a more general market, but having specific items in your list can set you apart from other dropshipping stores.
Pacifiers
There comes a time when babies start to cry uncontrollably even though they just had a bottle. This kind of behavior isn't uncommon, but it surely makes it a bit harder for parents to go about their day.
For this type of situation, pacifiers were designed to provide the comfort of sucking without additional food or milk.
Sometimes, babies just need pacifiers to soothe them and stop them from crying without reason. Some parents even consider these pacifiers are lifesavers during these types of challenging situations.
From those reasons, you can see why parents prioritize purchasing a pacifier. It's a must-have which is why you should also add it to your dropshipping store.
These pacifiers come in different designs, so go ahead and add lots of options for your customers.
Baby Bottle Warmer
Ideal for countries with colder temperatures, baby bottle warmers prepare baby bottles for a more enjoyable feeding time.
These machines are designed to warm up formula or breast milk stored in bottles evenly and without compromising the quality of the milk.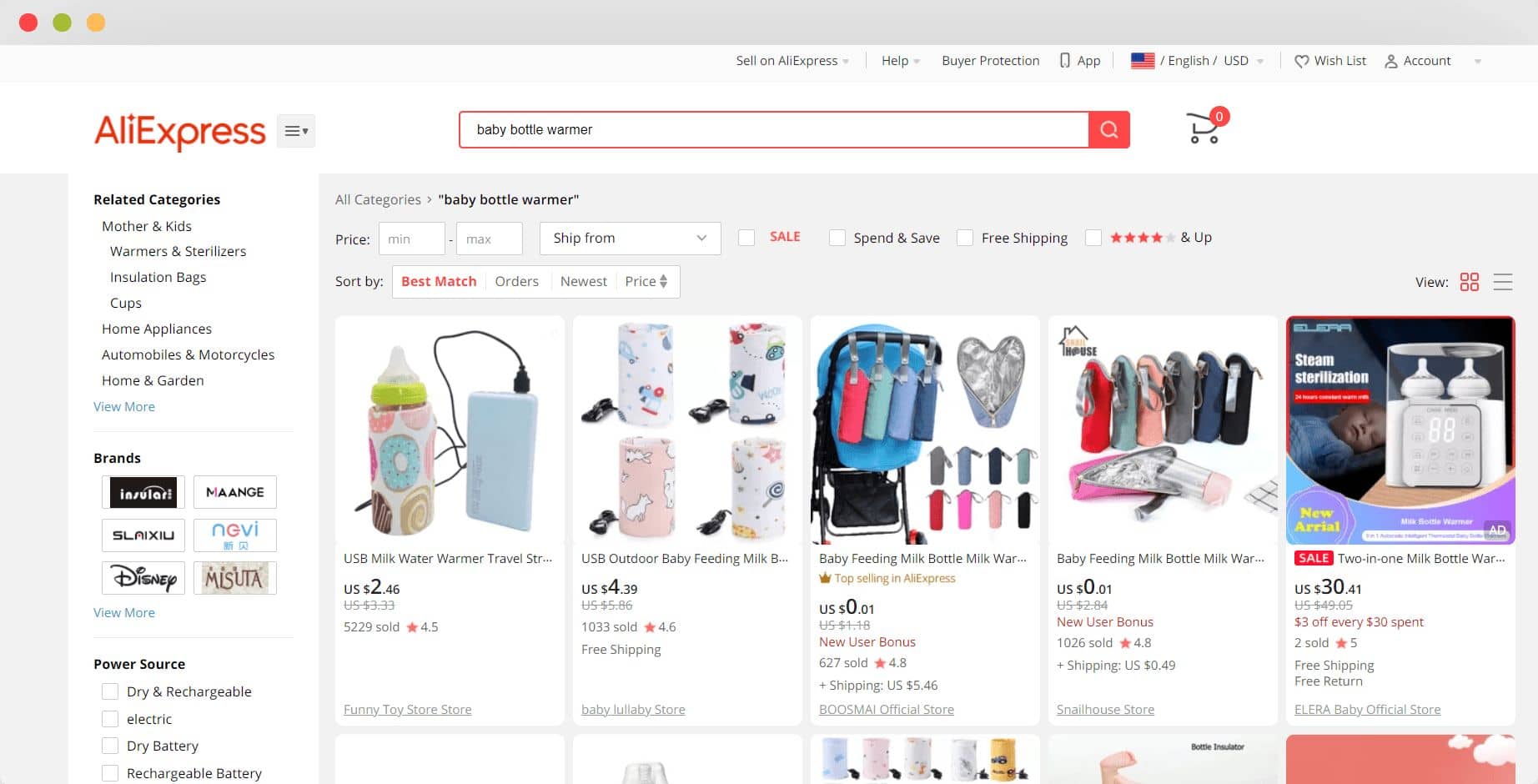 It also ensures it has the perfect temperature for consumption, so no worries about burning a baby's mouth. Most of the time, these items are even rechargeable and portable, perfect for family trips.
Although, these machines can get pretty expensive and heavy. So partner with suppliers who can give you a hefty discount while ensuring that your customers receive their products intact and fully functional.
Nursing Pads
More often than not, mothers can't really control excessive milk leaking from their breasts. This often leads to unfortunate situations, especially when they're out in public.
Nursing pads are designed to absorb breast milk and prevent such situations from happening. These pads also save clothing from getting unnecessary stains.
A lot of nursing pads are disposable, but you can also opt to sell reusable ones for an eco-friendly alternative.
Just make sure that these pads are made from chemical-free materials. Seeing as how they're lightweight, you should definitely have promotions or strategies in place to encourage customers to buy in bulk—not that they don't already consider that.
Baby Mittens
You've probably heard about babies accidentally scratching their faces. It's a common occurrence with newborns and lots of parents just want to avoid that.
Baby mittens are usually the best items to help with that. Not only are these mittens cute, but they also come in different designs. So, depending on the season and time of the year, you can sell all sorts of mittens.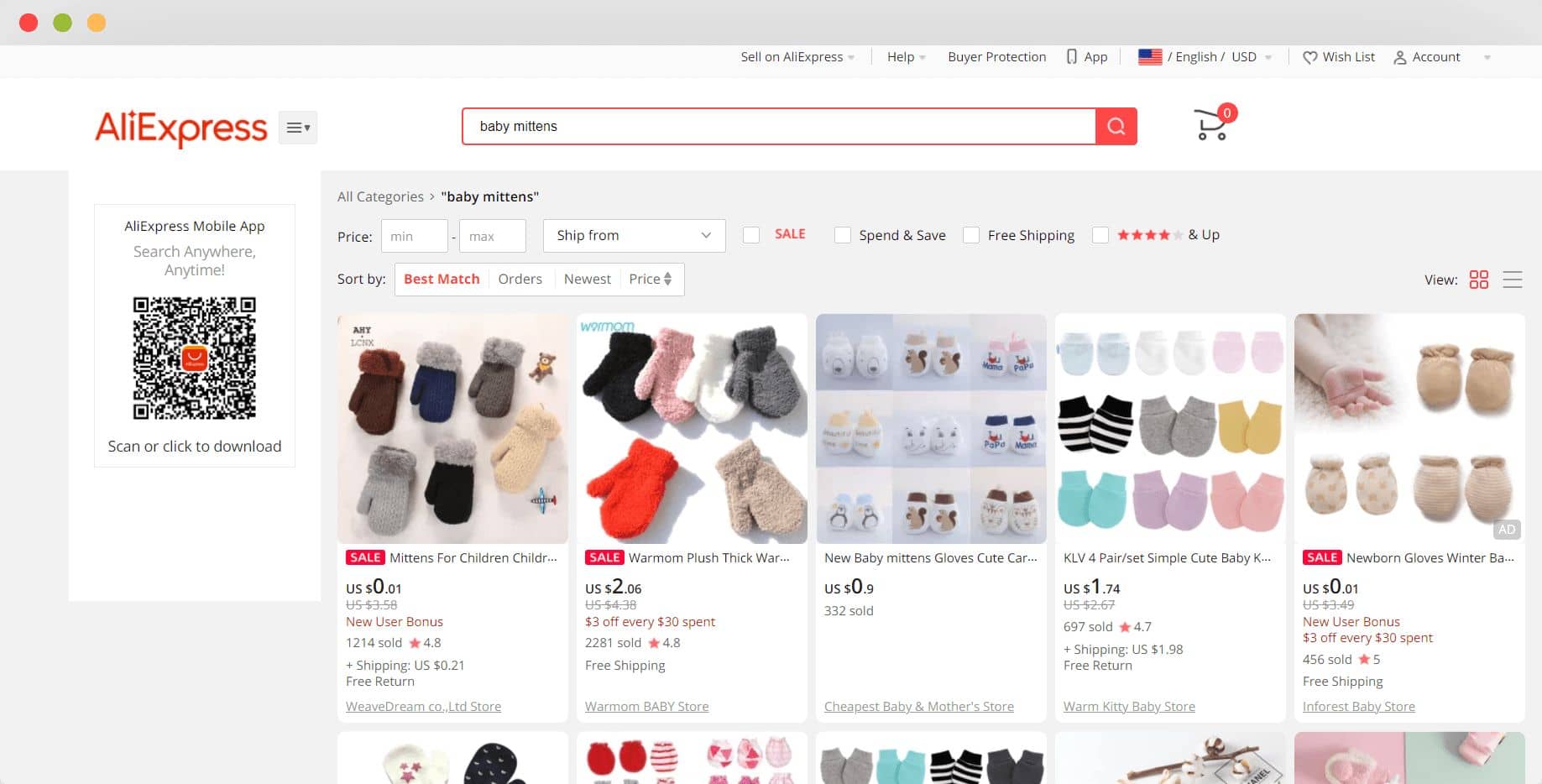 These are great items to dropship because they're small and lightweight. However, you might want to consider offering promotions to entice parents to buy in bulk instead of just individual items.
That way, you'll have more profit and they save up on shipping fees in case they want to buy more.
Feeding Support Pillows
Feeding babies can get pretty uncomfortable for mothers who prioritize their baby's comfort. Needless to say, mothers often look for products to make it a bit easier to carry the baby each time they get hungry.
One product that helps with this is feeding support pillows. This product can help the baby latch better since there's also support right underneath him or her.
However, mothers should be mindful about the placement of pillows. Placing it too high can make it uncomfortable for both parties.
This is why it's essential to look for feeding support pillows with good reviews. Find suppliers who have reviews on their products and thoroughly read through them before adding the products to your store.
These products are also lightweight and easy to dropship so no expensive fees if you find the right ones!
FAQs on Dropshipping Baby Products
How to Dropship Baby Products?
Generally, the target market of baby products is parents, or people taking care of babies. These types of people are often looking for items that are useful, high-quality, and worth the price.
That's why it's crucial that you have a plan on how you dropship your baby products. Apart from adding the best items in the market, you should also think about how you sell these products.
Below are steps you can follow on how to dropship baby products:
Analyze Your Target Market
First of all, there are different types of parents. Some want the absolute best for their kids and are willing to pay premium prices for top-notch products.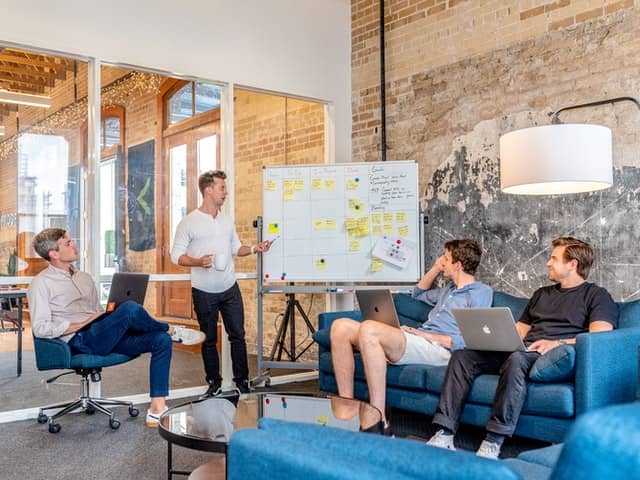 Some parents stick to a budget but still look for items that will last them quite some time. Lastly, there are parents who just want to receive items ASAP.
Now, it's totally up to you what kind of parents you plan to target. The key point here is you need to analyze what kind of buyers they are so that you can strategize on how to reach them and make them buy from your store.
Analyze their shopping behavior, what they prefer when it comes to items, and what types of products usually catch their eye.
The best sources of this information are usually Facebook groups or communities that frequently talk about items they would purchase and avoid altogether.
These pieces of information will make it easier for you to understand what kind of buyers you will have.
Develop Advertising and Selling Strategies
With all the information you've gathered, it's time you develop advertising and selling strategies. It's not enough that you just automatically advertise on TikTok just because it's effective for other niches.
Do your research and see where parents usually are on the internet. Perhaps it's best to tap into influencer marketing or even join Facebook groups to advertise your products.
Also, consider adding promotions and sales during appropriate times of the year. More often than not, parents buy baby products way before the due date. So, double-check on how long your products take to arrive.
On top of that, make sure your products are high-quality and are priced reasonably. Because although parents want to spend for their kids, they also have plenty of other expenses to think about.
Build Your Store Accordingly
Lastly, build your online store accordingly. Your target market is parents who either want to get right to it or want to see items that they might need in the future. Use the data you've gathered in the previous step to create the perfect store for them.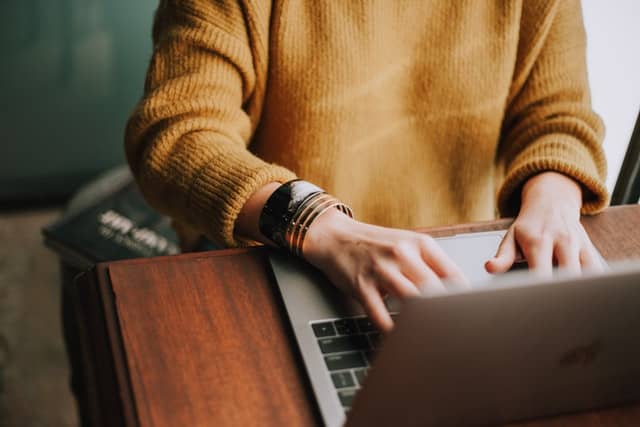 Decide on what kind of approach you would like for your store. You can choose to consult experts on this, so you end up with a store built by professionals, or you can do your research and build a custom store for what you envision.
Regardless of what option you choose, just make sure your store is user-friendly and highly functional. Don't forget to make the checkout as easy as possible. You wouldn't want customers dropping items because they just can't seem to check it out.
Is Dropshipping Baby Products Profitable?
Yes, dropshipping baby products are profitable. In fact, as mentioned, the baby products industry is worth around 67 billion dollars.
By 2026, the industry is projected to be worth around 88 billion dollars. This number alone should justify that it is a profitable dropshipping niche.
However, this doesn't mean that selling baby products will generate tons of profit for your business. You still need to find the right products, develop the right selling strategies, and build a functional store.
With all these three in place, you have more chances of reaping profits from this industry.
How to Find Suppliers for Baby Products?
Having a list of baby products to sell just won't cut it these days. You also need to find reliable suppliers for these products.
Don't worry though, we've gathered tips on how you can find the right suppliers in no time.
Use Online Directories and Communities
The easiest way to find a supplier, regardless of region or location, is to look them up on online directories. You can use Google to look for lists of reliable suppliers, or you can use keywords.
It's also quite useful to visit communities that give reviews on these suppliers.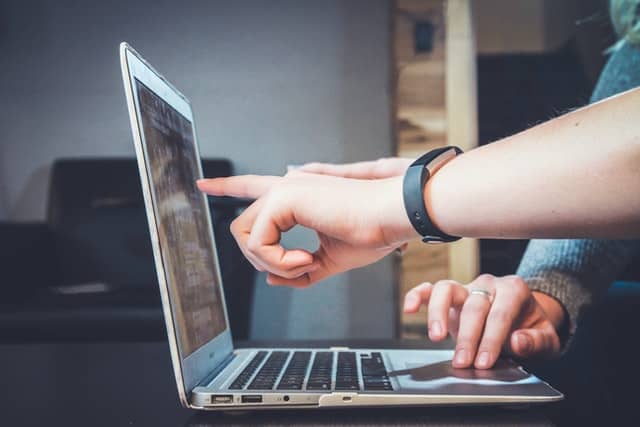 You can often find great suppliers from the following online directories:
Wholesale Central
SaleHoo
Doba
Shopify Marketplace
These are reliable websites that have a huge following and a great network of other profitable businesses. Use these resources well and you might just find yourself a supplier in an hour or so.
Call Their Customer Service
The best way to find out if they're a good fit is just to call them and ask about their products and services. Prepare a list of questions that should help you decide to partner with them.
Talking to an employee who knows the business inside-out makes it easier for you to check if they meet your requirements. It also saves a lot of time than just waiting for them to email back.
On top of that, being able to talk to an employee shows they have good customer service which is crucial for your line of business.
See if They Have Certain Characteristics
To find a good dropshipping supplier, you need to see whether they have certain characteristics that make them one.
First of all, they must have reasonable and affordable product prices. As a business owner, you still need to gain profit to keep doing business. If they already have such a price point, you should find more affordable options instead.
Another thing to look out for is if they have an extensive inventory of products you want to sell. Ideally, you should have plenty of suppliers for different products.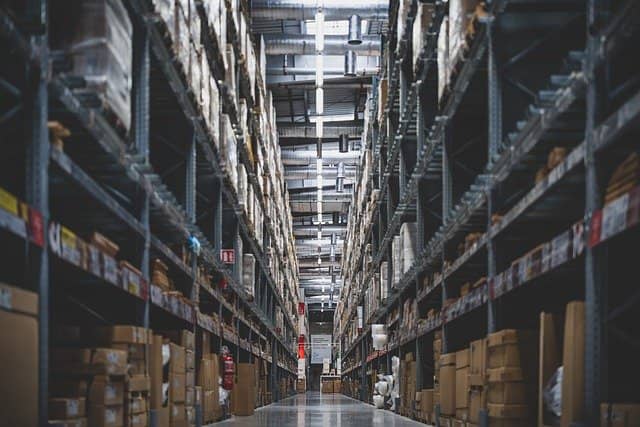 But it's also great to find one that already sells most of the products you want to sell. Not only will you lessen your expenses, you also won't have to deal with many suppliers for different items.
Lastly, they should have reasonable fees, whether it's membership fees or delivery fees. These are only two of these costs you will incur, so keeping them at reasonable price points will help lower your expenses as well.
Closing Thoughts
Indeed, there is a good number of baby items you can opt to sell. You can choose to add all of them or focus on ones you think parents would most likely purchase from your store.
Nevertheless, this list should be a great start if you're still unsure what products to dropship.
The short guide on how to start dropshipping baby products should be useful for both pioneer and newbie dropshippers. It doesn't have to be a hit-or-miss situation if you plan your business processes well.
Lastly, you want to make sure you find the right suppliers. The guide we've provided is guaranteed to help you find the best ones for your store.
Moreover, if you're interested in this ecommerce business, contact us and we can help you get started by finding you the right supplier.