Selling T-shirts with fun, artistic, or simply cool designs is a dream come true for many dropshippers. The first step to fulfilling that dream is, of course, to find good T-shirt drop shipping companies.
T-shirts are something that everyone wears and loves, which allows you to choose from a range of different niches. However, regardless of your target niche, you have to find a reliable T-shirt dropshipping supplier first.
We've researched and compiled a list of 25+ of the best T-shirt drop shipping companies to use for your online store.
25+ Best T-Shirt Dropshipping Companies
New T-shirt dropshipping companies pop up on the market every day. Some of them are good, and others – not so much. So to spare you the trouble, we've created a list of the best T-shirt dropshipping suppliers for 2023:
If you're into eCommerce, there's no way you haven't heard about Printful – one of the best print-on-demand dropshipping companies.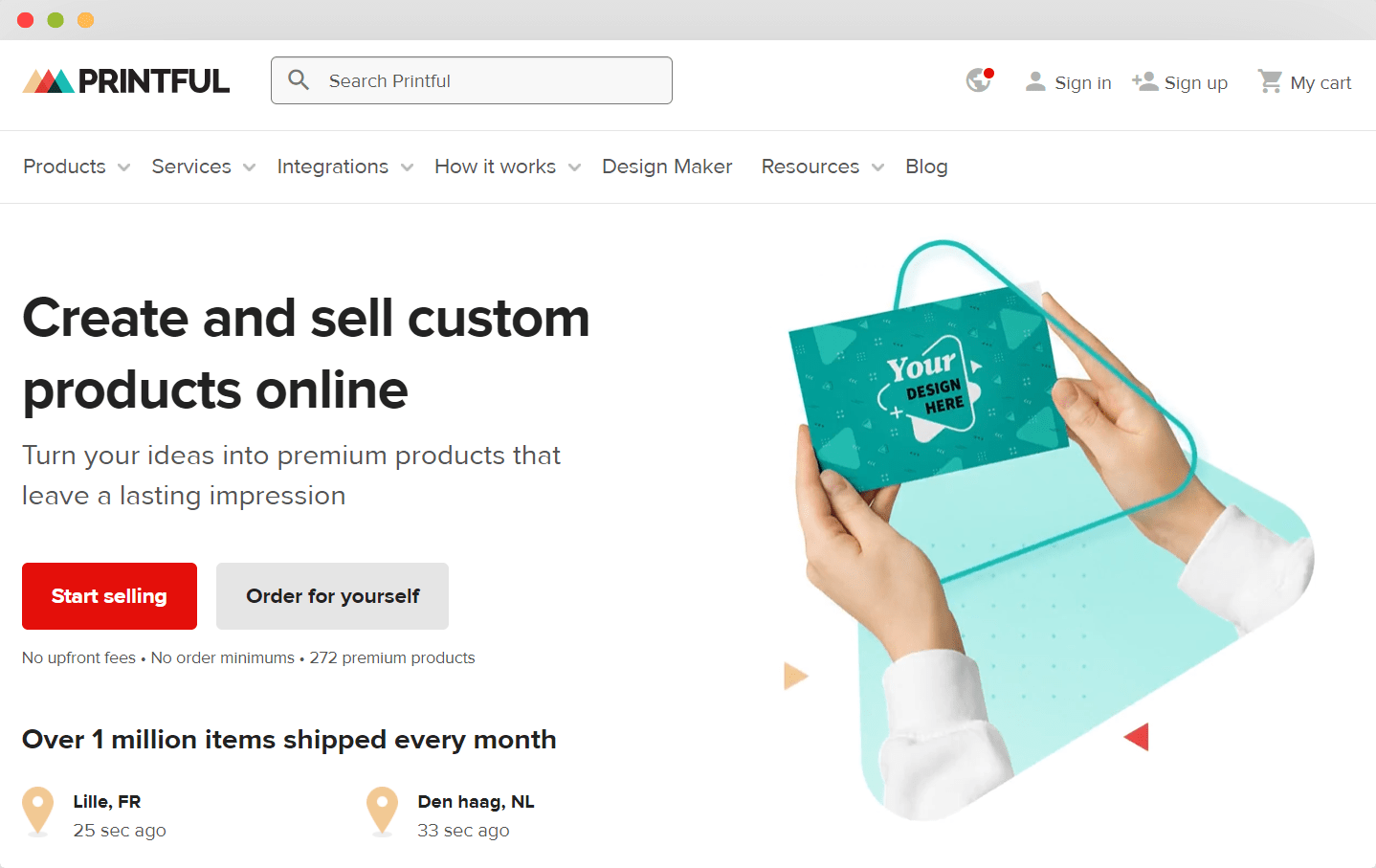 Printful integrates with an incredible 15+ store builders, such as Shopify, WooCommerce, BigCommerce, Wix, Magento, PrestaShop, Squarespace, ShipStation, etc. Plus, you can connect it to marketplaces like eBay, Amazon, Etsy, Wish, etc.
With Printful, you'll have no upfront fees, and joining is completely free. In addition, you won't need to pay until you have your first order.
Our second T-shirt dropshipping company on this list is Printify. With Printify, you can choose from over 400 different products such as T-shirts, cups, bags, accessories, and more.
Then, open their mockup generator and create your customized product. Once you've designed your final product, you can order a sample and see if you like it. And finally, import the listing to your online store and start selling.
As a PoD service, Printify integrates with several store builders: Shopify, WooCommerce, Wix, Etsy, BigCommerce, PrestaShop, eBay, etc.
Sellfy is a thriving eCommerce platform to sell digital and physical products. Creators who sign up for Sellfy will have a rich selection of merchandise categories to choose from, which includes PoD t-shirts.
For the eco-conscious folks, Sellfy offers plenty of sustainable and eco-friendly PoD products. Moreover, all of their print-on-demand items are CPSIA compliant.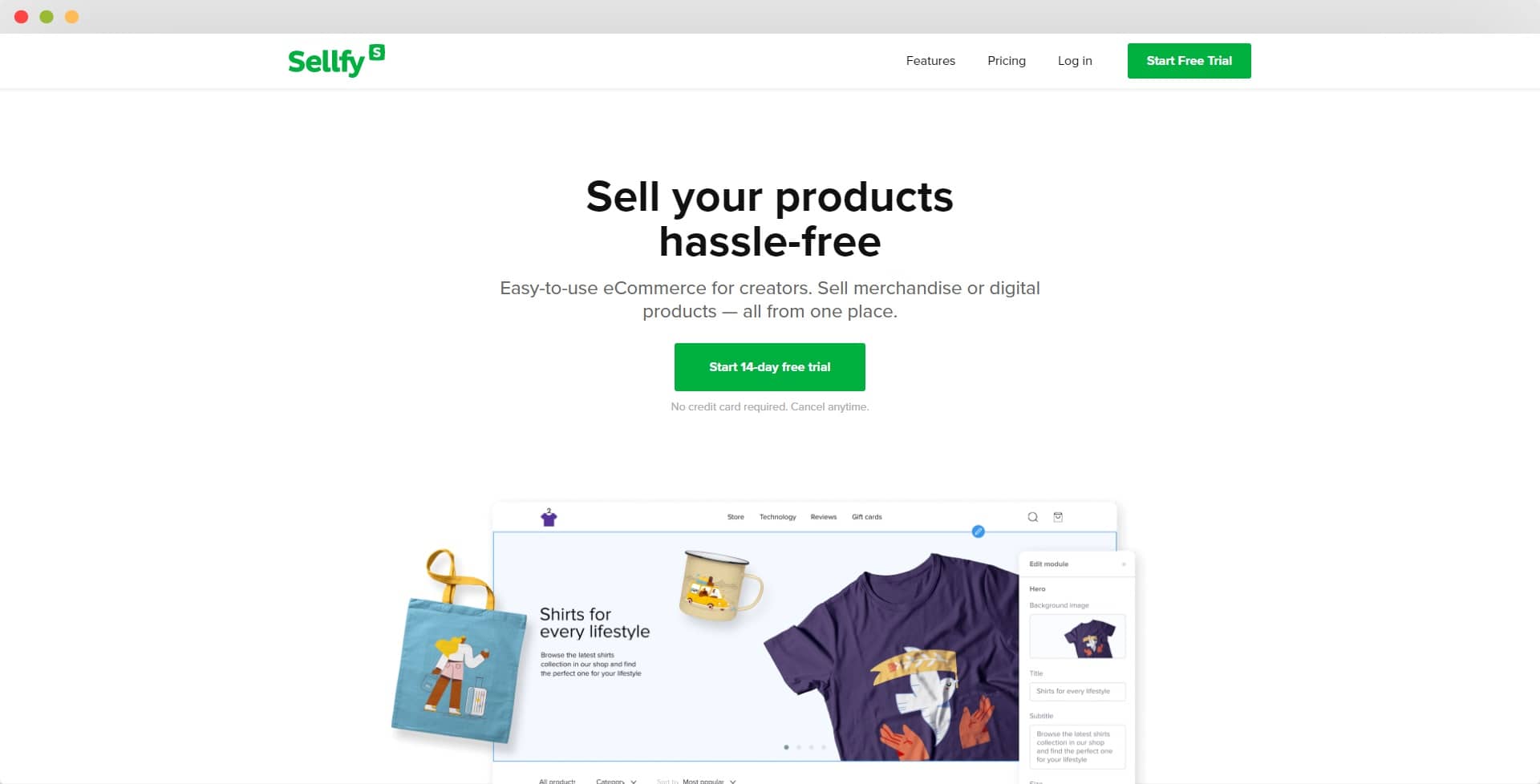 It is a platform, mind you, but It's a competitive alternative to Shopify. Sellfy has partnered up with Zapier in which you are able to connect 2000+ third-party apps. All in all, it's worth a try for dropshipping starters, as they provide a free plan for setting up stores.
Yes, it's called Teespring, but it offers much more than that. Teespring has a wide range of T-shirts, leggings, wall art canvas, hoodies, phone cases, home decorations, etc.
As opposed to Printify and Printful, which you can use as dropshipping suppliers and import their products to your shop, Teespring functions differently. With Teespring, you'll have to sell the products on their marketplace.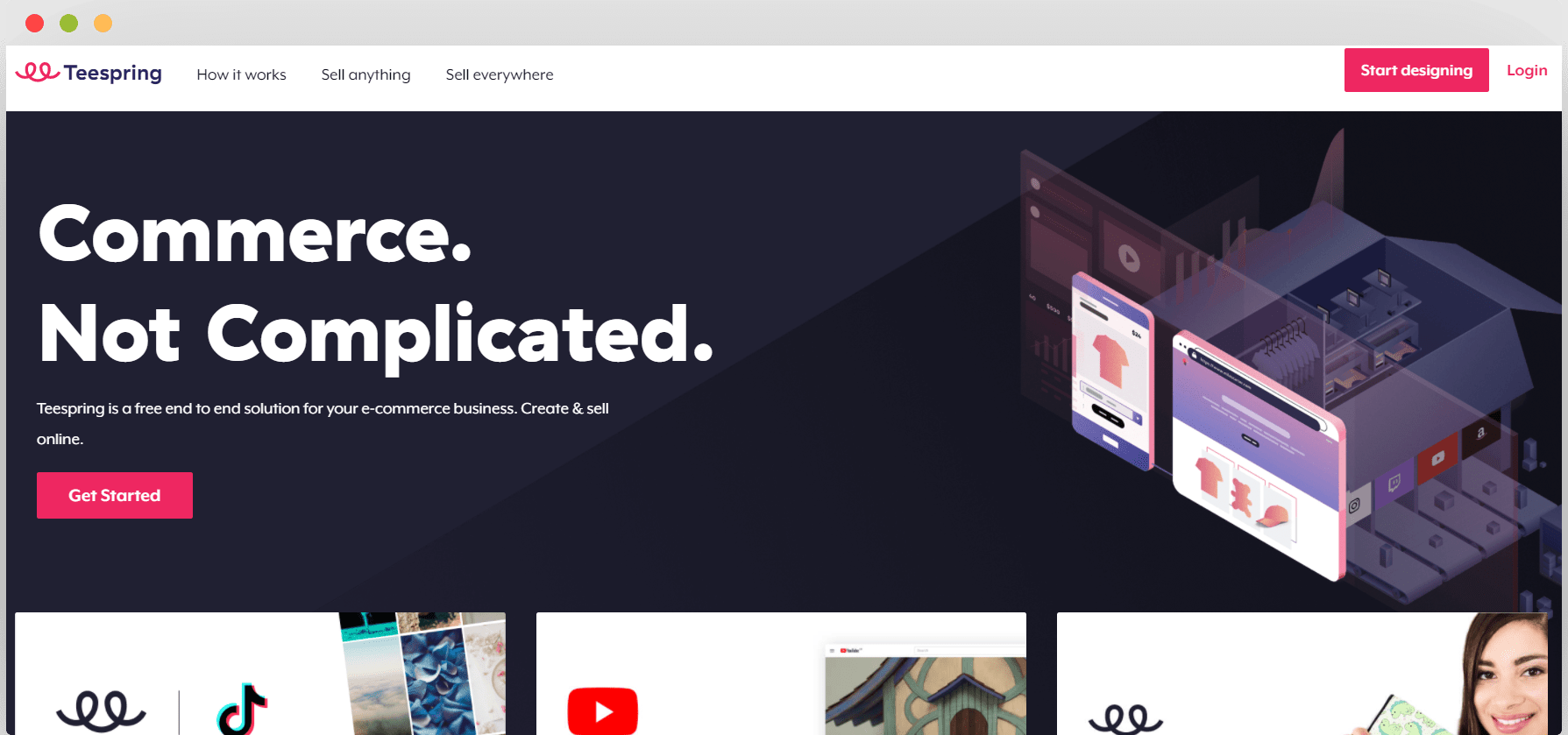 A policy like that is a bit restrictive to experienced dropshippers but can be pretty convenient for new ones. By selling on the Teespring marketplace, you get traffic for free and increase your chances of making a sale.
Printsome is another excellent UK T-shirt drop shipping company that offers both bulk and PoD services.
Printsome is free to sign up and use, and you only pay per order. Their pricing model is pretty straightforward – the product prices you see include one print and handling. The product price plus the shipping cost is all you pay to Printsome.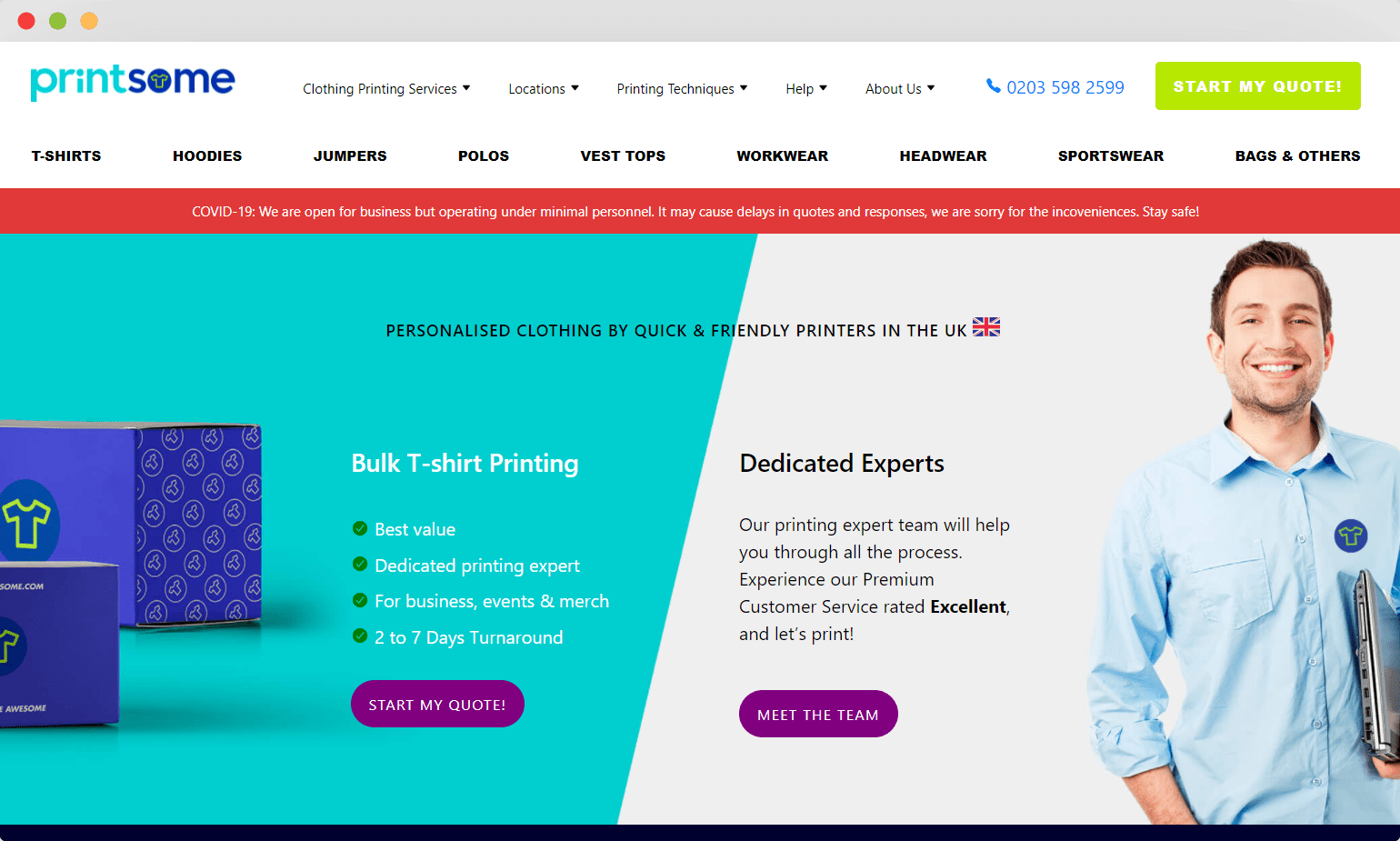 Although they're a UK company, they dropship worldwide. Sounds pretty good, right? Well, almost. The thing we didn't like about Printsome is that at the moment, they only integrate with Shopify stores (with Etsy and WooCommerce in "coming soon" status).
CJDropshipping is one of the most well-renowned dropshipping suppliers worldwide, and for a good reason. With CJDropshipping, you can resell any product you can think of, including T-shirts. Plus, CJDropshipping has a print-on-demand service as well.
One enormous benefit of CJDropshipping is that they have warehouses worldwide, allowing you to dropship to customers in any country you need.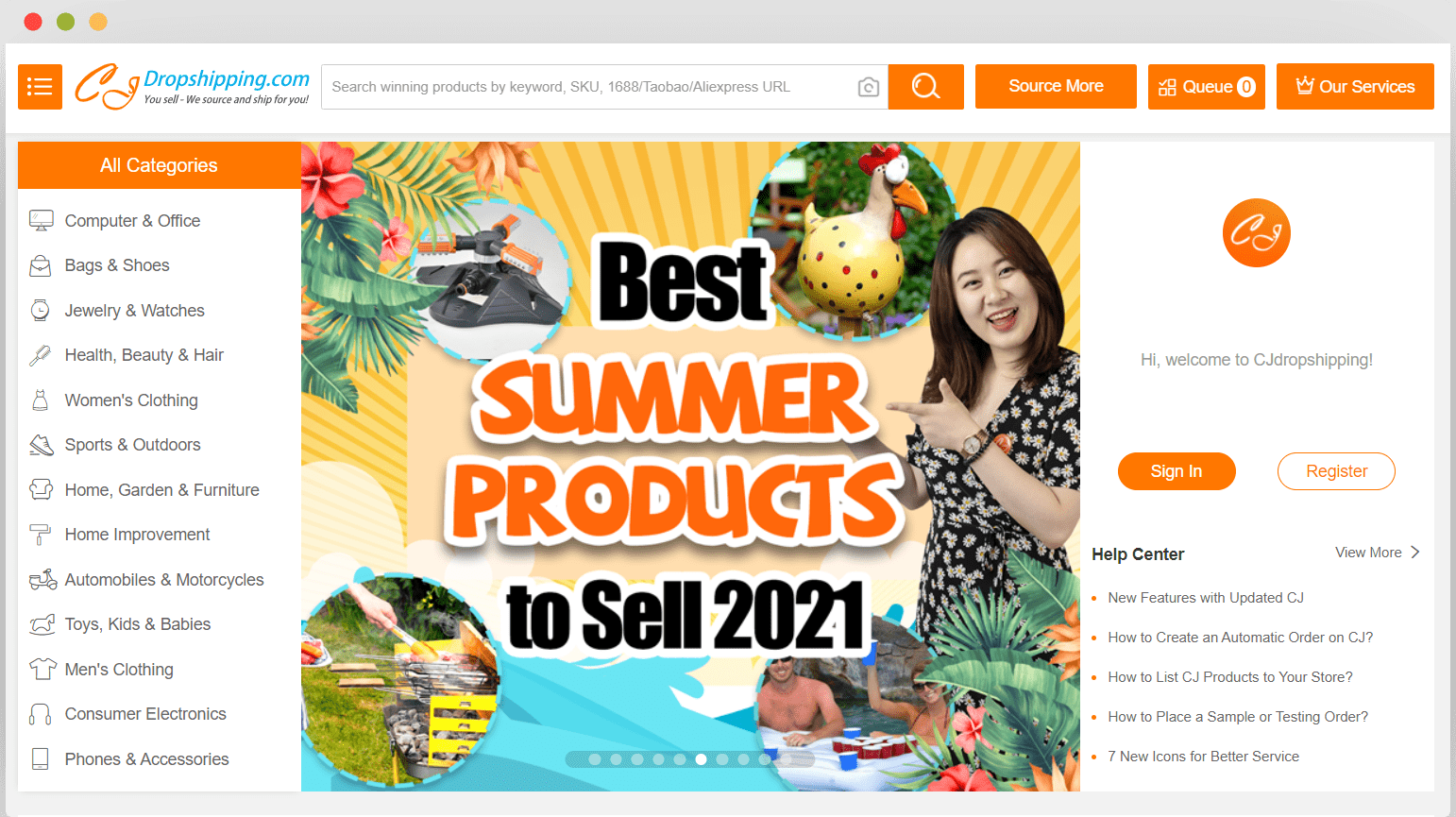 CJDropshipping has an app that you can connect to your Shopify, WooCommerce, eBay, ShipStation, Lazada, or Shopee stores and automate your dropshipping process.
With 200+ products you can personalize and design, Spreadshirt is an excellent T-shirt drop shipping company. And it's not just T-shirts, but you can also customize duffel bags, wall art, buttons, baby bibs, and more.
Although Spreadshirt is excellent for beginners, you can't scale too much. Their payout options start at 20% commission initially, and the maximum you can reach is 40% on top of that, with something called a Volume Commission.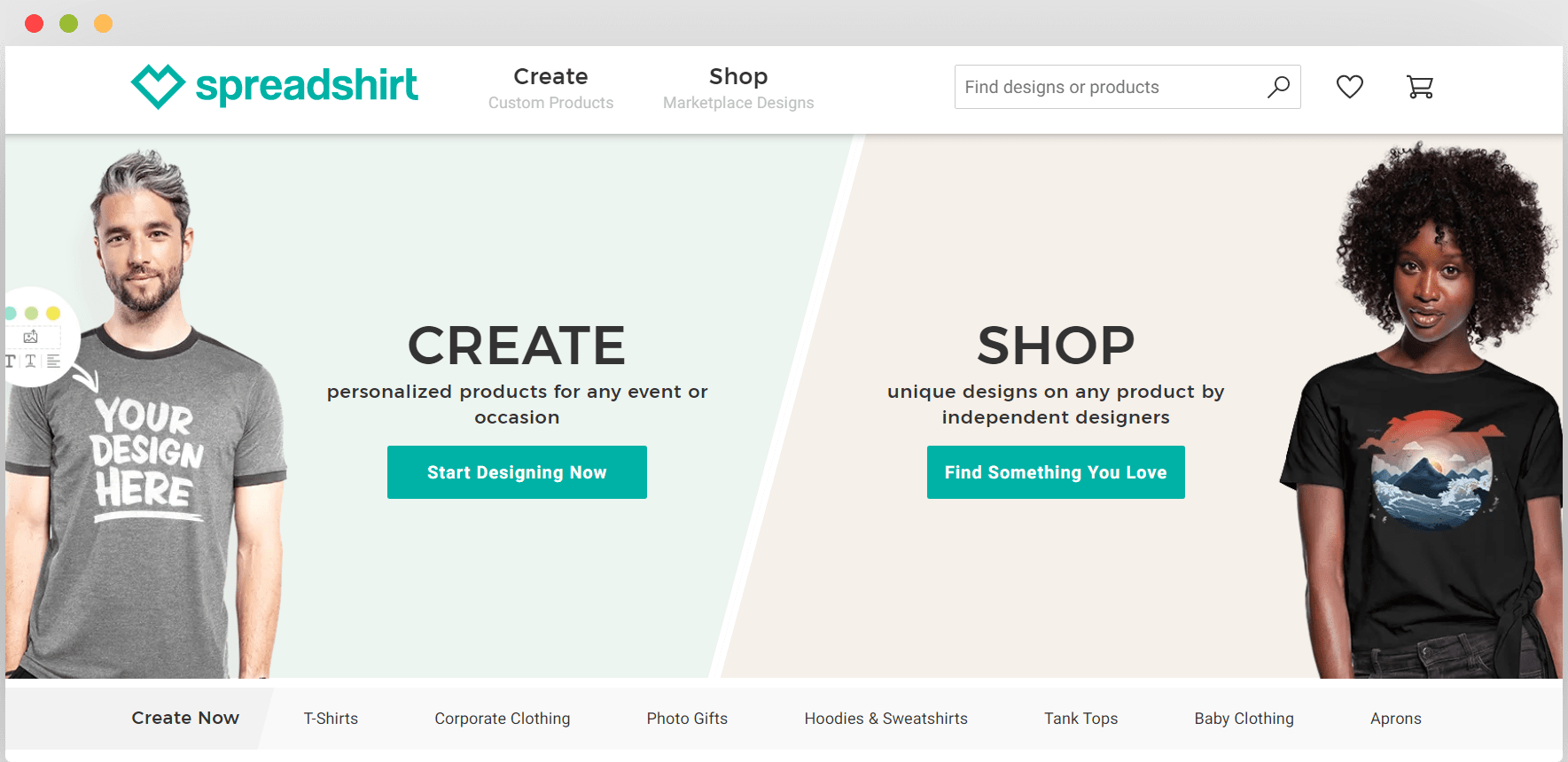 So, if you're starting and want to test your design and sales skills, go ahead. However, if you're looking for something that you can grow in the long run, you might be better off looking elsewhere.
CustomCat has over 500 products to choose from, and it's one of the most well-known custom merchandise and T-shirt PoD services.
With CustomCat, you can choose between DTG (direct-to-garment), Dye Sublimation, and Embroidery customization techniques.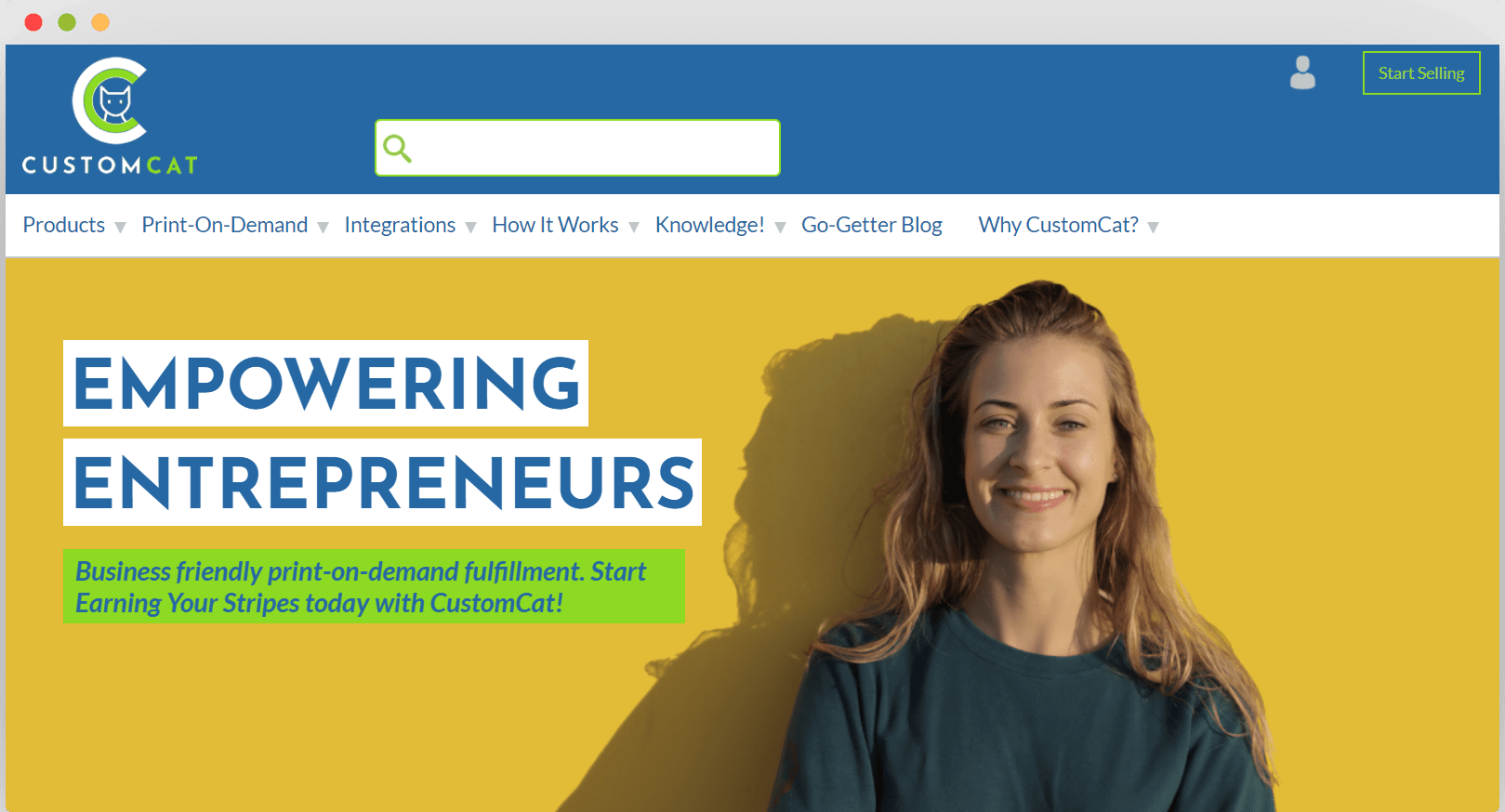 When it comes to eCommerce store integration, you can connect CustomCat to Shopify, WooCommerce, BigCommerce, or Etsy shops. And finally, signing up and using CustomCat is free of charge.
RedBubble is not a typical T-shirt drop shipping company. Instead, it's a supplier and a marketplace in one – which means you'll have your RedBubble shop, and you'll sell your designed products on the RedBubble marketplace.
Of course, you can use RedBubble as a supplier only by simply placing the customer address instead of yours when placing an order. But, in this case, ensure that the seller won't include any branded invoices.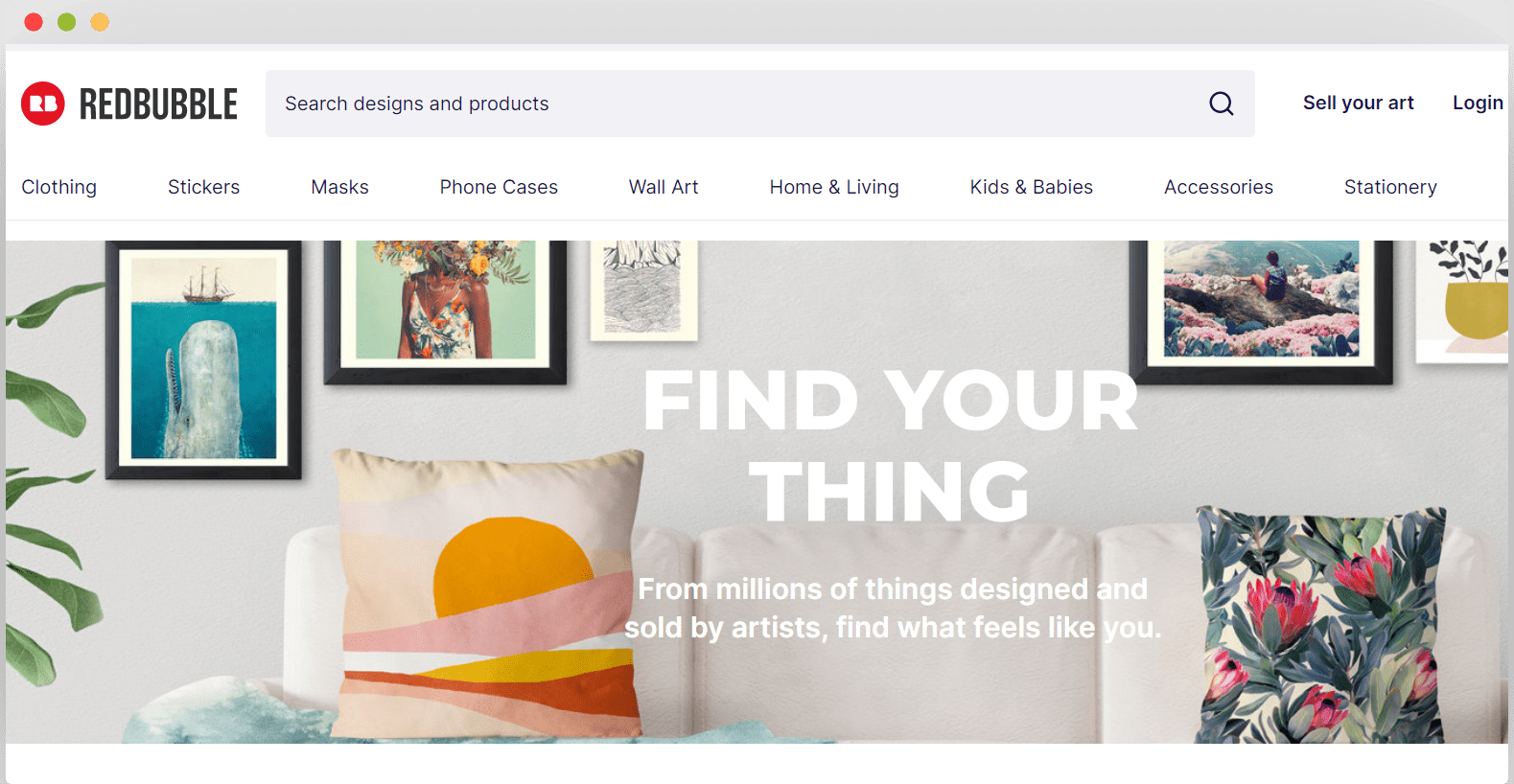 You can join RedBubble as a seller for free. Plus, it's not just T-shirts you can design, but a range of other products as well, such as stickers, wall art, gifts, accessories, phone cases, etc.
Gooten is a PoD company with a broad range of product categories such as T-shirts, wall art, clothing, accessories, business cards, baby, pets, wine tumblers, and more.
To integrate Gooten as a T-shirt dropshipping supplier, you'll need to use a Shopify, WooCommerce, BigCommerce, or an Etsy shop. We especially liked Gooten because it automatically transfers your placed order to the best and most convenient supplier.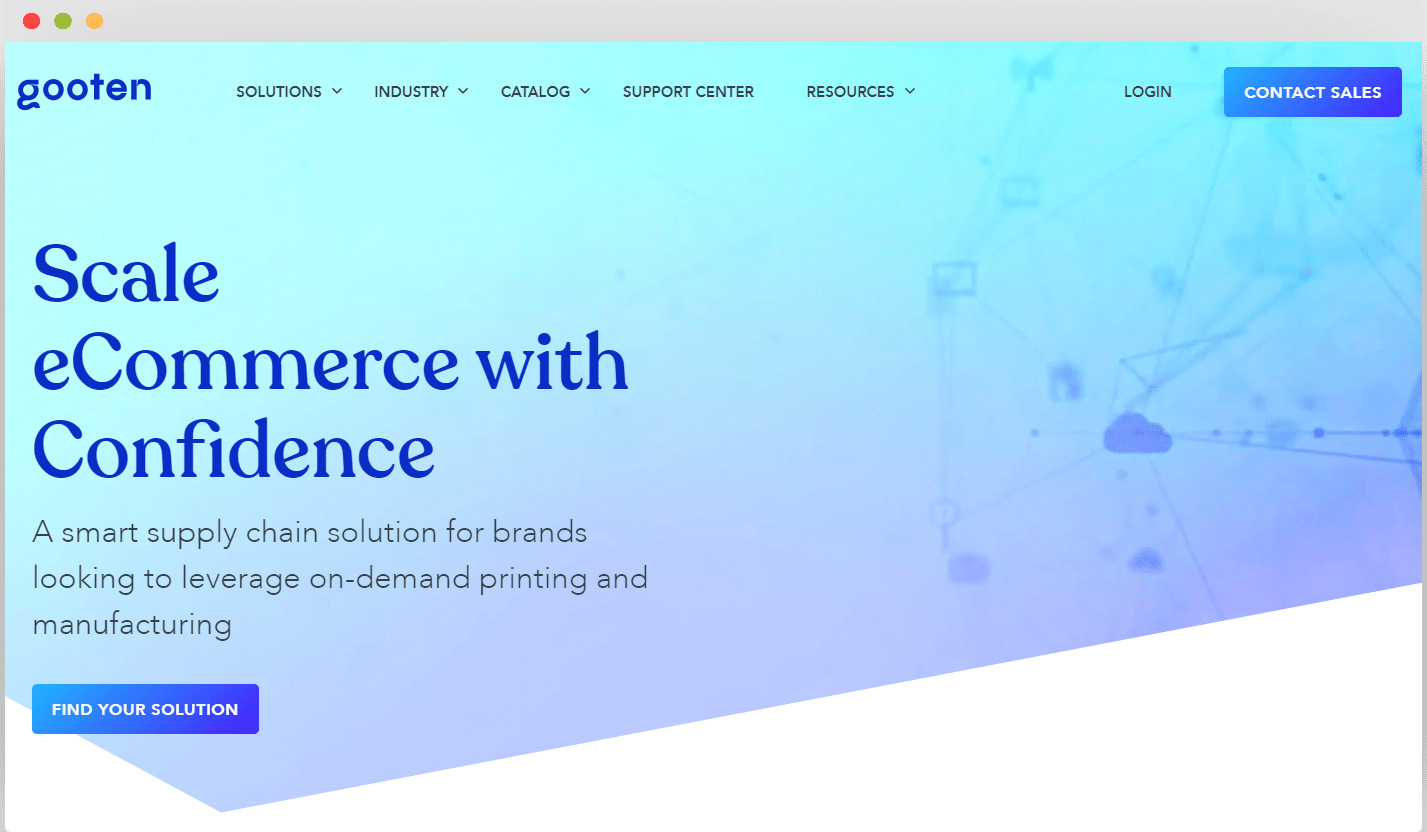 With Gooten, you won't have any monthly, yearly, or setup fees. It's entirely free to use. The only time you'll pay is when you place an order.
Although AliExpress has a selection of products beyond T-shirts, it's a good source for T-shirt drop shipping companies. Many AliExpress suppliers are dropship-friendly, and a good percentage of them also offer private or at least white labeling services.
To find a good T-shirt supplier on AliExpress, always look at the reviews and order a sample first. With this, you'll check not just the product quality but also the shipping and delivery times.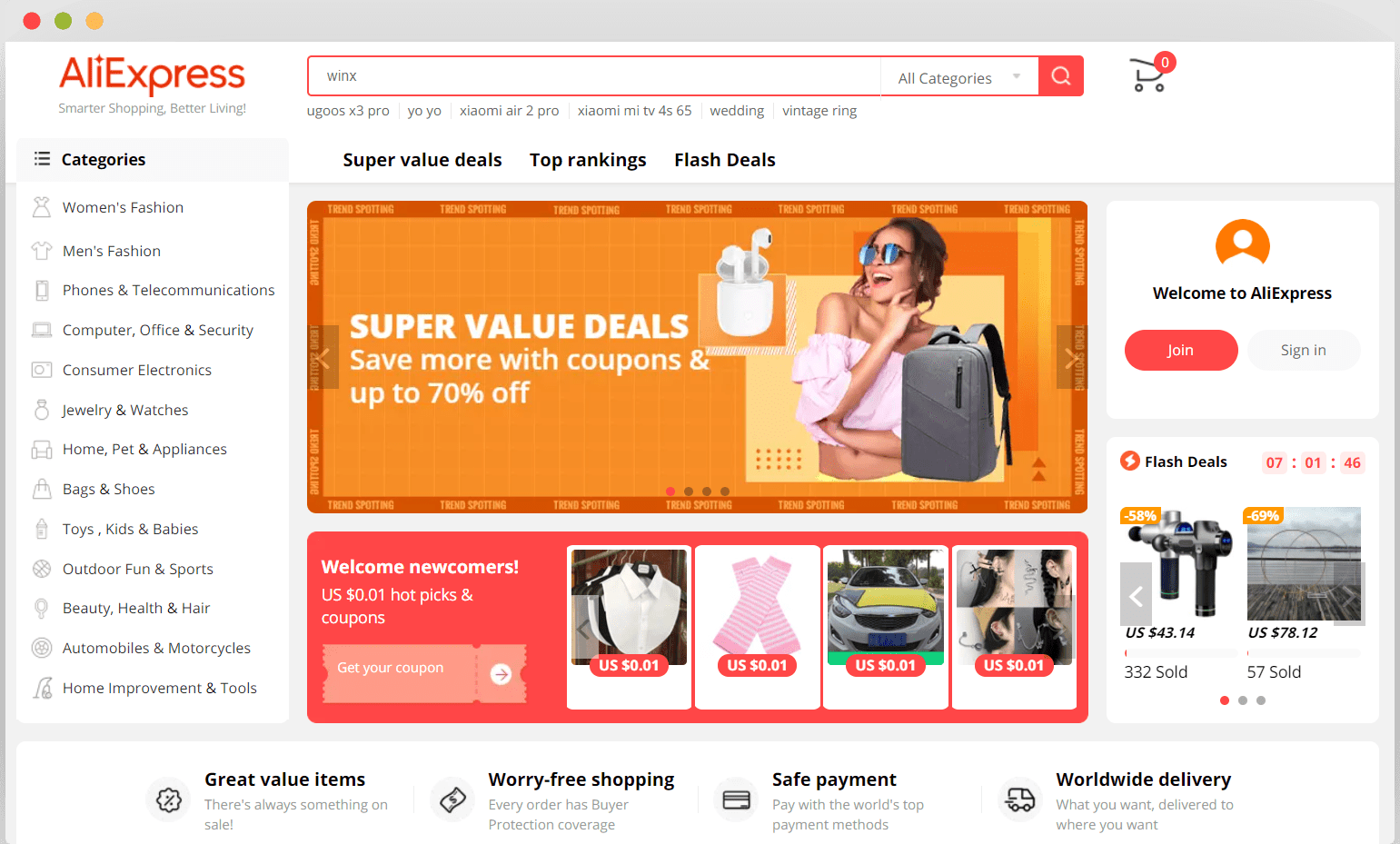 Most AliExpress sellers are from China. However, many of them have worldwide fulfillment centers, so keep this in mind when choosing. When shipping from a warehouse that's close to your customers, you shorten the delivery time.
If you're interested in private labeling and product customization, Alibaba could be more suitable than AliExpress. However, you might have to buy bulk products. In this case, you'll need to organize inventory storage and be sure that you can sell it.
When you're communicating with Alibaba T-shirt suppliers for bulk production, give them as detailed product specifications as possible. For example, don't just tell them that you want red T-shirts, but give them the exact color code of the red shade.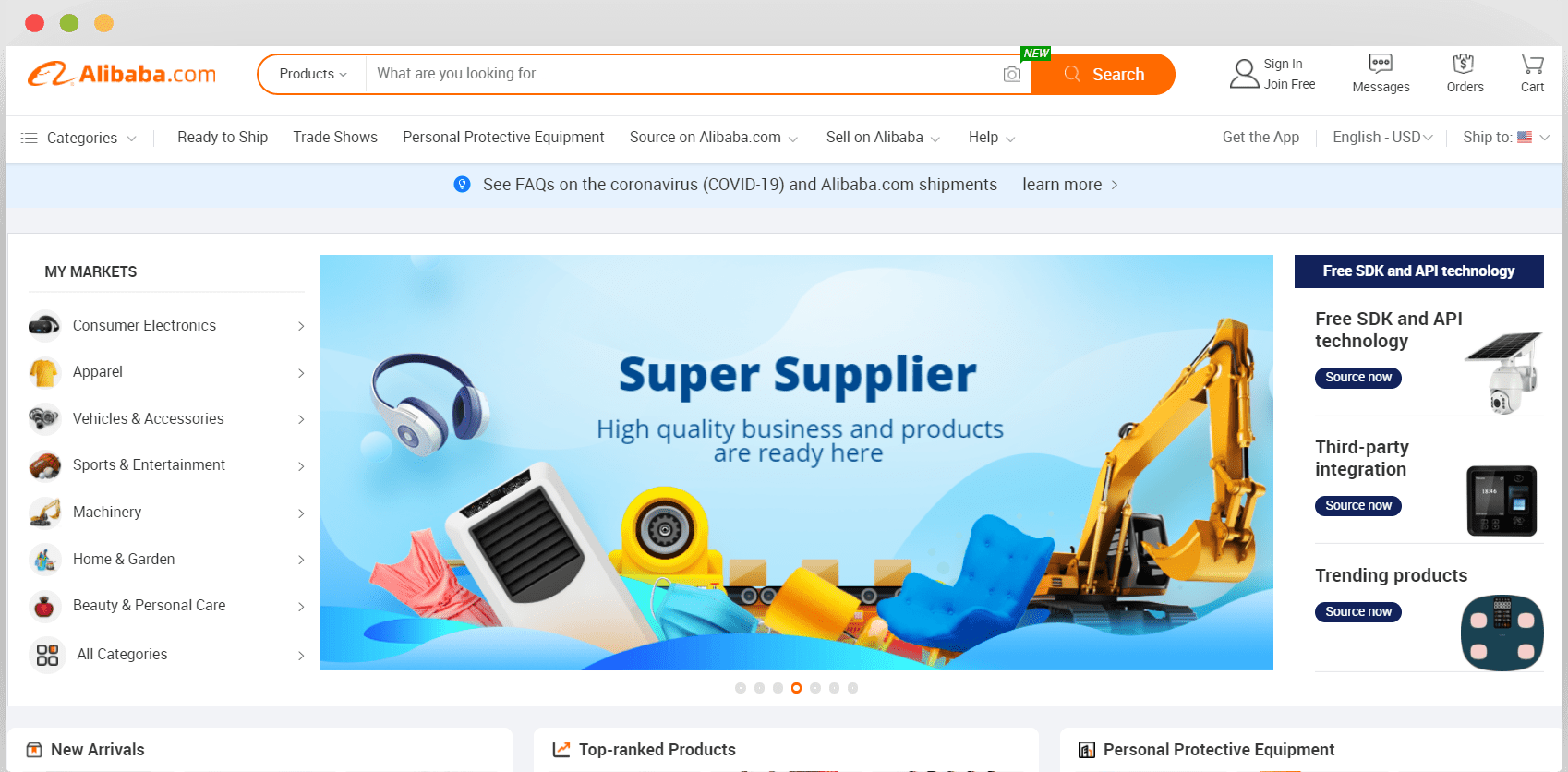 Similar to AliExpress, on Alibaba, you can look at seller reviews to see the customers' satisfaction. When buying in bulk, always order a sample first.
Print Aura is located in New York, and it's a great T-shirt dropshipping company for your US and international customers.
Print Aura offers PoD services on various products such as T-shirts, hoodies, hats, bags, onesies, masks, cups, pants, and more.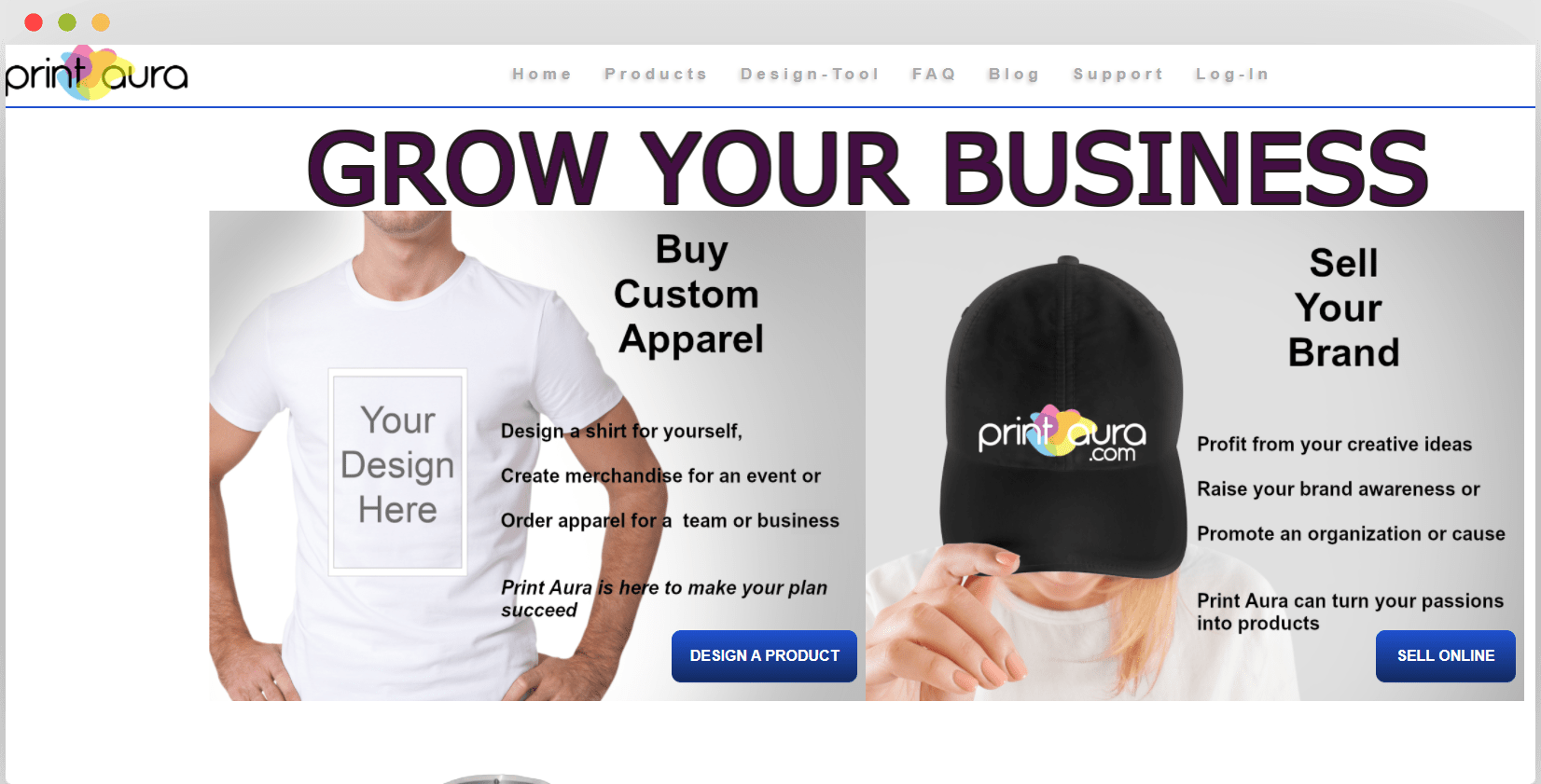 At Print Aura, they use the Direct-To-Garment (DTG) printing method for manufacturing T-shirts you're designing, which gives the prints excellent durability.
With an extensive collection of T-shirts, mugs, hoodies, home accessories, and wall art, Inkthreadable is a UK-based PoD drop shipping company that deserves a spot on this list.
Inkthreadable uses two printing methods – DTG and Sublimation. Plus, they integrate with Shopify, Etsy, and WooCommerce stores. Inkthreadable orders are shipped within four to seven days, and they dropship worldwide.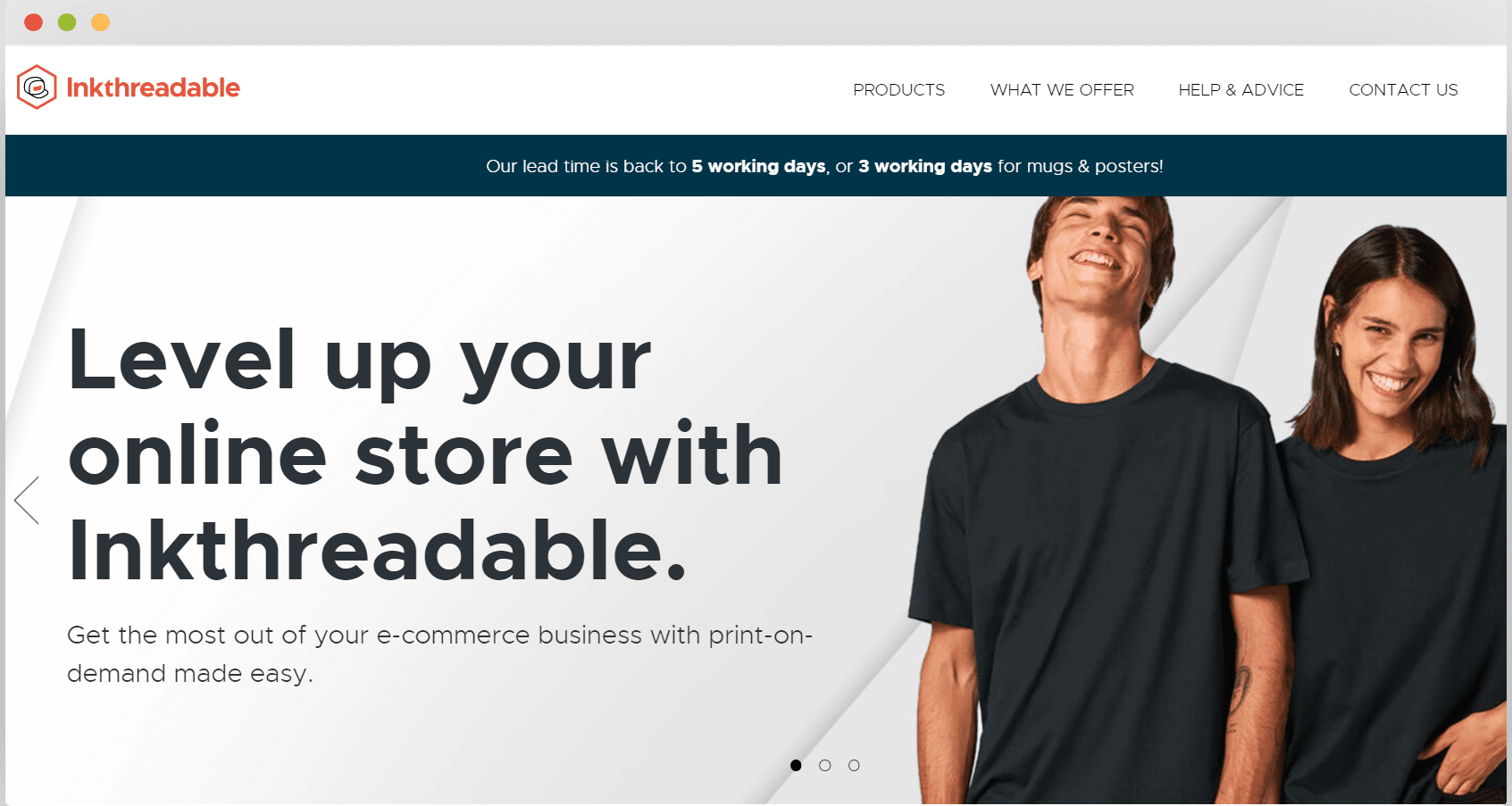 Most importantly, Inkthreadable is free to join and use, and you pay only after placing your first order.
Unlike many suppliers who let you import their products in your online store, Design by Humans doesn't have that option. So instead, you'll have a Design by Humans store and sell their products only on their marketplace.
With Design by Humans, you can customize different products: T-shirts, phone cases, stickers, mugs, etc. However, you can't set your profit margin on these products. Instead, you get fixed royalty amounts that vary from one product to the next.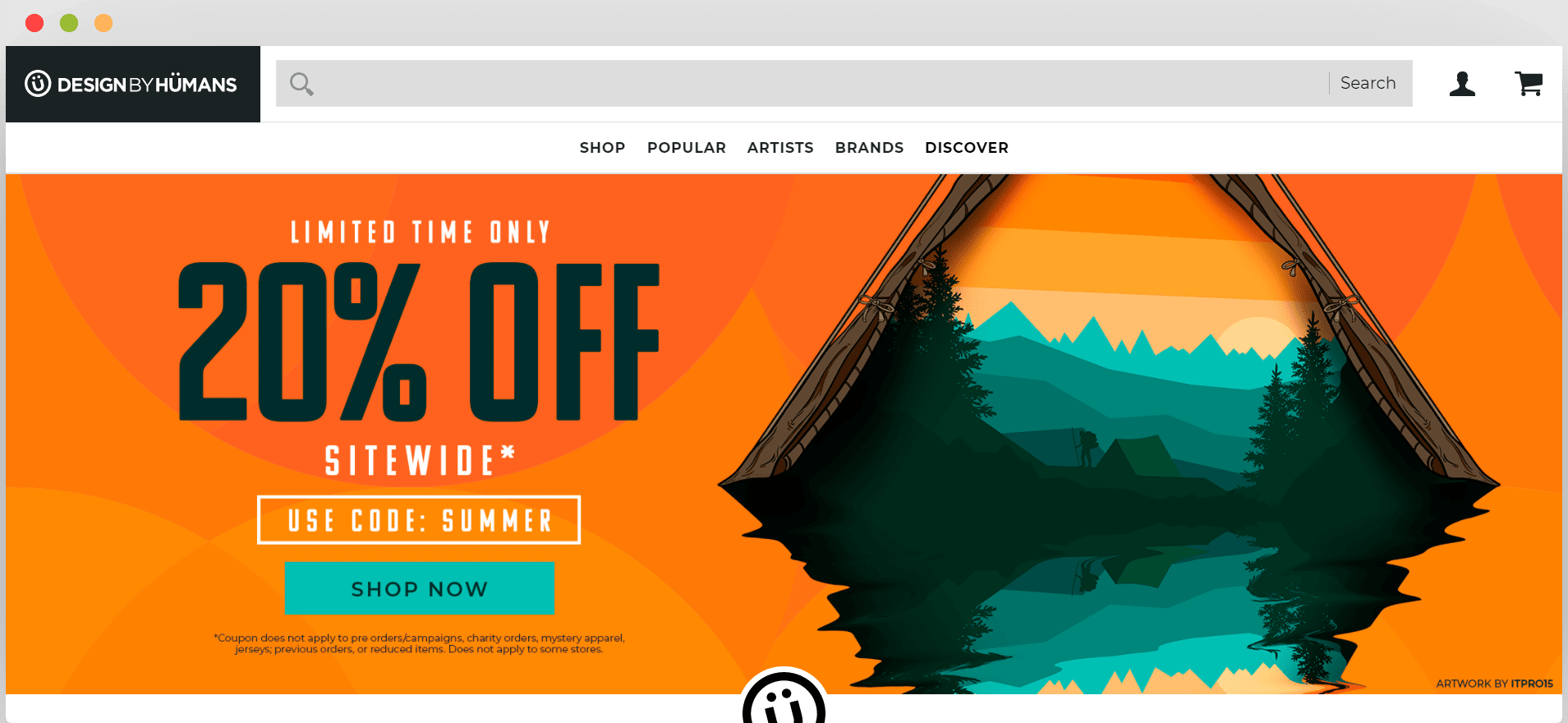 For instance, for selling a T-shirt, you get a $3 profit. For a sticker, you get $0.5, etc. Design by Humans might be a great side hustle, but you'll struggle to live off of it.
Much like Design by Humans, Teepublic is another PoD company with fixed royalties for products you sell. However, Teepublic pays their sellers slightly higher amounts.
For example, if you sell a Teepublic T-shirt, you get $4. For a hoodie, you get about $8, and for stickers – $0.75. So, all in all, it's a good PoD dropshipping supplier for dropshippers who are new in the industry.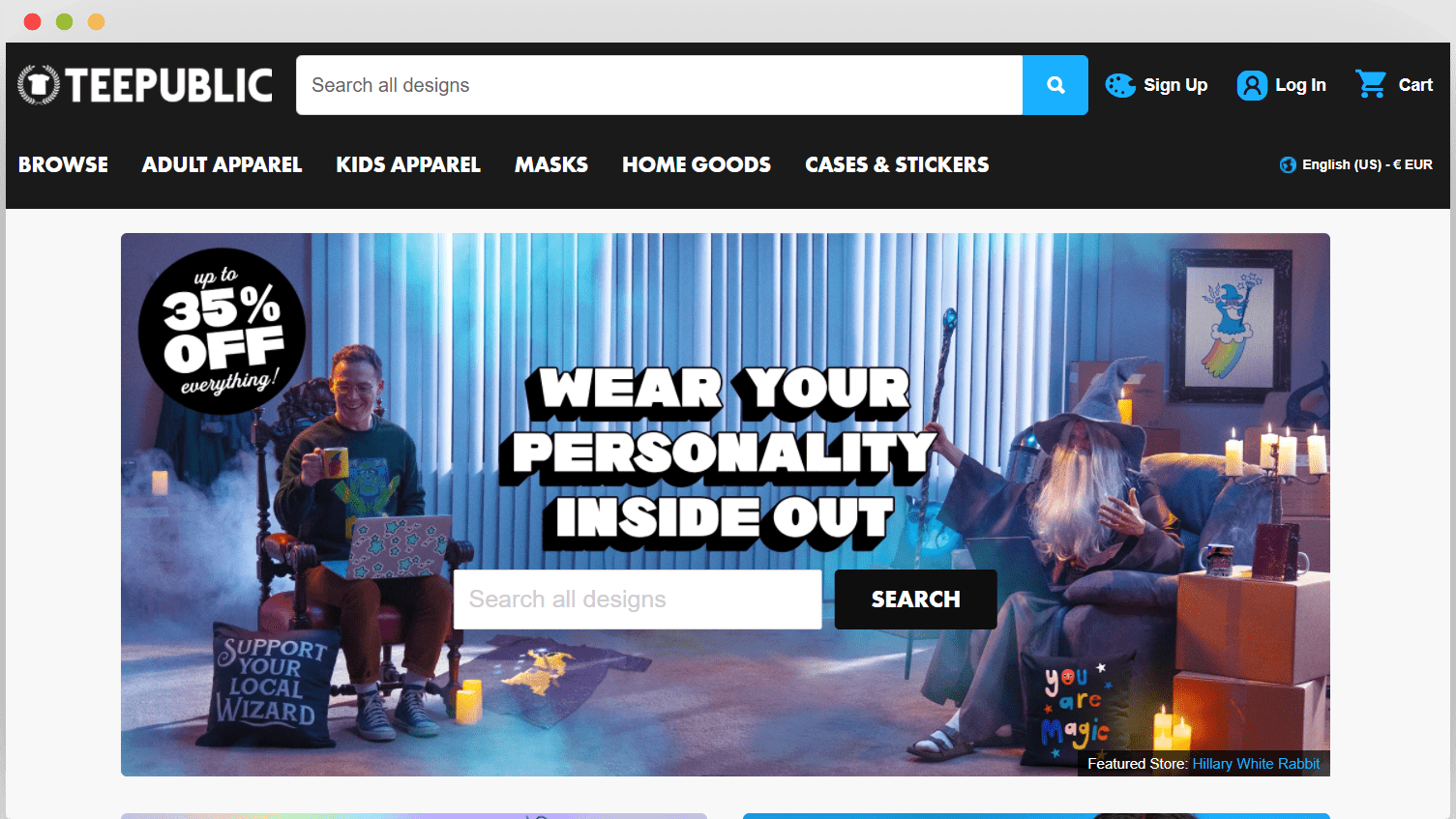 We recommend Teepublic to experiment with since it's entirely free to join, design, and sell through it. Like that, you won't have any upfront investments or risks if you don't succeed at first.
Although its main focus is wall art, Fine Art America can also act as your T-shirt dropshipping supplier since they have a wide range of products you can customize, including T-shirts.
Fine Art America has two membership plans for sellers – free and premium. With their free plan, you can design and sell on their marketplace.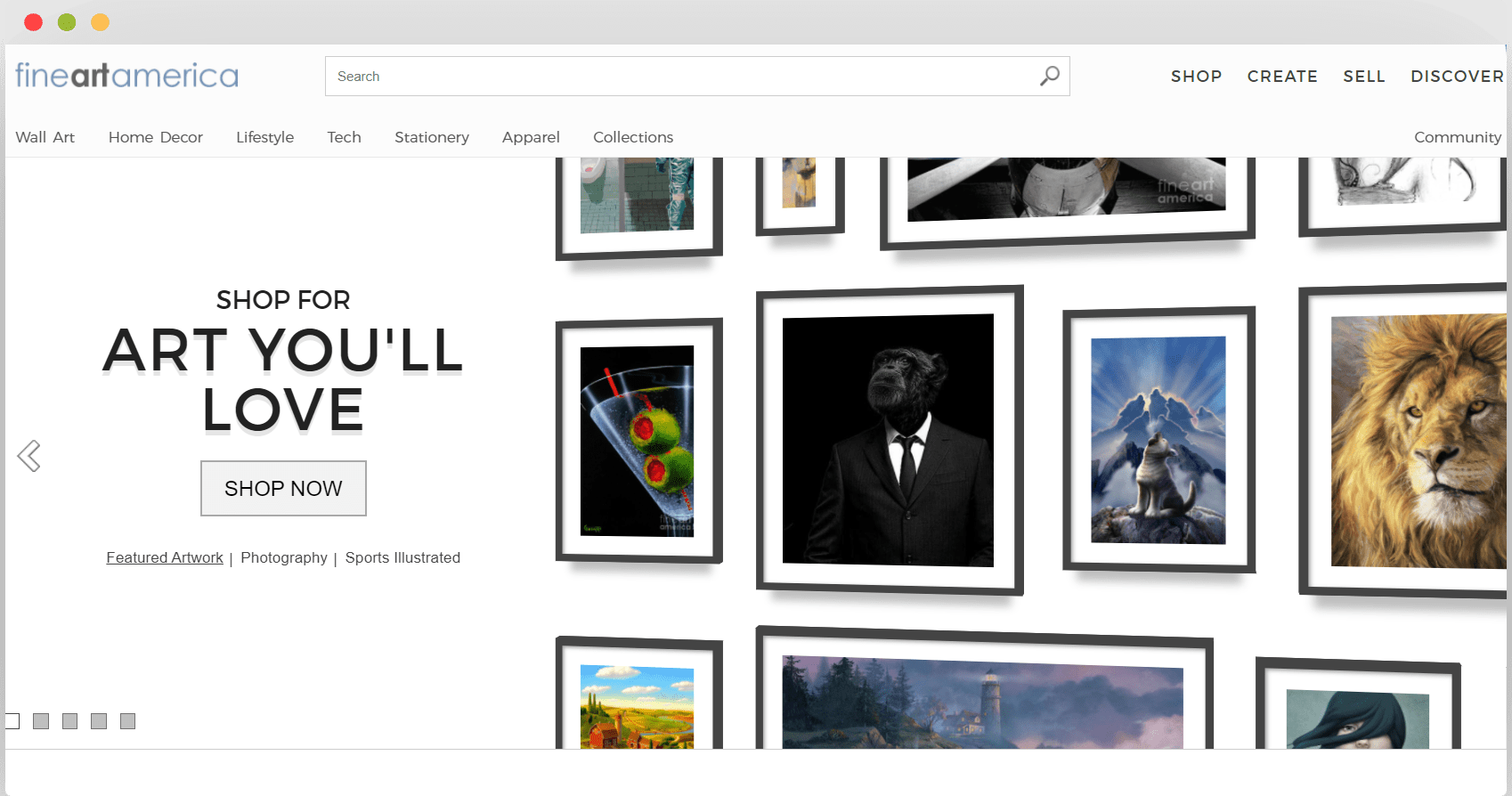 Their premium membership costs only $30/year, and it comes with your very own white-label PoD website included! In addition, with the premium membership, you'll get a website synced to your Fine Art America shop, so you'll need to upload your design just once.
For Shopify and Etsy store owners, AOP+ can be an excellent T-shirt dropship supplier. And it's not just T-shirts you can sell, but also hoodies, pajamas, and face masks.
If you decide to use AOP+, you won't have any upfront costs. But, although AOP+ has a free and a premium plan, you don't necessarily need to start with the paid plan. The free one offers just as many options, excluding only several branding possibilities.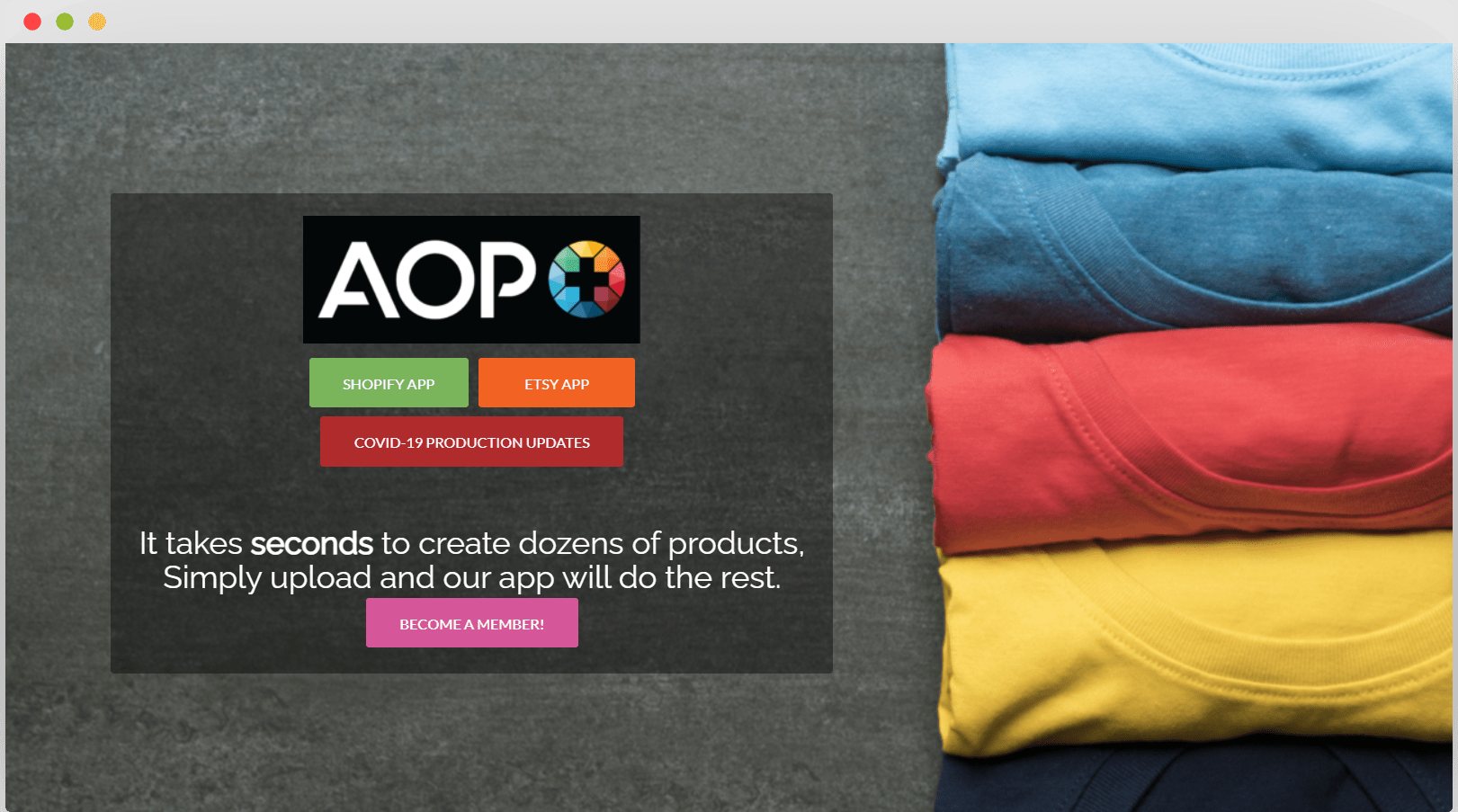 When it comes to branding, AOP+ is flexible. They offer everything from white labeling, postal slips, branded packaging, etc. Plus, they print every single piece in-house, which equals better communication and consistent product quality.
With over 5000 suppliers to choose from and a worldwide product fulfillment service, Chinabrands is also a good option for T-shirt suppliers.
Chinabrands integrates with various eCommerce store builders such as Shopify, Wish, Lazada, Shopee, Amazon, eBay, etc. Aside from T-shirts, Chinabrands has all types of product categories such as electronics, sports, gardens, toys, watches, tablets, and more.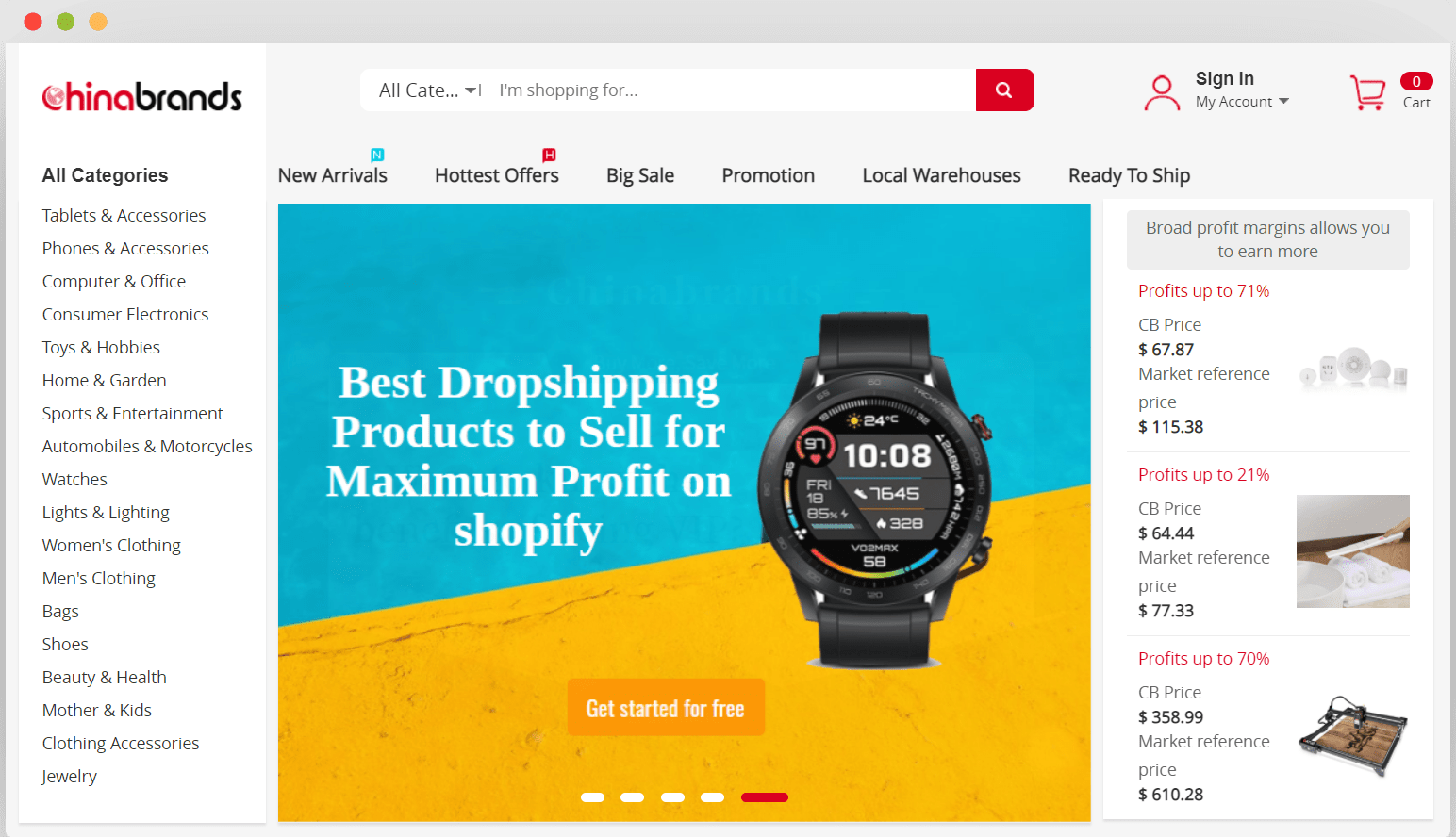 Many dropshipping suppliers on Chinabrands offer PoD or T-shirt dropshipping services. Once you find a suitable T-shirt drop shipping company, get in touch to ask if they can do the services you need.
Spocket is another favorite on our list of best T-shirt dropshipping companies. With over 80% of their suppliers in Europe or the USA, Spocket can be a top dropshipping company.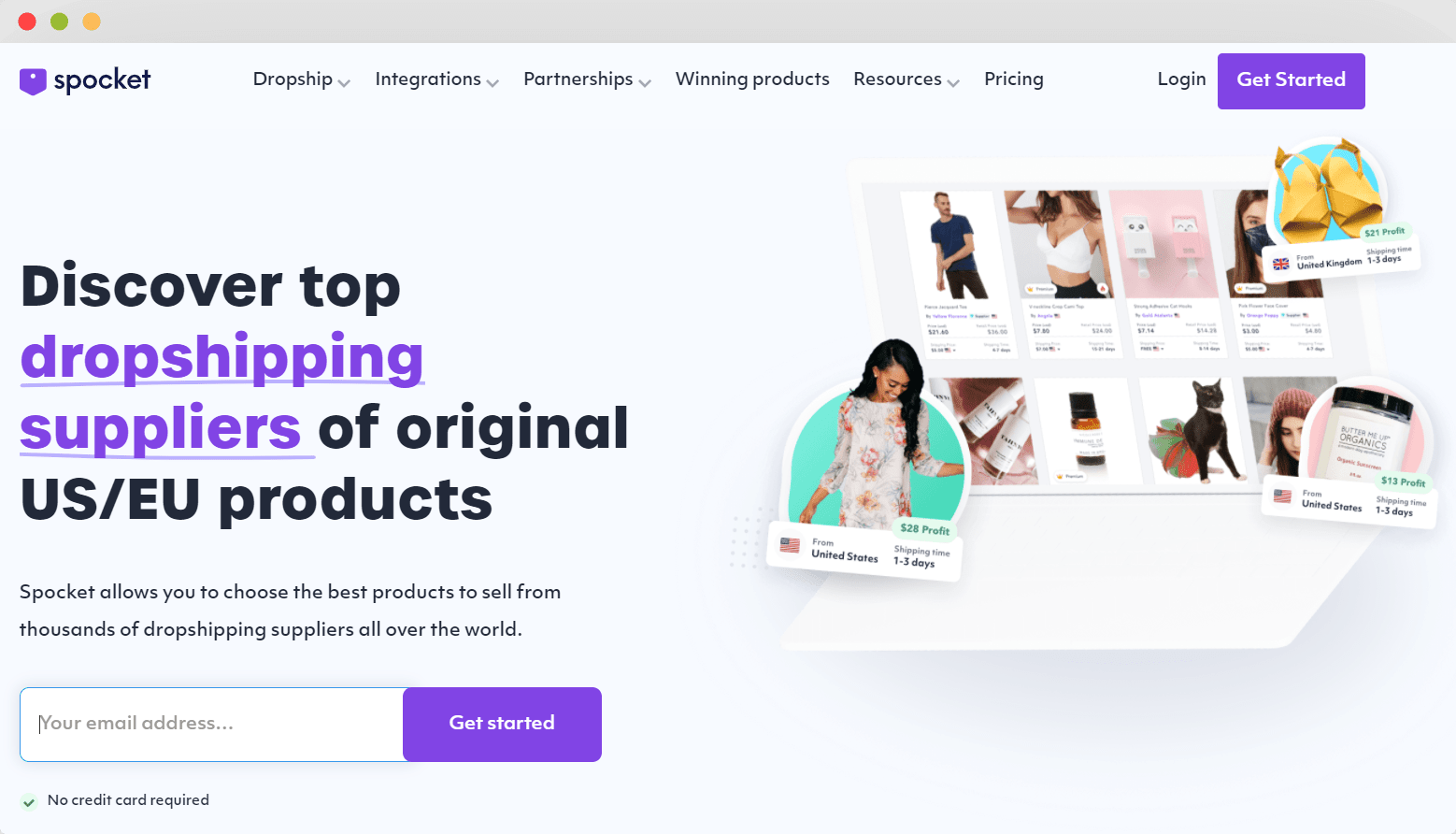 Spocket is on this list because many of its suppliers offer PoD services, including T-shirts. Plus, you can connect Spocket with Shopify, WooCommerce, BigCommerce, and Wix online stores.
However, Spocket comes at a price. Its basic monthly package will cost you $24, and it's enough only to import 25 unique products. Spocket's next package is their Pro plan, which costs $49/month and lets you import a maximum of 250 products.
With the help of JetPrint and Shopify or WooCommerce, you can dropship personalized T-shirts, sneakers, shorts, watches, home decor accessories, etc.
As a T-shirt drop shipping company, JetPrint delivers to the USA and worldwide. The standard shipping times are anywhere from two to three weeks or faster with express shipping options.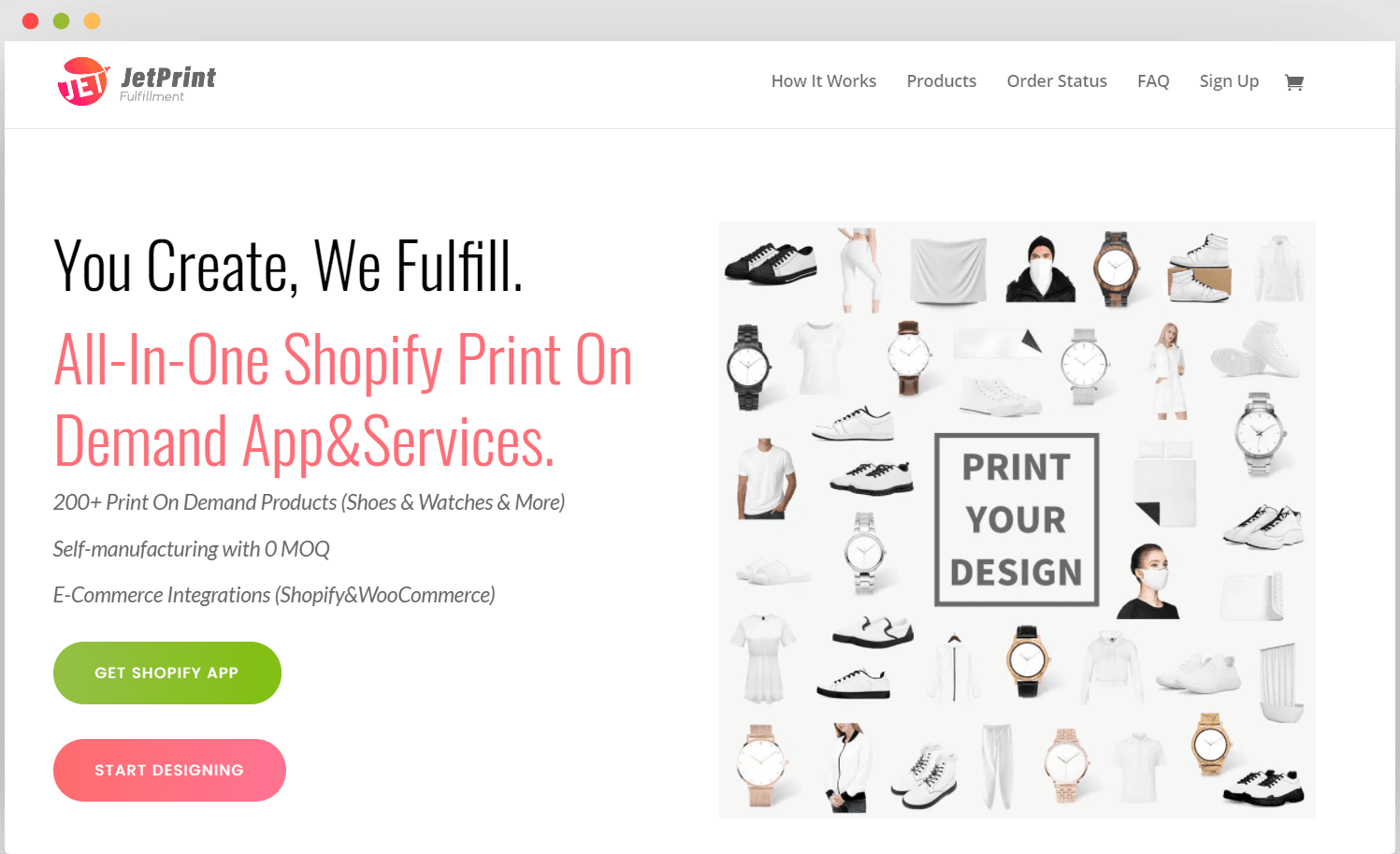 They print everything in-house, and they have no MOQ, which is excellent for beginner dropshippers. Plus, they have an incredible mockup generator which makes designing a breeze.
Kudos to T-Pop for sticking out and being environmentally friendly and committed to a better tomorrow. Their so-called "Green print on demand" is an excellent way to contribute to a healthier environment through eco-responsible printing.
T-pop offers organic T-shirts, hoodies, cups, tote bags, bibs, pillowcases, water bottles, etc. You can personalize any of them and import them to your Shopify, WooCommerce, or Etsy shops.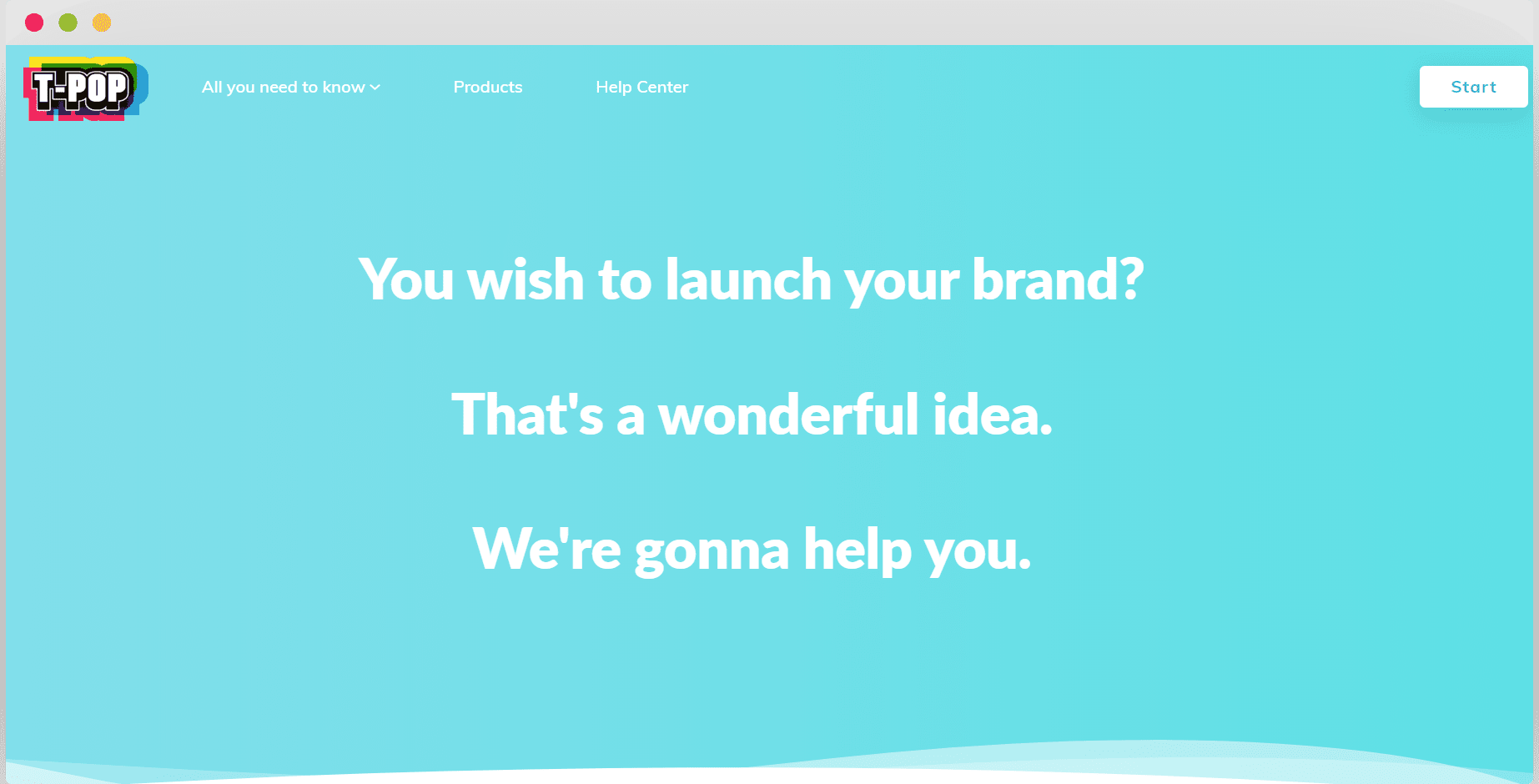 We loved that T-pop is free to use and comes with additional free benefits such as a free logo on the package and slip, free thank you notes, and more!
Apliiq is a PoD dropshipping supplier of T-shirts and all other types of streetwear: beanies, hoodies, joggers, caps, and more. At the moment, Apliiq integrates only with Shopify stores.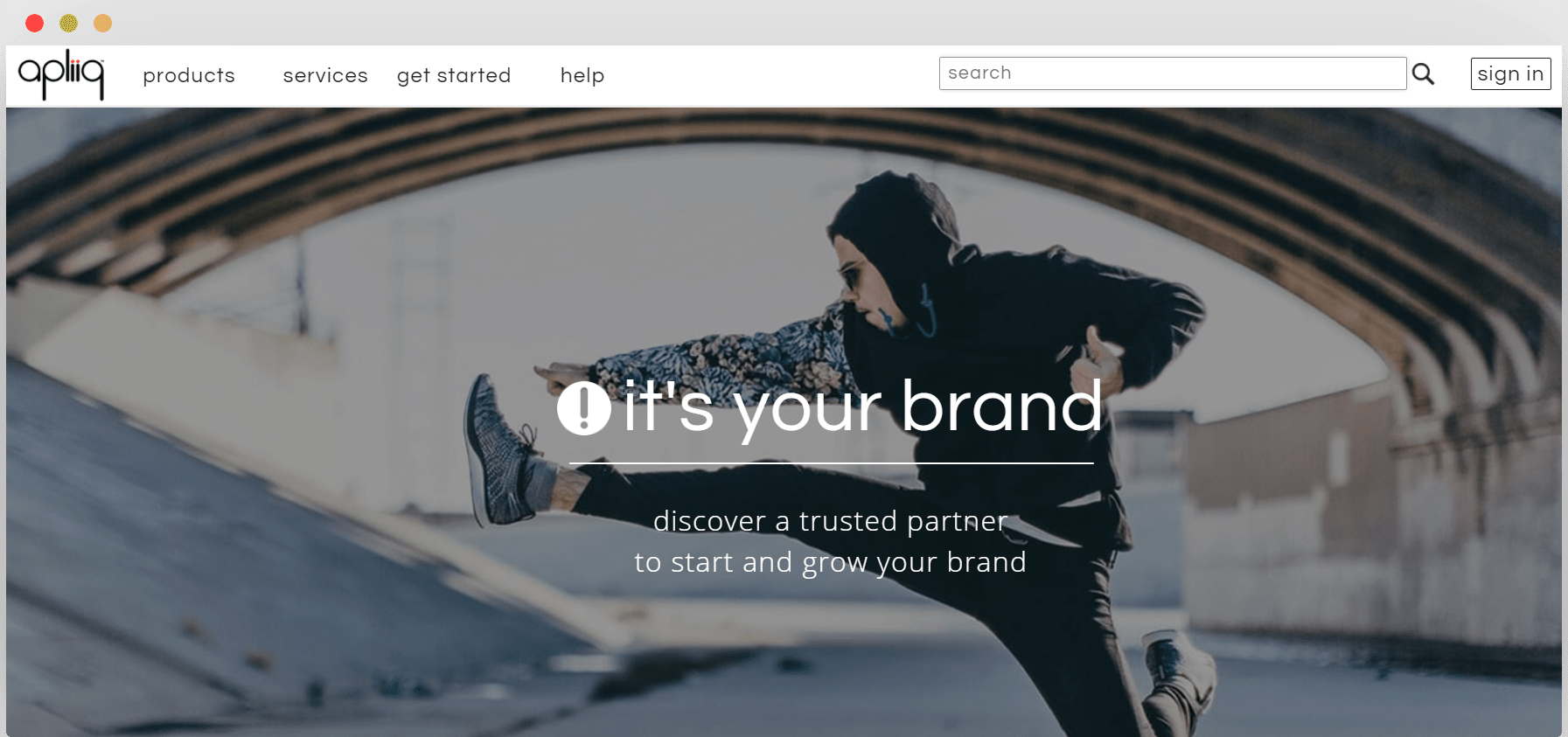 With Apliiq, you can make anywhere from 25 to 50% profit on the products you're selling. So, although it's not the best long-term solution, it's a superb supplier to start with.
SPOD is a PoD company of Spreadshirt. Shopify store owners have an advantage here since SPOD is specifically for Shopify stores.
One of the most boosted SPOD features is that all of their orders throughout the US and EU get dispatched within 48 hours. With this, your customers will enjoy quick delivery.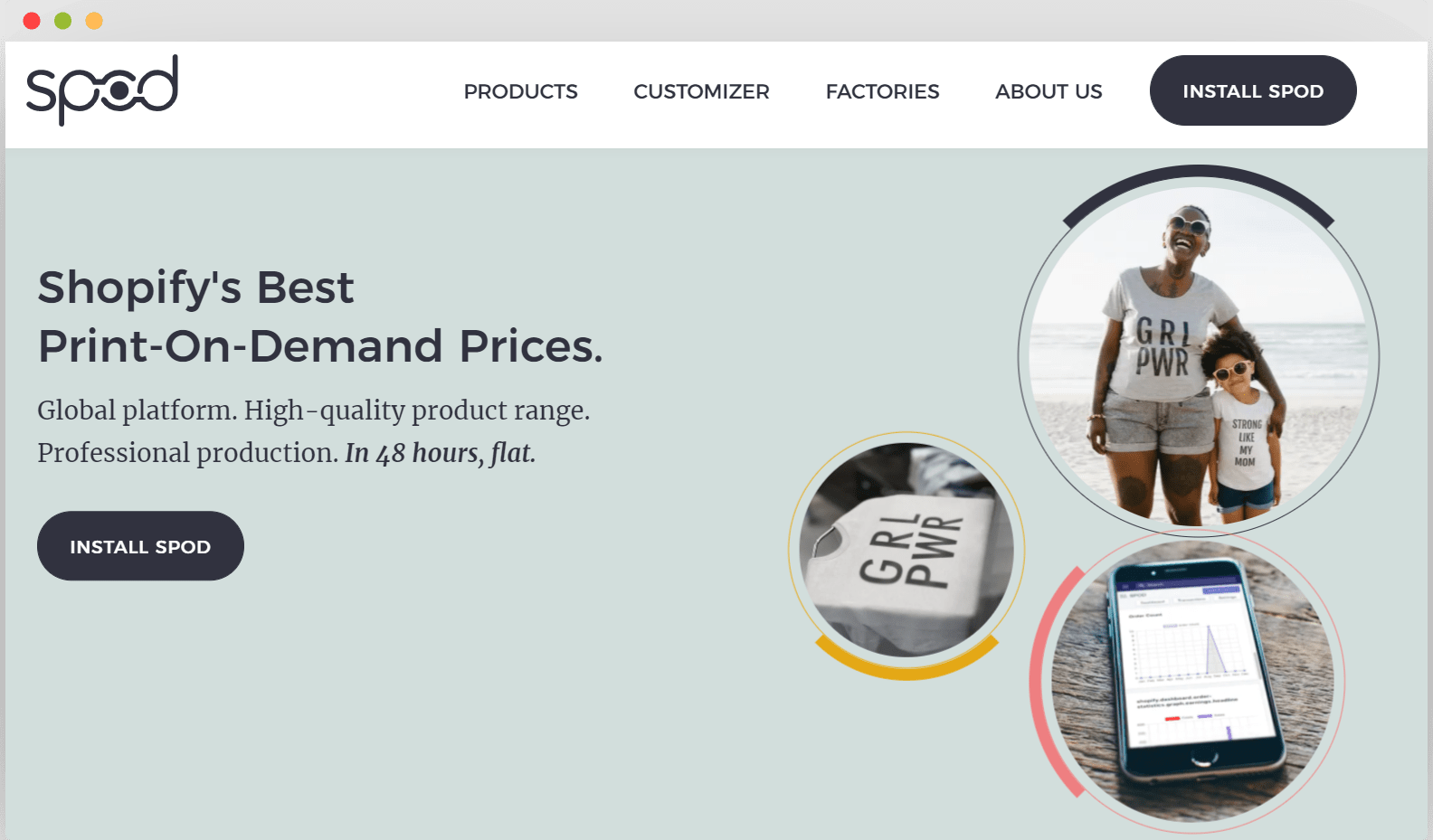 The shipping prices of SPOD are easy to understand since they're based on the order value, regardless of the type or number of products ordered.
Our next T-shirt dropshipping supplier is Amplifier. They offer not just screen printing services but also laser engravement.
Shopify users can integrate their store with Amplifier's free version, while others have to use their paid version.
With Amplifier, you can dropship T-shirts and other products such as phone cases, mugs, stickers, and more.
Last but not least, Qikink – perhaps one of the largest PoD T-shirt suppliers in India. Qikink is free to join, and you only pay once you place your first order.
To use the Qikink integration, you'll need to have either a Shopify or a WooCommerce store. If you use some other store builder, you can list and upload the products manually.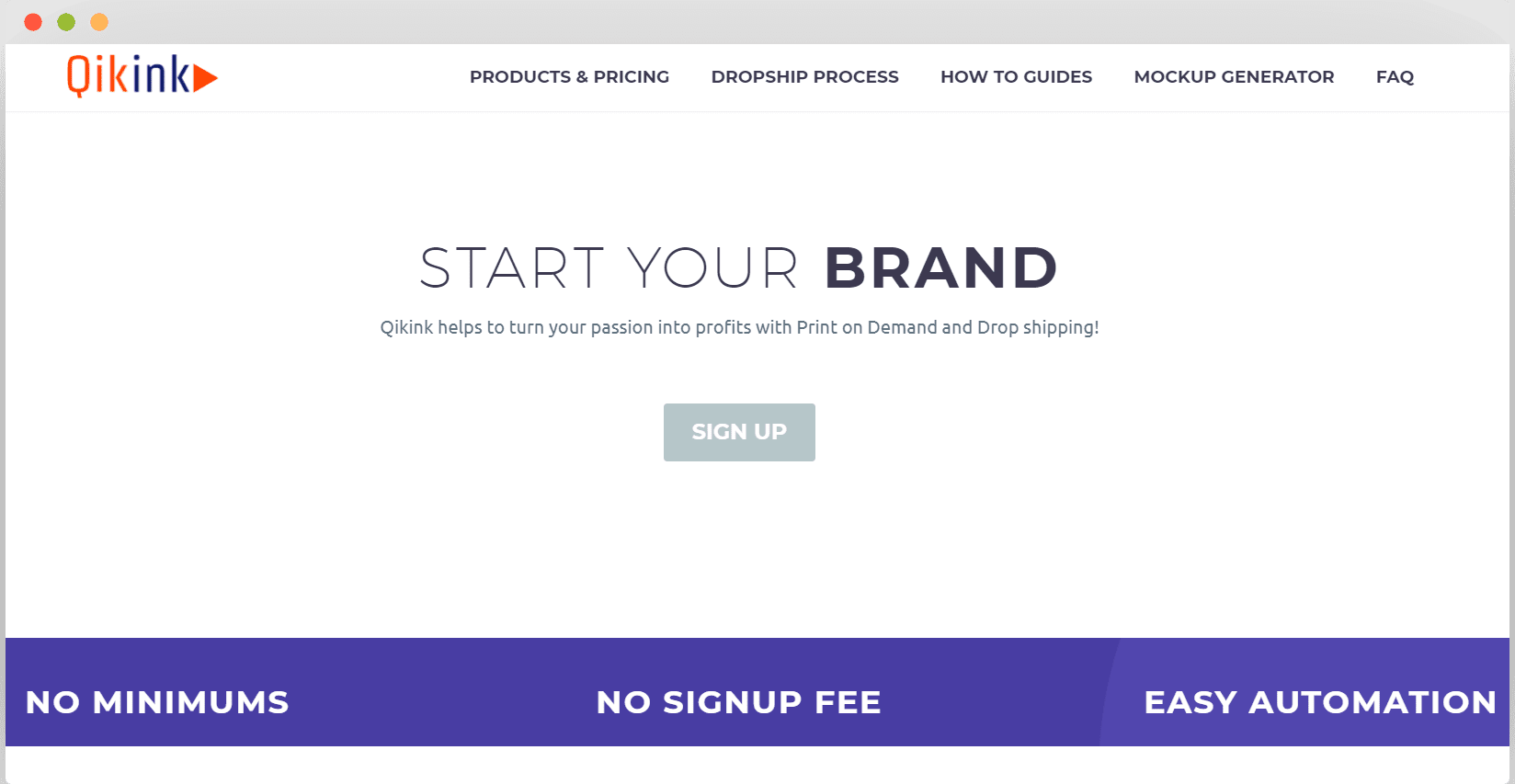 Besides T-shirts, on Qikink, you can find all types of women's clothing, men's and kids' clothing, accessories, and home and living.
FAQs on T-Shirt Dropshipping Companies
And, as always, we'll cover the most frequently asked questions on the subject of T-shirt drop shipping companies. Let's dive in.
What Are the Best T-Shirt Drop Shipping Companies?
All of the T-shirt dropshipping suppliers we've mentioned above are all good in what they do. It all depends on what you need. For the majority of T-shirt dropshippers, we'd recommend CJDropshipping, Printful, Printify, and Teespring.
Of course, if you don't mind doing things manually, there are always the classics like AliExpress, Alibaba, or Chinabrands.
How to Choose a Good T-Shirt Dropshipping Company?
When choosing between several T-shirt dropshipping companies, consider these points:
Printing method: do you need DTG (direct-to-garment) or screen printing?
Order fulfillment and delivery times: how long will your customers have to wait for their orders?
Total costs: what's their base product price, delivery cost, handling, and fulfillment prices?
Mockup generator: do they have one? How can you customize their products?
Integrations or API: does their website or app integrate with your store? Can they provide an API?
Shipping locations: where can they dropship? Worldwide, or only certain countries?
Branding possibilities: can they white label or private label products for you?
Payment methods: how can you pay for your orders?
Customer support and returns: will they deal with this part, or is it up to you?
By getting answers to these questions, you can make an informed decision and choose the best T-shirt dropshipping suppliers for your business model.
Can You Make Money Dropshipping T-Shirts?
The T-shirt buyer market is enormous! The demand for T-shirts never falls. But, that means that there will also be tons of competition. Dropshipping a popular product such as T-shirts can be a sword with two edges.
We recommend choosing a narrow niche with something as popular as T-shirts instead of building a general T-shirt shop. But, again, niching down is critical here! That's what will make you stand out and differentiate you from your competition.
Imagine how many T-shirt shops there are around – some sell inspirational quotes T-shirts, others sell pop art prints, some sell gaming T-shirts, the list is endless. So, what makes you stick out? What will you offer that others don't?
Can You Make a Living with Print-On-Demand?
The typical PoD services such as Printful – where you just design, and they print it on their products – will typically not allow you to increase your profit margin too much. Plus, you'll always depend on their products and stocks, which might not be the best solution in the long run.
If you're new to T-shirt dropshipping, Printful or RedBubble are perfect for testing out products and finding your target audience. But, in the long term, we recommend having your merchandising supplier and having them private label products for you.
You can find private label dropshipping suppliers on CJDropshipping, Alibaba, or by collaborating with a dropshipping agent who'll do product sourcing in China.
How Do I Start a T-Shirt Dropshipping Business?
Just like any other dropshipping business, you can build a T-shirt online store by following a few tested and tried steps:
Step 1: Choose your niche and product
Start by researching profitable yet not overly saturated niches you could enter. Here's where you do your product research and start thinking outside the box.
Step 2: Target audience and competition
Next, it's time to create your buyer persona and decide who your target audience is. It's helpful if you also do competitive research to learn your competition's strengths and weaknesses.
Step 3: Build your brand
Now, it's time to design your logo, think of a name, buy a domain that fits the name, etc. Ensure that your name matches the products you're selling and make it easy to remember.
In this step, you might want to decide on your brand color palette and write down your color codes, fonts you'll use, etc. Doing this will let you stay consistent throughout all social media channels.
Step 4: Choose a T-shirt drop shipping supplier
Bookmark this list and open it when you're ready to choose a suitable T-shirt drop shipping company. Choosing the right supplier who'll provide consistent quality and service is key to the success of any dropshipping business.
On the subject of dropshipping suppliers, ensure they have an app that integrates with your kind of store.
Step 5: Create your online store
The majority of dropshippers use either Shopify or WooCommerce. Both are excellent options – choosing which one to use is simply a matter of personal taste and budget.
While Shopify is a bit more expensive, it's easier to use and more beginner-friendly. WooCommerce, on the other hand, is a free plugin for WordPress websites. However, you will need some technical background to create your first website.
Step 6: Design and import your products
Once your eCommerce store is done, it's time to design your first products. Ideally, your supplier's website will have a mockup generator for product customization and uploading your designs.
When it comes to product import, it's best if your supplier's app integrates for automated drop shipping. If not, you can upload the products manually from a .csv file.
Step 7: Start selling
Now that you've designed and listed your products, it's time to start marketing and sales. That's usually the best part of the entire process for most dropshippers.
We advise you to be present on all social media channels where your audience is and build their trust by providing value. Whether it's blog posts or giveaways, find a way to get and keep their attention.
Step 8: Fulfillment and delivery
And finally, once you've made your first sale, it's time for the last step – order fulfillment and shipping. Now, it's time for your T-shirt drop shipping company to produce and ship out the order to your customer.
Ideally, they should provide you with a tracking number so that both you and the customer can follow the order's status.
Is Printify Better than Printful?
Printify and Printful are both free-to-use PoD companies you can use to dropship T-shirts.
Based on user reviews, Printify wins because it's more affordable, but Printful has a superior product quality. Plus, Printful has more branding possibilities and far more integrations.
Choosing between Printify and Printful largely depends on your brand and the quality vs. cost ratio you're willing to accept.
How Much Does It Cost to Start a T-Shirt Business?
Depending on your business mode, you can even do T-shirt dropshipping for free. Many of the above T-shirt suppliers won't charge you anything until you've had your first order. However, you will have some minor costs to host your store.
Usually, dropshippers choose either Shopify or WooCommerce. Shopify is beginner-friendly but slightly more expensive. On the other hand, WooCommerce is a plugin, which means you need a WordPress website and a bit of technical knowledge.
How to Avoid Copyright Infringement when Designing T-Shirts?
Knowing the basics of copyright law can be incredibly helpful when creating your designs. Here's what not to do:
Don't use any image, character, or quote from franchise movies, TV shows, video games, comic books, and cartoons;
Don't use any logos or names of sports clubs, music groups or artists, and similar;
Don't use other companies' logos, trademarks, or registered names;
Never use celebrity photos – whether it's custom paintings or caricatures, it's best if you avoid all celebrity-related content
If you see a design not listed as "free to use or modify commercially" – don't use it;
Avoid quoting people that are still alive and people that have passed less than 70 years ago (but you can design common sayings or similar);
By keeping the above rules in mind, you'll avoid legal issues and diminish any risks of lawsuits against you.
What Type of T-Shirts Sell Best?
There's no right or wrong T-shirt to sell. As someone once said – there's no accounting for taste. When choosing the type of T-shirts to sell, there's one rule to remember – sell them to the right audience!
Failure dropshipping stories usually never come from choosing the wrong product but from not placing the product in front of the right people who want to buy it.
With that said, of course, you can try to adjust your designs based on current trends, seasons, etc. But, ensure you stick to the overall voice and image you're trying to convey.
And finally, our last hint about choosing T-shirts that sell well is to choose an evergreen niche. Don't just jump on the trend train right away. Selecting a trendy product at the moment that will be obsolete in a year is a risk you should consider.
Can a Dropshipping Agent Help Me Dropship T-Shirts?
Yes. Usually, T-shirts from Chinese manufacturers have a much better price, especially if you buy in bulk to private label them. That's why we recommend collaborating with a full-service dropshipping agent in China who can source T-shirts locally.
With this, you can enjoy a better profit margin and still have someone else take care of order fulfillment. Your chosen dropshipping company should offer worldwide order fulfillment and have warehouses close to your customers.
In Conclusion
In final words, we'd like to point out that the T-shirt dropshipping business is amongst the most popular ones – so you can expect a high level of competition.
Hopefully, our list of the best T-shirt drop shipping companies can give you the competitive advantage you need to find the right supplier and launch your store.
If you need further help finding a suitable T-shirt dropshipping supplier, feel free to get in touch. We can source T-shirts for you directly from China manufacturers for the best prices on the market.