Since 2009, China has been exporting trillions worth of goods, making the country the largest exporter in the world. By 2013, China had already taken the place of the United States as the largest trading nation.
The numbers above make it quite obvious why most products are sourced from this country. Stores all over the world often partner with Chinese suppliers because of the volume they can provide and their affordable rates.
With that said, it's most probable that you have packages coming from China. And like any other shopper, you want to be able to track its location by the time you have placed your orders.
In this article, we'll teach you how to track your orders from China along with the different courier services and their respective tracking methods.
Read on if you're interested in tracking your orders with ease.
Let's get right to it.
How to Track Packages From China?
Despite the popularity of online shopping, people still have doubts whenever they order online. Goods in transit are always subjected to a lot of factors, and people need some sort of assurance they'll get their package.
So, the best way to give that assurance is to provide tracking methods—especially when packages come from thousands of kilometers away. In this case, items shipped from China.
The process of tracking packages from China is no different from how you track packages with other couriers and countries.
Most couriers provide tracking information, like tracking numbers, to help you locate where your orders currently are.
You input the tracking information into their official website and you're immediately informed of the current status and location of your package.
Couriers, however, may have different ways to let you track your parcel.
Separate sections will be dedicated to enumerating the different online tracking platforms and explaining how different courier services help you track your orders.
What Is a Tracking Number and Where Do I Find It on My Package?
A tracking number is a unique number assigned to a package. This number is used to identify, manage, and monitor packages as they move from one location to another.
Depending on the courier, tracking numbers can either be traced internationally or only within the country of origin.
The format of packages varies as these are unique identifiers. These numbers are often only trackable through the courier's official website since the codes follow a certain format.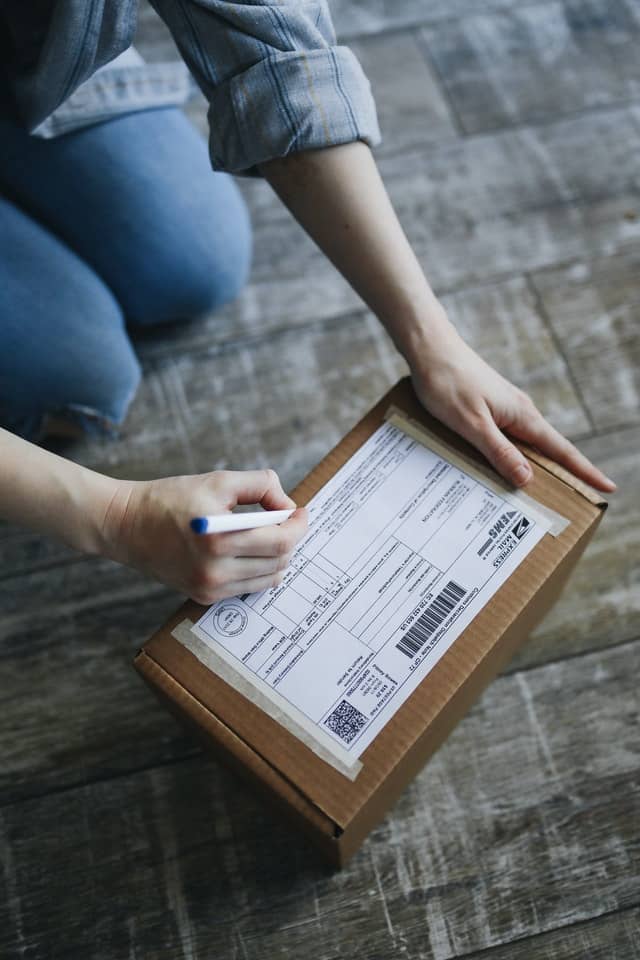 You can often find the tracking number of your packages on the official sales receipt of your items. More often than not, receipts sent to your email after ordering will include the tracking number and how you can use it.
If ever you don't receive or see a tracking number, it's always best to talk to your courier's customer service to see how they can help you.
Top 6 Courier Services in China and How to Track Their Packages
There are many ways to order and receive packages from China. It's already expected since they're the largest exporter in the world.
In this section, we'll enumerate the top 6 courier services in China, their tracking methods, and their delivery times.
China Post
Legally known as China Post Group Corporation, China Post is the official postal service of China. This company succeeded the Chunghwa Post which had been the main postal service of China since 1949.
It's a state-owned enterprise and follows the national regulations for its parcel, express and logistics business, and rural ecommerce. Currently, it ranks second in all of the postal companies in the world.
Tracking China Post packages is easy with their official website. To track, just simply input the tracking number into the search field.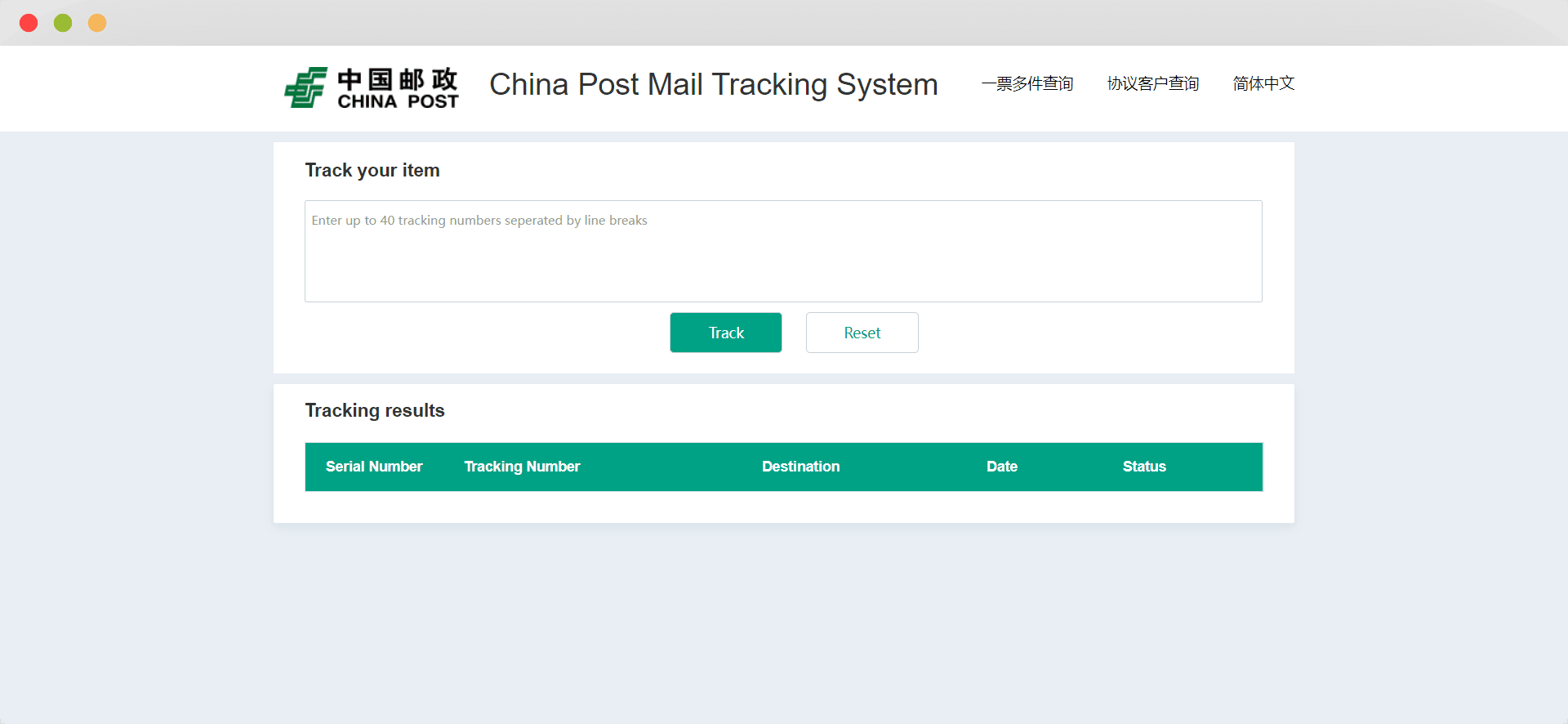 From there, you can see the serial number, tracking number, destination, date, and status. This information is readily provided if the tracking number you provided is correct.
There are different types of China Post packages:
China Post Registered Air Mail
China Post Unregistered Air Mail
China Post International Small Parcel
China Post International Large Package
China Post Registered Airmail is an affordable service and the delivery time takes about two to four weeks. The usual format of registered 13-digit Airmail tracking codes start with the letter "R" and end with "CN"
For Unregistered Airmail packages, 13-digit tracking numbers start with the letter "U" and cannot be tracked once outside Chinese territory.
Small and Large international packages can be tracked if they're registered. These parcels can be further divided into the following categories depending on their transportation methods:
Air Parcel
Surface Air Lift Parcel
Surface Parcel
China Post Small Parcels are used for items that are less than 2 kilograms. These parcels have 13-digit tracking numbers that start with the letters "R", "P", "V", and end with the letters "CN".
Small Parcels arrive within 10 days for Asian countries, 15 days for American and European countries, and up to 30 days for all the other countries.
On the other hand, China Post Large Packages are suitable for items that weigh more than 2 kilograms but less than 40 kilograms. 13-digit tracking numbers start with "CP" and end with "CN".
These packages take about 10 days for neighboring countries, 15 days for North American and European countries, 20 days for South American countries, and up to 30 for African countries and other regions.
Yanwen Express
Yanwen Express is one of China's leading third-party logistics services. They offer cross-border shipments for ecommerce business owners, making them an ideal partner for dropshipping businesses.
The company was founded in 1998 in Beijing and has since become the partner of big companies like AliExpress and eBay. The company's daily handover had reached more than 2 million packages to its carriers.
Today, it now caters to more than 50 cities, making sure packages reach on time with their excellent services.
The tracking numbers of Yanwen Express have 13 digits and end with the letters "YP". Once the items are exported from China, the last digits will change to "CN".
With the tracking number, you can simply use their website to track your parcels.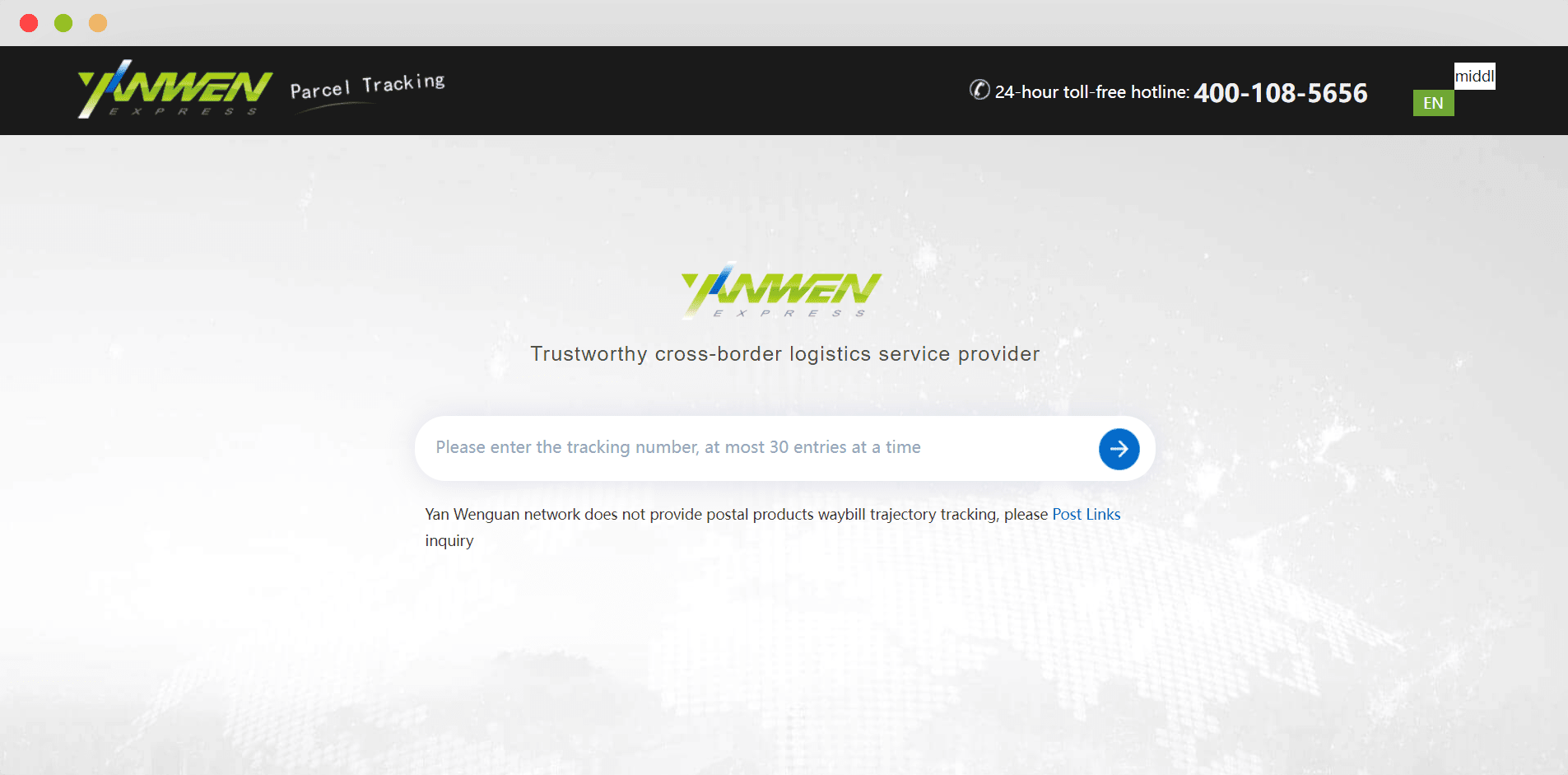 International shipments from this courier service take about six to 14 days, depending on weather conditions, holidays, and other circumstances that may delay shipment.
Sometimes, it can even reach 35 to 60 days for other countries.
It's good to note, however, that once Yanwen Parcels reach other countries, they often hand over items to different courier services.
Once it's in the USA, Yanwen hands it over to USPS or FedEx. In Canada, they usually hand them over to Canada Post. In the UK, they pass it on to Royal Mail.
YunExpress
YunExpress is another leading third-party logistics company in China. They also offer cross-border business lines for ecommerce businesses. This company has become a top option for dropshippers who have customers across the globe.
They have more than 20 self-operated branch companies, 15 transit hubs, and thousands of enterprise clients. All of these help them process more than 700,000 items daily.
YunExpress has several product services including the following:
YunExpress Registered Priority
YunExpress Registered Standard
YunExpress Germany Registered
Japan Registered Direct
Middle East Registered DDP
YunExpress Priority Direct
All of these can be tracked through their official website. Up to 500 shipments can be tracked. The tracking number of YunExpress starts with the letters "YT", followed by 16 digits.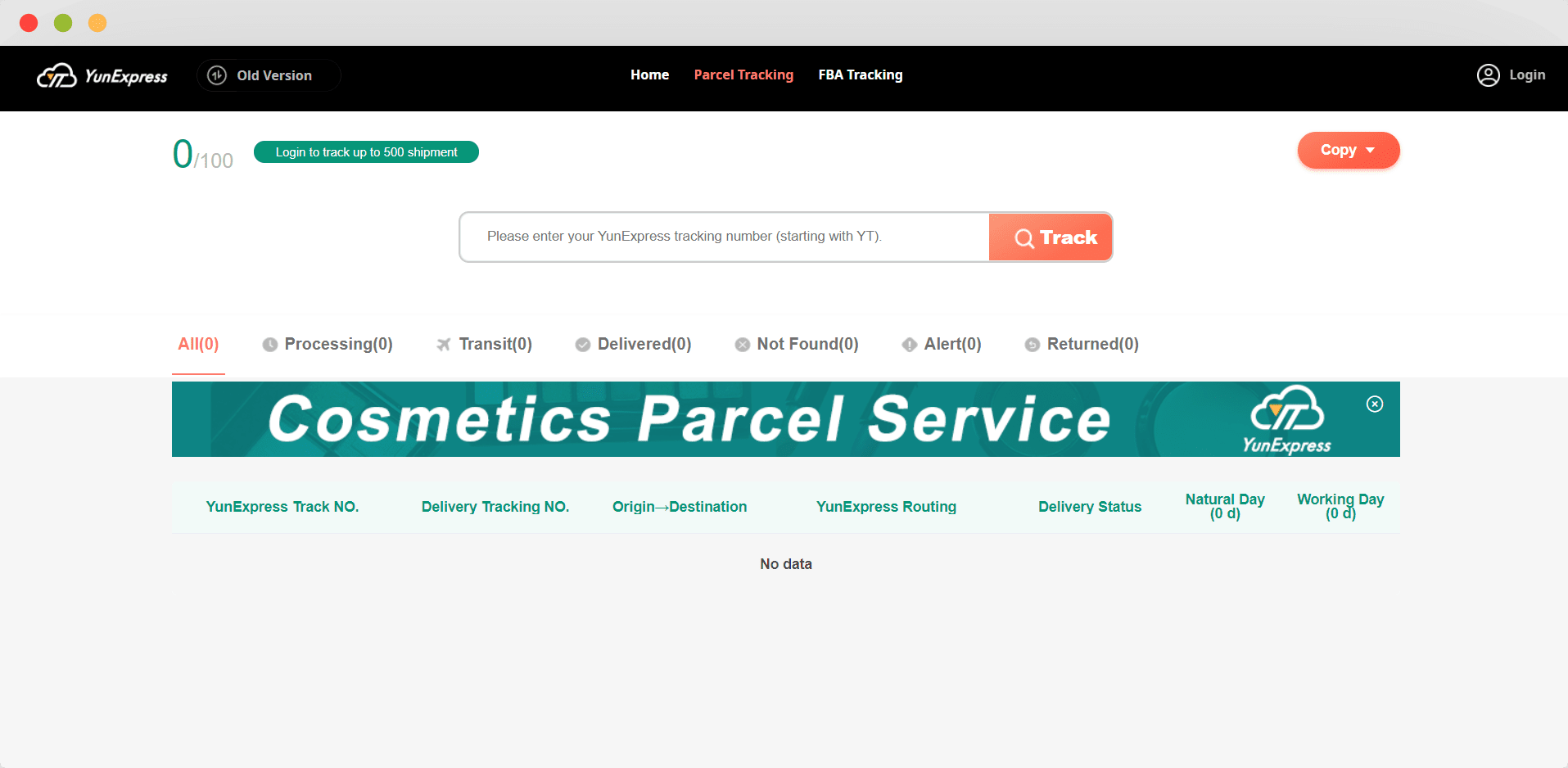 Delivery times mostly depend on the time it takes for merchants to ship out their goods. International deliveries take between 5 to 15 days.
In extreme cases, like bad weather conditions and global conditions, packages can arrive anywhere between 30 days to 75 days.
Just like Yanwen Express, YunExpress partners with FedEx and USPS once the shipment has arrived in the United States. They partner with Royal Mail for the UK, Collisimo for France, and DHL for Germany.
DHL
DHL was founded in 1969 and has since become one of the leading global logistics companies. It has a presence in over 220 countries and ships out billions of packages each year.
Its main office is in Bonn, Germany but they have a regional head office in Beijing.
They offer worldwide delivery services and international shipping. They also have DHL eCommerce that is ideal for international and domestic parcel pickup, delivery, and return.
This is why it's a no-brainer why it's also one of the top logistics companies in China.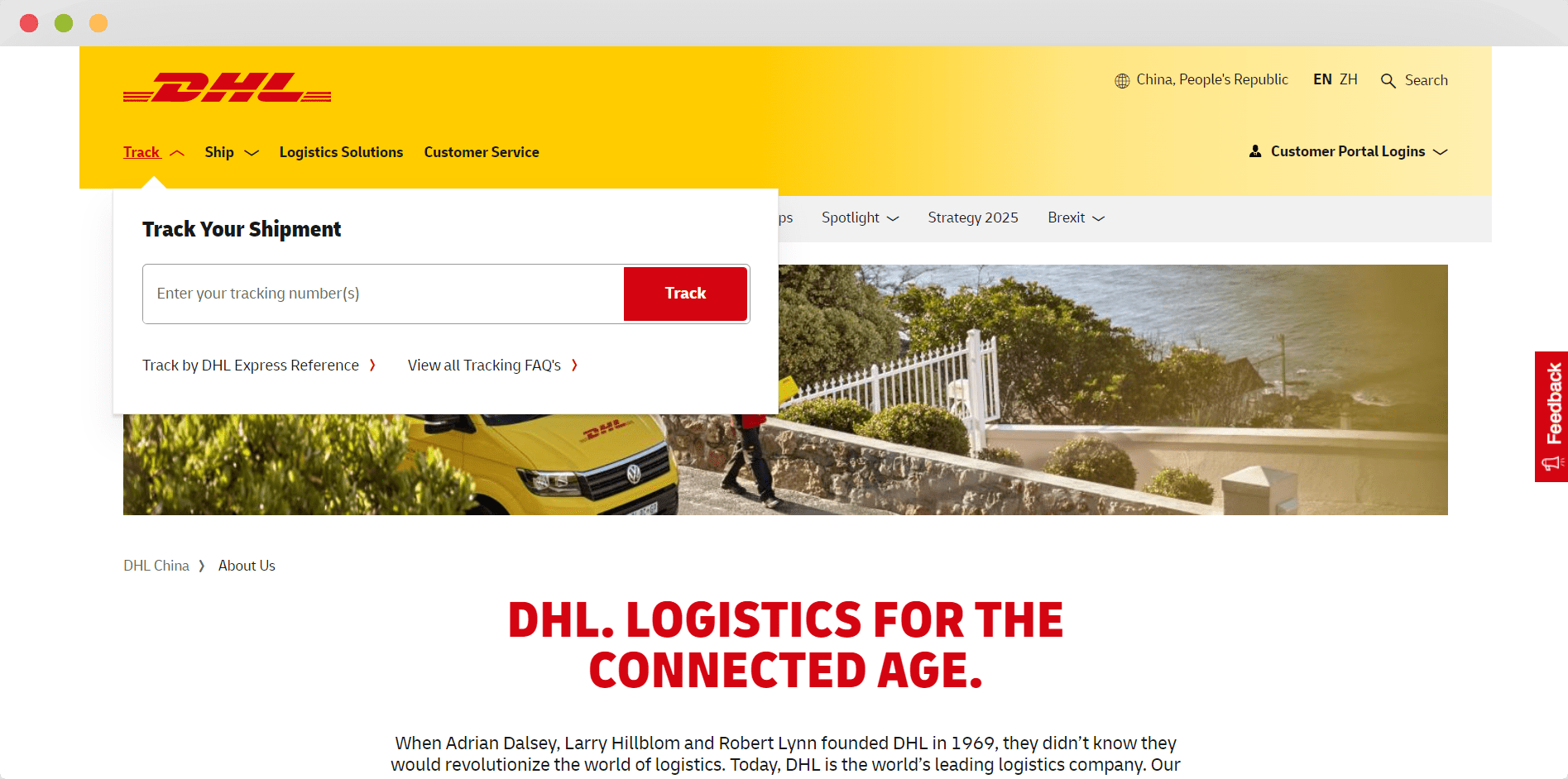 DHL tracking numbers vary depending on the type of service. For DHL eCommerce, tracking numbers usually start with "GM", "LX", "RX", and can even extend up to five letters.
The numbers can also have anywhere between 10 to 39 characters.
On the other hand, a DHL Parcel service tracking number has 10 digits and can either begin with "3S". "JVGL", or "JJD". DHL Express service 10-digit tracking number starts with "000", "JJD01", "JJD00", or "JVGL".
All of these can be tracked through DHL's website. Just simply input the number and you'll see the status of your package and where it currently is.
Typically, shipments from China to the United States through DHL take about 3 to five days.
FedEx
Another leading courier service is the American brand FedEx. It was founded in 1971 and currently has regional offices across the world, including China.
Today, FedEx has more than 82 branches in China with its head office in Shanghai. More than 220 cargo flights depart from China, delivering millions of packages each year.
It's also good to note that FedEx has a license to ship domestically, reflecting that they're a reliable service inside and outside the country.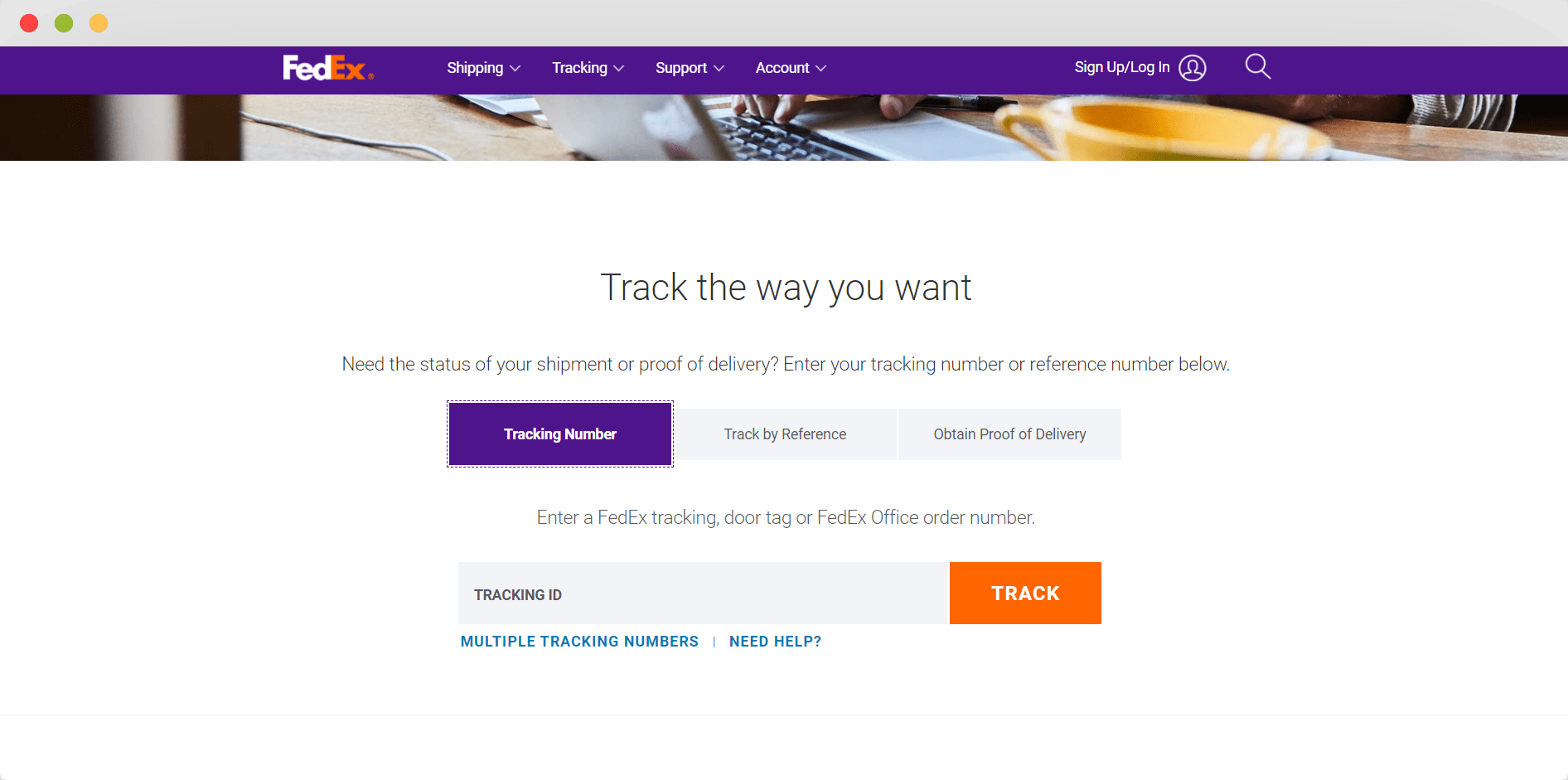 You have two ways to track your FedEx package. You can use a tracking number or by reference. In most cases, it's easier to track using a tracking number.
The FedEx tracking number has either 12 digits or 15 digits. Sometimes, the number can get anywhere between 20 and 22 digits.
FedEx offers real-time tracking without the need to log in. You can even track up to three items at a time.
If ever you can't find your FedEx tracking number, it often means that your order has not yet been picked up. Only after it's picked up will it reflect on the website.
In this case, it's better to follow up with your chosen merchant.
FedEx usually takes anywhere between 1 to 5 business days when shipping from China to any point in the world.
UPS
Also known as United Parcel Service, UPS is also a leading courier service globally. It has branches in 220 countries and territories and ships more than 24 million packages every day.
In 2001, UPS partnered with China Express and has its head office in Shanghai.
Like FedEx, it also has a license to ship items domestically and can arrange deliveries from one supplier to another.
It's a top option for ecommerce owners who want to purchase products from several suppliers—quite common in the textile industry.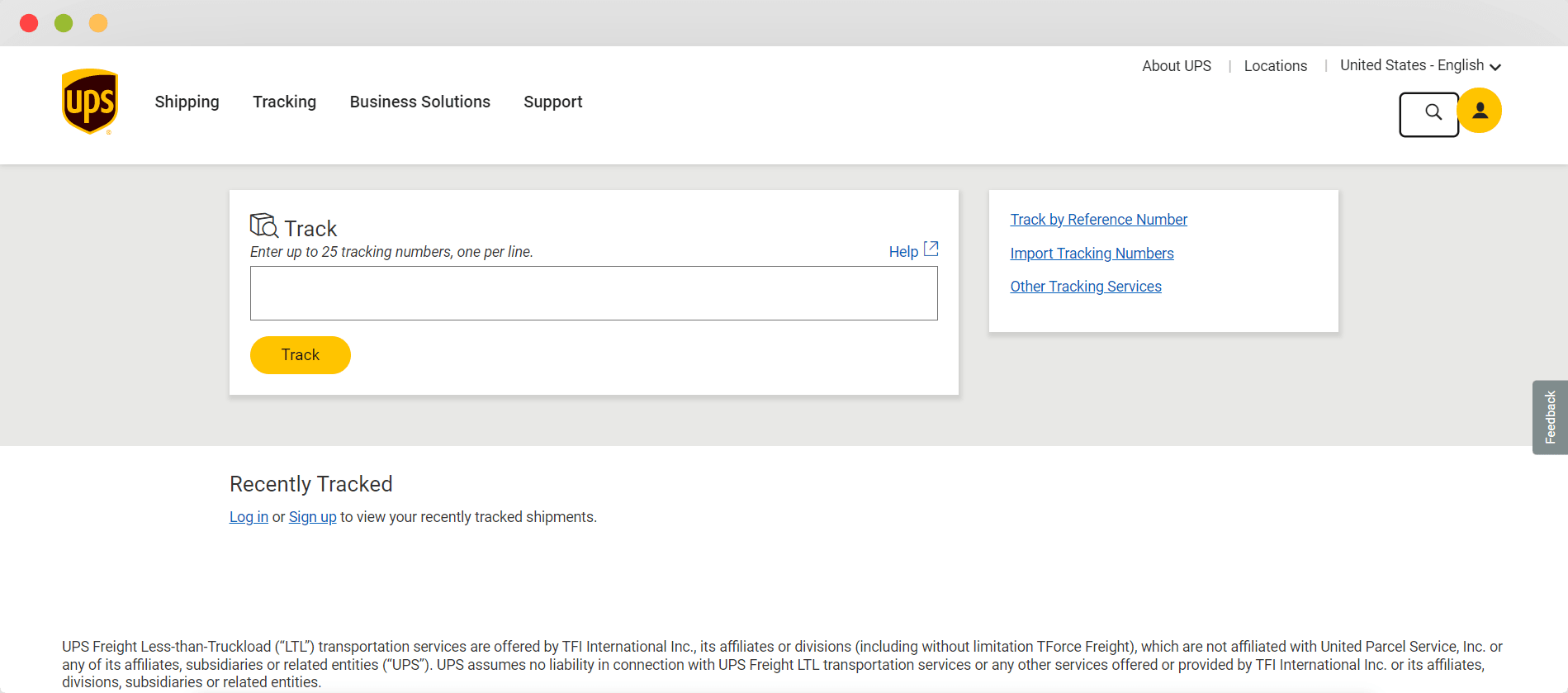 UPS tracking numbers follow several formats. Domestic shipments start with "1Z" followed by 16 numbers. Some numbers have 12 numbers, while others start with "T" followed by 11 numbers.
Generally, UPS takes about 3 to 5 business days to ship worldwide.
Top 5 Online Tracking Platforms to Track Packages From China
Official websites aren't the only platforms you can use to track your packages. There are several online tracking platforms that let customers track orders, regardless of courier or logistics services.
For as long as you have a legitimate tracking number, you can track your parcel. Here are some top platforms you can use:
17Track
17Track was established in July 2010 and has now tracked more than 600 million parcels all over the world. It currently supports 220 nations and is the partner of more than 160 companies.
Its mobile application has been downloaded around 7 million times on both Android and iOS phones.
One of the reasons why 17Track is so popular among users is because it's easy to use. You can enter up to 40 tracking numbers and track them all at the same time.
You can also filter through the numbers you've typed into the text box.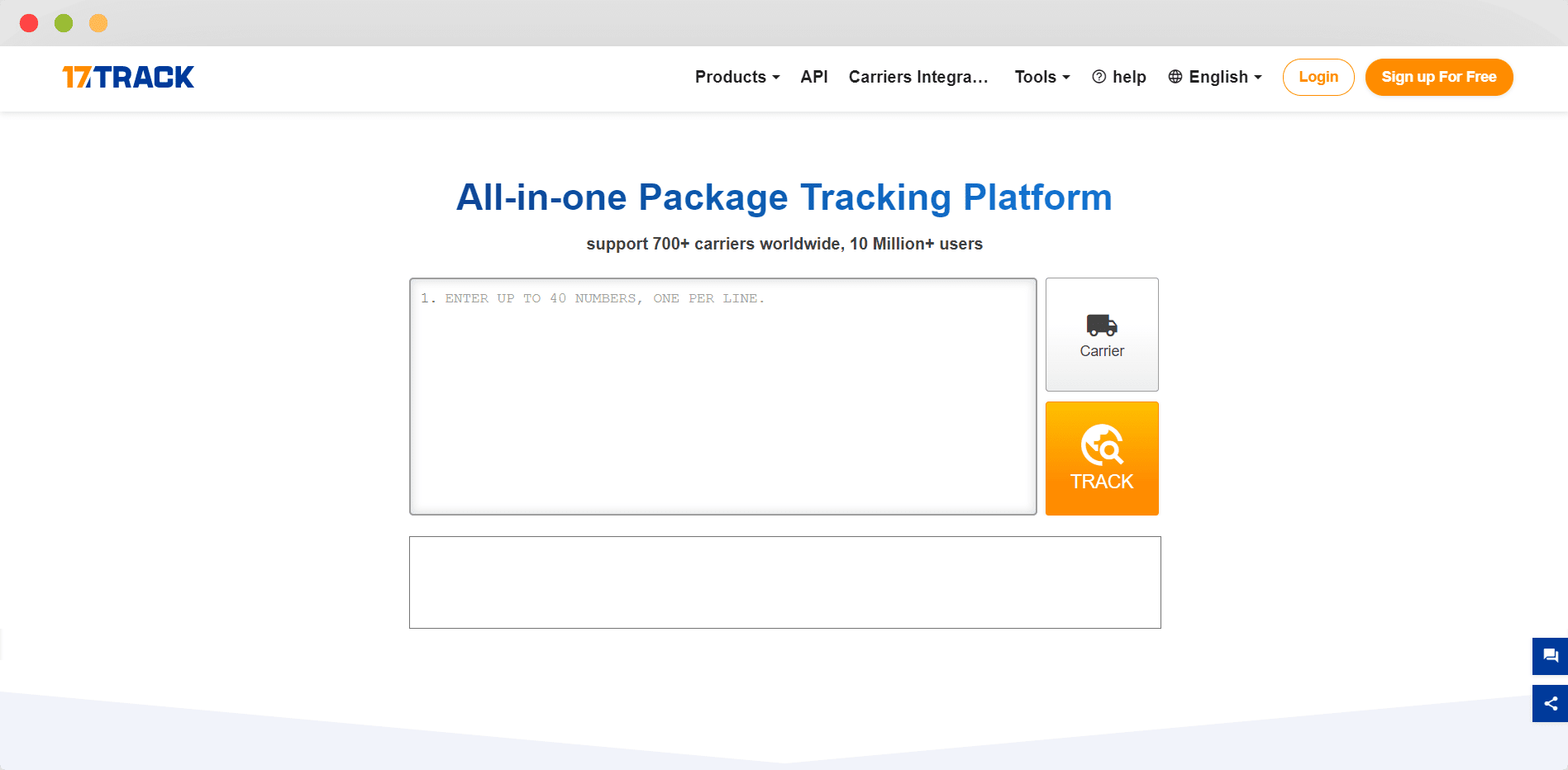 On top of that, you can also select your carrier and locate parcels using that.
If you want to verify the tracking information, you can just click on the link that appears once the information is generated and you'll be directed to the respective carrier's official website.
Some carriers that are often tracked through this platform are China Post, YunExpress, and FlytExpress.
They also have an API service that supports more than 700 carriers to reduce the process of tracking data and to improve the quality of customer service.
The website itself can also be translated into 7 different languages including English and Chinese.
Parcels App
Parcels App was created in 2017 to address the lack of a reliable tracking platform since AliExpress, at that time, was unable to provide complete information about packages.
Today, the tracking platform has partnered with carriers and logistics services from all over the world. Some of its partners include China Post, UPS, AliExpress, Shein, and eBay.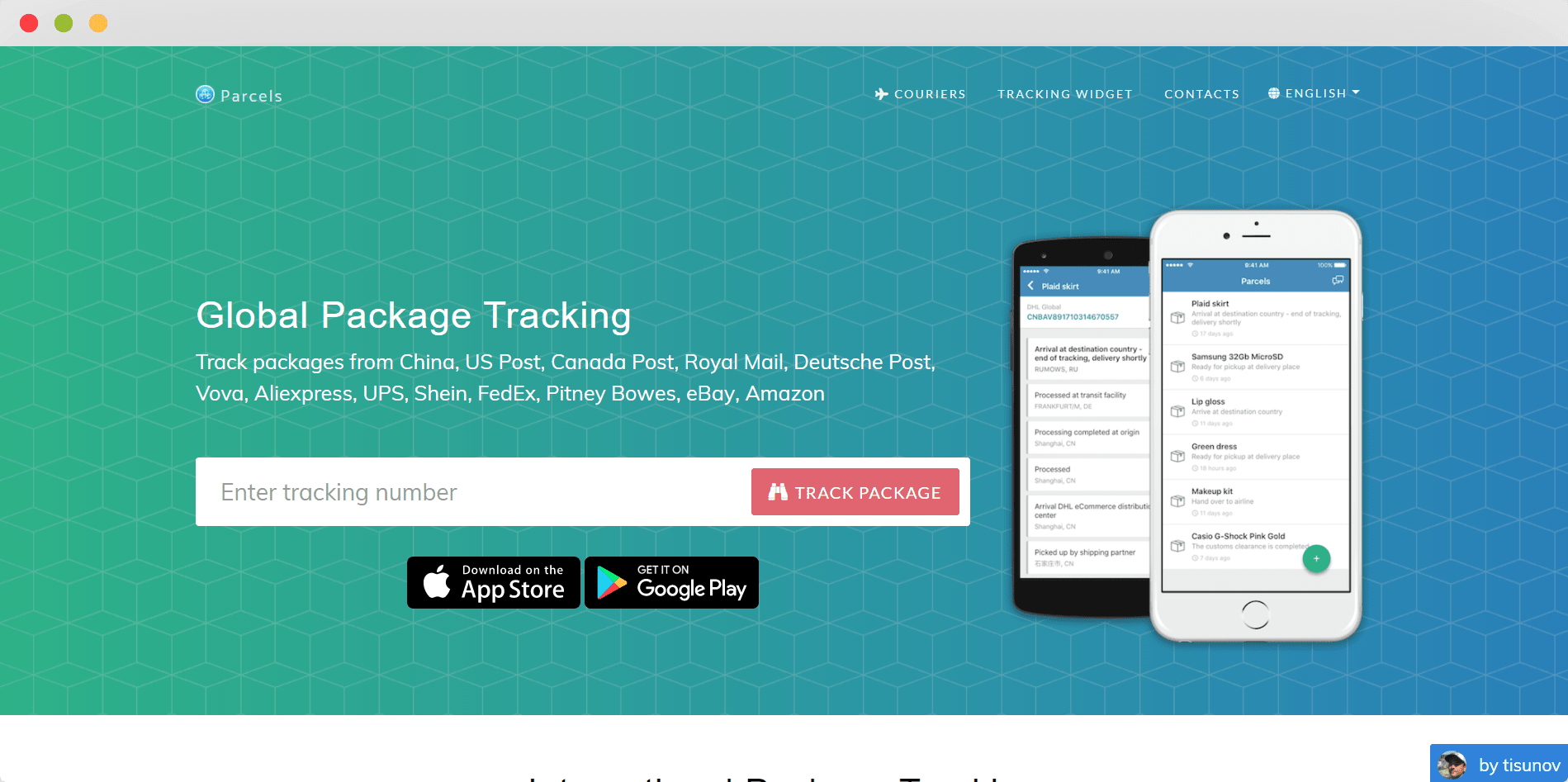 It's also available on the App Store and Google Play as a mobile application.
The website is mainly in russian but can be translated to English and 8 other languages.
Just make sure to have your tracking number ready so you can see where your parcel is immediately.
Parcel Monitor
Established in 2016, Parcel Monitor is one of the leading real-time tracking platforms on the internet. The currently platform current;y has more than 755 partners including China POst, TNT, UPS, and DHL.
The platform can track parcels from all over the world. You can even track parcels according to country or region.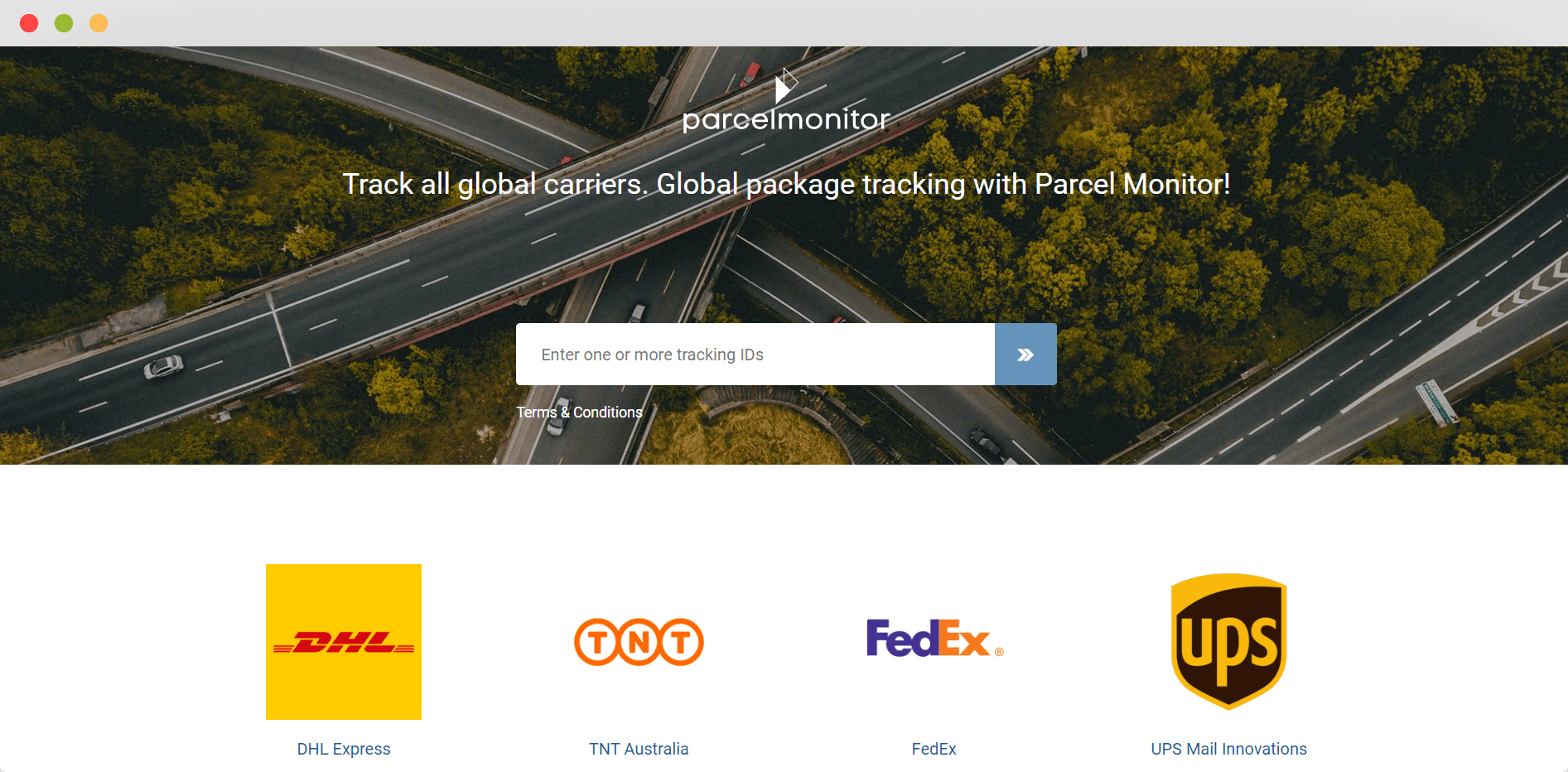 You can track multiple numbers. Just allocate on line for each tracking number and make sure you have the right format.
If you want to track multiple platforms with additional information, you can use Parcel Perform to track multiple tracking numbers from different logistics providers.
This platform also provides an easy overview of the current status of your packages.
With more than 30 languages supported, you can expect Parcel Monitor to help you with your tracking needs.
Ship24
Another online platform created to provide quality tracking solutions to customers is Ship24. It specializes in multiple SaaS end-to-end solutions for ecommerce businesses.
The platform tracks around 50 million packages every month and is now the partner of more than 10,000 carriers and marketplaces.
Some of its popular partners include AliExpress, China Post, and Royal Mail.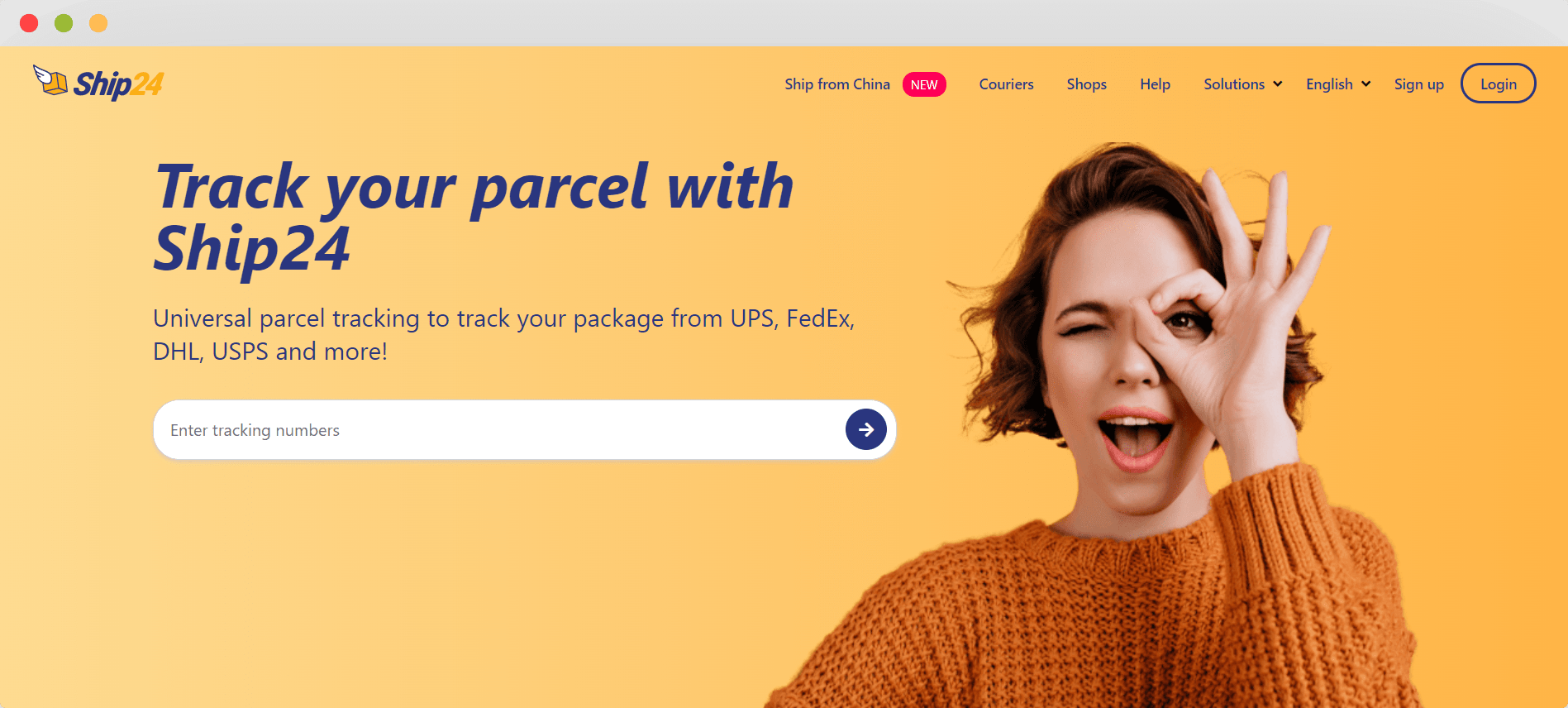 The tracking platform is also quite easy to use. You can input multiple tracking numbers and filter them according to the following:
Data received
In transit
Ready for pickup
Delivered
Exception
Not found
Expired
The platform also supports more than 20 languages, so it's definitely user-friendly for customers no matter where they live.
Pkge.net
Pkge.net is a global tracking service that has an all-in-one tracking tool. You can simply track all your packages in this single website.
Before you track your parcel, double check your tracking numbers to avoid any inconveniences. The website has listed the formats of popular services for your reference.
Although you can only track one package at a time, you are encouraged to register on the website so that you can get updates via email instead of having to manually type in your tracking numbers every time.
Some popular websites Pkge.net has partnered with include USPS, FedEX, SkyNet, and UPS.
You can also download their mobile application on Google Play and App Store for a more convenient way to track your packages.
In Conclusion
There are a number of courier services shipping out their products from China. All of these companies provide their own methods of tracking packages to let their customers know the status of their orders.
You can also use popular online tracking platforms to track your parcel from any logistics or courier service at any time.
To track each package, simply find the tracking number and input it on the official website of your chosen courier.
Having a reliable courier service is one of the keys to starting a successful dropshipping business. At NicheDropshipping, we have shipping options that you can choose from depending on what works better for your business. 
Feel free to contact us and we'll gladly help you.