Pet products have been the center of the dropshipping business since its inception. We all remember those glow-in-the-dark pet collars and cute pet ties that grabbed everyone's attention.
As dogs are probably the most preferred choices for pet owners, dog products see more demand in e-commerce. Therefore, we have brought the list of best dropship dog products for you to sell in 2023. 
The list contains the most exciting and innovative products to sell online that would grab the attention of any dog owner. So, stay put.
Let's start.
Trendy Dropshipping Dog Products
Here is the list of the top 9 dropship dog products that you can sell in 2023. The products are in no particular order. You can start selling pet products that you like the most. 
1. Anti Bark Collar
Dogs are know for their quality of barking. Most dog owners do not like them to bark every time. This annoys them and they can't do much about it.
This electric anti-bark collar is designed to address this specific issue.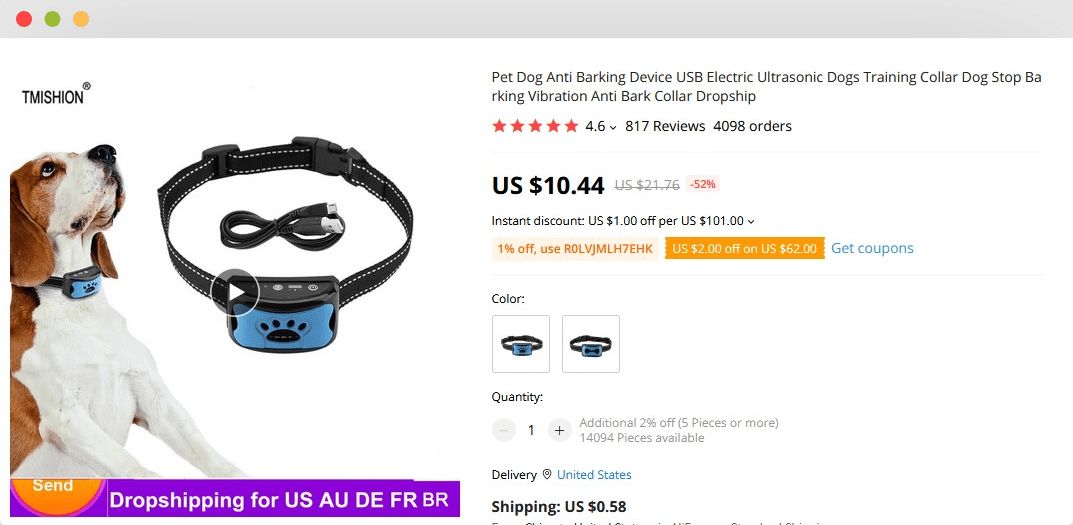 This collar has an electronic device attached towards the side that will hold the dog's neck. This electronic device has the quality of inducing a mild current whenever its button is pressed.
The dog owner will have control of this electronic device and whenever the dog barks, the owner can press the button and the dog will have a feeling of an electric shock.
This can stop the dog from barking. Amazing, right? Consider how many dog owners would like this product.
This product can specifically interest new dog owners who are carrying out the dog training.
You just need to target the dog owners on social media platforms to sell this product and you will see the magic yourself.
Profit Margin
With the cost of around $12 per product, you can sell it for at least $24.99 for a start. A profit margin of $12 per product is a decent base to start with.
2. Dog Water Dispenser Bottle
Every dog owner has a general habit of taking dogs out for a walk. The dogs get thirsty outside and sometimes, there are not suitable ways for dogs to drink water.
Therefore, this simple yet very innovative product was developed.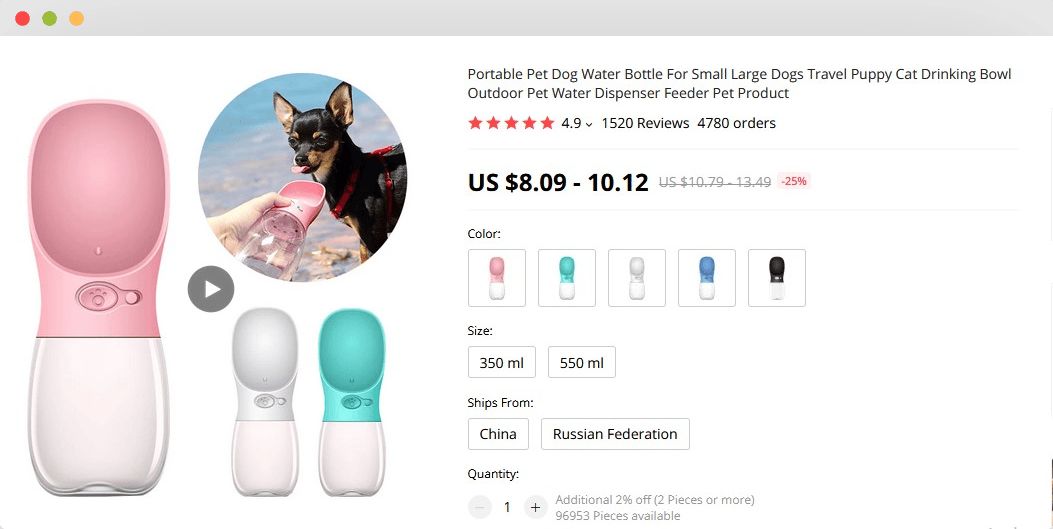 This is just like a water bottle or you can think of it as a water feeder with the following three main areas or functions.
Water container.
Water pond for dogs to drink.
A button to dispense the desired quantity of water.
So, the dog owners can have this product with them in a backpack or they can just hold it in their hands while taking their dogs out. Whenever the dog is thirsty, it would be handy for them to feed them with water.
The dog owners who take their dogs on outdoor activities or for a recreational tour would also need this product.
These bottles are available in different sizes to cater to the needs of dogs.
Profit Margin
With a price of $8 to $10 per bottle, you can easily sell them at $29.99 per bottle. This can make you earn a profit margin of $20 per product.
3. Retractable Dog Leash
You would have noticed that whenever dog owners take their dogs on a walk, they tend to tie them with a leash to control their movements. A general leash is non-retractable and limits the dog's activities.
The dog owner also seems uncomfortable most of the time trying to keep up with the pace of the dog. This retractable dog leash solves this problem.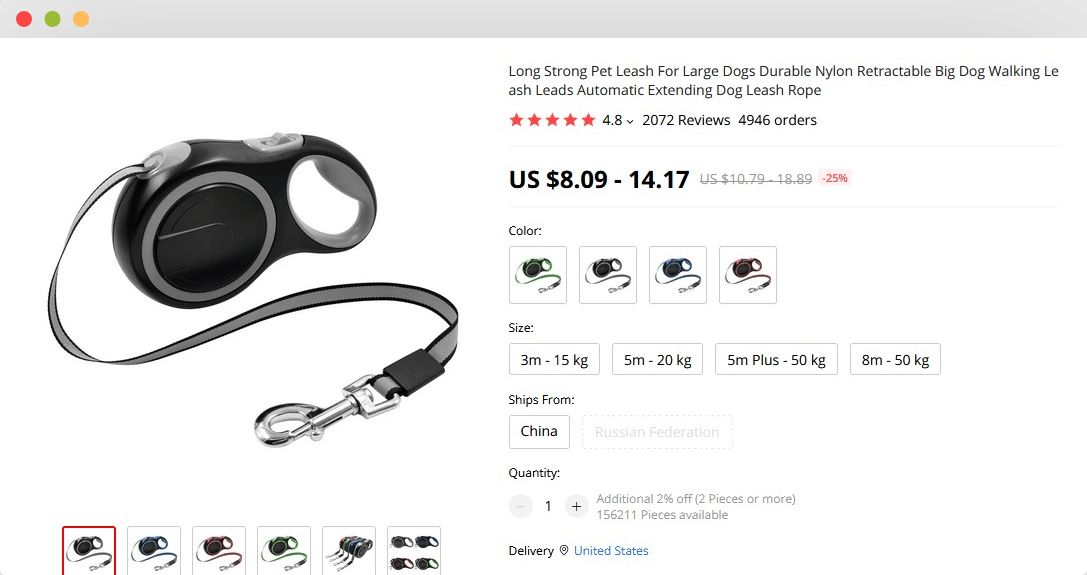 It is a strong leash or rope with the quality of being extendable to a certain length that can be controlled by the dog owner. It is a special rope that extends and retracts back according to the needs.
So, the dog owners can walk at their own pace while still allowing their dogs to walk rapidly or to run sometimes.
Profit Margin
This product costs around $8 to $15 depending upon the size of the rope. You can sell it for $19 to $29 per product earning a good profit margin of $10 to $15 per product.
4. Dog Car Seat Cover
This is another amazing product for dog owners who like to carry their dogs in their cars. As dogs are likely to damage the seats of cars, this product makes sure to protect the car seats.
This product is a waterproof seat cover for the rear seats or a car that covers the whole back seat. A dog can sit on this cover and enjoy the trip all the way.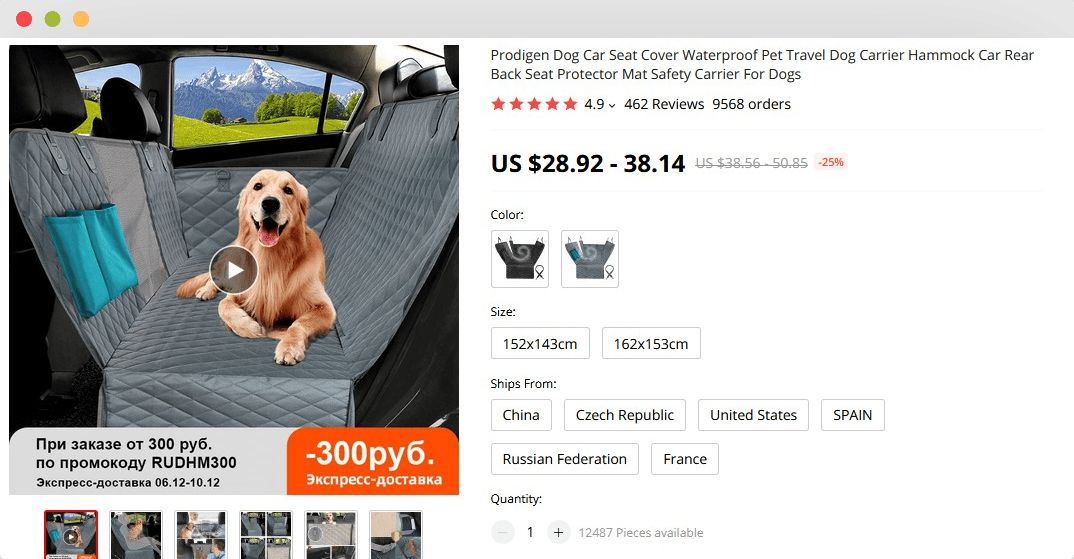 This product can take away the owner's headache of getting the back seat of the car dirty due to any kind of activity by the dog.
It has a transparent mesh cover connecting the front and back seats so that the dog owner can visualize and monitor the dog's activities.
After the trip is over, this cover can be removed and cleaned to be used again. The product is handy and can be folded to be placed in the trunk of a car too.
Profit Margin
This product is a little expensive. Costing you around $30, you can easily sell it for $49.99 to earn a good profit margin of $20 per sale.
5. Dog Winter Clothes
If you have been observing the dropshipping pet products for the past few years, you would have seen a lot of dog clothes. But most of them would have been fancy clothes or some superhero stuff.
These dog clothes are specifically meant to protect them from winters. These are warm clothes for the dogs and they are made up of special material to keep them protected throughout the winter season.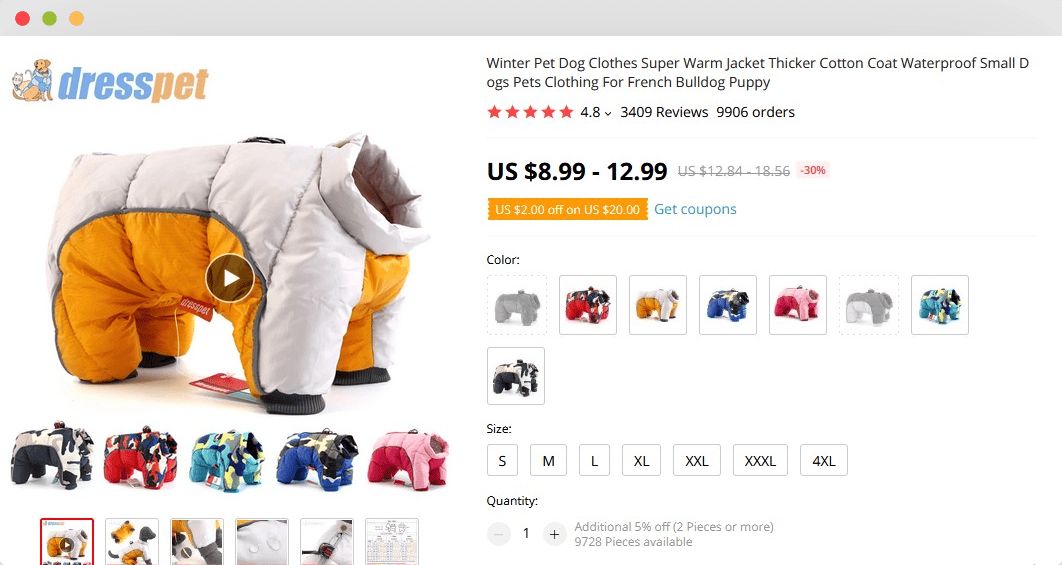 So, instead of selling themed clothes for the dogs like a pirate dress or a Christmas dress, try selling what dogs would really need.
These clothes are easy to put on and to be removed. They are made up of a special material that is waterproof to keep dogs safe from the environment.
Profit Margin
With the cost of around $10 to $15 per product, you can sell these critical dog clothing at around $29.99 at the minimum. So, this product has a good earning potential of around $15 to $20 per sale.
6. Puppy Carrier Bag
This is a very simple product but has a huge potential to grab the attention of every passionate puppy owner. It is a bag that can carry a puppy while the dog owner is outside.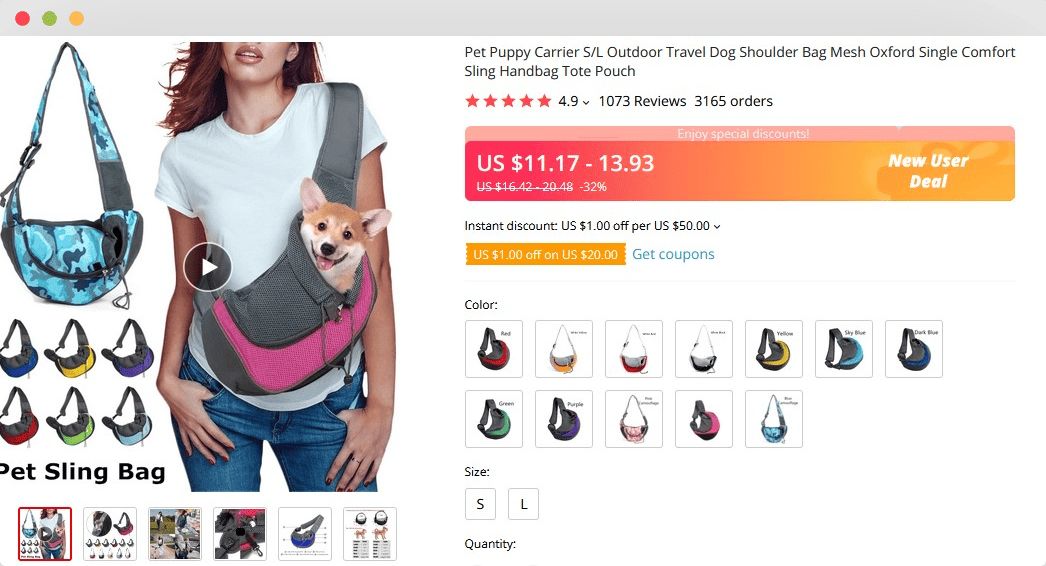 So far, we have shared products for grown-up dogs. But there are dog owners who would have just bought a little puppy. This product targets those dog owners.
This is a kind of backpack that can carry a puppy when the dog owner has to go out. The puppy's mouth will be outside the bag in the open so that it can breathe normally.
The best part about this product is that you can hang this bag on your front side or the backside at your convenience.
You must have seen some dog carrier bags but they are slightly difficult to carry due to their design. This product can solve the problem of a dog owner having difficulty taking a small puppy with him while he goes out.
Profit Margin
With its cost of around $8 to $10 per bag, you can easily sell this for $29.99 per bag. So, you can make around $20 per sale of a single bag. Not bad at all, right?
7. Electric Dog Nail Clipper
This is a great dog gadget on the list of top dropship dog products that you can sell in 2023 with confidence. 
As dog owners tend to be very close to their dogs, they need to make sure that the dog nails are properly clipped so that they cannot harm them in any way.
You can find a lot of dog nail clippers out there. The products are also available in physical pet stores as well. But this product is unique and saves time to clip or grind dog's nails efficiently.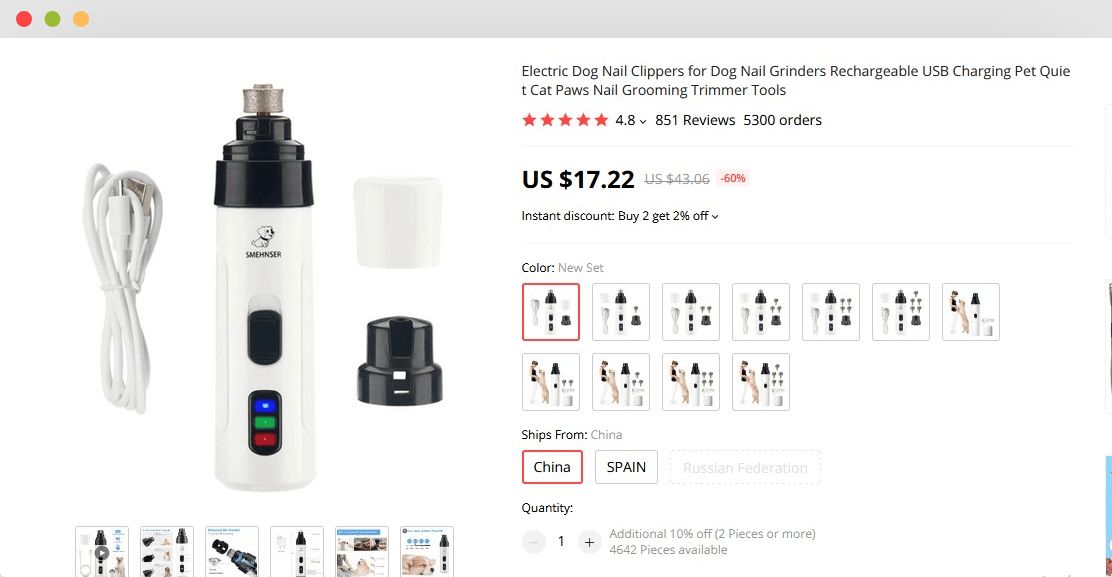 You just have to switch on this device and bring the dog nails closer to the roller of this nail clipper. It would trim the dog's nails in no time.
Profit Margin
As the product costs around $11, you can easily sell it for $29.99 per product. Yes, this is the normal online retail price for any electronic gadget.
So, you can earn a good profit margin of around $18 to $19 per sale.
8. Tactical Dog Harness Vest
This is probably the most exciting product for any dog owner. It is a tactical vest for the dog that has many benefits. You can attach a custom velcro nameplate to this best too.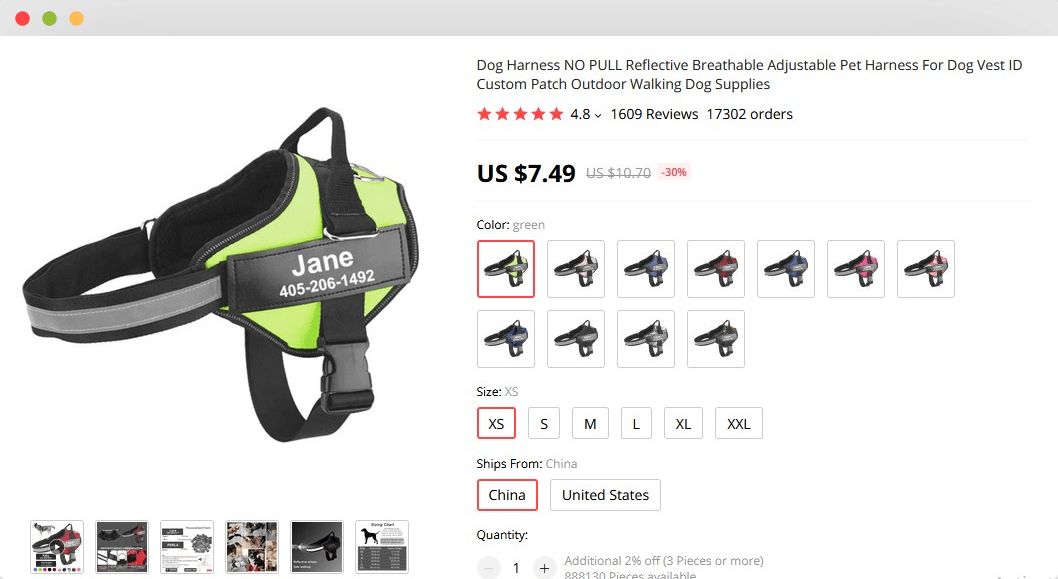 A dog owner may also attach the contact number on the vest so that if anyone finds the dog, he may contact the owner.
The best part about dropshipping this tactical dog harness vest is that you can offer customized services to your customers as well.
This seller on AliExpress offers to print the customized velcro attachments. So, you can also offer the same to your audience.
You can win your customer's confidence by providing such customized products and services while still earning a decent profit margin.
Profit Margin
This product costs only around $8 to $13 per product. You can easily set its price at $39.99 per product. A profit margin of over $25 per product is quite lucrative.
Some dropshipping stores have been selling this product at over $50 per product. You can also bag on this opportunity as soon as possible until the product is saturated.
9. Dog Finger Toothbrush
Yes, the pet owners take care of their pets as they do for their very own children. Therefore, this dog finger toothbrush has a good chance of attracting a dog owner owing to its nature of being one of the essential pet products.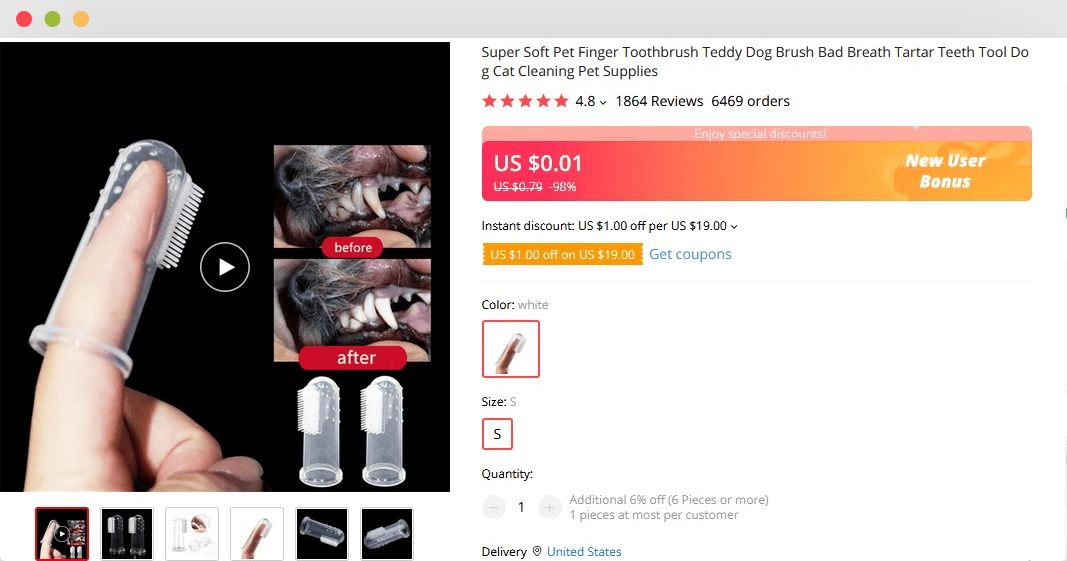 We have put this product on the list of best dropship dog products with a special purpose.
This product is very simple and is very easy to use. The dog owner just has to put his finger into this brush and can clean the dog teeth in no time.
Profit Margin
This is a very low-cost product. As you can see it costs less than a dollar, you can do a trick here with this product. You can send this product as a complimentary gift to your customers who are passionate about their pets.
As the product works fine for dogs and cats, you can set it as a giveaway for your customers. This would mean a lot to your customers as they would take your online store very seriously afterward.
They would know that you care about pets. This can be a game-changing trick to make your pet store successful.
So, if you decide to follow the trick to use this pet finger toothbrush as a gift on your online store, then you have 8 strong dropshipping pet products that you can start selling in 2023. 
Now we come to the frequently asked question about dropshipping pet products.
FAQs about Dropship Dog Products
We have answered the top 4 FAQs that are related to dropshipping pet or dog products.
Are Pet Products a Good Dropshipping Business?
Yes. The pet industry has an expected value of $236 billion by 2030. So, it has always been a focus of digital marketers. That's because pet owners are highly passionate about the well-being of their pets. 
Any product that is relevant to their pets attracts them very much and they tend to buy those products immediately without thinking much.
Let's see what Google Trends has to say about pet supply or pet products over the past 5 years.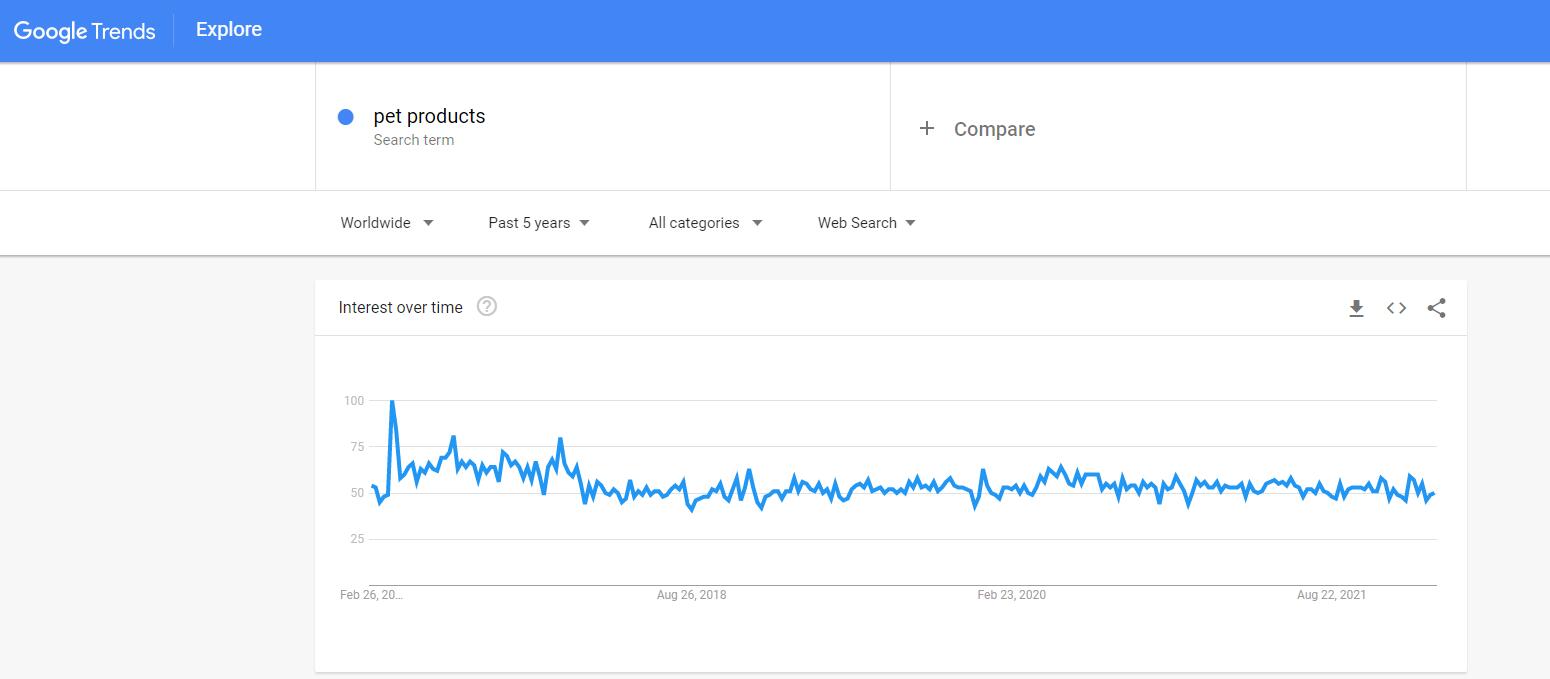 As you can see in the screenshot, pet products have been popular throughout these years with a slight up and down in the trends.
So, it is evident that pet products maintain their relevance after a regular interval.
All you would need is to have a good dropshipping supplier who can supply products of high quality at the lowest possible prices. You can start earning as soon as you start to dropship pet supplies regularly.
Are Dog Products High in Demand for Dropshipping?
Yes. Again, dog products are probably the most exciting parts of pet products. That is why we see so many dog owners around us who tend to take care of their dogs more than anything else.
If we check the Google Trends for dog products, we see a constant upward trend after a certain timeframe. The interest level has also hit 100 on Google Trends at a certain period.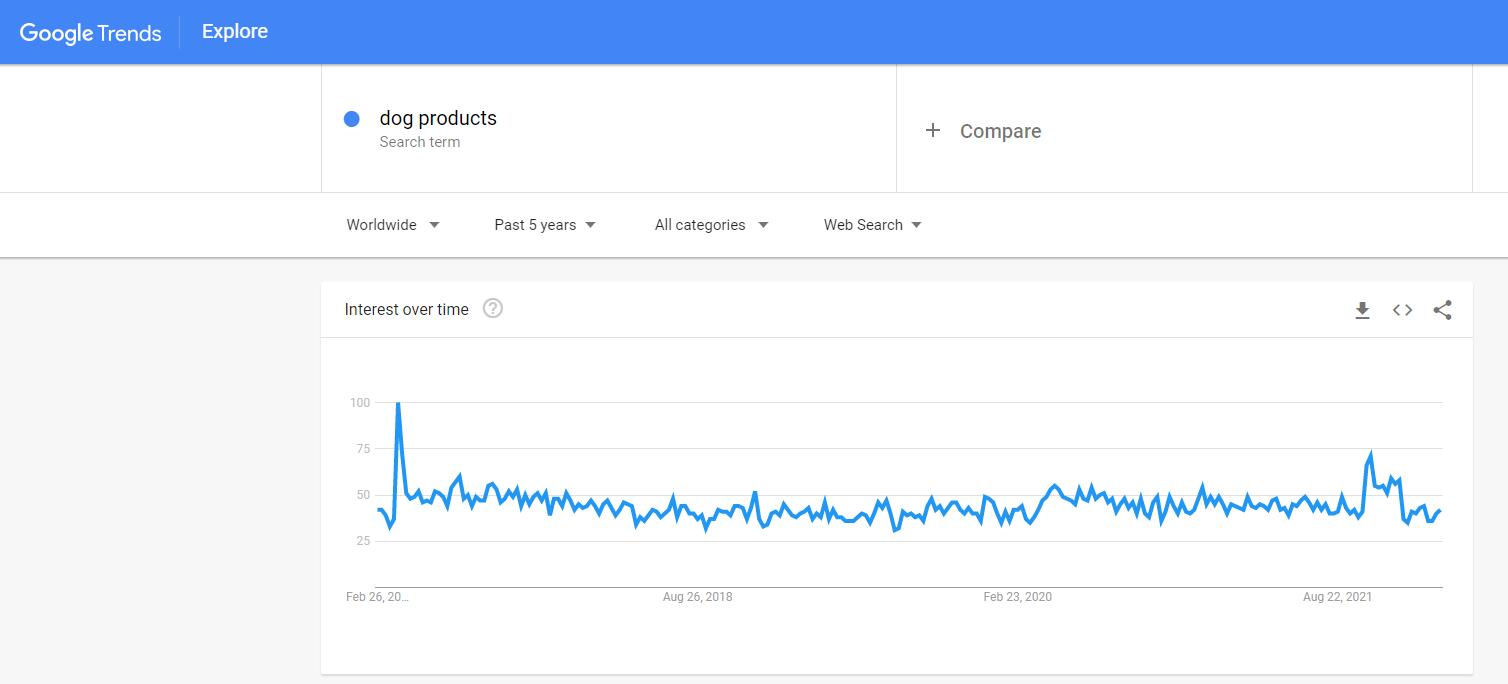 So, we can infer that the dog products are going to keep their relevance in 2023 as well because the Google Trend predicts that the interest in dog products is going to rise soon. 
How Should I Target Dog Products?
There are many ways to target dog products. The most commonly used method to target dog products is via Facebook. Facebook has special interest groups.
When you run a paid advertisement on Facebook, you can tell Facebook to include the audience who are interested in the following.
Pets
Pet stores
Pets & animals
Dogs
Additionally, you can also select the Facebook audience by age, gender, and demographics, etc. You can try targeting dog products in the United States, Canada, Australia, France, and the UK to start with.
With time, your Facebook Pixel will understand which people to target. You can scale your targeting as per its recommendations afterward.
Other methods to target dog products include the following.
How Can NicheDropshipping Help You to Dropship Dog Products?
At NicheDropshipping, we are always passionate to help dropshippers like you. We are the dropshipping agent in China and we possess the expertise to source the products at the lowest possible prices.
You can always hire our services to arrange the dog products of your choice at the lowest possible rates with highest possible quality.
You can also run a private label dropshipping business or launch a white label business with our assistance.
In addition to that, we also provide worldwide order fulfillment services so that you can focus on bringing sales and we help you deliver your products with extreme care.
Final Words
So, you have just gone through the list that may be beneficial for you to dropship dog products in 2023. Are you all set to launch all or a few of these products? 
Do tell us in the comments about the products that you liked the most. If you think that we missed anything important, do let us know in the comments or contact us directly. We will reach back in no time with an answer to your query. Do let us know if you want us to provide you with a list of suggested products for any other niche too.