Suppose you are one of those who always postpone starting something because 'who could be successful with skills learned from YouTube,' we have bad news for you! We're showing you how to become a pro dropshipper with a free dropshipping course!
Yes, you heard right! You can learn everything there is to know about dropshipping through free resources only, as long as you know what you need to learn, and you find a structured way to learn.
Knowing that there's a ton of useless info out there, we researched for you and came up with the best free dropshipping courses for you!
So, let's start!
What to Look for in a Free Dropshipping Course?
The fact that a course is free doesn't necessarily mean that it's good or bad. As you'll see later on in this article, there are many excellent free dropshipping courses out there!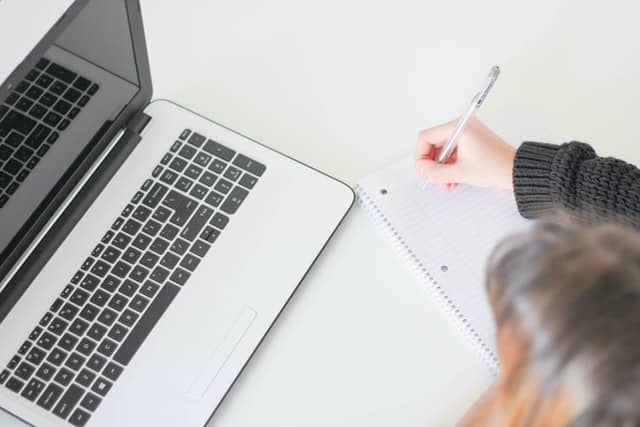 However, this still doesn't mean that you have to take all the free courses out there. You have to learn how to filter through mountains of useless info to get to the real deal.
But, no worries, we're here to help. Here's what a good free dropshipping course should look like:
Well-structured and divided into modules/chapters;
Comprehensible and easy-to-follow language;
An instructor who has authority in the industry and who has personal experience with dropshipping;
Adjusted to your pace and schedule;
Real-life examples or showcasing case studies;
Fits your level of proficiency in a subject matter (as an example, an experienced drop shipper will probably not find much use of an intro to dropshipping course);
Best Free Dropshipping Courses in 2022
1. YouTube Dropshipping Courses and Tutorials
If you've always put YouTube aside due to tons of unfiltered information, it's time to revisit the idea.
Although many YouTube channels offer unstructured content that isn't easy to put together, some dropshipping YouTubers are doing an incredible job delivering their knowledge.
Some of the best free dropshipping YouTube courses are the following:
Wholesale Ted – Create a Dropshipping Store with Shopify & Aliexpress
Duration: 00:51:56
Aside from the fantastic free dropshipping course we mentioned, the Wholesale Ted channel has over 150 videos with helpful tips on launching an online business, eCommerce, Shopify, eBay, Amazon FBA, etc.
THE ECOM KING – FREE Shopify Dropshipping Course | COMPLETE A Z BLUEPRINT 2021
Duration: 05:30:29
Kamil Sattar is the creator of this extensive, 5+ hours long, free Shopify course.
Plus, he constantly shares valuable information such as mistakes to avoid, product sourcing tips, Print on Demand, etc.
Dan Vas – COMPLETE Shopify Tutorial For Beginners 2021 – How To Create A Profitable Shopify Store From Scratch
Duration: 02:14:52
Dan's two and a half hours of free YouTube content on Shopify stores is an example that sometimes you don't need to pay a ton of money to get quality!
While the course might not make sense if you're an expert in dropshipping, it's an excellent first step for beginners!
Verum Ecom – Shopify Tutorial For Beginners In 40 Minutes – Complete Guide To Your First Sale
Duration: 00:41:41
Although it lasts only 40 minutes, this video has so much valuable content inside that it equals a course that costs a small fortune!
Relatively new in the YouTube dropshipping sphere, the Verum Ecom channel is perfect if you want to learn about winning products, Facebook Ads, and Shopify stores.
Dave Ying – Masterclass FREE Shopify Dropshipping Course 2021
Duration: 07:50:26
This one's a masterclass for a good reason – almost 8 hours of content on Shopify dropshipping and Facebook Ads targeting!
Usually, this kind of content costs a lot, so definitely take advantage of this free dropshipping course!
J Rich – The Best Shopify Tutorial For Beginners 2021 – How To Create A Dropshipping Store With No Money
Duration: 01:16:57
This free dropshipping course by J Rich has gathered over 1 million views, with people in the comments claiming it was life-changing.
It's simply incredible how much helpful information this guy has managed to transfer within 1 hour only, so definitely make the time to watch it!
Gabriel St.Germain – Free Dropshipping Course | $664,441 in 3 Months With ONE Product
Duration: 00:27:09
A staple among dropshipping YouTubers, Gabriel's videos are a must!
JT Franco – How To Sell On Amazon FBA For Beginners [NEW 2021 Step-By-Step Tutorial]
Duration: 01:37:11
Unfortunately, free Amazon FBA courses are not as common to find as Shopify courses, so when we discover a gem like JT Franco, we have to share it.
Don't hesitate to give his videos a go, especially if you have an Amazon FBA business.
The-above mentioned free dropshipping courses on YouTube are among the best ones, but not the only ones. As you can see, there's a lot to learn, and everything's completely free.
2. Store Coach's Dropship Academy
One of the free dropshipping courses worth checking out is Store Coach's Dropship Academy. Their training is extremely comprehensive and is great for absolutely everybody, from true newbies to eCommerce veterans.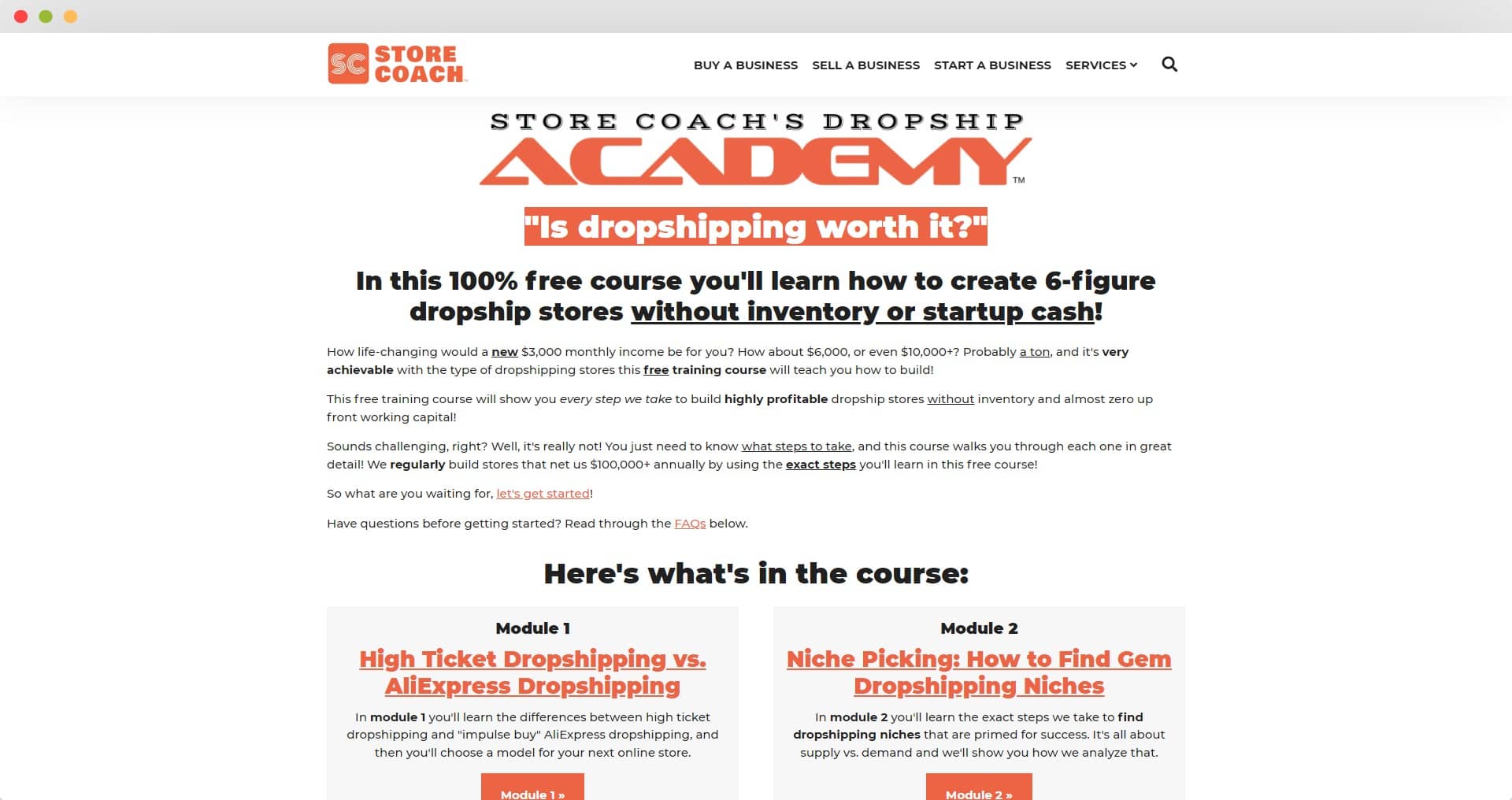 The Store Coach Academy course takes you through all the steps of building a dropship niche store, from niche selection & sourcing products to maximizing profits & expanding your store.
Their course is video based but also features transcripts for those who prefer to read educational materials. This is also one of the few free courses that covers getting ranked in major search engines like Google & Bing.
3. Udemy – Free Dropshipping Courses and Tutorials
We can't be on the lookout for a free dropshipping course and not mention Udemy. They offer free dropshipping courses as well as bite-sized lessons.
Two of the most-visited Udemy dropshipping courses are: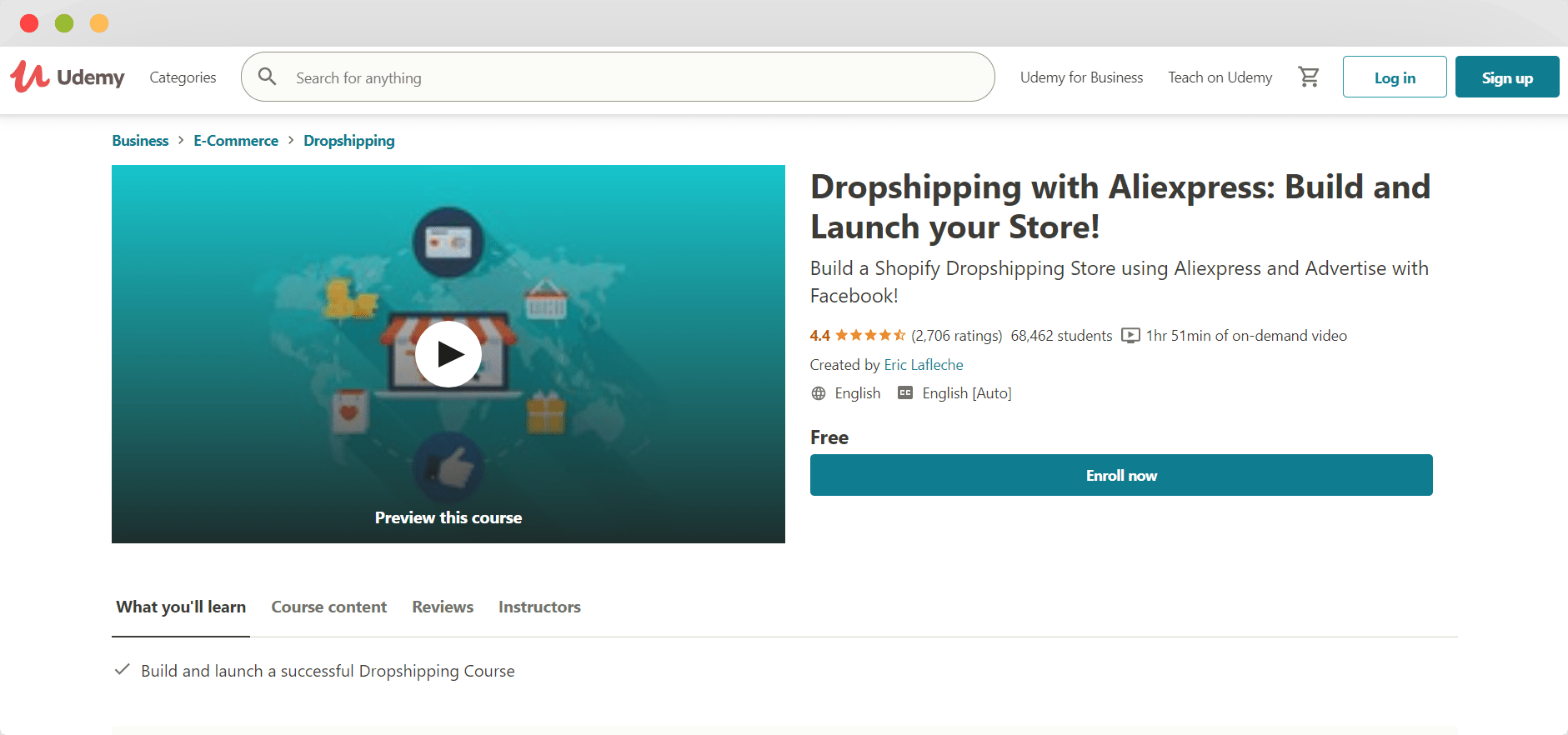 Duration: 1 hour 51 mins
Learn how to launch a Shopify + AliExpress store, with a practical example of a budget-friendly T-shirt business. Plus, learn how to target the right audience and increase your sales with Facebook Ads.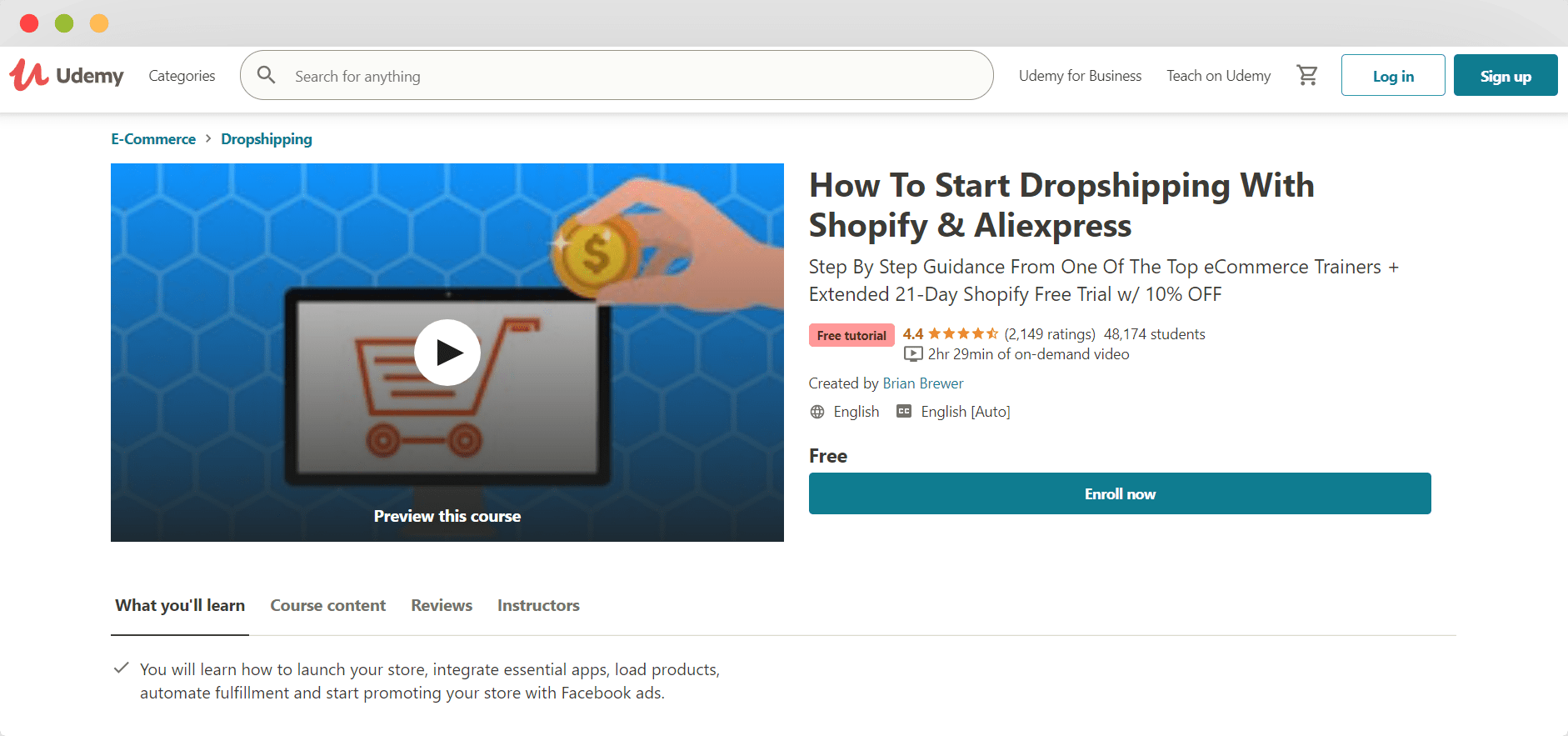 Duration: 2 hours 29 mins
We recommend this Udemy course if your goal is to learn how to automate your Shopify store. From setting up your shop to the best apps to install, this course covers it all!
4. Oberlo – Dropshipping 101: Build your first online store
Most of Oberlo's courses are premium (paid). However, the most important one and that one that you care about is free.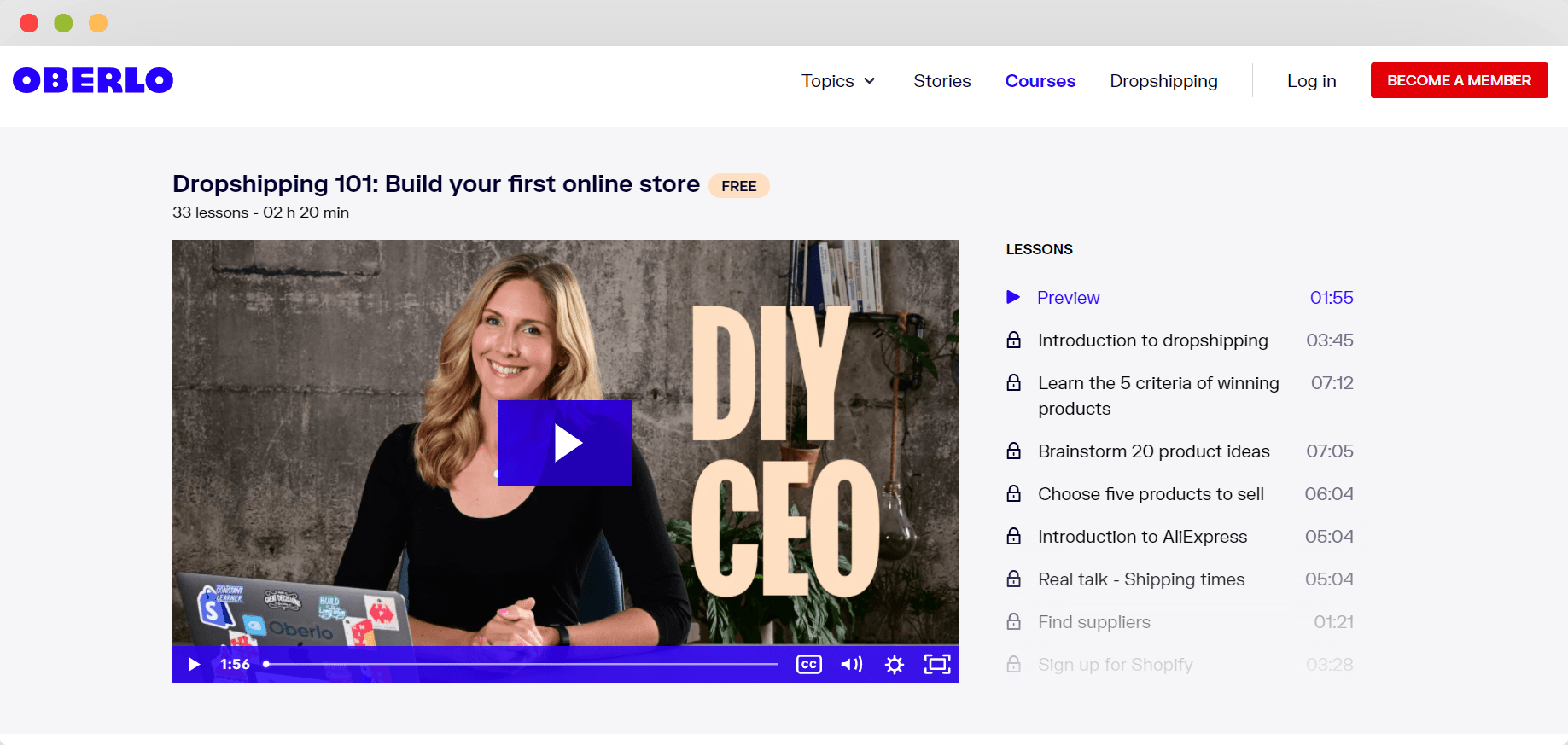 The course is called Dropshipping 101: Build your first online store, and it's a handy tool for learning everything step by step.
Duration: 2 hours 20 mins
This free Oberlo course will help you with all aspects of dropshipping, including product research, finding suppliers, navigating AliExpress, etc.
5. Shopify Compass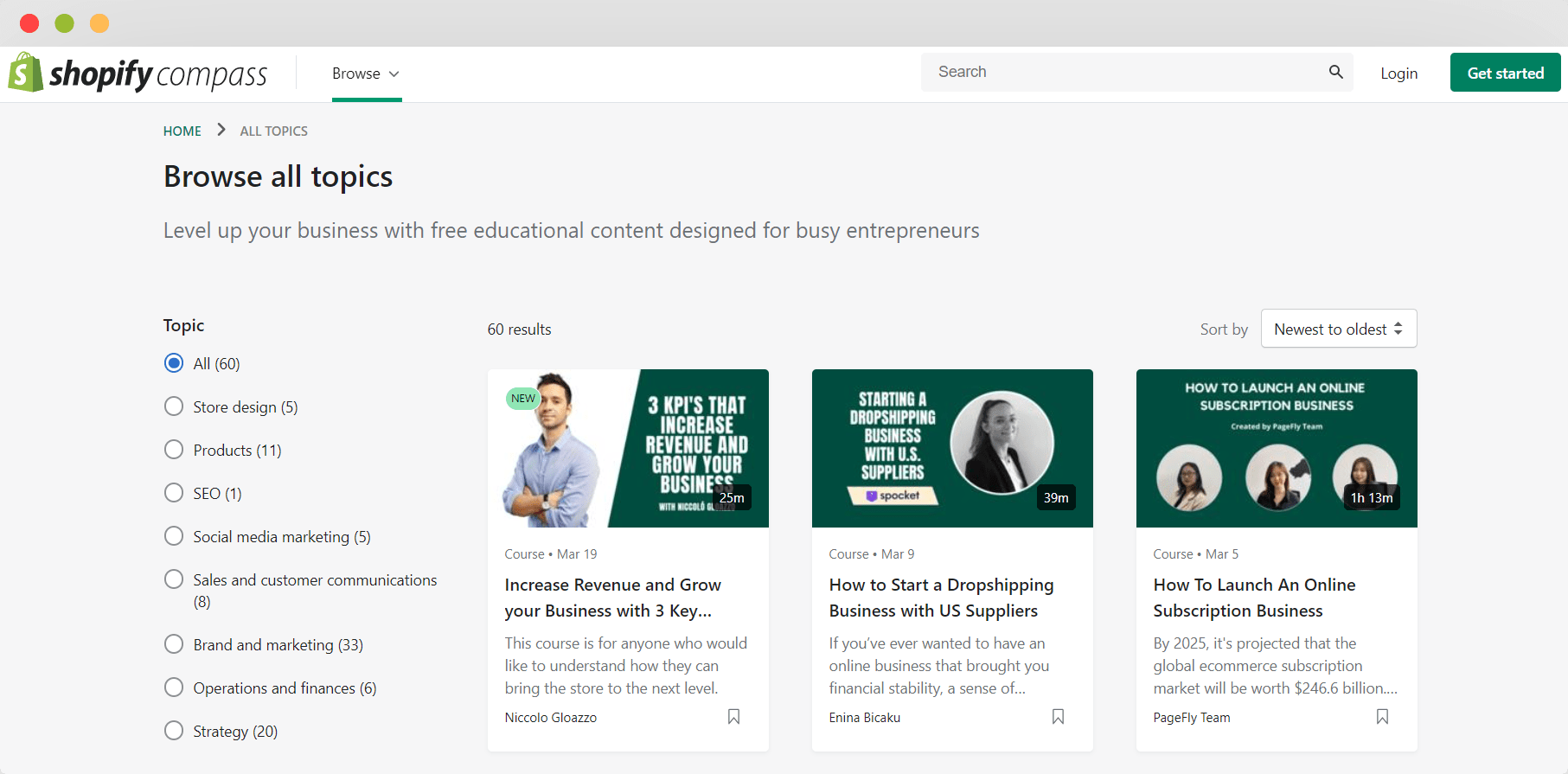 Shopify has its own learning platform called Shopify Compass, where you can find lots of valuable courses and tips on eCommerce and dropshipping.
Some of the most frequently visited courses from fresh dropshippers are these:
All the learning resources on Shopify Compass are entirely free!
6. Facebook Blueprint
Although Facebook does not offer drop shipping resources, it can help you learn to advertise and increase your product sales! The Facebook Blueprint platform serves precisely this purpose!
Facebook and Instagram are two favorite platforms of choice for drop shippers trying to reach their target audience. So, learning how Facebook Ads work will increase your visibility.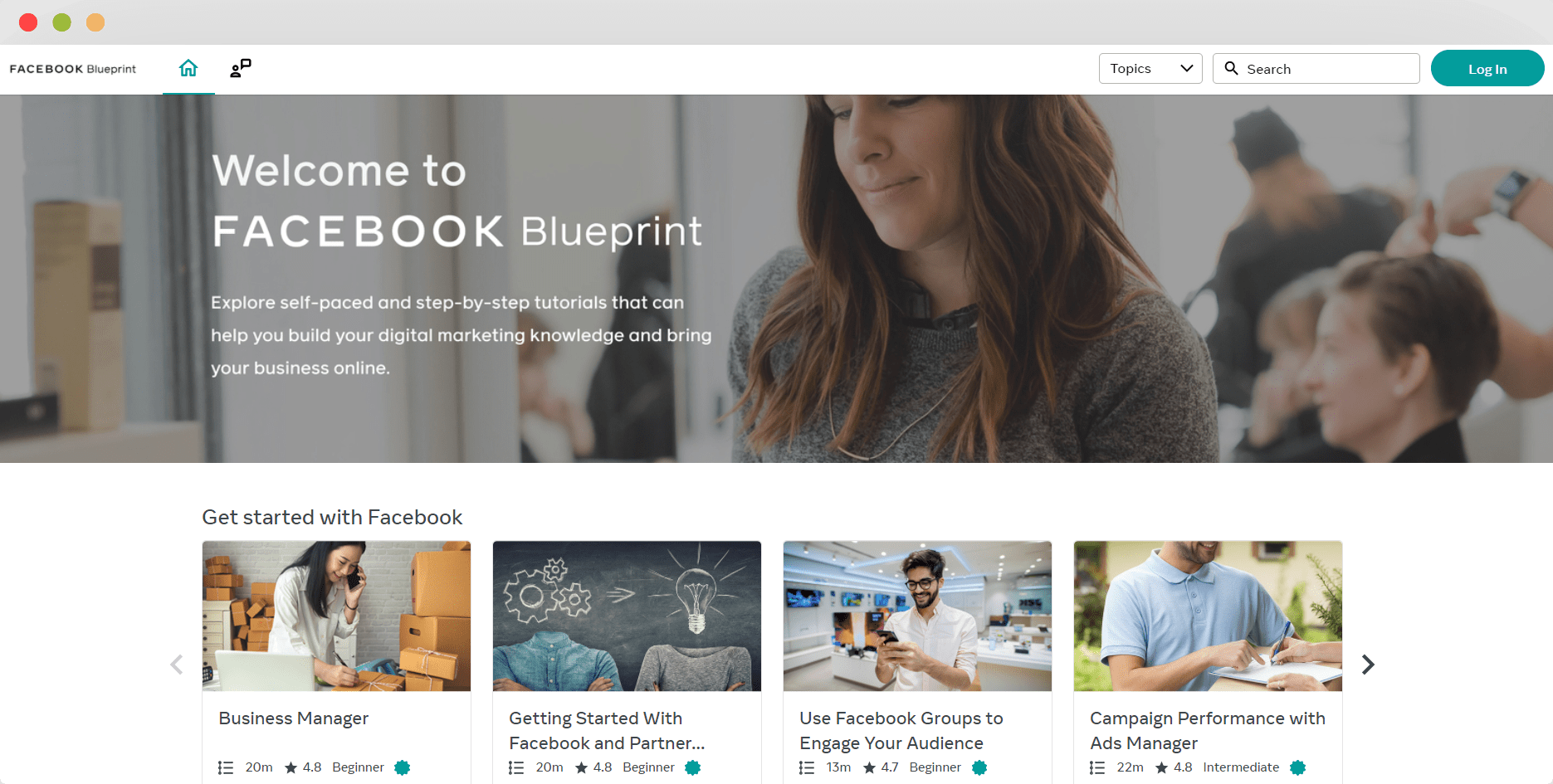 On the Facebook Blueprint platform, you'll learn tons of helpful info, not just on Facebook Ads, but also ways to engage your followers and get free traffic.

Here are some practical Facebook Blueprint courses you can take to boost your eCommerce business:
7. Google Digital Garage
Learning digital skills is a must for almost everyone in 2022, especially for those planning to start an eCommerce or online business. And who better to teach you digital skills but Google itself?
Digital Garage is a learning platform by Google where you can find many online courses, certificates, and even live webinars to join.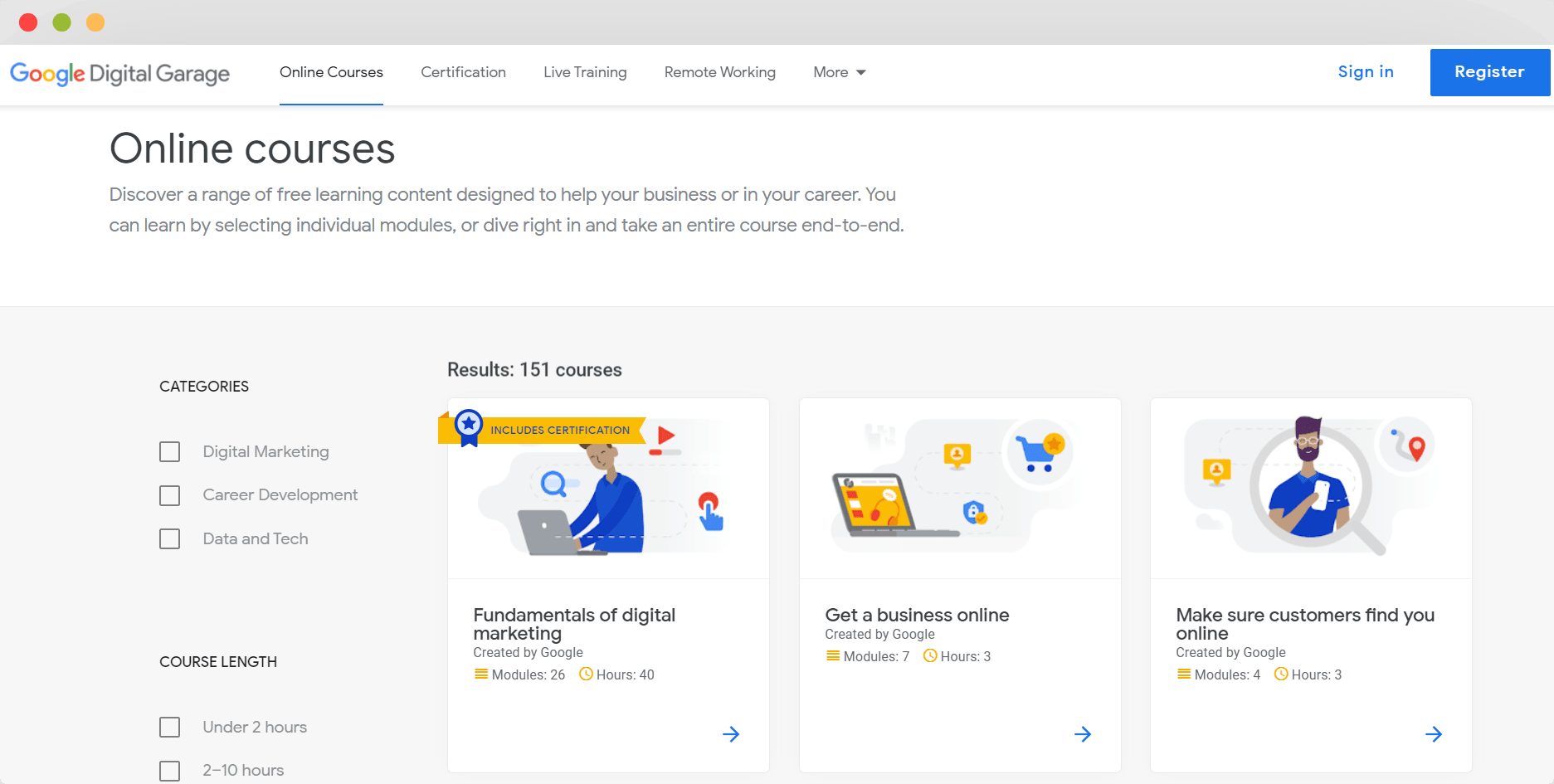 All of their courses are entirely free, and they can teach you everything related to digital marketing and having a well-established brand presence online.
Here are some great free Digital Garage courses to check out:
Duration: 40 hours, 26 modules
It will help you learn the basics of maintaining and promoting an online business such as an eCommerce store.
Duration: 3 hours, 5 modules
Learn how to advertise and market your products, email marketing, Google Ads, etc.
Free Dropshipping Course FAQs
You're still not sure if a free dropshipping course is the best way to invest your time? Let's get over the most frequently asked questions related to free dropshipping courses.
What Is the Best Free Dropshipping Course?
It isn't easy to choose among so many awesome ones we've mentioned above.
However, if we had to choose based on popularity and user-feedback, check out these two courses first:
What Are the Best Shopify Dropshipping Courses?
These are some of the best free Shopify dropshipping courses:
What Are the Best Free eBay Dropshipping Courses?
Some of the best free eBay courses are the following:
What Are the Best YouTube Channels for Free Dropshipping Courses?
These are some of the best dropshipping YouTubers out there: Wholesale Ted, J Rich, THE ECOM KING, JT Franco, Jordan Welch, Ac Hampton, Arie Scherson, Dan Vas, Verum Ecom, Mike Vestil, Anton Kraly – Drop Ship Lifestyle, Dan Dasilva, etc.
Is It Worth Buying a Dropshipping Course?
Unless you're trying to learn some specific dropshipping techniques or strategies that you can't find elsewhere, buying a dropshipping course is not a guarantee that you'll learn more by default.
So, we recommend learning as much as possible from a free dropshipping course, and later on, if you still feel it necessary, you can explore some paid resources.
What Are Some Other Free Dropshipping Resources?
While they're not courses in the traditional sense of the word, there are many great free resources on dropshipping that you can learn from, such as blogs, how-to guides, or case studies.
Here are some incredible free dropshipping resources you can bookmark right away:
What Are the Most Important Things to Learn with Free Dropshipping Courses?
The critical things for you to learn will significantly depend on your business' nature since not every dropshipping business follows the same structure.
However, here are some general yet current topics that every drop shipper needs to be informed about:
Picking the right eCommerce platform to use (Shopify, WordPress + WooCommerce, eBay, Amazon, etc.);
Setting up and designing your store;
Doing research and choosing a profitable dropshipping niche;
The best integration apps or plugins to automate the dropshipping process as much as possible;
Tools and ways of importing products to your shop;
Instagram and Facebook Ads (audience, targeting, bidding, designing visuals, etc.);
Increasing sales through video ads;
How a landing page works, sales funnels, and email marketing strategies;
Measuring the performance of your ads and other sales activities;
Learning how to find a good dropshipping supplier;
Learning how to increase your organic reach and bring free traffic to your store;
In Summary
Now that you have the list of dropshipping resources to learn from, all you need to do is choose a free dropshipping course and start!
If you still feel that you have some gaps or insecurities, we've got your back! You don't have to pay a fortune for some premium dropshipping courses. Instead, you can get in touch with a dropshipping agent in China who will help you navigate the waters.
A good sourcing agent can help you with everything from product sourcing to branded packaging and order fulfillment!
So, do you maybe know of another great free dropshipping course? We'd love it if you share it with us!