Whoever said dropshipping is dead, they're probably doing it wrong! As proof, we've prepared a list for you with the 20 best dropshipping YouTubers who made it big in the eCommerce world and are now sharing their success with the world!
Of course, there are many dropshipping channels on YouTube that are not genuine. On the other hand, many are authentic, and they have tons of helpful tips for drop shippers like you.
And the best part – it's completely free to learn from these guys! So, which are the best dropshipping YouTubers to follow in 2023?
Let's get going and see!
20 Best Dropshipping YouTubers in 2023
It's 2023, and dropshipping as a business model is still among the most popular ones. Information about dropshipping is everywhere, some accurate, others not so much.
The first step is to filter this information and find the best people in the industry to follow. But do you need to buy expensive courses to learn dropshipping?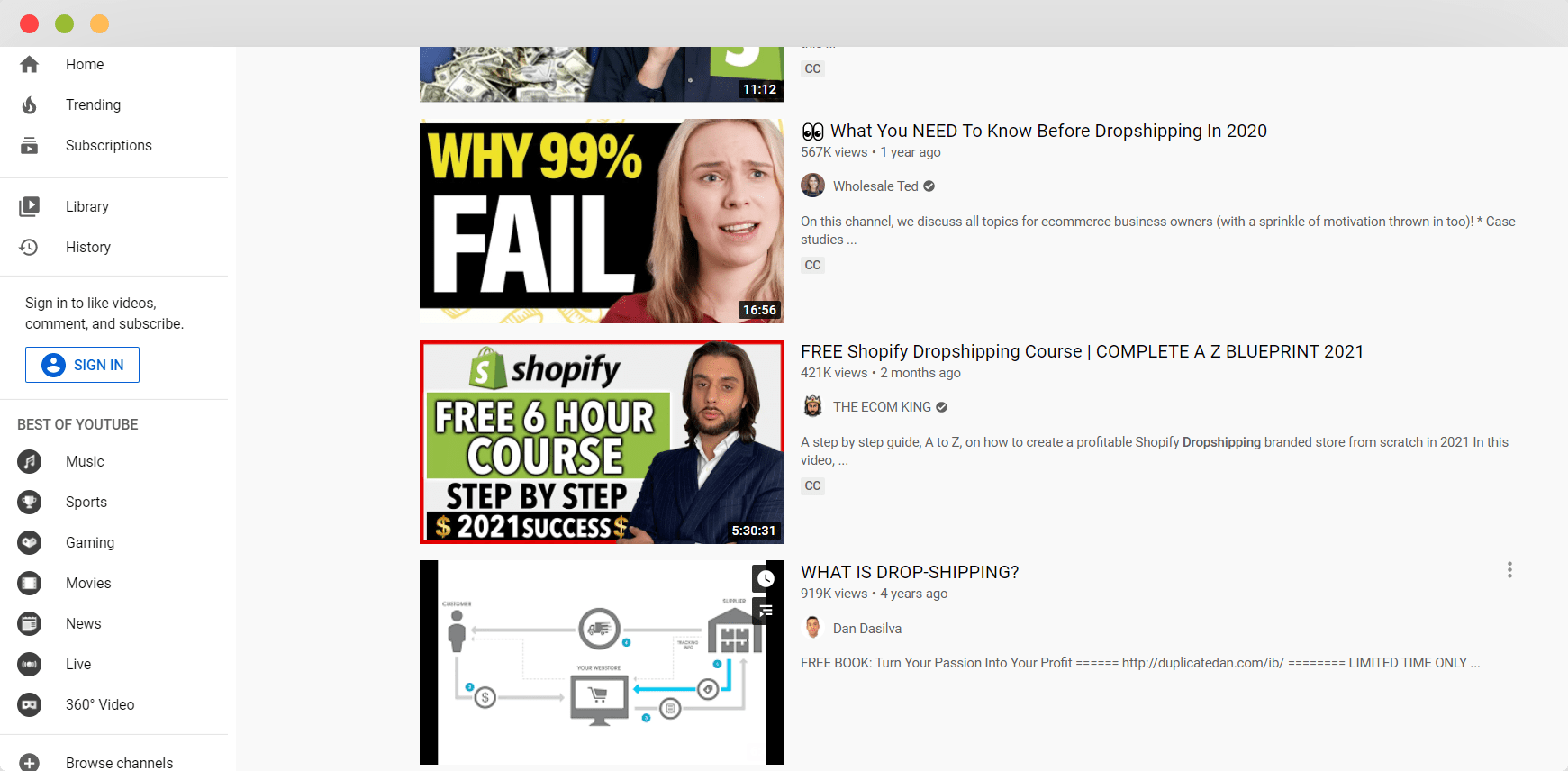 Nope! You don't need to pay for any courses to learn dropshipping. Trust me when I say that you can learn everything worth knowing through free dropshipping videos. So, how to find YouTubers that give value instead of selling a course?
We've done the research! Here are the 20 best dropshipping channels on YouTube to follow in 2023:
1. Wholesale Ted
Sarah Chrisp is the creator and main star of the dropshipping channel Wholesale Ted. She's been so consistent with her content that drop shippers now consider her an authority in the industry.
Sarah has started Wholesale Ted back in 2015 and has been posting consistently until this day, so you can imagine the kind of valuable, first-hand tips you can get here!
On the Wholesale Ted channel, you can learn everything from creating a WordPress eCommerce site, eBay shops, Amazon shops, Shopify, WooCommerce, to sales hacks, product research, and so much more!
With 150+ dropshipping videos uploaded and more coming regularly, all you need to learn from Wholesale Ted is time and lots of it!
2. Dan Dasilva
Another dropshipping YouTuber that's been constantly spitting out content since way back in 2015 is Dan Dasilva.
On the Dan Dasilva YouTube channel, you can find many free courses, best and worst products to dropship, Facebook Ads tutorials, etc. All in all, Dan Dasilva's channel contains mostly Shopify content, so if you own a Shopify store, it's perfect for you!
3. James Beattie
Starting with his first product sourcing video for Shopify stores, James Beattie has been teaching dropshippers since 2016.
Considering that he uploads new content very often, there's a lot to learn from Beattie's dropshipping channel.
You can find all sorts of helpful information on James' channel, such as Shopify tips and tricks, Facebook Ads, trending products to dropship, print on demand, Etsy drop shipping, one-product stores, traffic, sales hacks, and so much more!
We loved Beattie's channel because he uploads so many videos where you can see actual case studies and monetary earnings he makes in real-life scenarios! A fantastic first-hand experience!
4. Jordan Welch
Next on the list is Jordan Welch, a young entrepreneur who started his first business at age 14! He went through 5 startup failures until he finally launched his first successful eCommerce shop with his last $600. Such an inspiration!
For almost four years now, Jordan has been sharing his eCommerce knowledge with the world through his YouTube channel.
And he's not shy about sharing! With the help of his YouTube videos, you can learn how to start dropshipping for free, how to build a Shopify store, winning and losing products, digital marketing advice, and more!
5. Beast Of Ecom
Although it's only two years old, the Beast of Ecom channel has 140 uploads to learn from, and they keep coming!
The Beast of Ecom channel is focused only on Shopify content, so if you're interested in Amazon or WooCommerce dropshipping, it won't be of much help.
However, if you have a Shopify store that you wish to scale or want to learn some digital marketing strategies to boost your sales, then head right over!
6. Hayden Bowles
With a library of over 880 videos for just three short years of existing, Bowles has made a fortune as a young entrepreneur at age 17.
Although Hayden's channel is more dedicated to the millionaire lifestyle, there's also an abundance of dropshipping, eCommerce, and investment opportunity videos. (If you're in real estate, he also has something for you)
We found that the best thing on his channel is the mistakes he warns you not to repeat and the creative digital marketing strategies for different social media platforms that he explains in-depth.
However, his second most popular video is perfect if you're a beginner looking for a place to start: What I Wish I Knew When Starting Shopify Dropshipping (Beginner Advice) (553,176 views)
7. Ac Hampton
In just over a year of presence, the Ac Hampton dropshipping channel has gathered over 33,000 subscribers and holds a library of 70+ videos. And the best thing is that it's current, and the videos keep coming!
We loved the Ac Hampton channel because it's straight to the point, and it shows real experiences and struggles. Often, you'll find problem-solving videos (for example, traffic but no sales), which we found incredibly helpful as well!
8. THE ECOM KING
In just over two years, Mohammed Kamil Sattar has managed to upload 160+ videos and grow his channel immensely!
And that's no wonder considering that on THE ECOM KING channel, you can find FREE 5-hour Shopify courses that help you build up a business from scratch.
This channel is a goldmine for dropshippers since it offers some of the best YouTube dropshipping courses! Kamil explains everything in so much depth that you'll find it extremely easy to follow and apply the advice in your real-life eCommerce store.
9. Biaheza
Starting at only 17 years old back in 2018, Biaheza made $25K in the first month of dropshipping!
Since then, he's uploaded over 100 videos with helpful content for drop shippers and young entrepreneurs.
The Biaheza dropshipping channel is most famous for its Instagram influencer outreach and its recent TikTok marketing strategies.
All in all, Biaheza gives young people alternative and creative ways to do dropshipping to start with a low budget and achieve sales through different channels.
Biaheza started focusing on Instagram and dropshipping and has since switched his focus to trading and many other different ways of making an online income.
10. Justin Cener
Justin has been consistently supplying us with content for over six years now and has gathered a library of impressive 300+ uploads!
His roots and some of his most popular videos remain in the Shopify and print on demand service categories. However, he has now expanded to ClickFunnels tutorials, Facebook Ads, retargeting, product research, etc.
Still, if we had to recommend this channel for someone, it would be to people in the PoD business!
11. J Rich
J Rich started dropshipping and created his YouTube channel three years ago, and so far has gathered a library of about 50 helpful videos.
This YouTube channel offers tips on Shopify dropshipping, case studies and experiments, best products to dropship, mistakes to avoid, etc.
12. Dan Vas
In just three short years of being a YouTuber, Dan Vas has managed to upload an incredible 470 videos and counting!
Although the Dan Vas channel has all types of valuable online earnings content (as well as some Shopify content), drop shippers find it extremely useful for Amazon FBA dropshipping.
Other than that, if you're into experimenting with different online businesses and admire the millionaire lifestyle and mindset, this channel is precisely for you!
Dan Vas is known for uploading videos showing you the ins and outs of being a young, wealthy entrepreneur. So, if you're eager to follow in his footsteps, jump right ahead!
13. Arie Scherson
Arie started his YouTube dropshipping channel three years ago and now has over 190 videos.
He's a typical success story with Shopify dropshipping + Facebook Ads, so he has a lot of knowledge to share.
Arie's channel is fantastic for beginners in dropshipping since it shows you winning products, Facebook Ads and targeting strategies, etc.
14. Anton Kraly – Drop Ship Lifestyle
Anton Kraly was a pioneer in dropshipping! He uploaded his first dropshipping video on YouTube back in 2013 and has been sharing helpful content ever since! That puts him on our list of best dropshipping YouTube channels.
Anton has over 460 videos on his channel on all types of dropshipping content. On his channel, you can find the A to Z of dropshipping and beyond!
So, whether you're a new drop shipper or an experienced one looking to scale, you'll find the Drop Ship Lifestyle channel extremely useful.
15. Tan Choudhury
Although he's pretty new in the YouTube sphere, Tan Choudhury has to belong on this list of best dropshipping YouTube channels due to the valuable content he's providing.
Just shy of 50 videos, Tan is constantly creating video content in Shopify dropshipping and one-product shops.
16. Rafael Cintron
In merely two years as a dropshipping YouTuber, Rafael Cintron has uploaded over 300 videos on dropshipping.
Rafael specializes in automating and scaling Shopify businesses, so if that's your thing, you'll find tons of valuable tips and tricks on his channel.
17. Andrew Ethan Zeng
Although Andrew's channel is not specifically for dropshipping, rather online businesses, eCommerce, and digital marketing in general, his valuable videos positioned him straight into our list of best dropshipping YouTubers to follow in 2023. 
With three years behind as a YouTuber and over 140 videos, Andrew regularly uploads content on Shopify, TikTok, Instagram, Facebook, Snapchat ads, ClickFunnels, and all kinds of other digital marketing and promotion tools and practices.
18. Nate Schmidt
With two years behind him and almost 90 YouTube uploads, Nate is an experienced drop shipper that can teach you a lot!
We particularly loved Nate's channel because he has content for absolute beginners and experienced dropshippers looking to scale.
On top of that, he shares personal experiences and mistakes to avoid, as well as many product research videos we enjoyed!
19. Mike Vestil
There are likely very few people in the online business world that haven't heard about Mike Vestil. This YouTuber has over 725 videos and close to 250K subscribers throughout four years!
So, we had to see what's so unique! Mike Vestil deserves to be on this list for the mere fact that the guy sometimes uploads several videos per day!
If we had to choose a target audience for Mike's YouTube channel, it would be this: everyone interested in everything related to making money online!
Namely, Mike started as a paid traveling vlogger, then a fitness YouTuber, affiliate marketing YouTuber, to Shopify eCommerce owner (and probably a hundred smaller things in between).
As you can see, Mike has a lot to teach you, so don't hesitate to check out his YouTube channel.
20. Peter Pru – Ecommerce Empire Builders
You want to launch your first eCommerce business, but you're not sure where to start? Well, Peter Pru's extensive library of 930+ dropshipping videos seems like a good place to start!
From Shopify, Amazon FBA, and trending products to ClickFunnels and Facebook Ads, the Ecommerce Empire Builders channel has it all!
5 Bonus Dropshipping YouTube Channels
Hopefully, our extensive list of the 20 best dropshipping YouTubers above will help you start or scale your dropshipping business.
But just in case, we've decided to give you five extra YouTube dropshipping channels that we believe offer valuable content:
Bonus 1: Kevin David
Four years ago, Kevin uploaded his first YouTube video on Amazon FBA hacks that he used to earn a lot! Since then, his channel has exploded and now counts 400+ videos.
Even though he still mentions Amazon FBA and eCommerce tips in his uploads, the majority of his videos nowadays are in the area of online earnings, passive income, and similar.
So, if you want to find tons of valuable Amazon FBA tips, go through his older uploads!
Bonus 2: Verum Ecom
Even though you can only find about 16 videos on the Verum Ecom dropshipping channel, we had to mention them since they offer highly well-structured content.
The Verum Ecom YouTube dropshipping channel is focused entirely on Shopify stores and Facebook Ads – as one of the best ways of bringing traffic and sales.
So, if this is your duo of choice, head right over and check out their content.
Bonus 3: Gabriel St-Germain
Back in 2018, whenever someone mentioned the term dropshipping YouTuber, all we could think about was Gabriel St-Germain.
Sadly, Gabriel has stopped uploading videos since he's moved on to managing his private label brand in the long run.
However, he deserves an honorary spot on our list of best dropshipping suppliers because you can still learn a lot from his 24 videos.
Bonus 4: Oberlo
The dropshipping app Oberlo has an excellent YouTube channel full of 230+ videos on everything dropshipping-related!
They will always promote their app as the best way to dropship. However, putting that aside, you can find tons of helpful information such as trending products, Facebook Ads, setting up a Shopify store, IG marketing tips, branding tips, and lots more!
Bonus 5: Learn With Shopify
Learn With Shopify is a channel by Shopify with all types of helpful content on eCommerce and dropshipping.
Although they only have about 40-something uploads, they're incredibly well-structured and explained in-depth, so we think they deserve a spot on this list.
In Summary
Lastly, we're confident that our list of the best dropshipping YouTubers will prove to be highly resourceful for growing your eCommerce business.
Do you know of any other YouTubers to add to our list of best dropshipping YouTube channels? We'd love to hear from you.
If this list of best dropshipping YouTubers was not enough and you need the help of an expert, get in touch with an expert dropshipping agent in China who'll help you navigate the eCommerce world!