If you're interested in passive income opportunities, for sure you've heard the endless debate of affiliate marketing vs. dropshipping.
Both of these business models are great ways to earn money online without worrying about product inventory.
But you probably read tons of opinions out there firmly standing behind one or the other. So, what is it? Is it more profitable to have an affiliate marketing business or sell products on eCommerce stores?
This in-depth comparison guide to choosing between affiliate marketing and dropshipping will help you decide.
Affiliate Marketing Overview
Affiliate marketing is one of the most well-known ways of making a passive income. Many entrepreneurs use affiliate programs as side hustles to add more income streams.
In its broadest meaning, affiliate marketing entails promoting someone else's products on your website, blog, or social media account and earning a commission from each sale that comes from your referral or affiliate link.
Every affiliate marketer has their own affiliate link that's UTM-tagged and tracked. Once a potential buyer clicks on this link and reaches the product page to purchase, a cookie saves on their browser.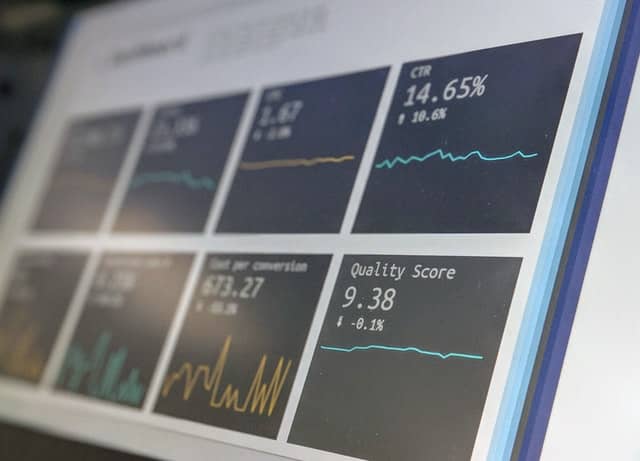 The cookie can last anywhere from 7 to 45 days, and if the user purchases within that period, you get a commission. Of course, we're assuming that the buyer doesn't delete their cookies before buying.
Let's see all the pros and cons of affiliate marketing.
Affiliate Marketing Pros
Low entry start (even free)
A passive income in the long run
No customer support needed
Many affiliate programs to choose from
Low-risk startup
No product manufacturing or storage
No order processing
Affiliate Marketing Cons
Time-consuming if you don't have a blog or website yet
Not so great short-term success
Lack of product pricing and quality control
Fixed commission
Payment delays
Unstable earnings due to cookie deletion
Irregular payments due to affiliate link removal
One-time purchases
No access to customer data for retargeting
Dropshipping Overview
Dropshipping is an online business model that entails selling a product on your online store and then placing an order for it on your supplier's website.
Typically, you, as the dropshipper, don't have a warehouse or inventory storage since you don't buy anything in advance.
The difference between dropshipping and the typical retail model (besides being exclusively online) is the purchasing and storing.
Regular retail shops (online or brick-and-mortar) buy their products in bulk in advance and store them.
With drop shipping, you don't have any risks since you don't buy anything in advance.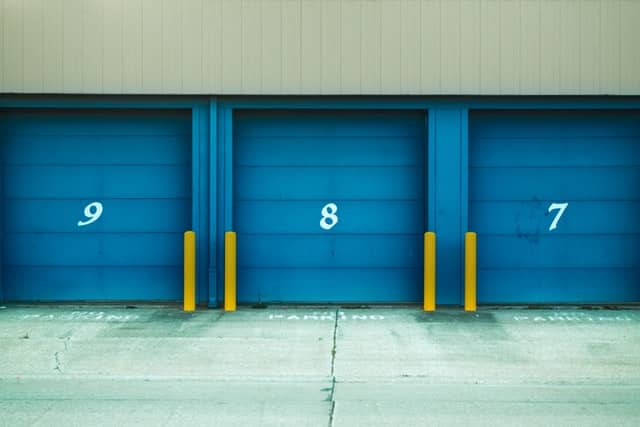 First, you import the product listing you want to sell and start marketing your store to attract buyers. Then, as soon as someone buys the product, you place an order for fulfillment on your supplier's website.
Like every other business model, dropshipping also has its pros and cons.
Dropshipping Pros
Low startup cost
No need for storage or warehousing
No physical contact with the product
Higher earning potential
Repeat or recurring customers
More control over your business
You set your markup and profit margins
Possibility to scale and build a brand
Selling white label or private label products
Low-risk business model
Access to customer data for retargeting
Dropshipping Cons
Often, you have to manage customer support
Low control over product quality
Difficulties dealing with manufacturers
No control over shipping and possible delays
Requires an online store or eCommerce website
Requires placing and processing orders
Some niches are oversaturated
Affiliate Marketing vs. Dropshipping: Features Comparison
Now that we've quickly glanced over all the pros and cons of both affiliate marketing and dropshipping, it's time to take a deeper look into each feature individually.
Products sold
The main difference between affiliate marketing and dropshipping is in the products sold.
Although the dropshipping products are still not yours (they're typically warehoused and shipped out by your supplier or dropshipping agent), you're still selling them on your eCommerce store.
On the other hand, affiliate marketers don't technically sell anything – the sale occurs on the actual product website.
They just promote a service or product link on their blog, podcast, or influencer profile, and they earn a commission from every sale.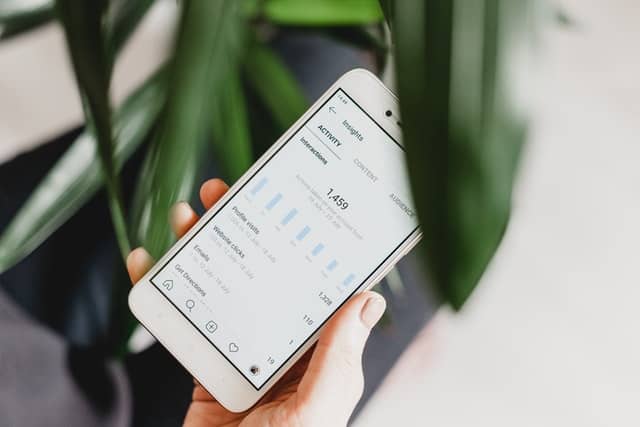 Time to launch
If you have blog pieces on your website which rank well on search engines and an established following, an affiliate marketing business can be quick and easy to launch.
All you have to do is sign up for a couple of affiliate programs in your niche, get your affiliate link, and place it on keywords throughout your pieces that get the most organic traffic.
Or, if you have a large following on social media and dabble into influencer marketing, you might drive affiliate sales just with a simple post.
But, if you have neither of those things yet want to start earning money online as soon as possible, then blogging, SEO, and social media can take a while until they work. In this case, affiliate marketing can be time-consuming.
On the other hand, dropshipping doesn't necessarily need blogging (although it helps) or waiting on organic audiences to start selling.
You can drive sales with paid advertising a day after launching your online store and importing product listings!
All you need to start dropshipping is an online store, a product, and a supplier.
Try Shopify for your dropshipping business if you're new at this since it's beginner-friendly and incredibly fast to build up a store from scratch.
Plus, Shopify integrates with many dropshipping agencies like NicheDropshipping, perfect for product sourcing and order fulfillment.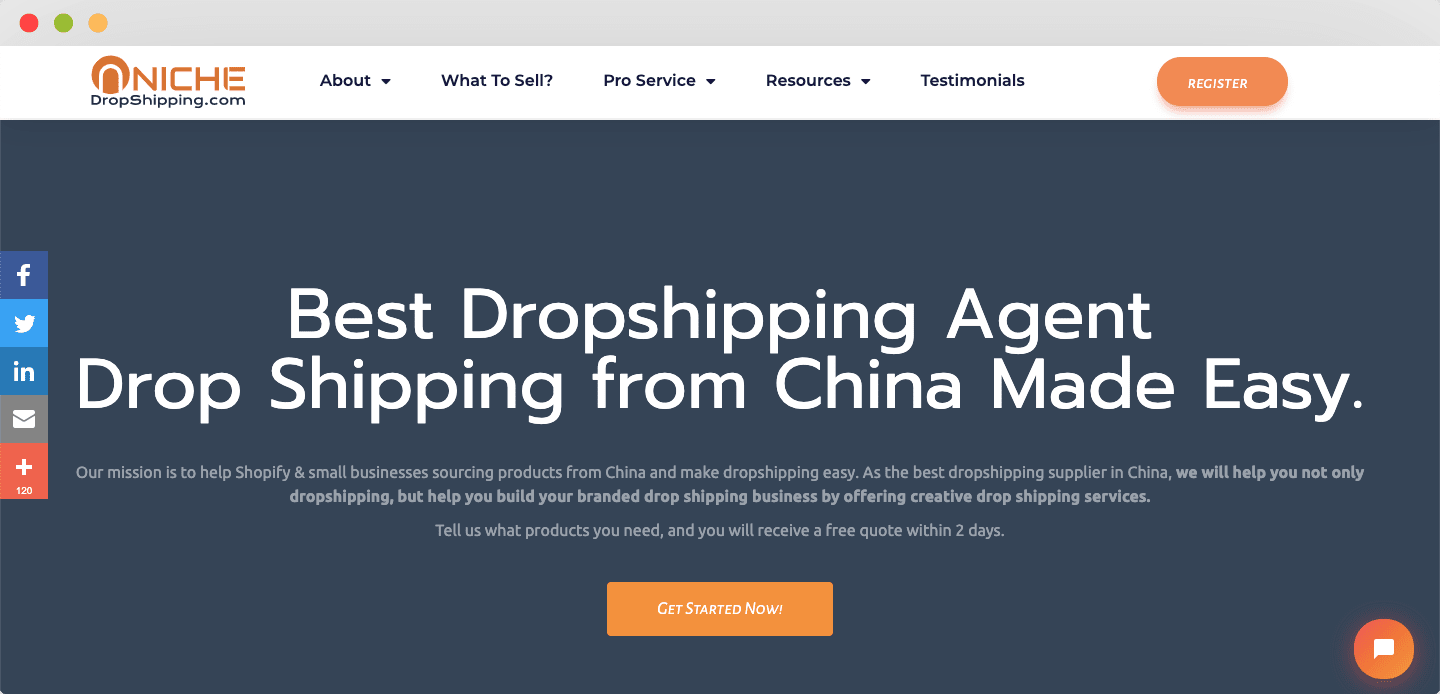 Involvement and ease
In the beginning, both affiliate marketing and dropshipping will require active involvement from your side.
But, generally speaking, dropshipping can be faster and easier to launch with just some minimal funds.
So, if you can get a basic Shopify account plus have some budget for ads, you can quickly start selling. Of course, given that you have a winning product and have done your research.
On the other hand, affiliate marketing requires writing blog posts or product reviews, making it far more time-consuming in the beginning.
However, affiliate marketing can become more of a passive income once you build solid organic traffic and many content pieces start ranking.
In affiliate marketing, you don't have order fulfillment or customer service, so all you have to do is bring traffic.
Startup costs
In theory, you can do both affiliate marketing and dropshipping with no money.
That's because in dropshipping, you don't pay for products upfront but only after you get an order. Plus, most affiliate programs are free to join.
However, this doesn't mean that there aren't any costs around these businesses.
The most common way affiliate marketing works is by blogging in a niche similar to the affiliate product you want to promote and incorporating your affiliate link within your article.
Another way is by doing product reviews or comparisons of the affiliate products.
So, unless you're an influencer with a large social media following and can promote your product there, you will need a website for blogging.
And, of course, that means you'll have to pay for a domain and website hosting.
If you don't have the patience to write content and wait for your blog to start bringing organic traffic from search engine ranking, put some funds aside for paid ads.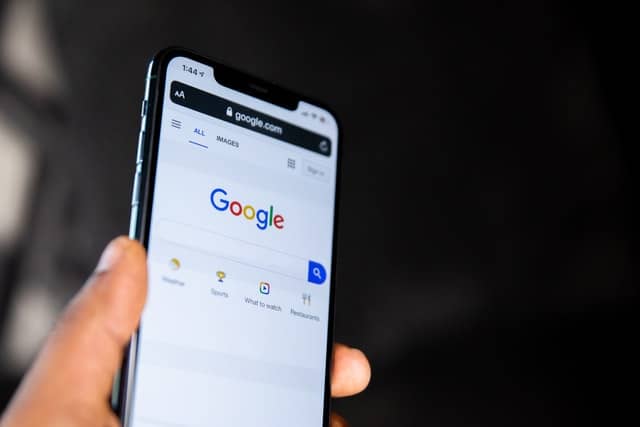 In the case of dropshipping, the startup costs you'll have are mainly for an online store.
The two most common eCommerce store builders are Shopify or WooCommerce and WordPress.
If you choose Shopify, their basic plan costs $29 a month.
On the other hand, WooCommerce is a free WordPress plugin. However, you'll need a domain, hosting, and a bit of technical knowledge to set up your online store.
Earning potential
We consider dropshipping to have a tremendous earning potential mainly because you can set your pricing and profit margins.
If you promote high-ticket product affiliate links, you can earn a lot from an affiliate marketing business as well, but you'll have less control over your earnings.
Affiliate programs don't offer a lot of space to scale since they set the commissions.
In short, in dropshipping, here's how you earn:
selling price – wholesale price = profits
Regarding shipping costs, you can either deduct that or offer free shipping and put those expenses into the base product price.
In affiliate marketing, it goes like this:
percentage x selling price = profits
Of course, in both of these cases, we urge you to consider any other costs you have, such as paid ads, content writing services, etc.
Don't forget to include these points in your calculations to get accurate results.
Control over business
Dropshipping and eCommerce take the lead when it comes to having more control over your business and earnings. An online store is your own, and the profit margin of the products is set by you only.
On the other hand, all affiliate programs have their own fixed commissions that you can earn.
These vary in percentages, depending on the type of product you sell. So, you'll always have less control and have to rely on someone else's product and business.
Customer service
Another difference between affiliate marketing and dropshipping is in how you manage customer support.
Customer service is vital for any online business model, but we suggest sticking with affiliate marketing if you don't really like dealing with it.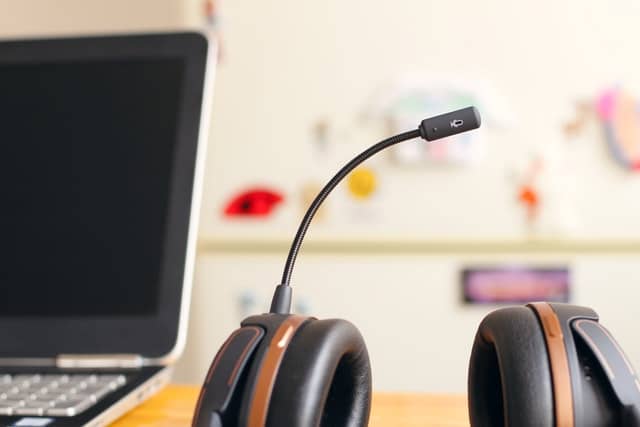 When you sell products from different affiliate networks, they're the ones dealing with customer support.
You only promote using an affiliate link that people will click on and earn a commission when they buy the product or service.
If you sell products through your online store, usually, you're the one dealing with customer service.
Alternatively, contact a full-service dropshipping agent in China who provides different services, including customer support.
Growth possibilities
There are cases of both affiliate marketers and dropshippers who made a big name for themselves in their niches.
These are, for instance, niche blogs that offer product reviews or comparisons that survive exclusively on affiliate commission.
However, generally speaking, it's much easier to grow and scale your dropshipping business.
That's mainly because in dropshipping, you can build a brand and a name for yourself. With this, you get to enjoy customer loyalty and repeat buyers.
Repeat customers
Another area where dropshipping takes the lead is repeat purchases.
Unfortunately, affiliate marketing typically brings single purchases, as the reader buys a product once and then moves on to different content.
With dropshipping, on the other hand, you often have repeat customers, especially if you provide reliable shipping times and a good customer support experience.
But, also in dropshipping models, there's a difference in customer loyalty. General dropshipping stores that sell something from everything find it more challenging to build a brand for themselves.
On the other hand, one-product stores that sell white-label or private-label products can enjoy greater loyalty and repeat purchases as it's easier to up-sell and cross-sell.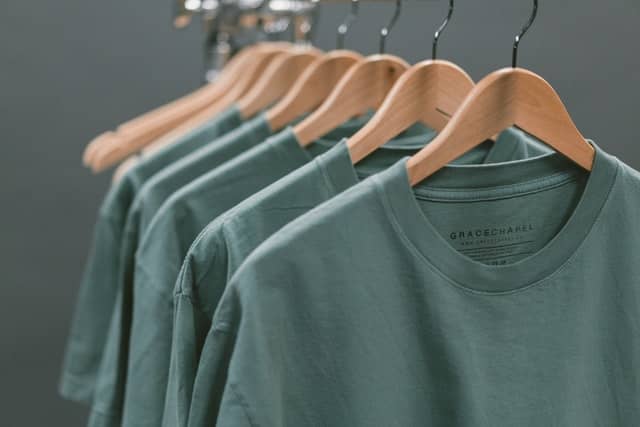 Another problem that makes dropshipping better for repeat customers is that dropshippers typically have a list of their customers' emails which they can use for retargeting campaigns or lookalike audiences.
Affiliate marketers usually don't have their customers' data since the point-of-sale occurs on another website.
Risks involved
The good thing about affiliate marketing and dropshipping is that they're both a low-risk business model. So, when deciding between dropshipping vs. affiliate, risks in terms of costs are minimal.
In terms of time vs. value, affiliate marketing is seemingly less risky if you already have a blog, but if you're only now starting to post blogs and build a following, it can be time-consuming.
On the other hand, drop shipping uses mainly paid advertisement until you build a name and a following. However, you don't have to wait for search engines to index you and your blogs to rank organically.
So, in terms of costs, we'd say drop shipping could be slightly more costly. However, in terms of time spent to launch, affiliate marketing takes more time if you don't have the audience already.
Dropshipping vs. Affiliate: Side-By-Side Table Comparison
Let's take a look at this visual comparison chart of affiliate marketing vs. dropshipping features:
| Features | Affiliate Marketing | Dropshipping |
| --- | --- | --- |
| Point-of-Sale | Affiliate website | Your online store |
| Customer Service | No | Yes |
| Cost of Entry | Low | Low |
| Earnings Model | Fixed commission | Arbitrage |
| Growth Potential | Medium | High |
| Website/Store | Optional | Yes |
| Inventory Storage | No | No |
| Order Processing | No | Yes |
| Business Control | Low | High |
| Customer Data | No | Yes |
| Repeat Sales | No | Yes |
FAQs on Affiliate Marketing vs. Dropshipping
Still not sure if you should start an affiliate marketing business or sell products through your online store? Here are all your answers.
What Is Affiliate Marketing?
Affiliate marketing is a business model that works on commissions.
As the affiliate marketer, you promote a product on your social media accounts or blog posts by using an affiliate link. Then, you get paid a fixed commission for each sale you bring.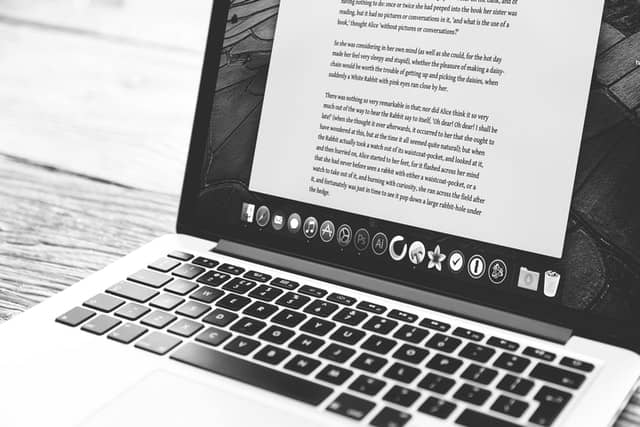 What Is Dropshipping?
Dropshipping is a business model that entails reselling someone else's products on your website.
Unlike affiliate marketing, where the user gets redirected to another website, the point-of-sale happens on your own eCommerce store in dropshipping.
The way dropshipping works – a customer buys a product from your store, after which you place an order on your supplier's website.
Typically, they take care of the order fulfillment and give you a tracking number.
Is Dropshipping or Affiliate Marketing More Profitable?
Although some affiliate networks offer high-budget products for promotion, you're still limited since you're earning a fixed commission. Plus, you don't have any control over the product price or quality.
We consider dropshipping more profitable because you can build a brand and set your markups and profit margins. And, of course, it gives you greater control over your business.
Shopify Dropshipping or Affiliate Marketing – What to Choose in 2023?
As we've mentioned in the question above, a dropshipping online business model gives you more control over your business and the possibility to turn your store into a brand.
In turn, this increases customer loyalty and repeat purchases.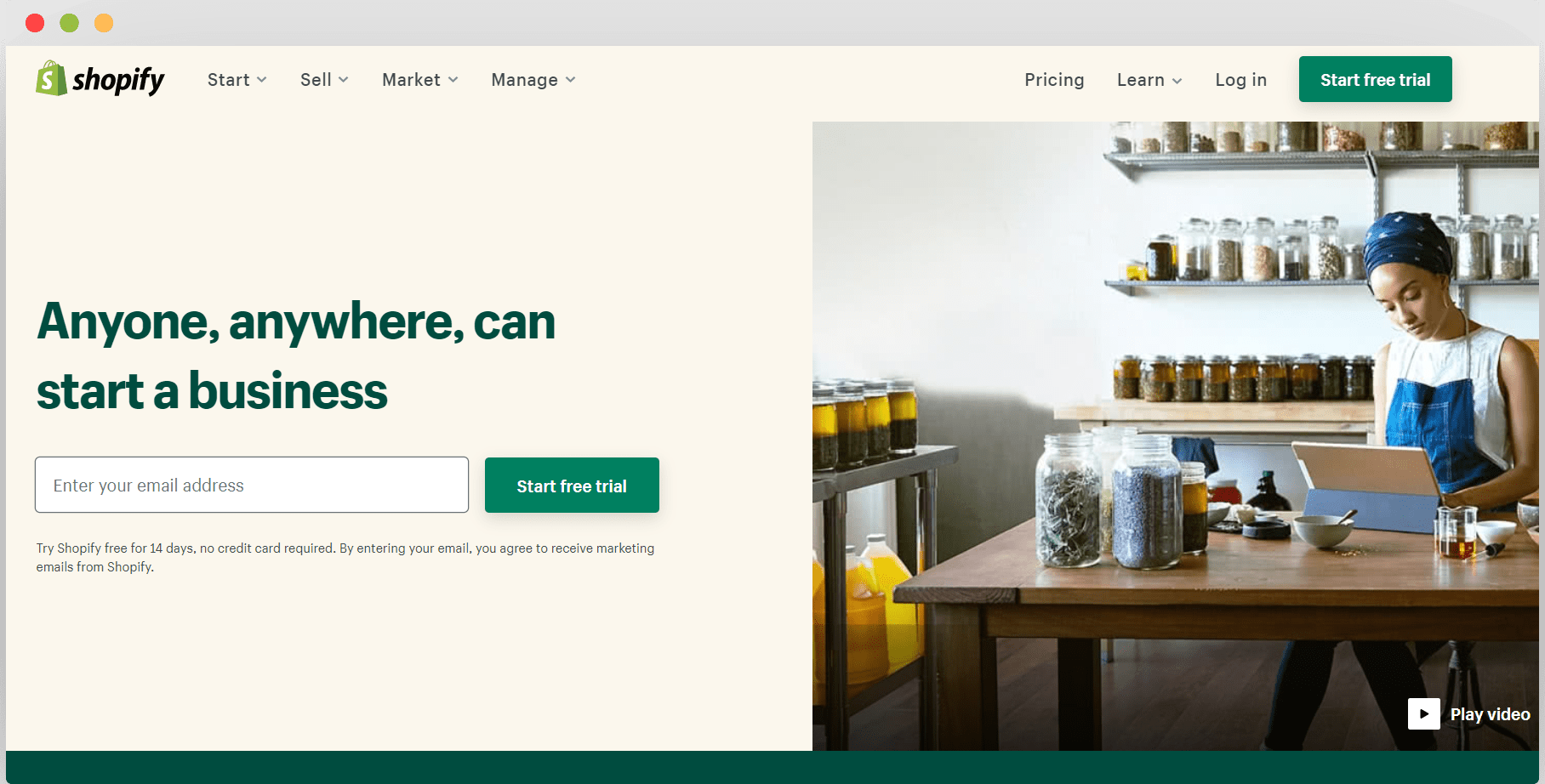 As one of the most widely-used eCommerce store builders out there, naturally, all of the above applies to Shopify stores as well.
Aside from the fact that Shopify isn't free to use (costs $29 for the basic monthly plan), we don't see any other downside to Shopify dropshipping.
So, in terms of being easy to launch, quick, and profitable, we would go for Shopify dropshipping rather than affiliate marketing.
Nevertheless, we should remind you that the success of a dropshipping store depends on many factors, and not all online stores actually get to make sales. So, it all depends on how well you prepare.
Is Affiliate or Dropshipping Easier?
Affiliate marketing is easier since it doesn't require so much active involvement from your side.
However, creating the content can be time-consuming if you plan to promote the links through blog posts.
On the other hand, dropshipping involves some product research, an eCommerce store, and contacting product suppliers.
Additionally, dropshippers also don't deal with product inventory or shipping.
Can You Do Dropshipping and Affiliate Marketing at the Same Time?
If you're new at this, we recommend sticking to one thing at first.
Starting a new business can be overwhelming as it is, so your whole focus should go to this one business that you decided on.
However, if you have some experience already, there's no reason why you shouldn't combine dropshipping and affiliate marketing. Many dropshippers do that successfully.
The best way to combine these two online business models is by having a blog p on your online store that you can use to post valuable content that would educate, help, or inform your readers.
Try to give value, don't just sell your products in your blogs.
Then, find affiliate programs in your niche and seamlessly and naturally link their product to relevant keywords throughout your articles.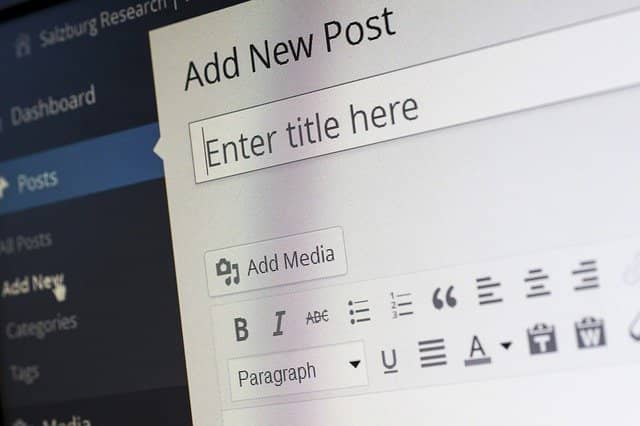 Suppose you're an affiliate marketer already but want to test your success in dropshipping.
In that case, you could collaborate with a full-service dropshipping agent in China that can help you with your product sourcing and order fulfillment.
What's the Difference between Affiliate Marketing and Dropshipping?
The most significant differences between dropshipping and affiliate marketing are:
Dropshipping involves customer service while affiliate marketing does not;
The PoS (point-of-sale) in dropshipping is your online store, while in affiliate marketing, users get redirected to the affiliate network website;
Dropshippers have customer data, while affiliate marketers usually don't;
With dropshipping, you set your own markups and selling prices, but with affiliate marketing, you earn fixed commissions;
Dropshipping gives you more control over your business while affiliate marketing doesn't;
Dropshippers get paid right after each sale, while affiliate marketers can experience delayed payments;
What Are the Similarities between Affiliate Marketing and Dropshipping?
There are also many similarities between dropshipping and affiliate marketing:
No inventory storage is needed;
No need for physical contact with the product (although it's recommended);
Low-entry and low-risk business models;
Require minimal website/online store building knowledge;
Require some knowledge in digital marketing and ads;
How Can I Start Affiliate Marketing with No Money?
To promote and bring sales, you need traffic. If you already have a running website, blogging is entirely free. However, for those that don't have a website, that part isn't free.
So, here are some free traffic sources to start affiliate marketing with no money:
Organic Facebook engagement – create a group around your niche, join other groups, post valuable content and comments;
YouTube – you could do product reviews, testing, or comparison videos for the affiliate products you're promoting. Of course, don't forget to place the affiliate link in the video description;
Other social media – platforms like Instagram, Pinterest, Twitter, etc., can help you build an audience and connections. Many affiliate programs are digital and business-related, so even LinkedIn could be a great option;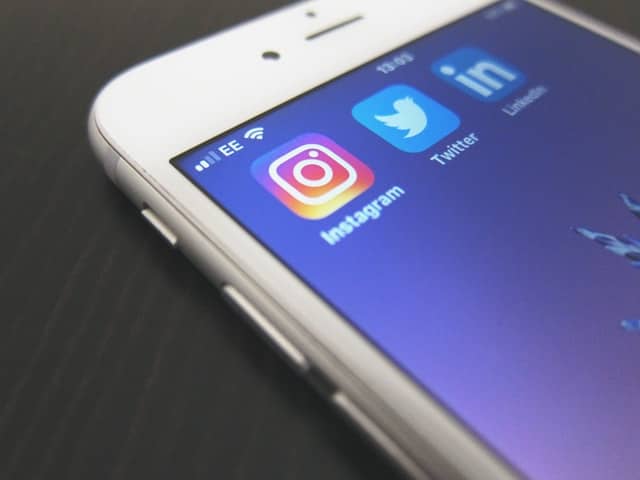 How Can I Dropship without Money?
Dropshipping with no money sounds like something that many of us are eager to learn and explore.
Contrary to affiliate marketing, where you don't necessarily need a website to work, dropshipping requires having an online store. And, this is the only part where a dropshipper has obligatory costs.
As we've mentioned before, Shopify's basic plan costs $29 but comes with full service – domain and hosting included. But that's not free.
The closest you can get to a free dropshipping store is to purchase a Bluehost hosting which costs from $3 to $6 and comes with an automatic and free WordPress installation.
Then, all you need is a domain. Usually, you can find domains on Bluehost, Hostgator, GoDaddy, etc. Their price depends on your choice. Once you have the domain, connect it and install the free WooCommerce plugin.
Then, choose a free theme and connect your store to free product supplier marketplaces like AliExpress, CJDropshipping, DHgate, etc., to import your first product listings.
WordPress has a lot of free plugins you can use to improve your WooCommerce store.
Although WordPress + WooCommerce seems cheaper, it will require some technical background and knowledge, while Shopify is more beginner-friendly.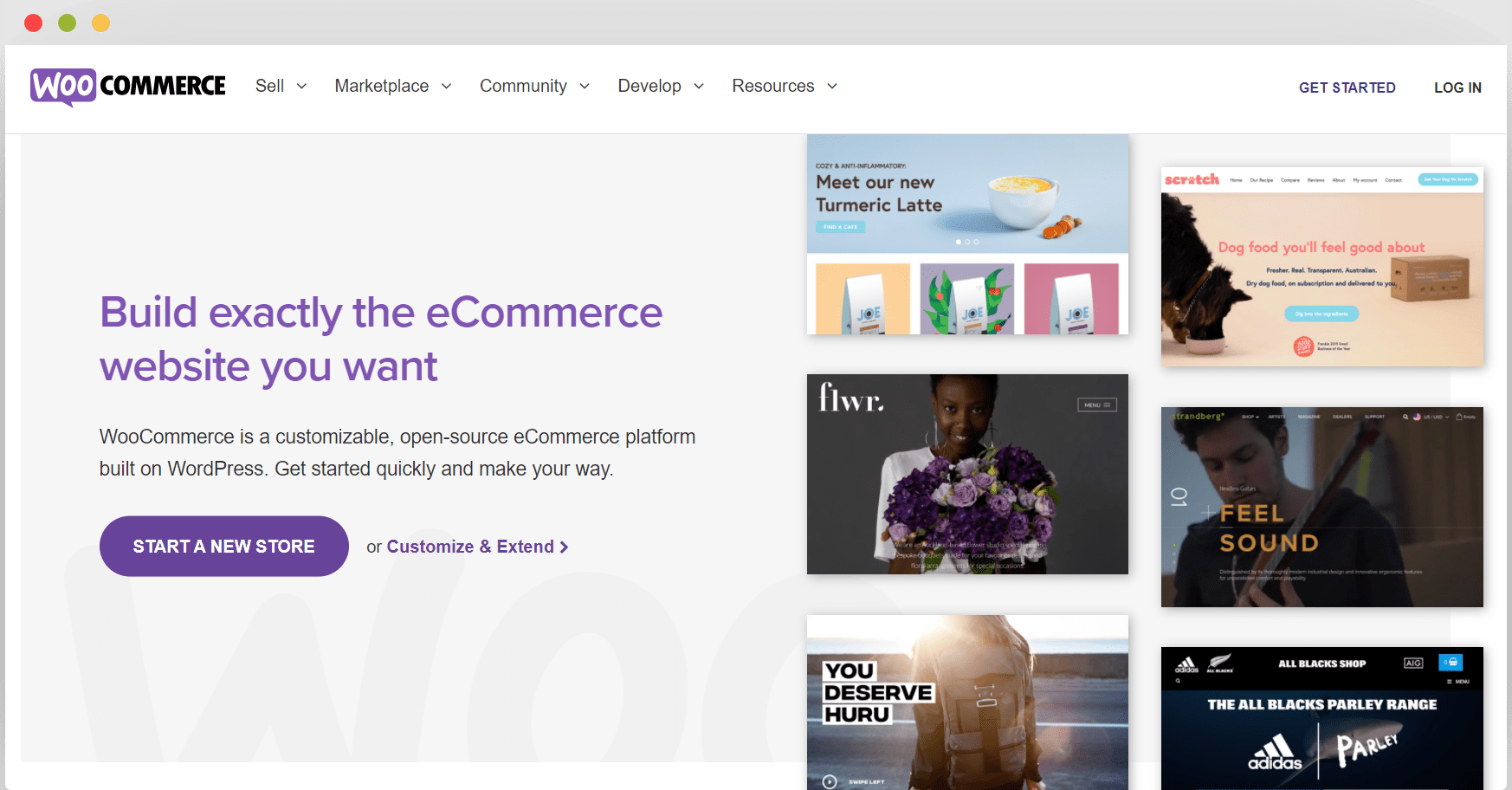 How Much Can You Earn as an Affiliate Marketer?
Your earnings as an affiliate marketing depend a lot on the affiliate program you choose and on your promotion success.
For instance, affiliate networks that sell physical products typically don't offer more than 5% commission.
However, affiliate marketing generally promotes digital products. These can have commission rates anywhere from 5 to 50%.
Furthermore, some affiliate networks offer recurring commissions if the buyer keeps using or renewing their product. These are excellent passive income strategies.
How Much Can You Earn as a Dropshipper?
As a drop shipper, we'd say there's no cap on your earnings. We'd say a lot, but that depends on many factors. The possibility is there, but you have to play it smart.
Before launching your online store, make sure you have a winning product, a target audience, and have done your keyword research.
The greatest thing about dropshipping is that you are the one to decide the type of products you should sell and set the price markup. So, all the control in a dropshipping business model is in your hands.
On a Final Note
If we see affiliate marketing vs. dropshipping purely from the aspect of an online business model, they can both be profitable and lucrative when done right.
But, seeing long term and from a growth perspective, scaling your dropshipping business is much more likely than trying to grow as an affiliate marketer.
So, in terms of pure profitability, we believe drop shipping wins this battle.
We'd love to hear your thoughts! Do you have anything to add when it comes to affiliate marketing vs. dropshipping?
Still don't know how to go around dropshipping? Send us a message so we can assist you.