If you're into dropshipping and eCommerce but haven't encountered the terms D2C vs B2C before, no worries, they aren't part of some high-tech math equation but simply acronyms for different business models.
As you probably already know, B2C stands for business-to-consumer. B2C business models are the norm for dropshipping stores. But, lately, we've come across a new business model called D2C, which seems to conquer the dropshipping world.
But, what is the difference between D2C and B2C? If both D2C and B2C companies sell to the end consumer, how is D2C different?
Let's dive in and choose the most suitable way of selling products for your dropshipping store!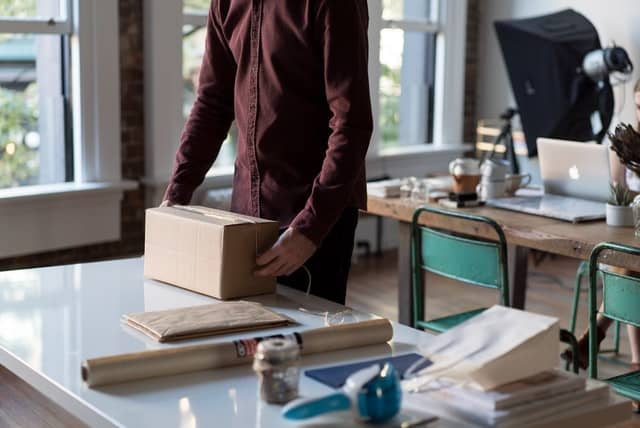 B2C Overview
B2C is the first term or acronym we will discuss here, and it stands for business-to-consumer. B2C business models are by far the most common way of selling products online.
The majority of dropshipping stores are considered B2C companies since they sell directly to the consumer.
You can see B2C as the traditional way to do dropshipping. You don't hold any stock. In fact, you might never see your product in real life. You simply list it in your store, and only after someone purchases it, you order it for fulfillment from your supplier.
So, in the case of the B2C dropshipping model, your only job is to market and sell the product. Then, different middlemen such as suppliers, manufacturers, and delivery services are involved in getting the product in the hands of the end-consumer.
The B2C business model brings many benefits, but it also has several downsides. Let's take a look at both sides.
B2C Pros
No need for inventory storage and warehousing;
Less risk and initial investment;
Easier to test multiple products and find winning products;
Faster to launch and start;
More exposure on different platforms and marketplaces;
B2C Cons
Less control over customer experience;
Longer delivery times;
Less control over product quality;
More competition for the same products;
Smaller profit margins;
D2C Overview
D2C (aka. DTC) is an acronym that stands for direct-to-consumer. With this marketing model, businesses bypass and cut the need for middlemen and intermediaries by manufacturing their products independently and selling them directly to their customers.
So, instead of relying on retailers, suppliers, or distributors to get the product in your customers' hands, you'll take care of the entire chain, from manufacturing and selling to setting up the delivery process.
D2C Pros
Direct customer contact;
Better profit margins due to cutting intermediary costs and bringing your manufacturing in-house;
Not dependent on a complicated supply chain (no middlemen);
Ability to build a long-lasting private label brand;
A better customer experience, trust, and brand loyalty;
More control over your business and data (since you're the manufacturer);
Better product personalization and customization possibilities;
Omnichannel presence – you choose the social media platforms, sales channels, or even physical PoS locations for your brand;
D2C Cons
Riskier than B2C in regards to selling your products;
A greater upfront investment;
You take care of the entire supply chain;
You find warehousing and inventory storage solutions;
A slower start;
Knowledge of social media marketing is required;
More work than B2C models;
Feature Comparison: What Is the Difference Between D2C and B2C?
Let's compare all the different features and aspects of D2C vs. B2C businesses and determine which way of selling products works best for your needs.
Startup Costs
The first difference we're going to talk about is the startup costs needed to launch a D2C vs. B2C business.
In this regard, the costs to launch a D2C business are typically higher since you have to cover the costs of manufacturing the product, packaging, order fulfillment, and similar.
On the other hand, a B2C business will have fewer upfront investments since that's the typically dropshipping model where you don't pay anything until you get your first order.
So, with a B2C model, you won't have costs for manufacturing, warehousing, and similar.
Ease of Launch
When it comes to ease of launch, B2C is typically faster to launch. Although you need to set up your online store, list products, marketing, and track orders, it's still less preparation than D2C business models.
On the contrary, if you go direct-to-consumer, you'll have to manufacture your product first, take care of packaging and branding, all before you've even sold a single product.
So, in the ease of launch aspect, B2C takes the lead.
Product Manufacturer
The product manufacturer aspect is perhaps the most significant difference between D2C and B2C business models.
In D2C, the retailer is the manufacturer, while in B2C, the dropshipper purchases the product from third-party vendors such as manufacturers, wholesalers, or retailers.
Manufacturing the product in-house allows D2C businesses to cut costs and offer their customers a much better value for their price.
Order Fulfillment
Order fulfillment, same with the manufacturing process, are both parts of the supply chain.
In D2C business models, you're responsible for order fulfillment. That means taking orders, packaging them, placing your branding or labels, and finding a way to deliver and ship the order.
On the other hand, B2C models typically use a supplier who ships the product to the end-consumer or a dropshipping agent who takes care of order fulfillment.
Profit Margins
Although D2C business models have higher starting costs, B2C companies typically have lower profit margins. You're wondering why?
Well, because each third party between you and your consumer will cut a part of your profits for their service. So, to increase your B2C profit margins, you'll have to dropship high-ticket products or increase the end product price, risking a decrease in sales.
On the other hand, D2C businesses usually enjoy a better profit margin since they've shortened the supply chain and don't pay a bunch of middlemen in between.
Customer Service Quality
In this regard, D2C businesses typically offer a much better customer service quality.
Traditional B2C companies that do dropshipping can have excellent customer support from their side. Still, if the supplier or the person responsible for order fulfillment doesn't provide a tracking number or is late with delivery, there isn't much you can do.
On the other hand, with a D2C model, you gain control over the entire customer service, starting from the initial contact to the product quality and shipping times.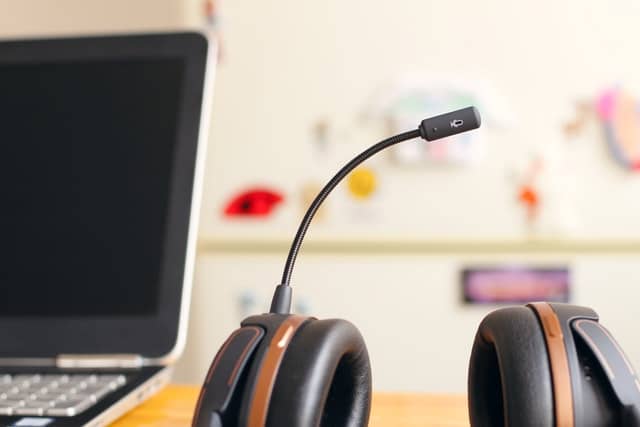 Control over Business Data
The next crucial difference between B2C and D2C business models is the control over your business and the data gathered.
In B2C models, third-party vendors and intermediaries gain access to most of your store's customer data. Plus, your business depends on the product quality of your supplier, the delivery times of the order fulfillment agent, etc.
The advantage of having a DTC business is that you have complete control over every aspect of your business, starting from product quality to all the customer data.
Growth Possibilities
In this aspect, both B2C and D2C businesses could experience growth with the right strategies.
However, a D2C business could enjoy more growth possibilities due to three main reasons:
Better profit margins due to reduced intermediary costs;
Ownership of customer data;
Complete control over your brand;
But, that doesn't mean that a B2C dropshipping model cannot grow and scale.
If you're choosing a traditional B2C dropshipping model, finding winning products and correctly calculating your profit margins is crucial for success.
Dropshipping generic items that can be found anywhere else, including AliExpress, isn't the best strategy.
Instead, to build a profitable B2C business that you can scale, try to dropship evergreen products and give them a unique spin or a selling proposition.
Another option to be successful in B2C is to collaborate with a full-service dropshipping agent who can help you with product sourcing, inventory storage, and worldwide fulfillment.
Risks Involved
In this aspect, B2C companies that engage in the traditional dropshipping method without keeping stock typically have lower risks than D2C business models.
Imagine if you decide to launch a homemade soap D2C store. Before you start marketing, you have to have products available and in stock. So, you probably need to manufacture a large batch of soaps, which means a higher initial investment.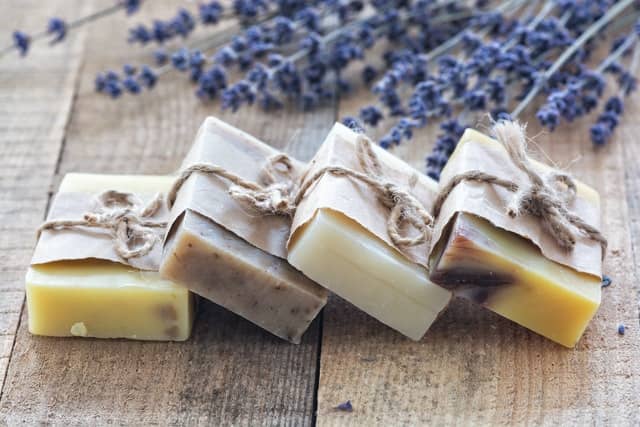 But what if you can't sell these products and all your initial investment goes to waste?
B2C vs. DTC vs. B2B: Side-By-Side Table Comparison
In order to make things even more transparent, a visual comparison always helps. Take a look at the table comparison below:
| Features | B2C | D2C | B2B |
| --- | --- | --- | --- |
| Provider | Business (Retailer, Wholesaler, etc.) | Business (Manufacturer) | Business |
| Buyer/Market | Consumers | Consumers | Business |
| Startup Cost | Low | Medium | High |
| Profit Margins | Medium | High | High |
| Distribution | Middlemen | Self-distribution | Varies |
| Manufacturer | Outsourced | Self-manufacturing | Varies |
| Risks Involved | Low | Medium | High |
| Control of Customer Data | Medium | High | High |
| Marketing | Platforms/Social Media/Online Store | Social Media or Online Store (no retailers) | Multiple approaches |
| Customer Service | Low quality | High quality | Account Manager |
| Inventory and Warehousing | No | Yes | Yes |
| Brand Loyalty and Repeat Buyers | Low/Medium | High | High |
FAQs on D2C vs B2C
We're answering all your questions regarding the difference between D2C and B2C to ensure we've got it all covered.
What Is D2C?
D2C, also known as DTC, is an acronym that stands for direct-to-consumer.
With this eCommerce model, the manufacturer sells the product directly to the consumer, cutting the need for third-party vendors and intermediaries.
A D2C model gives you end-to-end control over all of your business operations, from manufacturing to sales channels, social media marketing, order fulfillment, to shipping.
Since in D2C models, the manufacturer sells directly to consumers, many B2B manufacturers that previously sold in bulk to retailers can now think of launching a secondary income stream by incorporating a D2C practice for one item or their entire product line.
What Is B2C?
B2C stands for business-to-consumer, and this is a type of business model that's most commonly seen with the majority of dropshippers and online retailers.
We can see B2C as a dropshipping model where you sell a product that you don't have in stock. In this scenario, once a customer places an order in your store, you have to place an order to your supplier, and then they deliver the product to the end customer.
As you can see, a typical B2C process has intermediaries like manufacturers, retailers/wholesalers, the dropshipper (you), delivery, etc.
What Is B2B?
The B2B business model is quite different from D2C and B2C businesses since the market or buyers are different here. B2B stands for business-to-business.
Namely, the target audience of B2B companies aren't end-consumers but other businesses.
B2B companies usually sell a bulk product or service to enterprises and companies.
Examples of this are automotive parts manufacturers that sell these parts in bulk to car manufacturers. Or, B2B SaaS companies like Salesforce that target organizations instead of individual consumers.
What Is C2C?
The last business model we will tackle here is C2C, or consumer-to-consumer (often also called customer-to-customer).
This business model allows consumers to trade and sell products and services to other consumers on a particular platform.
Some great examples of companies that allow C2C transactions are Etsy, eBay, Craigslist, and Amazon.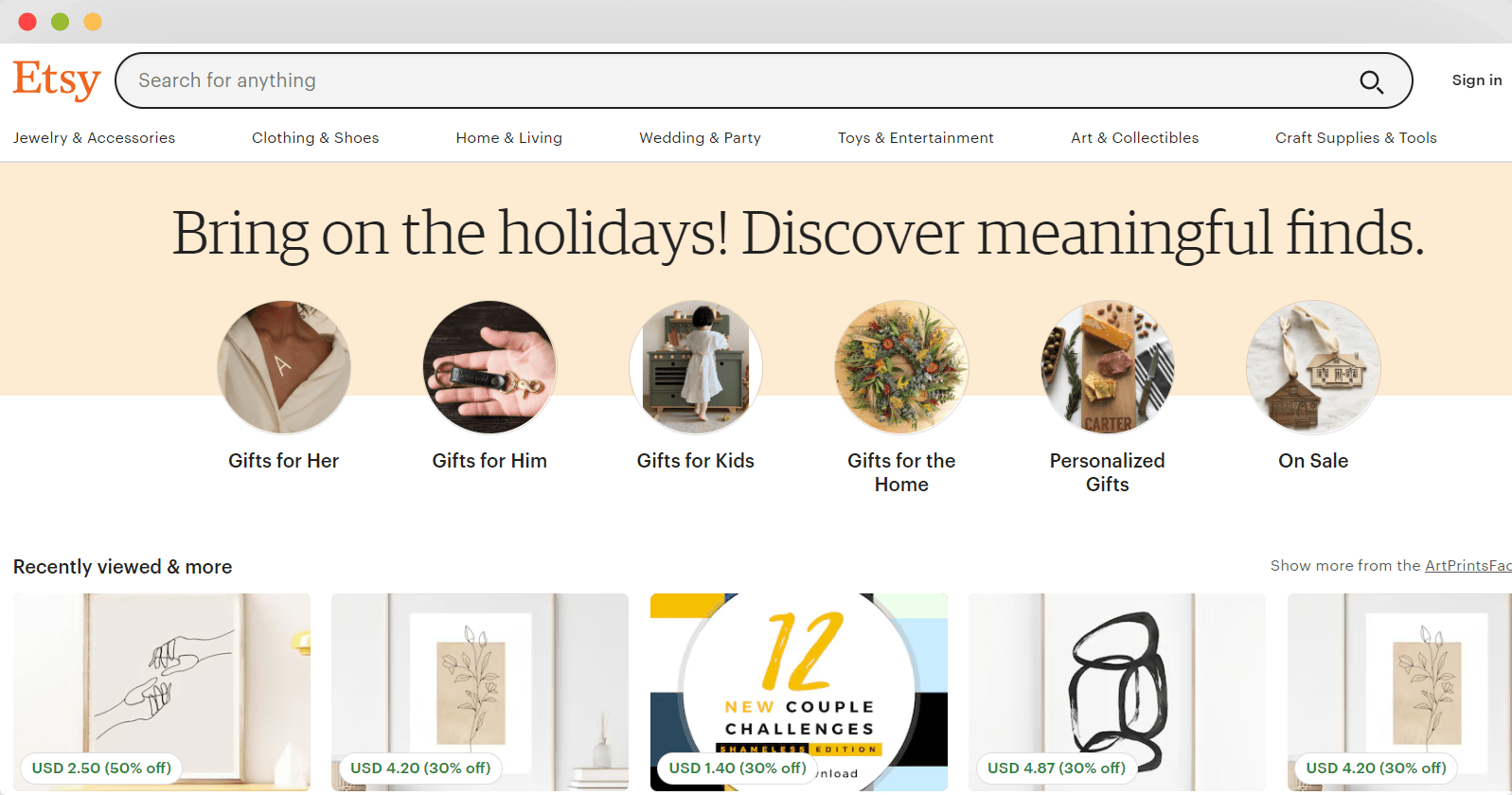 Is D2C the Same as eCommerce?
D2C is just one way of a company selling products and engaging in eCommerce. Many other business models are still classified as eCommerce, such as B2B or B2C models.
What Is the Difference Between B2C and D2C?
The main differences between B2C and D2C are in the supply chain and fulfillment method.
Let's put it visually so that you understand the differences better:
B2C Supply Chain: Manufacturer → Wholesaler → Dropshipper → End-Consumer
D2C Supply Chain: Manufacturer/Brand → End-Consumer
In both cases, the market or target audience is the same – end-consumers or individuals, not businesses.
In this regard, we can definitely conclude that D2C is a sub-category of a B2C business model. The difference lies in the supplier and fulfillment method.
D2C businesses manufacture their own product and take care of the whole order fulfillment process individually.
On the other hand, B2C companies use middlemen and intermediaries such as wholesalers, retailers, distributors, etc.
What Is the Difference Between B2B and D2C?
B2B stands for business-to-business. These are typically companies that sell bulk products to other companies or organizations instead of individual end-users.
Some examples of B2B businesses that sell products or services to other companies are Salesforce, Alibaba, Pipedrive, ZenDesk, Buffer, and even LinkedIn.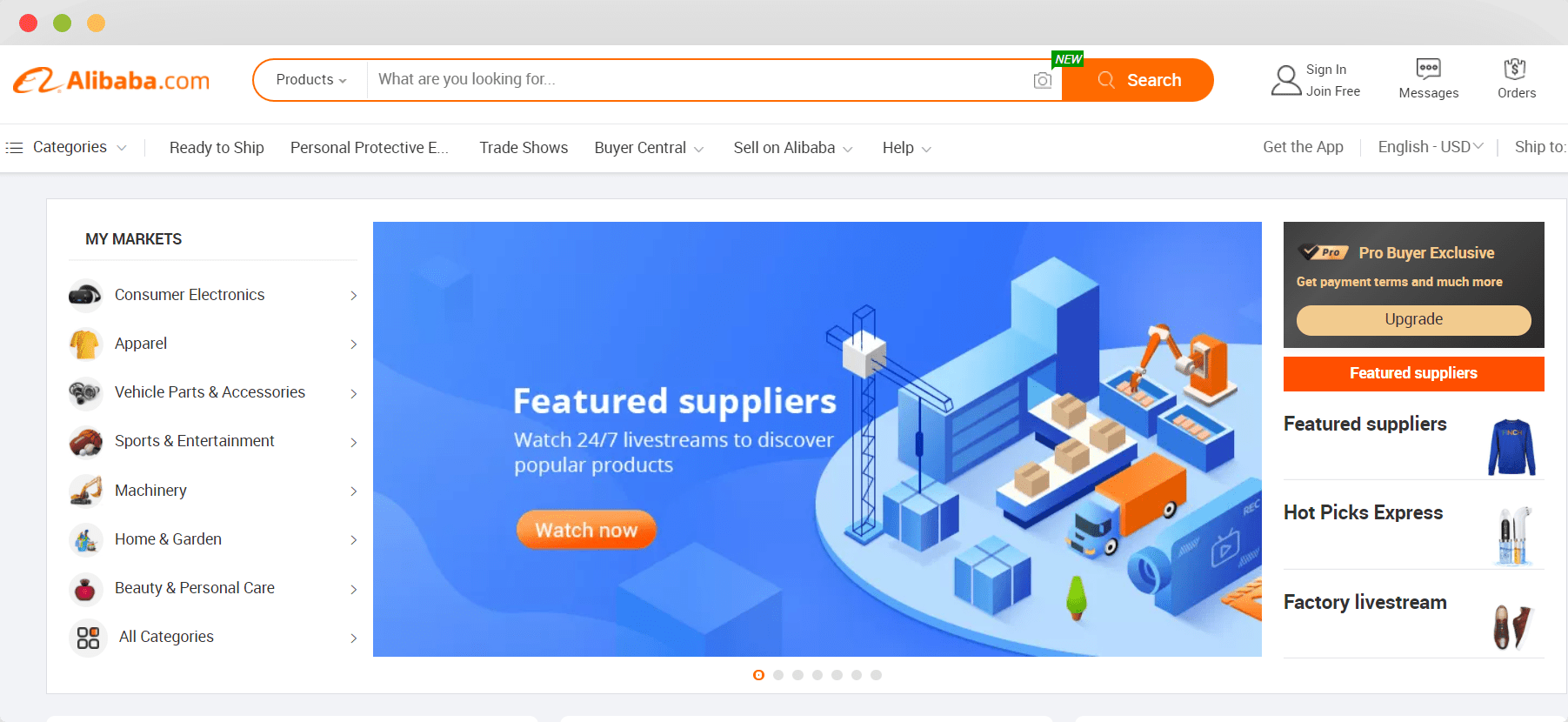 Any business whose target audience is organizations and companies instead of individuals is B2B.
As we've mentioned before, D2C stands for direct-to-consumer. This business model is different than B2B because of two reasons:
First, the supply chain – D2C cuts all the middlemen;
Second, the buyer target group – D2C sells to individual consumers, not businesses;
Can a B2B Business Use the D2C Model?
Absolutely, as long as there's a consumer market for the product!
For instance, let's look at a hypothetical B2B company that sells print materials to SMEs and large organizations.
Until now, they've had one income stream – businesses. If they wanted to open an additional income stream, they could adopt a D2C marketing approach and start offering those print materials to consumers, not just companies.
With this example, we can conclude that companies that want to try the D2C marketing approach don't have to change their entire business nature but use it as an additional stream.
What Are Some D2C Business Model Examples?
Although D2C is gaining momentum right now, it's definitely not a new concept. Here are some great examples of companies that used direct-to-consumer marketing before it was cool (and with great success):
Casper
Casper revolutionized the mattresses market by going D2C. Yes, they sell mattresses online and deliver them to your door! Plus, they can afford to offer a more affordable price than regular retailers.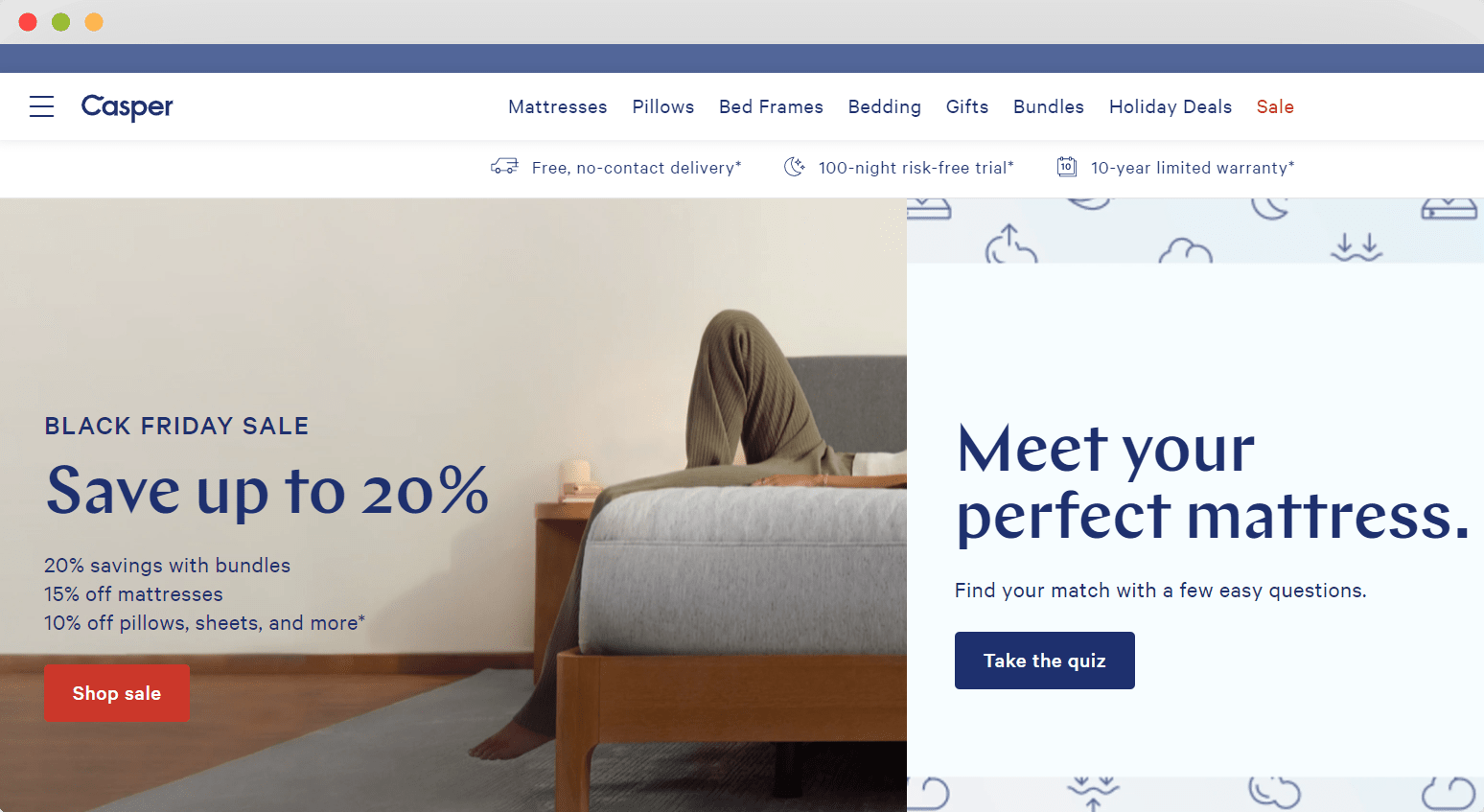 The founders of Casper analyzed the most common pain points of customers on the market for a new mattress.
One problem was going to an actual physical store and talking to a salesperson who always tries to upsell you.
But, an even greater issue was bringing the mattress at home. Typically, customers needed to rent a vehicle or pay for transportation to bring a massive mattress from the shop to their homes.
Well, Casper solved both of these issues. Thanks to them, you can now buy your mattress online and get it delivered to your doorstep in a mini-fridge-sized box. Convenient, right?
Plus, by adopting a D2C business model, Casper's mattresses are much more affordable while enjoying a superior quality.
The Dollar Shave Club
It's no secret that not that long ago, Gillette held the market for razors. That's until a digital marketer that was unemployed at the time decided to shake things up a bit.
Michael Dubin is the brain behind The Dollar Shave Club. He was sick of men drilling a hole in their budget to buy high-tech razors. Plus, the razor ps were always behind closed doors in markets or pharmacies, so you had to ask for assistance.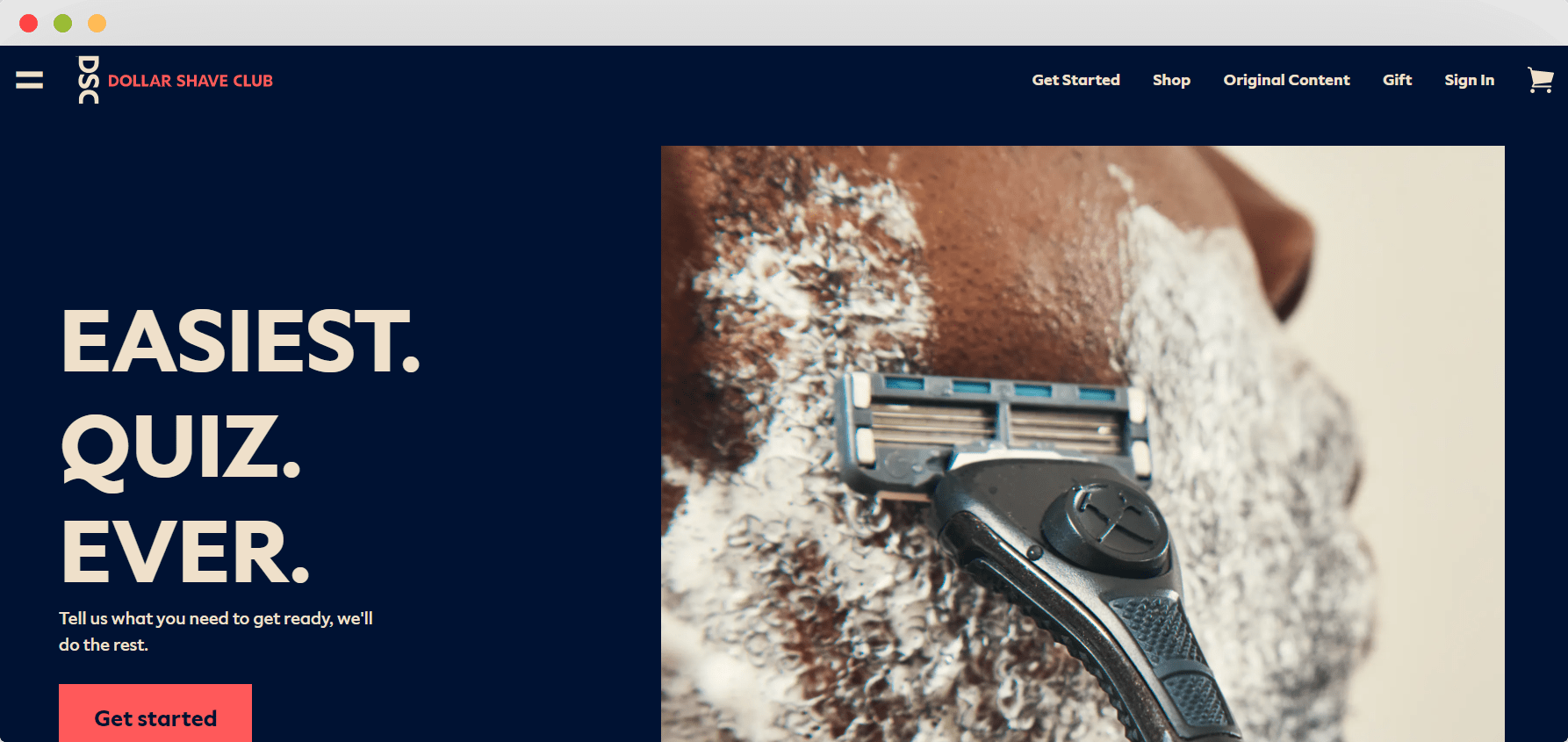 For Michael, that seemed like too much trouble for something we do daily. So, he decided to simplify the process.
Instead of offering an exclusive razor and a retail model, Dubin implemented a subscription-based D2C model. Now, men can subscribe and get shaving supplies on their doorstep at an incredibly affordable price!
Warby Parker
Like The Dollar Shave Club, Warby Parker is a D2C company that saw the need to simplify things in an expensive industry like eyeglasses and eyewear.
Did you know that a company called Luxottica holds the majority of the market, including brands like Ray-Ban? Well, the creators of Warby Parker were sick of this monopoly-like market and decided to disrupt it.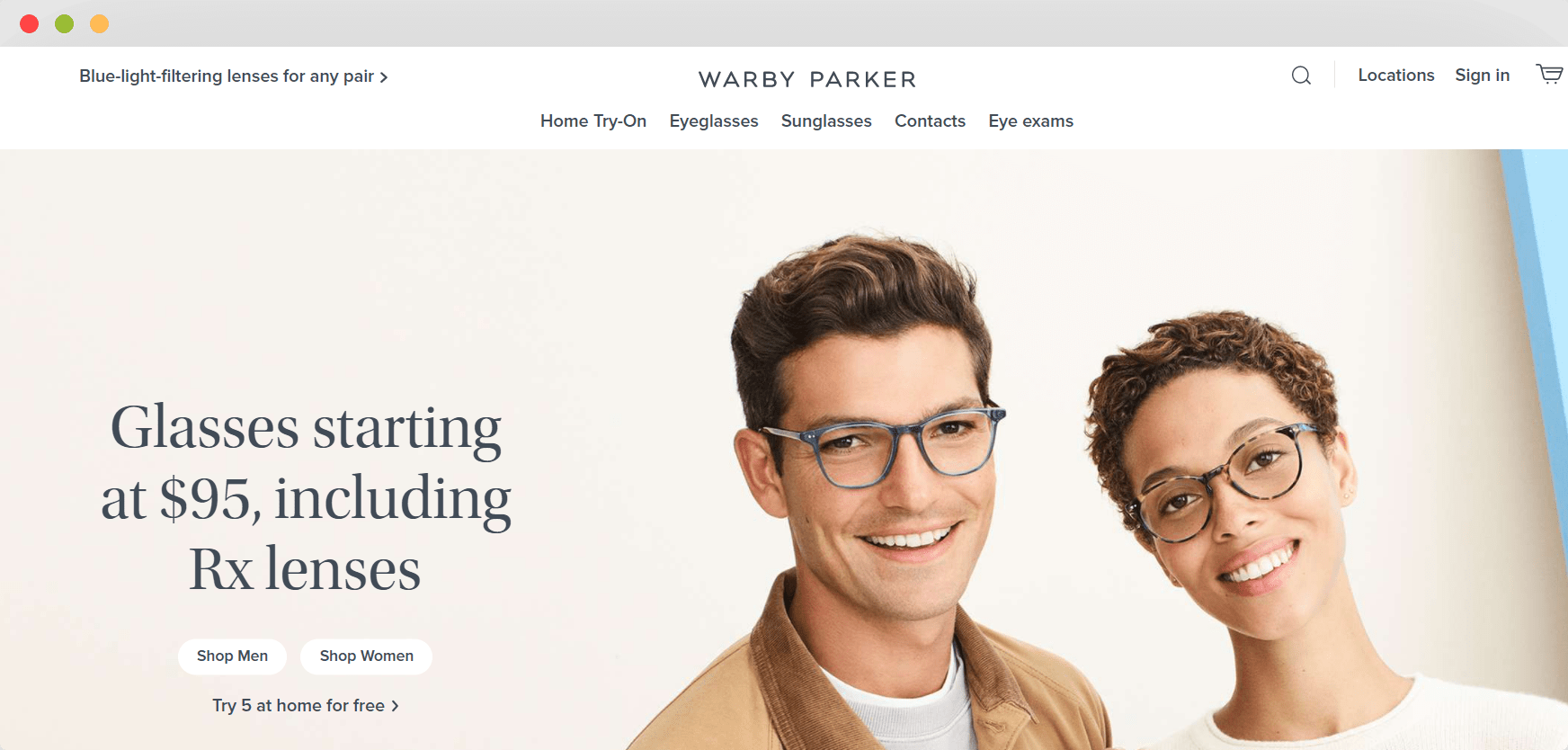 To do that, they opted to produce everything in-house instead of outsourcing. They designed their own frames and glasses and decided to offer more affordable eyewear options with a direct-to-consumer business model.
Away
Korey and Rubio were two female entrepreneurs who were actually a part of the Warby Parker team before they started their own business.
Namely, they had experience with the direct-to-consumer model, and they were sick of the suitcases market.
The suitcases they used for traveling were either cheap and low quality, or good quality but incredibly expensive.
That's when they got the idea to implement the D2C business model and started offering affordable suitcases with superior quality.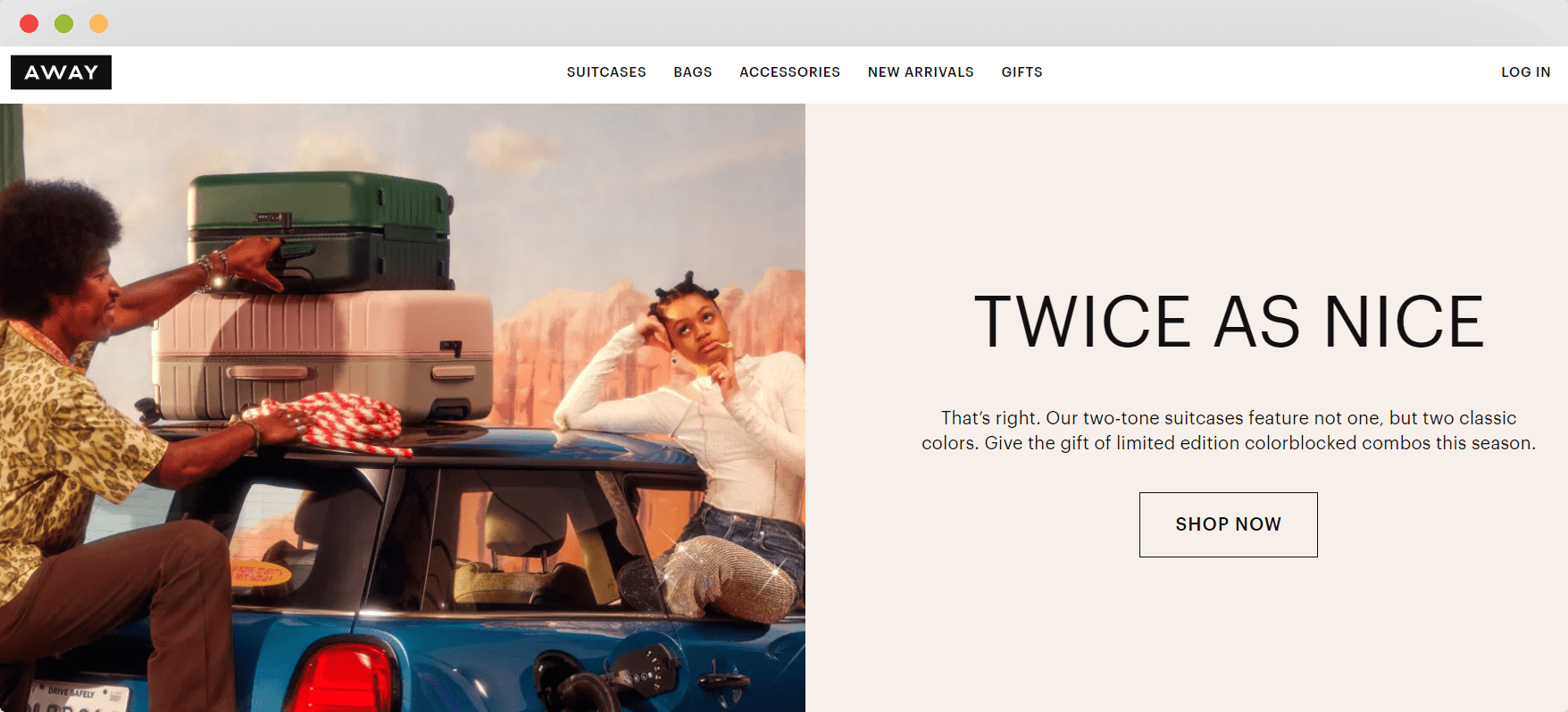 Now, customers could order their suitcase to be delivered to their doorstep, and most importantly – no more breaking on airports.
To become successful in an industry, they differentiated their product from the rest, sold directly to consumers, and sold an entire travel experience, not just a suitcase.
And that's how Away was born – by offering a better value for the price.
What Are D2C Brands?
D2C brands are the ones that sell directly to the end-consumers and bypass the middlemen retailers, wholesalers, and distributors.
A D2C brand will usually use different social media channels to connect directly to customers, build loyalty, and ultimately – repeat purchases.
Some examples for direct-to-consumer brands are the ones we mentioned above, such as Casper, Away, The Dollar Shave Club, Warby Parker, etc.
What Is a D2C Startup?
A D2C startup is the same as a D2C company or a D2C brand. The only difference is that, in this case, we're talking about a company that's new on the market, and that's why we call it a startup.
Why Is Direct-to-Consumer (D2C) So Popular with Millennials?
Millennials are all about market disruption. Considering their tech-savviness and entrepreneurial spirit, it's no wonder that they prefer the D2C method.
In a broad sense, there are three main reasons why millennials prefer D2C compared to other business models:
Price
Cutting the middlemen means cutting costs. And, naturally, this results in a lower end-product price for the same (or better) quality. Competitive pricing is a big reason for the success of D2C businesses.
Convenience
Millennials (and all of us, really) love convenience. Why go out and search for a product when we can order it online and get it delivered to our doorstep. eCommerce and D2C online stores became especially important with the pandemic outbreak.
Transparency
Last but not least, millennials appreciate brand transparency, and they prefer buying directly from the source. That's why D2C businesses enjoy greater customer loyalty.
What Is the Opposite of D2C?
In terms of business operation and supply chain, the opposite of D2C or direct-to-consumer is B2C (business-to-consumer).
However, in terms of the market or target buyer audience, the opposite would be B2B or business-to-business. While D2C business models sell to end-consumers, B2B models target businesses and organizations instead of individuals.
D2C vs. DTC: What's the Difference?
There's no difference at all! D2C is a synonym for DTC, and both of them mean the exact same thing – direct-to-consumer.
What Is DTC Marketing?
DTC or D2C marketing is used for direct-to-consumer brands who decide to bypass the traditional product distribution channels or third-party shops like Amazon or eBay.
Instead, D2C companies focus on establishing direct contact with their customers through different sales channels such as social media, their own website or online store, etc.
What Are the Best DTC Marketing Strategies?
Here are some of the best D2C marketing practices you can use for selling products directly to consumers:
Pinpoint and solve a customer's pain point;
Build a recognizable and memorable brand (logo, colors, personality, etc.);
Leverage user-generated content (UGC is one of the most potent D2C marketing techniques);
Be present omnichannel, on all the social media channels where your target customers are present;
Don't be afraid to try new sales channels and strategies such as TikTok marketing;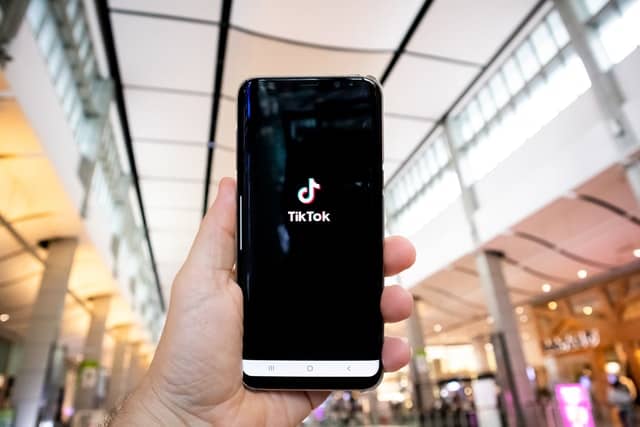 Partner up with influencers in your niche to increase your exposure and reach;
If you sell local, experiment with offline sales like pop-up stores;
Generate leads for email marketing;
Offer an impeccable customer service experience;
Always analyze data and customer feedback to see what you could improve;
Is Amazon a B2C or C2C?
Amazon functions as both B2C and C2C. That means business-to-consumer and consumer-to-consumer.
Similar to eBay, the C2C model of Amazon allows consumers to sell to other consumers using the platform.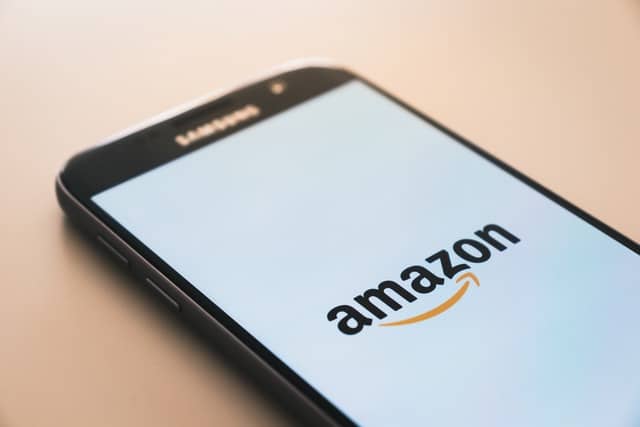 Do Consumers Prefer D2C?
Nowadays, consumers are wary of online purchases and prefer to buy directly from the source. What does that mean?
Recent statistics show that about 55% of consumers prefer buying directly from the brand. How is this relevant to D2C businesses? A D2C business is your own brand, and as such, it usually enjoys increased customer trust and loyalty.
Imagine wanting to buy Nike running sneakers. You see that a dropshipping store sells them, but you aren't sure if they're original.
So, in this case, you would typically go directly to the official Nike website and see if you can purchase them from there. And, unsurprisingly, they would probably be cheaper than the dropshipping store since they're the manufacturer.
Naturally, we'd all buy directly from the official Nike website since they have a better price, plus we're sure it's the original we're buying.
That's a struggle that many B2C dropshipping stores have experienced. Even if they really do sell originals, they would have to increase the price to cover all the retailers and intermediaries involved in the process.
Although consumers might prefer D2C businesses and stay wary of B2C, that's not the case if we're talking about a B2C company that sells unique private-label or white-label products.
In cases like these, consumers don't differentiate between a D2C vs. B2C company since they don't see the back-end or the order fulfillment process. So, also B2C companies can enjoy success with the right product.
Key Takeaways
To conclude, we'd like to make things clearer by just pointing out another way to find the difference between D2C and B2C:
"All D2C businesses are B2C, but not all B2C businesses are D2C."
In both cases, the business sells to the end-consumer rather than another business.
However, the D2C business model eliminates all the middlemen and takes care of manufacturing, marketing, selling, and distribution on its own. So, the D2C model means you're the manufacturer and the distributor.
Hopefully, we've managed to clear things out for you and help you differentiate the D2C vs. B2C business models.
In case you need assistance from someone in China, you can count on us at NicheDropshipping.
We will source your products, warehouse them, inspect their quality, and ship them out to your customers.
Contact us now to get started.