Jewelry plays numerous roles in our lives. On some days, we use it to enhance our outfits while on others we offer it as a gift to appreciate people we care for. Some pieces like rings and watches are also symbolic and functional.
It is thus no wonder that jewelry has vast potential to be a lucrative dropshipping niche. However, you would first need to find dropshipping suppliers who offer quality jewelry that would appeal to your target market. Quite the tall order, isn't it?
Well, no need to fret. Read on for a diverse list of dropshipping jewelry suppliers and some helpful tips on how to choose the right one.
Factors to Consider When Choosing Jewelry Suppliers
As you begin your search for dropshipping jewelry suppliers, it may be beneficial to weigh a few key issues. They include:
Costs
Some jewelry suppliers charge a dropshippers fee before you can list their products on your site. Others also have a flat rate shipping fee.
Consider whether these expenses are worth incurring. If you reckon that the profits from selling such a supplier's jewelry will recoup the costs, then the cost might be worth it.
However, if you are just starting your dropshipping jewelry business a free-access jewelry supplier might be a better choice.
Shipping
Does your preferred jewelry supplier dropship to your target market? For instance, if you are selling to clients in South Africa, your jewelry supplier should be able to deliver to that market.
Additionally, consider shipping costs from your supplier's destination. High shipping costs often deter buyers.
Preferences of Your Target Market
As you set up your dropshipping jewelry store, you likely had a target market in mind. Take a moment to evaluate what type of jewelry would appeal to them. Also, how much would they be willing to pay for it?
Let the answers to these questions guide you as you choose your jewelry suppliers. It will save you from listing pieces no one likes or that only a handful of customers can afford.
NicheDropshipping
When it comes to dropshipping suppliers, NicheDropshipping is a household name. It is a well-established dropshipping company with warehouses in China and the USA.
Between these warehouses, NicheDropshipping is able to provide worldwide fulfillment for all your jewelry dropshipping orders. Moreover, you can choose any of the shipping options that the company offers.
Speaking of dropshipping jewelry orders, NicheDropshipping gives you access to hundreds of jewelry options. From necklaces to bracelets and anklets, you will be spoiled for choice. If you can not find what you need your assigned dropshipping agent will help you find it.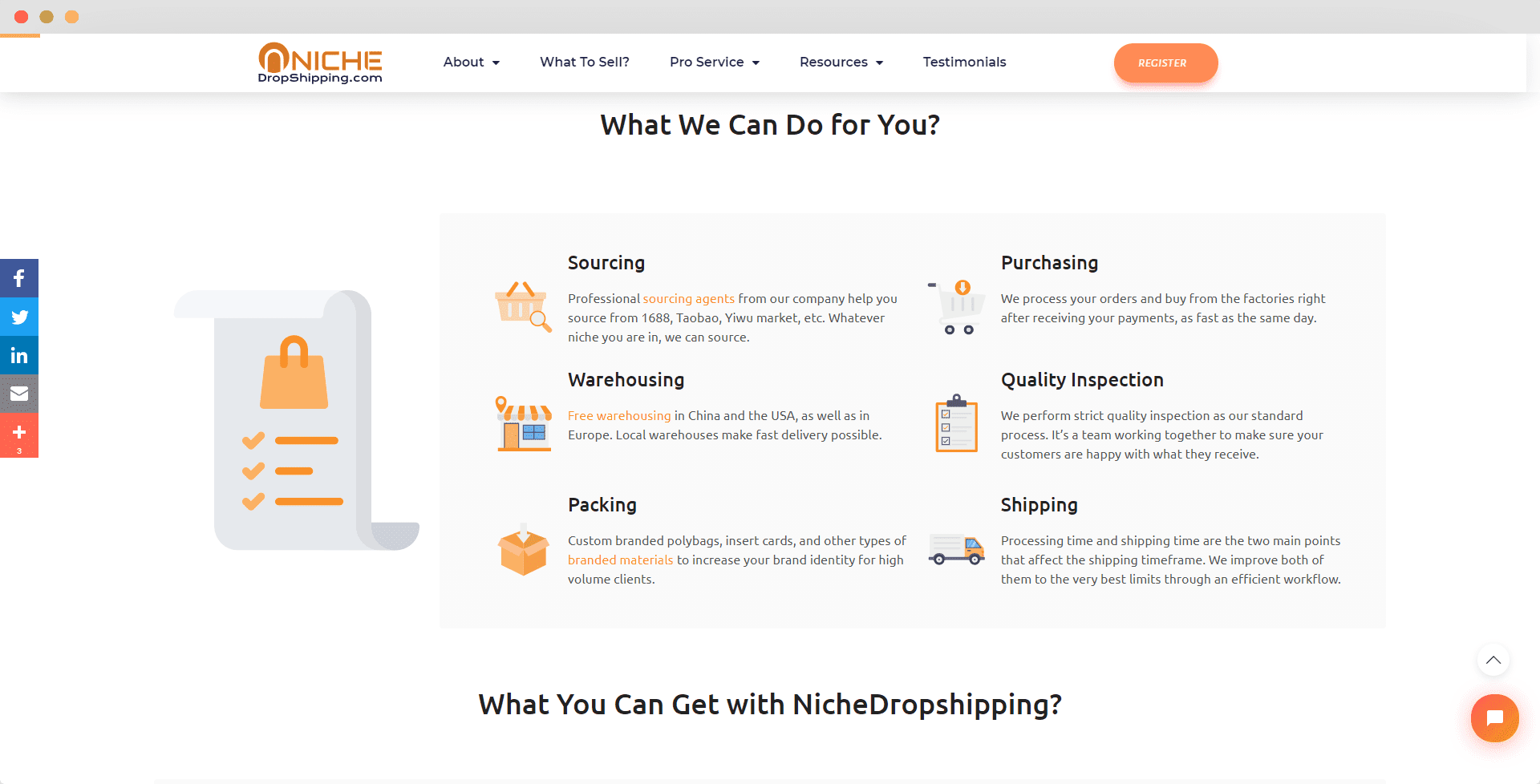 In addition to a wide variety of jewelry options, NicheDropshipping can negotiate low factory-rate prices on your behalf. More so for bulk purchases. This would enable you to enjoy healthy profits. The product sourcing service is also free.
To get started you would need to register an account and authorize your dropshipping store on the NicheDropshipping platform. Proceed to sync their jewelry listings with your store and just like that you can begin forwarding jewelry orders for fulfillment.
In-stock jewelry orders are fulfilled within 24 hours. Orders that require sourcing are fulfilled within 2 to 5 days. NicheDropshipping will automatically update the shipping details with you upon dispatch.
CJwholesale
CJwholesale is a China-based global jewelry supplier that offers a wide array of jewelry collections. They have been operating as a one-stop online wholesale market for quality jewelry since 2015.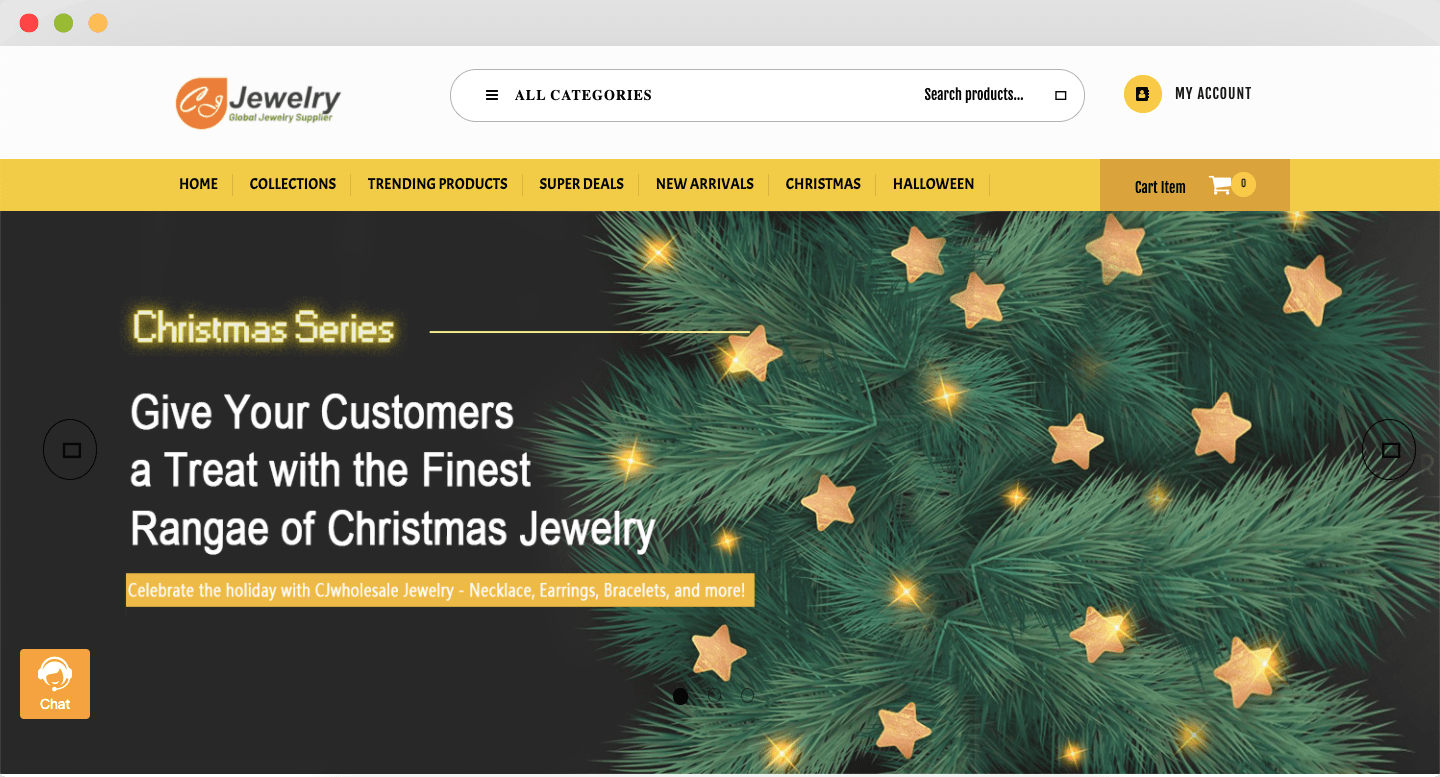 They may be relatively young in the jewelry industry, but they already present so much to aspiring dropshippers. Their categories include:
Gold-plated jewelr
Jewelry sets
Men's and women's jewelry
Wedding jewelry
Their platform is easy to navigate and you can browse the more specific categories they have further broken down such as:
Trending products
Super deals
New arrivals
CJwholesale takes pride in developing and selling trendy accessories at friendly prices, stringent quality control, and steady 24/7 customer service.
With their diverse collections and top-notch services, there is no doubt that CJwholesale makes it to this list of top dropshipping jewelry suppliers.
Ruby Imports
Ruby Imports is a jewelry wholesaler based in Memphis, Tennessee, USA. The firm offers necklaces, pendants, earrings, brooches, rings, and much more. You can also select jewelry based on different gemstones.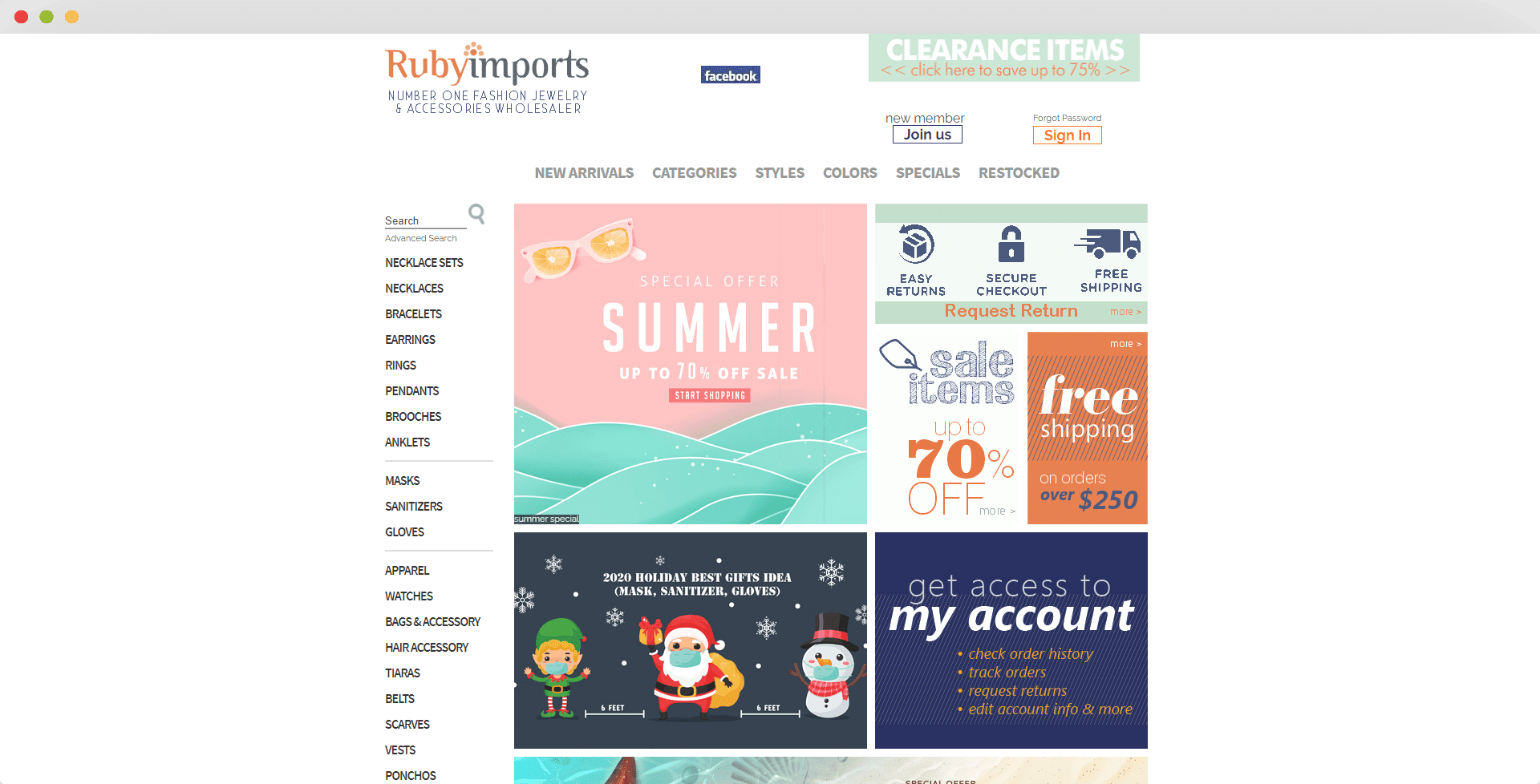 This jewelry supplier has an established dropshipping program. They charge a $0.50 handling fee and a flat-rate shipping fee for each order. On pricing, Ruby Imports promises wholesale rates and discounted seasonal offers.
They fulfill both local USA and international orders. Returns can be requested within 21 days and a full refund will be offered minus shipping and handling costs. The return requests would, however, have to come through your dropshipping store and not the client.
Topearl
If you would like to focus on pearl jewelry, Topearl would be a great dropshipping jewelry supplier to consider. The firm owns a pearl farm and manufactures its own pieces.
The product listings include all kinds of pearl-adorned jewelry alongside beaded jewelry and pocket watches.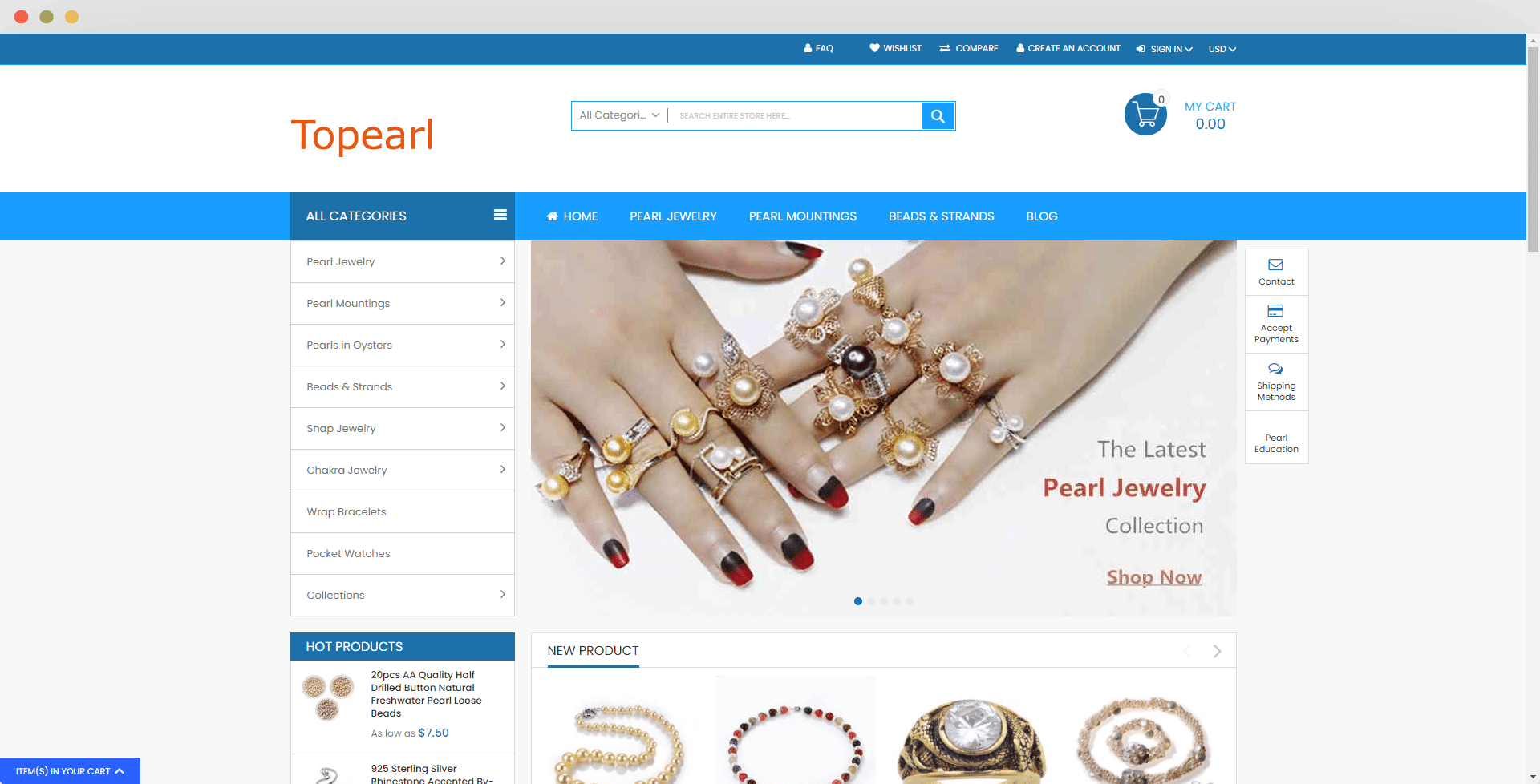 Topearl is based in Guangzhou, China. It has a dropshipping program that you can join for free and with no MOQ restrictions. The firm even offers marketing support by providing images for your store on request.
Topearl fulfills orders across the world and provides your dropshipping store with tracking info. The expected order processing time is 1 to 3 days for in-stock orders. Bulk purchases or out-of-stock orders may take slightly longer.
The prices quoted on the Topearl site are competitive. There is also a greater assurance of quality given as the company harvests its own pearls. The return policy is equally quite straightforward.
Silverbene
If your customer base is more inclined to silver jewelry, Silverbene has what it takes to charm them.
This jewelry supplier specializes in pure sterling silver jewelry free of lead and nickel. Impressively, they carry both male and female jewelry as well special occasion pieces like birthstones set in silver. Suffice to say, there is something for everyone.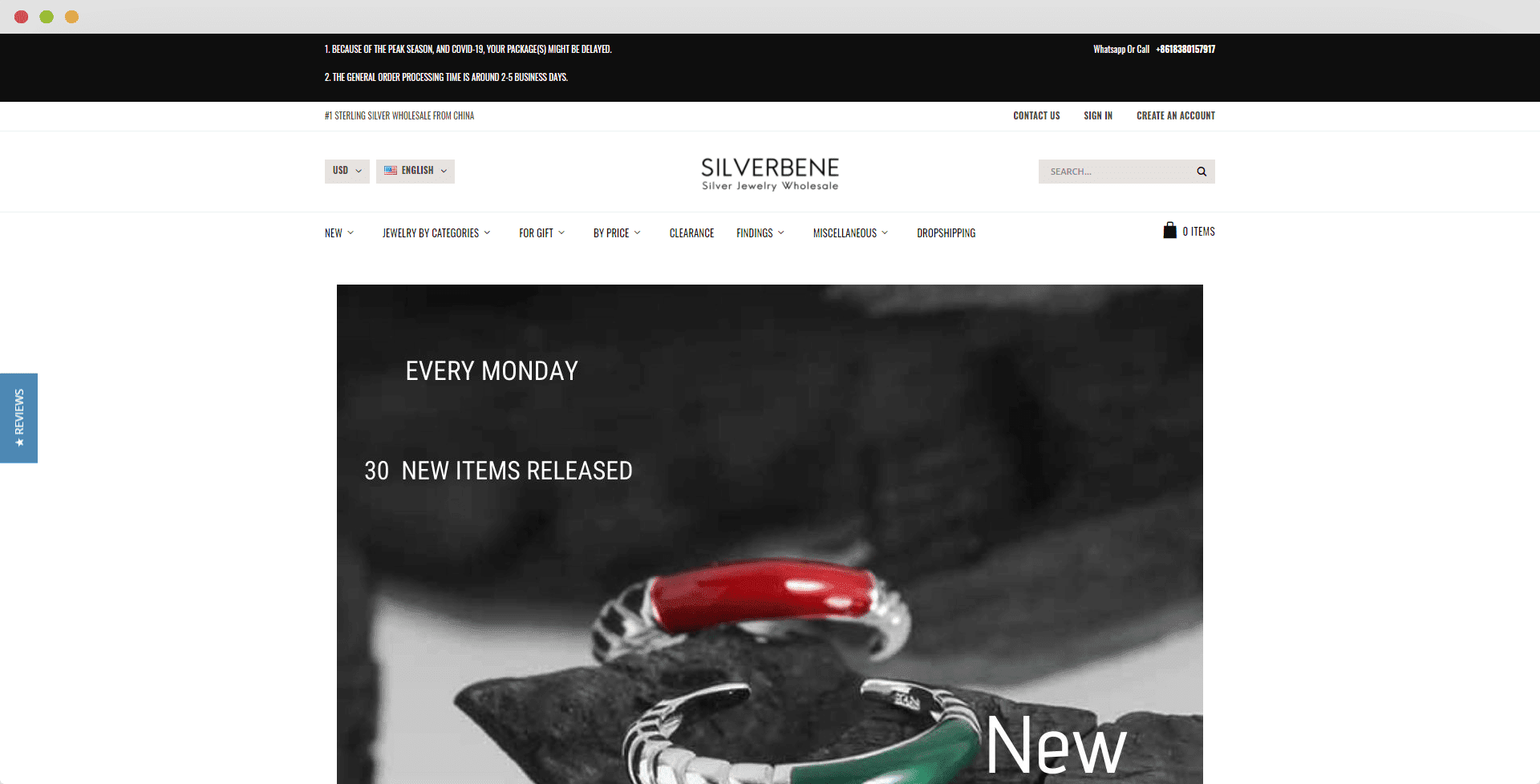 The dropshipping program at Silverbene is free and has no MOQ restrictions. After you sign up and list its products on your dropshipping store the company can begin fulfilling your orders.
Silverbene fulfills local and international dropshipping orders through the following shipping services:
ePacket
USPS
Australia Post
La Poste
DHL
The choice of courier is determined by the client's location. Delivery times also vary between couriers.
Piercebody
Piercebody is a go-to manufacturer and supplier of cool edgy jewelry pieces for body piercings. Some of the jewelry you can dropship through this brand include:
Nose rings
Barbells
Nail stickers
Navel rings
Ear tunnels
These jewelry pieces are made of materials such as stainless steel, Bio-Flex, G23 Titanium, and silicone among others. They are all safe for contact with body piercings and can easily be cleaned. Add to that the color options and your customers will have all they need.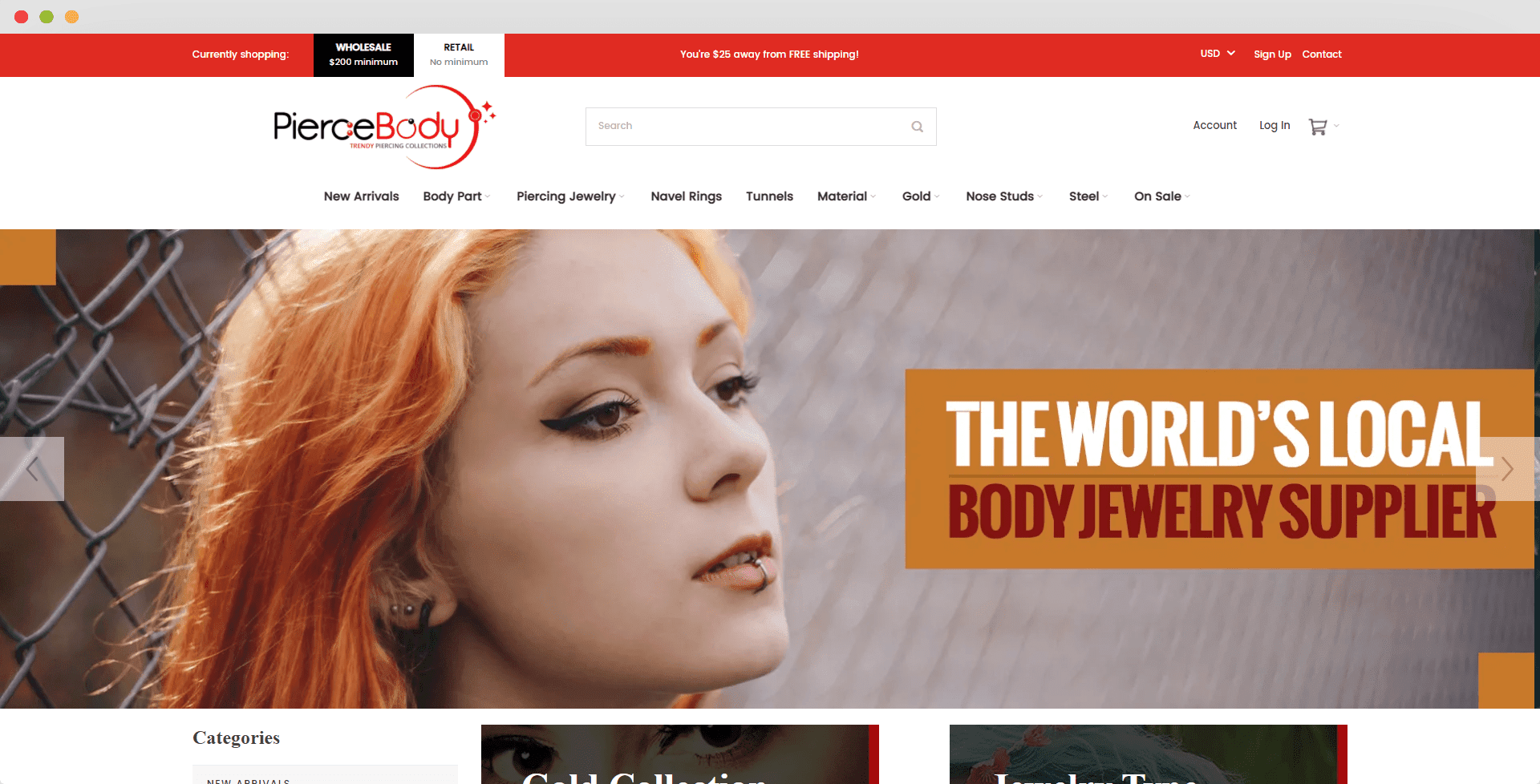 On dropshipping, Piercebody offers free sign-ups. There are no set minimum order quantities. However, for you to enjoy wholesale prices, your order quantities would have to meet the minimum wholesale threshold price of $200.
The Piercebody factory is based in Bangkok, Thailand, and has dispatch offices in Houston, TX, and Dorset, UK. It fulfills worldwide dropshipping jewelry orders from these locations depending on which of them is closer to your clients.
Shipping is billed based on the shipping service that is used and the destination.
oNecklace
oNecklace is a manufacturer and supplier of customized jewelry for both men and women. It offers name pendant necklaces, as well as personalized rings and bracelets. These would be a great addition if your dropshipping jewelry business is focused on gift shoppers.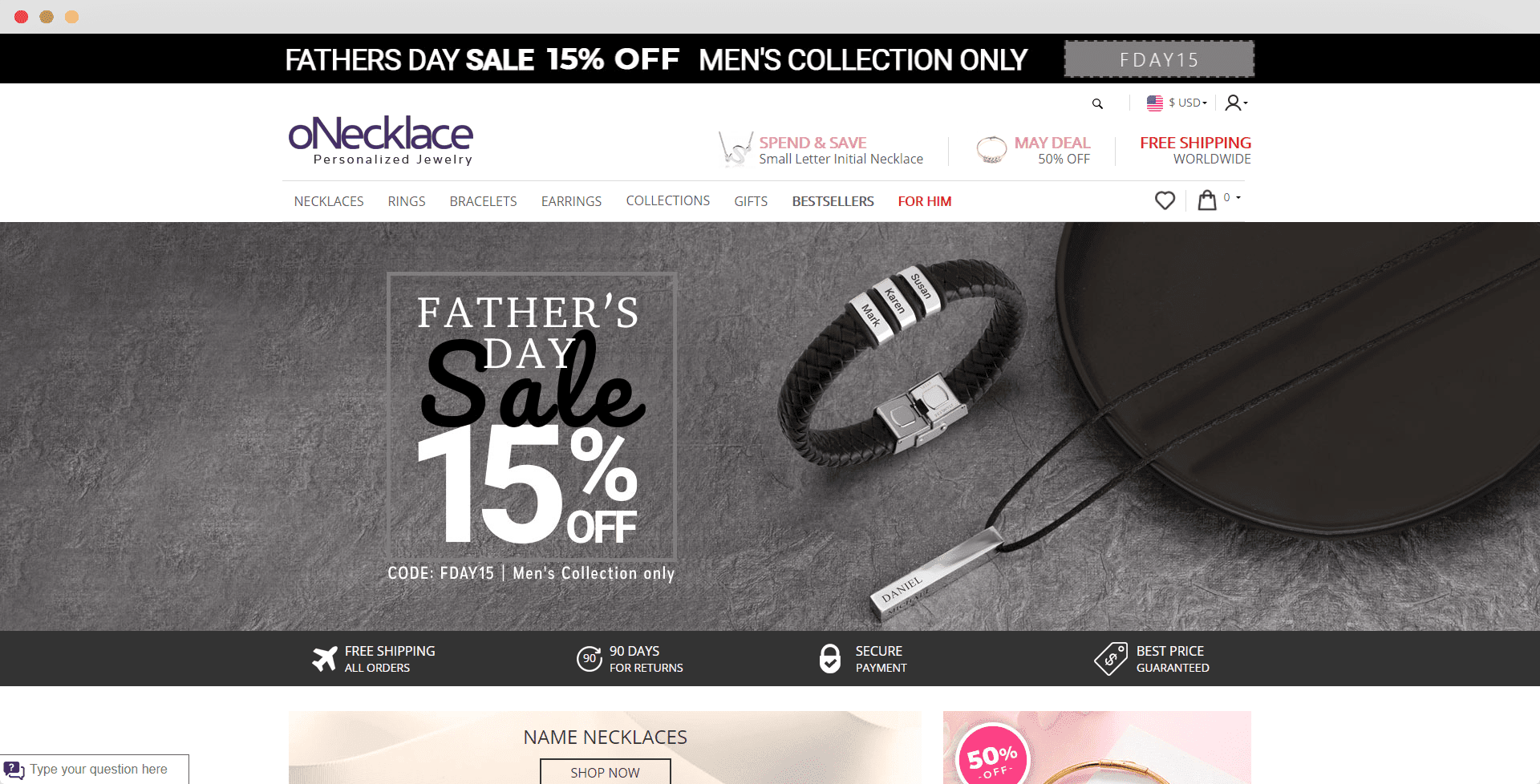 It is easy to miss the dropshipping program on the oNecklace platform as it is listed under the wholesale p. Nonetheless, it is a well-defined arrangement that offers you:
Great wholesale prices
No MOQs
Fulfillment of bulk orders with even better prices
Online support for any queries
oNecklace is keen on both jewelry quality and pleasant packaging. This is certainly a plus that could give your jewelry dropshipping store an edge over your competitors.
This dropshipping jewelry supplier is based in Israel but ships to Canada, the USA, Australia, the UK, and other parts of the world. Its main shipping couriers are FedEx and DHL but other services are also applicable based on location.
J Goodin
J Goodin would be a solid option if you would like to offer your customers quality affordable alternative jewelry. Quite the mouthful, isn't it?
In a nutshell, this company makes gold-plated, sterling silver, and cubic zirconia jewelry. Its pieces look just as good as real gold, silver, or diamond jewelry but are way more affordable and have a much better quality than cheap knock-offs.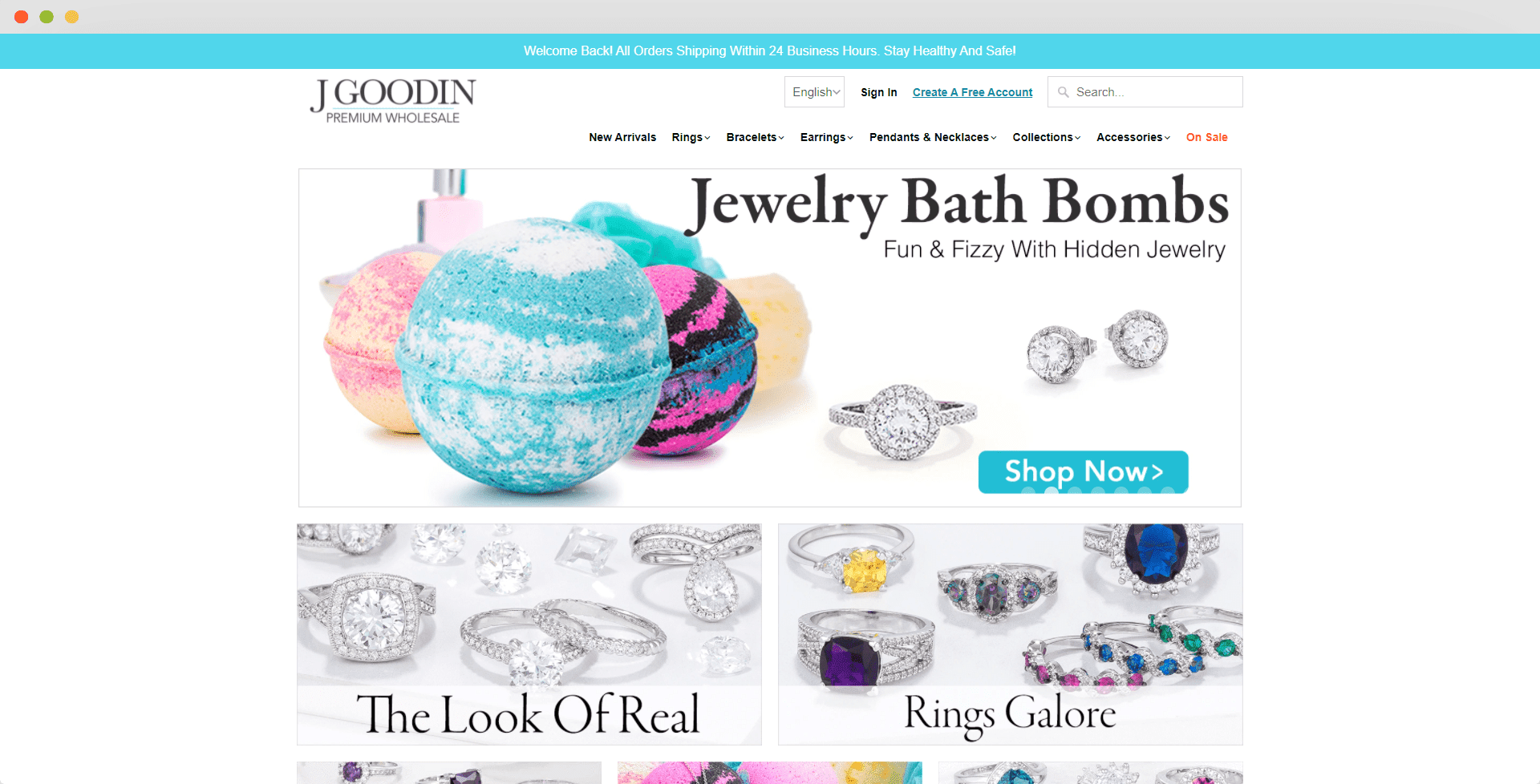 That said, here are a few important details to note before you partner with J Goodin as your dropshipping supplier.
The only acceptable method of payment is through credit cards
You will be charged a subscription fee every month
You can forward individual orders for fulfillment or fill in an end-of-day form with all the compiled orders
Orders are shipped within 2 business days
J Goodin offers local and international shipping
J Goodin has a Minimum Advertised Price (MAP) policy. This means you would have to advertise its jewelry at a set price but you can sell them at a price of your choice.
Alamode
Alamode is a supplier of fashion jewelry pieces. Its warehouse is based in California, USA.
The product listings are divided into jewelry categories for men and women. Besides the run of the mill necklaces, bracelets, and rings you will also find cufflinks and money clips. Animal designs and occasional jewelry are also available.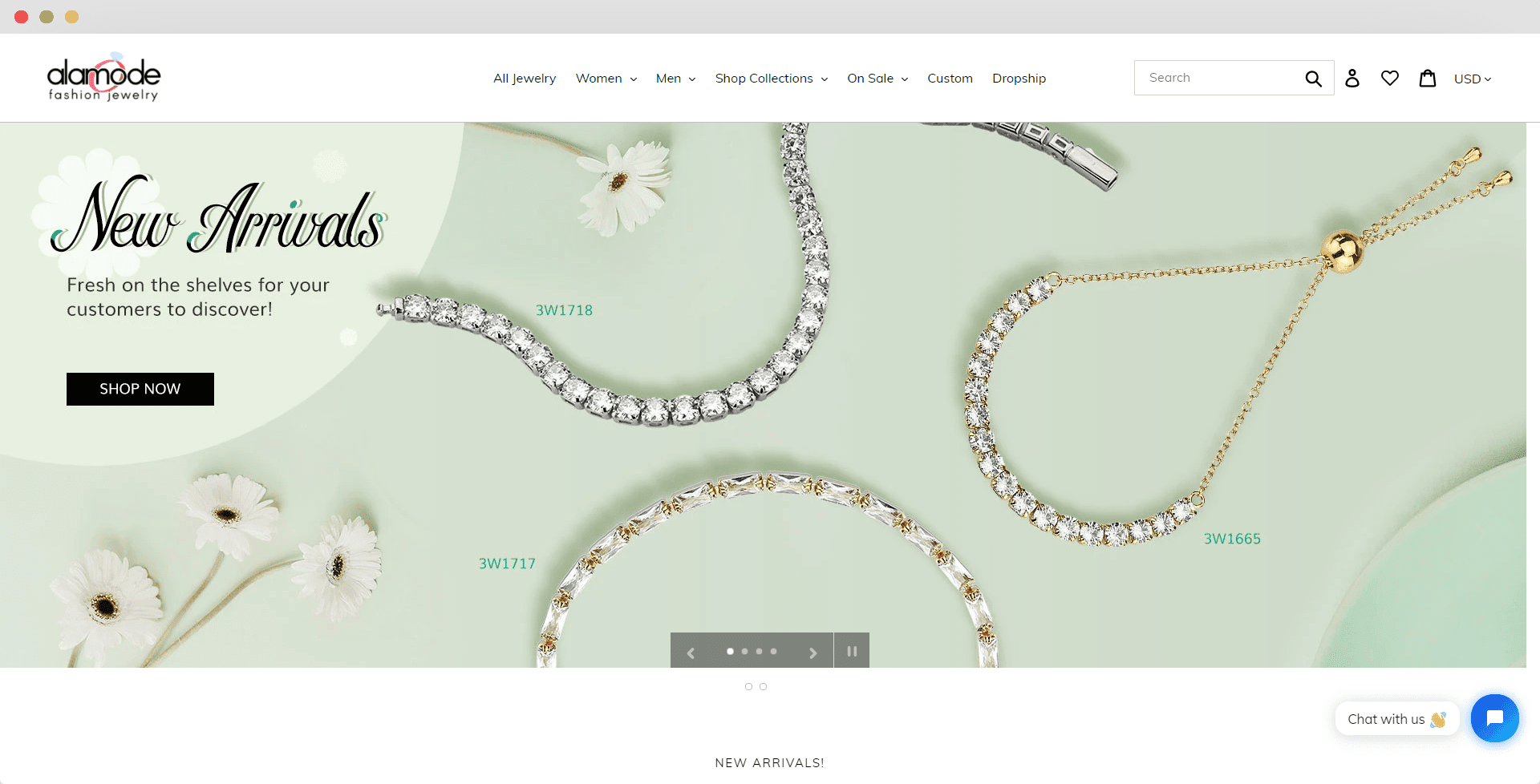 To dropship fashion jewelry from Alamode, you would need to list its products on your online store. When the orders start coming in:
Add the product your client has ordered to your cart
State your client's address as the 'ship to' address
You will not be charged any handling fees but will have to do this for each order
For about $9 you can access white labeling services. This means that your clients would receive well-packaged fashion jewelry with your store's logo on it.
Ancient Wisdom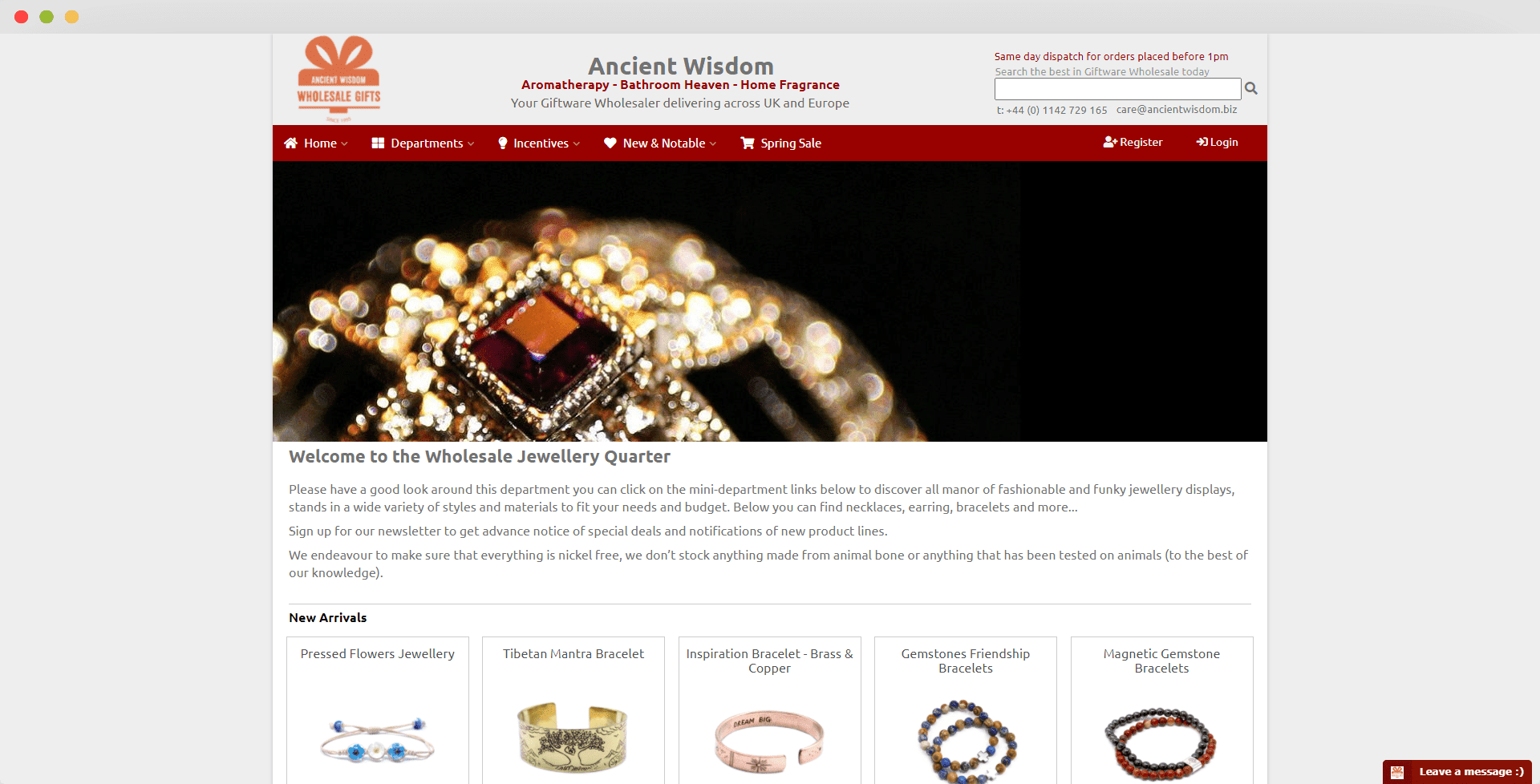 The Ancient Wisdom jewelry department provides a unique list of products. Most of its jewelry pieces have a tribal feel to them and are made of materials such as:
Beads
Orgonite
Wood
Tassels
Lava stones
To partner with Ancient Wisdom Dropshipping, you would have to register an account. The company fulfills jewelry orders within and outside the United Kingdom through various couriers. Shipping costs are based on weight and grouped into location zones.
FAQs about Dropshipping Jewelry Suppliers
How Do I Differentiate between High and Low-Quality Jewelry Suppliers?
A direct approach would be to order jewelry from a potential supplier and evaluate its quality. If you are not willing to keep it, you can return it and claim a refund. It seems cumbersome but it would give you a chance to also evaluate the supplier's service.
Another thing to look out for is the materials used to make the jewelry. Read the product descriptions carefully and note the stated materials. Terms such as 'flash-plated gold' indicate low-quality jewelry that will fade within days.
How Do I Ensure That My Dropshipping Jewelry Supplier Dispatches the Right Sizes of Jewelry?
Most dropshipping jewelry supplier sites have size charts. As you import products or sync your listings to theirs, consider importing their size chart too. This also ensures that customers know what sizes the piece is available in and that they order accordingly.
Do Dropshipping Jewelry Suppliers Offer Authenticity Certificates?
Ideally, authentic jewelry that includes precious metals or stones should come with an authentication certificate. Buyers may feel duped if they do not receive one. It is advisable to consult your supplier about this as you sign up for their dropship program.
Final Thoughts
The truth is, buying jewelry is not a necessity but more of a vain pleasure. As such, your goal as a jewelry dropshipper is to offer dazzling pieces that your customers can not resist.
The first step towards this is finding a dropshipping jewelry supplier that:
Has a broad delivery network
Is reliable and affordable
Offers dropshipping services that can help your dropshipping business grow
At NicheDropshipping, we offer you all this and much more including comprehensive dropshipping services. Contact us to learn more about how our services can take your jewelry dropshipping store to the next level.