We all know about AliExpress, but a new online marketplace has taken the world by storm.
You guessed it right, Temu is apparently the next big thing in the eCommerce industry.
But what's the secret behind its popularity and how does it fare against AliExpress?
That's exactly what we will find out in this Temu vs. AliExpress article.
So sit back as we compare the differences between the two platforms, and where they outshine one another.
Let's get started!
Overview of Temu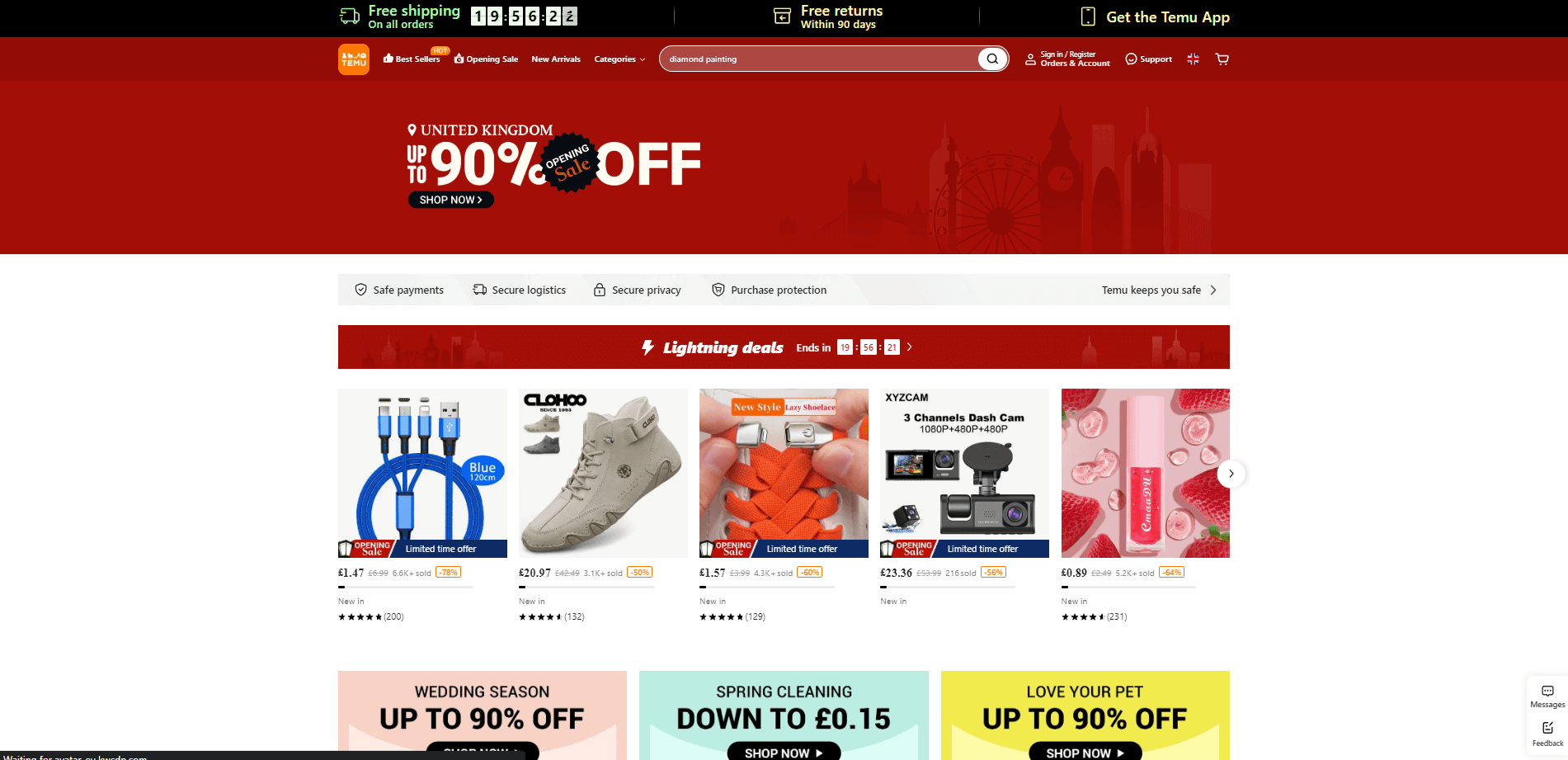 Temu is an offshoot of Pinduoduo, a Chinese eCommerce marketplace owned by PDD Holdings.
Temu is headquartered in the US, but most of its sellers are Chinese, so you'd often find it being referred to as a Chinese marketplace.
It offers a broad range of products, mostly coming from the home décor, fashion, electronics, and clothing categories.
Temu is only a year old and very popular due to its phenomenal marketing strategies and exceptionally low prices.
Nearly all social media platforms have been seen promoting Temu, particularly to the US audience.
As for Temu's prices, they're highly competitive. You can even get some items for free by making other people register!
Due to these two main factors, Temu's growth has skyrocketed and it's gaining rapidly on big names in the eCommerce scene.
In summary, Temu is best known for:
Offering competitive rates
Ease of access and use
Daily life products
Overview of AliExpress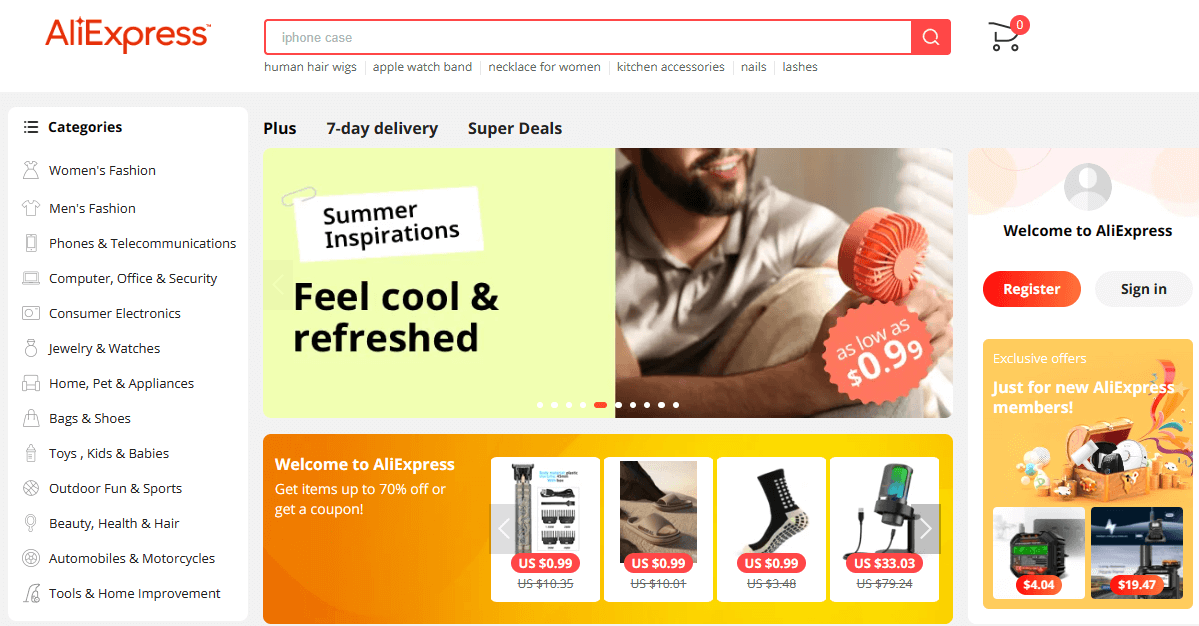 AliExpress is another online marketplace that originated in China back in 2010. It is owned by Alibaba.
AliExpress is best known for connecting buyers and sellers. It allows businesses to conduct trade on a worldwide scale.
Originally commenced as a B2B platform, AliExpress incorporated B2C and C2C transactions under its umbrella.
It is also one of the most widely preferred platforms to source products from as a reseller.
AliExpress has consumers, wholesalers, retailers, and manufacturers selling on it, making it a platform that welcomes all.
Currently, AliExpress has millions of daily visitors responsible for billions of dollars of eCommerce transactions.
To put it straight, AliExpress has a reputation for:
Being a worldwide marketplace
Connecting buyers and sellers
Supplying products to resellers/dropshippers
Temu vs. AliExpress: Comparison by Features
Temu and AliExpress both offer a wide range of features that make them distinct. Below, we'll be comparing them from every angle and declaring the winner at the end.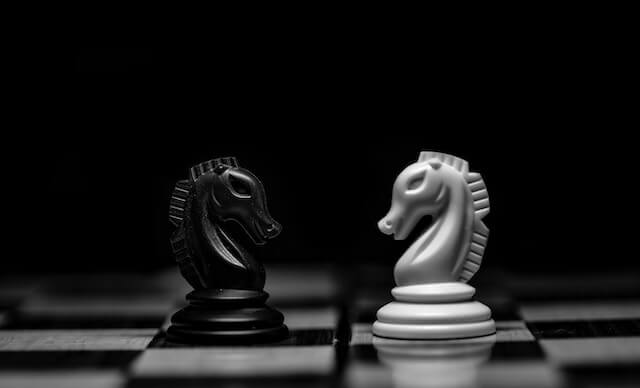 Website/Application
AliExpress offers a user-friendly website and application to its users. The app has a 4.5 rating and 500M+ downloads.
Their website, in particular, is quite easy-to-navigate. However, it lacks a visually pleasing interface.
There isn't much design in it and listings seem quite basic. Though they do mention the number of sales a product has and its rating, which is appreciated.
And fortunately, it's easy to find products on AliExpress due to its various sorting features.
But overall, the AliExpress app seems better than the website in terms of interface. It even offers an image search feature.
Coming to Temu now, the website is better in terms of both navigation and aesthetics. It has a 4.6 rating with 10M+ downloads on the Play Store.
The first time you visit, you might face a spin-the-wheel pop-up. Although it's legit, Temu needs to work on the graphics since it almost looks like a suspicious ad.
In terms of displaying and sorting products, Temu is quite similar to AliExpress. Temu's website does not have an image search feature either.
But a smooth little detail is if you hover your cursor over a listing, a Quick Look button appears.
Clicking on it opens a small window for you to get a quick analysis of the product without leaving the main page of Temu.
As for Temu's app, it is lightweight, making it fast. It offers an image search feature as well.
During our testing, we found the Temu app to be better than the AliExpress app in terms of overall use and navigation.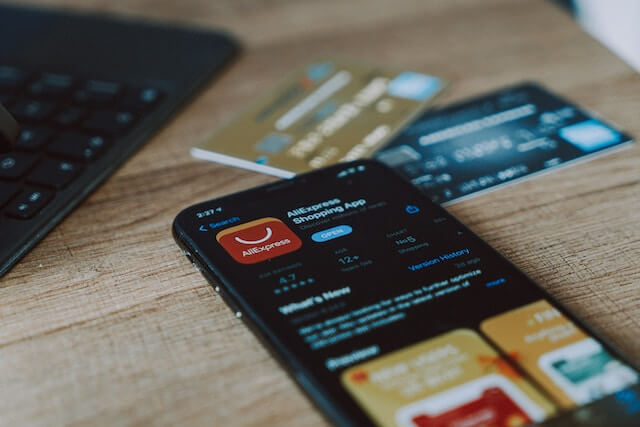 Product Quality
Quality is key when it comes to product sourcing. The quality of AliExpress' products heavily depends on the seller.
The platform hosts both wholesalers and retailers offering goods mainly manufactured in China.
Though most of the products are reported to be of good quality, you can end up with a bad product too.
At the end of the day, it mainly depends on who you're buying your stuff from.
Now, Temu's product quality is average. Most of the products on Temu are B-grade but they're pretty cheap.
At times, it's difficult to determine the product's legitimacy since sometimes, Temu does not have product reviews.
This is because the platform is relatively new and has yet to get product reviews. In such a case, you have no choice but to take a leap of faith.
Regardless, Temu's products overall are nothing too special. Like AliExpress, most of them are sourced from China except, the quality is usually subpar.
The competition is tough from the product quality aspect, but it appears AliExpress takes the win here.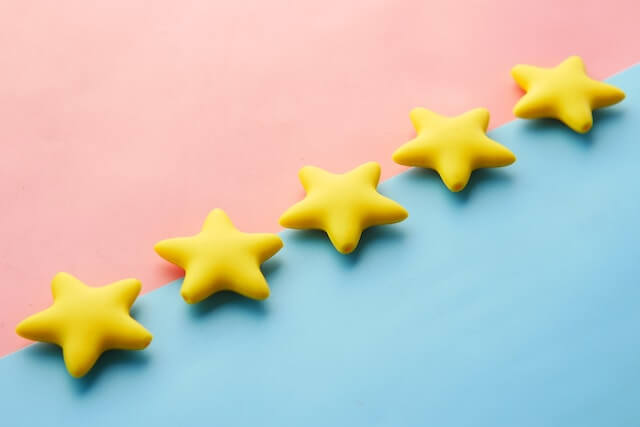 Product Range
AliExpress is home to over 100 million products from a diverse range of niches.
Some of the product categories you'll find on AliExpress are home improvement tools, beauty products, apparel, toys, jewelry, electronics, and more.
Temu, on the other hand, has a similar product range. It offers the same variety you'd find on AliExpress.
However, there won't be as many products of a specific category on Temu as on AliExpress.
This is because Temu is still new and has not reached the 100 million product mark yet.
To put it straight, both platforms offer the same categories but AliExpress takes the win on product range and diversity.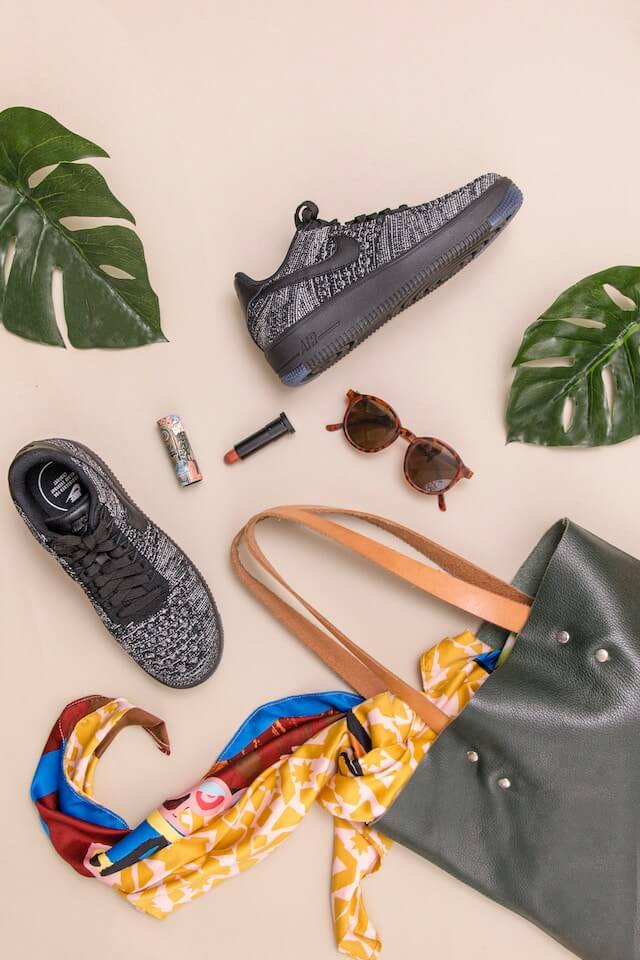 Shipping
When it comes to shipping, AliExpress offers two ways: Standard and Premium shipping.
The former takes about 15-45 working days, whereas the latter takes 7-15 working days.
Moreover, standard shipping is free and uses slow mediums of transport. Premium shipping is quite the opposite.
Although AliExpress does offer its users a tracking method, it's almost never updated on time.
Sellers have very little control over shipping times and methods since the buyer is the one who gets to choose the medium and mode of shipping.
Temu offers two similar shipping methods, Standard and Express shipping.
Standard shipping is free and takes 7-15 days, while Express shipping costs you about $13 if your order value is below $130 and usually takes 5-10 days.
Much like AliExpress, Temu's shipping is also tracked and is relatively better at showing the real-time status of the parcel.
The best part is that Temu even offers a $5 shipping credit if the delivery takes longer than estimated.
Both Temu and AliExpress have similar shipping methods, but Temu is relatively faster and better at it.
Though it can make its shipping timeline shorter, for now, Temu is the victor here.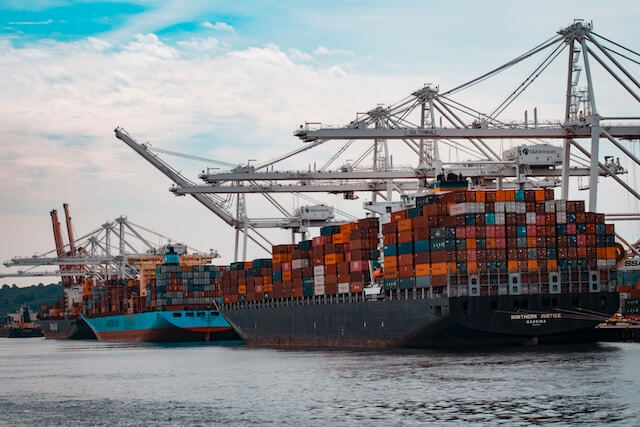 Pricing
Product pricing is a key factor for both AliExpress and Temu.
AliExpress has a plethora of sellers, which is why the rates of products are market competitive.
If you dig deep, you can find little-known Chinese manufacturers offering products at meager prices.
Finding such sellers takes time, but the point is that the pricing spectrum on AliExpress is quite broad.
You'll find resellers too on AliExpress charging too much for a moderate-quality product.
As for Temu, the platform is well-known for its incredibly low prices.
Temu's pricing is simply unparalleled in the eCommerce scene right now.
The marketplace is known to offer the best price, and sometimes the products are even free!
Top that off with regular discounts, sales, and promotions, nobody stands a chance against Temu.
Several factors contribute to this pricing strategy, some of which include Temu's low margins, connections with a range of suppliers, and heavy investment from PDD Holdings.
So Temu takes the win over AliExpress by offering the best price.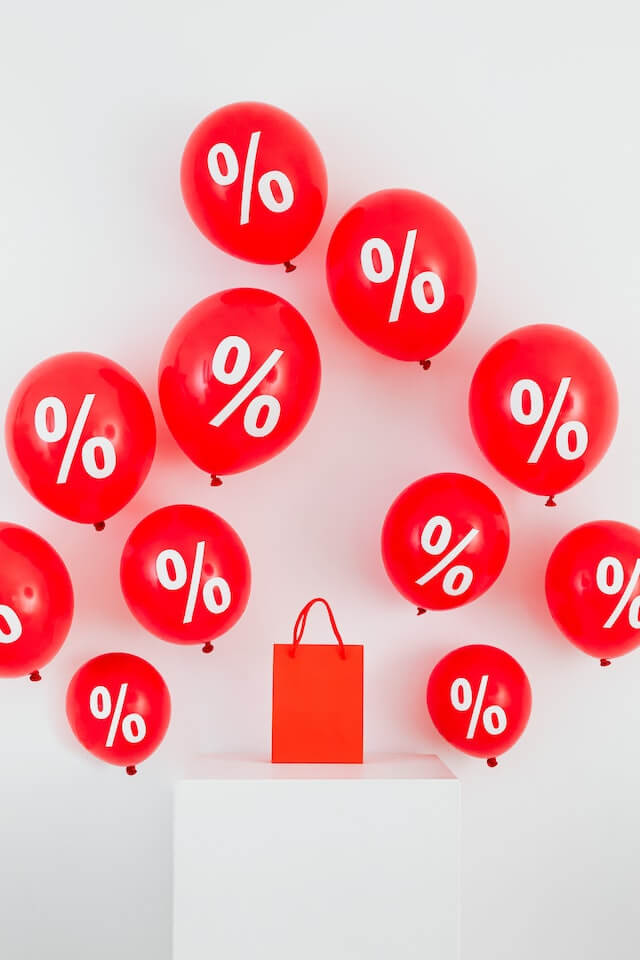 Returns and Refunds
When it comes to purchase protection policies, AliExpress incorporates a variety of strict rules for sellers to adhere to.
As for its refund policy, AliExpress allows its buyers to initiate a refund within 15 days of receiving the package.
Obviously, for the buyer to be fully compensated, the product must be in neat and unused condition.
Temu offers a way better refund policy to its buyers. It accepts returns even after 90 days of delivery.
Buyers can check the product thoroughly and return it if it isn't up to their expectations.
Other policies of Temu include its end-to-end buyer protection.
The platform takes full responsibility for the parcel from when it's dispatched to when it's delivered.
Both AliExpress and Temu have similar policies for returns, but Temu's seems better due to the 90-day window.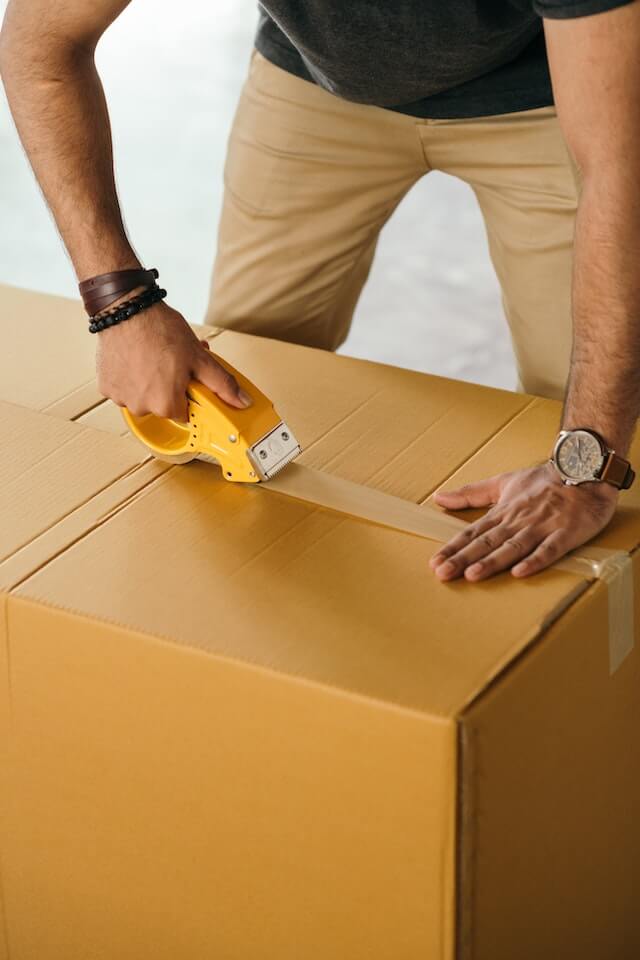 | | | | |
| --- | --- | --- | --- |
| Feature | AliExpress | Temu | Winner |
| Website/App | Quite basic with some helpful sorting features. 4.5 stars with 500M+ downloads. | Light and fast with a visually pleasing interface. 4.2 stars with 10M+ downloads. | Temu |
| Product Quality | Offers top-notch, average, and low-quality products. | Offers mainly average and sometimes low-quality products. | AliExpress |
| Product Range | Has 100M+ products covering every possible niche. | Has a broad variety of products covering almost every category. | AliExpress |
| Shipping | Shipping can take 15-45 days. Tracking of shipments is poor. | Shipping can take 5-15 days. Tracking of shipments is good. | Temu |
| Pricing | Covers products from all price ranges, the higher you pay the better you get. | Hosts products with the best possible rates in the market. Worth the price most of the time. | Temu |
| Returns | Reasonable return policy (15 days) with purchase protection. | Excellent return policy (90 days) with buyer protection. | Temu |
Temu vs AliExpress: The Verdict
AliExpress is a veteran in the eCommerce industry, but it seems Temu is proving to be a worthy competitor.
Of course, regarding usage, it comes nowhere close to the eCommerce giant – but don't forget that Temu was launched just recently.
And the purpose of this comparison was to look at the primary factors that make up an online marketplace.
From the looks of it, Temu held its own against AliExpress and showed a ton of potential by taking the win.
If it continues to grow at this pace, it's possible that it might actually be an active competitor of AliExpress in the future.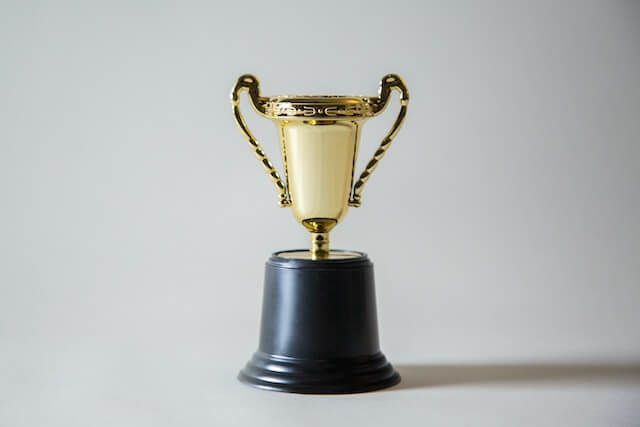 FAQs about Temu vs AliExpress
Is Temu Better than AliExpress?
Temu seems better than AliExpress in multiple aspects such as pricing, shipping, and accessibility.
With its super-low prices, faster shipping, and user-friendly app, Temu is now overtaking the AliExpress app in American regions.
It is assumed that Temu has many chances to become the go-to shopping app for the average American consumer.
Is It Safe to Shop on Temu?
It is entirely safe to shop on Temu. The platform is known to protect its user's data and offers a secure online shopping method.
However, doing your research before ordering a product would be best. Make sure to go through the reviews and ratings for a smooth experience with Temu.
Is AliExpress Good for Dropshipping?
AliExpress is considered to be one of the best platforms for dropshipping.
There are plenty of winning products on AliExpress that you can source cheaply.
Temu doesn't come anywhere close and in fact, we don't even recommend it for dropshipping due to its packaging restrictions.
Final Thoughts
Temu is quick to climb the ladder of success and it's already being compared to eCommerce giants like AliExpress.
That says a lot about the popularity of the marketplace. If it continues to grow at the same pace, it might not be long before it climbs to the top of the mountain.
But for now, if we strictly talk about dropshipping then Temu isn't even in the conversation.
AliExpress is the preferred choice for most sellers, unless they can get a better deal from other suppliers.
And that's exactly where NicheDropshipping can help. With our extensive supply chain network, we can help you source quality products at the most affordable prices.
All you have to do is submit a sourcing request so we can accelerate your journey toward success.