The benefits of yoga are transformative. It has been proven to help with pain relief, mental wellness, and boosting one's overall health. It is no wonder that so many people now practice it.
This ancient practice, however, requires special gear and accessories for comfort and support during sessions. Unfortunately, for most people, such equipment can be difficult or too expensive to access from exclusive outlets.
In this article, we evaluate top-rated yoga dropshipping suppliers that you can partner with to fill the supply gap in the market.
Let's get into it, shall we?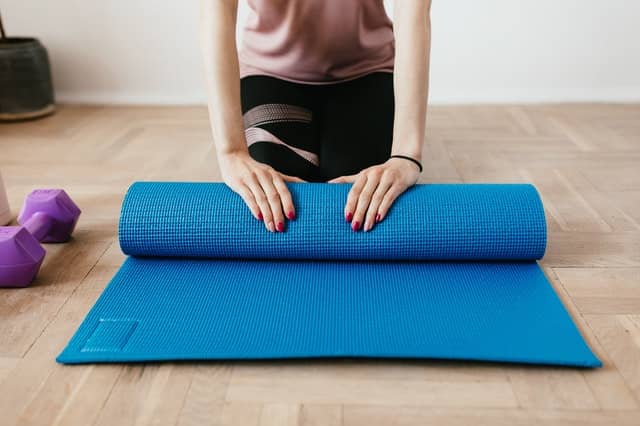 Sunbear Sport
Sunbear Sport is a yoga products manufacturer and supplier based in China. The company offers:
Yoga mats
Resistance bands
Yoga blocks
Yoga wheels
Yoga attire
You will have a variety of yoga product designs to choose from but you could also order custom items. This would, therefore, be an ideal supplier if you intend to venture into private labeling in the future.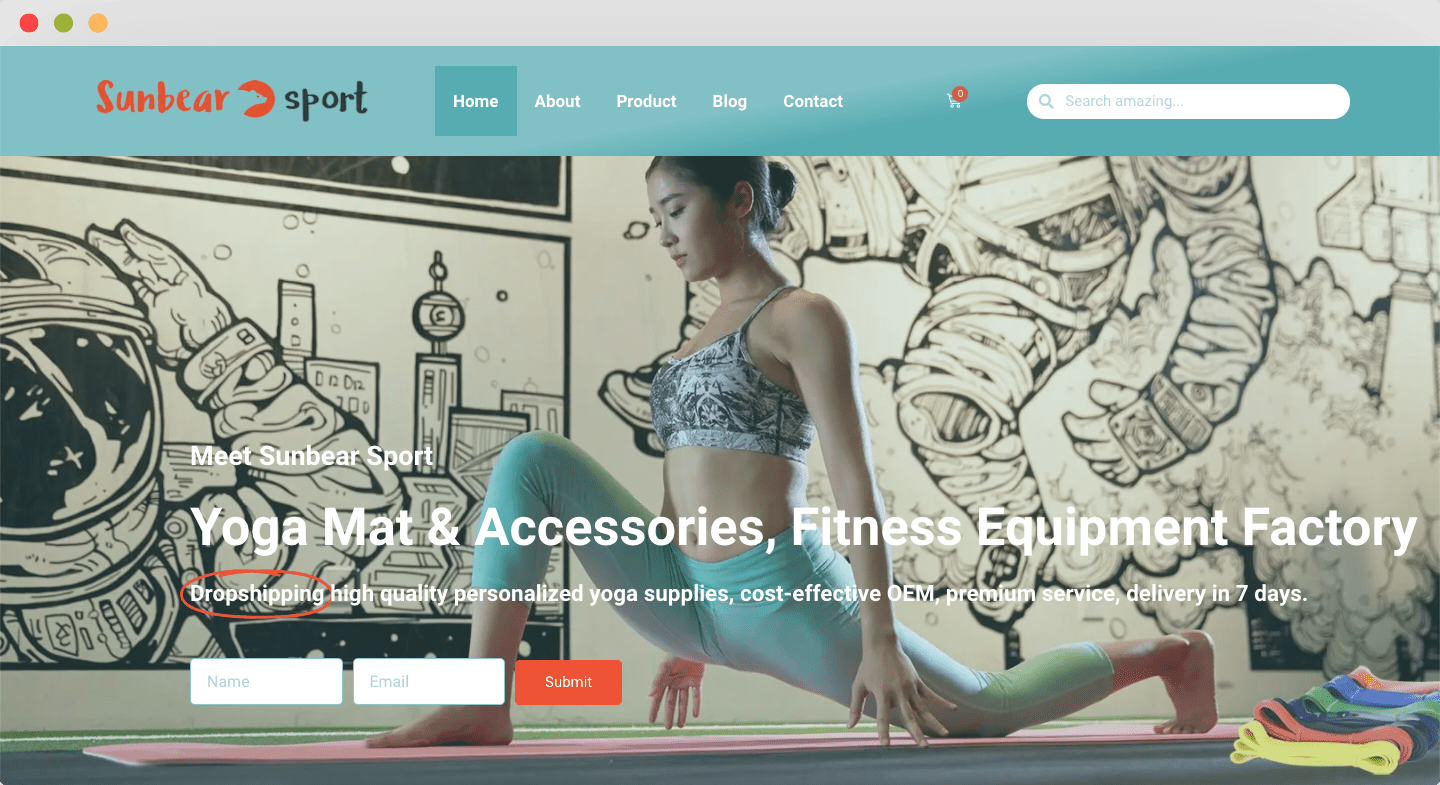 Sunbear Sport offers both single-order and wholesale dropshipping. There are no complex sign-up procedures and the firm promises quick delivery and top-notch quality control.
For custom orders, you can share your own artwork or request guidance from the company's art department. You will be provided with a sample within 1-2 days and production will begin after your approval.
Pravacana Mats
Pravacana Mats is based in North Carolina, USA. The company prides itself on manufacturing unique yoga mats with outstanding prints and beautiful designs. All Pravacana mats are made of eco-friendly materials.
In addition to mats, Pravacana offers yoga blocks, yoga tees, healing beads, yoga socks, and lots more.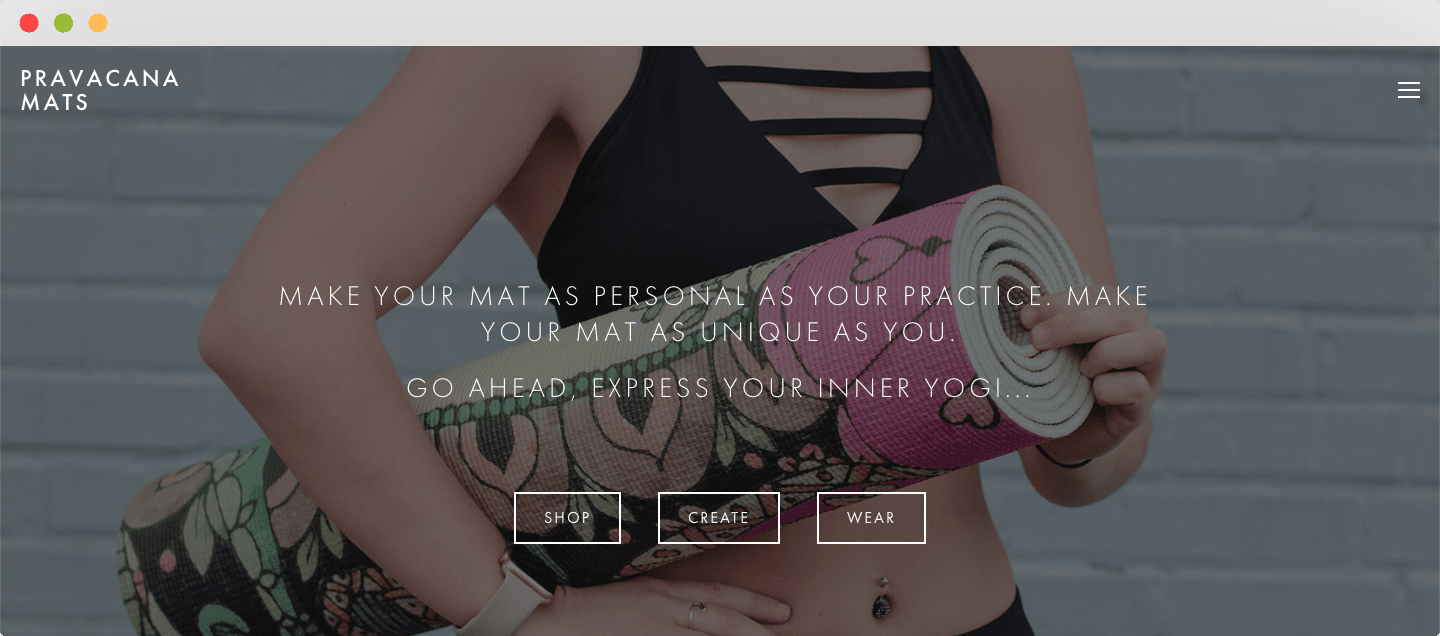 If you partner with this supplier, you can choose to list their product catalog or opt to create custom items. They also offer cool fun deals such as mats that match yoga wear items.
The dropshipping program is not well-established but the company does offer the service. You would need to set up a vendor account and reach out to the company requesting a dropshipping arrangement.
Each order has to be within the minimum order requirement set by Pravacana Mats. On the upside, the MOQ is low and the company offers very competitive prices with price matching.
Jade Yoga
If you prefer a yoga products supplier that is eco-conscious, Jade Yoga would be a great candidate to consider. Its yoga mats are made from natural renewable rubber trees. They do not contain plastics or any toxic materials.
Further, Jade Yoga has diversified its product catalog to include a yoga mat wash liquid, yoga block, and yoga rugs. All these products also adhere to the same eco-friendly production standards as the Jade Yoga mats.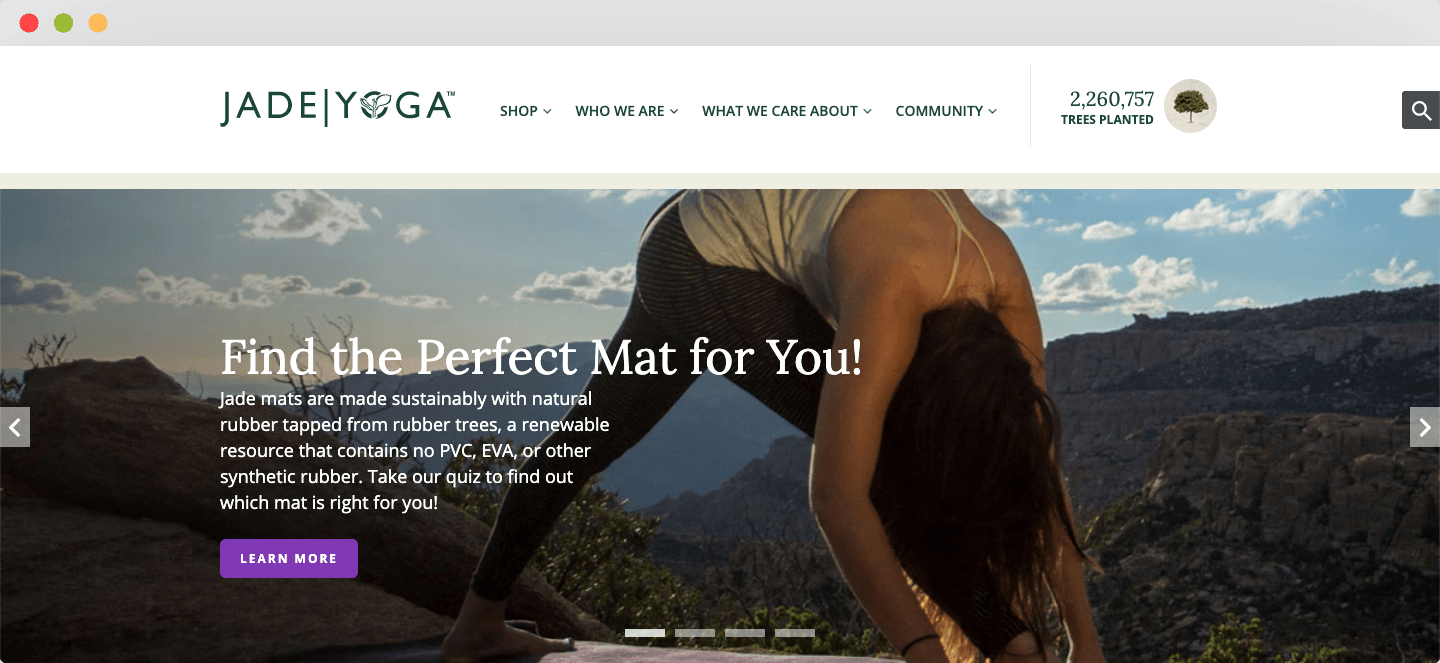 To sign up as a Jade Yoga reseller/dropshipper, you will need to set up a retail or wholesale account. This will depend on the size of dropshipping orders that you anticipate.
Thereafter, you can become a Jade Yoga reseller. However, only products sold through authorized Jade Yoga resellers are covered by warranty. As such, if possible, it is advisable that you request authorization.
Jade Yoga has an impressively wide network of worldwide distributors and also ships locally in the USA and internationally. You can, therefore, count on the company for worldwide fulfillment.
Gravotonics
Gravotonics covers a unique yoga niche. This Indonesian company specializes in yoga swings that are ideal for both home and studio use. They are recommended for:
Stress and body tension relief
Building body strength
Improving flexibility and body posture
Deepening one's yoga practice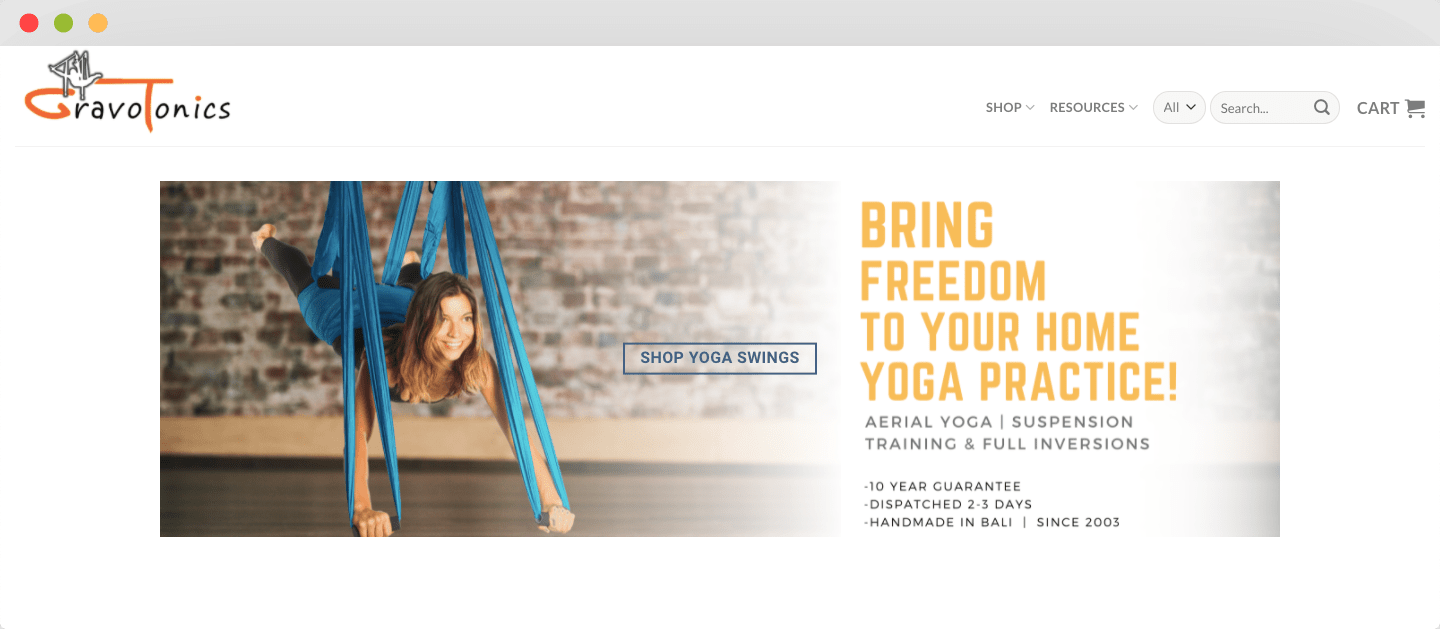 Gravotonics offers dropshipping services under their wholesalers' program. You, however, would not have to make bulk orders; even single swings are permissible. Nevertheless, you would get a 20% discount if you order more than 4 swings.
To establish a dropshipping partnership, you would have to create an account and contact the company directly. If you meet the requirements, you can begin sharing orders with them for fulfillment.
Gravotonics offers local and international fulfillment as far as the UK and Spain. It uses trackable courier services such as FedEx and DHL depending on the destination.
Beyond Yoga
Beyond Yoga is a top-rated supplier of yoga wear. Its products have received high praise from Vogue and countless users. They are lauded for their comfort and a range of sizes that fit just right.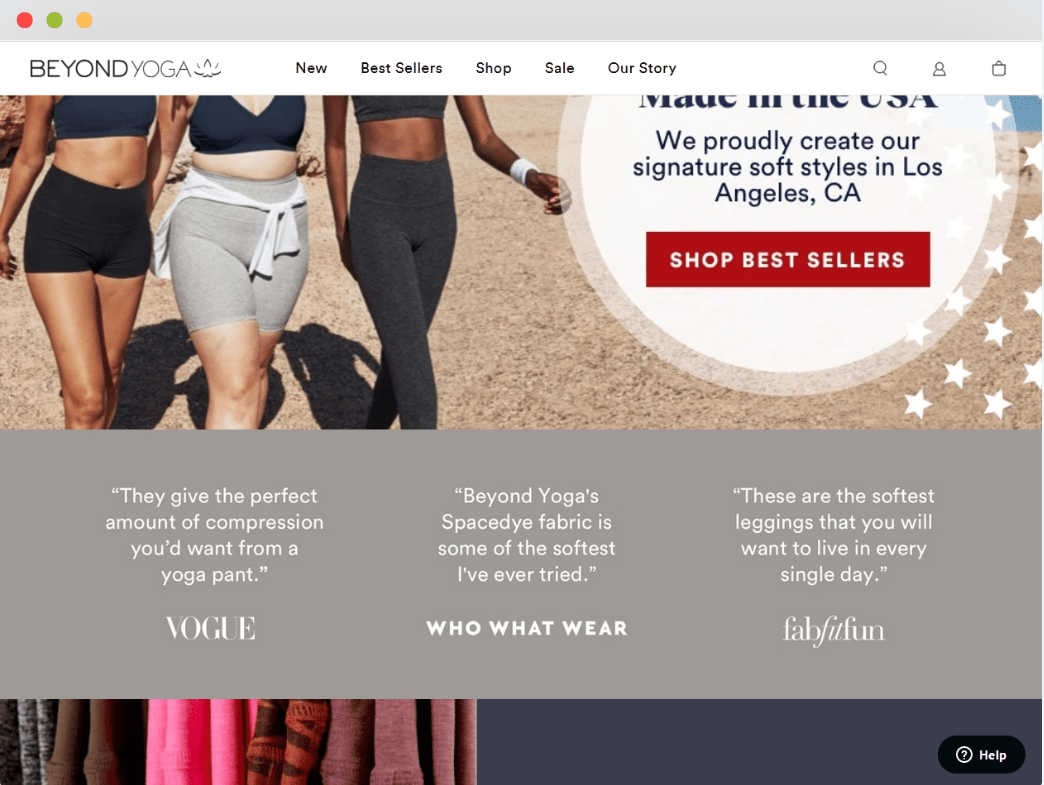 The range of products from Beyond Yoga includes:
Yoga leggings
Crop tank tops
Yoga maternity wear
This supplier welcomes dropshipping partnerships. However, you will need to fill an application providing details about your online store. Your application will be reviewed and approved if you meet the company's standards.
On shipping, Beyond Yoga fulfills orders in the USA including Puerto Rico, Hawaii, and Alaska. If you would like to handle international orders, that too can be arranged via third-party shipping companies.
FashionTIY
FashionTIY is a wholesale dropshipping supplier of clothing and other fashion items. It stocks a diverse collection of the latest yoga wear including T-shirts, crop tops, and leggings. It would be a good supplier choice for a fashion-forward market.
As a dropshipper, you can sign up for an account and use it to place the orders you receive in your store. Remember to enter the customer's address as the delivery address and yours as the billing address.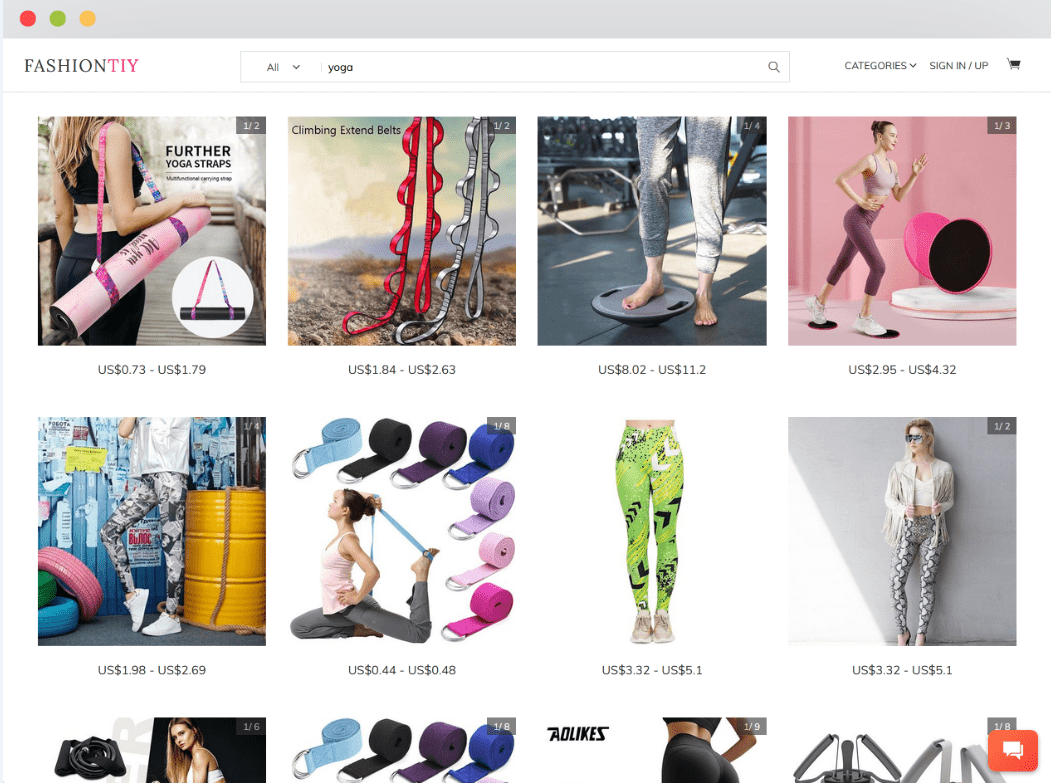 FashionTIY ships across the globe. You will receive confirmation and tracking details once your order is dispatched. For guaranteed blind dropshipping services and other advantages like discount coupons, consider signing up for a VIP membership account.
LovEarth Yoga Mats
As its name suggests, LovEarth Yoga Mats is an eco-conscious company. Located in Australia, this company cares for you and the environment by:
Receiving and upcycling your old yoga mat
Using 100% natural and eco-friendly materials for all its mats
Manufacturing 100% biodegradable yoga mats that can not end up as harmful waste
Besides yoga mats, as a LovEarth dropshipper, you could also offer your customers LovEarth bags.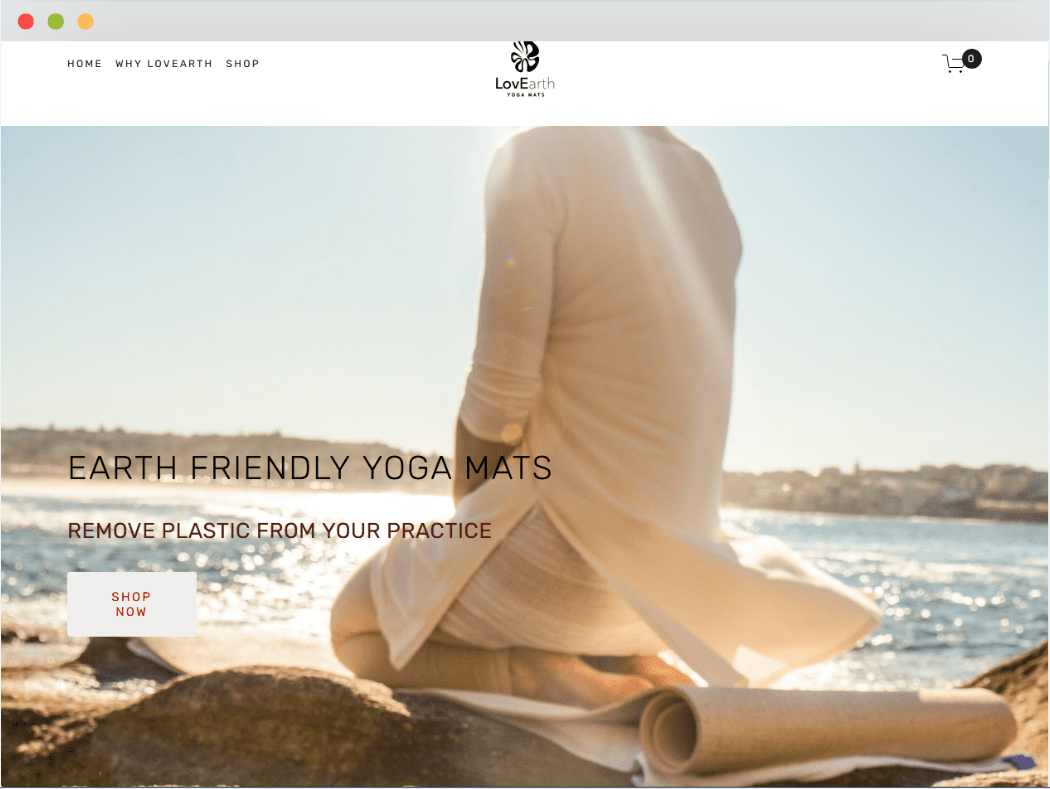 Speaking of dropshipping, LovEarth has a well-established program that you can join by filling in the dropshippers' form on their website. Once approved, you will receive special login credentials and free access to:
Product Images
Logos
A blurb/endorsement from LovEarth
All of this content will make it easy to list products in your store.
As you receive orders, you can log in to the LovEarth dropshippers' platform and process them. You will enjoy a 17% discount on every order.
Omni Gym
Omni Gym designs and manufactures yoga swings for aerial yoga.
Its signature products are designed in consultation with physical therapists and yoga experts. Some like the PRO Swings are ideal for indoors while others like the HEX Stands are suitable for outdoor installation.
Compared to other yoga swings, Omni Gym yoga swings are developed with an emphasis on healthcare (pain relief and physiotherapy) and wellness. Listing these products in your store could, therefore, attract a wider customer base.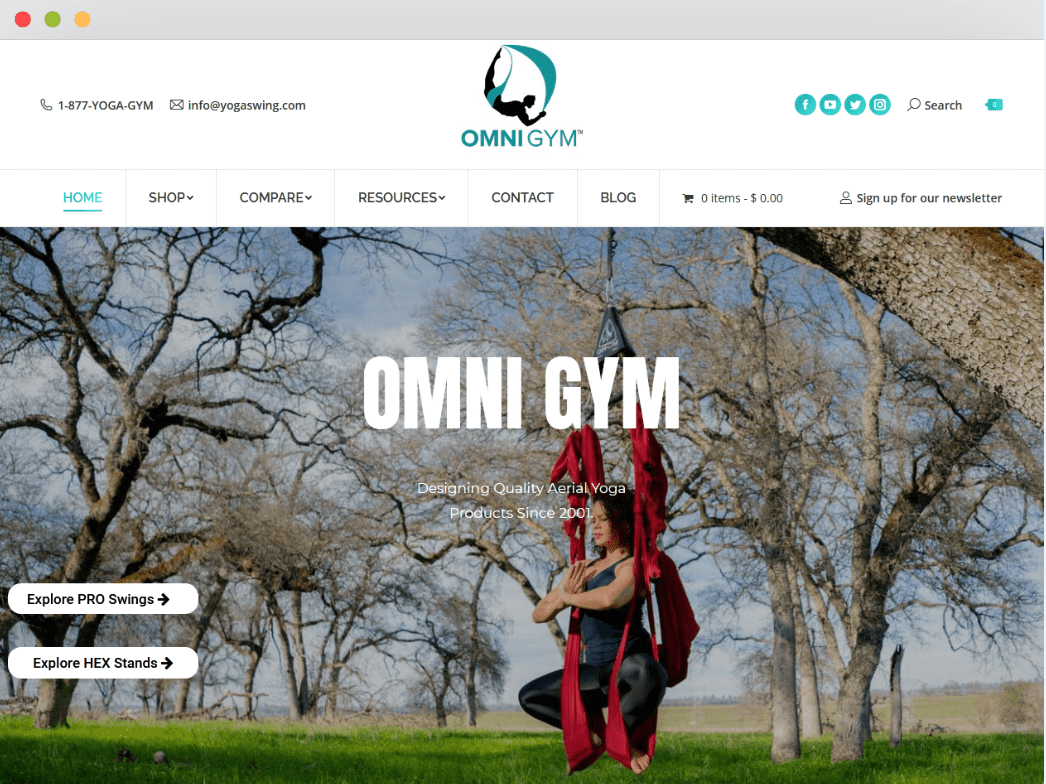 To join the Omni Gym dropshipping program, the company recommends calling or sending them an email inquiry. Once you agree on partnership terms, you may begin processing orders through them.
Omni Gym products and all their constituent parts are covered under a one-year warranty. The company ships within the USA and internationally as well. On the downside, order processing can take up to 10 days.
Barefoot Yoga
If you are hoping for eco-friendly non-slip yoga mats, Barefoot Yoga offers exactly that. It manufactures yoga practice straps, yoga bolsters, and yoga practice rugs too. Its OMgirl range is also a treasure trove of yoga wear.
Barefoot Yoga does not have a defined dropshipping program. It does, however, recommend that potential wholesalers/resellers/dropshippers contact them to make partnership arrangements.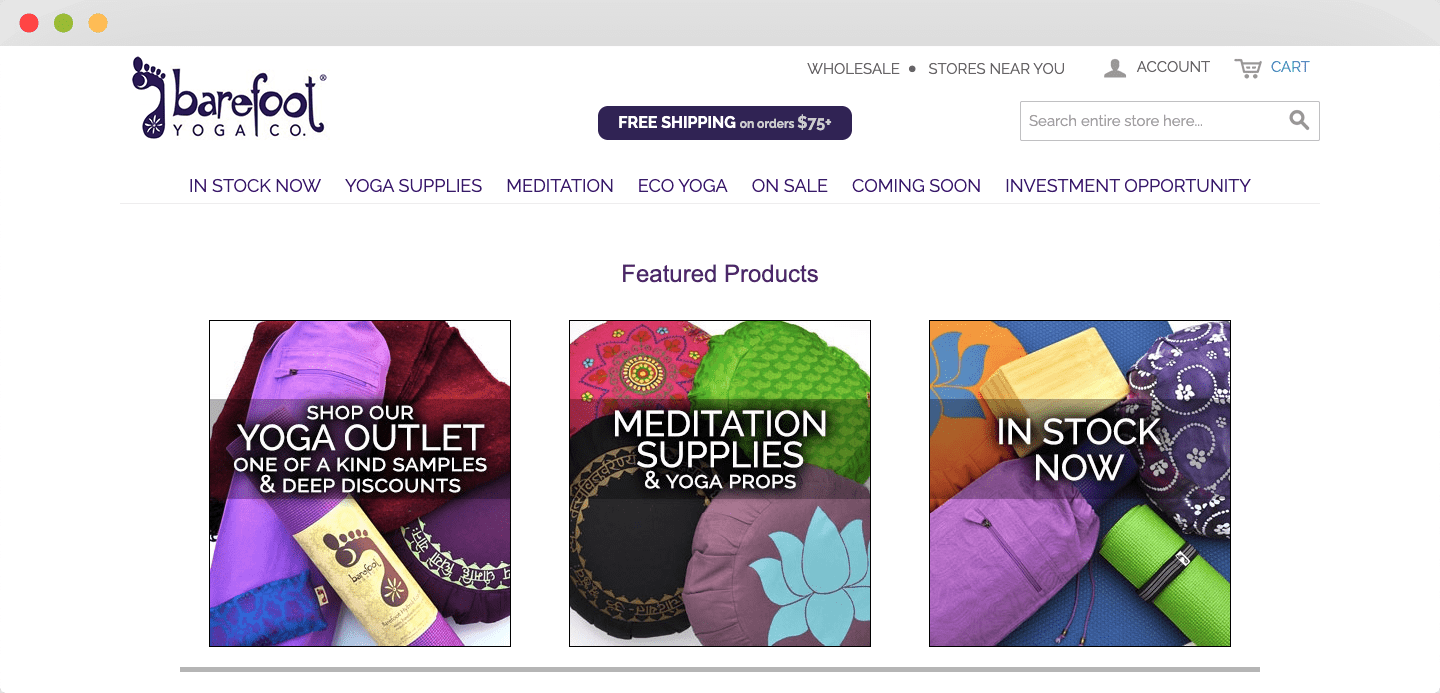 When processing orders, you will need to enter your customer's address as the delivery address. The Barefoot Yoga website has a Shipping Estimator that will help you approximate costs based on the package size and the destination.
Barefoot Yoga offers international and local USA shipping options. Local orders ship within 1 to 3 business days while overseas orders are dispatched within 6 to 10 days.
Wai Lana
Wai Lana yoga products encompass the entire scope of a yoga lifestyle. Whereas most suppliers focus on yoga props and attire, this company goes further to include:
Healthy yoga lifestyle chips
Yoga music CDs
Full yoga workout kits
Yoga workout kits for children
Yoga mats and yoga mat bags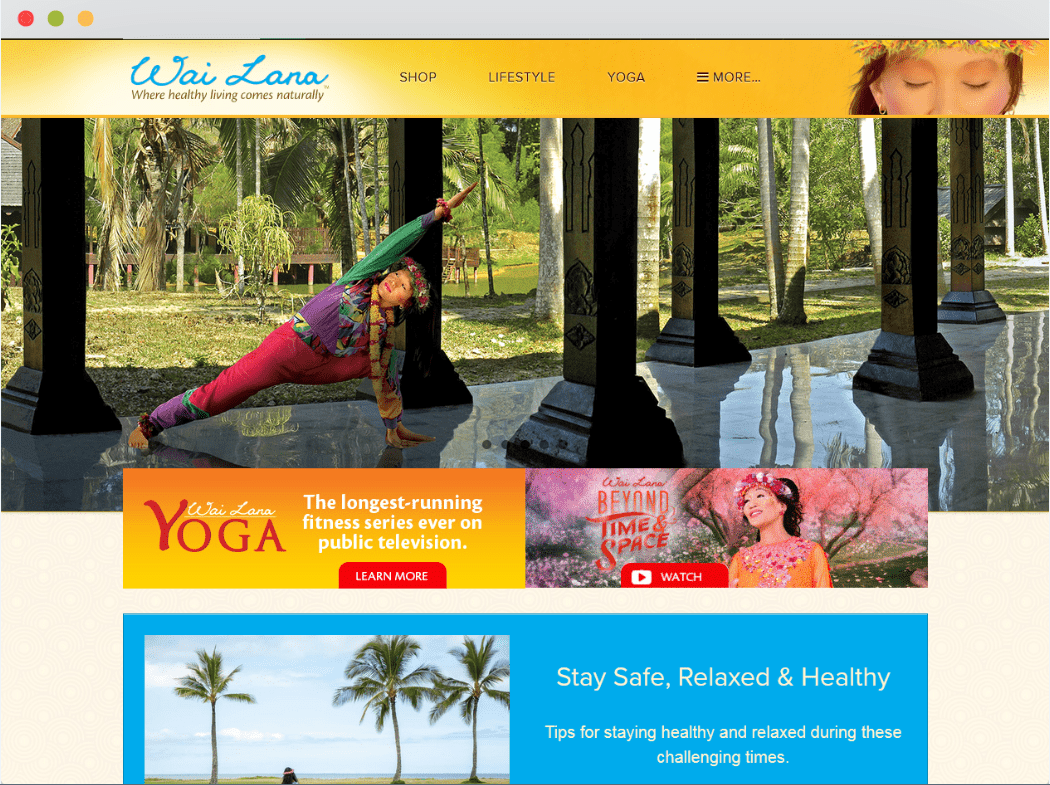 The main advantage of partnering with this firm is that its products allow you to cover a broader dropshipping niche. This could attract more clients and better sales.
Additionally, the Wai Lana dropshipping program is quite straightforward. It works as follows:
Set up a Wai Lana account
Await approval of your account
List Wai Lana products in your online dropshipping store
Receive orders
Email orders to Wai Lana
Each client's order is processed and shipped to them from the Wai Lana warehouse
Orders are processed in one business day. Wai Lana ships throughout the USA and to international destinations too. You will receive tracking details once your order is dispatched.
Gaiam
Gaiam has been in the yoga products industry for over 25 years. The company has refined its products over the years and expanded its catalog substantially. Some of its best sellers include:
Yoga ball balance chair
Oh Mesh Capri yoga pants
Yoga foam roller
Gaiam bolsters and Yoga Essentials block
The product listing on the Gaiam website makes it easy to find suitable yoga items for your eCommerce store. They are grouped into categories that make the wide variety less overwhelming to choose from.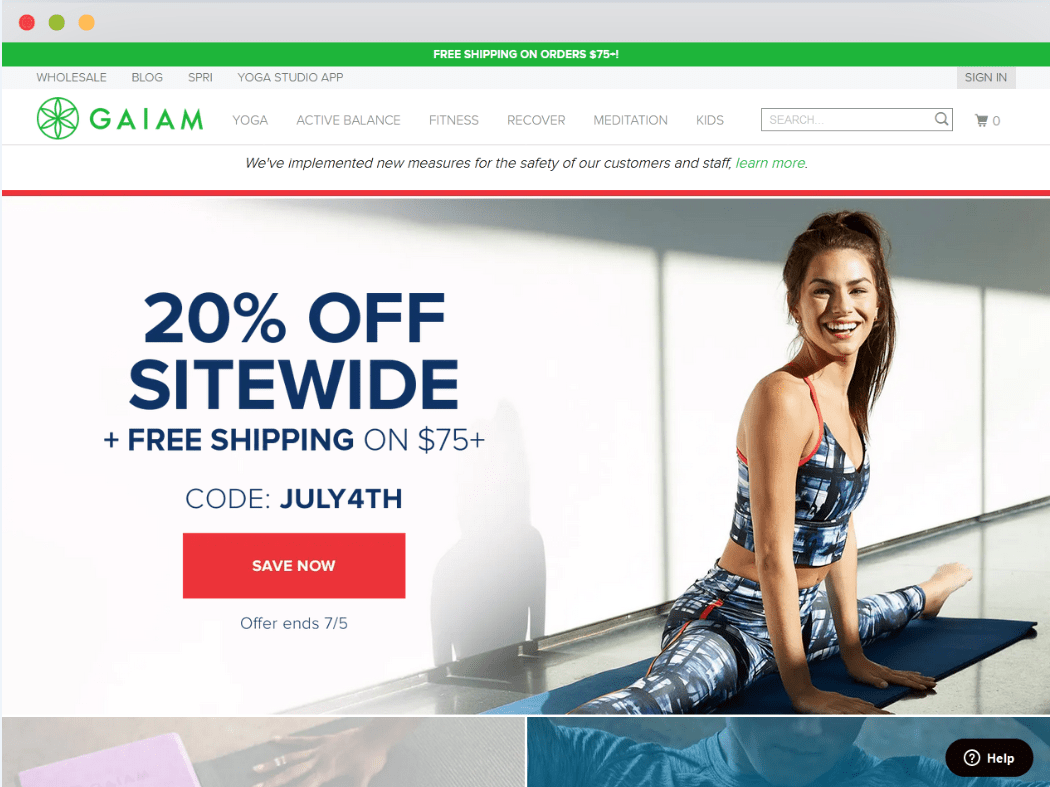 Partnering with Gaiam gives you access to reseller support, product recommendations, and notifications about new products. All you have to do is set up an account on the Gaiam website.
If you would like blind dropshipping services, you may have to request them by calling or sending an email. Enter your customer's address as the shipping address.
Gaiam has a minimum advertising price (MAP) policy that all resellers have to adhere to. It currently only offers shipping within the USA and Canada. In-stock orders are processed and dispatched within 2 to 3 business days.
Yoga Accessories
Yoga Accessories is a supplier of yoga products from multiple leading brands. They include Manduka, prAna, Thera-Band, toeSOX among many others.
This would be a great option if you would like to list a variety of products without engaging multiple brands concurrently. This company also handles orders for custom yoga mats, blocks, props, bolsters, and more.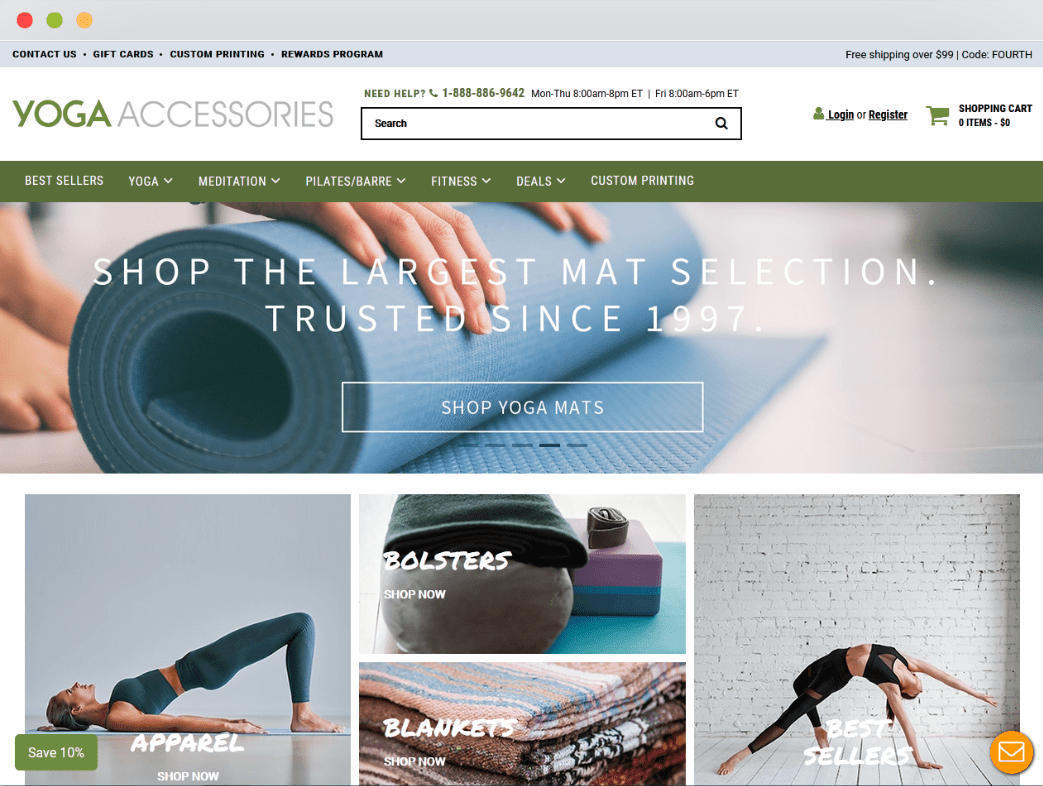 You would need a registered account to process orders via Yoga Accessories. While the company accommodates reseller arrangements, it is advisable to reach out to the company and request blind dropshipping.
CJDropshipping
CJ Dropshipping is a dropshipping company that offers products from multiple suppliers. The products are listed in an eCommerce website layout that makes it easy to find anything you need with a simple search.
The yoga product listing on the CJ Dropshipping platform is quite diverse. It ranges from attire and mats to props and more. You can also request product sourcing and print-on-demand services.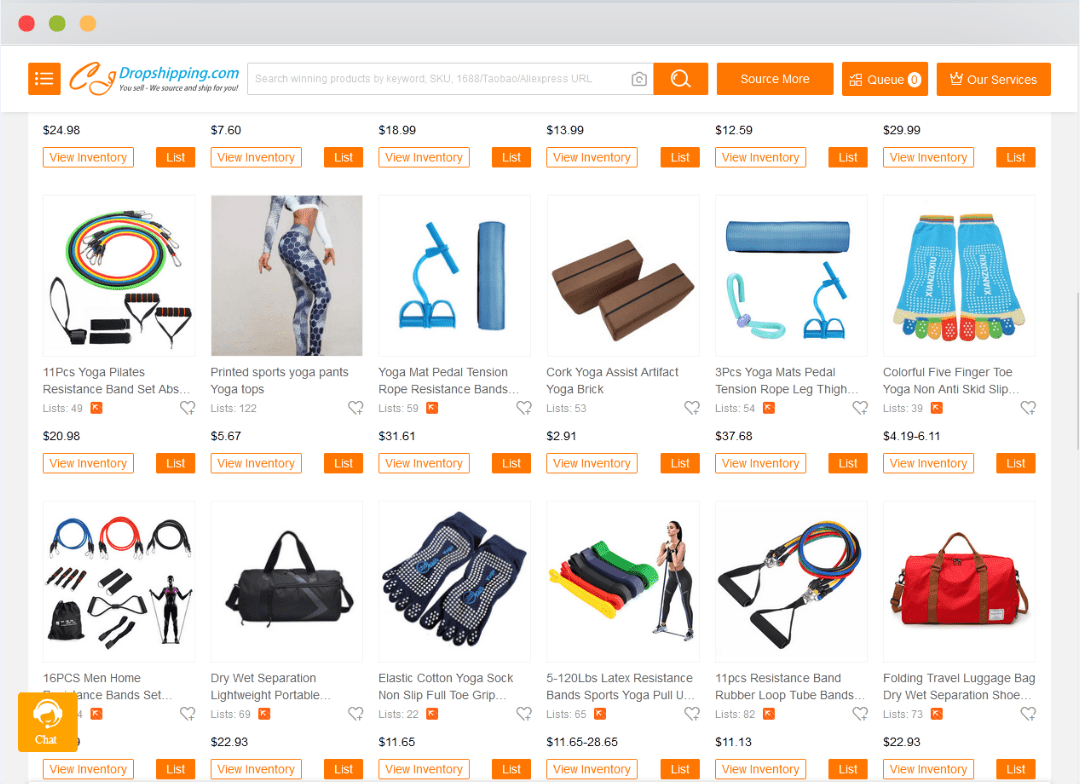 Once you sign up for an account, you can select yoga products and sync your store's listings with that of CJ Dropshipping.
Fortunately, this company offers dropshipping automation that enables you to:
Automatically import products to your online store
Share orders automatically with CJ Dropshipping for fulfillment
Receive regular inventory updates
CJ Dropshipping provides worldwide fulfillment efficiently as it has multiple warehouses across the globe. The shipping method used will depend on the destination and the size of the order.
Registering on CJ Dropshipping is free but you may incur costs for:
Order processing
Shipping
Private labeling services
Custom labeling
Warehousing and stock-taking
DHGate
DHgate is a B2B eCommerce platform. It carries an endless variety of products from different brands and suppliers. It is a great alternative if you would like to offer your clients a unique assortment of yoga products.
Compared to similar B2B platforms like Alibaba, DHGate is less stressful to use. All you have to do is set up an account, search and select the yoga products you would like to sell, and list them in your store.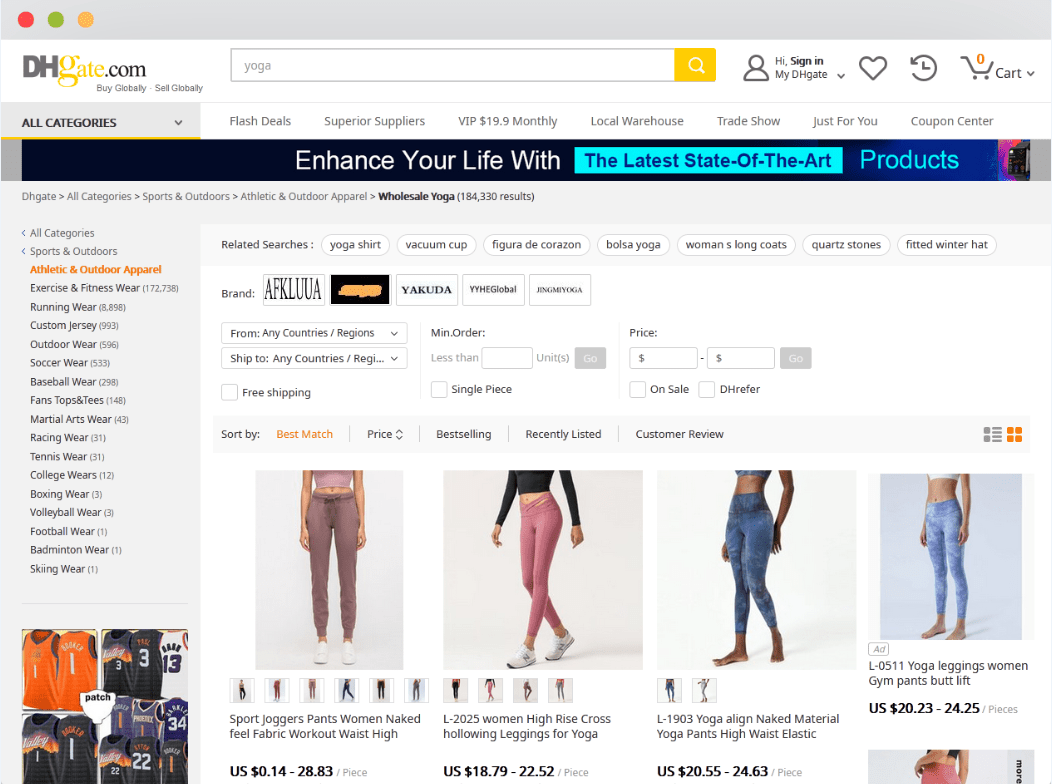 The dropshipping process unfolds as below:
Receive orders in your store
Share them with DHGate and pay on the provided payment avenue
DHGate notifies the supplier to process your order
Your order is processed and dispatched
DHGate sends you a notification
DHGate offers a money-back guarantee if any order is not processed or fulfilled by a supplier. You will also never have to engage with suppliers as all inquiries or complaints are managed by DHGate.
FAQs about Yoga Dropshipping and Yoga Dropshipping Services
Is Yoga Attire Only Available For Women?
Yoga is practiced by both men and women. Whereas most brands market their products using female models, you will find that they stock yoga products for both men and women.
Due to this disparity in the market, most men have a hard time finding suitable yoga attire. It may thus be profitable to stock and market yoga products for both genders and fill this market gap.
Are All Yoga Mats Made the Same Size?
The average size of a yoga mat is about 68 by 24 inches. However, not all mats are made to this size.
This is because people have different heights and girth. Manufacturers, consequently, produce yoga mats in different sizes to cater to different needs.
Do I Require a Special License to Sell Yoga Products?
No. Yoga attire and props do not require a special license.
That said, if you sell any yoga-related medicinal products, check with local authorities to ensure that you are not contravening any laws in your country.
Is Selling Custom Yoga Merchandise Worth It?
Yoga is a deeply personal and spiritual practice. As such, most customers will likely appreciate the chance to personalize their yoga items.
A great compromise would be to offer both custom and standard design yoga products and cater to all customer preferences.
Final Word
Yoga is now a way of life for a significant number of people around the globe. Most of them would undoubtedly appreciate easy online access to quality, durable, and unique yoga accessories.
While any of the firms on this list could easily meet your yoga supply needs, at NicheDropshipping, we go a mile further and offer all-inclusive dropshipping services. You can count on us to help you grow your dropshipping business.
Feel free to contact us and learn more about how we can elevate your venture.