Founded in 1995, eBay is one of the oldest eCommerce marketplaces on the internet.
Even after more than two decades, the site is going strong with over 159 million buyers.
While eBay is still popularly used, a large number of its sellers have started to explore other options.
The main reason behind that is the platforms' buyer-biased policies and high fees.
Fortunately, plenty of options are available nowadays for those who want to jump ships.
In this article, we'll go over a list of the best eBay alternatives, their pros, and cons, as well as the key features.
So let's dive straight into it!
1) Etsy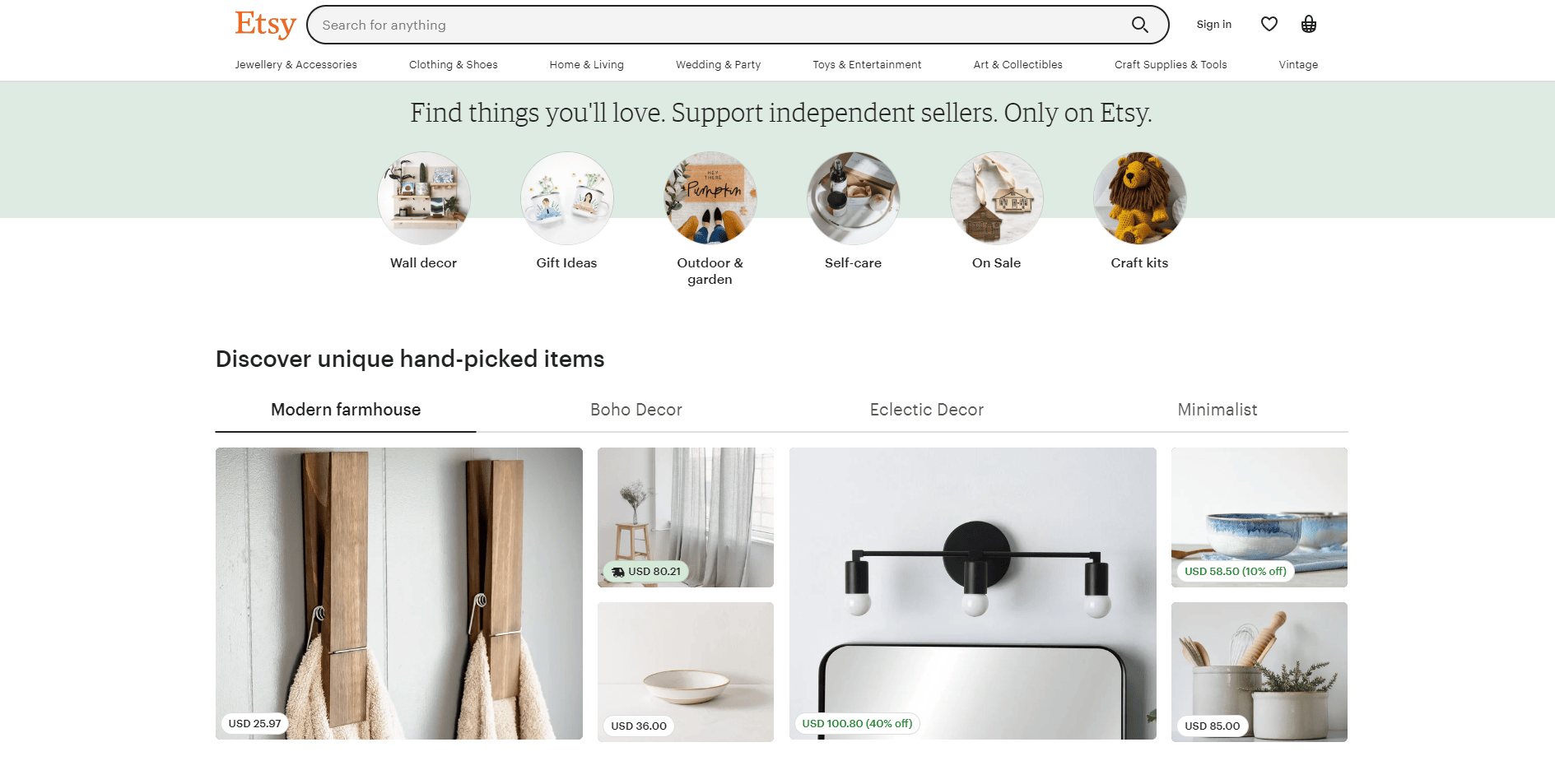 Etsy is the best eBay alternative for those who want to sell vintage, custom, unique or handmade goods.
Similar to eBay, Etsy is also considered to be a C2C site because the majority of the sellers on the platform are solo craftsmen.
Over the years, Etsy has gained a huge user base of more than 90 million buyers.
Jewelry, home décor, and gifts are some of the most commonly sold products on the site.
Etsy is also quite similar to eBay in terms of its listing fee.
You're charged $0.20 for every product you add to your listings, plus 6.5% of the product price on each sale.
Etsy is the perfect platform for those who want to start a small business and turn their past times into a source of income.
But if you're looking for scalability, then you would have to search elsewhere because the product restrictions and fee structure of the platform aren't suitable for larger businesses.
Pros
Huge customer base
Less competition
High profit margin for handmade products
No signup fee
Cons
$0.20 listing fee and 6.5% transaction fee
Product restrictions
Key Features
Users can only sell handmade, custom, vintage, and unique goods.
Sellers can add as many items they want to their shops.
Promotes creativity and allows artists to showcase their work
2) Amazon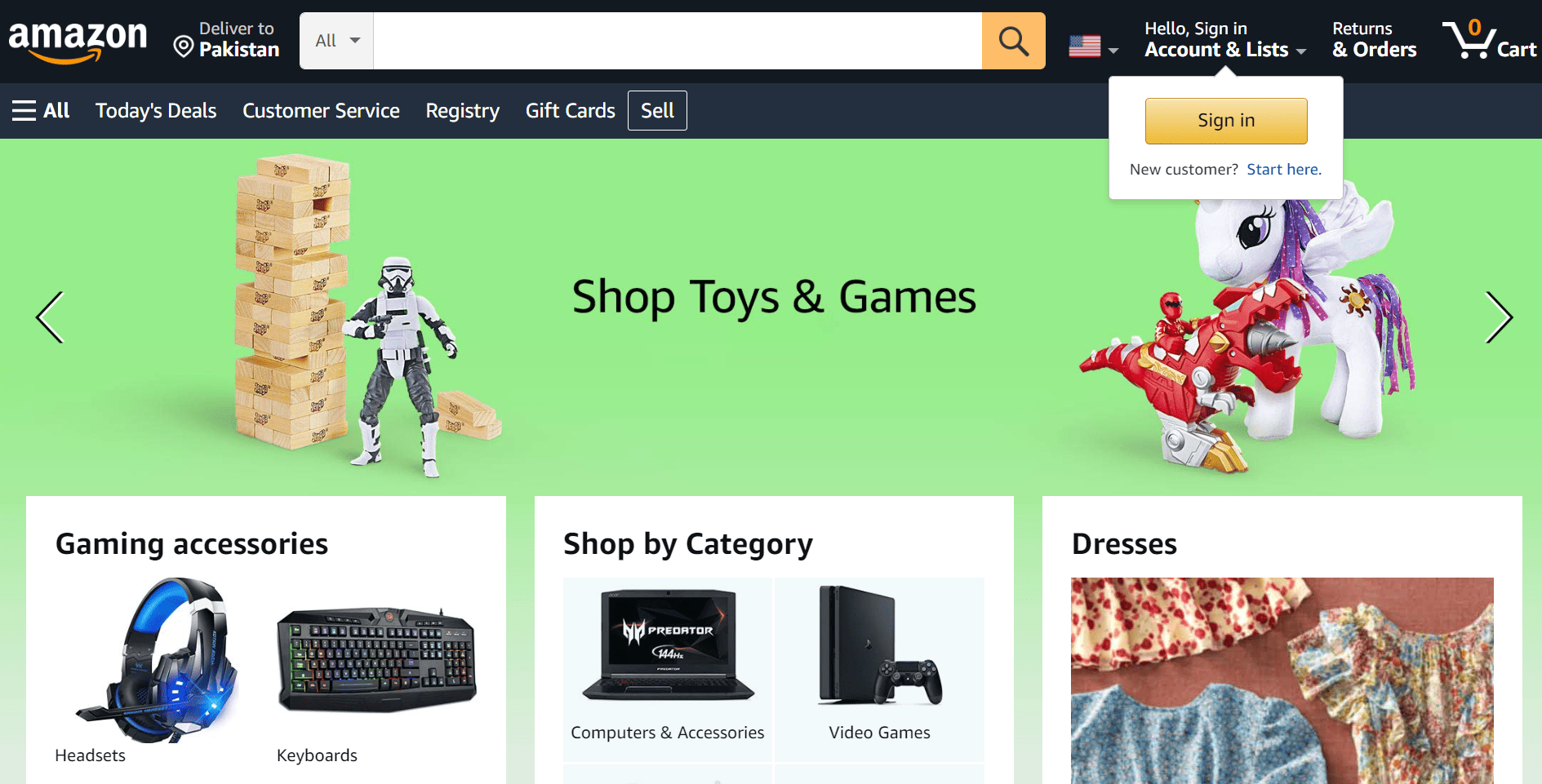 You aren't probably a stranger to Amazon. After all, it's the largest eCommerce marketplace in the world.
From hair pins to furniture, you can find pretty much anything on the platform.
The wide range of products on Amazon attracts more than 197 million buyers each month.
Not only is Amazon a great eBay alternative but also one of its biggest competitors.
Although before you transition to Amazon, keep in mind that the site has fierce competition.
You might have a hard time getting sales at the beginning, and will have to make active marketing efforts.
Amazon doesn't charge a listing fee, although you do have to pay commissions depending on the type of product.
Lastly, Amazon also provides warehousing and fulfillment services if you opt for its FBA program.
Pros
Largest eCommerce marketplace in the world
Easy to scale and internationally expand
No listing fees
Potential to build a big brand through private labeling
Low marketing costs due to the huge user base
Cons
Competition is tough.
You cannot access customer data.
Key Features
Amazon FBA helps you easily pack and ship products.
Free 2-day shipping with Amazon Prime
The FBA program also handles customer service.
3) eBid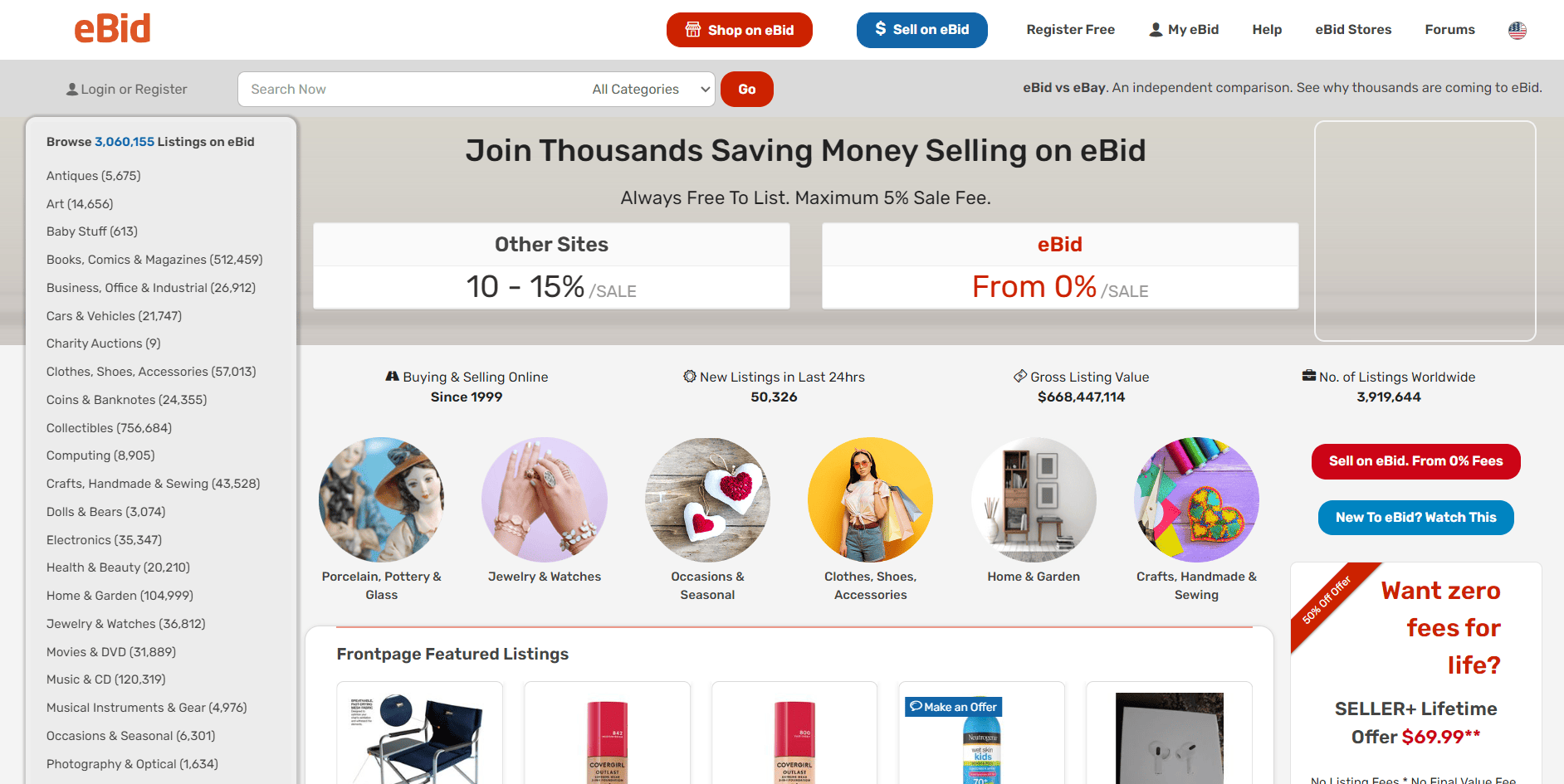 eBid is probably one of the closest alternatives to eBay you'll find on this list.
As its name suggests, it is also an auction platform where you can sell a vast variety of items.
You don't need to have a listing fee on eBid; the commission is only 3% per sale.
And if you purchase the annual Seller+ subscription for $64.99 , then you don't need to pay any commission at all.
Everything about eBid seems perfect, so shouldn't you start selling on the platform?
Well, the problem is its small user base. While eBid is a great platform, we only suggest using it once you've learned how to successfully market a business.
The biggest benefit of eBid is that it's a low-risk platform so it can also be used for product testing.
Pros
Low commission of only 3% per sale
Wide range of product categories
Unexplored by most sellers
Low-risk market
Cons
Low traffic and reach
Some selling options are only available for upgraded accounts.
Key Features
Auction-style format like eBay
Low-risk makes it great for product testing
Seller+ subscription eliminates listing fees.
4) Craigslist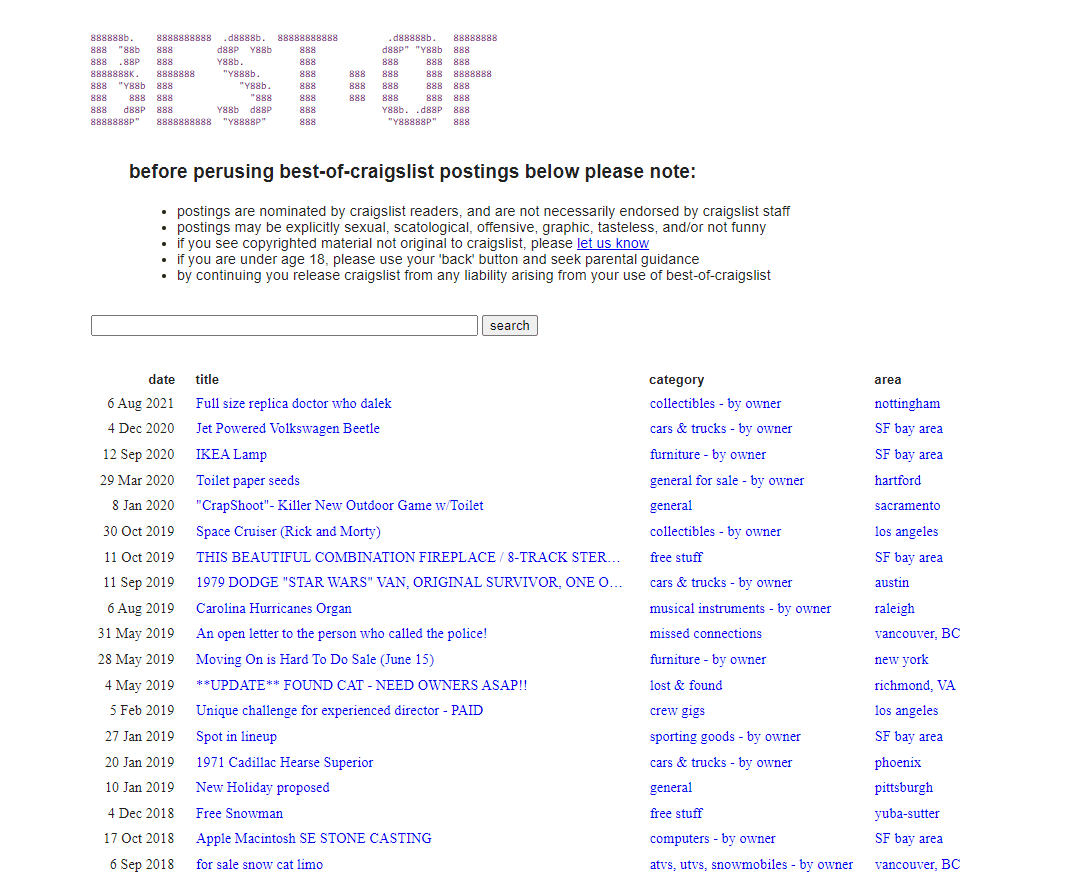 Some of you have probably heard about Craigslist from back in the day.
The platform is still pretty much alive, and although technically a forum, Craigslist is still a decent alternative to eBay.
No commissions or fee is charged for selling products on Craigslist because it isn't an eCommerce platform.
But as great as this sounds, the biggest drawback of the site is that it doesn't offer dispute resolution services.
It's a seller's environment riddled with scammers who are looking to make easy money.
Pros
No commissions or transaction fee
You can sell any product.
Covers more than 70 countries
Great for selling vintage items
Cons
No dispute management service
Scams are common on the site.
You can only sell locally.
No shipping networks or warehouses
Key Features
Products can be sold on the platform for free.
Allows you to post classified advertisements.
Buyers don't need to sign up to view ads.
5) Newegg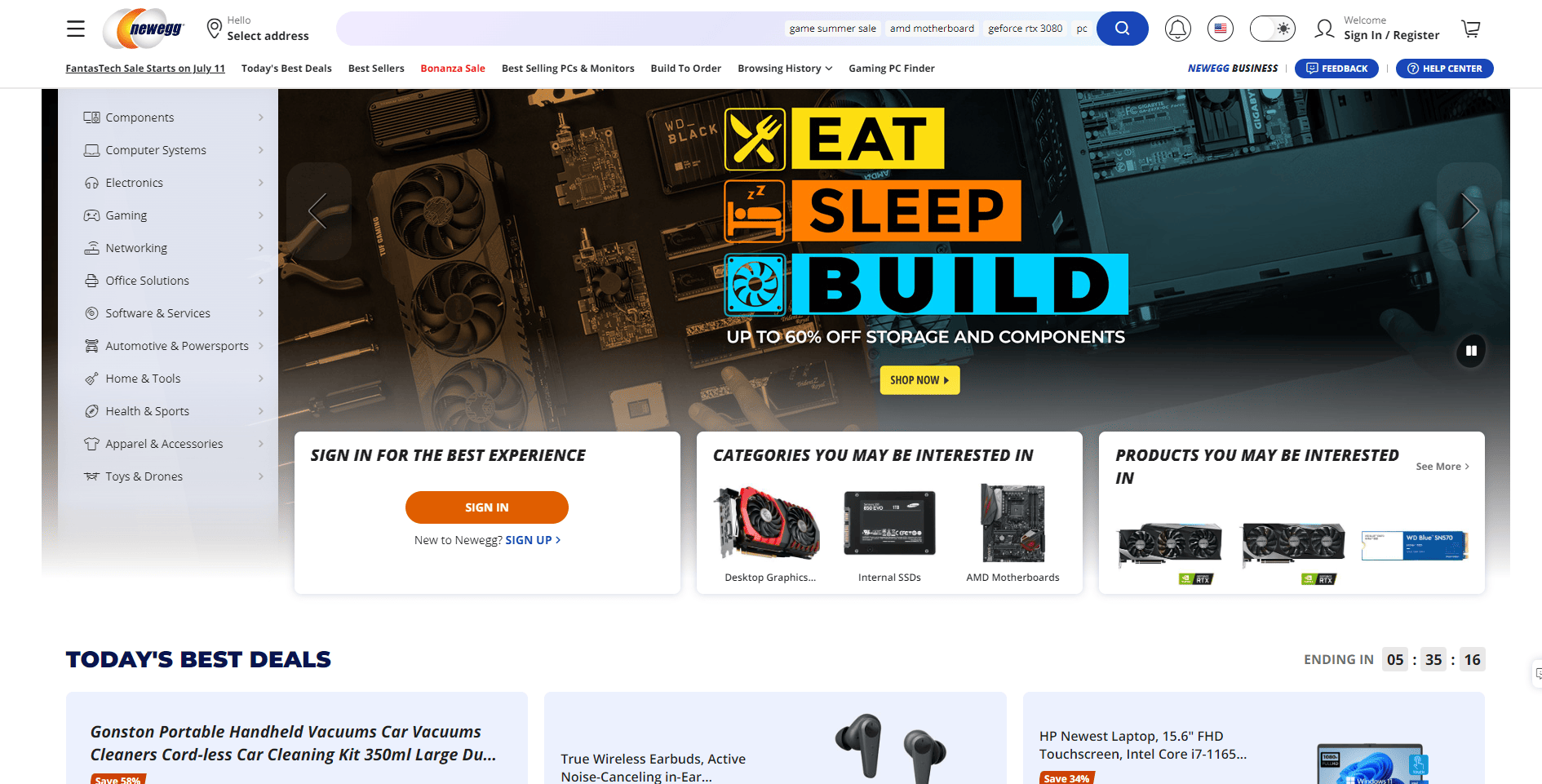 We know this site has a funny-sounding name, but it is a great platform for tech-focused products.
Most items sold on Newegg are computer parts, electronics, and gaming equipment.
This site attracts a tech-savvy audience aged 18-45 so you can easily target a specific group of customers.
Although based in California, Newegg provides distribution facilities across the United States and Canada.
The platform is available in more than 50 countries with over 4.2 million active users.
We know, this doesn't sound much in comparison to eBay but don't forget that Newegg targets a niche market.
Newegg also offers a fulfillment service similar to Amazon FBA to make shipping hassle-free. Otherwise, you can also get the assistance of a third-party logistics service to deliver your orders.
They have 3 subscription programs and the commission they charge is usually between 8 to 15%.
Pros
You can target the tech market.
Available in more than 50 countries
Distribution centers in the United States and Canada
Cons
8 to 15% commission rate
Only for tech-focused products
The customer base is still small.
Key Features
Best deals section on the site to sort discounted products
Fulfillment service similar to the Amazon FBA program
Provides SEO guide to help you improve listings
6) Bonanza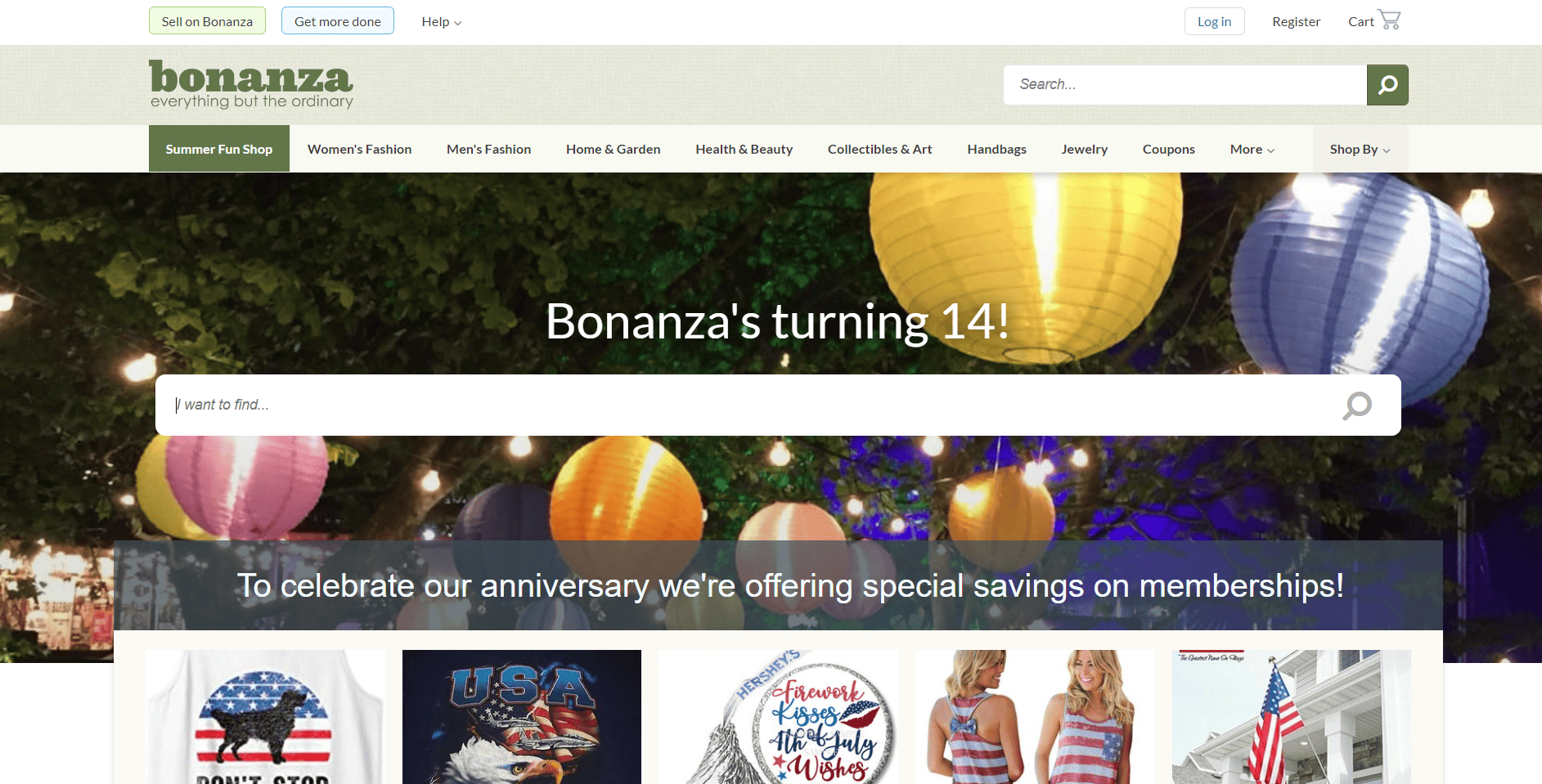 Bonanza is less popular and one of the newer eCommerce sites on this list.
However, the platform has been quickly gaining traction for the offbeat and unique items you can find on the site. Even their tagline says "where you can find everything but the ordinary".
From colorful shoes to handcrafted jewelry, you'll see a vast variety of products on Bonanza.
And if you feel skeptical about trusting them then they've also secured a high online rating on Trustpilot.
The only fee Bonanza charges is a 3.5% cut for sales under $500 which lowers down to 1.5% once the amount crosses $500.
A key feature of Bonanza is that you can share a percentage of your revenue with the platform to improve advertisements and rank higher on the search.
Pros
A wide variety of unique and offbeat products
Seller-friendly platform
No charges to add listings
Cons
Mainly targets unique items
Small customer base
Key Features
Share a percentage of your revenue for additional advertising and rank higher in the listings.
The 3.5% transaction fee is decreased to 1.5% after the amount crosses $500.
7) Ruby Lane
Ruby Lane primarily focuses on selling rare and vintage goods like arts, antiques, collectibles, and jewelry.
And while you don't have to pay a commission fee, the site charges a listing fee as well as a monthly maintenance fee, along with one-time setup charges.
We know, this sounds a bit complicated and you're probably thinking that it isn't worth it.
But the biggest selling point of Ruby Lane is that it attracts collectors who are often willing to purchase high-ticket products that you might not even be able to sell on eBay.
Pros
You don't have to pay commissions.
Great platform for selling high-ticket products
Perfect for selling jewelry and other fashion collectibles
Decent global reach and user base
Cons
Complicated fee structure
Targets a niche audience
Key Features
Attractive and user-friendly website design
Perfect platform for buying vintage products
Known for providing a good customer service
8) eCrater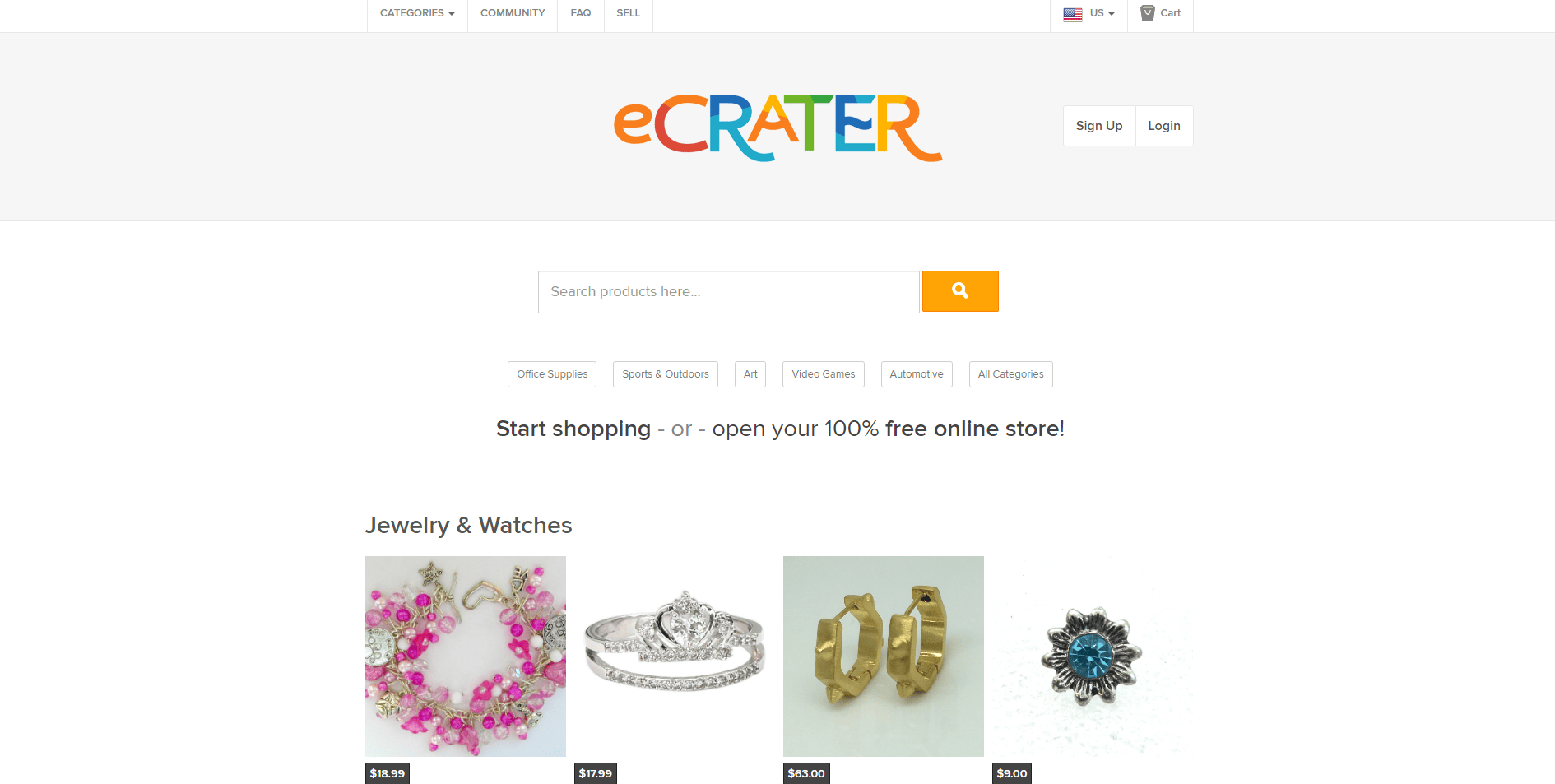 If you don't want to invest a lot of money in your online business then eCrater is a viable eBay alternative.
It's pretty similar to traditional eCommerce sites where you can sell everything you want at your desired prices.
It's free to set up an account on eCrater and the cherry on top is that they only charge a 2.9% commission.
You can also choose from a variety of templates to create an attractive storefront.
And to make things easier, you can import your eBay listings to eCrater to migrate in no time!
The traffic you get on your eCrater store mainly depends on your marketing efforts, so this is a department where you'll have to work harder.
Pros
Only charges a 2.9% commission
Social media tools to aid marketing
You can sell anything you want.
Cons
No tools for analytics
You must generate traffic yourself.
Key Features
Tons of readymade templates available
The marketplace is 100% free to use.
You can import your eBay listings to eCrater.
9) Walmart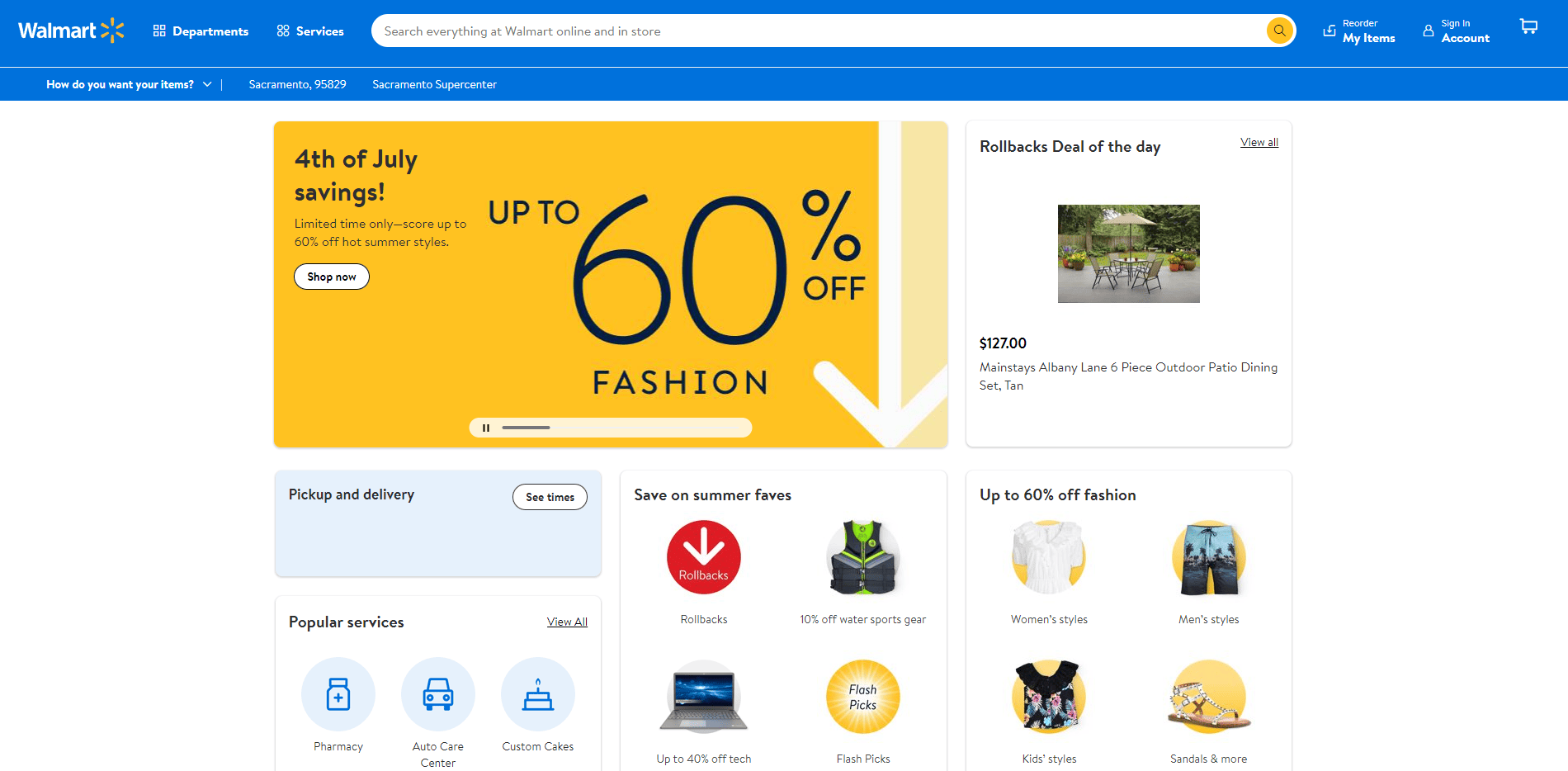 Walmart is one of the most reputable retail corporations in the U.S with sales amounting to $64.62 billion in 2021.
Not only that, but Walmart also has a huge audience with more than 120 million users per month.
It's to say that Walmart offers a ton of money-making potential, especially once you learn how to navigate the platform.
The only drawback of the site is that they have a strict onboarding process. But that's to make sure quality is maintained on the site.
Unlike eBay, Walmart doesn't charge an insertion fee. You only have to pay an 8-20% cut after a successful transaction.
Walmart doesn't have too many restrictions and you're allowed to sell most products.
But bear in mind that the competition on the platform might be a bit tough.
Pros
Sell a vast selection of products
Limited fees and commissions
Large customer base
Cons
Competition with Walmart's in-store products
Only fixed-price listings are allowed.
Key Features
Strict quality assurance
Holistic supply chain network
Free 2-day-shipping program for Deliverr sellers
10) Rakuten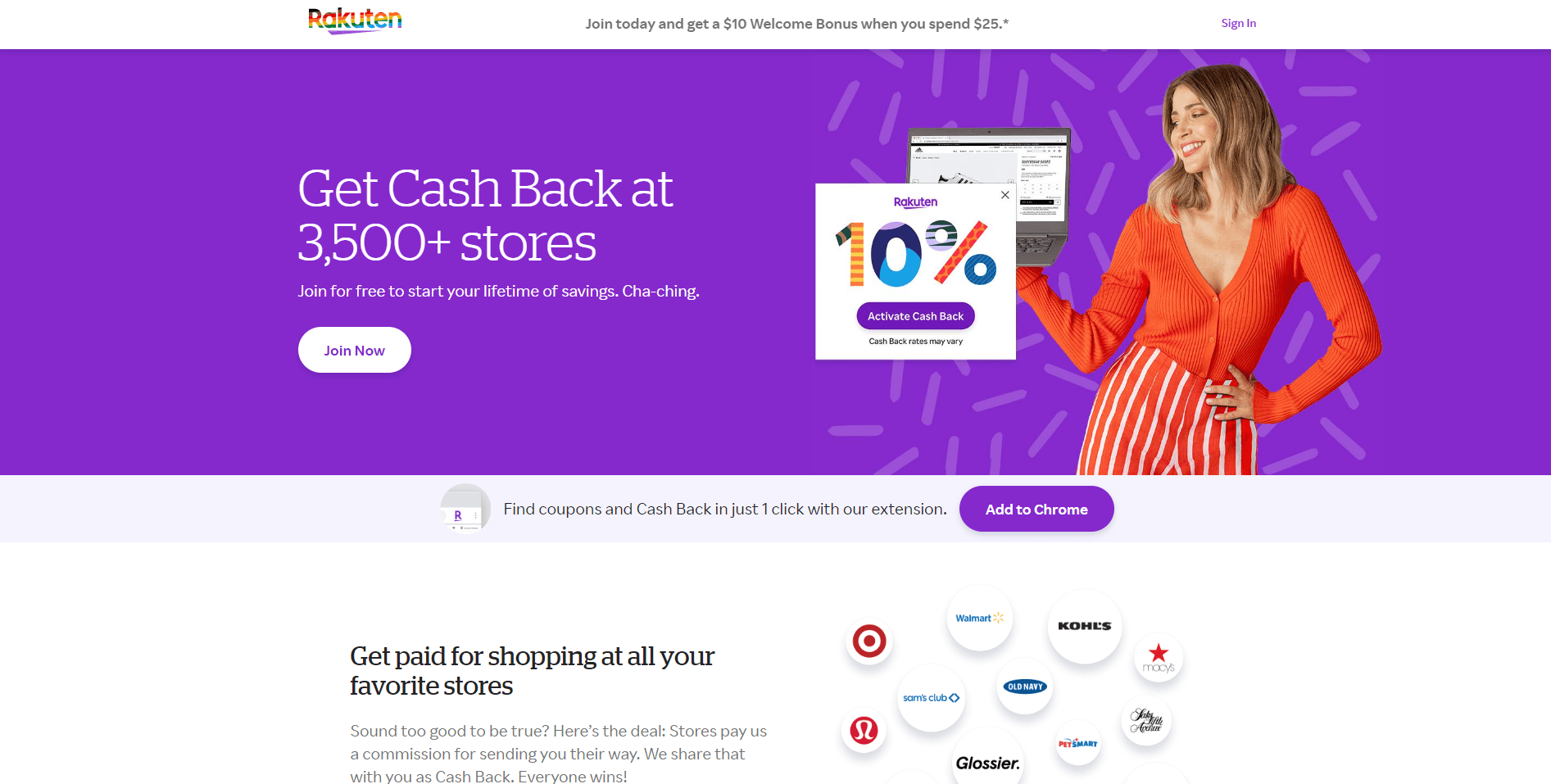 Most people don't know this but Rakuten is one of the most popular eCommerces sites in Japan. Some even refer to it as the "Amazon of Japan".
It's the go-to shopping platform for more than 40% of Japanese shoppers.
Rakuten offers plenty of shop customization features including tools to design your store, quick edits to products, and a blog to help you improve marketing.
The platform is trusted by famous brands from all over the world like Dell, Lenovo, Depot, and more.
One drawback of Rakuten is its high fee as they charge a $33/month maintenance to the sellers along with other commissions.
But if you're planning to target an Eastern market and can afford the fee, then Rakuten can be a fantastic eBay alternative.
Pros
Operates in at least 29 countries
Sell in a variety of product categories
Best platform to target the Eastern and Japanese market
Lesser competition in comparison to eBay
Cons
Key Features
Advanced site customization options
Excellent support and seller tools
11) Zibbet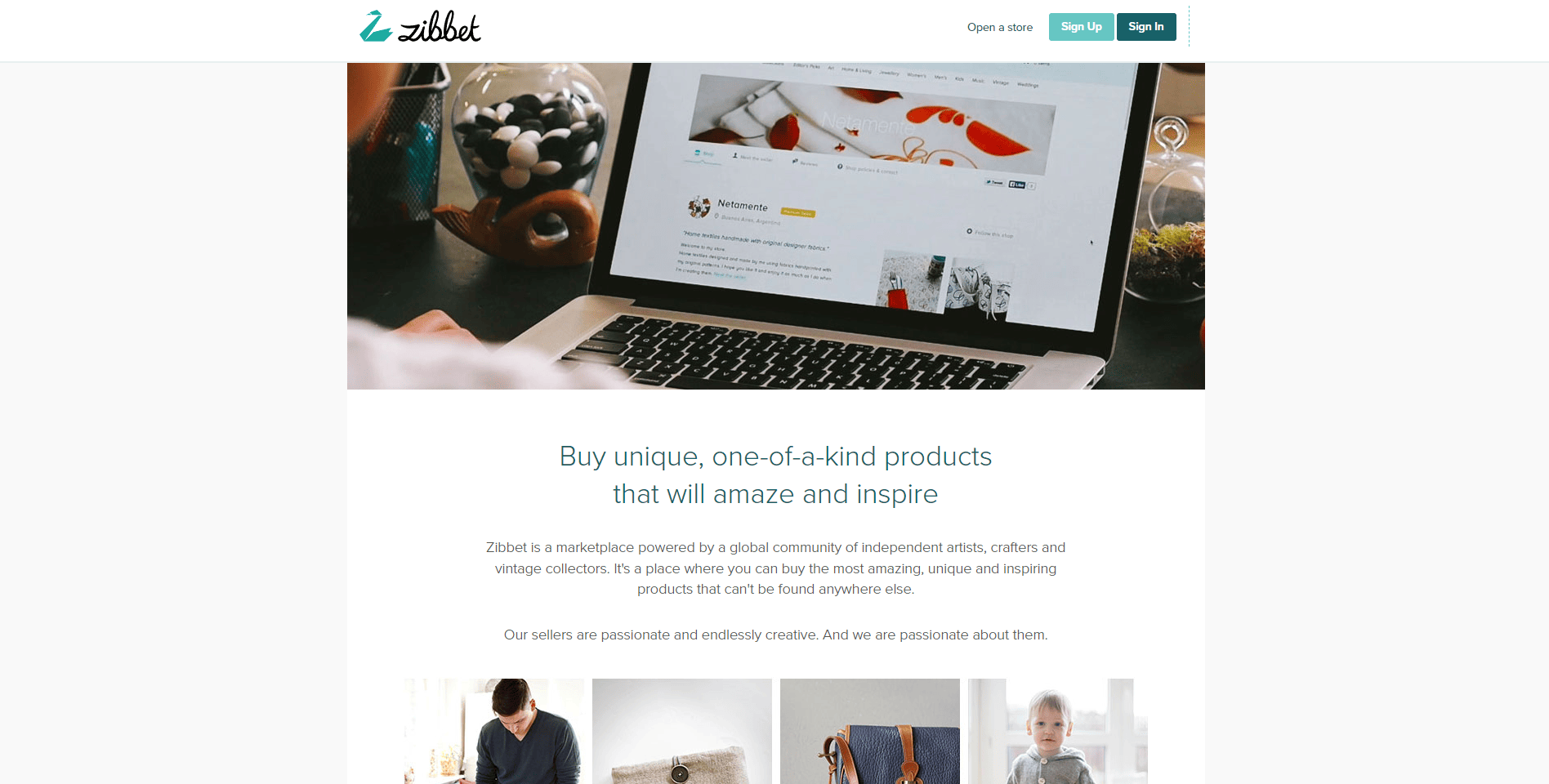 Zibbet is another platform that is famous for specializing in handmade products. It's more of an Etsy alternative, but eBay users with a creative spark can also use it.
The free plan of Zibbet allows merchants to sell up to 10 products per month. Any more than that and you would have to purchase their subscription which starts at $5.
Another drawback of the free plan is that sellers can only add one image to their listings, which makes it almost useless from a marketing standpoint.
Zibbet's Ultimate Plan allows merchants to create promos and discount coupons for their buyers. Moreover, it also opens access to advanced analytics and premium themes to customize the store.
The platform supports multichannel selling and can be connected to popular social media platforms like Facebook and Instagram.
Pros
Sell up to 10 items without paying any fee.
Premium themes on Unlimited Plan
Create coupons and discounts for buyers.
Cons
Platform still lacks traffic.
Only cashout method is PayPal.
Key Features
Allows multichannel selling
Advanced analytics on Unlimited Plan
12) Mercari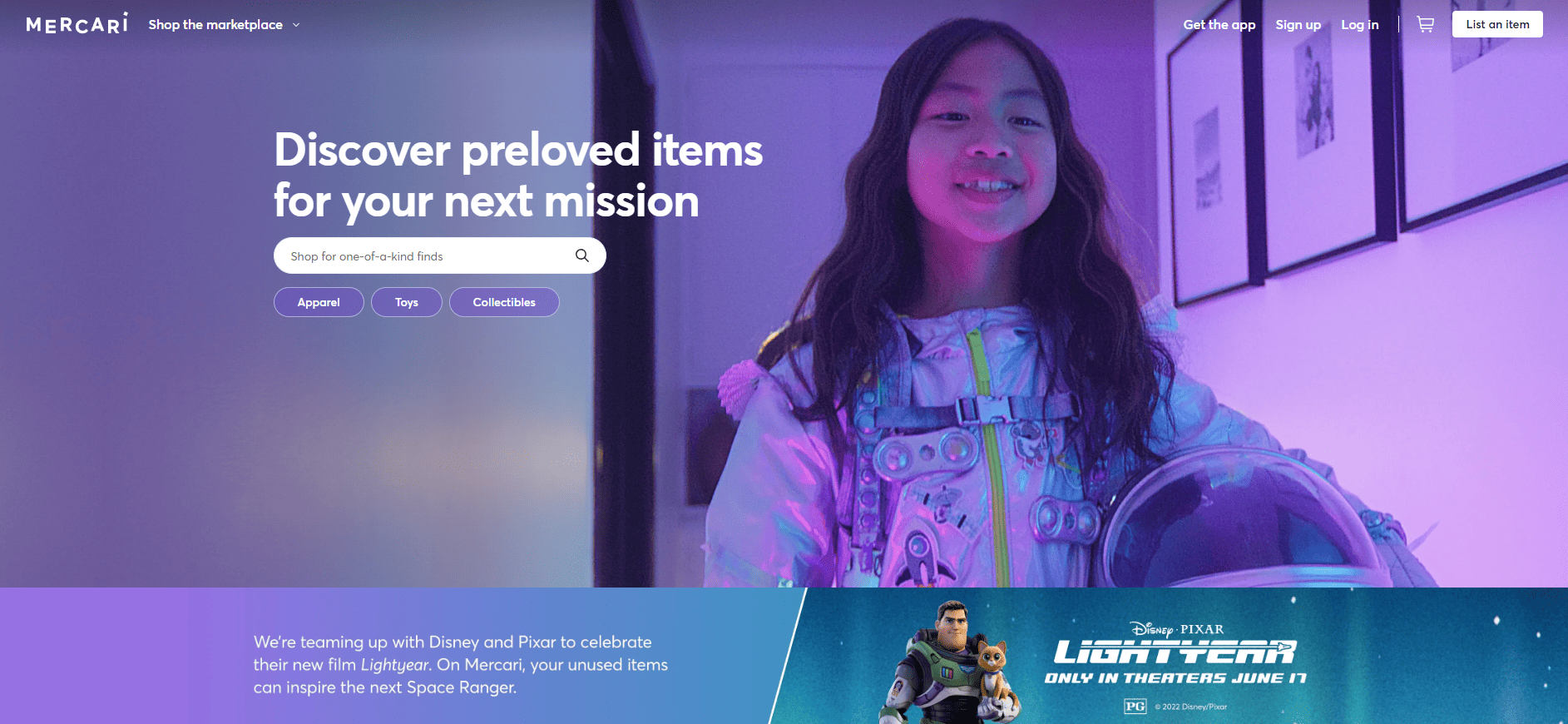 Founded in 2013, Mercari is another competent eBay alternative that only operates in the U.K, U.S, and Japan.
The majority of the user base of Mercari is from Japan but it has also managed to generate significant traffic from other countries.
More than 100,000 products are added to the platform daily including video games, phones, designer items, and much more.
Signing up and listing products on Mercari is completely free. But the platform does charge a 10% commission on successful transactions.
Mercari makes it quite easy to sell products. All you have to do is download the app, upload your product information and ship the item as soon as someone places an order.
Pros
Freedom to sell almost any product
Active user base especially in Japan
No signup or listing fee
Easy to start selling on the site
Cons
10% commission on successful transactions
Only operates in U.K, U.S, and Japan
Key Features
Attractive user interface
Easy to filter products
13) Reverb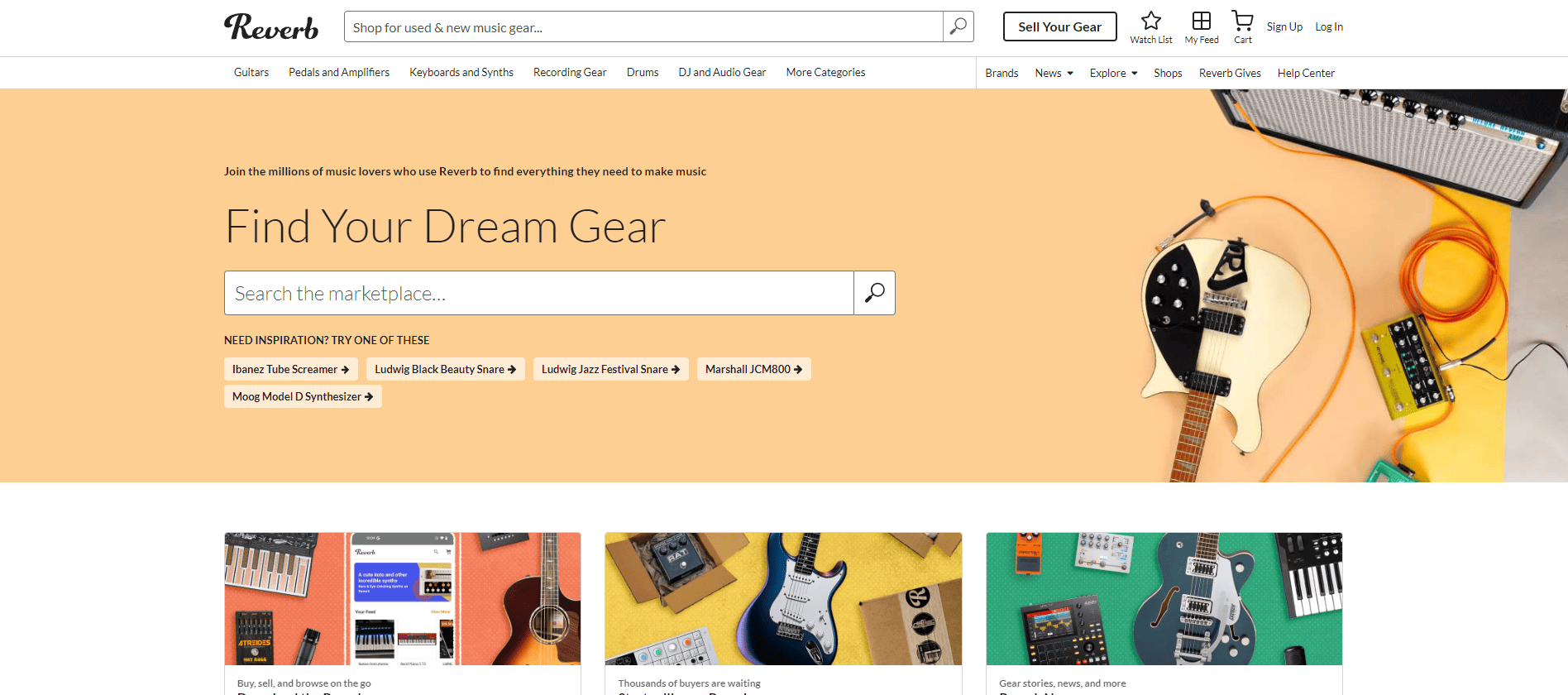 Reverb is an online marketplace that focuses on music gear. Whether it's instruments, equipment, or accessories, you can find anything related to music on the platform.
You can upload your listings to Reverb for free and the items will be fixed price. They also only charge a 5% fee on each sale – which isn't too bad considering there are no other hidden commissions.
They have been making efforts to help merchants get more sales by releasing features like Reverb Bump which helps bump your listings in front of potential customers.
The platform is still new so it doesn't have a large user base. And don't expect it to grow too big either because it targets a niche audience.
But if you already sell music gear on eBay and are looking for an alternative, then Reverb would be a perfect choice.
Pros
Only 5% sales commission
Perfect for selling music gear
Cons
Key Features
Reverb Bump feature helps promote your listings.
14) Facebook Marketplace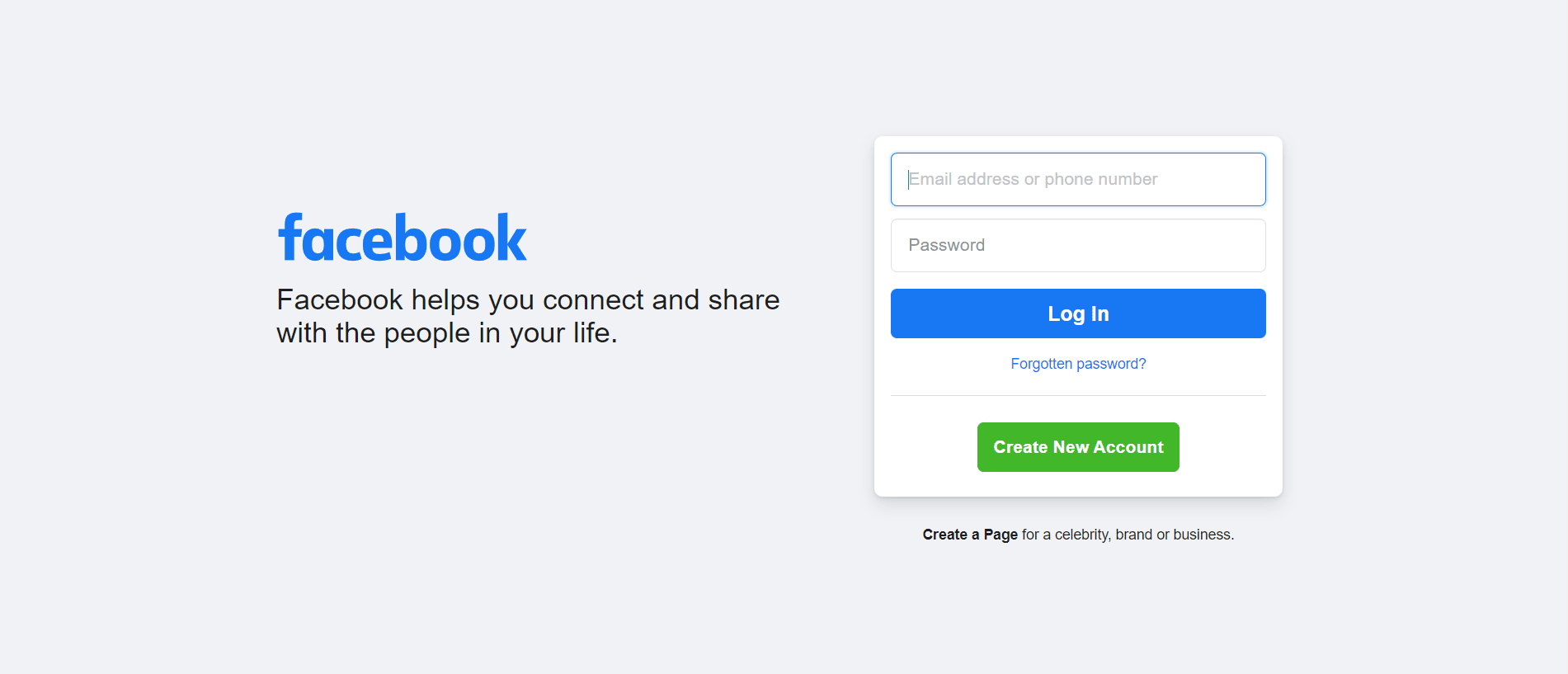 Facebook is the largest social media platform in the world. With more than 2.9 billion active users, you shouldn't miss the opportunity to sell on its marketplace.
The Facebook marketplace is free to use; the only thing you need to access it is a Facebook account. Listing and selling products are also pretty straightforward and even beginners can do it.
But that's also the biggest drawback because the marketplace doesn't have a mechanism for buyer protection. Users need to be extra careful to avoid scams, which in turn can also affect your sales.
Overall, Facebook Marketplace is similar to eBay in the sense that it facilitates both B2C and C2C transactions.
Pros
Completely free to use
Largest social media in the world
Listing and selling products are easy.
Cons
Key Features
You can directly connect with your audience.
Listings are mobile-friendly.
15) Better WorldBooks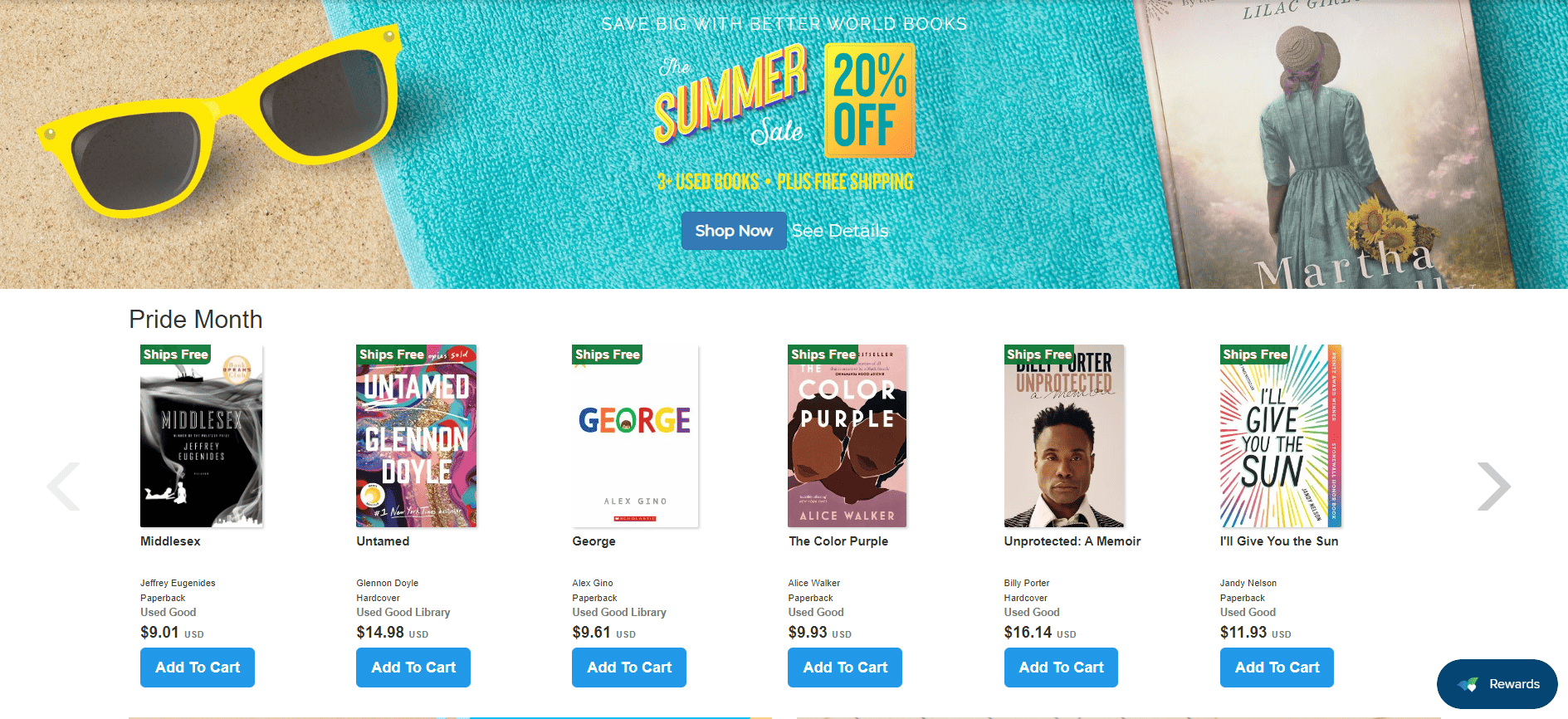 Better WorldBooks is a paradise for all the readers out there. As the name suggests, the platform helps you sell second-hand books in more than 30 marketplaces.
You can buy and sell pretty much any book you want on the site and avid readers can even easily explore new titles as well. They also have a search option to further filter your options.
Similar to eBay, Better WorldBooks can help you conduct C2C transactions, but only in a specific niche.
Pros
Sell secondhand books in more than 30 marketplaces.
One of the largest online platforms to buy and sell books
Cons
You can only sell books on the site.
Key Features
Search filter to help you find the titles of your choice
16) Wish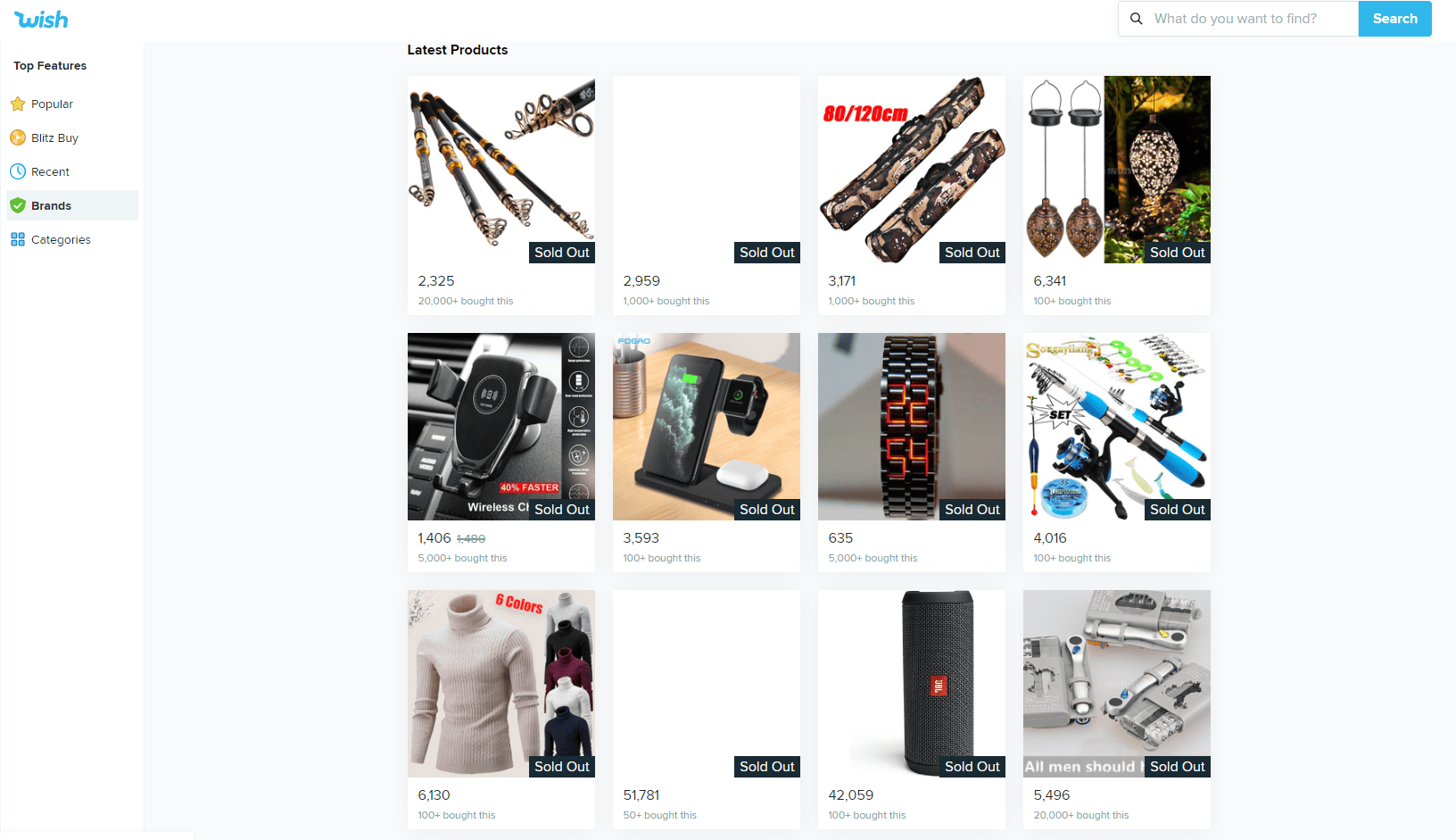 Wish is an online marketplace that deals in a variety of products including electronics, accessories, fashion, and much more.
What makes Wish a viable eBay alternative is its smart algorithm which gives relevant product suggestions to customers based on the data it has collected from wishlists and buying behaviors.
Wish charges a 15% fee when you make a sale – which is honestly a lot, especially for larger businesses that make plenty of sales a day.
But on the bright side, it doesn't have mandatory monthly subscriptions or hidden commissions so it hardly requires an initial investment.
Pros
Only charges after you make a sale
Lesser competition and most people sell unbranded products
Cons
Processing payments can take up to 3 months.
Key Features
The platform is mobile-friendly.
Why Do You Need an eBay Alternative?
eBay is a powerful online marketplace that connects merchants with buyers from around the globe. You can sell almost anything on the platform, so why in the world would you need an alternative for it anyway?
Well, eBay has significantly scaled over the years and has also brought many changes to its policies that aren't particularly seller-friendly. This has made merchants seek other alternatives.
Some of the most common complaints that sellers have from eBay are:
1) Biased Policies
The main reason why merchants are looking for an eBay alternative is due to the customer-biased policies of the platform.
eBay prioritizes its customers over the sellers during disputes. Sellers usually have no other option but to accept eBay's decision.
In the end, it's mostly the seller who ends up losing money. Although a business should prioritize its customers, a more efficient and fair-dispute-resolution system should also be in place.
2) High Fees and Costs
eBay charges quite a lot of commission in the form of final value and insertion fee. The value of the fee depends on your selling price, niche, and items.
All of these commissions can be difficult to bear for smaller businesses and can quickly slash away their profits.
3) Tough Competition
Standing out on eBay can be challenging because there are probably hundreds of other merchants selling the same product as you.
We know this is the case for most eCommerce marketplaces nowadays. But combine this with the high fee and poor policies of the platform and it becomes clear why some users think the effort isn't worth it.
How to Choose the Best eBay Alternative?
Each platform has its own policies and restrictions, so choosing an eBay alternative mainly depends on what you're planning to sell.
For instance, if you're selling handmade products, then Etsy would be the best alternative for you.
However, if you're sourcing from a third-party manufacturer then you'll have to go for another platform like Amazon.
So before making the decision, ask yourself whether the platform's policies align with your business goals.
FAQs about eBay Alternatives
Is eBay Profitable for Sellers?
The average seller on eBay earns around $35,000 a year while the top-level sellers can rack up to $70,000.
It all boils down to your keyword optimization, customer service, marketing, and product price.
If you can get these things right then the numbers above prove that eBay offers a ton of profit potential.
What Is the Best eBay Alternative for C2C Businesses?
If you're selling handmade goods, then Etsy is clearly the best eBay alternative for C2C businesses.
But if you're looking for more freedom in product selection then eBid isn't a bad choice either.
The only problem with eBid is its small market but other than that, it has all the features necessary to facilitate C2C transactions.
Is the User Base of eBay Getting Smaller?
Yes, this data by Business of Apps shows that eBay's user base has been shrinking every year since 2018. As of 2021, the user base of eBay is 159 million, which is almost a 9% drop from 175 million in 2018.
Final Thoughts
There's no denying that eBay is a powerful marketplace to sell online.
But if you aren't satisfied with its policies and fees then consider exploring other options.
We have listed plenty of eBay alternatives that might be better for your business.
Scroll through the list and choose a platform that works the best for you.
But regardless of which platform you go for, you will still need to source products for your online business.
This is where NicheDropshipping comes in. We can help you source and customize your desired products at competitive prices.
All you have to do is give us a call, and our agents will happily guide you.