Dropshipping in Australia is highly lucrative when done right. Having a reliable supplier is the most critical aspect of managing an online store. Today, we'll talk about some of the best Australian dropshipping suppliers in many different niches.
Australia's eCommerce has seen a steady growth year-on-year with and its market is projected to reach a value of 35 billion USD by 2025. Experts expected eCommerce to increase in any case, but the pandemic gave it the much-needed boost.
With this eCommerce boom in Australia, it's no wonder that dropshippers worldwide have started paying more attention to Australian buyers as a powerful group.
So, let's dive in and see the best Australian dropshipping suppliers for your eCommerce business!
22 Best Australian Dropshipping Suppliers
Living outside the USA is challenging for finding reliable and loyal dropshipping suppliers consistent with product quality and order fulfillment. However, this doesn't mean that you cannot have a profitable dropshipping business.
On the contrary, having a dropshipping business and customer based in Australia will allow you to tap into unsaturated markets while still targeting a country with excellent buying power.
One of the most well-known Australian suppliers of high-quality products is Dropshipzone.
With Dropshipzone, you can resell products in many different niches such as appliances, furniture, home and garden, electronics, health and beauty, audio and video, and more.
Dropshipzone is most suitable for Shopify online stores since they have an app called 'Sofortig'. They have over 10.000 SKUs to choose from and import to your online store.
However, one disadvantage about Dropshipzone is that you'll need a company name and an ABN (Australian Business Number).
If you fill this condition, then using Dropshipzone is free, without any upfront costs or memberships. And finally, they offer both dropshipping and wholesale services, which means they'll fit any online store, regardless of the business model.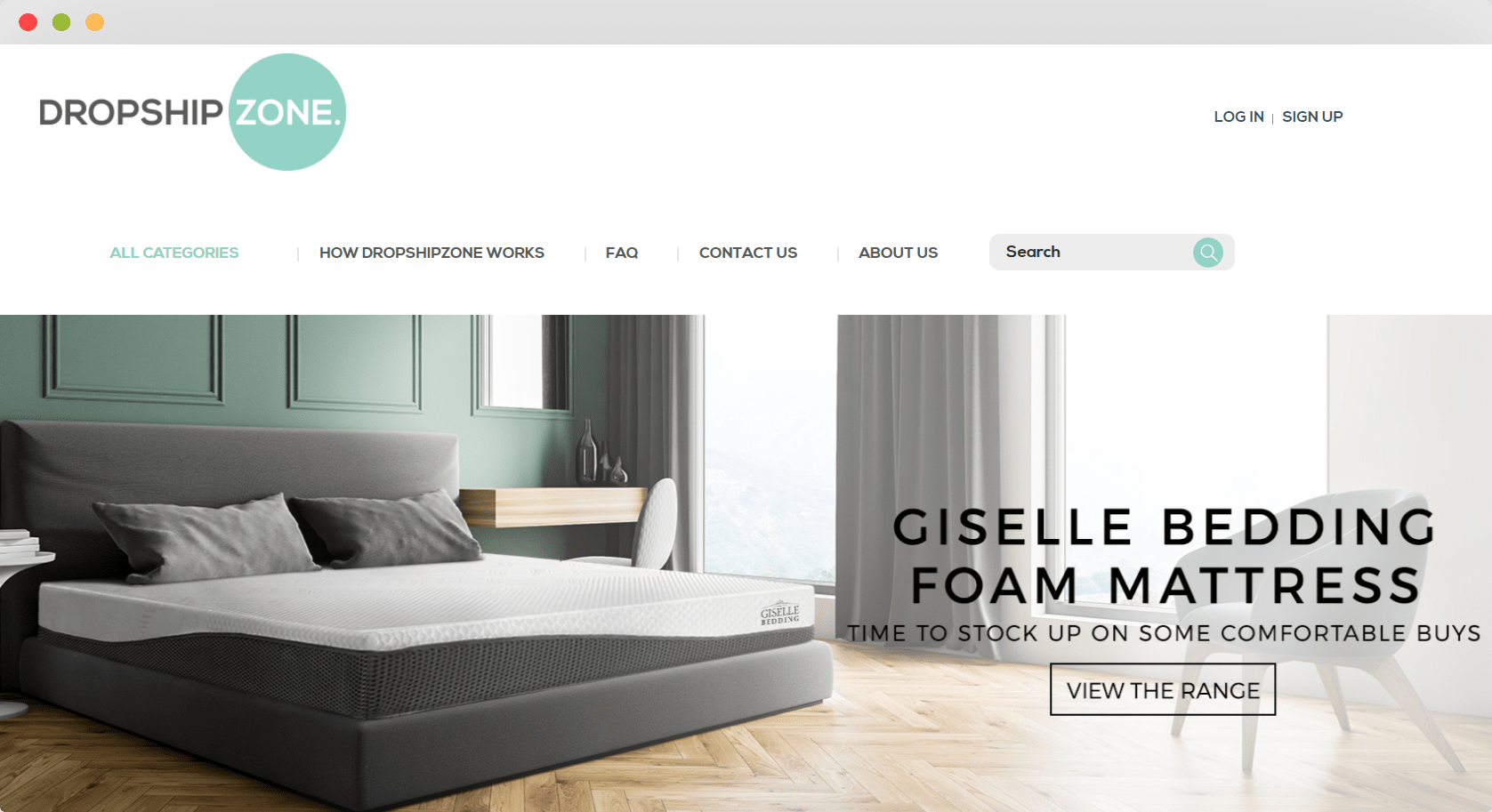 Contrary to Dropshipzone, Factory Fast is an Australian dropship supplier that doesn't require you to have an ABN.
On the Factory Fast website, you can find products in different categories like DIY, home improvement, furniture, games, sports, outdoor and leisure, and more.
Besides dropshipping services, Factory Fast also offers wholesale and bulk purchases for your eCommerce business.
Factory Fast is an online mall with affordable prices. Considering that there are no brick and mortar costs, the Factory Fast team sells their products at factory prices – allowing you, as the dropshipper, a chance to set high-profit margins.
CJDropshipping is a full-service dropshipping company with warehouses throughout the world, including Australia.
Although they're not a local Australian dropshipping supplier, CJDropshipping's network and storage capacity throughout the world makes working with them a breeze. Plus, they have a warehouse in Australia with stock that's available for sales.
If you decide to dropship directly from their Australian warehouse, you'll enjoy short delivery times, just as if you were working with an actual local supplier.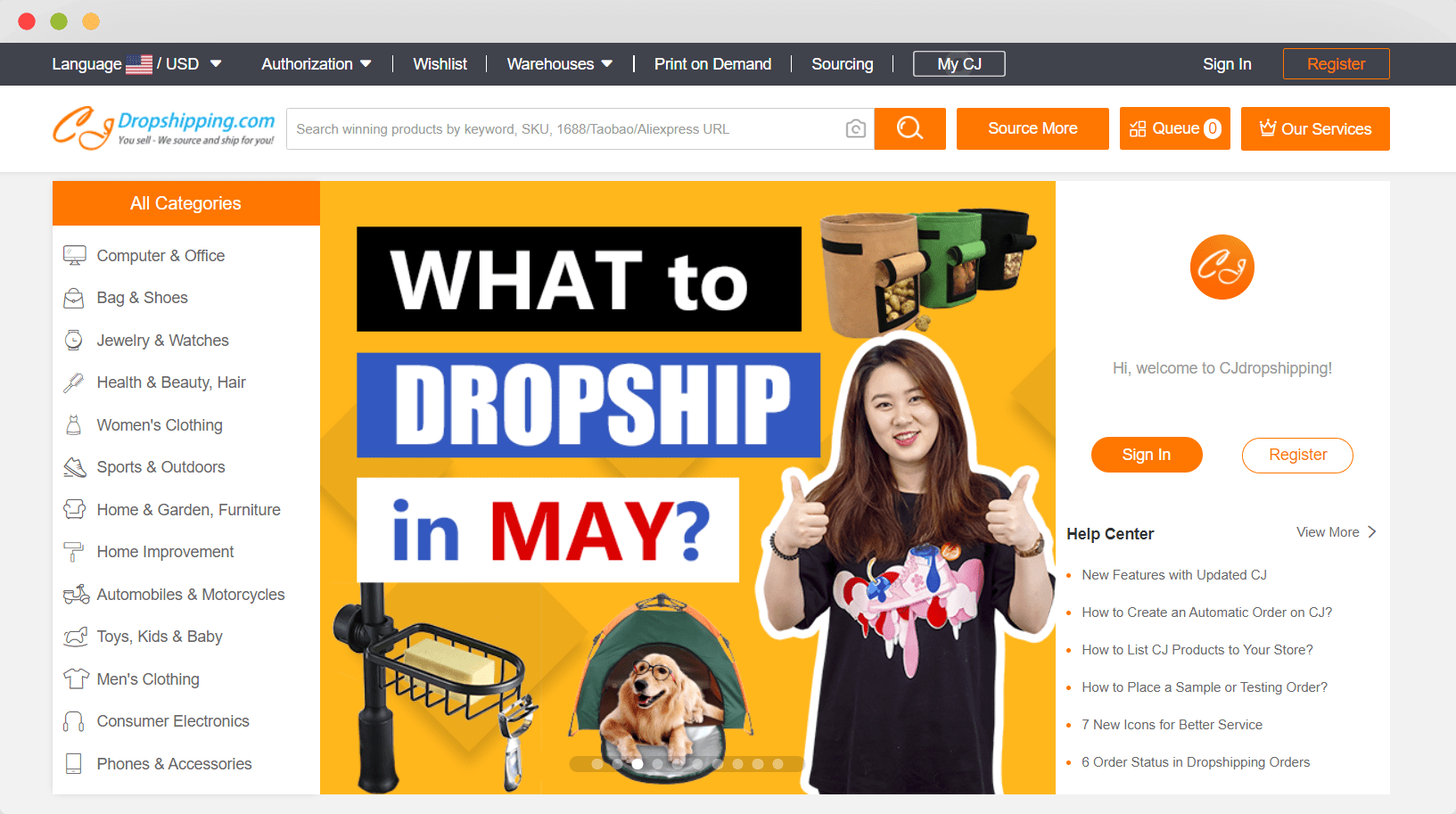 With CJDropshipping, you can dropship products in many different niches: health and beauty, electronics and gadgets, clothing, sports and outdoors, toys, phones and accessories, and many more.
CJDropshipping integrates with ease with any eCommerce store builder: Shopify, WooCommerce, eBay, ShipStation, and Shopee.
And last but not least, CJDropshipping can also provide you with PoD services, branded packaging, private labeling, and white labeling, depending on your needs and dropshipping model.
This next one is a pioneer among dropshipping wholesalers in Australia – the OzDingo Marketplace. With a Trustpilot review of 4.9 stars, this family-owned Aussie business blossomed into a favorite among dropshippers and resellers.
On OzDingo, you can find products that belong in categories such as animals and pets, home and garden, kids and baby, sports, health, beauty, electronics, fashion, etc.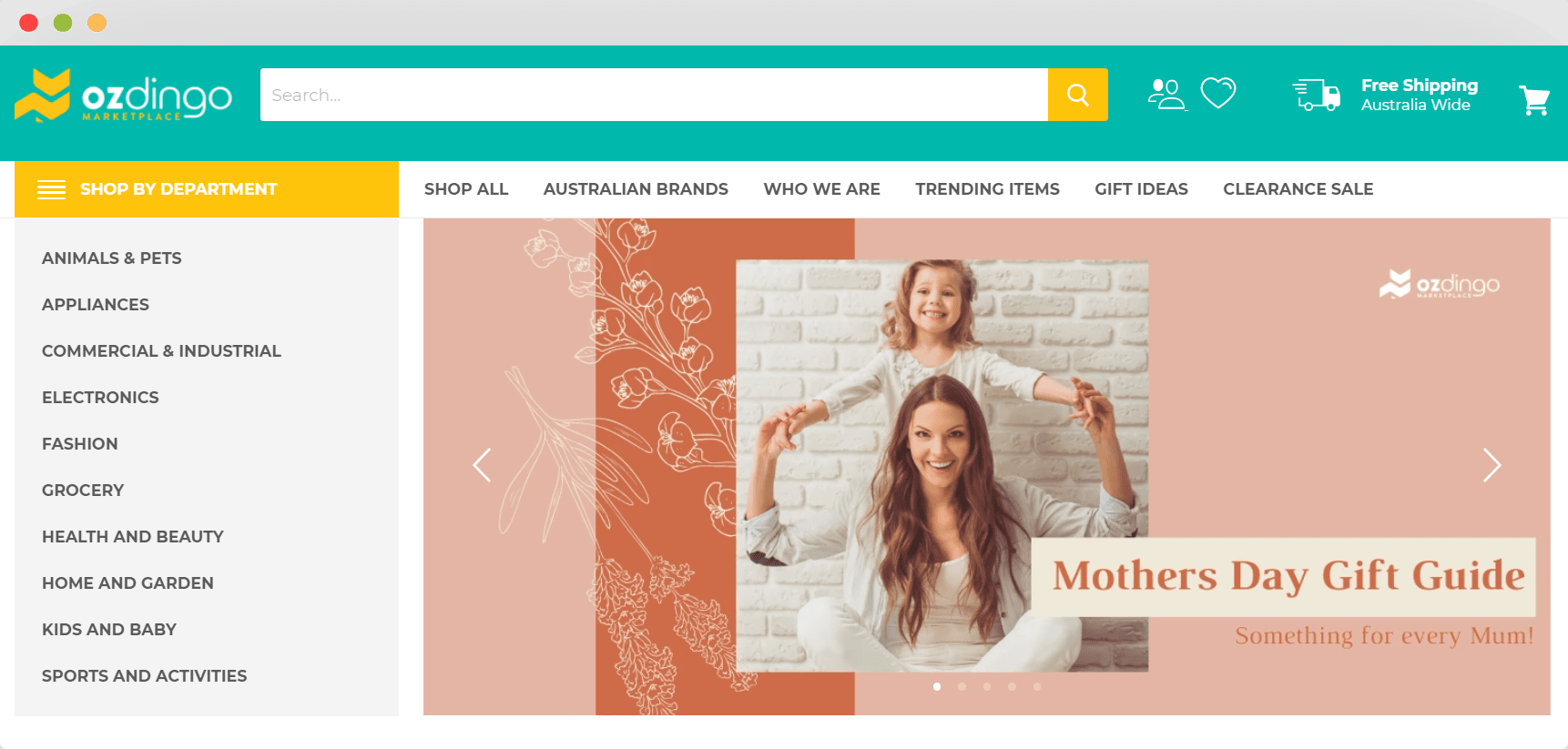 Due to OzDingo's wholesale model, it might not be the best option for inexperienced dropshippers. However, if you have a stable number of daily orders and don't doubt your selling capabilities, you can use OzDingo's wholesale service.
Are you an experienced dropshipper ready to sell high-value, branded items? If so, BrandsGateway can be what you need.
BrandsGateway is a B2B luxury fashion marketplace with a worldwide dropshipping and order fulfillment service. With them as a supplier in Australia, you can dropship upwards of 90.000 different brand products.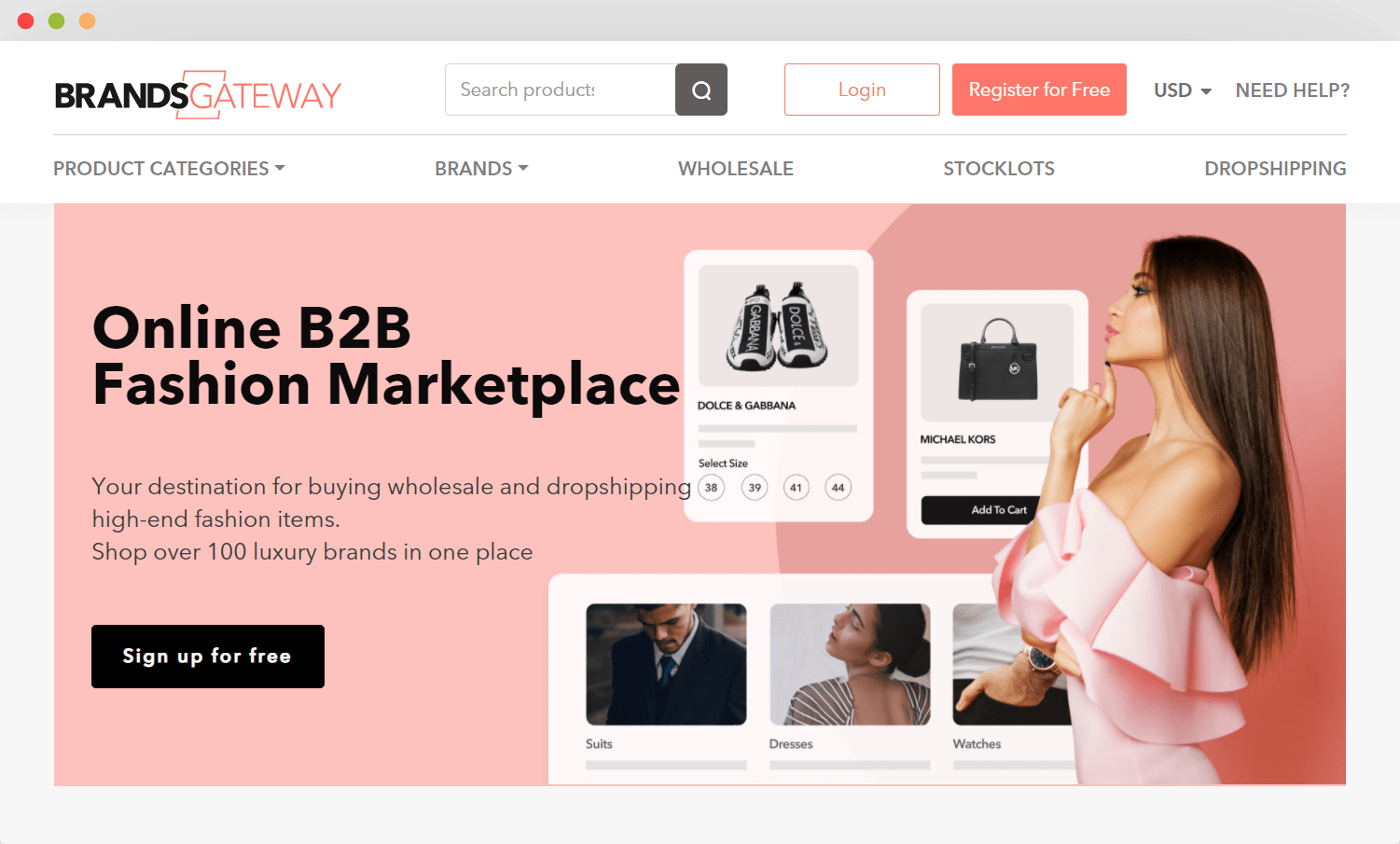 On the BrandsGateway products, you can set a high-profit margin and earn up to 250% on each sale. You can sell Armani, Dolce & Gabbana, Versace, Moschino, Cavalli, Balmain, MSGM, and other branded items.
When it comes to online store integrations, you can connect BrandsGateway directly to Shopify and WooCommerce. If you're using another store builder, you can use their CSV/XLSX files.
Considering their high-cost items, BrandsGateway is not free to use as a dropshipper. Their monthly package costs 295 EUR, while to pay for three months at once will cost you 590 EUR.
Their most affordable option is their yearly package which comes with a 66% discount and costs 1.188 EUR/year.
Have you ever wanted to dropship high-quality, handmade rugs? Now's your chance! If you're an Australian dropshipper or want to start a dropshipping business in Australia, you have to check out Alrug.
With over 15.000 authentic carpet designs to choose from, Alrug is a paradise for dropshippers worldwide. On Alrug, you can find Persian rugs, oriental, modern, Pakistani rugs, kilims, tribal rugs, and many other types of carpets.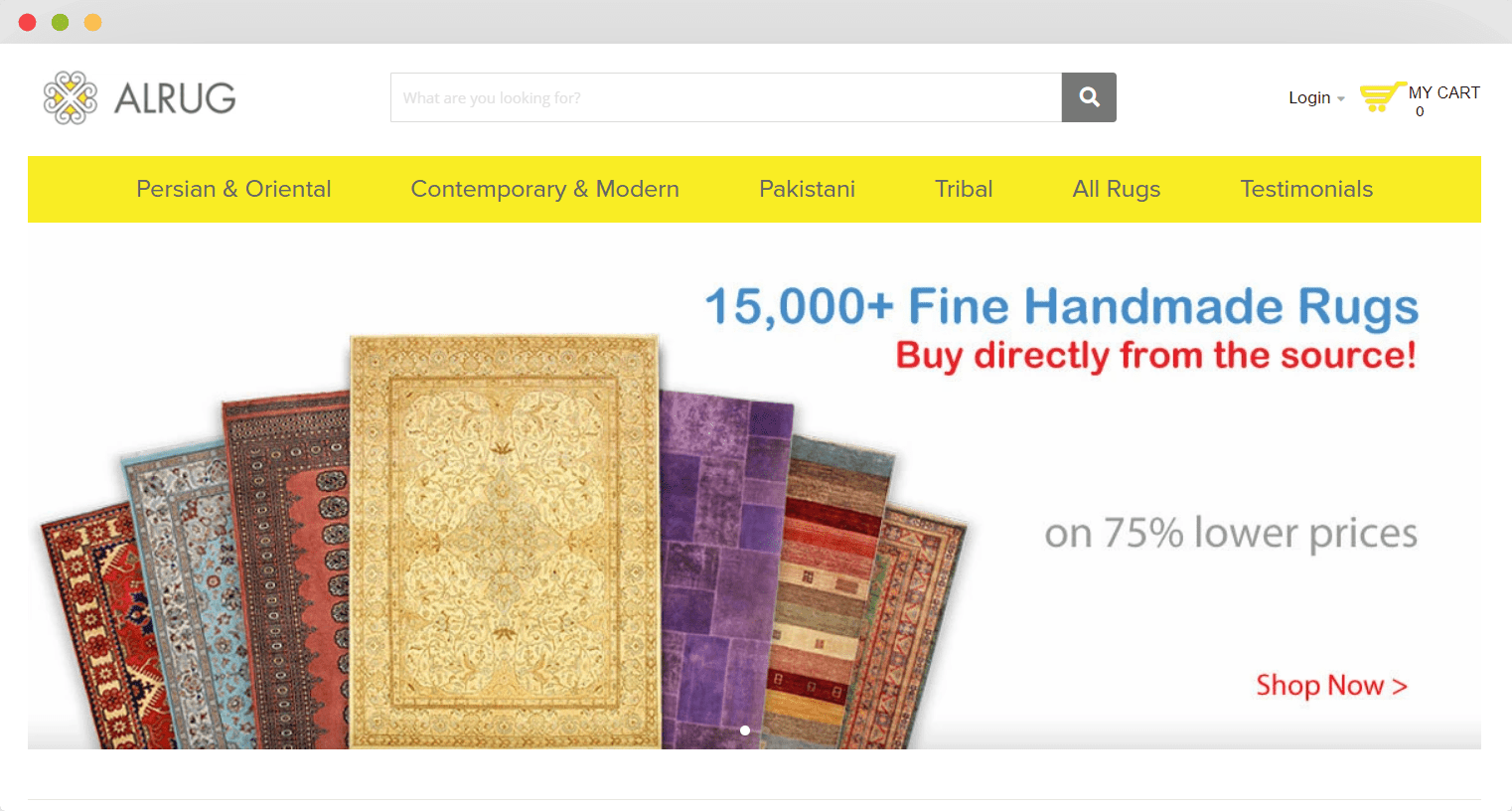 Although Alrug is not an Australian dropshipping supplier but based in the USA, they offer free worldwide shipping and fast delivery of 4 to 6 business days.
Due to the pricing of these products, dropshipping with Alrug is not for beginners. You will need some sales and marketing experience to be able to sell a carpet for $1000. Additionally, you'll need tons of trust from your store visitors!
Located in Melbourne, Victoria, the Catch marketplace is an Australian-based dropshipping marketplace that offers different ways to earn.
To get accepted as a seller on Catch, you first need to pass a screening test. To join Catch as a seller, you will need proof of a business entity.
On the Catch marketplace, you can sell your products (as long as they fit the quality standards) or resell products from their stock. If you use Catch to sell your products, it will work similarly to having an eBay or Amazon store.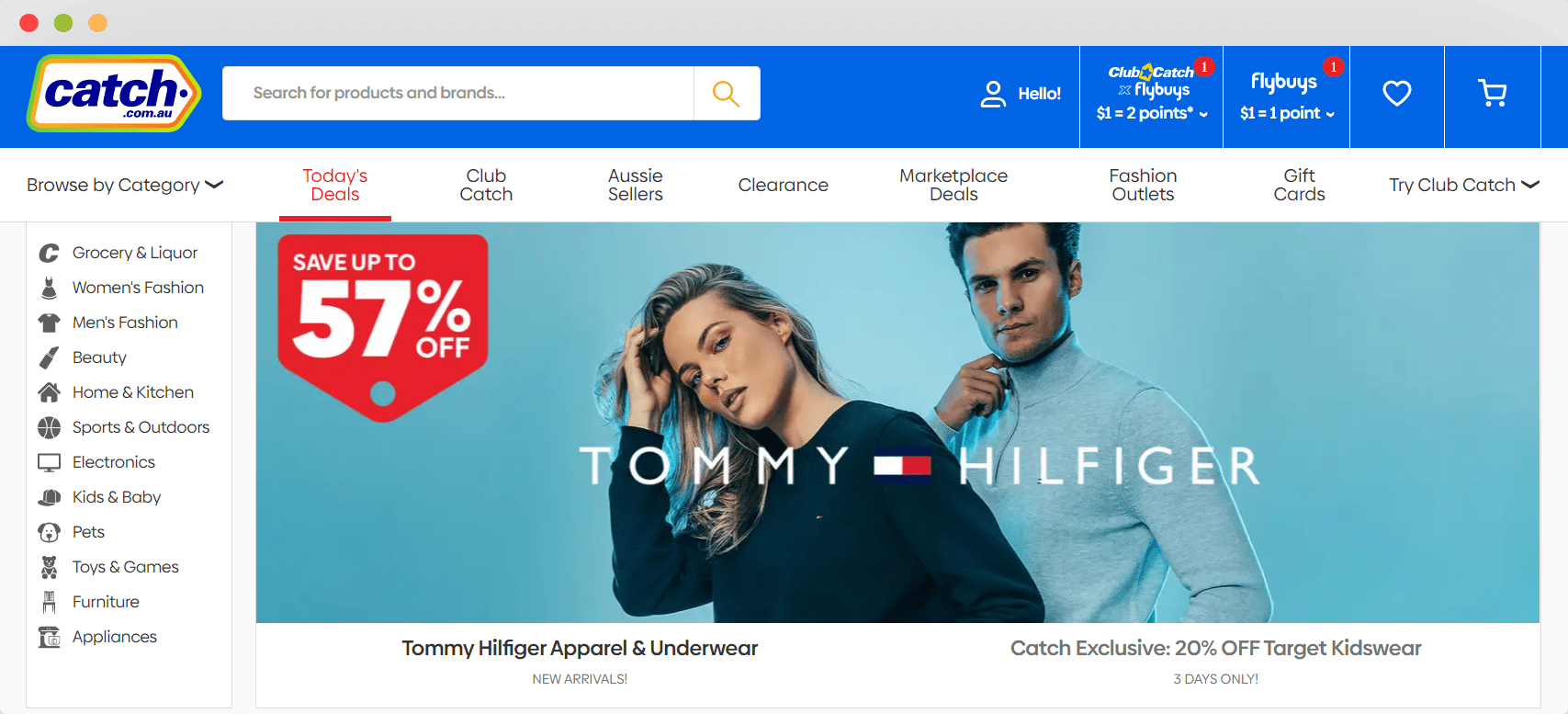 Once you pass their screening test, Catch will provide you with a store login as well as onboarding specialists to help you get started.
With Catch, you won't have any product listing costs. However, they charge a monthly fee of $49.99.
Over 80% of SaleHoo's verified AliExpress sellers ship worldwide! So, SaleHoo has deserved its spot on our list of best Australian dropshipping suppliers.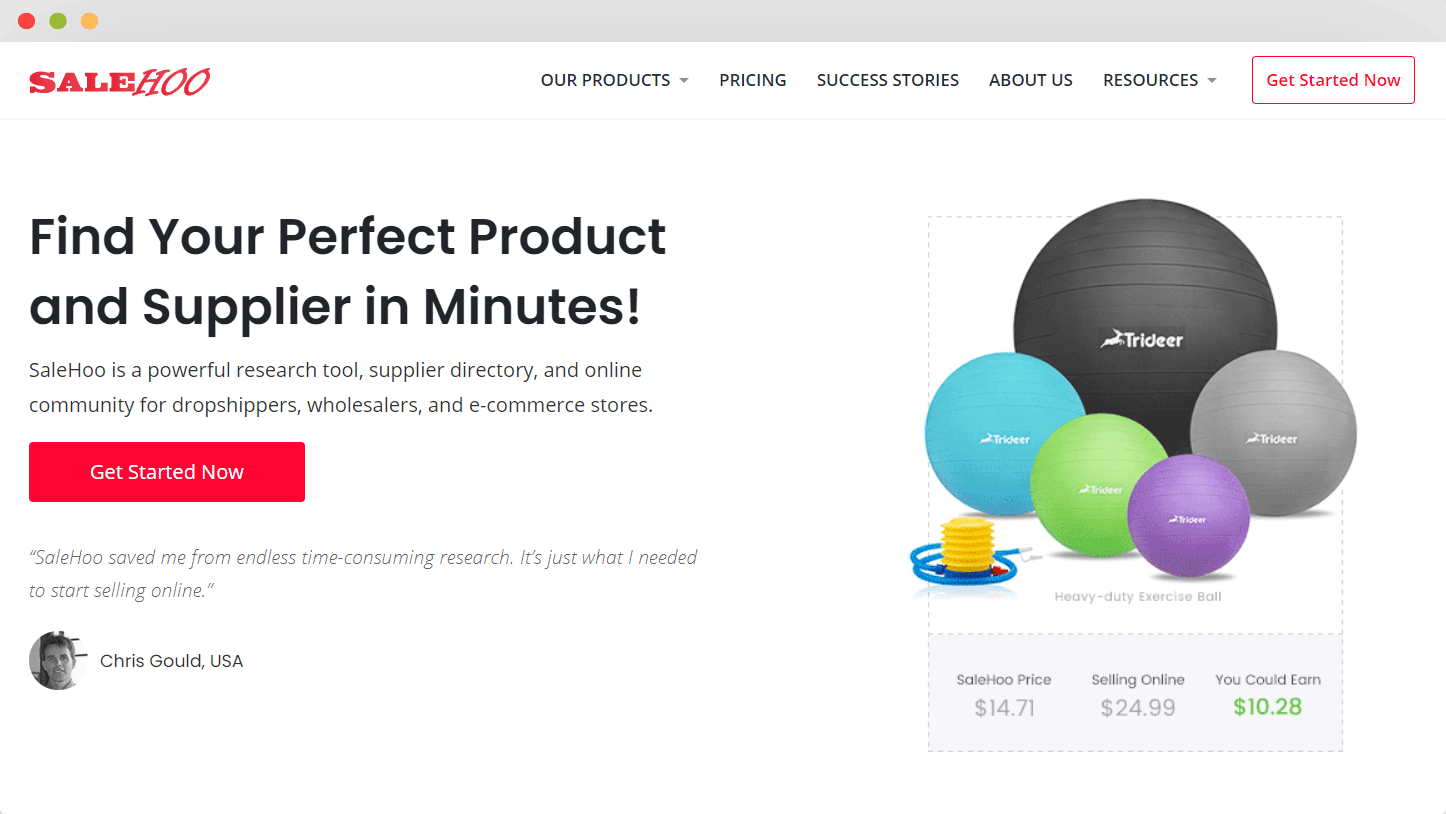 SaleHoo has a directory of over 8000 trustworthy and verified AliExpress suppliers selling high-quality products. However, the SaleHoo membership is not free. They have three different models for eCommerce gurus:
SaleHoo Directory – gain access to over 8000 verified AliExpress suppliers – $67 per year or $127 for lifetime access;
SaleHoo Dropship – allows you to import high-profit products to your store – $27 per month/Basic plan, or $97 a month for their Premium plan;
SaleHoo Educate – costs $47 for lifetime access to dropshipping courses;
As you know, AliExpress is a marketplace composed of different suppliers. Depending on the location and reach, some sellers or suppliers will drop ship to Australia, while others won't (or charge a lot for it).
Since AliExpress is a B2C marketplace, sellers there are usually open to dropshipping.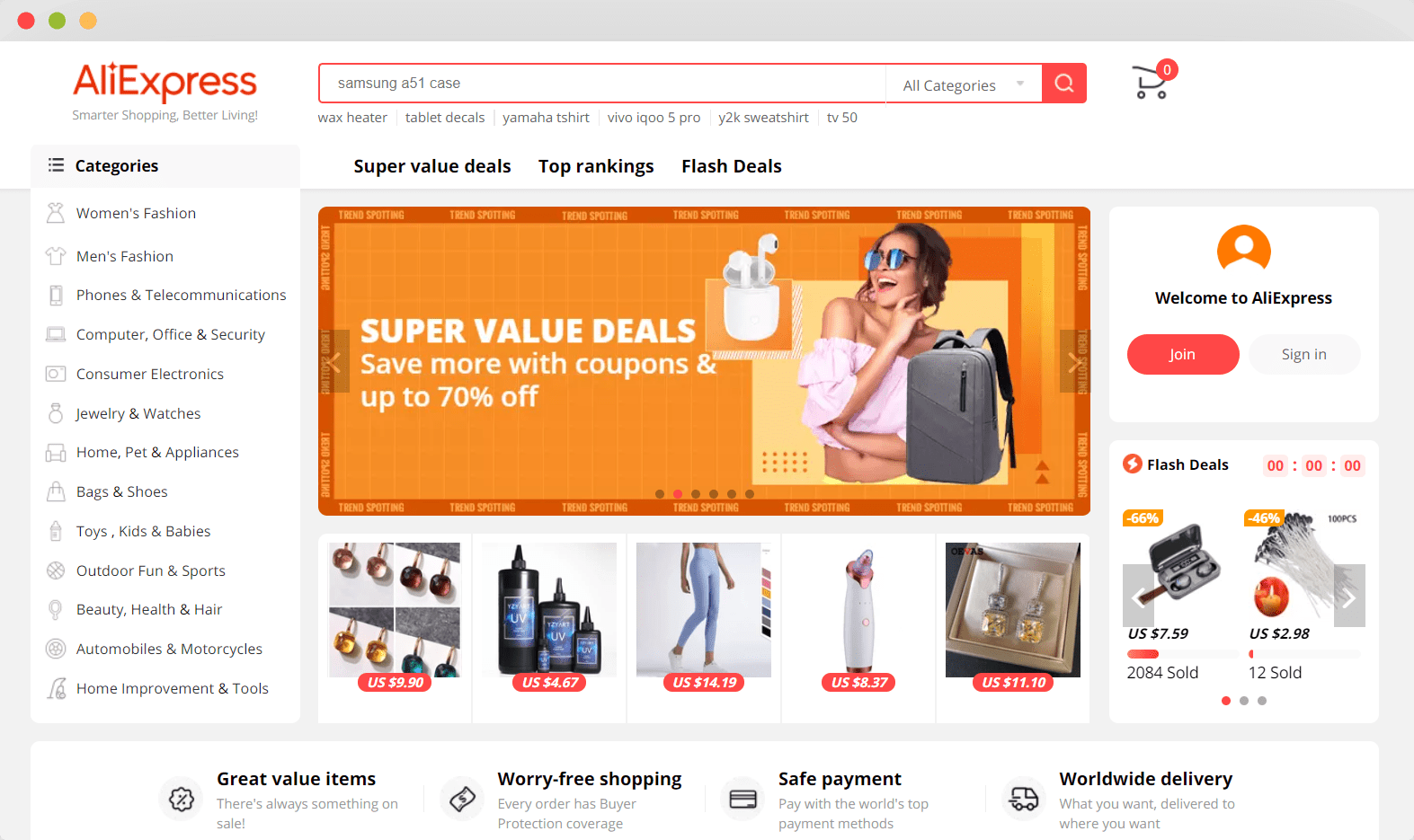 Most AliExpress suppliers are from China, but many of them ship worldwide, including Australia. So, before you dismiss AliExpress as a drop shipping network for your Australian eCommerce business, get in touch with several sellers.
For designers and creatives who want to sell their designs, Printful is a PoD supplier that can ship to your Australian customers.
As one of the most well-known PoD services, Printful understands the importance of localization and personalization for your Aussie customers.
If you decide to use Printful for your PoD store, your customers will enjoy accessible payment gateways and prices in AUD instead of USD. With this, you'll avoid abandoned carts and customers changing their minds when they see the prices in AUD.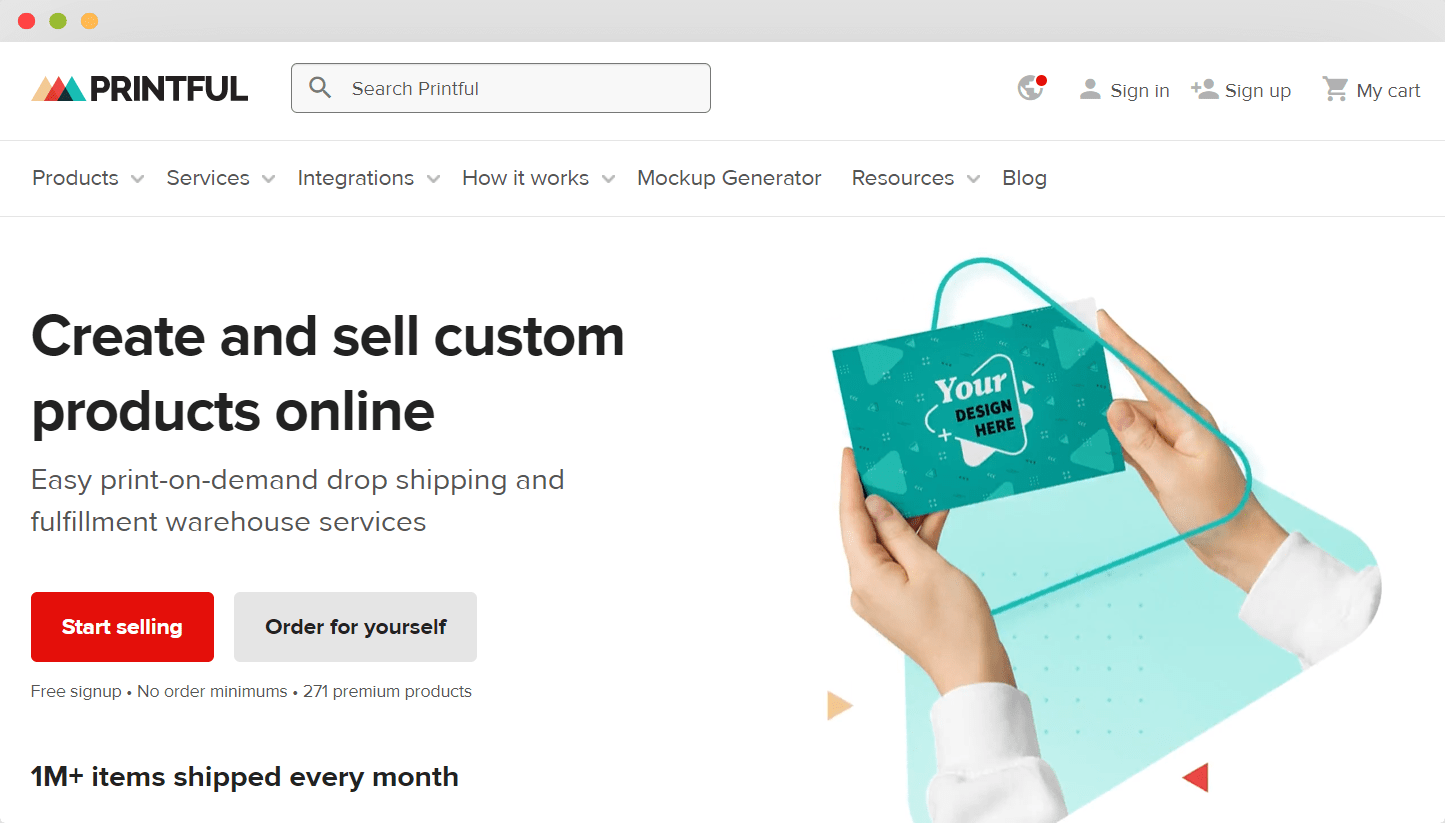 Although Printful is not an Australian dropshipper, they collaborate with one printing facility in Brisbane and another in Victoria. With this collaboration, they have decreased their shipping times to Australian customers from 15 to just 2-5 days!
We encourage all Australian dropshippers who want to create their private label tea brand to check out Bondi Beach Tea Co.
Bondi Beach Tea Co. offers organic tea blends combined with services such as wholesale, private labeling, and dropshipping to your end customers.
Furthermore, if you still don't have an online store or a website, the team at Bondi Beach Tea Co. can help you design a beautiful website, logo, or branding, to help you be a successful seller.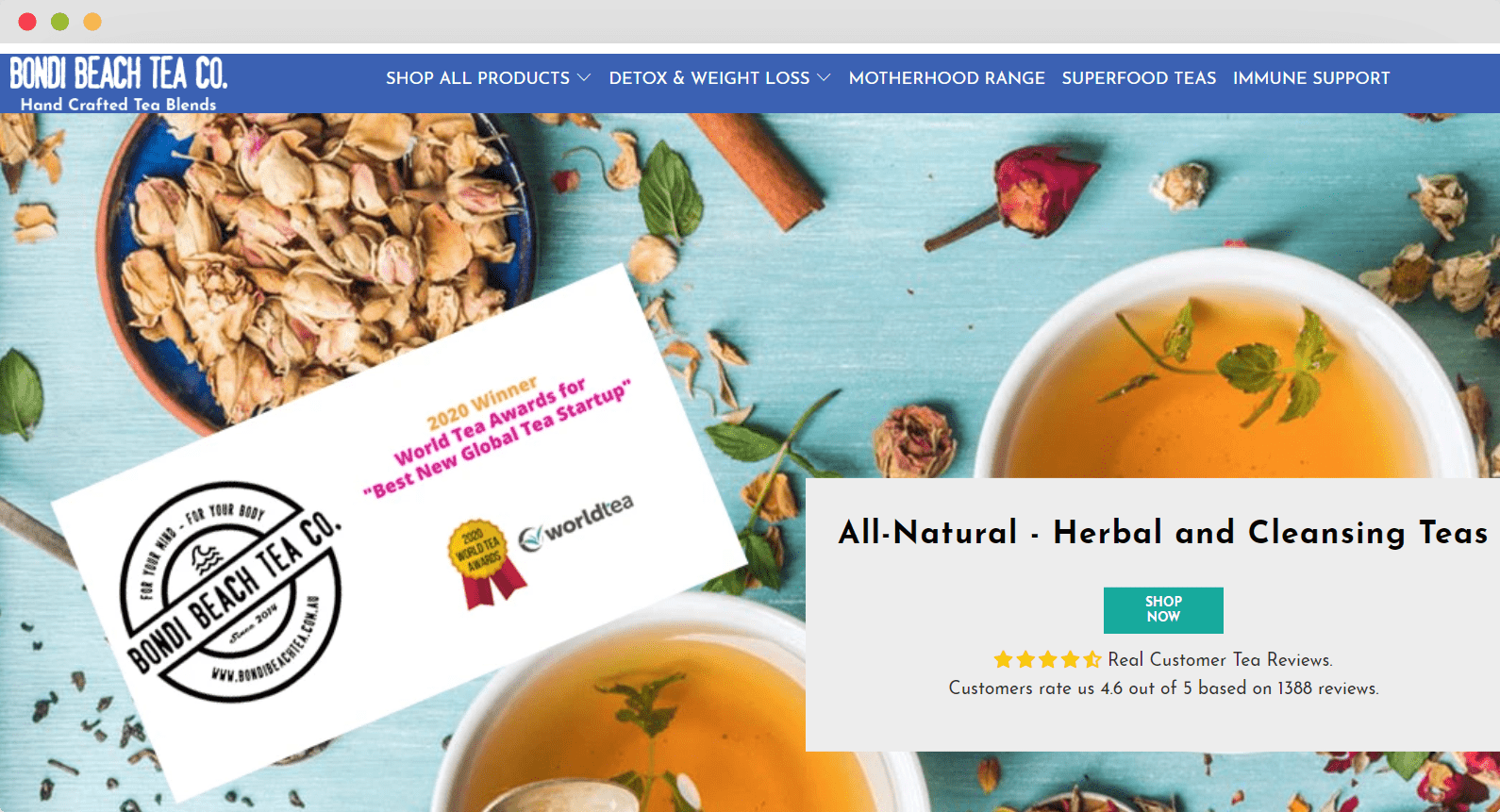 To join Bondi Beach Tea Co. as a dropshipper is free. Of course, you will have to pay for their extra services such as designing a private label brand for you, dropshipping, order fulfillment, etc.
If you're an experienced Australian dropshipper looking for a way to scale and grow your business, you have probably thought of buying in bulk and storing your stock in a warehouse. And this is where Alibaba comes in.
Although Alibaba is a B2B marketplace that's not so suitable for dropshippers, it's perfect if you have a stable and constant number of daily orders.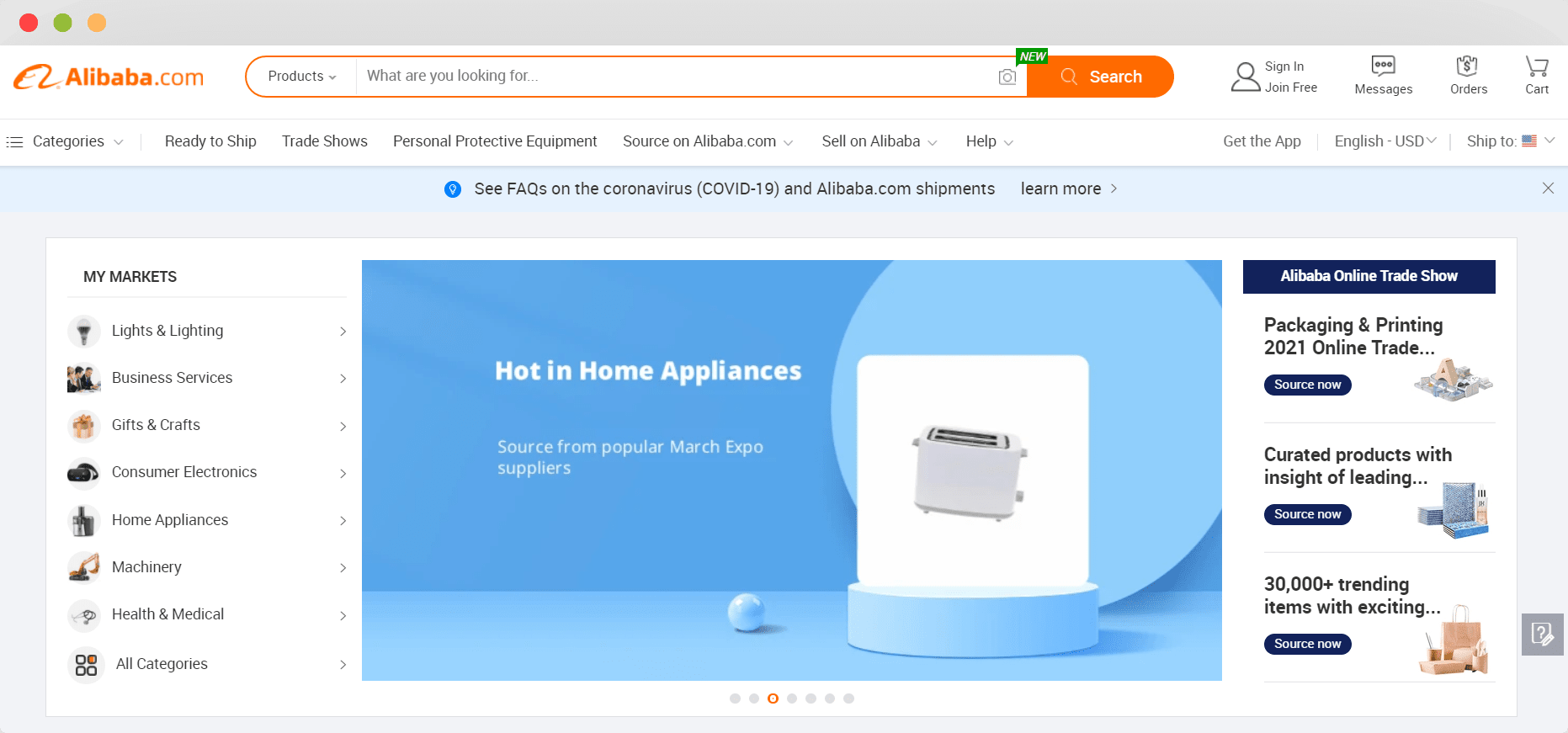 Buying in bulk and storing products in a warehouse is riskier than drop shipping, but it will give you much better earnings and profit margin.
Some suppliers on Alibaba will drop ship in Australia, while others won't. Ensure you ask your Alibaba supplier questions such as delivery time, shipping costs, product quality, order tracking possibility, etc.
For dropshippers interested in selling authentic, high-quality jewelry made with Swarovski elements, Bella Boutique is one of the best Australian dropshipping suppliers for that purpose.
Bella Boutique offers a range of jewelry products like necklaces, bracelets, rings, earrings, sets, and accessories.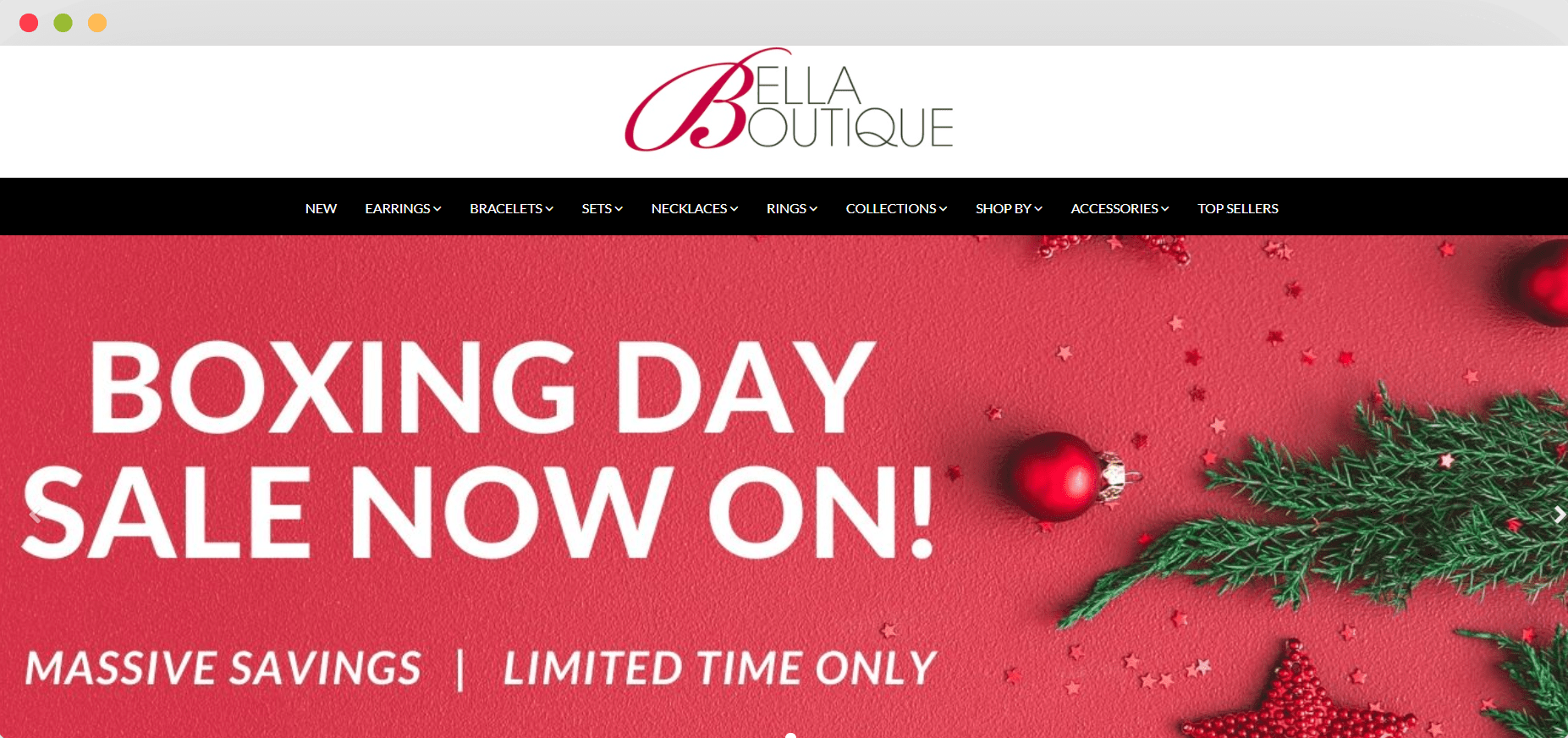 To join Bella Boutique as a dropshipper, first, you have to sign up and get approved. Their membership is entirely free, and as a dropshipper, you'll get excellent pricing on their products.
Finally, Bella Boutique agrees to send the product without an invoice or branded package so that your customers don't get a box with their logo.
If you're an Australian dropshipper into the medical supplies business, DearJane Medical could be a perfect supplier for your needs.
DearJane Medical is an Australian dropship-friendly online store for all types of medical devices and supplies such as crutches, walkers, masks, nebulizers, splints, braces, and more.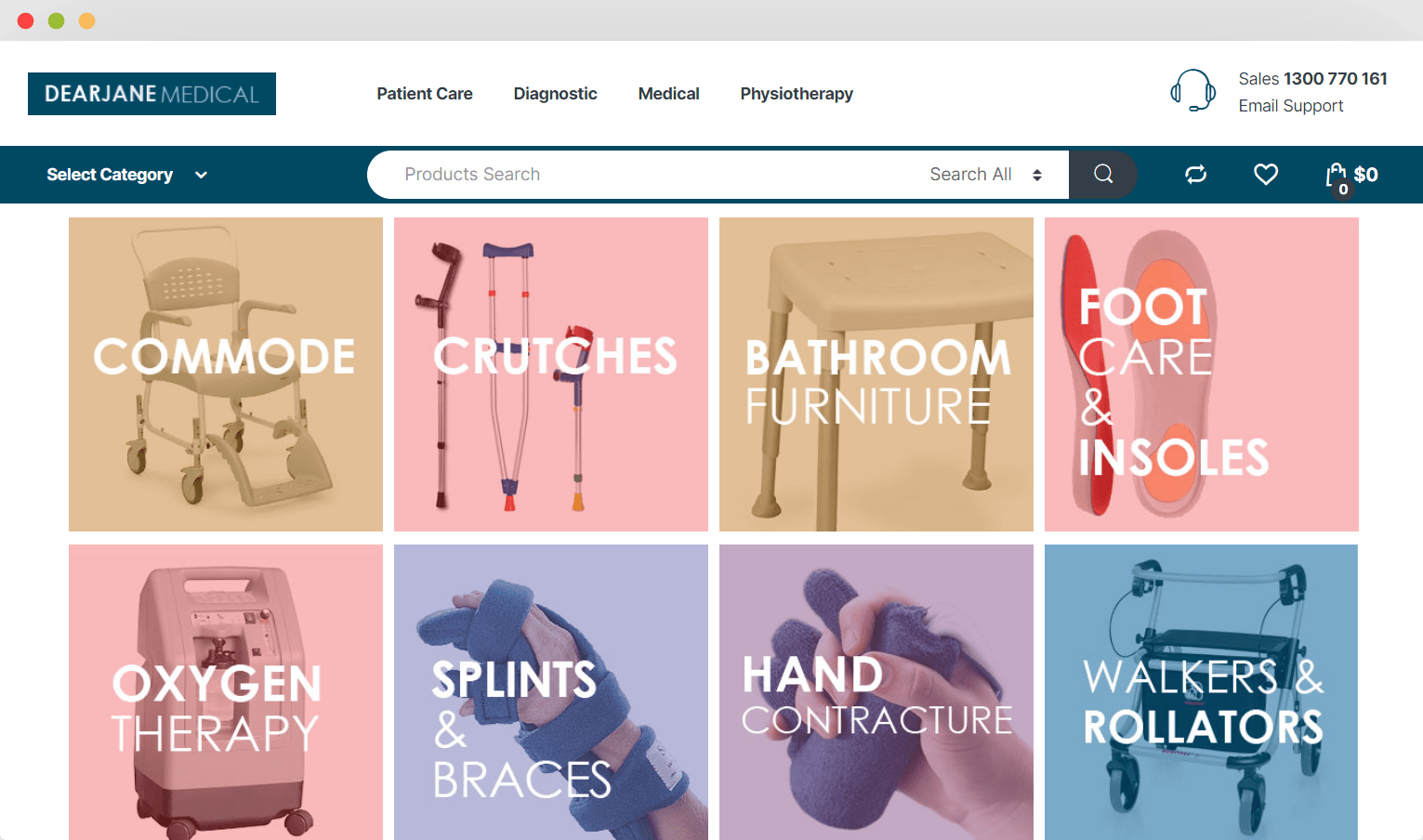 To join the DJM dropshipping program, all you need to do is fill out a form on their website to get approved, set up your account, and list some of their products to your shop.
You can integrate DearJane Medical with different eCommerce websites, eBay, Amazon, Trademe, Etsy, and others.
In today's Covid-ridden world, we see more and more focus toward cleanliness and health. Naturally, many dropshippers decided to start selling cleaning tools and supplies.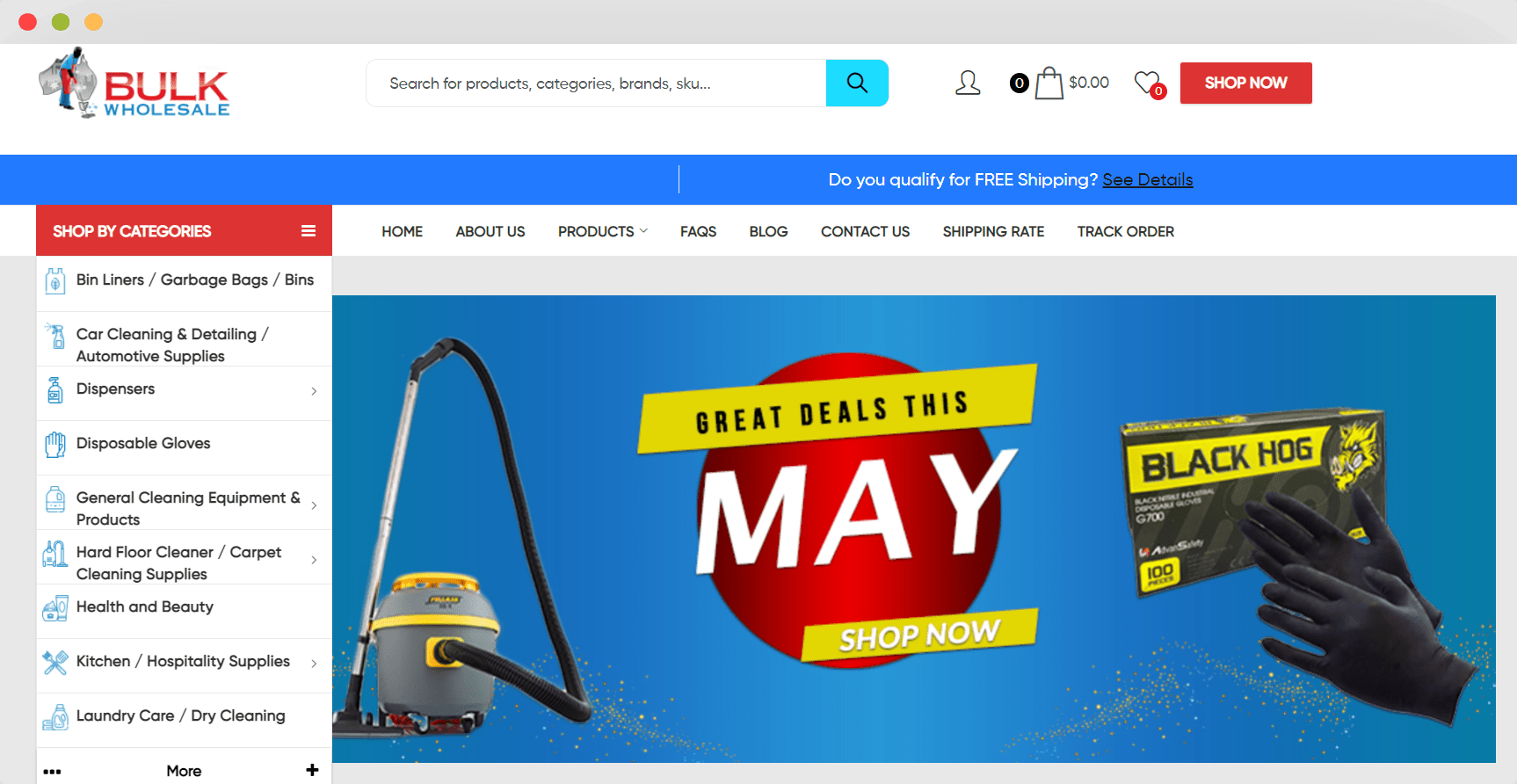 Bulk wholesale is one of the best Australian suppliers in the niche of cleaning supplies and hygiene. There, you can find products such as dispensers, disposable gloves, cleaning equipment, cleaning solutions, kitchen, hospitality suppliers, etc.
As one of the best dropshipping suppliers in Australia, Colourblocker is an entirely free service that's good for beginners in dropshipping.
At the moment, Colourblocker offers free shipping on all of their products Australia-wide. Unfortunately, as of this moment, they still don't have international shipping options. So, we hope this will be an option soon.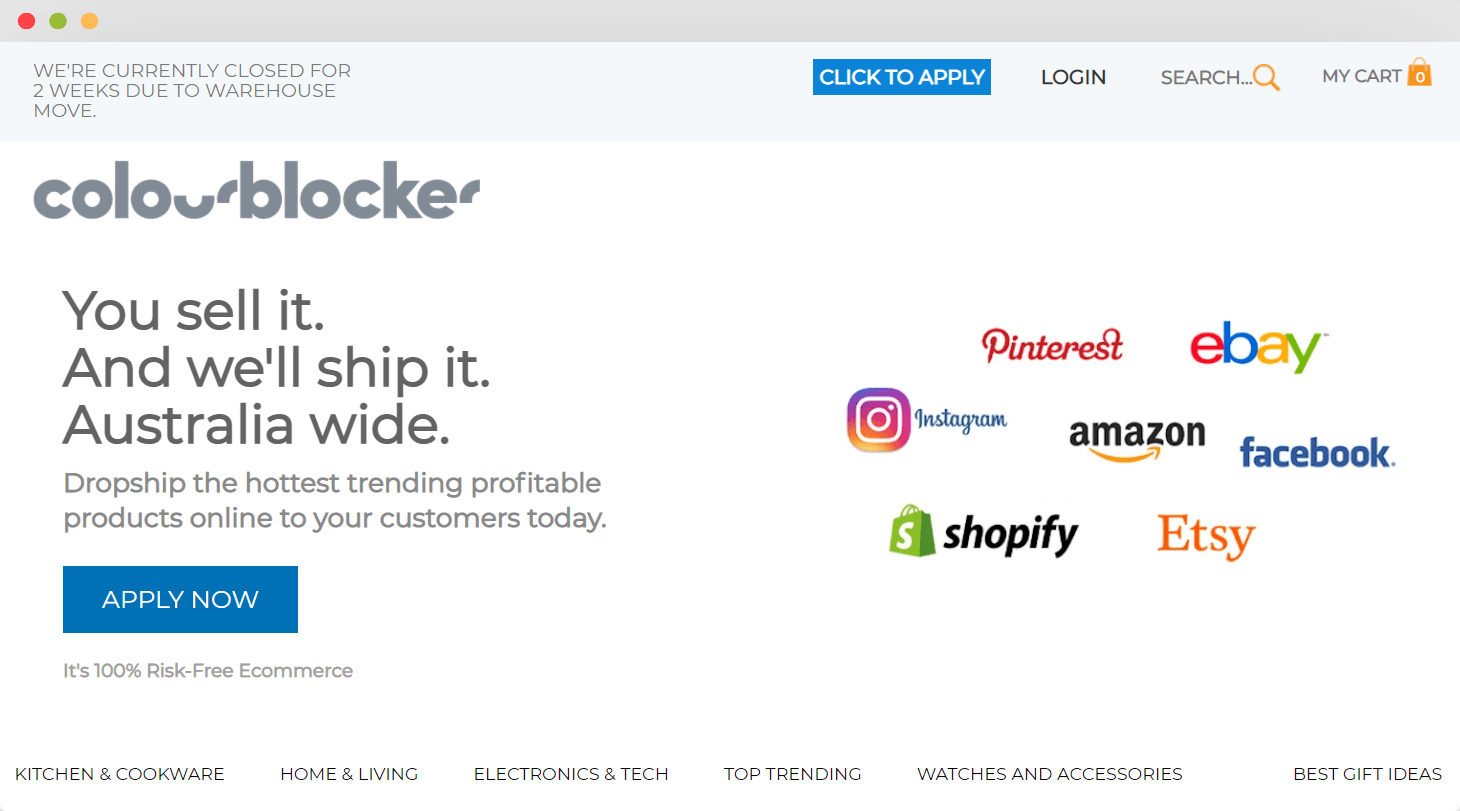 However, if your eCommerce business and your customer base are in Australia, Colourblocker is a great way to start dropshipping!
On the Colourblocker site, you can find products such as kitchen, tech gadgets, home, gifts, watches and accessories, and others.
Colourblocker will comfortably integrate with different platforms: Shopify, eBay, WooCommerce, BigCommerce, Catch, Amazon, and Neto.
As the name itself suggests, Chinabrands is a dropshipping company offering over 100,000 affordable products from different Chinese manufacturers. Due to this, products purchased from Chinabrands are highly affordable.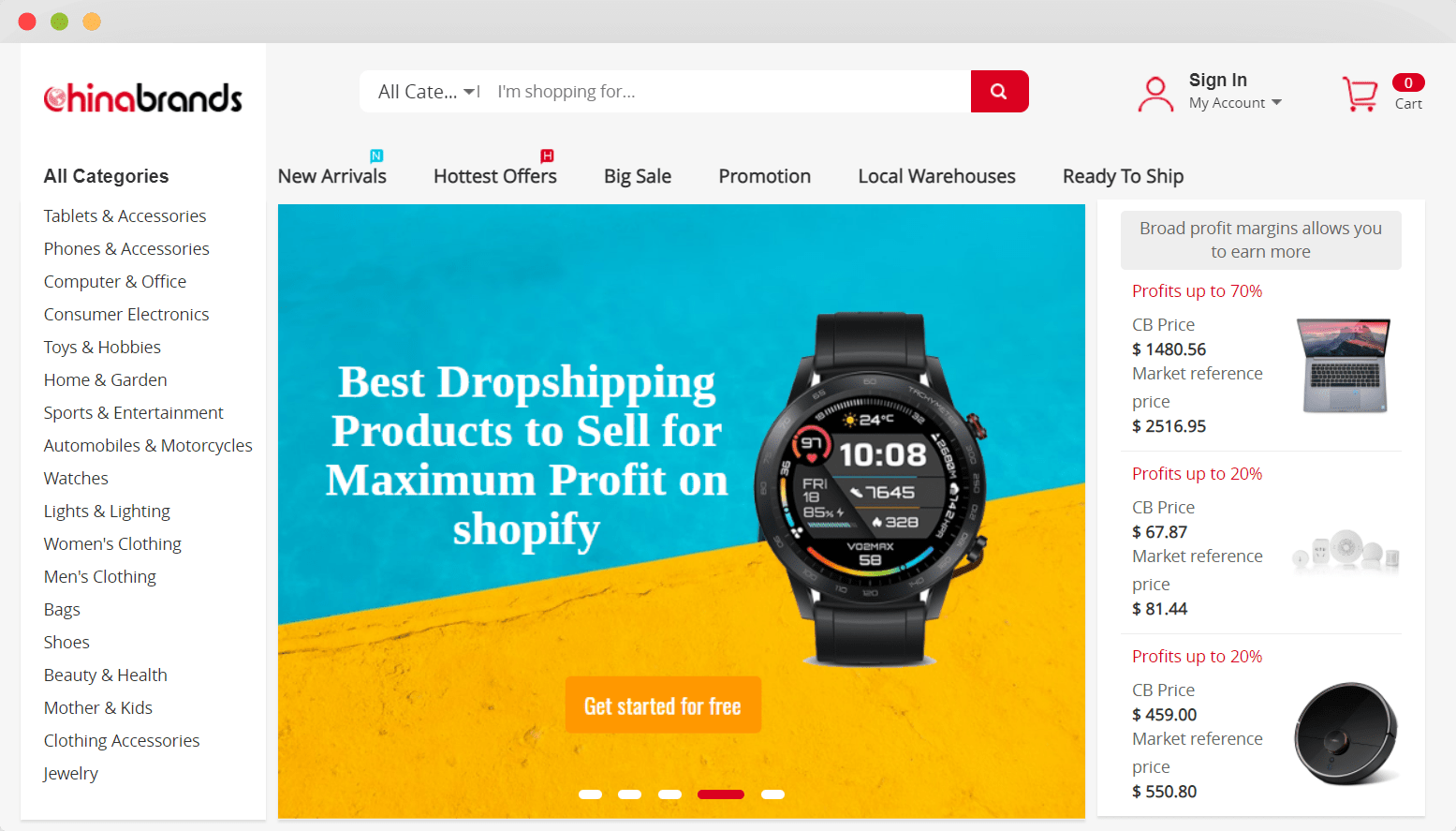 Although not located in Australia, Chinabrands has a worldwide fulfillment center with warehouses in many different countries. So, dropshipping to your Australian customers will be a breeze.
If you choose to use Chinabrands as a supplier for Australia, you can integrate it with your Shopify, Amazon, Wish, or eBay online stores.
For dropshipping businesses in Australia interested in selling plus-size clothing, Daring Diva is the best supplier to have. If you have a registered company, you can join Daring Diva as a dropshipper and receive a 15% commission on every sale.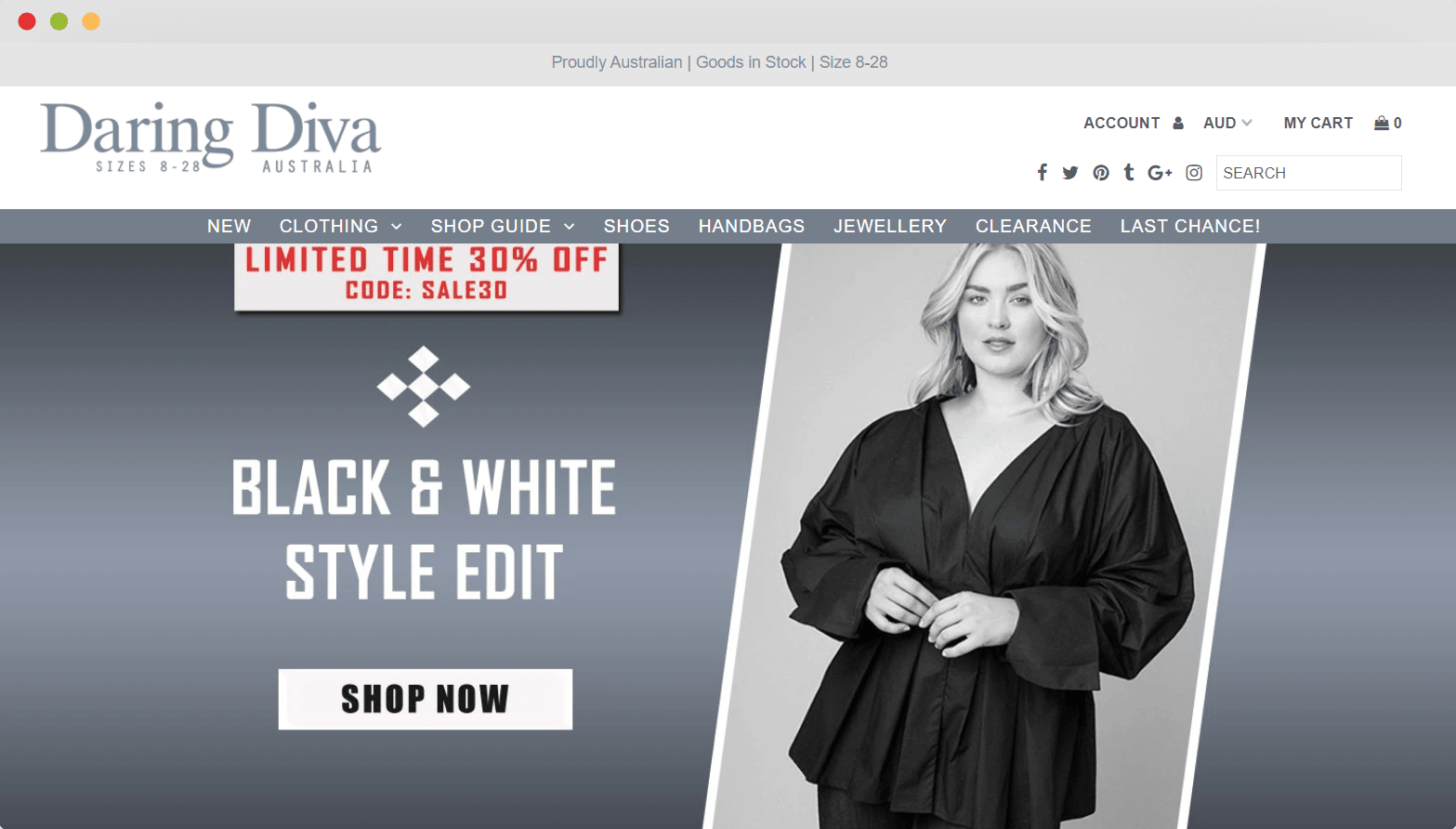 Unfortunately, if you're a private individual, you won't be eligible for the dropshipping program, but you can check out their Brand Ambassador model.
Besides clothing, with Daring Diva, you can also dropship jewelry, shoes, and handbags.
Specialized in everything home-related, Dasch Design is a well-known Australian dropshipping supplier of furniture, lighting, home decor, mirrors, and tons more.
Dasch Design has two models to help you earn with eCommerce – dropshipping and wholesale (bulk).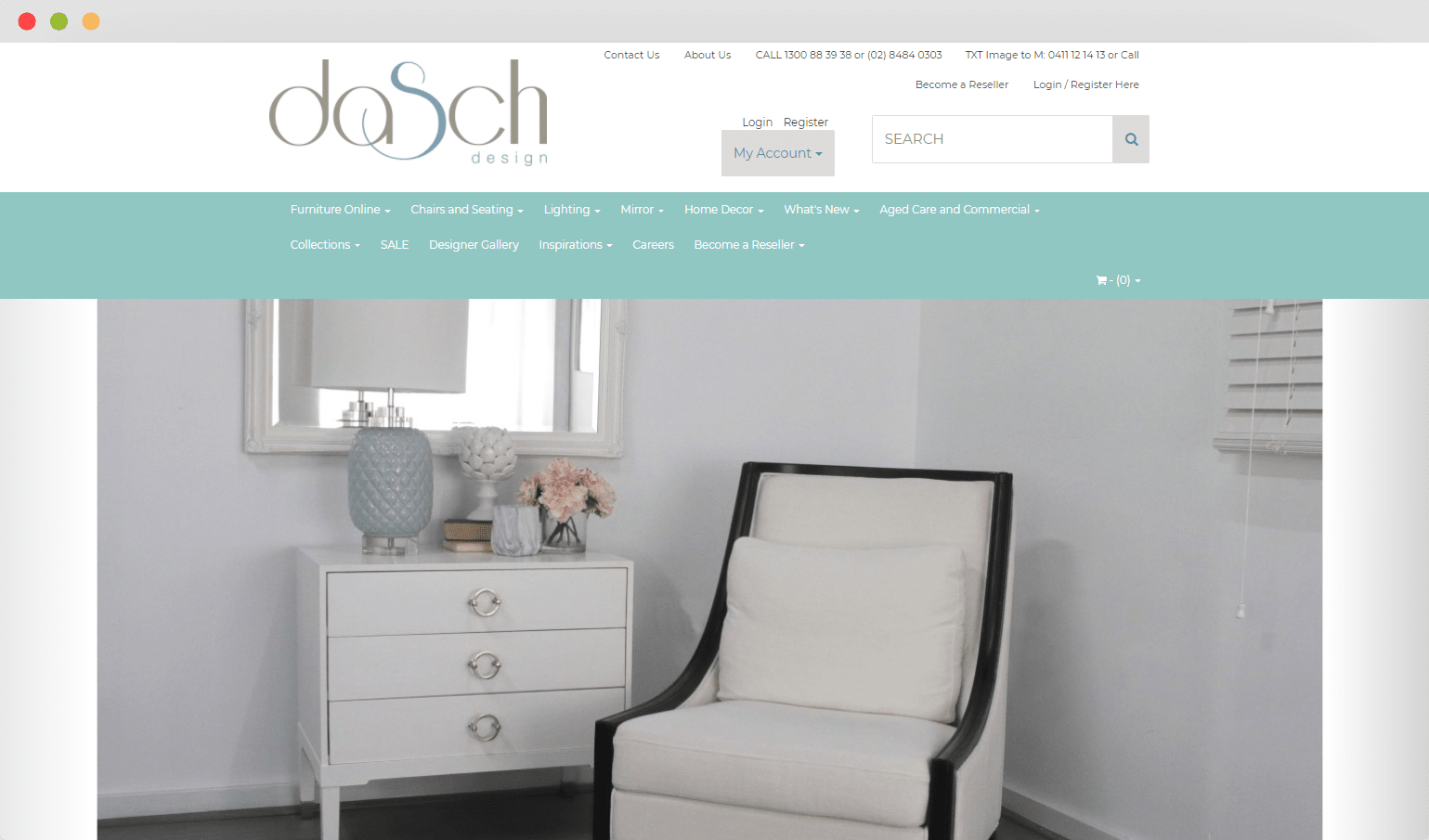 With their dropshipping model, you can set your retail price and profit margin, and they take care of everything else.
What we loved most about Dasch Design is that you need zero investment to start! They even cover the packaging and shipping of the goods from their side.
For sure, you've seen those super-soft, super-comfy Australian UGGs! What if you could drop ship and earn by selling original Australian UGGs? We're here to tell you that you can!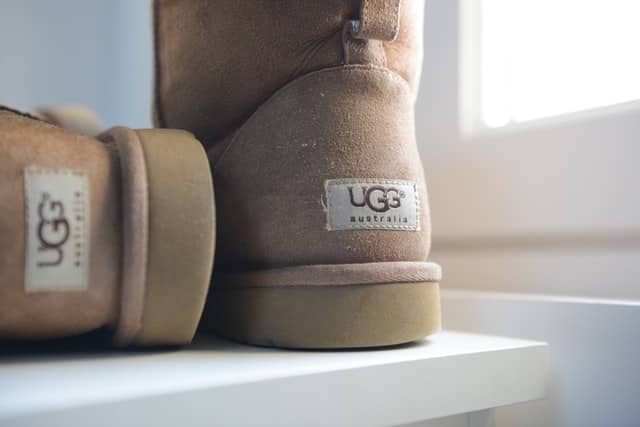 To dropship Australian UGGs, you need to register on their international site and send them an URL of your online store or social media accounts where you plan to promote their products.
Once you've done this, they'll create a 20% discount code specifically for you. You can use this code on each order to apply the discount and keep the difference. The more you sell, the more you can earn!
These original Australian UGGs come with free worldwide shipping, as well as a 12-month warranty. Once you sell a pair and place a discounted order, you keep the 20% and let them drop-ship the UGGs to your client's address.
This one is for all dropshippers interested in making children happy by selling toys, gifts, and arts and crafts.
As an Eleganter dropshipper in Australia, you'll have a wide range of products to sell.
Note that dropshipping with Eleganter requires submitting an application form and getting approved, for which you'll need to provide a registered company and an ABN.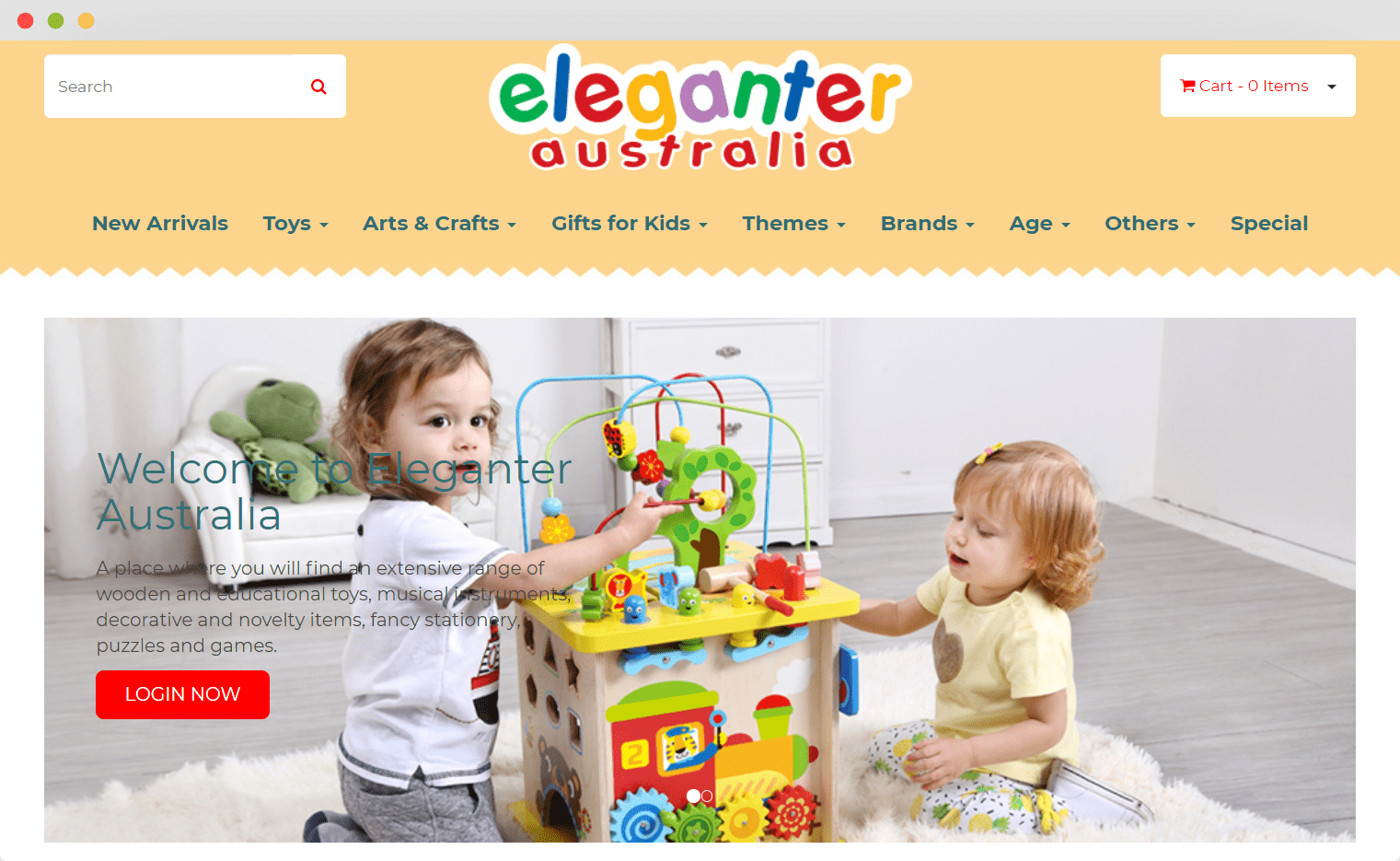 If you get approved as a dropshipper on Eleganter Australia, you won't have any upfront costs. There's no membership fee whatsoever. What's more – they take care of the entire order fulfillment process, leaving you time to focus on sales.
Our last suggestion in this list of best Australian dropshipping suppliers is Dropshirt. Dropshirt offers different styles and colors of T-shirts, which can be custom-made and imported to your online store.
Dropshirt is local, based in Australia – a massive advantage for shipping times and customer loyalty. One of their printing stations is in Melbourne, and the second one is in Brisbane.
At the moment, you can use Dropshirt with different eCommerce platforms such as Shopify, WooCommerce, Big Cartel, Wix, and Weebly.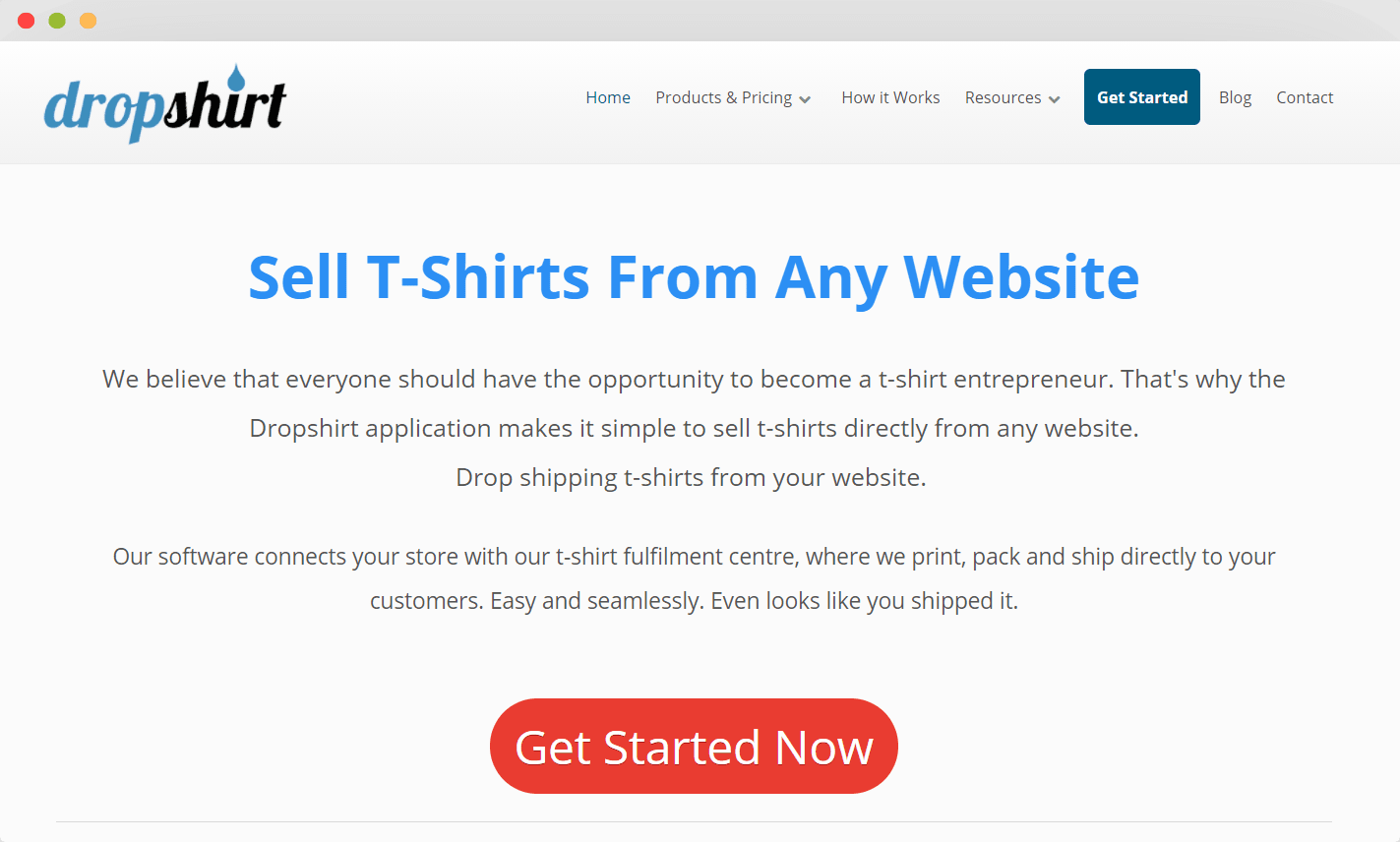 It's important to note that Dropshirt is not a typical PoD company. They work mainly with wholesalers, and first, you need to fulfill specific criteria and have your account approved.
If you don't qualify for an account yet, you can still use their service for free, but you will pay retail instead of wholesale prices for your orders.
FAQs on Australian Dropshipping Suppliers
Do you still have questions related to Australian dropshipping suppliers? We've got you! Check if you find an answer to your question below.
What Are the Best Australian Dropshipping Suppliers?
All of the above Australian dropshipping companies are trustworthy and reliable. Which one you choose depends on the product niche and needs of your eCommerce business.
If we had to give our personal opinion, we would choose the following dropshipping suppliers for Australia: Catch, CJDropshipping, Colourblocker, Printful, Factory Fast, and Dropshipzone.
How Do I Find a Dropshipping Supplier in Australia?
Finding real Australian dropshipping companies can be a bit frustrating, especially if you're new in the field. Having reliable Australian suppliers is just as important as selling the right product – they can make or break your online store in days!
All of the above-mentioned Australian suppliers are dropship-friendly, so you can choose the one that best fits your niche and product selection.
To always have trustworthy Australian dropshipping suppliers at your disposal, we recommend the following:
Bookmark this list of best Australian dropshipping suppliers so that you have it handy whenever you need it;
Google the term "Australian dropshipping suppliers" and check out all websites on the first two or three pages;
Check out AliExpress and set a filter 'ships from' and 'ships to' Australia;
Use the help of a dropshipping agent with a worldwide fulfillment center;
Is Dropshipping in Australia Profitable?
Absolutely! Australia is a country with a high buyer power. Additionally, all the lockdowns that came with the pandemic made people feel safer when they order from the comfort of their own homes. With this, eCommerce in Australia grew even further.
Is Dropshipping in Australia Illegal?
No, dropshipping is not illegal whatsoever. Dropshipping is entirely legal in Australia, as well as in most countries worldwide.
Although many suppliers will require you to have a registered business to get approved for their dropshipping program, as long as you report your income and pay your taxes, dropshipping is legal as an individual or as a company.
Does Oberlo Have Australian Suppliers?
Oberlo suppliers are, in fact, AliExpress suppliers. In this regard, you won't find many suppliers located in Australia.
However, many suppliers on Oberlo and AliExpress themselves ship worldwide. So, it is possible to drop ship to Australia with Oberlo.
A word of caution here – dropshipping through AliExpress suppliers can harm your eCommerce business in the long run. Whether it's the product quality, shipping time, or similar, it's safer to find more reliable suppliers.
Why Start a Dropshipping Business in Australia?
Starting a dropshipping business in Australia has great potential. Australia is among the countries with the best eCommerce market share. We checked out Savvy's report in 2022 to give you some helpful statistics that will show you the online shopping behavior in Australia:
The market size of online shopping in Australia by 19.6% during 2017-2022;
The majority of online shoppers come from New South Wales;
Over 5 million households shop online every month;
Online retail has grown by over 3 million USD during 2020-2022;
30.3% have used social media to purchase goods online;
Around 28.2% of e-commerce businesses in Australia have reported a significant growth in revenue;
As you can see from these numbers, Australia's eCommerce business has boomed since the beginning of this Covid-19 pandemic. Hopefully, you can put these numbers into practice and deliver what customers need and expect.
What Are the Available Payment Gateways in Australia?
Australian drop shipping companies can use the following available payment gateways:
2Checkout, BitPay, Alipay Global, Authorize.net, eWAY Rapid 3.1, FuturePay, Coinbase, G2A Pay, ePay, GoCoin, LAY-BUY (PayPal), Mastercard, PayPal Express, PayPal Payflow Pro, Pin Payments, WorldPay (direct/offsite), zipPay (Buy now, pay later), and others.
What's the Best Niche to Dropship in Australia?
According to Australia Post, the most sought-after niche in Australia is fashion. However, this doesn't mean that it's the only way to go. Due to the popularity of the fashion niche, you can expect more competition.
On the other hand, choosing a more narrow, unsaturated niche with less competition could yield much better results.
What Are the Best Products to Sell in Australia?
Australia is vast, so you practically have an audience for anything you want to sell. Generally speaking, trends in Australia show that some of the best products to sell are:
Fashion brands;
Sustainable, local, and eco-friendly products;
Wall art;
Health and beauty products;
Sports and exercise equipment;
Tech gadgets and electronics;
Outdoors and sports items;
Before setting up your online store and going public, you should choose a niche that's narrow enough to give you a targeted audience, but at the same time, has enough demand.
At this point, keyword research and product research are two key processes that will give you correct success projections.
What Are the Most Commonly Used eCommerce Marketplaces in Australia?
Australians love searching Amazon, eBay, Catch and Wish when they shop online. Even if they don't buy from these marketplaces, they always do their research there.
To increase your chances of growing, being found, and selling more, you could open a seller account on one or more of these marketplaces and use it as a side sales channel. It cannot do any harm – it can just bring you more traffic.
Do I Need a Registered Business Entity to Dropship in Australia?
Having a registered business entity in Australia to drop ship is not obligatory, but highly appreciated if you plan to have a serious business in the long run.
First of all, many dropshipping suppliers will require an ABN number to accept you as a partner. On top of that, it won't be possible to get a .com.au website without an ABN number.
So, we strongly encourage you to check your local laws and register a company in the long run.
With an ABN, you'll gain access to many more payment gateways, services, and other providers, than trying to do the same as a private person. Take all of this into consideration when you make your decision.
A word of warning – taxes on your income have to be paid, regardless if you operate as an individual or a business. Tax evasion is a serious charge, so ensure you read up on all necessary laws in Australia.
Can a Dropshipping Agent Help Me Sell in Australia?
Absolutely!
When choosing a dropshipping agent for your Australian customers, ensure that they have enough warehouse capacity to fulfill your orders worldwide, including in Australia.
It's best to collaborate with a full-service dropshipping agent who offers a range of services such as product sourcing, inventory storage, quality inspection, shipping, branded packaging, etc.
To Sum Up
Now that you've seen how Australia's eCommerce business has boomed throughout the last two years, hopefully, you realized the potential of this market.
With our research, we aim to help you find the best and most trustworthy Australian dropshipping suppliers that will be consistent and beneficial to your eCommerce store.
Without proper Australian suppliers, your online store runs the risk of inconsistency, which in return results in lost customers and a lack of customer loyalty.
If you aim to have an established eCommerce store with long-term success, it's vital to find suitable dropshipping suppliers and nurture a mutually beneficial relationship. That's the only way to prosper, grow, and scale your store.