Starting a private label business is the dream of many entrepreneurs. The joy of launching your own product with your brand name is the essence of e-commerce businesses.
But to start a private label business, the top priority of any entrepreneur would be to find the best private label manufacturers. This is where many businesses tend to spend most of their time.
That's why we have brought this article for you to help you find a manufacturer that deals in private labels.
We will present you with the list of top manufacturers who offer private label services. You will also learn about ways to find them and multiple guidelines to launch a successful private label business.
Let's start.
What Is a Private Label Business?
A private label is a business where you get your products manufactured in a specialized way to sell that product under your brand name.
The manufacturer of the private label products is generally a third-party source. It is most likely a factory or an OEM (Original Equipment Manufacturer).
You are free to specify all of your requirements regarding that product and the supplier or the manufacturer of the product will abide by all of your instructions to manufacture that product accordingly.
In some cases, the retailer may ask the manufacturer not to supply those private labeled products to any other retailer.
Platforms to Find Private Label Manufacturers
First of all, let's discuss some of the best platforms where you can find direct private label manufacturers. They may be selling some of their products on these platforms but would always be ready to offer private label products for your business.
Alibaba
Alibaba is heaven for online sellers and retailers. It has helped thousands of businesses make millions of dollars due to their impeccable products and services.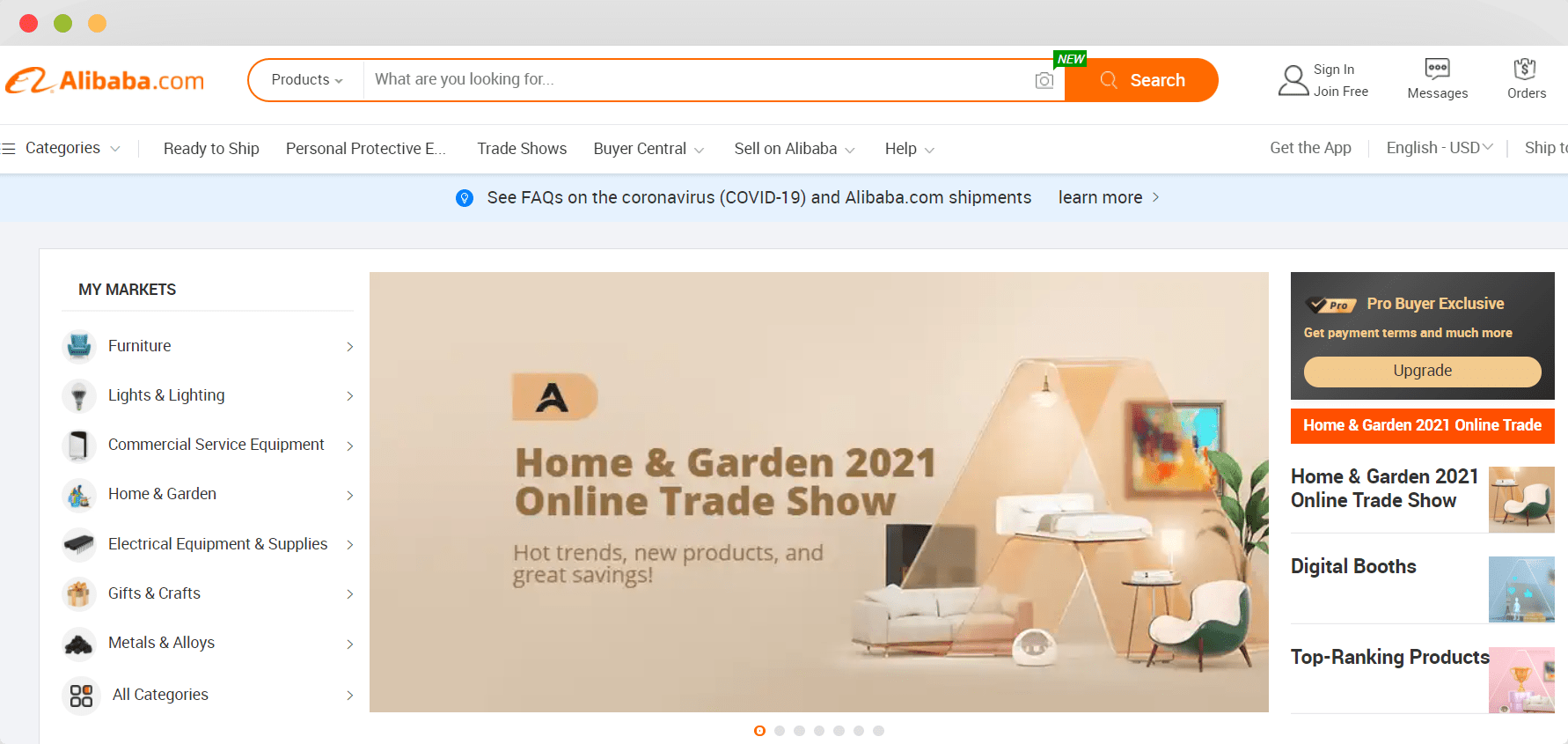 Fortunately, Alibaba also hosts suppliers who offer private label services. It is not like Alibaba itself offers these services. It hosts a variety of suppliers who are willing to offer you private label services.
For that to happen, you just need to look hard for the right supplier of products. You have to ask the sellers clearly if they offer private label services of the product you want to sell.
If yes, you just need to share details of your business and they will get back to you with their proposal.
You need to take into account that suppliers would surely ask you to order a minimum quantity for private label service to be feasible for them.
AliExpress
AliExpress and online selling have almost been synonyms. As an entrepreneur in the online field, you must have heard of this huge Chinese e-commerce platform.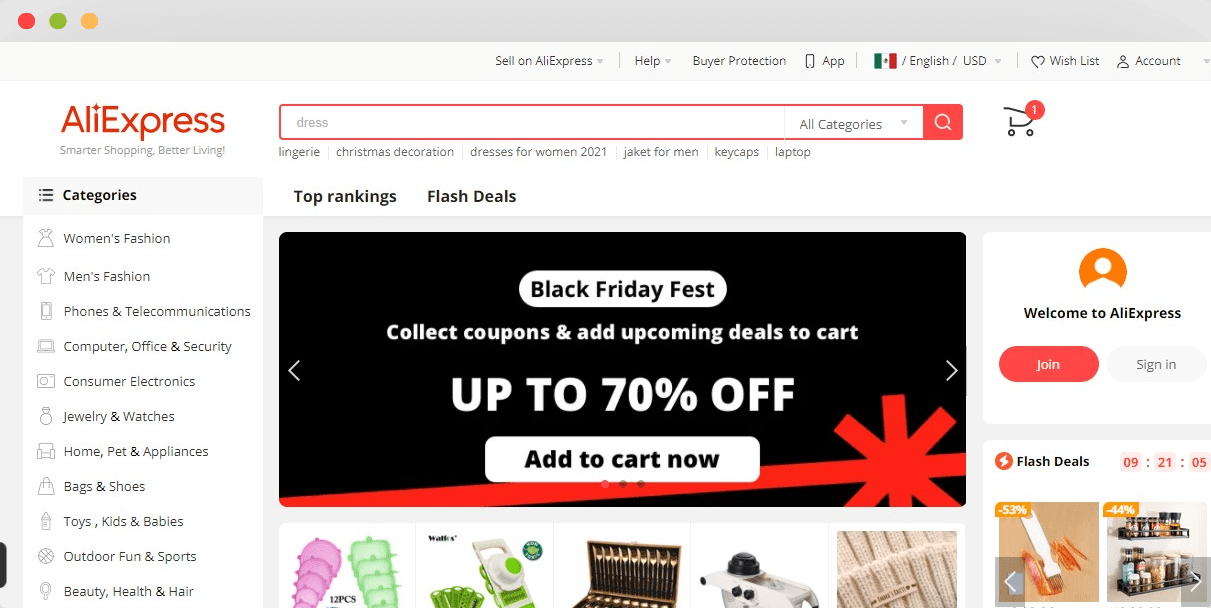 As AliExpress is Alibaba's subsidiary, you just have to follow the same process here too. You have to discuss the details of your business and the supplier will give you offers for private labeling the products for your company.
NicheDropshipping
NicheDropshipping provides the best private label services for businesses so that they can focus on other important tasks of their businesses. We have a special service offering private label solutions.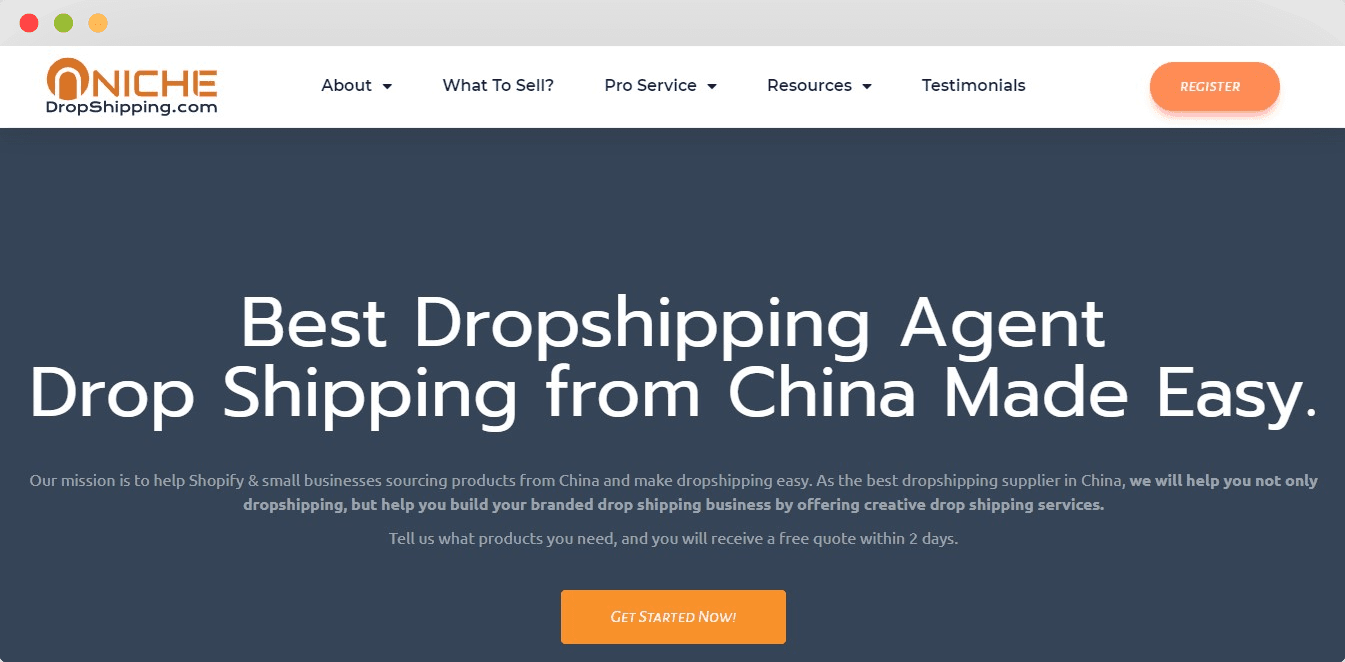 We are always in collaboration with best factories and manufacturers in China. We can approach them quickly as soon as you share your product demands and requirements.
Choosing NicheDropshipping for the private label will help you find the best manufacturers so that you find high-quality products at the most reasonable prices.
DHgate
This is another Chinese e-commerce platform that you can consider for your private label business. When you see the product categories on this website, you might think that there is no product that this website doesn't offer.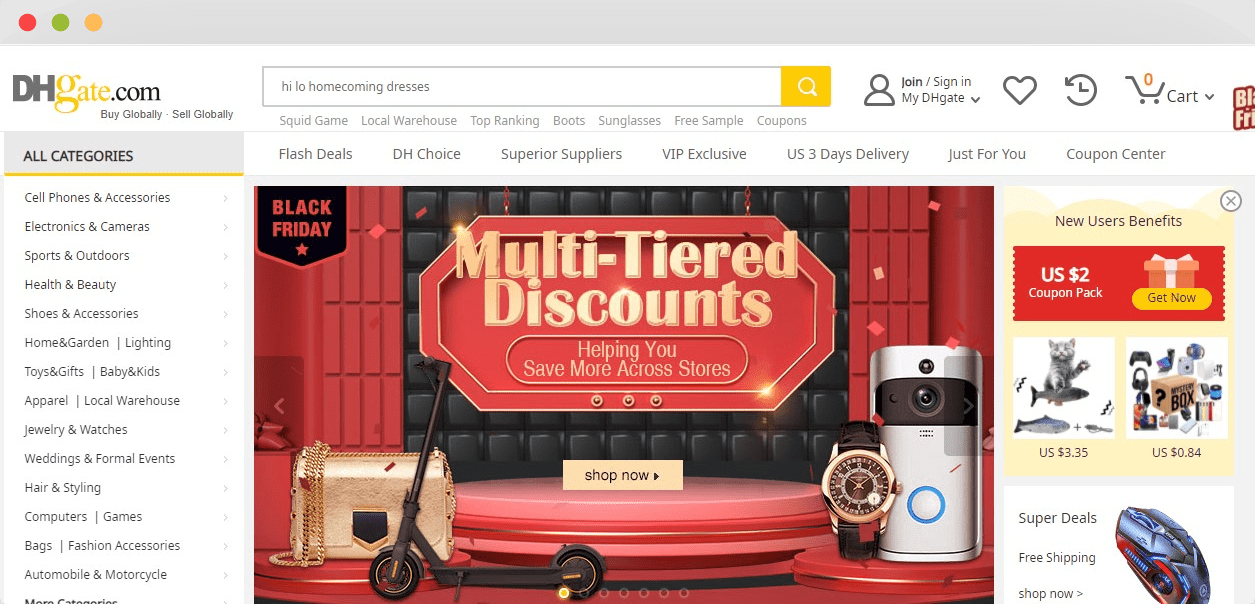 But there's a catch. Just like other websites, all suppliers on this website would not offer private label services. So, what do you do?
A quick shortcut to finding the private label suppliers on DHgate is to write the term "private label" in the search bar. A list of suppliers will appear. You can shortlist from those random suppliers and contact them to discuss your business in detail.
If you have already selected the product or your niche, you may type the name of that product and niche in the search bar. 
Wonnda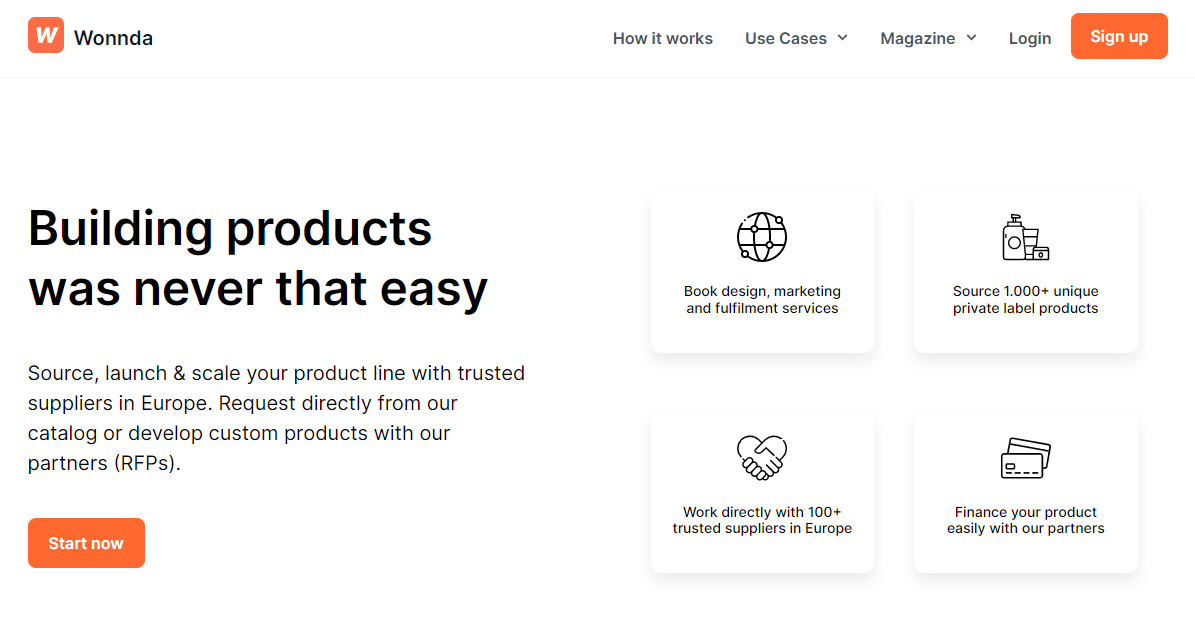 Wonnda is a Berlin-based startup founded in 2022. Its mission is to build a digital private label ecosystem in Europe, which enables the next generation of consumer brands to source, launch & scale consumer products from a trusted network of best-in-class European manufacturers.
On top of its marketplace, Wonnda built a collaboration tool that brings all project participants onto a central platform and thus makes processes more transparent, faster, and more efficient.
Wonnda is your central hub for discovering top suppliers, purchasing samples, tracking your projects, and monitoring your production progress through its project collaboration feature.
Every manufacturer is curated and verified by Wonnda and has its headquarters in Europe. The main product categories are cosmetics, supplements, fashion accessories, pet care, home & living, and food & beverage.
Private Label Manufacturers USA
As the US is the premium target market for selling private label products, we thought to share some of the best private label manufacturers in the United States.
Due to its massive retail e-commerce revenue of around $875 billion in 2022, it is rightly considered the biggest market for buyers in the world.
Working with these manufacturers will help you in many ways.
You can launch your very own private label business in the USA. You can also qualify for the next-day delivery system within the USA. It will also help you enlist your business on Amazon to start Amazon dropshipping.
Here is the list of private label manufacturers in the USA.
SupplyMeDirect
It is just like a mini AliExpress website. You can source products from any category. From beauty to fashion, and electronics, this website hosts a range of products that you can choose from to sell private-labeled products.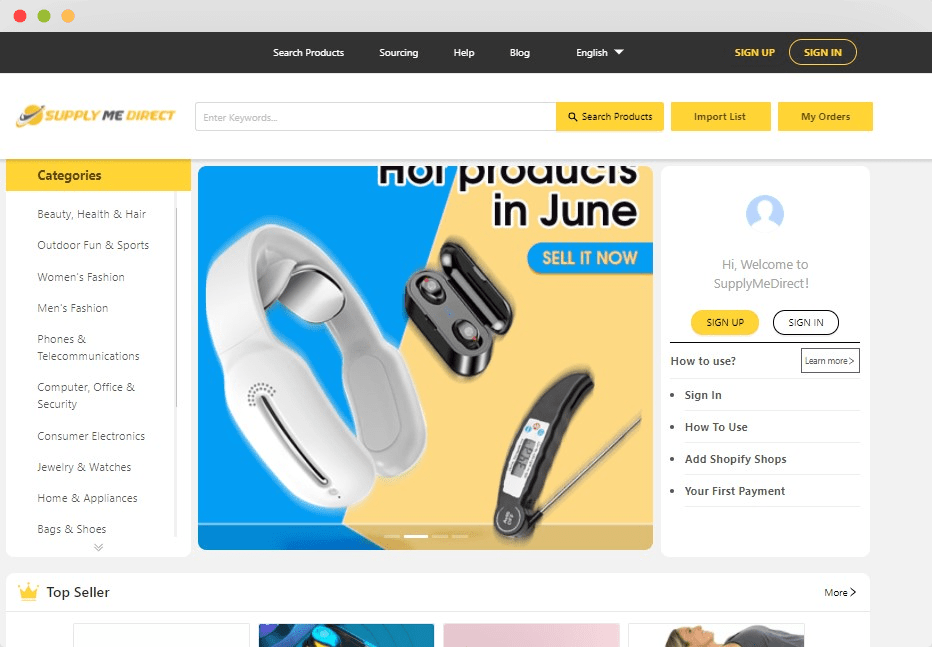 The website has a dedicated page that promises to offer private label services.
According to the page, they offer private label services for beauty and fabric products, but if you talk to their customer services, you can surely get private label services for any other kind of product as well.
The best part about this supplier is that they have dedicated apps and plugins to help your online store integrate with their products and services.
This can automate your online business. You can also consider this store and its services to help you experience automated dropshipping.
Wordans
It is a US-based clothing and apparel brand. In addition to selling products themselves, they also offer private label services.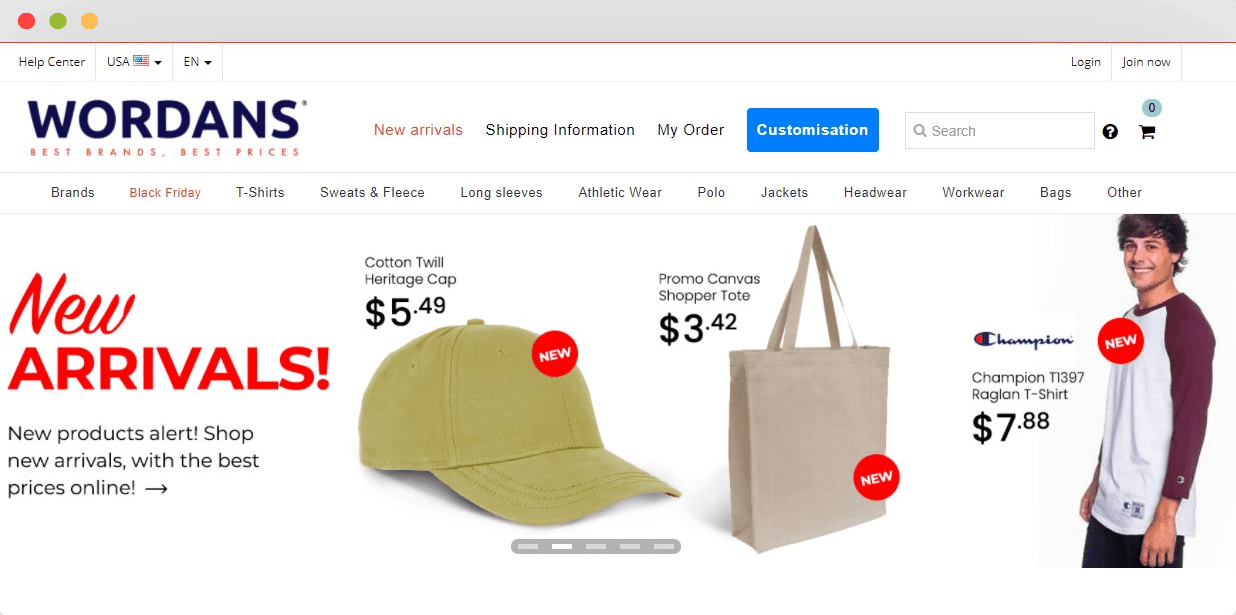 You can sell a lot of clothing products and accessories with the help of this website. Starting from shirts and jackets, this private label brand offers things like athletic wear, headwear, and workwear.
So, you would have a lot of room to play around with your target audience.
The accessories include bags, shorts, and undergarments, etc. They have many clothing products like shirts and hoodies that you can ask them to customize according to your needs.
The best part about this website is that they offer amazing products at affordable prices.
MANA Products
It is a great US-based private label manufacturer that offers its products and services to businesses worldwide. They deal mainly in cosmetics and skincare products.
In addition to private labeling, they offer to develop the products on demand of their clients. So, this can be your next partner to launch your very own beauty brand without even having to manufacture products yourself.
The types of products they deal with include haircare, skincare, and cosmetics.
The website tells the whole story itself. You would clearly see that they have established many private label brands by providing them with their sourcing services especially the private label ones.
Alanic
This is another US-based private label manufacturer. It also deals in selling clothing items. They mainly provide sportswear but they also deal in many other forms of clothing including t-shirts, zippers, and hoodies, etc.
Although they are based in the USA, they have registered offices in countries including Canada, New Zealand, Australia, France, and the UK.
So, you are free to start your private label clothing business in any of these countries.
The best part about this website is that they offer very competitive pricing. They even provide you with a price beat guarantee on their website.
Max Private Label
This is one of the great private label manufacturers that are based in the USA. They offer exclusive private label services in cosmetic items.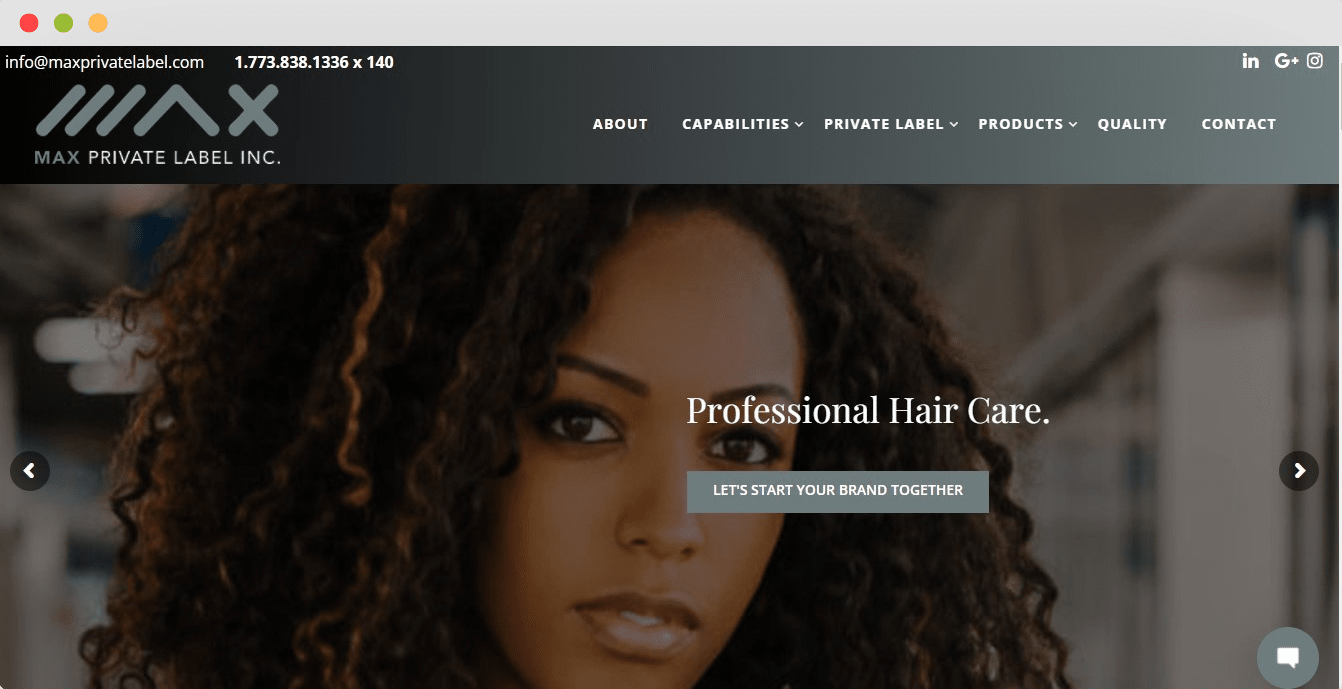 They seem to take special care in maintaining the standards of cosmetics that they offer because they have incorporated the relevant certifications.
They broadly deal in personal care items for men, women, kids, and pets.
They have clearly stated on their website that they also offer to develop the products of your choice. So, it seems to be an opportunity to start your own private label cosmetic brand in the USA with the help of this website.
Private Label Companies in Canada
Canada is a very huge market for online selling and it is still growing. The annual revenue from retail e-commerce in Canada was estimated to be around $30 billion in 2020.
That's why we thought to share some of the top private label manufacturers in Canada.
You need to explore these manufacturers if you are starting your private label business in Canada. You should consider them even if you are launching a business in the USA.
Here are some of the best private label manufacturers in Canada.
Gertex
Gertex is a Canadian dropshipping supplier. This website mainly deals in selling custom clothing. So, this provides a very good opportunity for entrepreneurs to start a private label clothing business.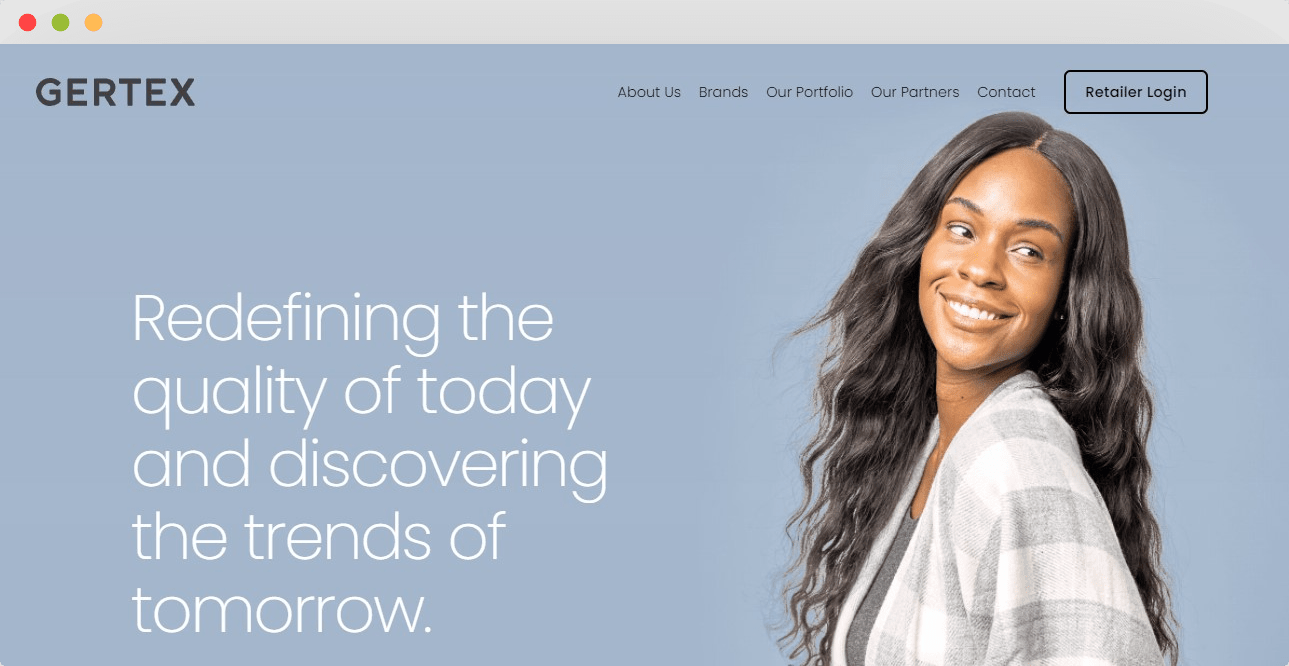 This website mainly provides trendy and branded clothing including hosiery and textile. They have a very large portfolio of clothing items.
You can use this website as a private label business source to start selling clothing items via your online store.
Oscardo
Oscardo is another great Canadian supplier. This supplier deals in many kinds of products. Starting from apparel to fashion items, this website provides products related to travel, home, kitchen, and gifts niches.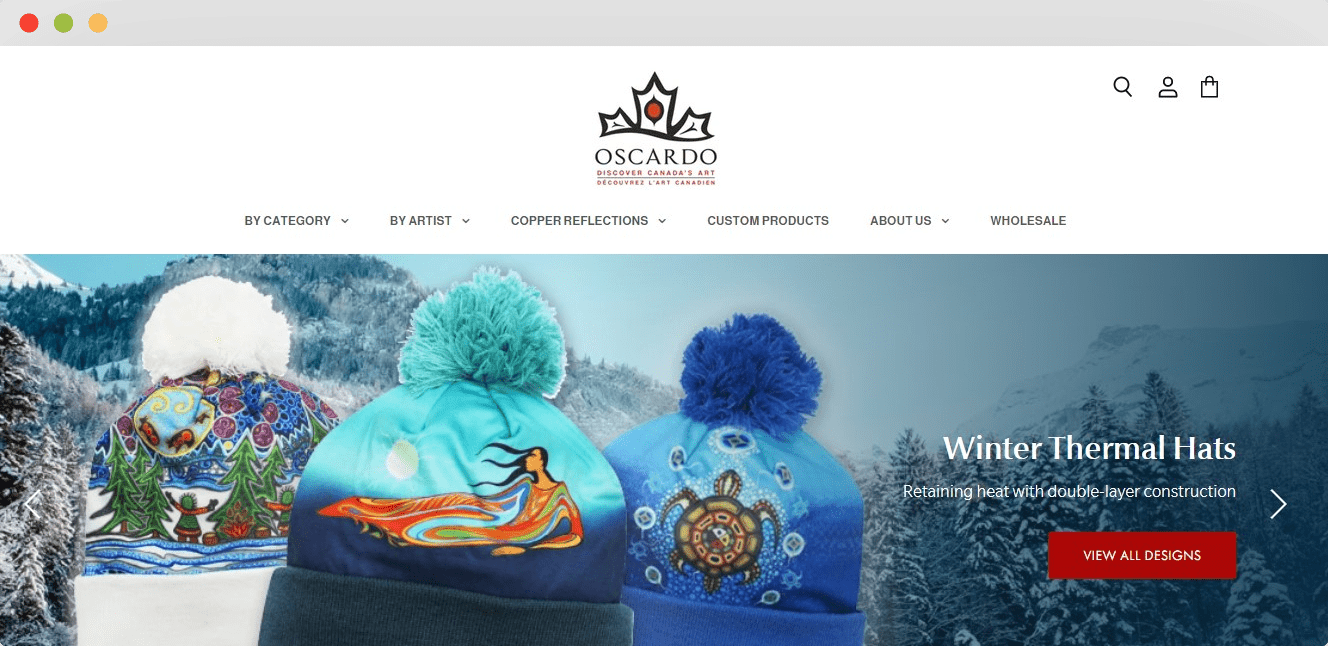 They have a large portfolio of products. For private labeling, you must explore the option that says "custom products" on the website.
You can market the products especially in North America because you can market them with the tag of "Designed in Canada".
Bargains Group
Talking about private labeling a business in Canada and not mentioning Bargains Group is not possible.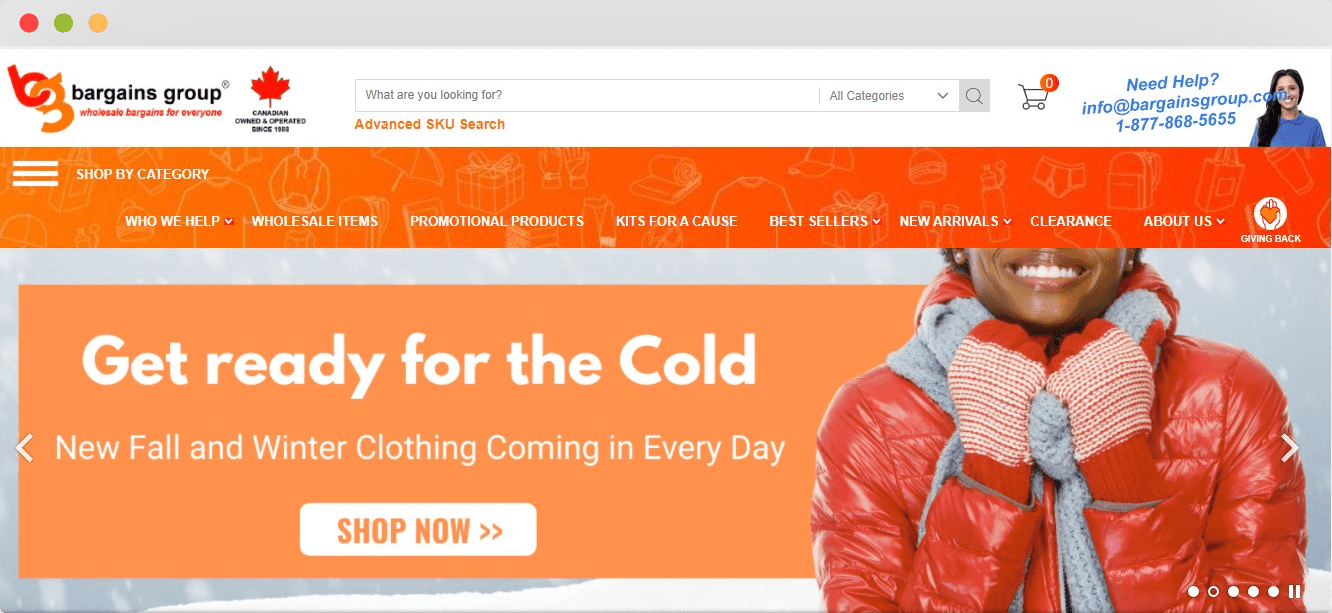 The term "bargains" encourages new entrepreneurs to negotiate prices. You can talk to them directly and negotiate their prices and services. Talk to them about shipping timings and MOQs if they have any.
The website has a huge category list of products that you can choose from. They deal in wholesale items too. That shows they are quite serious about their business. So, it can be a trustable supplier for a private business.
This website is best for private label items related to clothing, fashion, and related accessories.
Best Private Label Manufacturers in Other Countries
Now, let's explore some other countries for the private label manufacturers so that you don't get stuck with suppliers who are region-specific. This list will help you find overseas manufacturers.
Following is the list of manufacturers from other countries. For better clarity, the names of their countries are also written beside company names.
Clothes2Order – United Kingdom
This is an outstanding website that especially deals in private label services. You can launch your very own private label clothing brand with the help of this website.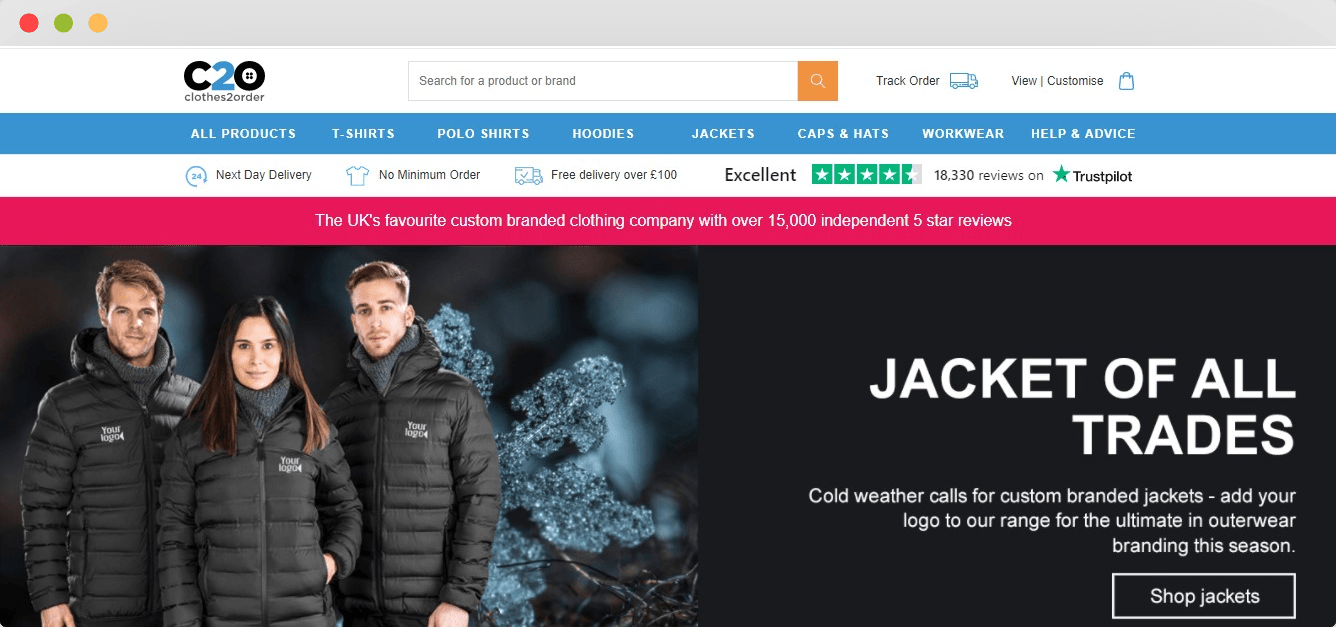 They deal in many kinds of clothes and accessories including shirts, bags, jackets, and hats, etc. The best part about them is their lightning bolt delivery system.
They largely offer two shipping options. One is next-day delivery and the other one is express delivery that reaches the desired destination within a few days.
They also offer free shipping on orders above £100. You can even target companies for their custom manufactured clothing. You can also consider this website to run the POD (Print on Demand) business model.
As t-shirts are always in vogue, you can start your very own private label t-shirts business by sourcing from this website.
Perfume Designer Manufacturer – France
This is an entry for the product France is known best for. Yes, that's perfume. This is a unique brand in the private label that does not offer products directly on their site.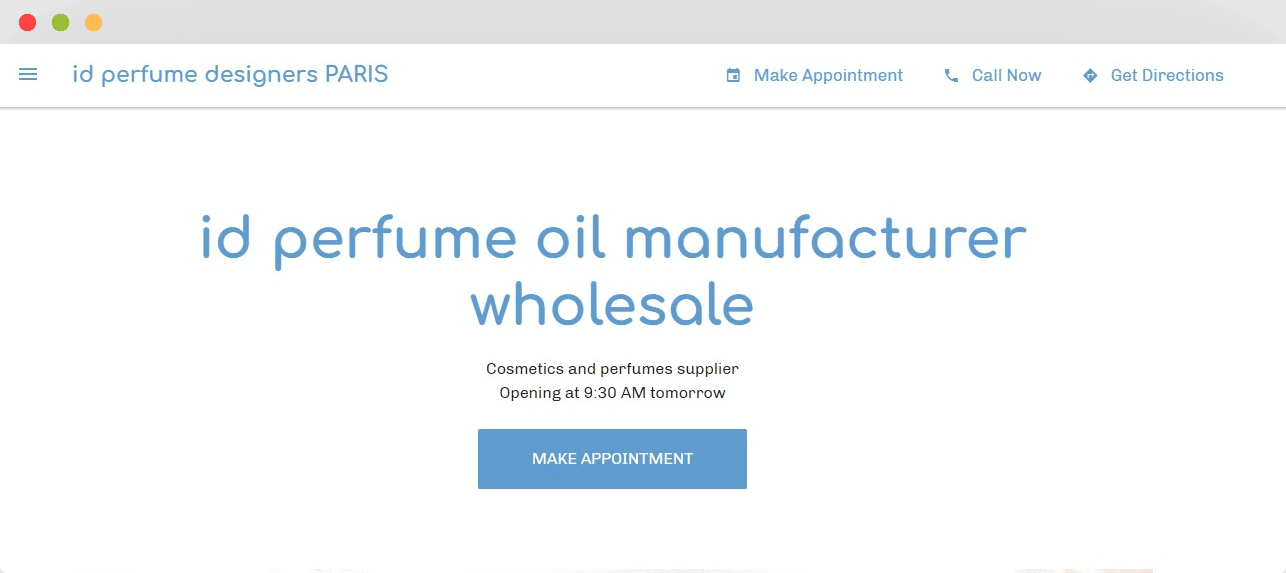 They have a simple interface that asks you to tell the kind of perfume you want. So, this is an excellent opportunity to kickstart a private label perfume business in France.
You can ask their team if they are willing to deliver the products outside France. In that case, you may also start targeting European countries.
Vanilla Sugar – Australia
This is an outstanding website that is meant to source products from Australia. This website exclusively deals in private label products. Unlike other websites that also sell the products directly, this website only asks you to place your custom orders.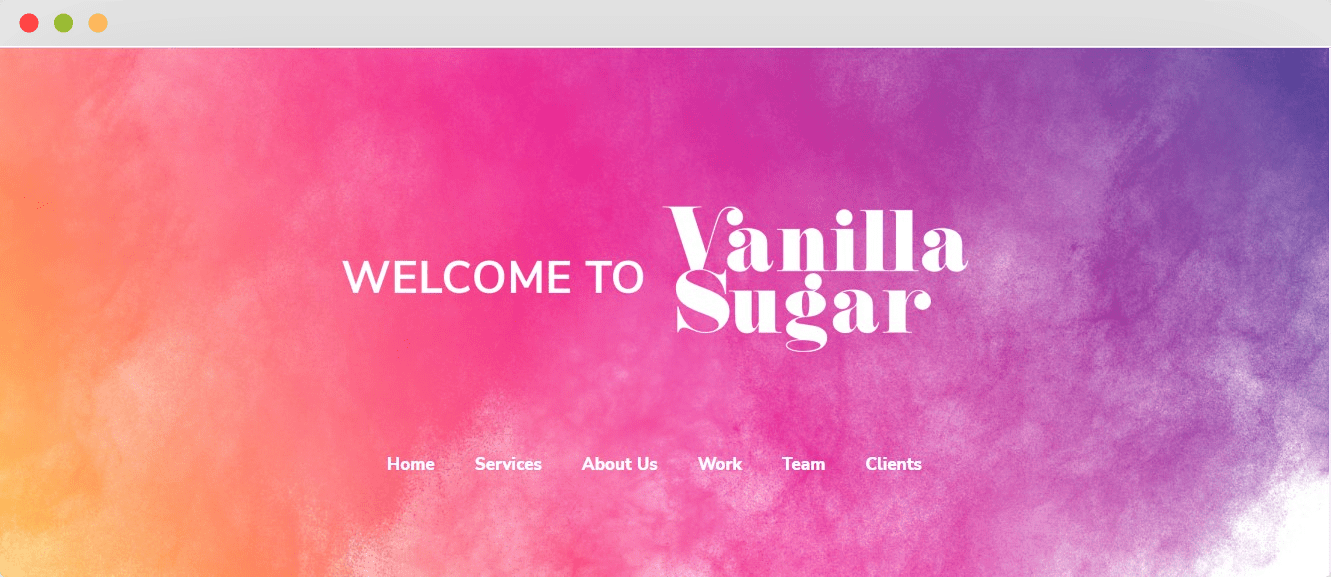 That's the true spirit of the private label business. A great private label manufacturer will solely focus on providing private label services instead of selling their products to themselves. This is one such website.
They claim to provide tailor-made products to businesses around the world. So, they are not limited to Australia only.
Tonnie – Taiwan
Surprised to see an entry from Taiwan? Don't be. That's because this is also a great addition to the list of private label manufacturers.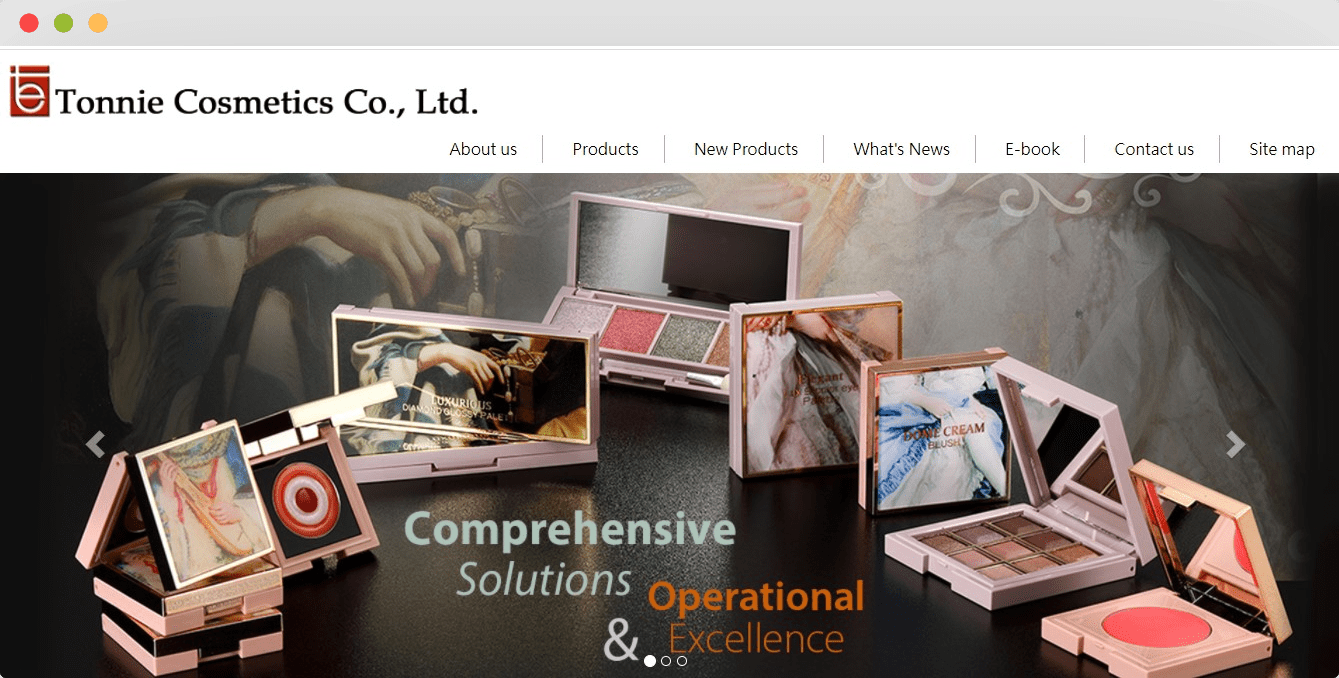 They have been in this business since 1970. So, you can trust their products and services. In addition to the products, they are known for their unique and stylish packaging. Innovative packaging also grabs some attention sometimes.
You are free to choose a combination of products that are customized as per your instructions. So, this is a great source to fulfill the needs of your private label business.
This website mainly deals in selling customized cosmetic products. They have different kinds of products related to skincare and makeup.
If you have an online store about fashion, skincare, and beauty, this website is meant for you.
You can especially use this website to get your private labeled products delivered in Taiwan and closer parts of Asia. But you need to talk to this supplier for cross-border shipping.
Intrepid Sourcing – Hong Kong
Intrepid Sourcing is based in Hong Kong and is meant to provide custom-made products in any category. You can trust this website as they have been offering their services for a very long time.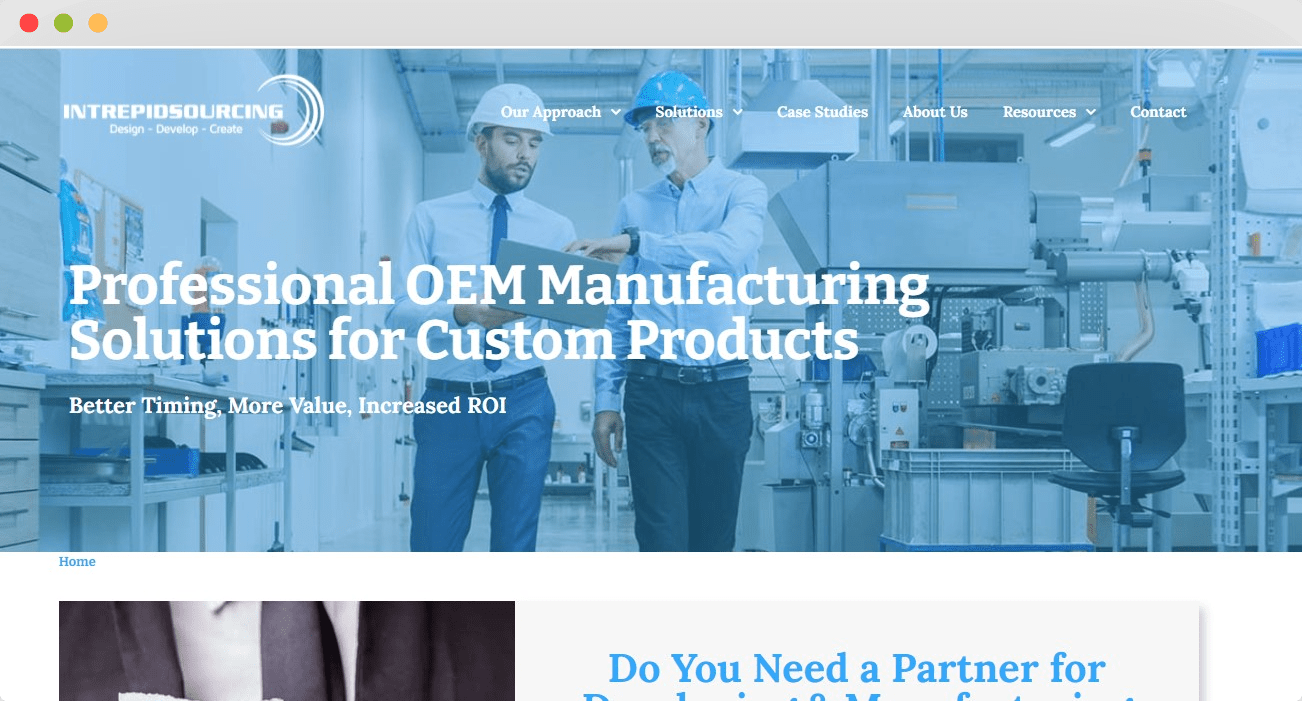 The website says that they can be a partner to get the products developed and manufactured. So, it goes beyond the concept of private label.
In private labels, you partner with a company or a supplier who provides you products with your own brand name. With Intrepid Sourcing, you can get your product idea turned into reality. Amazing, right?
This website provides you with a chance to go beyond your private label competition. You can share your product's idea with them and they will develop your product.
Just try to make it viable and do the costing and budgeting beforehand.
FAQs about Private Label Manufacturers
We have answered the top FAQs regarding private label manufacturers to impart more clarity towards the topics. Following are the FAQs with their answers.
How Do I Find a Private Label Manufacturer?
This is the most important question. Finding the right private label manufacturer can take a lot of time and effort. Still, you won't know if you can trust them or not.
So, the best we would say is to check for the list of private label manufacturers that we have mentioned in the article.
But if you want to find private label manufacturers yourself, then there are many ways to do it. The best ways to find a private label manufacturer are mentioned below.
Do a simple Google research and dig down deep to reach a private label manufacturer you can work with. Use alternative keywords to refine your search.
If you are searching for a private label manufacturer in a specific niche or country, then do write the name of the niche and country in your search.
Explore Google places that come up in search results and check for their websites.
Explore e-commerce platforms to find a private label manufacturer. You can search them on platforms like Alibaba, AliExpress, Amazon, and eBay, etc.
Explore official manufacturer directories of different countries. Some examples include Mfg, Maker's Row, Thomas Net, and The Manufacturer, etc.
You can also search for private label manufacturers on platforms like Reddit and similar social media platforms.
Some other tools are also available to find private label manufacturers. These include tools like Salehoo and Wholesale Central, etc.
The best way to find private label manufacturers is to hire the services of a product sourcing agent. It will save much of your time and hassle to do it yourself.
A good agent like NicheDropshipping knows where to find the real private label manufacturers.
What Is the Difference Between Private Label and White Label Products?
Both, private label and white label products are sold with the brand names of the retailer. The main difference between them is that the private label product will be specially made for the retailer with custom specifications like color, size, and options, etc.
In white-label, the products are already made in bulk quantities by the manufacturer, he can sell the same product to multiple retailers just by branding those products with the names of the retailers.
What Are the Pros and Cons of a Private Label Business?
Every type of business has its own pros and cons. While the private label business is a highly profitable business model, it has some challenges too.
Following are the pros and cons of a private label business.
Pros of Private Label Business
Higher profit margins.
Better brand placement.
Higher chances of repeat orders.
Liberty to choose the specifications of the products.
Less competition within that product.
Better control over the products.
Cons of Private Label Business
Higher investment.
Higher MOQs.
Difficult to find the right manufacturers.
What Is the Difference Between Wholesale and Private Label?
Wholesale and private labels are two very different types of business models. In wholesale, you just buy the products in bulk quantities at a lower cost per product and sell them via retail business with smaller quantities at higher prices.
You just sell the products of any brand or can also sell products that don't have a brand.
In private labels, you sell the products under your own brand name. The products themselves will be customized as per your instructions. The business model of earning a profit margin will remain the same as that of wholesale.
You buy your private label products in bulk at a lower price per product and sell smaller quantities at a higher price per product.
How Much Does Private Label Manufacturing Cost?
The cost of private label manufacturing depends upon the type of products and how much you want to buy that product to start your private label business.
But according to a rough estimate, private label manufacturing will cost you higher than other forms of business like the wholesale or white label.
You can say that a cost of $1000 will be considered a threshold budget for getting your private label products manufactured.
Final Words
Finding the right private label manufacturers is the core of your private label supply chain. That's why we shared the list of manufacturers who deal in providing private label products.
If you got value out of this article, do tell us in the comments section. Do tell us if you think any aspect of this topic still needs clarity or coverage.
If you want to hire the professional services of NicheDropshipping, do contact us. We will get back to you within no time.