Launching an online store as a new seller is risky and often requires a hefty investment.
Fortunately, eCommerce marketplaces like eBay make that slightly easier by introducing you to a larger audience.
It allows new entrepreneurs to challenge the big players in the industry.
And while selling on eBay may seem like a great idea, picking the right product can often feel nerve-racking.
This article mainly focuses on the 'product' aspect as we go over a list of the best selling items on eBay.
So let's begin, shall we?
1) Case Cover For iPhone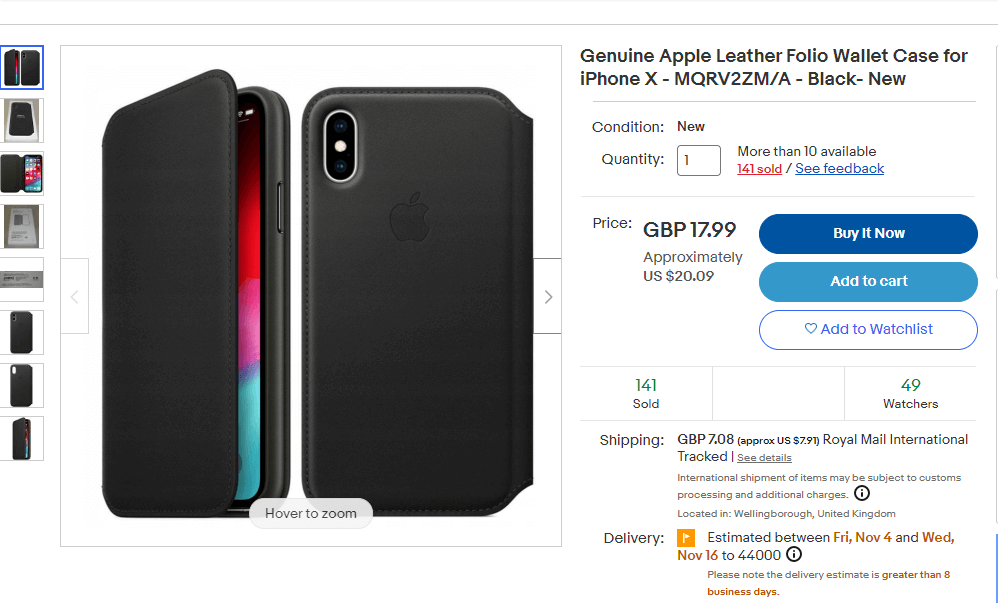 Smartphones have been booming since the 2000s, and the iPhone has been a pioneer in this journey, becoming a status symbol and a household name.
We have a natural tendency towards beauty. This tendency leads people to decorate their smartphones with colorful covers.
Covers are necessary for protection, as slimmer phones, which are the recent market trend, look better but are more fragile.
This is a rewarding genre to sell as phone accessories continue growing in demand.
Additionally, phone cases have an unlimited shelf life, weather durability, and are easy to return in case of adverse market trends.
2) Cat Food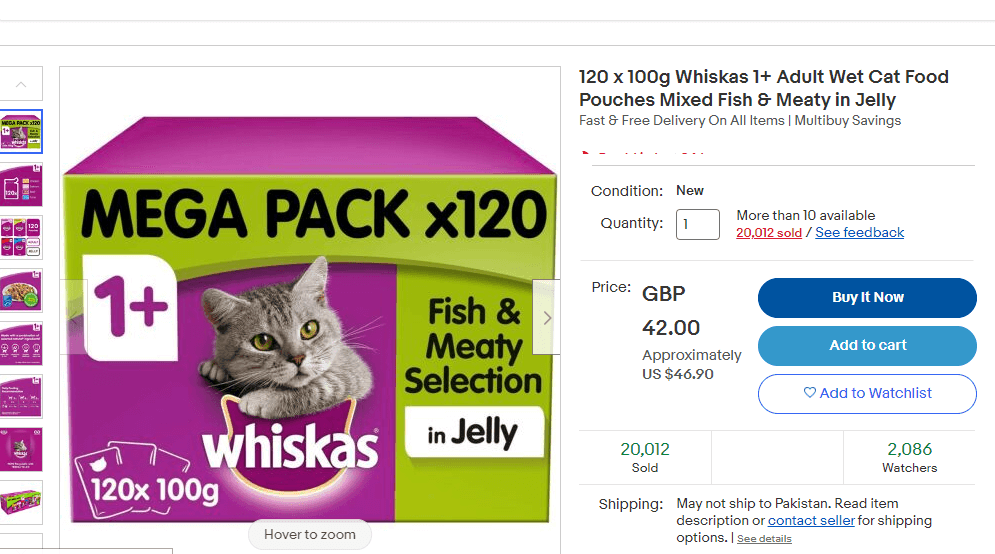 Pets don't eat as much raw food as they did 100 years ago, and today, packaged pet food is a necessity for pet owners. It is both cheaper and more convenient.
Pet culture is spreading fast, with over 70% of households in the U.S owning a pet. With this uncontrollable spread of pet culture, shrewd business owners should act quickly and join the market.
The cat food above has sold 20000+ packs, selling 5-10 packages daily. It can last up to 2 months before the buyer needs to repurchase and is worth 90 servings.
3) Apple Airpods Pro Wireless Charging Case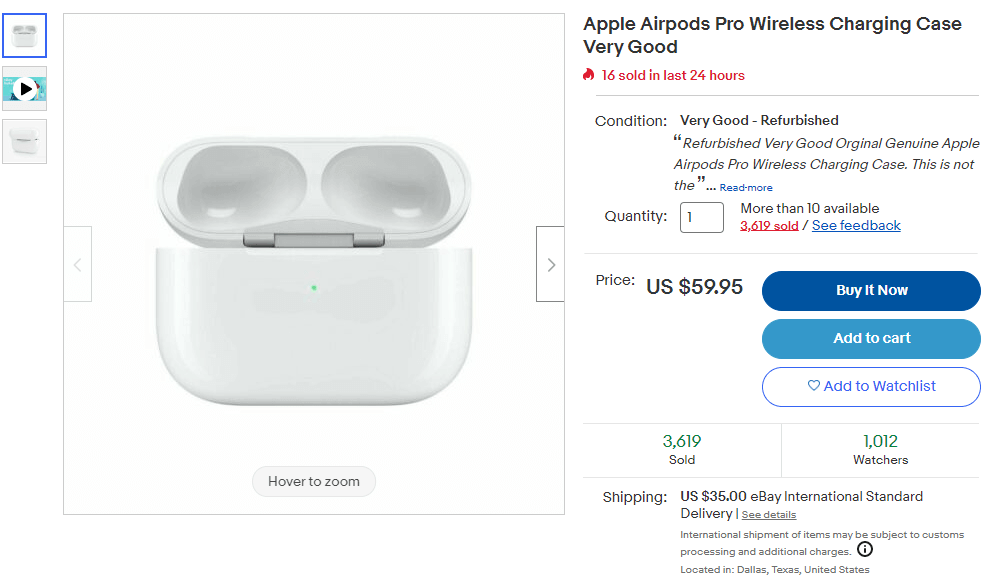 This is a best seller and an all-time consumer favorite, having sold more than 3500 pieces.
There may be multiple variations in the Apple AirPods series, but this charger works on them.
This is a product with a good profit margin and high demand.
4) Foam Pillows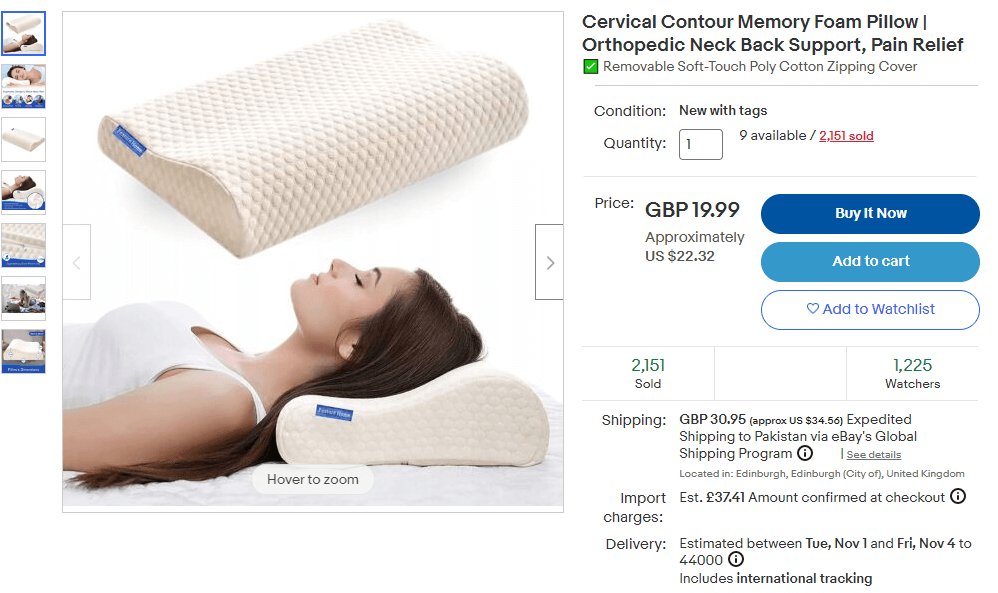 Pillows have been around long and will certainly stay that way.
This business has little risk, making it a good choice for new sellers. It is also possible to buy this product from online sources and sell it on eBay for a decent profit margin.
Pillows come in all shapes and sizes, but pain relief pillows are getting popular recently due to desk culture throughout the globe.
The market is very vast, with a lot of opportunities for new sellers. For example, the Cervical Contour Memory Foam Pillow above has sold 2100+ pieces and keeps selling.
5) Women's Fashion Artificial Jewelry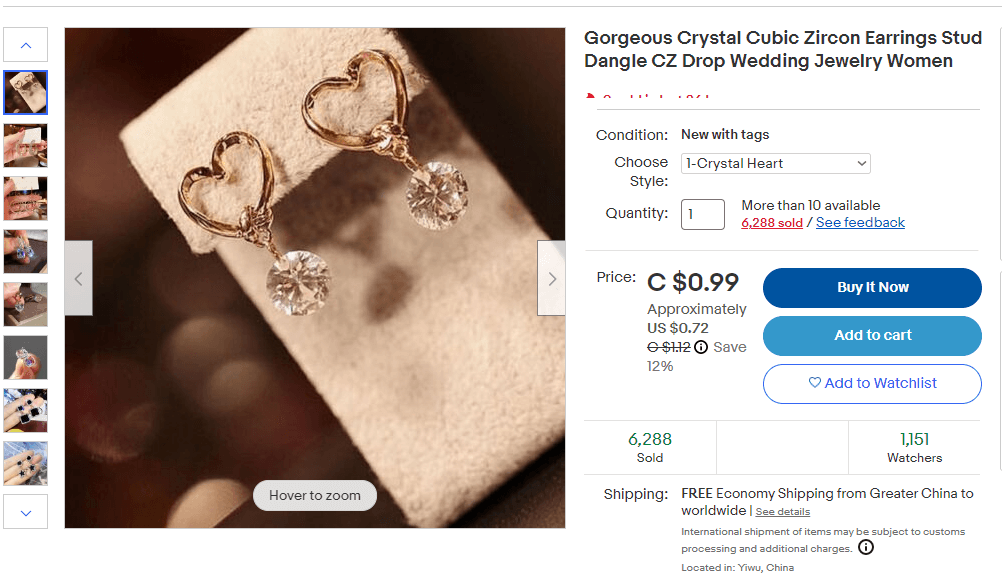 It's no secret that women like their jewelry and have been a stable business throughout the ages. eBay has a competitive price for artificial jewelry, and you can find pieces as low as $0.7.
Low prices won't make you unique, and your focus should be on your product's aesthetics. Customers aren't looking for durable jewelry on eBay; instead, they seek items that look attractive.
You could perhaps even consider launching a custom jewelry store with the help of a POD jewelry company.
6) Disposable Face Masks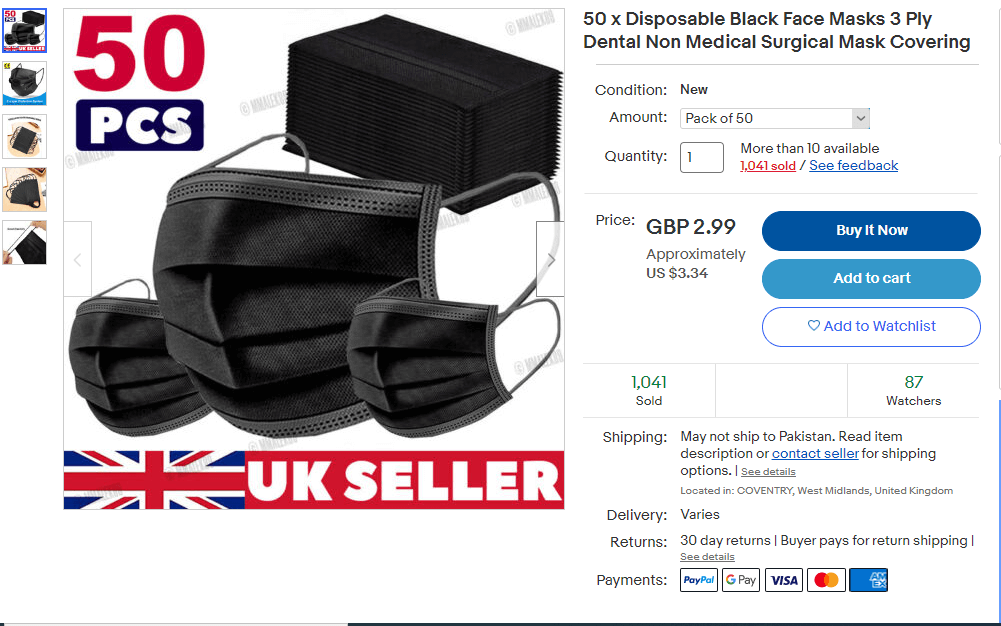 This is a specific product; it requires a meager investment and provides a solid profit. Your earnings can vary from decent to very high, depending upon your wholesaler.
Masks are one of the most popular products on eBay and are sure to increase your online sales.
The profit margin is good, and the required capital for a pack of disposable face masks from wholesale is $0.8-$1.2. On the other hand, the selling price can vary from $3 to $9.
The pandemic may have passed, but with pollution growing each year and showing no signs of stopping, this product will only continue to flourish.
7) Cotton Woven Sofa/Bed Throw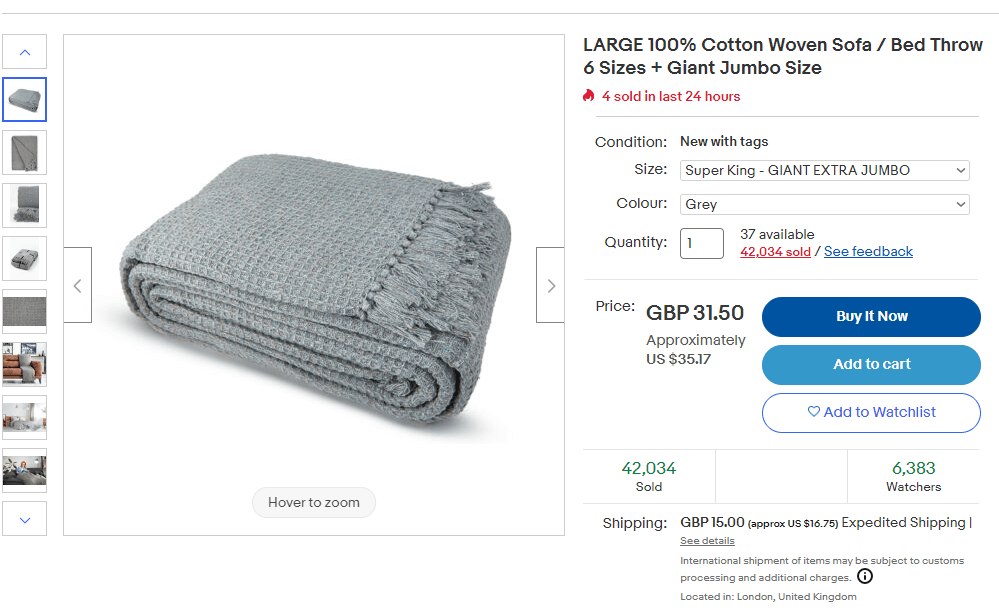 It's easy to make an online store for woven textiles and start selling. With the advent of social media platforms, aesthetic pictures make or break a product.
A woven bed throw can sell for $4-$20 a piece, there's no real competition from big brands, and it's an easy investment and profit plan.
8) Printed Mattress Covers/Fitted Sheets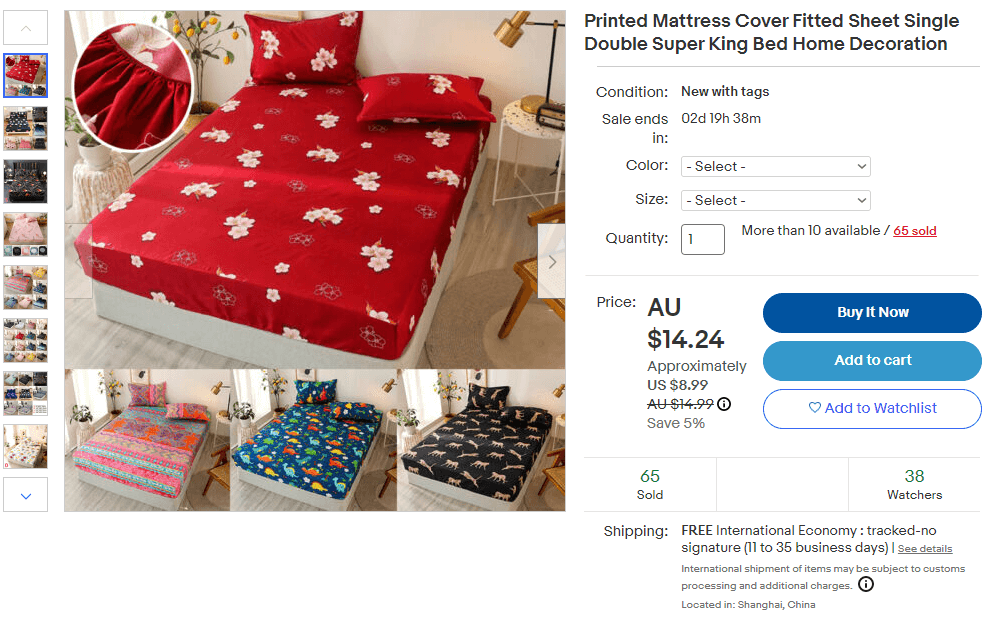 Although this one has 60+ sales only, it has far greater potential. Printed sheets are cheaper but offer a lot of variety and designs. You can design your sheets or buy and sell other products for profit.
Among the many product categories on eBay, textile is the most versatile. These sheets offer a good profit margin and have a never-ending consumer base.
9) Water Cartridges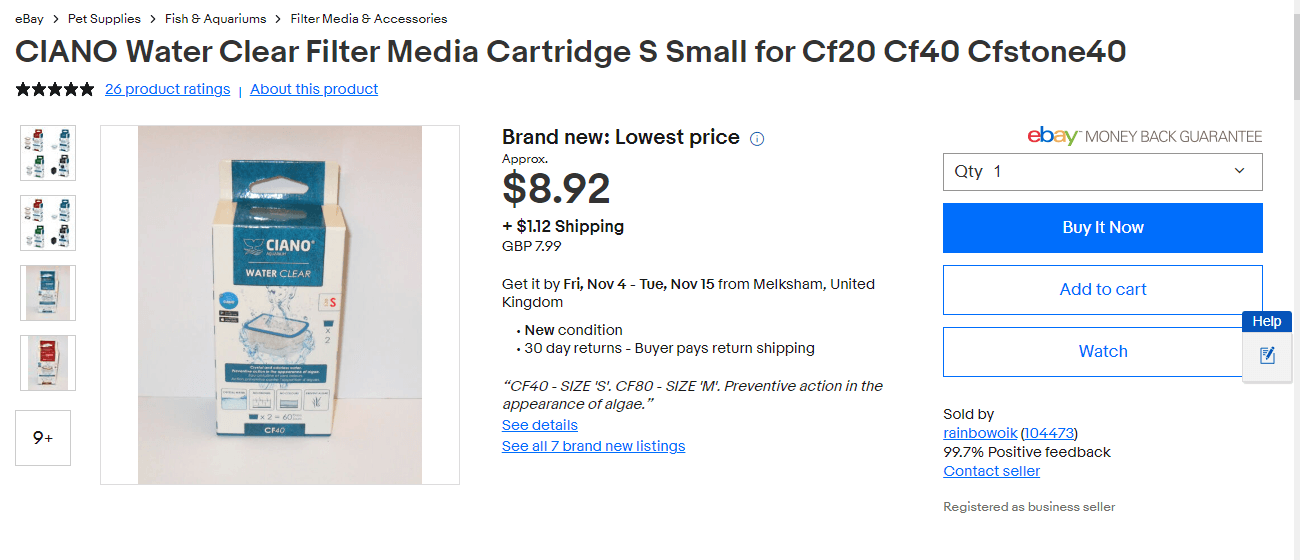 Fishes are frail creatures, and in at-home aquariums, they require constant attention and care, which is one of the biggest struggles for fish owners but a blessing for the pet care industry.
The filter foam cartridges above are disposable and are bought frequently, making it a stable purchase item, even if you only account for returning customers.
Cartridges typically cost $4-$6 on the wholesale/local market and can sell for up to $14 at most. They are an excellent long-term investment, as they help increase the sales and reputation of your seller account.
10) Purses and Shoulder Bags

Purses are always a hit in the market, and the female product market never stops growing.
eBay also has a massive market of design copies featuring big brands like Gucci and Louis Vuitton.
You can sell copies for as low as $30 and bags might even sell for more.
You must only avoid selling counterfeit branded products, as that can lead to copyright issues.
11) Apple Genuine AirPods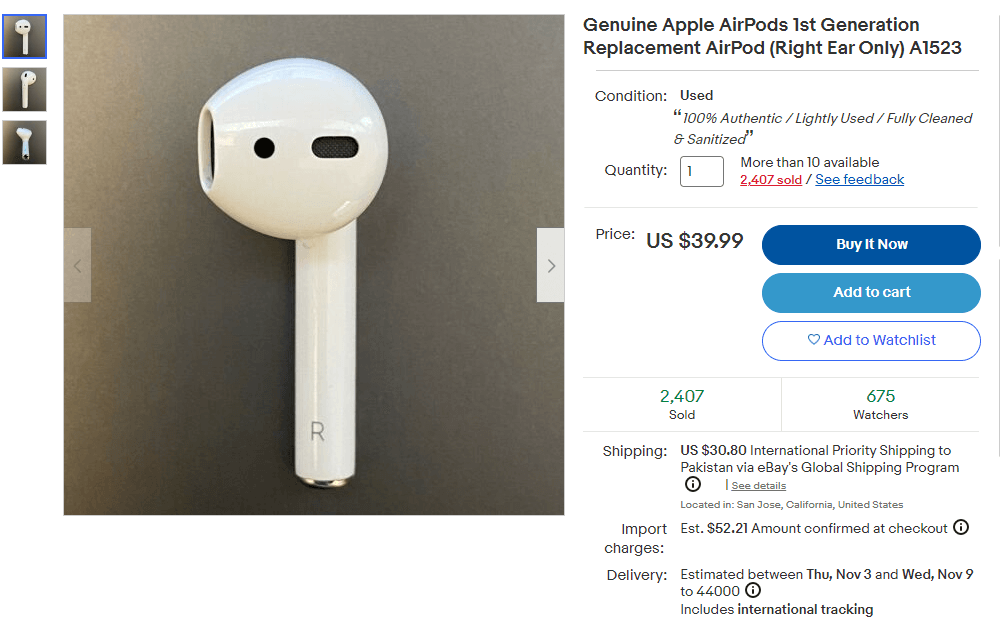 Apple's Airpods are another best-selling product with a solid sale of 2400+ pieces, making it a top-selling product with a high-profit margin.
But to out-compete the competition, you must be in contact with a good wholesaler or an industry insider.
These cost anywhere from $80 to $130 on eBay, and you can use this price difference to your advantage by selling locally-bought Apple Airpods.
Otherwise, you can sell private-label earphones by sourcing products from Chinese suppliers. But remember to keep product quality above everything.
12) Smart TVs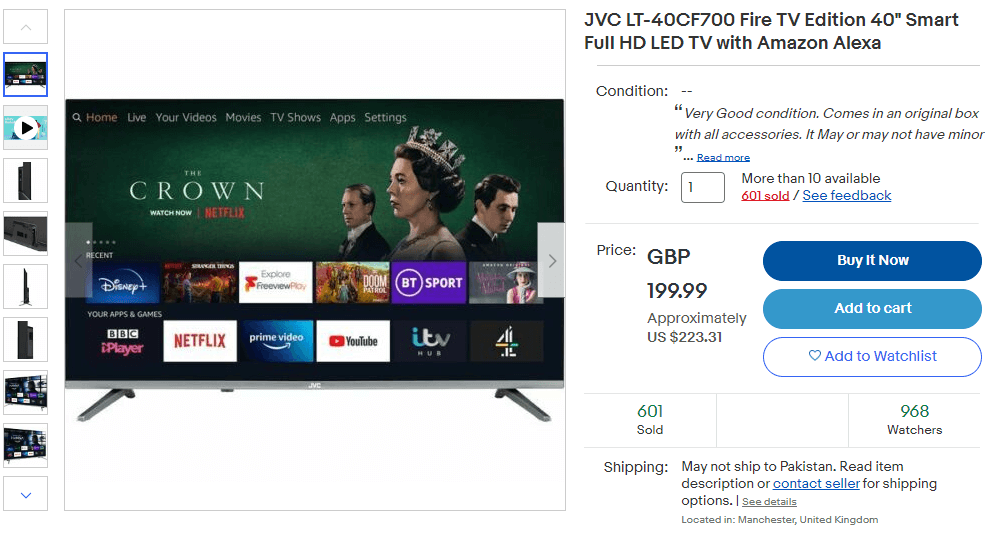 The television market is hard to survive in. Still, by setting competitive warranties, and customer support, there is a good possibility for any seller to rise above his peers and benefit from this high-ticket product.
Brand names like LG and Samsung also dominate this market, but price differences among nations, and the opportunity to sell used items, will act in your favor.
13) LED Strip Lights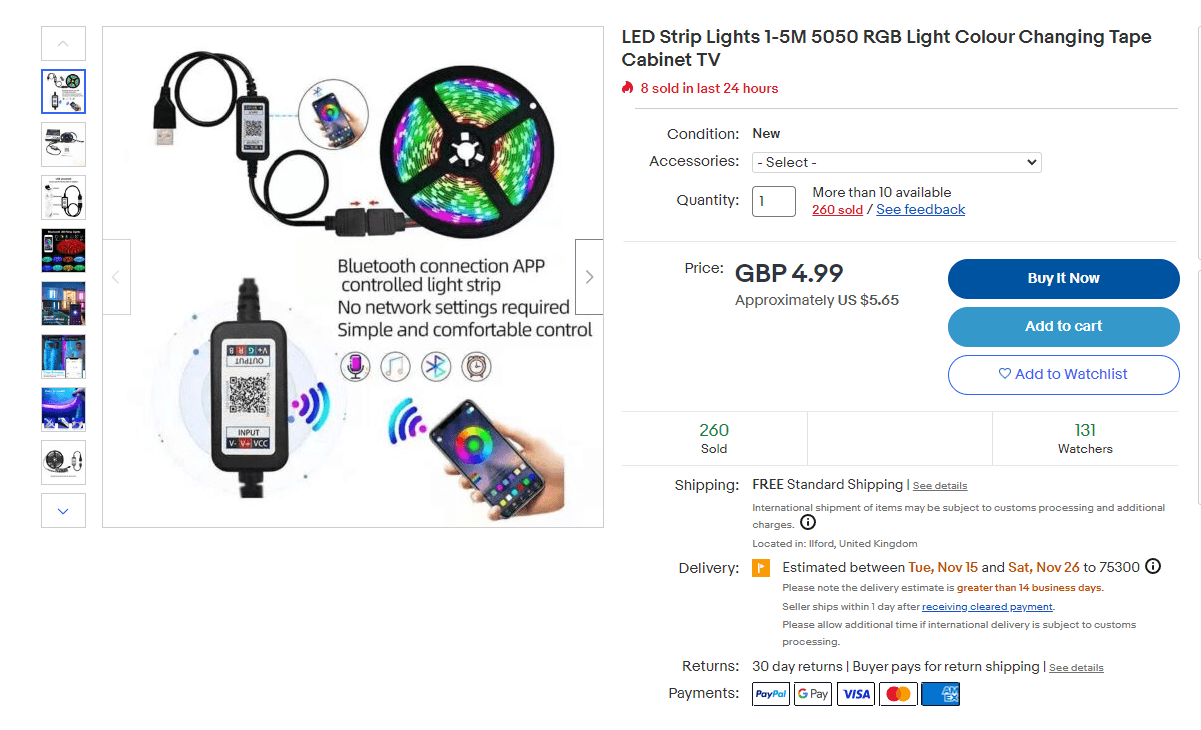 We know this sounds more like a TikTok product, but LED strip lights are always in demand.
You'll have to be careful of the warranty, though, as this product is prone to get damaged during shipping.
Otherwise, demand won't be an issue as you'll find many LED strip light sellers already on eBay, with room for many more to join.
14) Baby Necessities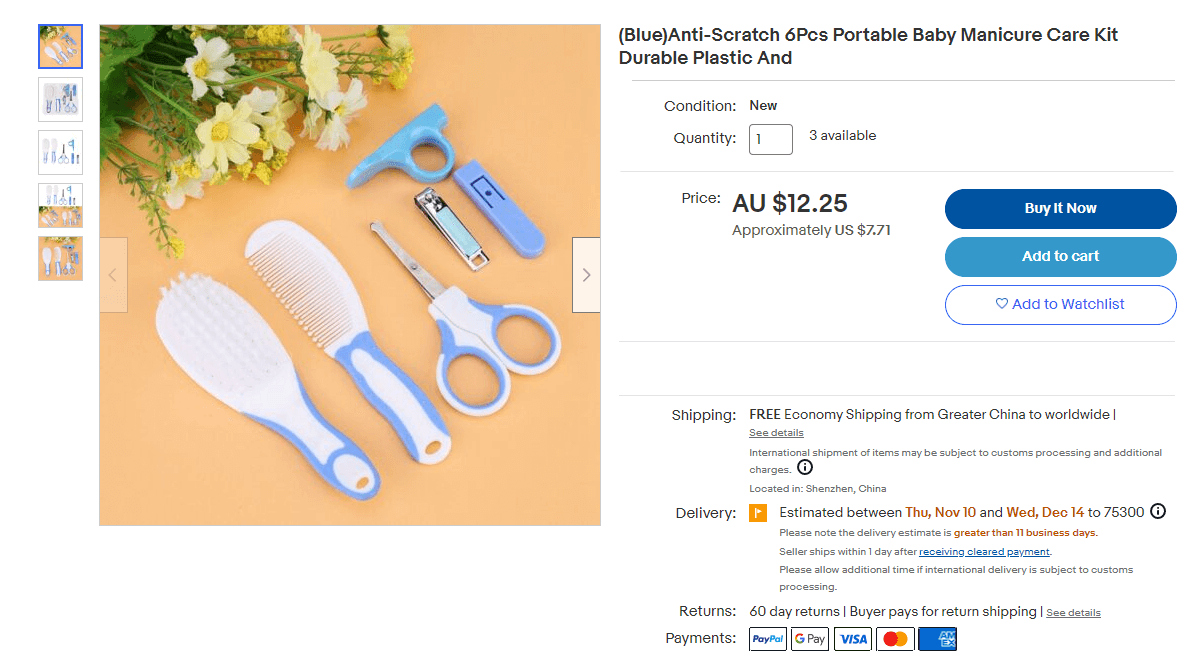 Baby care is notorious for being expensive, but most parents are willing to bear the heavy price tag.
Baby care items are necessities, so you can count on the market to never experience a downfall.
From products like the extra bottle teats, and grooming kits above to diapers and formula, baby products will never go out of use.
15) Skin Care Products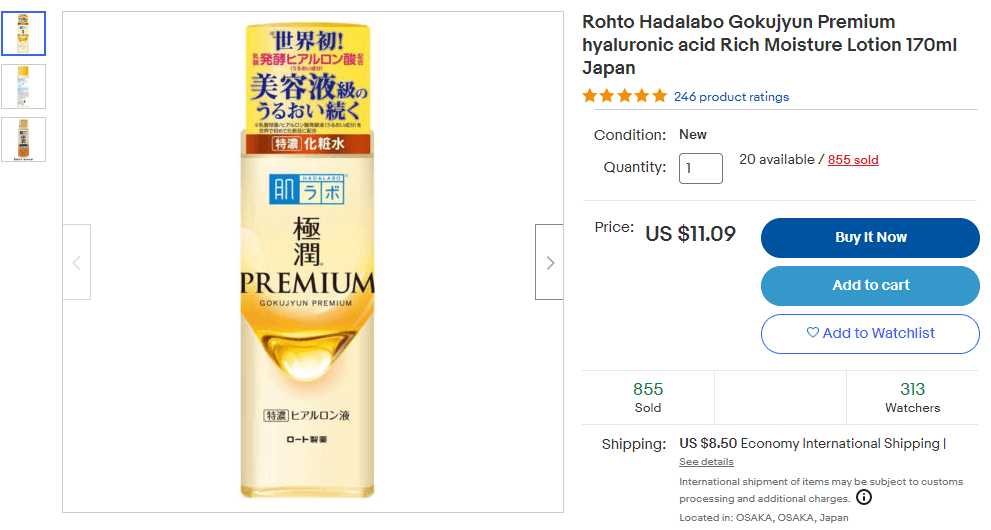 The Skincare industry has started catering to men, which has projected an increase in sales and profits by 150%.
This niche has many products, but none are quite like moisturizers used for health and beauty.
With this coming boom in the industry, it is advised to stay ahead of the trend and start to build a reputation before the competition multiplies.
Asian products are advised for new sellers due to being cheap and quickly sold compared to high-quality shelf-loving western beauty products.
The current K-beauty wave will also contribute to higher sales.
16) Perfume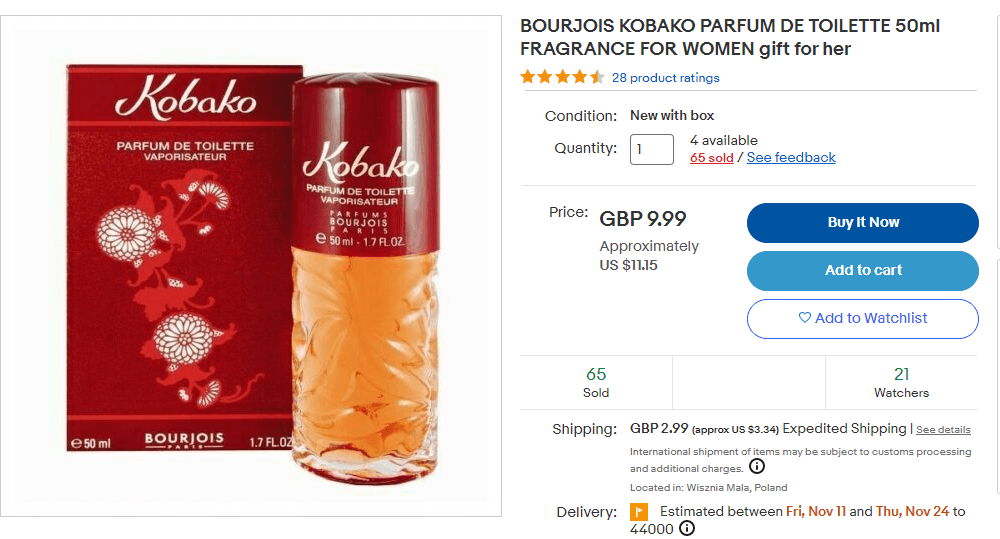 Perfumes are in demand, but the key to selling them is to be cautious of name brands.
You need to invest in some good and reputable brands to be able to build a following.
Perfume bottles are also fragile, so you must be careful during shipping.
17) White A4 Paper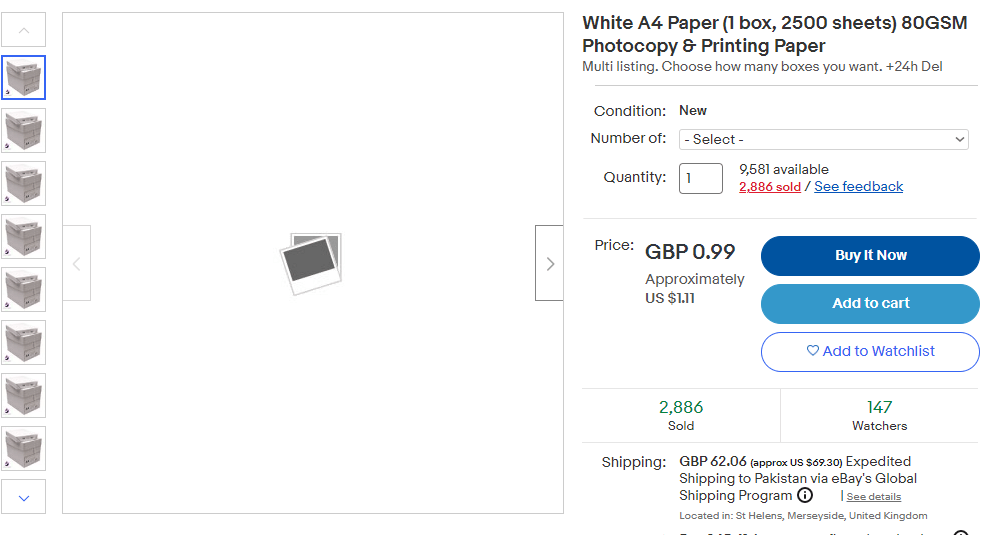 You must be surprised to see paper on this list, but hey, it's a valuable item in our daily lives. A-1/2/3/4 papers are used everywhere. A4 is most commonly used, thus providing the highest opportunity.
Paper is easy to acquire, easy to keep, and easy to sell. The wholesale price of paper is commonly half of the market price, allowing for a profit margin for a frequently reselling product.
The company above has sold the particular box for $1.12 up to 2800+ times. You can make/buy boxes with different sheet quantities selling thousands of packages.
18) Printer Ink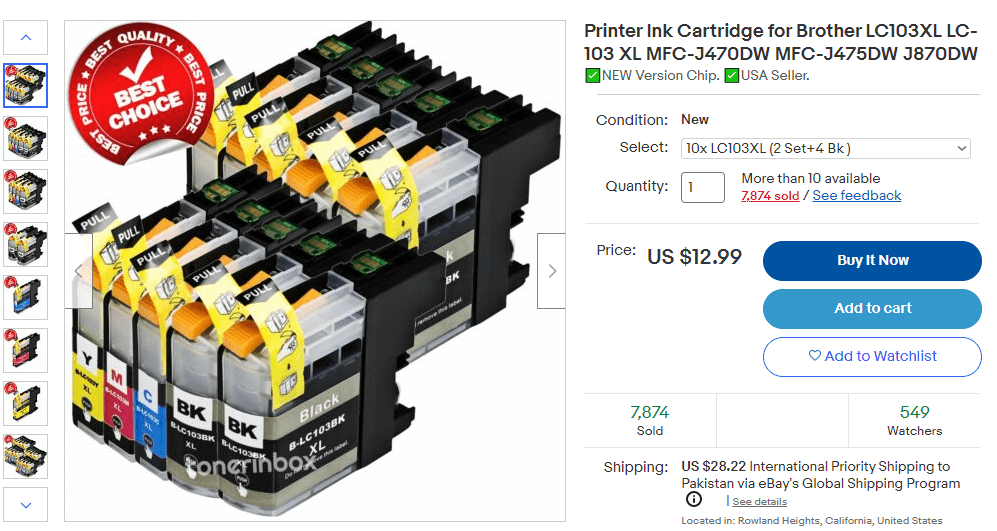 Large and small companies, individuals, and offices all use Printer Ink in large quantities. Approximately 2.8 trillion pages are printed annually, so the demand for ink will always be sky-high.
Buying printer ink cartridges in bulk wholesale and selling them on eBay will prove profitable.
19) Digital Watches and Straps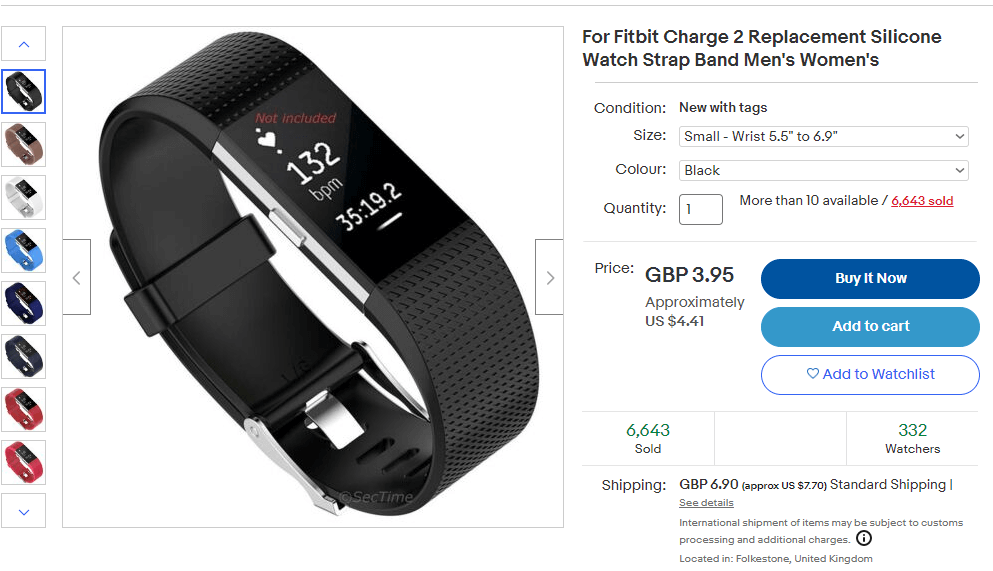 The LED watches have replaceable straps that you can sell as a different product. Straps come in different colors and appeal to customers as they can give their watches a brand-new look.
The Silicon strap is even cheaper in the local seller market. Purchasing these locally and selling them on eBay is the perfect strategy.
Silicone watch straps are a better investment because they are getting popular. They are also more convenient than leather and other materials and steadily grow in sales.
20) Laptops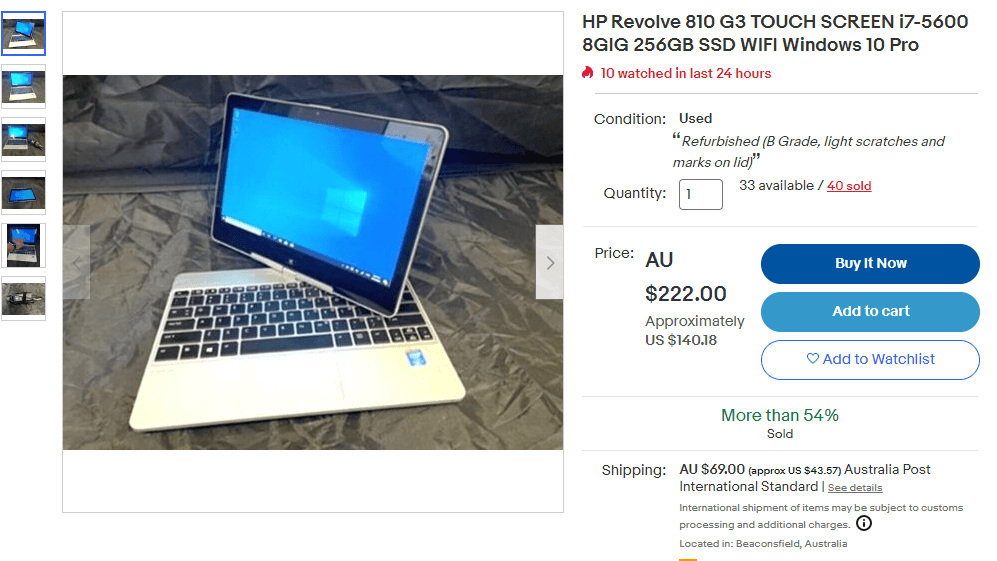 Here we bring you another electronic item, and with the growing technological craze, this industry serves to generate the most profit.
Laptops have the qualities and utilities of computers and tablets, making them desirable.
But laptops are fragile products, so you must be extra careful with shipping.
Another issue is that laptops aren't particularly a great product for dropshipping.
21) Sony PS5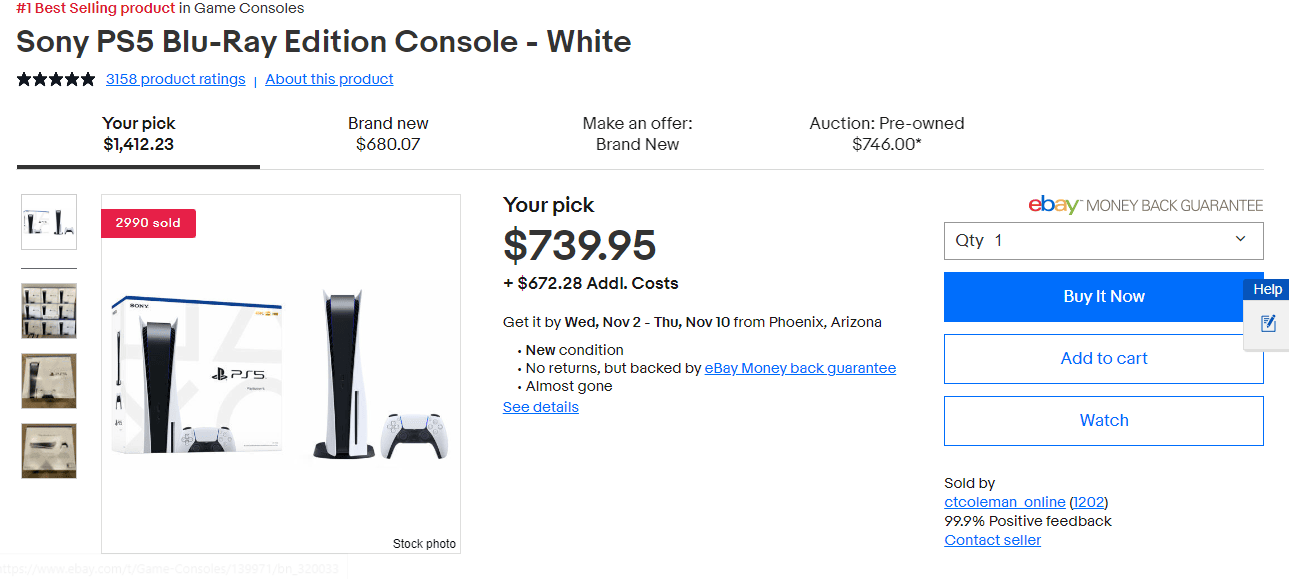 As newer technology joins the scene, the gaming market has been experiencing a growth spurt.
After the famous PS4 by the popular brand "Sony," the new PS5 has successfully taken over its predecessor's craze.
PS5 will stay the best-selling product for at least six years, even after a newer Play station is released.
The gaming console's price can significantly vary depending on your supplier, and if you have a good supplier and can put up a competitive price, you are almost guaranteed to land a sale.
Along with the PS5 consoles, selling controllers and video games separately is also a great choice. The profit margin for these products is also insane.
22) Camera Accessories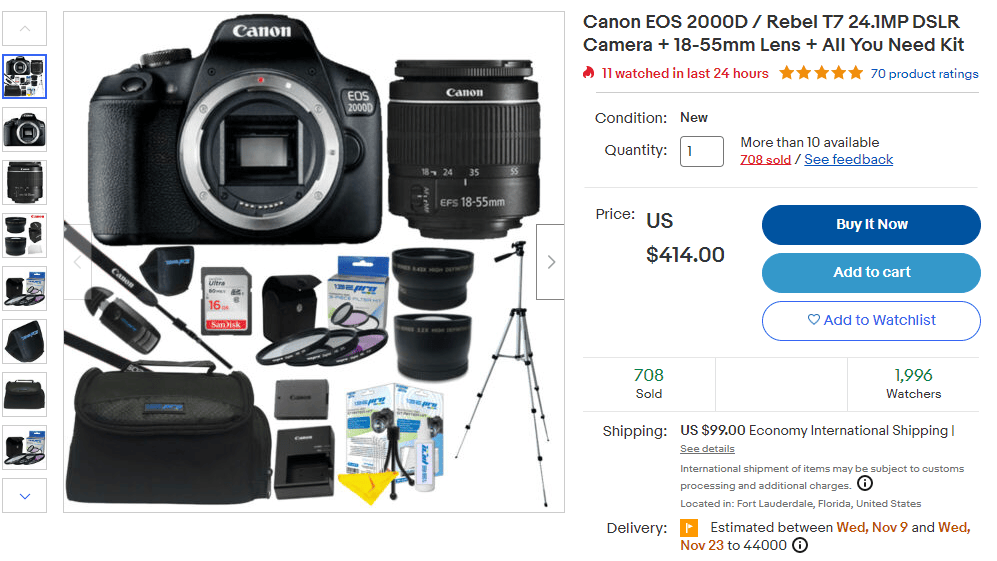 Photography lovers worldwide look towards brands like Canon and Nikon for their camera needs. You can profit by finding unique camera accessories to sell on eBay.
This Canon EOS 2000D, for example, costs over $400 but has still been sold 708 times. These statistics prove the market demand for these products.
23) Coffee Table Books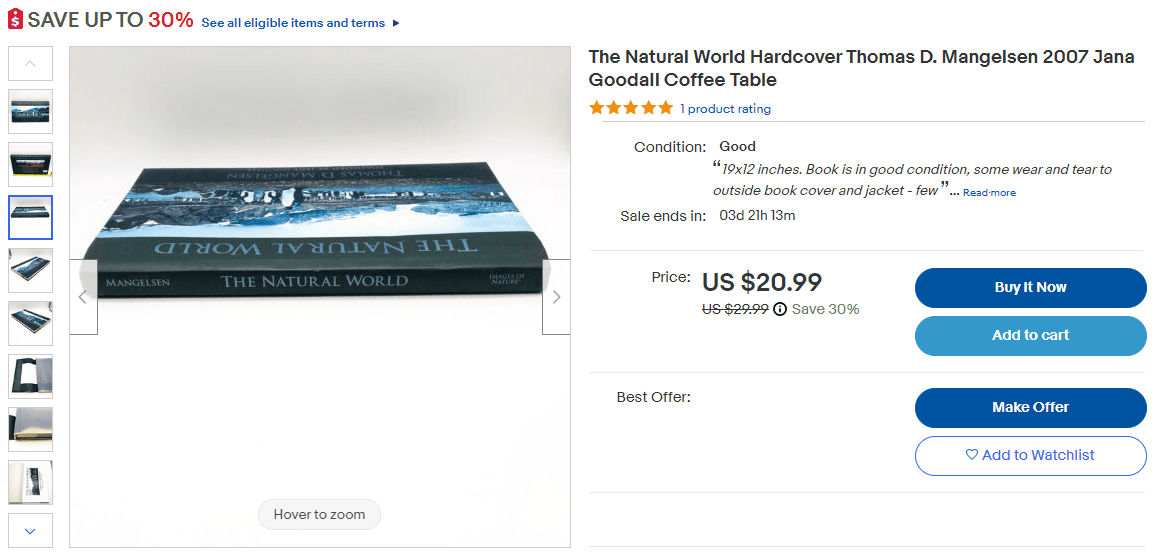 Books are a favorite amongst collectors, and coffee table books are widely used as interior décor.
You'd be surprised to know that people are willing to pay a hefty price for them.
The key to selling coffee table books is to find ones with attractive hard covers.
24) Baby Toys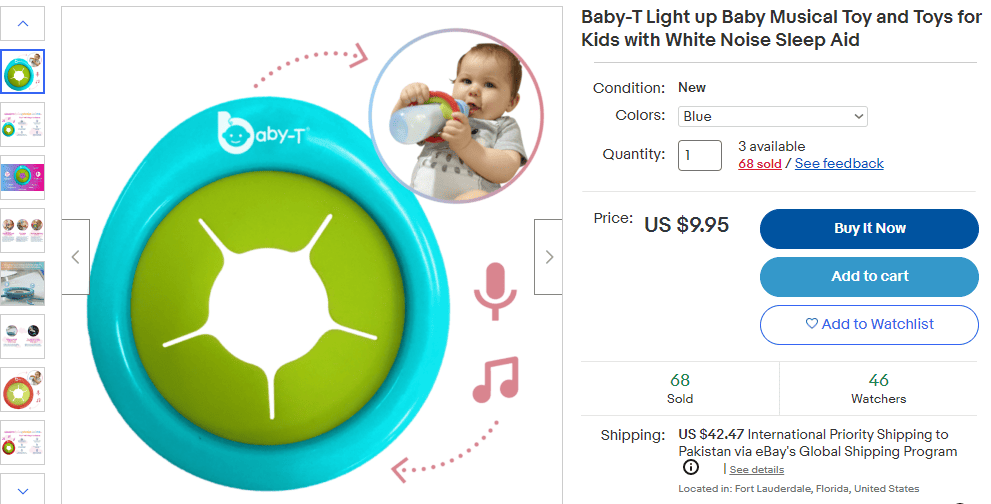 Baby toys are best sellers on almost all online commerce platforms. If you want to make more significant profits, expensive, complex toys will be perfect for you.
However, if you don't want to make a substantial investment, the stuffed animals market is a good option too.
25) Handmade Braid Dog Training/ Pet Slip Lead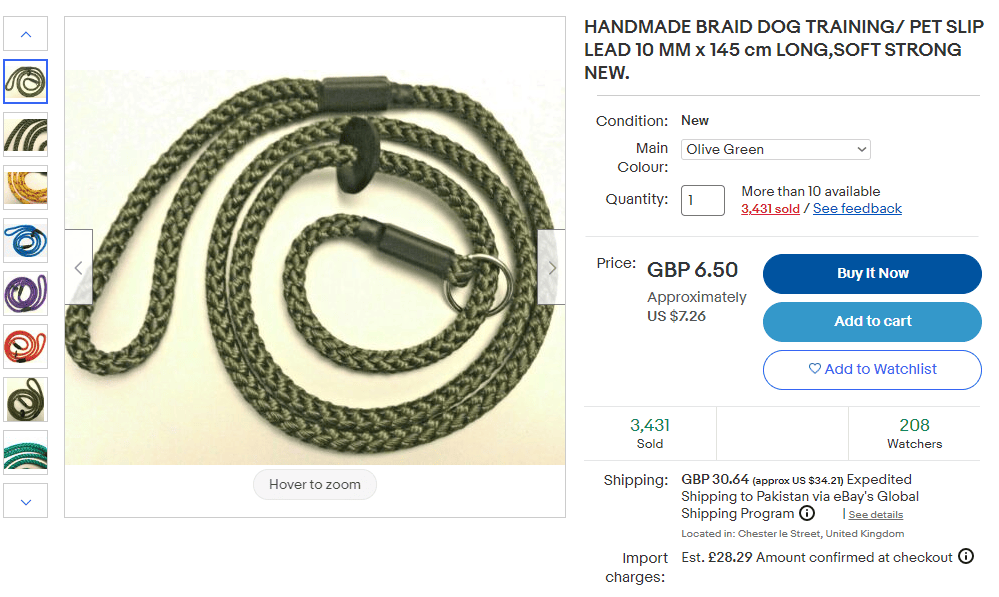 Given the number of items sold, it's clear that this product has a high demand.
The competition isn't stiff either and making leads with different colors, materials, and accessories is an excellent way to attract attention.
26) Car Decals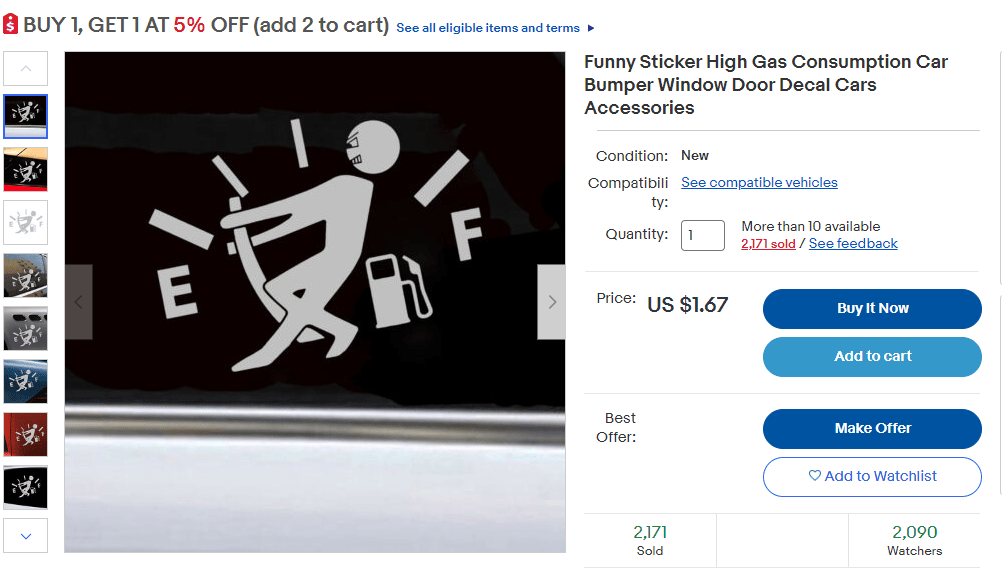 Car decals are easy to store, require less investment, and their affordability also brings in a lot of sales.
You might not be able to make a hefty profit from them, but these products attract constant sales.
The above product is cheap but has been sold 2171 times. Selling these products can help increase traffic to your eBay store.
27) Karaoke Systems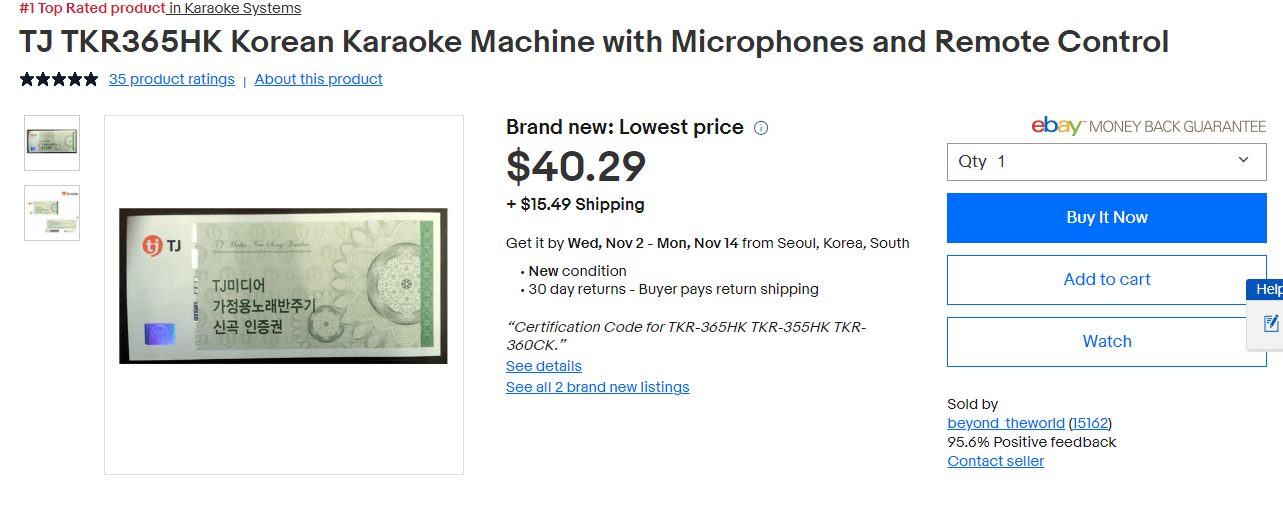 Music is a billion-dollar industry that connects cultures from all corners of the world. A Karaoke System is a good choice on eBay with a good profit margin and high demand.
To compete effectively in the industry and come out on top, you must offer more benefits than your competition. Better warranty and more discount bundles are an excellent place to start.
The product above is a best seller and earns the most in its category.
You could opt for a more expensive system to generate more profit or a less expensive one to generate more sales. Some of the top brands in this industry are KaraoKing, JYX, ION, and EARISE.
28) Cement Finishing Masonry Hand Trowels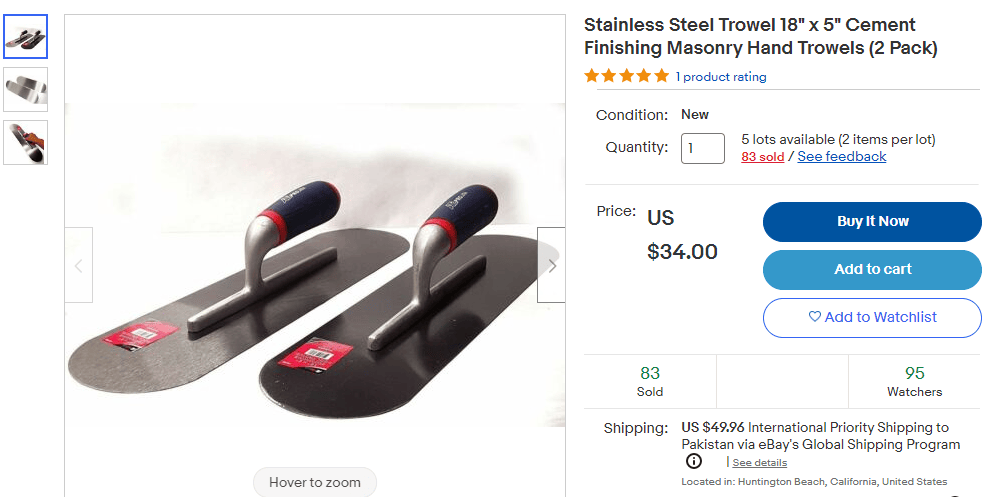 Construction has been a stable field for a thousand years and will continue to hold its own. The profit you generate with this product depends on your ability to be resourceful.
Producing hand trowels requires little investment and will generate stable profit. Though, buying and reselling the product can get a little tricky.
However, with the right seller, you can buy this product for $10-$15 and sell it on eBay for $25-$35.
29) Bluetooth Devices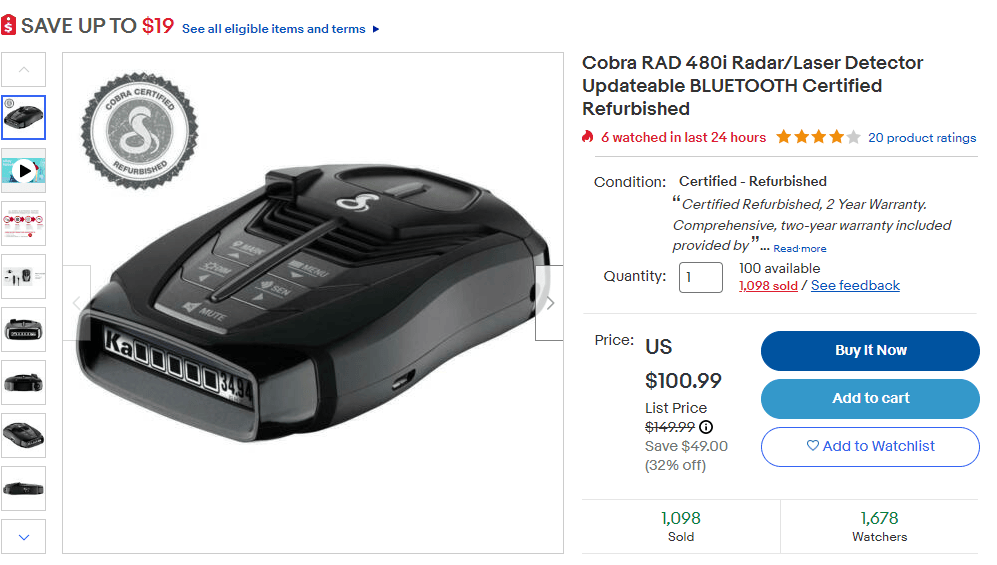 Bluetooth devices are fragile and hard to store. However, that shouldn't make you hesitate, because this electronic has a lot of demand in the market.
A piece easily sells for $100, if not more. Most companies are responsible for any faults, so you're mostly free of any liabilities.
30) GPS Systems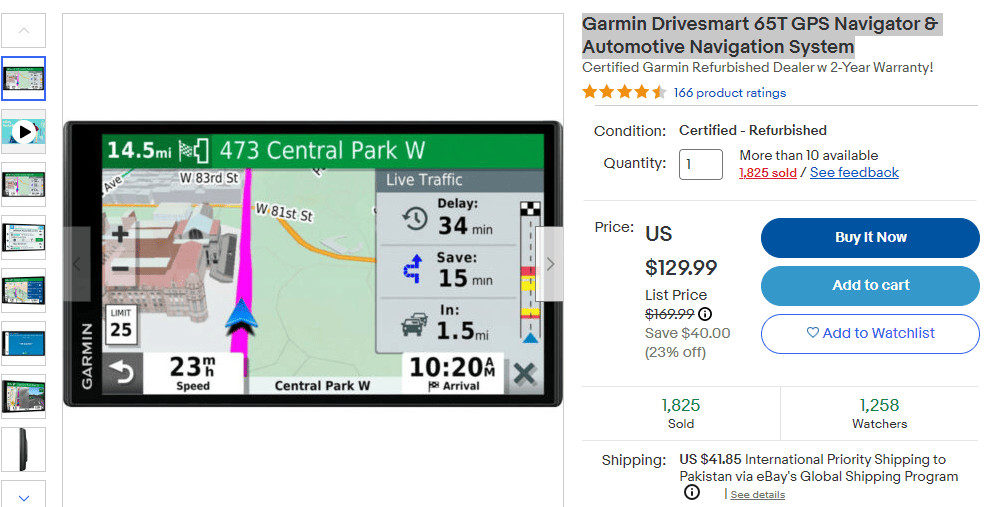 The car industry is worth billions of dollars, and almost all cars have navigation systems. However, GPS systems still have surprising demand.
Despite not seeming that popular, this product sells well and gives ample room for a comfortable profit margin.
Its local price is usually between $75 to a maximum of $92, and you can check the picture above for how much you can make.
31) Shoes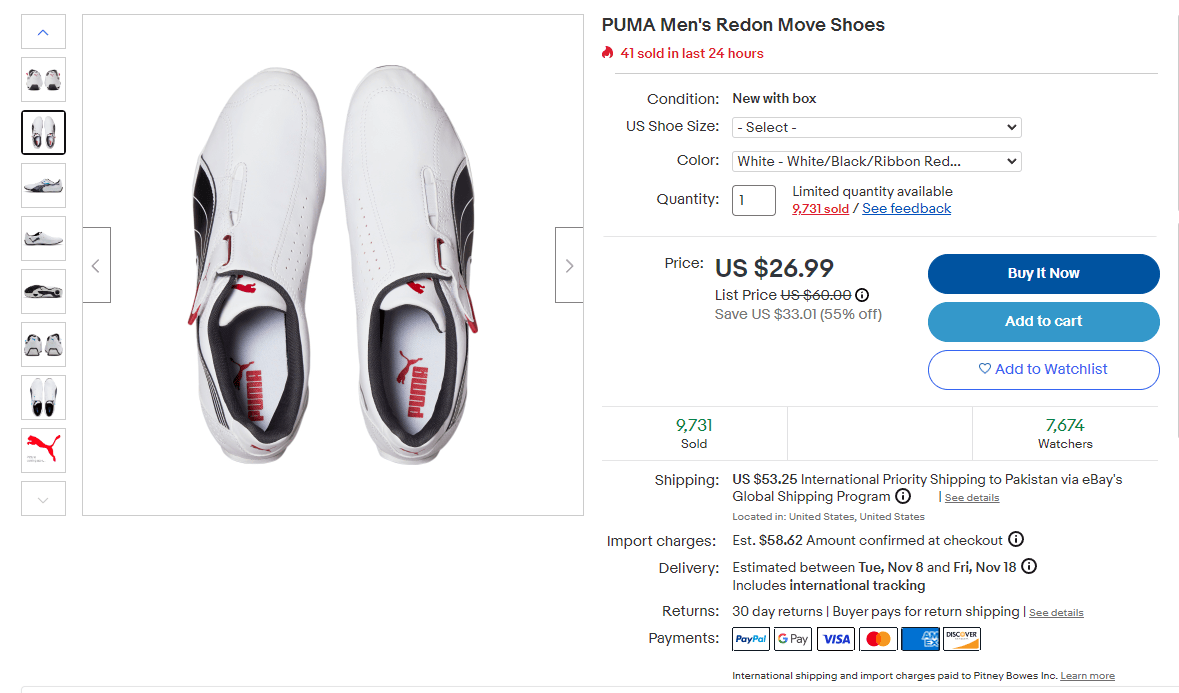 Shoes sell a lot on platforms like eBay, and the numbers don't lie either. These boots have already sold 9600+ pairs and continue selling about 50 pairs daily.
You don't have to just sell branded shoes either. People are willing to pay a reasonable price for slightly cheaper non-branded footwear as long as the quality is great.
Overall, shoes are a good investment, and you benefit from easy-to-return policies from company outlets, local vendors, and online suppliers.
How To Find The Best Products To Sell?
We've included a comprehensive list above, but if you want to find more products, then you can follow these steps:
Step 1: Shortlist Your Desired Products
Read the market trends and shortlist your products according to your desired profit and sales.
Try shortlisting products that fall into your set theme.
Some products require warranties, returns, and online customer support. If you cannot provide these, then avoid those products.
Step 2: Evaluate Your Budget and Interests
Look into products that you are passionate about because unique products see high sales on eBay.
After that, evaluate the amount of investment you are willing to make and match it to the product requirement.
Step 3: Focus on Both Quality and Price
The best product is the one that makes you the most profit. And this has a lot to do with your supplier.
eBay doesn't allow sellers to source products from other marketplaces.
You must find a reputable supplier to help you source products at competitive prices while maintaining quality.
Tips to Start a Successful eBay Business
eBay is a competitive marketplace, and there's a lot to consider before launching a business. So here are a few tips to remember to launch a successful eBay business:
The online business world is competitive, and someone is almost always selling what you want to sell. Look into products that help you stand out.
Although the Tech field has a high-profit margin, it is best to stay out if you are not ready to deal with faulty electronics, customer support, and returns.
Start with what you know to not get demotivated. Try selling local products on eBay, as they require low investment and easy returns if they don't sell well.
Research products on international news and the online review platform before trying to sell them. Some products could be expecting a declining market despite trending on the charts.
Always investigate and research expensive products strenuously. Unlike low-investment products, which don't turn into a significant loss, expensive products can be risky.
Some products are banned in some countries, while others have various transport restrictions. Always pick your product with convenience and outreach in mind.
FAQs about Selling on eBay
How Do You Start An eBay Business?
We've discussed how to start dropshipping on eBay in detail, but in short, make a personal or business account, pick a product to sell online and create your listings to get started.
Is eBay Safe?
Yes, eBay is a genuine and safe-to-use billion-dollar website. eBay is one of the oldest—started in 1995—and the most popular commercial eCommerce marketplace with multiple safety precautions.
Does eBay Support Payoneer and Paypal?
Yes, eBay supports Payoneer and Paypal, although eBay recommends PayPal.
Is eBay Worth Selling On?
There are more than 159 million active users on eBay. Given the size of the audience, it's safe to say that eBay is definitely worth selling on.
Can You Still Make Money on eBay in 2022?
Yes, selling products on eBay is highly profitable, and with the right strategy, you can use it to build a steady stream of passive income.
Is eBay Free to Sell?
You can list up to 250 items on your online eBay store, after which you have to pay $0.35 per listing.
Final Thoughts
Product selection plays a key role in the success of an online business.
But fortunately, eBay makes that slightly easier through its diversity.
There are plenty of products you can sell on the marketplace across multiple niches.
Hopefully, this list of the best selling items on eBay was able to give you some inspiration.
If you're ready to launch your store and want the best bargain for your desired products, then NicheDropshipping is here to help.
You can drop us a call to communicate your requirements, and our agents will promptly guide you!