Hats do not get enough credit for their range. One day they are a fashion statement, while on the other they are a beloved shield against the sun or the cold. Not to mention how valuable they are as sporting memorabilia.
This goes to show that hats are and will always be a necessity for one reason or another. They simply have 'profitable niche' written all over them.
With that in mind, we put together a list of top 10 hat dropshipping suppliers that stock quality merchandise.
Let's find out what they have to offer, shall we?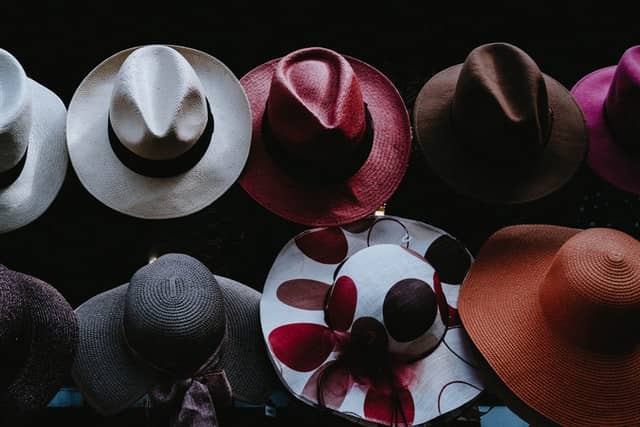 Print Genie
Print Genie is a custom hat dropshipping supplier. It offers a plain batch of hats that you can customize with your own print designs and list for sale in your online store.
When a customer places an order for any of your custom hats, you would share the order with the Print Genie warehouse. They would print the ordered hat and fulfill the order.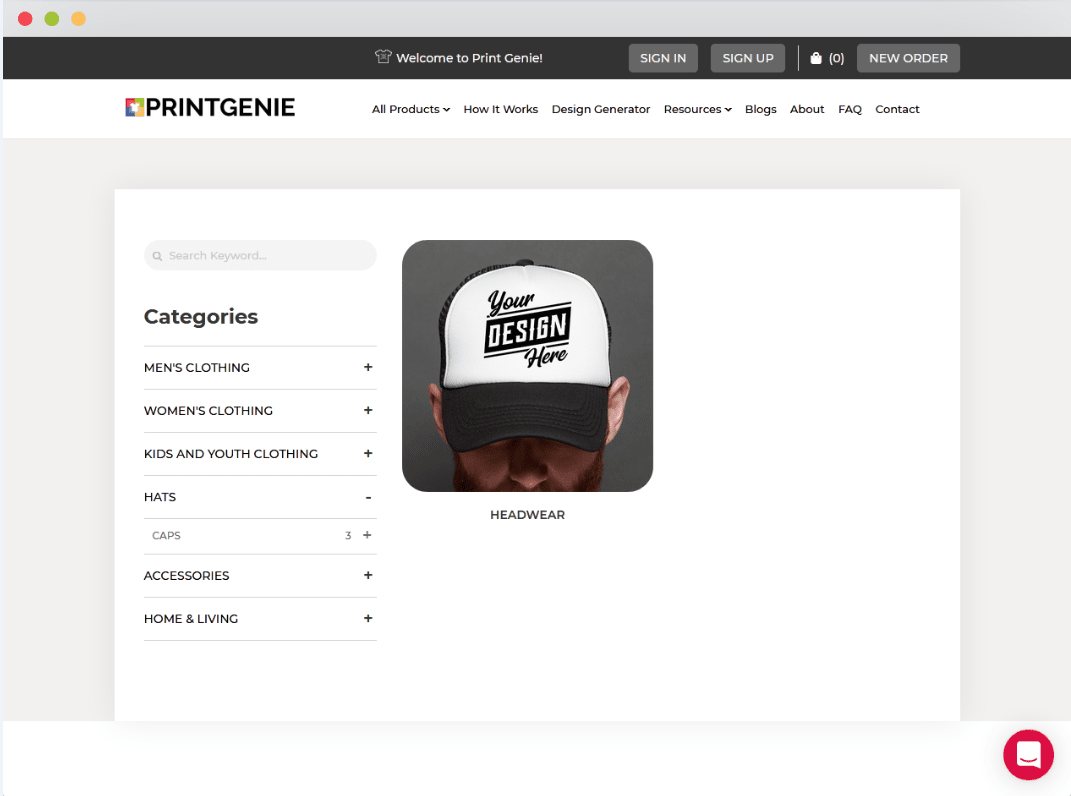 This type of dropshipping, where you add your own labeling to another company's products, is known as white labeling.
That aside, if you would like to fulfill orders via Print Genie, you would need to:
Create an account on the Print Genie site
Sync your store with Print Genie (this happens automatically if you own a Shopify dropshipping store)
Choose hats and list them in your store
There are no sign-up fees required when signing up for a Print Genie account. You will also not be bound by minimum order restrictions.
Inkthreadable
Inkthreadable is a UK-based company that offers hat customization and dropshipping services. If you would like to offer your customers quality embroidered hats, this would be a good supplier to have on your list.
Another advantage of working with Inkthreadable is that they offer a variety of hat types. Their catalog includes:
Baseball hats
Rapper hats
Woven beanies
Snapback trucker caps
Classic snapbacks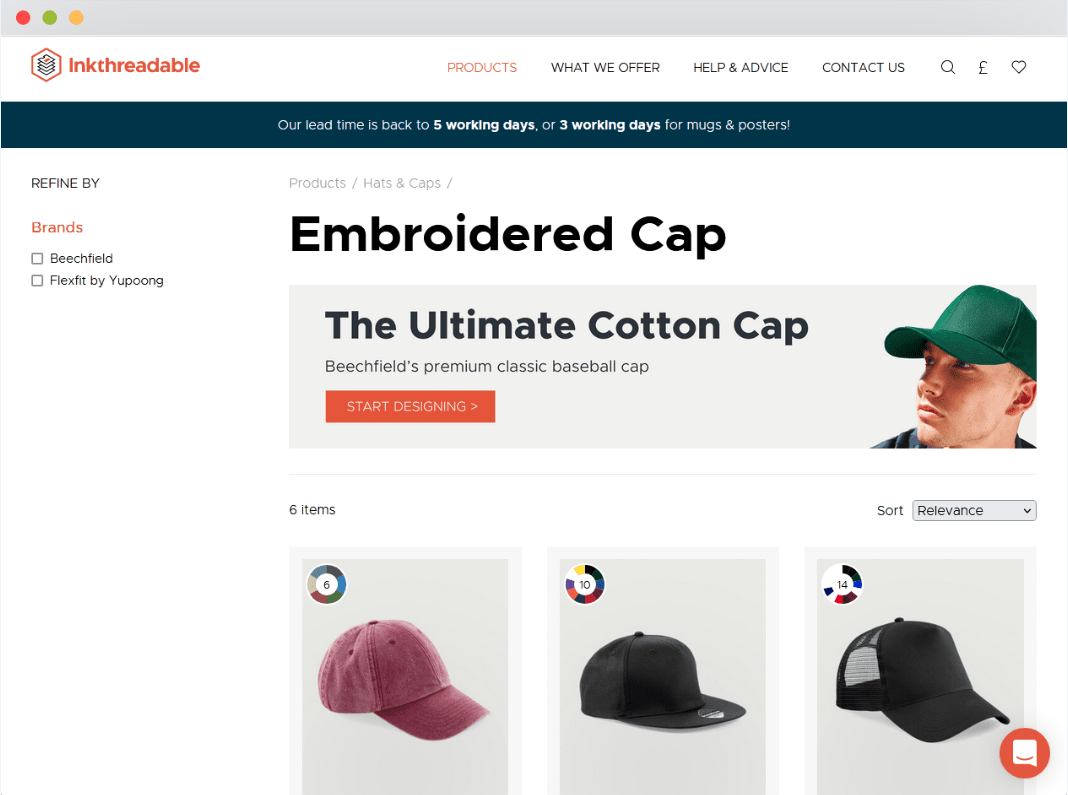 To get started, register a free account on Inkthreadable and integrate your online store using the company app. You can then select the hats you would like to sell and come up with custom designs.
The automated integration will help you share orders directly with Inkthreadable. You will be billed per order for the hat, embroidery decoration services, and shipping.
This company offers worldwide fulfillment and thus allows you to cater to a broad market. You also get to choose the shipping options that work best for your clients.
Apliiq
Apliiq works out of its warehouse in Los Angeles. They offer custom:
Dad hats
Snapbacks
5-panel hats
Bucket hats
Beanies
Fitted hats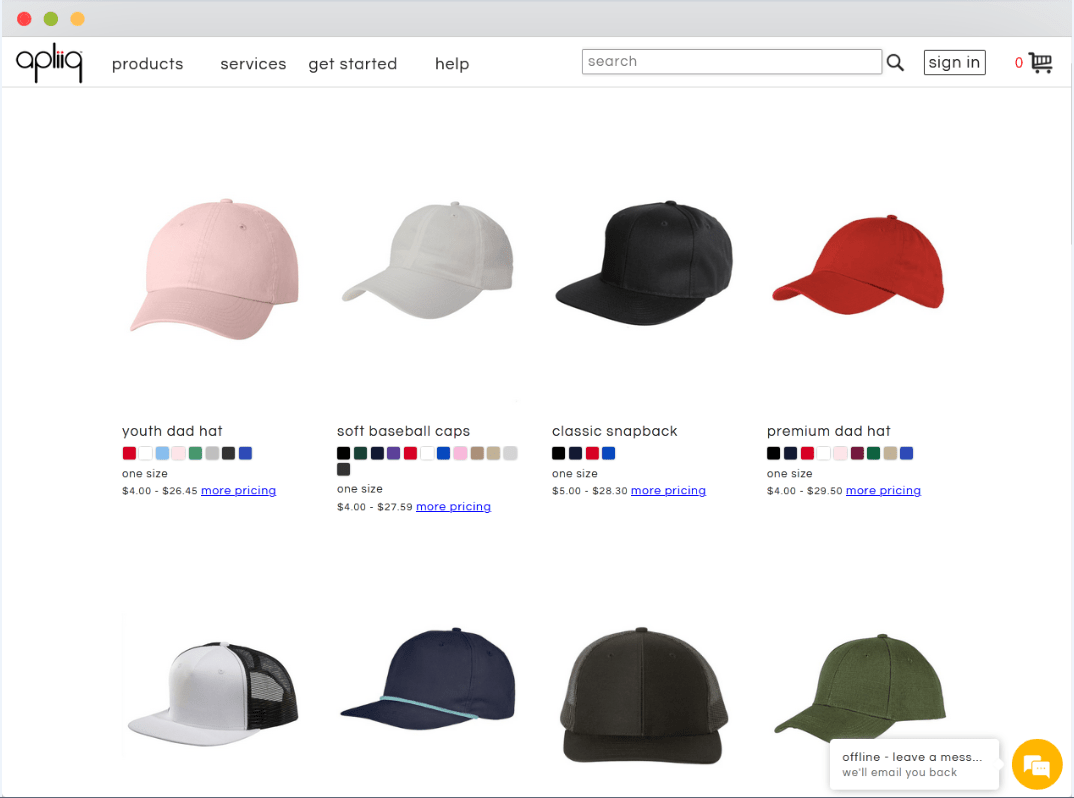 Like other custom hat dropshipping suppliers, Apliiq prints or embroiders your custom hats on demand. However, it is their patch hats that give them an edge over the rest.
Patching entails a custom decorative patch being sewn onto a hat. It is cheaper than embroidery.
Apliiq has no minimum order rules and even offers better discounts for bulk purchases. Plus, you can rely on it to fulfill orders to the USA, UK, Australia, among other countries.
On the downside, their turnaround time is 2 weeks. This might be a dealbreaker for some customers as we now live in an age of overnight fulfillment.
Contrado
Contrado too is based in the United Kingdom. It is a print-on-demand company that offers hats for men. Still, its products undoubtedly stand out from those of other suppliers.
Unlike most white-labeling and private-labeling hat dropshipping suppliers, Contrado offers colorful, edgy hat options. The prints are so outstanding you could easily sell them with no extra artwork.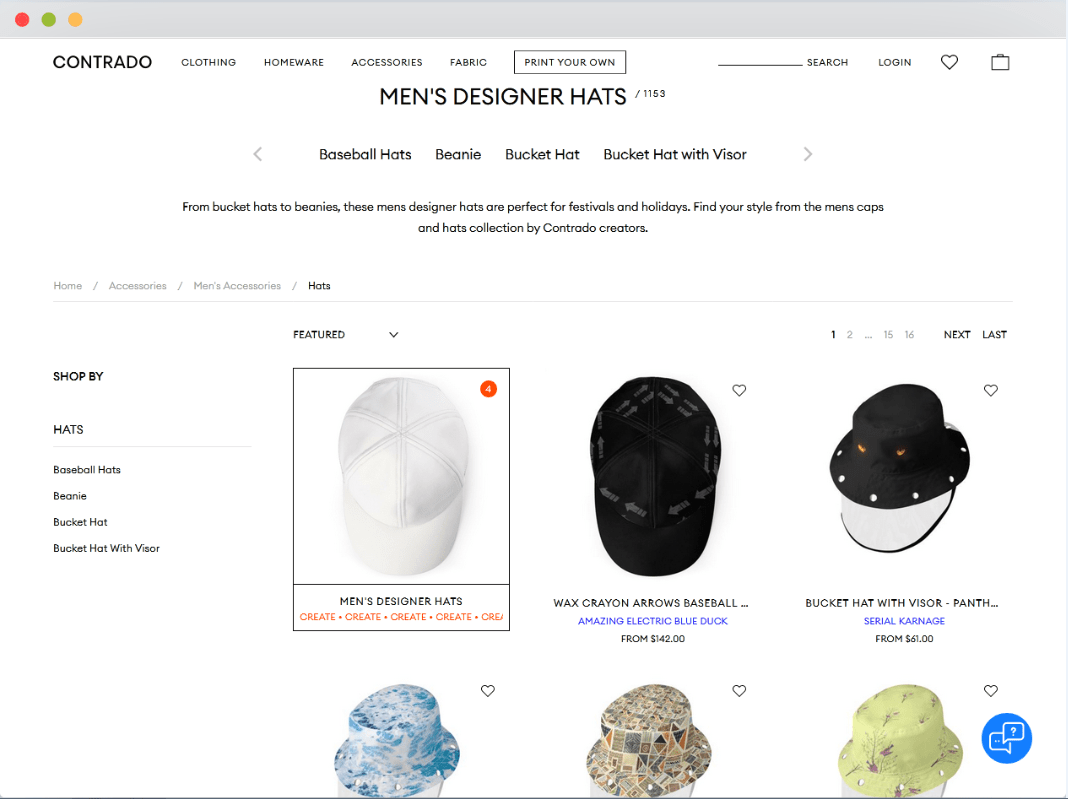 The dropshipping signup process is made much easier by the Contrado Shopify dropshipping app. It allows you to:
Import products to your online store
Create customization designs using the mock-app generator
Automatically share orders for fulfillment
Contrado promises a turnaround time of 1 to 3 days. It ships to the UK, USA, Canada, Europe, Japan, and Australia. You will have different shipping options based on the destination and will receive tracking details for each shipment.
Rockline Dropship
Are you looking for a hat dropshipping supplier that will add a cool factor to your store? Rockline Dropship fits that bill. It is an approved distributor of cool rock n roll merchandise from multiple music merchandise manufacturers.
On the company site, you can shop for hats based on music bands or hat types. They are ready-made and you, therefore, do not have to wait for production before dispatch.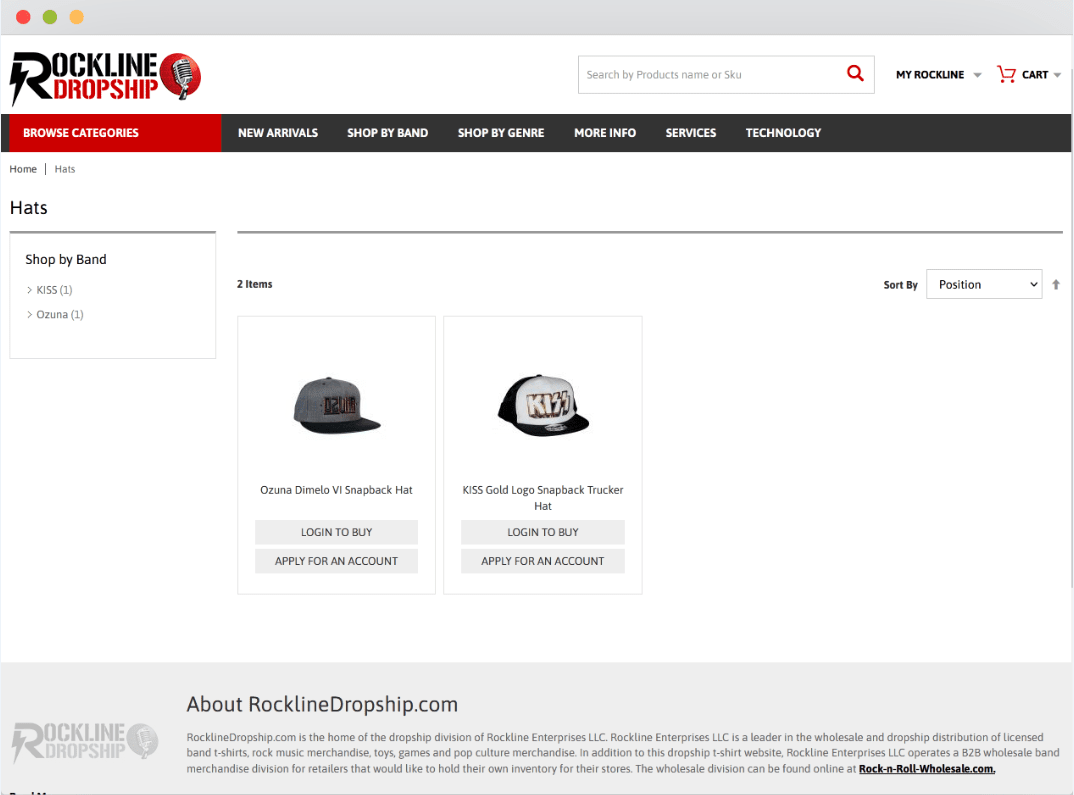 To register an account on Rockline Dropship, your online store has to be registered in the USA or Canada. You will also need to submit your tax ID details.
After your store is approved, you will have access to:
Automated dropshipping integration tools
CSV files with inventory, product details, and images
Regular 30-minute inventory updates
Rockline Dropship processes orders within 1-3 days and provides both local and international shipping options. You will receive tracking details for each order upon dispatch.
Cap Wholesalers
Cap Wholesalers is based in the USA and supplies both ready-to-sell and customized hats from different brands. This dynamics could help you provide your clients with more variety especially given as not all of them may prefer custom hats.
Further on variety, Cap Wholesalers stock some hat styles that most custom hat suppliers do not offer. They include:
Straw hats
Hi beam LED lighted hats
Umpire hats
Organic hats
Military hats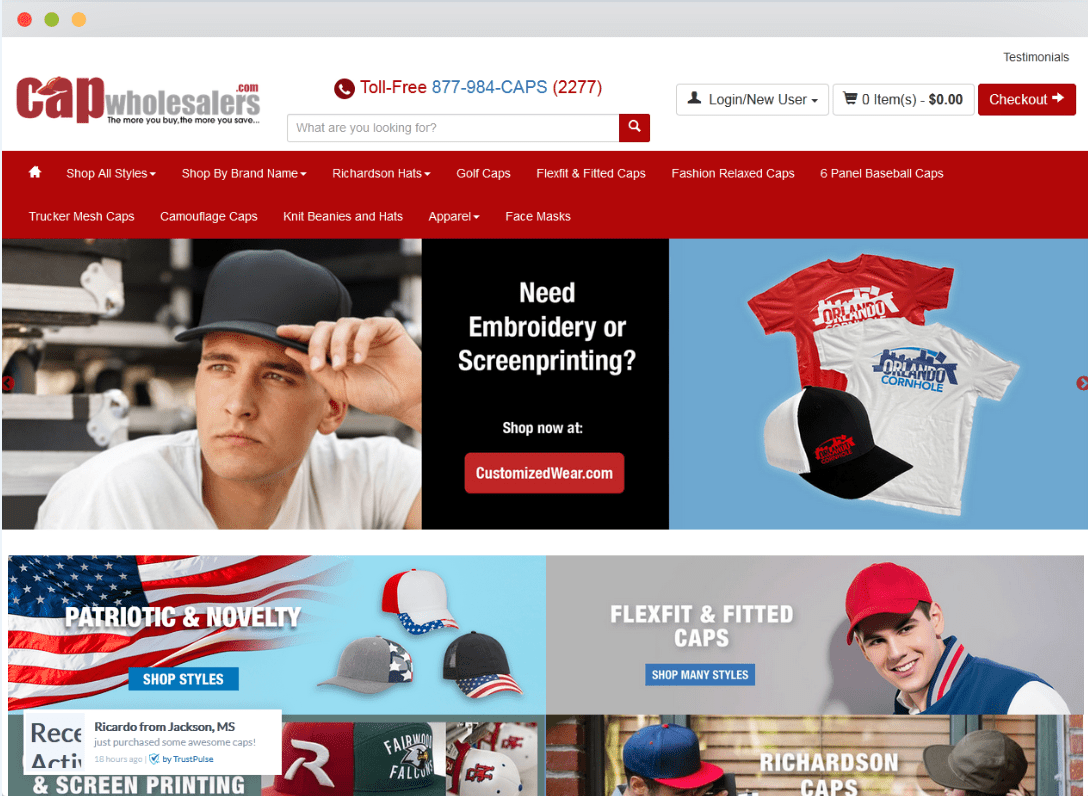 You can choose to customize any of these hat types via the Cap Wholesalers embroidery or screen printing services.
The Cap Wholesalers dropship program is not well developed as the company is mostly dedicated to wholesale supply. It does, however, accept dropshipping orders. It is free for high-volume retailers but low-volume retailers pay a fee.
When placing orders for fulfillment, simply add them to cart and indicate your customer's address as the delivery destination. USA orders are delivered within 3 to 5 days, while international orders take 7 to 12 days.
Tracking numbers are only provided on request.
AliExpress
When it comes to hat varieties, AliExpress easily beats any individual supplier. This e-commerce marketplace brings together thousands of hat suppliers and hence there is hardly a hat design you will not find on it.
The following are some hat types you are likely to find on AliExpress that you may have a hard time finding dropshipping suppliers for elsewhere.
Hats for women
Kufis
Floppy summer hats
Costume-themed hats
Berets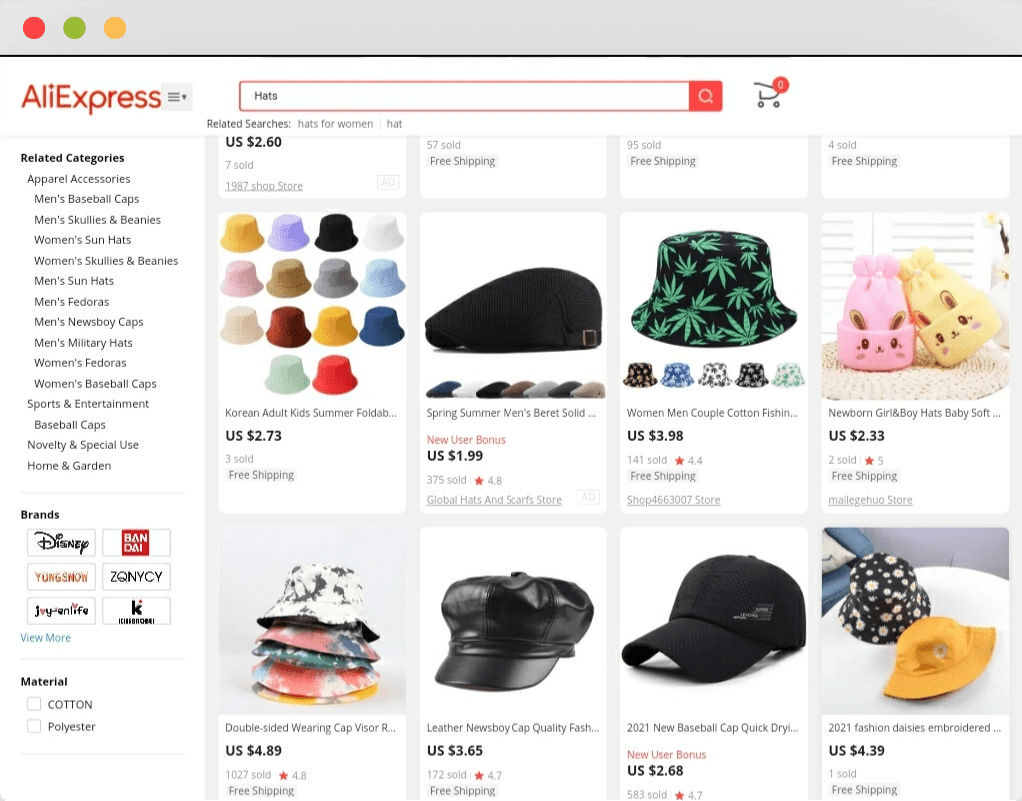 Sign up on AliExpress is super simple and you can begin to list products in your store immediately. The prices are quite affordable and most suppliers offer international order fulfillment.
Nevertheless, you will have to identify, vet, and engage hat dropshipping suppliers for yourself. Make an effort to do your due diligence as cases of scammer suppliers on AliExpress are common.
CJDropshipping
CjDropshipping is a dropshipping company based in China. Like AliExpress it offers quite a wide variety of hats but it provides additional advantages.
First, the suppliers listed on CJDropshipping are vetted and you never have to worry about scams. You also do not need to engage them, you can simply identify hats and add them to your cart.
Further, if there are hat types that you cannot find on CJDropshipping, you can request your assigned dropshipping agent to find them. This product sourcing service is free.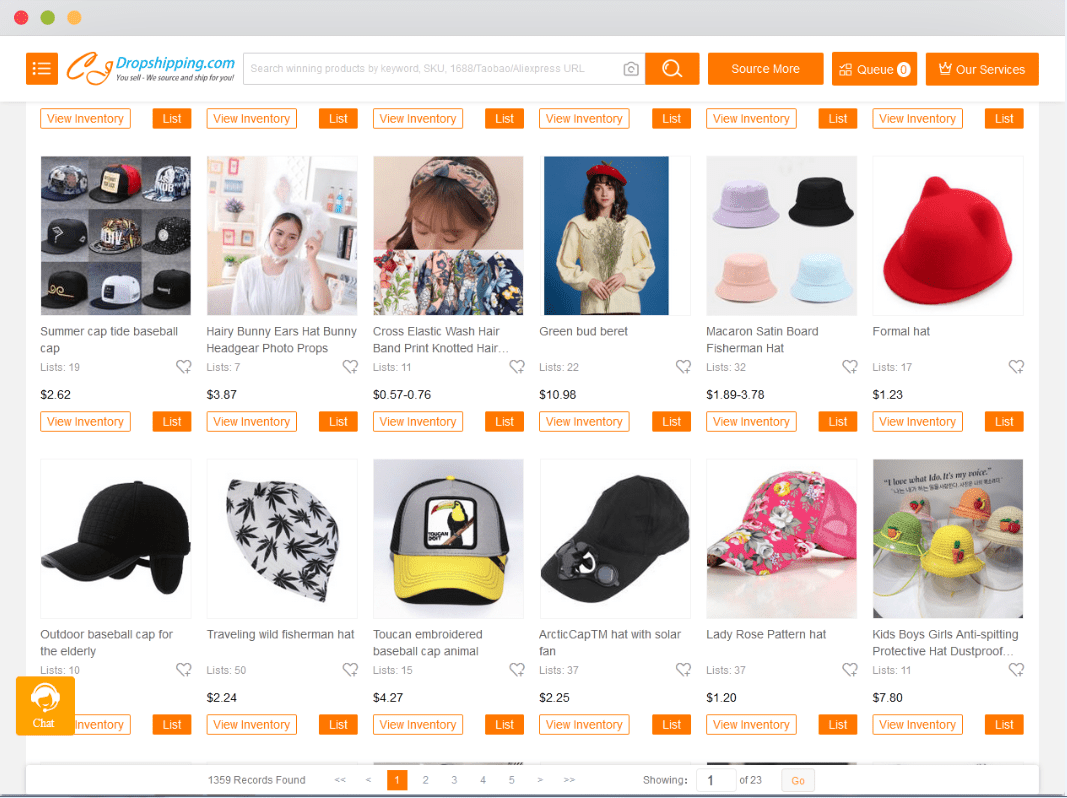 Other CJDropshipping advantages include:
CJDropshipping partners with dropshippers from all over the world. It has multiple warehouses in different countries which makes worldwide fulfillment quick and stress-free. There are no sign-up fees but you will be billed for fulfillment.
SSPhats
SSPhats is a wholesale hat supplier based in the UK. It stocks cotton hats, beanies, flat hats, straw hats, and many more hat designs and fabric options. It's product catalog also includes costume and seasonal hats.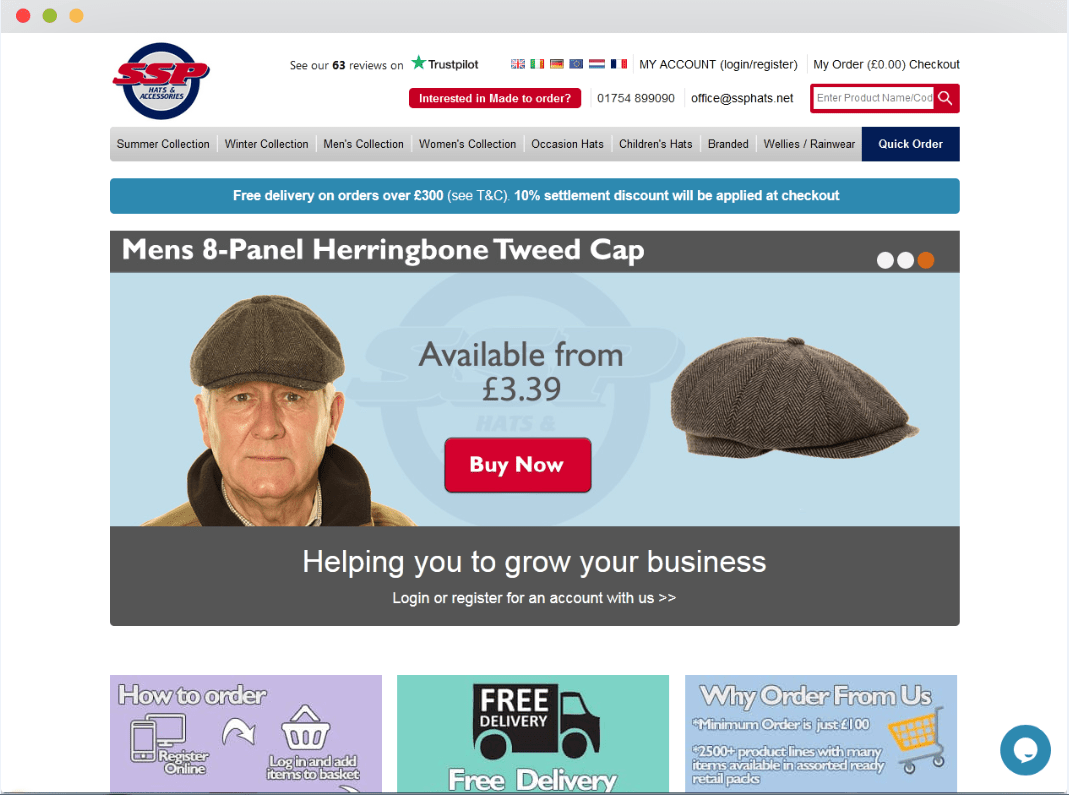 Given as this is a wholesale supplier, the dropshipping service is not well set up. However, If you would like to dropship hats in bulk, this would be a go-to supplier.
All you have to do is register a free account and input your client's address as the delivery address when processing orders. The minimum order amount is £100.
Printful
Printful is a veteran brand when it comes to print-on-demand dropshipping. Its hat catalog is quite diverse and includes mesh hats, visors, snapbacks, and lots more.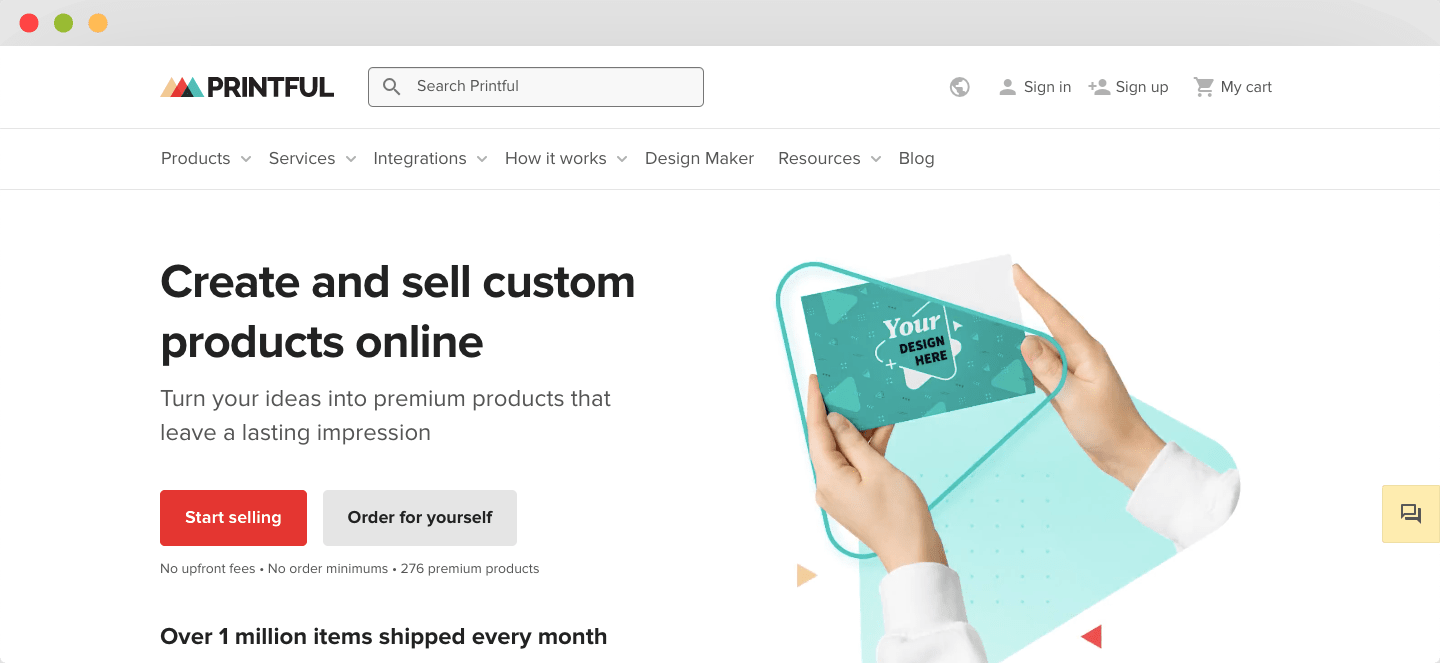 You can sign up on Printful no matter where you are in the world. After you set up your account, you can use the automation tools to integrate your store and get started. This automated integration works with 15 e-commerce platforms.
Printful enables you to cater to clients far and wide as it offers warehousing services and worldwide fulfillment. Orders can be processed as fast as within a day. You are also free to share single-piece and bulk orders.
FAQs on Hat Dropshipping and Hat Dropshipping Suppliers
How Do I Identify Hat Dropshipping Suppliers That Offer Quality Products?
The surest way to evaluate a supplier is by ordering samples or hats listed on their catalogs. The downside is that this will cost you but it will give you a chance to also rate their fulfillment efficiency.
Look out for ratings and reviews from other customers too, they are often quite telling.
Alternatively, you can check out the hat brands they stock and examine their quality. If they offer print-on-demand hats, look out for quality decoration methods such as embroidery and screen printing among others.
Is it Better to Offer Ready-made Hats Than Print-on-Demand Hats?
The choice between ready-made and print-on-demand hats entirely rests with your customers. Some prefer branded hats from prominent companies like Nike. Others prefer custom hats with quirky prints/embroidery.
That said, there is no reason why you can not offer a blend of both. Suppliers like CJDropshipping, for instance, give you direct access to both options.
Are Custom Hat Designs Governed By Copyright Regulations?
Yes, they are. It would be illegal to use copyright images such as:
Company logos
Trademarked names or titles
Images or graphics associated with franchises such as McDonald's et al
Photos that are not expressly listed as 'free-to-use images
It is advisable to work with authorised branded merchandise distributors. Or, if you wish to use particular images or phrases, learn how to navigate the merchandise copyright laws in your jurisdiction.
Are Complementary Dropshipping Services Important or Are They Just a Marketing Ploy?
Complementary dropshipping services include:
Custom packaging or invoices
Access to a dropshipping agent
Informative dropshipping resources
At the start, running a dropshipping business is quite easy but things can become more complex over time. As your business grows and you begin catering to more clients you may need more support from your dropshipping supplier.
As such, complementary dropshipping services are not a marketing ploy. They are an advantage that you should aim to include as you choose a dropshipping company.
Which Hat Designs Should I List in My Online Store?
The answer to this question lies in market research. Strategically analyzing your target market will let you know what types of hats they prefer. However, other factors could also steer you in the right direction. Consider:
Local sports- golf and baseball both have hats designed and named in their honor. If these sports are prevalent in your market, they will likely sell well.
The weather– summer calls for floppy summer hats while beanies are a winter must-have. Vary your hat listings accordingly.
The entertainment scene– Game of Thrones merchandise was a hot seller due to the success of the show. Similarly, look out for hit bands, shows, and entertainment events that are successful and find custom hats for them. Remember to adhere to copyright laws.
Final Thoughts
For some people, hats are a necessity. For others, it is an accessory bought on a whim because it is appealing. The trick is to curate a hat catalog that offers something for each of these customers.
As a full-service dropshipping company we are well-equipped to cater to all your needs. It doesn't matter where you are in the world or what hat design you are looking for, when you contact us we offer you the right solutions.