Knives are considered dangerous products that you shouldn't sell online.
However, if done right, they have a huge money-making potential.
Knives come in various shapes, sizes, and materials – giving you an endless variety to choose from.
If you're planning to dropship knives, then you've come to the right place.
In this guide, we've compiled a list of the best knife dropshipping suppliers along with their pros, cons, and key features.
Let's get right into it!
1) NicheDropshipping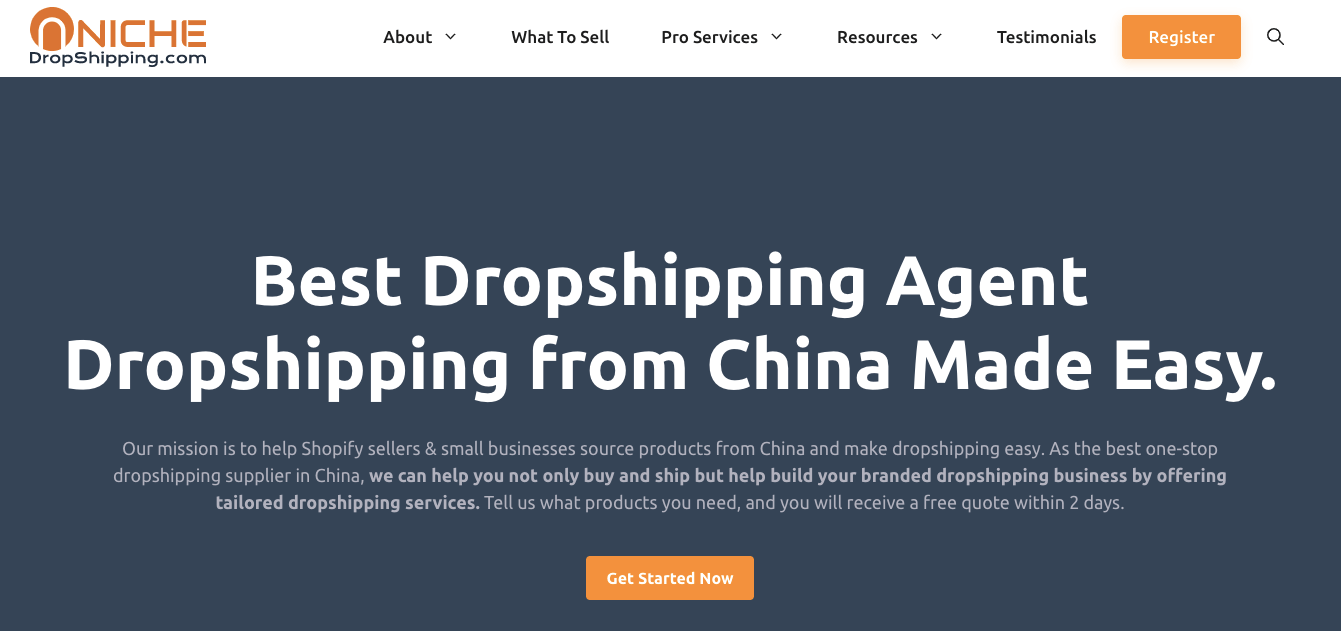 NicheDropshipping is a professional dropshipping service with over 10 years of experience.
Not only can we help you source knives available in different shapes and sizes but also other products.
All you have to do is submit a sourcing request, and our agents will help you find your desired products at wholesale prices.
Our dropshipping services also include worldwide fulfillment, warehousing, automation, and private labeling solutions.
Each product goes through strict quality screening before being delivered to the customers to avoid any complaints.
Pros
Warehouses and fulfillment centers in USA and China
Quality inspections for each product
Dedicated agent available for 1-on-1 support
In-stock products are shipped within 48 hours
Cons
Not suitable for small businesses that do not get stable sales
Key Features
Private labeling dropshipping services
Offers automated dropshipping solutions
2) LeeKnives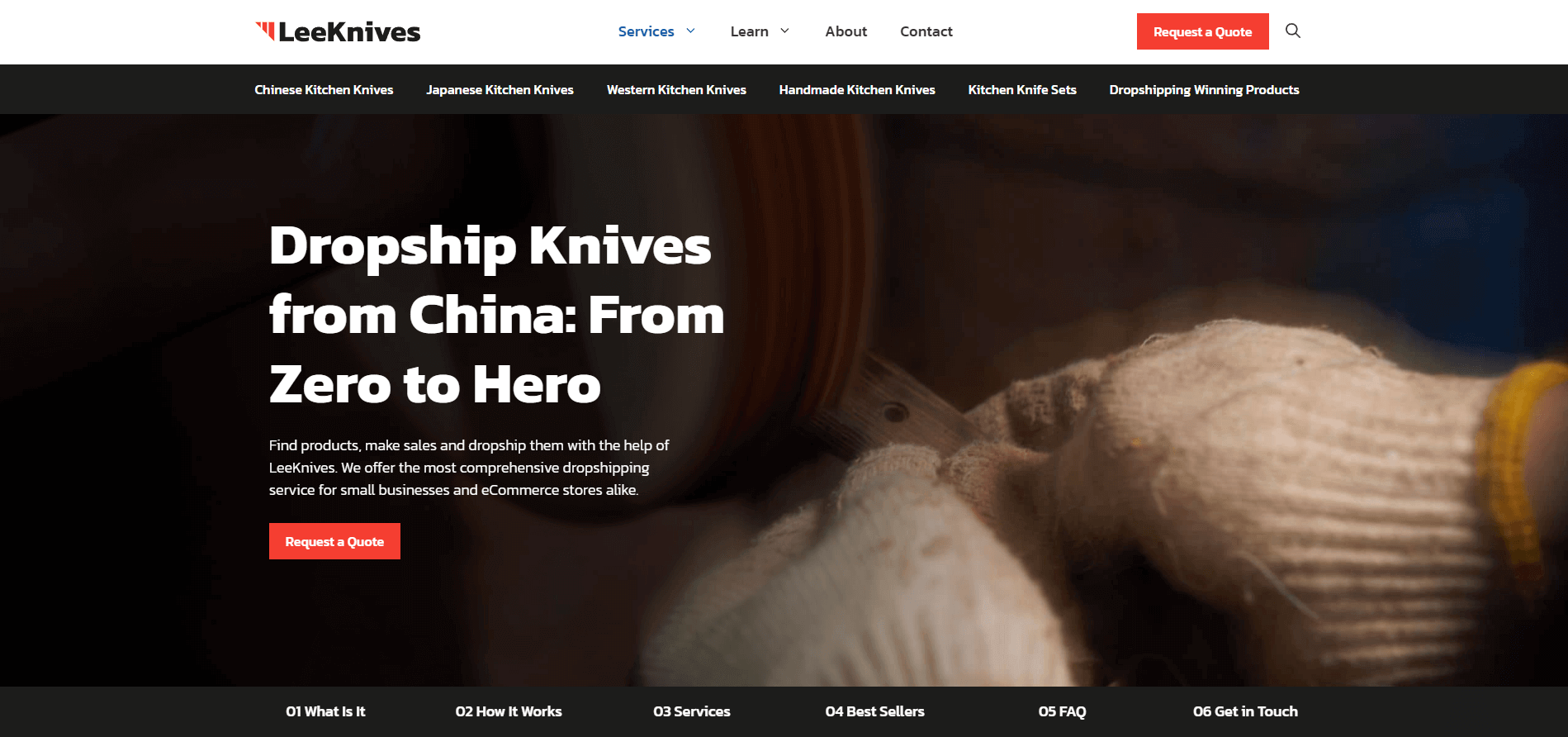 Founded in 1993, LeeKnives has become one of the biggest knife trading companies in China.
They're known for their skilled craftsmanship, allowing them to produce some of the highest quality knives on the market.
If you're planning to build a private label brand, then LeeKnives can also help you bring your custom designs to life. The only downside is that LeeKnives charges a 5%–10% fee for its dropshipping service.
Pros
Worldwide shipping by reputable shipping carriers
Almost 30 years of experience in the knife crafting industry
Professional 24/7 customer support
Design custom products with their OEM service
Cons
5%–10% fee for the dropshipping service
Key Features
Manufactures all sorts of knives as well as kitchen utensils
Custom branding options available such as engraved logos and custom packaging
You can submit a test order to inspect product quality
3) KA Swords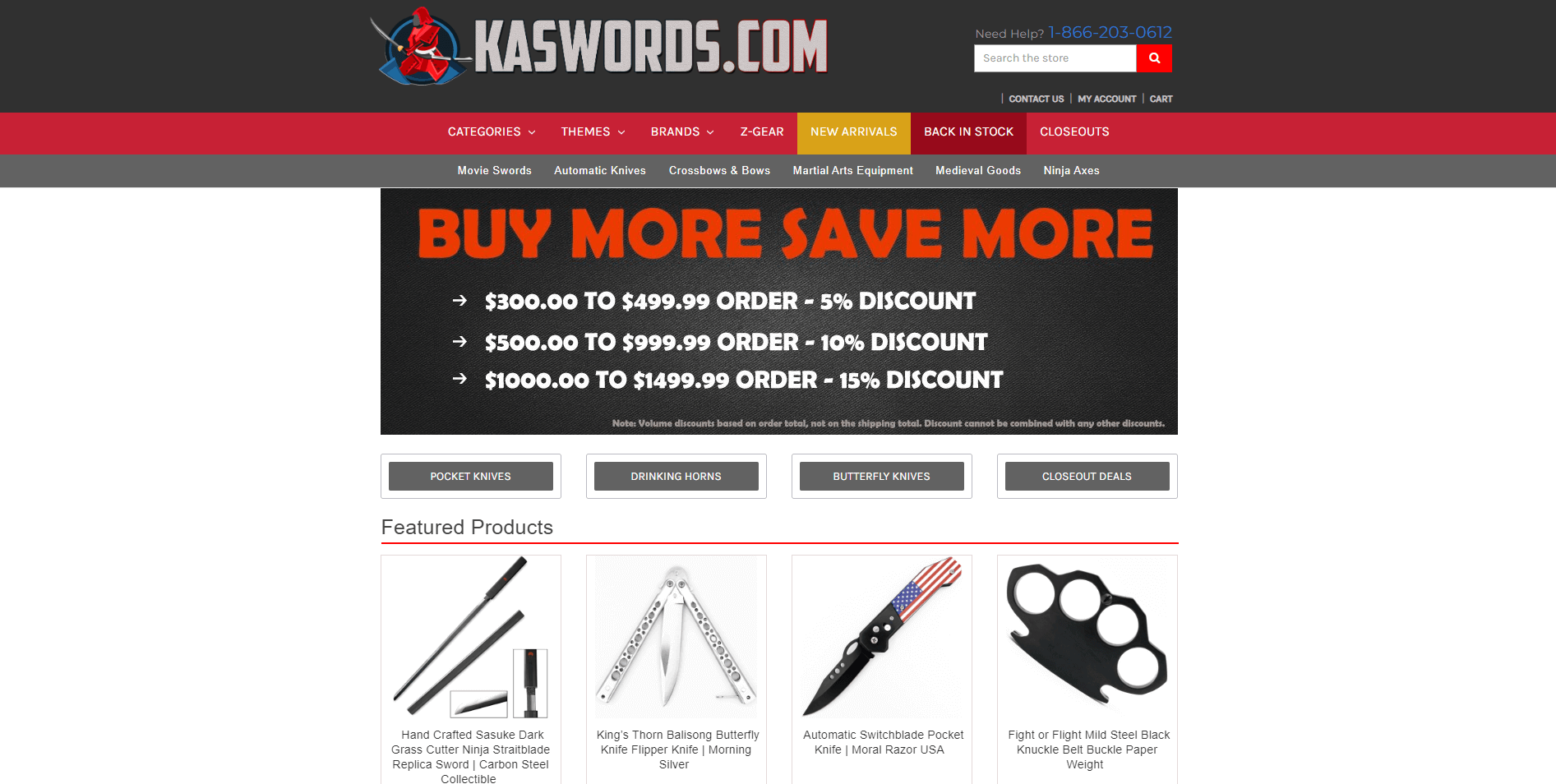 KA Swords is one of the most reputable knife distributors in the U.S.
They have over 17 different categories of knives which includes butterfly knives, diving knives, karambit knives, and much more.
All the orders are dispatched within 5 working days and KA Swords also offers a discount for orders worth over $300.
The only problem, however, is that they do not offer private labeling services.
Pros
Quick international delivery via FedEx, UPS, or USPS Priority Mail
Order is dispatched within 5 working days
5%–15% discounts on orders exceeding $300
Cons
Custom branding isn't offered
Key Features
More than 17 categories of knives to choose from
Multiple payment gateways including credit cards and PayPal
High-quality product images are provided
4) CJDropshipping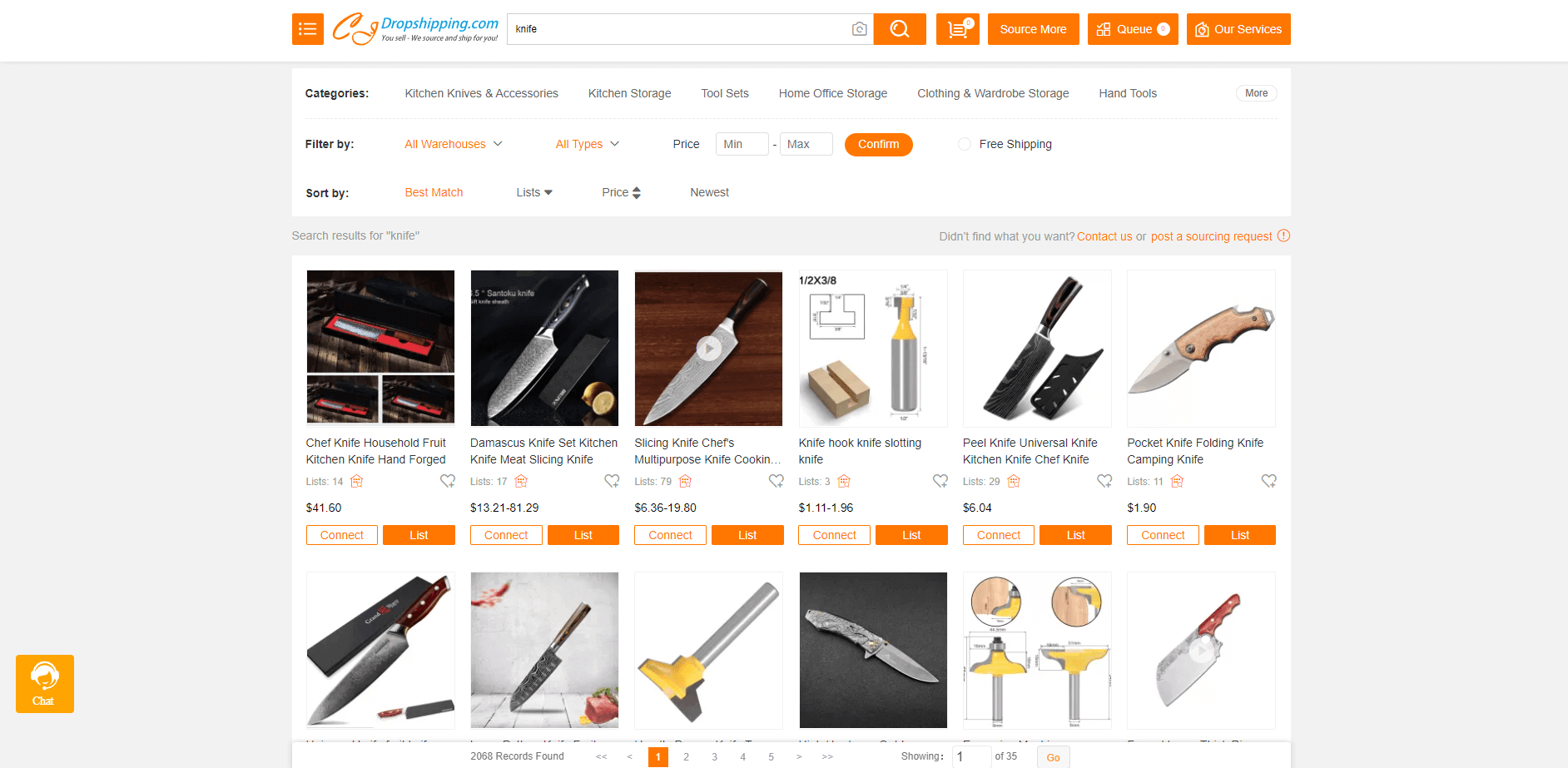 CJDropshipping is another popular Chinese dropshipping service. They have a diverse variety of products in their catalog which also includes knives.
The biggest strength of CJDropshipping is its global order fulfillment, with 200+ warehouses spread across the world.
Aside from knives, CJDropshipping can also help you source other products from sites like 1688 and Taobao.
Although processing times of CJDropshipping may be long, especially for out-of-stock products.
Pros
15 days worldwide order fulfillment
Warehouses strategically spread around the world
Personalized branding and packaging services
Cons
Processing times are long with possible shipping delays
Key Features
Print on Demand services are also offered
High-resolution product images are provided
Accepts PayPal, Payoneer, and other payment gateways
5) Blade Addict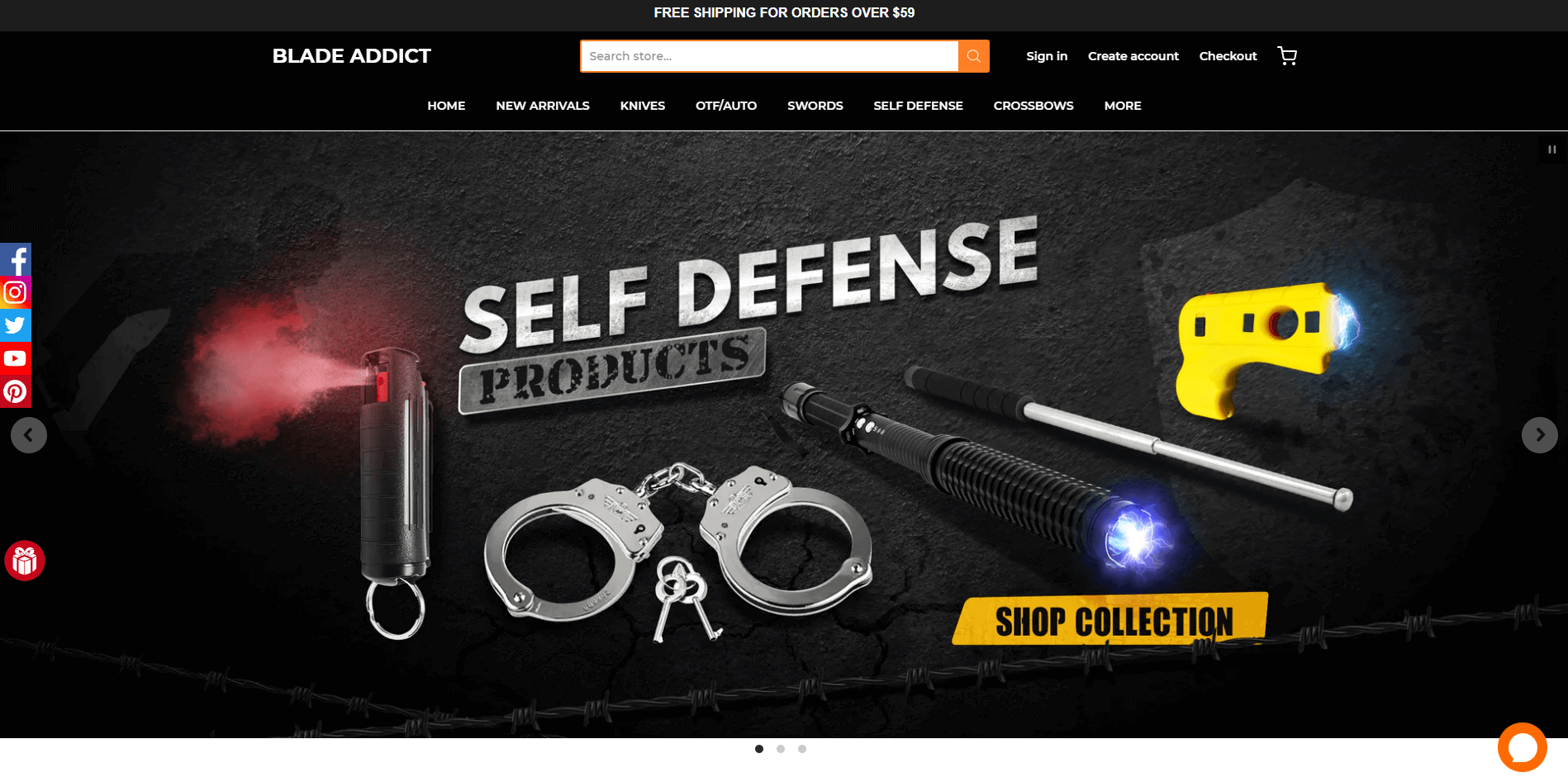 Blade Addict is a US-based supplier of knives, swords, and tactical gear.
They have more than 3,000 products in their catalog, many inspired by the popular FPS game CS:GO.
Blade Addict offers all U.S shipments within 3-5 days and free delivery for orders over $59.
The time for international orders varies depending on the location.
Pros
U.S shipments delivered within 3-5 business days
Global shipping is offered
3000+ knives and tactical gear
Cons
Key Features
All major cards are accepted
Free shipping for U.S orders over $59
6) EPROLO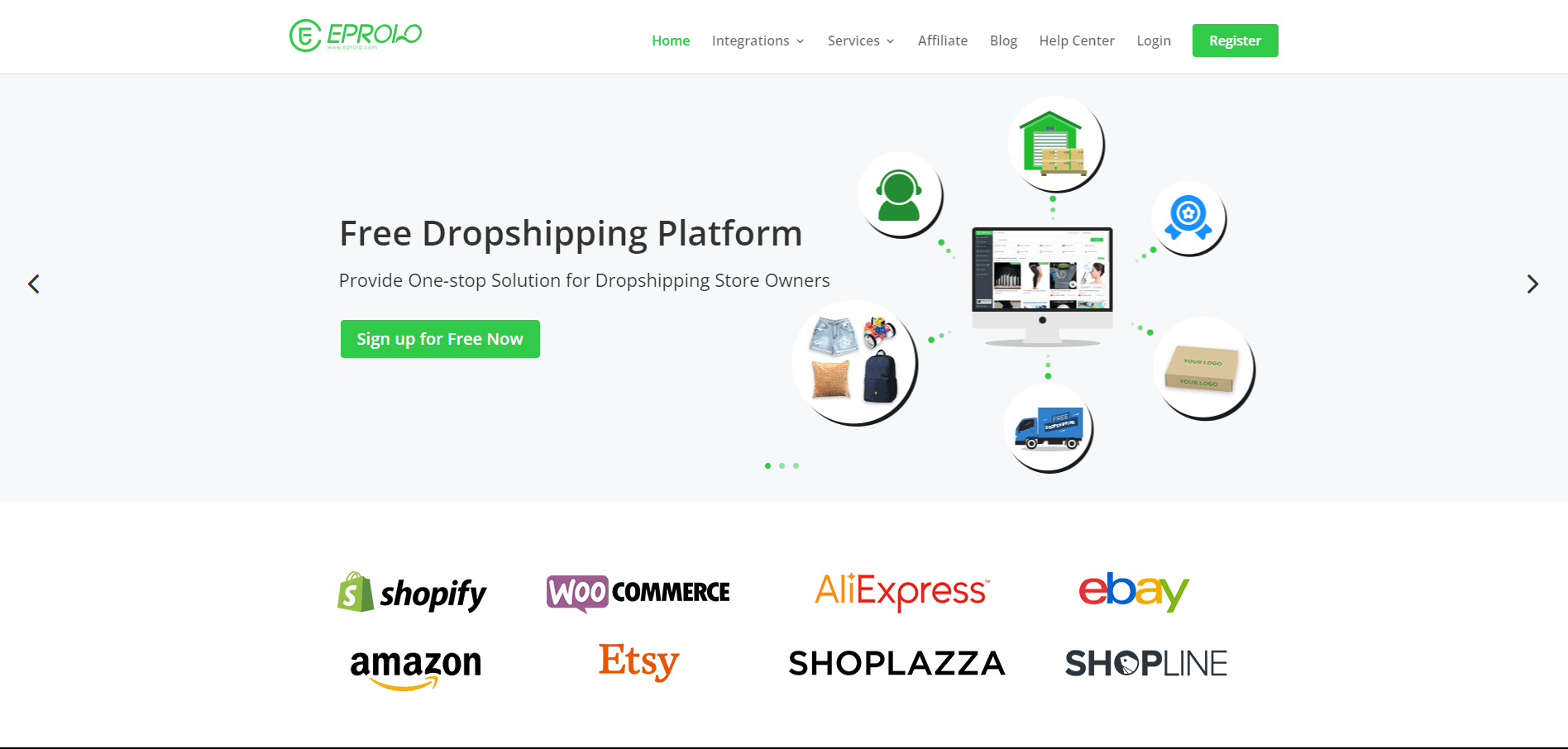 Another China-based supplier that provides a comprehensive dropshipping solution.
EPROLO has products in over 10 different categories, including knives and they also offer POD services.
Their other services include private labeling, inventory management, and quality control.
Lastly, they also offer easy integration with popular marketplaces like AliExpress, eBay, Etsy, and Amazon.
Pros
Ships to U.S, U.K, and Europe
Custom packaging and invoices
Multiple dropshipping categories
Cons
Potential shipping delays are possible
Key Features
Payment gateways including credits cards and PayPal
Also offers POD dropshipping services
7) MegaKnife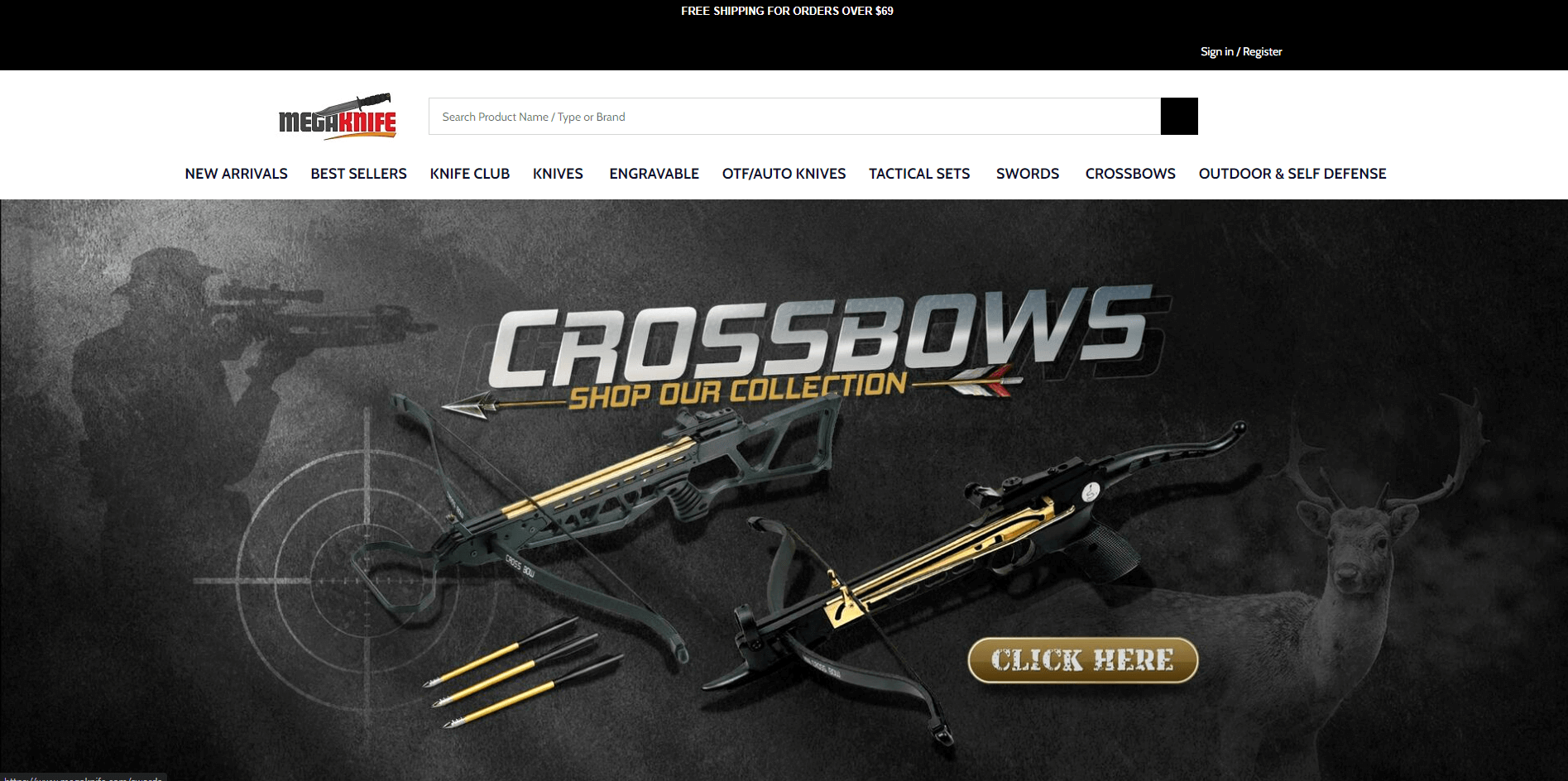 A U.S.-based dropshipping company with a rich variety of knives and tactical gears in its catalog.
Similar to Blade Addict, many of their knives are also inspired by CS:GO.
MegaKnife offers wholesale prices for bulk orders and free shipping for orders over $69.
MegaKnife claims to deliver all orders within 24 business hours – but the problem is that they only operate in the U.S.
Pros
Over 2.5k+ tactical gears and knives
Custom packaging is also offered
All orders are dispatched within 24 hours
Cons
Only operates and delivers in the U.S
Key Features
Free shipping for orders over $69
8) BigBuy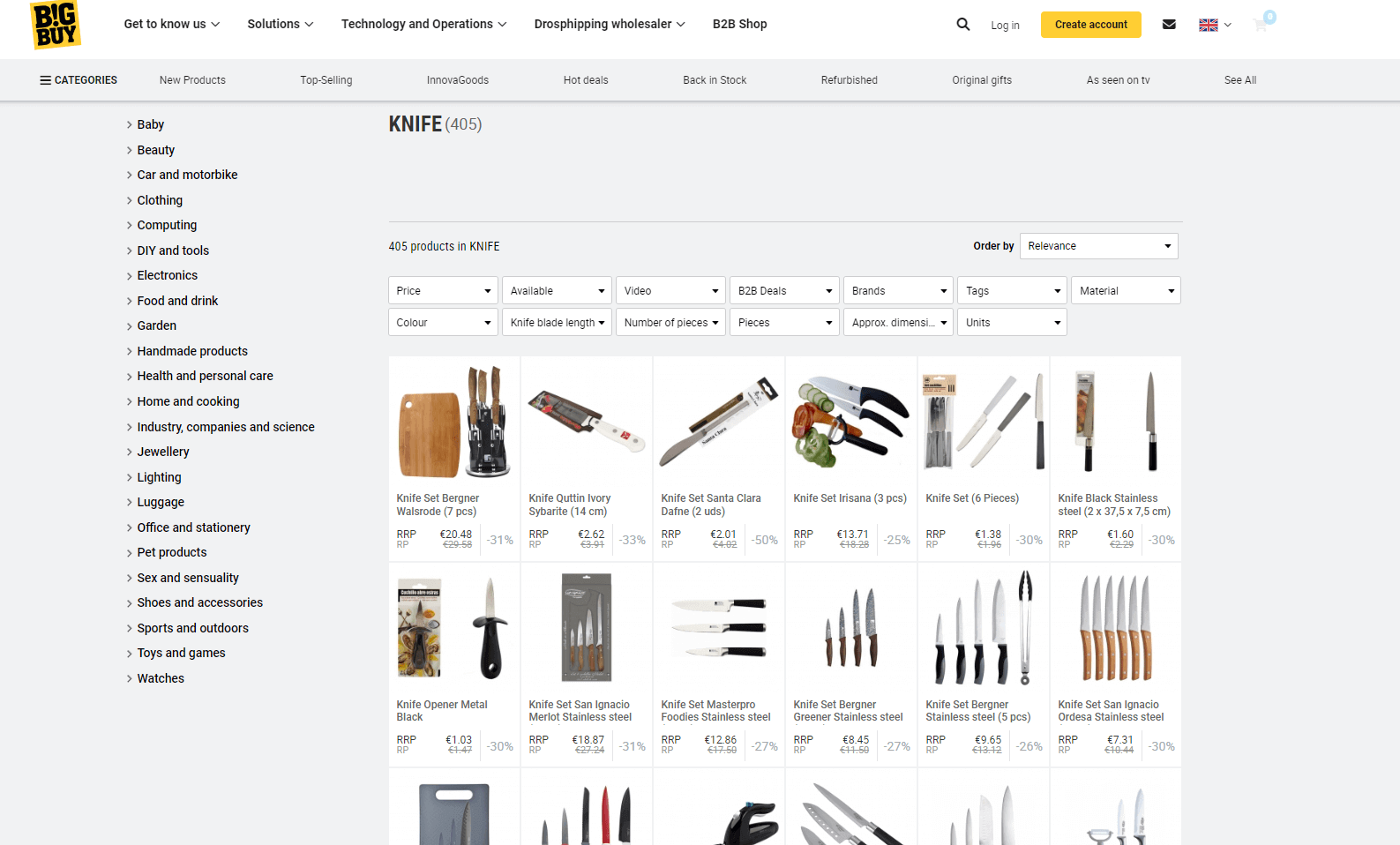 BigBuy is a European dropshipping platform that specializes in the wholesale of multiple products including kitchen knives.
It has become a leading name in the European market and can easily be integrated with the most popular eCommerce marketplaces and channels.
BigBuy offers global delivery using popular express couriers like DHL, UPS, TNT, FedEx, etc. Moreover, they also offer custom packaging and invoices to help you build a brand.
The biggest drawback of BigBuy is that you must pay a one-time $129-$599 activation fee to integrate with other platforms. In addition, there's also a monthly subscription fee of $29-$99.
Pros
Cons
Charges subscription and activation fee
Key Features
Accepts PayPal and multiple other payment gateways
Easily integrates with Shopify, WooCommerce, Magento, and other platforms
9) Wholesale Survival Club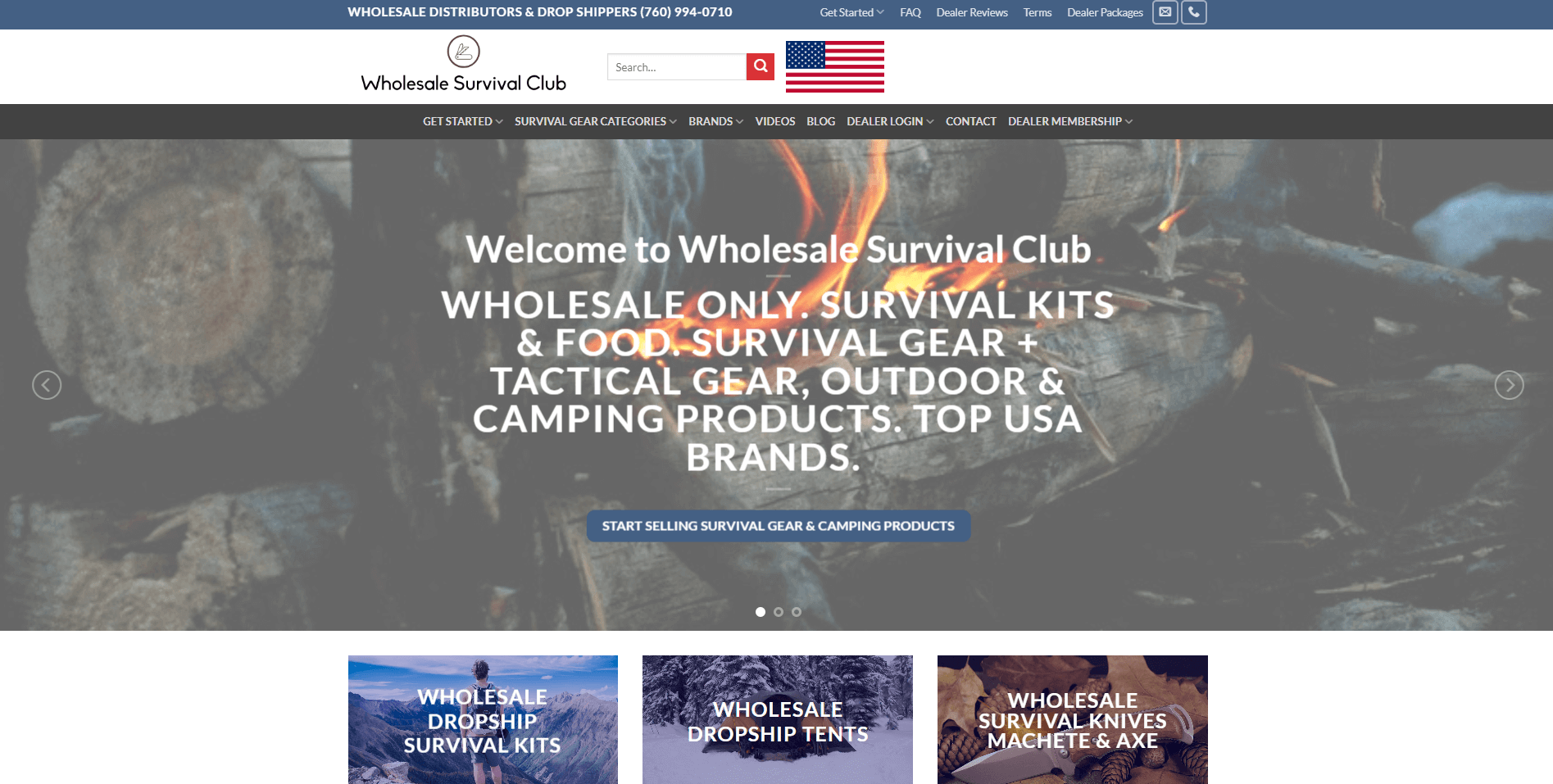 Wholesale Survival Club is a platform that connects dropshippers with wholesalers selling various knives and camping gear.
They offer international shipping and also a web design service to help beginners get started on their eCommerce journey.
However, Wholesale Survival Club doesn't offer automated dropshipping solutions like NicheDropshipping and other companies.
Pros
Deals in both knives and camping gear
Global dropshipping solutions
Dropshipping orders are at wholesale prices
Cons
No tools to automate dropshipping
Key Features
Web design services to build a dropshipping store
10) Shelterdist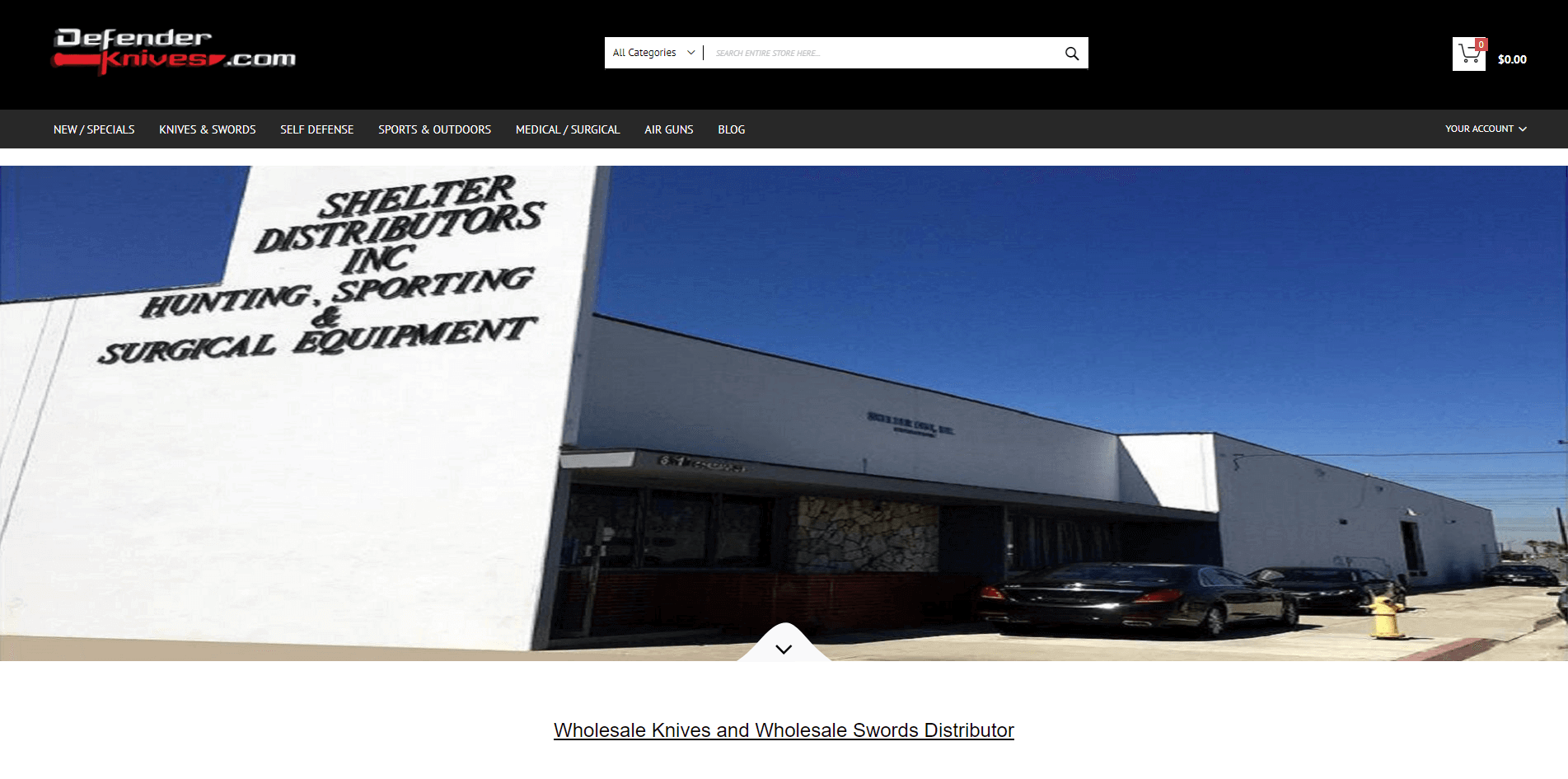 Since 1980, Shelterdist has been a reputable importer and dropshipping supplier.
They're based in Los Angeles and deal in a wide variety of outdoor products including hunting knives, daggers, swords, crossbows, and much more at competitive prices.
Shelterdist unfortunately doesn't offer custom branding. However, they do restock inventory every month and add new products and designs to their catalog.
Pros
Fast worldwide shipping with USPS and UPS
Money-back guarantee of 15 days after product delivery
More than 40 years of experience in manufacturing knives and self-defense products
Cons
Custom branding isn't supported
Key Features
Money orders, PayPal, and all major credit cards accepted
Inventory is restocked every month
11) Ohio Knifes Sales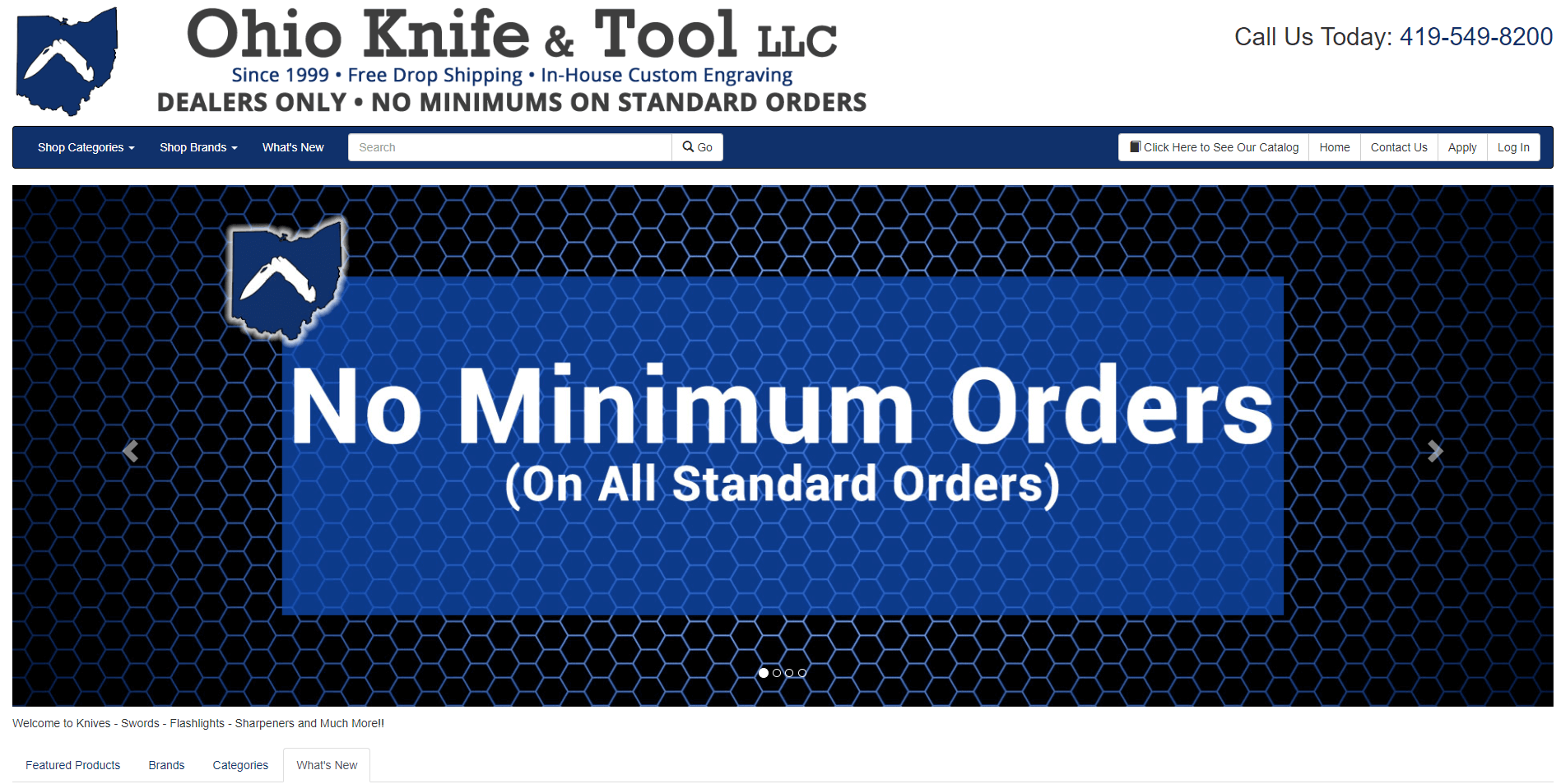 Ohio Knife Sales has been around since 1990 and they deal in all kinds of knives.
This supplier is great for small businesses as they do not have a MOQ.
Plus, there's also the option of free shipping for orders worth over $750.
OKS also takes special requirements and offers laser-engraved customizations.
Pros
Over 30 years of experience manufacturing knives
No minimum order quantity (MOQ)
Huge variety including cold steel and butterfly knives
Cons
No personalized packaging
Key Features
No subscription fee for availing dropshipping services
Free shipping for orders over $750
12) Blue Ridge Knives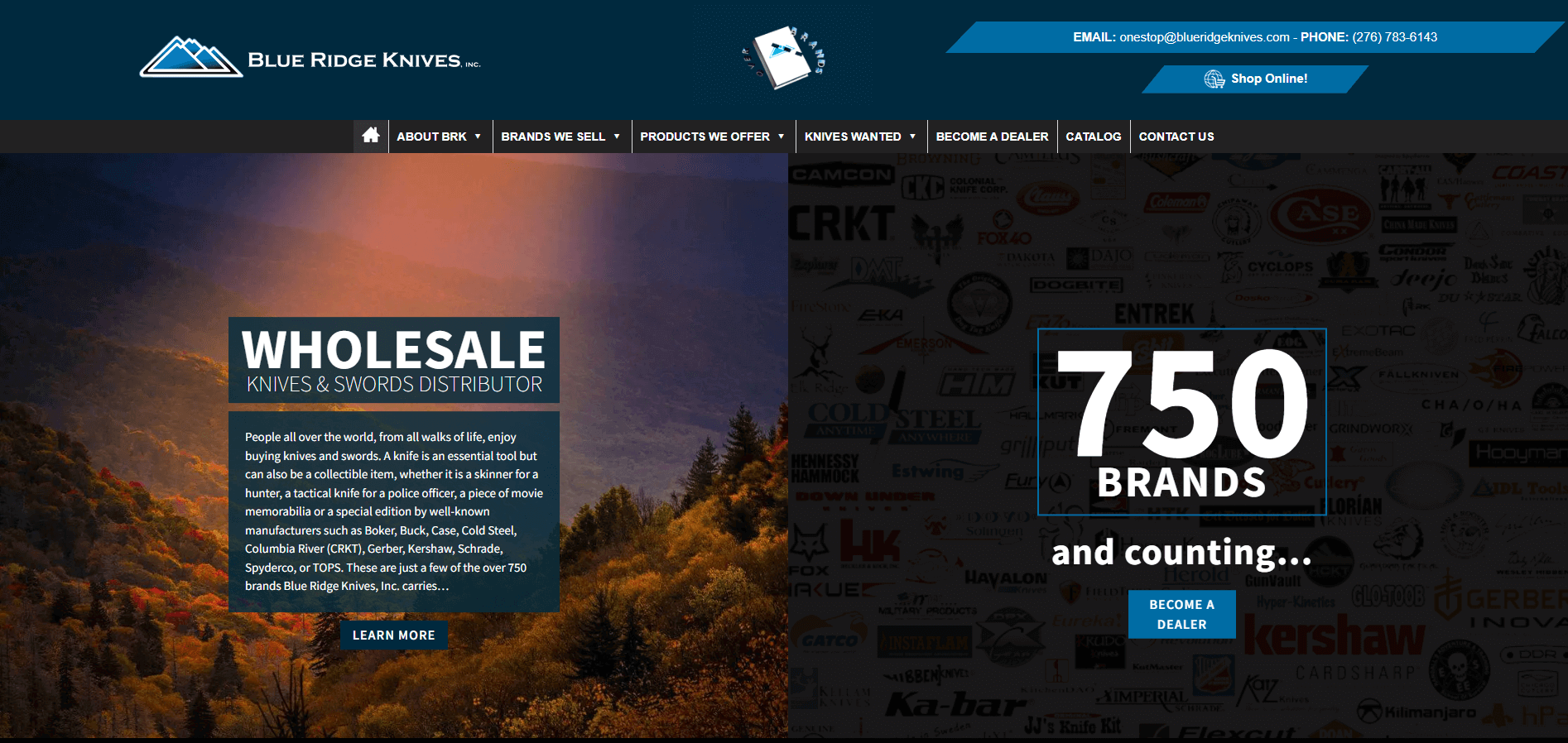 If variety is one of your biggest concerns, then Blue Ridge Knives could be the solution.
They have over 1,800 pages filled with different knives and more than 750 brands to choose from.
That is probably more than what any other supplier offers on this list.
However, the minimum order is $100 for U.S customers and $500 for international – which may not be suitable for dropshipping.
Pros
Dropshipping knives sold at wholesale prices
Over 1,800 pages filled with different variety of knives
Choose from more than 750 brands
Cons
Minimum order of $100 for U.S customers and $500 for international
Key Features
Multiple payment gateways and fulfillment methods
13) Mastercutlery
Mastercutlery has been around for more than 40 years, making them one of the oldest dropshipping knife suppliers on this list.
They have over 2,000 knives in their catalog and also offer personalized packaging and branding services.
Their range of products includes fixed blades, folding knives, and swords.
There's also a "best-seller" category on their site which can give insights on what you should sell on your store.
Pros
More than 2,000 knives SKUs and other related products
Orders are fulfilled via the UPS ground service
Sales and discounts are offered from time to time
Cons
No custom app for dropshipping
Key Features
Payment gateways include Visa, American Express, Mastercard, etc.
The site has a "best-sellers" category to hunt for popular products
14) Wholesale Blades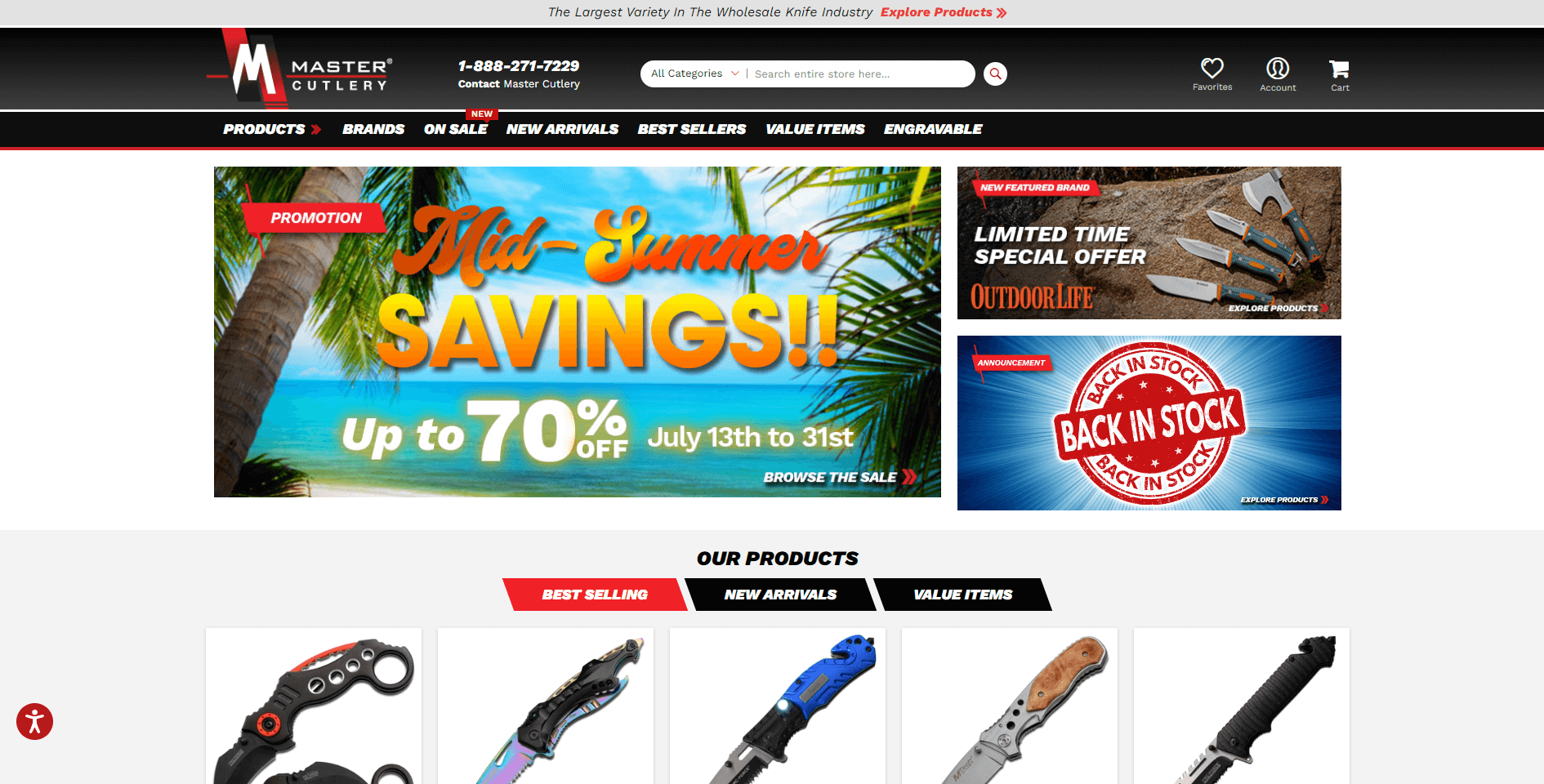 Wholesale Blades is also a U.S based supplier specializing in tactical knives, swords, and outdoor gear, in general.
They have been offering a high standard of service for over 15 years and also provide reasonable rates.
You can get discounts on bulk purchases and Wholesale Blades does not charge a subscription fee for dropshipping either.
Unfortunately, they do not offer private labeling and custom packaging services.
Pros
Discounts on bulk purchases
Fast order processing and international delivery
Does not charge a subscription fee
Over 15 years of experience
Cons
Does not have a dropshipping app
No private label or custom packaging services
Key Features
Accepts Mastercard, Visa, Amex, and Discover
15) Banggood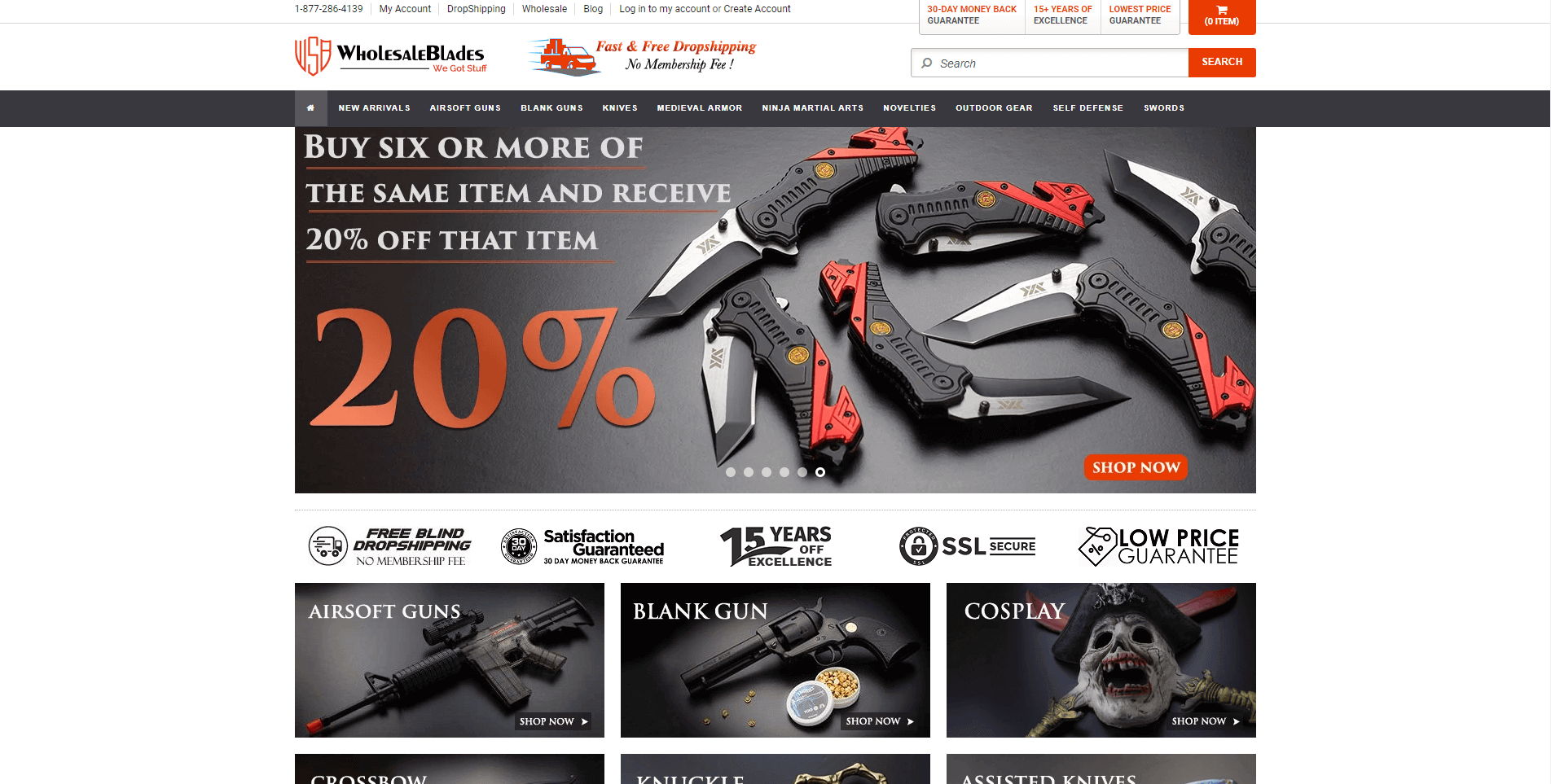 Banggood is an eCommerce marketplace that shares quite a lot of similarities to AliExpress.
However, Banggood doesn't have any third-party sellers. All the products on the site are directly sold by Banggood.
If you type "knife" into their search bar, you'll see many options for different purposes.
Pros
A dedicated program for dropshippers
You don't work with any shady third-party suppliers
Delivers in over 200 countries via multiple shipping methods
Cons
The shipping time needs to improve
Key Features
Unused products are returnable within 30 days
Dedicated dropshipping program offering discounts and other perks
FAQs about Dropshipping Knives
Is It Legal to Dropship Knives?
Kitchen knives are legal to dropship in most countries. However, if you're dropshipping non-culinary knives, then make sure to check the import rules and regulations of that place to avoid shipping problems.
Some countries also require that your customers must be at least 18 years old.
Make sure that the supplier you're working with puts safety labeling on the packaging. This can help you avoid getting sued in case of an accident.
Are Knives Good for Dropshipping?
Knives come in a diverse variety of shapes, sizes, and materials, making them a good product to dropship and build your business around.
Plus, kitchen knives are almost always in demand so you'll never face problems finding customers as long as you put enough effort into marketing.
Is It Profitable to Dropship Knives?
In 2021, the size of the global knife market was valued at USD 3.81 billion. This is only expected to grow in the upcoming years, so it's safe to say that this niche offers a ton of money-making potential.
But keep in mind that the amount of profit you make usually depends on the type of knives you're dropshipping. With a good marketing strategy, it's possible to attract a huge audience by selling high-quality handmade knives.
What Knife Sells Best in Dropshipping?
Kitchen knives sell best in dropshipping which includes butter, boning, and Damascus knives. However, with the growing rate of tourism, hunting knives are also becoming more popular nowadays.
Final Thoughts
Dropshipping knives are a bit more technical than other products and require great caution.
However, you should be fine as long as you're putting in the effort to learn the import rules of different countries.
Just make sure you choose a qualified supplier who understands the importance of safety labeling.
Lastly, if you wish to grow your knife business then keep in mind that at some point you'd have to consider creating a brand.
This is why choose a company that offers private labeling services like NicheDropshipping.
So if you're ready to get started, then give us a call and our agents will happily guide you!