Finding the right eCommerce platform to start an online store can sometimes feel like an enormous challenge.
There are so many options to choose from that you can easily feel overwhelmed.
The recent talk of the town has been the Wish vs. AliExpress debate.
Although AliExpress is unarguably bigger, Wish has also shown significant growth over the years.
If you're struggling to pick a side, then you're at the right place.
In this post, we'll compare both platforms in detail to see which one is more suitable for you.
Let's get started!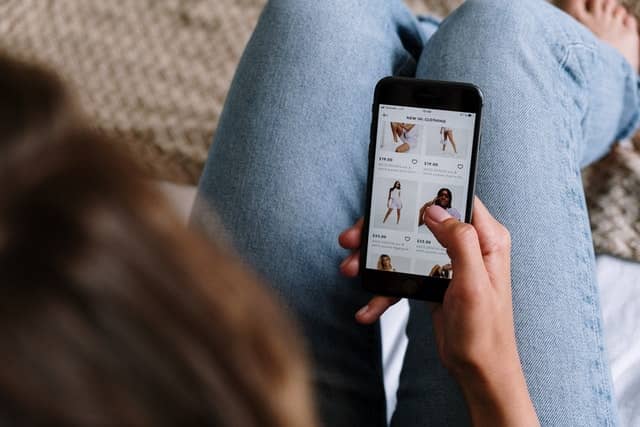 What Is Wish?
Founded in 2010 by two former Google employees, Wish is an American eCommerce platform that facilitates transactions between buyers and sellers. It is a subsidiary of a California-based company ContextLogic Inc.
Wish was initially an affiliate site enabling users to purchase from third-party sellers. But today millions of high-quality products are sold on Wish at discounted prices. Most of them are directly imported from China or non-U.S distributors.
Wish is reported to have more than 107 million monthly active users. The platform has also shown rapid growth over the years by generating a total revenue of $2.54 billion in 2020 with a compound annual growth rate of 54.58%.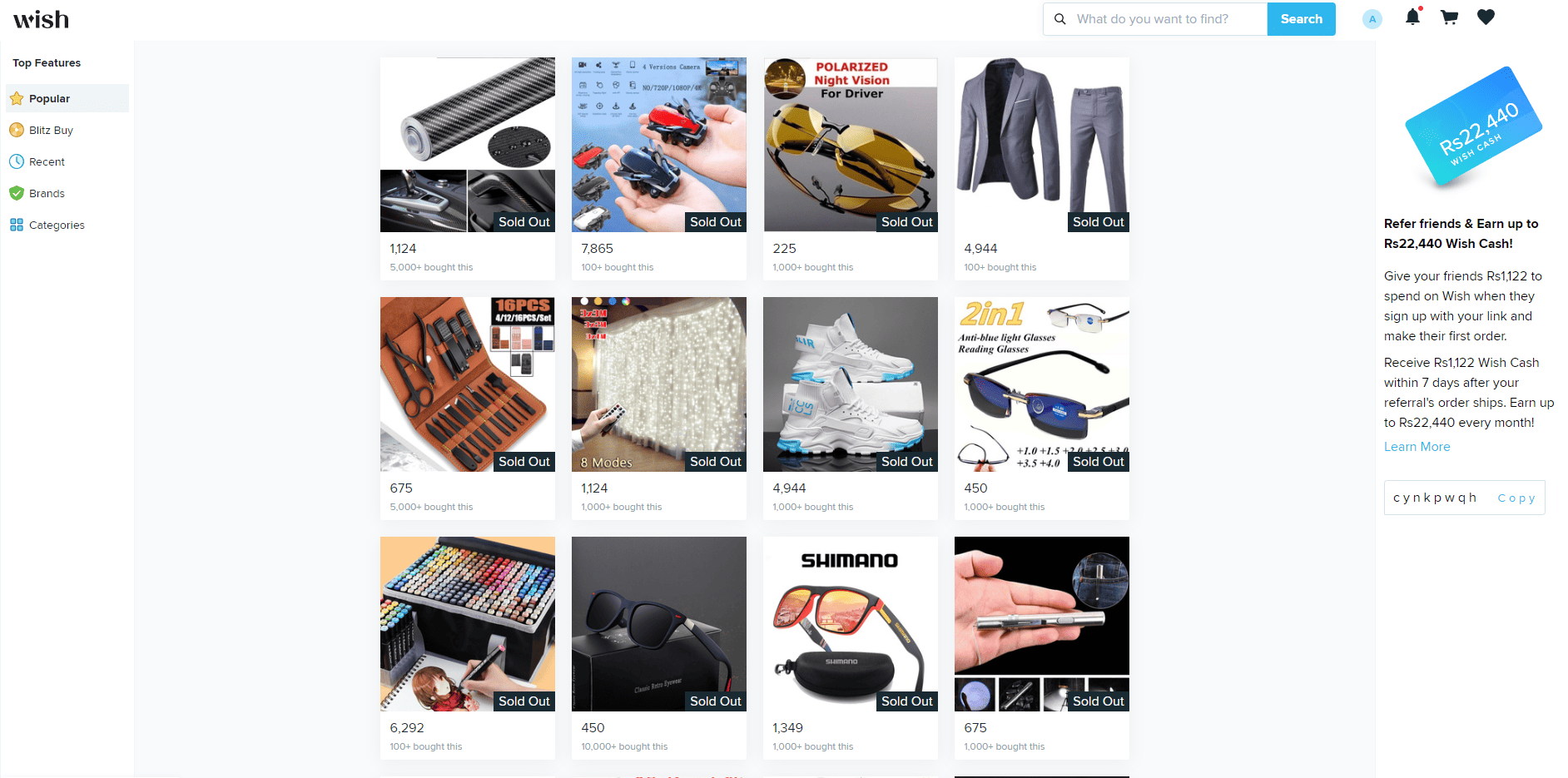 Pros of Wish
Discounted Prices – In comparison to other U.S based eCommerce marketplaces, Wish offers some of the most affordable prices.
Product Variety – Wish is widely famous for its budget and niche items spanning multiple categories including electronics, beauty, fashion, jewelry, and kitchenware.
Mobile App – Their mobile app makes the shopping experience much easier. It has an easy-to-navigate product feed that resembles Instagram.
Established User Base – Wish has over 100 million monthly buyers, giving merchants plenty of traffic to work with.
User-Friendly Interface – The site is easily navigable and has a clean interface making it convenient for the users to find their desired products.
Cons of Wish
Long Shipping Time – The shipping time on Wish is long and can take several weeks because most products are shipped from China.
Bad Customer Service – Most buyers have had a dissatisfactory experience with the customer service of Wish.
Low Product Quality – Over the years, there has been an increasing number of complaints regarding the poor product quality on Wish.
What Is AliExpress?
Founded in 2009 in China, AliExpress is one of the largest eCommerce marketplaces in the world. It is a subsidiary of the Alibaba group and since its inception, it has consistently been one of the top eCommerce platforms in most countries.
There are over 150 million active users on the marketplace and you can find pretty much every product on the platform. The majority of the merchants on AliExpress are Chinese, however, the site ships to more than 190 countries.
AliExpress mainly became popular due to its affordable product prices and a multitude of categories. The platform also offers trade assurance to protect its customers from scams, further contributing to its success.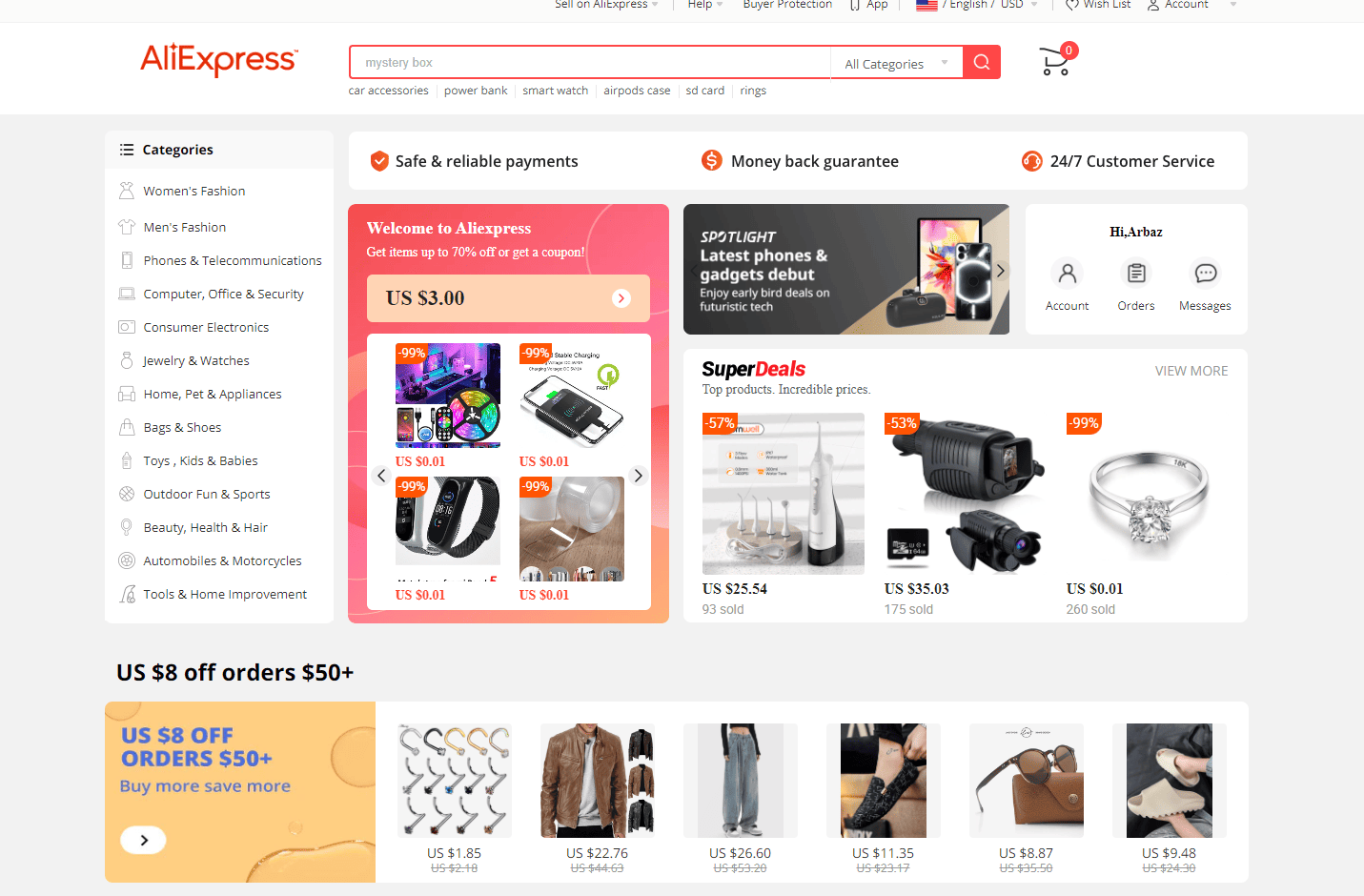 Pros of AliExpress
Product Variety – You can find pretty much any product on AliExpress and you can even directly work with manufacturers to private label your products.
Lowest Prices – Most products on AliExpress can be found at an insanely low price. Mainly because you're mostly buying directly from the manufacturers.
Buyers Protection – AliExpress has a strict buyer protection program and usually, the customer service is also proactive to resolve disputes.
Efficient Rating System – The credibility of the sellers can easily be assessed by the efficient review and rating system of the platform.
Payment Methods – AliExpress supports almost all major payment methods including PayPal, Payoneer, and debit/credit cards.
Cons of AliExpress
Potential Scammers – There's been a growing number of scammers on AliExpress because becoming a seller is easy on the site.
Counterfeit Products – Low-quality and counterfeit products are common on AliExpress, which can cause copyright issues for dropshipping businesses.
Clunky User Interface – The user interface of AliExpress and even the product page can feel overwhelming and even disorganized at times.
Wish vs. AliExpress: Comparison by Features
Now that you have a general idea of both platforms, let's see how they pit against each other in a detailed feature comparison.
Product Selection
Both Wish and AliExpress offer a rich variety of products.
The main difference between their selections is that Wish mainly focuses on budgeted items that are usually of subpar quality.
AliExpress has almost every product you could think of at varying prices and qualities.
There are also plenty of original equipment manufacturers on AliExpress, giving the platform an edge.
The Verdict
Wish offers a vast variety of products but the platform mainly targets budgeted items. AliExpress, on the other hand, offers an overall wider selection.
Product Prices
There's no denying that Wish has some of the most affordable product prices in all eCommerce marketplaces across the U.S.
However, if we compare the prices of the same products on both Wish and AliExpress then the majority of the time AliExpress will come out on top.
The reason for that is merchants on Wish usually import their products from China while most AliExpress sellers are also manufacturers.
Aside from that, another reason AliExpress products are cheaper is that Wish charges a 15% commission on the total order costs as opposed to the 5-8% commission on AliExpress.
The Verdict
You will rarely find products on Wish that are cheaper than AliExpress. That's mainly due to the high commission charged by Wish on each order.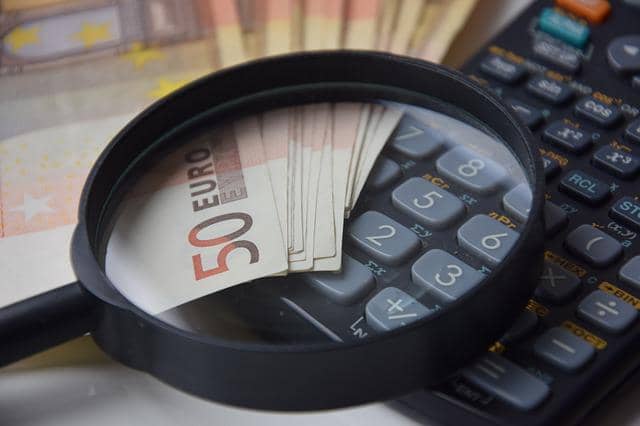 Platform Credibility
Both Wish and AliExpress are popular worldwide with millions of active buyers. However, the credibility of a platform is determined by the honesty of its merchants.
Unfortunately, the number of scammers is increasing on AliExpress mainly due to the platform's simple onboarding process.
You do not have to pay an additional fee other than the commission charged on each sale and there's not much verification either.
And although it's also simple to sell on Wish, the platform does require a one-time registration fee of $2,000 for newly onboarded sellers. This policy was introduced in October 2018.
This is also the main reason you will not find as many scammers on Wish because who would risk getting banned after paying that much?
The Verdict
Wish is certainly superior in terms of seller reliability because scams have become quite common on AliExpress. But of course, you can easily find a good supplier on AliExpress as long as you're carefully going through the ratings and reviews.
Buyers Protection
Both AliExpress and Wish have done a fantastic job to ensure that their buyers can have a safe online shopping experience.
Wish has a 30 days refund and return policy for customers who aren't satisfied with their orders. Although the customer service of Wish requires drastic improvement as it has left most customers generally dissatisfied.
AliExpress, however, has a more efficient dispute system and most products come with a 45-60 days money-back guarantee. To further avoid scams, AliExpress also offers escrow payment protection.
That means your funds would not be released to the seller until you aren't satisfied with the product. The customer service of AliExpress is also usually quick to resolve disputes.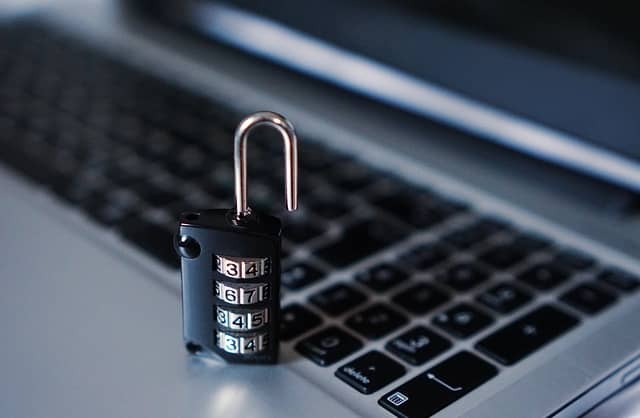 The Verdict
Wish does offer a 30 days refund policy but reaching its customer service can sometimes be difficult. In comparison, AliExpress has a more efficient dispute resolution system and overall better customer service.
Payment Methods
AliExpress does a fine job of accommodating the payment restrictions of its customers by offering a vast selection of payment gateways.
Not only does it support common payment channels like PayPal, Wire Transfer, and debit/credit cards but also a variety of other options like Western Union, Payoneer along with several mobile wallet apps.
Wish, in comparison, also supports standard payment methods, but obviously, your payment options aren't as diverse as AliExpress.
But that's mainly because Wish only operates in limited countries.
The Verdict
AliExpress supports all payment gateways offered by Wish and many more. Depending on the location, the option of cash on delivery is also available on AliExpress, which unfortunately isn't on Wish.
Shipping Time and Costs
In terms of shipping time and costs, both platforms are quite similar because the products are usually shipped from China.
AliExpress and Wish usually take 15-30 days to deliver a product and also offer free shipping to some countries.
However, there are also faster shipping methods like FedEx and DHL offered by both platforms. The cost of these shipping methods mainly depends on the location of the order.
The Verdict
The shipping time and costs of both platforms are quite identical so this one has to be a draw.
Wish vs. AliExpress: Which Is Better for Dropshipping
AliExpress is easily the better platform for dropshipping because the products on AliExpress are significantly cheaper and you get more variety.
In addition, you can find multiple automation tools that support AliExpress dropshipping to make your daily business operations easier.
FAQs about Wish vs. AliExpress
Which Platform Is Safer, AliExpress or Wish?
There's no registration fee on AliExpress and anyone can start selling on the platform. This has led to a growing number of scammers on the site. In comparison, Wish is generally considered to be safer due to its high registration fee.
Is AliExpress Cheaper than Wish?
Yes, AliExpress is cheaper than Wish both in terms of product prices and operational costs. AliExpress only charges a 5-8% commission to its sellers on each order, while Wish charges 15%.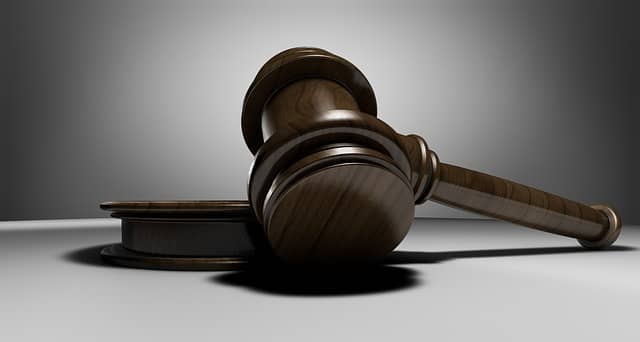 Wish vs. AliExpress: The Final Verdict
AliExpress is certainly better than Wish in most major aspects like price, product variety, and customer service.
However, it's not surprising because its subsidiary company, the Alibaba group has also been around for a longer time.
Wish has shown rapid growth over the years and shows great potential, especially for the U.S and EU market.
But for now, if we strictly speak about dropshipping then AliExpress is hands down the better platform.
Although, if you can't find a reliable supplier on either of these sites then there's nothing to worry about.
NicheDropshipping can also help you source your products at competitive prices.
Just give us a call and let us know your requirements and our agents will promptly guide you!