In the course of a day, you likely use body oils, deodorant, foundation, sunscreen, among other beauty products. Self-care is inevitable, isn't it?
It is from this routine that the enormous opportunity to dropship beauty products emerges. People all over the world need easy access to quality affordable cosmetics. All you need to do is bridge that gap for them.
Wondering how to find the right dropshipping beauty suppliers? Well, you certainly picked the right article. Read on and let's explore 10 stellar options.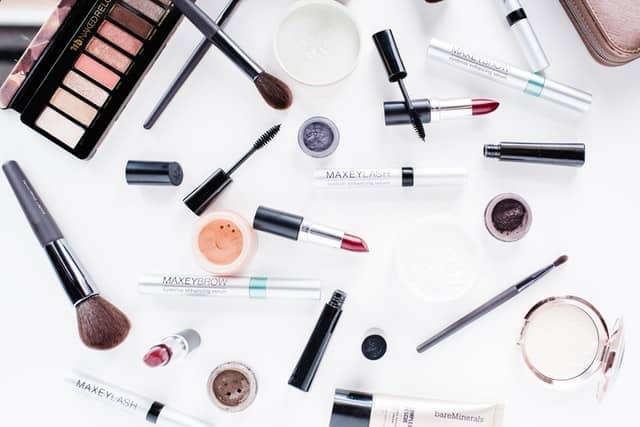 Beauty Joint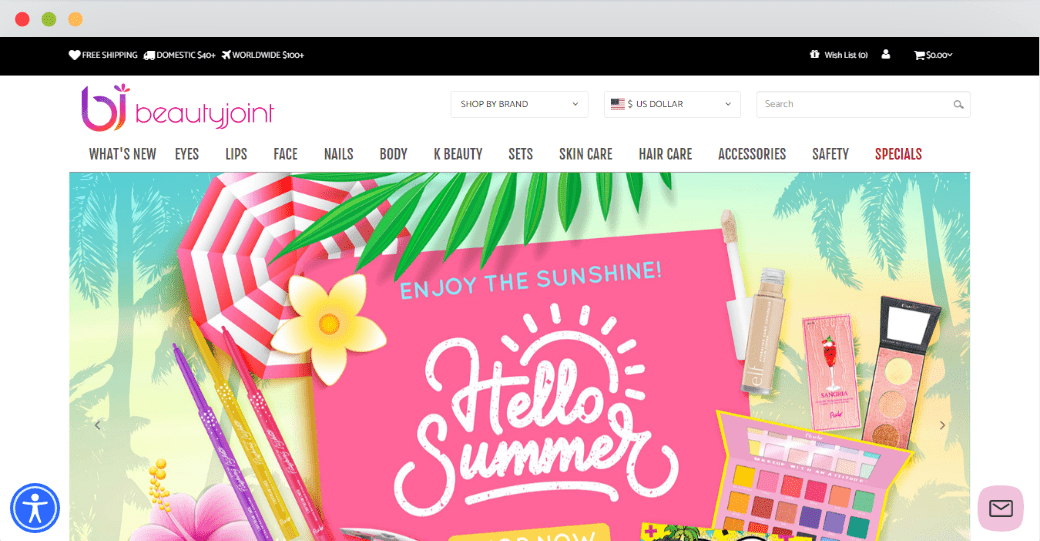 Beauty Joint is a distributor of a wide selection of cosmetic products. Its product listing consists of make-up, skincare, nail care, and hair care cosmetics.
The products distributed by Beauty Joint are sourced from top brands in the beauty industry. They include time-tested brands such as L'Oreal, LA Girl Cosmetics, and Maybelline as well as new hits such as RUDE and TONYMOLY.
The Beauty Joint dropshipping program is new and has not yet been well-defined. However, the first step would be to register an account and fill in a dropshipping application. This will be reviewed and approved as appropriate.
Beauty Joint offers international shipping through various courier options. Some USA orders may have the benefit of free shipping. Your client's orders can also be safeguarded through the Beauty Joint shipping insurance provision.
Blanka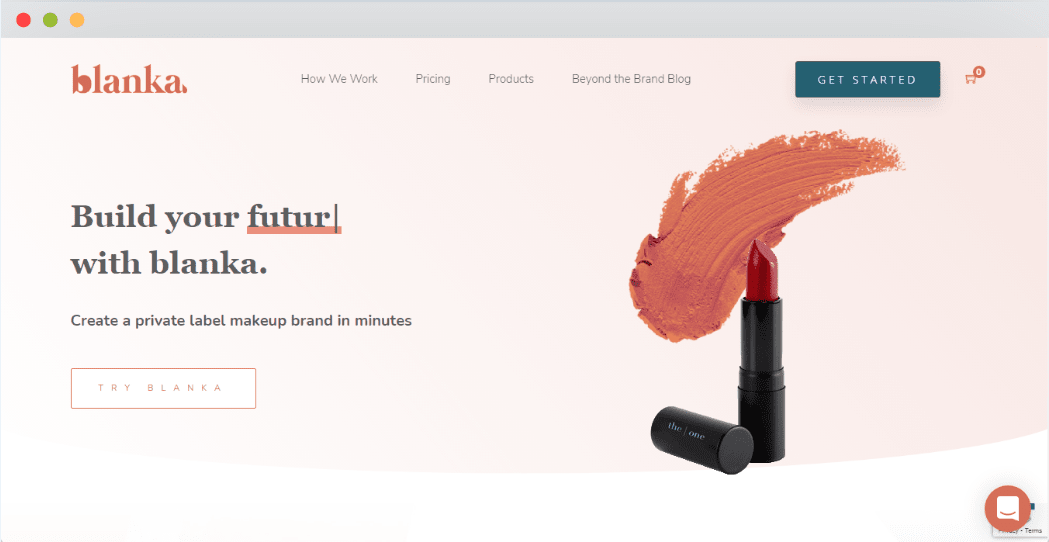 If you are looking to build your dropshipping beauty store into a brand that customers identify with, Blanka would be a good supplier to work with.
This company stocks make-up and skincare products as well as accessories such as make-up brushes. The unique twist to it is that it provides private labeling dropshipping services.
Private labeling allows you to select any of the beauty products listed by Blanka and have them branded with your store's logo. You would then list them in your online store and sell them under your own brand name.
Alternatively, you can choose to offer your clients the unbranded products listed by Blanka. They can, however, be hard to market as customers often like to stay loyal to a brand.
The first step to becoming a Blanka dropshipping partner is setting up an account. You can then choose to request free product samples before you decide whether to offer branded or unbranded products.
Blanka offers 2 paid membership plans that cost $29 and $59 respectively. There is also a free plan but it only allows you to list 10 unbranded products in your store. Other highlights of the dropshipping program include:
Dropshipping learning resources
Automated dropshipping integration
Vegan products
No MOQs
International order fulfillment
Born Pretty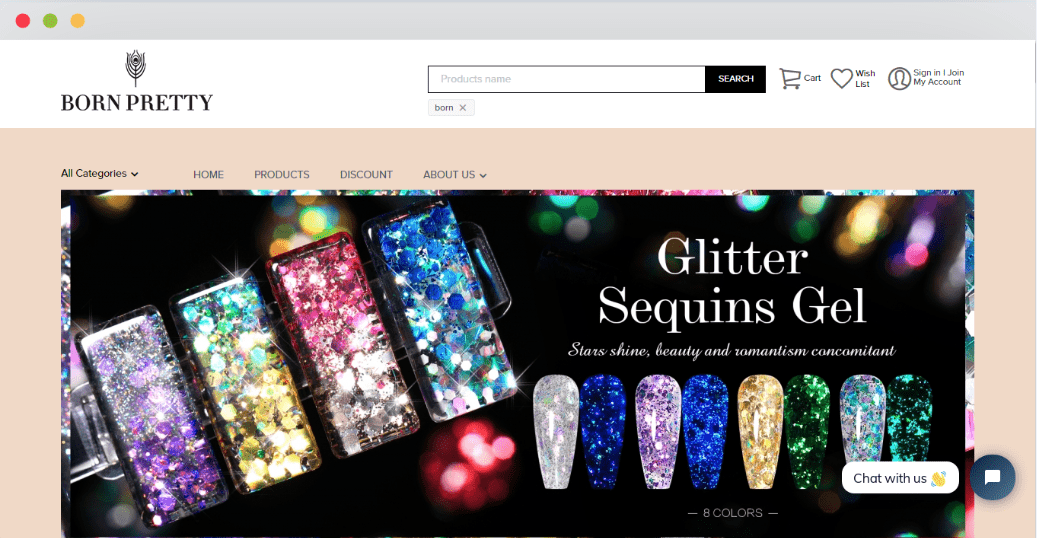 Born Pretty is a one-stop supplier of nail care beauty products. Its rich product catalog includes:
Nail gel polish
Nail powder
Nail decorations
Gel polish UV lamps
The nail products listed by this company are sourced from numerous top brands such as Nee Jolie and UR Sugar. Born Pretty also stocks its own private label products in all categories.
Once you register an account, you will need to apply to become a dropshipping business partner. The program is open to applicants from all over the world but Born Pretty reserves the right of confirmation.
If your dropshipping store is approved, you can begin sharing orders for fulfillment. Born Pretty offers international shipping and has warehouses in the USA and the UK.
Orders are fulfilled within 3 to 7 days and you would have access to a dropshipper's discount.
Beauty Big Bang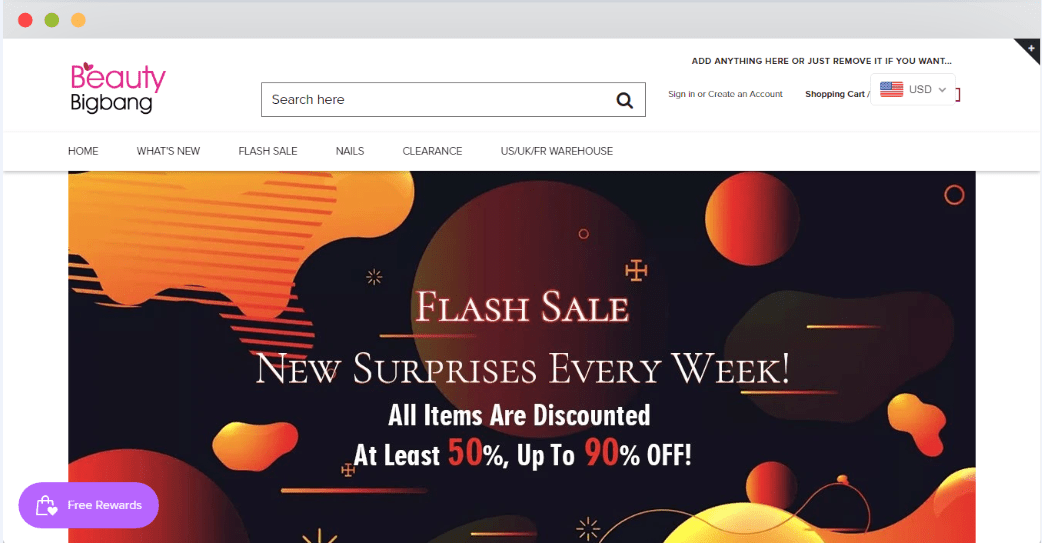 Beauty Big Bang mainly offers nail care products but also carries some personal care and make-up products.
The nail care options range from polishes and nail decorations to stamping plates and UV lamps. The make-up p consists mainly of eyeliner, make-up sets, and brushes. As for personal care, it is a mixed bag of options.
The dropshipping program is open to all. It works as follows:
Sign up for a Beauty Big Bang account
List Beauty Big Bang products on your dropshipping store
When you receive orders, shop for them on the Beauty Big Bang website and state your customer's address as the delivery address.
Add your address as the billing address
Add a remark that it is a dropshipping order so that Beauty Big Bang knows not to include any of its promotional or branding materials
This supplier promises free international shipping. It would, nonetheless, be prudent to understand the terms and conditions so that you can price the products appropriately in your store.
ISO Beauty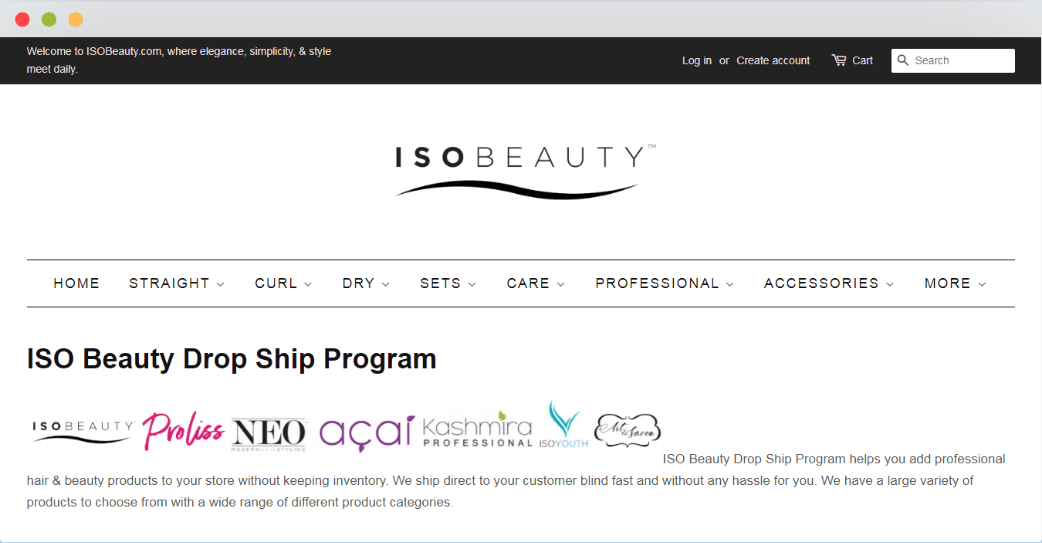 Few suppliers match up to ISO Beauty when it comes to hair products. Whether you are looking for hair oils or curling irons, this supplier stocks them all. Its list of products covers:
Hair straightener
Hair care products
Accessories like scrunchies and combs
Professional hair care supplies
The ISO Beauty is well-defined and leaves no detail to chance. The company provides a dropshipping application to potential vendors which you should fill and await approval within a week. To qualify for the application:
You should have a registered ISO Beauty account
You should have purchased from the company before
Your dropshipping store should not be hosted on Amazon, eBay, or an auction site
Approved dropshippers are charged a one-off $200 fee and can order up to 4 free product samples. When you receive orders, simply shop for them on the ISO Beauty online store and enter your customer's address as the delivery address.
ISO Beauty offers fulfillment in the USA and internationally. Orders are processed on the same day if they are made before 3.30 pm California time. You can choose to settle payments daily, weekly, bi-weekly, or monthly.
FragranceNet.com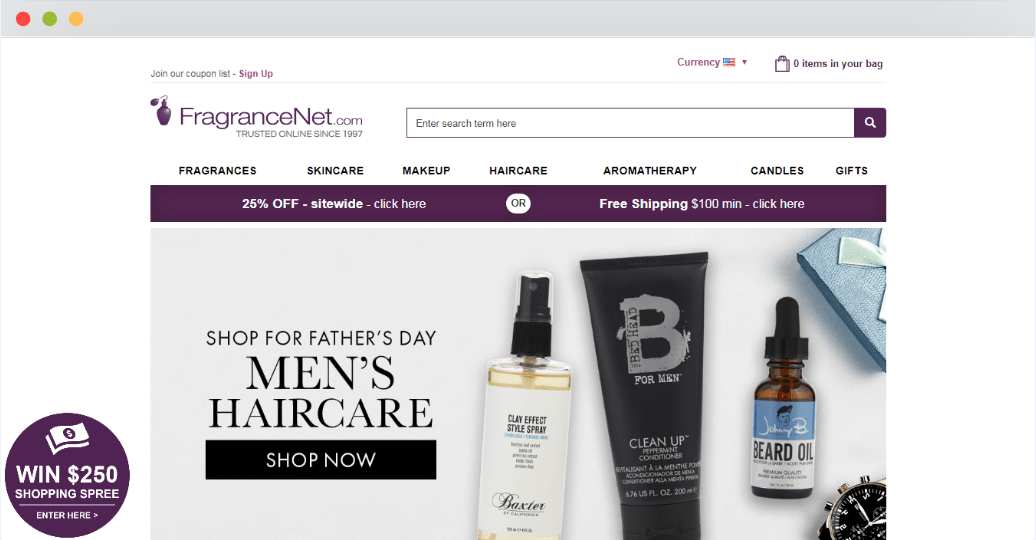 FragranceNet.com has been in the beauty industry for decades. Contrary to its name, it does not only stock fragrances. It also supplies:
Skincare products
Aromatherapy products i.e essential oils and scented candles
Make-up
Hair care products
One of the upsides of this beauty product supplier is that it offers a well-organized list of authentic merchandise. It also has a special p where you can find popular perfumes that are no longer readily available in the market.
The dropshipping platform too is properly organized. Start by signing up on the fragrancenet.com website and listing your preferred products on your store. FragranceNet.com provides an inventory data feed to make importation simple.
As you receive orders, you will have to process them manually by shopping for them using your account and providing the customer's address. Orders are shipped within 24 to 48 hours both within the USA and abroad.
Shipping costs and methods will depend on the delivery destination. FragranceNet.com, however, provides a shipping calculator for international orders.
Dermacol Cosmetics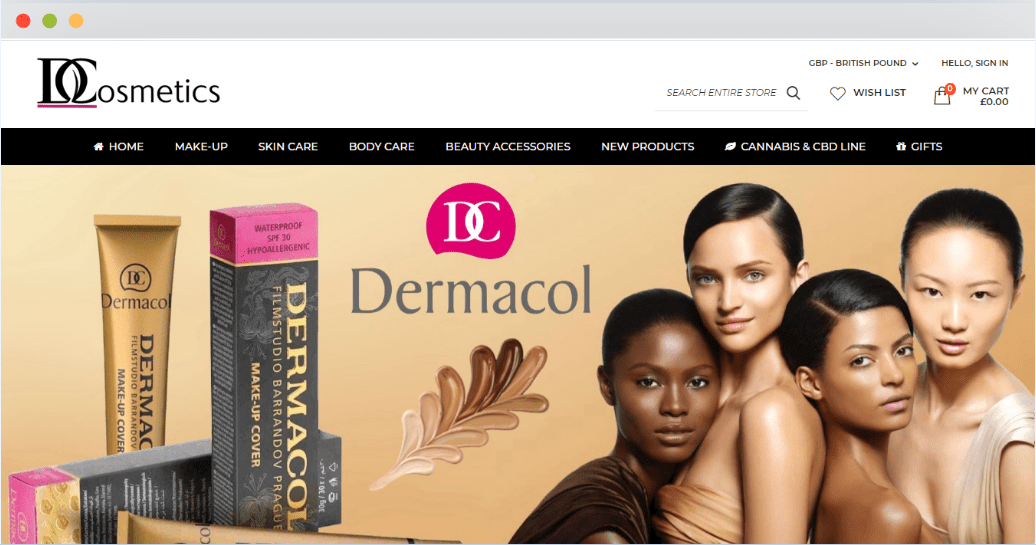 Dermacol Cosmetics is a UK-based supplier of the Dermacol brand of beauty products. It, therefore, only stocks products from that one brand.
That said, what it lacks in brand diversity, it makes up for in product range. Dermacol offers beauty solutions for:
Hair care
Skin nourishment
Body care i.e exfoliant, hair removal, muscle balms
Beauty accessories
In terms of ingredients, Dermacol has ventured into new frontiers such as cannabis-based products that are listed to have multiple benefits. Its product formulas also cater to different skin tones.
You can partner with Dermacol Cosmetics by reaching out to them via email. They have a wholesale program and a dropship program and so it is best to mention that you would like a dropshipping partnership.
SheaByNature
The benefits of shea butter are well and elaborately documented. It is no wonder that authentic shea butter products are often in high demand.
SheaByNature presents a perfect opportunity to fill this demand gap by dropshipping shea products to your customers. The company supplies shea-based:
Skin creams
Face creams
Soaps
Lip balms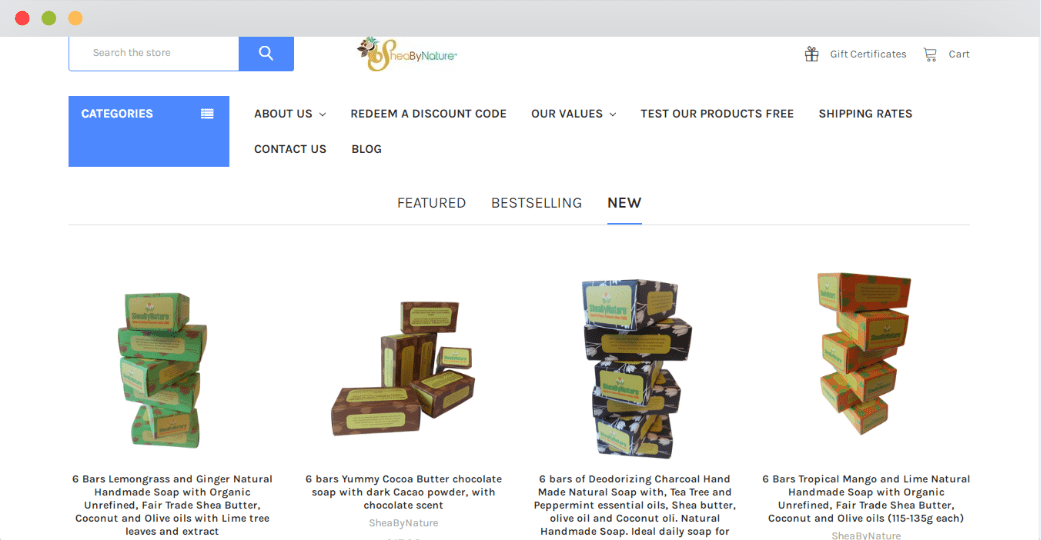 SheaByNature is keen on keeping its company image authentic and relatable. For this reason, the dropshipping registration process is quite rigorous. It works as follows:
Create an account on the SheaByNature website
Email the firm to notify them of your registration and await approval
Purchase a sample box of best-selling SheaByNature products
Note: The goal here is for you to become familiar with the products.
If your dropship store is approved, you can begin listing SheaByNature products. The importation and inventory management processes are currently both done manually.
SheaByNature dropshipping partners get a 25% discount on retail prices. The company fulfills orders within the UK and Europe.
BeautéTrade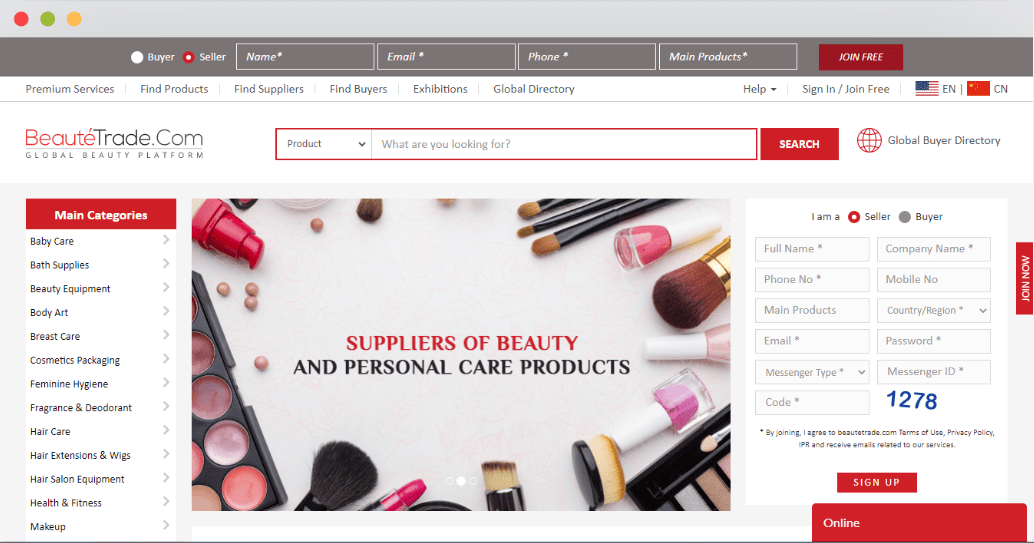 BeautéTrade.com is a global marketplace that seeks to connect suppliers and buyers. If you want to curate a highly diverse list of beauty products for your dropshipping store, this would be a great place to start.
Setting up an account on BeautéTrade is free. Once you are registered, you can begin to compare and narrow down supplier options based on the products you want, country specifications, and price.
More importantly, and perhaps the Achilles heel of this platform, you may need to contact your shortlist suppliers to find out if they are willing to dropship. However, on the bright side, all suppliers on BeautéTrade are vetted and authenticated.
NicheDropshipping
NicheDropshipping is a China-based dropshipping company that offers worldwide fulfillment for beauty product orders. It stands out from other suppliers on this list because it offers an all-inclusive range of dropshipping services.
With NicheDropshipping, you can look forward to an easily accessible and well-put-together dropshipping program. First off, registration is free and there are no overly restrictive signup processes.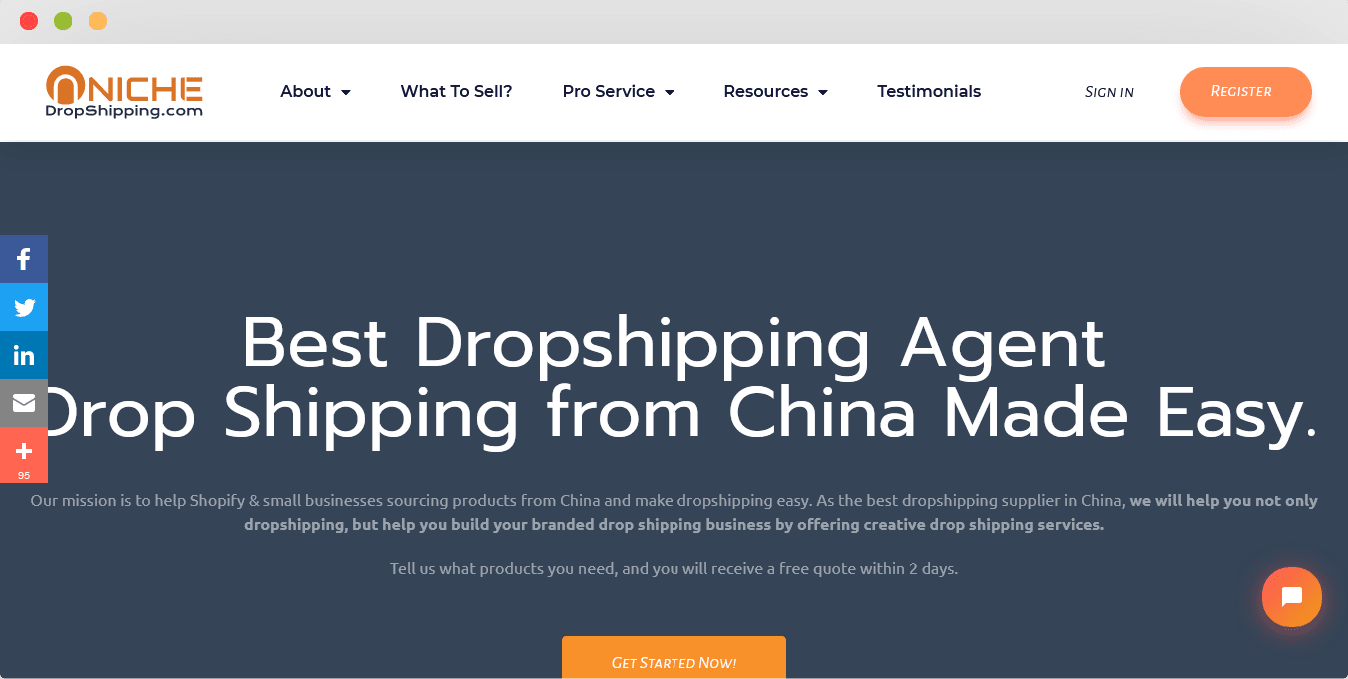 After signing in, authenticate your dropshipping store and browse through the beauty products options provided on the NicheDropshipping platform. Proceed to sync your beauty product listing with that on NicheDropshipping.
If there are beauty products you would prefer and cannot find them on the list, you can request them via your dropshipping agent. They will respond within 2 days with a quote. Upon further request, they can also:
NicheDropshipping has 5 warehouses including 2 in the USA. This shortens delivery times and boosts its worldwide fulfillment policy. Orders are processed within 24 hours or 2 to 5 days if the product is not in stock.
It would be remiss not to mention that NicheDropshipping offers a vast range of resources to help dropshippers scale their businesses. You would have access to highly diverse and top-quality beauty products.
FAQs about Dropshipping Beauty Suppliers and Dropshipping Beauty Products
Is Dropshipping Beauty Products Profitable?
Yes.
Cosmetics are no longer just about vanity but also about self-care. Everyone wants to go about life looking like the best version of themselves.
If you offer wholesome beauty products that are fairly priced, there is no reason why you should not make profits.
With that being said, beauty is a broad dropshipping niche. Study your market carefully to find out which part of this niche is not overpopulated with competitors. Less competition means more sales and better profits.
What Trends Should I Look Out For in the Beauty Industry?
Consumers are presently very keen on cosmetic product ingredients. They do not just want to know what is in them but also whether the ingredients are safe for their health.
With this in mind:
Research beauty products before listing them
Include product ingredients in your product descriptions
Point out possible allergen ingredients
How Can I Make My Dropshipping Beauty Store Stand Out to Customers?
Product presentation and description will go a long way in making your dropshipping beauty store unique. Try and make shopping from your store a relational and informative experience.
For example, if you sell make-up, have a skin tones guide or chart and their corresponding powder and foundation numbers. This will help customers choose the right products and be happier with their purchases.
Further, organize your beauty products in a way that is easy for customers to navigate. You can offer lists that categorize products by:
Brand
The beauty or self-care concern that they address
Final Thoughts
Beauty will never go out of style. Its definitions and products may change, but people will always need cosmetics. Dropshipping beauty products is, therefore, bound to remain relevant and profitable.
NicheDropshipping offers all the dropshipping beauty services you will need under one roof. We do the hard work so that you can focus on growing your business and enjoy running it with ease.
Contact us and let us transform the future of your dropshipping business for the better.