Starting a dropshipping business has been getting tougher with each passing day. The competition is very fierce and finding a truly winning product is no less than a wild-goose chase.
You often end up investing all of your time and money just to know that the product you just tested after lengthy research did not get any sales.
That's why we decided to throw light upon one of the easiest and most effective product research methods i.e. how to find winning products on Facebook.
After reading this FAQ article, you will be in a better position to use smart methods for exploring winning products on Facebook quickly.
Let's start.
What Is a Winning Product on Facebook?
Every product that has thousands of likes and shares is not necessarily a winning product. There are certain checks that you need to consider before deciding that a product is winning or not.
Following are the criteria that can inch you closer to deciding whether a product is a winning dropshipping product or not.
Check the Upload Date
The upload date of a Facebook post or ad should not be more than a year. Many circumstances change within a year. A product might get saturated within months.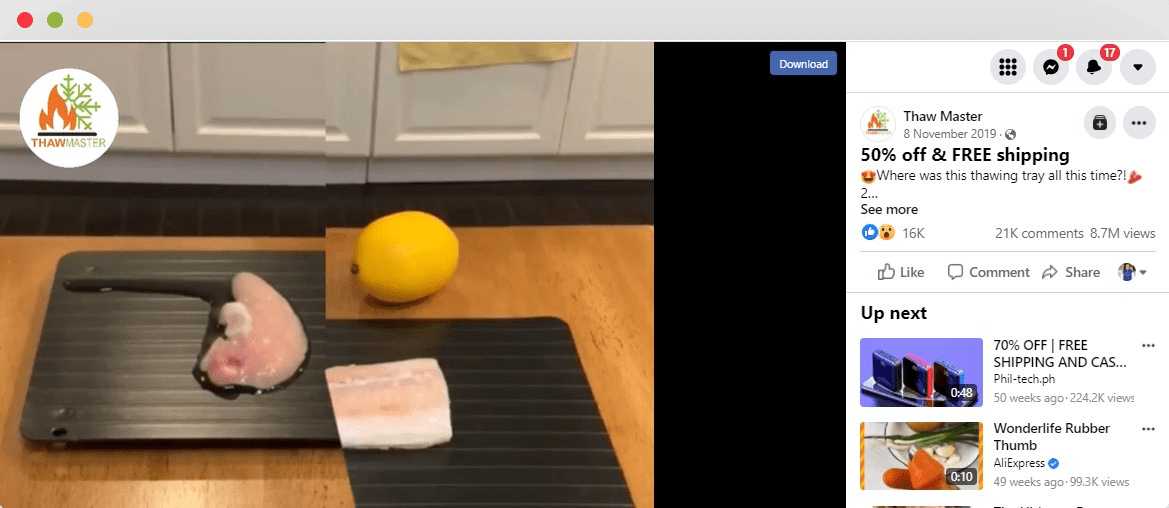 As you can see in the screenshot above, the engagement and views are quite encouraging but the date of the post is quite old. So, it may not be your best call.
The competition on dropshipping is so aggressive that you might see a product getting saturated within days. That's because there are so many people doing dropshipping nowadays.
So, it is always advisable that the upload date should be within the last few months. The closer the better.
Check the Engagement
You need to check the engagement of the Facebook post. If the post has many likes, comments, and shares, that would mean that people are getting crazy about that product.
Check the Region of the Facebook Post
While trying to find your winning product, you will notice that there are Facebook posts that have crazy engagement. But that's not enough. You need to check which region of the world that post is getting the engagement from.
For example, if a Facebook post is very famous in Nigeria, it could be a region-specific product. Or a person in Nigeria might have imported the product in bulk quantity and have advertised in his own country only.
In that case, you cannot term it as a winning product as you would most probably be targeting different parts of the world.
But how to check if the product is region-specific? You can read the comments and check the region of the engaged people. You will have a better idea about the region by doing so.
Check the Content of Comments
Sometimes, there may be a lot of engagement on a flop product too. If a product has a funny aspect, people might relate it to each other by tagging their peers. Again, you can check this out manually by reading a few of the comments.
Pro Tip: Check if many comments are asking for the price of the product. In that case, you could consider that a legitimate product.
Check the Buy Now Link
Try clicking the product link or a Buy Now link to know more about the website. If it seems to be a local website, then you may have to drop the idea of taking that product as a winning one.
If the website looks professional and targets international customers, then there's a good chance that the product qualifies for being a winning product.
How Can I Search for Winning Products on Facebook?
Utilizing the search bar of Facebook to find your winning product is a very simple and most basic technique. Nevertheless, you can always do it to find your next winning product.
There are certain keywords that you may have to write in the Facebook search bar. Try to search the following.
50% off. Try different variants too. i.e. 60% off, 51% off, 25% off.
Limited time offer
While stock lasts
Back in stock
Worldwide shipping
Free shipping
Buy yours
Get it here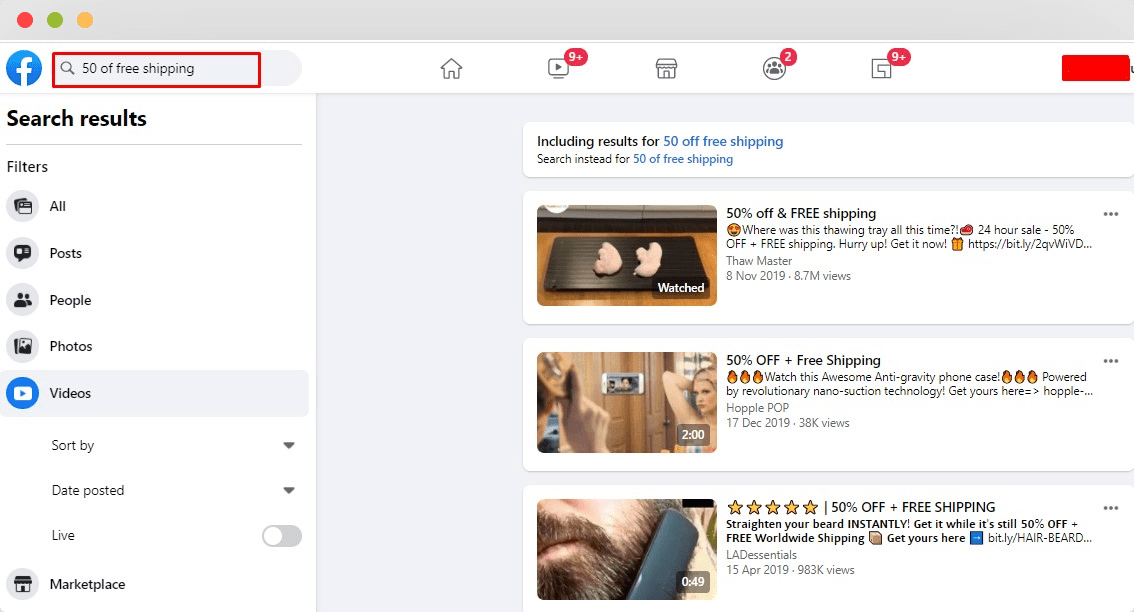 These are some of the most favourite catchwords for any dropshipper. Try copying other keywords that you see in other ads and search them in the Facebook search bar.
How Do I Find Dropshipping Product Videos?
Most of the successful Facebook ads are in video formats. It is quite easy to convince a person to buy a product by showing it in a video. You can utilize the Facebook watch feature for this purpose.
Just write the keywords mentioned above and search for the video ads. Ignore the ones that do not look like dropshipping products and move on until you find your winning product.
Pro Tip: Make use of the filters while you search for the videos. You can sort your results by newest videos or by the date the videos had been posted.
How Can You Find Trending Products on Facebook?
Trending products have a lot of potential to be a winning product. There is no direct way of finding a trending product on Facebook. But you can still strive to find what's trending on Facebook.
You can do that by combining Google trends with Facebook. When you write down the products that you had searched on Facebook, you can check them in Google trends to see if they are trending or not. Take the example of the recent winning product i.e. posture corrector.
Facebook was recently bombarded with advertisements of posture correctors. If you check the ads for this keyword, you will find the ads with crazy engagement.
But if you check the data from Google trends, you will come to know that people have lost interest in this item over the past few months.
So, if you want to know what's trending on Facebook, you need to verify that from Google trends as the data from Google trends is quite relatable to that of Facebook.
Some tools are also used to find the trending products on Facebook. A few of them are mentioned below.
Amazon is truly a world leader in eCommerce. So, why not learn from its trends? You can check for Amazon Bestsellers and you will find tons of product ideas. Search those products on Facebook and AliExpress and there you go!
If you dig down deep into the categories, you will surely find your winning product.
Like I checked for the Amazon Best Sellers in the list of Baby and then for mom, I found the Best Seller # 3 to be a dropshipping product. It is a U-shaped pregnancy pillow and it is quite in demand in eCommerce. See the screenshot below.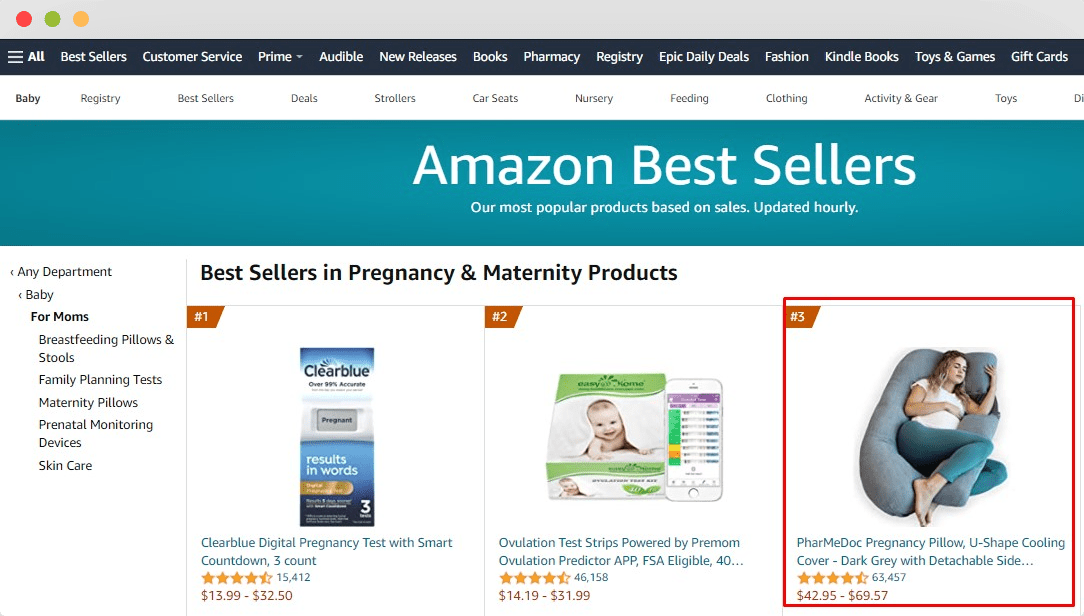 Commerce Inspector is a great tool to find hot and trending products on a website. When you move on to a link from a Facebook ad, you may need this tool to analyze the online store's top-selling and trending products.
To do that, you just need to install the Commerce Inspector Google Chrome Extension. So, when you are on that website, you will have to click this extension. It will tell you all the details that you require to decide whether a product is trending or not.
You can also use this tool to find trending products on Facebook. This is a paid tool and it helps you find what is trending on Facebook.
You can find dropshipping winning products on Facebook by using this tool easily.
What Are the Different Tools to Find Winning Products on Facebook?
There are many tools that you can use to find the winning products on Facebook. They save a lot of time and effort and help you find winning Facebook products very easily. Some of these tools are mentioned below.
This is a great tool that you can use to find Facebook ads on your Facebook feed. This tool has a very simple working principle. It hides all other blog posts from your Facebook feed and only displays sponsored content that Facebook shows you.
Those ads cannot necessarily be dropshipping products ads. They can be anything that Facebook's algorithm decided to show you. But you can scroll down to check if there are any dropshipping ads.
Pro Tip: There is a smart hack to signal Facebook that you are an active buyer of a dropshipping product. We will discuss that later in this article.
It is another great tool that is not only meant to search for dropshipping ads but it can search any kind of advertisement for you across different platforms including Facebook.
You can make use of this tool for searching the ads to find winning products on Facebook.
It has the following amazing features.
Filter by ad text
Filter by video ads
Filter to show ads for Shopify
And much more
You can sort results by most viewed, popularity, likes, shares, comments, and duration of the videos, etc.
The best part about this tool is that you can also look for the ads in terms of targeting options. For example, you can filter the ads that were meant to be targeted towards the US audience.
Big Spy is another strong tool to search for winning ads. You have the liberty to choose from multiple options this tool provides. It works for multiple platforms including Facebook, Instagram, and other social media platforms.
The salient features of this tool are mentioned below.
You can search by phrases or keywords.
You can search specifically for eCommerce ads.
Option to search ads for platforms like Shopify, Bigcommerce, and Woocommerce, etc.
Filter results for engagement, video type, and ad upload date, etc.
You will come to know the power of this tool once you start using it. The best part about this tool is that you can also use it for free with limited features.
This is another great tool to find the bestselling and hot products from Facebook. You can use this tool to find what is selling on Facebook right now.
The exclusive feature of this tool is that you can find what is selling at a higher pace on AliExpress and Shopify stores separately.
There are filters that you can utilize for finding products of your choice. For example, you can sort the results by keywords, product category and subcategory, and weekly orders for that specific product.
Especially, for Shopify product search, this tool allows you to search the products that are specifically meant for dropshipping. Don't forget to make use of the following two most important filters.
Maximum product price
Timeline about when the product was added.
Ecom Hunt is a paid tool that you can use to find excellent Facebook ads. But you can also use some of its features for free.
This tool shows winning products in every category. So, you can utilize this tool if you don't want to search for products manually on Facebook.
This will save a lot of your time and effort. Just visit their website and you will be able to see some of the products for free. If you like them and want to see more, you can opt for their subscription.
In addition to the product ideas, they also tell you about other factors of the product which you might be interested in. They are mentioned below.
Profit margins
Facebook ads
Product video
Engagement
Links
Audience targeting ideas
The suggested price of the product
Amazing, right? You can rely on this to at least check if it works for you. What can get better if you don't have to take the headache of product research yourself?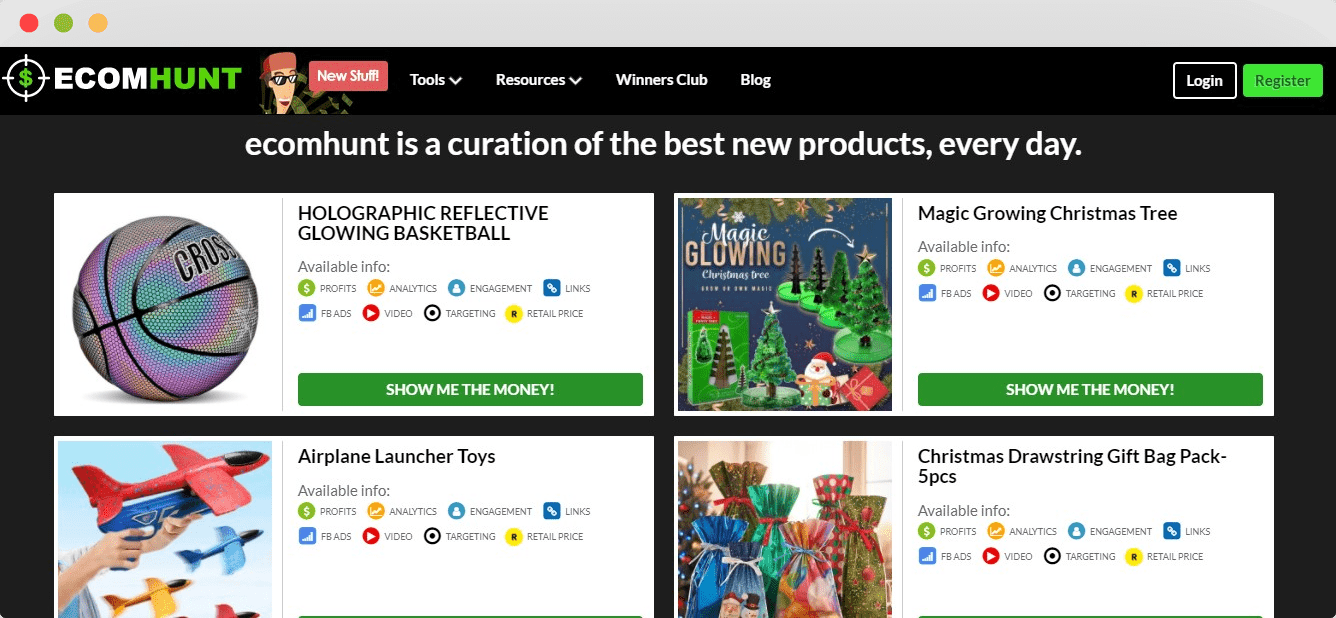 How Do I See Facebook Ads for Winning Products without Using Tools?
This is a very smart technique used by expert dropshippers. Instead of finding products yourself, you signal to Facebook that you are a potential buyer of dropshipping products. How to do this? Let's check out.
Whenever you see a dropshipping ad on Facebook, don't just scroll down. You have to show interest in that product even if you don't like it. You may like, comment, and visit the link.
You can even add that product to your cart and just leave it there without buying that product.
What will this do? This will give a positive signal to the Facebook algorithm about you. Facebook will take you as a potential buyer of those products and will show you similar dropshipping ads in the future.
Whenever you feel that Facebook is not showing enough dropshipping ads to you, repeat the procedure once again. Facebook will again start showing you ads naturally. This is very typical of Facebook.
You will not only be bombarded with dropshipping ads on Facebook but you will also see dropshipping ads on Instagram as well.
This is also a great way or a Facebook cheat that you can utilize in your favour.
Pro Tip: Try not to fake it. Show a genuine interest in the dropshipping ads. If it is a video ad, watch the complete ad and rewind it if you can. Try saving those ads.
If you can buy a cheap product genuinely, you will fall into Facebook's list of engaged shoppers. This will give you more advantages and Facebook will show you more ads similar to those.
How to Do Competitor Research on Facebook?
Doing competitor research is one of the smartest ways to find winning products on Facebook. A good businessman always stays in touch with the activities of their competitors.
In dropshipping business, every other dropshipper is your competitor especially, if you are selling general items.
If you are selling products from a specific niche, you need to find your competitors in your niche and stay in touch with their activities. You need to know their bestsellers, trending products, and what products they recently launched.
This will give you an idea about your standing in comparison to your competitors. So, how can you do competitor research on Facebook? It is very simple and you would also find it very exciting as well. Just stay tuned.
If you know what the Facebook Library is, consider half of the task done. It is a service that Facebook offers to ensure that its ad policy is fair and transparent.
Just visit the Facebook Library and do the following steps.
Change the location to worldwide or the United States or any other country from which you want to see ads.
Change the ad category to "all ads".
You can now access the ads of your choice. Now you will have the following two options. You can either search the ads by
You can utilize both options. Try writing a very broad keyword that you are quite sure that the advertiser would have used that keyword in that ad.
For example, I have searched for the keyword "posture" in the search bar. The results are shown in the following screenshot.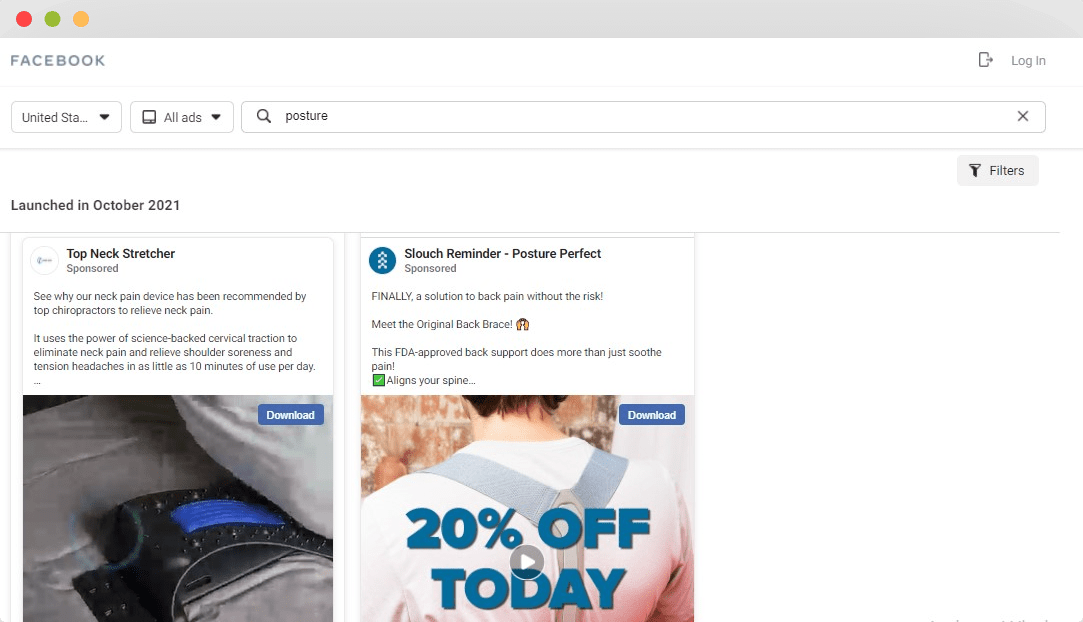 When you are writing the keywords, you will get Facebook suggestions to help you recognize the page from which you want to see ads.
While writing "gadget", you can see that Facebook suggested several pages that had gadgets in their names. In that way, you can click on any of the pages to see the ads they are currently running.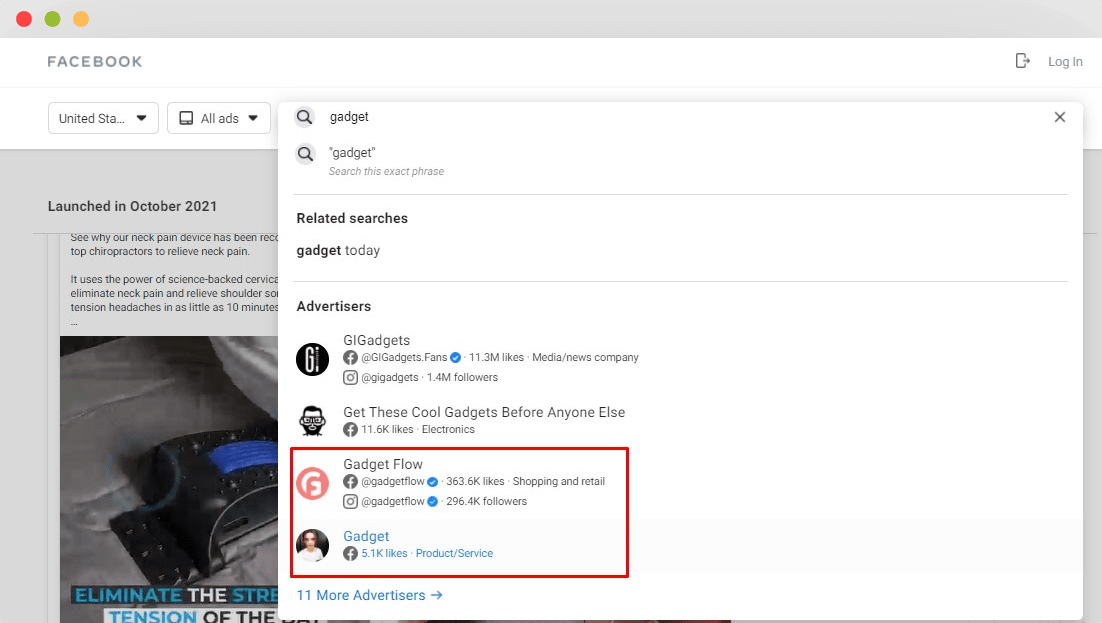 Pro Tip: Keep making the list of dropshipping stores along with the names of their Facebook pages. Keep checking their ads from time to time by writing the names of their Facebook pages in the Facebook ads library.
What Are the Famous Dropshipping Stores on Facebook to Find Winning Products?
There are a few famous dropshipping stores that you can follow to check for their products. We have tried to mention the Facebook pages that offer a wide range of products. They keep on launching different Facebook ads.
You can follow them and look for high-profit margin products on Facebook. They are as follows.
It is also a similar Facebook page that displays multiple products. Most of these products can be used for dropshipping purposes. You can find your next winning product from this page as they launch new product ideas regularly.
They keep on updating their page as per the season as well. Like they have currently updated their cover pic with "Wish o ween" because of the Halloween season.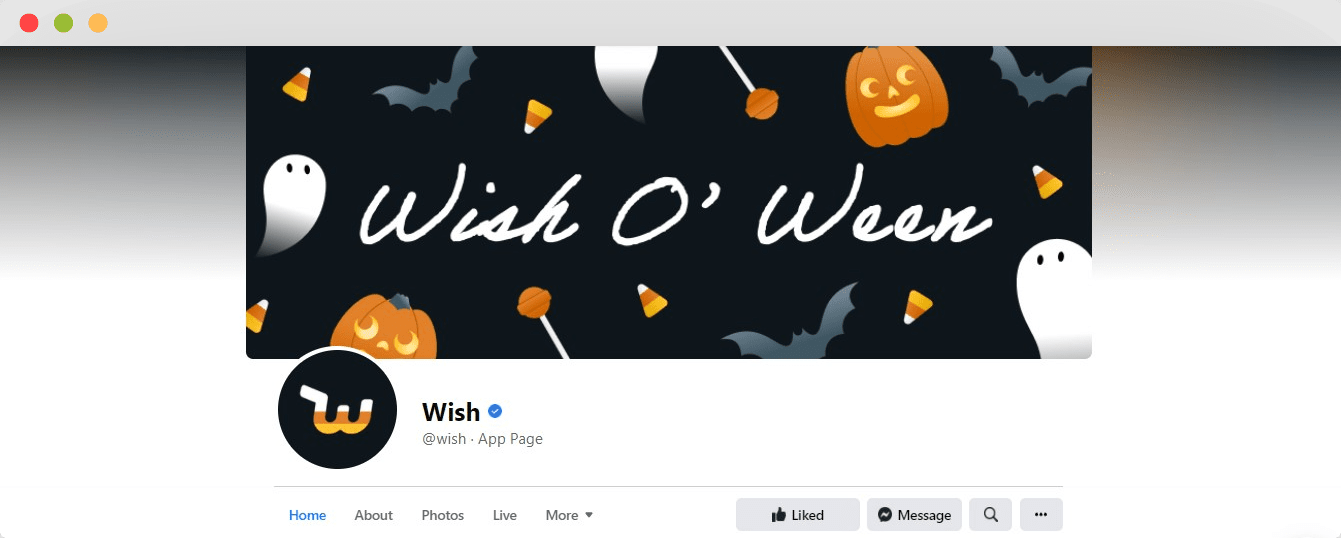 This is also an eCommerce website that also runs its page with the same name. Although the list of the products offered on this website is quite huge, you will mostly find gifts and toys here on this page.
It also operated as a Facebook shop with prices of the products mentioned against them. You can utilize the ideas floated by this Facebook page to find your next winning product.
As the name suggests, this is a page that offers products like gadgets and digital items. You will have a great advantage in using this Facebook page to get ideas related to this niche.
They call themselves the "Internet's Mall". This page has been up and running for more than a decade. It also gives ideas of different products in every category.
So, it would be a great idea if you explore their products to find a winning product for your general store.
It is also a useful website to get product ideas regularly. You can explore different kinds of products from this page. They present the products in a catchy manner to attract more audience.
You can shortlist the products from their website or page to finalize your winning products.
It is a great website that offers a huge variety of products. It has a massive Facebook following which shows that people are already interested in the products that they display.
You can follow this page or visit this website to see the new products as you will get better images and displays of products as compared to websites like AliExpress.
It has multiple other pages as well. They are related to the main page. They include the following.
Odditymall – Parents
Odditymall – Outdoors
Odditymall Daily
Odditymall – Pets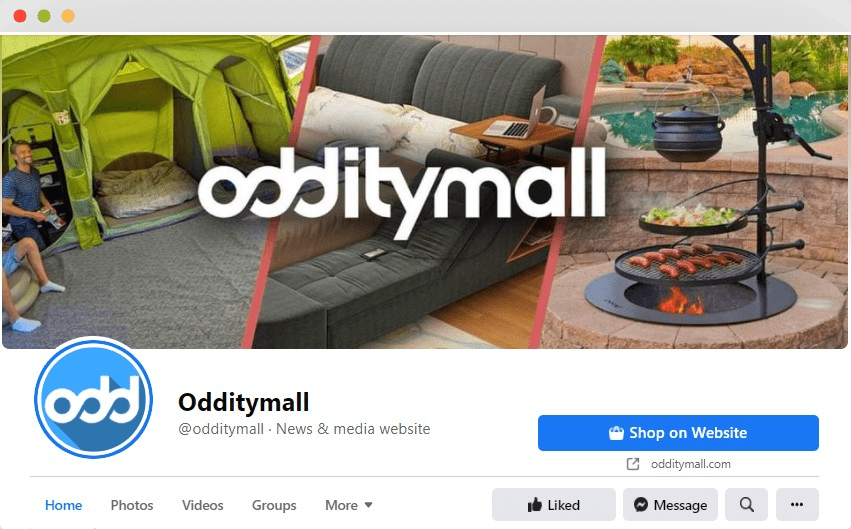 What Are Useful Chrome Extensions to Find Winning Products on Facebook?
Google Chrome extensions are very useful tools to help you find winning products very easily. Every other Chrome extension has a different benefit.
So, we have presented the list of most influential and beneficial Chrome extensions that every dropshipper needs to install to find winning products. Take a look below.
It is a very useful Chrome extension to help you know if the website has installed a Facebook pixel. If you find a Facebook pixel on a product page that you just visited, it would mean that the website runs Facebook ads.
As explained earlier, you can find the analysis of a website's products by using this extension.
This is a useful Chrome extension that helps you download a video from Facebook. You can download video ads of your winning products from Facebook.
As discussed earlier in this article, you can use this Chrome extension to hide every other post from your Facebook feed except the sponsored posts or Facebook ads.
Can You Automate the Process of Finding Winning Products on Facebook?
Yes. There is a way to automate the process of finding winning products on Facebook. This method is not automated but you need to do some manual work to automate a process sometimes.
In addition to using the tools that are mentioned above, there is a simple way of getting it done from someone else.
You can hire the services of a freelancer who has the skill and experience in finding winning products from Facebook. You can hire such a freelancer from the platforms like Upwork and Fiverr, etc.
Final Words
So, you have read about all the smart techniques to find winning products on Facebook. We hope that this FAQ article would have added to your knowledge. We make sure to make dropshipping easier for aspiring and existing dropshippers.
If you think we should have answered some additional questions regarding the topic, do let us know in the comments. We value the feedback and respond to the queries from our readers quickly.
For any other information or a dropshipping service, you can contact NicheDropshipping and our agent will be right there to assist you with everything.