If you want to run a successful business, then you don't only have to work hard, but also work smart. And your dropshipping store is not an exception to this rule.
Rather than investing hours putting in the manual labor, there are multiple ways for you to automate your business.
However, the easiest among them is to get the help of modern chrome extensions.
That's why in this article, we've compiled a list of the best chrome extensions for dropshipping that you should start using today.
So let's dive straight into it!
Chrome Extensions for AliExpress Dropshipping
The majority of dropshippers source their products from AliExpress. If you're one of them then here are some chrome extensions for AliExpress dropshipping that you should know about:
Alitools is one of the most popular dropshipping tools as It provides you with all the information you need about a product including its price history, and similar products.
Plus, it also displays the ratings of the seller and the satisfaction rate to help you assess their reliability.
So basically, this tool isn't only useful for product research, but also in helping you find reliable suppliers.
Click on install and the rest of the information will directly appear at the bottom left of your screen when you're browsing products on AliExpress.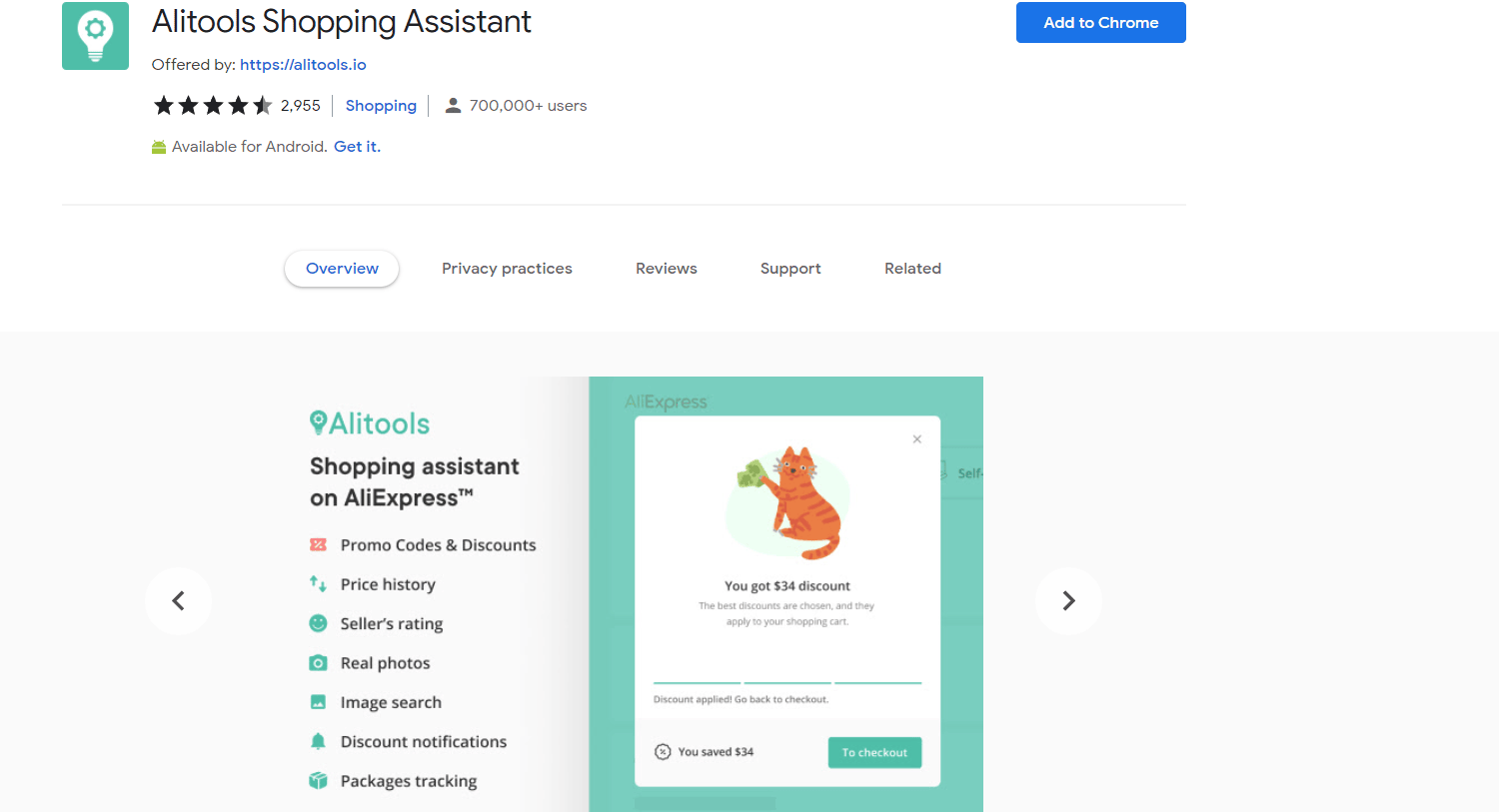 AliScraper is a tool that is used with Spocket to import AliExpress products with a single click. So if you use Spocket and are facing difficulty selling products from AliExpress, then this tool will make your life so much easier.
What makes AliScraper even better is that it can integrate with pretty much every big eCommerce platform. So whether you're using WooCommerce, Shopify, or BigCommerce, just install this plugin and you're set to go.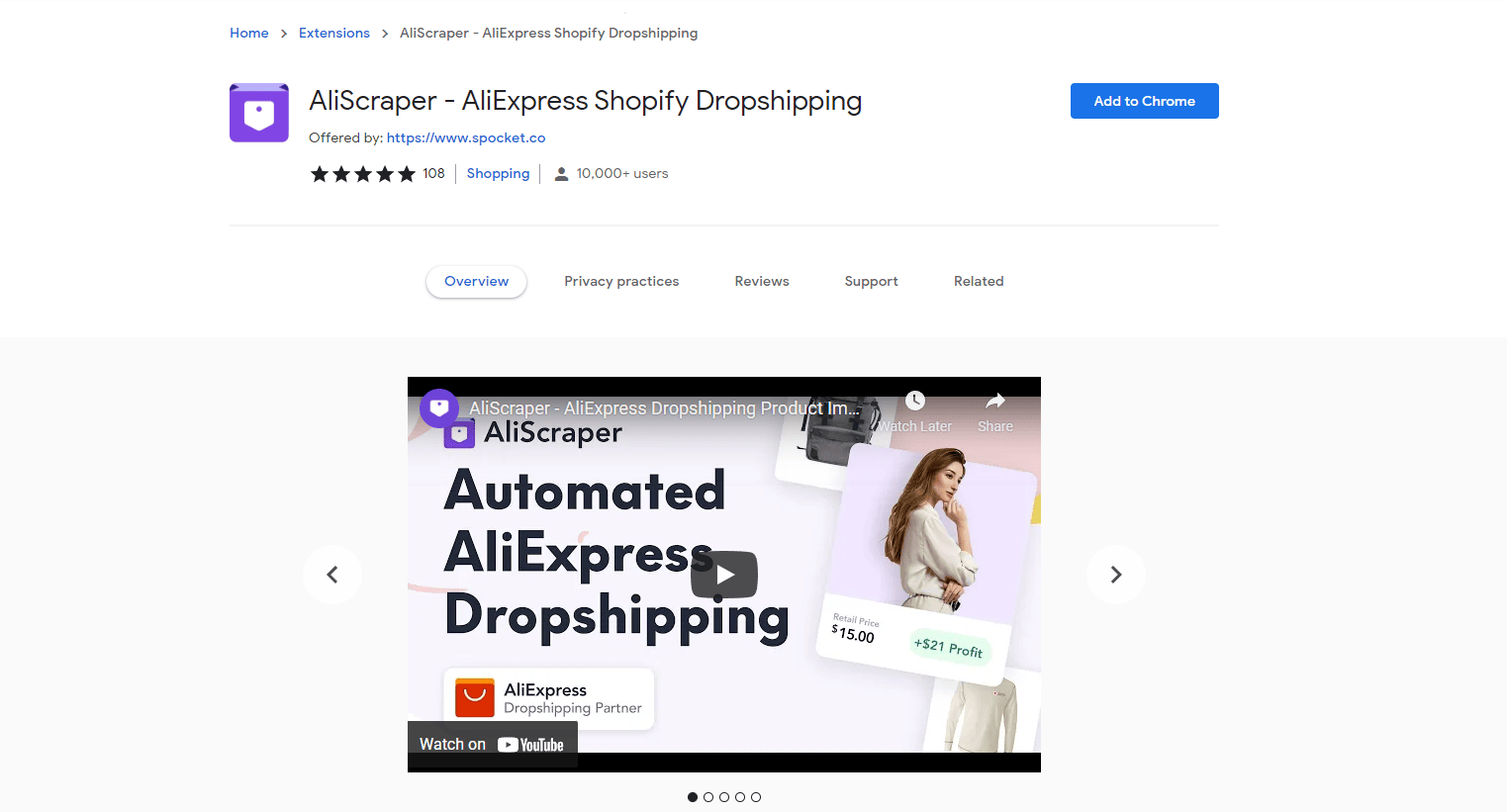 It's the right of the customers to know the current status of their order. And let's face it, retrieving that information on AliExpress can be quite a bit of a hassle.
You need to search for that order, open its details, and only then, you can access the tracking info.
This may not be a problem for a new dropshipping store. But if you're getting a couple dozen orders each day, then it can be quite time-consuming. This is where this AliExpress Parcels extension comes in.
This extension allows easy tracking of any of your orders on Aliexpress. Just open the product details, and you'll see the "Add tracking" button right in front of you.
After installing the plugin, click on the button and that order will be added to the "orders to track" list of the extension which is much easier to access.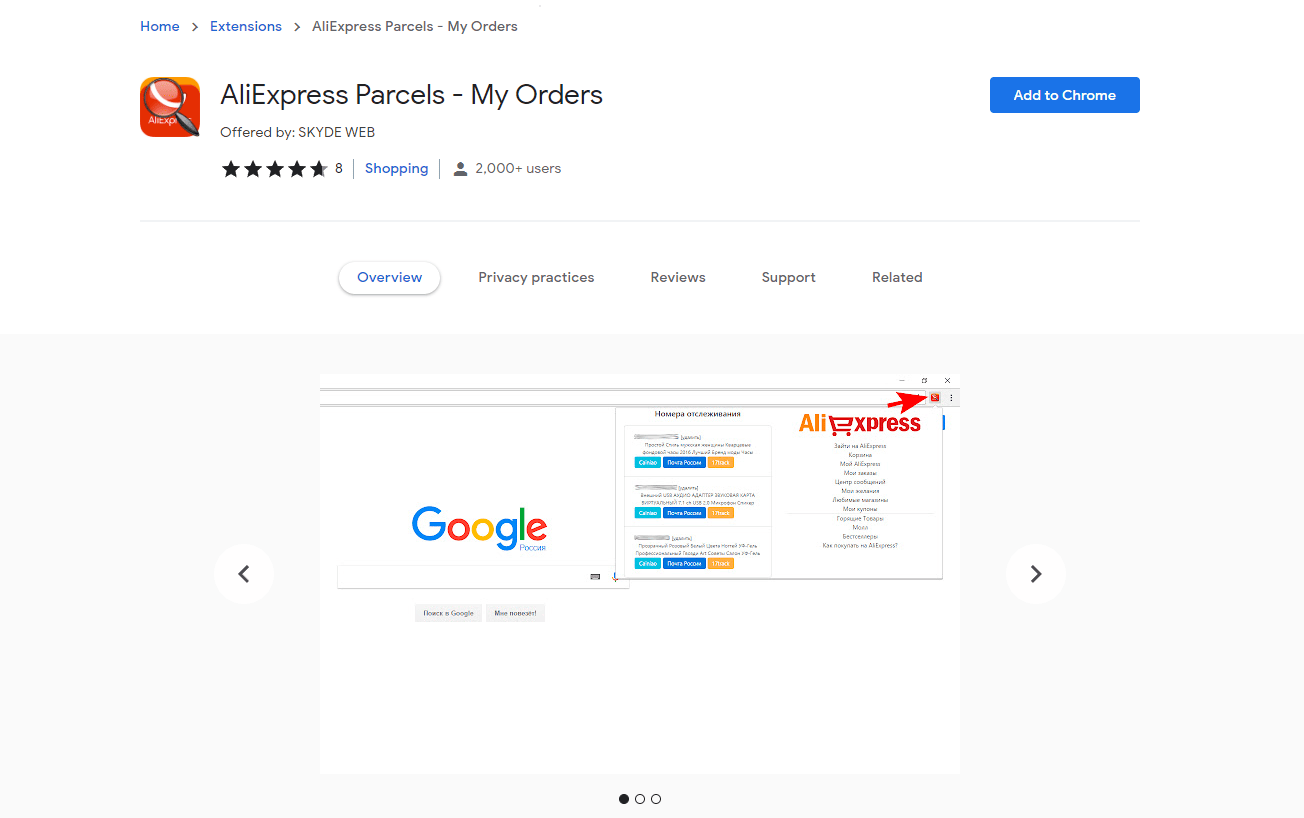 This tool does exactly what its name says – helps you find a product when the only thing you have is its picture.
To use it, simply install the extension and right-click on any image that you see. After that, you'll see the name of the extension in the context menu.
Click on that and voila! You'll be directed to the AliExpress product page just like that.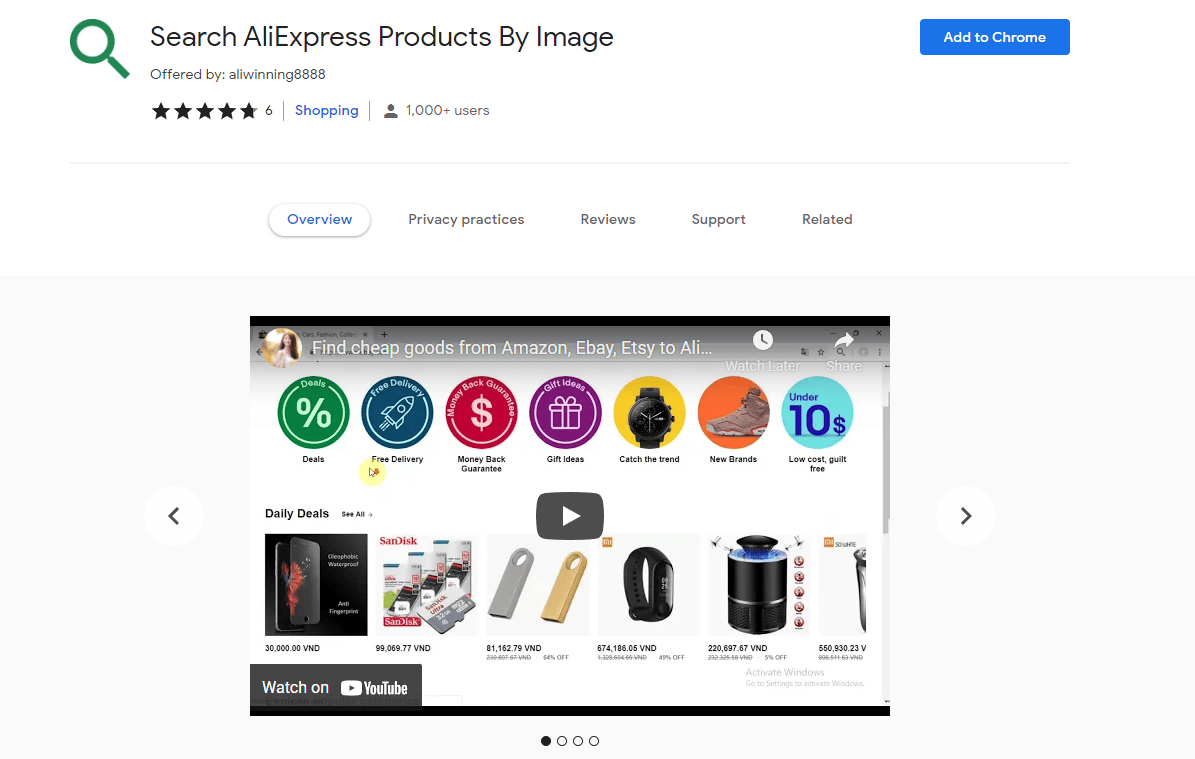 Downloading images on AliExpress can be tricky, especially if you aren't tech-savvy. So what's the easiest way to access them? By downloading the AliSave extension.
Add the extension to your Chrome browser and you'll see the download button right beside every product image or video that you see on the platform, it's as simple as that!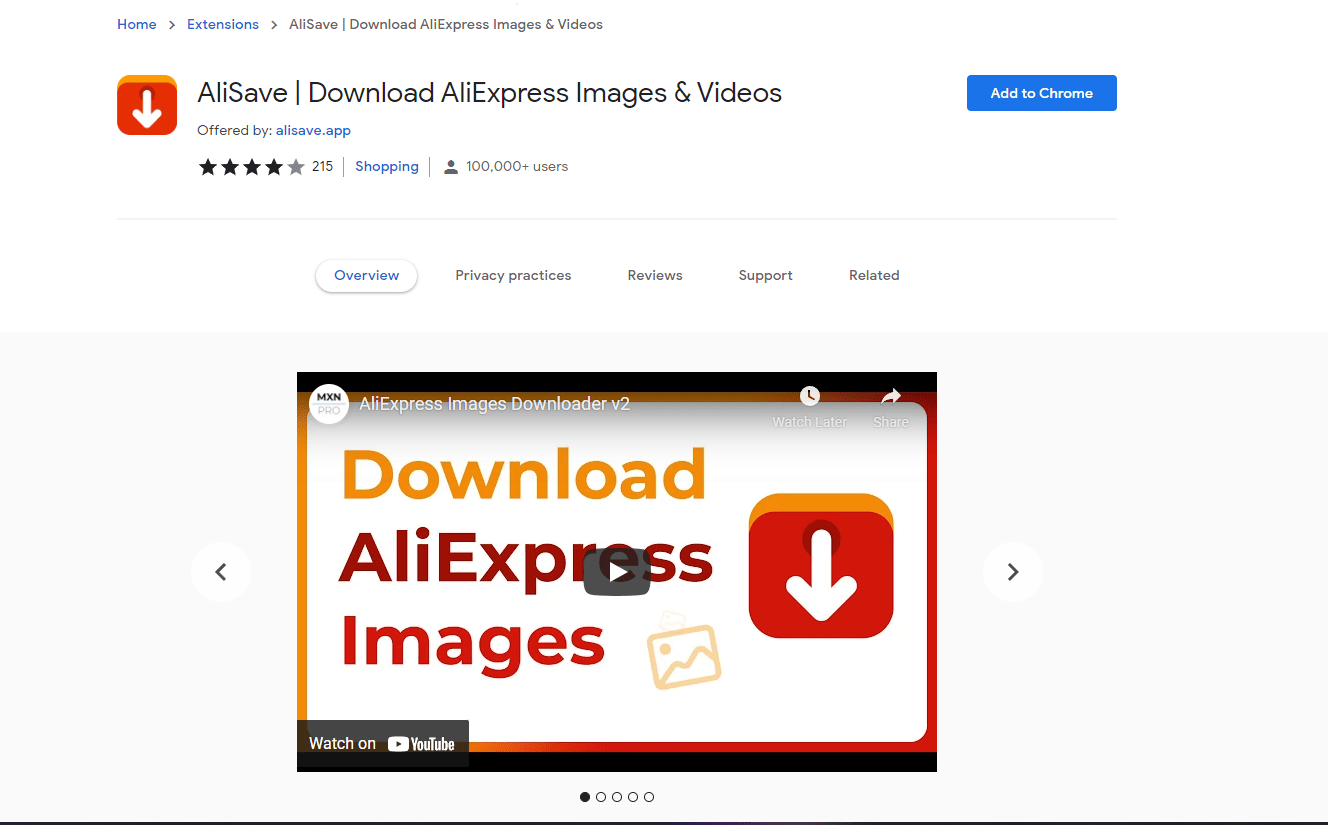 ePacket shipping is the preferred shipping method by the majority of dropshippers. It's more affordable and also helps you get fast delivery for lightweight packages. 
But checking the product page of each seller to see if they offer ePacket shipping can be a bit annoying and time-consuming. The easier way is to install the ePacket Identifier Chrome extension.
It tells you if a supplier offers ePacket shipping without actually having to visit the product page. You'll see it written right at the top of the product thumbnail, so you can't really miss it.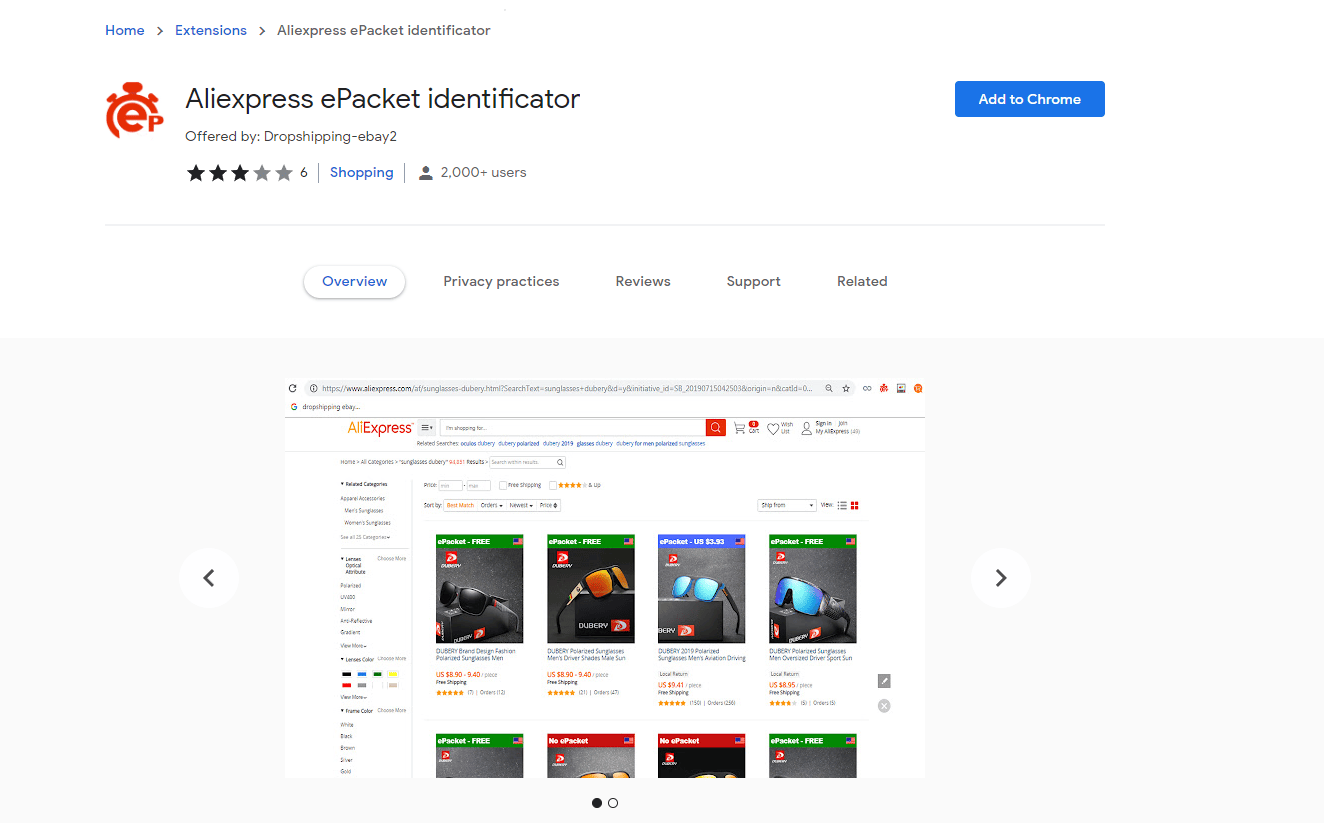 Preparing an invoice for the orders can be a time-consuming process. It might not feel like much for a few orders, but once your store starts growing, invoicing would drain a huge chunk of your time.
That's why the easiest way to generate an invoice for your customers is by using this free invoice generator Chrome extension.
How does it work? Well, after installing it, visit the order details page on AliExpress, there you'll see a "Download Invoice" button.
That's pretty much all you need to do to get the PDF of the invoice without the hassle of using any paid tools.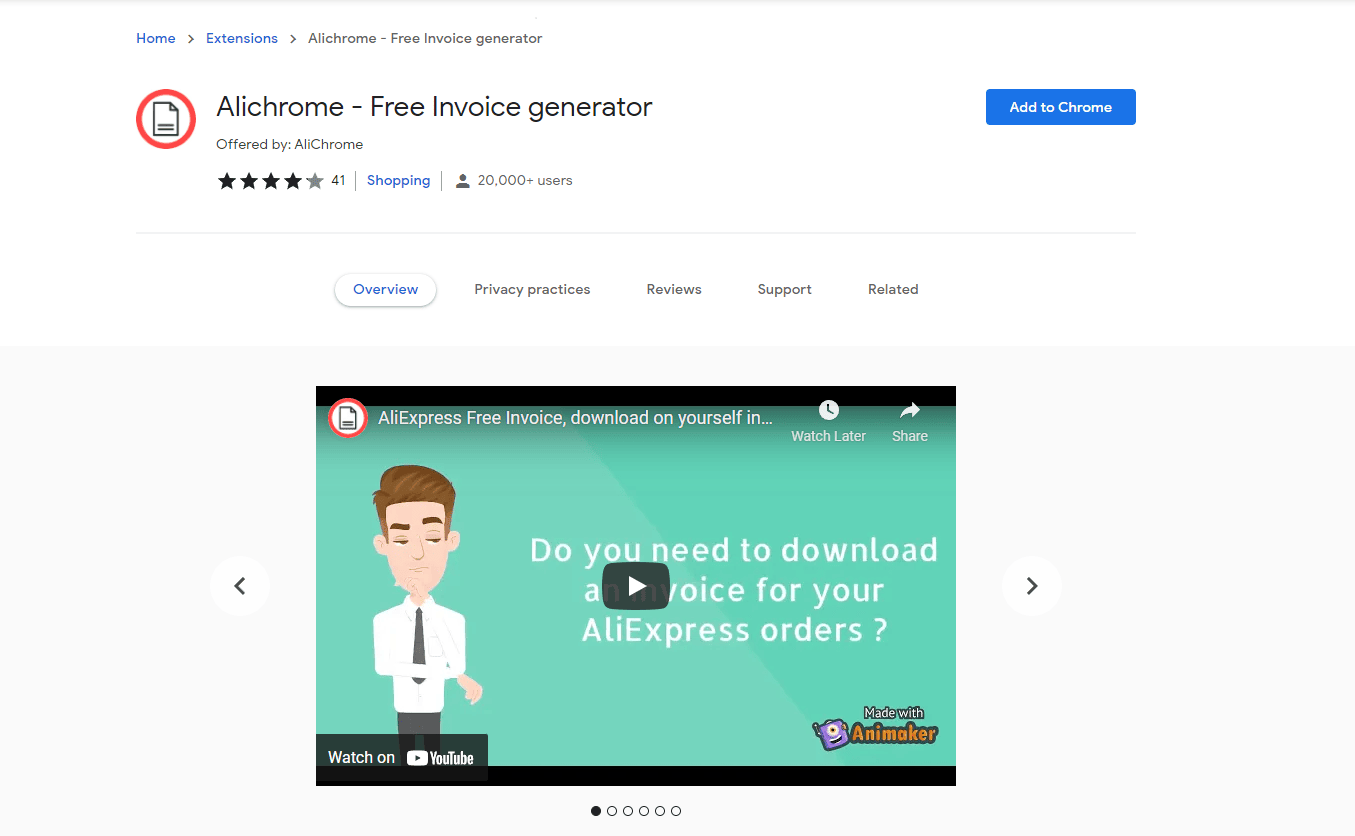 Chrome Extensions for Shopify Dropshipping
Do you run a Shopify dropshipping store? Aside from Shopify's own vast variety of tools and plugins, you can use the following chrome extensions as well:
If you already run a dropshipping store, then this isn't probably the first time that you're hearing the name Oberlo.
It's a famous Shopify dropshipping app that streamlines the process of importing products from AliExpress to your Shopify store.
Not only that, but it also helps you process orders in bulk and also makes it easier to edit the listings. To start using it, sign-up, or log in to your Oberlo account, and go on AliExpress.
Then take a look at the extensions symbols at the top right corner of your browser.
There you will see a blue Oberlo icon. Click on that and you'll be able to access multiple actions so select according to what you want to do.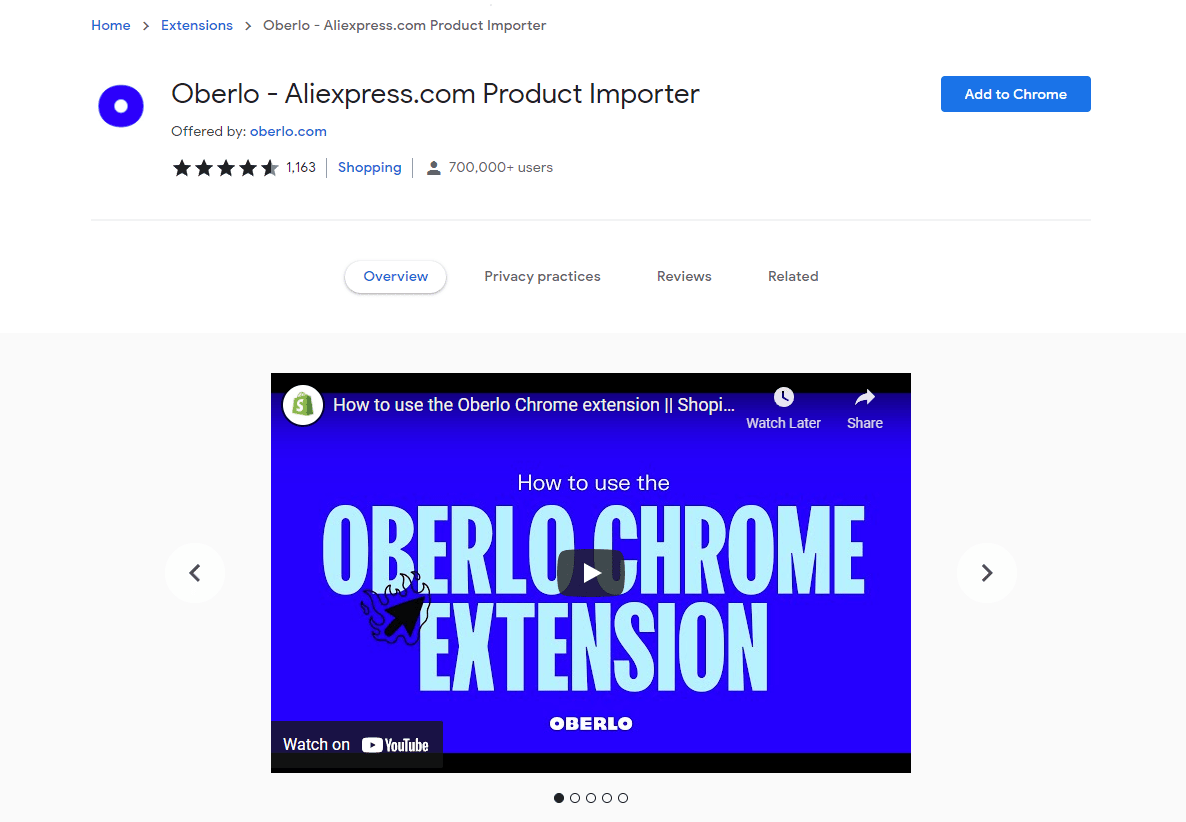 Shopify has an abundance of tools and plugins that can be integrated with your dropshipping store.
But what if you visit a specific site and see them using a cool app that you do not know the name of?
Well, this Shopify App Detector Chrome extension is all that you need to find out.
Install it and once you visit a dropshipping store, click on the app icon, you will instantly find out which apps they are using so you can integrate them with your own store as well!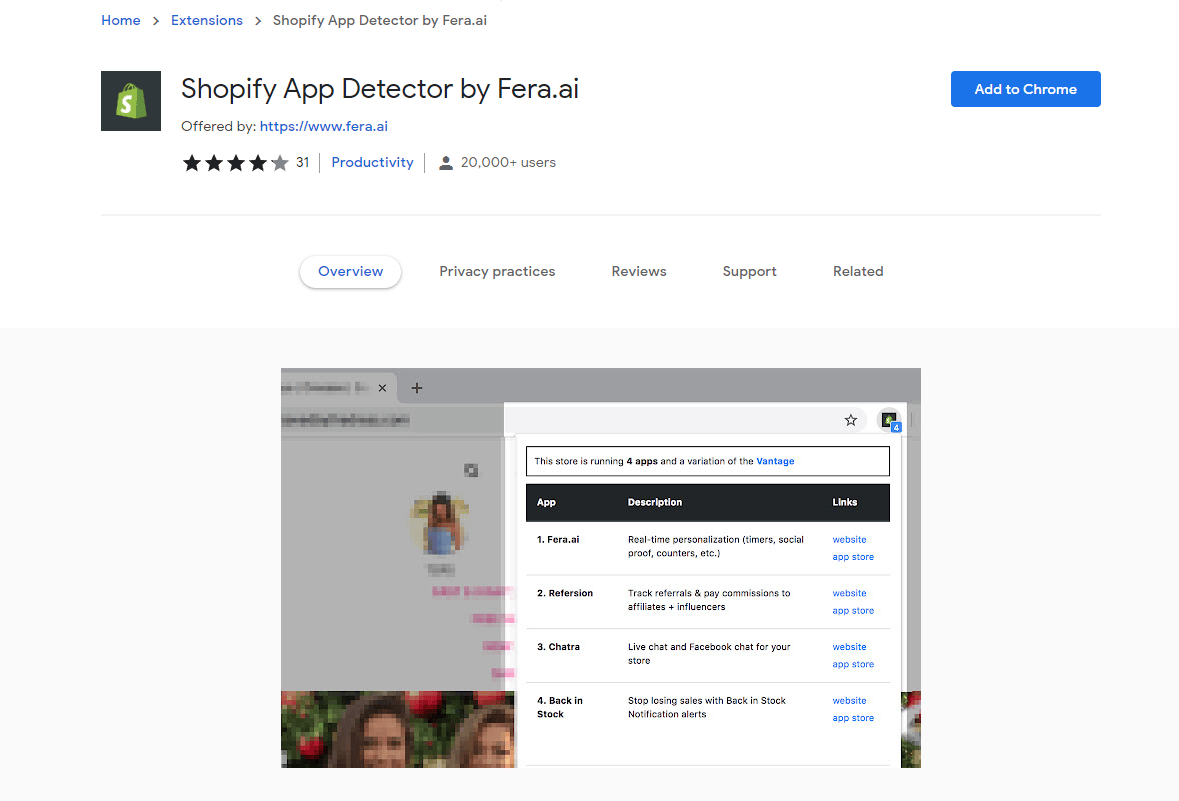 This extension is pretty similar to the one above. If you've visited a site and want to find out which theme they're using, then this app can help you figure that out in no time!
Once again, just click the extension icon and wait a few seconds for it to do its magic.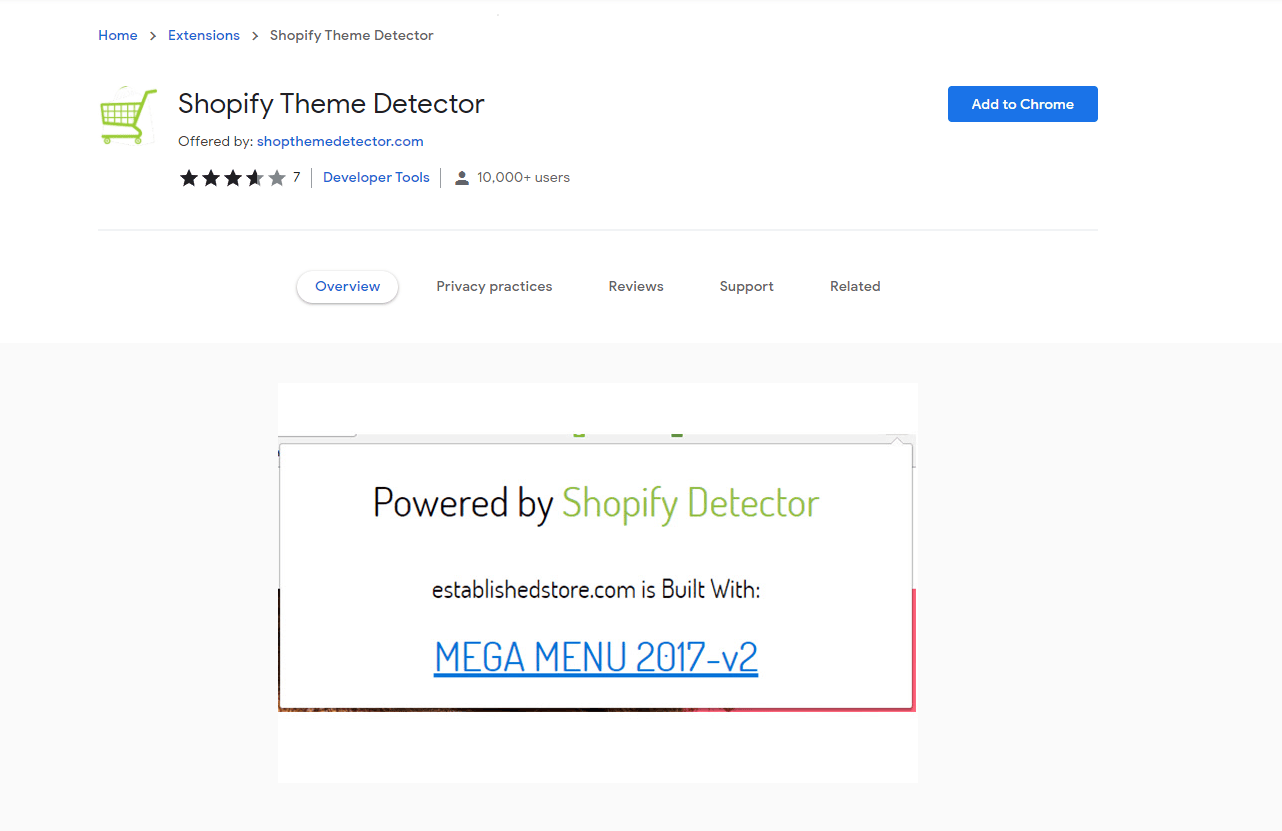 Are you interested in a product and want to retrieve all its information from another Shopify dropshipping store? Simply use the Shopify Product Scraper extension.
It's the best scraping tool for Shopify that you can possibly find. It exports all the products and saves them in CSV format within the blink of an eye.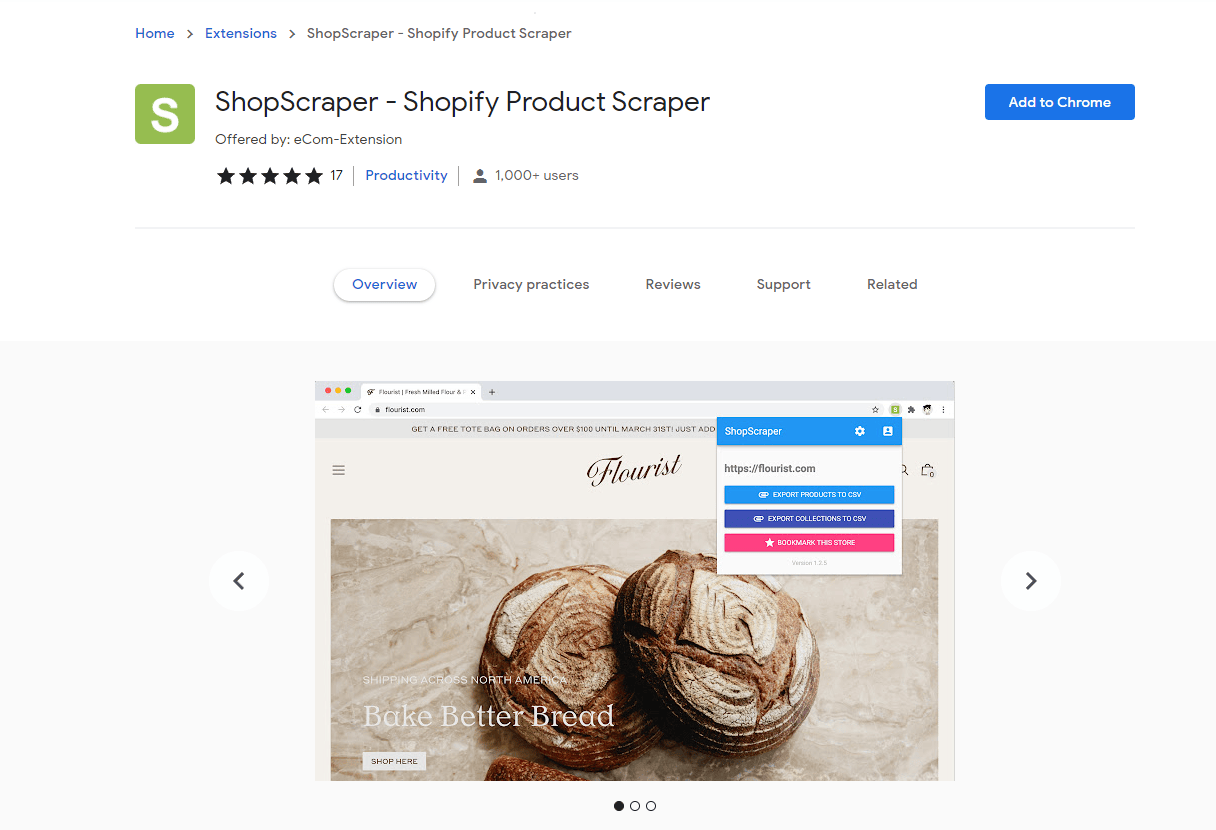 Just because you've found your winning product doesn't mean that your job is done. If you want to keep your business afloat, then you have to keep an eye on your competition. But constantly opening their site can get a bit annoying.
So the easier alternative is to simply install the ShopMonitor plugin. It spy's on your competitors to see which products they've added or are selling and allows you to import all the info in CSV format.
It's a pretty neat extension, especially if you're serious about staying one step ahead of other dropshippers.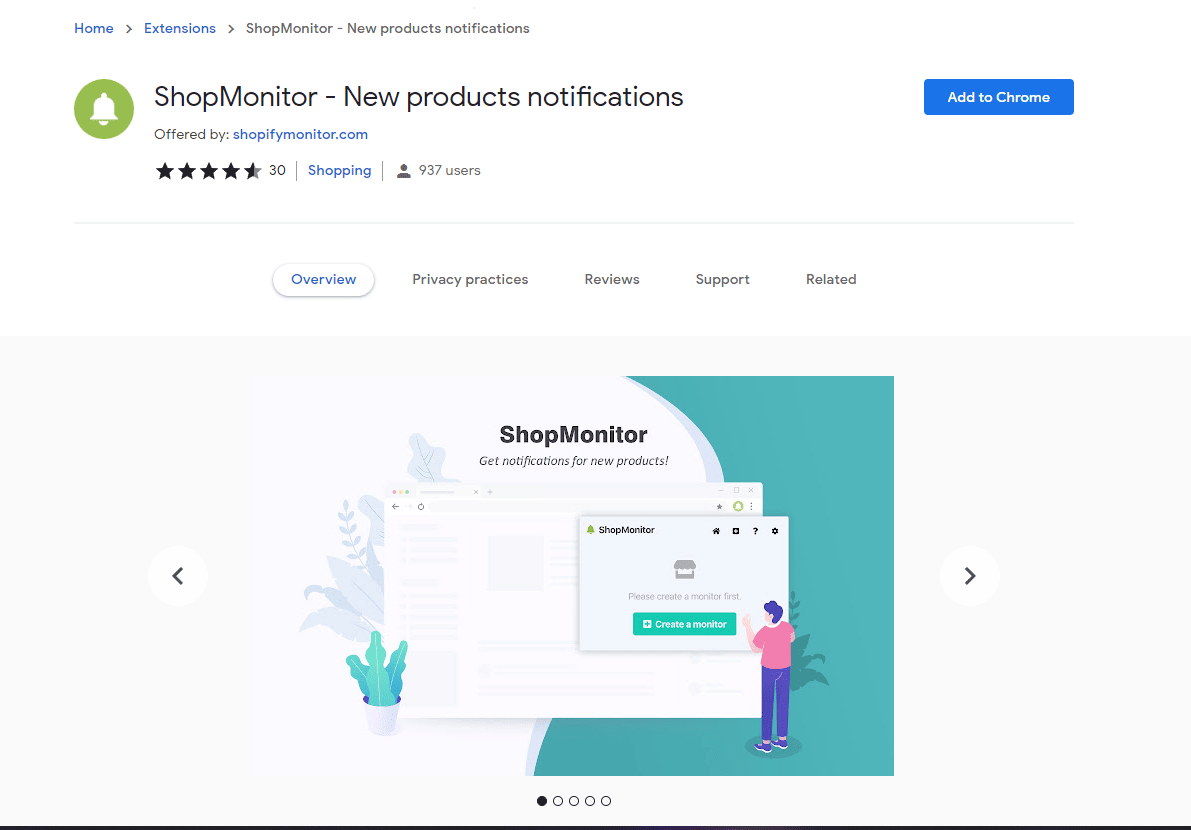 Best Chrome Extensions for Dropshipping Store Management
Sometimes even the everyday management tasks can feel a bit hectic. Whether it's finding errors in your product descriptions, or simply importing multiple products, here are some extensions that can help you:
AutoDS is probably one of the best extensions to help you manage your dropshipping store. Especially if you're doing AliExpress dropshipping.
Let's say you're planning to dropship shirts and you want to import multiple designs from AliExpress, wouldn't it be time-consuming to do it one by one.
This extension can help you avoid the pain by importing multiple products at a time and with only a few clicks.
After installing the plugin, you'll see the AutoDS button at the bottom right of your screen. Click on it and then press "Extract" to import the product. Repeat the same for as many products as you want.
AutoDS also has multiple other functionalities such as adding a product based on its variant ID and much more. So we suggest that you play around with it to see what works best for you.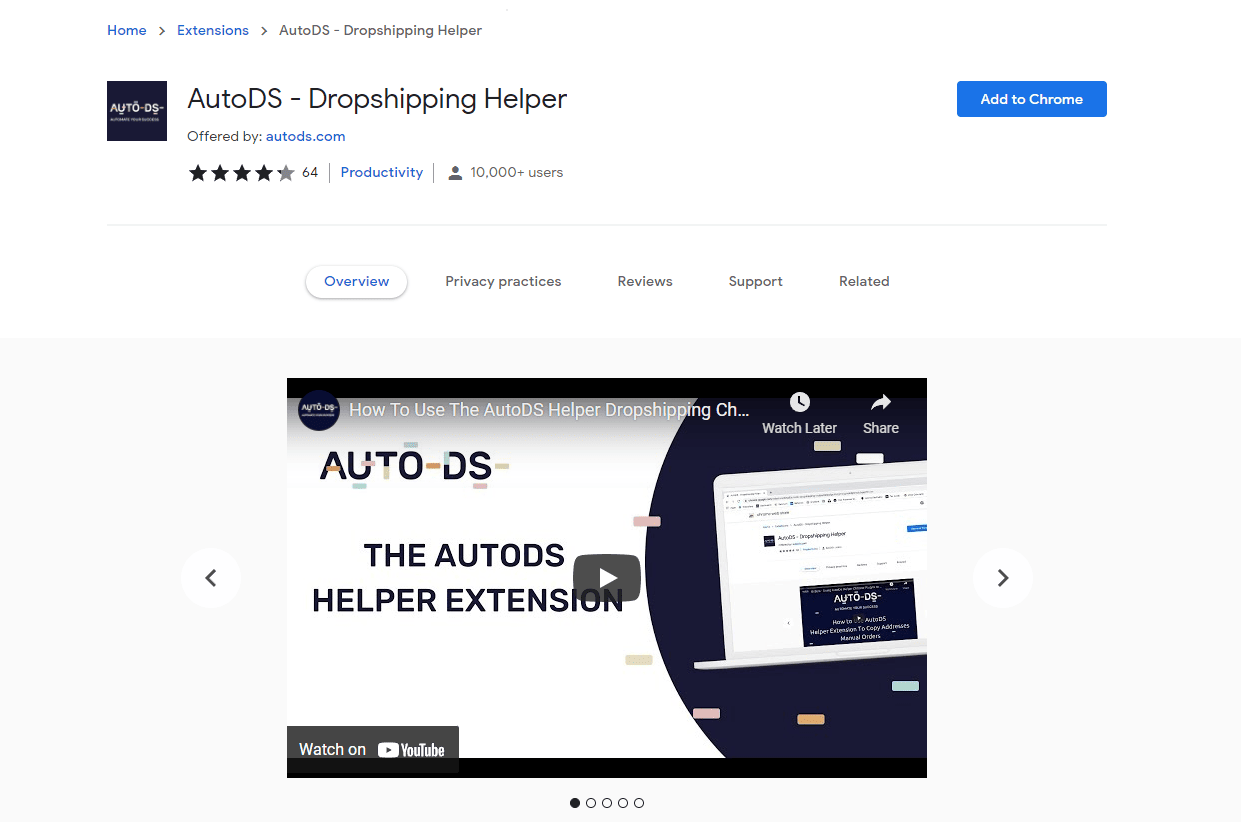 We've talked about Sell the Trend earlier in our product hunting guide. Aside from being a reliable product hunting site, did you know that it also has a Chrome extension that imports products from AliExpress to Sell the Trend's dashboard?
It can be quite useful for people who use the site already for product research purposes. You can get everything you want in one place.
Plus, the extension keeps getting better with each update and supports both Shopify and WooCommerce, so make sure to try it out!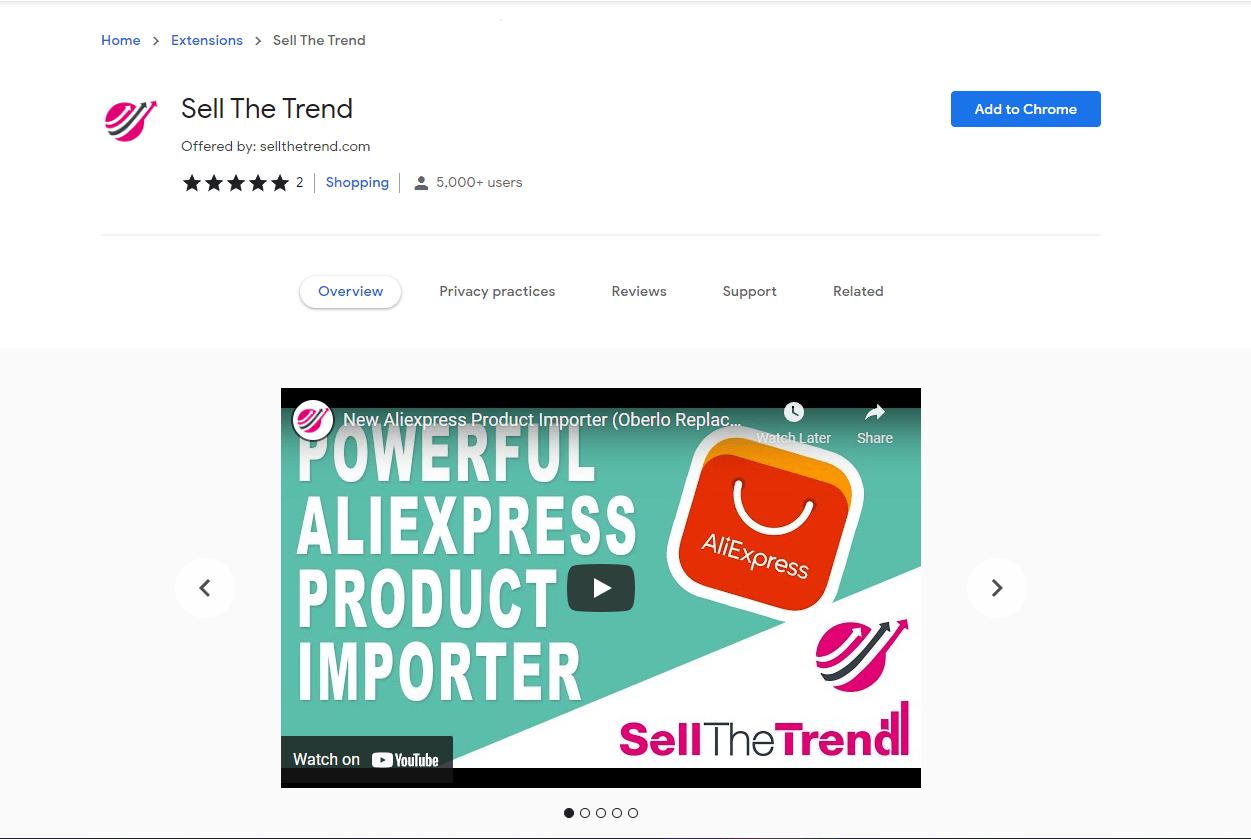 You have probably heard about Grammarly before. However, you might be wondering why it has been added to this list.
Well, Grammarly has a pretty useful Chrome extension that we recommend you install.
If you don't have a good command of English then it can help you by highlighting common mistakes in your product descriptions.
You'd be surprised to see how big of a turn-off poorly-written product descriptions can be for some customers. This extension can potentially help you avoid that.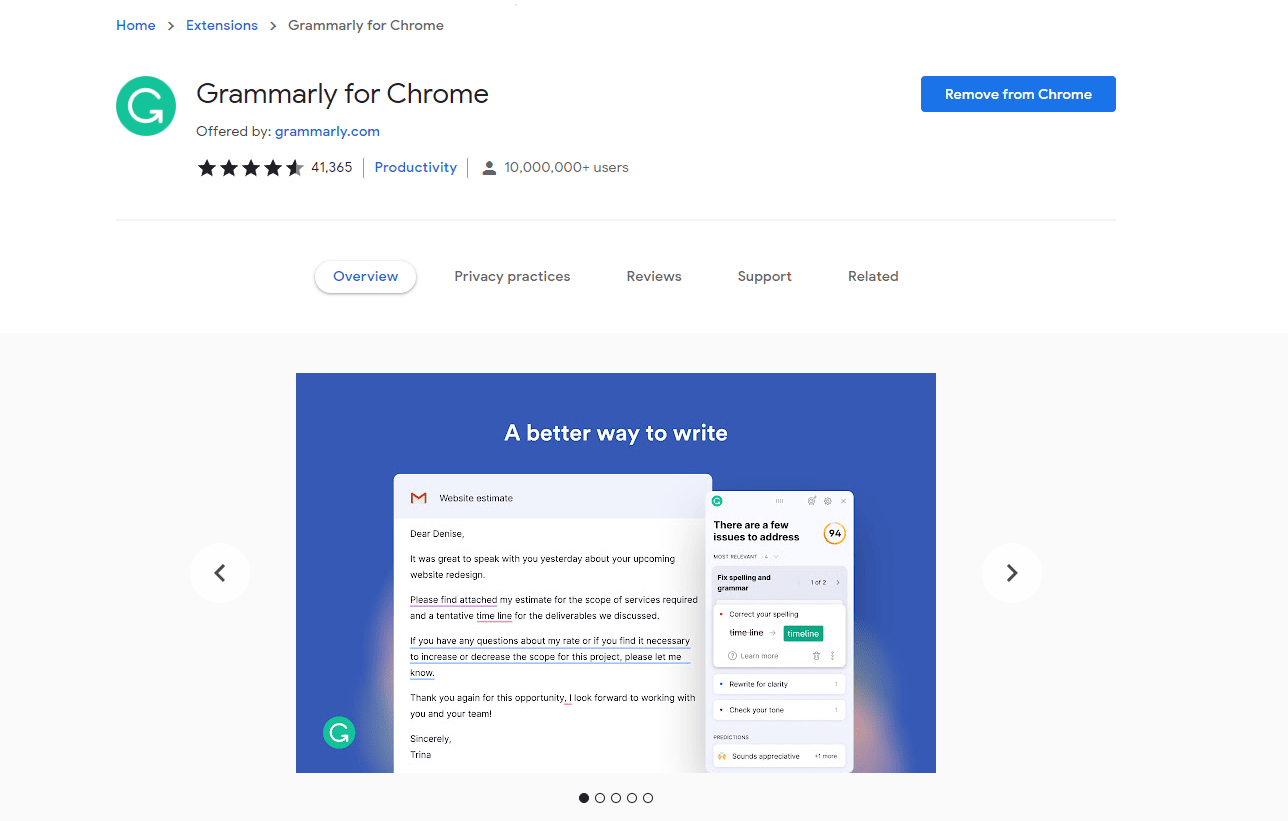 Chrome Extensions for Dropshipping Competitor and Product Research
Competitor and product research is a core aspect of operating a successful dropshipping store. Try using the following extensions to make it a bit easier:
DSM Tool is one of the few tools that can work with eBay. So if you're planning on doing dropshipping on eBay, then this one's a must-have.
Aside from helping you import products from AliExpress, it can also assist you with product research. All you have to do is click on the extension and type the keyword that you have in mind.
It will show you results from a ton of different sites to help you expand your search.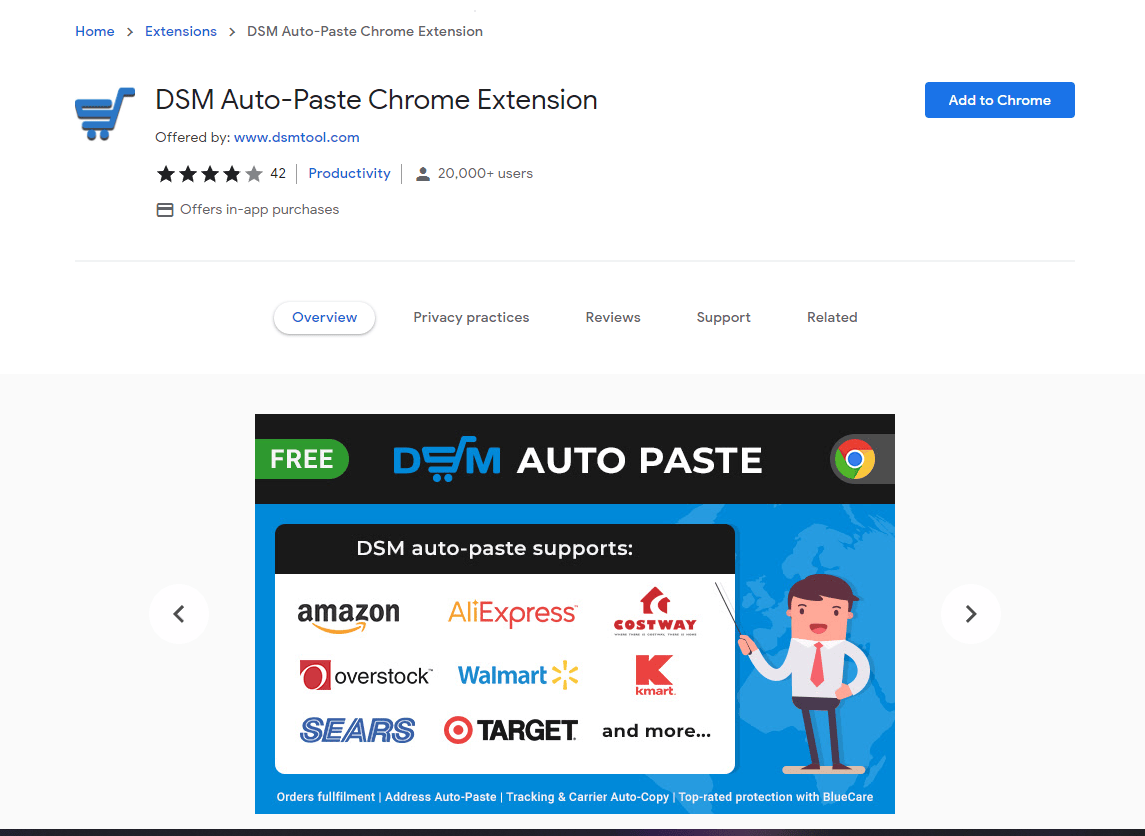 This extension shows you an estimate of the traffic that your competitors are getting. But its drawback is that it doesn't work for every site.
In other words, it wouldn't show you any info about the new or smaller dropshipping stores.
However, it's highly likely to give you an estimate of the biggest websites which is still pretty great.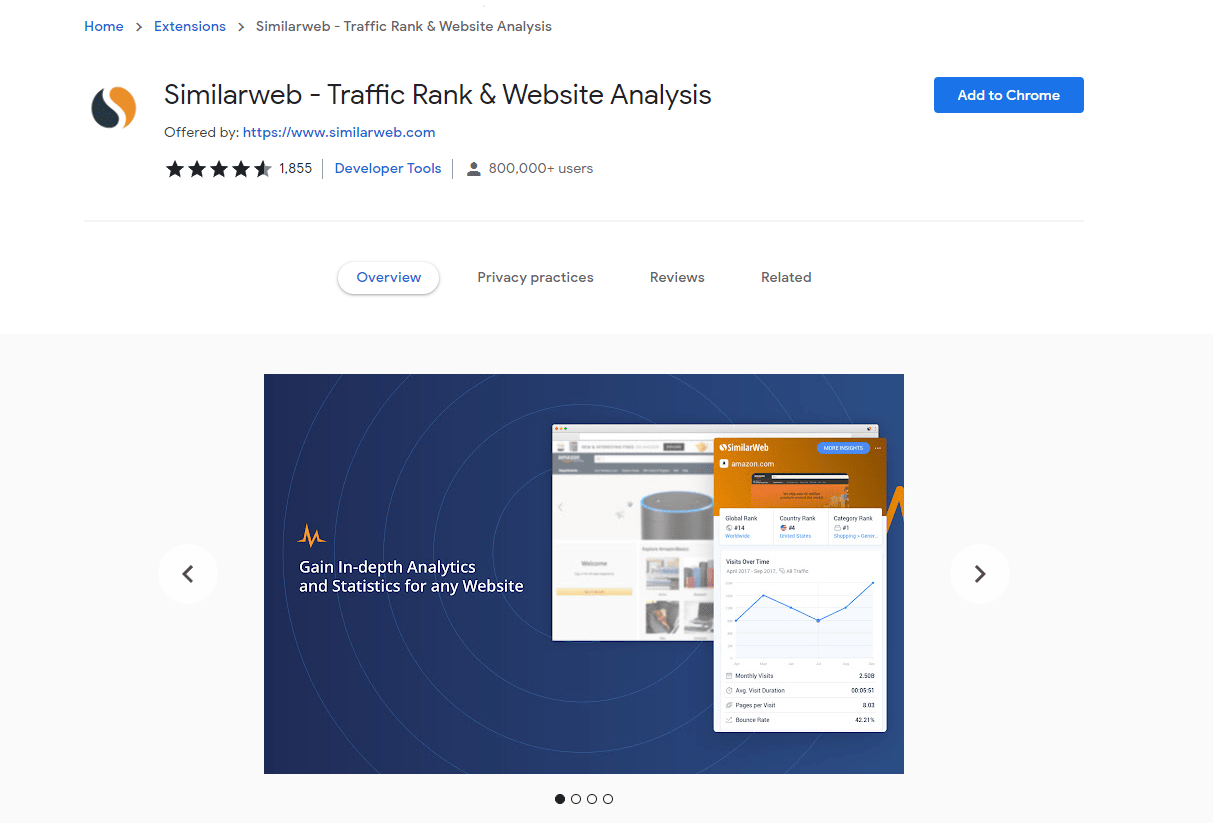 This is one of the most useful Chrome extensions on this list. It shows the best-selling products, monthly visitors on an online store along with products that are currently trending among dropshippers through their newly added "Trends" feature.
The Chrome extension is free which is already pretty amazing. But they do have a paid version as well that offers more features. Though we'll let you be the judge to determine whether it's worth the investment.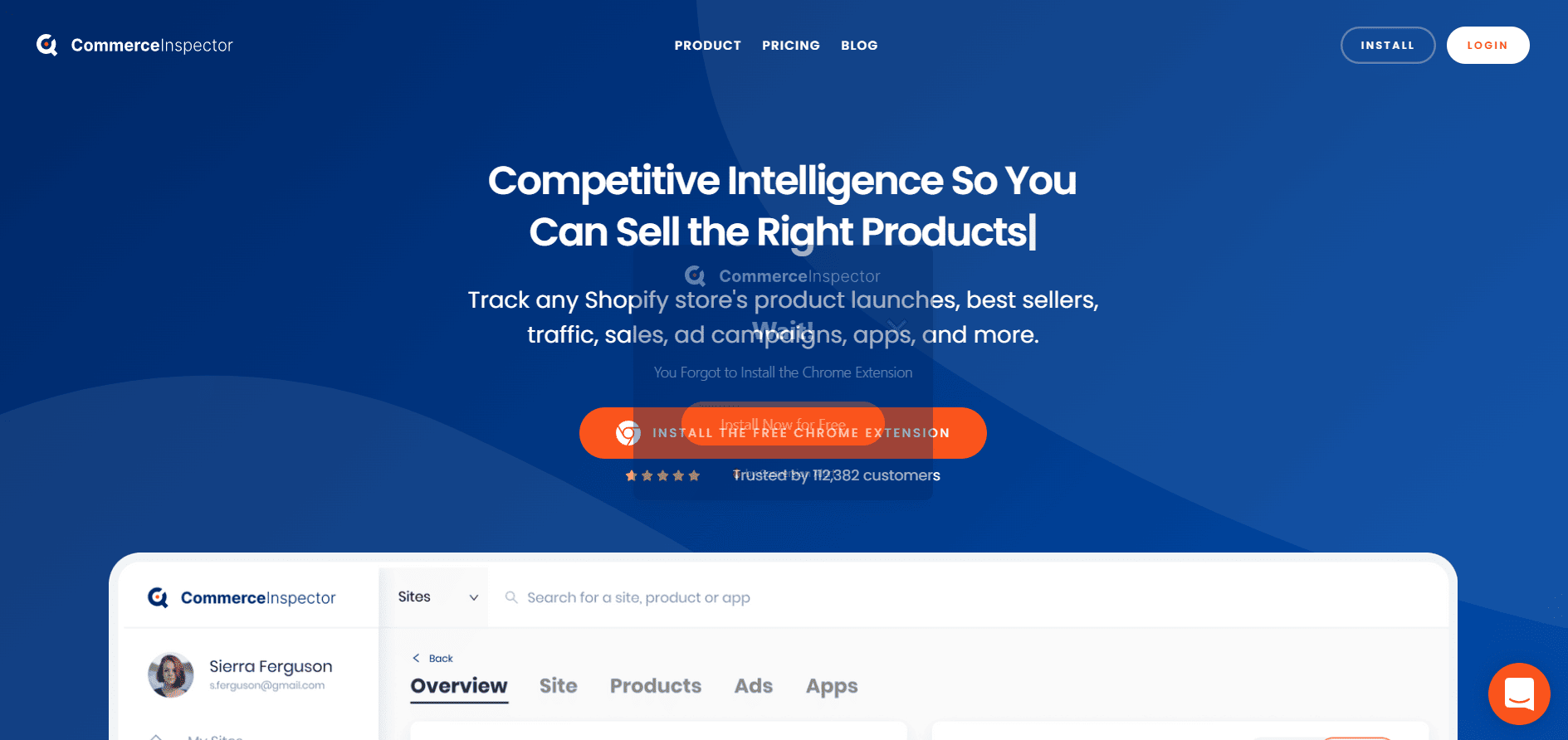 FAQs about Dropshipping Extensions
How to Install Dropshipping Extensions to Chrome?
It's quite straightforward to install an extension in Chrome. Open the URL of the dropshipping extension that you want to install, and click on the "add to chrome" button that's right in front of you.
This will automatically download and integrate it with your Chrome browser.
After that, you can access your newly downloaded extension by going to the setting of your browser and clicking the "Extensions" tab.
Why Should You Install Dropshipping Chrome Extensions?
Chrome extensions are designed to improve the user experience. The same is the case for dropshipping extensions. Depending on their functionality, they can help you automate a variety of different tasks.
Is It Necessary to Install Chrome Dropshipping Extensions?
Most of the things that you do through Chrome dropshipping extensions can also be done manually. So although it's not necessary to install a dropshipping extension, it's highly recommended.
From keyword research to product hunting and even inventory management – Chrome extensions can help you with almost every aspect of your business.
Final Thoughts
Chrome extensions are designed to improve the user experience, reduce manual labor and solve a specific problem.
That's why with the right dropshipping Chrome extensions, you can significantly improve your overall productivity.
Some of the extensions we've listed above can also help you with the hardest part of dropshipping: Product Hunting.
But of course, to source your desired products, you still need a reliable supplier by your side and this is where NicheDropshipping comes in.
We can connect you with reputable suppliers, and help you source quality products at reasonable prices.
In addition, our pro service also includes automated dropshipping to help you further streamline your business.
So get in touch with us today to learn more about how we can assist you!