Shopify is one of the most popular ecommerce platforms for all types of businesses. In the first quarter of 2021, Shopify's revenue was about $990 million.
You've probably heard about GymShark, Fashion Nova, and even Kylie Cosmetics. All these businesses have one thing in common, their successful dropshipping stores were built on Shopify.
That alone should convince any aspiring entrepreneur to create a website with the platform—including you.
If you're still undecided about whether or not you should build a dropshipping store on Shopify, our comprehensive list of general Shopify stores should be enough to convince you to finally go for it.
This article contains vital store examples to inspire you, along with answers to questions you might have.
Let's get right to it.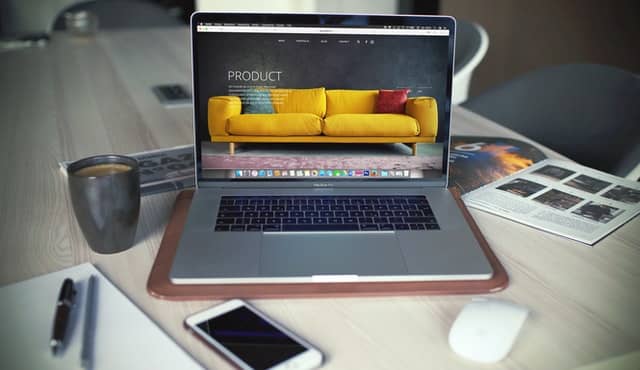 17 Best Shopify General Store Examples
Starting a Shopify dropshipping store is no easy task. More often than not, dropshippers just don't know where to start when it comes to building an ecommerce store. Luckily, there are enough social proofs to guide a struggling beginner.
Below are examples of general Shopify stores. You'll get to read about their winning products, marketing strategies, or just about anything that made them successful in their field.
Read on to gather enough ideas to start your own.
St. Frank
Just moved in? Well, you're in luck because everything you need for your home can be found in St. Frank's ecommerce store. More so if you're looking for home decor with unique origins and ethical sourcing.
St. Frank was established to support a passion for art and design, with the desire to push forth economic opportunities for under-resourced makers in the industry.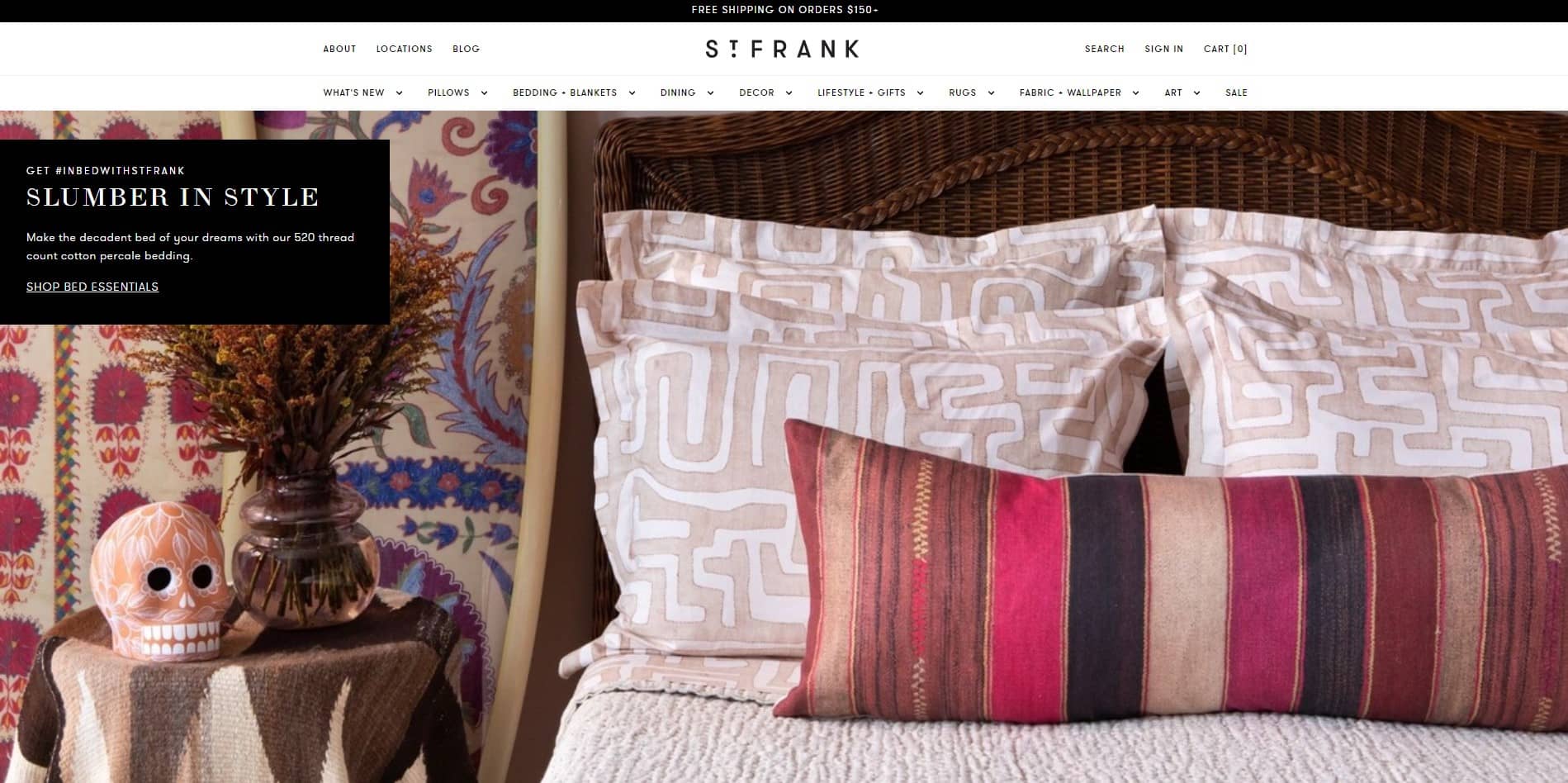 Most of the pieces found on the website vary between contemporary handmade, vintage, and printed pieces. From pillows to wallpaper, you can easily browse and buy items to decorate your brand new home—or even your current one.
You can even buy lifestyle items such as keychains, iPhone cases, and travel blankets.
If we look at the website, the design absolutely appeals to its target market with a chic Shopify theme.
With this website, you can see that you don't have to focus on a lot of items and a very vibrant design. Simplicity can do the trick.
Phonebibi
The next in line is Phonebibi. This store seems a bit different from the first one, but it follows the same rule—simplicity.
The overall Shopify theme features a straightforward design. You can immediately see the products they sell, making it much easier for customers to find what they need.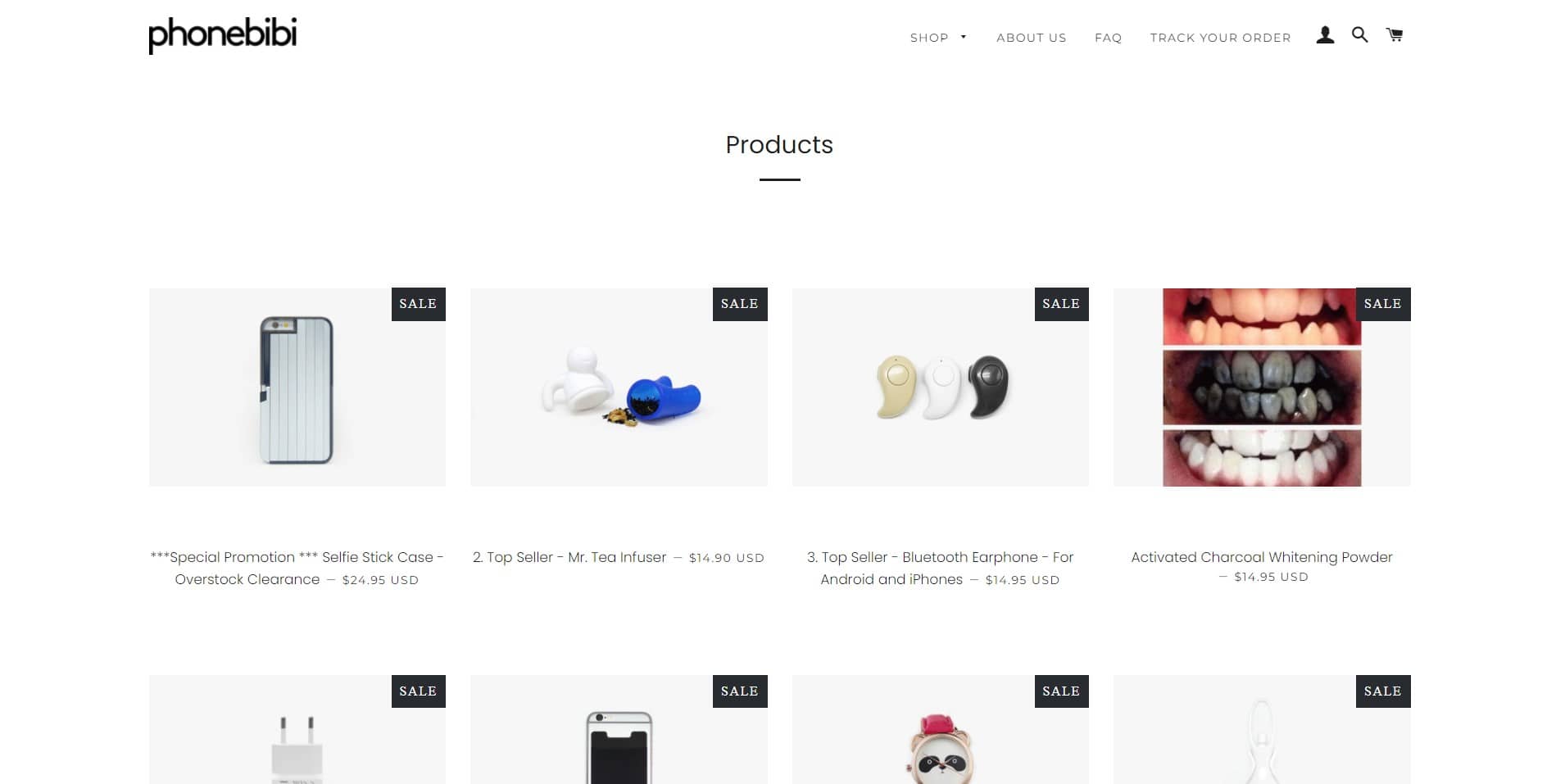 What's even more interesting with this example is that products on sale are featured on the first page. Surely, this entices customers to make a purchase given the number of discounted products.
Phonebibi started because its creators were obsessed with iPhone accessories. Since most of these items can be pricey with only a few options in physical stores, they decided to source and sell products to customers facing the same problem.
However, as the store grew bigger, it started selling a variety of products like jewelry, skincare products, and clothing.
From this website, a key takeaway would be to put a sufficient amount of focus on the products for maximum exposure.
Pawhuggies
Perhaps you're considering selling pet supplies. Well, this store might just be a great example for you.
Pawhuggies started after months of looking for the best products to give to pets because sometimes, the store just doesn't have enough.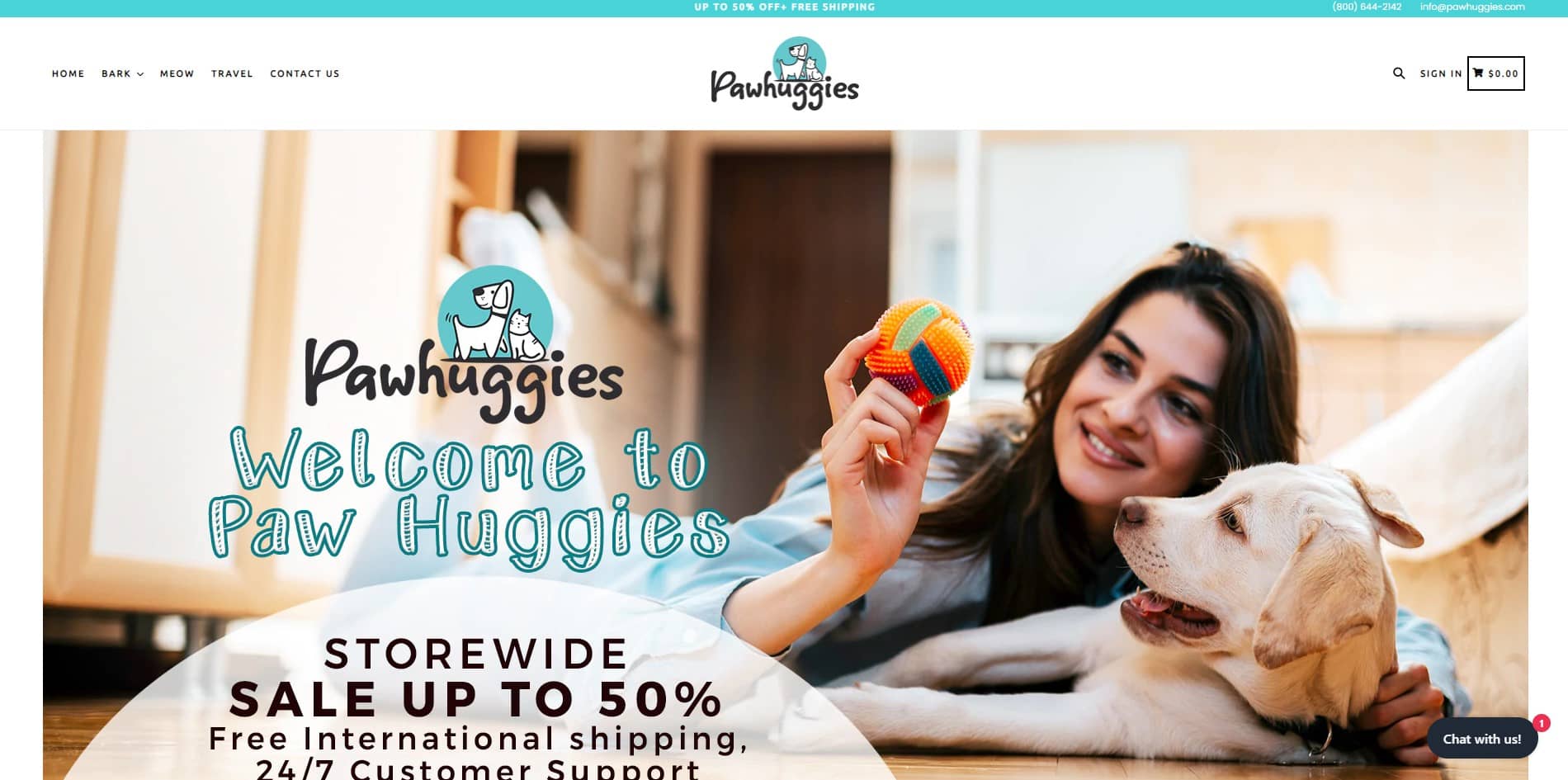 Now that this store is around, owners will have more options.
This pet store is similar to Phonebibi which highlights the products they sell. Discounted products are also shown on the first page, making it a product page as well.
Though the store currently doesn't carry a lot of products, you can easily see what they hoped to sell. Soon enough, this store will be one of the top pet stores online.
Happiest Baby
With estimated traffic of more than 900,000 each month, Happiest Baby should be a top option for parents all across the globe.
A key factor in the website's success is its blog, with a great list of articles to help parents from all backgrounds.
But that's not the only appealing thing about the website. For some of their products, parents have the option to rent, not just purchase. So if you feel renting a great product would be more cost-effective, this website is perfect for you.
The website carries different items for babies which include SNOO smart sleepers, swaddles, and clothing.
You should take note that they include product reviews to help customers decide whether the product is worth buying. When you're lucky enough, you might even catch popular items on sale.
So, when building your store, you might want to include ratings and product reviews to guide customers into buying reliable products.
Best Choice Products
Best Choice Products' goal is to create the internet's most popular products. The company develops products with unique features customers consider valuable.
Each product is company-made and designed to be affordable yet worth every penny spent. 20 million customers have already trusted the brand and there are a couple of reasons why.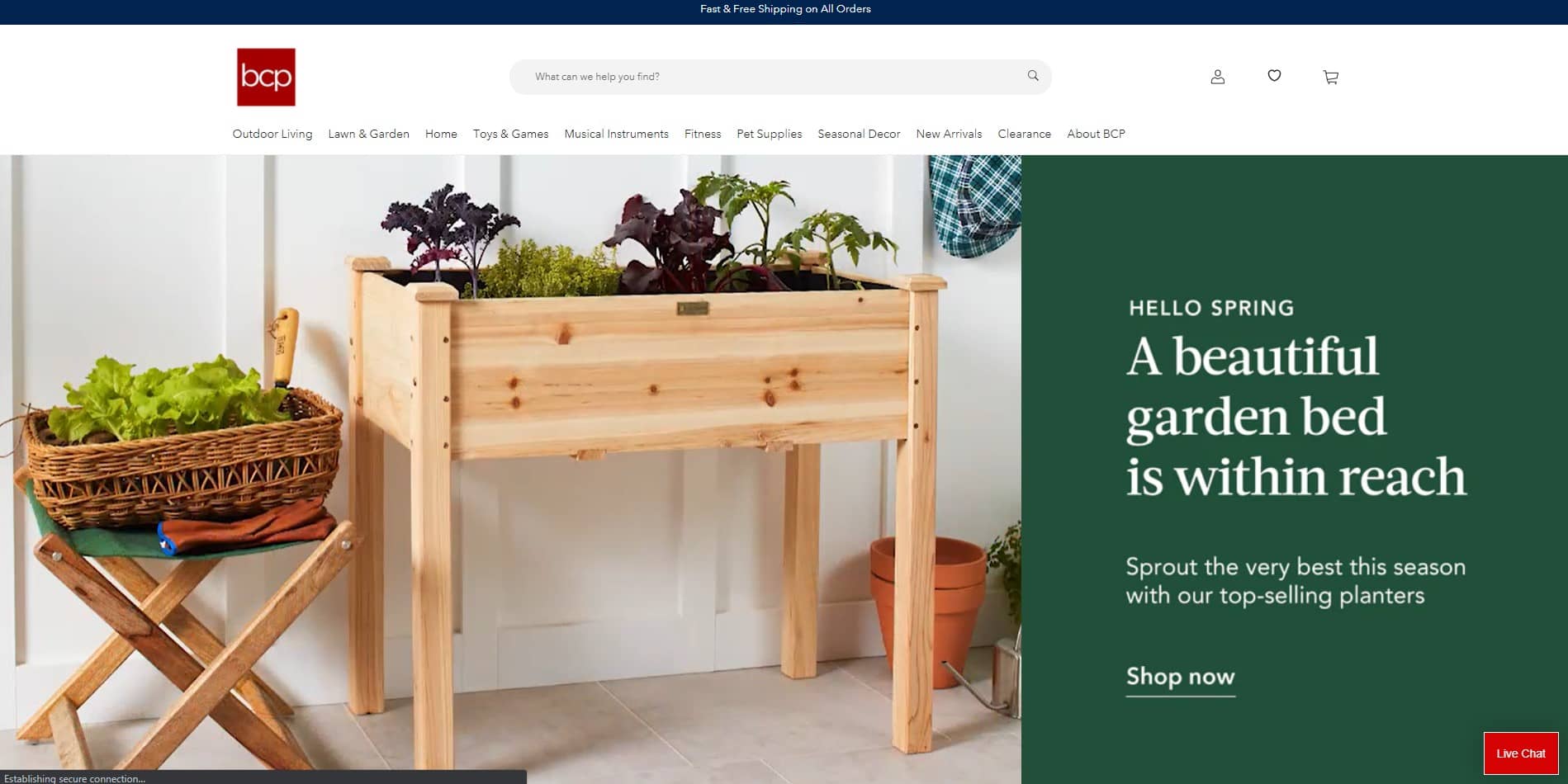 First of all, the website is as sleek as it can get. It's exactly what you expect from a company that aims to make the best products in the market. The colors are easy on the eyes and the pictures make you want to buy everything in them.
On top of that, they offer fast and free shipping. Order anything and you'll expect it to arrive on your doorstep before you can even think about it.
Definitely learn from how the company aligned its website to the prestige it wants customers to feel.
Hauser
Established in 1949, Hauser is a proudly Canadian company committed to creating functional furniture, accessories, and decor. The items are hand-crafted and designed to last a lifetime.
As the founder is a fifth-generation blacksmith, customers can expect nothing but the best.
The homepage of the website immediately gives off a luxurious vibe. With muted colors, nothing's too flashy which makes the page easy to take in.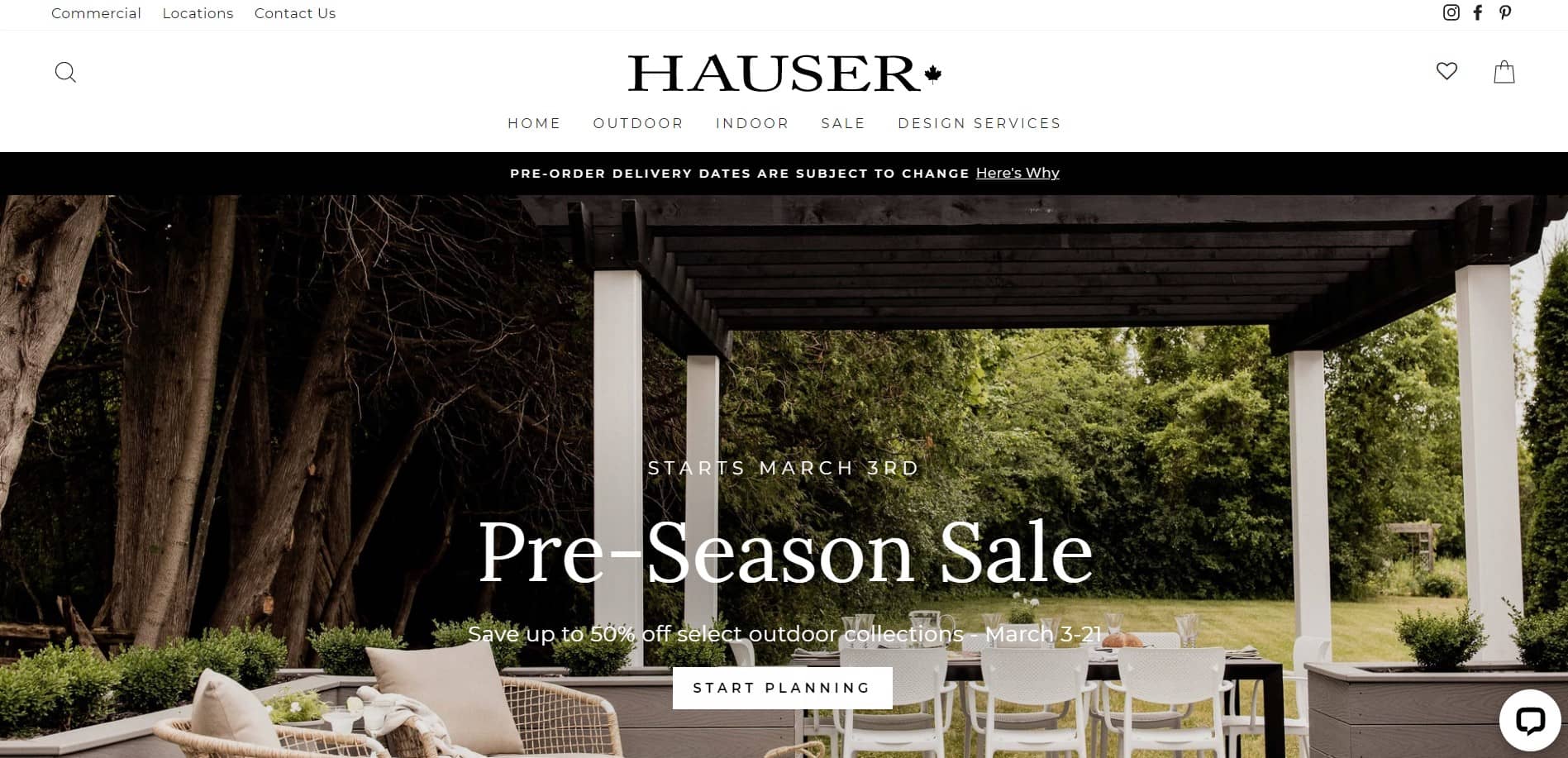 The first few things your eyes catch are the promos and the current offerings—more often than not, seasonal sales. Moreover, items have their product descriptions, specifications, and suggestions.
No matter where you navigate, there's always an option for a live chat. Customers who need assistance won't have to go through the trouble of looking for their contact page.
This website sets a good example of how user-friendly a website should be. The design doesn't sacrifice aesthetics for its function.
Pura Vida Bracelets
At some point, all of us wanted to live a laidback life. Just hanging out by the beach, and taking in the beauty nature has to offer.
But since that reality isn't always feasible for the majority of people, two entrepreneurs decided to bring it to them instead.
They made it happen through a website called Pura Vida Bracelets.
It doesn't matter when you can't go to the beach to catch some waves, you can just simply wear a piece of jewelry to remind you of it.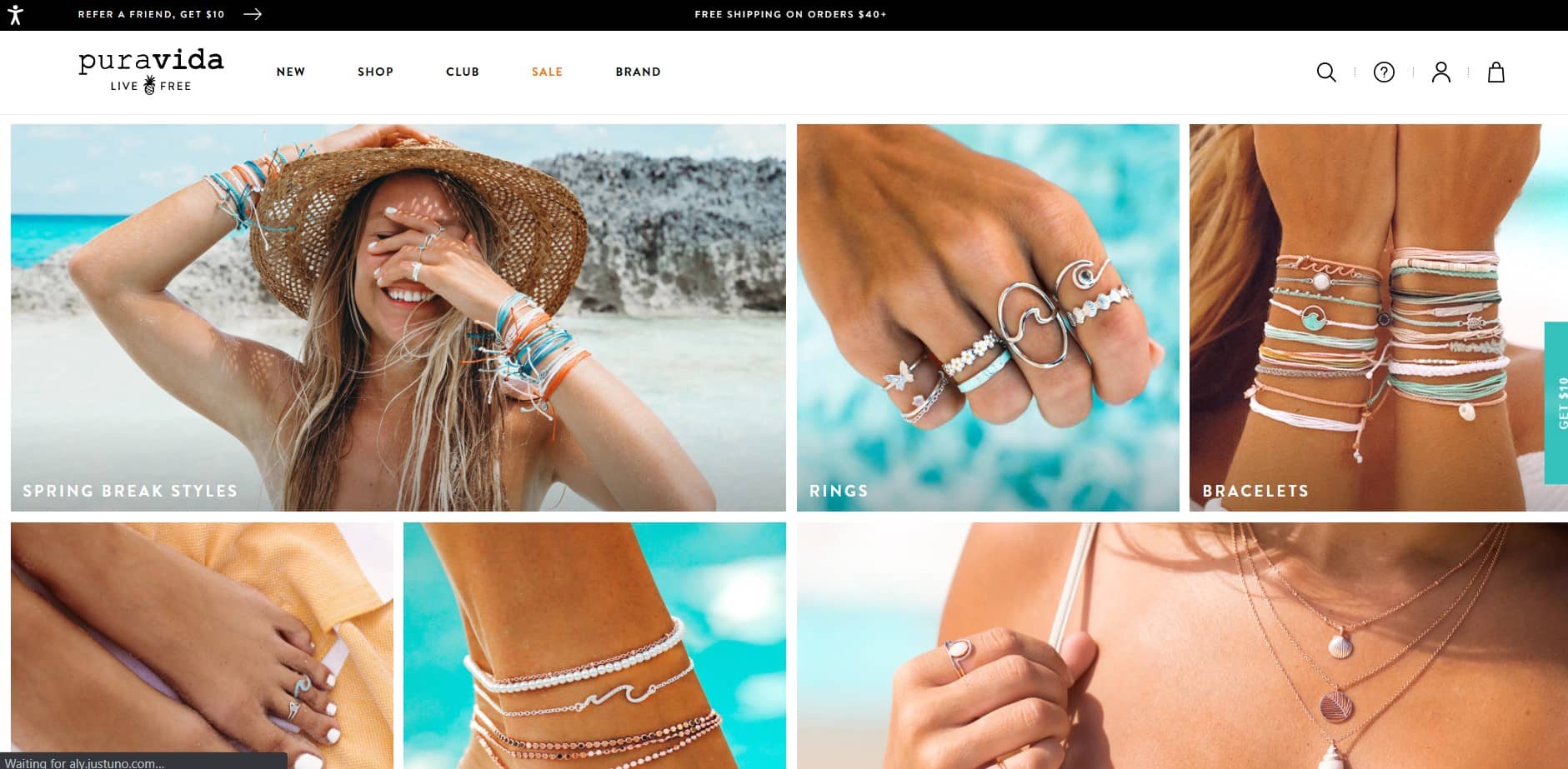 You can even wear clothes that are fitting for a day laying on the sand, even though you're just lounging at home.
All of these items can be found on the website, with a shopping experience quite similar to staying in a sleepy town near the shore.
Every time you browse, you get reminded of a laidback life. Product images feature models under the heat of the sand, probably listening to the sound of the waves and getting cooled down by the sea breeze.
If this kind of website is what you want to build, better take down notes.
Staples
Since the pandemic started, many people have realized the convenience of working from home. However, this does require them to have the essentials to be as comfortable as they were in the office.
For the past few months, Staples was recognized as the top supplier of office supplies.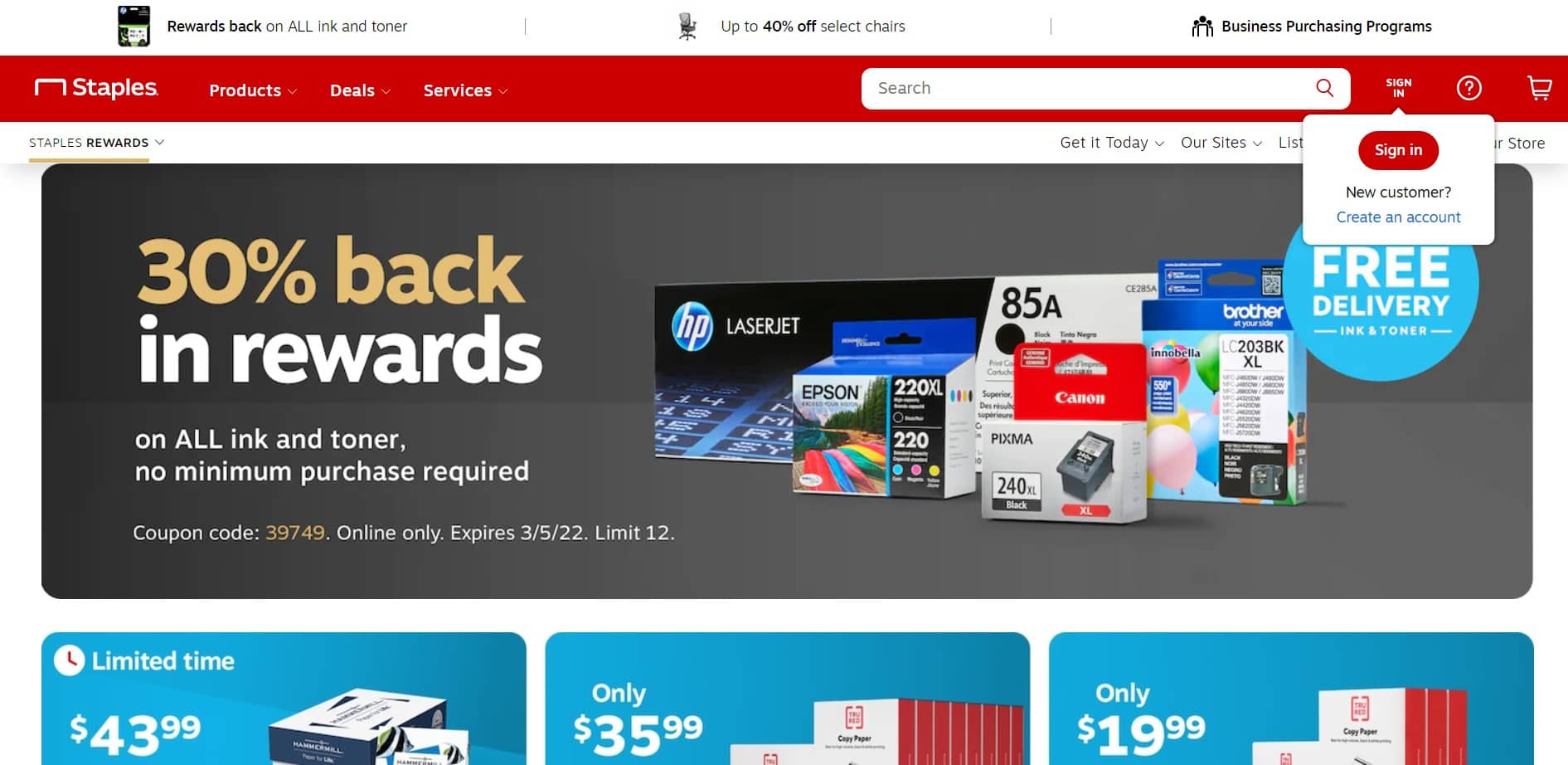 Their company's mission to keep the line between work and life clear is what makes them so popular. You might think this isn't possible with the items they offer, but wait until you browse their website.
From facilities maintenance to electronic items, employers and employees can all find them here. You won't even have to go to a physical store to get the exact item you want.
This website shows that partnering with both known and up-and-coming brands will place you on the top. But adding in discounts and rewards is what will keep customers coming.
Maiden Home
Maiden Home's website is as fabulous as its products.
The product descriptions, images, and even the color theme make any visitor want to buy even the most expensive product right then and there.
Products added were carefully thought through, and you can see why it's a great general store example.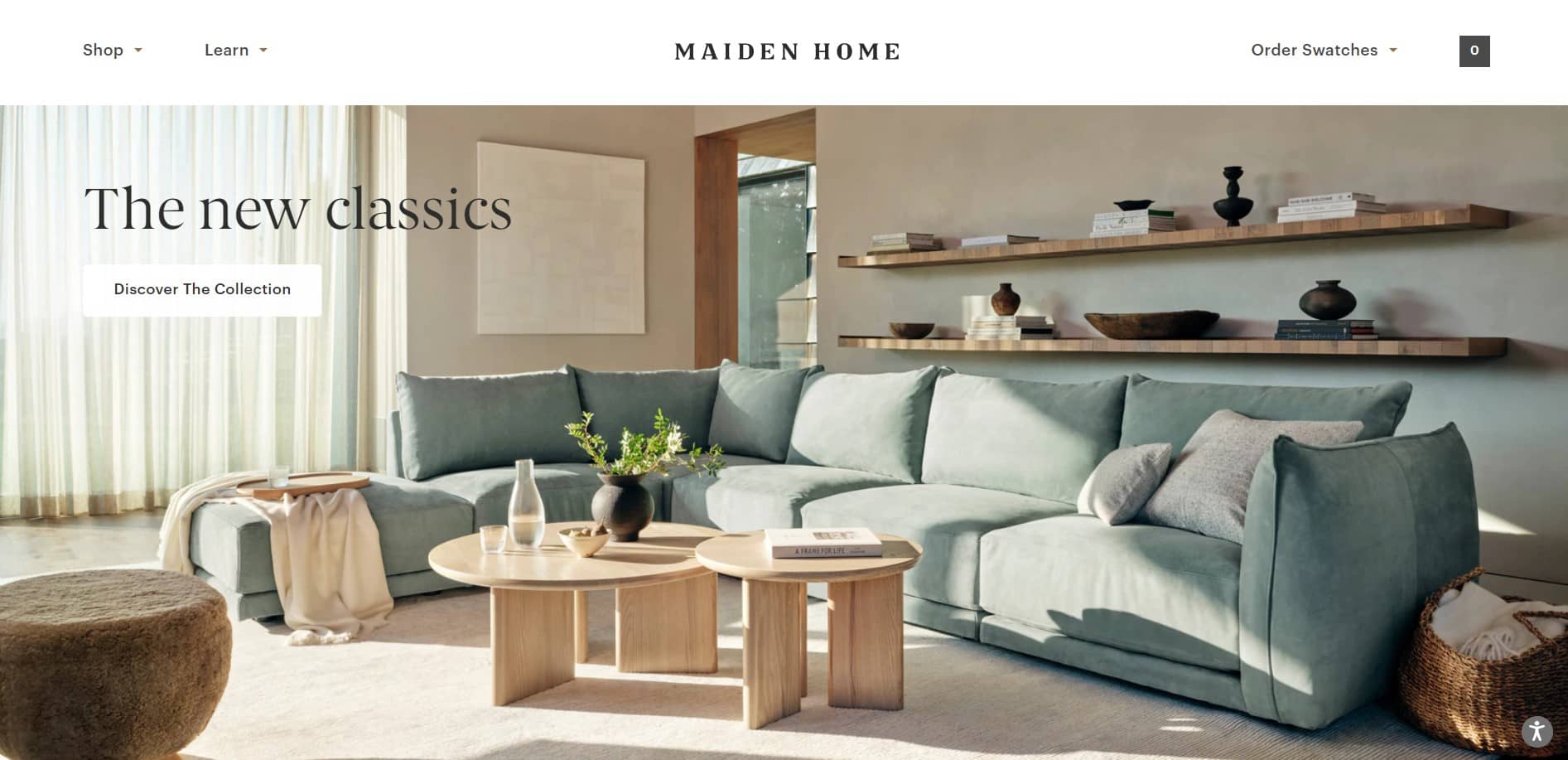 Collectively, you see a consistent theme—luxurious comfort. Customers will buy their products because they've successfully conveyed the message that luxury can also be comfortable.
Browsing the website is also a breeze, wherein you can easily find a product you will like. Once you clicked on a product, you immediately see the dimensions, additional photos, and the price.
Product reviews are also available to aid your decision, whether to purchase or not. Useful bits of information like lead time and shipping promos are also placed carefully in the product description.
As a dropshipper, you should benchmark how the company places all the key information and details in one place.
Best Shopping US
Transitioning from furniture, we move to a general store that features items you might need in your house. Things like drain filters, fairy lights, and hair dryers.
Best Shopping US is a general dropshipping store that aims to sell unique products its founders have discovered.
The company was started because the founders wanted to share products they found while traveling. They want their customers to feel like they've also traveled to different places themselves—through the items.
Don't worry, the products are affordable because the company's generous with its discounts.
One thing to note about this website is the simple design. The best items can be found on the home page, just above the shipping information.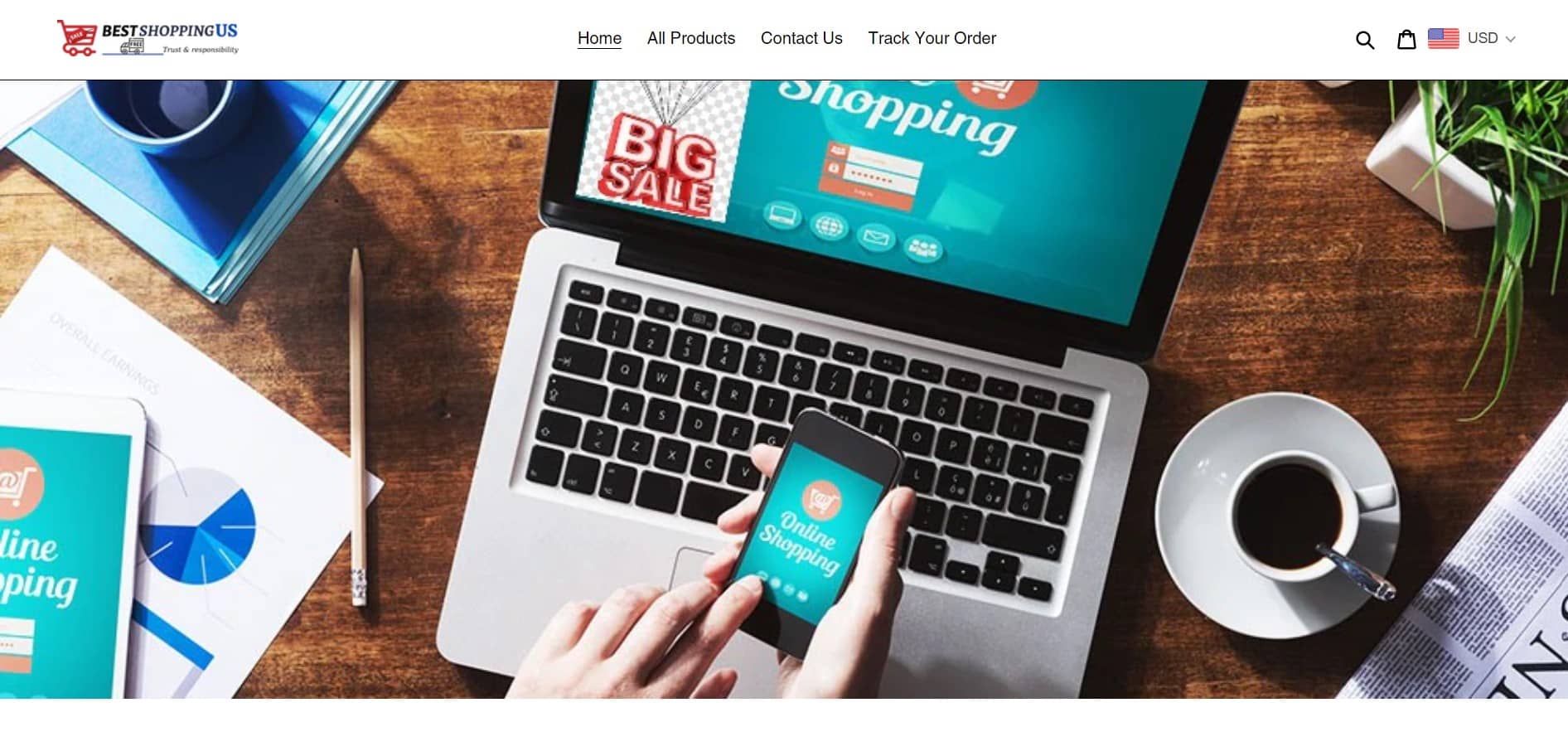 They've also added information on how they've been handling the pandemic.
These important details often help customers just quickly browse through and order the items they need. So if that's what you expect from your target market, better check out this website.
Inspire Uplift
Inspire Uplift exists because its founders wanted to exhaust their passion for spreading happiness, joy, and inspiration all over the world.
They've since gained 6 million fans that have pushed them to share and sell the best items in their store. These products are all fun and inspiring, but still very much practical.
The website is probably the epitome of a general store because you can shop pet supplies, fashion and accessories, home and garden, and beauty products all in this store.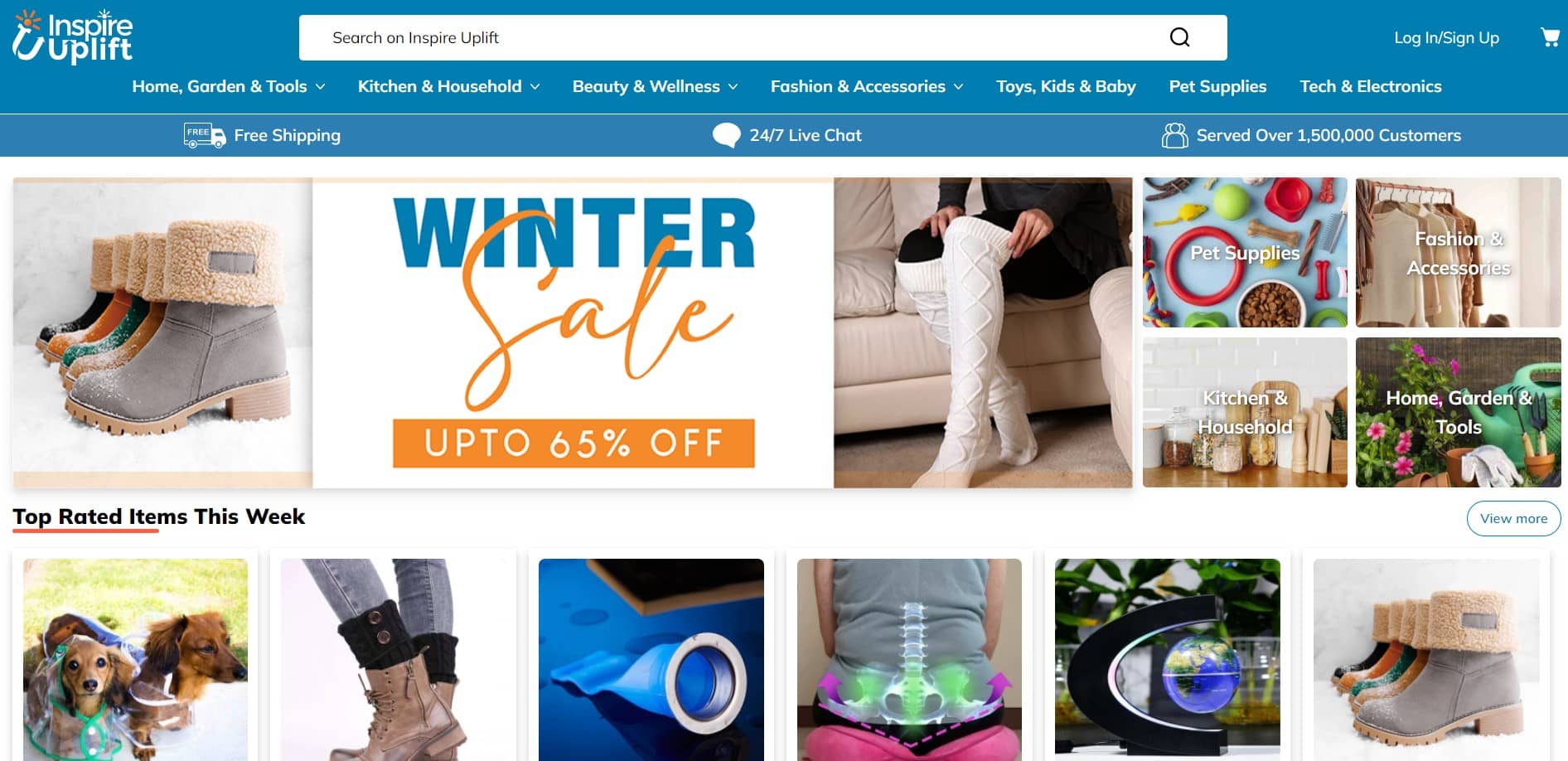 On top of that, they offer free shipping which is enough to entice customers to browse and find what they like.
The homepage features the current sale and top-rated items of the week. Each product will display product reviews, if any were made, along with great product descriptions and images.
If customers just randomly landed on the store, they can still go down the rabbit hole by browsing through hand-picked collections.
This general dropshipping store should now have established that you can also put everything you want your customers to see on the first page.
Just balance it out to avoid making the page look crowded and cramped.
Au Lit Fine Linens
Okay, so maybe this store is not as general as we think it is. But let's focus on the company's website and strategies.
Au Lit Fine Linens was established in 1981, disrupting the bedding industry during that period. They source their materials from Europe, feature the best, all-natural fabrics they could find. All these items are further processed in Canada, with zero middlemen.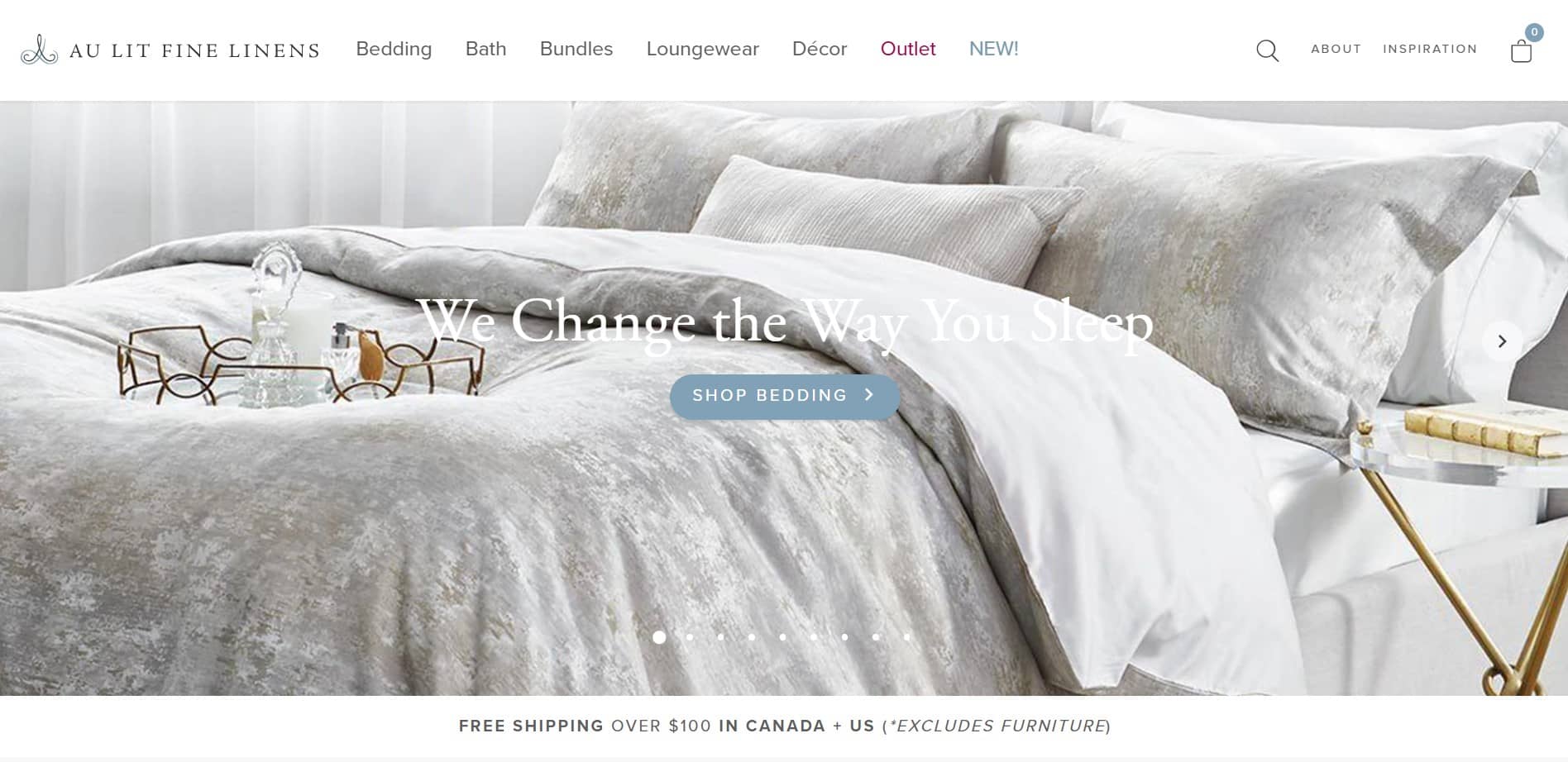 Since then, the company has transitioned from just selling beddings to exploring loungewear, bath, and decor to go with it.
If you're planning to build a store that revolves around these kinds of items, better jot down notes.
The overall theme is simple, light, and absolutely luxurious. The color scheme aids in elevating the value and look of their products. The texts and their placements also help establish just how premium the items are.
That's not the only luxurious part. Scrolling down the homepage, you see thumbnails that suit the theme—slow animation.
All in all, you should conclude that premium items are initially established with the website and company that sell them.
Buy It Carl
At the first glance, Buy It Carl's website is what you would expect from a dropshipping website. The emphasis is placed on their products, especially the product categories and best deals.
They also manage to highlight the fact that they've recently added new items to their catalog.
Their popular categories include consumer electronics, phone accessories, and travel and outdoor.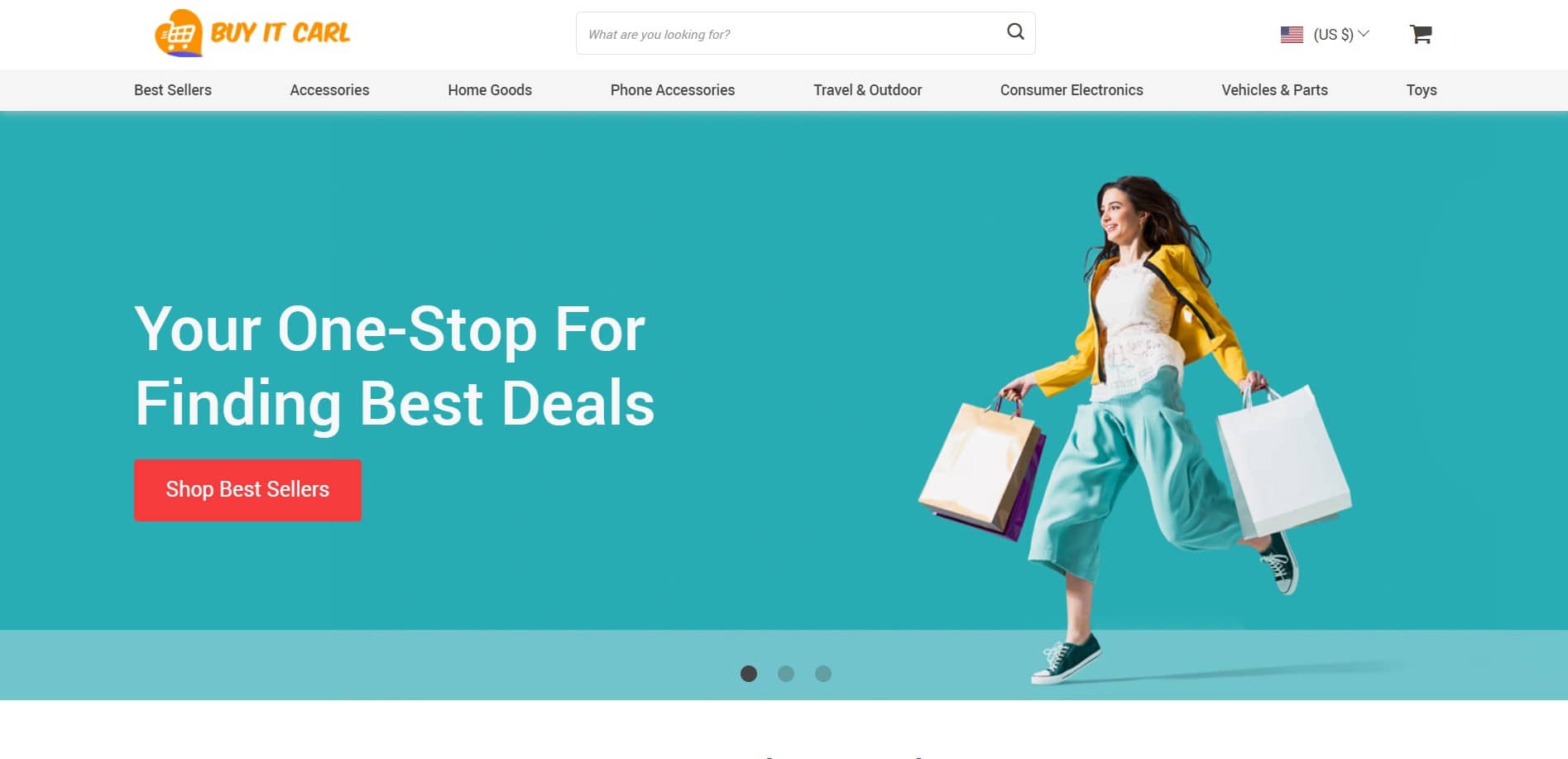 Admittedly, compared to the previous stores, this one seems unique with its simplicity and straightforwardness. Keep that in mind if you want to highlight your products more.
It also helps that they have free delivery and returns for all of their products.
Also, see how they've gathered a number of reviews for their items even though they don't sell thousands at a time? This builds up the idea that they have a steady flow of customers each month.
Mini Smart World
Mini Smart World is an ideal store for those looking for smart items and trendy products. It's also where you can find accessories and gadgets to keep up with the times.
The main products sold are electronics. Their promise to deliver high-quality items can also be felt by their giving importance to customer service.
For one, they make it a priority to offer the best deals now and then.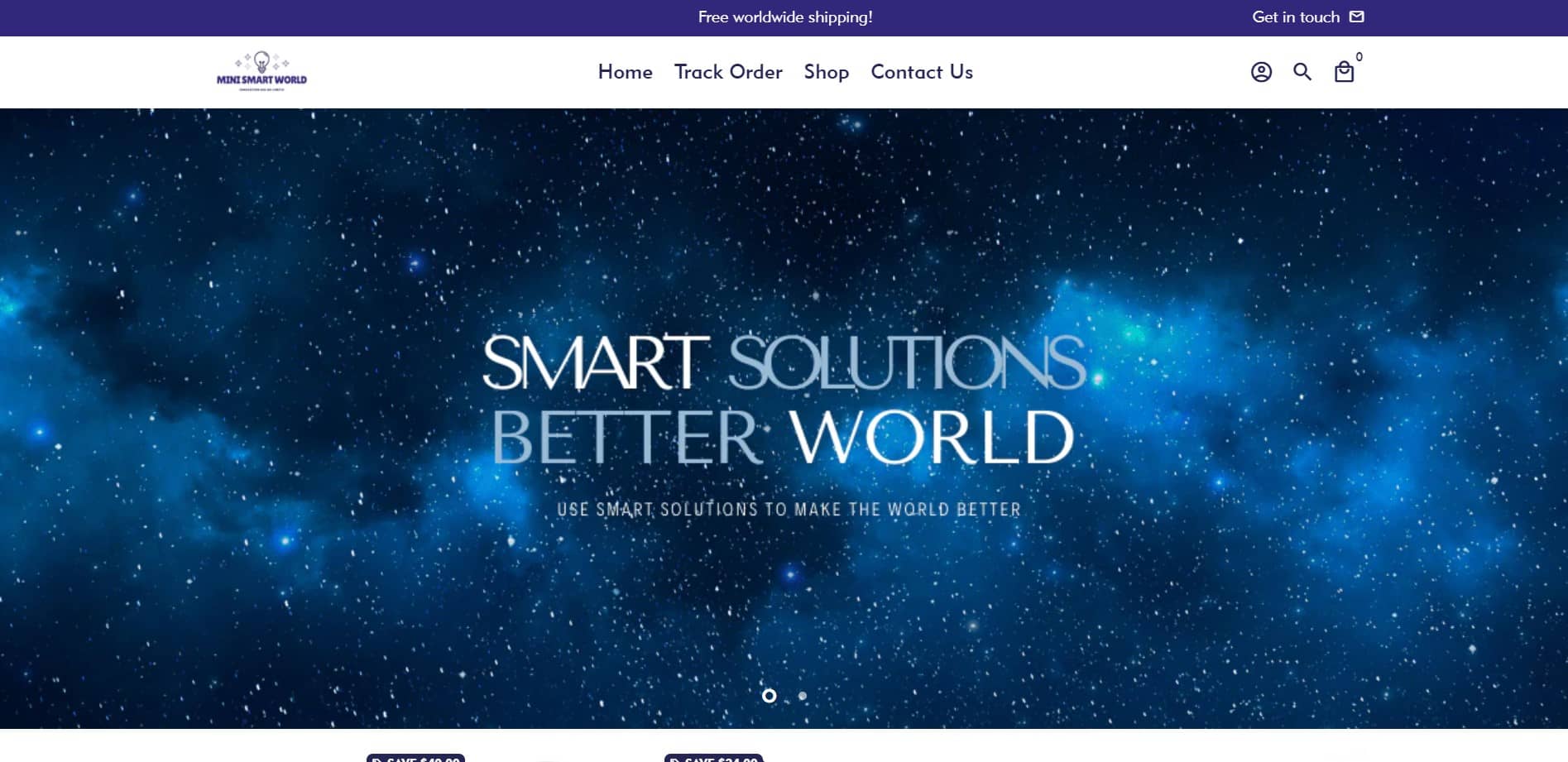 Browsing through the website, you can easily see how simple everything is.
Although, you can see a bit of quirkiness and playfulness with the font, pictures, and colors they used. Despite that, the colors and the text are still easy on the eyes.
When you click on a product, the focus is placed directly on the photos of the product and whether you'll add it to your cart or buy it immediately.
You can also see product reviews and a discounted price if it's on sale.
Overall, the website is minimalist but still perfectly emphasizes key details of its products and websites.
Trendy Goods Market
Made by enthusiastic developers and entrepreneurs, Trendy Goods Market is here to bring a myriad of items to your doorstep.
Apparel, accessories, home goods, and jewelry are just some of their top products.
The goal of the company is to sell products that are affordable, functional, and trendy in one big store. Hence, the online store. The products are sourced from China and shipped as soon as they're received.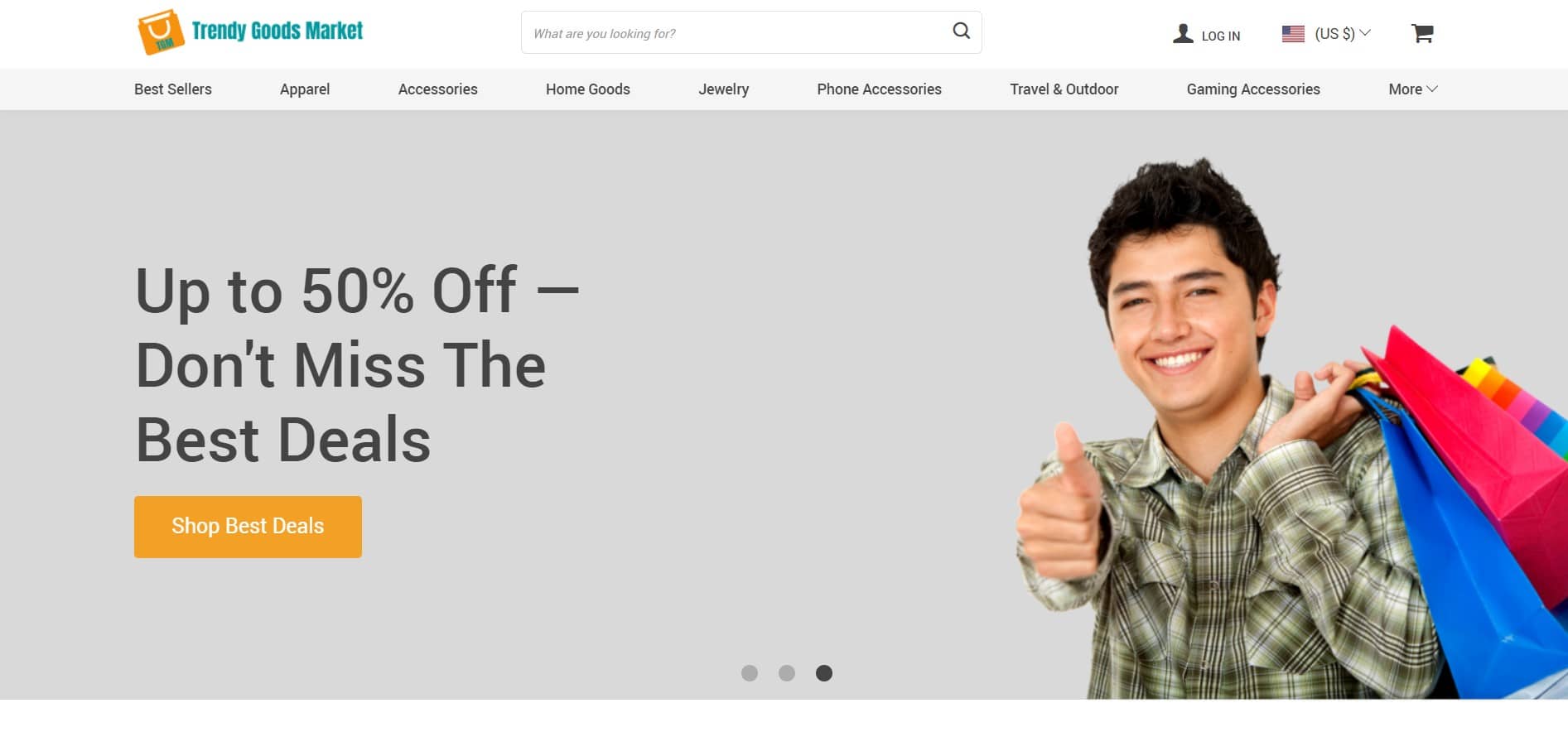 They offer free delivery and free delivery for all items, too.
The website might not seem like much, but it's already partnered with Visa, MasterCard, and Paypal. Products are shipped worldwide, with customers from over 200 countries and territories.
As a dropshipper, notice how they've placed their best deals, new arrivals, and trending items on their homepage. For new and old customers, these features direct their attention to what's new and affordable.
Canadian Icons
The name itself suggests what kind of products this company sells. And you're right, Canadian products.
Canadian Icons sells not just products, but stories and treasures from Canada.
Without a doubt, the company's mission is to share Canada with the world. You can find a collection of rare items you definitely won't find elsewhere.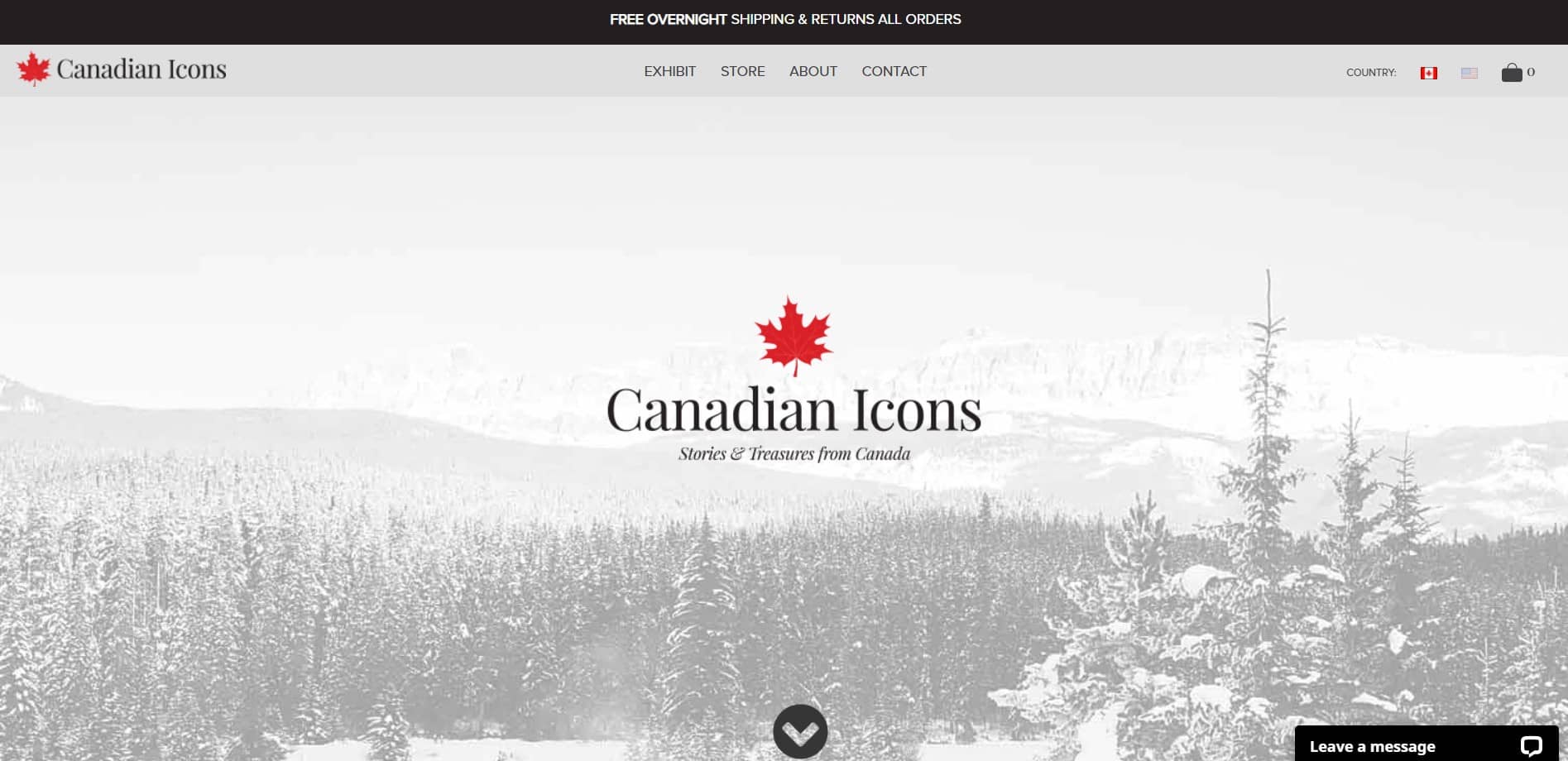 The unique and archival photos make these products even more premium than they already are. Who doesn't want to own rare items, right?
Although this already seems like a niche store, fret not because they still manage to sell a variety of items like parkas and snowshoes.
More than that, a takeaway you should get from this store is their overall theme.
They establish the rarity and uniqueness of their products to elevate their value. In a way, you can do this to your own store, especially when you have plenty of competitors.
Mivimall
Last, but not least, is Mivimall. It's a general dropshipping store that sells products to let customers express themselves. May it be through clothing and accessories, houseware and kitchen, car accessories, and tools and gadgets.
Compared to the previous websites, products on Mivimall have animations as thumbnails for some of their products. This feature removes the need to click on the product to see more details about it.
However, this doesn't mean they've let loose on their product descriptions. Clicking on the item will still show the reviews, price, color, and other important details customers might want to know.
Seasonal sales and discounts can also be enjoyed from time to time.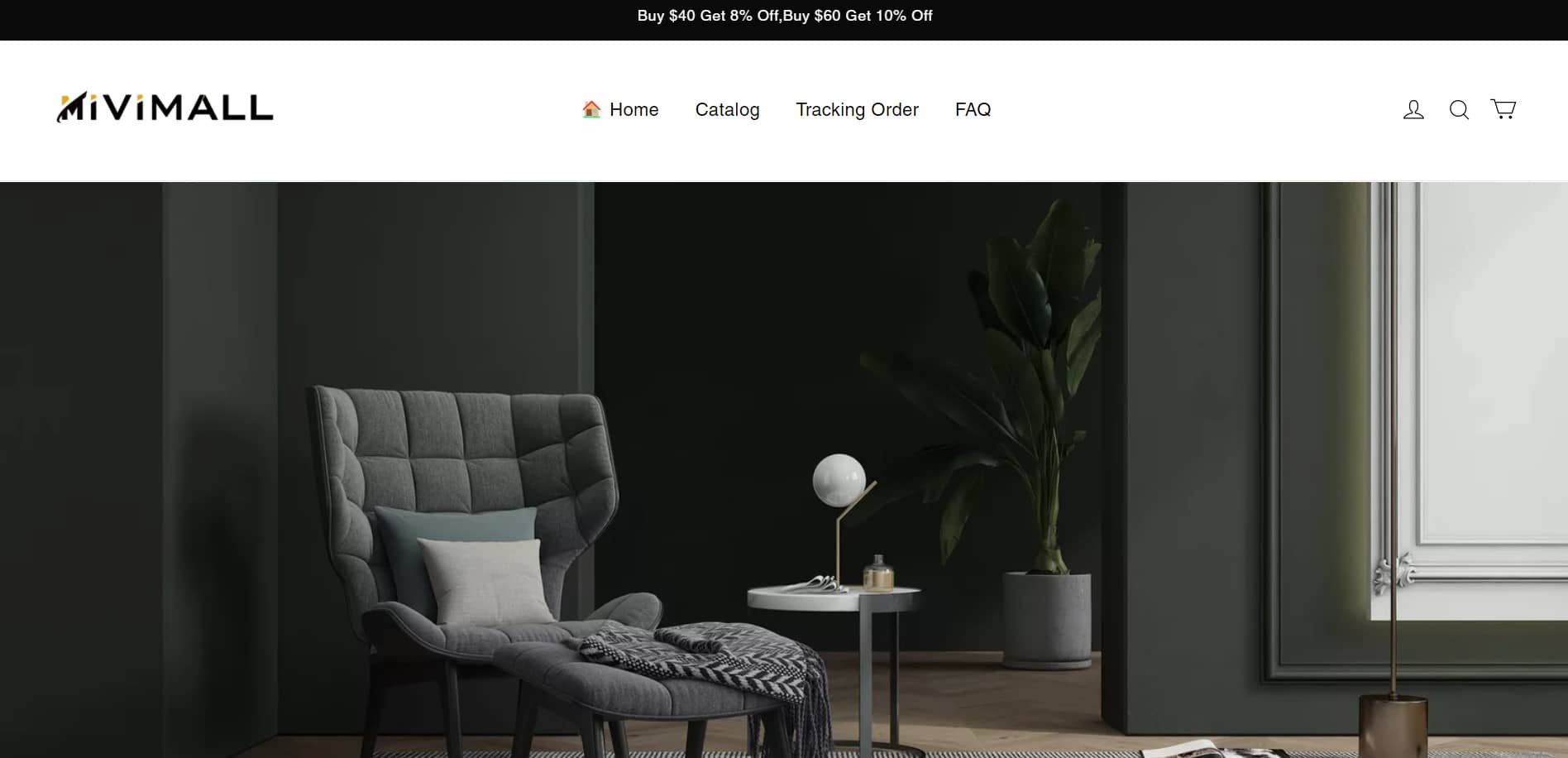 But what people remember about Mivimall is their email marketing. They use Omnisend Email Marketing to bring in traffic. This tool automates the sending of emails to target customers.
From that, you can deduce that people come back because their email promotions must be that enticing.
If you want to keep your customers loyal, you might want to explore this marketing strategy and find an appropriate tool for your business.
FAQs about Shopify General Stores
What Is a General Dropshipping Store?
A general dropshipping store sells all sorts of items, including popular ones. These stores highly depend on what's currently popular, or what's appealing to their target market.
Expect to see a variety of products, almost like an online department store.
This type of store is ideal for beginners since you can see what kind of products your target market likes. On top of that, general stores require the lowest investments out of all dropshipping stores.
You won't have to put so much money into making sure your design is aligned with your products. That way, you can still change your theme as you gain more experience.
Are General Dropshipping Stores Profitable?
In a way, yes. General dropshipping stores incur profit, but you should note that it's the stability of the income that keeps these stores alive.
The more popular and relevant products they add, the more stable the flow of customers they can get.
Given that they add popular products as they go, profits are highly dependent on how early they catch on to these trends. The earlier, the better.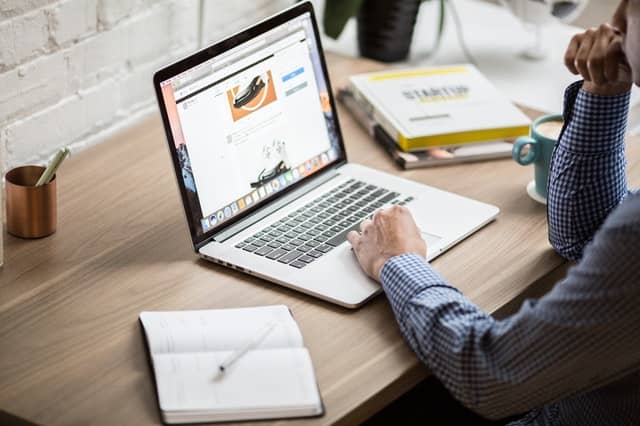 Also, people prefer buying products from the same store, all at once, because shipping fees tend to be very expensive. With the right combination of products, general dropshippers should expect a stable in-flow of money.
Is It Better to Dropship Multiple Products?
Ultimately, this depends on the dropshipper and their strategies, especially on the profit margins they want to keep.
Some dropshippers only sell one product, but they make sure it's the best in the industry. Others sell multiple popular ones that customers want to purchase in bundles.
From that perspective, the number of products to sell now depends on what kind of products appeal to the market and how a dropshipper markets his or her online store.
When done right, a niche dropshipper can easily take up a chunk of the market share.
The same goes for a general dropshipper. They must know what products to add and balance them with timing. Ride on the trend too early, and you'll get ignored. Ride on the trend too late, and you'll have zero customers.
So, there's no clear-cut decision on the optimal number of products to ship. It's just a matter of strategies, appeal, and timing.
Final Thoughts
There's a lot to learn from the examples we've listed above. Every store is as unique as the products they sell. The only common denominator is that they're all built on Shopify.
Although there are a bunch of ecommerce platforms to choose from, Shopify proves to be a great choice for many—especially general stores.
We know starting a dropshipping business can be quite intimidating and taxing. Feel free to give us a call and we'll gladly help you throughout the process.