Product hunting is one of the most challenging aspects of launching an online store.
It involves significant trial and error and even then there's no guarantee that your product will make it.
But don't let that demotivate you because the most successful product ideas strike when you least expect them.
All you might need is a bit of inspiration before you find a product that brings you the revenue that you always dreamed of.
If you're struggling to tap into your entrepreneurial mindset then don't worry because that's where we come in.
Our ears are always glued to the eCommerce world and its evolving trends so you don't have to aimlessly search online.
To help you get started, we've compiled a list of the best product ideas according to different business models.
So let's begin, shall we?
The Best Places to Find Profitable Product Ideas
Unable to stir up exciting product ideas? Here are some places to take some inspiration from:
1. Online Marketplaces
One of the easiest ways to find new product ideas is to simply browse popular online marketplaces.
Platforms like AliExpress and Alibaba literally have millions of merchants selling all sorts of products.
These sites also offer the feature to sort products according to different categories, prices, and seller ratings.
Apply the filters and then curate a list of the most sold products on the site and then create a list from there.
There are multiple social media platforms that you can use to dig up some interesting product ideas.
It all depends on the type of audience you're planning to target. If you want to capture the attention of the Gen Zers then TikTok can help you find some winning products.
Alternatively, Facebook also has multiple communities and pages where you can find trendy product ideas almost daily.
And if we talk about Instagram, then you can start by searching for some relevant hashtags. You'll find plenty of influencer shoutouts for different products.
Check the likes and comments on those to gain some insight into how popular the product is among the audience.
3. Product Hunting Tools
If you don't want to put in the manual labor then product hunting tools can make your life much easier.
These tools provide market insights on the performance and popularity of different products.
The only reason they aren't used as often is that most of them charge a subscription fee.
But overall, if you can find a product hunting tool that matches your needs, then it will probably be the best investment you'll ever make.
4. Google Trends
Google Trends is a site that uses graphs to show the search volume of different queries.
It won't directly help you find new product ideas, but it will give you a clue whether a product is worth pursuing or not.
Although keep in mind that there are always some exceptions.
Just because a product isn't popular according to Google Trends, doesn't always mean it has no potential.
Who knows, you might turn out to be the one to set the trend.
5. Ecommerce Podcasts
There are multiple ways to consume information nowadays.
If you're too busy with your daily life and can't find the time to search for a product try listening to ecommerce podcasts.
You can conveniently tune into one while driving, exercising, or even when you're about to fall asleep.
Listening to podcasts allows you to learn directly from industry experts.
There's an endless variety to choose from and some podcasters also talk about different product ideas.
10 Products to Sell in a Dropshipping Store
Brainstorming ideas for a dropshipping store isn't easy because it's a highly competitive business model. However, here are some popular products you can dropship:
1. Power Tools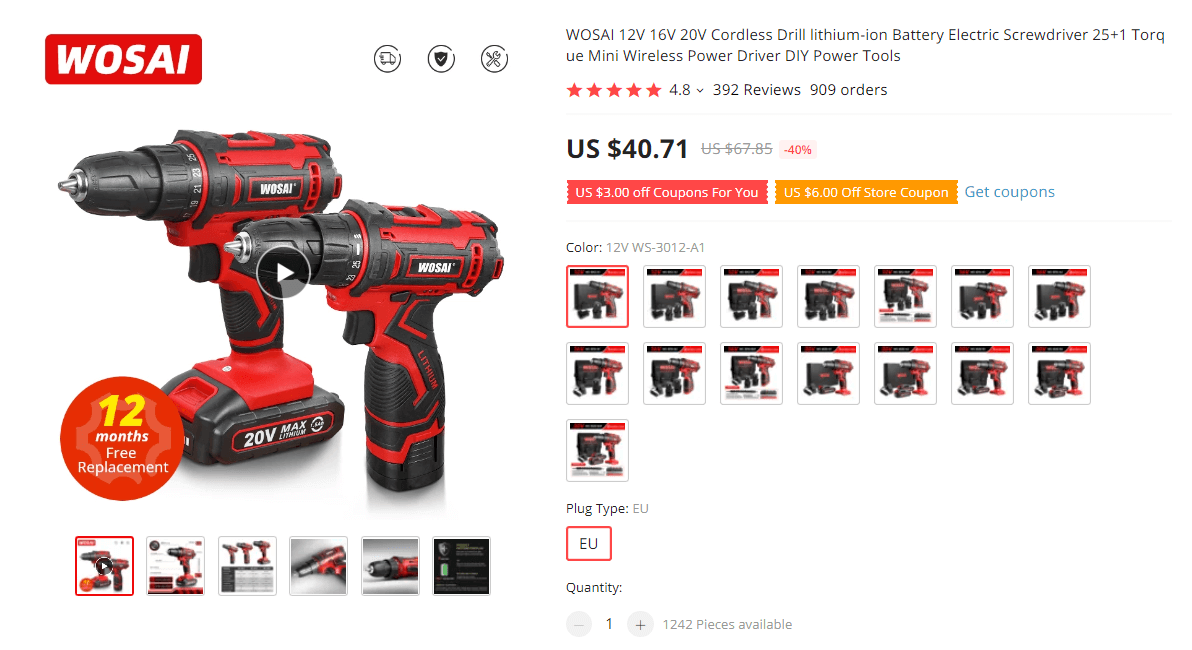 A growing number of people are displaying interest in DIY projects nowadays. This has caused power tools to surge in popularity.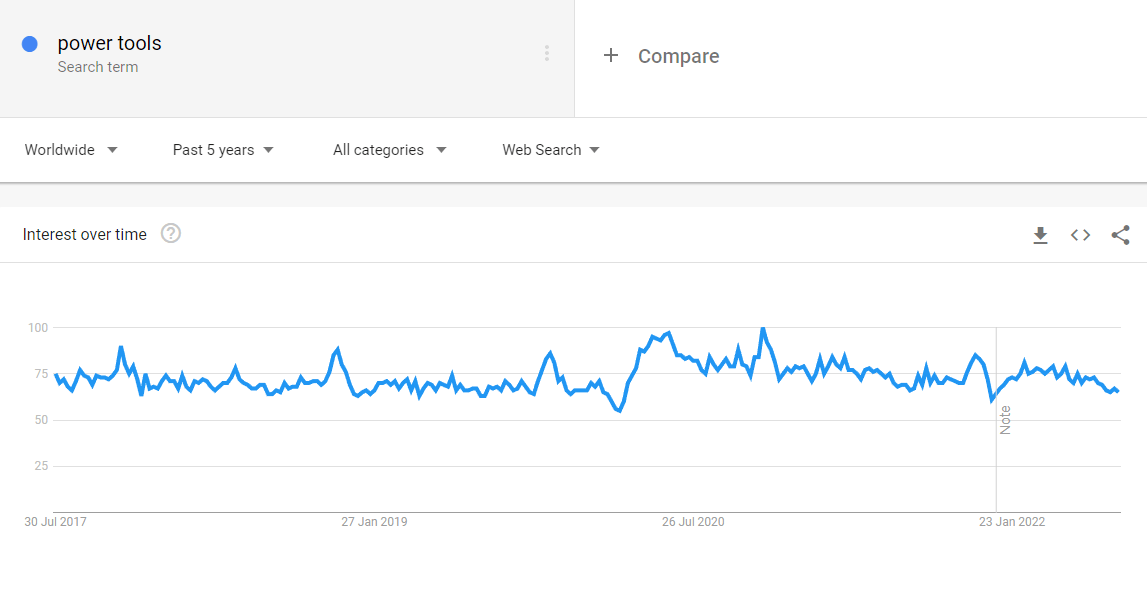 There aren't too many physical stores that sell quality power tools, so the majority of people purchase them online.
In addition, power tools are also moderately expensive so you can make a significant profit on each sale.
2. Rice Cooker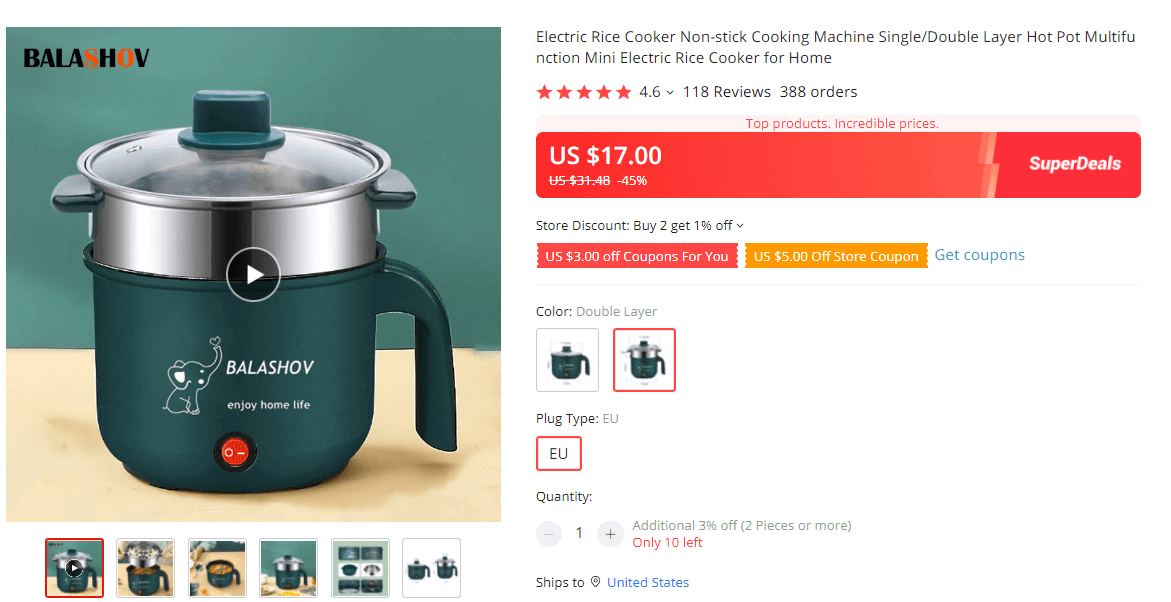 Rice cookers have taken the throne as one of the handiest cooking appliances. It offers immense convenience, especially if you don't like using the stove.
This product is in demand throughout the year, but get ready to make some serious profit when things get festive around thanksgiving.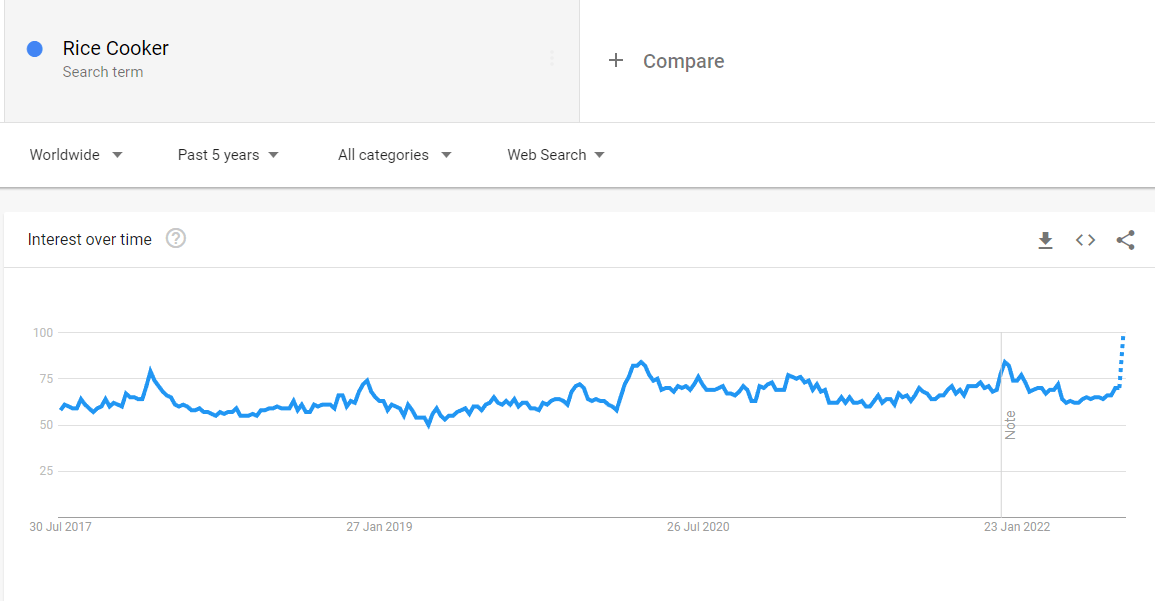 3. Massage Tool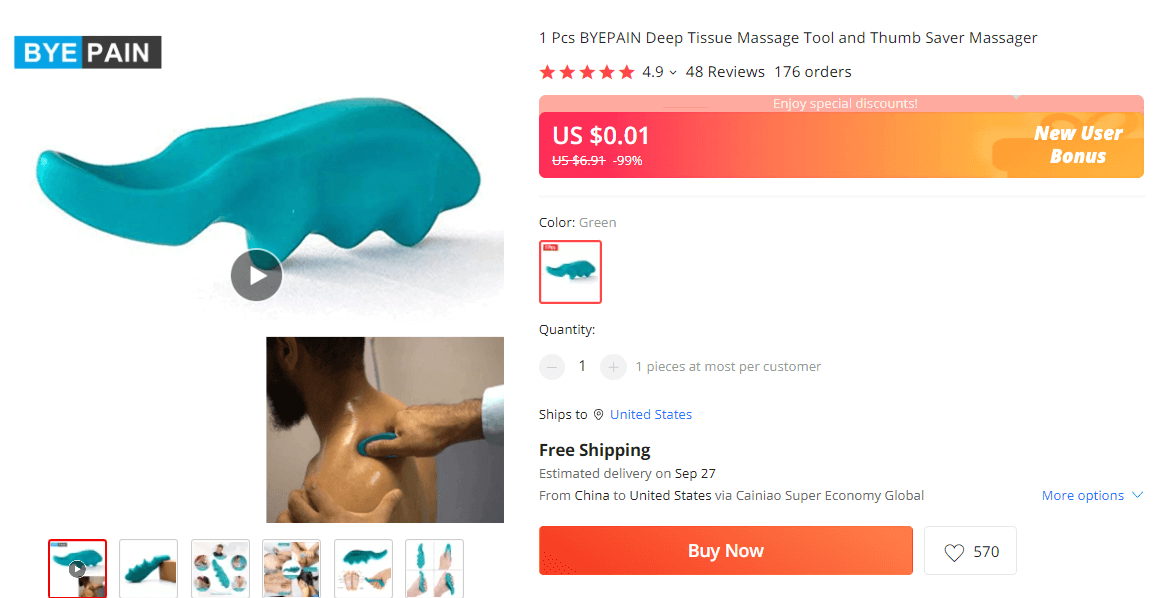 This deep tissue massage tool is becoming popular among people with chronic back pain.
It can act as the perfect pain reliever by helping you apply pressure to your trigger points.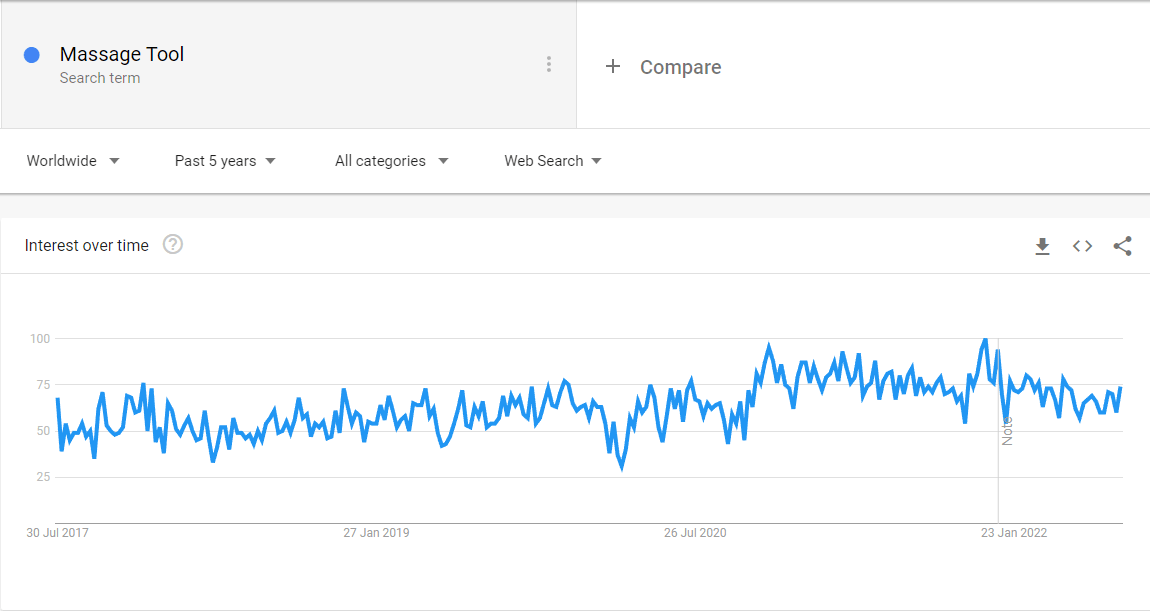 Add it to your dropshipping store and we're certain you'll find a ton of impulsive buyers for it!
4. Wall Clock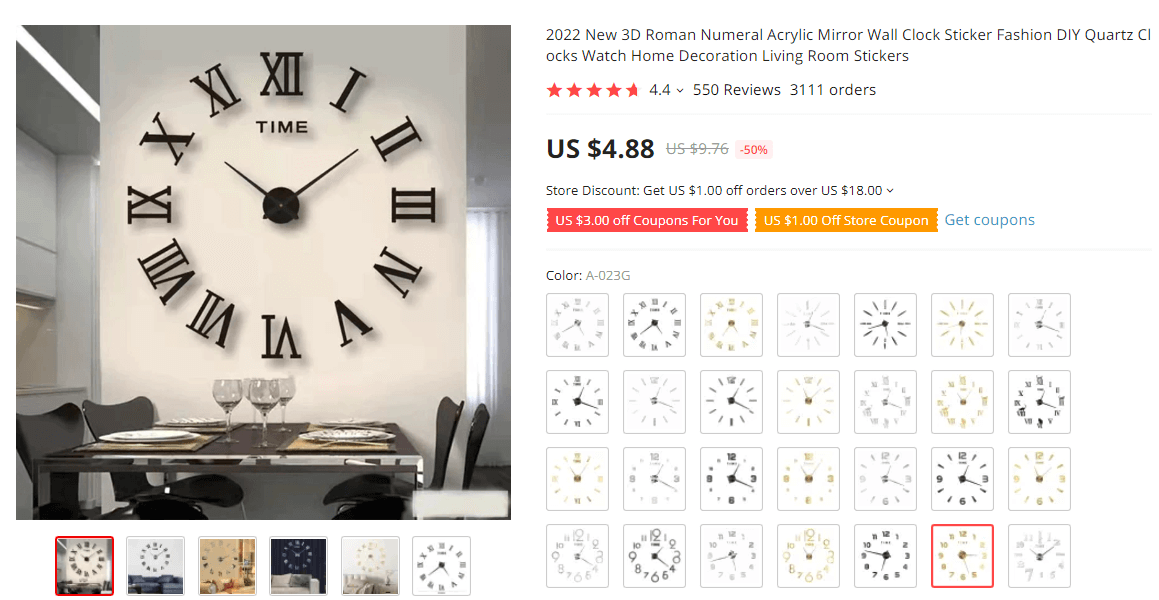 You might be thinking that who needs wall clocks nowadays when we can just check the time on our phones?
Well, these wall clocks are trending nowadays and the reason is quite obvious.
It offers a fantastic combination of both design and functionality to add a modern flair to your room.
These 3D wall clocks come in various designs as you can see in the picture above.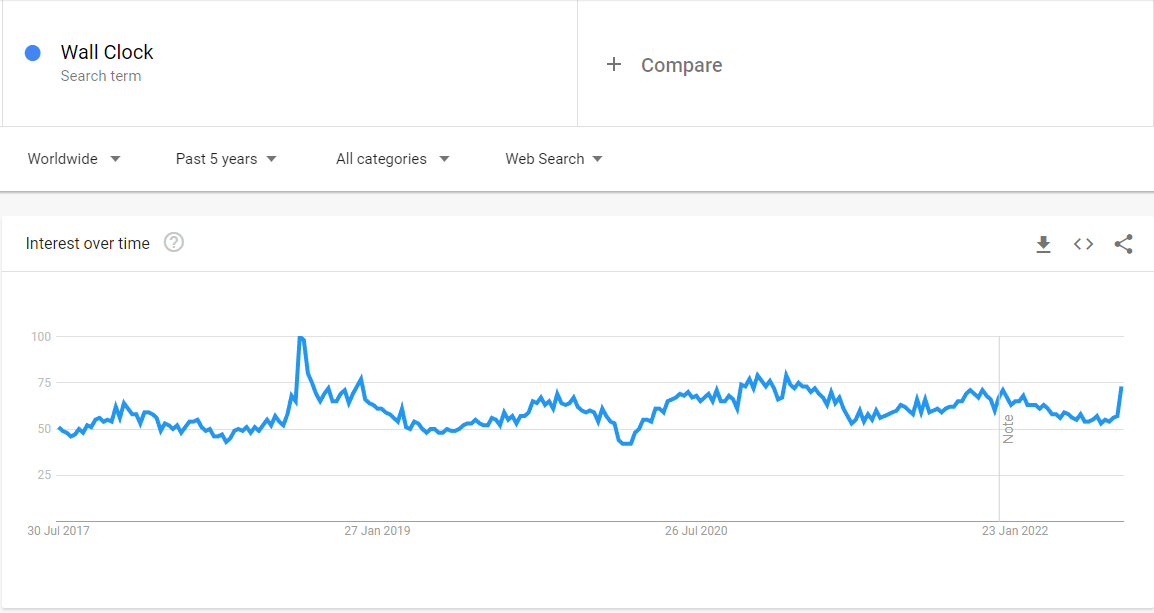 The graph also shows that regardless of how common phones and watches get, wall clocks will always remain timeless.
5. Electrical Toothbrush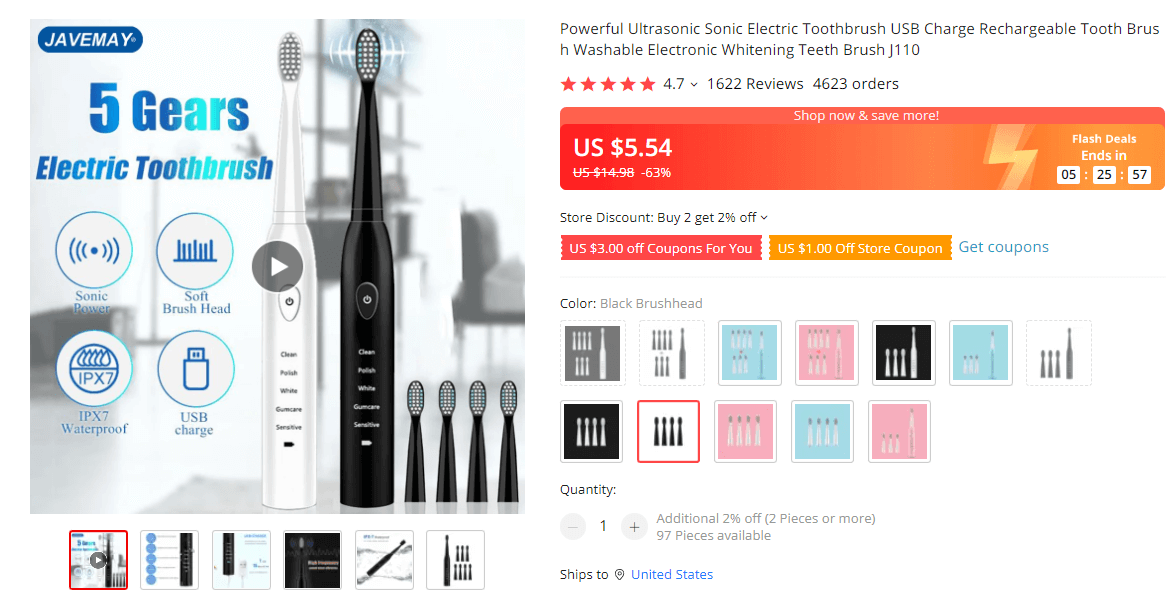 Out of all the products, you probably didn't expect to see toothbrushes here.
The demand for electric brushes has been growing over the years as more and more people start to understand the importance of dental hygiene.
Electric toothbrushes remove the thick plaque from your teeth more efficiently.
Those who start using it, simply cannot go back to regular toothbrushes.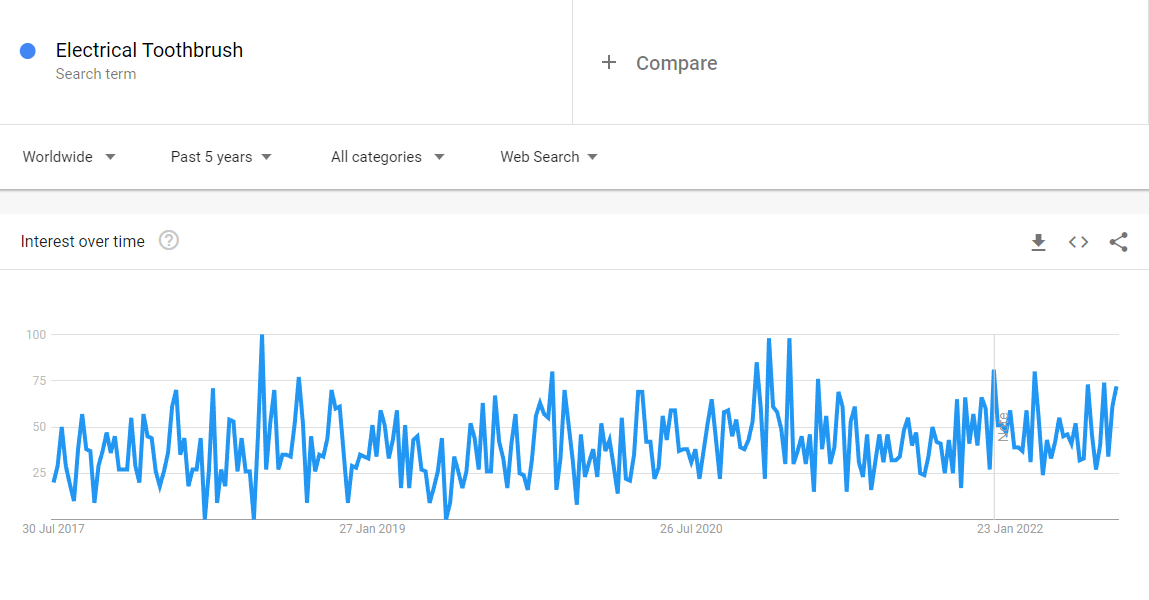 6. Tripod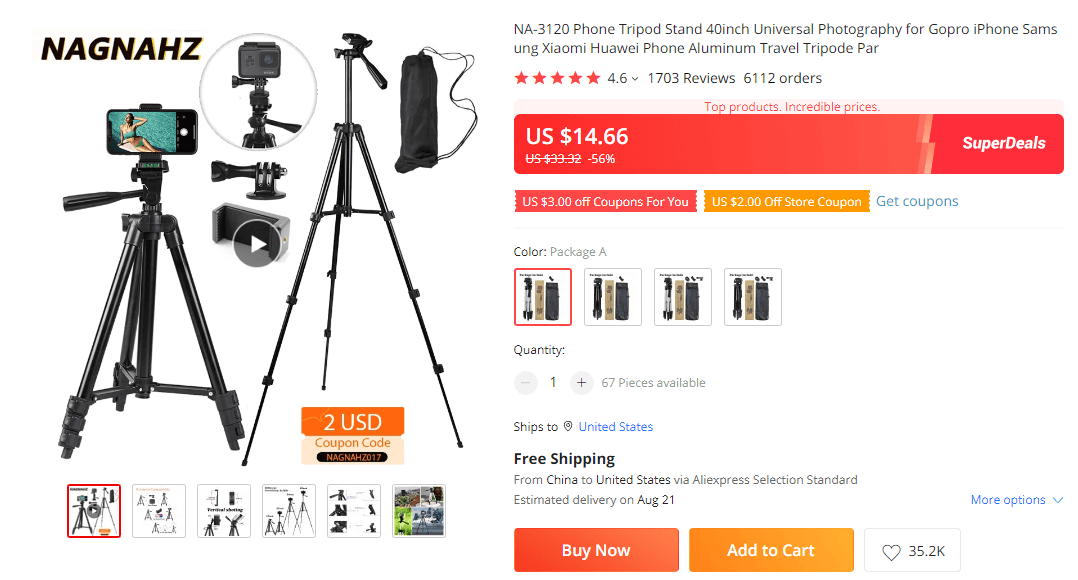 Tripods are becoming increasingly popular and it's not surprising considering how many people are buying cameras nowadays.
It's the perfect accessory to help you take your photography skills to the next level.
Tripods provide stability to your camera, allowing you to capture high-quality images for your clients.
And if you're into astrophotography then you'll need a tripod anyway, because capturing the wonders of space is almost impossible without it.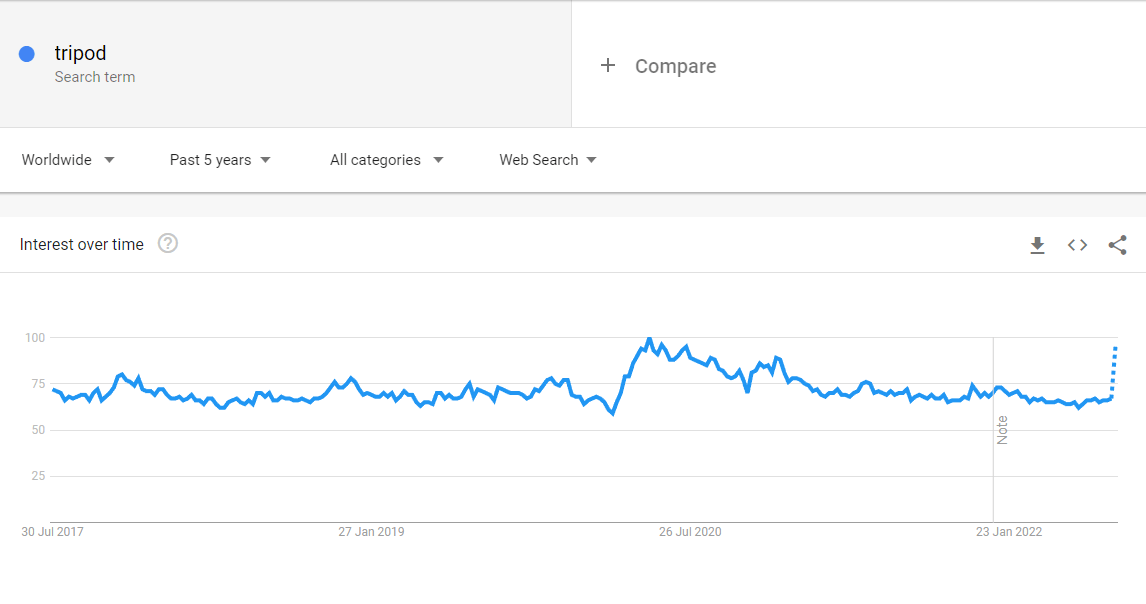 7. Adjustable Pet Leash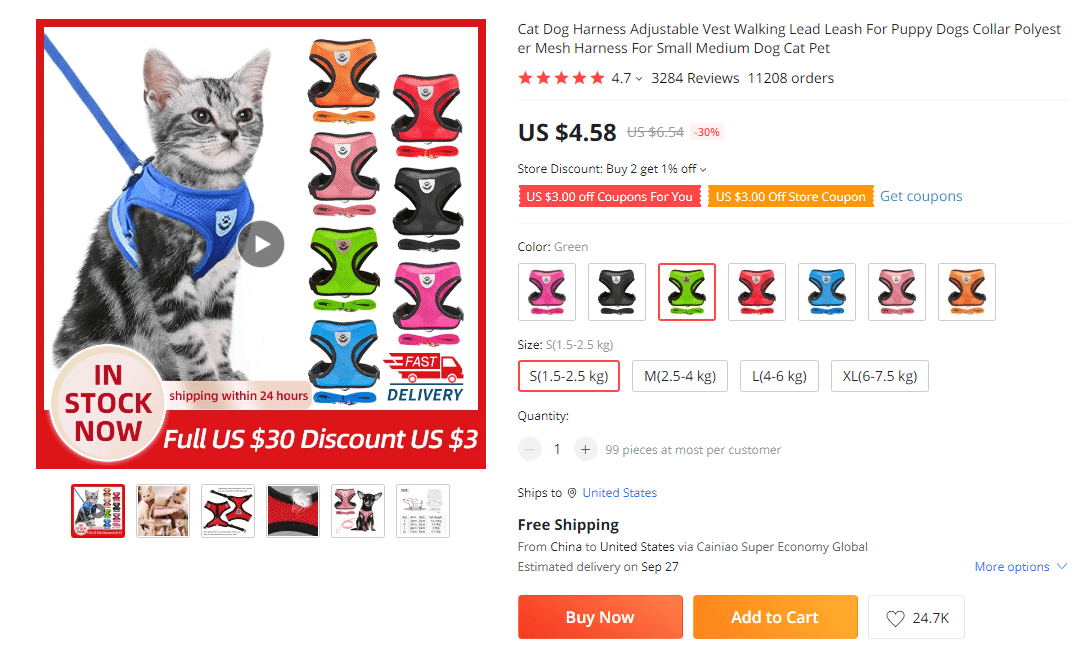 Is it difficult for you to monitor your fur baby when you take it out for daily walks?
Well, this adjustable pet leash will solve most of your problems. It's perfect for cats and dogs over 6 months old.
The design of this leash will help you keep your feline friend away from tragedies.
This leash will not strain your pet's neck because it goes around the shoulder.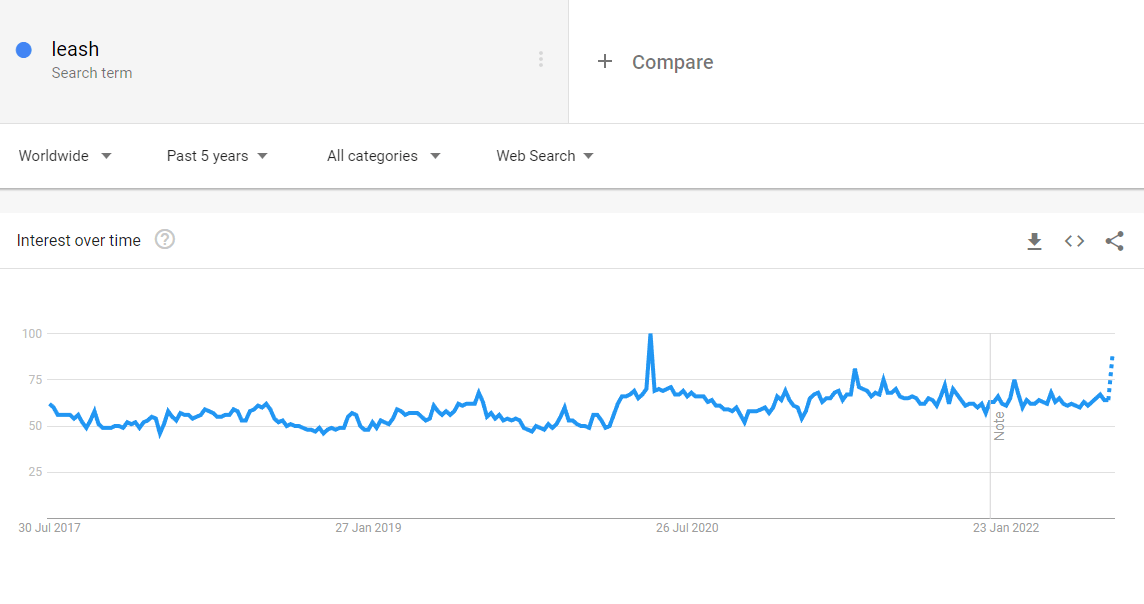 We're certain this product will be hot among pet lovers as long as you're marketing your business properly.
Try cross-selling it with other products in the pet niche so you can double the profits!
8. Scalp Massager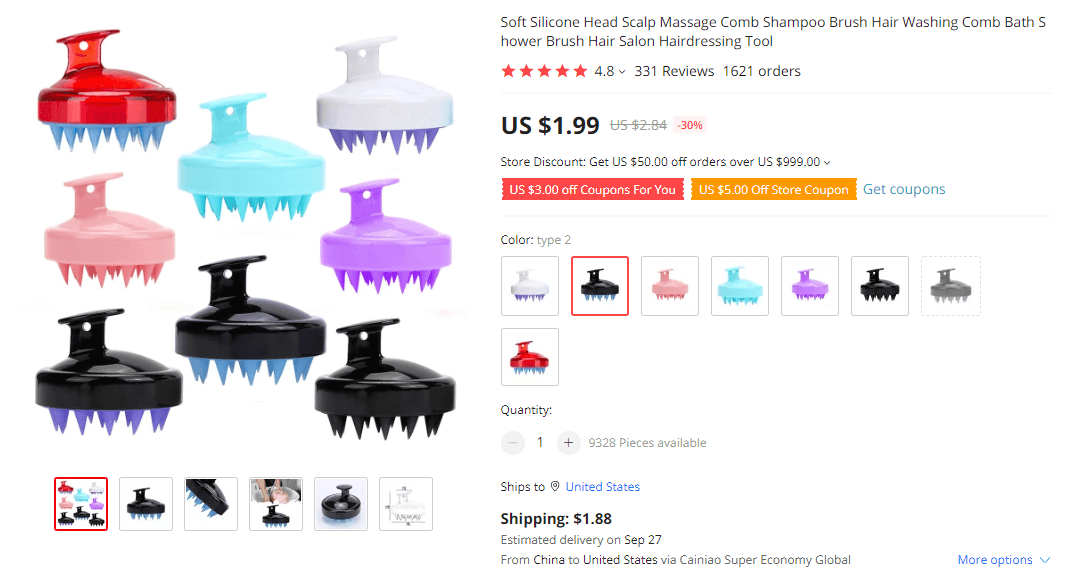 Scalp massager is a great example that any product can become popular as long as it provides some sort of relief or convenience.
You can tell how much these scalp massagers are in demand just by observing this graph.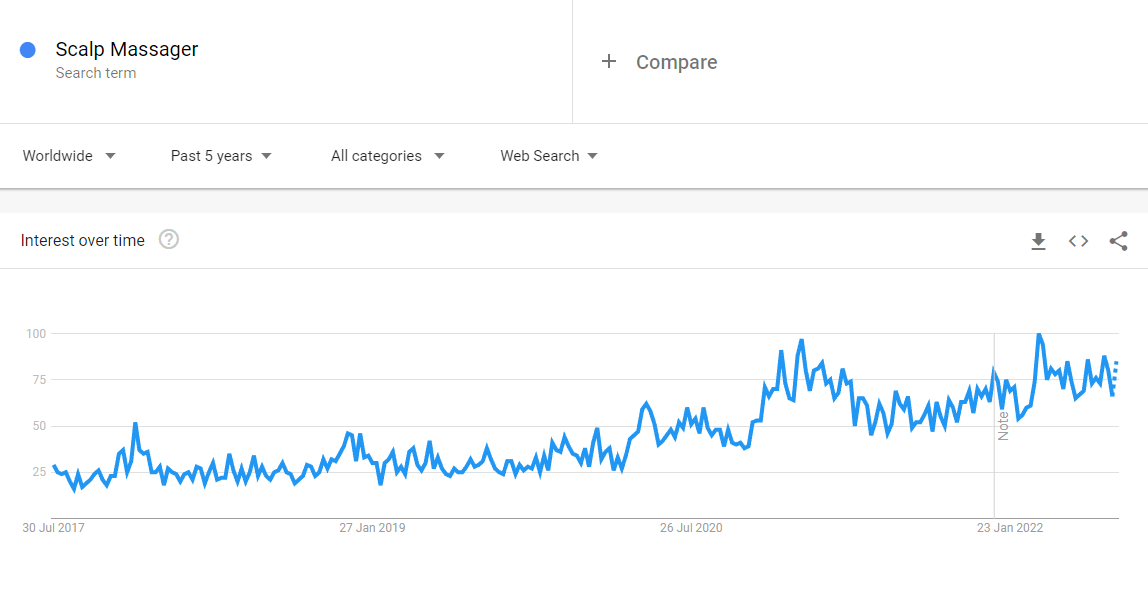 Looks like this product is still growing in popularity and won't be going anywhere anytime soon.
9. Home Gym Equipment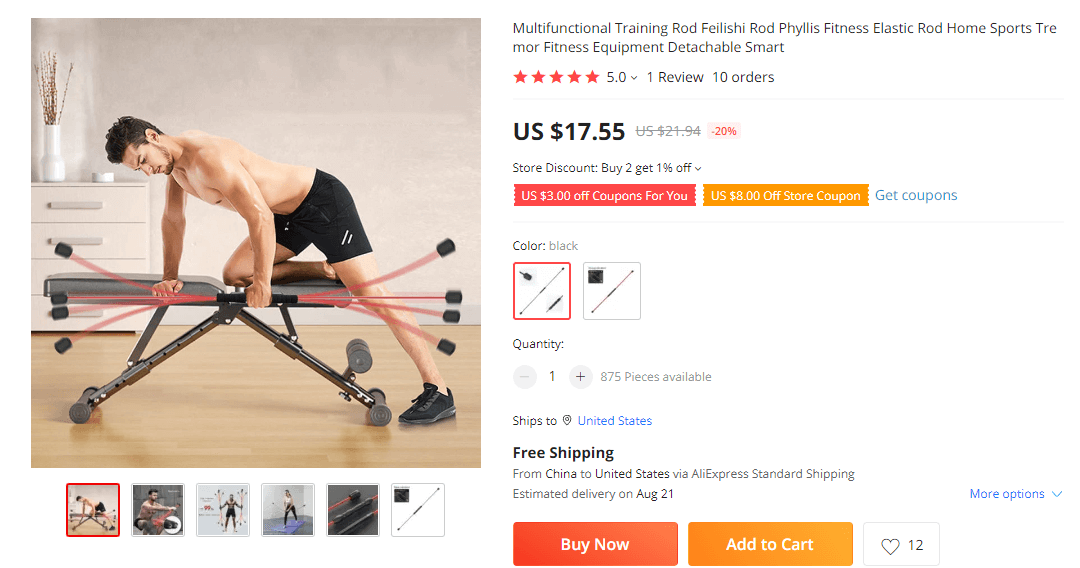 People have started to show an active interest in home gym equipment.
You can see in the graph that the queries for the home gym were at an all-time high when the pandemic began.
Although the interest has dipped for now, don't let that demotivate you.
Its demand will probably skyrocket again before New Year's eve, so you're likely to make some big bucks if you choose this dropshipping niche.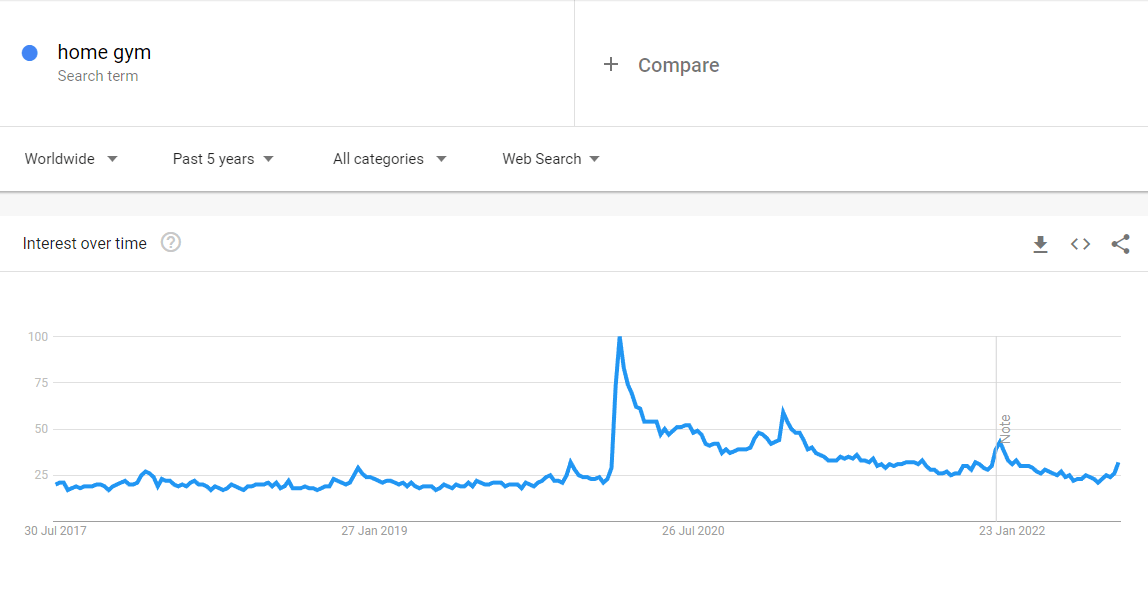 10. Gaming Chair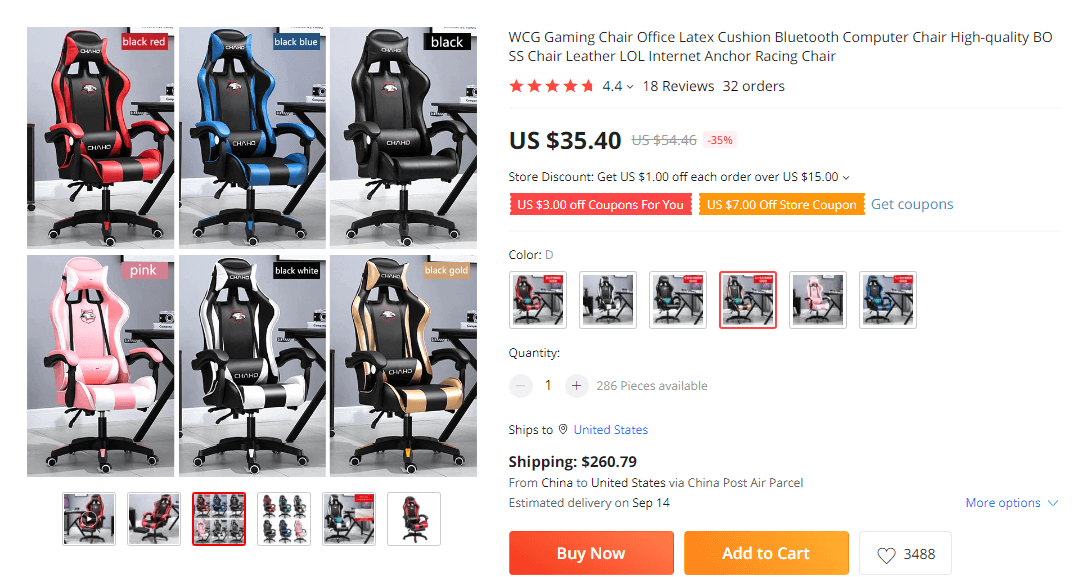 The eSports industry is growing fast. Gamers often spend hours in front of their computer screens without taking any rest.
This can be extremely harmful to your posture especially if you don't have the right chair.
That is where gaming chairs come in as they are both stylish and ergonomic.
Most modern gaming chairs let you adjust the hand and backrest and some also have adjustable footrests.
The reason we think it's a great dropshipping product is due to the low competition. Most branded chairs are overpriced and quality isn't up to the mark either.
So if you can find a reliable supplier, then this high ticket dropshipping product is bound to make you some big bucks.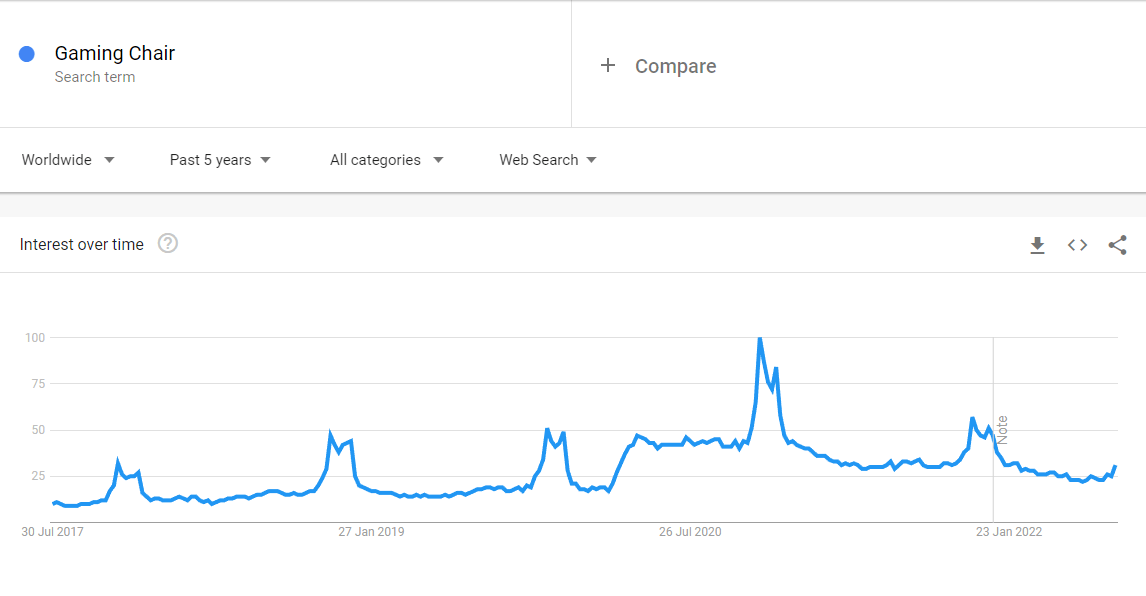 10 Products to Sell in a Print on Demand Store
Print on Demand is another convenient eCommerce fulfillment model which has gained traction over the years. If you're wondering what to sell in your POD store then here are some of your options:
1. T-Shirts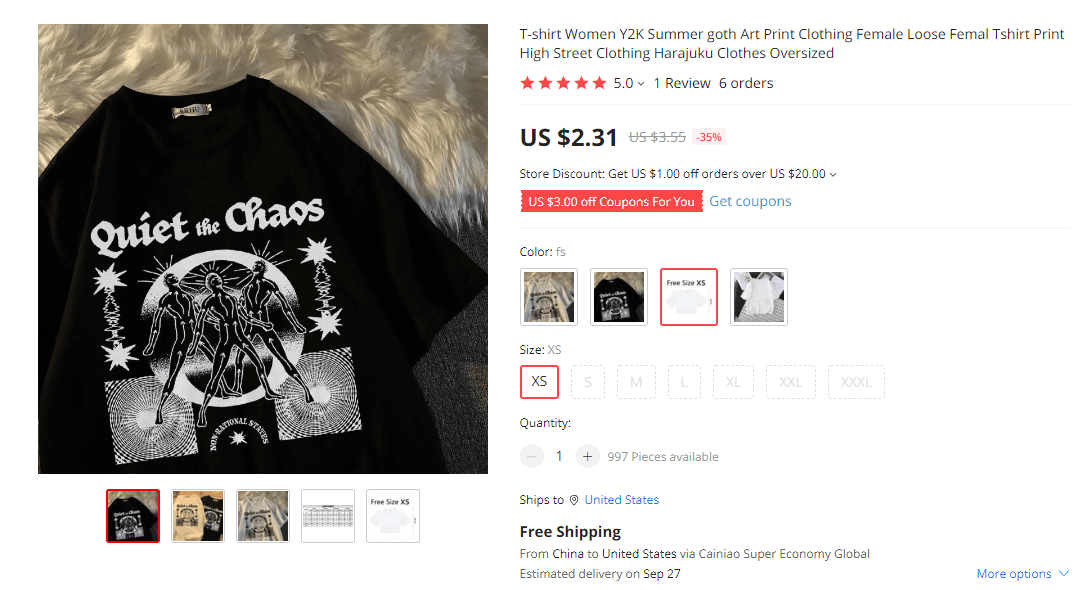 Printed t-shirts are one of the most common POD products and their demand is still higher than ever.
The foundation of a POD business obviously depends on the quality of prints you offer to your customer.
Among the sea of POD store owners that are selling printed t-shirts, only a fraction of them is able to provide good quality.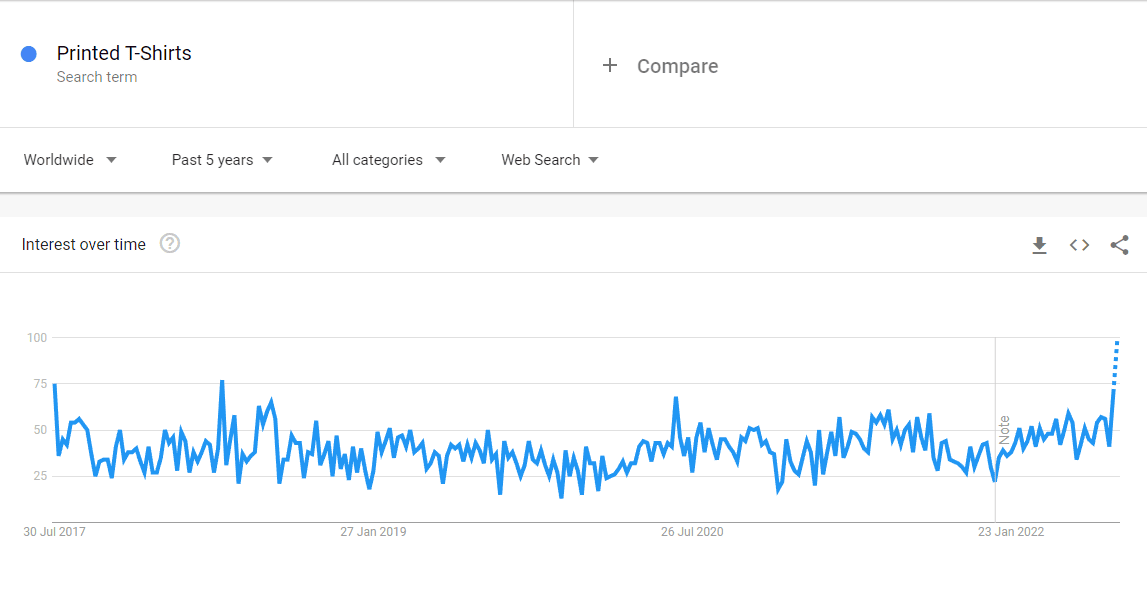 The graph also shows that new people are searching for printed t-shirts every day, so there's definitely a huge customer base to cater to.
T-shirts are sold all year round so if you can find a reliable POD company then there's a ton of profit waiting to be yours.
2. Mugs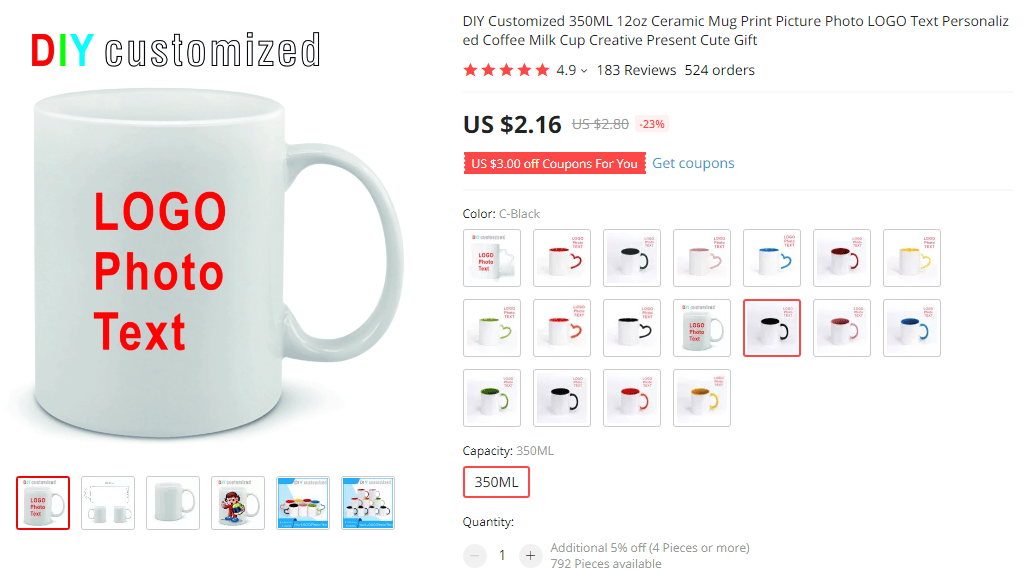 Similar to t-shirts, mugs are another popular POD product.
According to the graph, you can see that the sales of mugs remain constant throughout the year, and surge from time to time as well.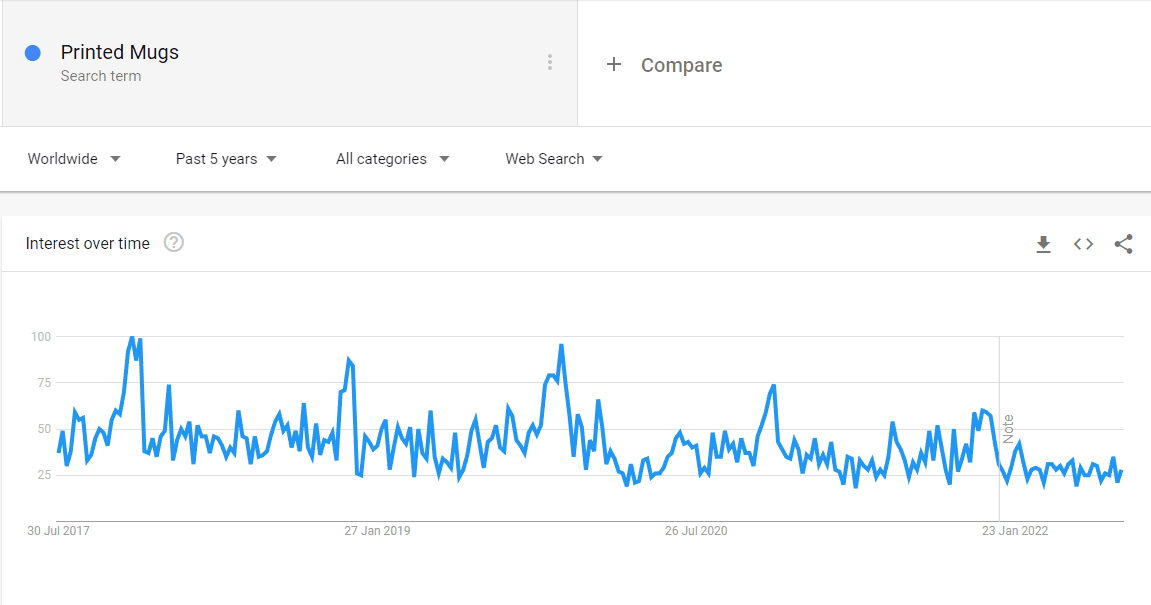 Companies in particular often give branded mugs to their employees. So if you're offering good quality then you might get quite a lot of sales from the corporate sector alone.
If you do plan to sell mugs then try offering more creative options to your customer. Instead of just the print design, allow them to change the shape and size of the mug as well.
3. Jewelry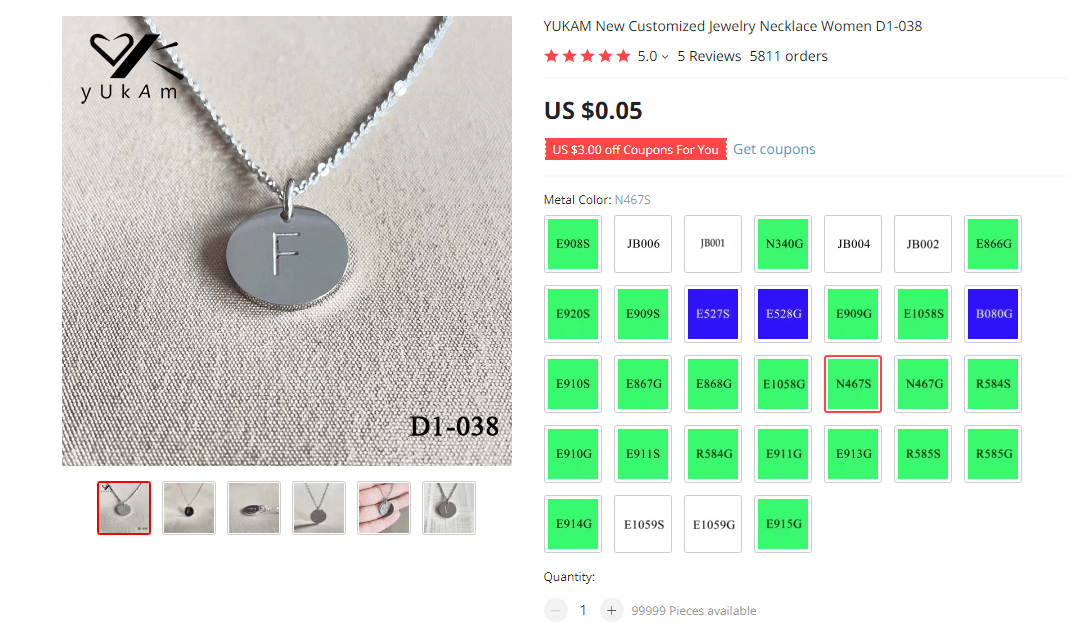 If you always wanted to open a jewelry store, then you can turn your dreams into a reality.
All you need is a reliable POD jewelry supplier to help you manufacture personalized jewelry for your customers.
Jewelry theoretically comes in an infinite number of shapes and designs, only limited by your imagination.
In addition, the niche is always in demand so you don't ever have to worry about the changing trends.
Just continuously innovate your brand and introduce new designs from time to time to retain your customers.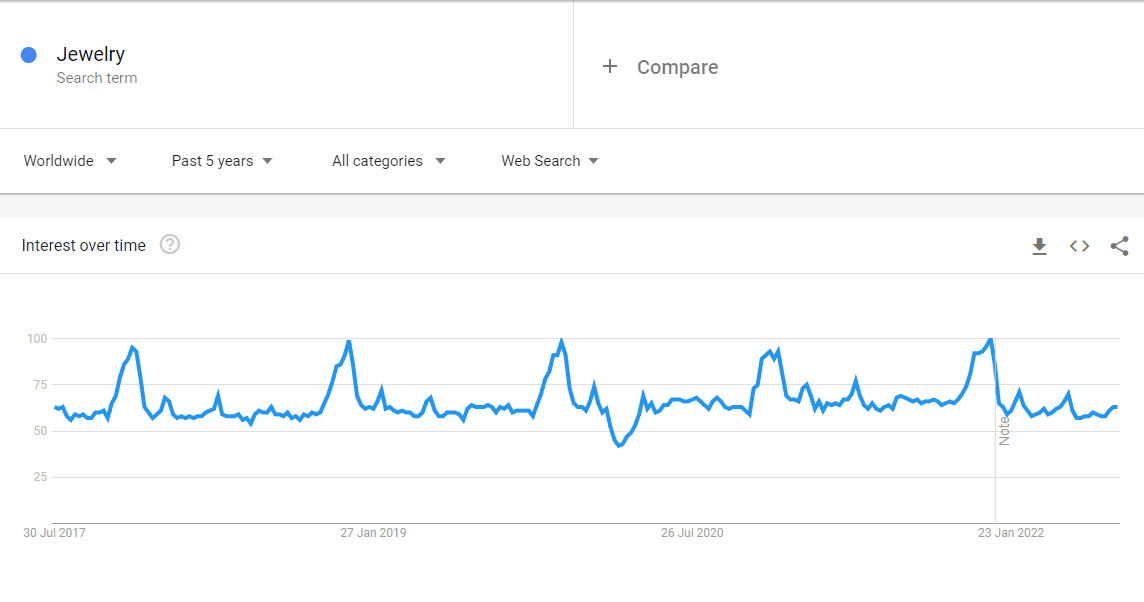 4. Posters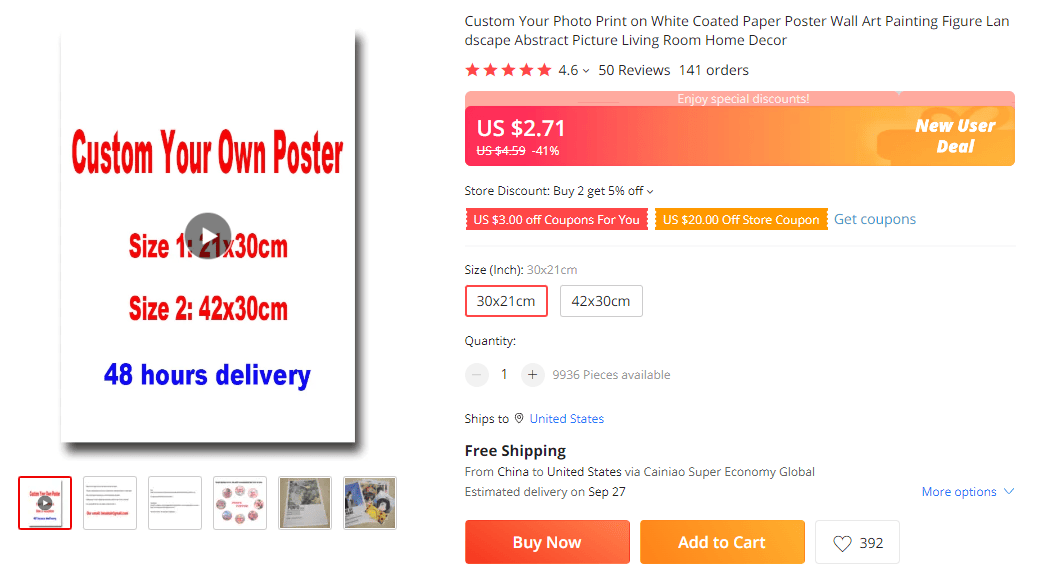 Rather than gearing your products towards a select group of consumers, why not diversify your audience?
As amazing as wall paintings look, not everyone can afford them.
So what you can do is turn your designs into high-quality posters.
You'd be surprised how many people would be willing to buy it, especially if your designs click with the masses.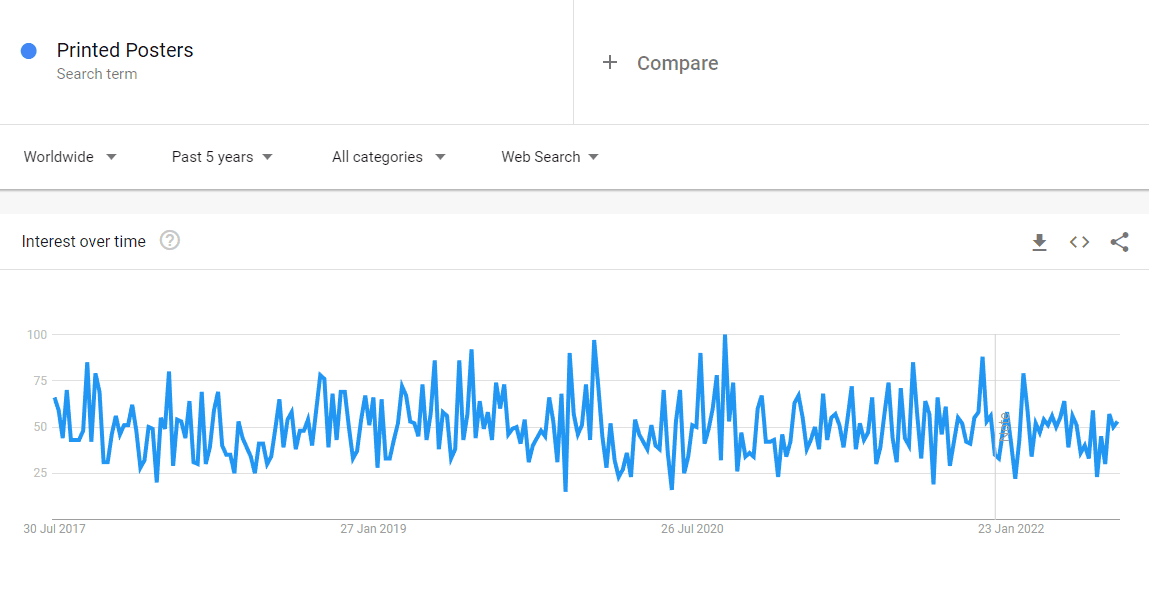 5. Tote Bags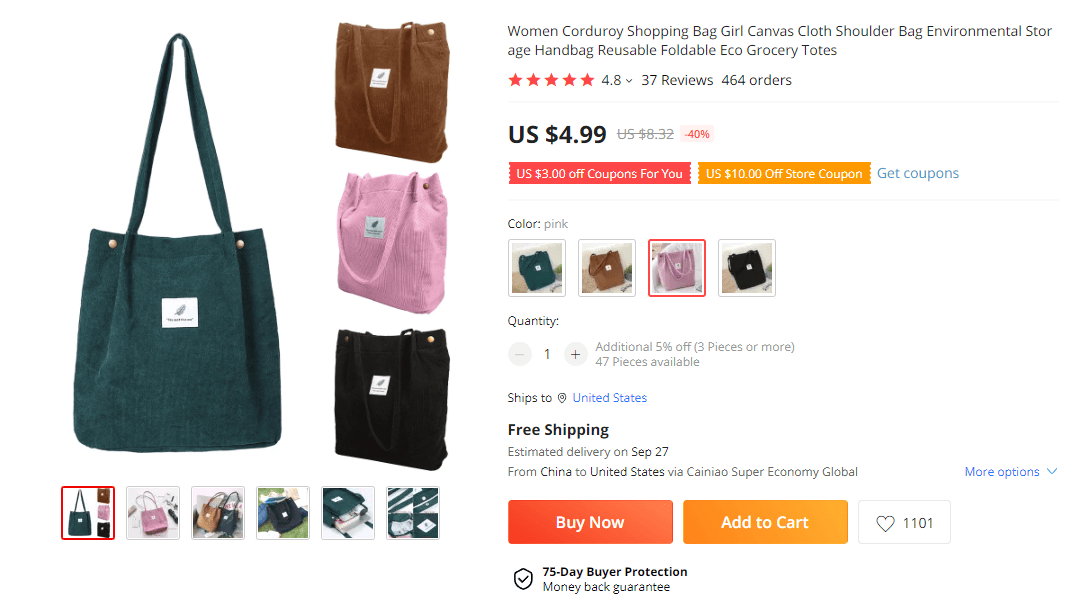 An increasing number of people have started to embrace the eco-friendly lifestyle.
Over the years, tote bags have become an alternative to single-use plastic bags.
More people than ever are buying and searching for tote bags nowadays because they're durable and reusable.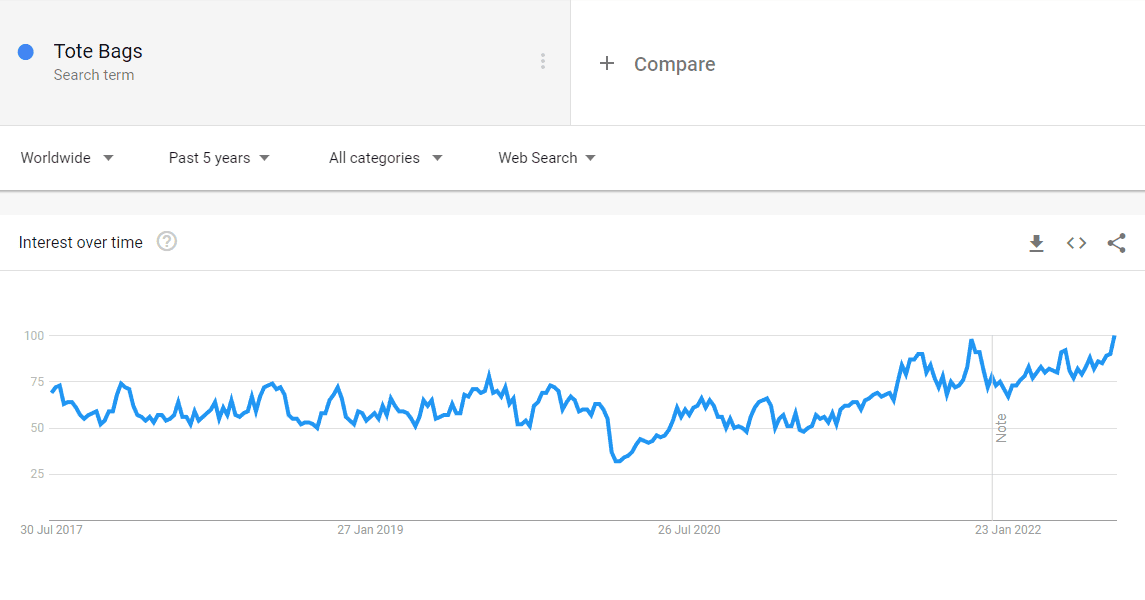 As evident by the graph above, the popularity of tote bags continues to grow, so it's not surprising why they make a great POD product.
6. Cushions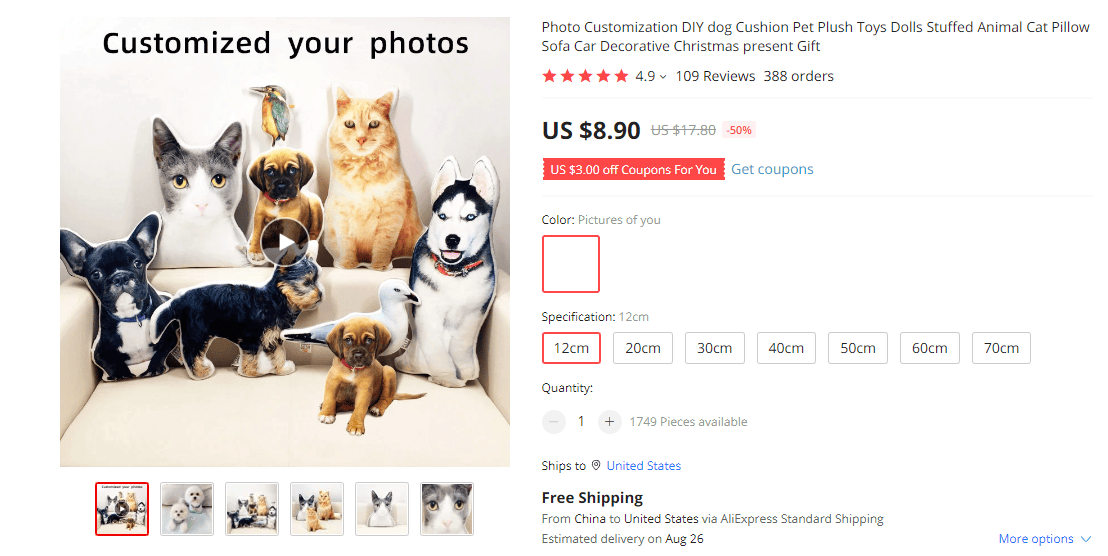 The POD model teaches us that you don't always have to sell fancy products.
Something as simple as personalized cushions can also make you a good profit, as long as you aren't compromising on the quality.
Personalized cushions and plushies are often collected by video content creators to enhance the background.
Most POD suppliers sell custom cushions so we recommend adding them to your listings.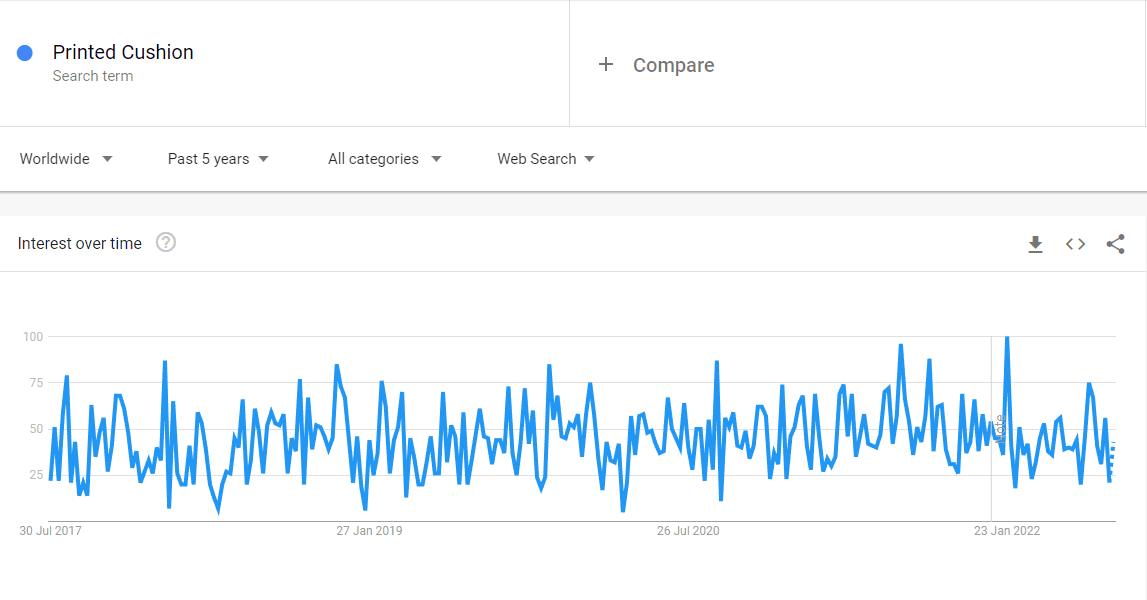 7. Stickers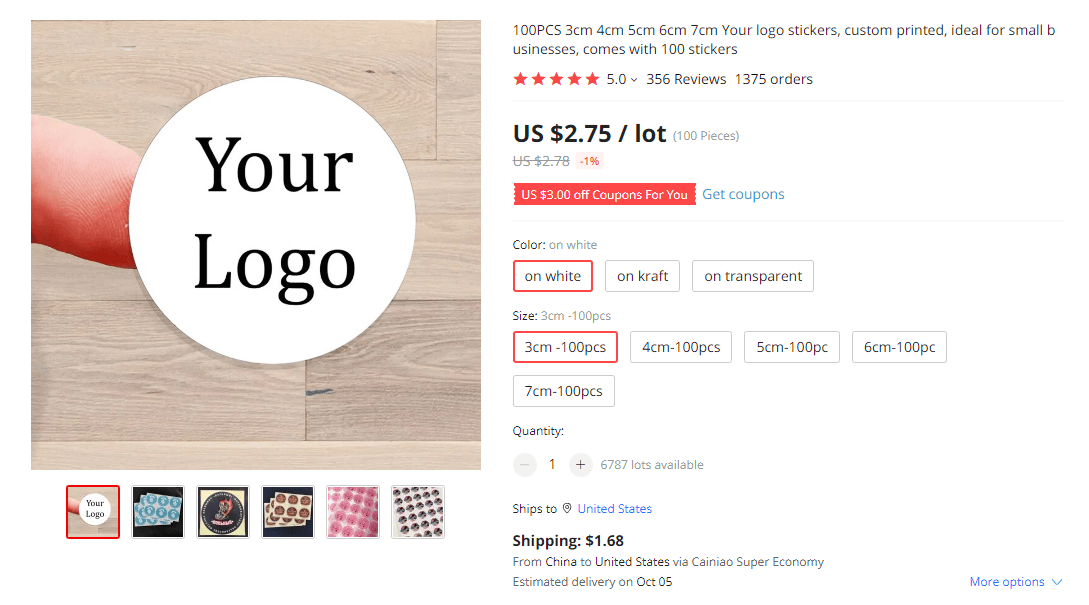 Stickers are another common POD product offered by most companies.
You can get stickers in various designs, shapes, and sizes.
Similar to mugs, logo stickers are also often purchased by corporate sectors in bulk to market their business.
The reason we like this POD product is that it's simple to make, easy to ship, and has zero chances of getting damaged during shipment.
8. Phone Case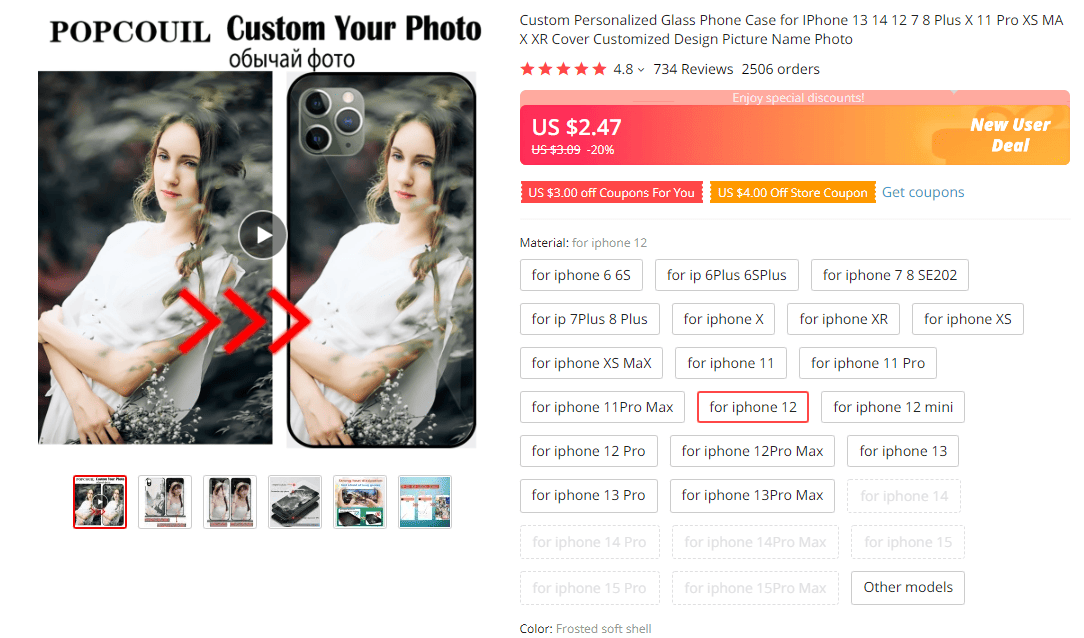 You might be thinking that phone cases are probably one of the most saturated products out there, so why did we include them in this list?
Well, regardless of how saturated they are, it doesn't change the fact that they're still high in demand.
The size of the phone protective cases market is expected to reach USD 35.81 billion by 2028.
And even if you look at the recent trends, you'd notice that people are still actively searching for printed phone cases.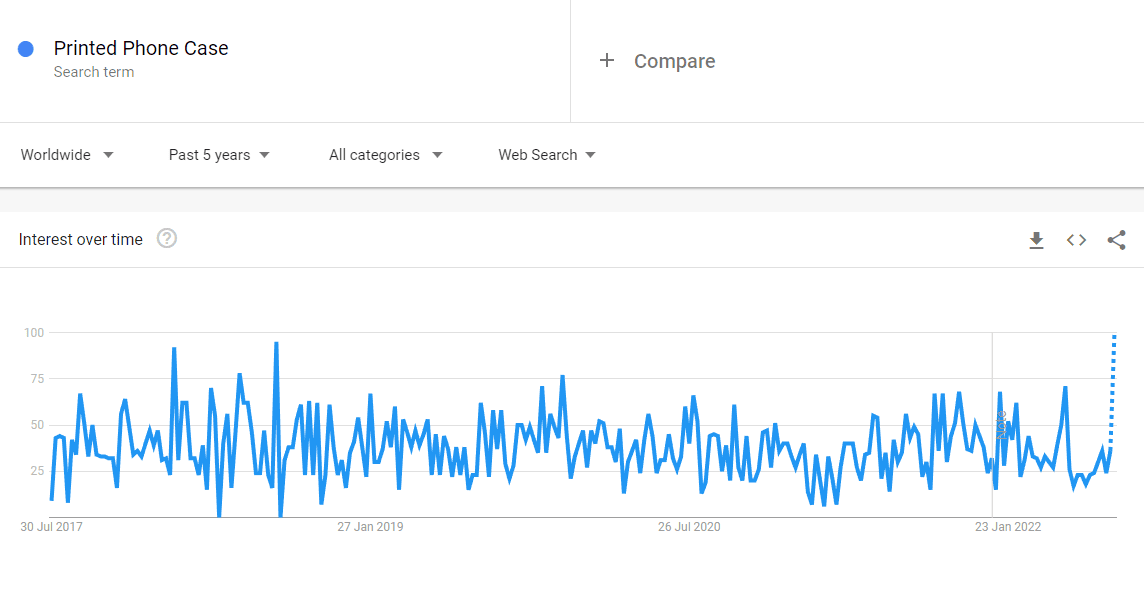 Not only that but there aren't as many reliable sellers of printed phone cases as you think. Customers often complain that their print started to fade a few days after they purchased the case.
So we believe that if you offer quality prints to your customers, then even printed phone cases can bring a lucrative profit.
9. Face Mask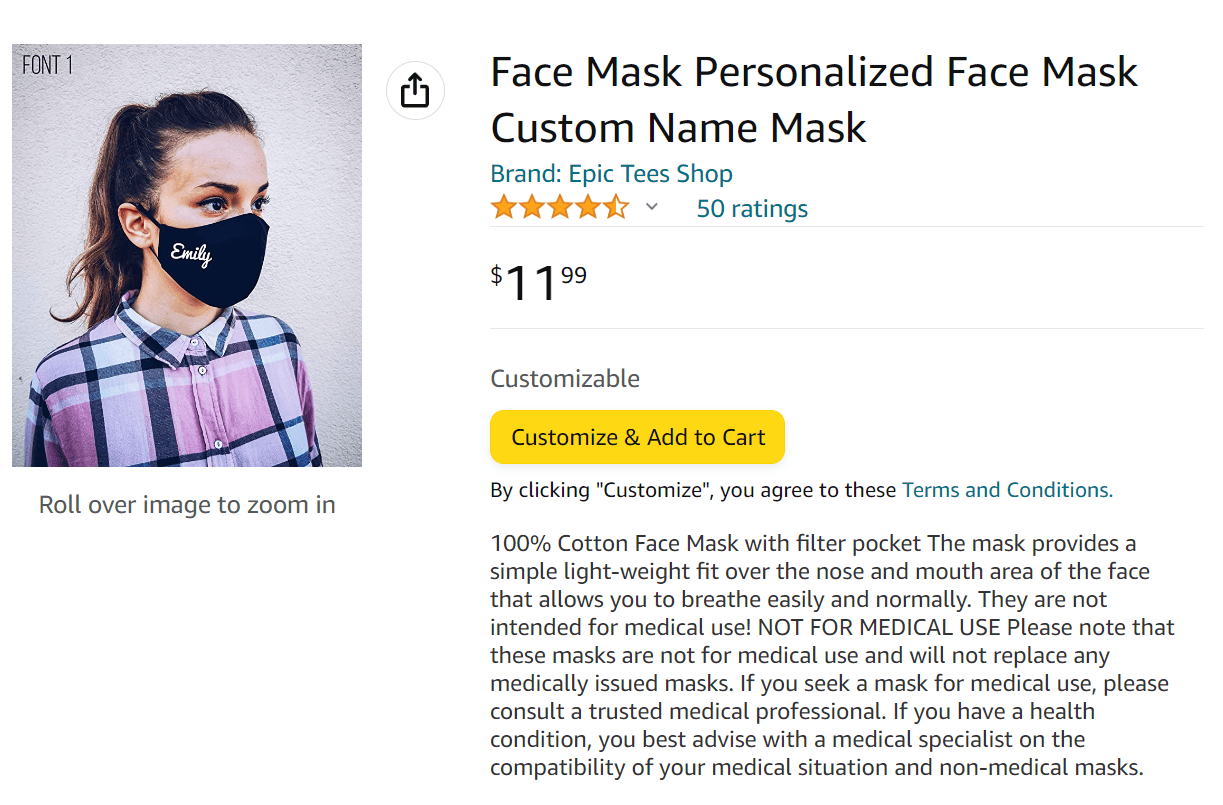 Face masks are still pretty much mandatory everywhere and brands have started to cash in on that.
Even many designer outlets sell "matching" face masks with their outfits at an insane price.
Maybe you can also design a couple of colorful face masks to complement the attire of your customers.
But make sure that the face mask isn't all shown and also actually offers protection against the virus.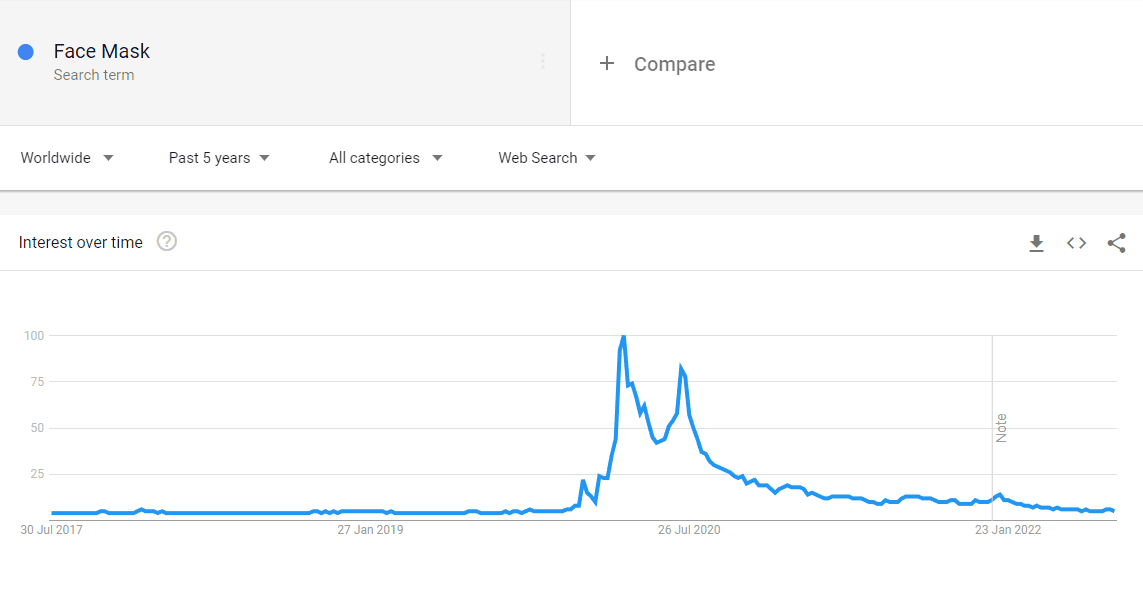 10. Notebook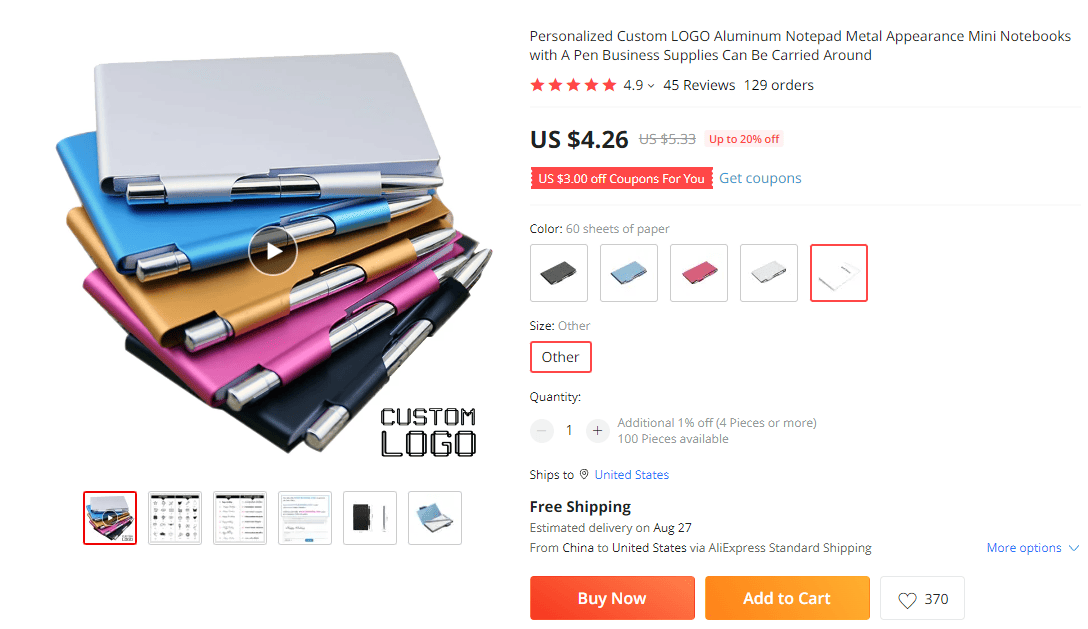 Some people may think that notebooks are out of fashion but that isn't the case.
Personalized notebooks are still popular among artistic adults and kids as they want to see their favorite hero printed on the cover page.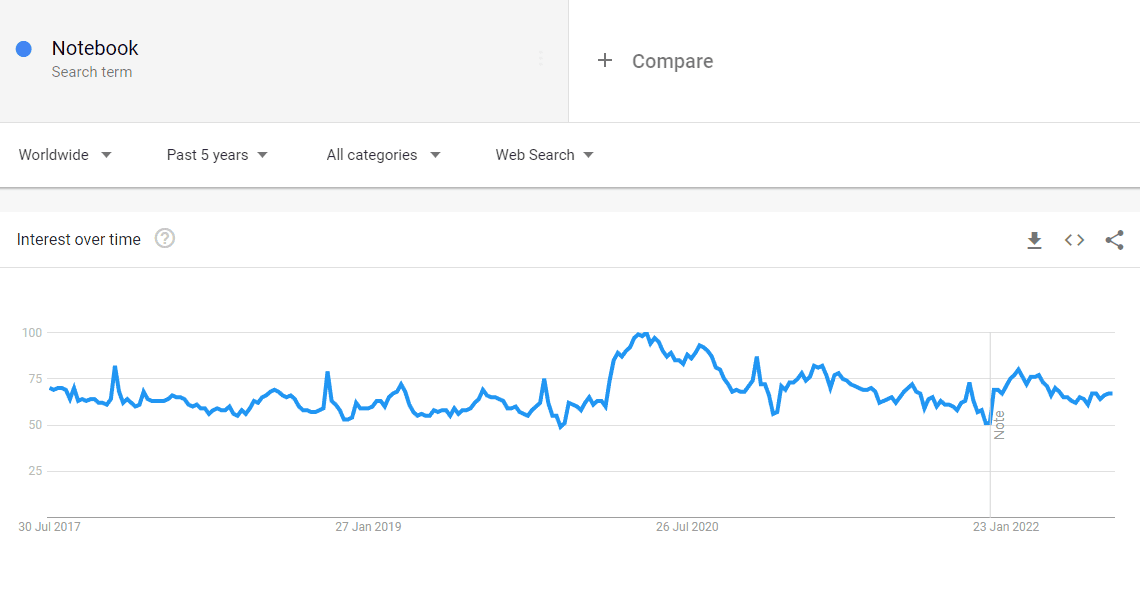 The graph has also remained quite consistent over the years so this shows notebooks can be POD products.
10 Products to Sell in a Private Label Ecommerce Store
There's a difference between money and wealth. General eCommerce stores would make you some money, but if you want to grow then at some point, you need to build a brand.
That's why here's a list of 10 products that you can sell in a private label eCommerce store:
1. Skipping Rope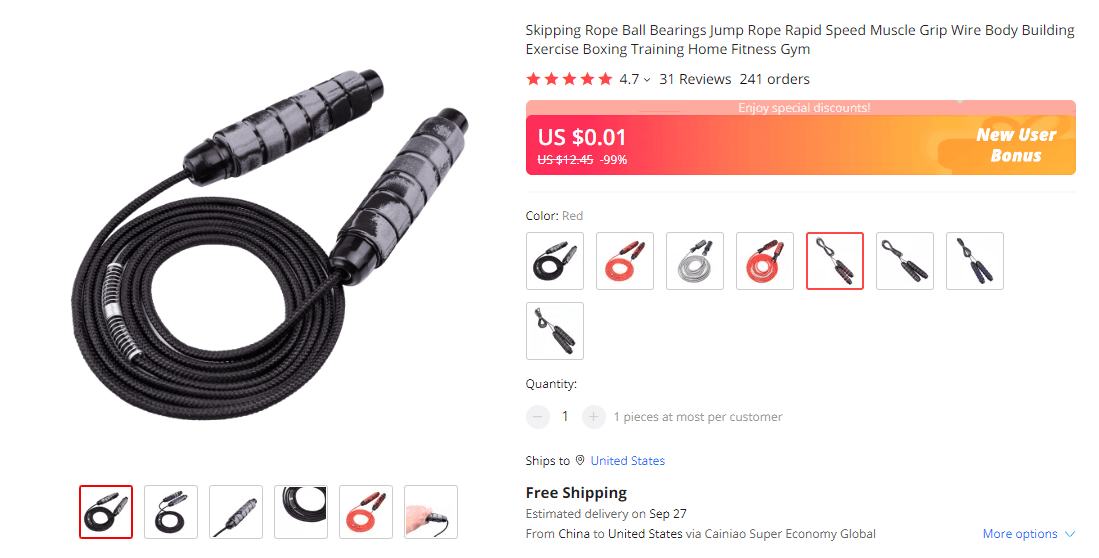 Skipping rope is one of the most effective cardio exercises around.
Whether you're in your home, office, or at a remote location, as long as you're carrying the rope, you can easily perform a high-intensity workout.
Customizing the rope doesn't require too much brainstorming either.
You can start by determining how you want to size your rope and whether you'd keep it large, small, or maybe a mix in between.
Then there's the material for the rope which is normally braided cotton, nylon, or polyester.
After that, we have the handles on which you can do your branding.
Overall, there are plenty of customizations you can do to a skipping rope to truly call it your own product.
2. Mouse Pad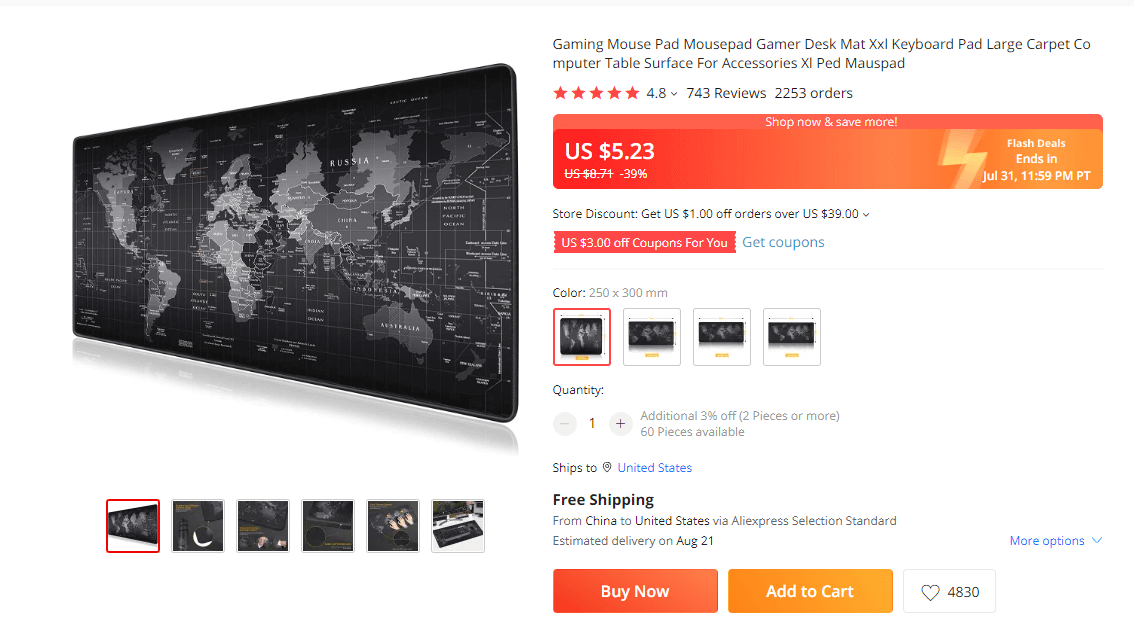 This product specifically targets gamers because only they can understand how big of a difference a good mouse pad can make.
We've seen the same old companies like Razer and SteelSeries dominate the computer accessories niche for a long time. Most people don't even try entering it due to existing competition.
But now, things have gradually started to change. Many new computer accessory brands have started to pop up.
You should take this opportunity as well and give a shot at the gaming niche by introducing your own mouse pads. The only thing you need to plan is its thickness, and the material you'll use.
We suggest offering a range of sizes so customers can choose according to their available table space.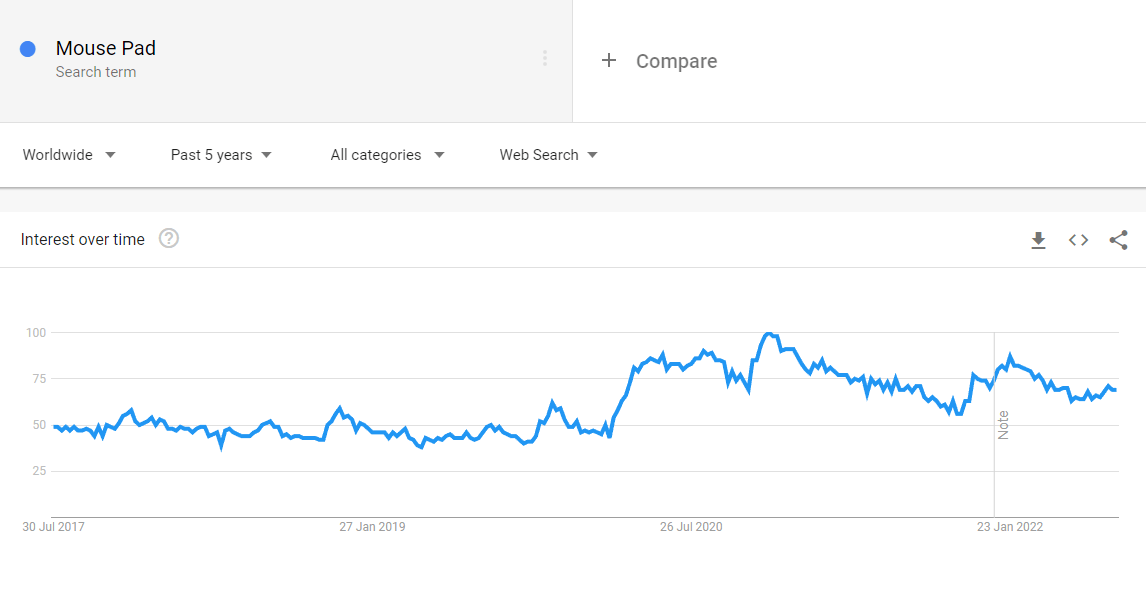 3. Shoes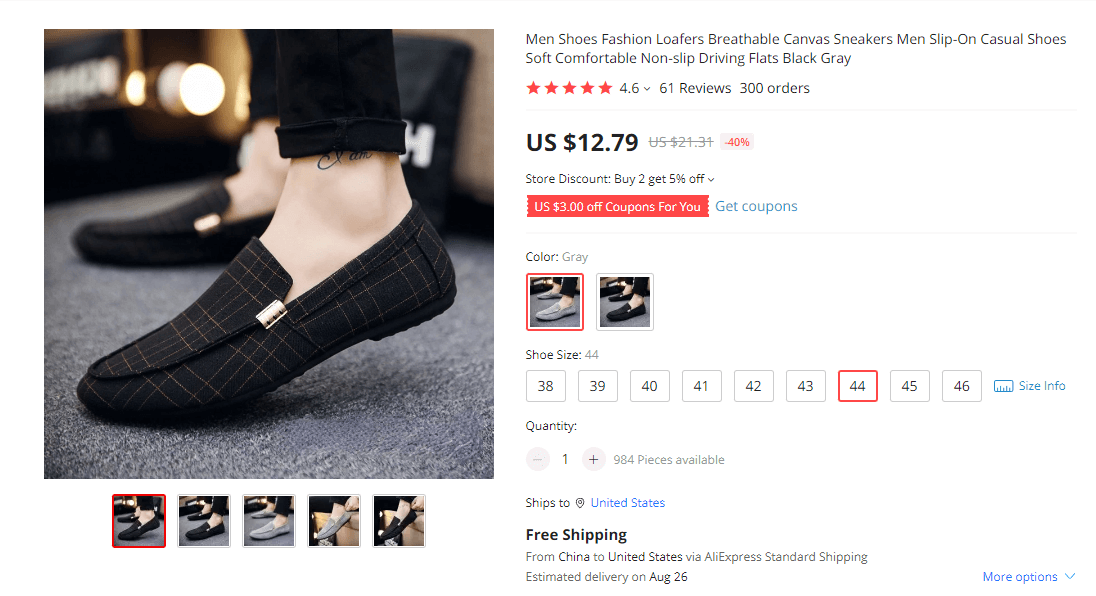 Starting a shoe label requires in-depth research and planning.
Rather than stocking hundreds of pairs, we first suggest narrowing down the market you're planning to target.
Don't sell too many products at once as that would confuse your audience. Try to niche down to avoid looking like a jack of all trades so you can differentiate yourself from other brands.
The best approach would be to introduce a single line of products like sportswear.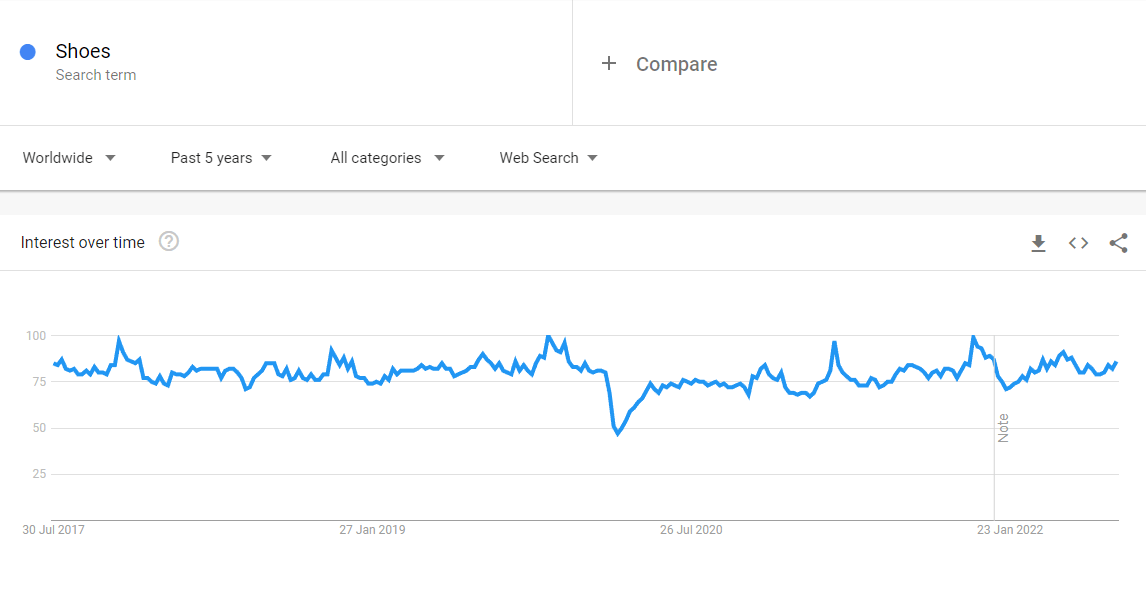 4. Shaving Equipment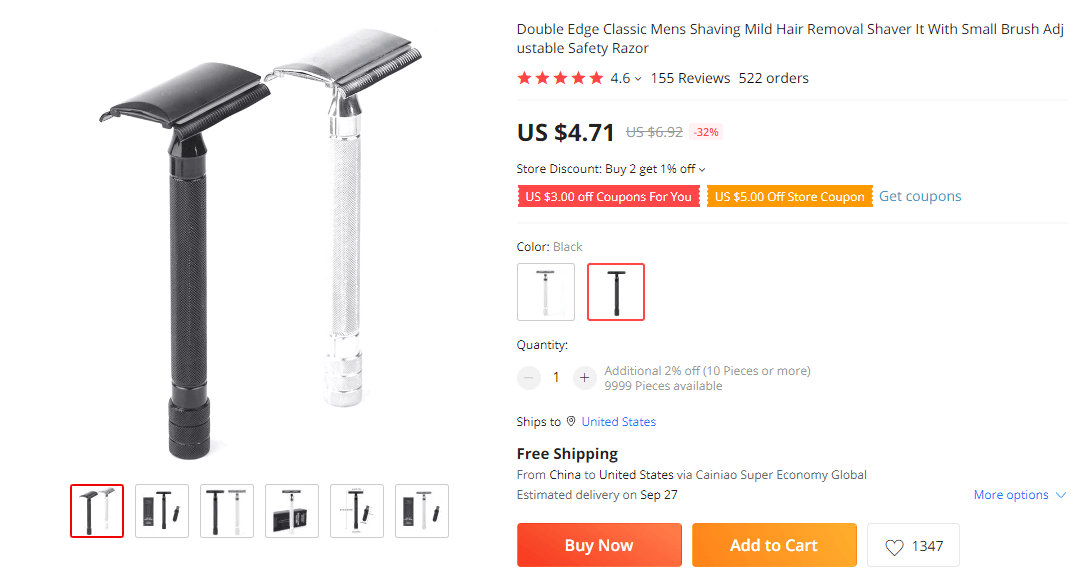 Grooming products can bag you consistent sales, but first, you'd have to create an honest and trustworthy brand.
If you think the competition is too tough then learn something from D2C brands like Dollar Shave Club that took on giants like Gillette.
You too could perhaps follow a similar subscription-based model.
Regardless of what you decide, we highly recommend learning more about how Dollar Shave Club marketed its brand to penetrate the competition.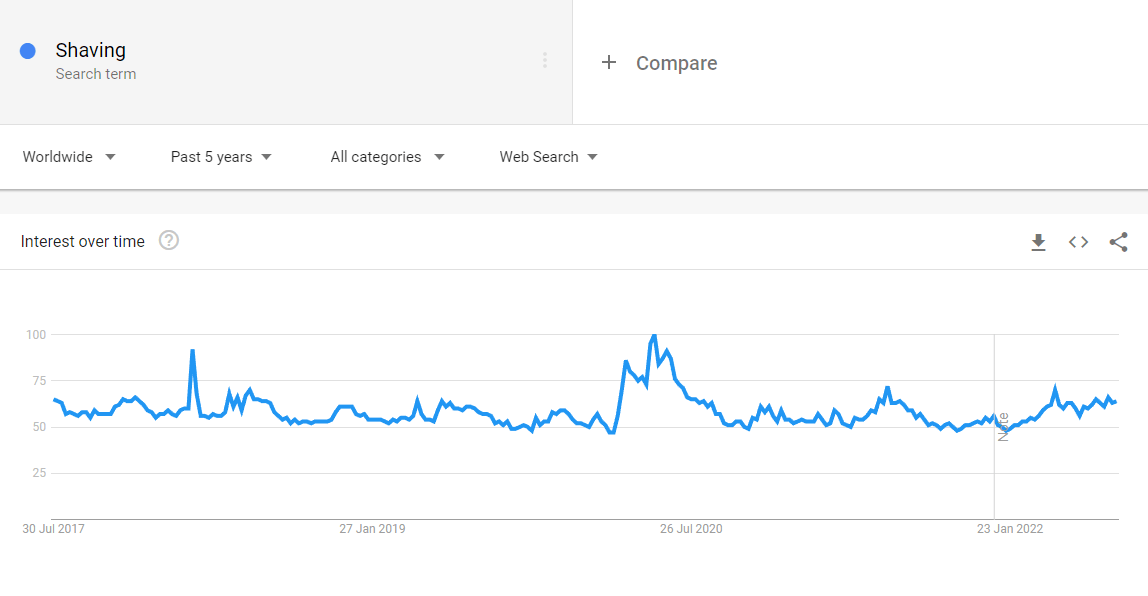 5. Yoga Mat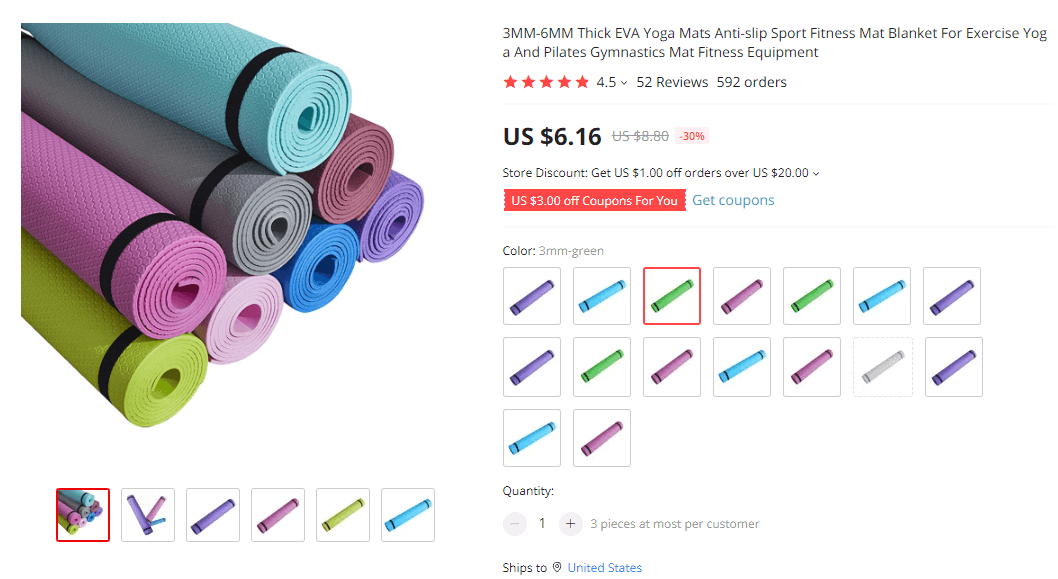 If you've always been enthusiastic about fitness, then there's no better way to share your passion than by building a brand surrounding yoga mats.
You can, of course, throw other fitness equipment and yoga pants into the mix as well.
But we chose yoga mats because they come in a variety of colors and sizes and people also frequently replace them.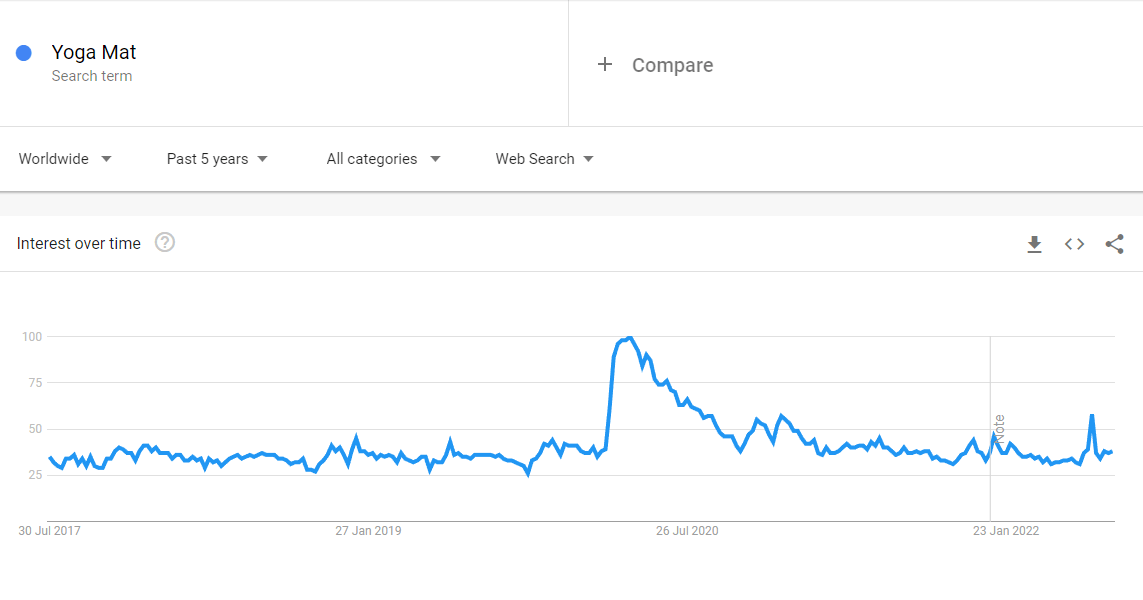 6. Wireless Phone Charger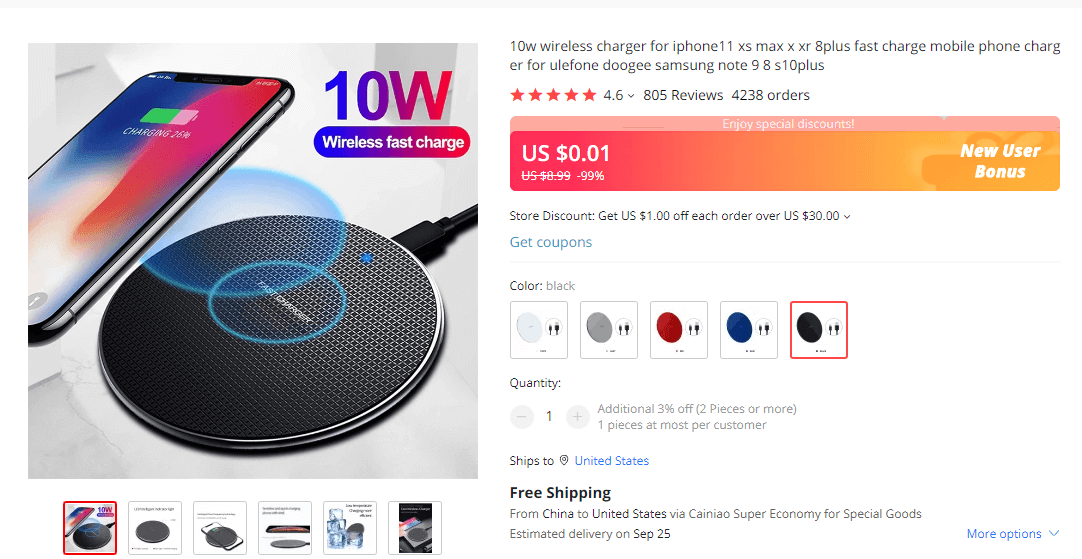 Wireless chargers haven't been around for too long, so the competition isn't too tough.
But the only problem is that there are far too many merchants selling low-quality wireless chargers.
You want to avoid making the same mistake. If you plan on private labeling wireless chargers then find a reliable sourcing service.
Other than that, the bar is already set low so with smart marketing and good product quality, your brand will quickly take off.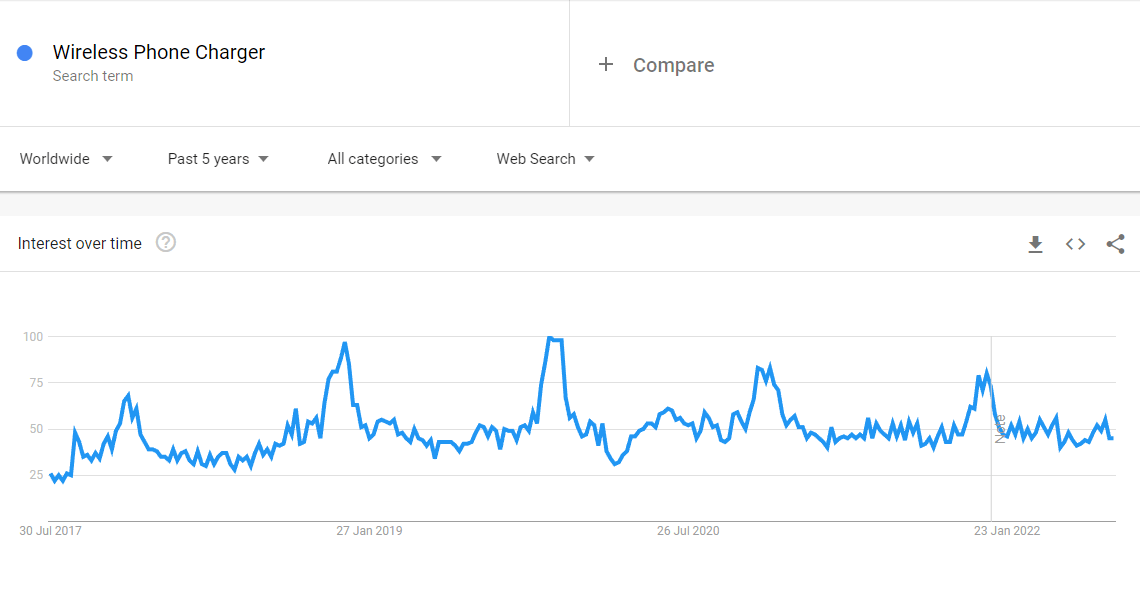 7. Nail Extensions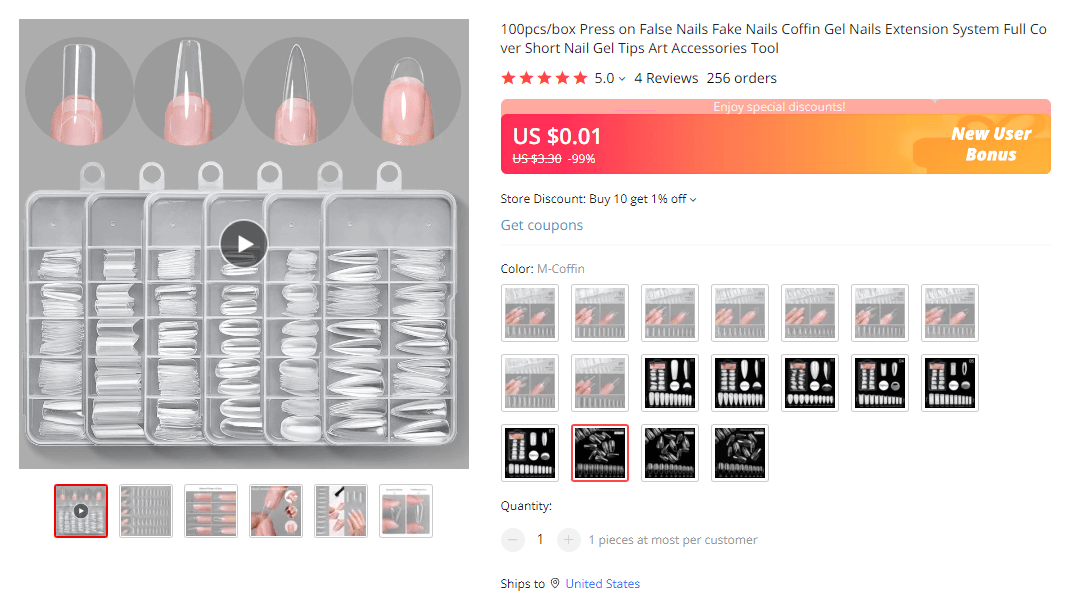 Remember when we said that the perfect product idea strikes when you least expect it? Well, this is what we were talking about.
According to the graph by Google Trends, nail extensions seem to be high in demand. What's even better is that they can be manufactured for as little as $1 a set.
But obviously, the physical safety of your customers is on the line so you don't want to work with shady suppliers for this product.
You can sell nail extensions in makeup shops and beauty salons and from there, try building your own fashion and cosmetic brand.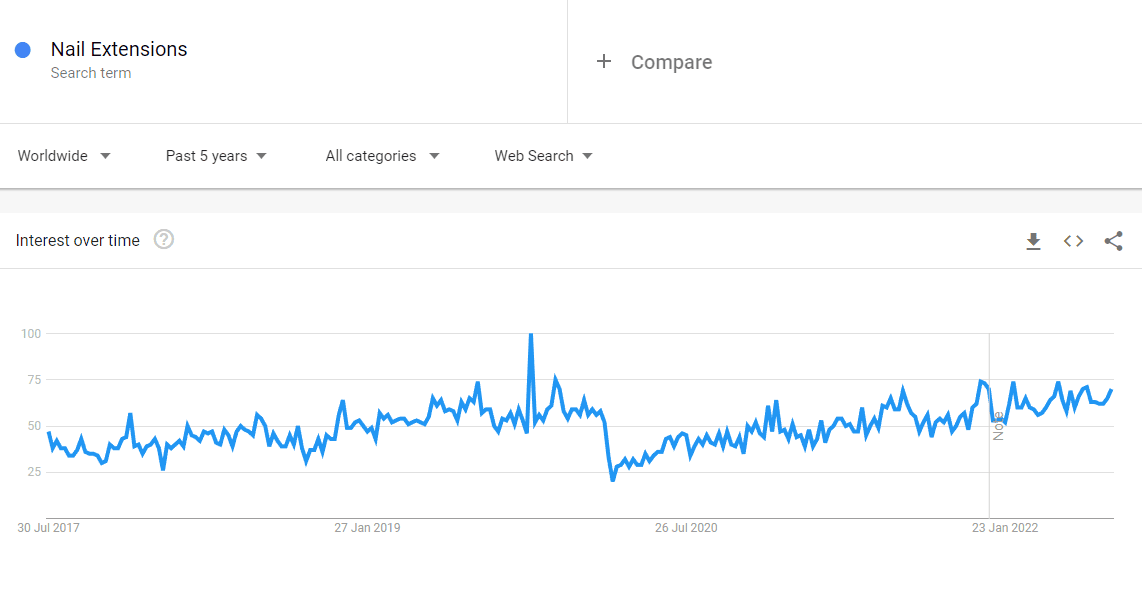 8. Smart Backpack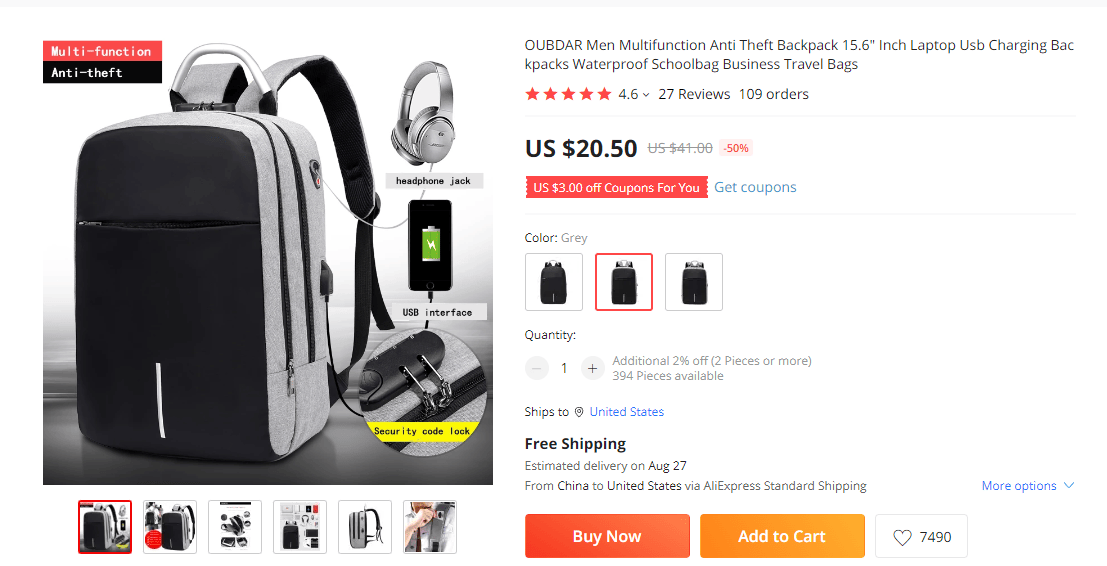 Life would become so much easier if you can charge your phone on the go. Fortunately, smart backpacks can do this, and much more!
Technology has found its way to improve the traditional bags that have been around for centuries.
The smart backpacks have built-in USB cables, a power bank, and even anti-theft pockets.
This product will definitely attract frequent travelers.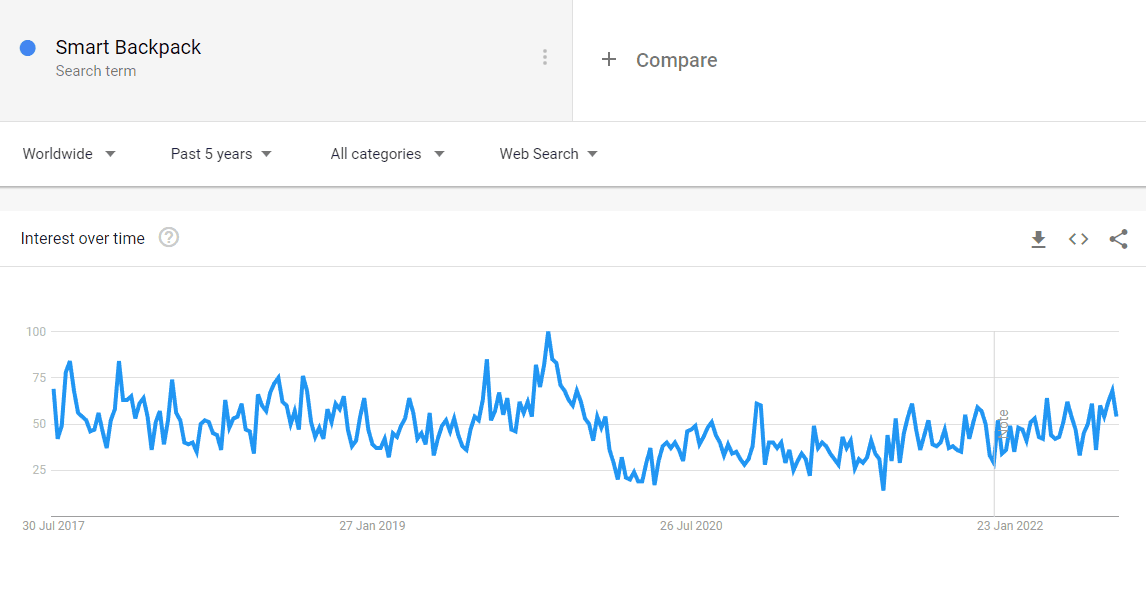 9. Vape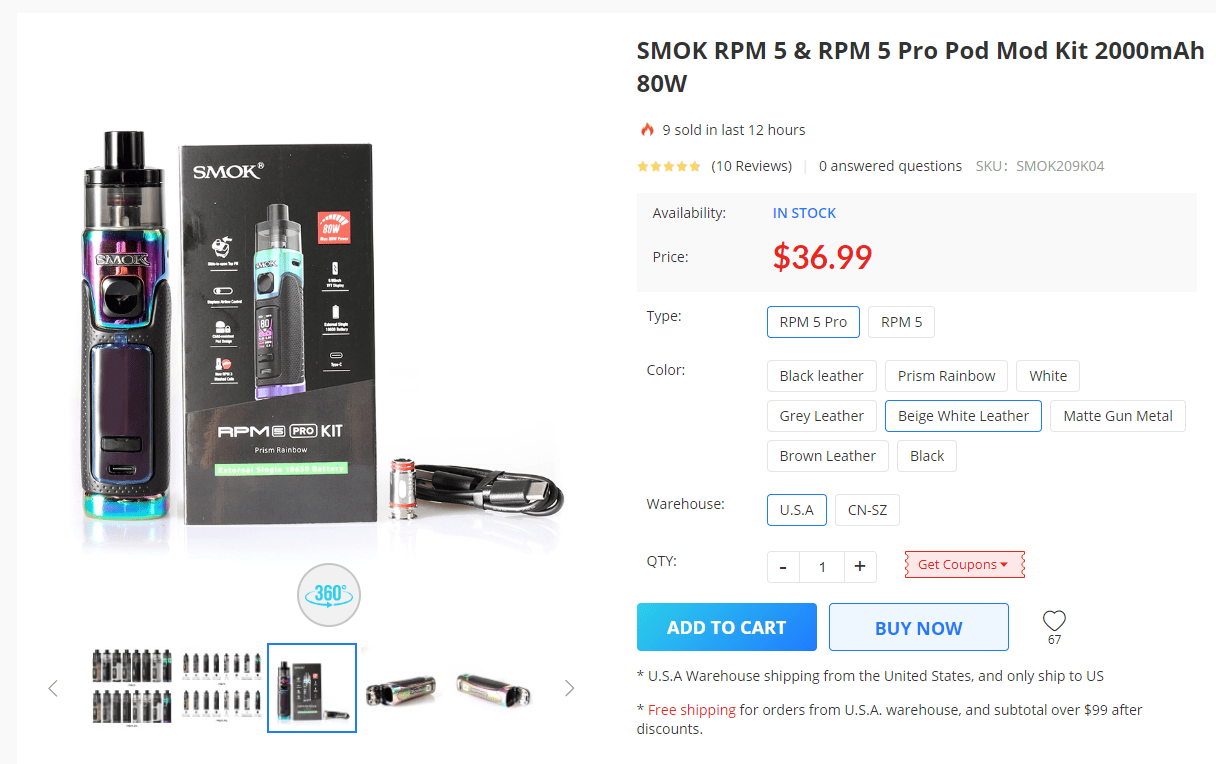 The vape market value is expected to reach a whopping USD 182.84 billion by 2030.
Whether they're safe to use or not is debatable, but we're certain about one thing and that is their growing popularity.
You can even see in the graph by Google Trends that the demand for vape and e-cigarettes continues to rise.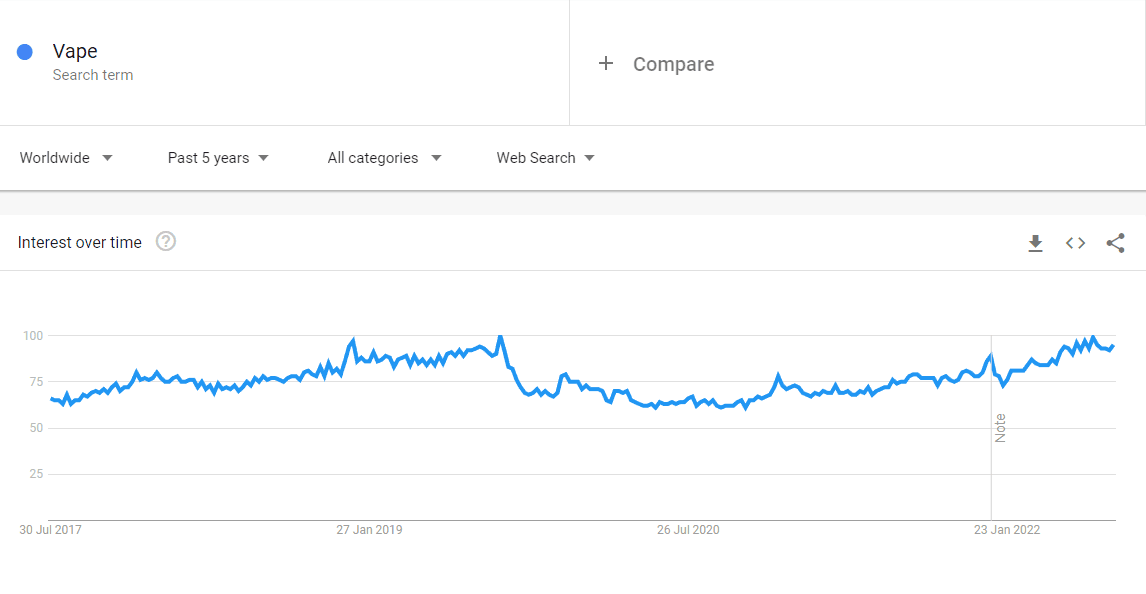 If you can work around the legal technicalities and find a reliable supplier, then this niche can earn you some serious dough.
10. Party Board Games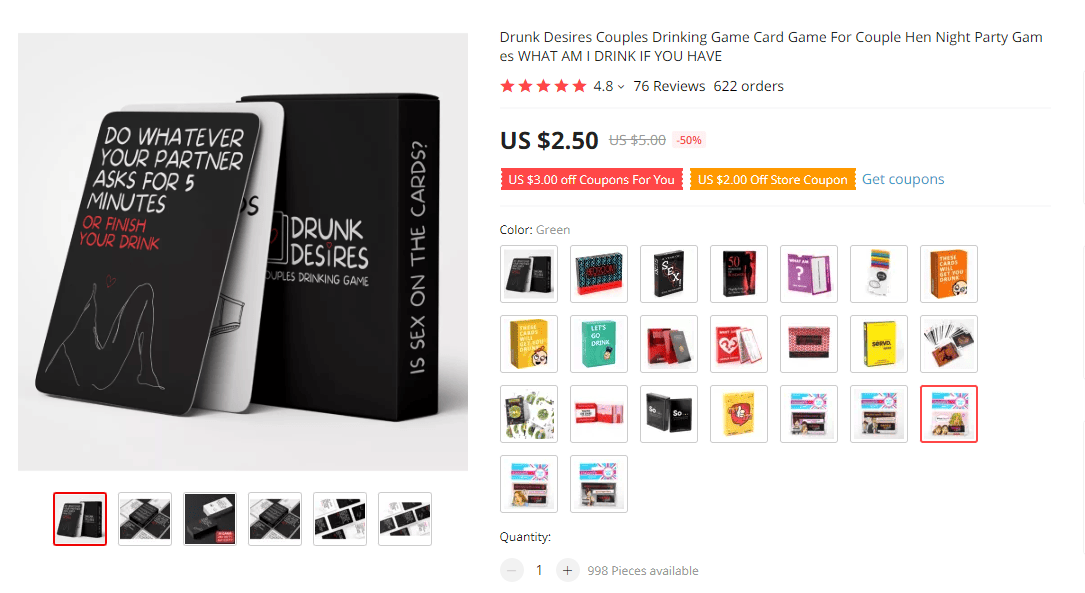 Party board games are becoming exceedingly popular. There are two ways to private label this niche.
One is to simply slap your brand name on an already existing game – which is more like white labeling.
The other, as you guessed, is to develop your own game which obviously requires a lot of brainstorming and creativity. But if you follow this method then you're likely to earn more.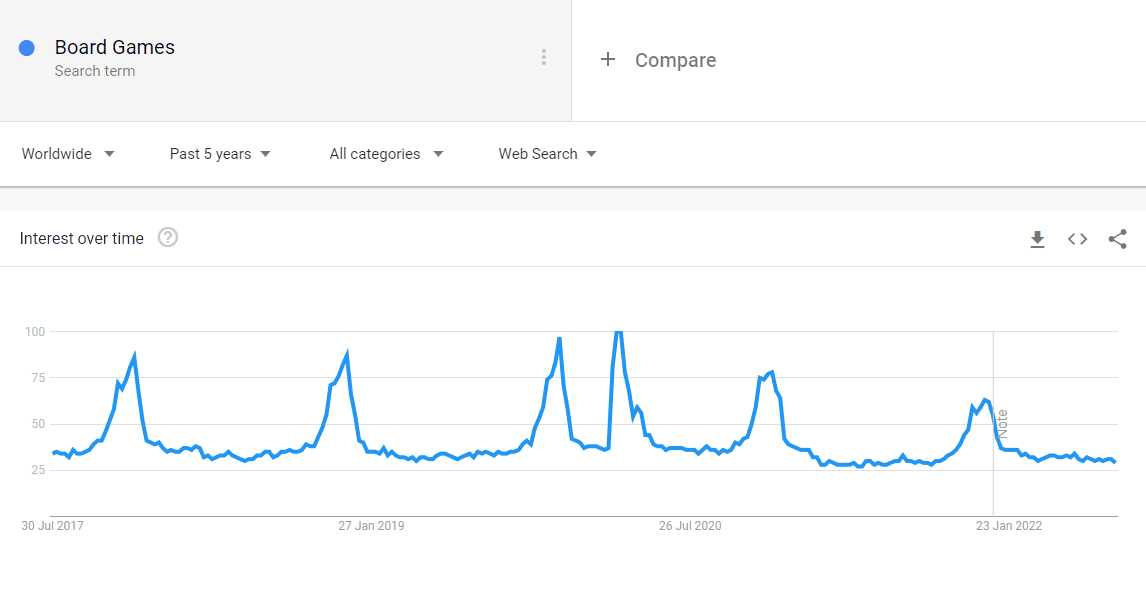 10 Products to Sell in a White Label Ecommerce Store
If you want to build a brand without getting going through the complex process of creating a custom product then here are some white label products to sell instead:
1. Coffee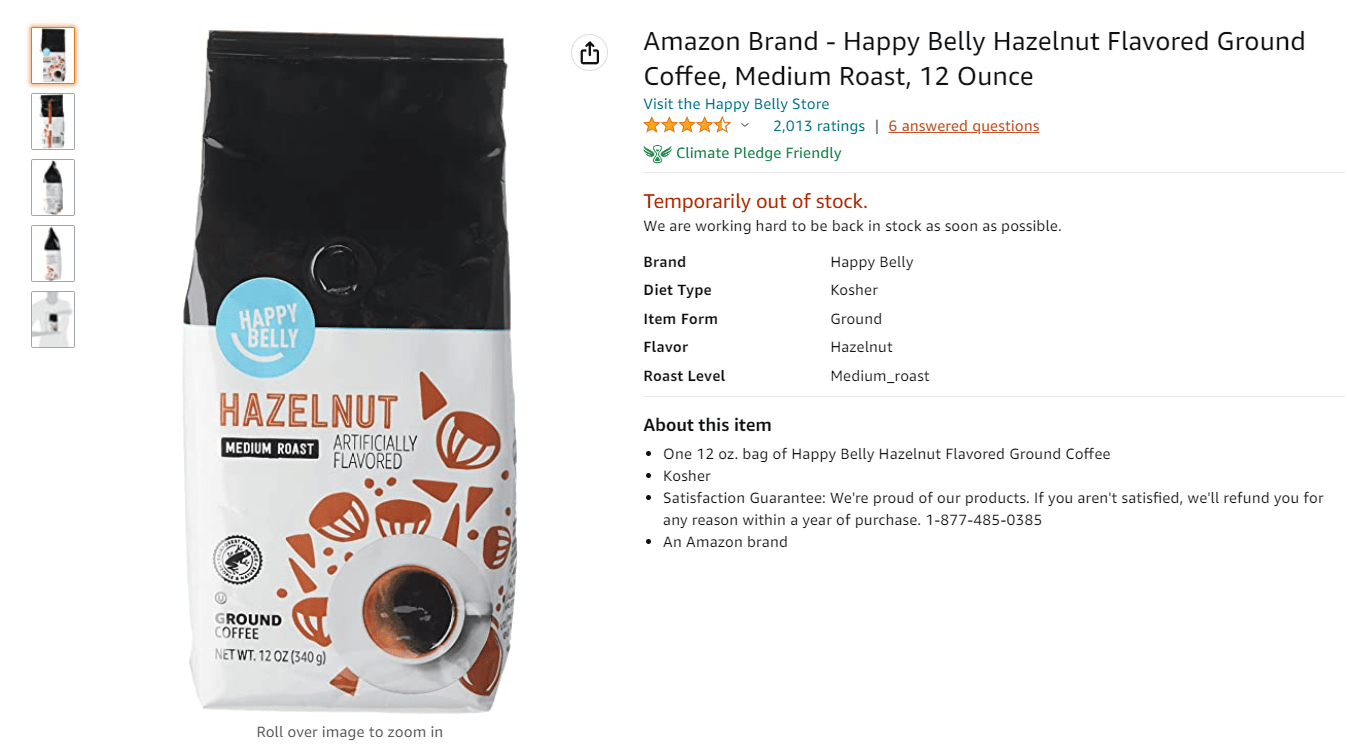 Around 50% of the U.S population consumes coffee regularly. Due to the high demand, the competition in the coffee industry is ever-growing.
New brands are popping up almost every day and the customers are also willing to pay a good price as long as you're bringing quality to the table.
You don't have to be a coffee enthusiast to white label this product either. Just use Google Trends to see which coffee flavor is popular and then find a world-class supplier for it.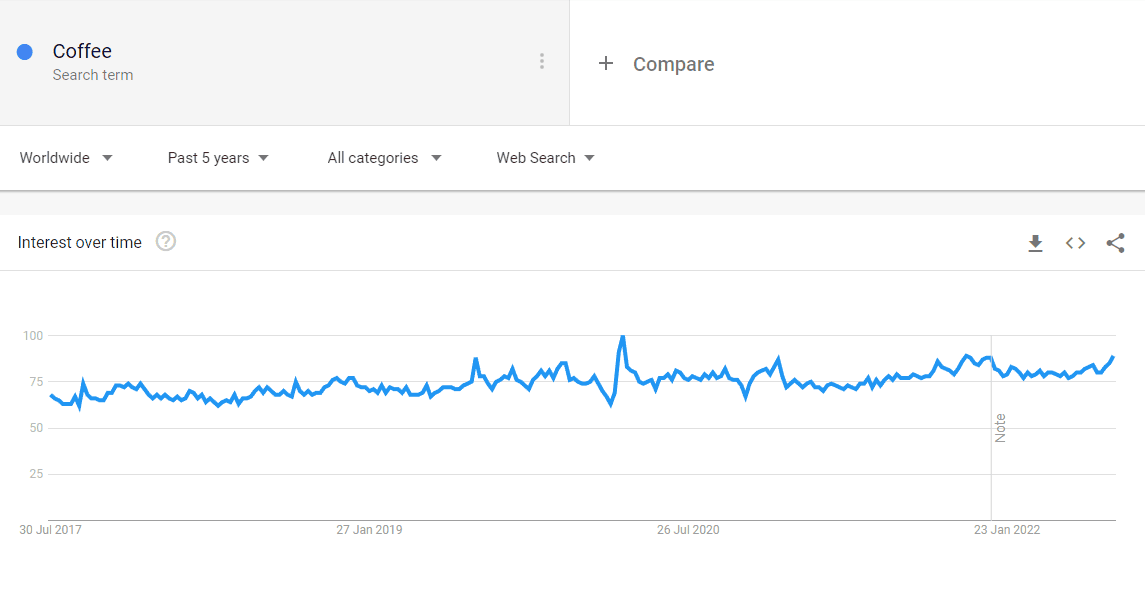 2. Lunch Box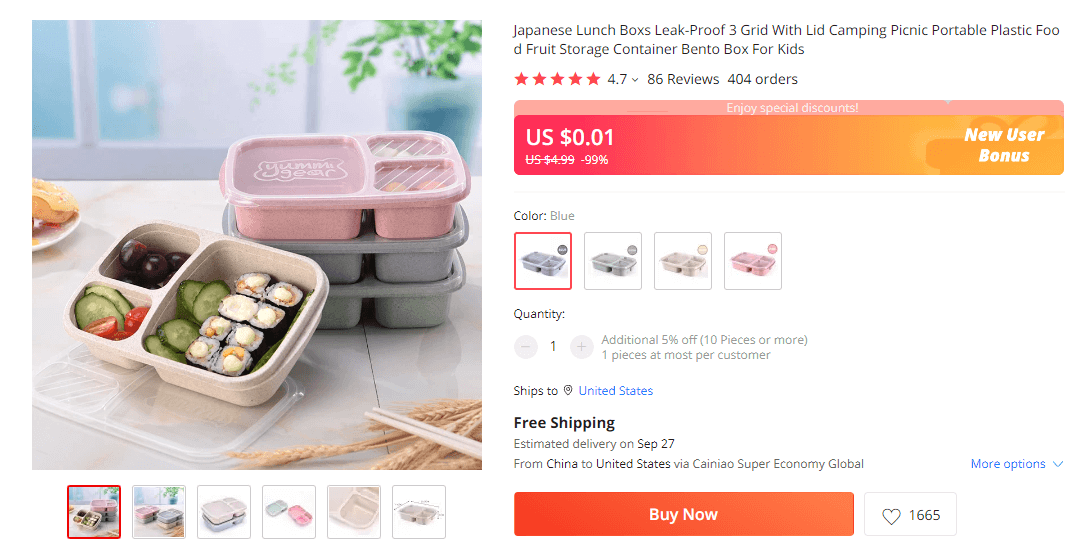 Yes, even in 2022, lunch boxes are a thing. In fact, not only are lunch boxes popular among kids, but also among working adults.
Just look at the graph and you'll see how many people have been searching for them nowadays.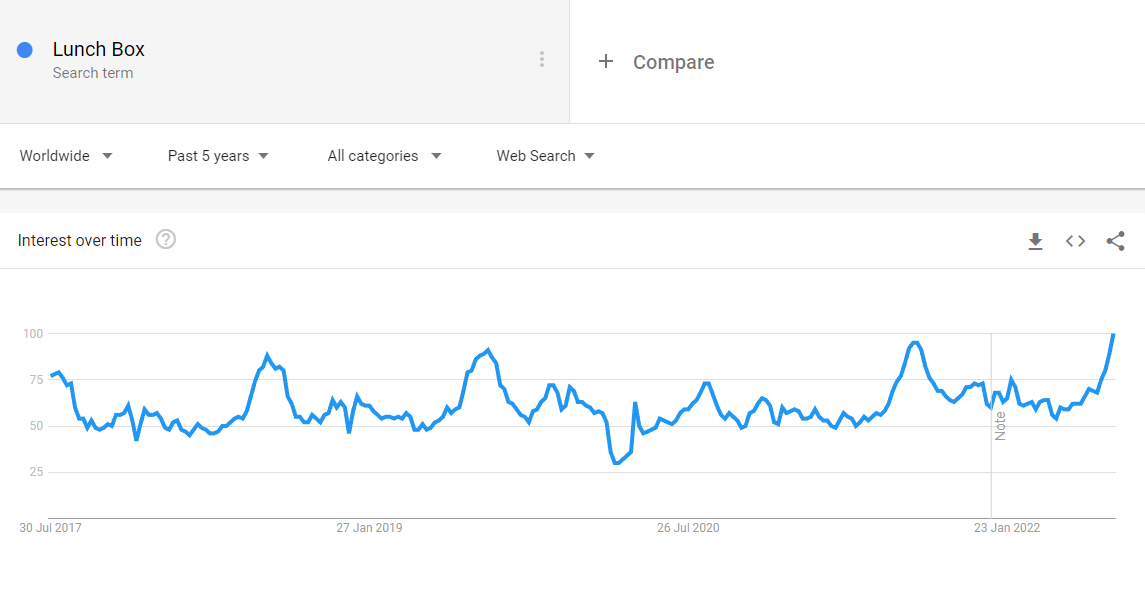 If you do plan to private label a lunch box, then we recommend focusing on both design and functionality.
Find lunch boxes with multiple compartments so people can easily store and carry their daily nutrition.
3. Type-C Cable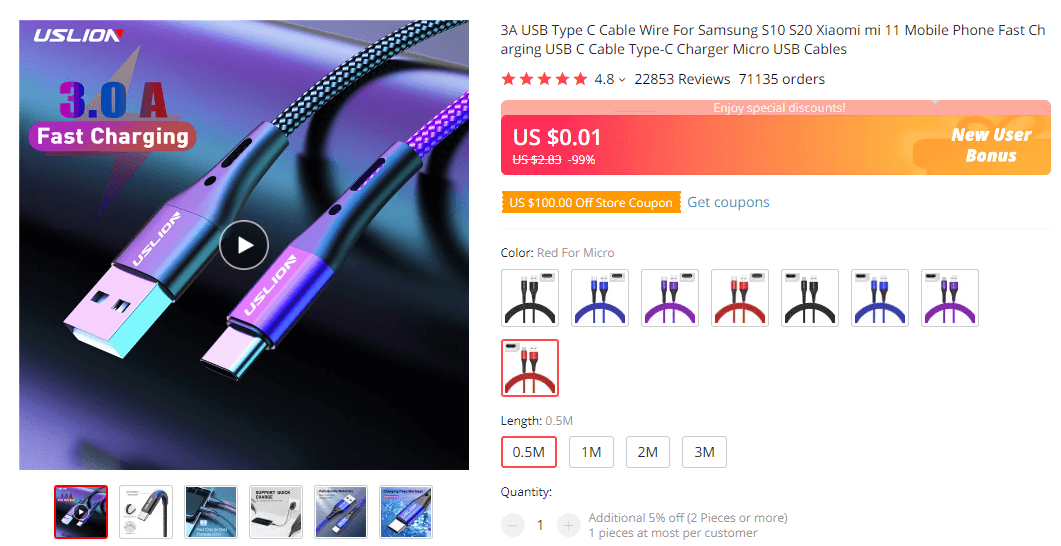 All the new Android devices are encouraged to use the Type-C USB port.
And with more than 2 billion Android phone users in the world selling quality Type-C cables can be highly profitable.
The graph for these cables has grown steadily, and in the upcoming years, USB-C is expected to become mandatory for all phones.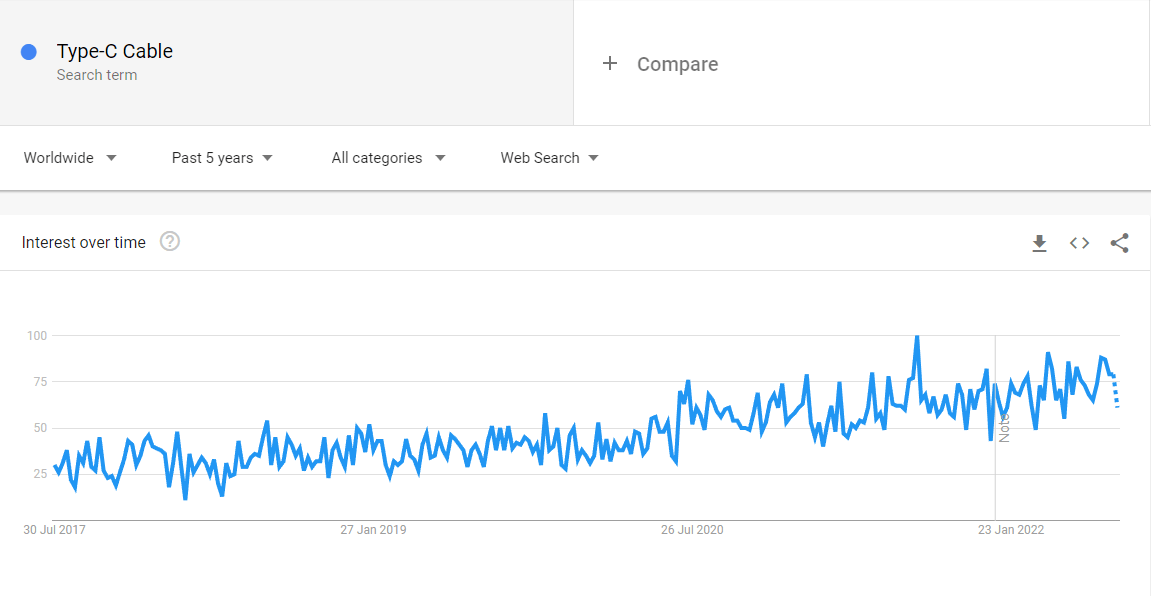 4. Eyewear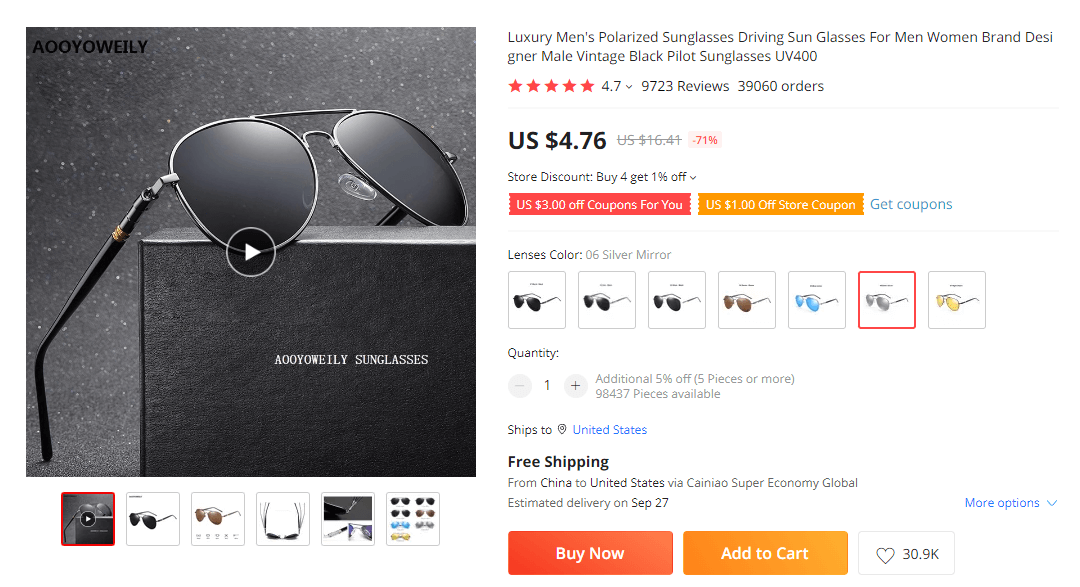 Glasses aren't only used to see an improved sight. They're the perfect accessory to make a style statement and protect your eyes.
Now, we know that the eye industry is huge and the competition is already tough. However, there are also many avenues for you to make a profit.
Just choose a niche of eyewear that you would like to focus on, and try creating a unique selling point.
For example, you can promote your brand by claiming to provide the sturdiest sunglasses on the market.
But of course, for that, you'd first have to find a reliable sunglasses supplier.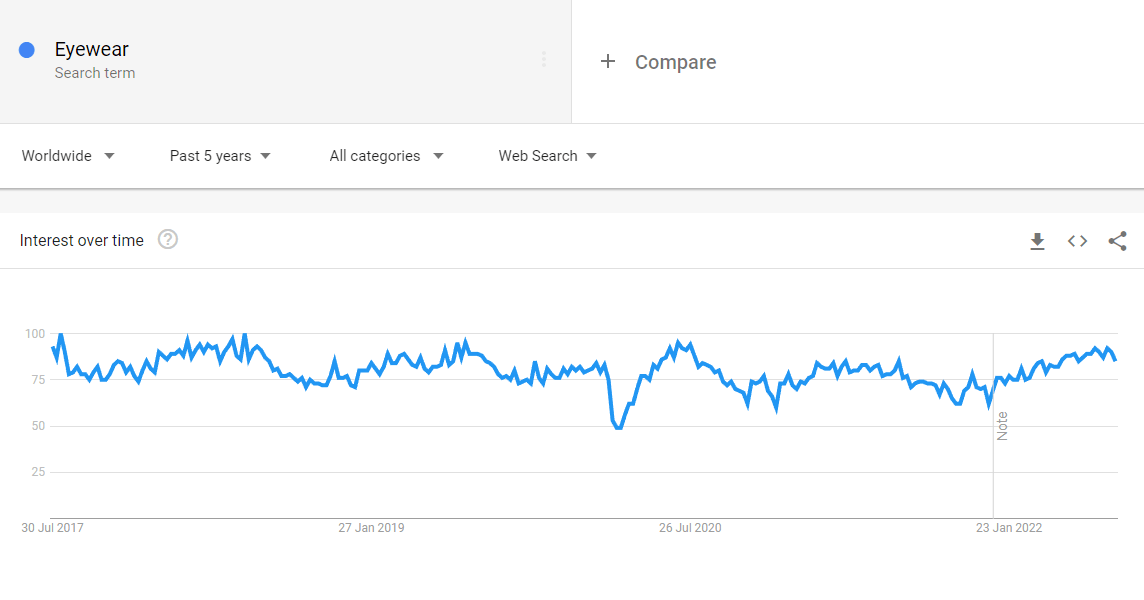 5. Hand Sanitizer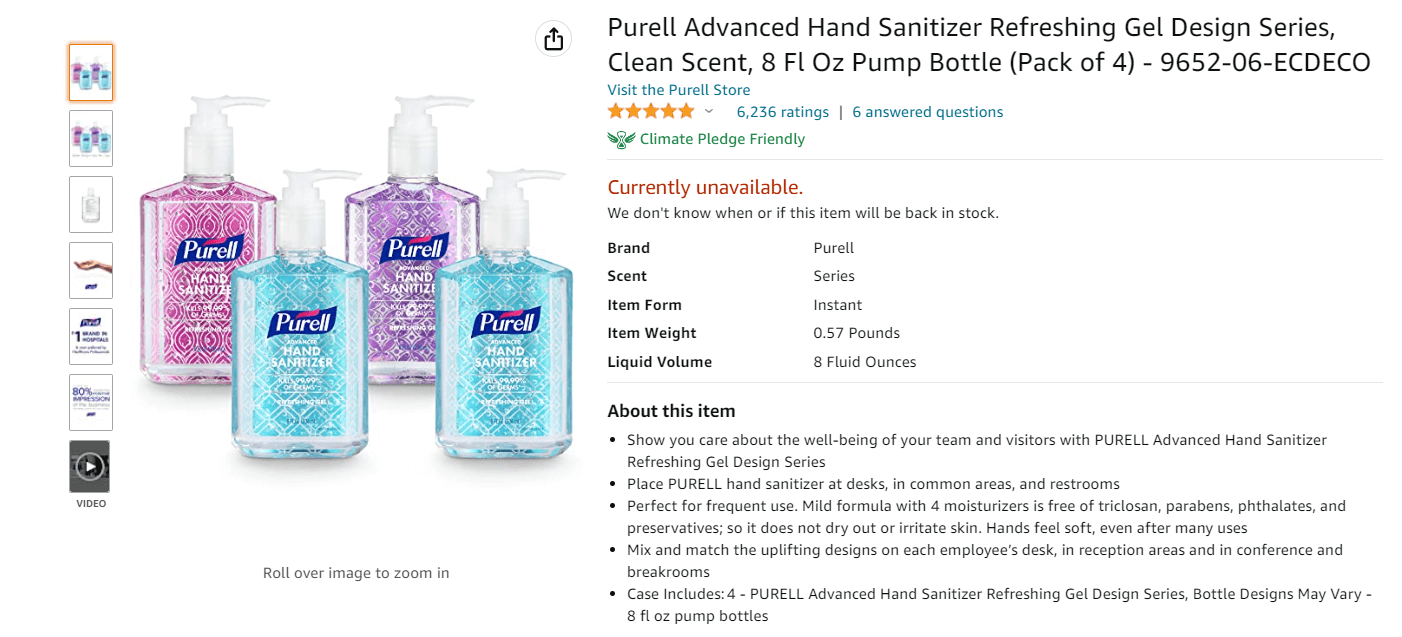 Don't let the straight line on Google Trends fool you, because, for obvious reasons, hand sanitizers are more popular than ever.
They're purchased by restaurants and corporate sectors in bulk and even today, sanitizers can make you a ton of money.
You can perhaps consider adding other similar hygiene products like a hand wash, body wash, etc.
This will help you build a brand surrounding the self-care and hygiene niche.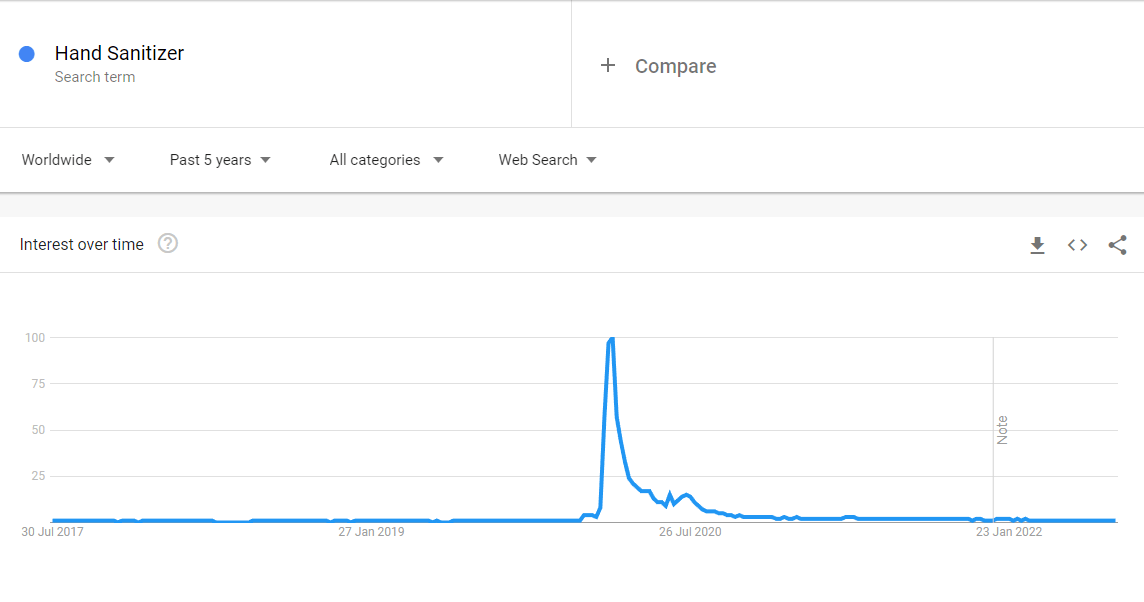 6. Wetsuits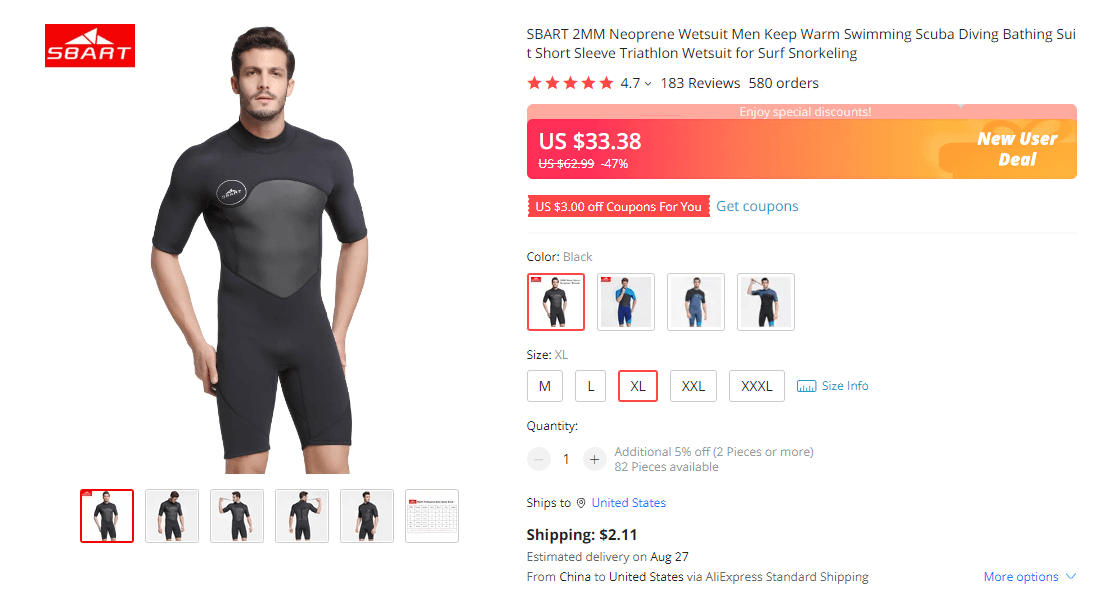 This product is probably a bit more specific, however, it targets a diverse audience.
Everyone from swimmers, divers to even surfers needs a wetsuit.
The only trick to selling this product is to pick a country that's famous for its beaches.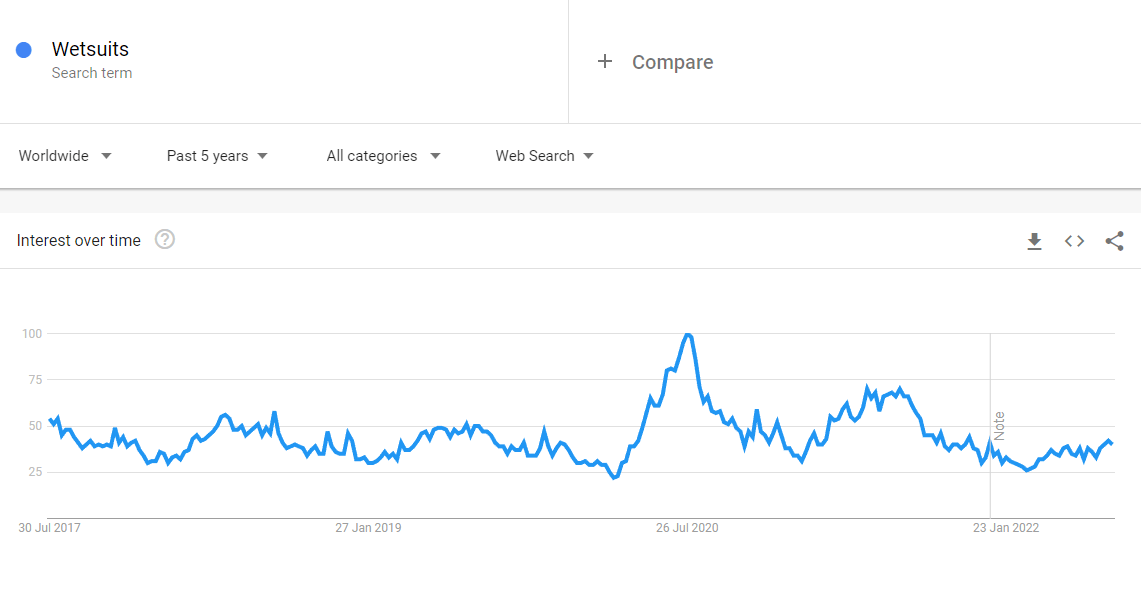 7. Picnic Blanket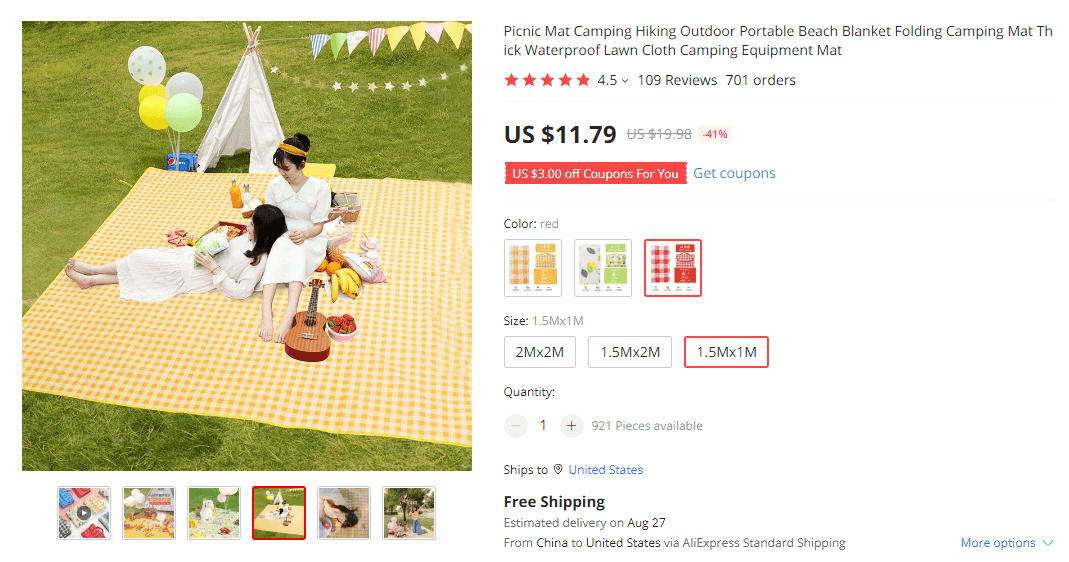 A picnic blanket or also known as a picnic mat is the perfect product for families to enjoy the pleasant summer weather.
It makes for a great gift, and the only thing you need to ensure is to include an interesting selection of prints.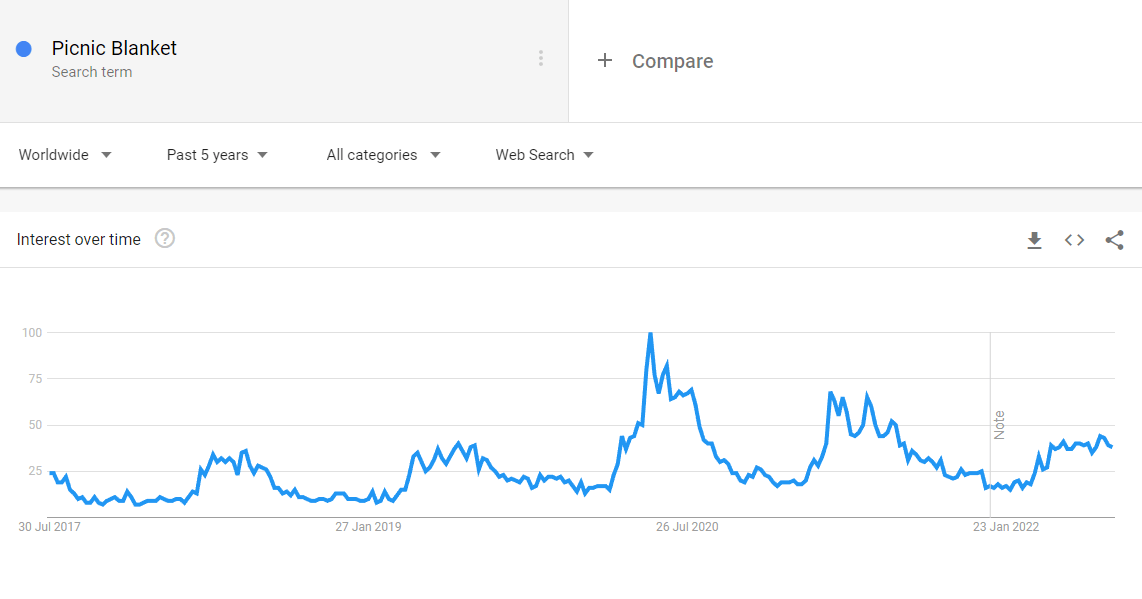 8. Water Bottle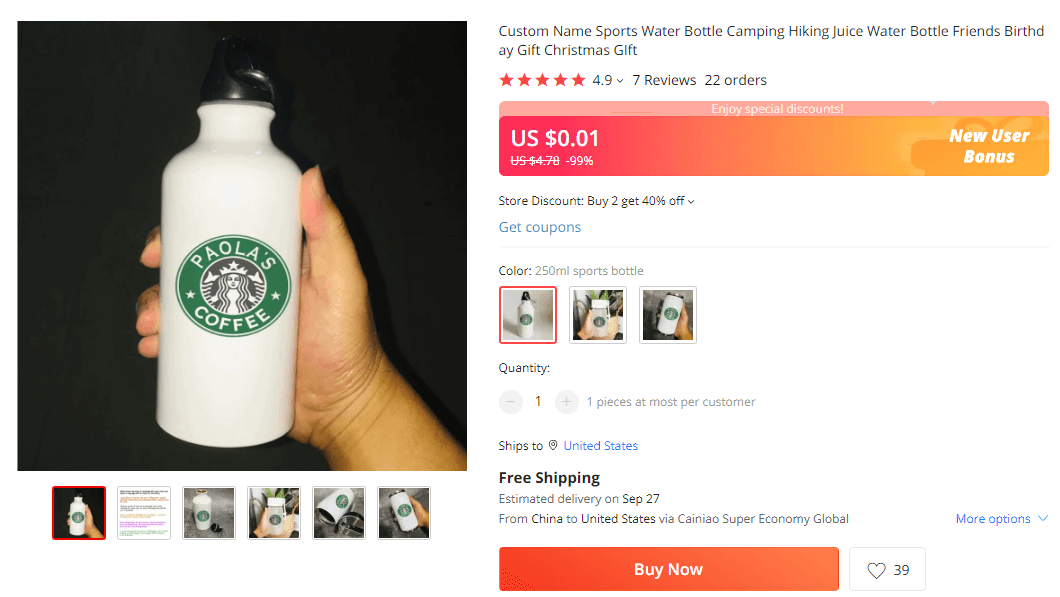 Water bottles come in hundreds of shapes, sizes, and colors with every other person carrying one nowadays.
Although the competition is tough, there are still many ways to make your brand stand out.
For starters, make sure that your water bottle is easy to clean, leak-proof, and has labels to keep a track of the water intake.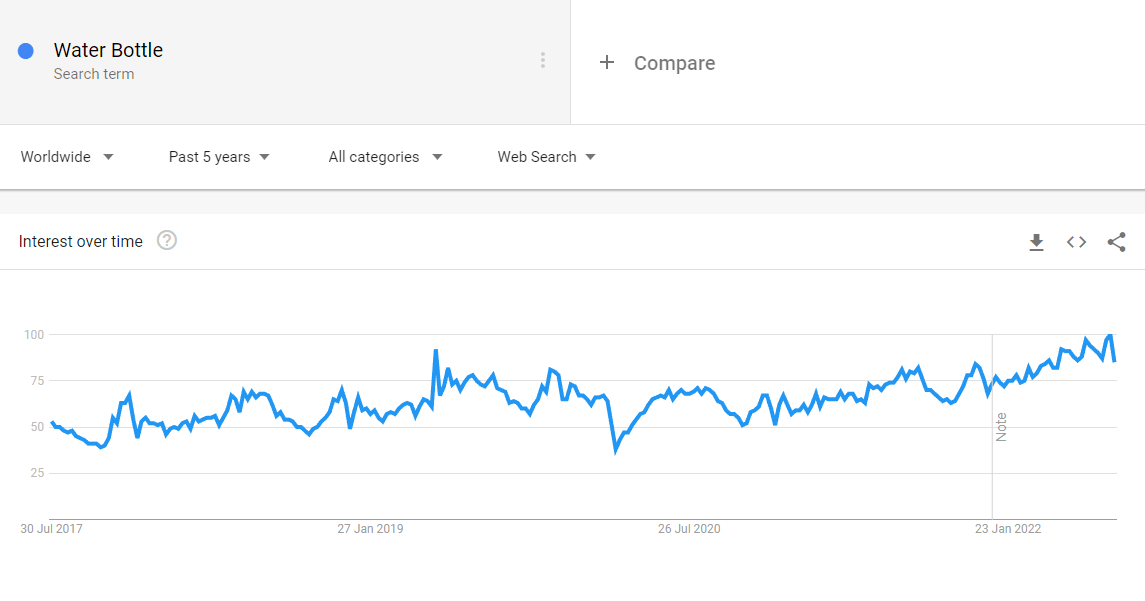 9. Camping Tent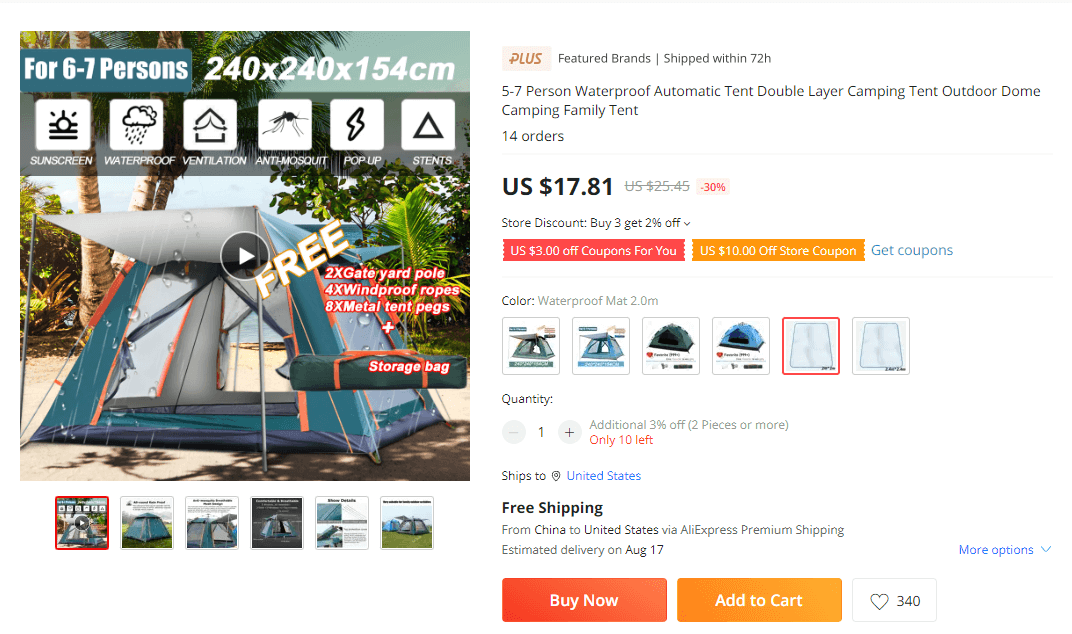 Camping is becoming popular, especially among the younger generation as 56% of campers are millennials.
Camping tents come in varying prices so this product also offers significant profit potential.
The only thing you need is a trustworthy camping gear supplier and you're set to go.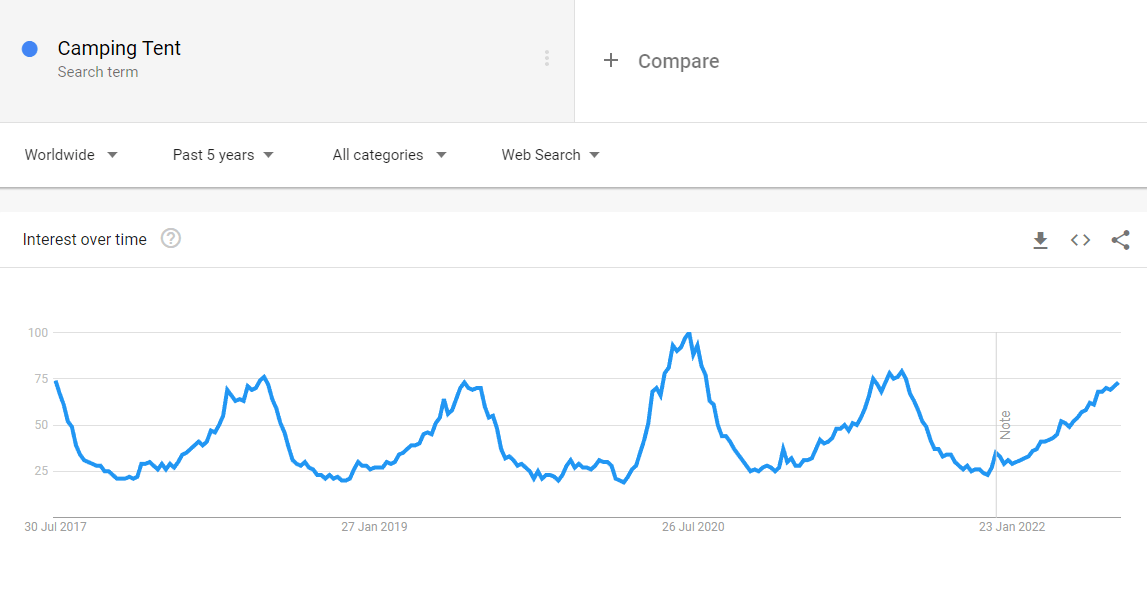 10. Organic Tea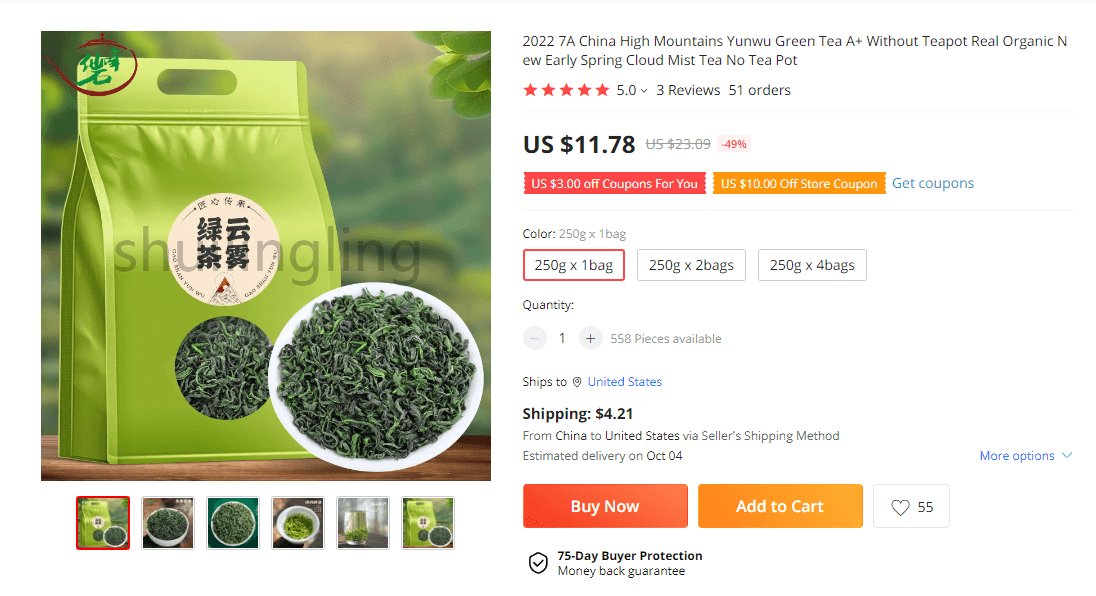 Similar to coffee, tea enthusiasts will enjoy their favorite drink, regardless of the season.
That's why you'll see organic tea bagging stable sales throughout the year.
You can normally source tea products for under $10, and then sell them at a higher price.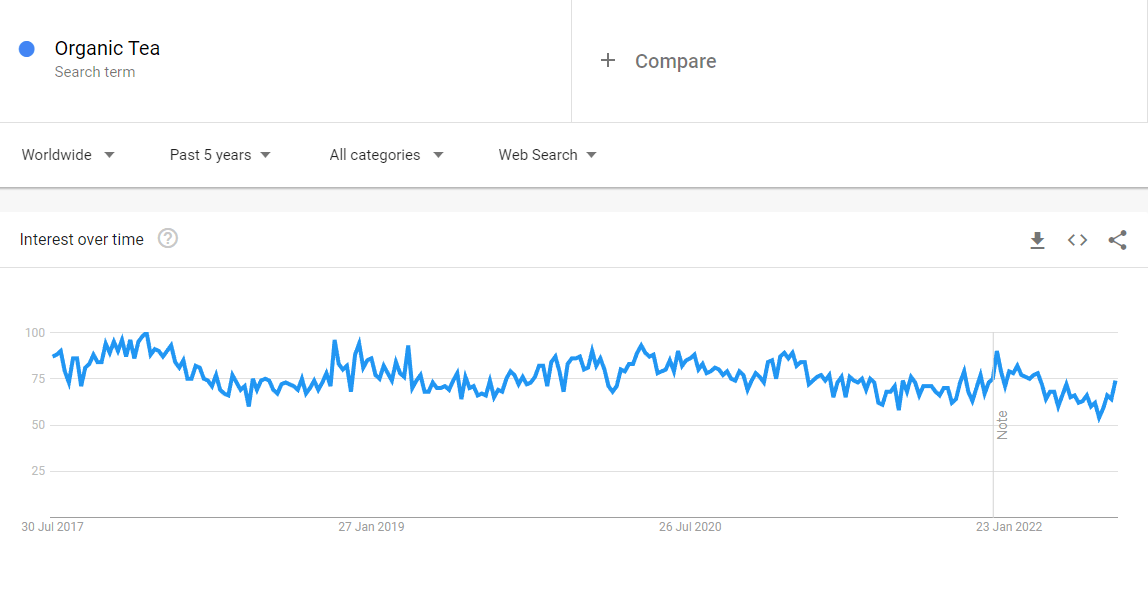 10 Products to Sell on Amazon
Amazon is one of the largest eCommerce platforms in the world. Launching a store on the site requires a hefty investment, so you want to be extra careful with your choice of product.
If you're curious to know what Amazon buyers are spending their money on nowadays then here's a list of the best Amazon products:
1. Electric Scalp Massager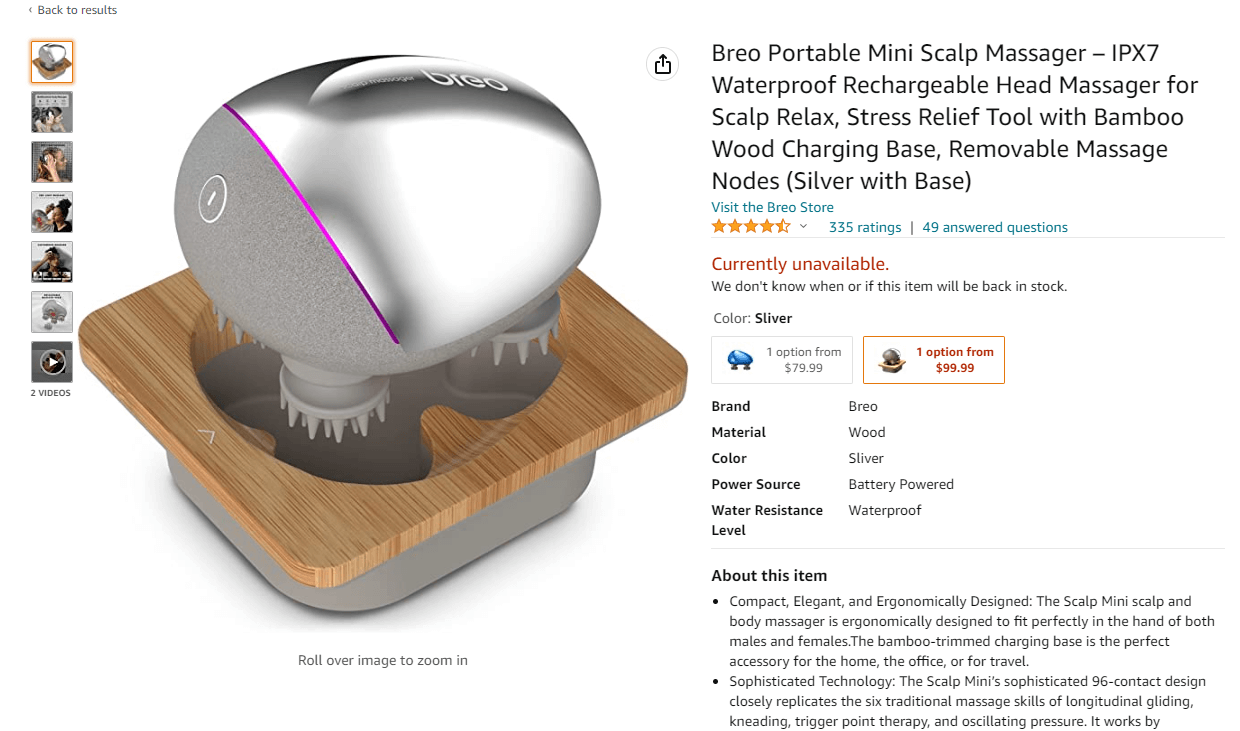 Remember we talked about scalp massagers earlier? Well, they're back.
Electric scalp massagers are trending on Amazon. They come in several different variants.
The price depends on the build quality and the number of features it offers.
But overall, customers have been using it as a stress reliever at the end of a long day.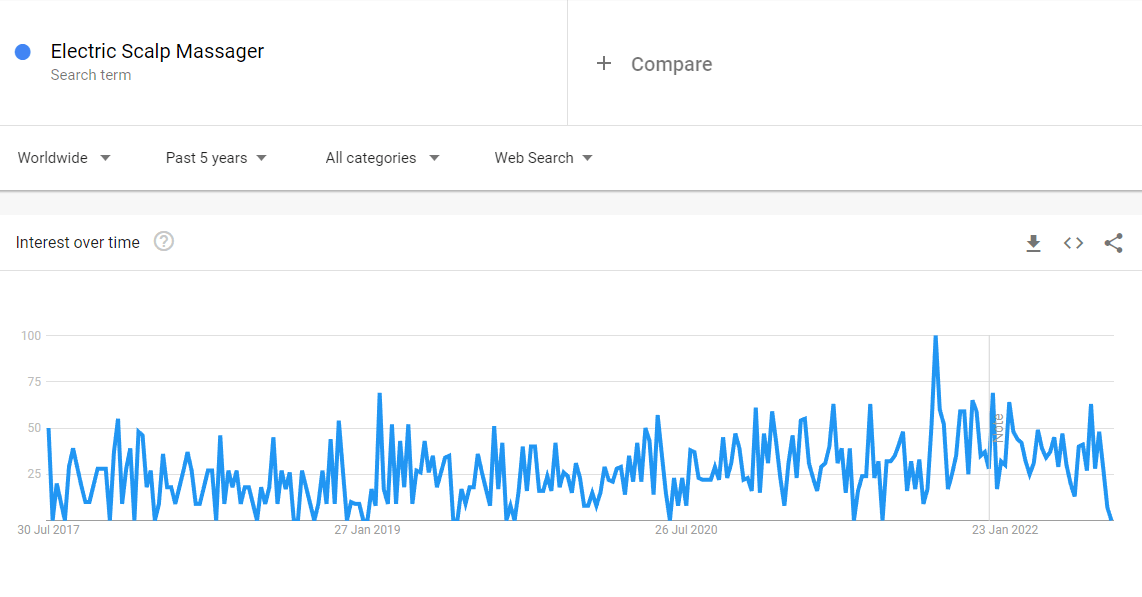 2. Car Cleaning Gel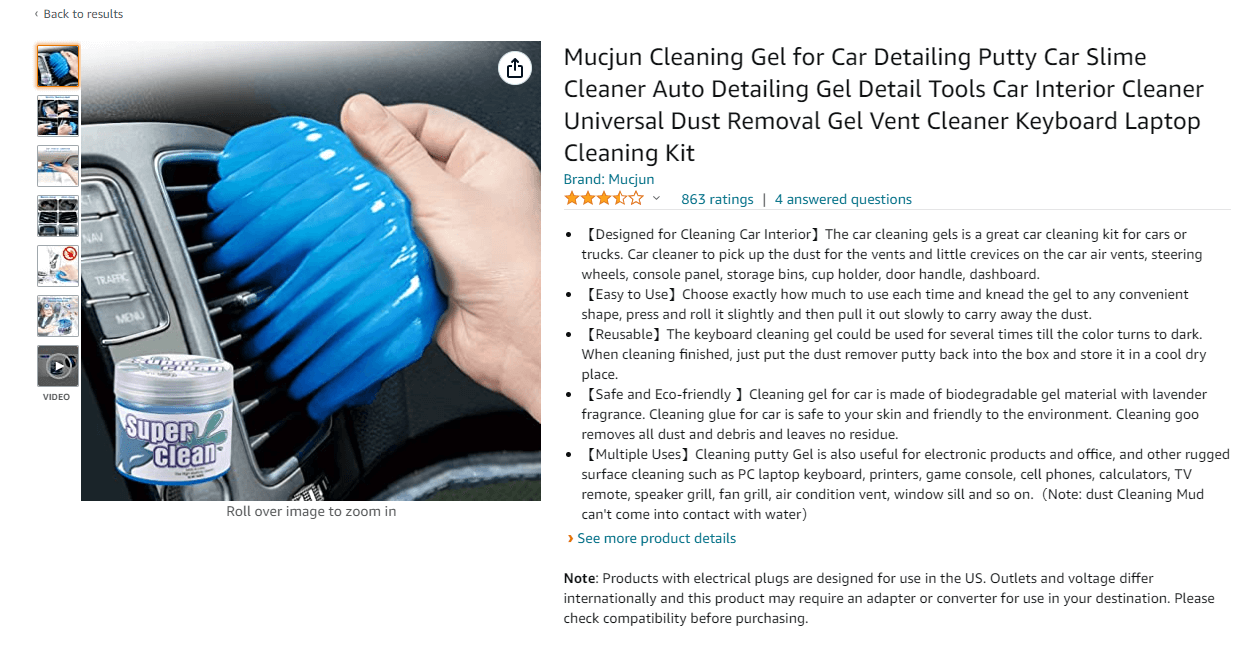 Only car enthusiasts understand how annoying those crumbs and hardened grease can be in the car crevices.
Rather than taking their ride to the car wash every time, people have opted for car gels as a simpler solution.
This sticky substance can fit in any crevice to clean all the residing dirt and dust.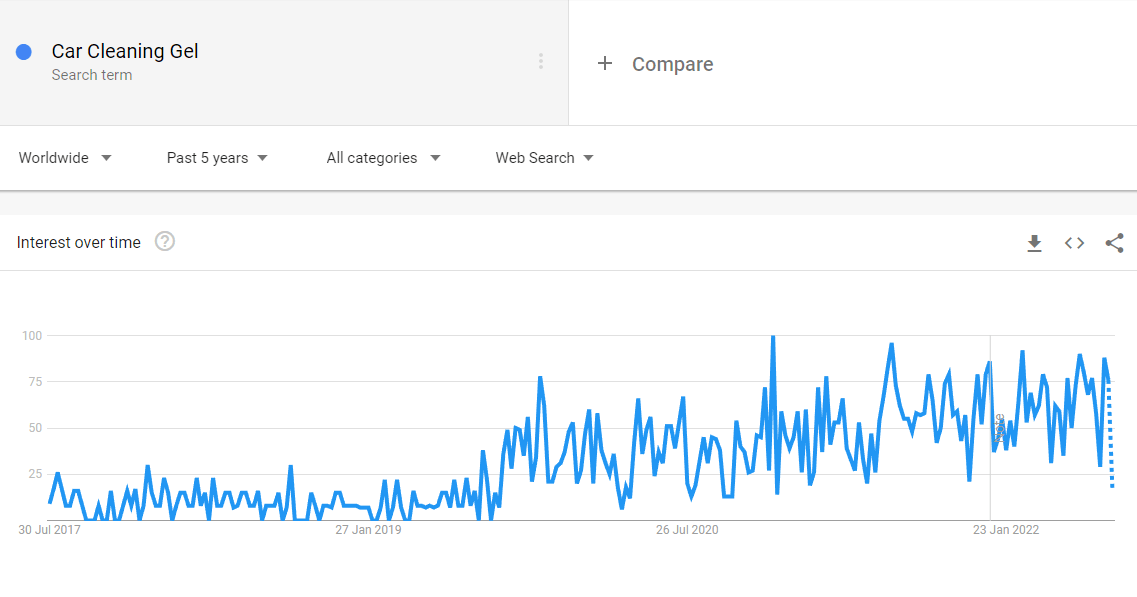 3. Hair Dryer and Straightener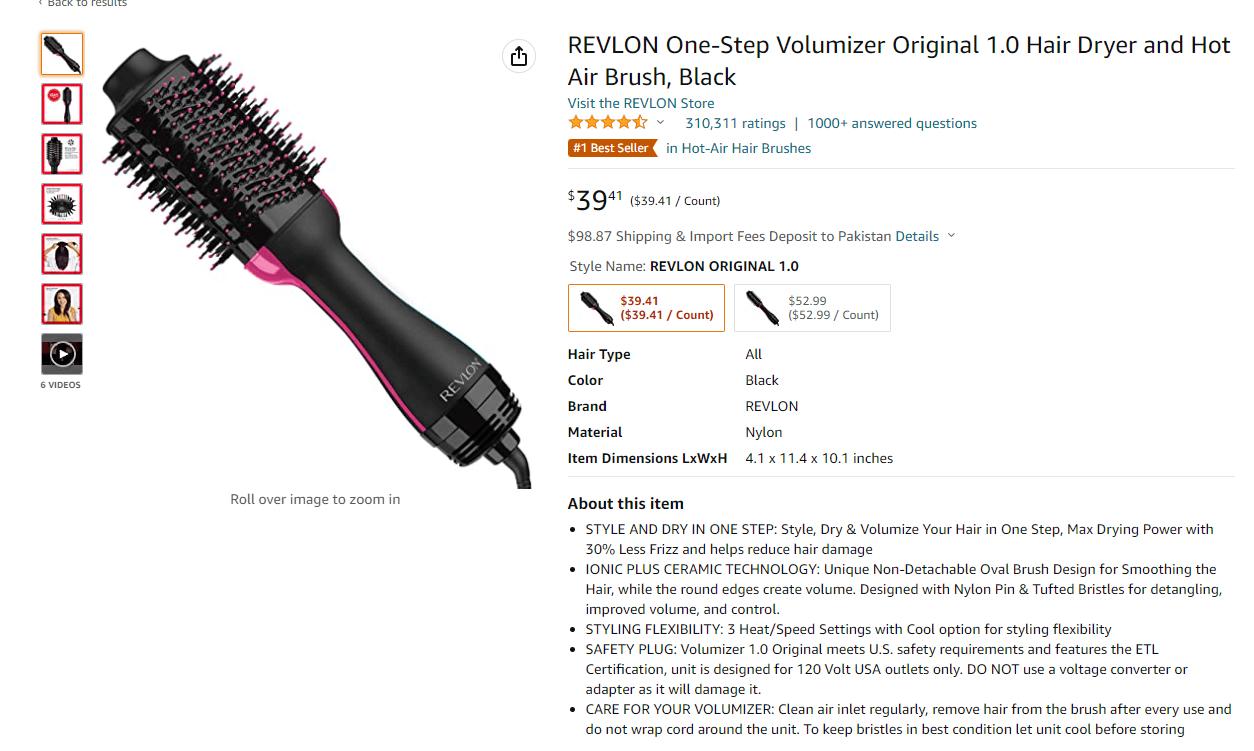 Gone are the days when people had to buy a hair dryer and a straightener separately.
This product combines both of these daily-use devices and saves you a ton of money.
You can easily carry it around in your purse to manage your hair regardless of where you are.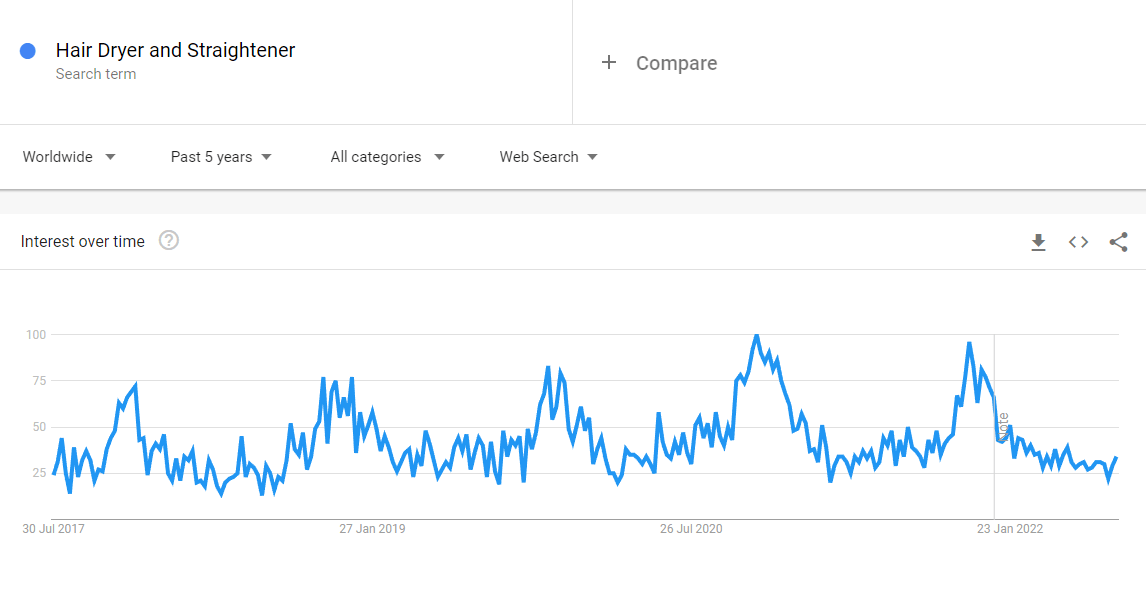 4. LED Strip Light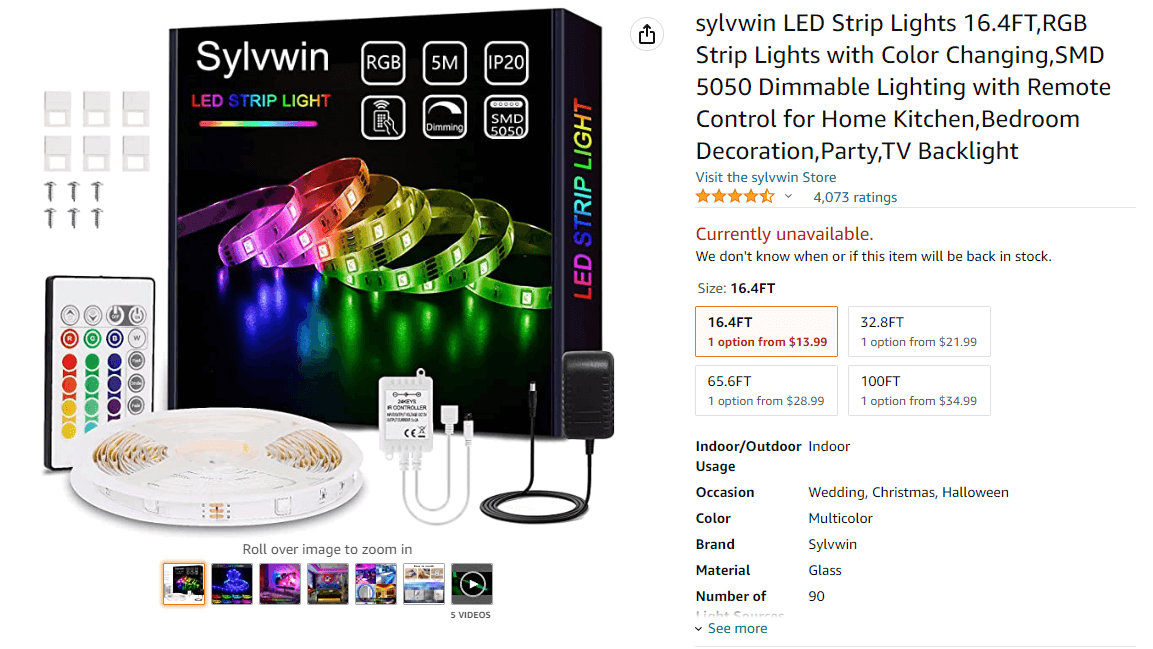 LED strip lights are a famous TikTok product due to the vibey ambiance they create in any room.
These lights come with a remote control that enables you to change the color without moving from your place.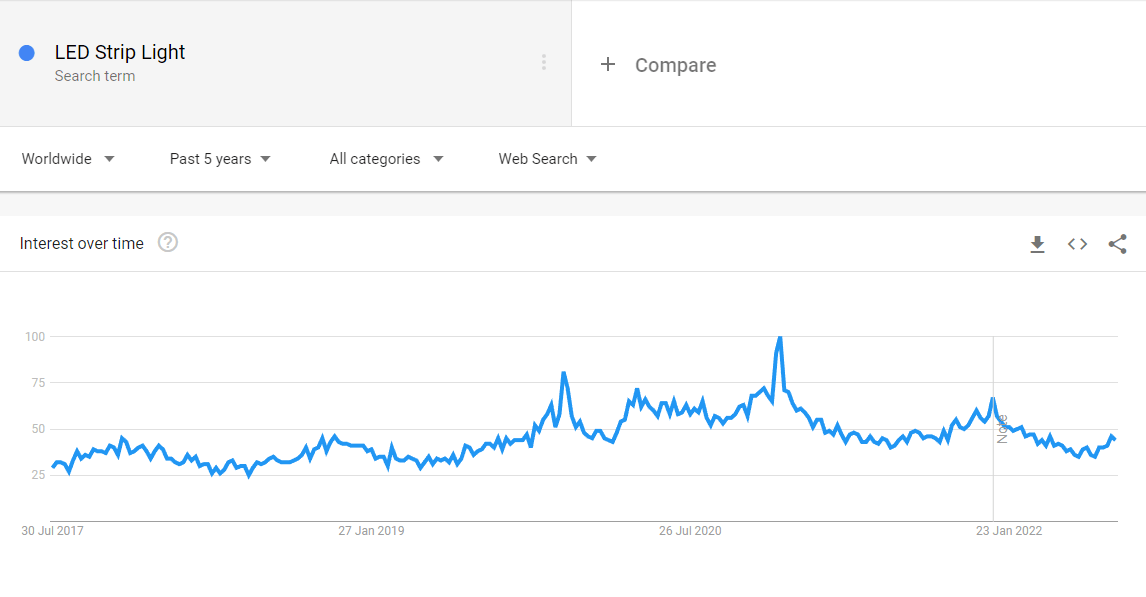 5. Car Phone Mount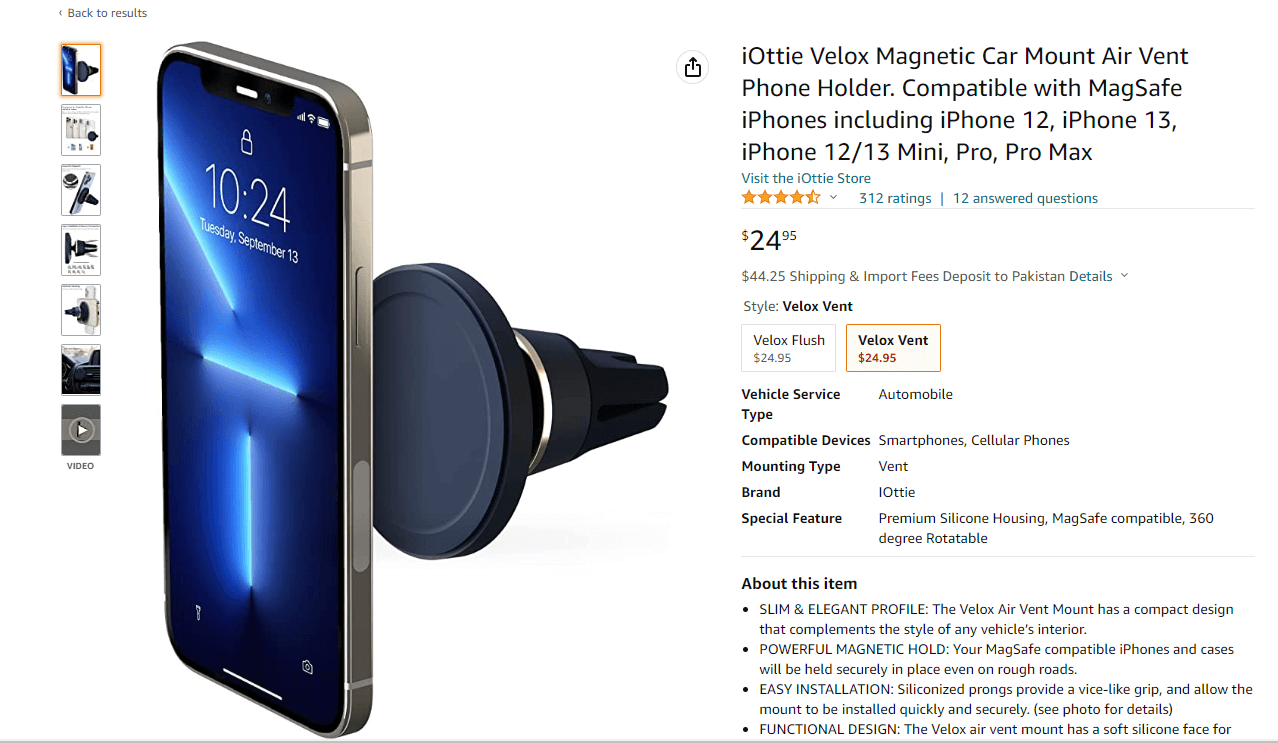 Following directions while driving can be difficult if you don't have your phone mounted properly.
This simple car phone mount solves this problem and allows you to conveniently navigate while driving.
It can attach to your windscreen or dashboard and adjust according to your preferred angle.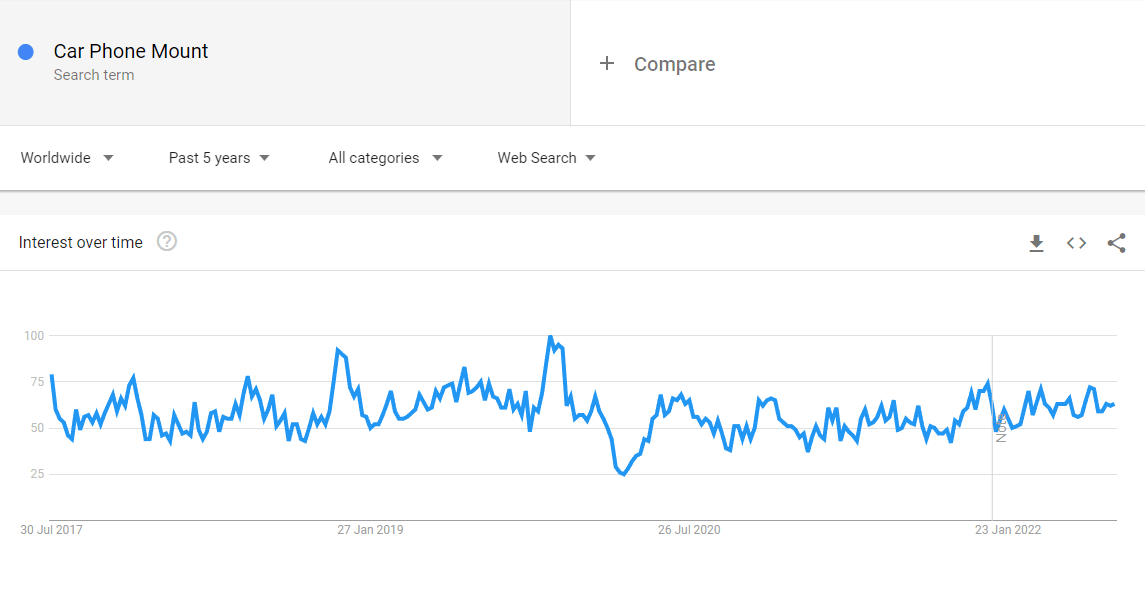 6. Mini Waffle Maker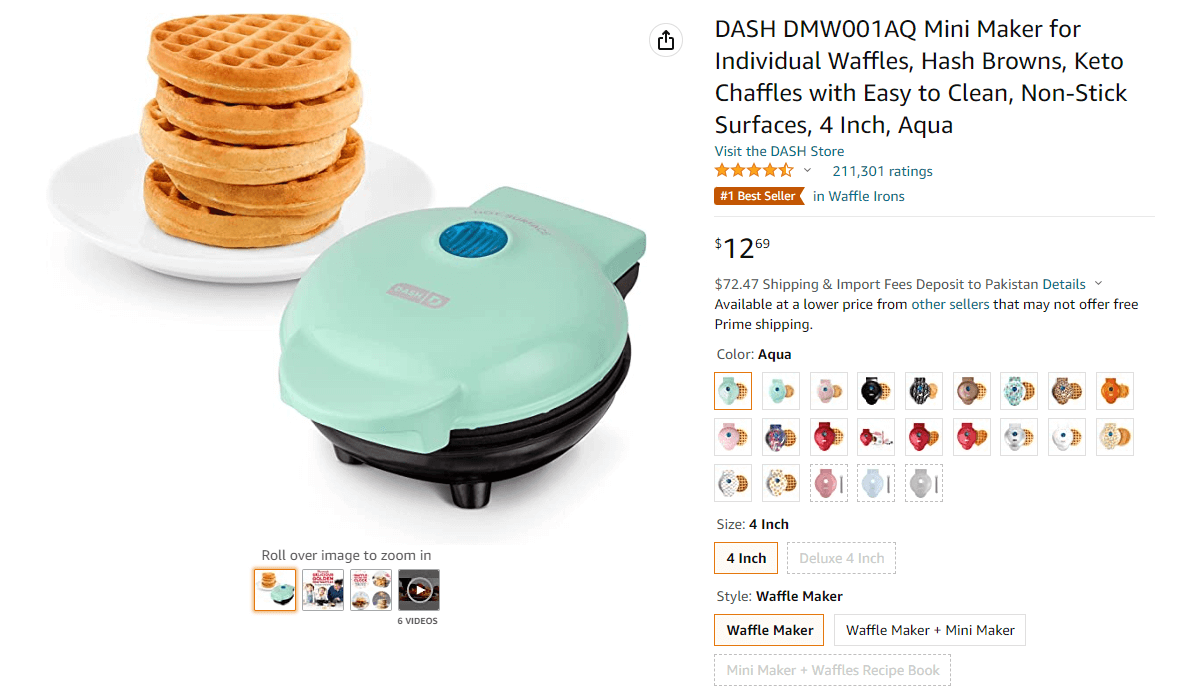 Making delicious breakfast doesn't have to be difficult, especially with modern appliances like this mini waffle maker.
These small appliances come in various colors to easily blend along with your kitchen décor.
Its small size also makes it highly portable, allowing you to conveniently carry it around wherever you go.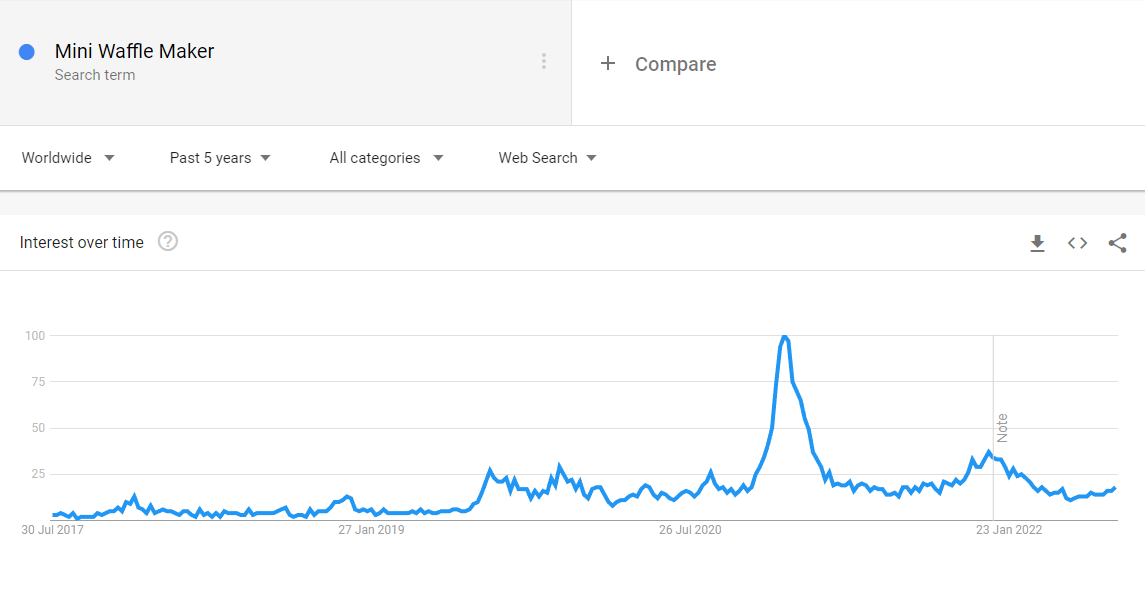 7. Air Purifier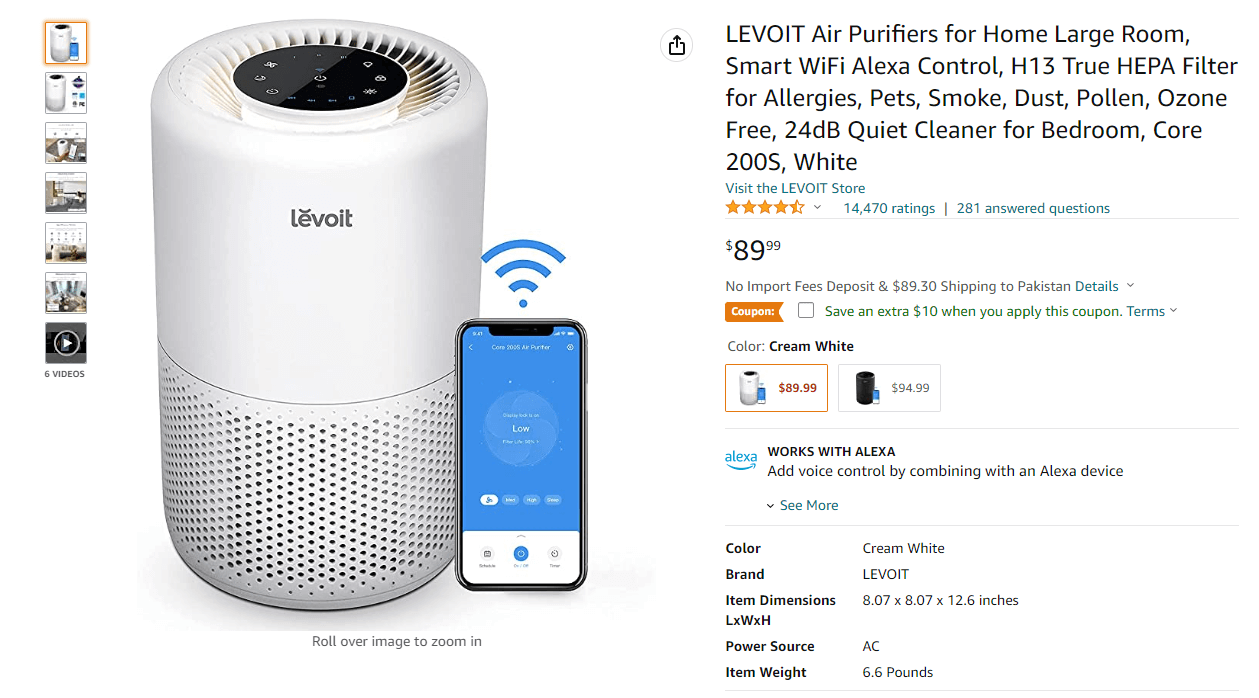 Have your allergies been getting out of control recently? It might be due to all the pollen and debris in the air.
The best solution is to simply keep an air purifier in your room.
This handy little device can reduce smoke, dust, and even pet dander in the air.
Given the growing popularity of this product on Amazon, it's safe to say that it's helping thousands of people breathe easier!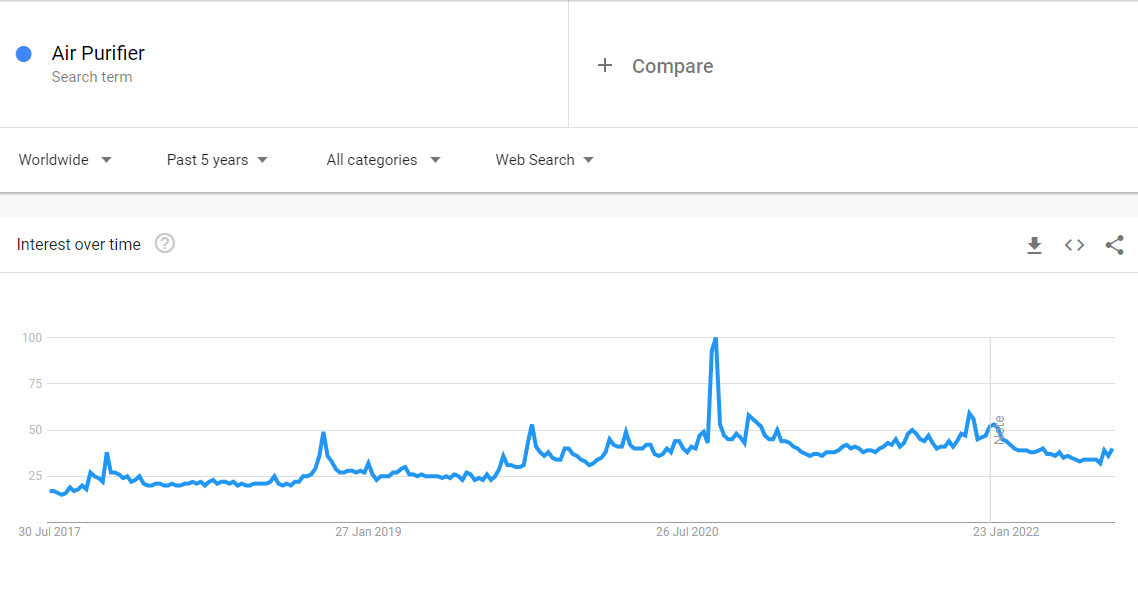 8. Car Vacuum Cleaner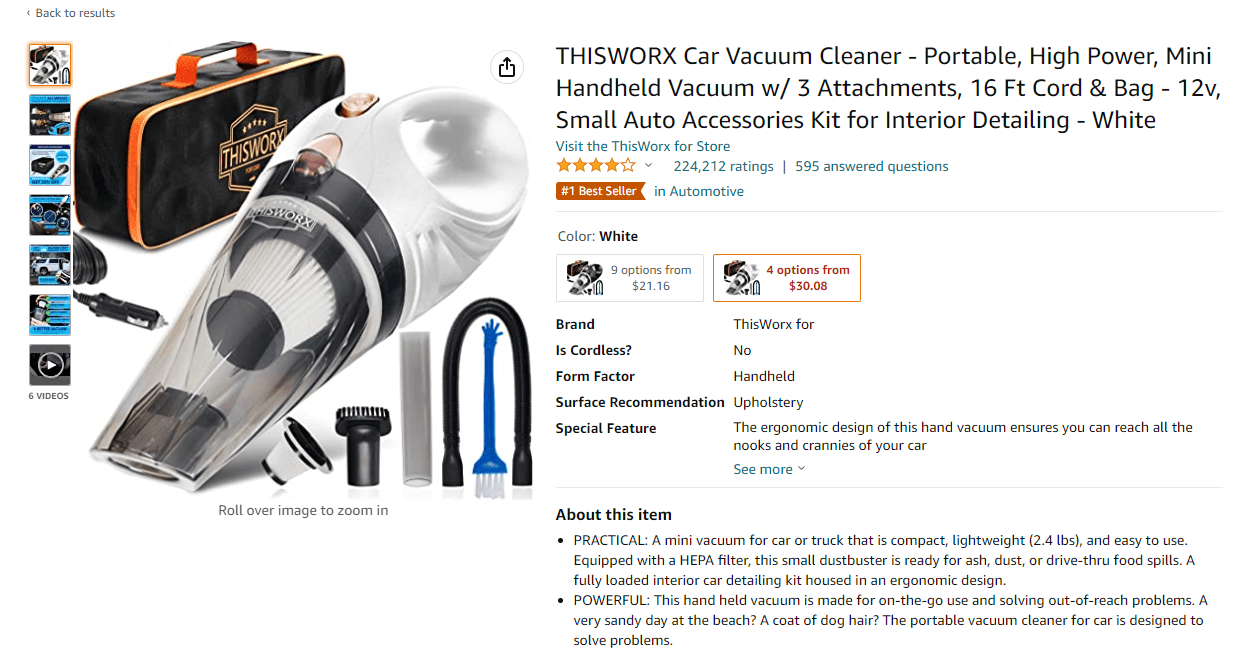 This car vacuum cleaner is another treat for all car enthusiasts because you don't have to use that bulky gas station vacuum anymore.
With the growing number of searches for this query, it appears that people have started to take car cleaning more seriously.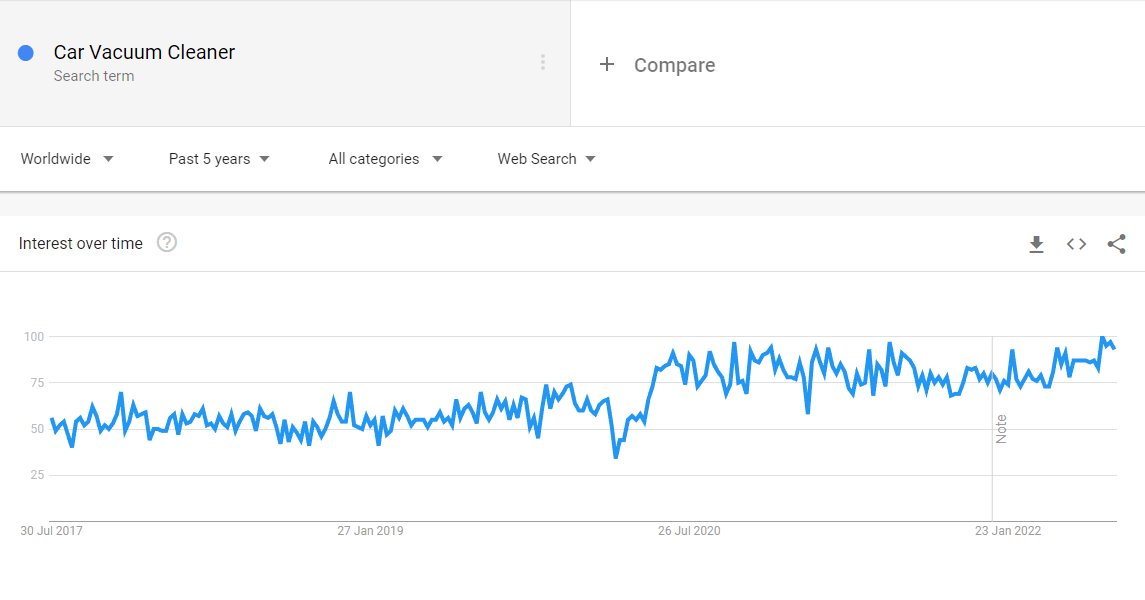 Just buy this car vacuum cleaner and your car interior will be in pristine condition at all times.
9. Tamagotchi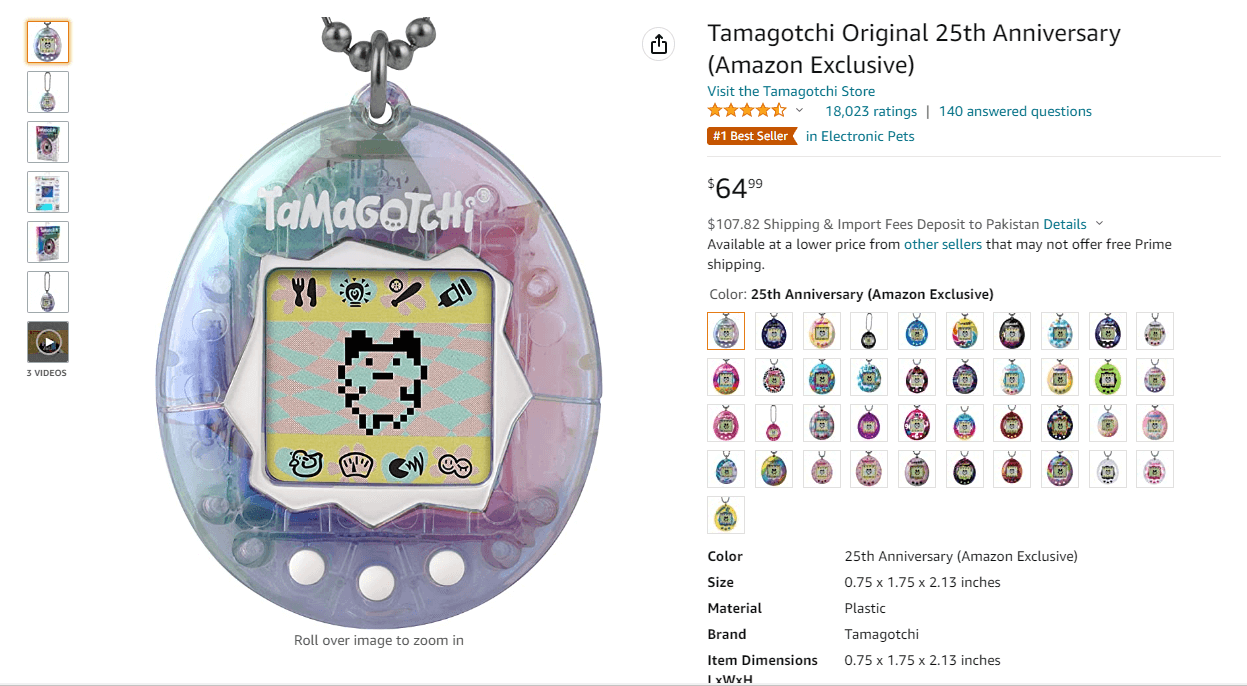 Tamagotchi is a handheld digital pet released in 1996. It was insanely popular till the early 2000s, but soon after, its hype died down.
But guess what? They're now back in demand and are selling like hot cakes on Amazon.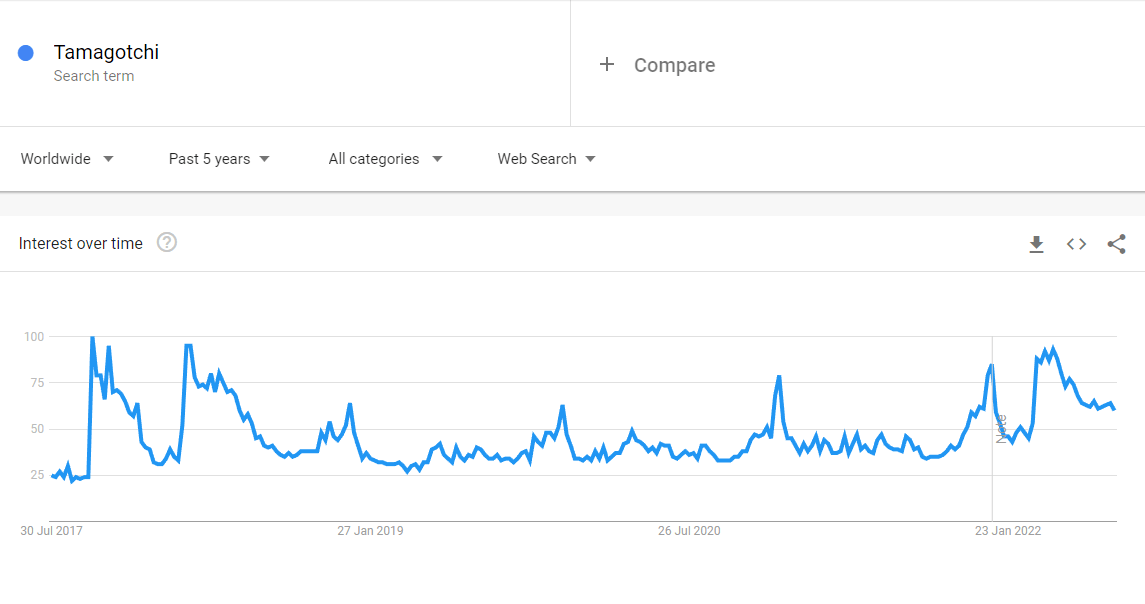 The graph also shows that Tamagotchi has seen a surge in popularity, especially since 2022.
10. Fitness Tracker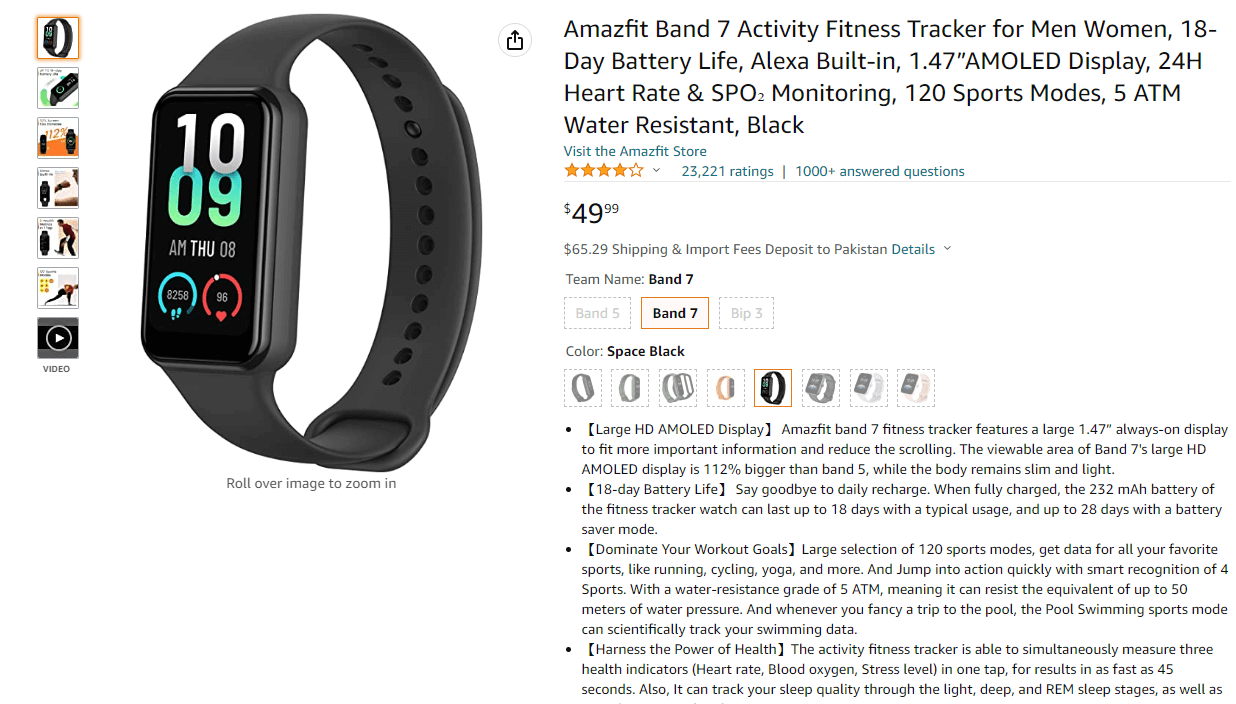 With the growing fitness trend, it shouldn't be surprising that fitness trackers have secured a position on this list.
It's one of the most sold products on Amazon, coming under the label of multiple different brands.
People are also willing to pay a good price for durable fitness trackers that also come with decent features.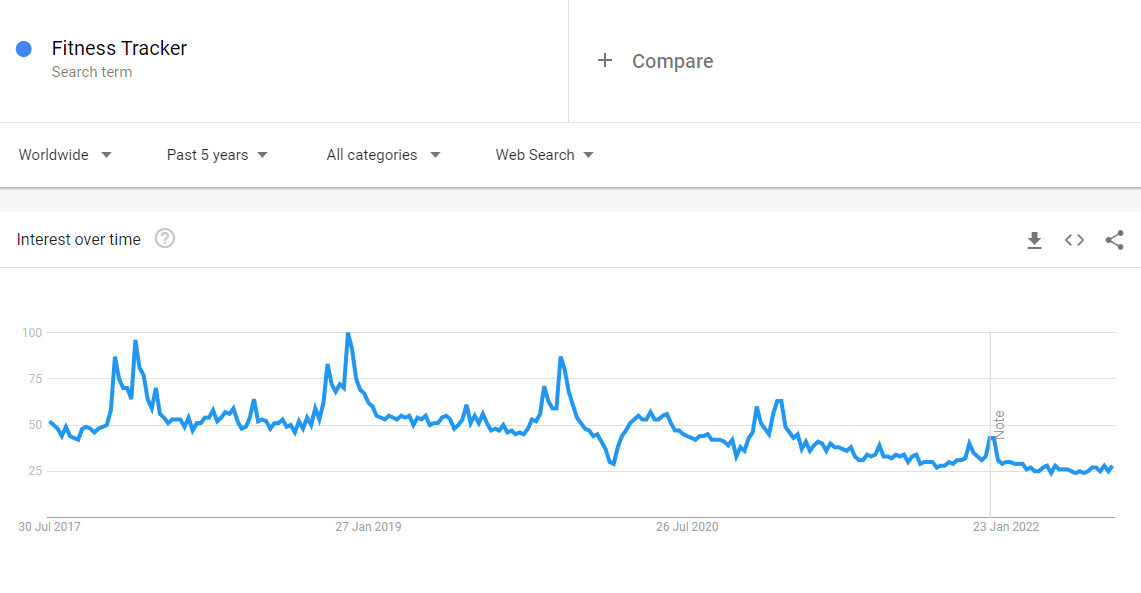 How to Turn Your Idea into a Product?
If you want to turn your product idea into a reality then you need to find and work with a reliable manufacturer. Search for an experienced professional who is willing to put in the time and effort to understand your requirements to materialize your idea.
FAQs about Product Ideas
How to Find Winning Product Ideas?
There's no one-size-fits-all solution for finding winning product ideas.
You need to browse online marketplaces, explore different social media platforms, and maybe even buy a subscription for product hunting tools.
Always remember that finding winning products requires quite a bit of trial and error.
How to Tell If a Product Idea Is Good?
Whether a product idea is good or not depends on several factors including the demand for the product, the existing competition along with the upselling potential of the product.
The ideal scenario would be to find a product that is high in demand but has low competition.
How to Test Product Ideas?
The easiest way to test product ideas is to conduct a soft launch.
It's a product launching strategy in which you push the product ahead of its schedule without investing too much into marketing.
The idea behind the soft launch strategy is to collect real-time data by evaluating the receptiveness of your potential customer.
Final Thoughts
Finding profitable product ideas is a game of patience. You can spend day and night curating a list of potential products, only to discard all of them.
The important thing is to not let failure discourage you because you never know when you might get a lightbulb moment and find the perfect product.
Hopefully, this list was enough to give you some inspiration on what to sell.
If you did get a product idea, then the next step is to find a supplier, and fortunately, NicheDropshipping can make this part easier.
We can help you source and private label your product at reasonable prices.
All you have to do is give us a call, and our agents will guide you through the process!