With summer at our doorsteps, we hear many dropshippers on the lookout for dropshipping sunglasses suppliers. In the summertime, sunglasses become our number one accessory. So, naturally, we dropshippers need a piece of that action.
There are two reasons why people buy sunglasses. These can help you find your best approach:
For health reasons and sun protection;
As a fashion accessory to complete your outfit;
So, is dropshipping sunglasses a good idea? What are the best suppliers for dropshipping sunglasses? And what type of sunglasses will sell online the most?
We have so many questions! So, let's take a look.
Best Dropshipping Suppliers for Sunglasses in 2023
The first step to any dropshipping business, regardless if you're dropshipping sunglasses or something else, is to find suitable dropshipping suppliers.
So, if you want to dropship sunglasses this summer, here are the best sunglasses suppliers for 2023:
For dropshippers who are ready to order in bulk, Miami Sunglasses is one of the best wholesale sunglasses suppliers that offer dropshipping and blind-shipping services of high-quality sunglasses at really affordable prices.
Miami Sunglasses sells its products packed by the dozen, so you can't order a single pair directly at a customer's address, but a box of 12 only.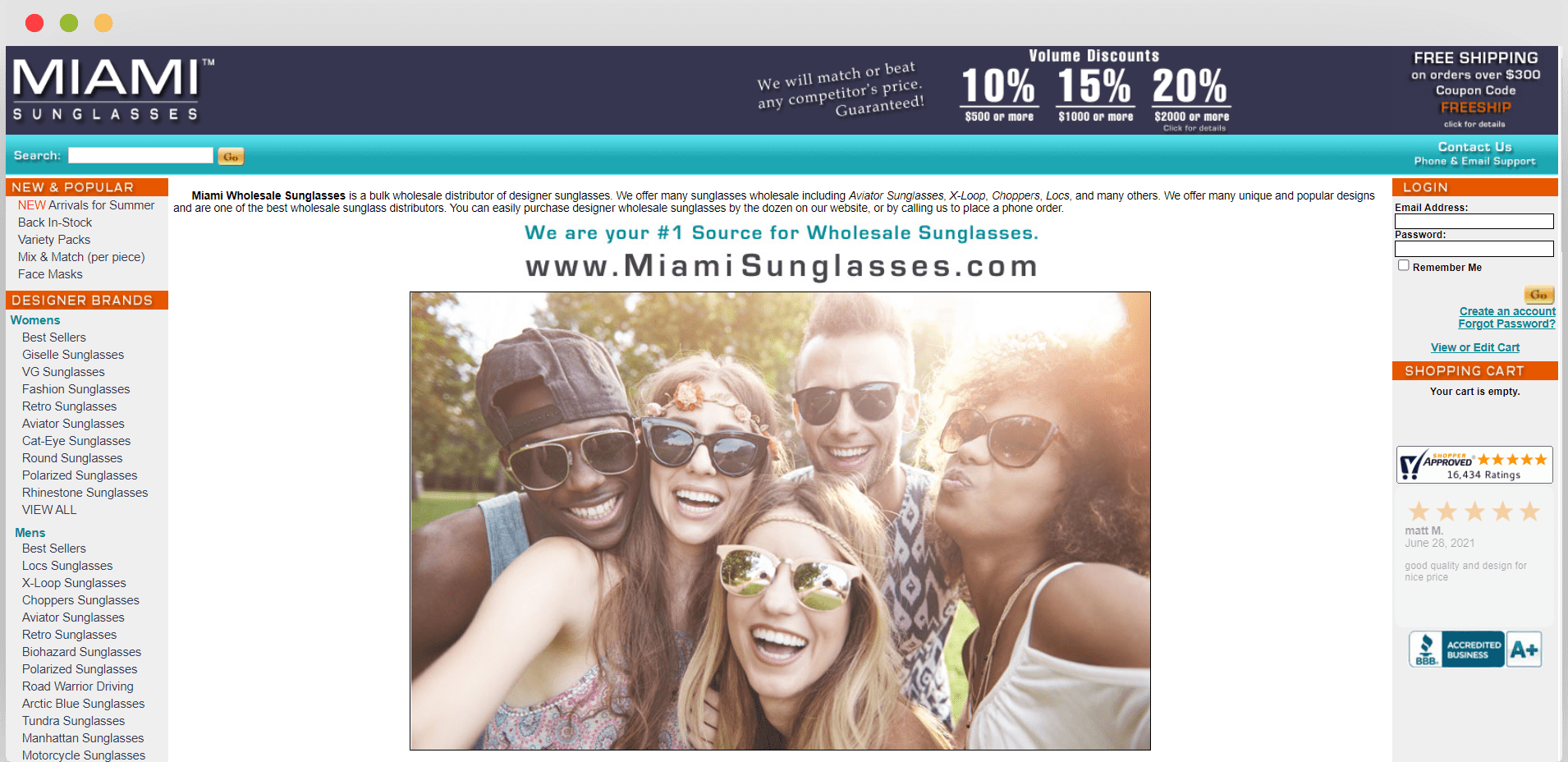 With Miami Sunglasses, you can deliver your orders worldwide to any warehouse location you need (or your home). And finally, we love that all of their sunglasses have UV400 protection, which blocks almost 99.9% of harmful rays.
Known as one of the best worldwide dropshipping suppliers, CJDropshipping can be a great dropshipping sunglasses supplier. With warehouses worldwide and tons of affordable varieties of sunglasses, CJDropshipping checks many boxes.
In regards to integrations, you can connect CJDropshipping with Shopify, WooCommerce, Lazada, ShipStation, Shopee, and eBay – to automate your dropshipping.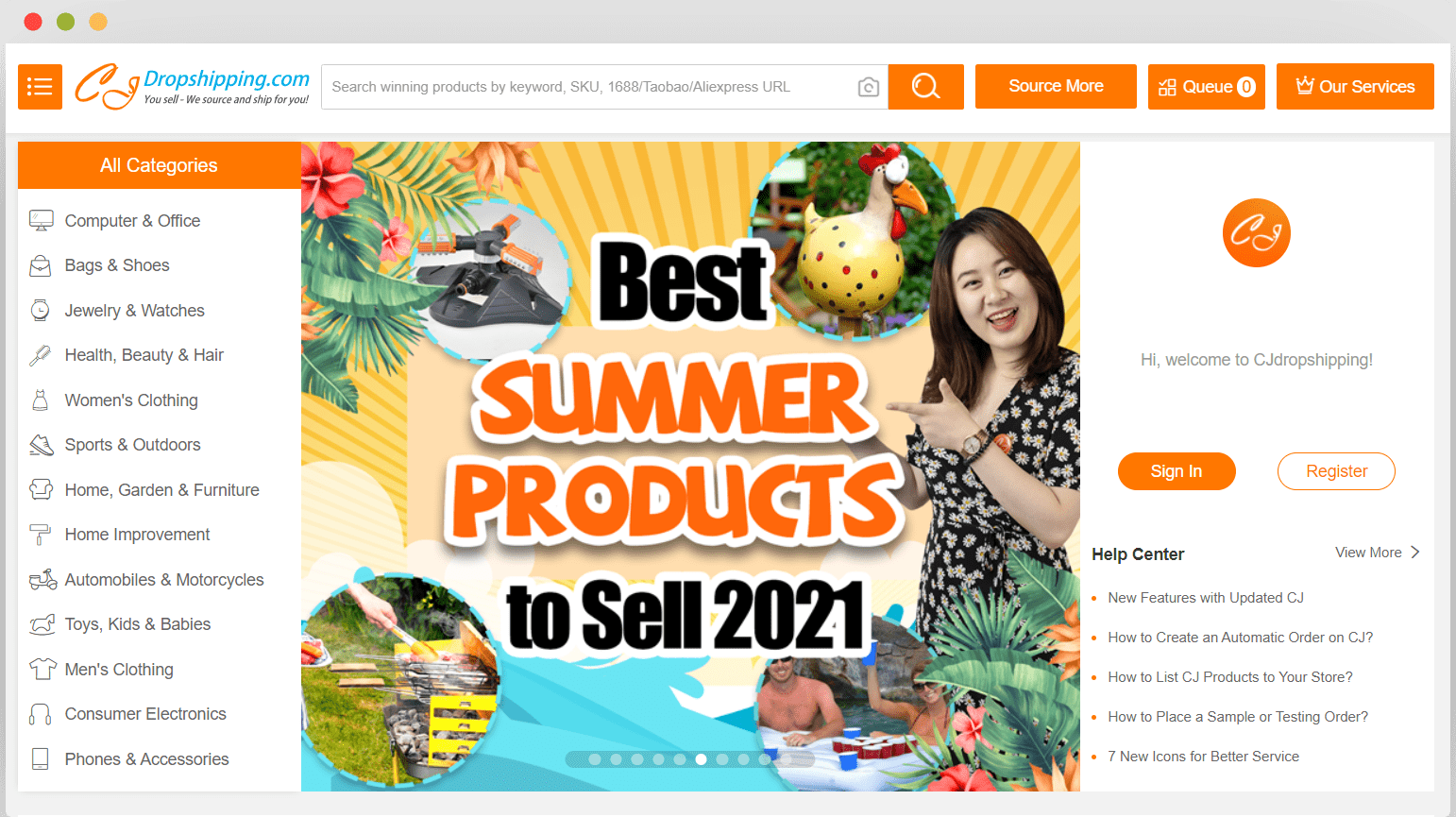 Using CJDropshipping for dropshipping sunglasses is free. Plus, they offer full-service dropshipping – from product sourcing to warehousing and delivery. And as if that wasn't enough, they also offer white label, private label, and print-on-demand services.
Our second sunglasses supplier choice is AliExpress. Its B2C model makes AliExpress an excellent choice since it's full of suppliers who agree to dropship. And needless to say, the broad choice of products only makes it better.
AliExpress is entirely free to use. AliExpress suppliers ship single orders to end customers, so most of them are dropship-friendly. You only write down your customer's billing address instead of yours and ask the supplier to remove the invoice.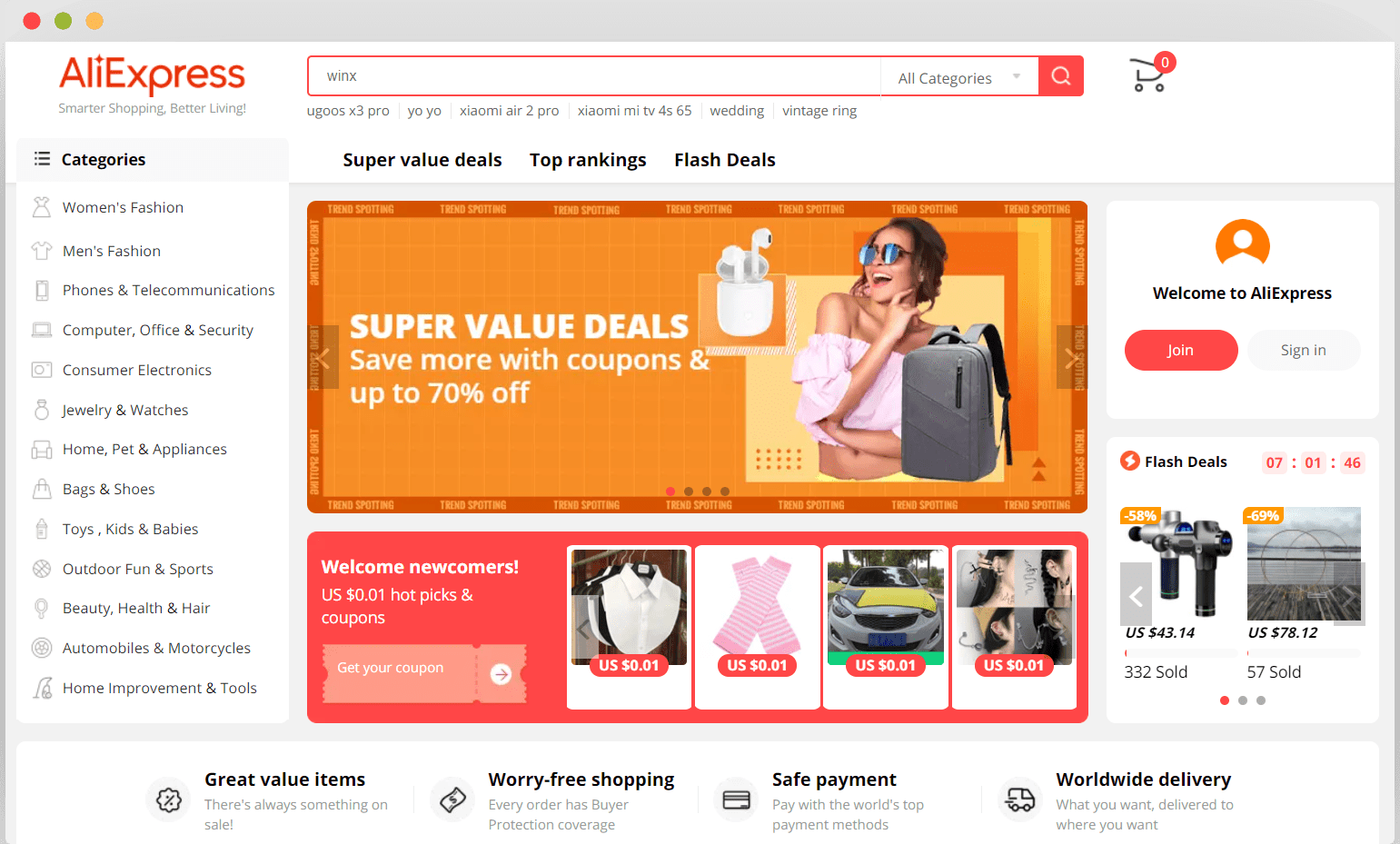 The majority of AliExpress suppliers dropshipping sunglasses are from China, but many of them have warehouses worldwide. Before dropshipping sunglasses, always order a sample and check the shipping fees first.
Although Alibaba is a B2B marketplace for buying in bulk, it can be an incredible option for those interested in drop shipping custom sunglasses.
On Alibaba, you can often find wholesale sunglasses suppliers or even manufacturers who agree to private label a product with your brand. Beware that when you buy in bulk, you need to take care of inventory storage and warehousing.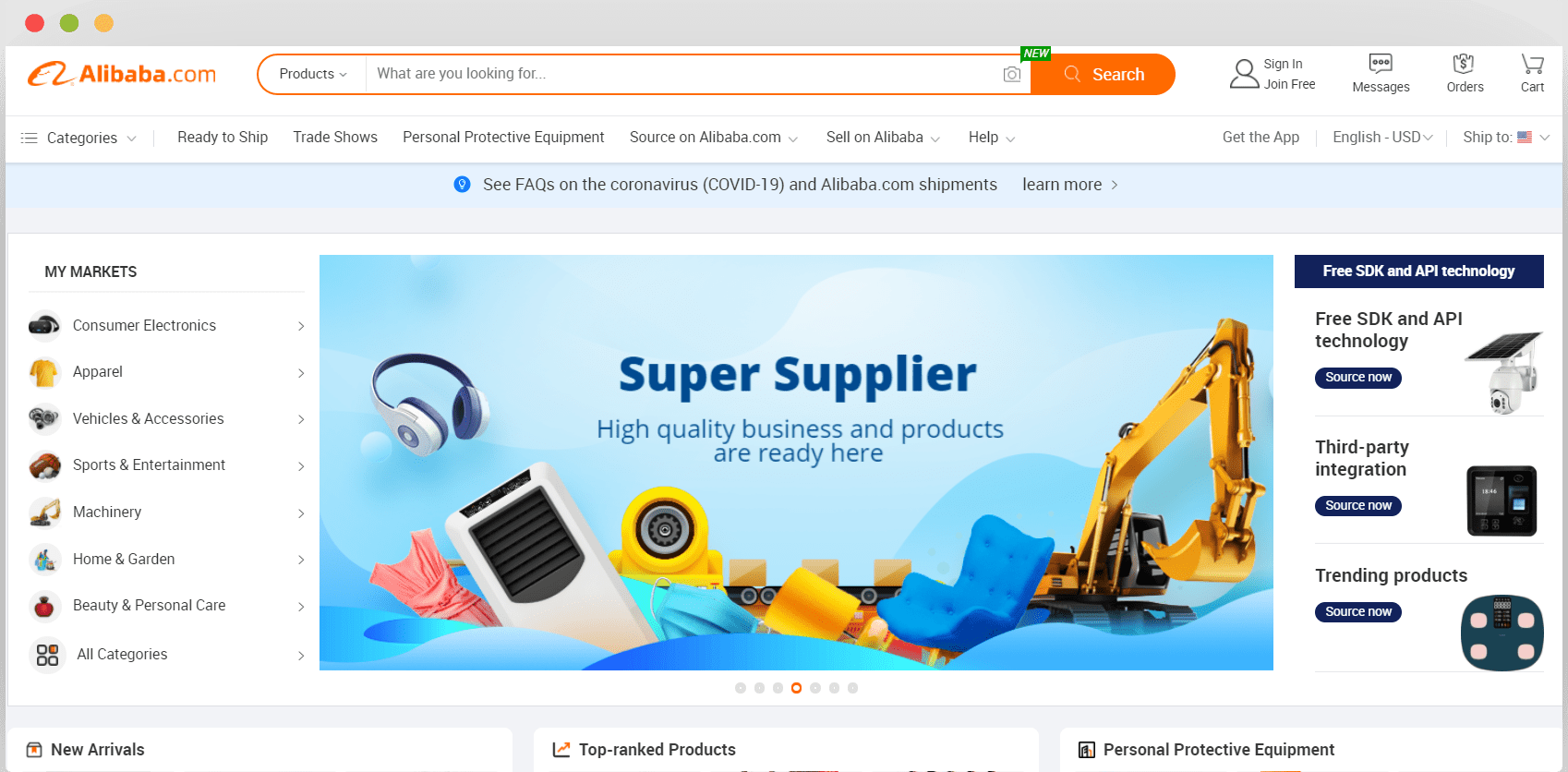 At this stage of your dropshipping business, we recommend collaborating with a full-service dropshipping agent in China who offers product sourcing, warehousing, and order fulfillment.
Chinabrands doesn't have too many varieties of sunglasses, but the ones they do are at meager prices. If sunglasses variety is what you're after, then we recommend looking for an alternative to Chinabrands.
However, if you want to launch a one-product shop or focus on one or two models of sunglasses, then Chinabrands could be of help.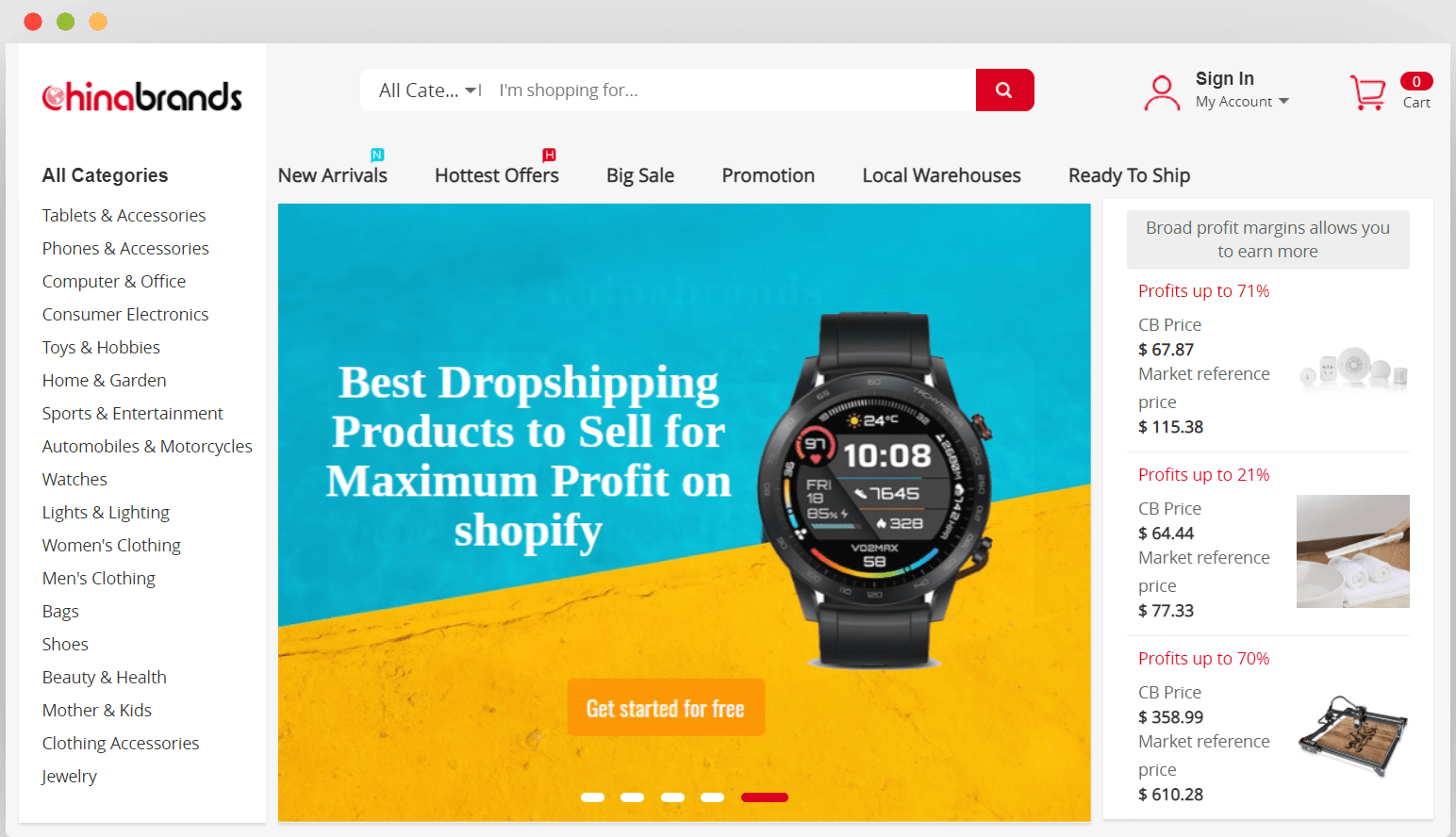 As a dropshipping supplier, Chinabrands can help you dropship worldwide. Plus, they integrate with Shopify, eBay, Wish, and Amazon.
Now, it's time for SaleHoo – a supplier directory, dropshipping service, and education platform all in one. SaleHoo has over 8000 vetted AliExpress suppliers, 80% of which ship worldwide.
Out of those 8000, close to 130 dropshipping suppliers sell sunglasses in single and bulk orders. However, dropshipping with no money isn't possible with SaleHoo since all of its plans are paid.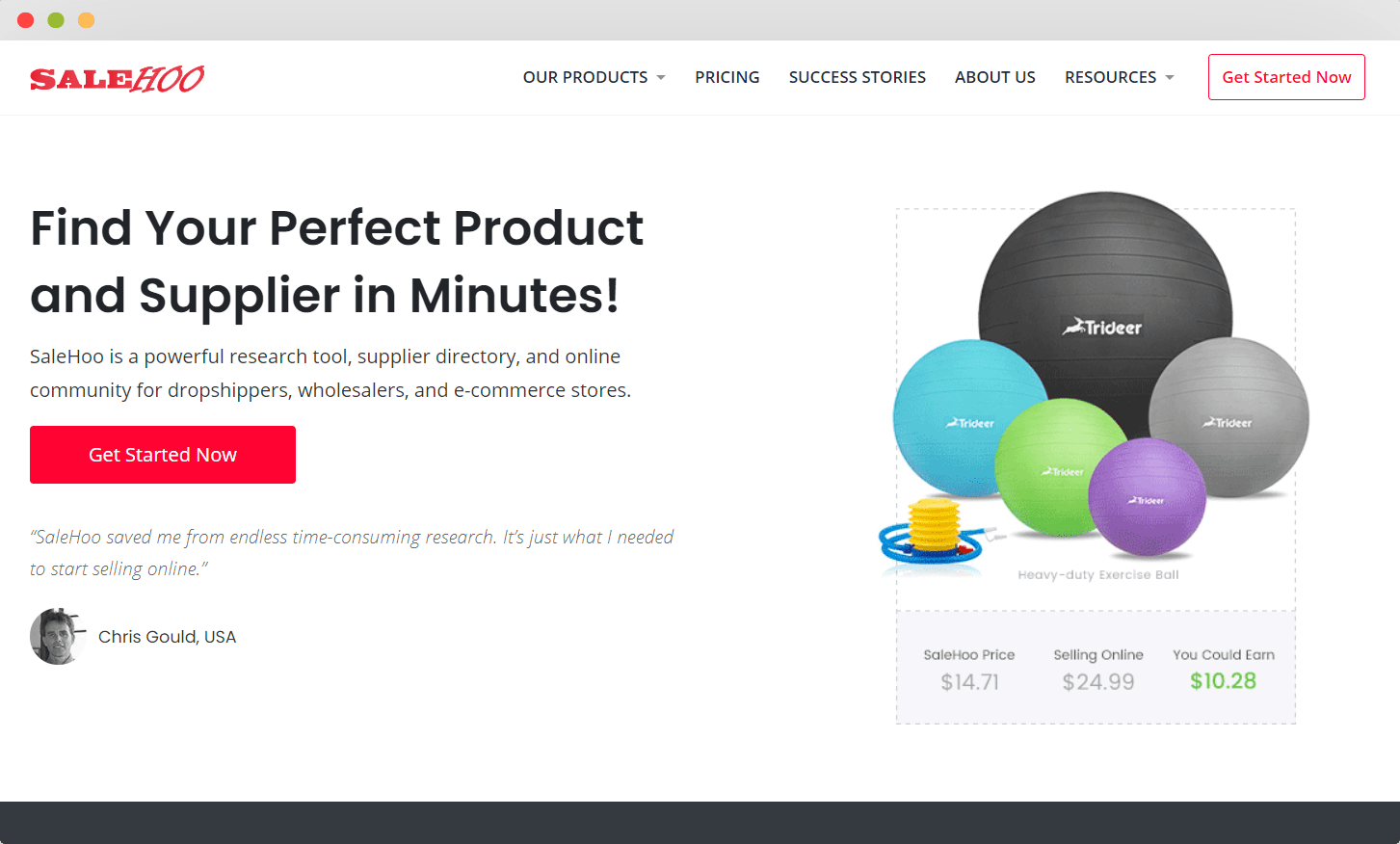 To gain access to the SaleHoo Supplier Directory, it will cost you $67/annually or $127 for lifetime access.
Banggood is a marketplace with dropshipping suppliers who sell over 200.000 different products from over 14 categories, including accessories like sunglasses.
The dropshipping program of Banggood is free to sign up for and start using. So, with Banggood, you can start dropshipping for free, with no upfront costs.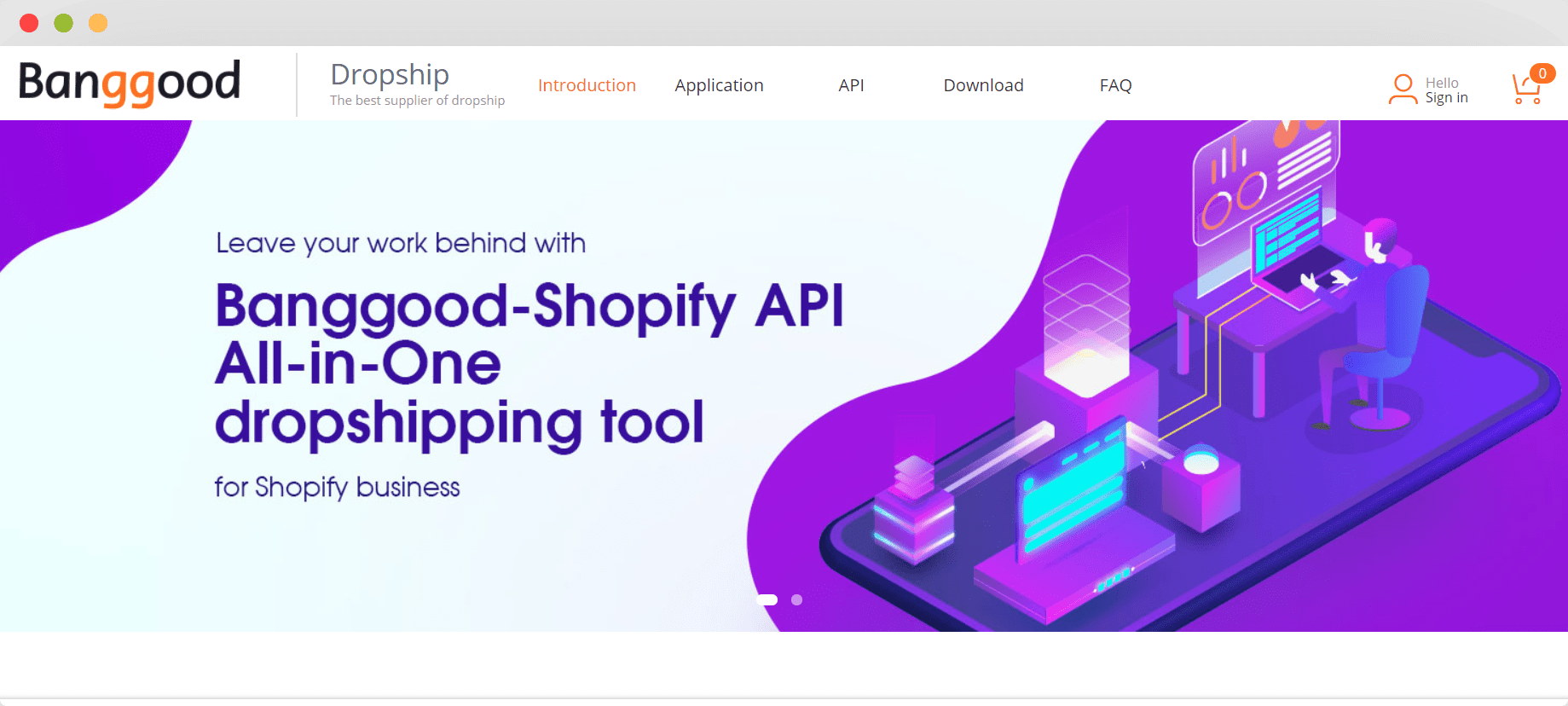 To use Banggood as a dropshipping sunglasses supplier, you'll need a Shopify or an eBay store. However, they also have an API they can give you to connect to another type of store.
With integrations for Shopify, Wix, and BigCommerce and accessories and sunglasses suppliers in the USA and worldwide, Modalyst deserves a spot on this list.
Modalyst products are slightly more expensive than your typical AliExpress products. As such, they're more suitable for one-product shops or dropshippers interested in selling branded sunglasses.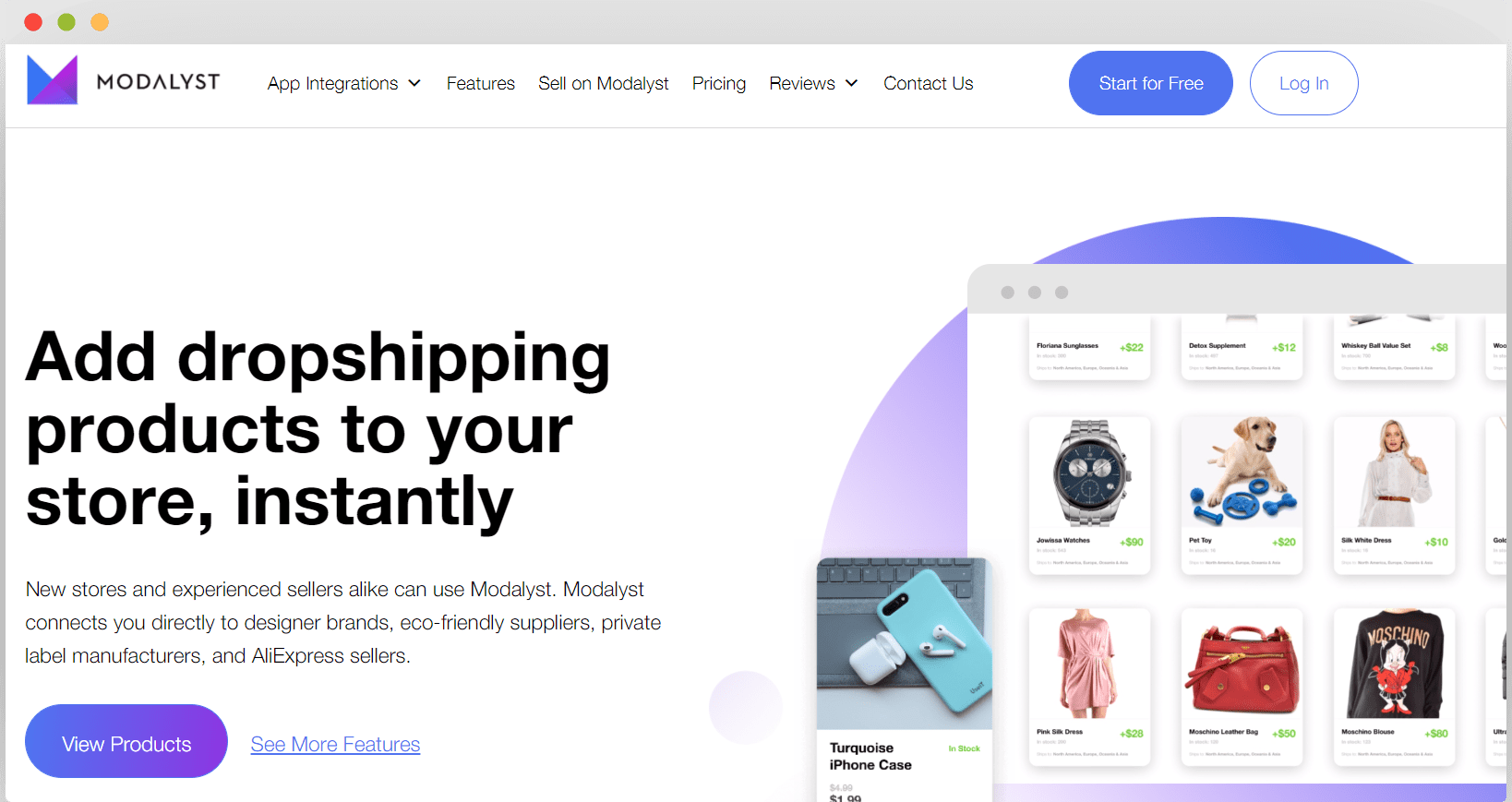 You can choose the free plan to touch around and sell up to 25 different products. Afterward, you can upgrade to their StartUp plan for $35 a month, allowing you to import up to 250 individual products.
If you're in the dropshipping business, for sure, you've heard about DHgate at least once. It's one of the largest B2B marketplaces connecting manufacturers and suppliers from China to dropshippers and retailers worldwide.
On DHgate, you'll find many varieties of sunglasses to sell online, along with a wide range of other products such as clothing, accessories, gadgets, health and beauty, home, garden, and more.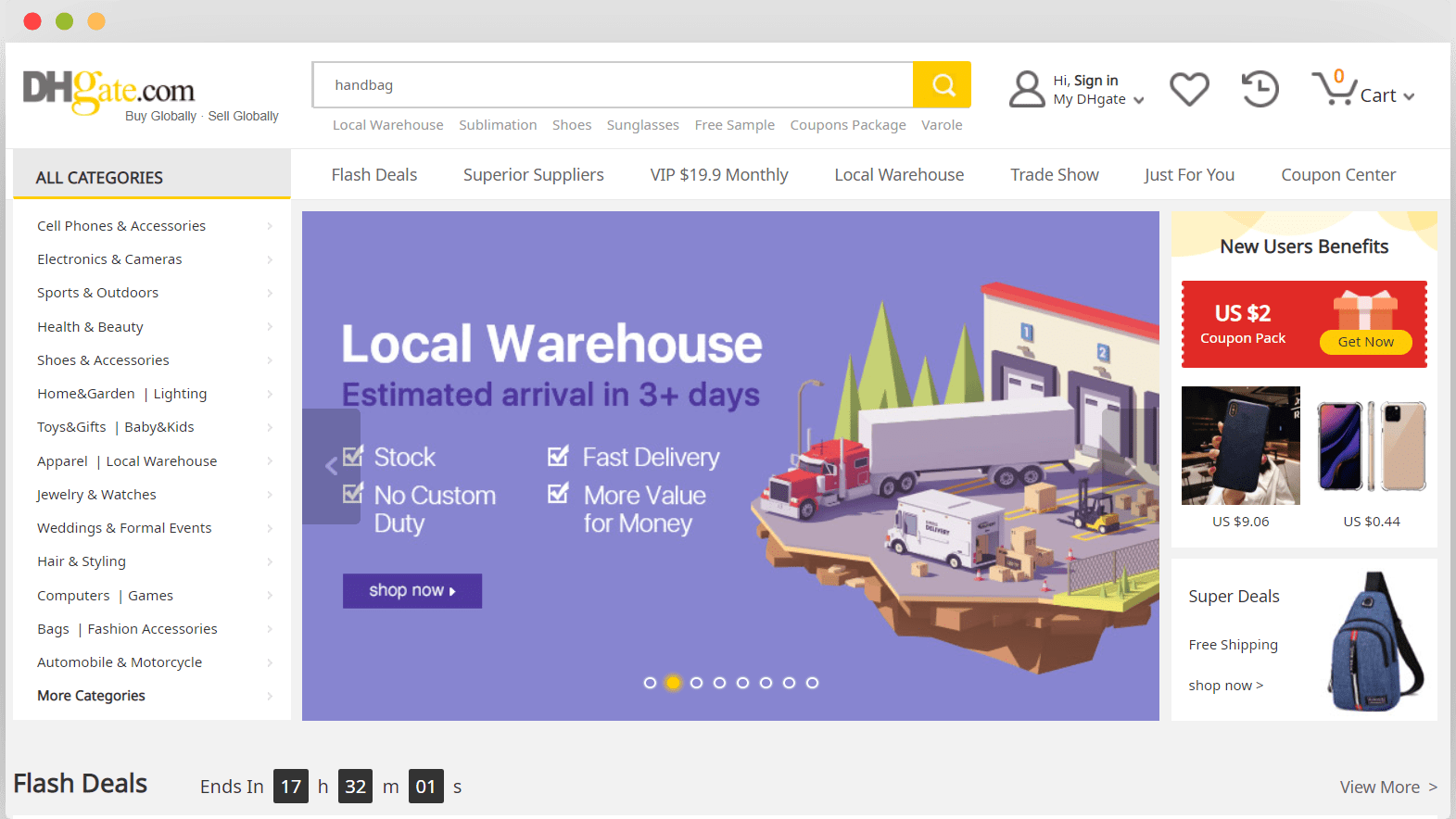 As a marketplace, DHgate is legit. But, that doesn't mean that all the branded products you see there are legit. DHgate is famous for selling replica brands. We recommend against dropshipping knock-off brands due to possible customs issues.
A leading dropshipping service in Europe, BigBuy started with B2B and wholesale orders. But, nowadays, they also offer a full dropshipping service Europe-wide.
On BigBuy, you can find an impressive collection of brand sunglasses and tons of other products for dropshipping.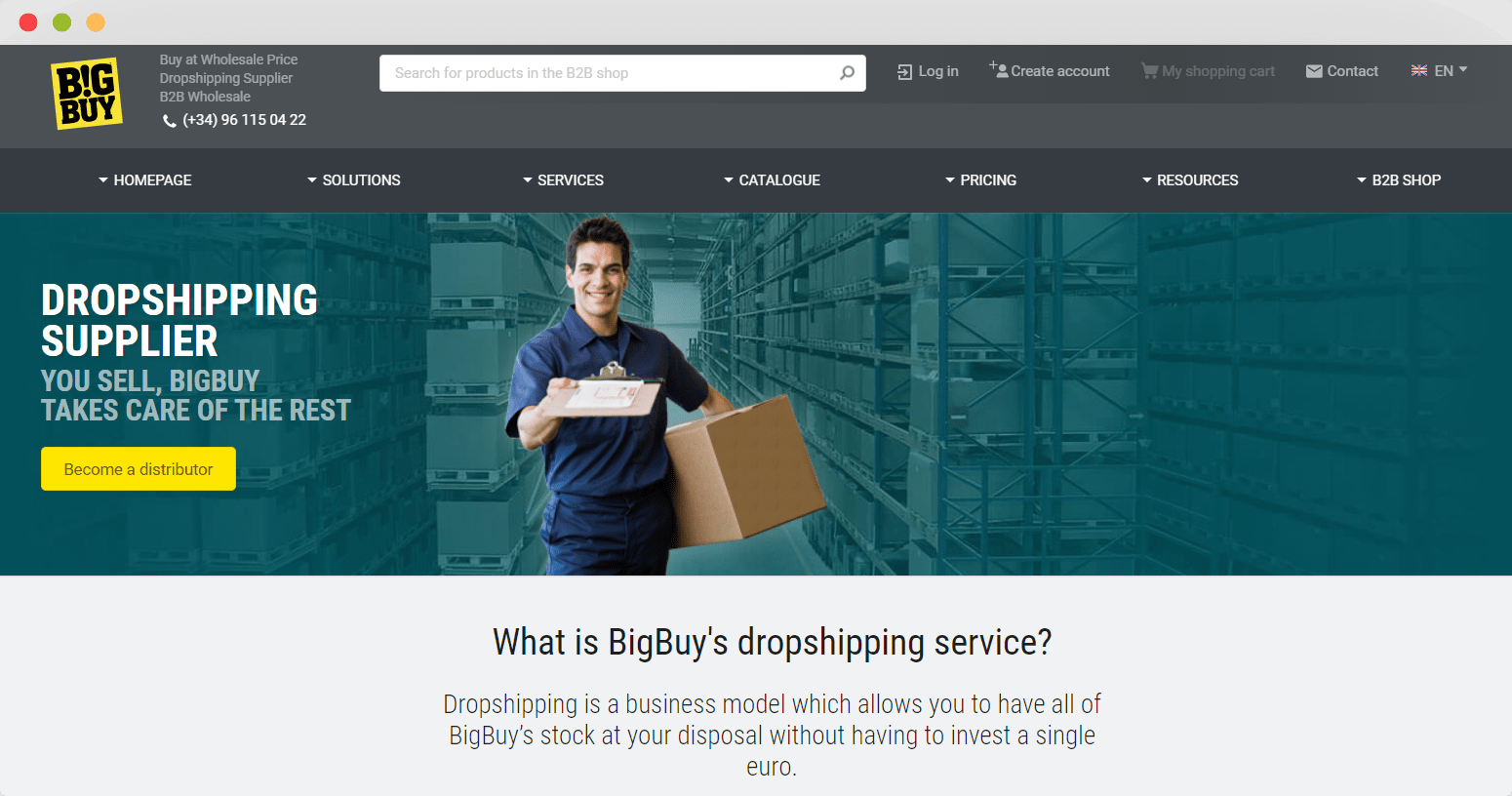 With BigBuy, you can sell on marketplaces like Amazon, eBay, Rakuten, and Cdiscount. Furthermore, you can integrate it with your Shopify, PrestaShop, WooCommerce, or Magento stores.
Did you ever want to sell designer sunglasses online? If yes, BDroppy could be a good choice for you. On BDroppy, you can find brands like Adidas, Calvin Klein, Dior, Gucci, Michael Kors, Police, Guess, Armani, etc. – over 100 brands altogether!
Although not all of them, some of these brand suppliers also offer sunglasses as part of their products. As an added plus, BDroppy suppliers usually agree to ship to 50+ countries worldwide.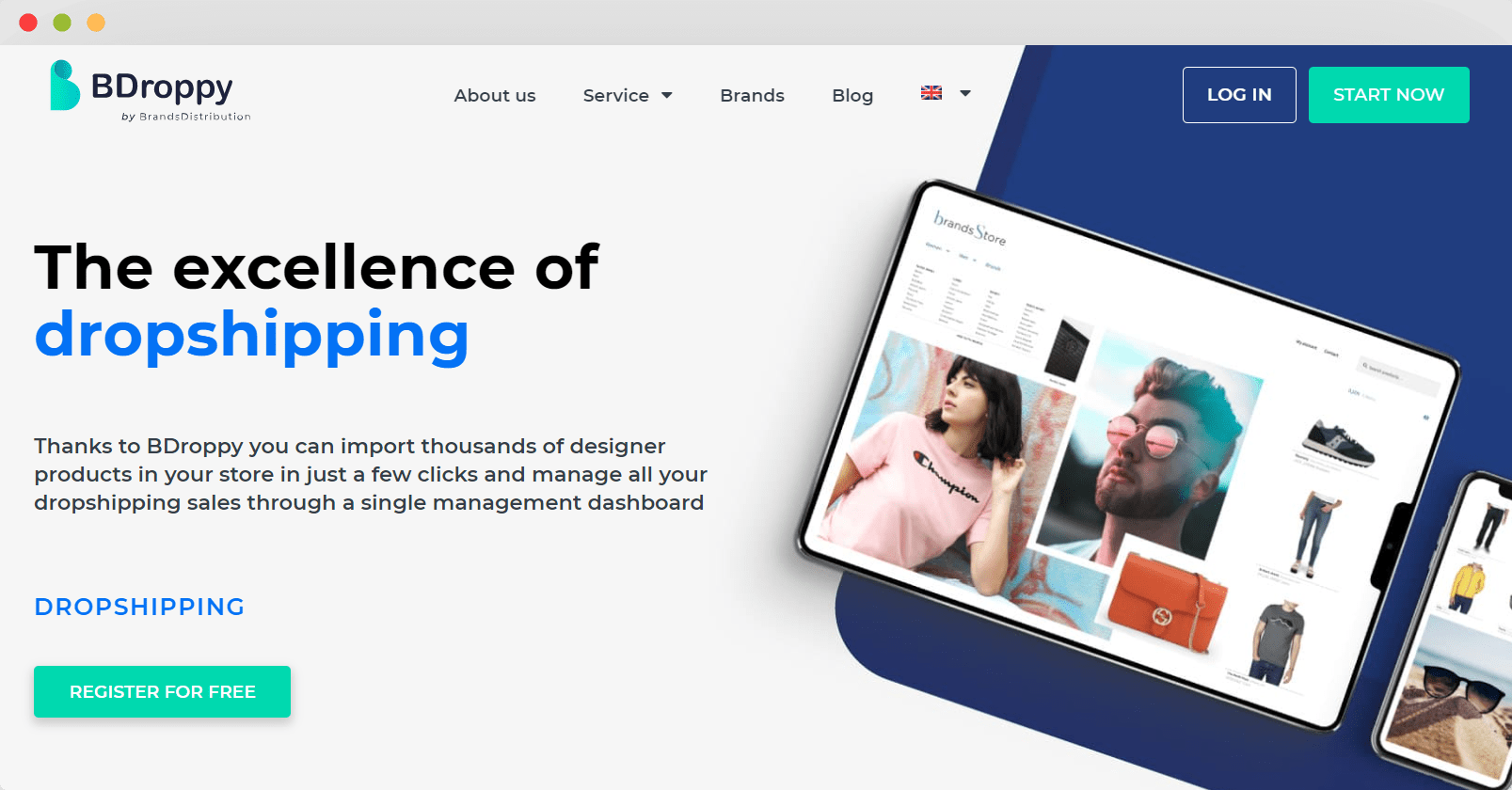 Regarding store integrations, to use BDroppy, you'll need to have a WooCommerce, PrestaShop, or Shopify online store. If you sell on marketplaces like eBay or Amazon, you can also connect and use BDroppy as a dropshipping sunglasses supplier.
If your sunglasses customers are in Europe or the US, you're in luck – over 80% of Spocket's suppliers come from these two countries!
Although Spocket isn't explicitly designed with sunglasses in mind, it has suppliers for everything, including sunglasses. Spocket's suppliers are authorized, and they offer high-quality products.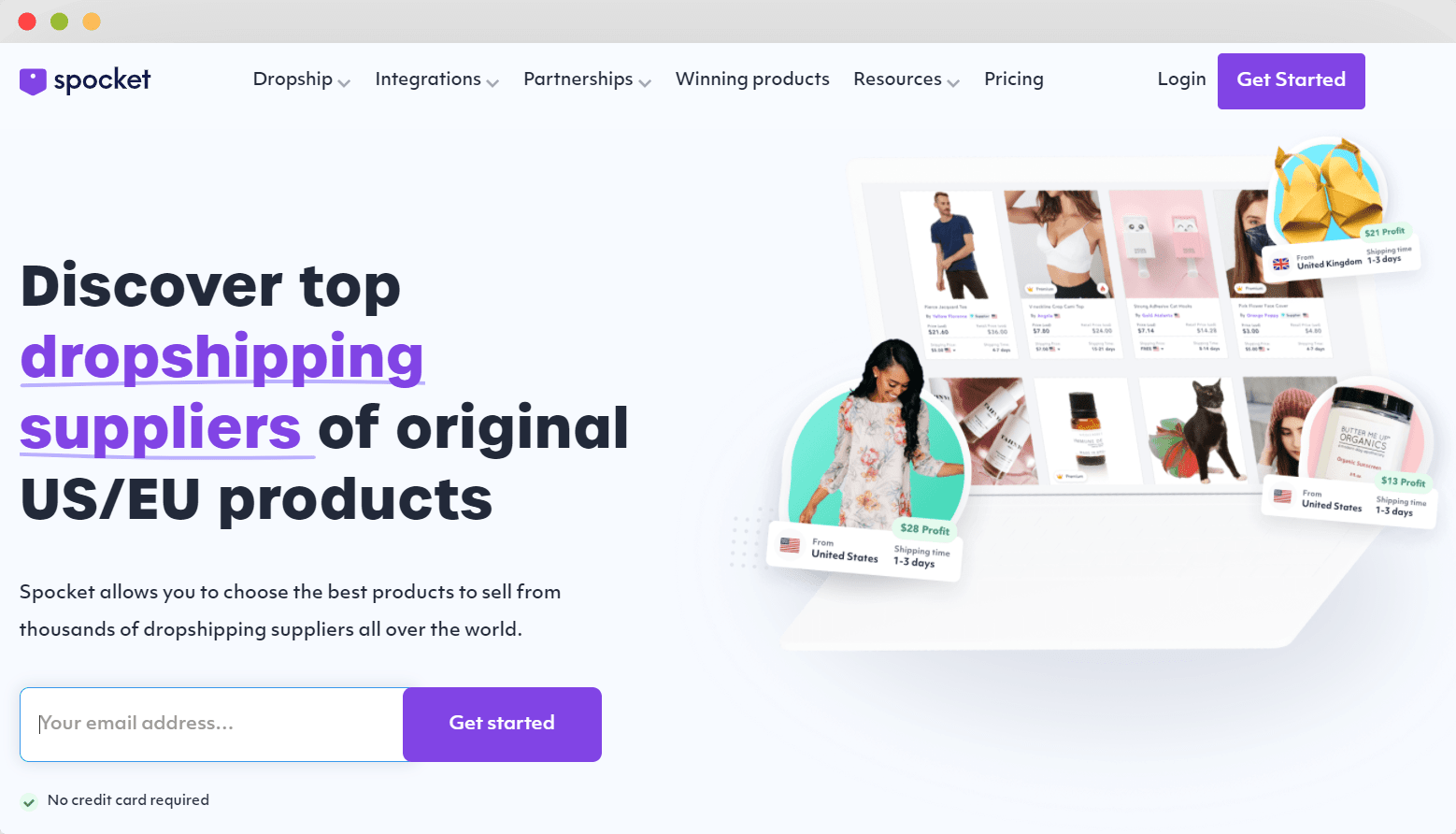 However, all of this doesn't come free. To browse through Spocket's catalog won't cost you anything, but to start using it and list sunglasses from their suppliers, you'll need to purchase one of their paid plans.
Our next dropshipping sunglasses supplier is eSources – a UK-based "yellow book" with many supplier listings worldwide. Although eSources doesn't offer any dropshipping services, it can give you some good listings for sunglasses suppliers worldwide.
eSources has a free and paid version, depending on your needs. On their platform, you can search and filter by suppliers, products, or even purchase leads.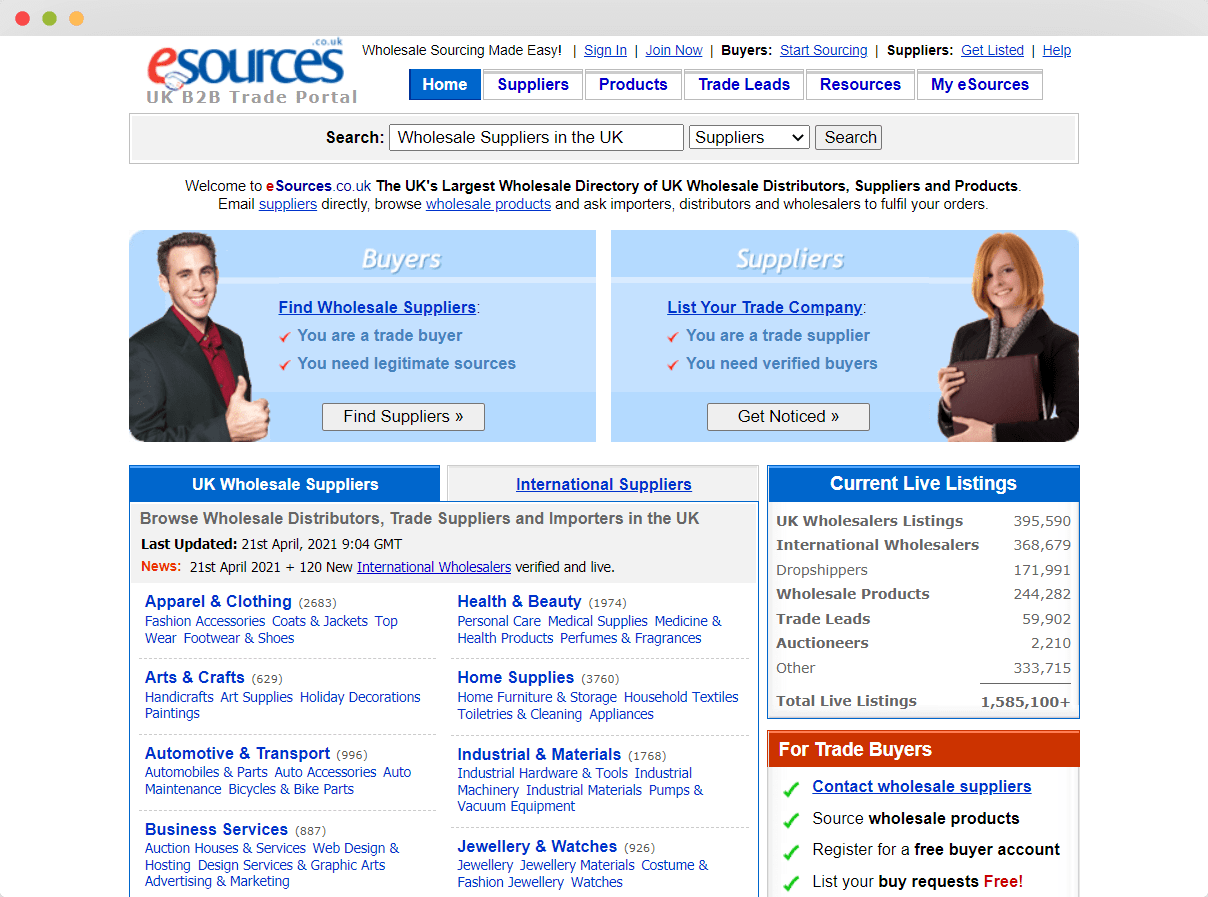 All in all, if you're looking for a sunglasses supplier who offers dropshipping services, eSources isn't the best choice. But, if all you need is contact info, then go ahead and check it out.
If you have Spanish or European customers, Hanukeii can be the perfect dropshipping sunglasses supplier for you. They're based in Madrid, Spain, and they have a vast collection of sunglasses and caps.
When you place an order from Hanukeii, they send it out in 24 hours, allowing for some pretty decent delivery times for your customers.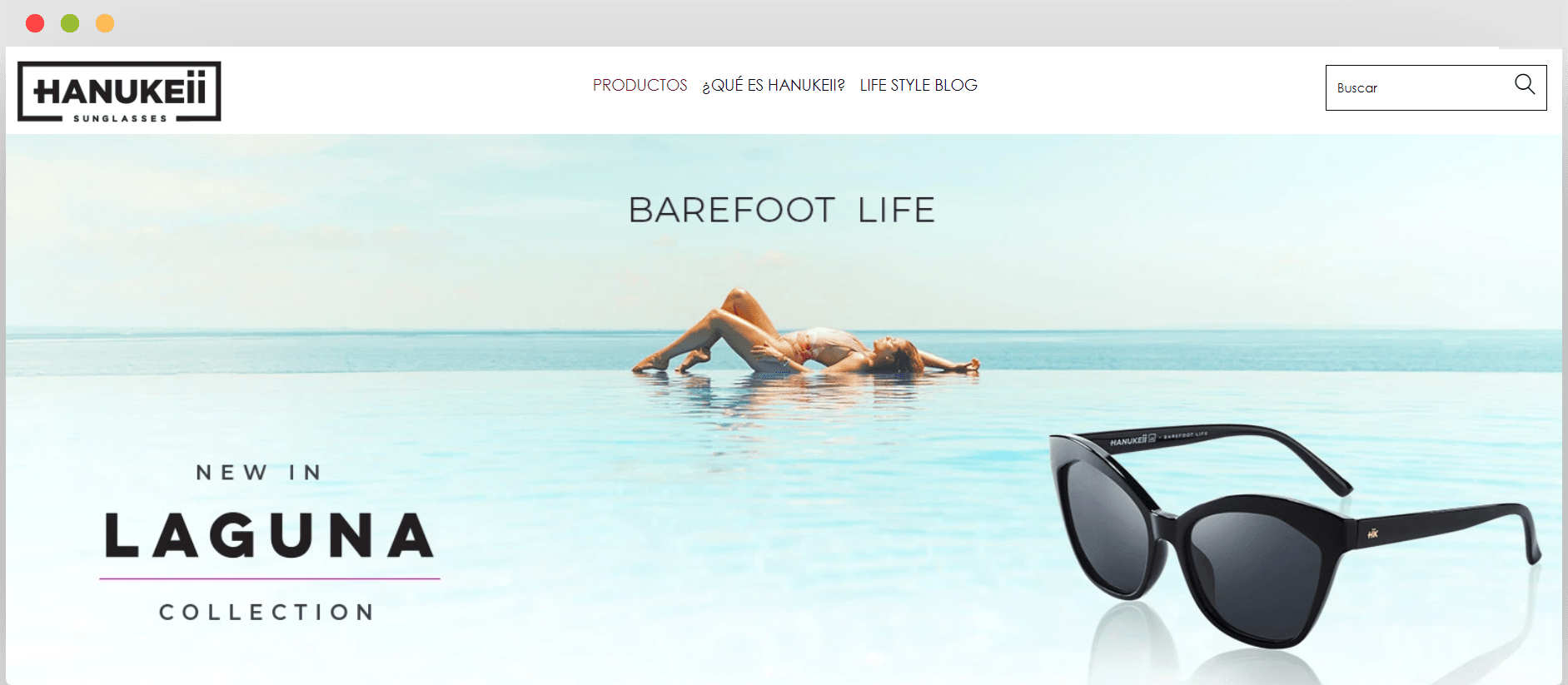 Although Hanukeii doesn't have any custom integrations for stores, they can provide you with .csv or .xml files with data you can upload. And finally, they offer a full service and can dropship the products in your name.
With warehouses in Italy and the USA and worldwide shipping, Buy2Bee can be a great dropshipping sunglasses supplier. Although they don't just sell sunglasses but other products as well, they're all quality.
Unfortunately, with Buy2Bee, you cannot automate your dropshipping since they won't integrate directly. Instead, they'll provide you with a .csv file on request, and you'll have to place your orders manually.
Another issue for us, personally, was the lack of sunglasses for men offered on their marketplace. But, if your focus is women-only and you don't mind doing a bit of manual work, then it's worth checking out.
BrandsGateway is an excellent dropshipping sunglasses supplier for those of you interested in selling high-end sunglasses brands. You can find names like Guess, Police, Diesel, Cavalli, and similar on their marketplace.
In regards to integration, you can connect BrandsGateway to Shopify and WooCommerce stores. They have real-time order sync to help you automate your dropshipping process.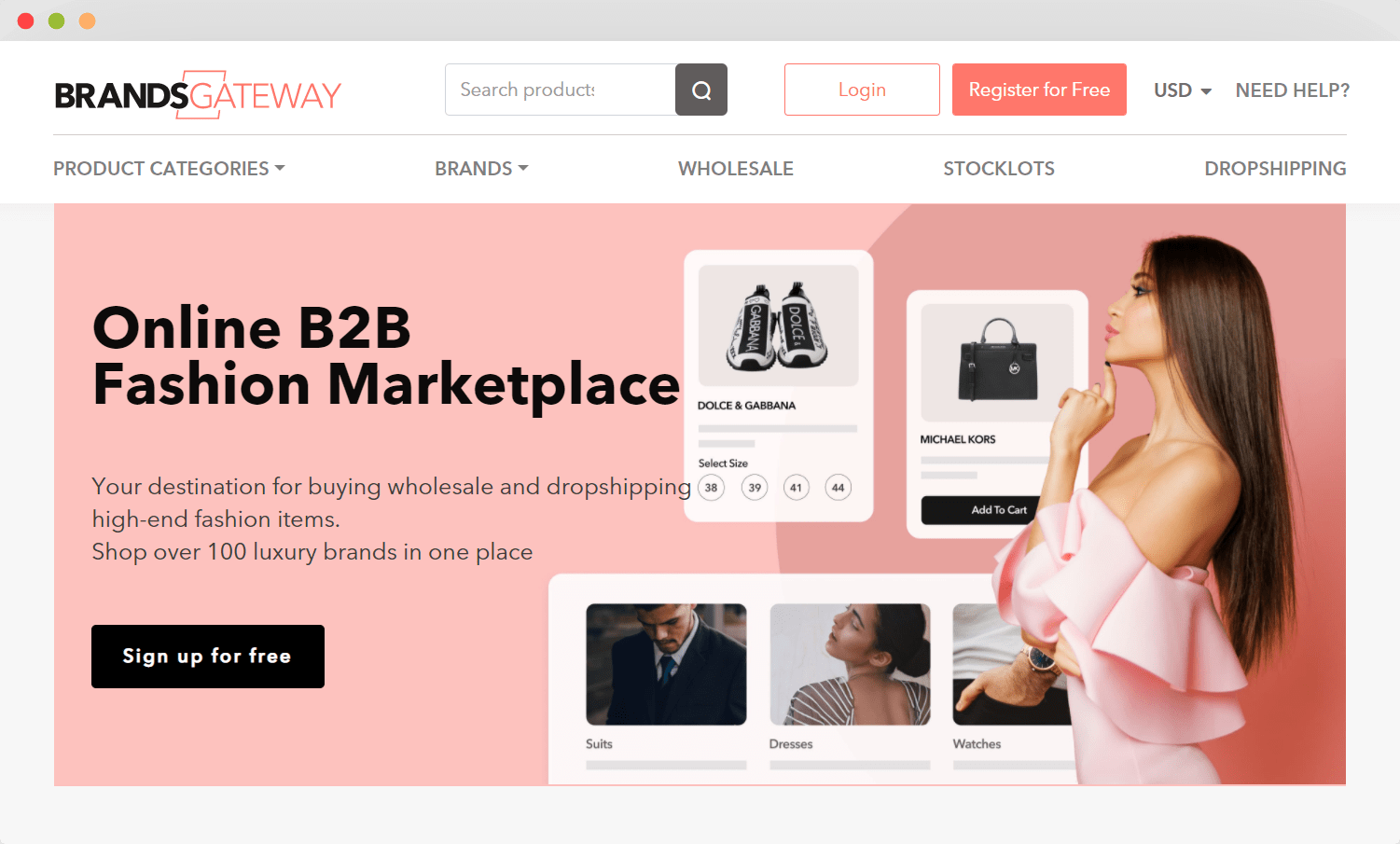 And of course, BrandsGateway products are a bit expensive. But, you can set a pretty high profit margin and earn more with fewer sales. And finally, they have a 5-day worldwide delivery which is not free, but convenient for your customers.
FashionTIY has one of the most varieties of sunglasses to choose from at the most affordable prices. The downside here is that they only sell B2B and wholesale. But, don't despair.
Most of the sunglasses on FashionTIY come with a low MOQ, even with a minimum order quantity of 2 pairs. So, if you're at least a bit confident in the sunglasses you're selling, it shouldn't be a problem ordering a small batch.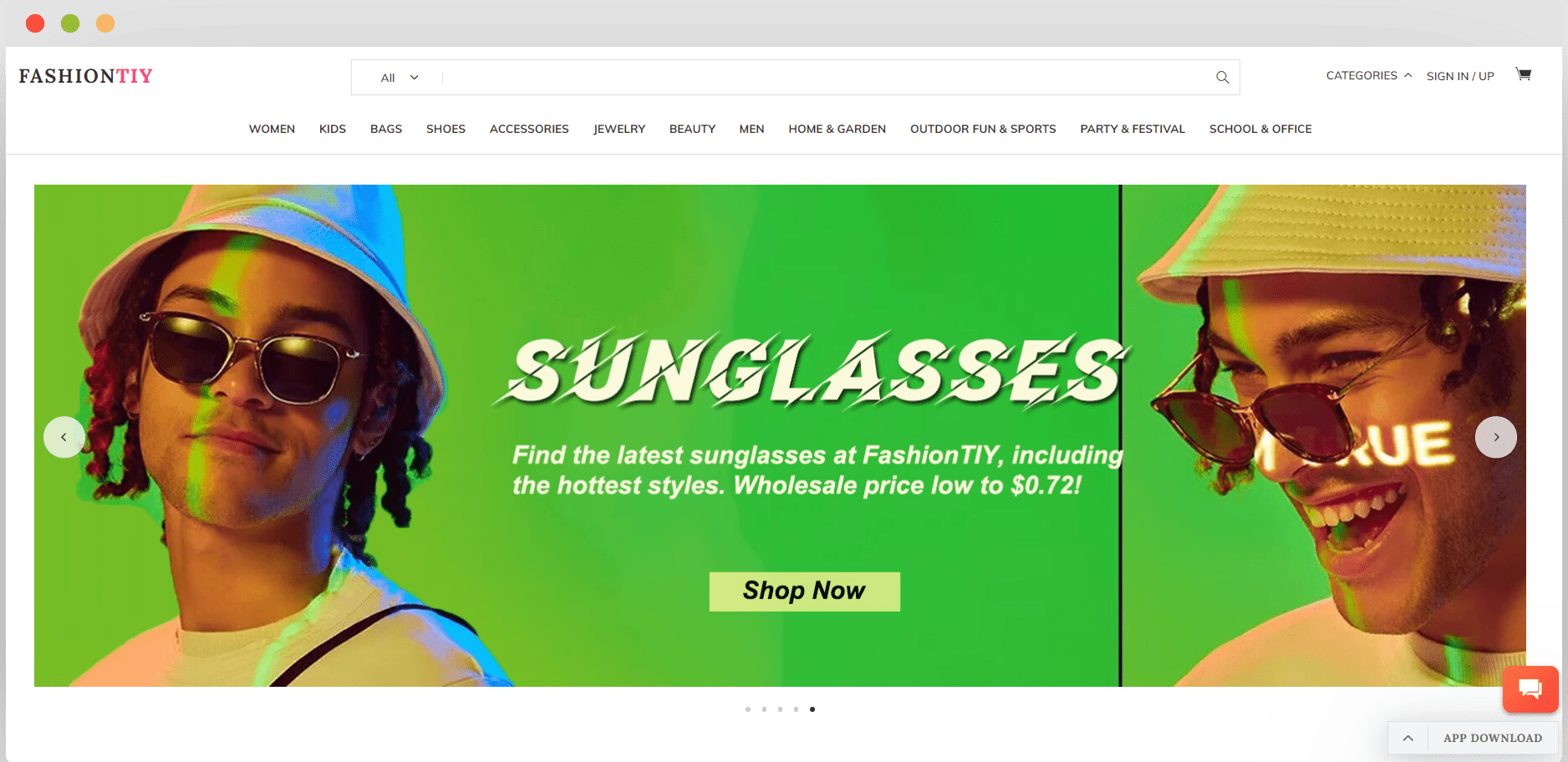 FashionTIY can ship your orders worldwide through standard or priority shipping, depending on the country. Typically, the product arrives the latest in 15 days with priority shipping and from 15 to 45 days with standard shipping.
FAQs on Dropshipping Sunglasses Suppliers
Still got questions about sunglasses dropshipping suppliers? Let's see if we can answer them all!
Are Sunglasses Good to Dropship?
Sunglasses are a popular accessory all year long, but especially in summer. So, they're sort of a seasonal product in this regard. Despite that, their popularity keeps growing.
According to a Statista report on sunglasses, the worldwide revenue of sunglasses in 2023 is projected to reach US$24.55 billion. What's more, the market is expected to grow by 4.86% annually from 2023 to 2027. So, sunglasses can be a winning product.
However, you have to know that there are many sunglasses dropshippers out there since we're talking about a popular dropshipping product.
So, you'll need to find your edge and narrow down your niche to a more specific target group. That will help you find your audience faster. It's all about placing the right product in front of the right people.
Can I Sell Sunglasses on Amazon?
Amazon will allow you to sell new glasses and be listed in their categories, but you'll have to get approval. Additionally, you're not allowed to sell used and second-hand sunglasses.
How to Do Private Label Sunglasses Dropshipping?
If you're interested in drop shipping custom sunglasses or sunglasses with your branding, you have two options:
A dropshipping agent who offers private labeling;
A manufacturer or wholesaler who agrees to private label a product for you, plus a warehousing or inventory storage solution;
How to Dropship Custom Sunglasses?
You can dropship custom sunglasses with the help of sunglasses dropshipping suppliers like CJDropshipping, who also offer print-on-demand (PoD) services.
Another way to dropship custom sunglasses is to find a wholesale sunglasses supplier who agrees to personalize the products. But, in this case, you might need to place a bulk order.
What Are the Best Dropshipping Sunglasses Suppliers?
All of the dropshipping sunglasses suppliers we spoke about above are trustworthy and reliable. Which one you use depends on the services you need and your dropshipping business needs in general.
For instance, you can use CJDropshipping if you have customers worldwide and need someone to take care of everything in a budget-friendly way. Or, try AliExpress if you don't mind handling a couple of things on your own.
How to Start a Sunglasses Dropshipping Business?
Starting a sunglasses dropshipping business follows the same steps as any other niche product. Here's the easiest way to start selling sunglasses online:
Step 1: Competitive research
"Spy" a bit on your competition and see what they're doing right and wrong. Of course, don't just copy all they're doing – that's immoral and likely punishable. Instead, take the general principles and dos and don'ts from their business model.
Step 2: Define your target audience
Create a buyer persona (one or multiple, depending on your store) and define your ideal customer. Like this, you'll know who to target with your marketing efforts.
Step 3: Branding
Once you know what your product is and who would want to buy it, it's time to adjust your branding and make yourself stand out from all other sunglasses dropshippers.
Step 4: Build your store
Once you have your naming, logo, colors, etc., it's time to build your eCommerce store. The majority of dropshippers choose either Shopify or WooCommerce and WordPress as their store builders.
Step 5: Choose a supplier
Now that you have your store up and running, it's time to choose your dropshipping sunglasses supplier. Choose the supplier that suits you the most from our list above, and ensure it offers integration for your store.
Step 6: Import the products
For instance, if you choose CJDropshipping as a supplier, you'll have to sign up for free and authorize your store on their marketplace. Then, you can enjoy fully automated import and order fulfillment.
Some sunglasses suppliers won't integrate directly into your shop. Instead, they can provide you with .csv files for an easier import and listing.
Step 7: Launch and sell
Congrats! After importing your products, you can officially launch your store. Don't forget that now comes the most crucial part of all – bringing traffic and sales!
Can a Dropshipping Agent Help Me Dropship Sunglasses?
Of course! An excellent dropshipping company should be able to help you source, brand, store, and ship sunglasses worldwide. An agent in China would be ideal since they can source products at affordable prices directly from manufacturers.
But, ensure the dropshipping agent you choose has a worldwide fulfillment center.
In Summary
When done right, dropshipping sunglasses can bring you tons of success. But, you'll have to invest some research and time into the type and model of sunglasses you want to sell and define your target audience.
Equipped with that knowledge, plus a dropshipping sunglasses supplier from this list, and you're good to go!
And if you still can't find the right dropshipping sunglasses supplier, contact us today, and we'll source directly from China sunglasses or any product you need at the most affordable prices.