Are you thinking of starting an eCommerce business in Germany? Or do you plan to sell to German customers? Regardless of the case, you'll first need to find reliable dropshipping suppliers for Germany.
For dropshipping to Germany, you shouldn't really care if the supplier company is located in Germany, has warehouses there, or simply offers affordable and short delivery times to Germany. As long as your customers are happy, it's all that matters!
To help you start your dropshipping business, we've gathered a list of the twenty best dropshipping suppliers for Germany.
Let's take a look at them!
20 Best Dropshipping Suppliers for Germany
If the bulk part of your eCommerce store traffic comes from Germany, you need to find dropshipping suppliers located in Germany or, at least, have warehouses in the EU. With this, your customers can enjoy shorter shipping times.
Below, we'll give you a list of the twenty best dropshipping suppliers for Germany. These suppliers have warehouses or fulfillment centers either directly in Germany or a nearby EU country.
VidaXL Dropshipping offers a wide range of products in the home and garden and furniture niche. By registering as a reseller (dropshipper), you gain access to over 20.000 products that VidaXL will drop ship to your customer's door.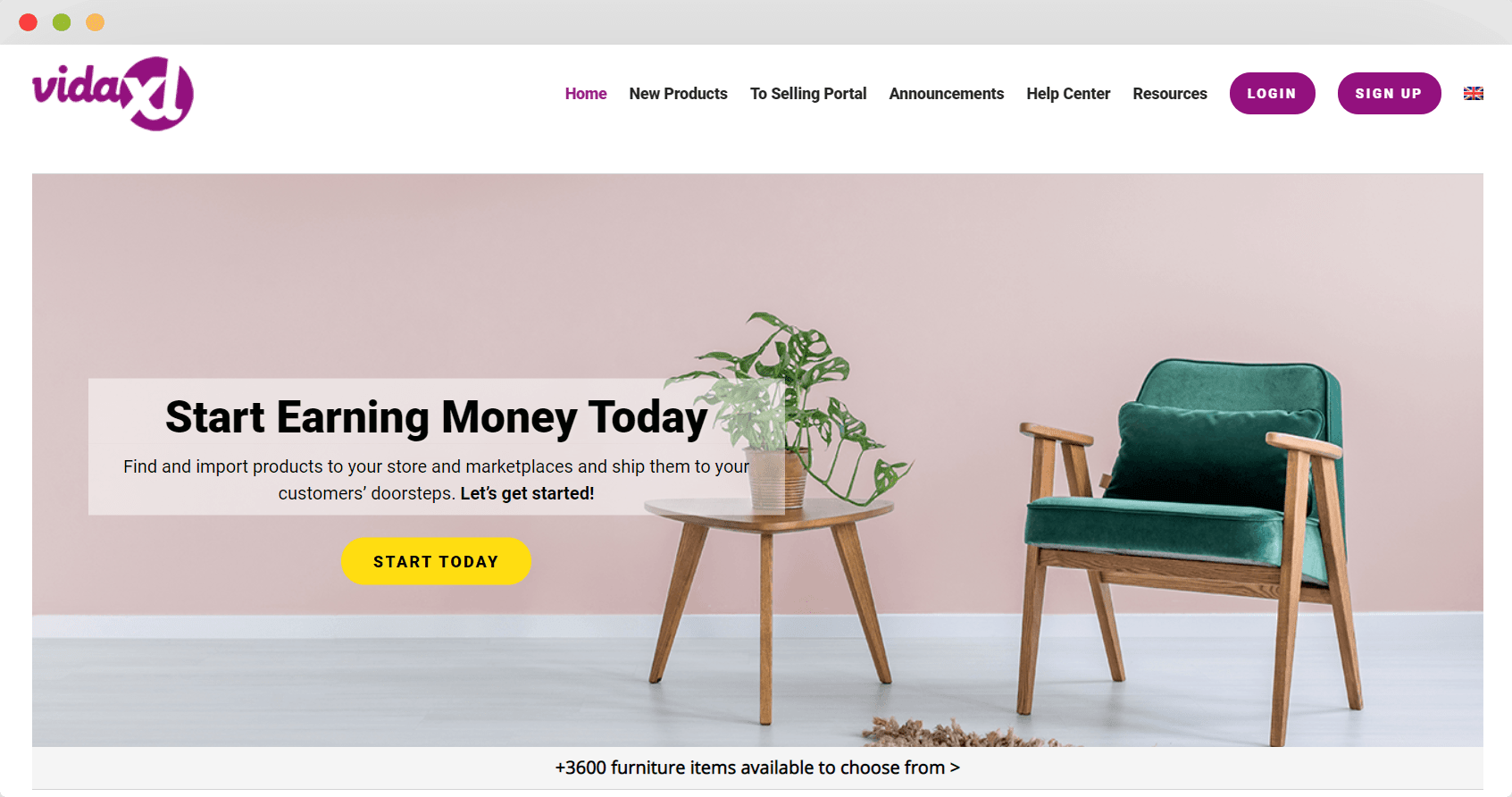 To use VidaXL as a dropshipping supplier, you have to pay a flat monthly fee of 30 euros, which gives you access to their products and covers their dropshipping service fee.
If you're dropshipping to Germany, your clients can enjoy free shipping. VidaXL offers free shipping to most European countries.
CJDropshipping is a world-renowned dropshipping supplier with warehouses in Germany and throughout the entire world.
On their website, you can see which products are currently in stock in their German warehouse, allowing your local customers to enjoy short delivery times.
CJDropshipping offers a full dropshipping and fulfillment service, as well as branded packaging, print on demand, and much more.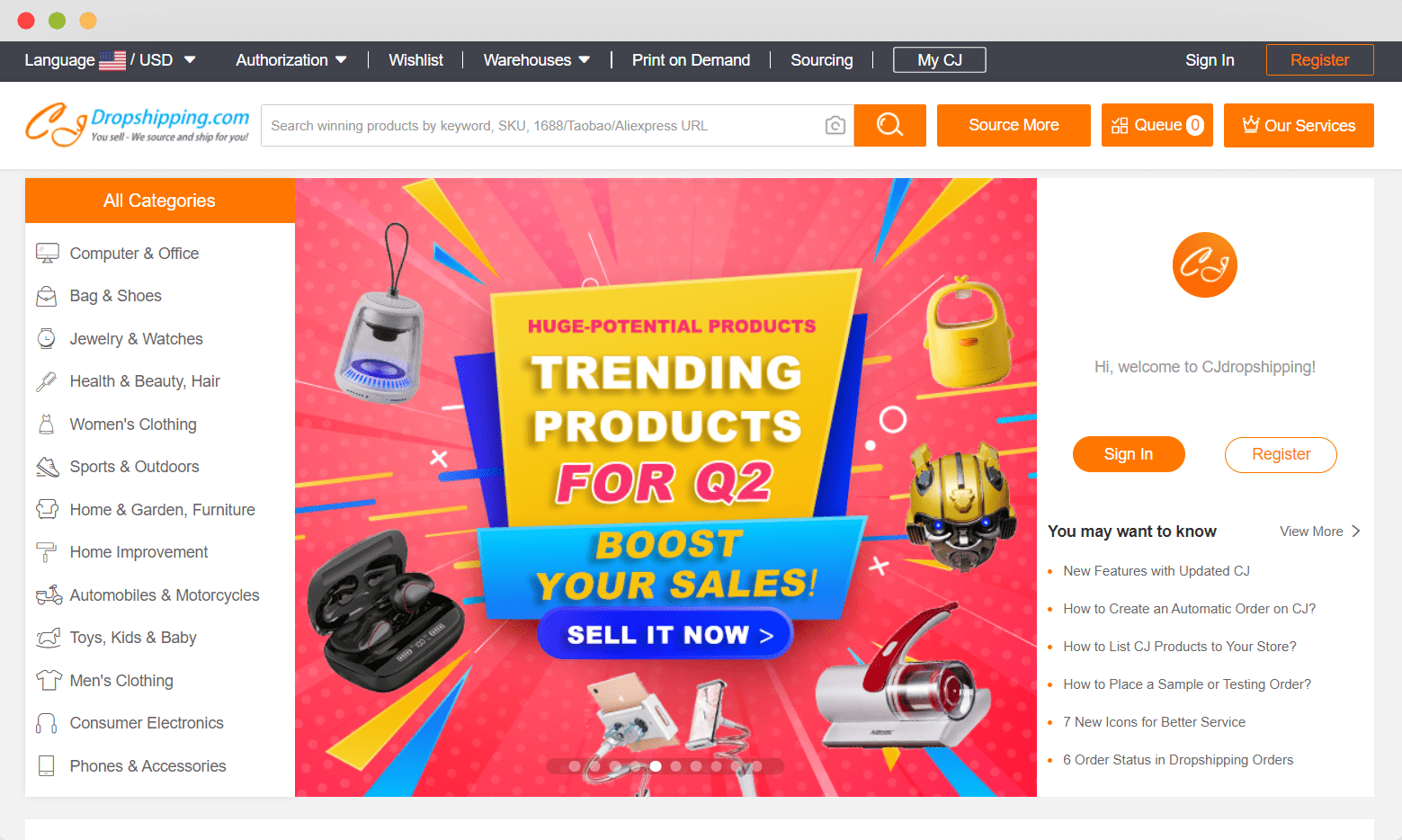 Another great feature of CJDropshipping is that it integrates seamlessly with many different eCommerce store solutions – Shopify, WooCommerce, eBay, Shopee, ShipStation, and Lazada.
And now for the part that all of you are curious about – the costs. Well, if you're sourcing products directly from their warehouse in Germany, you won't have any handling or service fees – all you pay is product price + shipment!
We believe that this is an excellent opportunity for any German dropshipper willing to sell locally to German customers since you're getting a full dropshipping service entirely for free, with zero upfront risks.
Spocket is perhaps the most well-known supplier network for US and EU products.
With over 80% of their suppliers based in Europe or the US, your German customers will enjoy short delivery times.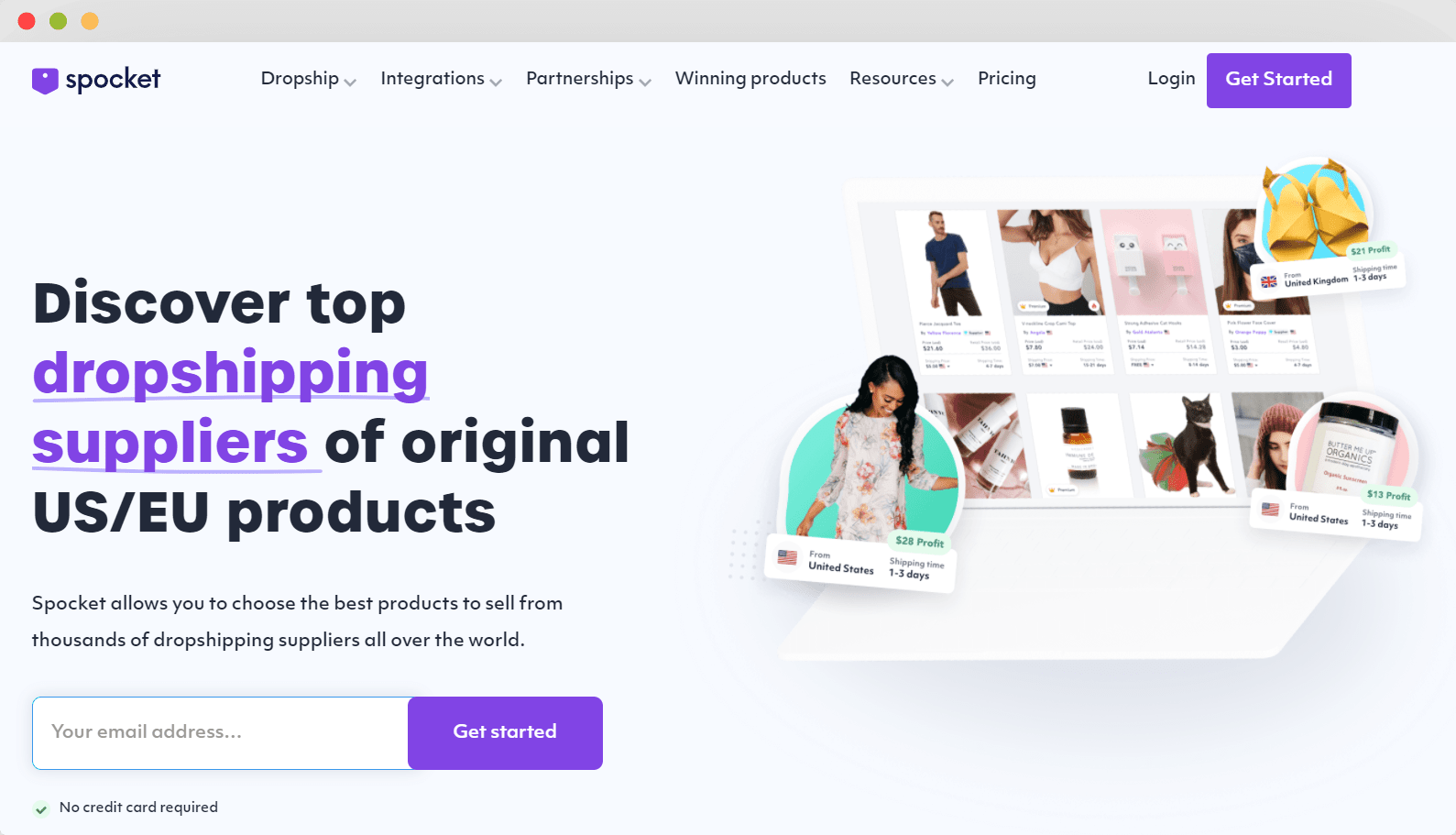 Spocket integrates with different eCommerce store builders such as Shopify, WooCommerce, Wix, and BigCommerce.
If you want to test Spocket by browsing through their product catalog, you can do that completely for free. However, to start importing and selling, you will need a paid plan.
Their Starter plan costs $24/month, and it allows you to import and sell up to 25 unique products from the Spocket catalog.
As you probably already know, Alibaba is the largest B2B marketplace known for its low prices. As such, Alibaba itself is not the supplier, but it's instead a directory of many different sellers.
You may not know that contrary to popular belief, not all Alibaba products ship from China.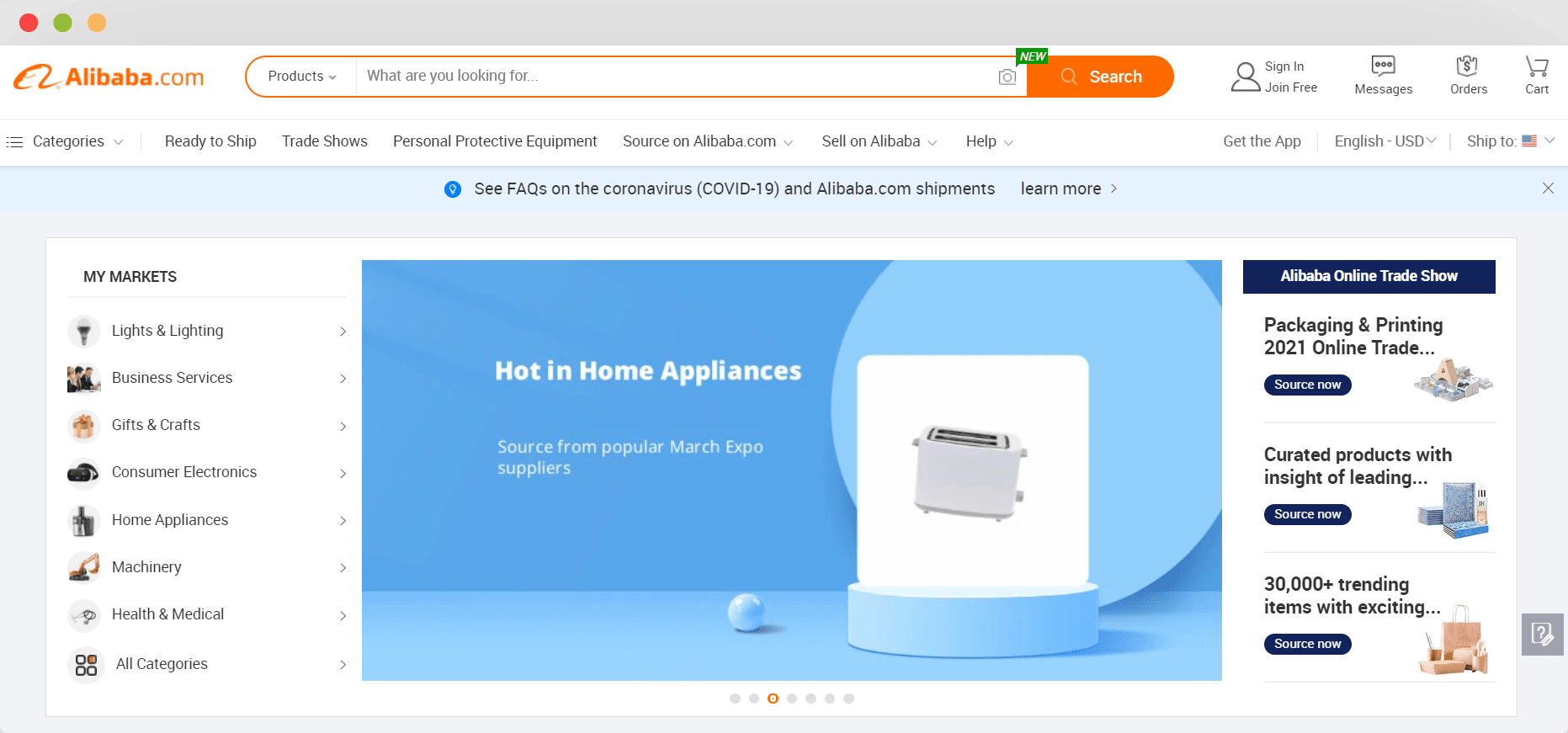 Even if the Alibaba supplier company is Chinese, often, they have fulfillment centers and warehouses in Europe. With this, you can still enjoy dropshipping to Germany with shorter delivery times.
However, always make sure that you ask your supplier if they agree to dropship in the first place. Alibaba is a wholesale marketplace for bulk orders. But, that's what makes it the best place for private labeling.
Like Alibaba, AliExpress is not a seller but simply a marketplace of different suppliers selling various products.
The main difference between Alibaba and AliExpress is that the latter is a B2C marketplace, which means you're much more likely to find suppliers that agree to dropship.
The good news is that, similarly to Alibaba, many AliExpress sellers also have warehouses in Germany or at least in Europe.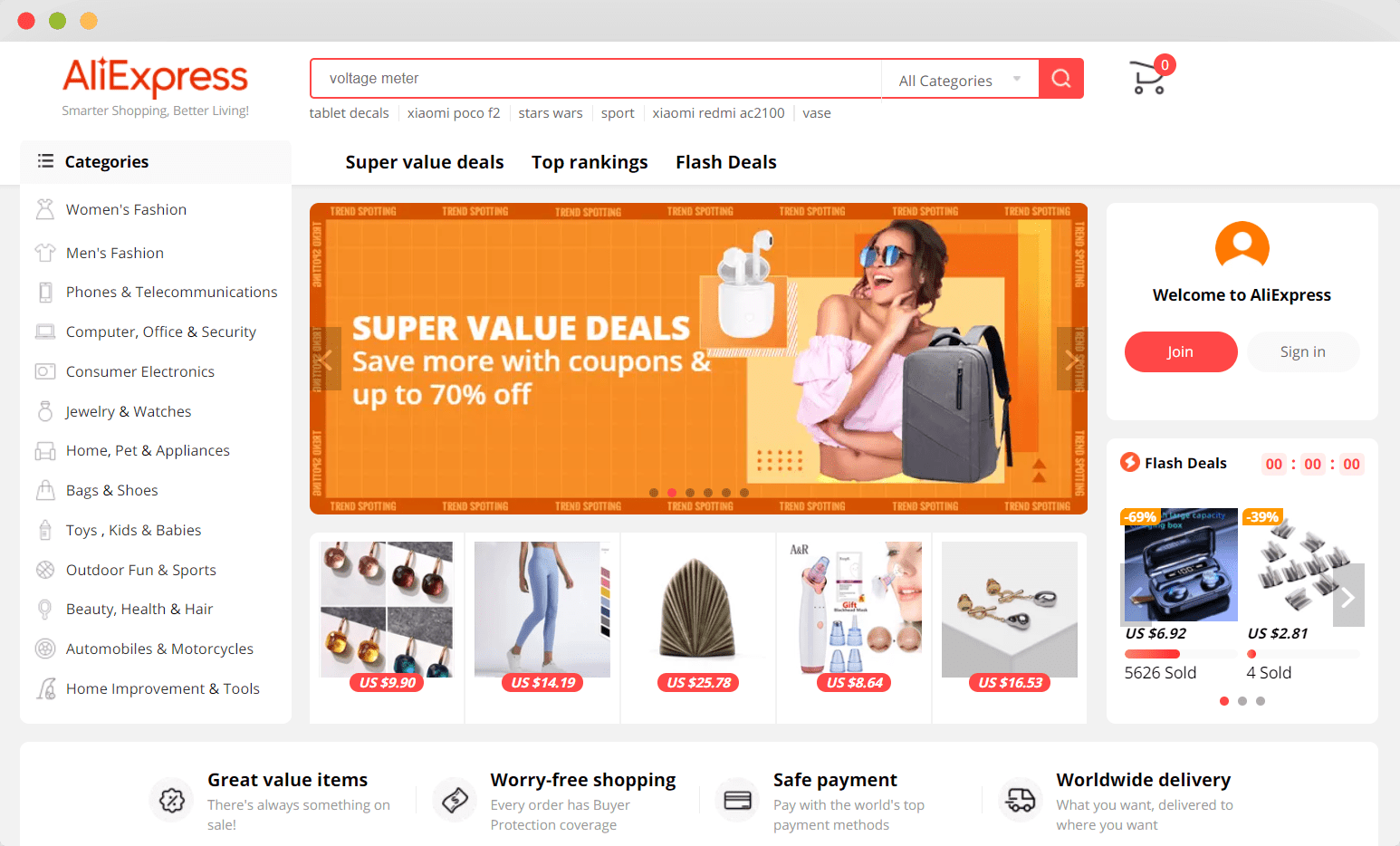 You can check out the shipping rates to Germany by setting your delivery destination and then looking through the options. For customers that aren't in a rush, most AliExpress products will have free shipping to Germany.
However, if you're after faster options, you can choose AliExpress Standard Shipping, DHL, or FedEx.
With over 200.000 products divided into 14+ categories, Banggood can be an excellent dropshipping supplier for Germany.
Banggood has a dropshipping program free to join, which allows you to connect your Shopify or eBay store and start importing products to resell. You can begin using Banggood with zero upfront costs and pay only after you have the first order.
When it comes to branded packaging, Banggood is completely dropship-friendly. They'll have no problems removing their invoice and placing yours instead.
Furthermore, as a dropshipper, you get anywhere from 5 to 20% discount on product prices, allowing you to earn more and have a more significant profit margin.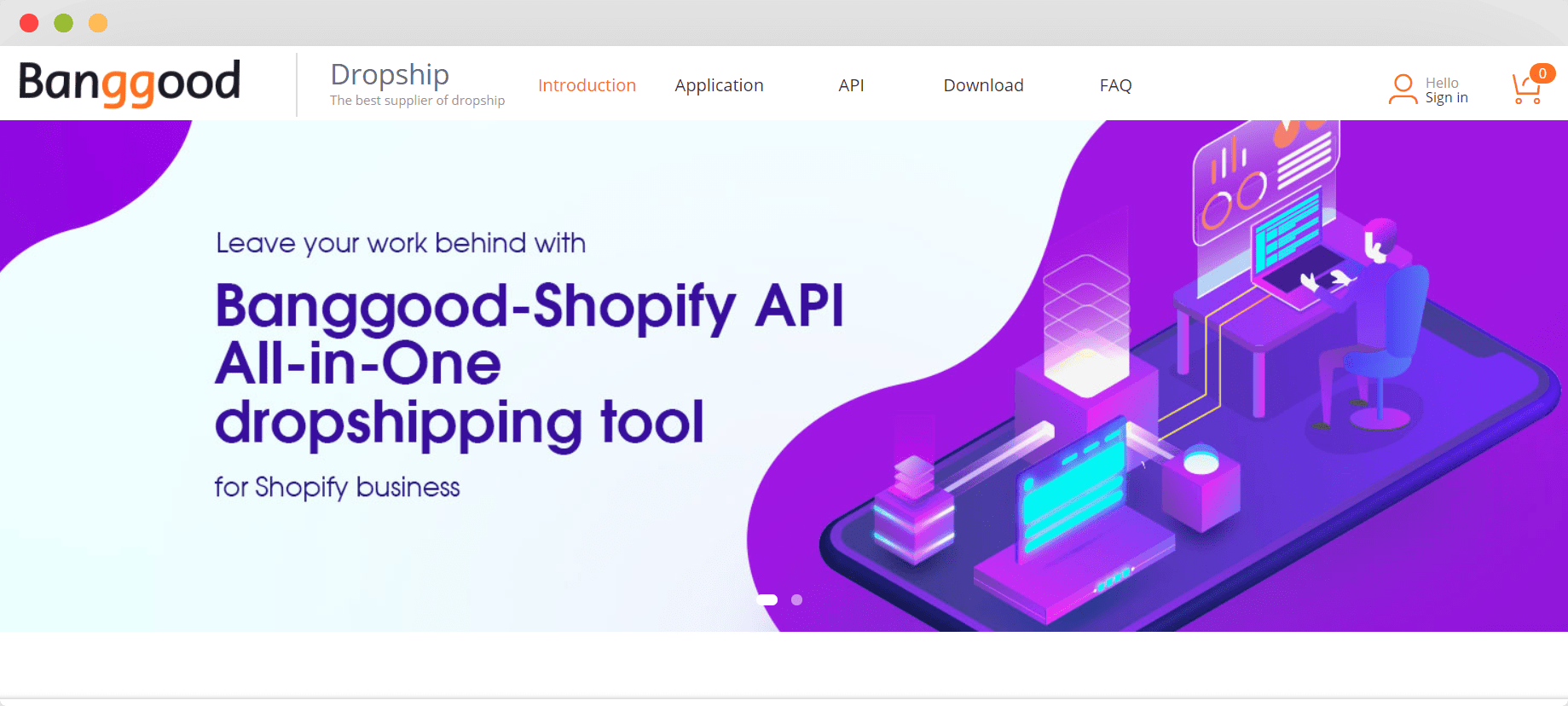 Banggood has different shipping options for dropshipping in Germany. Once you've chosen a product and shipping destination, you'll be able to see all shipping methods available for that country.
If you wish to offer your German customers free shipping, you can always incorporate the shipping price into the base product price. Like this, you'll cover your delivery cost while still offering the attractive free shipping option.
On Chinabrands, you can find upwards of 5000 suppliers, offering over 100.000 different products to source. From tech gadgets to sports, bags, shoes, consumer electronics, and more, Chinabrands offers products for any niche dropshipping store.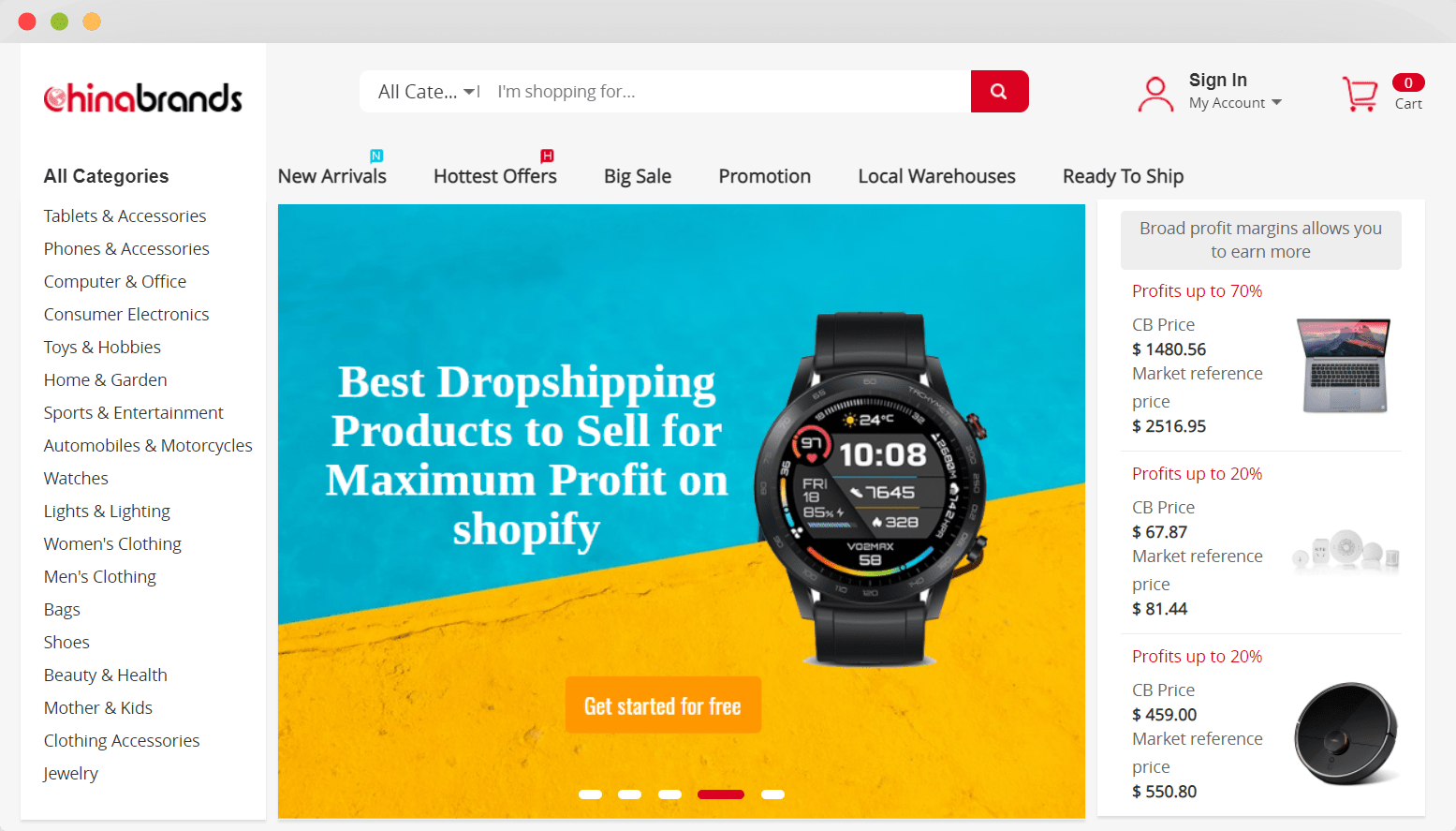 Chinabrands doesn't have a warehouse in Germany. However, they have two warehouses in the UK and one warehouse in France, from which they ship to all European countries, including Germany.
With Chinabrands as a supplier, you can sell through Shopify, Amazon, eBay, Wish, and many other channels.
If you're a German eCommerce guru aiming to sell quality private label products locally, Nedis could be a good solution for you.
Nedis is a wholesaler of consumer electronics in computers, gaming, home and living, audio, etc. You might think – what is a wholesaler doing on this list?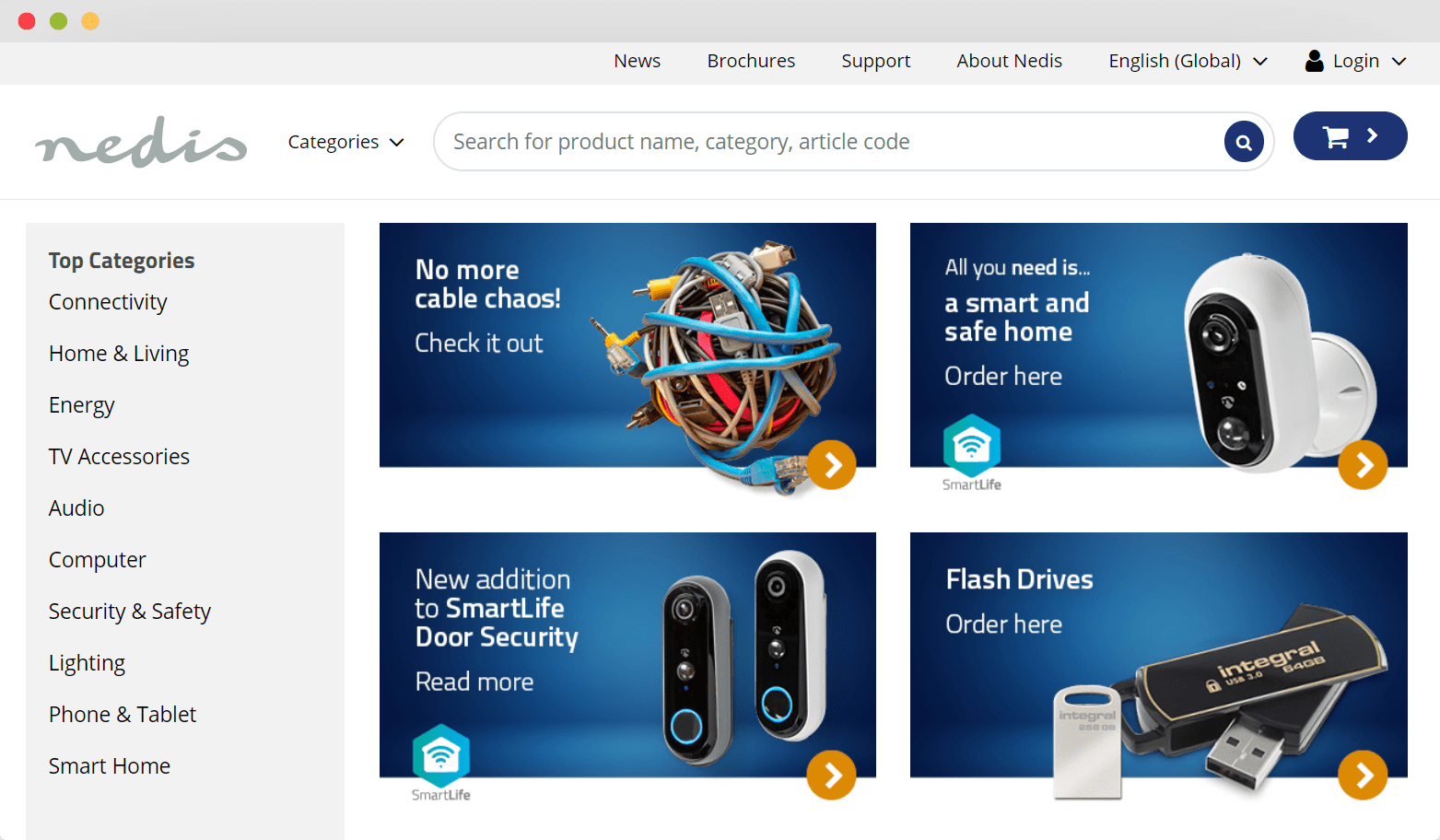 For dropshipping businesses in Germany, Belgium, Luxembourg, and the Netherlands, Nedis offers private label dropshipping services – thus, their space on this list.
As a dropshipping supplier in Germany, Nedis allows you to sell products under their brand name or private label the products with your brand.
Another great dropshipping supplier for Germany is Big Buy. Known as the leading dropshipping wholesaler in Europe, Big Buy is a full-service dropshipping supplier.
You can connect Big Buy to Shopify, WooCommerce, PrestaShop, and Magento, with Wix and BigCommerce coming soon. On top of that, with Big Buy, you can also sell on marketplaces such as Amazon, eBay, Rakuten, Cdiscount, etc.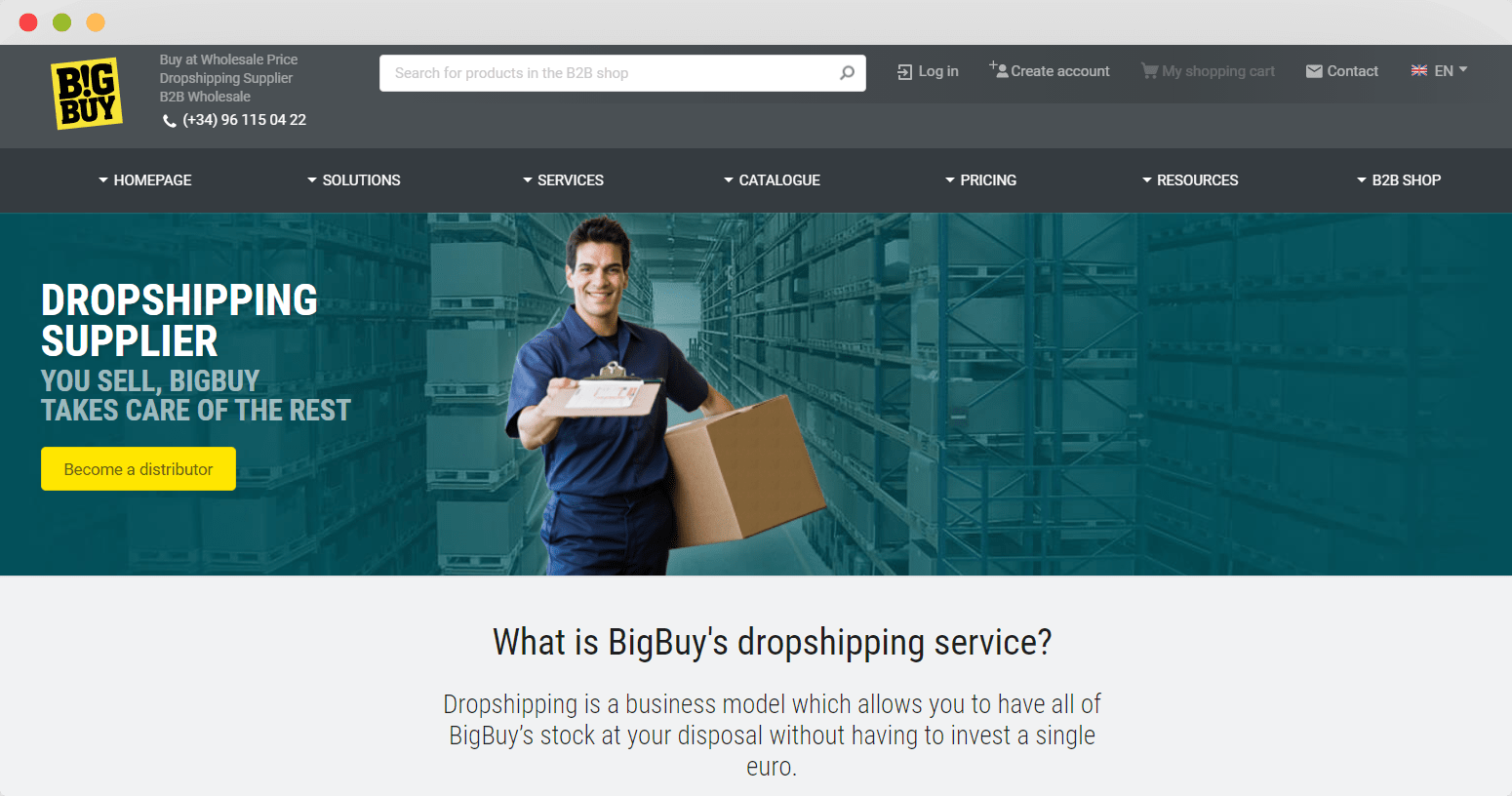 Regardless if it's Germany or another nearby country, Big Buy can drop ship for you all over Europe.
And last but not the least, Big Buy can also help you white-label your dropshipping products so that customers always receive their orders from your name and branding.
Known as one of the largest directories for dropshipping suppliers, SaleHoo offers verified AliExpress suppliers, ensuring that you always ship quality products.
Although SaleHoo is not specific to Germany or even Europe, over 80% of their vetted suppliers dropship worldwide, which is why we've had to mention SaleHoo on this list.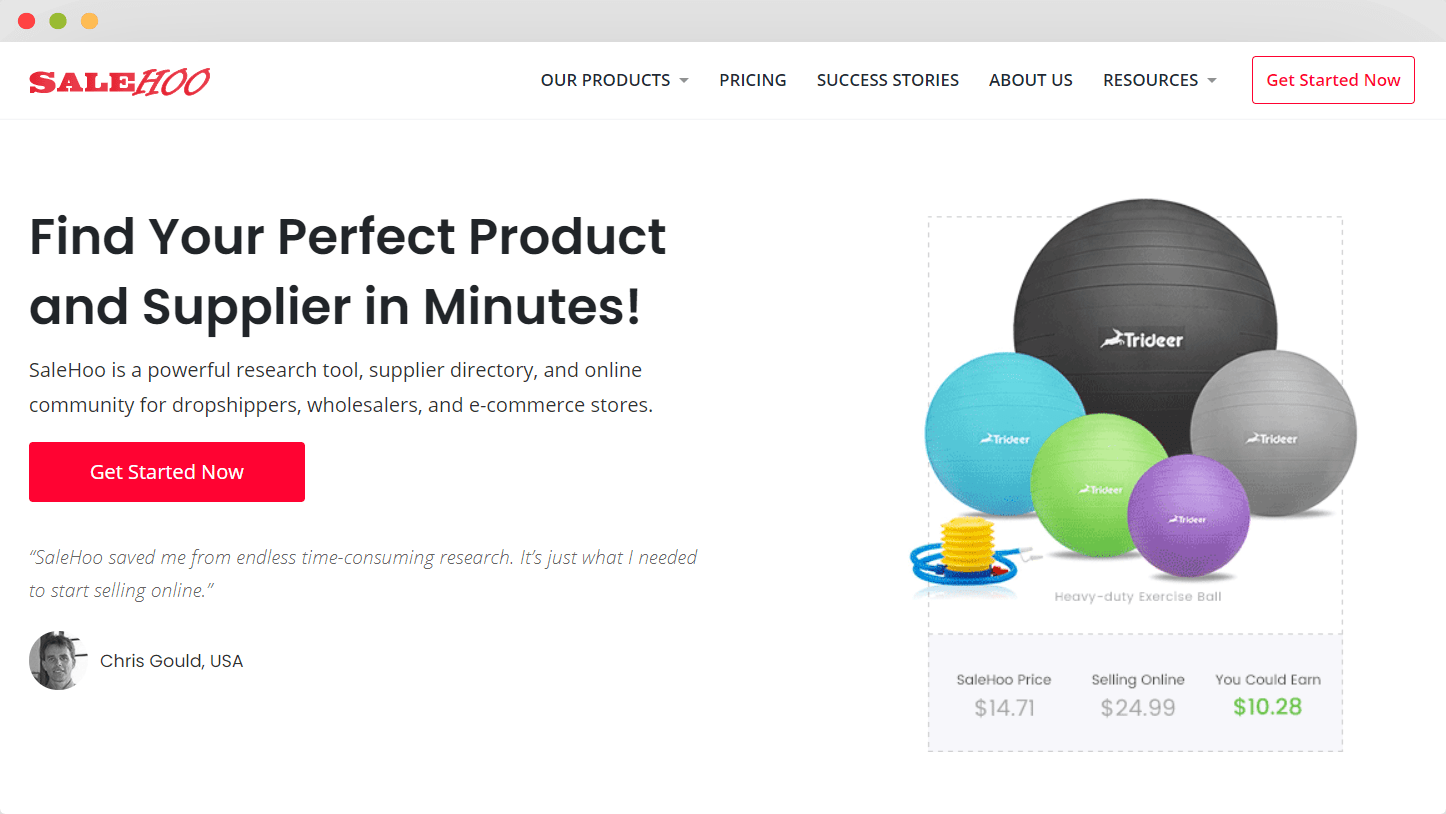 SaleHoo prides itself on being a complete solution for dropshippers since they offer three different services:
SaleHoo Directory – gives you access to 8000+ trusted suppliers – priced $67/annually or $127/lifetime;
SaleHoo Dropship – add high-profit AliExpress products to your store – priced $27/month for the Basic plan, or $97 for their premium plan;
SaleHoo Educate – $47/lifetime access to dropshipping courses;
Unfortunately, SaleHoo does not offer a free plan. So, if you want to dropship with no money, let's see what else is out there that can help you.
Next in line is HyperSKU – a completely free dropshipping supplier for Germany. If you're a Shopify or WooCommerce store owner and wish to find a cost-effective drop shipping solution for your German customers, HyperSKU is worth checking out.
HyperSKU will allow you to import products from their own catalog, as well as import AliExpress products. With its smart search option, you can submit the desired AliExpress product link and receive a sourcing quote for the same product.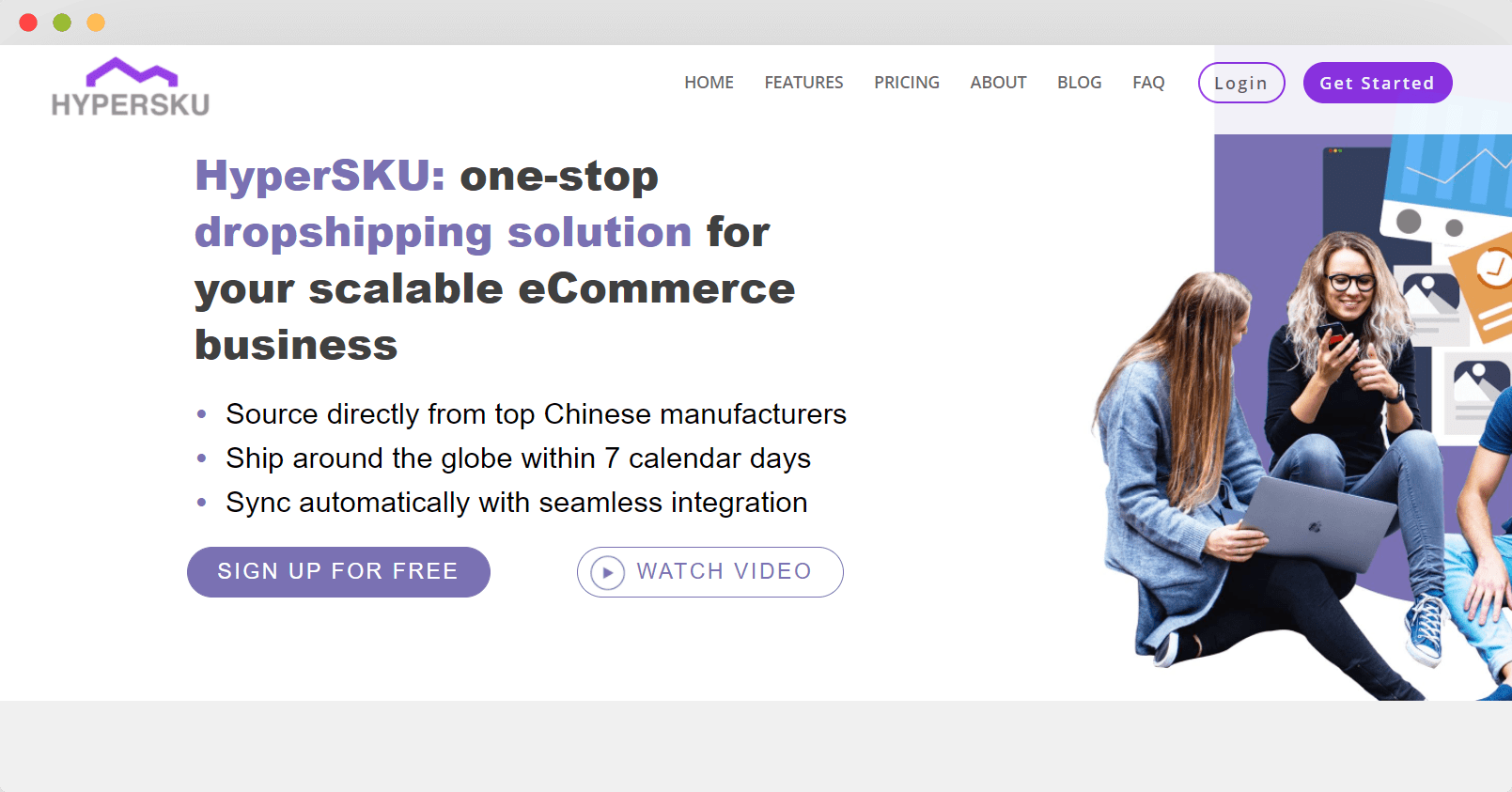 HyperSKU for dropshipping in Germany will allow for shorter delivery times for your customers since they use DHL as a shipping method.
Although located in the US, Worldwide Brands offers an extensive network of trustworthy and WBI certified suppliers that ship internationally.
Worldwide Brands is not a dropshipping supplier themselves, but rather a directory of vetted and trusted wholesalers and dropshippers.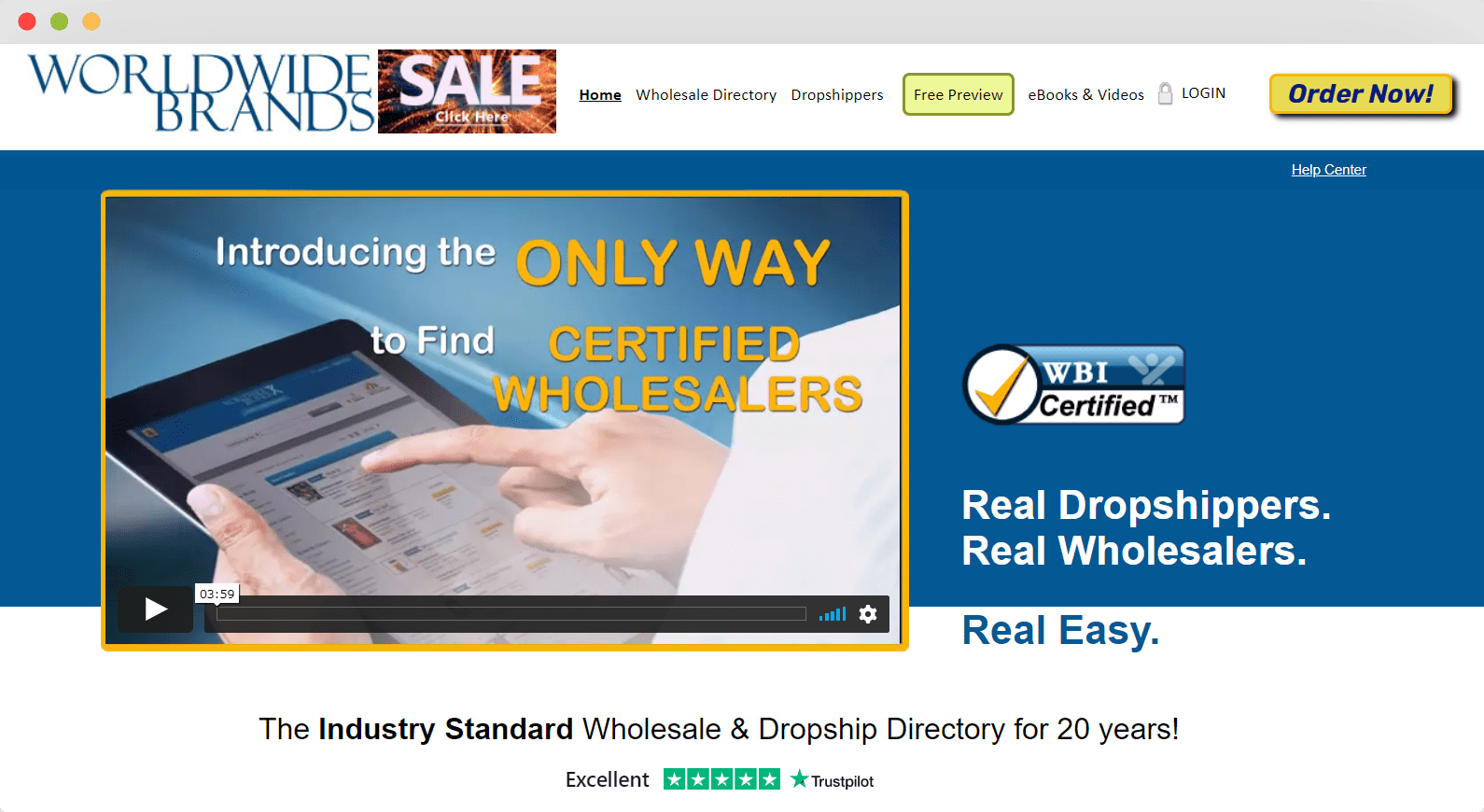 Suppliers found on Worldwide Brands are much more trustworthy than unverified AliExpress suppliers, for instance.
Unfortunately, becoming a member of Worldwide Brands and using their directory doesn't come free. Although there are no recurring monthly or yearly fees, it will cost you $224 for lifetime access to the Worldwide Brands supplier directory.
eSources is a UK supplier directory offering listings of both wholesalers and dropshipping companies.
We've placed eSources on this list simply because it represents a handy tool for searching for dropshipping suppliers in Germany. However, don't expect too much out of it since it only serves as a "yellow book" for suppliers and nothing more.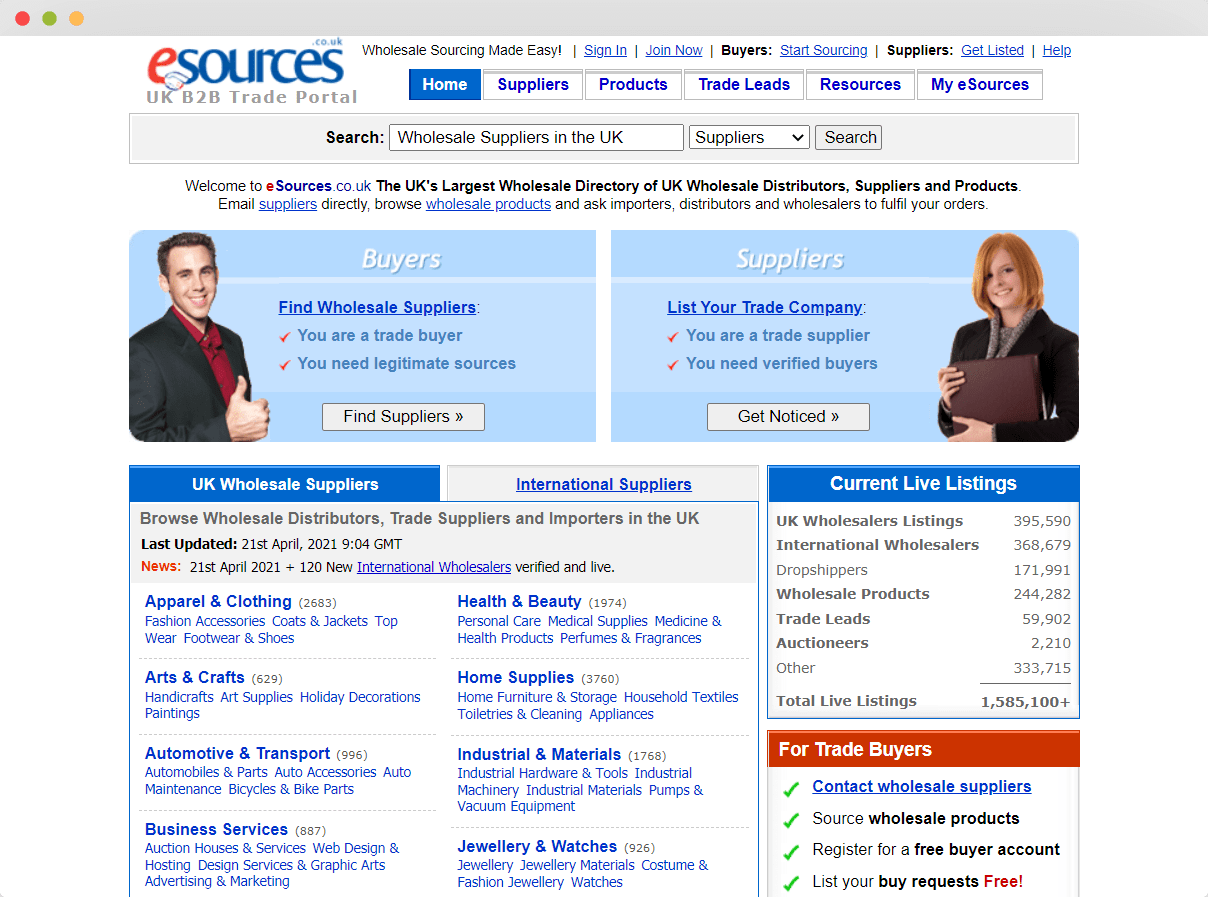 As a buyer, you can use eSources for free to access premium suppliers, or you can choose to upgrade your profile to a Premium Buyer, which will give you access to all suppliers.
Original Italian leather bags and briefcases that can be private labeled and shipped quickly throughout Europe – sounds too good to be true? Well, with Tuscany Leather, this is a real possibility.
Promoting a dropshipping model, this leather goods supplier allows you to customize most of their products with your brand and logo with the help of their laser engraving process.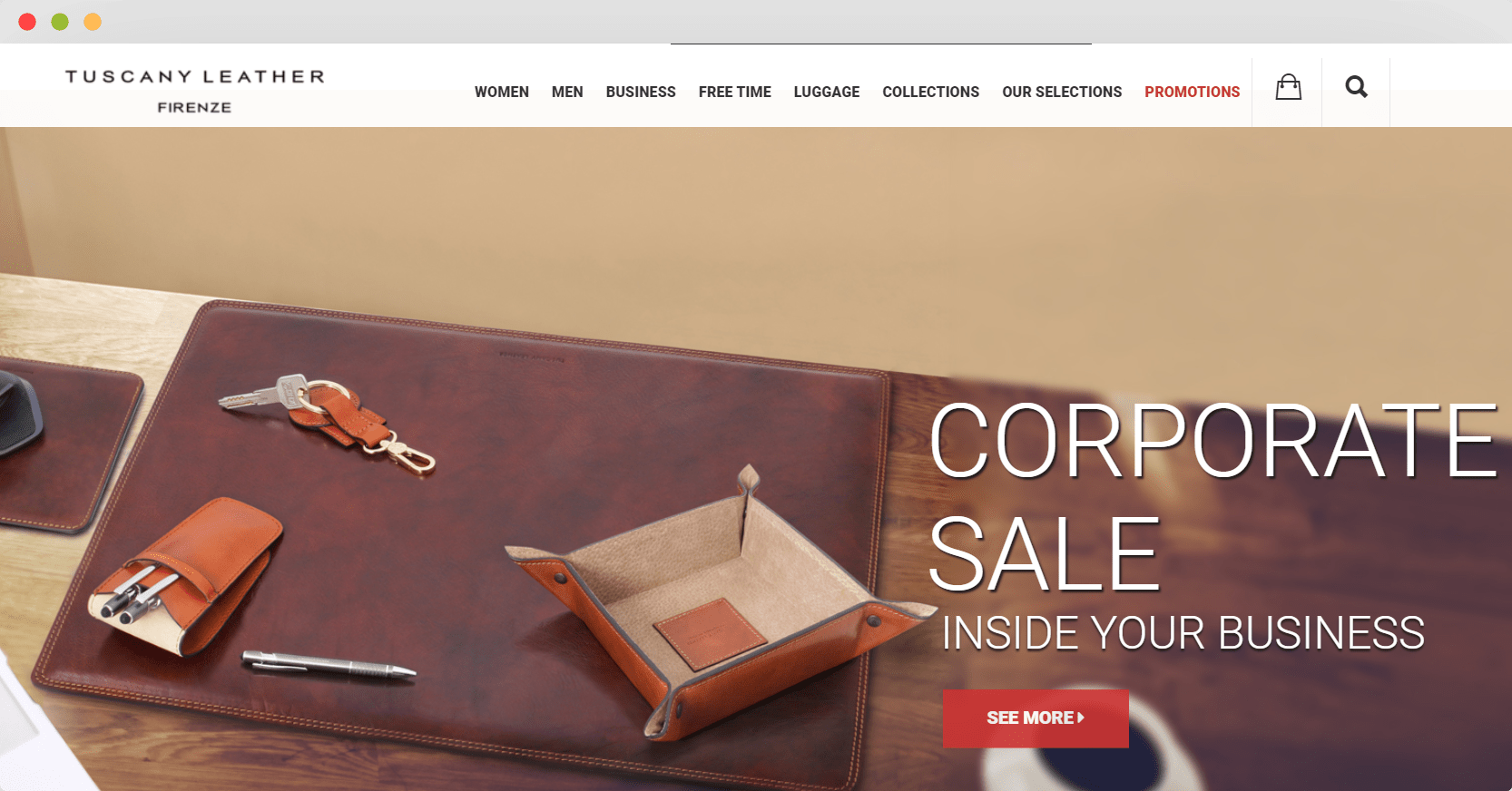 Furthermore, they take care of the sourcing, logistics, shipping, and entire order fulfillment process.
As a registered dropshipper of Tuscany Leather, you'll enjoy products with discounted prices as well as your personal account manager that will help you sell more and succeed faster.
All in all, if you're into apparel and leather goods, we recommend giving Tuscany Leather a try.
Printsome is a UK company that specializes in personalized T-shirts and hoodie printing. The reason we're mentioning them among the best dropshipping suppliers for Germany is their print-on-demand service.
With Printsome's PoD service, you can enjoy free registration and a complete dropshipping and fulfillment solution.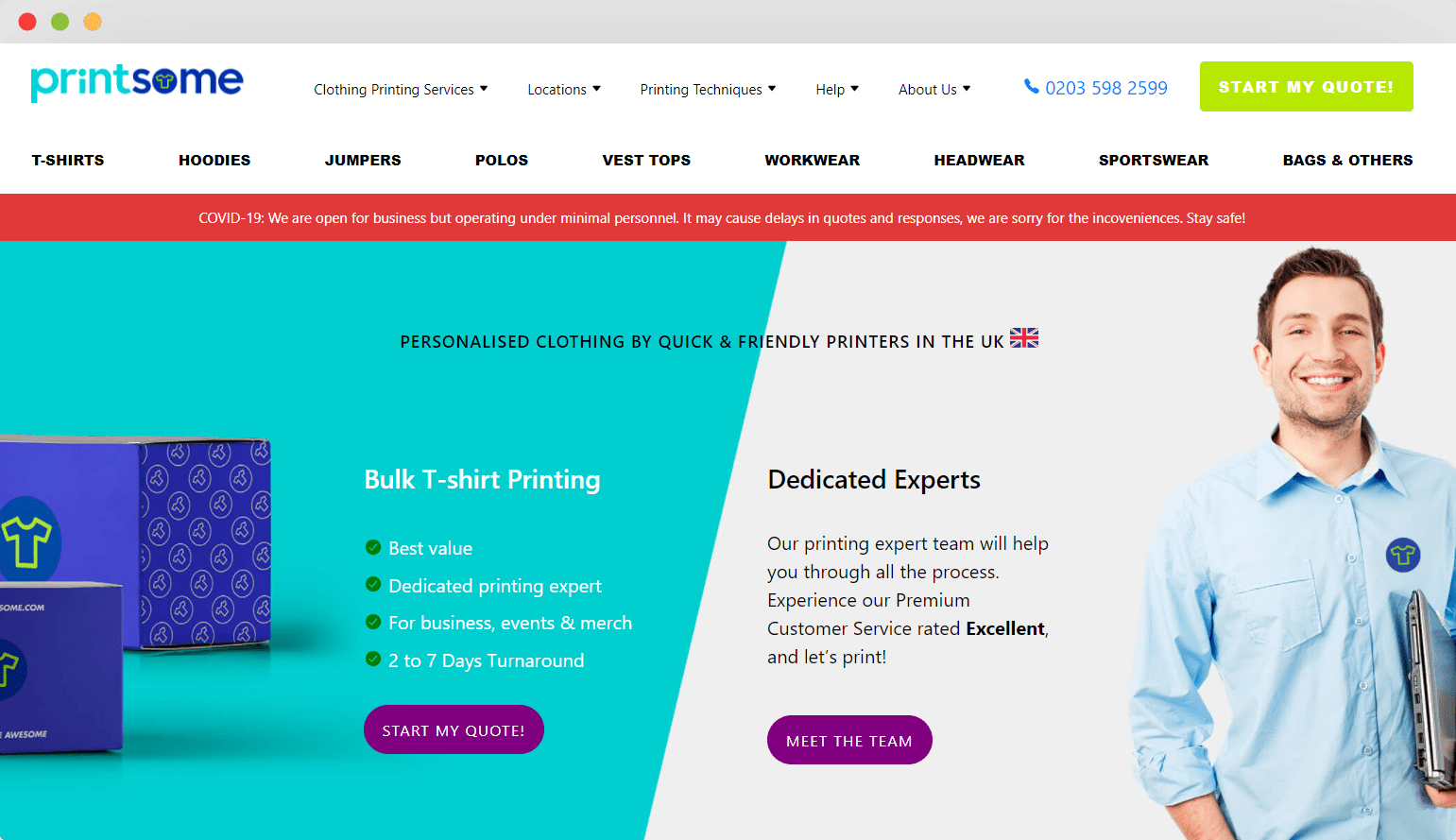 Although based in the UK, Printsome offers fast shipping throughout all European countries, including Germany. Your customers' custom-printed T-shirts will arrive in 8 to 12 days.
Printsome integrates with all Shopify stores and allows PoD for T-shirts, hoodies, and vest tops.
Printful is another PoD dropshipping supplier for Germany. Although they don't have a warehouse in Germany, they have one warehouse in Spain and one in Latvia, from which they ship throughout Europe.
With Printful, you can white-label your products and send them out to customers with your own slip or packaging design.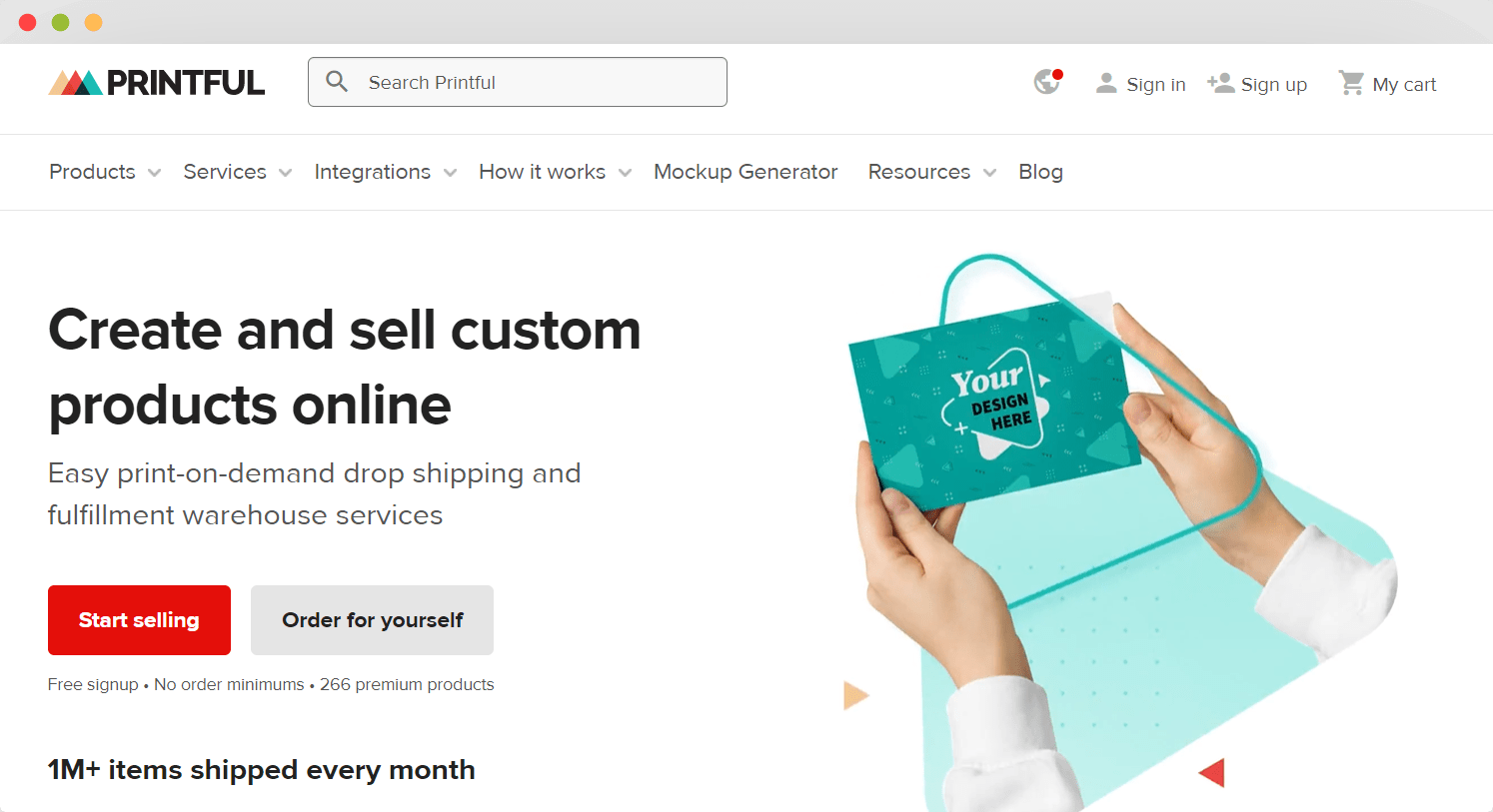 Registering for Printful's dropshipping service is entirely free. What's more, Printful is compatible with almost all eCommerce platforms, including Shopify, Etsy, WooCommerce, Wix, Amazon, eBay, PrestaShop, Wish, Weebly, BigCommerce, and many others.
Vimando AG is a German dropshipping supplier company, specialized in wallpapers and canvas photos.
Although located in Germany, Vimando offers dropshipping services throughout Europe.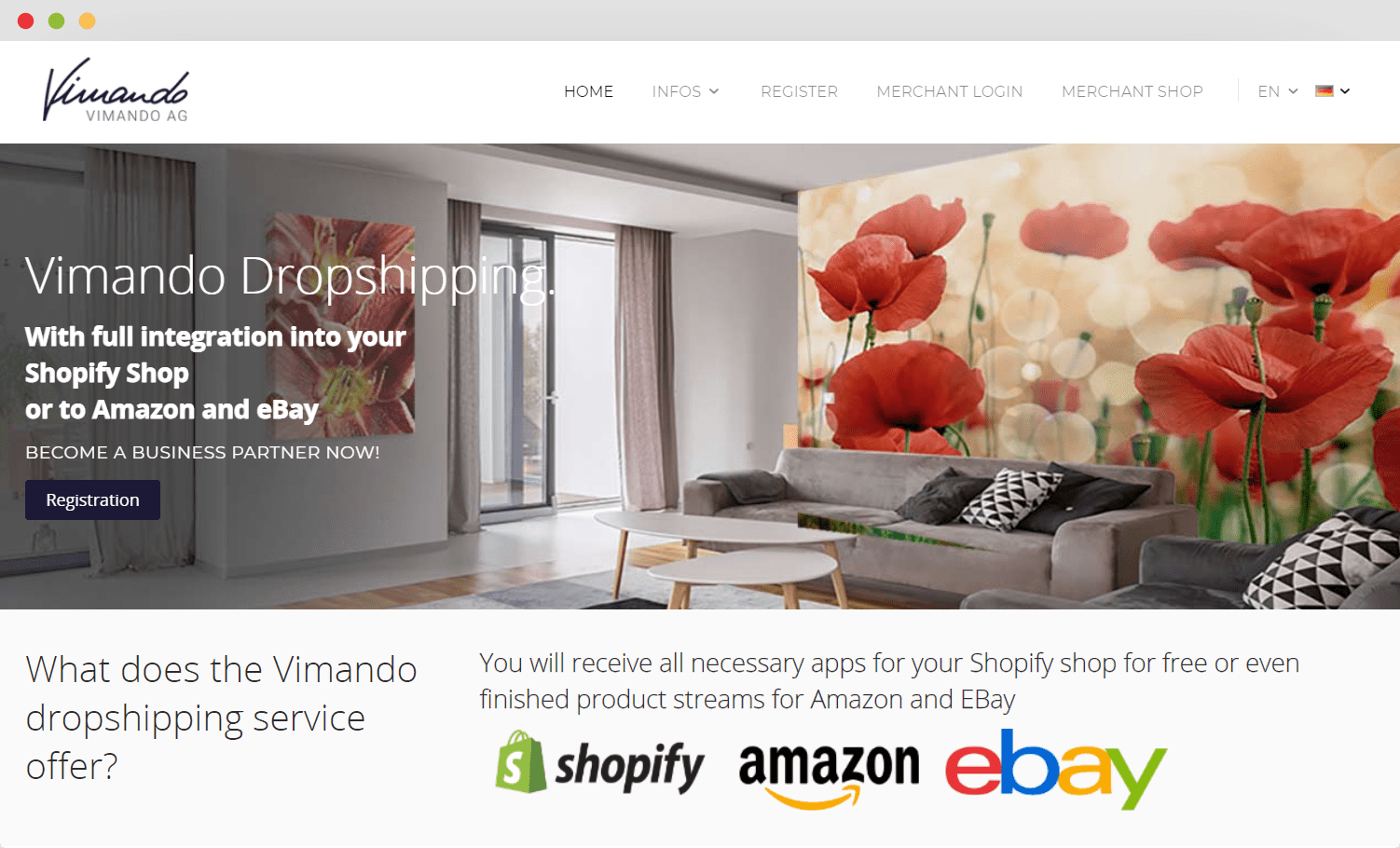 Shipping prices of Vimando vary from one country to the other, but for Germany, specifically, shipping costs 4.20 EUR.
As a dropshipping supplier, Vimando integrates with Shopify, eBay, or Amazon stores. And if you don't already have an eCommerce shop, through Vimando AG, you can rent a Shopify store and start dropshipping right away.
Global Sources is one of the most well-known B2B marketplaces composed of Asian suppliers. However, the majority of those suppliers ship to most major Western European countries, including Germany.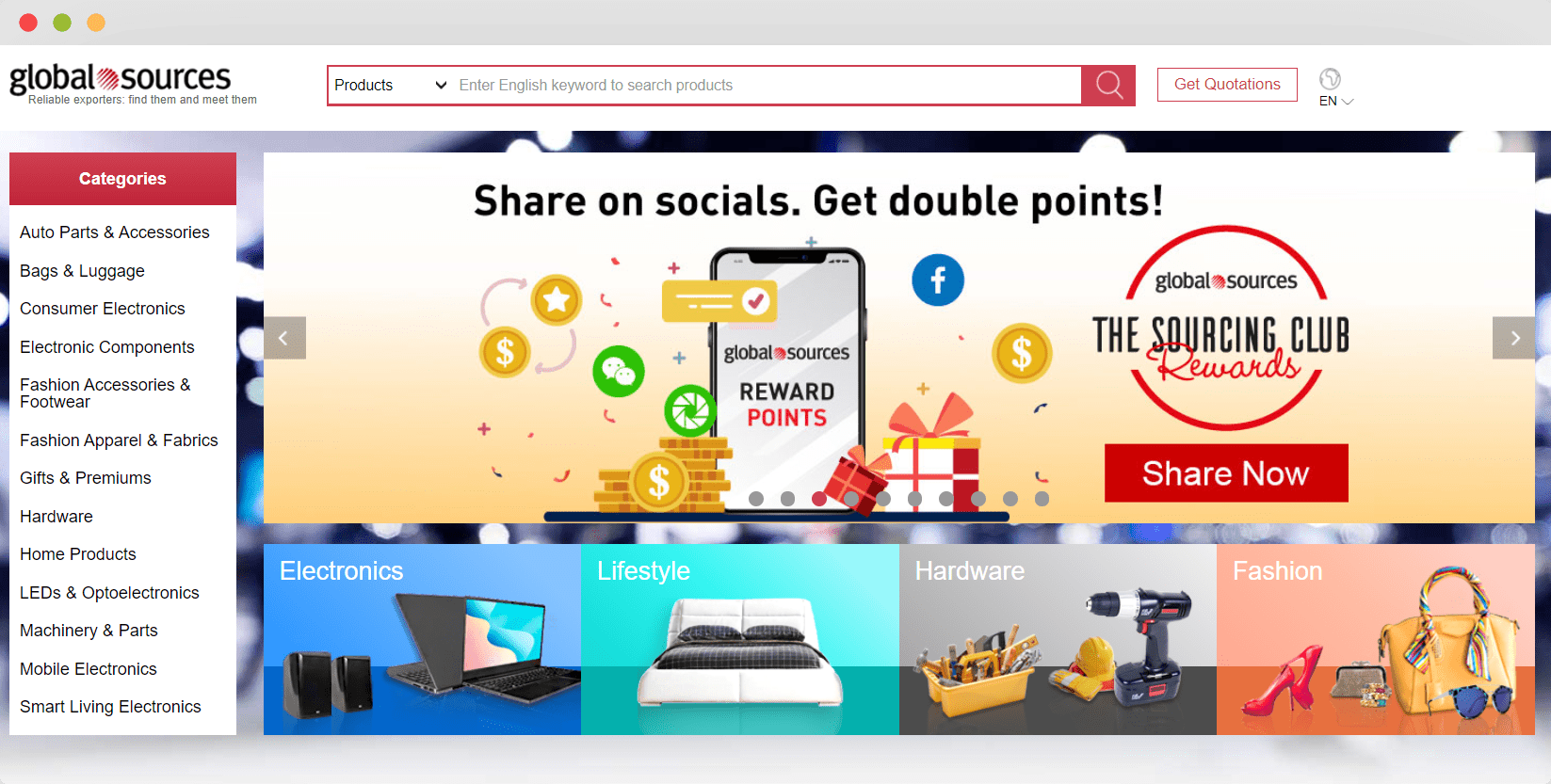 If you're interested in product sourcing from Global Sources, you should be aware that it's mainly a B2B marketplace selling in bulk. However, it would help if you always have a plan for inventory storage or warehousing when you buy in bulk.
For those who plan to order wholesale or bulk, having a dropshipping agent in China can significantly help. What's more, try to get an agent that offers worldwide fulfillment and has a warehouse in Europe.
With this, dropshipping to Germany will be simpler and much more manageable.
Griffati is something fresh and different on this list since it's for dropshippers who want to sell fashion and branded products.
Griffati is a well-known B2B marketplace for buying and selling wholesale fashion brands.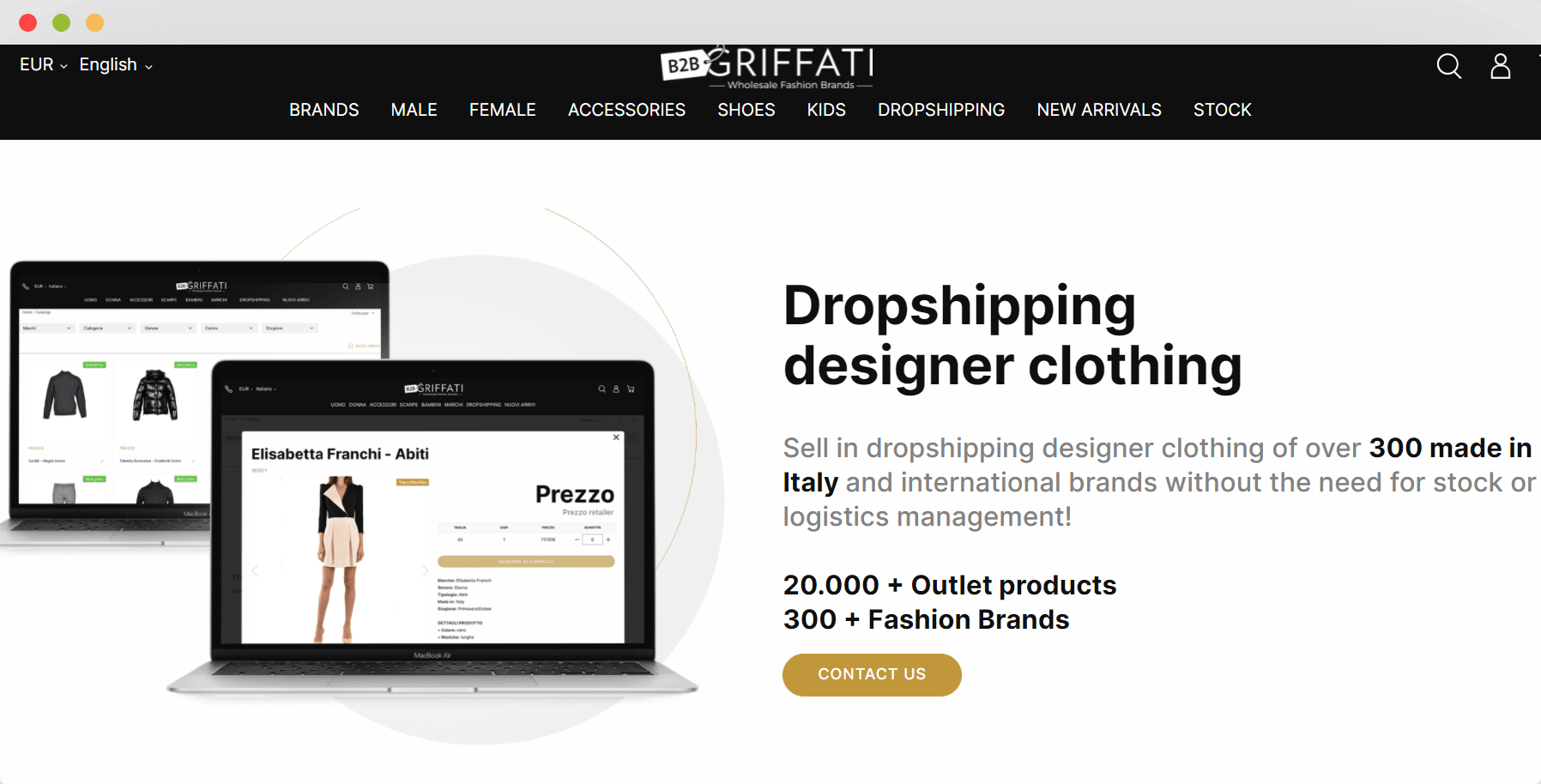 To start using Griffati, you'll need to have either a Shopify, WooCommerce, or PrestaShop store. Next, you simply import products from Griffati's catalog into your store and start bringing traffic and selling.
As soon as someone buys a product, your store will automatically send the order to Griffati. Once the order is received, Griffati prepares, packs, and ships the product with your name or branding.
The incredible thing about Griffati is its extensive collection of 20.000+ products from high fashion Italian or international designers. So, if that's your thing, you'll have a ton of choices.
With Griffati, you'll be able to ship to your customers in Germany and even offer them a product catalog in Germany.
BDroppy is a service of BrandsDistribution. As a dropshipping supplier company, BDroppy lets you choose from a catalog of 100+ fashion brands and import them to your Shopify, WooCommerce, or PrestaShop store.
The shipping of these branded products is from Italy, so naturally, Germany is among the countries of operations.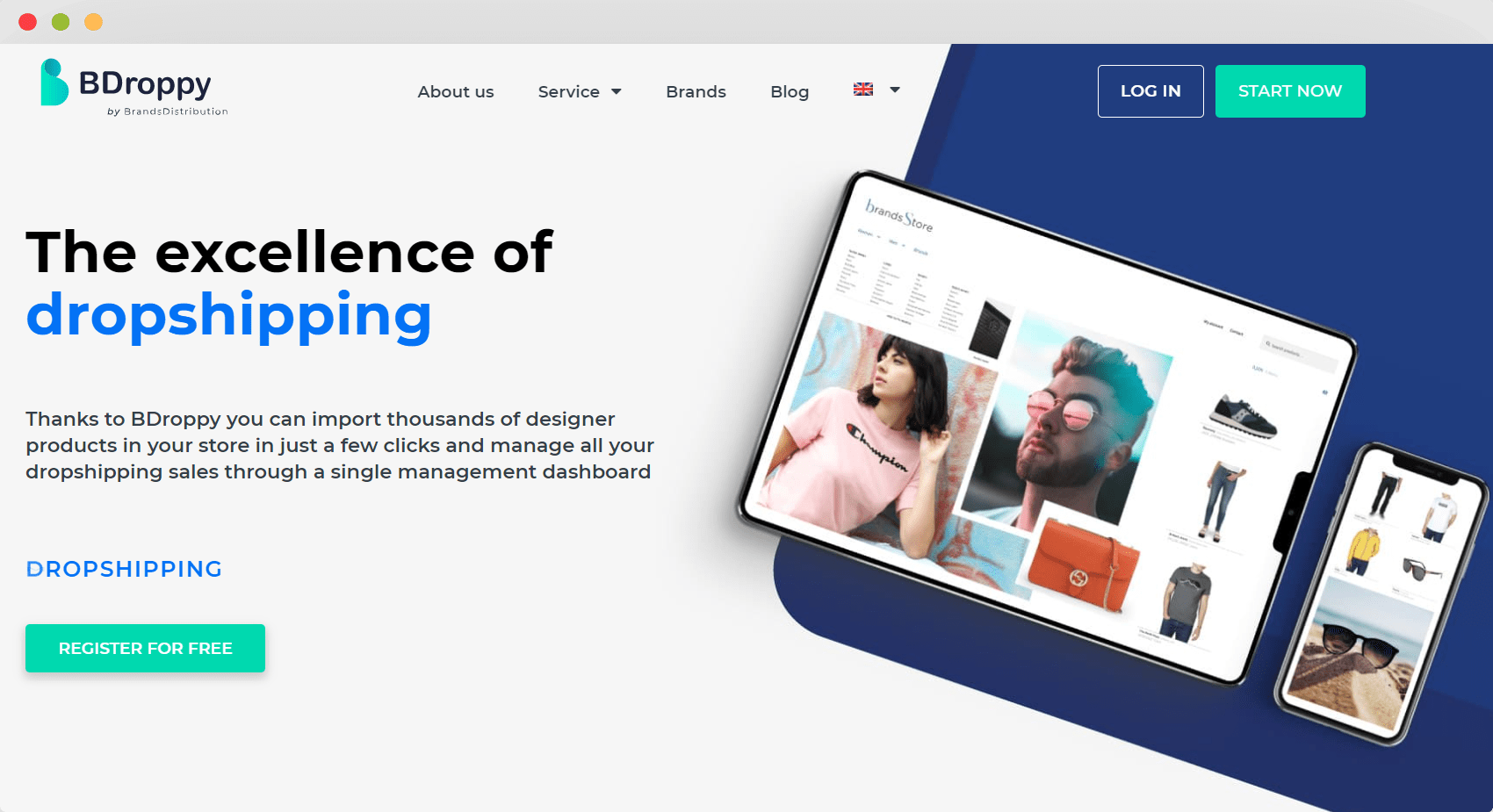 With the help of BDroppy as a dropshipping supplier for Germany, you can sell brands such as Adidas, Armani, Calvin Klein, Guess, Gucci, Vans, Fendi, and many others.
Dropshipping Suppliers Germany FAQs
And lastly, let's go through some of the most frequently asked questions on the subject of dropshipping suppliers in Germany.
What Are the Best Dropshipping Suppliers for Germany?
As we've mentioned above, many good dropshipping suppliers for Germany are all suitable for different needs.
With that said, if we had to choose some of the best dropshipping suppliers for Germany, we'd probably mention CJDropshipping, HyperSKU, VidaXL Dropshipping, and Spocket.
Is Dropshipping Legal in Germany?
Absolutely yes! Dropshipping is not some get-rich-fast scheme. You're not hiding anything or hurting anyone. It's a well-developed business model, just like any other.
Don't forget that any earnings you make as a dropshipper in Germany, regardless if you're selling locally or internationally, are subject to taxes.
Taxes will vary from one country to another. So, make sure you consult a professional and read up on your local tax laws.
Having that said, it's worth mentioning that there are certain items that we don't recommend that you dropship, such as anything offensive, weapons, brand replicas, cosmetics, edibles, and drinkables without a certificate, etc.
And finally, ensure that the items you're selling are not subject to import duty in the country of your customers. If they are, make sure to inform your customers in advance.
What's the Tax for Dropshipping in Germany?
When selling physical goods to customers within EU countries, you should charge the appropriate VAT charges. All European Union countries have a 19% VAT charge, except France, which stands at 20%.
Digital goods and specific other goods categories enjoy lower VAT rates, so inform yourself on the topic before setting up your store settings.
Is Dropshipping in Germany Profitable?
As a business model that requires almost zero upfront investment, it naturally comes with almost zero risks.
Although dropshippers are not as rare as they used to be, it doesn't mean that there's no more place for you to take a piece of that cake. It just means that now you have more competition, so you simply have to become better and stick out.
To sum up, dropshipping in Germany (and anywhere else in the world) is still profitable – as long as you choose a highly targeted niche and provide an outstanding customer experience!
And finally, you should be aware that Germany has a lot of eCommerce power and potential. People there are active eCommerce buyers, so in this regard, you're good to go.
What Are Some Trending Products for Dropshipping in Germany?
We've done in-depth research and came up with some of the fastest trending products for dropshipping in Germany in 2022. Here it goes:
Storage containers and organizers;
Shelves and bookends;
Drones and drone accessories;
Fitness trackers and watches;
Resistance bands, yoga mats, yoga leggings;
Men's grooming and beard oils;
Bluetooth headphones and Bluetooth speakers;
Home repair and DIY kits and tools;
Face masks and anti-age creams;
Wireless chargers and docking stations;
Air purifiers and air humidifiers;
Electric scooters;
Organic and environmentally-friendly materials;
What Are the Best Private Label Dropshipping Suppliers for Germany?
The best dropshipping suppliers for a private label business in Germany are CJDropshipping, Tuscany Leather, Alibaba, and Nedis.
All of these dropshipping suppliers for German customers will let you customize their products with your branding and logo.
So, for all of you interested in a branded, one-product shop, check out the above suppliers.
I Have an eCommerce Shop in Germany. Am I Allowed to Only Sell to German buyers?
No! You can drop ship throughout Europe or even in the USA if your supplier network allows you. As long as your dropshipping suppliers deliver in your customers' countries, you're good to go!
To Sum Up
All in all, eCommerce in Germany is well and alive! Germany is among the countries with the most significant buyer power in Europe, with eCommerce being a part of people's everyday life. So, dropshipping to Germany can be a genius move.
We sincerely hope that our list of the 20 best dropshipping suppliers for Germany will help you launch or scale your dropshipping store. The list includes different types of dropshipping suppliers that we believe would fit everyone's taste and needs.
If you still need help organizing your dropshipping business in Germany, feel free to get in touch. We have a worldwide fulfillment center and can help you source and dropship any product you wish for. Register for free, and we're there for you.