Ever wondered why the Chinese wholesale market is so popular among dropshippers?
Buying from China wholesale websites is a lucrative practice that experienced dropshippers often use. Chinese products have a low production price, which gets even lower if you buy in bulk.
So, how to buy wholesale products from China? And what are some good China wholesale websites you can use?
Let's find out! 
What Are the Best China Wholesale Websites?
Wholesale companies in China often sell their products on so-called wholesale websites. These websites are usually B2B or B2C marketplaces that connect Chinese wholesale suppliers to buyers worldwide.
While some of these websites work with bulk orders only, others will also agree to dropship for you.
However, if your dropshipping store has a stable number of daily orders, we recommend you to order in bulk and store your bulk order in the warehouse of your dropshipping agent.
That will save you tons of shipping costs as well as decrease the shipping times. It will allow your dropshipping agent to ship single orders directly from their warehouse instead of ordering them one by one from the supplier.
Plus, when you buy in bulk from China, you give your dropshipping agent the possibility to negotiate and get a better price.
So, what are some of the best China wholesale websites for dropshipping in 2021? Here's the list!
As one of the largest B2B marketplaces worldwide, Alibaba is usually the choice number one for dropshippers worldwide. Alibaba dropshipping can be profitable when done right!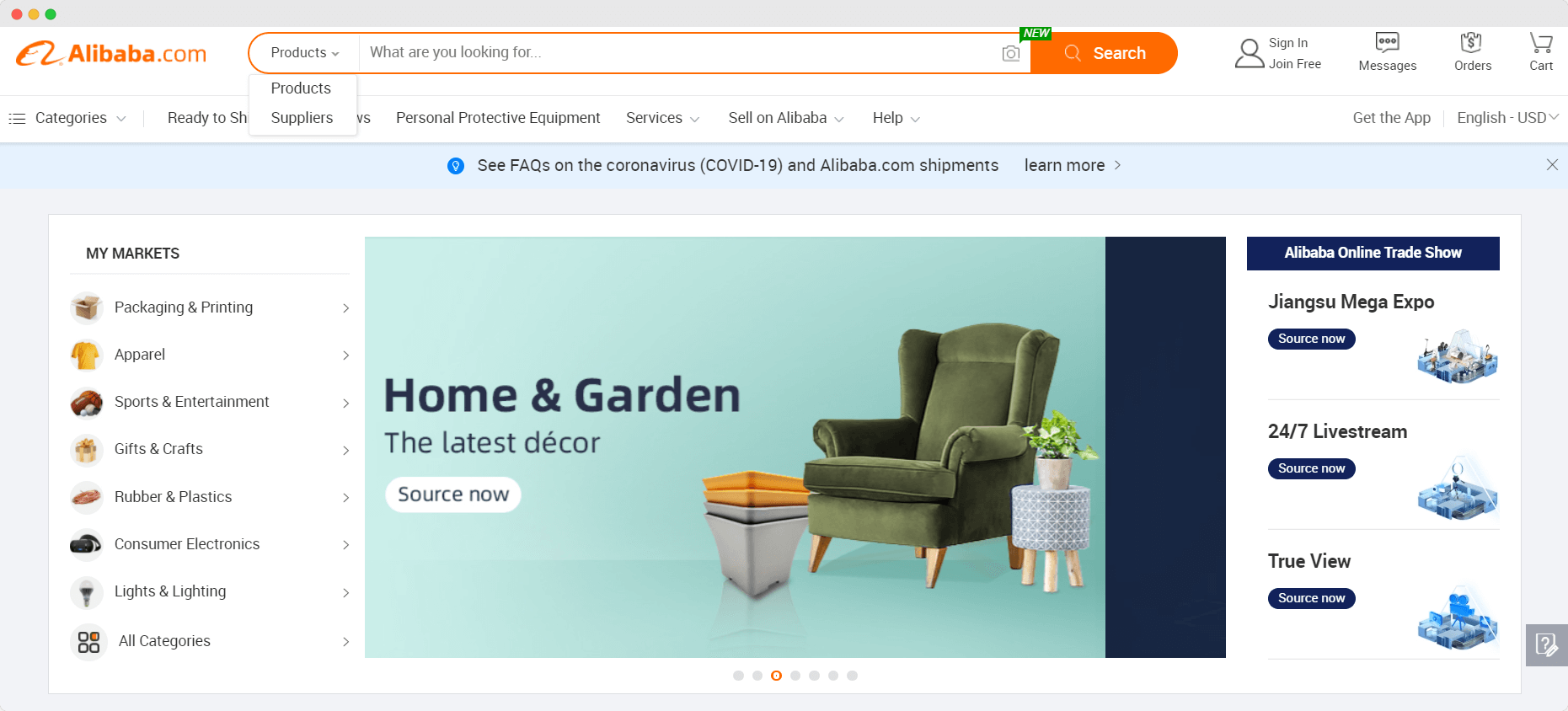 You can set the search bar on Alibaba to look for either products or suppliers. That is an excellent feature since it allows you to see the supplier's response rate and reviews and the product.
Since it's a B2B wholesale website, Alibaba products will usually have an MOQ (minimum order quantity). However, you can also find single products as well as suppliers that agree to dropship for you.
On Alibaba, you can find millions of products in many different categories such as Apparel, Electronics, Beauty and Personal Care, Sports, Home and Garden, and many more.
Payment methods available:
Credit/debit card
Western Union
Wire Transfer (TT)
Is there somebody out there that hasn't heard of AliExpress? Probably not!
If you're new in the dropshipping business, AliExpress is probably the place to start. Due to its B2C profile and its low MOQs, AliExpress is excellent for dropshippers who don't have a lot to invest funds upfront or don't want to take any unnecessary risks.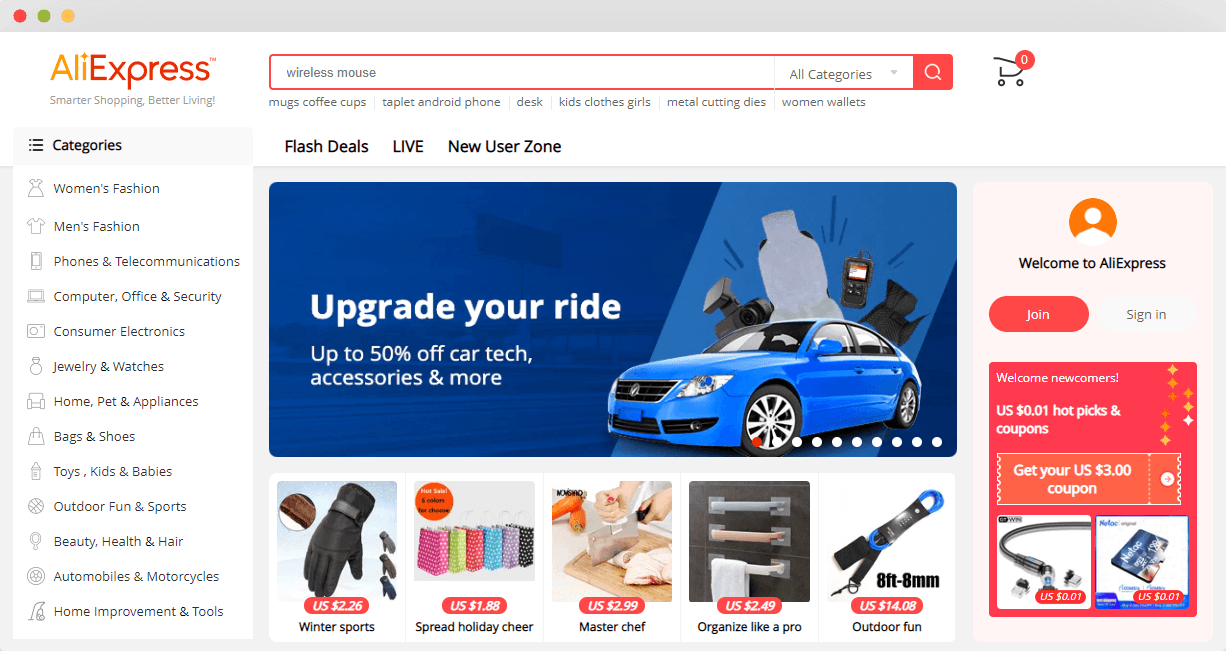 When it comes to AliExpress suppliers, it's not just China wholesale vendors present on the platform, but also trade companies and individual sellers. So, if you want to place bulk orders on AliExpress, ensure you're buying products from wholesale suppliers.
And finally, although AliExpress is a B2C marketplace, you can also buy in bulk, so we had to mention it here in this list.
Payment methods available:
Credit/debit card
Western Union
WebMoney
Bank Transfer
Although DHgate is a B2B marketplace, in reality, it's a mixture between Alibaba and AliExpress.
Due to its escrow system and its pricing model, DHgate is fantastic for beginners and experienced dropshippers who want to buy in bulk from China.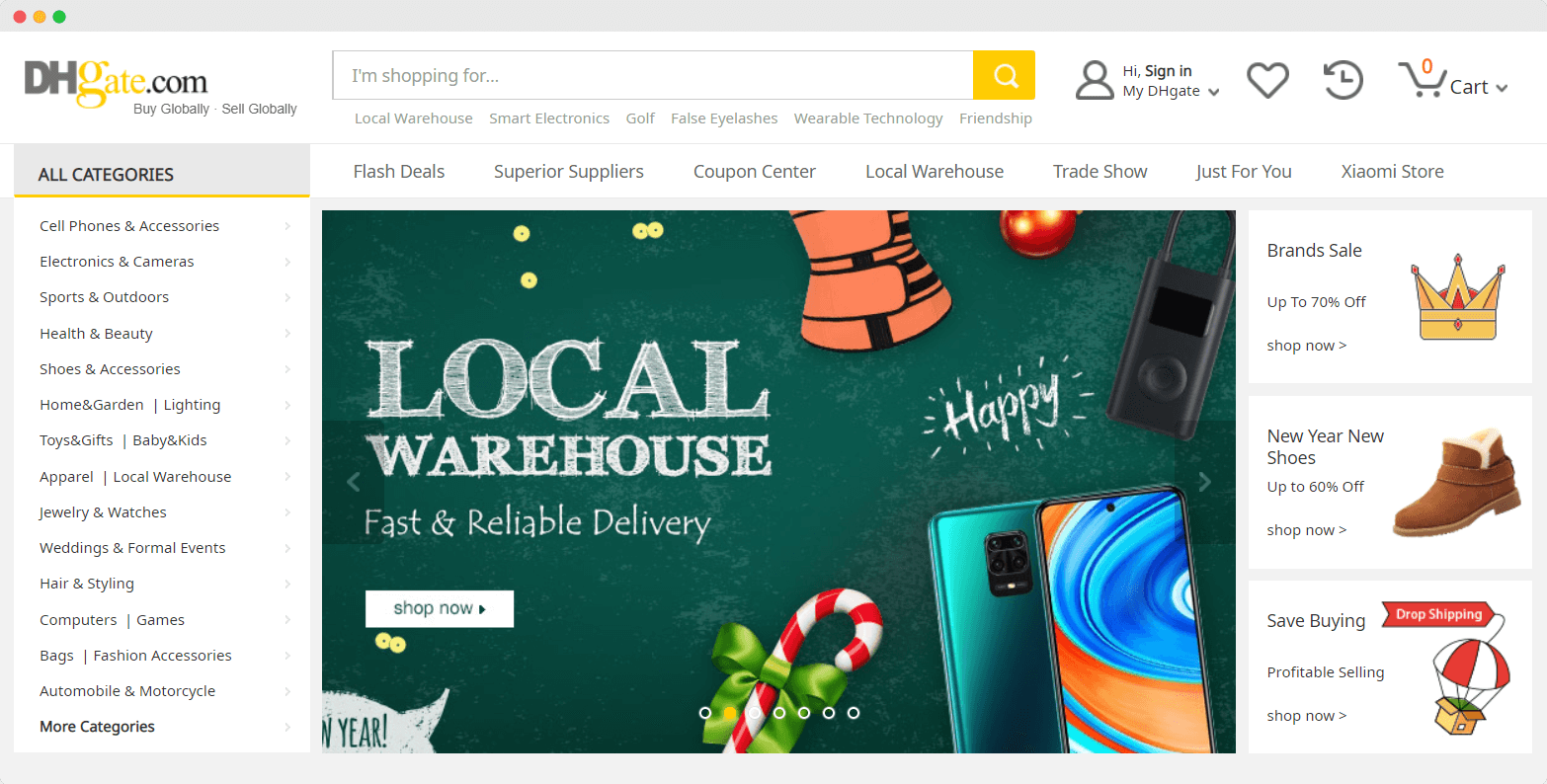 On DHgate, the more you buy, the more you save. Perfect for buying China wholesale products.
With warehouses in the US and UK, you can also take advantage of DHgate's local warehouses for inventory storage. That comes at no extra cost but will result in much shorter shipping and delivery times.
On DHgate, you can find millions of products in different categories such as Toys, Gifts, Apparel, Electronics, Cell Phones and Accessories, Automobile & Motorcycle, Computers, Hair, Bags and Fashion Accessories, Shoes, and many more.
Payment methods available:
PayPal
Credit Card
Wire Transfer
Western Union
DHgate is known for selling replicas of branded products. For this reason, many people wonder if DHgate is legit.
DHgate is legit, but we recommend you to buy generic products instead of 'branded' ones to avoid having problems with customs clearance across borders.
Owned by Alibaba, Taobao is another marketplace that's attractive to dropshippers due to its low prices.
Even though it's a C2C marketplace (customer to customer), since most buyers and sellers are individuals, you can still find products with wholesale prices.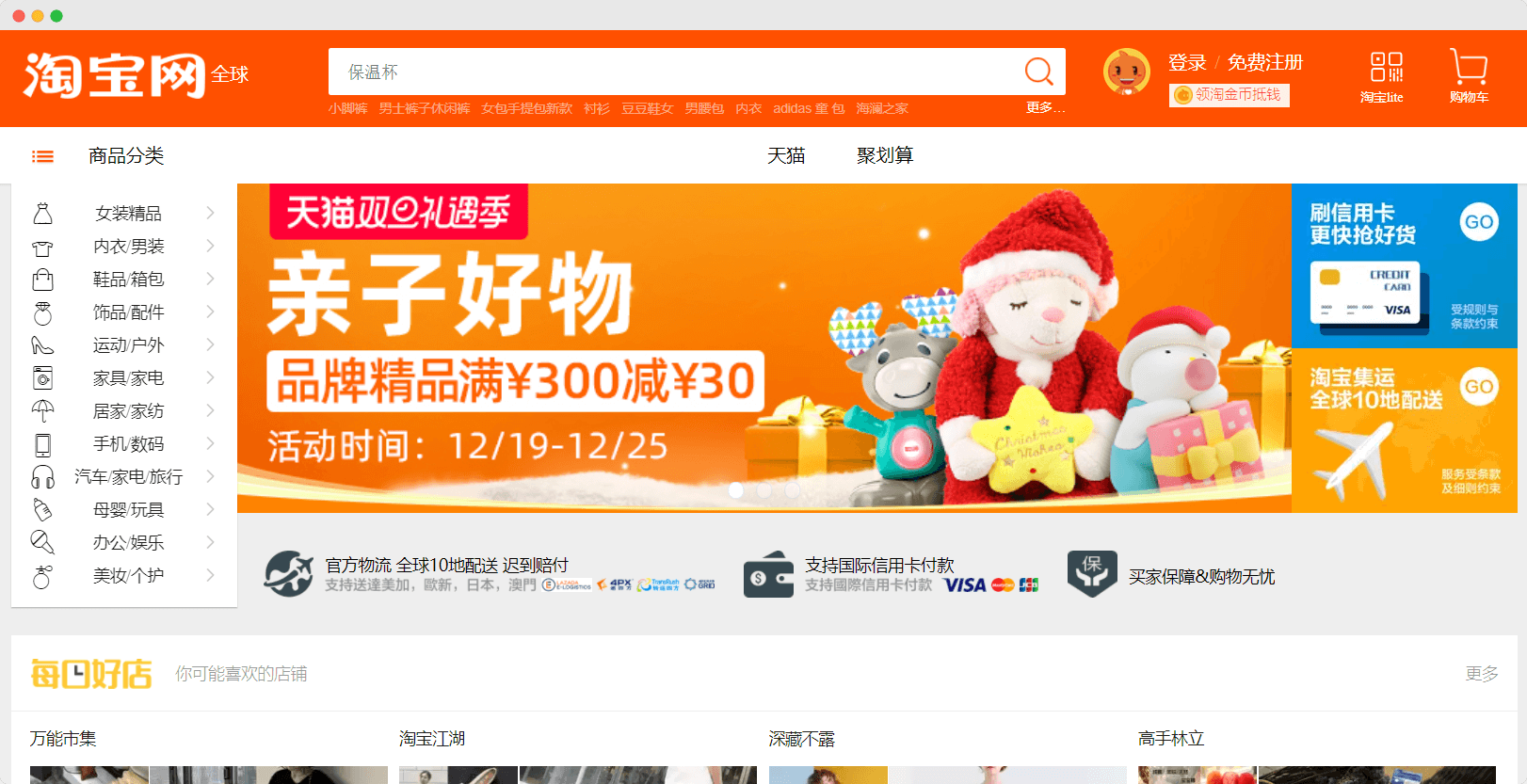 However, the website is entirely in Chinese. The difficulty of the website interface and the language barrier when trying to contact a Chinese supplier are two reasons why many dropshippers give up the idea of using Taobao for wholesale product sourcing.
To surpass the language barrier issues, you can collaborate with a dropshipping agent in China who can buy in bulk from websites such as Taobao or directly from wholesale companies in China.
For example, NicheDropshipping is a dropshipping company in China, and they source products for their clients from Taobao, 1688, and directly from Chinese factories.
Ideally, your dropshipping agent should have a warehouse where they will store your bulk order and then ship out individual products from there directly to your end-customers.
Payment methods available:
International and local credit cards
Webmoney
RBK Money
Yet another China wholesale website belonging to Alibaba with low product prices, but entirely in Chinese is 1688.com.
Like Taobao, a dropshipping agent who speaks the language and is in China is the best workaround for buying from 1688.com.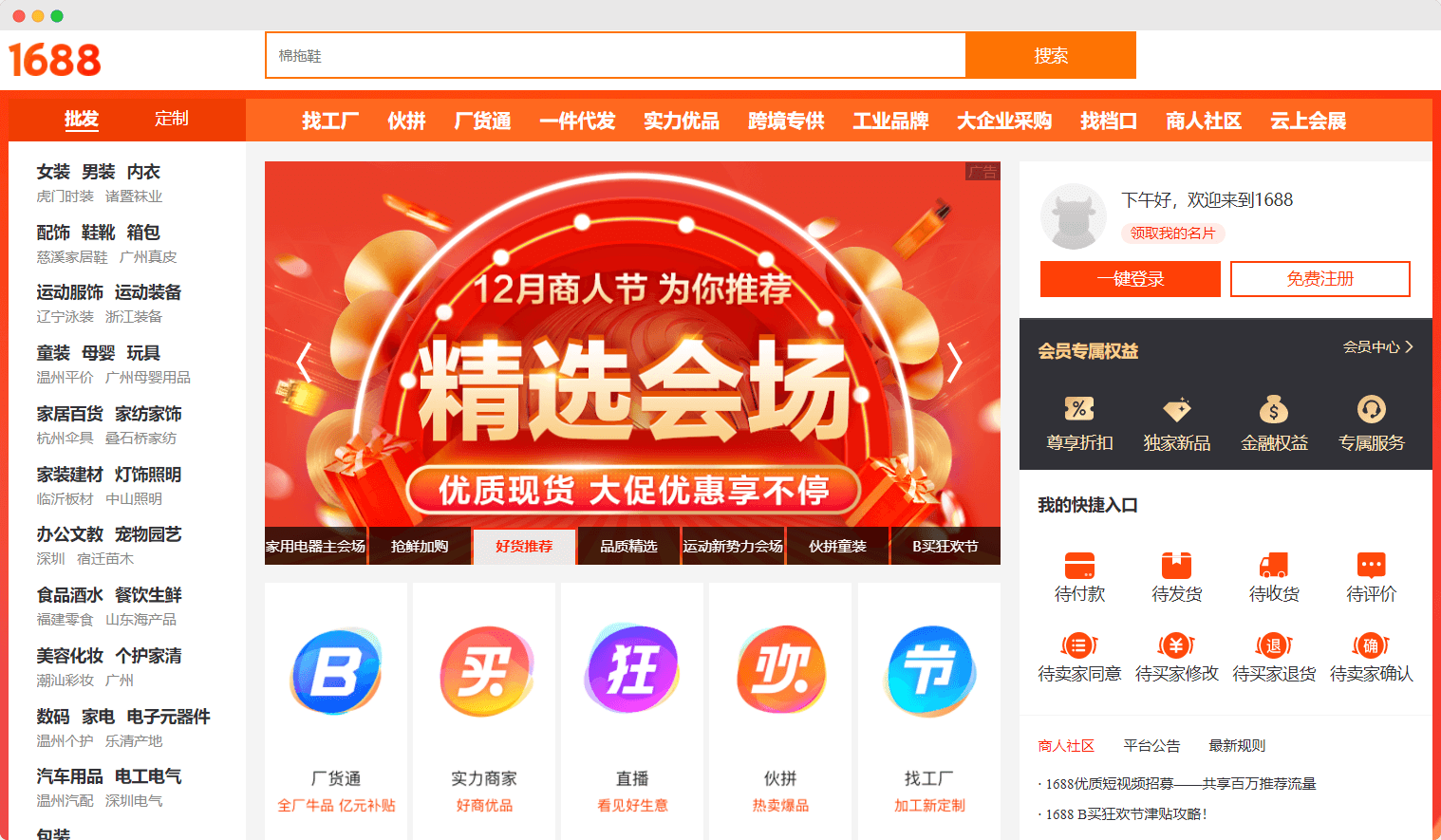 Generally speaking, 1688 is more like Alibaba since it is meant for bulk buying and has minimum order quantities (MOQs).
So, if you're ready to buy bulk goods from China, ask your dropshipping agent if they can source your products from 1688.com.
Payment methods available:
Bank transfer
Western Union
PayPal
AliPay
Built with the concept of dropshipping in mind, Chinabrands is a paradise whether you want to buy wholesale in bulk or dropship.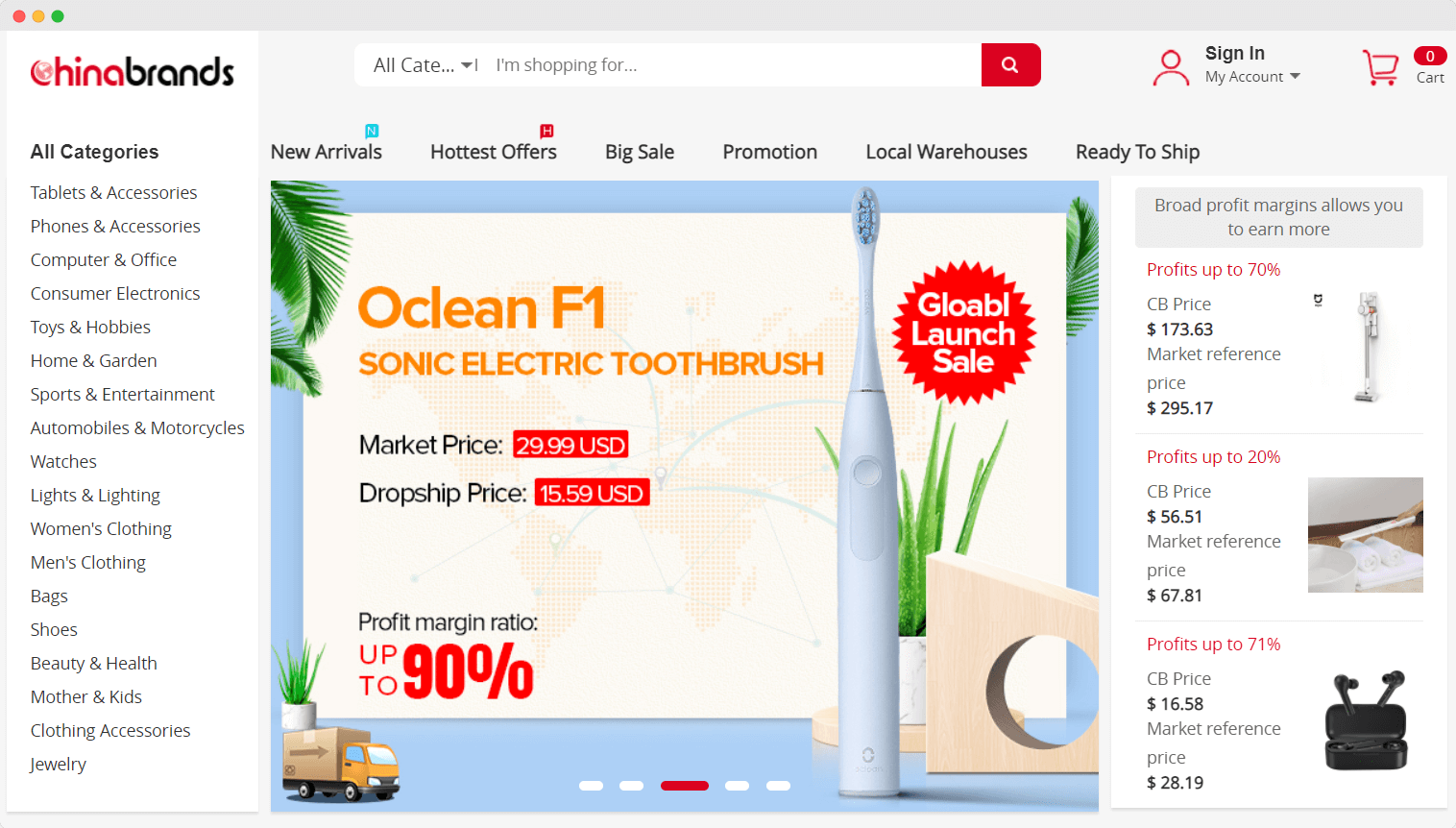 If you own a Shopify store, Chinabrands has an app that will automate product import and order fulfillment.
On the Chinabrands platform, you can find products within many different categories such as Shoes, Bags, Lighting, Women's and Men's Clothing, Kids, Accessories, Phones, Computers, Electronics, Sports, Toys, Hobbies, and many more.
Payment methods available:
PayPal
Payoneer
Bank Transfer
As one of the oldest Chinese wholesale websites, Made-in-China offers a wide range of suppliers and products for dropshipping stores.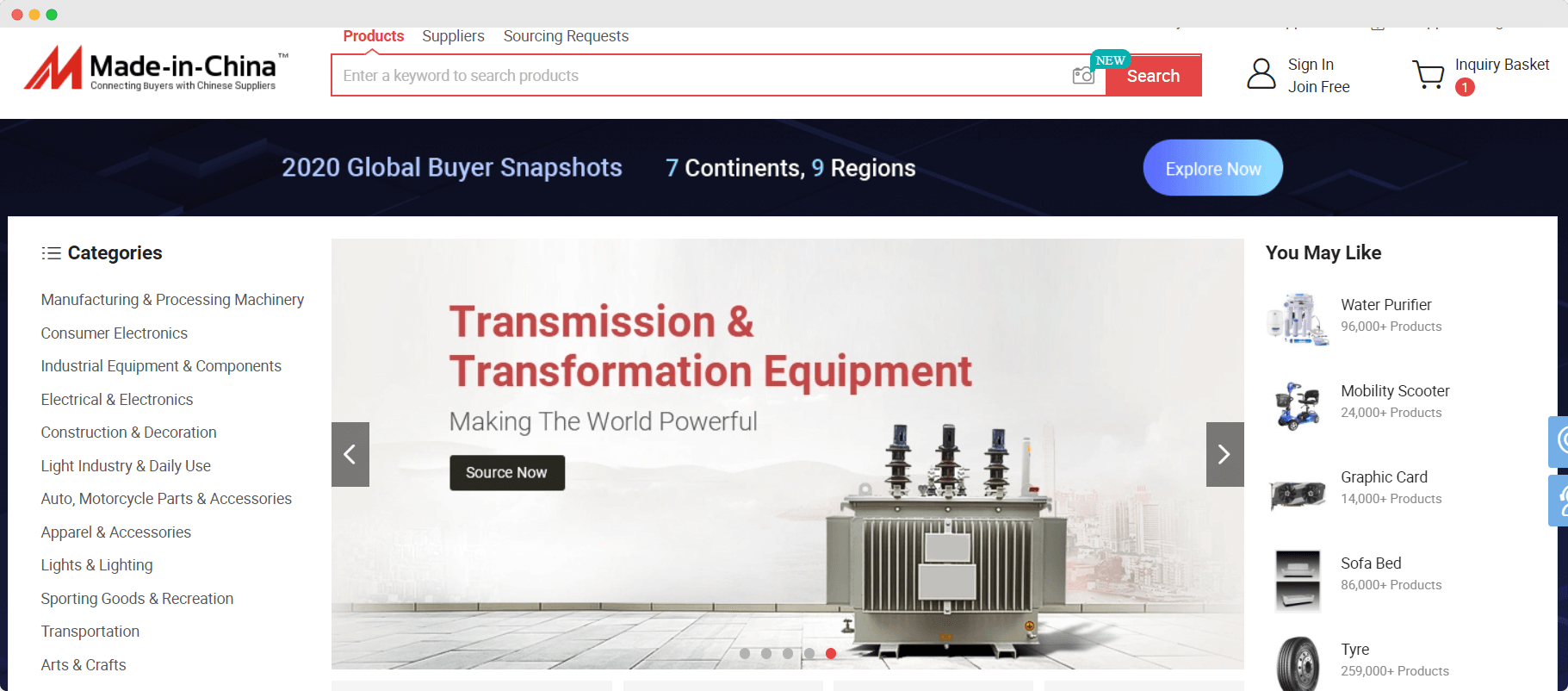 The majority of the suppliers in the Made-in-China marketplace are verified. Verified suppliers will always have a 'verified' icon next to their name.
Buying wholesale Chinese products in bulk on this website will be worth it since bulk prices are affordable. In turn, that can incredibly increase your profit margins.
The quality of the products sold on this wholesale website is usually satisfactory, and they are strict when it comes to buyer safety, which is a great plus.
However, the entire buying process is set up a bit weird and not so user-friendly. This unclarity scares many dropshippers who instead decide to use another wholesale website.
When it comes to the product categories, Made-in-China offers every product the websites mentioned above provide, plus the categories Construction, Manufacturing Machinery, Industrial Equipment, and similar.
Payment methods available:
Western Union
Letter of Credit
Telegraphic Transfer (TT)
DAP
PayPal
Global Sources is another famous B2B wholesale website best suited for experienced dropshippers.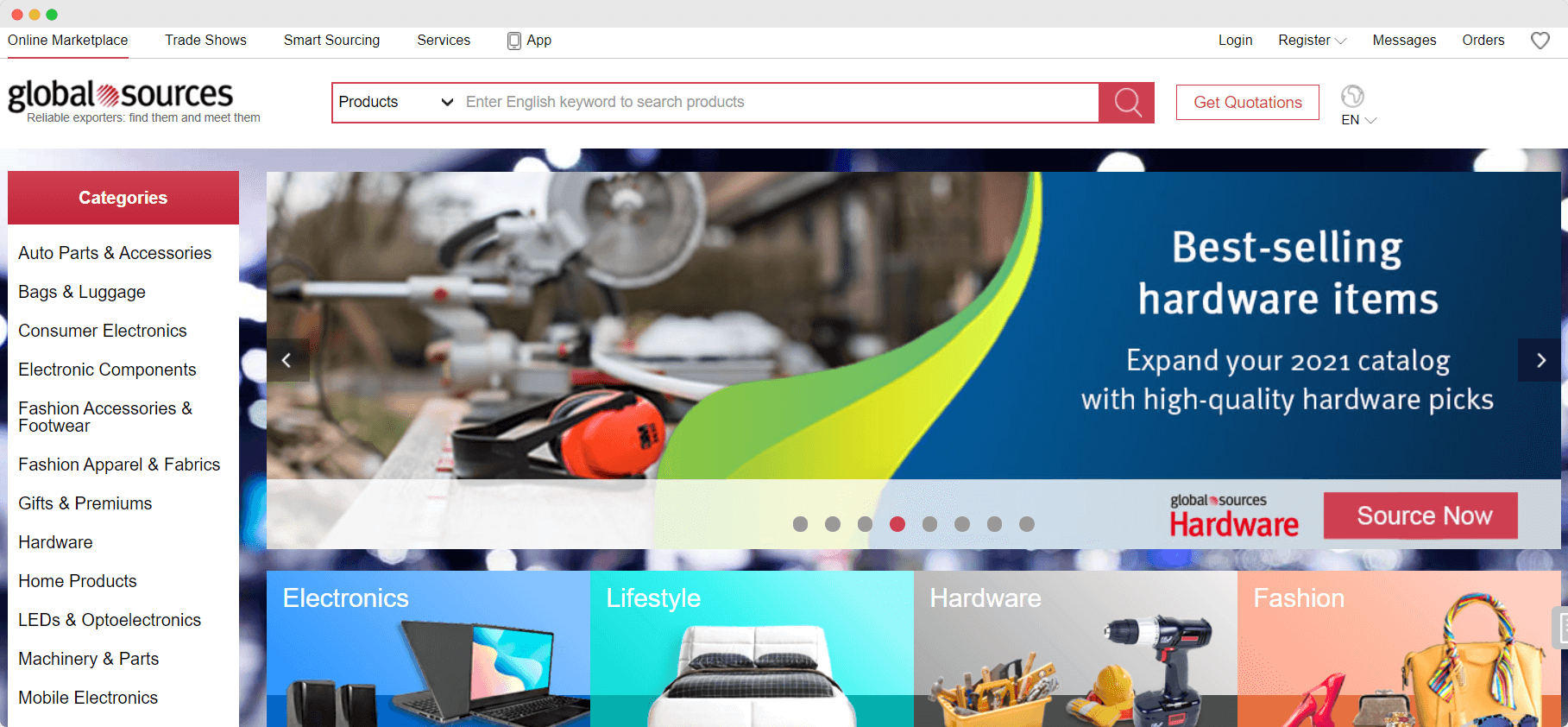 Unlike all the above websites, Global Sources isn't just a China wholesale marketplace but also a product sourcing provider and a trade show facilitator.
As one of the largest China wholesale websites, suppliers on Global Sources will usually set an MOQ larger than one. It can be anywhere from ten to a thousand pieces.
Payment methods available:
Unlike most of the other online marketplaces on this list, here, you can't just add an item to your cart, choose a payment method, and check out.
Instead, you have to contact the supplier, talk to them, negotiate a price and quantity, and agree on a payment method.
Many dropshippers recommend paying the wholesale supplier with PayPal to avoid fraud. PayPal will allow you to file a refund claim if your order doesn't arrive or arrives not as expected.
If your dropshipping store is focused mainly on technology, electronics, and gadgets, Chinavasion is the right wholesale website for you!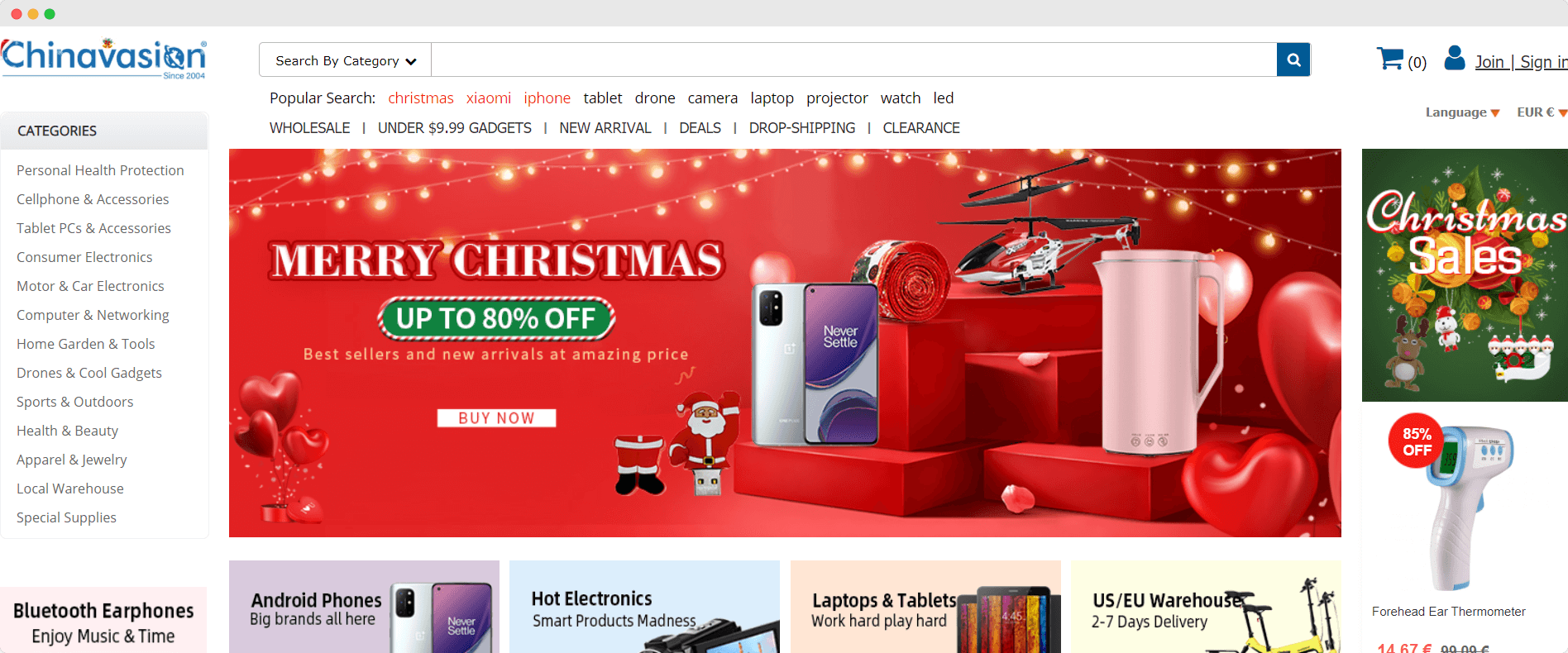 Usually, the Chinavasion products are of high quality, and there is no MOQ on them!
Payment methods available:
PayPal
Credit Card
Bank Transfer
Have you ever wanted to visit China and go to the Yiwu International Trade Market? Now is your chance!
YiwuGo is a Chinese wholesale website with suppliers from the Yiwu International Trade Market. That means you can find any product that you would regularly see in the actual Yiwu trade market on the YiwuGo wholesale website.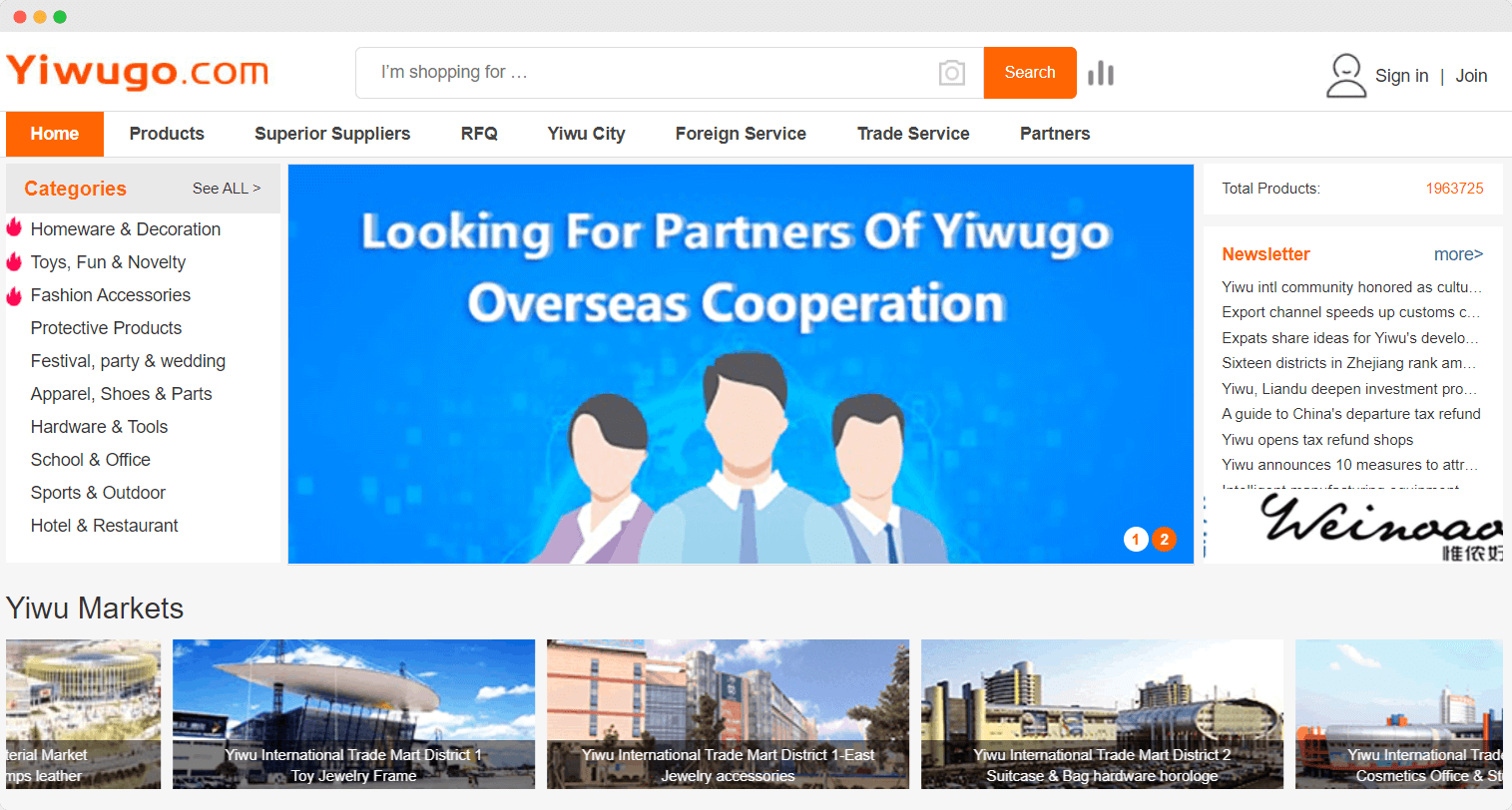 When it comes to the minimum order quantity, some products will have it clearly placed next to them, and for some, you will have to contact the supplier and agree.
Payment methods available:
Similar to Global Sources, on YiwuGo, you can agree about the payment method directly with your supplier.
China Wholesale FAQs
What Are Wholesale Prices?
As opposed to retail prices charged to end-customers, manufacturers set wholesale prices for items they produce and sell in bulk to sellers or distributors.
For that reason, buying in bulk at wholesale prices will give you a much better profit margin.
What's the Best China Wholesale Website for Beginners?
If you're new in the dropshipping business, buying products with wholesale prices is good, but buying in bulk not necessarily.
Some of the best Chinese wholesale suppliers for beginners in dropshipping are on AliExpress or DHgate.
Taobao also works with small orders, but for this, you'll probably need a product sourcing agent in China since the website is entirely in Chinese.
What's the Best China Wholesale Website for Experienced Dropshippers?
For experienced dropshippers with a stable number of daily orders, one of the most lucrative practices is working with a dropshipping agent in China who will source wholesale bulk products for you directly from manufacturers, 1688 or Alibaba.
It's ideal if your dropshipping agent also has a warehouse and offers inventory storage as a service. Then, the agent can ship out each order on the same day, thus, shortening the delivery time.
By doing this, you'll increase your profit margin significantly, plus you'll ensure that you don't run out of stock.
How to Choose Good Quality Products When Buying Wholesale from China?
The quality of wholesale products from China will depend not on the marketplace but on the supplier you've chosen.
Most of these websites have a way to verify suppliers, which can give you some safety.
Furthermore, ensure that you always check the product or supplier reviews and satisfaction rate.
Whenever you're unsure about the product quality, you can always ask for a sample. Doing this will let you test the quality as well as the delivery and shipping time.
What Are the Most Profitable Products to Buy Wholesale from China?
Some of the most profitable wholesale products to buy from China and sell in your online store are the following:
Jewelry
Toys
Video games
Pet supplies
Candles
Weight loss supplements
Bluetooth speakers
Small gadgets and tools
Wireless chargers
Leggings
Skincare products
Coconut oil
and more!
Always ensure that the product you plan to sell is in demand, has some uniqueness to it, and that you have a target audience that would buy that product.
Can a Dropshipping Agent Help Me Buy Bulk Goods from China?
Whether you want to place bulk orders at wholesale prices or small orders, a dropshipping agent in China is always a good idea!
They will help you navigate the overcrowded Chinese manufacturing market, help you source the best quality products for the lowest prices, and get in touch with manufacturers in your name.
A local dropshipping agent that speaks the language has much better negotiation possibilities than if you try to do this by yourself, from the other side of the world.
When choosing a dropshipping agent, ensure that they have warehouses in China and the US and have a worldwide fulfillment center. That will significantly shorten the delivery times to your US customers.
Are All of These China Wholesale Websites Legit?
Absolutely! While all of these marketplaces are entirely legit, you need to make sure that the wholesale supplier is legit and trustworthy.
If a platform verifies a supplier (on any of these wholesale websites), you should be able to see different badges or icons next to their names.
If the platform has not verified them, always check their reviews and customer satisfaction to ensure they're a legit and trustworthy wholesale supplier.
To Recap
So, how to know if this is the right step for you to take?
Do you need stable inventory during a peak season to avoid out-of-stock issues?
Do you need to increase your profits and thus need lower product prices?
If you answered yes to one of these questions, you're ready to order wholesale products from China.
Hopefully, you can find your winner among our list of Chinese wholesale websites. Look at the features that each of them has, and choose what fits your dropshipping business best.
And finally, if you still struggle to buy in bulk from China, don't hesitate to contact us! We can help you source quality products at wholesale prices from wholesale websites or manufacturers and store your bulk order at our warehouses free-of-charge!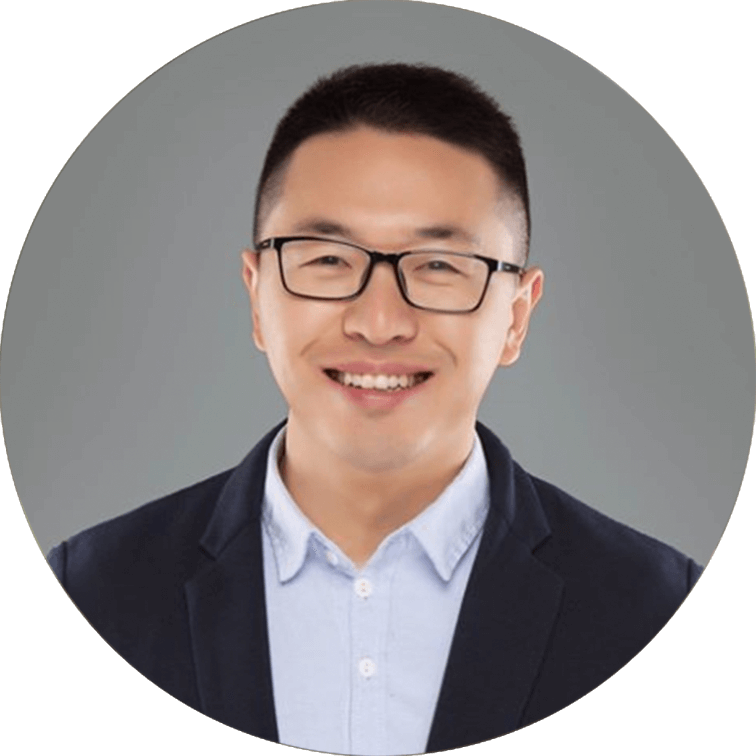 Over 10 years experience of foreign trade
Help 2k+ customers improve their dropshipping business
Want to get manufacture's best price from China? And fulfill your orders to your customers in the most prompt way?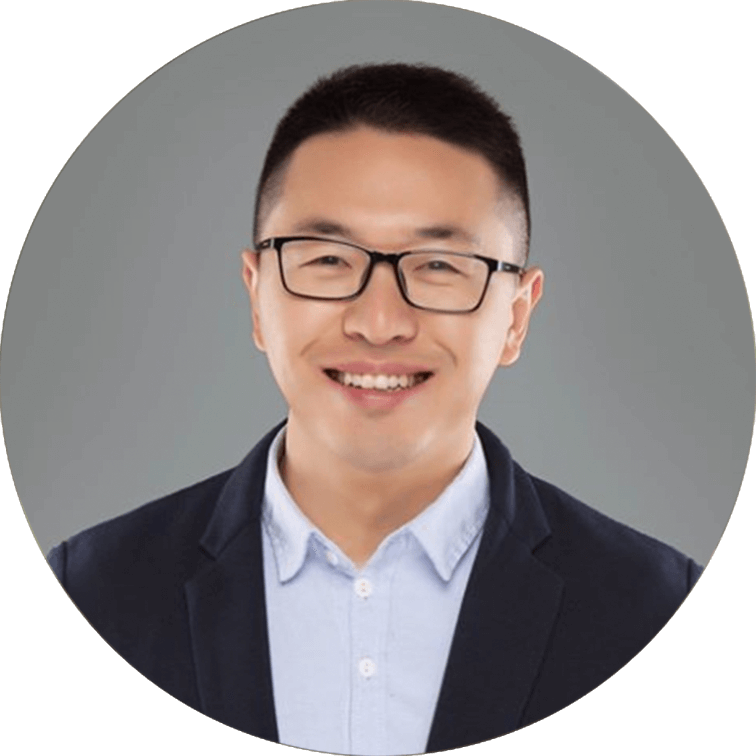 Hey, I'm Stanley Nieh. My team & I are determined to help Ready-to-Scale drop-shippers grow the business rapidly to the next level. My only question is, will it be yours?