How many of you have wanted to launch an online store for ages but thought it's risky due to financial concerns? Well, not anymore. In 2023, there are tons of completely free tools for dropshipping.
Now you can dropship for free! And that has always been the beauty of this business model – low upfront risk and low (or better yet, zero) investment!
Using the right free drop shipping tools for your business is crucial in all aspects. By letting tools take care of labor-intensive tasks, you open up free time on your hands to worry about what matters – promoting your online store and closing sales.
Let's get moving!
20+ Best Dropshipping Free Tools
To learn how to dropship for free, the first step in your journey should be finding the right free tools for dropshipping.
The best dropshipping business is an automated one, where you can let tools overtake the daily repetitive tasks. As a dropshipper, especially if you're a one-man show, you'll likely deal with most aspects of your business alone.
To juggle all of that and manage to pull all strings at once, you'll need different categories of tools:
eCommerce platforms (store builders)
Dropshipping suppliers & order fulfillment tools
Product & keyword research tools (SEO)
Project management tools
Analytics & marketing tools
Other free dropshipping tools
It seems a bit complicated at first, but no worries – we did the heavy lifting and researched so that you don't have to. We'll give you 20 entirely free dropshipping tools you can use to structure and automate your dropshipping business.
For each tool we mention, we'll underline the category it belongs to, as well as any limitations in their free version. Let's jump right in!
Category: eCommerce store builders
WooCommerce and Shopify are two of the most widely used eCommerce store solutions. We didn't start with Shopify since it offers only a 14-day trial, and we promised you dropshipping tools that are entirely free. Instead, let's check out WooCommerce.
WooCommerce is a free eCommerce plugin that turns any WordPress website into a full-blown online store. Dropshipping with WooCommerce is a favorite among online entrepreneurs.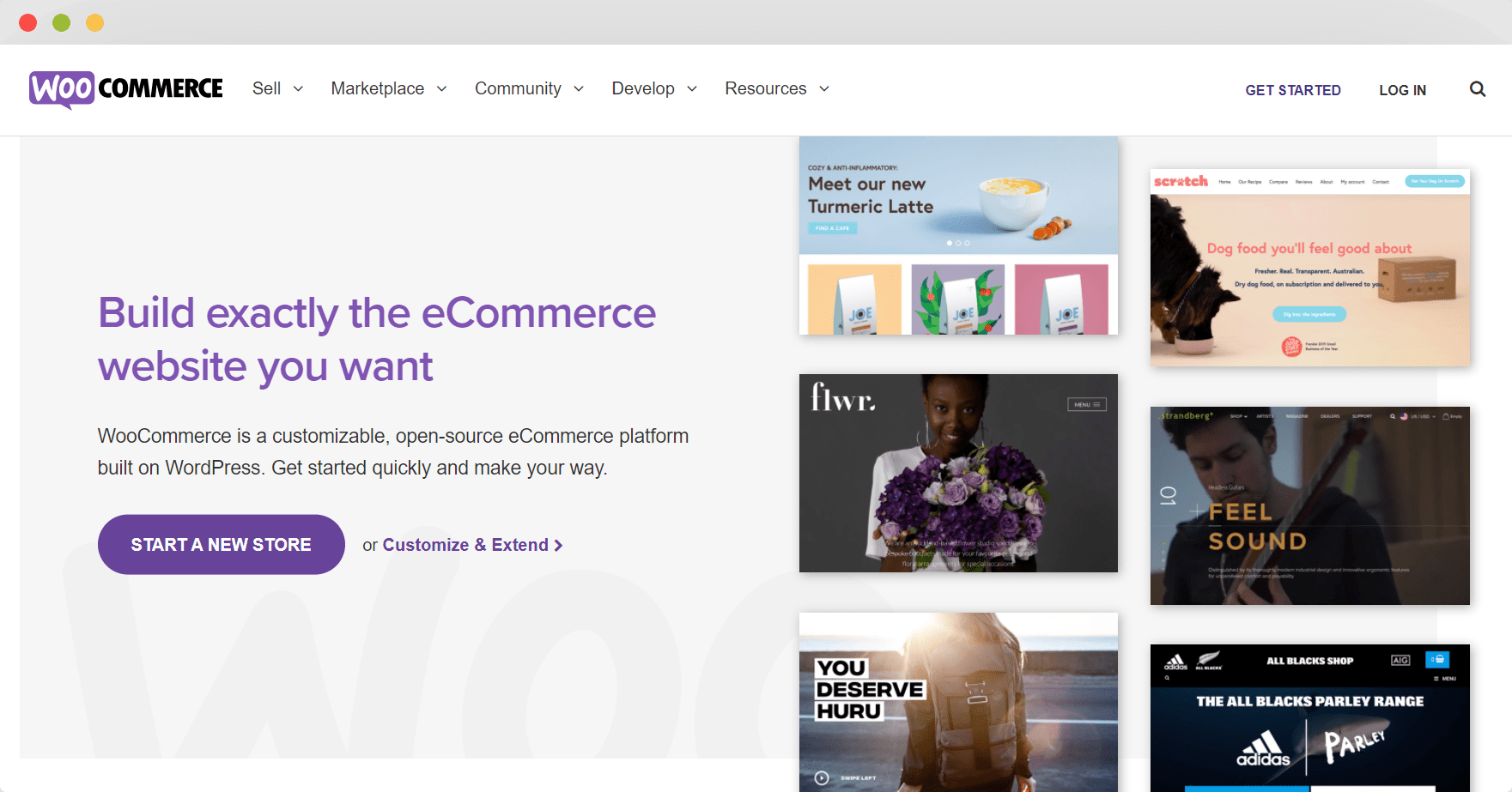 Although when compared to Shopify, WooCommerce itself is entirely free, it does require you to have a website. And as you know, to have a website, you need to pay for hosting at the very minimum and a custom domain to appear professional.
One of the cheapest solutions is to purchase the basic shared WordPress hosting of Bluehost, which automatically installs WordPress.Next, start building your eCommerce store.
Later on, when you're ready to go public and start selling, choose an affordable yet catchy domain from a directory such as GoDaddy or HostGator.
Category: supplier & order fulfillment
If you're looking for a free supplier network and dropshipping agent service that operates worldwide, CJDropshipping is the best free tool for you.
CJDropshipping integrates with Shopify, WooCommerce, and eBay online stores and offers services like product sourcing, automating your order fulfillment, packaging, white labeling, shipment, etc.
Some of their storage services are completely free if you order from the existing stock in their US warehouse. On that note, CJDropshipping has warehouses throughout 30 different locations worldwide, including China, the USA, and many European countries.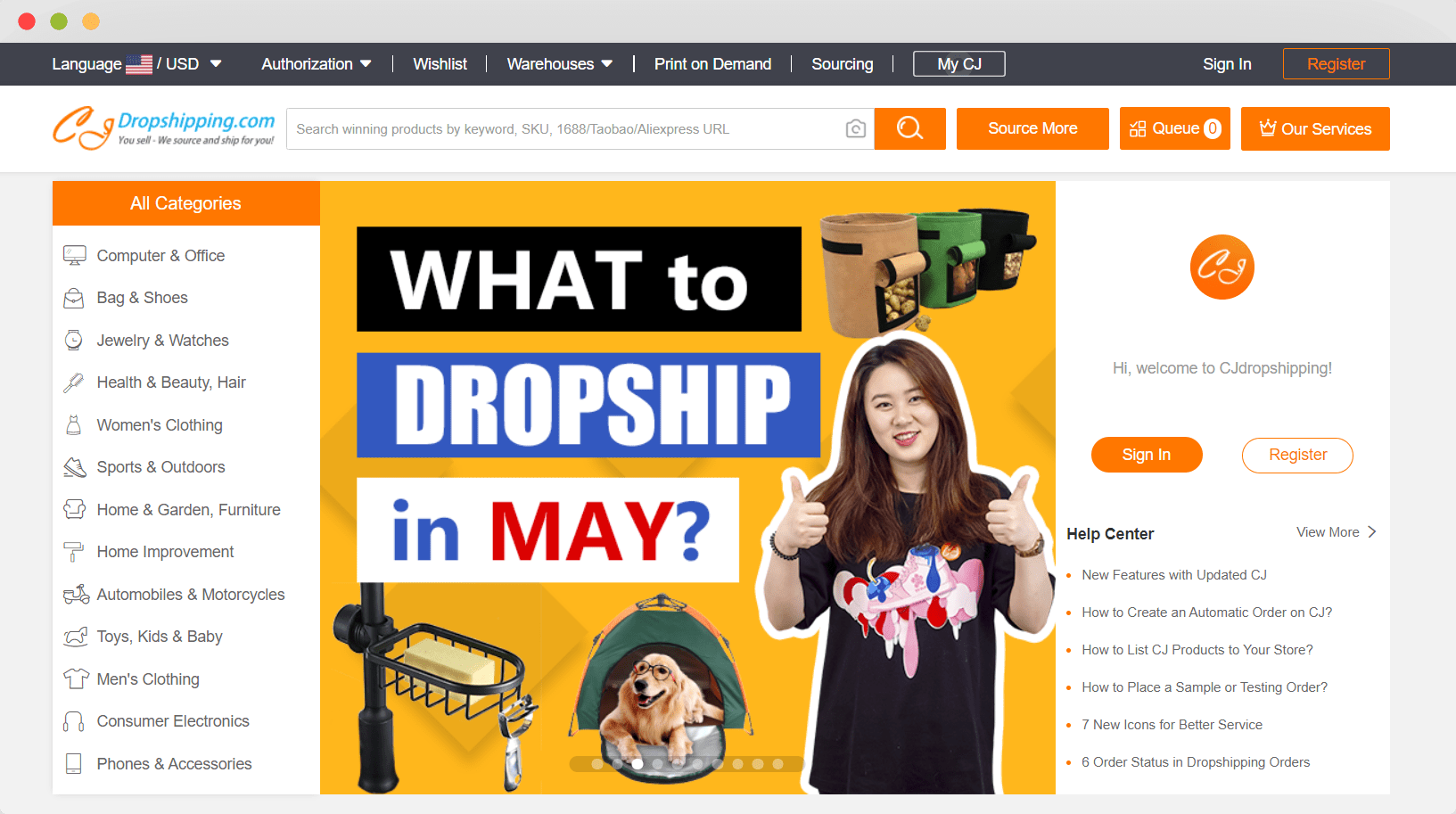 In line with their full-service drop shipping model, CJDropshipping also offers print-on-demand services. So, if you're a designer interested in selling custom products, that's a real possibility with CJDropshipping.
And finally, CJDropshipping also offers a free Chrome extension that will help you source from AliExpress alternatives like 1688 and Taobao. Dropshipping with 1688 or Taobao is beneficial for any online store.
Category: analytics & marketing
Google Analytics is one of those universal, evergreen tools that no business should be without. With Google Analytics, you can gain priceless insights into your traffic and audience.
If you're not too good with reading numbers and statistics, it might take a while to get used to Google Analytics' interface. Simply having the data is not enough. You have to dedicate some time to learn how to read and analyze the gathered data.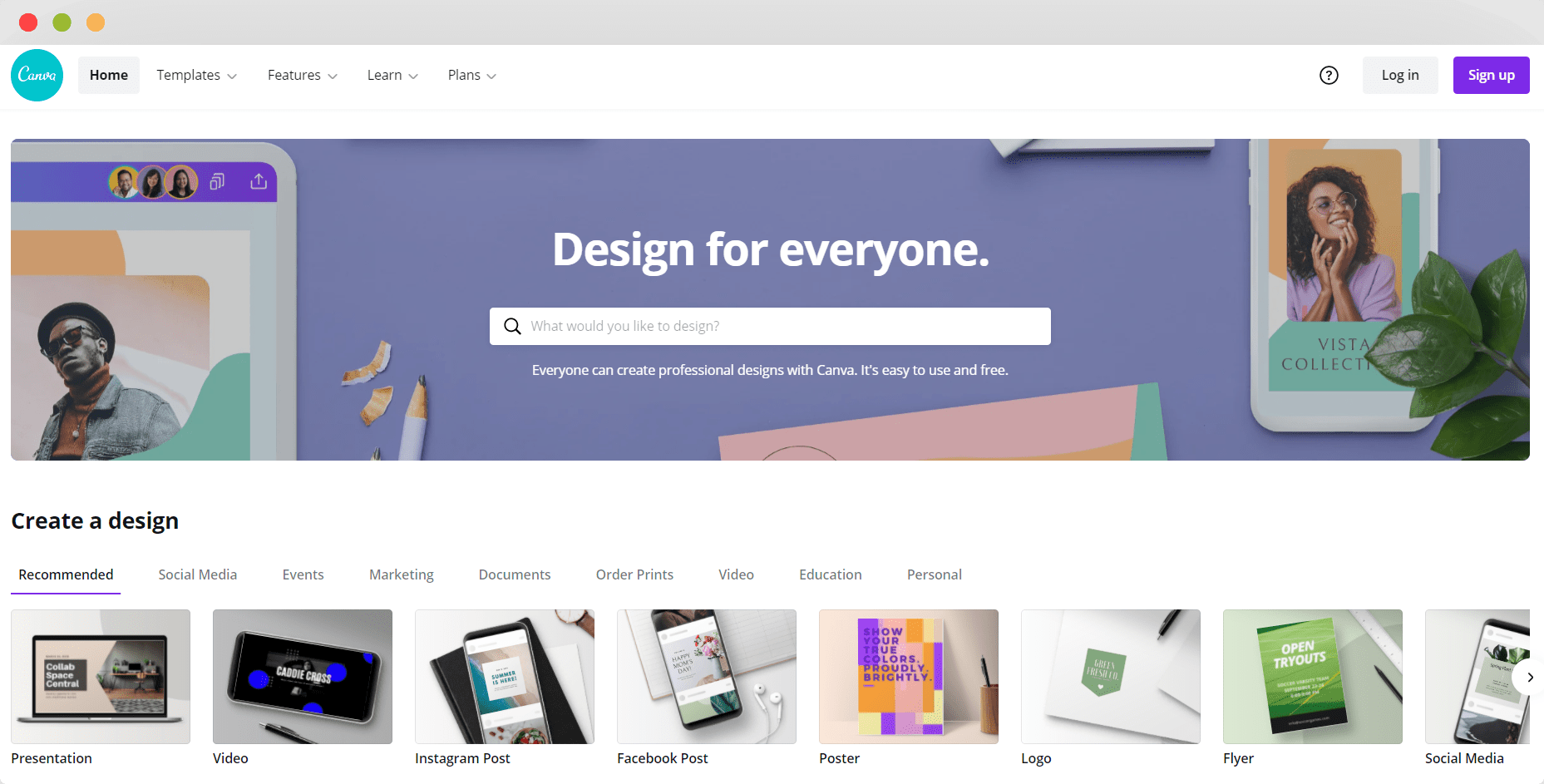 Once you make sense of Google Analytics and get confident in your analytical skills, you can see which parts of your website are losing traffic and successfully adjust your marketing efforts.
First, you need to create a Google Analytics account. Next, you have to add your "property" or website URL. Most store builders will have an automatic Google Analytics integration. If not, you'll be able to get a code snippet to copy-paste into your site's header.
Category: other/design
Although it's not dropshipping but a design tool, Canva belongs to this list of dropshipping free tools. Canva's free version is more than enough to take care of all your social media posts, product images, or website banners.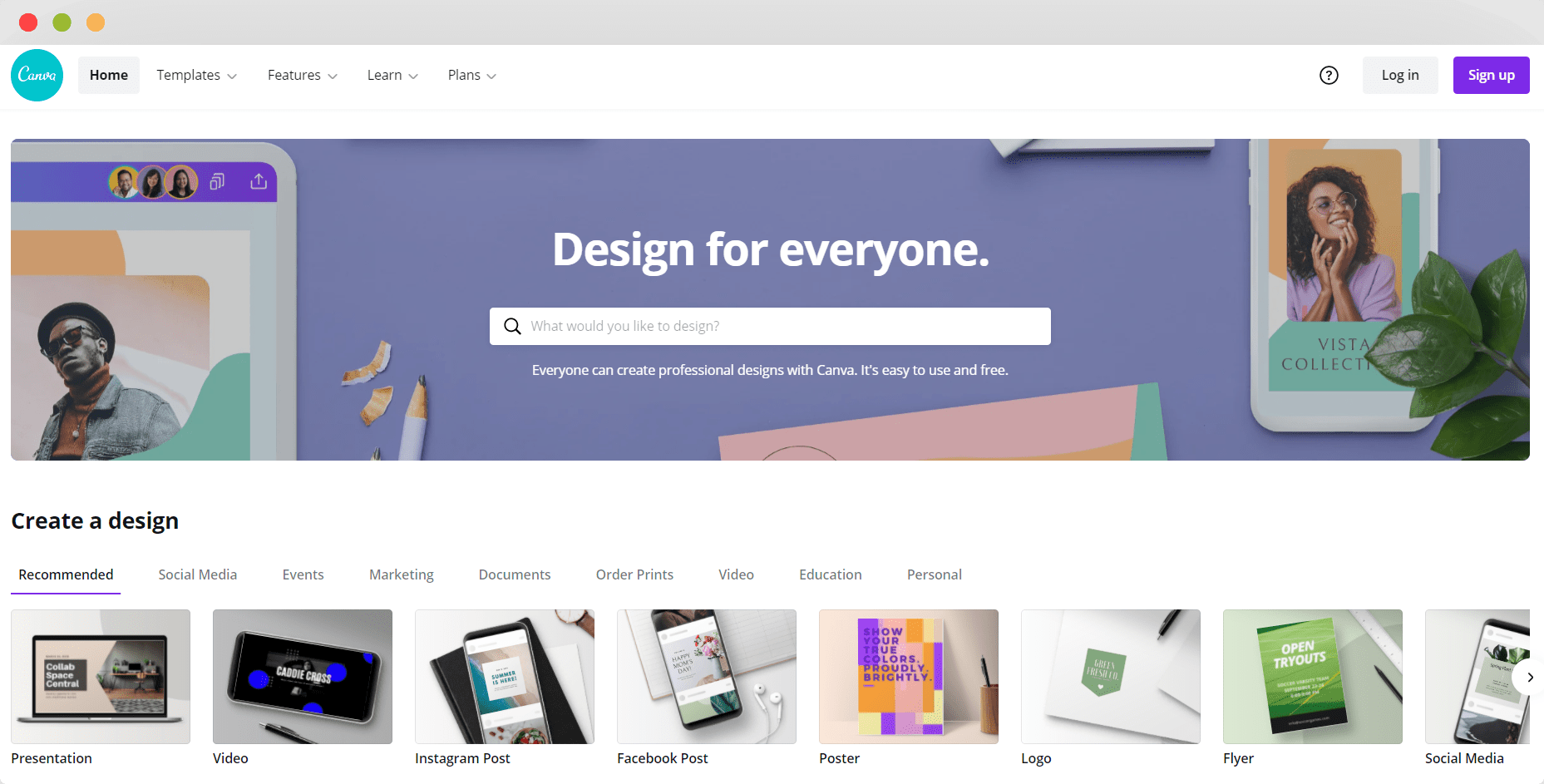 You can resize your images and find templates for practically anything you might need. With Canva's drag-and-drop editor, you can add free stock photos, elements, lines, gradients, stickers, change backgrounds, etc.
On top of that, you can add layers or filters to photos and decrease the transparency of different elements to create fantastic designs. And finally, you'll be able to add any text you need and choose from hundreds of free fonts.
All in all, we believe no digital business should go without Canva, especially not an online store dealing with dropshipping.
Category: supplier & order fulfillment
Oberlo has different pricing plans, but it's on this list because it does have a pretty usable free plan.
For those of you who have a Shopify store and want to dropship AliExpress products, Oberlo's free version will allow you to import up to 500 products.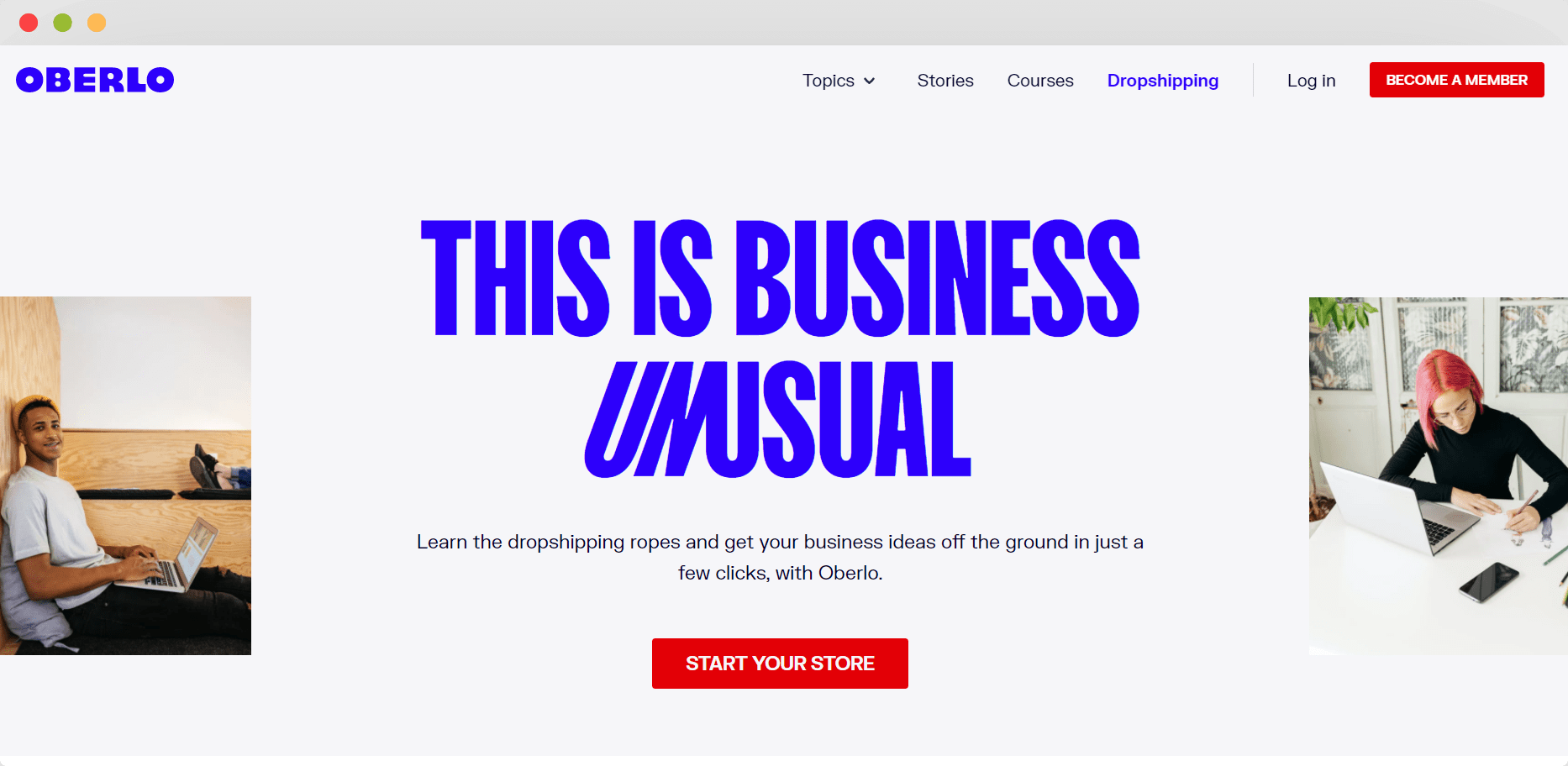 If you're new to dropshipping and want to explore the grounds, Oberlo's free plan could be a viable option for you.
Although you can technically dropship with Oberlo's free plan, you won't have access to certain features such as bulk orders, shipment tracking, etc.
Category: product & keyword research
Another completely free tool for dropshipping that you can use for your product research is Google Trends. Products that come from Google might seem a tad complicated at first, but once you learn how to use them properly, they will teach you many things.
For instance, with the help of Google Trends, you can check how popular or stable a product demand is throughout a specific period.
To use Google Trends, you have to set a location of your audience, a period (in the last five years, last month, last year, etc.), and input your keyword. You'll see right away a graph of the trend for this keyword.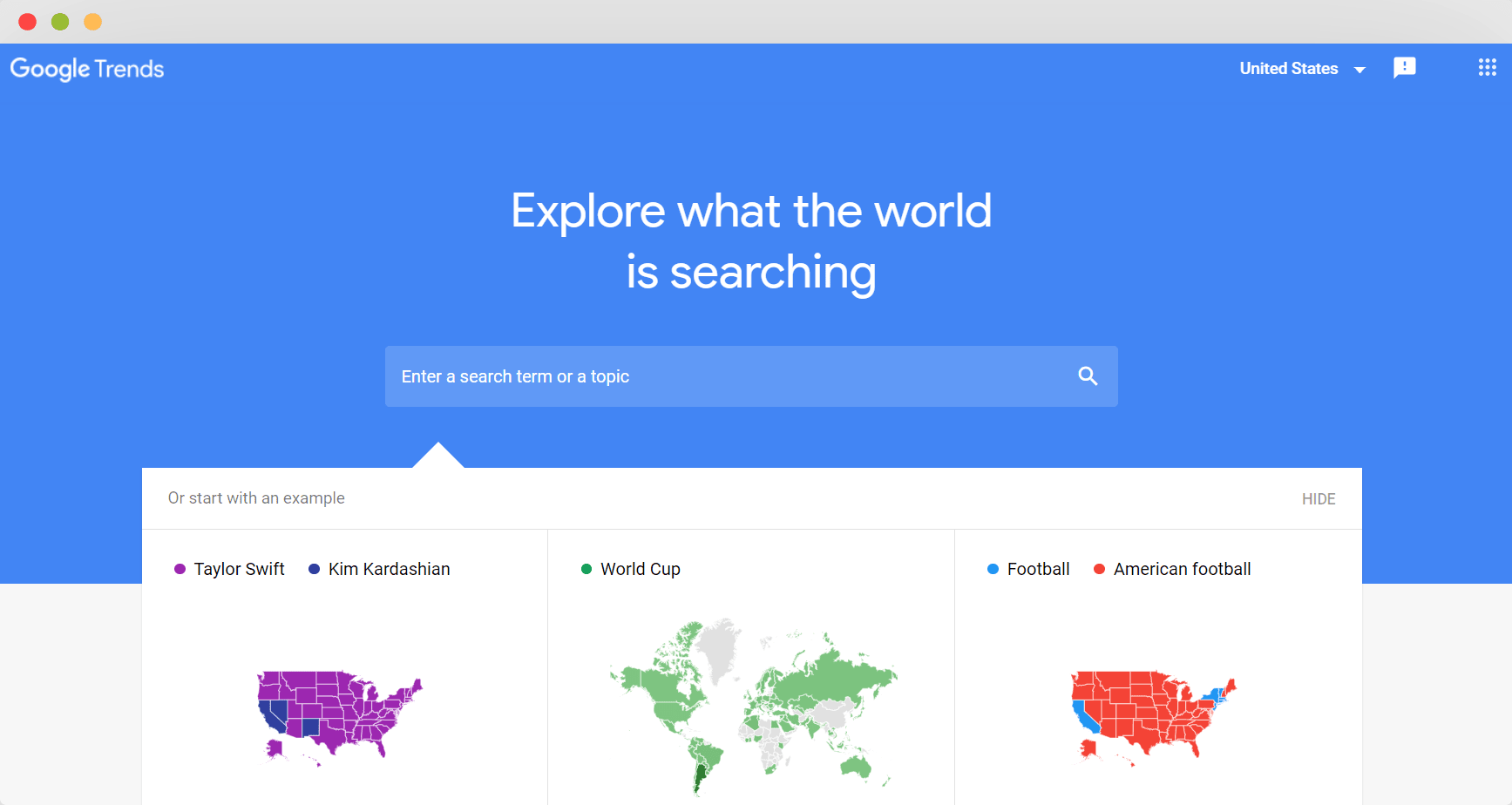 If you're still unsure of which keywords you want to rank for, you can use Google Trends to compare two or more search terms and see which one is more popular among your audience.
Category: supplier marketplace
No "dropshipping free tools" list would be complete without AliExpress – the largest B2C marketplace where you can find many dropshipping suppliers.
Although it's not technically a tool, AliExpress is the perfect place for new dropshippers to look for suppliers. Plus, it's completely free to register and start buying.
Since AliExpress suppliers usually sell single orders instead of wholesale, many will agree to a dropshipping service. Technically, they don't care where they ship out their product as long as shipping fees are covered.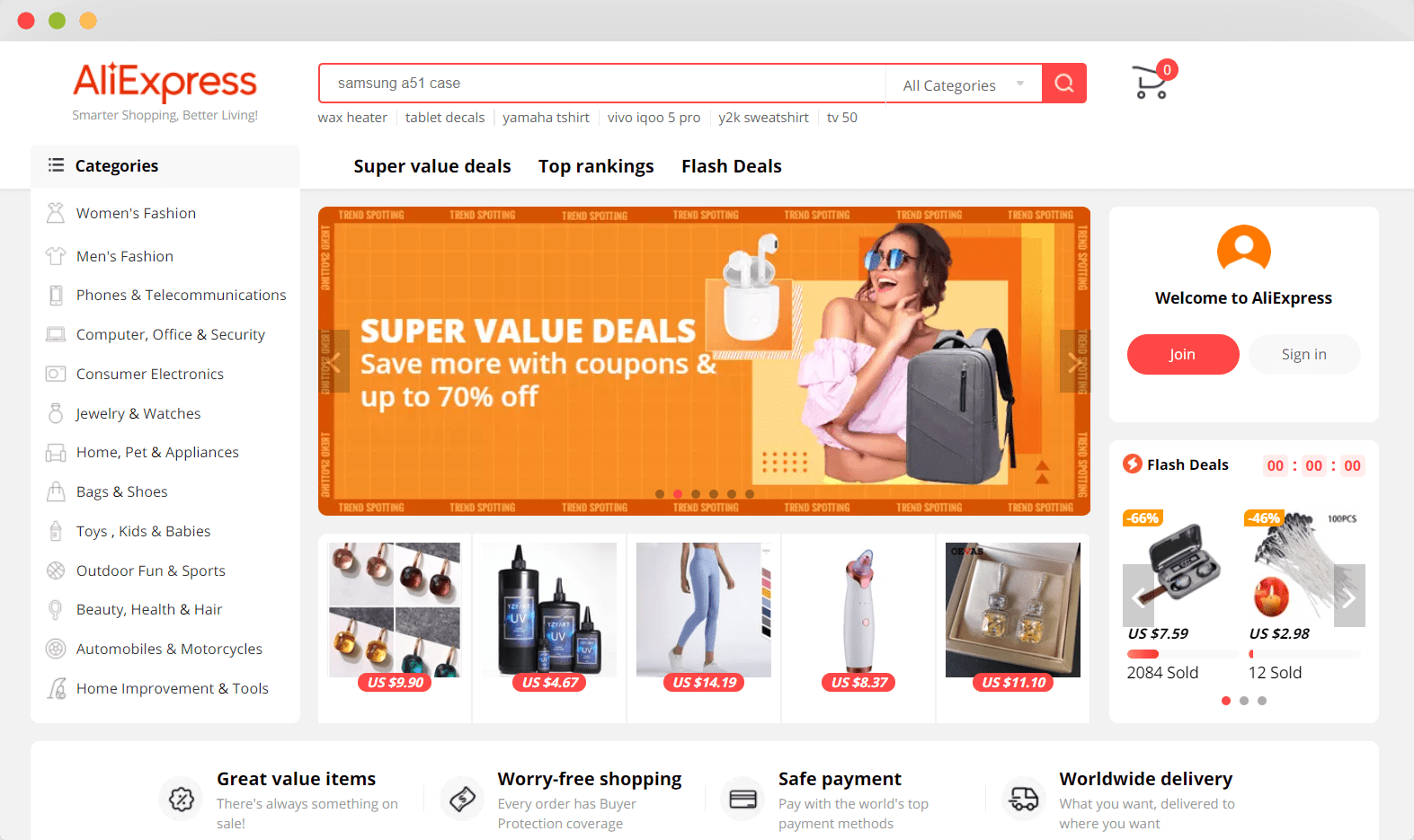 When dealing with AliExpress suppliers, don't forget to ask them if they can ship the items in generic packaging without an invoice. Or even better, ask them if they can send it with your invoice or package design.
And finally, don't forget to check out the product reviews. They will show you how satisfied the buyers are with the product and might even give you some hints about the shipping time. Even better, if you can afford it, always order a sample by yourself first.
Category: dropshipping suppliers & order fulfillment
The following tool is suitable for one-product stores or online stores that collaborate with just one regular supplier – DSM Tool.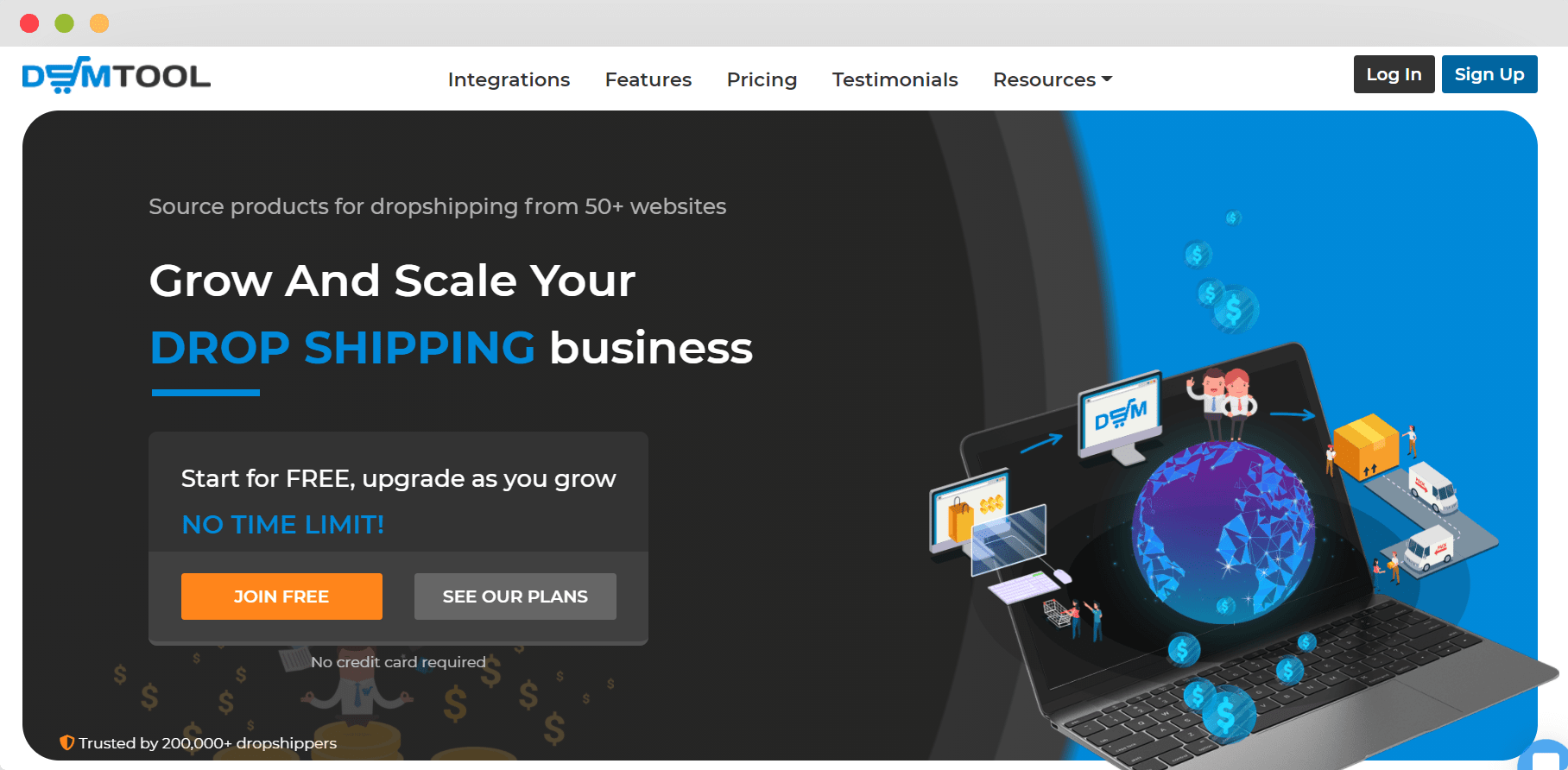 The free version of DSM Tool allows importing up to 25 listings from one supplier network.
When it comes to eCommerce platforms, DSM Tool integrates with Shopify and eBay stores. So, if you use one of these two providers and don't need to list a ton of products, DSM Tool could be perfect for your needs.
Category: project management
Next in our list of free tools for dropshipping is Asana – a free project management tool that will let you collaborate and maintain a streamlined work process.
Asana's free version is enough for most businesses since it lets you collaborate with 15 team members, create unlimited tasks, and send unlimited messages.
Furthermore, with Asana, you can see your project boards in different views to help you visualize them better: calendar, board, and list.
When it comes to free project management tools, Asana is definitely among the top ones. With so many features accessible without paying a single dime, competitors have to try hard to surpass them.
Category: social media & marketing
Posting content daily on several social media channels can get out of hand pretty fast if you don't handle it well. For this purpose, we recommend that you use social media management tools and publishers like Later.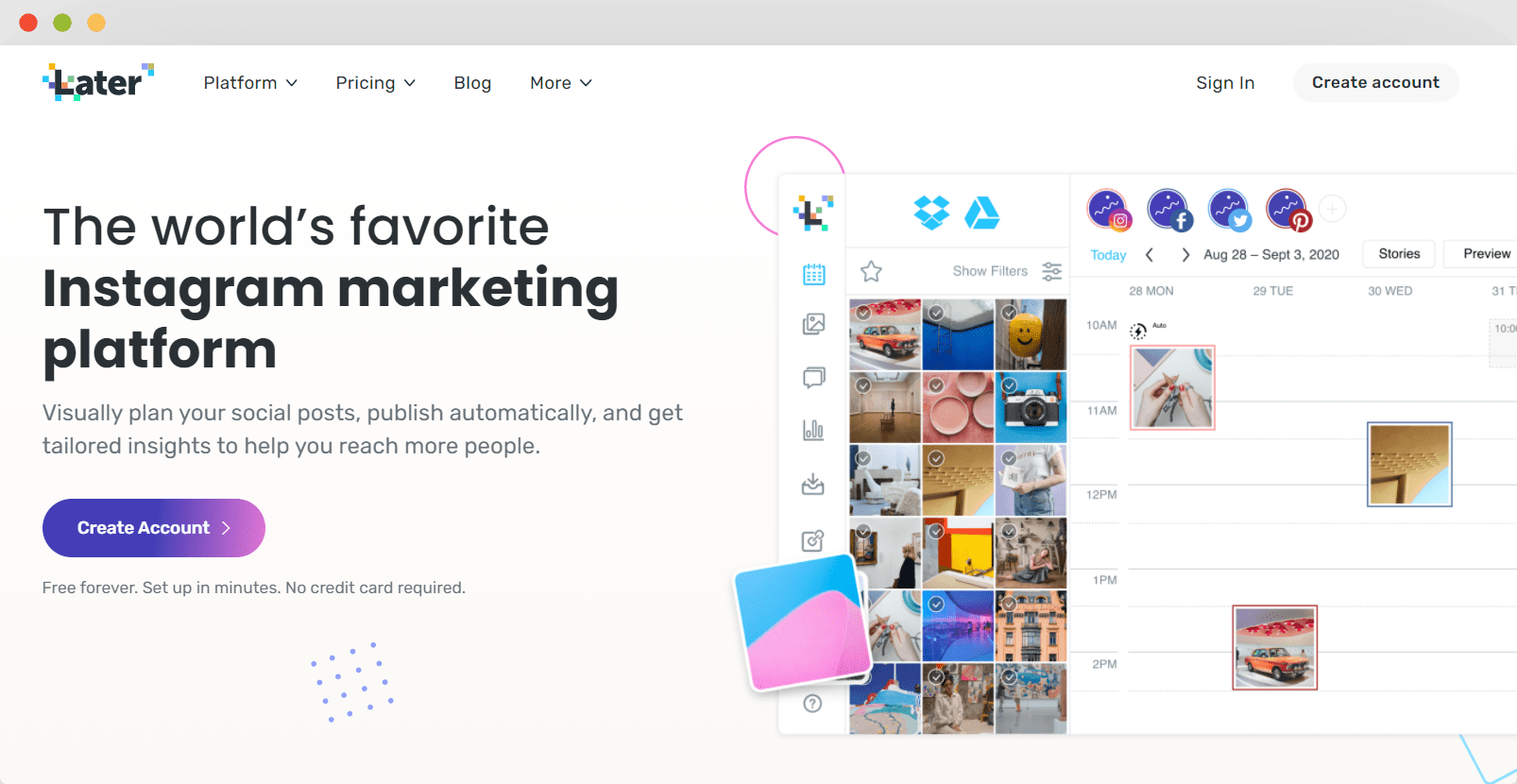 With Later's free version, you can schedule up to 30 monthly social media posts per platform. Using the free plan, you can connect one social media set consisting of one Facebook, Pinterest, Instagram, and one Twitter account.
The best Later feature is the possibility to create a clickable landing page from your post. By creating a "link in bio" page with Later, you give your users the chance to click on each of your posts and land on the desired page of your website or online store.
Category: dropshipping suppliers & order fulfillment
If you have a WordPress online store, Dropship.me is a free plugin you can install that will let you import up to 50 high-paying AliExpress products.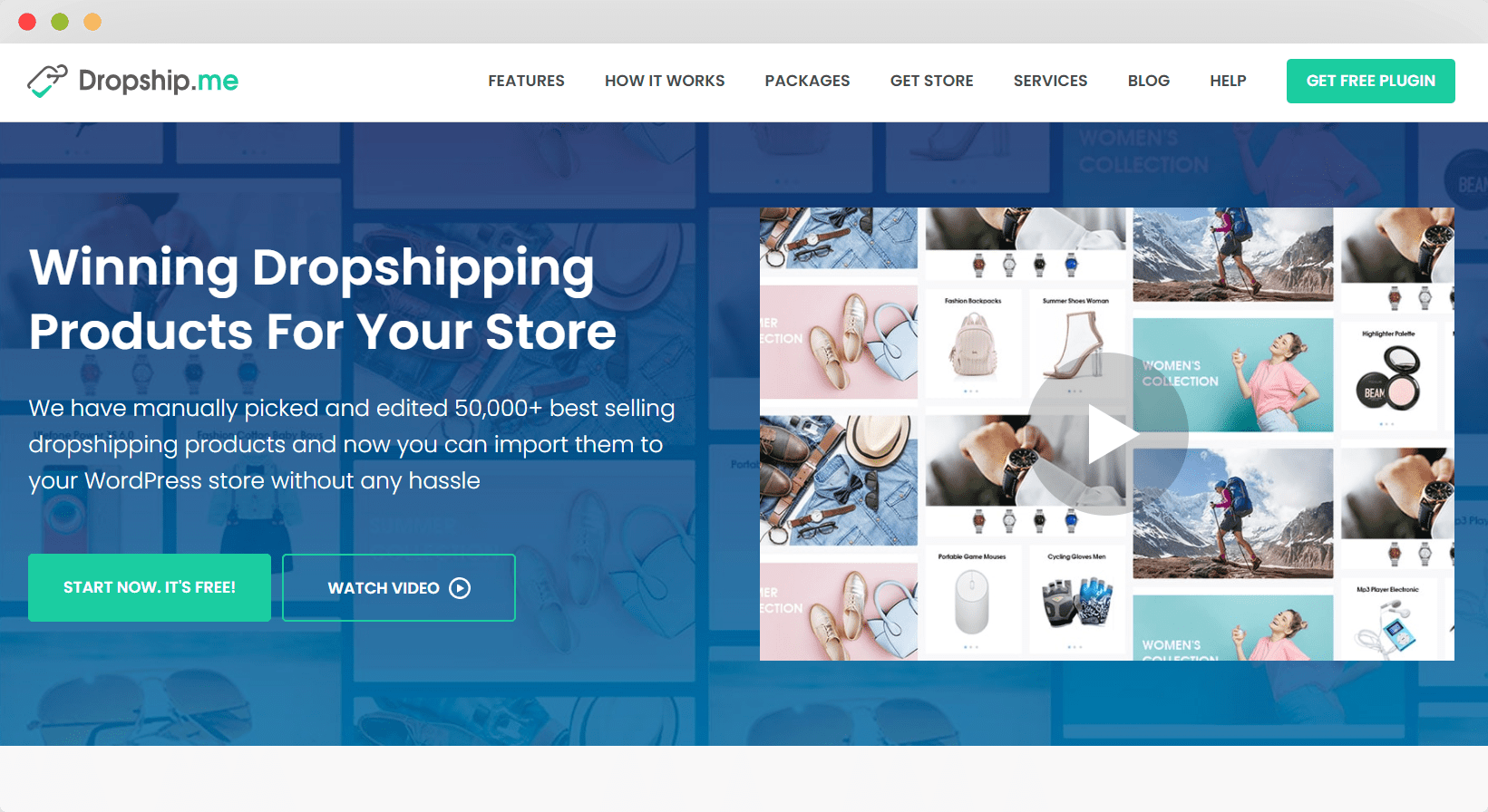 Although Dropship.me offers different services that are premium, their WordPress plugin is entirely free.
For all dropshipping stores that dropship in a narrow niche, the free version of Dropship.me with 50 product listings should be more than enough to start.
Category: product & keyword research
Although the Google Keyword Planner is part of the Google Ads Manager, it's entirely free to use, and it won't require you to place any billing details.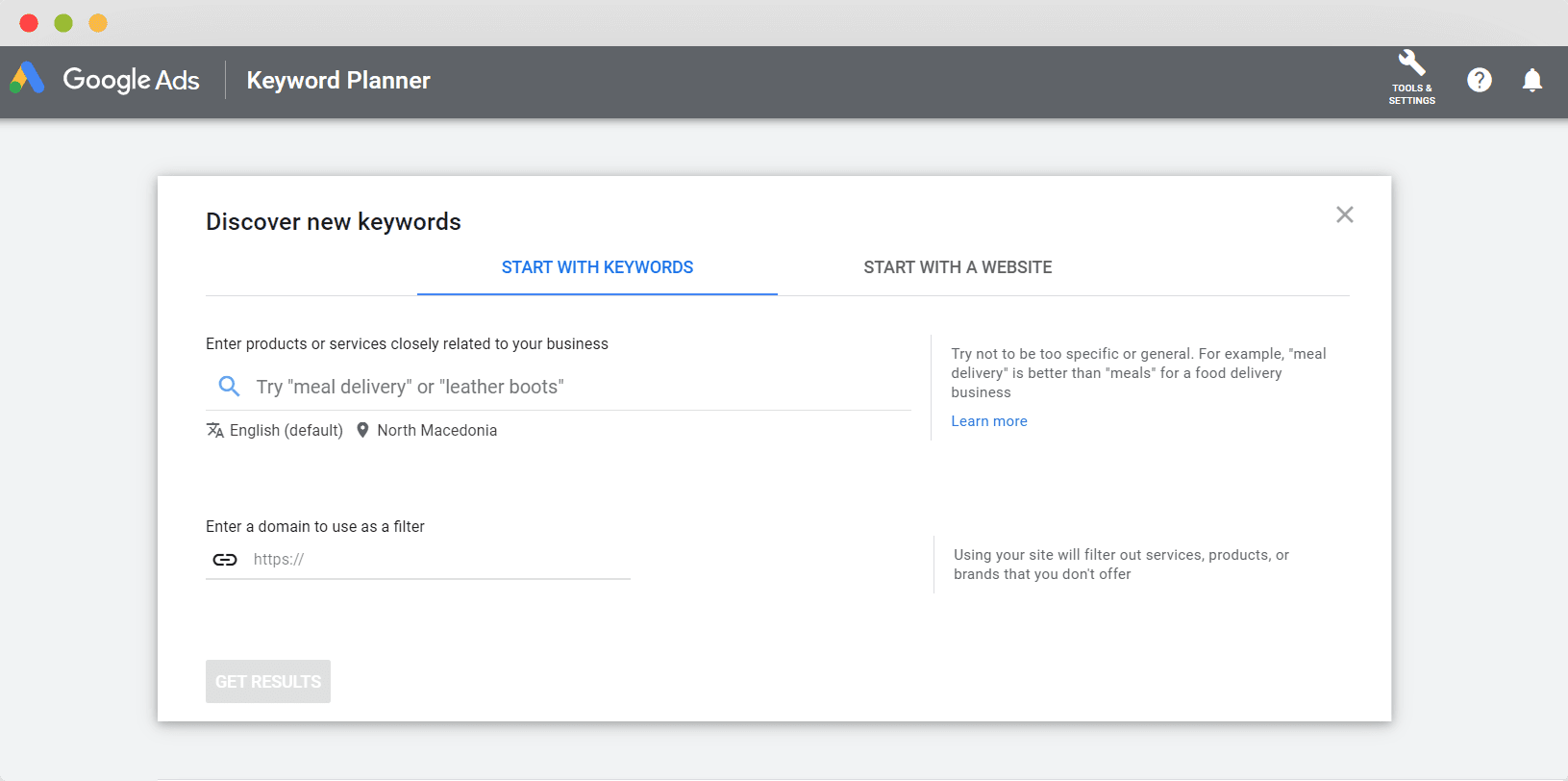 With the Google Keyword Planner, you can find the monthly searches of your keywords, get similar keywords, or even see which keywords your competitors rank for.
The Google Keyword Planner is a useful free dropshipping tool for both:
Dropshippers who use paid ads and need to find the right keywords to bid on; and
Dropshippers who try to attract audience organically by using SEO best practices;
Category: other free dropshipping tools
Zapier is not a dropshipping tool specifically, but it is free and beneficial!
The purpose of Zapier is to help you automate and connect two or more services. We know that this sounds too broad, so let us help you with an example.
Let's say you have an online store where you've placed a subscription box for your users to receive the latest products you list. Now, you need a mailing service that will automate this.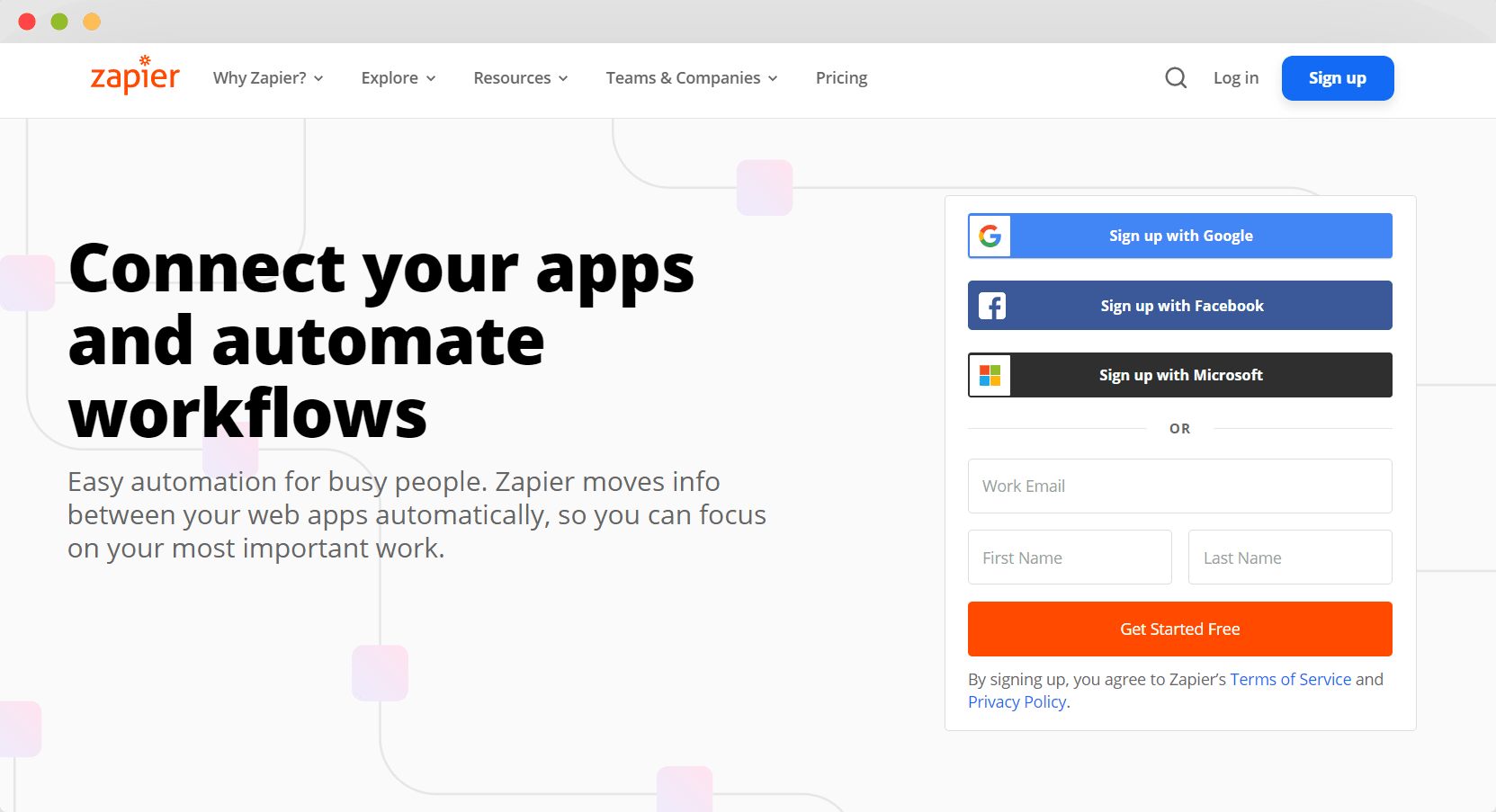 If everything goes as planned with your marketing efforts, you won't be able to handle mailing all your website subscribers one by one. Here's where Zapier comes in – not all services will integrate, and the role of Zapier is to connect them.
Category: analytics & marketing
Heatmap.com is a service that will let you visually analyze your online store with the help of heatmaps.
Heatmaps will show you hot spots – the parts of your website that perform the best and get the most clicks; and cold areas – where you lose visitors or where they don't click at all.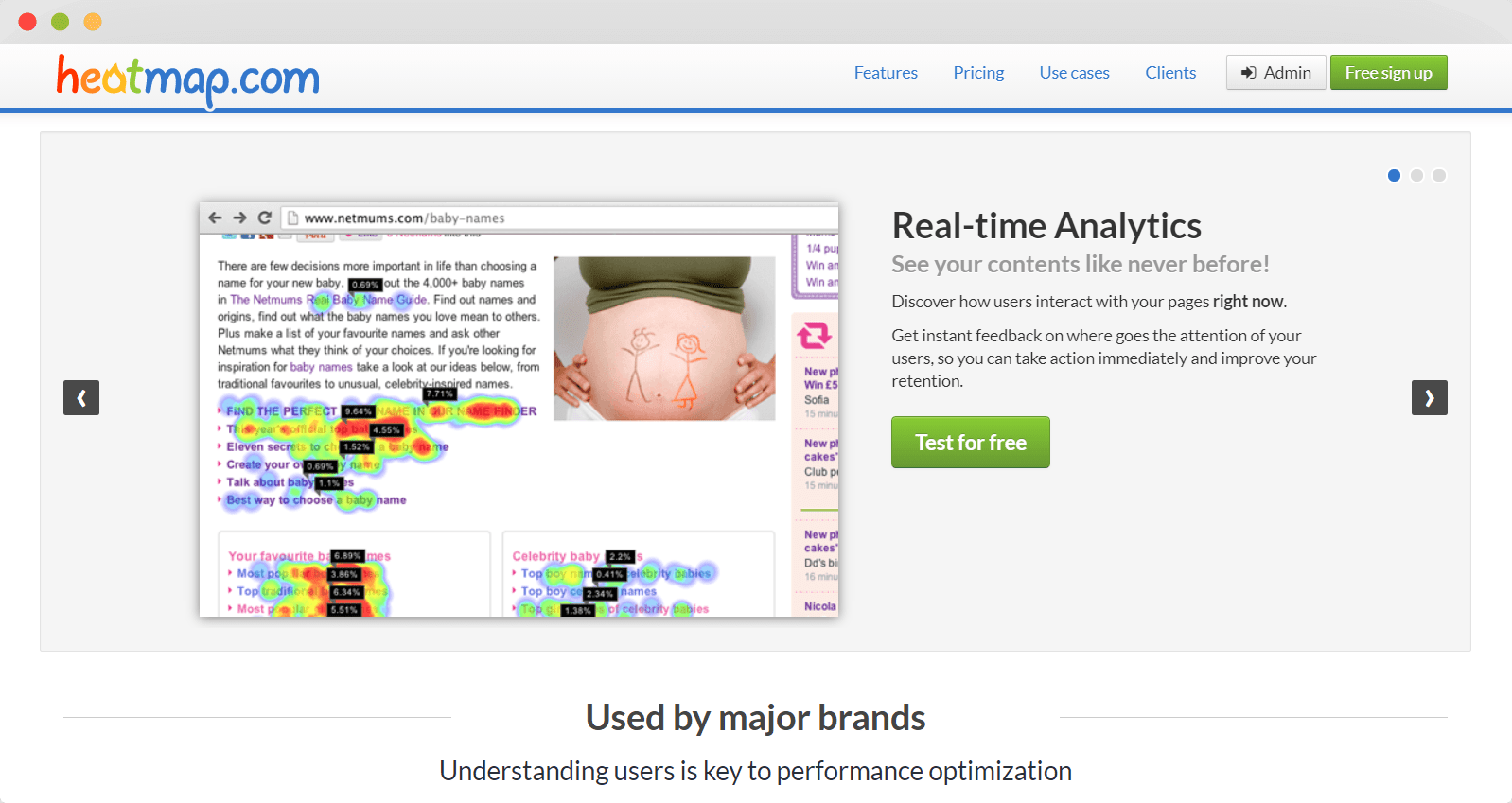 With this, you'll know what content to focus on, and more importantly, which product pages work best and spark the most interest in your website visitors.
The free version of Heatmap.com will allow you to track up to 1 million page views per month. Furthermore, you can analyze up to 5 different pages. All in all, we think it's a pretty handy tool to help you understand your audience and analyze user behavior.
Category: project management
Trello is another project management tool with a great free version that can help you organize and manage your dropshipping business.
If visuals are your strong suit, Trello boards are in Kanban style, allowing users to see their projects on a board with different stages and progress.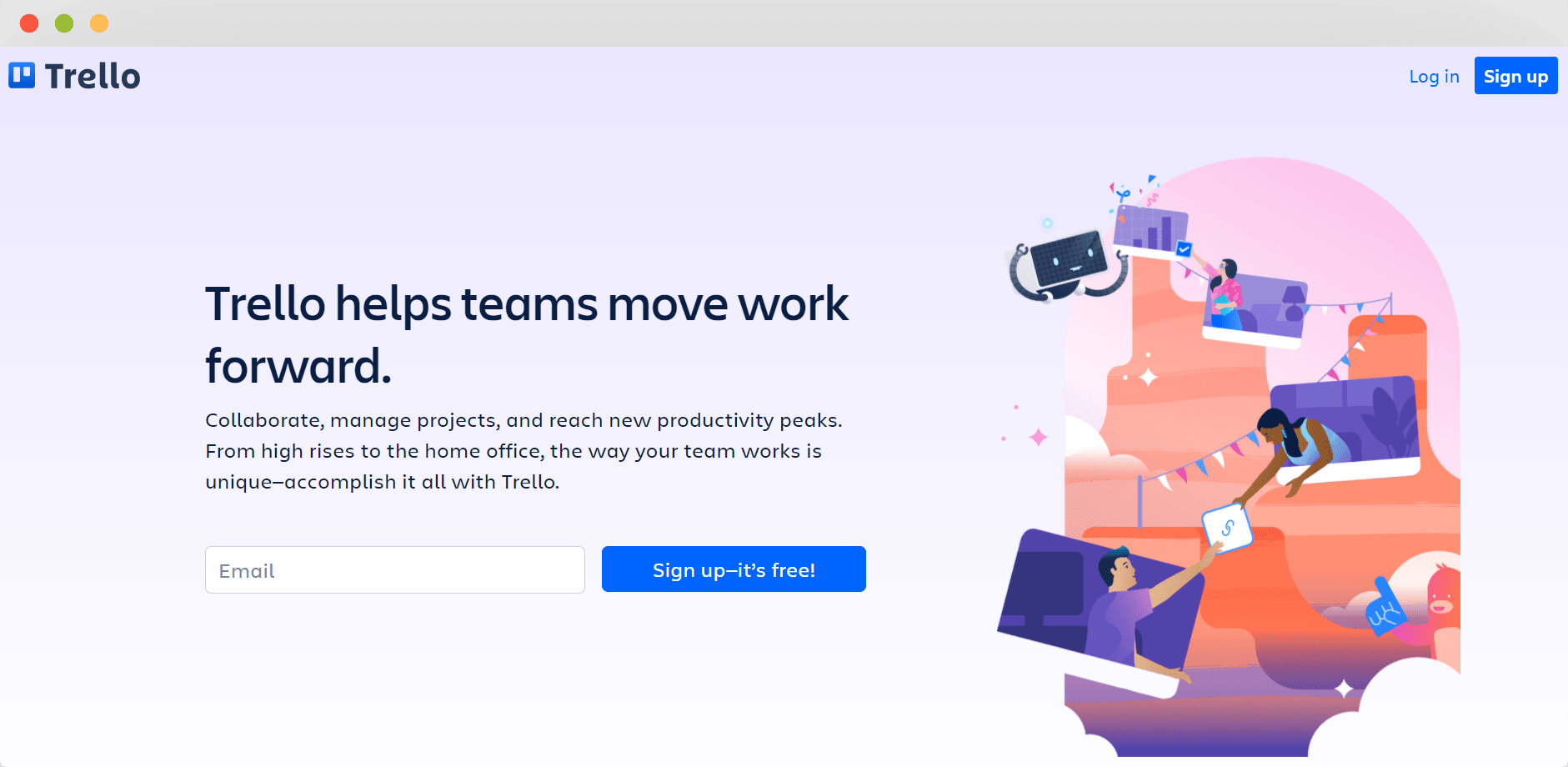 On each Trello card, you can add different colored labels to help you categorize your orders or products – depending on how you structure your dropshipping business.
Trello is pretty straightforward to use – you can drag and drop your cards through the different columns. It's very user-intuitive, so you have no problems navigating, even if it's your first time using it.
Category: product & keyword research
One of the best free drop shipping tools for product research comes from AliExpress themselves – the AliExpress Dropshipping Center.
Once you log into your account and accept their Terms & Conditions, you'll be able to explore their dropshipping center for product research and see actual data from users' behavior.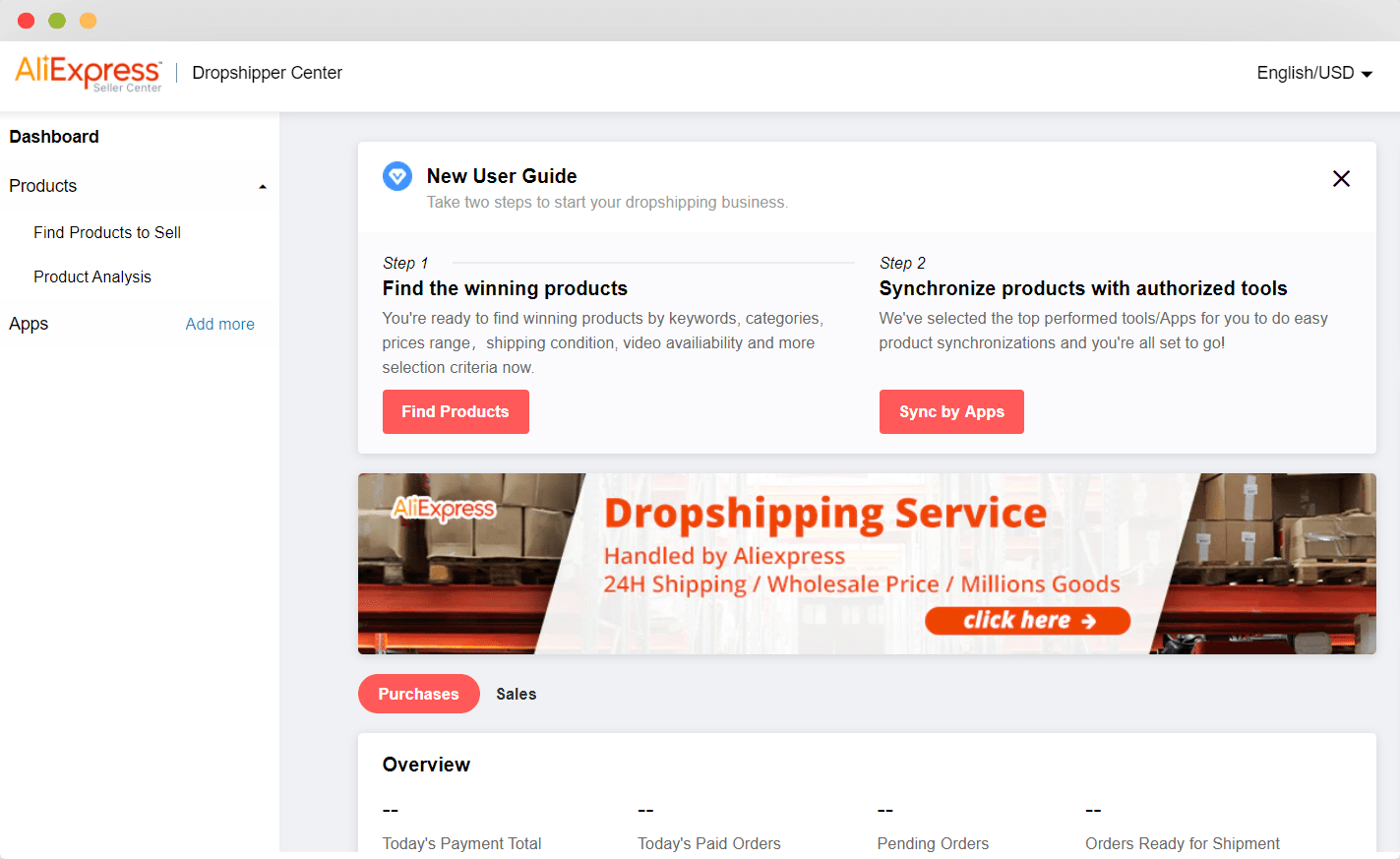 We believe this tool is significantly underestimated among dropshippers, and not many know about it.
With the AliExpress Dropshipping Center, you can find hot products, filter them by "ship from" and "ship to" destinations, and see product analysis by copy-pasting a product page URL. Pretty cool.
Category: product & keyword research
We're again in the product research category, and that's because choosing a winning product is crucial for dropshipping success.
The following tool in this category is Commerce Inspector – a web application and Chrome extension that will give you in-depth insights into your competitors' Shopify stores.

Although their web app comes with a paid plan, their Chrome extension is free to use. With Commerce Inspector's free extension, you can see product insights, apps, social links, and best-selling products for every Shopify store URL.
Category: product & keyword research
One of the most well-known free SEO tools is Ubersuggest. Created by Neil Patel, a genius wordsmith, Ubersuggest is a powerful tool that can help you perform a flawless competitive analysis.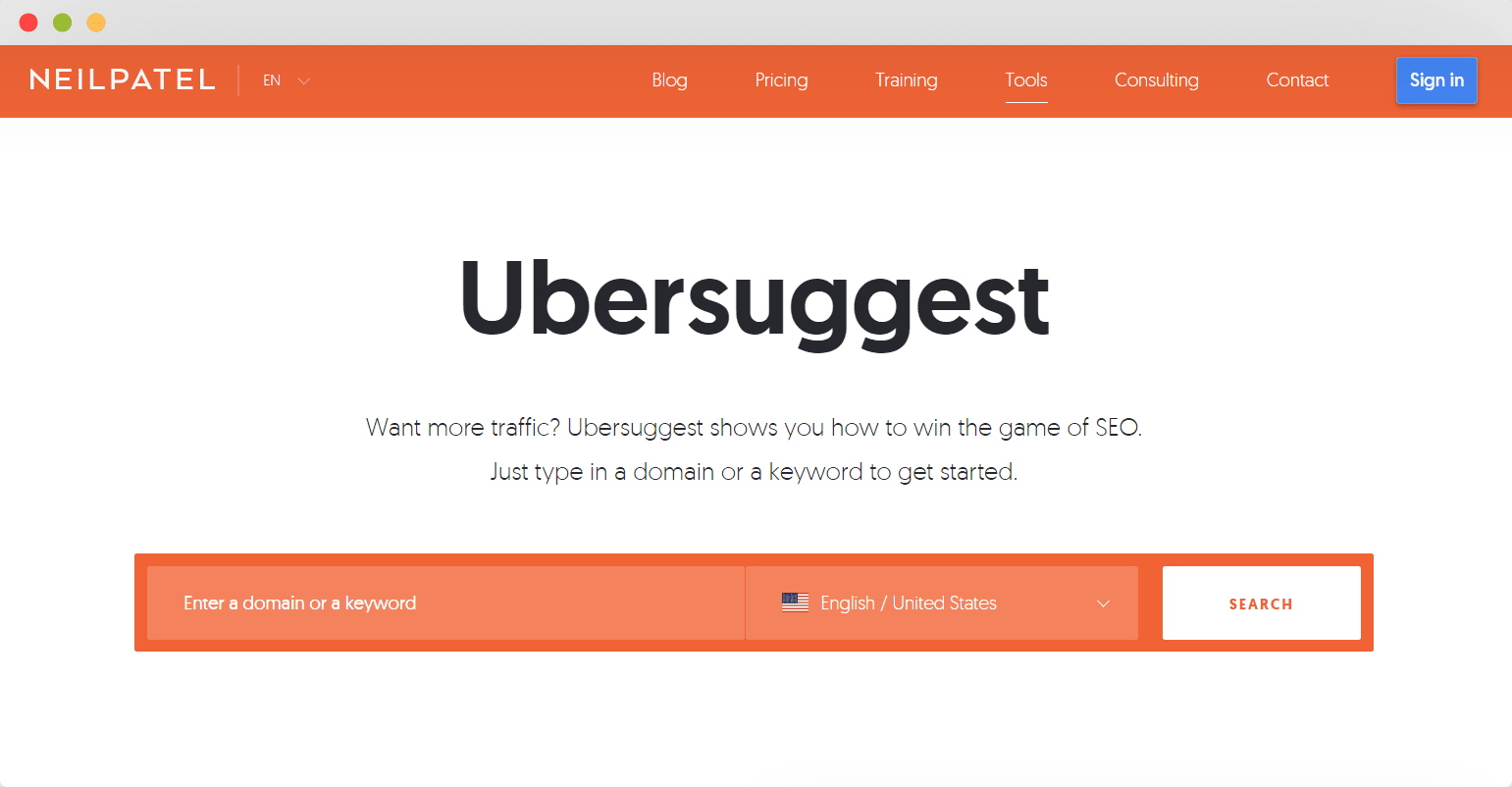 From search volume to finding words your competitor stores rank for, domain authority, backlinks, and more – Ubersuggest can do it all.
When doing keyword and product research, we suggest using more than one tool and then comparing your results to draw the most informed decision.
Category: analytics & marketing
One of the best practices to slowly stop spending resources on paid ads is building a qualified email list.
To give you their email address, you have to provide a person with some value – write a helpful guide, an extensive research paper, etc.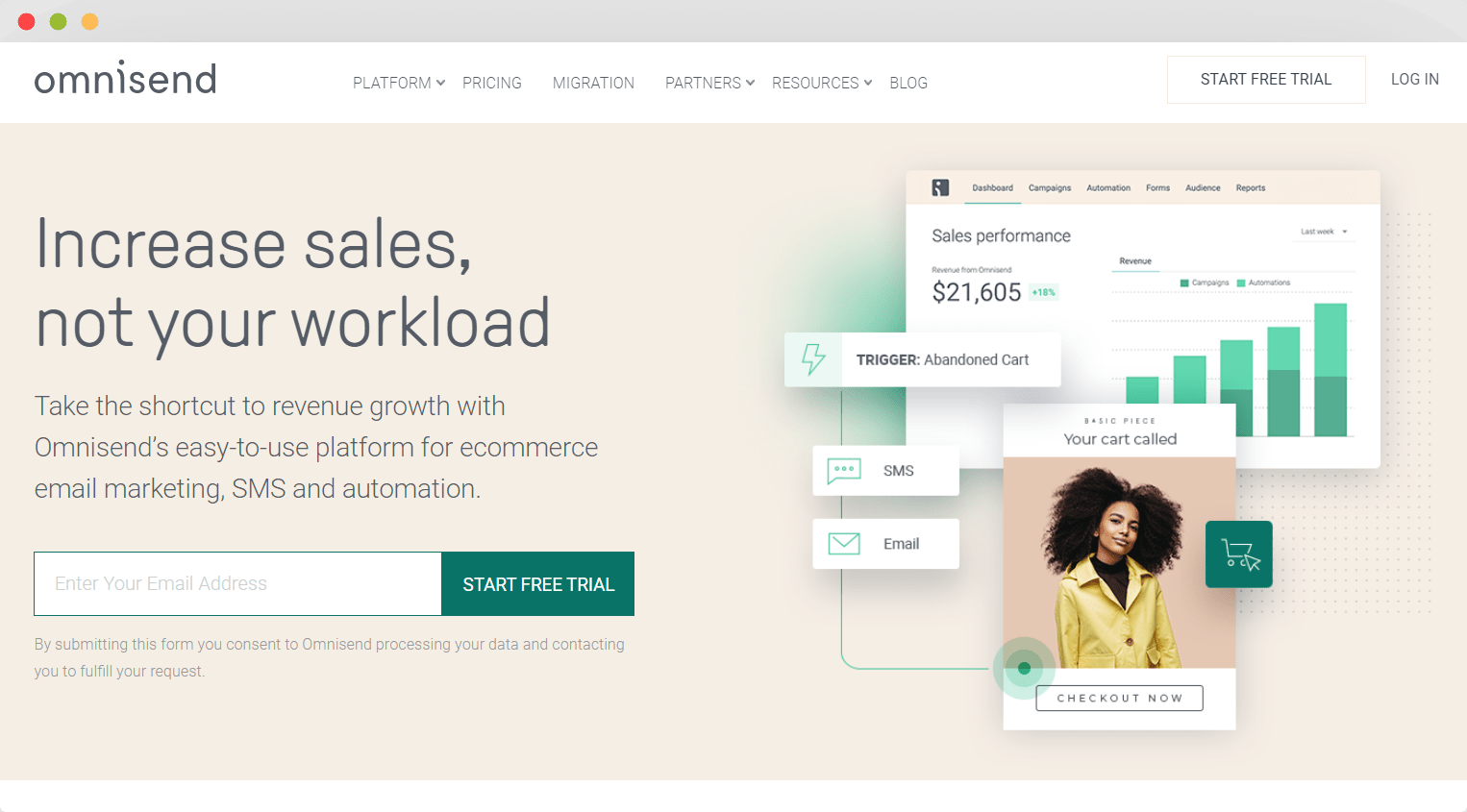 Once you have your email list, you can set up an email marketing campaign. For this purpose, you'll need an email marketing tool such as Omnisend.
With Omnisend's free version, you can send up to 15.000 emails a month.
Category: product & keyword research
Our last free dropshipping tool on this list is Exploding Topics. With Exploding Topics, you can get ahead of trends before they peak.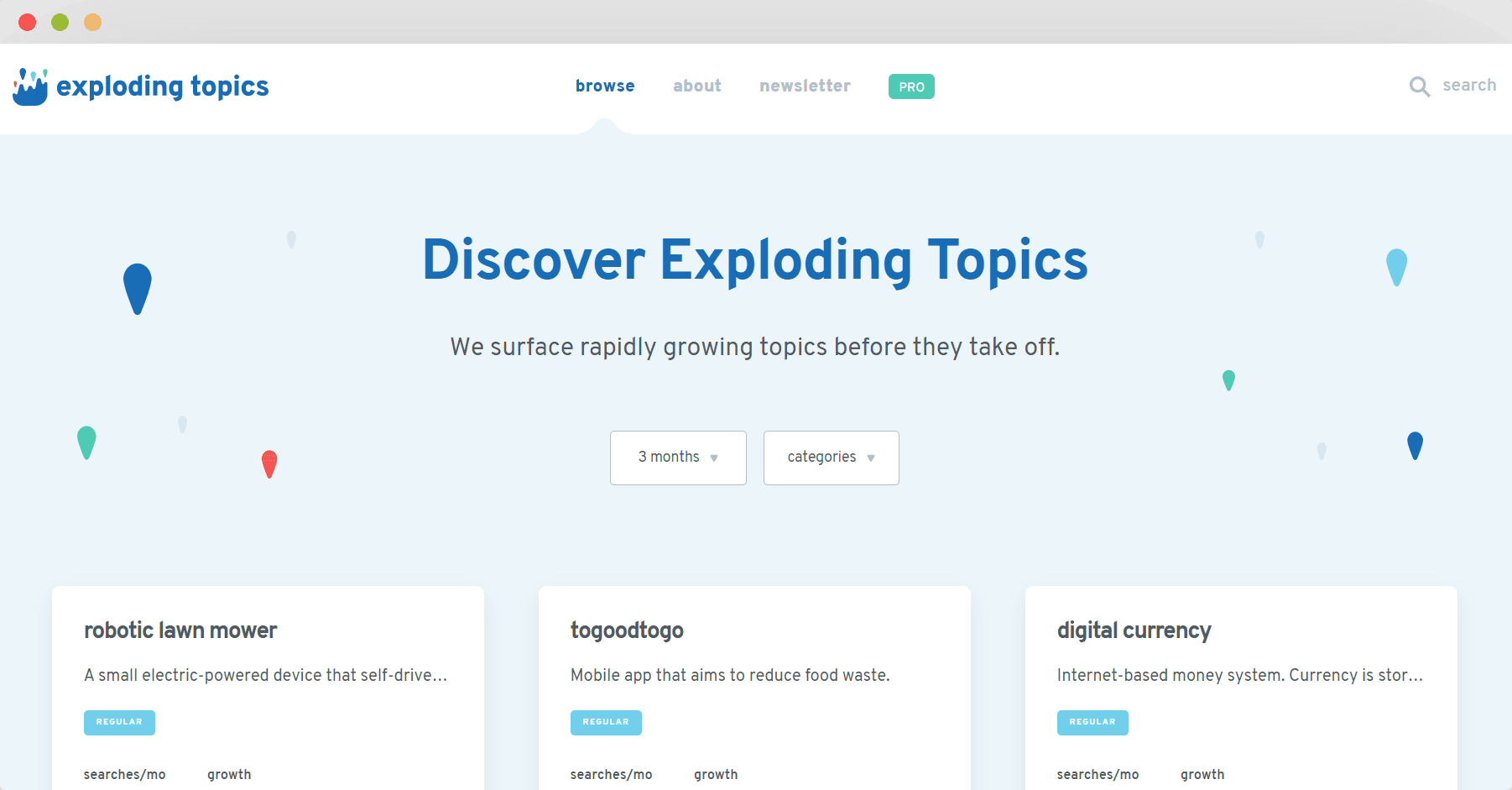 If you're struggling to find your dropshipping niche or winning product, a tool like Exploding Topics with a free version can be priceless.
On Exploding Topics, you'll be able to set a period and a category. Then, click search, and the website will spit out the trending keywords and volume.
Category: analytics, chrome extension
ShopifyHunt is a free eCommerce inspector and a Chrome extension. It allows you to spy Shopify stores with just one click.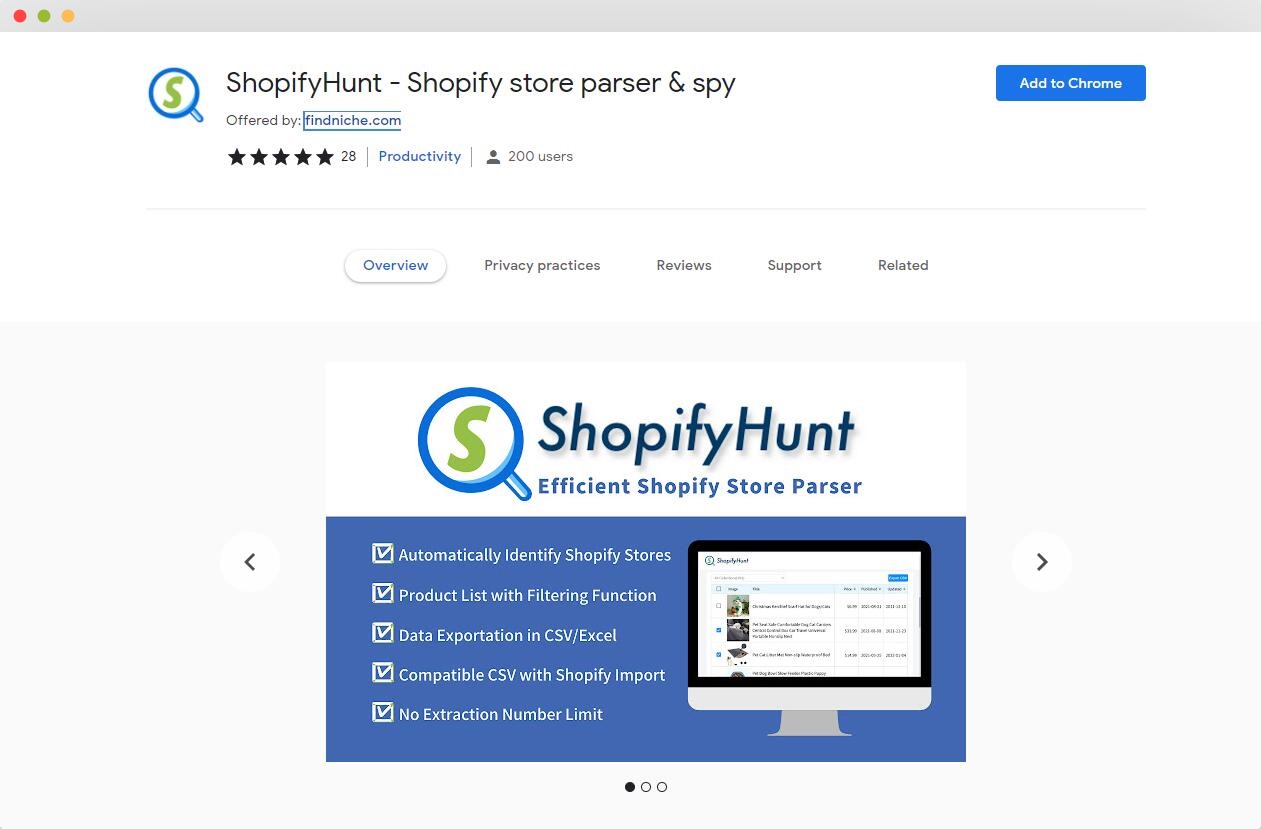 Beat your competitors right away! It automatically identifies the Shopify website and provides a list of target store products that can be filtered by category. You can easily extract Shopify products to Excel/CSV with no number limit and the CSV is compatible with Shopify import.
FAQs on Dropshipping Free Tools
As a final p of this guide, we'll answer all frequently asked questions about free tools for dropshipping. We've done the research, and now we'll try to answer your doubts.
Of course, if you have other questions not answered here, feel free to reach out, and we'll help you the best we can.
What Are the Best Free Tools for Dropshipping?
All of the above dropshipping tools are entirely free to use (they're not trials), and all are good for specific purposes. If you're asking for our honest opinion, here are the winners in each category:
Best free eCommerce platform: WooCommerce + WordPress (well, almost free)
Best free dropshipping supplier & order fulfillment tool: CJDropshipping
Best free product & keyword research tool: Google Keyword Planner and Ubersuggest
Best free project management tool: Asana
Best free analytics & marketing tool: Google Analytics
Other best free tools for dropshipping: Canva, Zapier
What Are the Best Free Dropshipping Tools for Order Fulfillment?
The best free tools for order fulfillment are CJDropshipping, DSM Tool, Oberlo, and Dropship.me.
All of these dropshipping tools are free and useful, but based on their features and the value you get out of using them, CJDropshipping is definitely among the best you can get.
Can You Dropship for Free?
To dropship with no money is possible, but it takes a lot of organization. First comes finding the right product. Then, finding the right dropshipping tools, setting up automation and integrations, and more. All of these are all aspects you need to solve without the use of a paid service.
With the right free drop shipping tools and the right product, in theory, you should be able to manage an online store with close to zero investment.
However, consider that even if you use WooCommerce as a free eCommerce plugin, you'll have to put some dollars into hosting and domain.
What's the Best Free Product Research Tool for Dropshipping?
Some of the best free product research tools for dropshipping are Google Trends, Google Keyword Planner, Commerce Inspector, and the AliExpress Dropshipping Center.
To find trending products, you can also use AliExpress, Amazon, or eBay to find the most popular or trendy searches.
What Are the Best Free Dropshipping Tools for Shopify?
As always, first, we have to look at the value a free version of a tool provides. In this regard, we have to mention CJDropshipping first, as their free plan is unbeatable, and they integrate with all Shopify stores.
The next great thing for Shopify stores would be Oberlo's free version. However, their free version will limit you to 500 product listings, and you'll lack essential functions such as bulk import and automation.
Is There a Free Version of Shopify?
Unfortunately, Shopify offers only a 14-day free trial, after which you have to purchase one of their paid pricing plans if you want to continue using it.
Their Basic Shopify plan costs $29.
What Are the Best Free Dropshipping Tools for eBay?
Some great free tools for dropshipping on eBay are DSM Tool, Edrop, CJDropshipping, etc.
Furthermore, you can use Google Trends, Exploding Topics, or eBay's popular categories to find an idea and choose a niche.
What Are the Best Free Dropshipping Tools for Amazon?
One of the best free drop shipping tools for Amazon is their Amazon Best Sellers page. On this page, you can see which are the hottest selling products on Amazon. Before deciding on a product, always calculate your profit margins, shipping costs, etc.
Another free tool that will let you make sense out of Amazon Best Sellers is AmzChart. AmzChart uses what they call a BSE (best seller rating) to find you winning products to dropship. And of course, you can use AmzChart for free.
Conclusion
We encourage you to bookmark this list of free tools for dropshipping in 2023. That will help you have it at your disposal whenever you need it.
What free drop shipping tools do you use? We're always on the lookout for new, innovative tools that automate dropshipping businesses!